With every passing we come across the new developing needs of our home! Some we have to bear a less decorative and less organized area of home due to insufficient money in our pockets, but this is not going to happen with home lovers more as now there are pallets to fulfill all the requirements for fancy home interior and outdoors! For truly mind-blowing inspirations, we have shared this list of DIY pallet ideas that will encircle all the details about how you can get crafty with pallets for some decorative art pieces, for super stable furniture pieces and also for building custom furniture for your workshops! Pallet Ideas show you that pallet wood medium is a best low-cost alternative to luxury!
All these pallet projects are latest and will make your learn the amazing tricks to recycle pallets for mind-boggling and functional outputs!

The loving parents can get the cool stuff and furniture to organize their kids' room, garden lovers can gain the beautiful garden pot organizers, potting benches and fancy decors to get their gardens well performing and visually attractive and the people who just love to work with tools can grab the amazing workbenches and tool racks from pallets!
Custom Painted Pallet Garden Wishing Well Decor: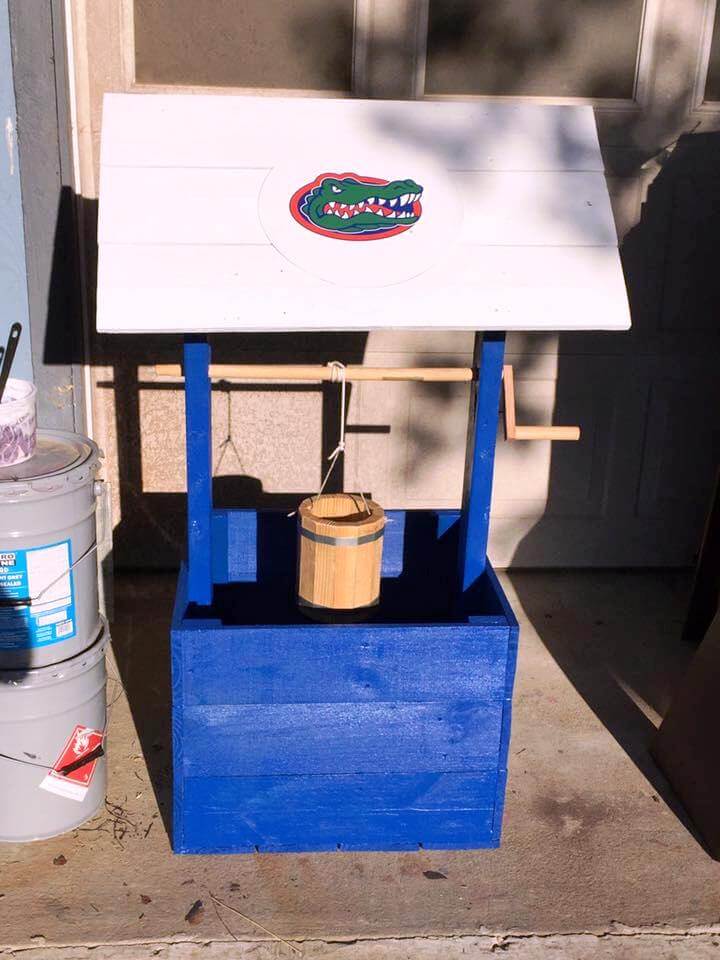 Raise the visual of your garden with this precious wishing well, done with pallets and will truly boost the fantasy of your garden!
Pallet Outdoor Cooler/Ice Chest: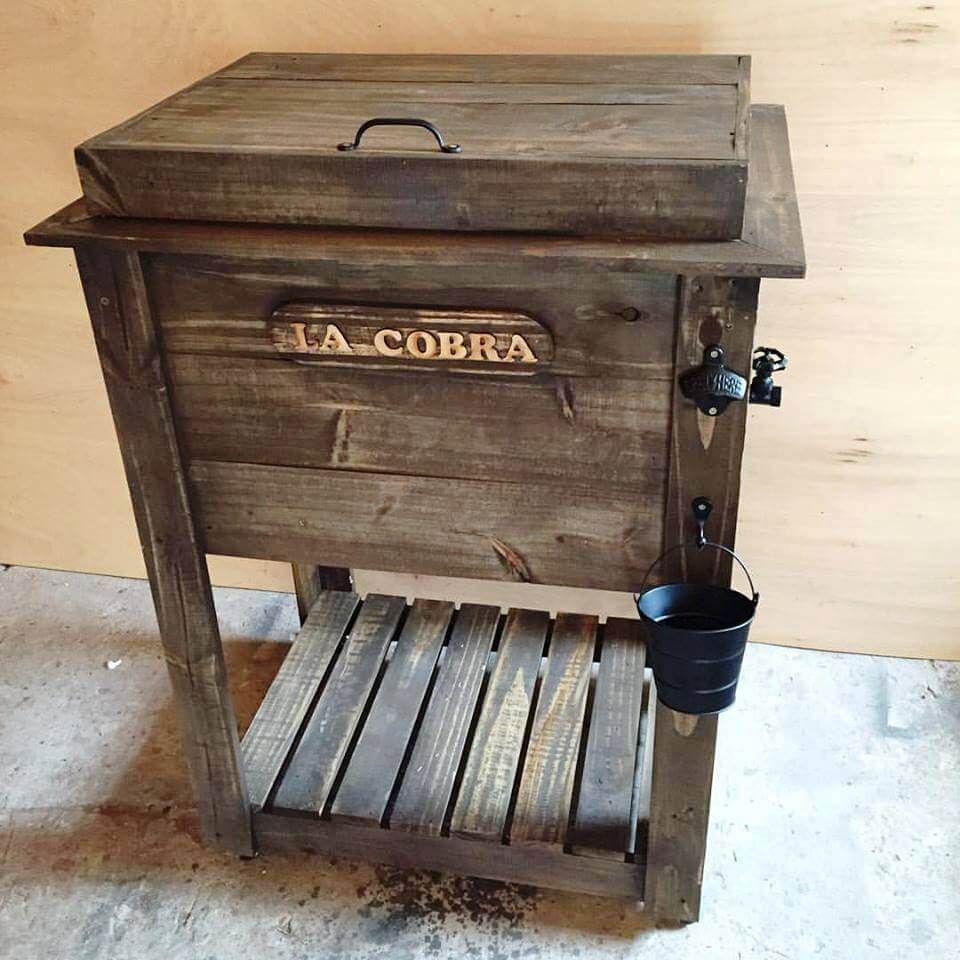 Now the cold beverage would be avail longer at your sunny outdoor, here is a wooden pallet cooler, not less than a fridge for a outdoor party time!
Slim Rustic Pallet Console: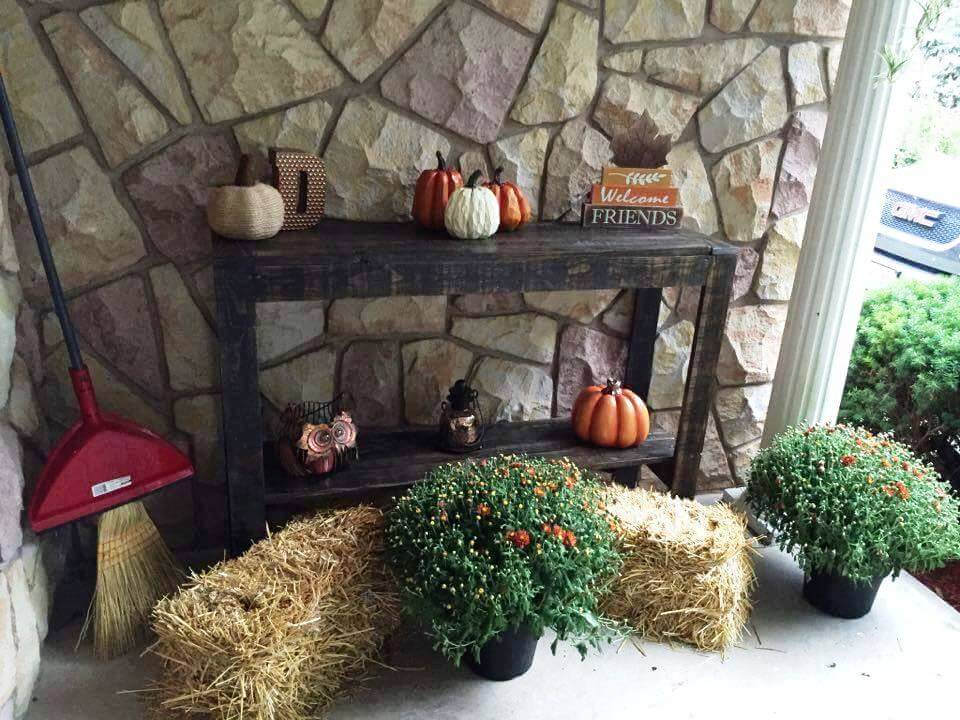 Beautiful slim pallet console, can be placed around the garden side to display your own selected garden decors and also the fancy art toys! Would be all precious also for a hallway or entryway!
Pallet Cartoon Decor: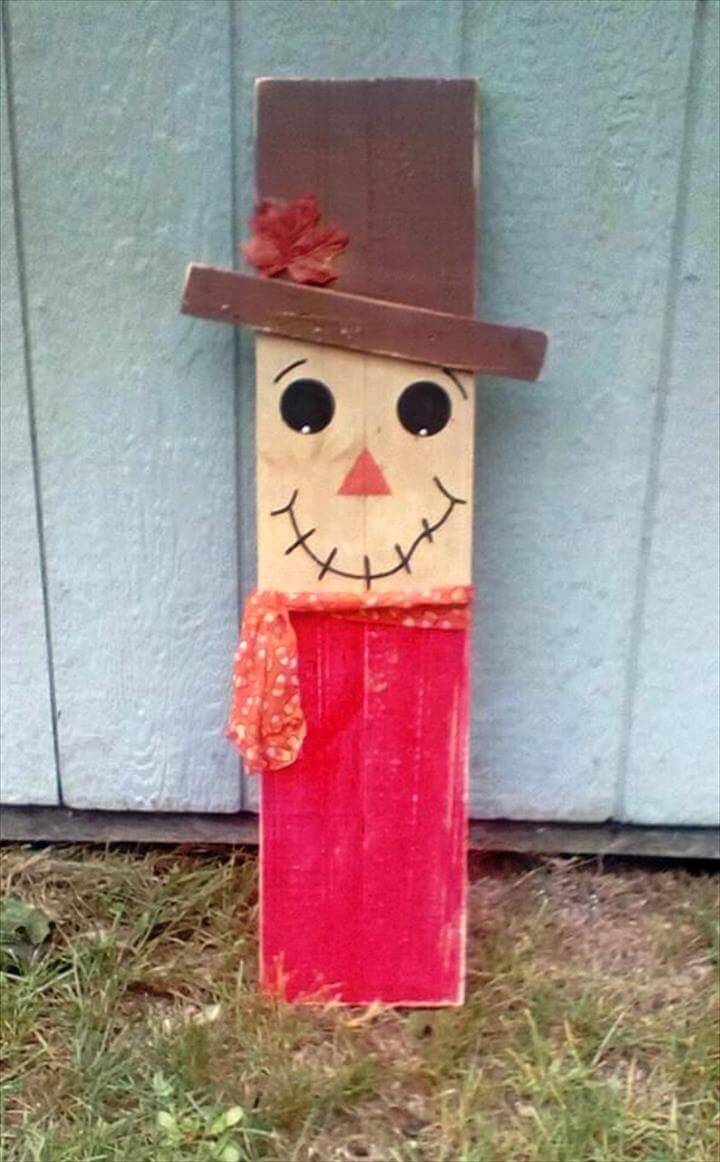 Mimic beautiful fun shapes using some pallets and paint, here is a stunning sample of it, a cartoon wearing hat and with lovely face expressions!
Pallet Workbench + Tool Rack: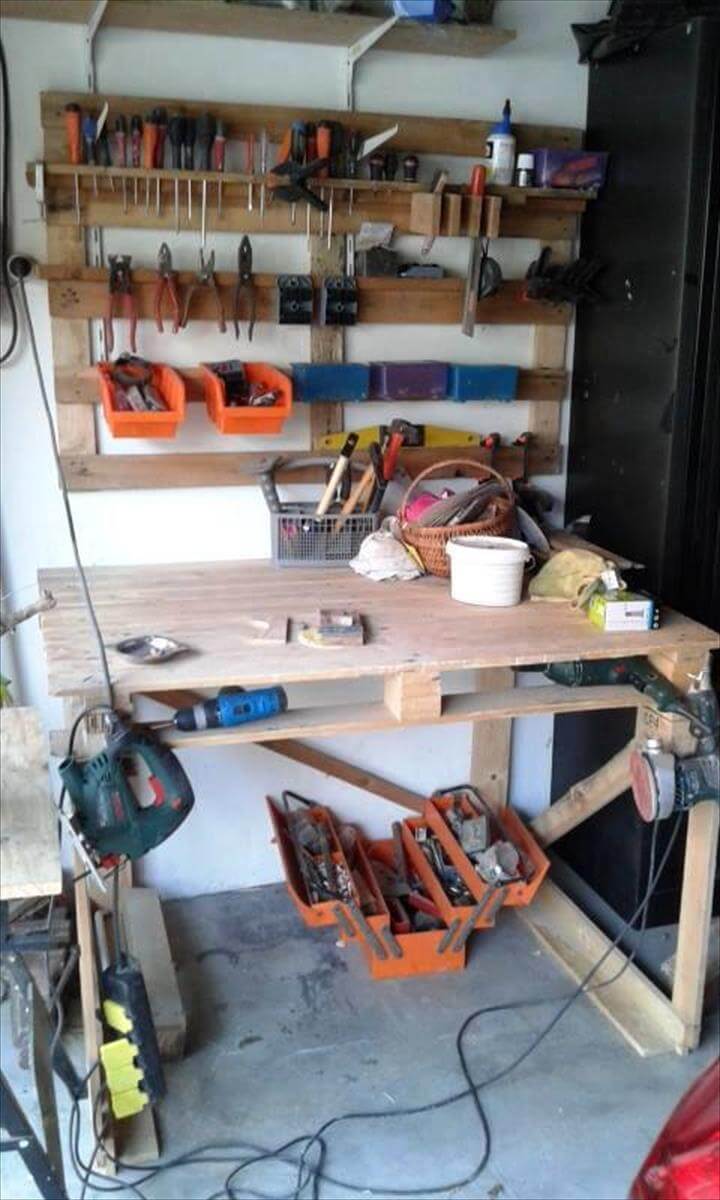 Organize your work shops also with pallets, they are just damn doable to build custom workbenches and also tools rack, get inspired of the given samples!
Pallet Bench with Art Style Backrest: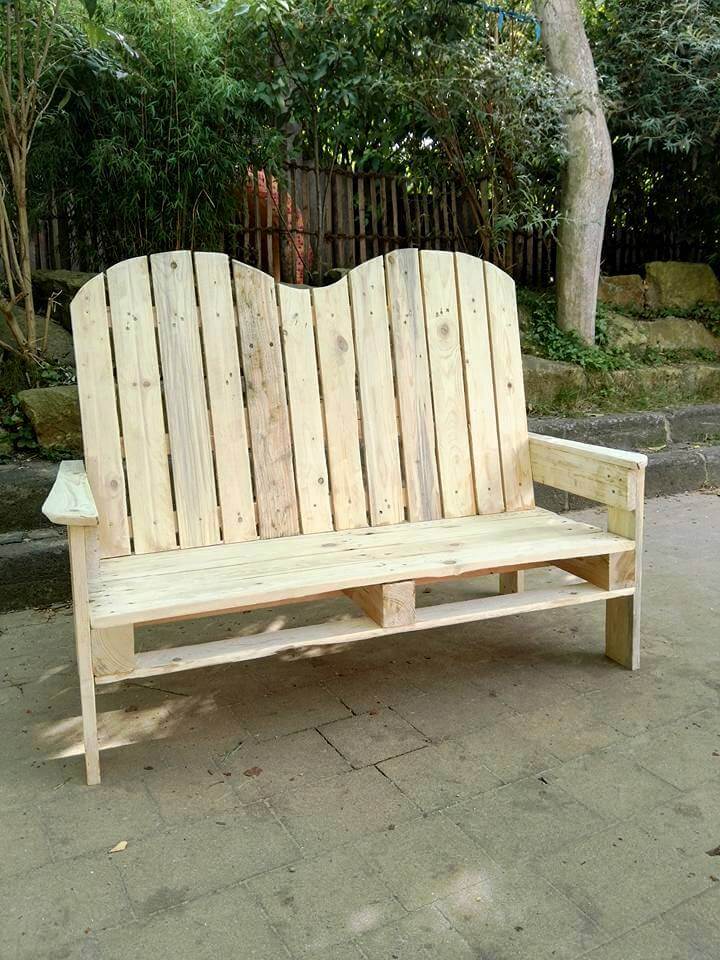 Build stylish sitting furniture with pallets to enhance indoor and outdoor sitting space if home, here is this handcrafted pallet bench which would be an fancy addition to any garden or patio area!
Pallet Snowman: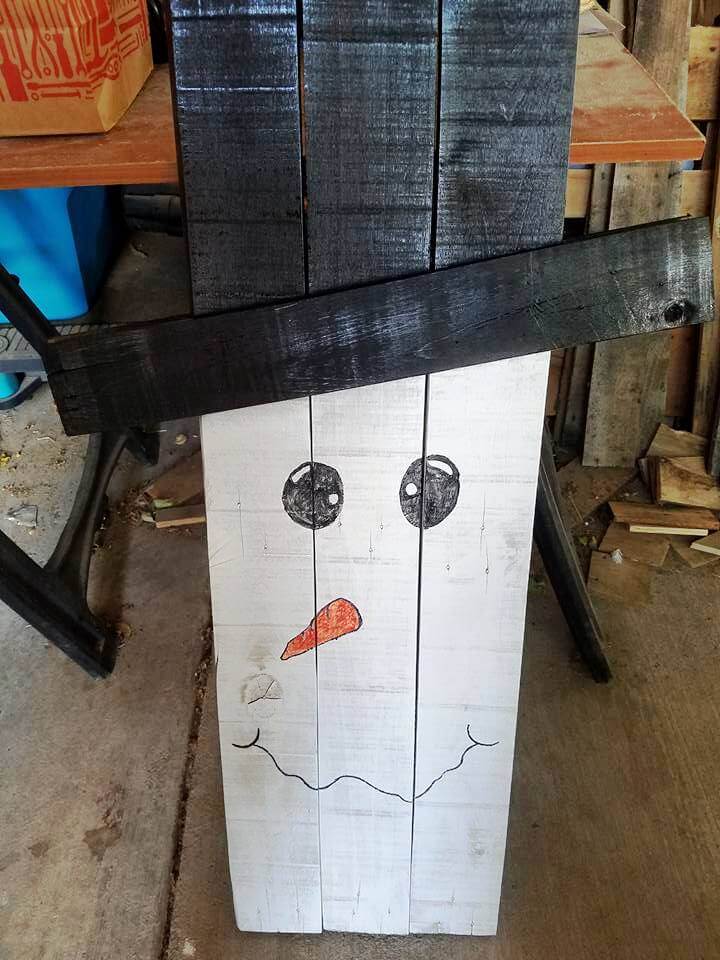 Precious snowman sculpture, done with a few of pallet slats, you can also see here an amazing use of paint to mimic the real snowman look!
Pallet Long Wall Accent Mirror: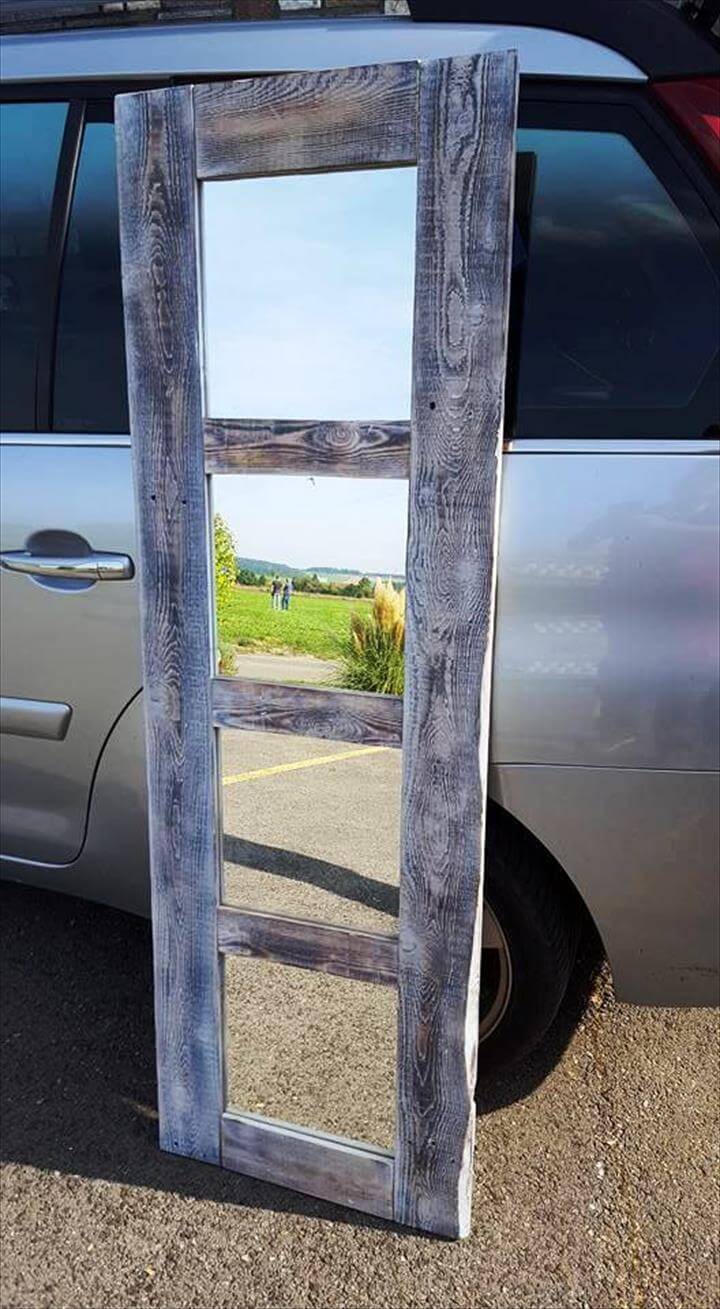 Pallets can be used for old furniture repairs and one can also patch the old functional objects of home to get them back to services, here broken up pieces of mirror have been framed up using rustic pallet slats for a precious rustic wall mirror again!
Pallet Bench: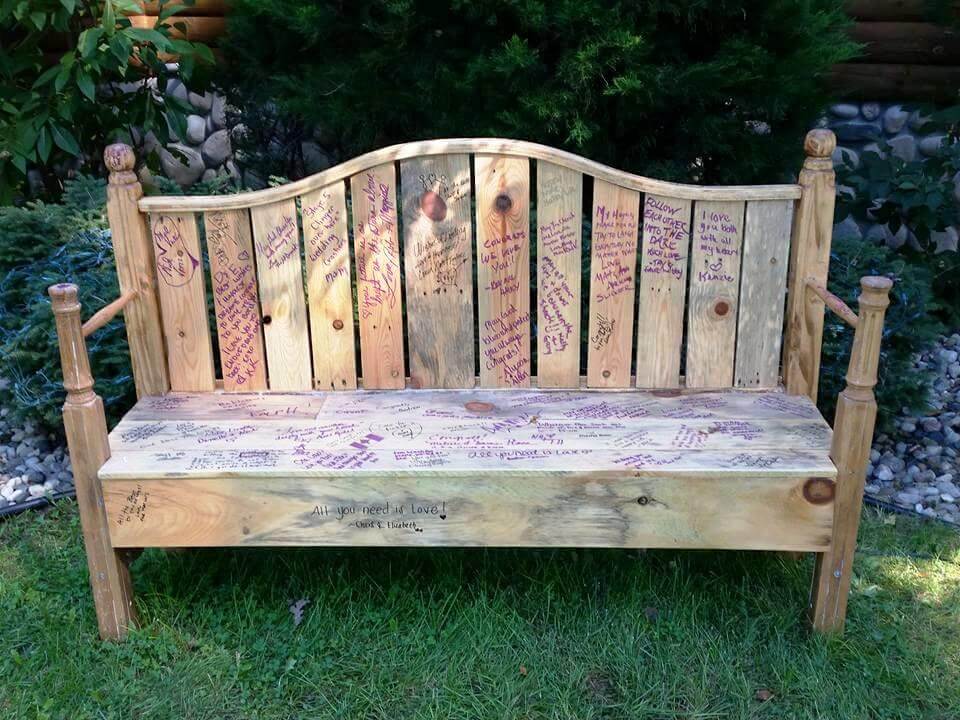 This bench seat for the garden is really very traditional in design and that classy look and design has been created from the pallets forming its robust structure.
Pallet Sideboard and Creative Rack: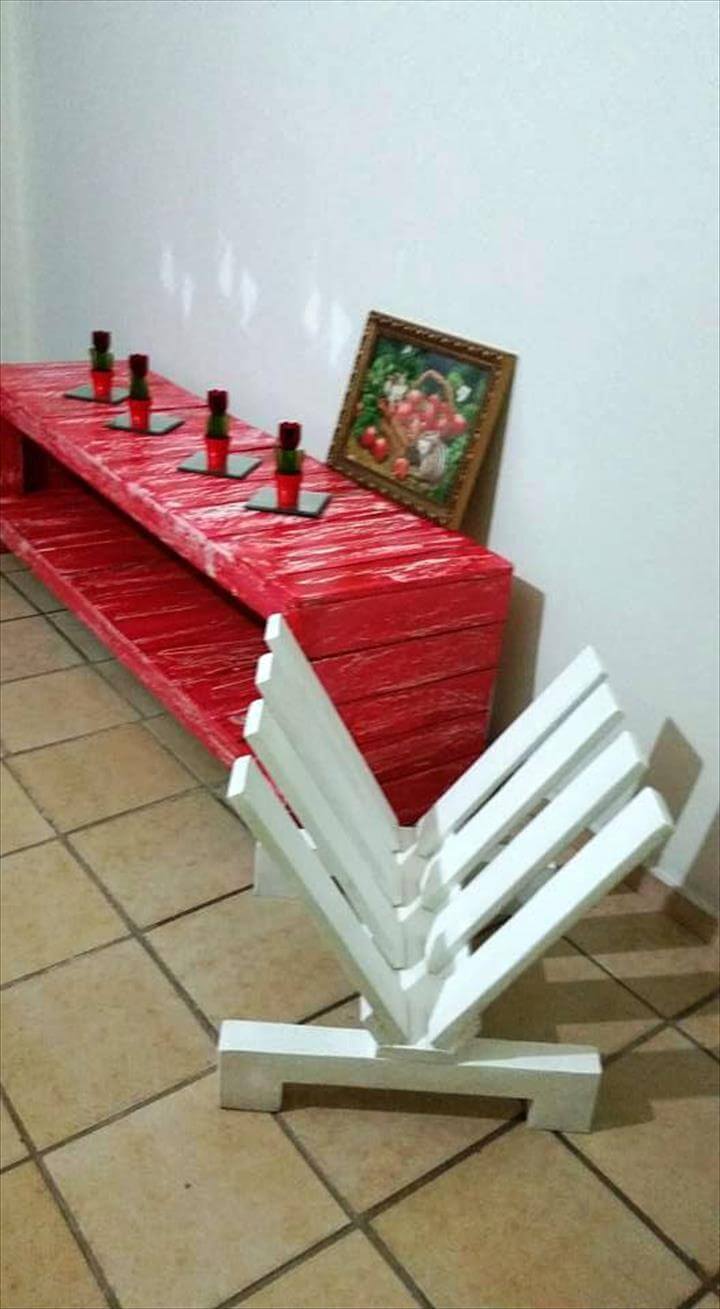 Using the equal in size pallet slats pieces these two storage friendly items have been created one is the display shelf unit with two tiers and striking red finish and other is a super cool book or magazine rack stained in white.
Pallet Bookshelf: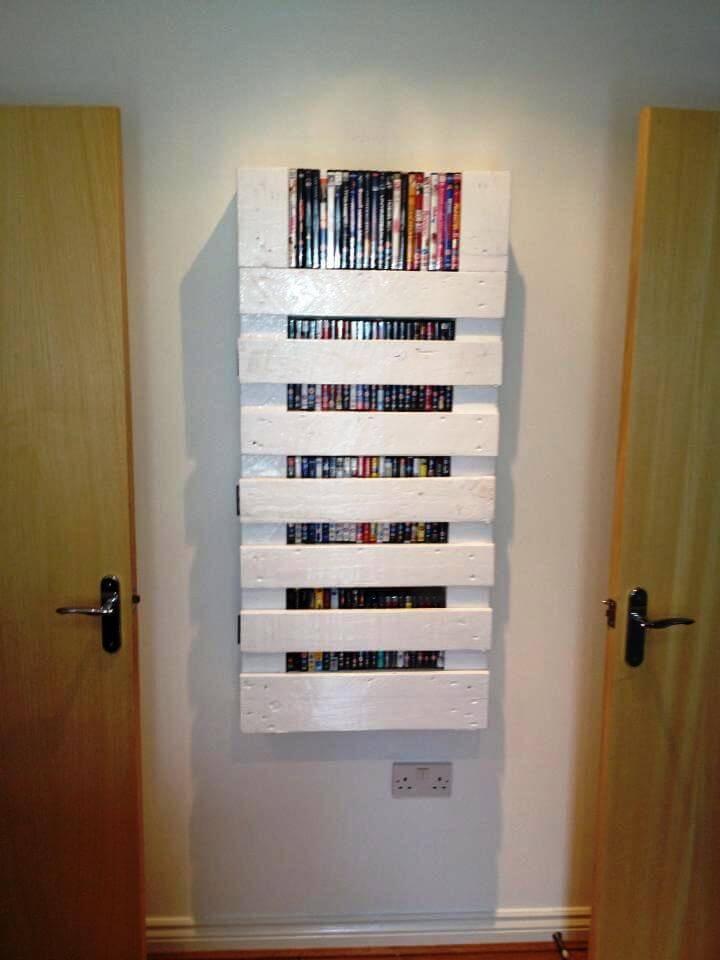 Either it is a pile of your books, magazines or your favorite CDs this pallet made wall mounted rack holder would get them all organized and that too in a dazzling white styled look.
Colorful Pallet Chairs: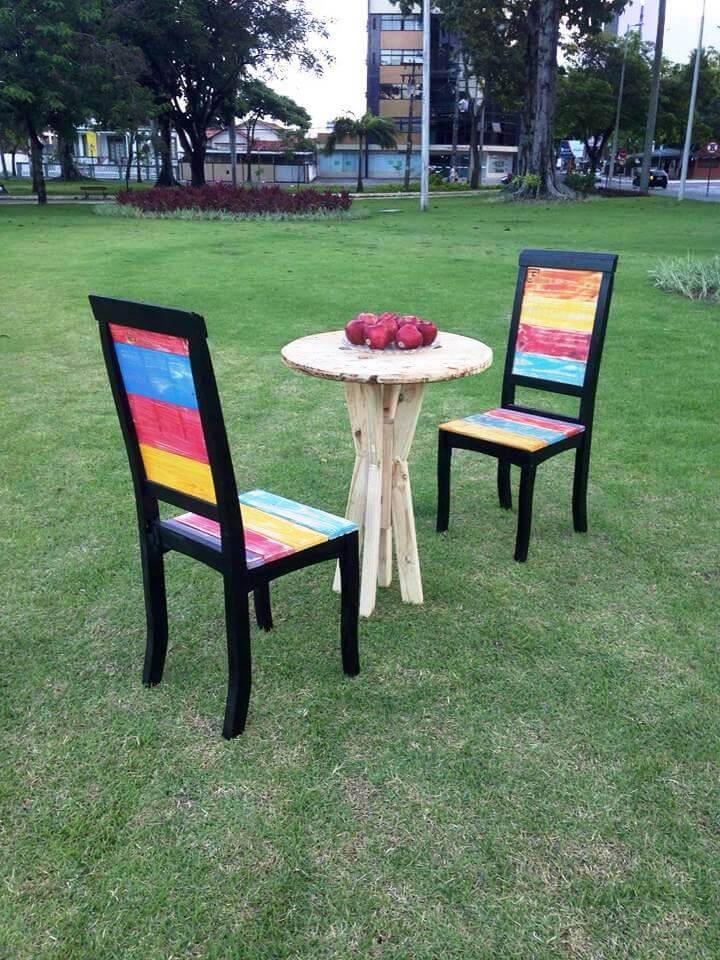 Only one word come to our mind after watching this adorable set for two and that is the AWESOME and our wonder feeling gets more strong when we hear that it is simply made at home with the free found pallets.