We all want to you keep an eye on latest pallet projects, so you can be first out of your friends to craft the pallet in all amazing and different ways for every unique and practical wooden stuff! We have shared a few of latest pallet discoveries as 13 DIY pallet ideas, giving you the more creative look of genius pallet wood recycling!
Whether you are brainstorming for some low-cost furniture alternatives or just having in mind the luxury concept of life, these ideas can help you to gain that can improve your life while being on a budget! This given list of ideas exclusively deals with storage and sitting furniture crafts that one can build for free with pallets! You can add pallet closets or wardrobes on your to-do list if you need to organize a big amount of your fashion-wea.
You can make the given amazing pallet-made table designs if your lack of some highly needed ones for establishing sophistication and you can also clone the given sitting pallet furniture ideas for stunning outdoor benches, patio sofa sets and also for individual sitting chairs!

We would like you to take a look of this mini but highly creative collection of pallet ideas if you are a beginner to pallet wood recycling!!!
Pallet Wardrobe/Closet: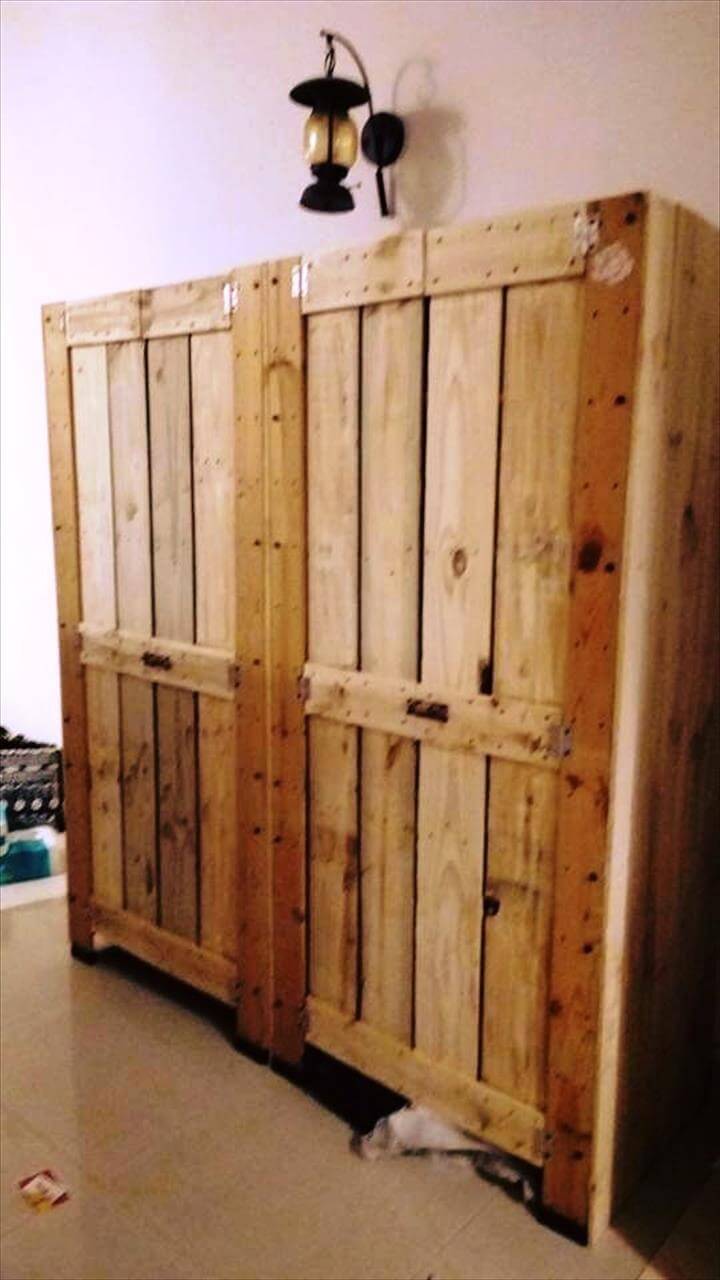 If you are a style loving person then you can prefer pallets for building no-cost wardrobes and walk-in closets, will help you manage all your fashion-wear at one place!
Custom-Built Pallet Box: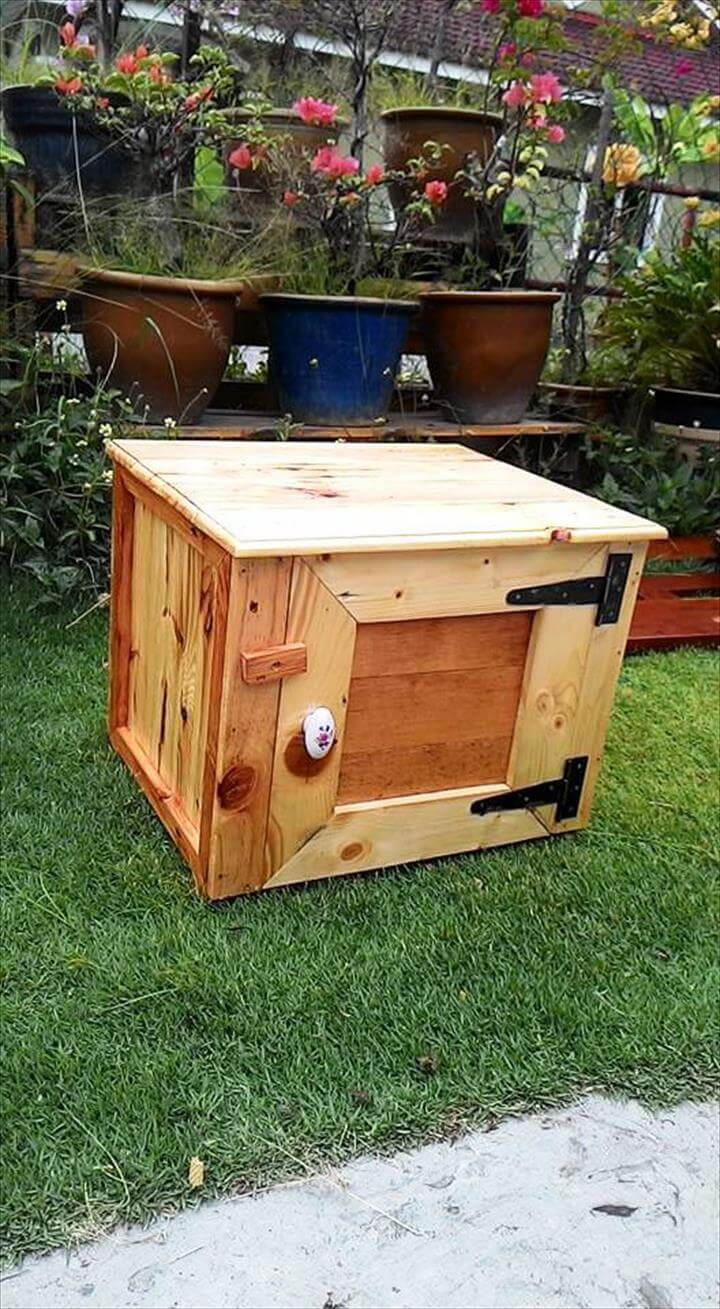 Beautiful wooden box, can made with chicken wired sides for a beautiful pet house or birdcage out of it! Here it is having a front door installed with hinges and also comes with a little wooden lock!
Kitchen Cabinets Done with Pallets: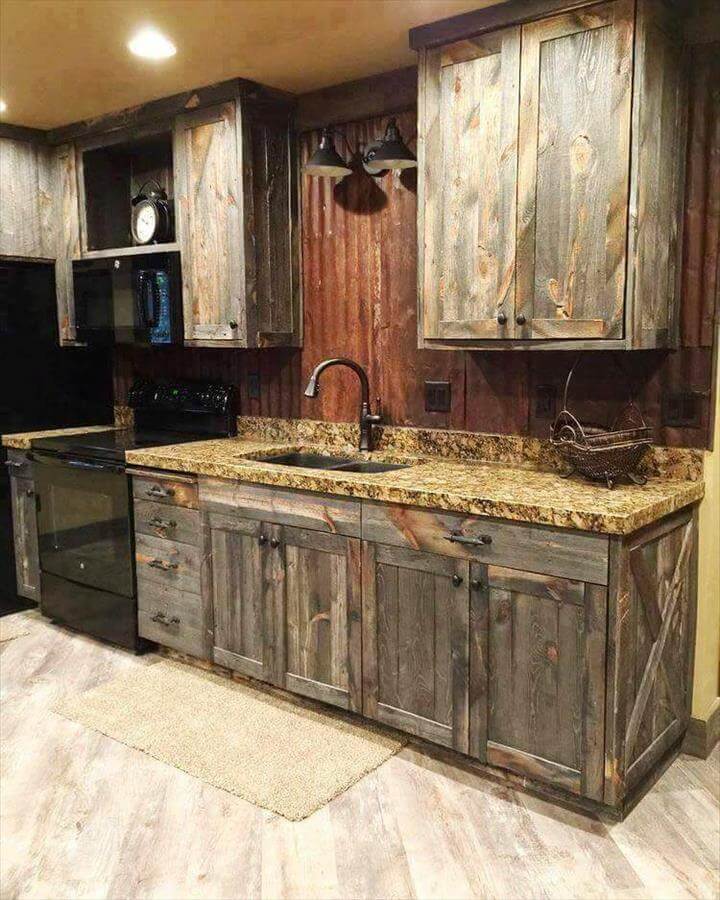 Go handmade with pallets also for amazing kitchen improvements, install kitchen racks, storage cabinets and shelves with pallets and also rebuilt pallets into beautiful kitchen islands, kitchen vanities and also into beautiful kitchen counters! Here rustic cabinets have been done with pallets!
Pallet Herringbone Coffee Table: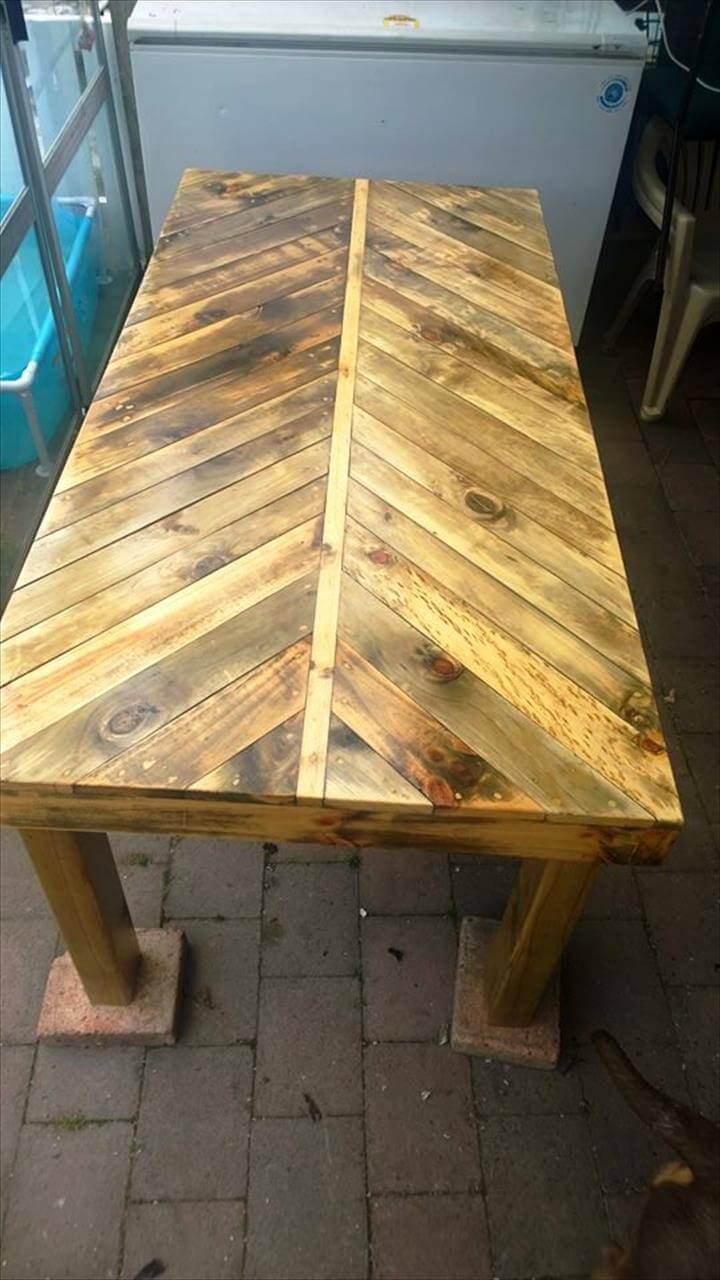 If you all love to be stylish and your home to be artful, then this beautiful pallet creation is sure to grab your attention, a fancy herringbone style wooden coffee table done with pallets!
Pallet Desk with Basket Storage Compartments: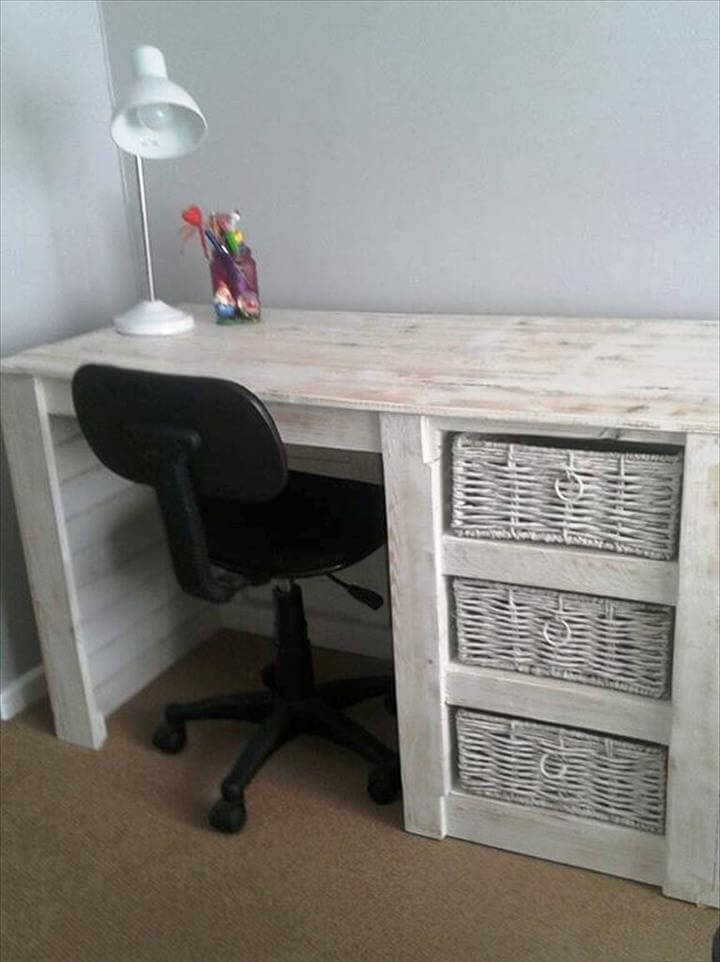 Make incredible use of pallets in building custom computer desk and study tables, the given is really great for your separate small home office! Painted in white and comes with inserted baskets in the built-in storage compartments!
Extra Long Multipurpose Pallet Table: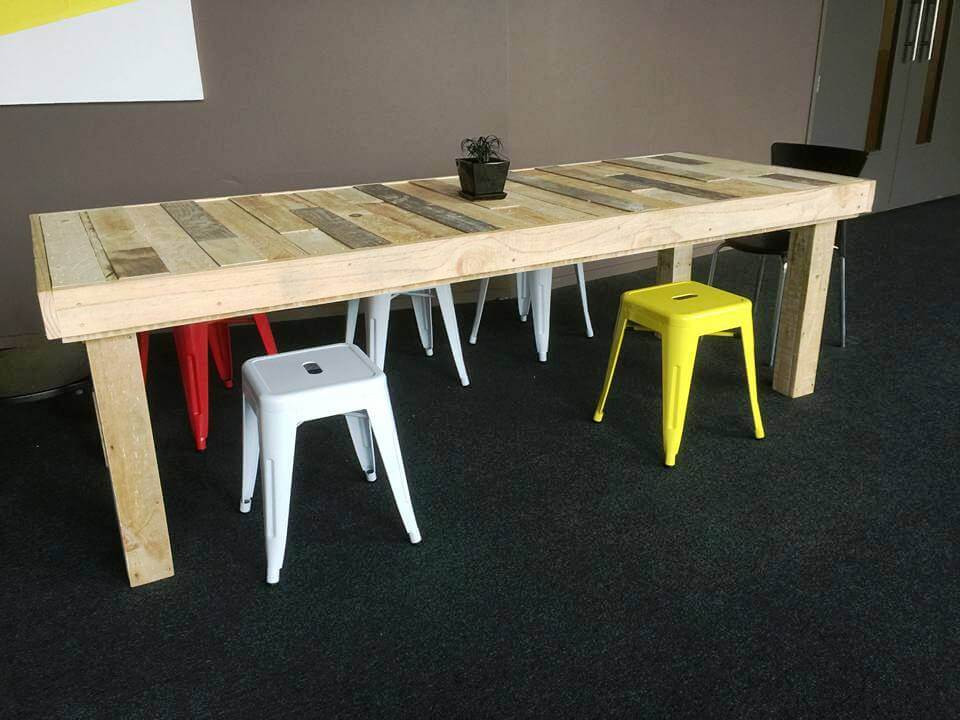 Beautiful long wooden table, surrounded by colorful stools, installed with slats of pallets and can be used in number of different ways! Would make a precious dining table for kids and also a study table!
Sturdy Pallet Bench: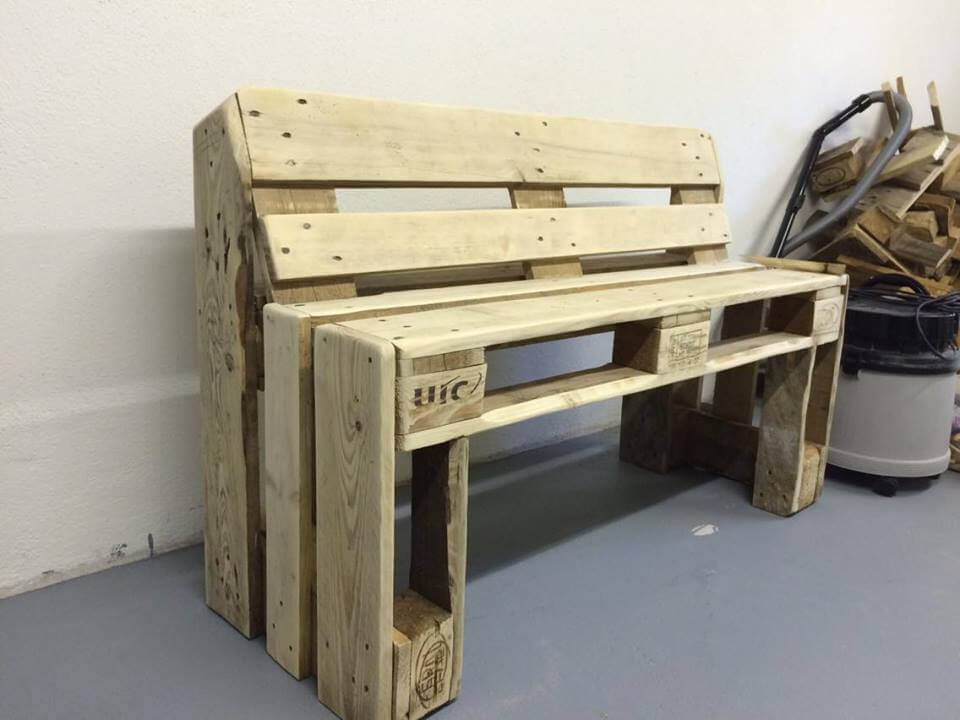 Sturdy wooden pallet bench, a whole pallet stands flat on 2 cut down halves of another pallet, backrest has been built separately!
Pallet Patio Sitting Furniture Set: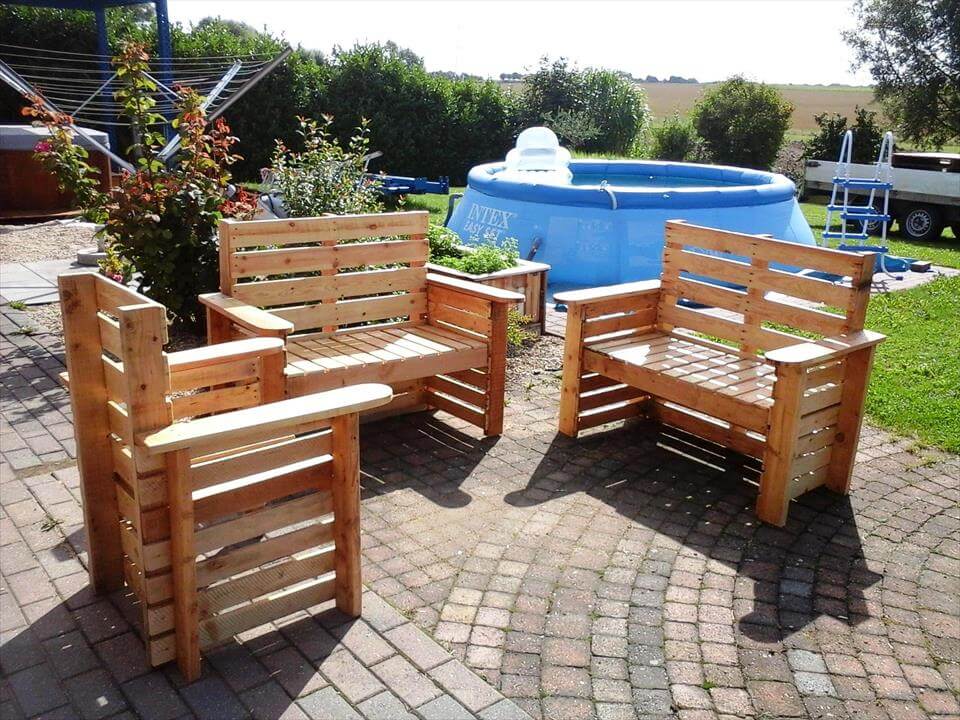 By building custom wooden panels separately with individual pallet slats, these beautiful seats have been installed that have been put together for a gorgeous patio sitting set!
Pallet Sofa Set for Pebbled Outdoors: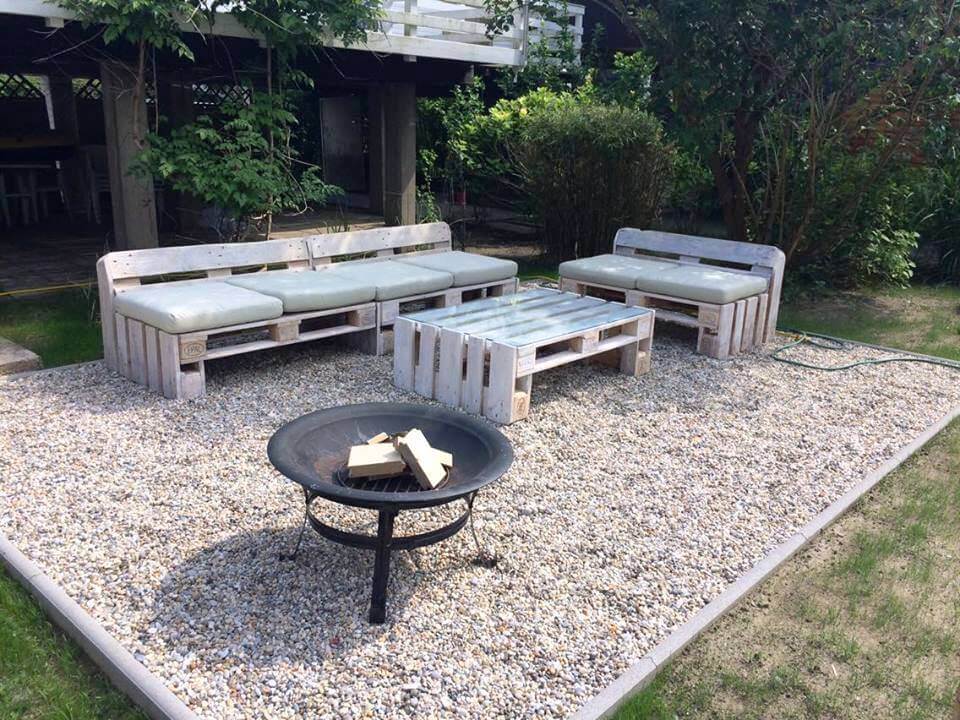 Brilliant sofa set for your pebbled outdoors, done by using complete and half-cut pallet skids! Seats have beautifully been cushioned and central coffee table comes with a glass top for elegance like modern furniture!
Wooden Pallet End Table: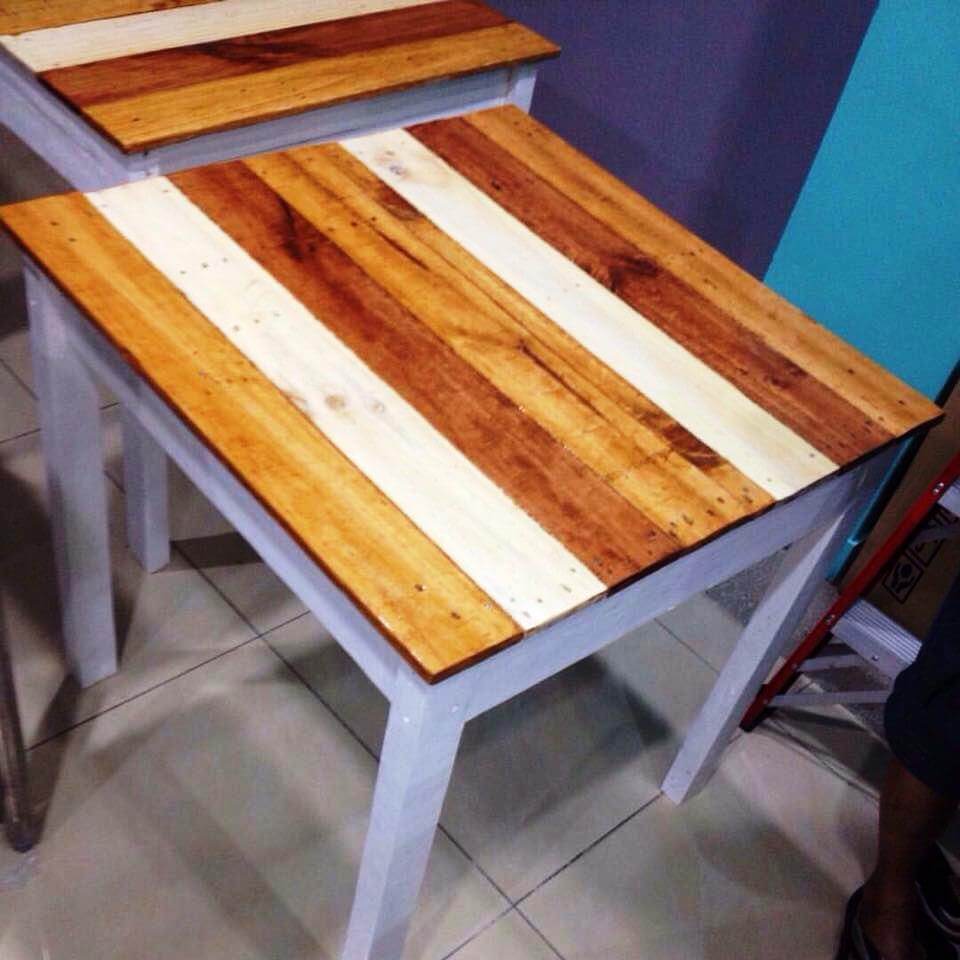 Take help of pallet slats also for making simple but stable wooden end tables, can also be preferred as nightstand in your bedroom!

Ultra-Rustic Pallet Bench: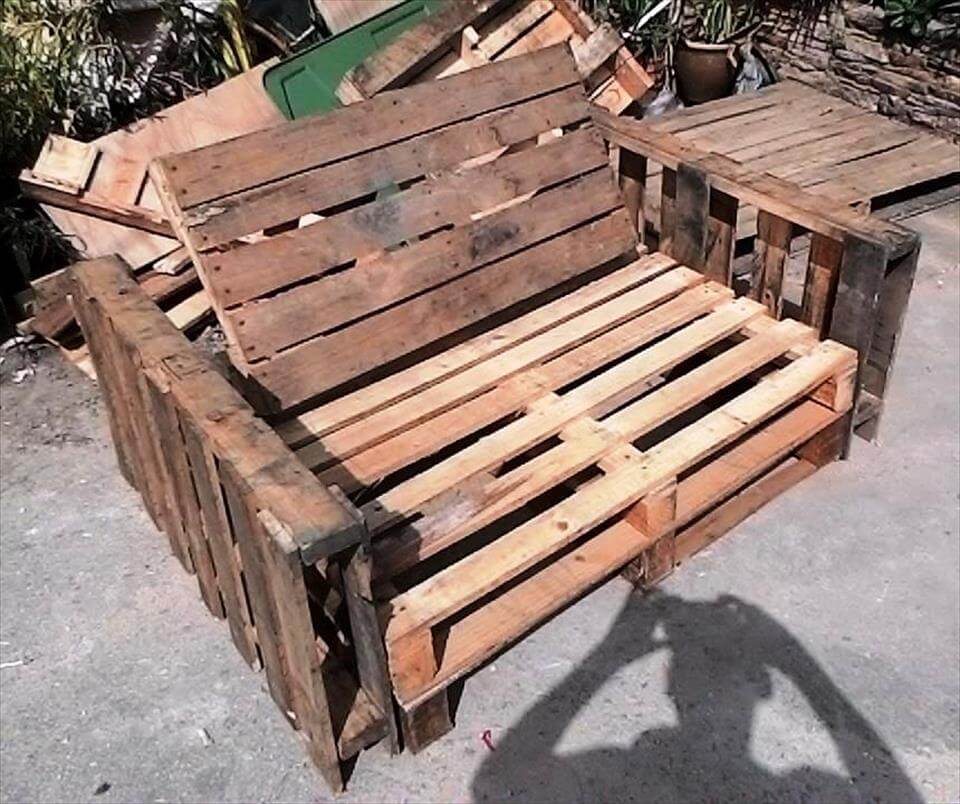 Decide uncut pallets also to build large and lasting longer wooden seats, this ultra-rustic outdoor bench is a mind-blowing example here!
Pallet Coffee Table with Metal Hairpin Legs: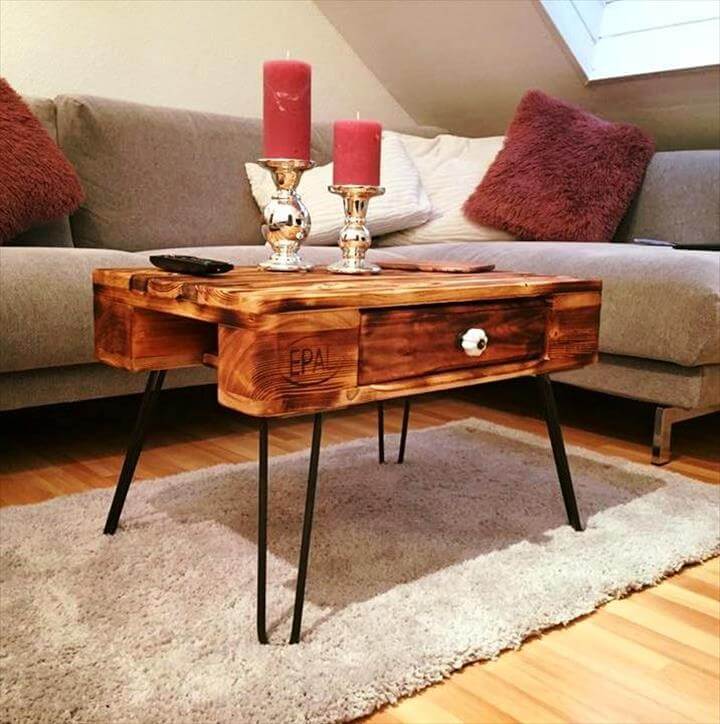 A mini pallet skids with a drawer added to its empty space, has been elevated on metal hairpin legs for a industrial looking coffee table! Metal legs comes on an angle for all art style look of coffee table!
Sleek Pallet Coffee Table: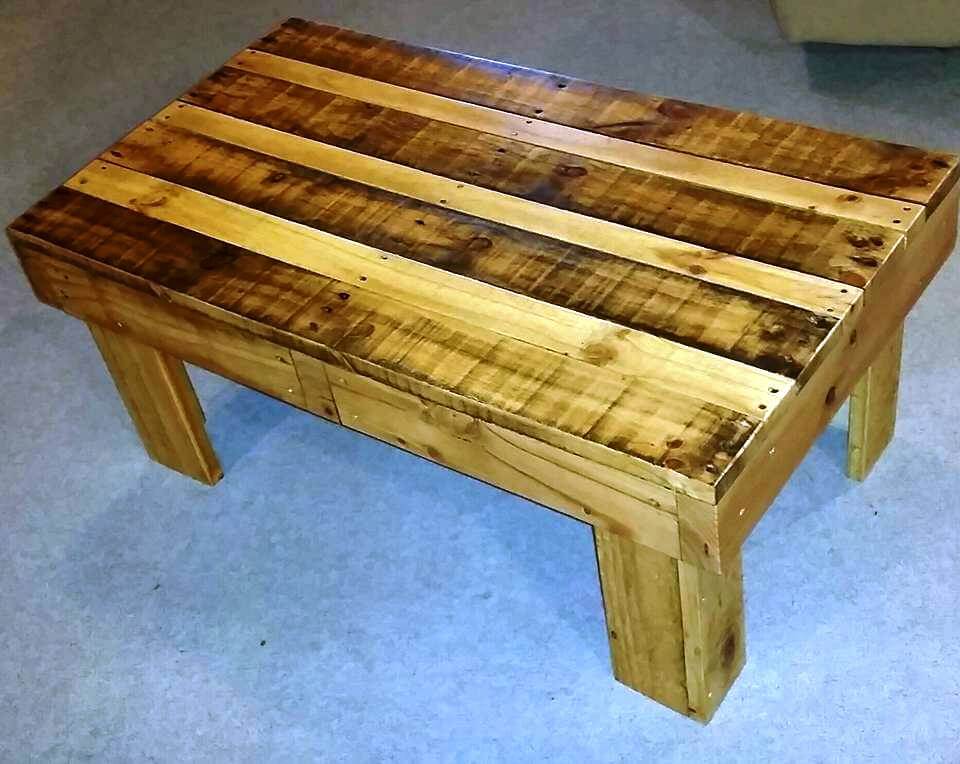 A big number of people is using pallets for building stylish wooden tables, the most used furniture item, here is beautiful coffee table shared as a precious sample!
Pallet Table with Matching Bench: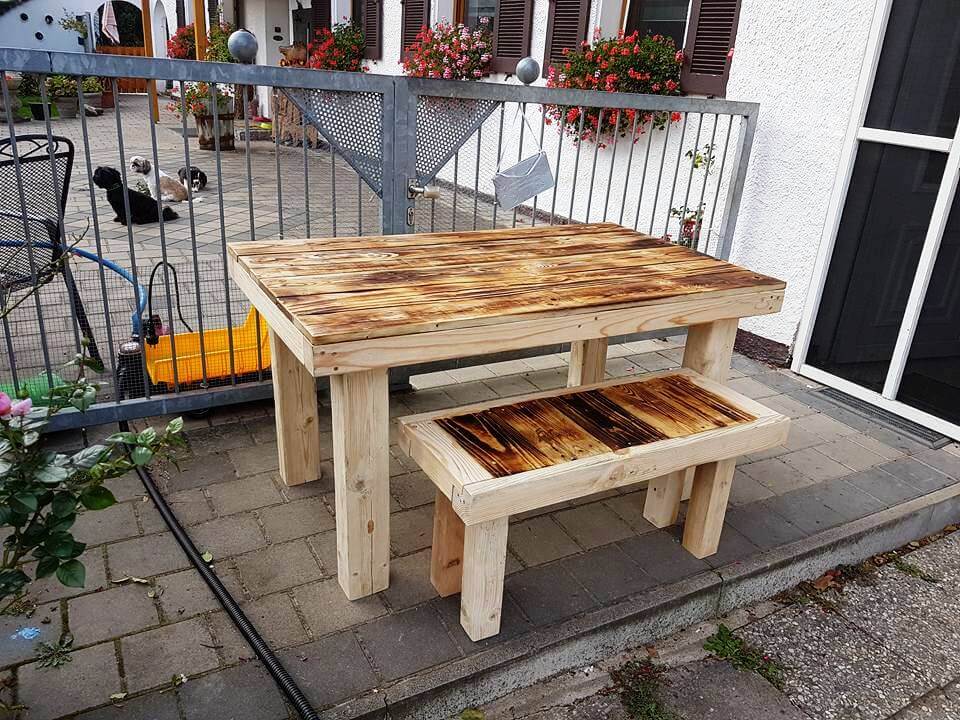 Building also custom dining and party furniture for your outdoors, this solid wooden table with matching bench is damn good for both outdoor night dinners and patio snack parties!
Wall Hanging Pallet Toilet Paper Roll Holder: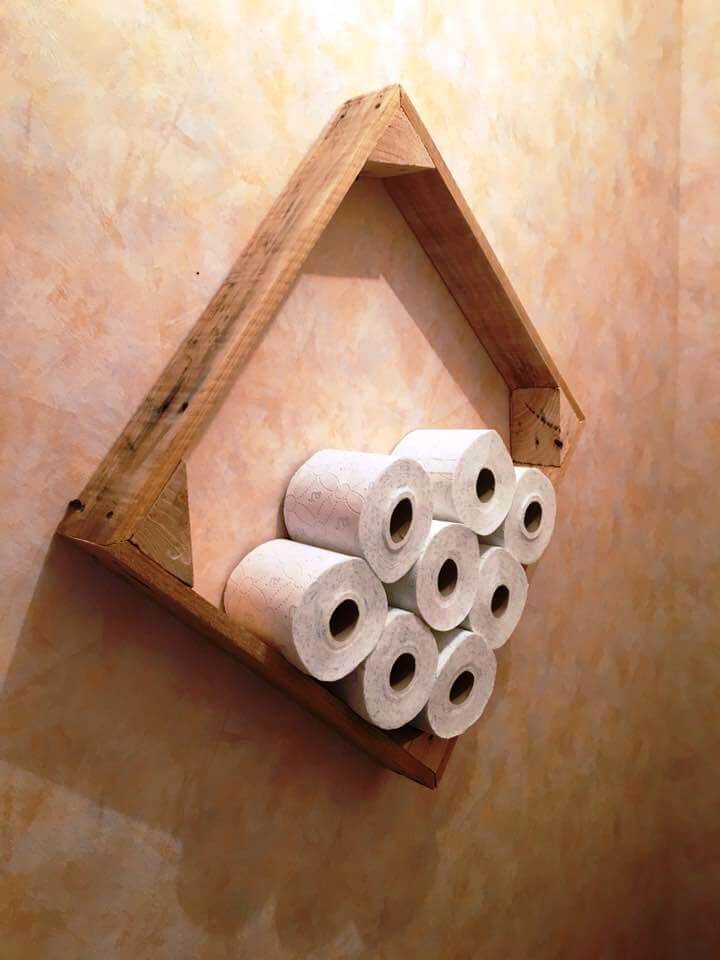 Plan slats of pallets for building custom wall organizers and also coat hooks, this hollow square shape frame has been installed to a bathroom wall for holding toilet paper rolls!
Pallet Snowman Decor: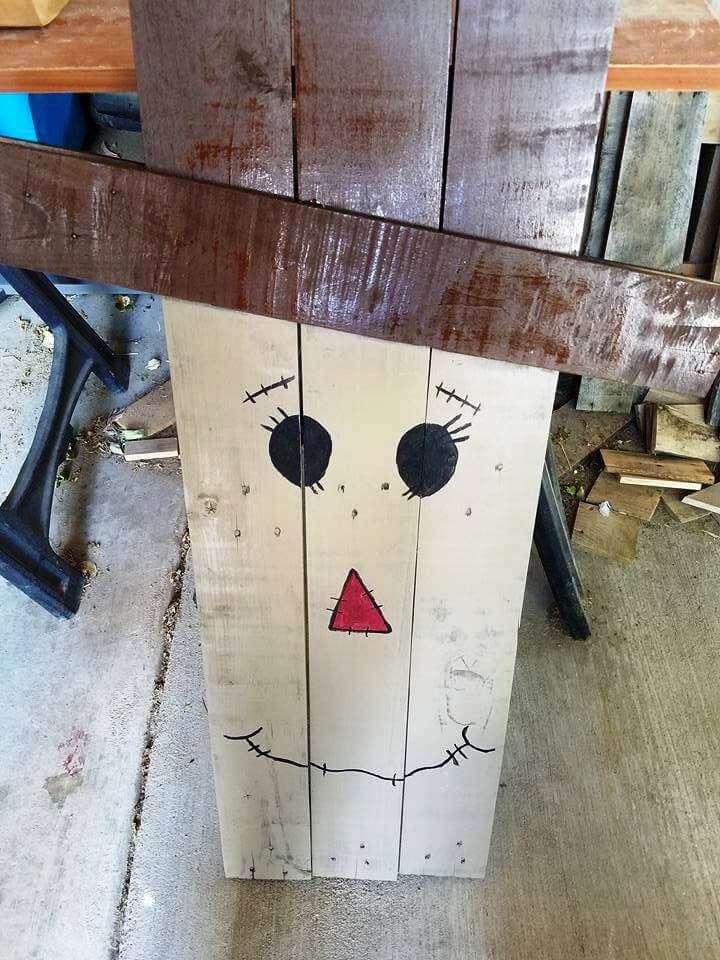 Perfect decor for the snowy residences or areas, a precious wooden snowman wearing black hat, made by using 4 pallet slats and respective paint colors!
Pallet Garden Wishing Well Centerpiece: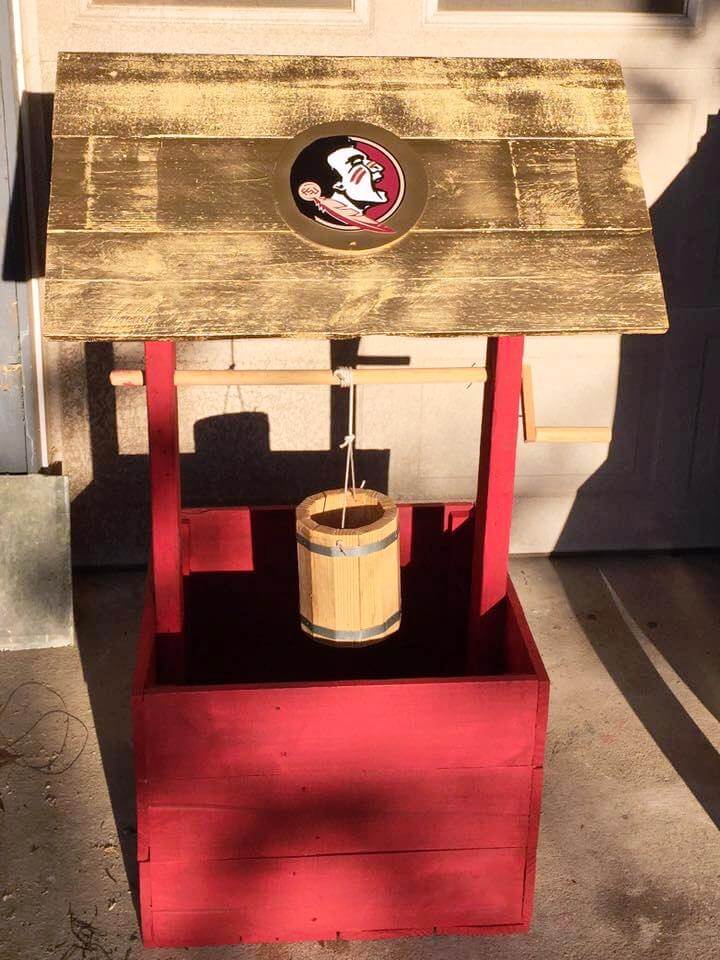 A highly praiseworthy garden decor, wholly crafted using slats of pallets, a precious garden wishing well, comes with red chalk painted lower portion!
Pallet Price Chart for a Shop: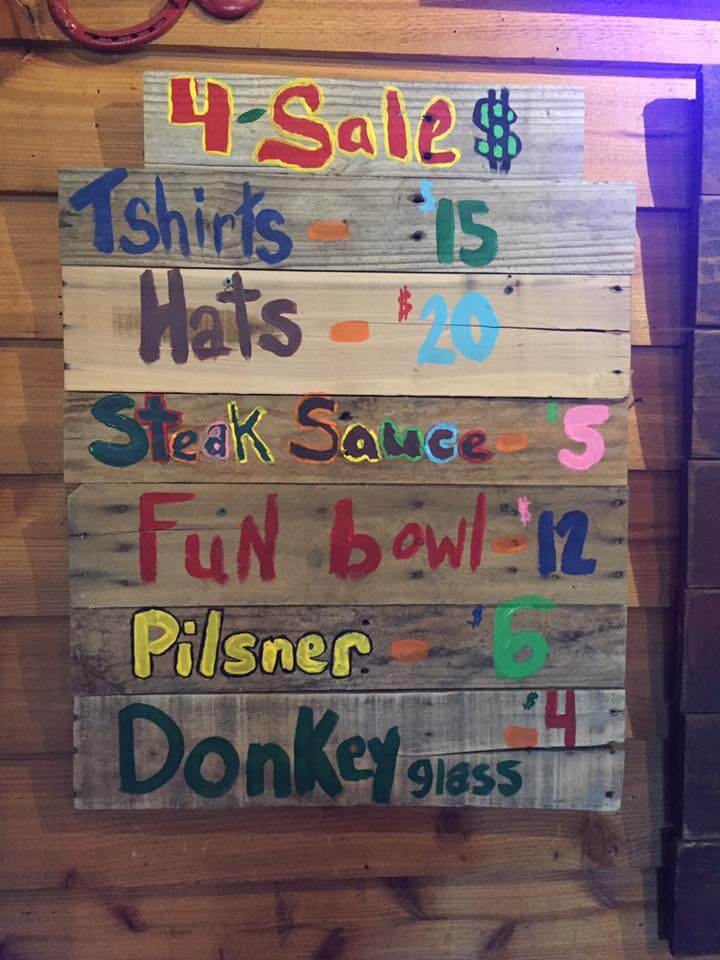 Put together a few boards of pallets and just write custom notations, letters or quotes over them to get them as fancy wall art pieces, here is a price chat built from pallets for a sale shop!
Pallet Square Coffee Table with Inside Storage: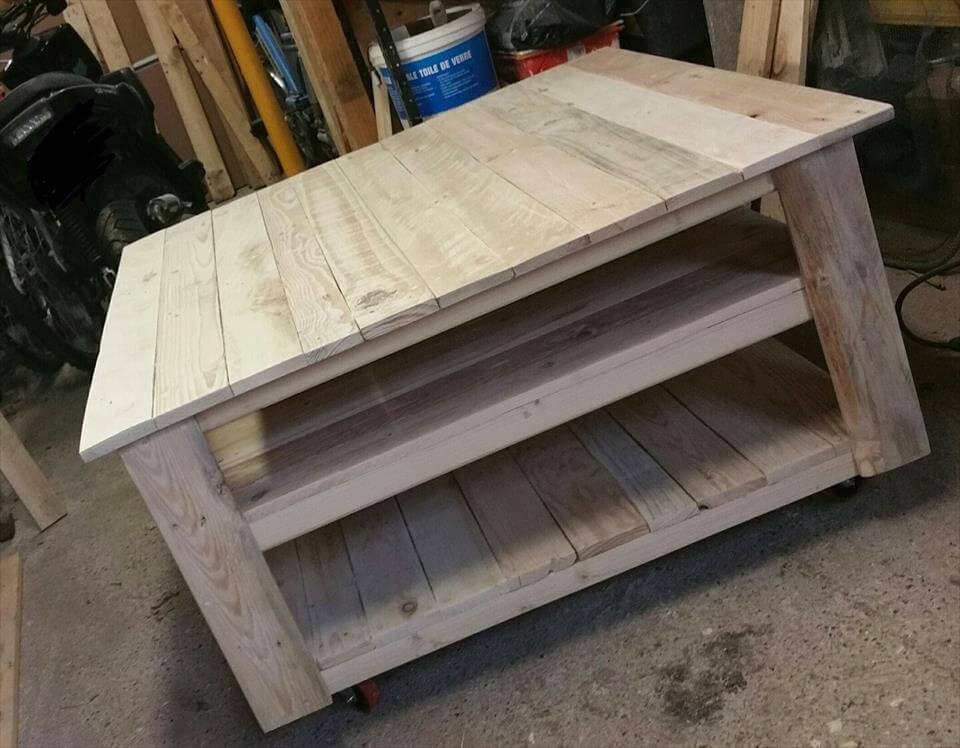 Here is a stylish wooden coffee table with built-in secret compartments for storage, a lovely furniture creation done with individual planks of pallets! Have been made look industrial by installing red casters to bottom side of it!
Pallet Trash Bin:

Build amazing wooden bins to store the recyclable items of home, retired home stuff and also for storing home trash or garbage! Here is a beautiful pallet trash bin with inside covered with black plastic bag and also comes with a removable lid that is having a handle on its top!