Learn how to build a greenhouse out of pallets with these 10 free DIY pallet greenhouse plans, including step by step instructions. A greenhouse is a great way to extend the growing season and protect your plants from bad weather. If you're handy with tools, you can build your own greenhouse using pallets. DIY wooden pallet greenhouse is relatively inexpensive and easy to construct.
Building a diy pallet greenhouse is a great way to start gardening. Pallet greenhouses are relatively inexpensive and easy to construct. You can find plans for the DIY pallet greenhouse below. You can have a thriving greenhouse in your backyard with little effort.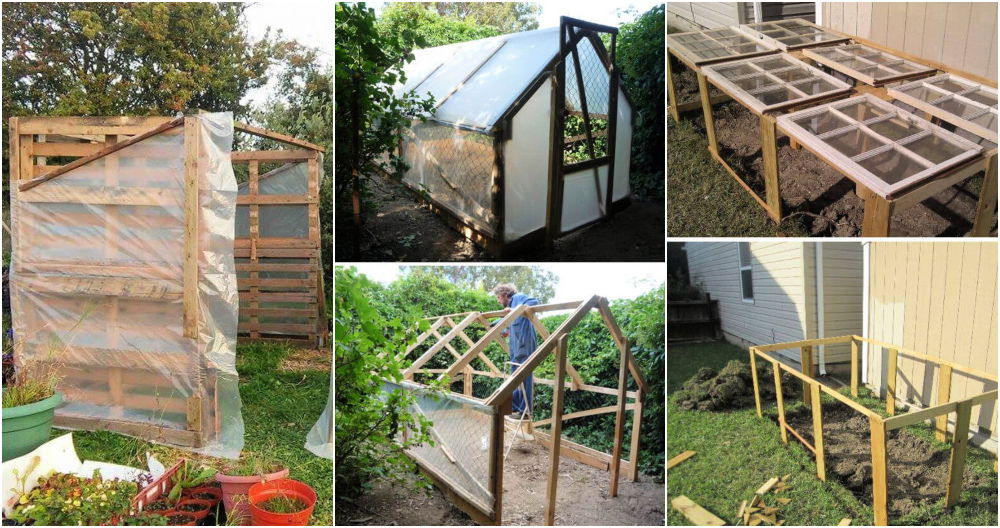 Enjoy a longer growing season and get lots of room for your garden with these DIY pallet greenhouse ideas that provide a design that will rock your homestead too. Starting growing various plants in any weather with these easy-to-build wooden greenhouses will not cause any load on your wallet. Start building them almost free using free pallets. Explore all these pallet greenhouse ideas to see a variety of DIY greenhouses using recycled material.
1. Cold Frame Greenhouse Made From Pallets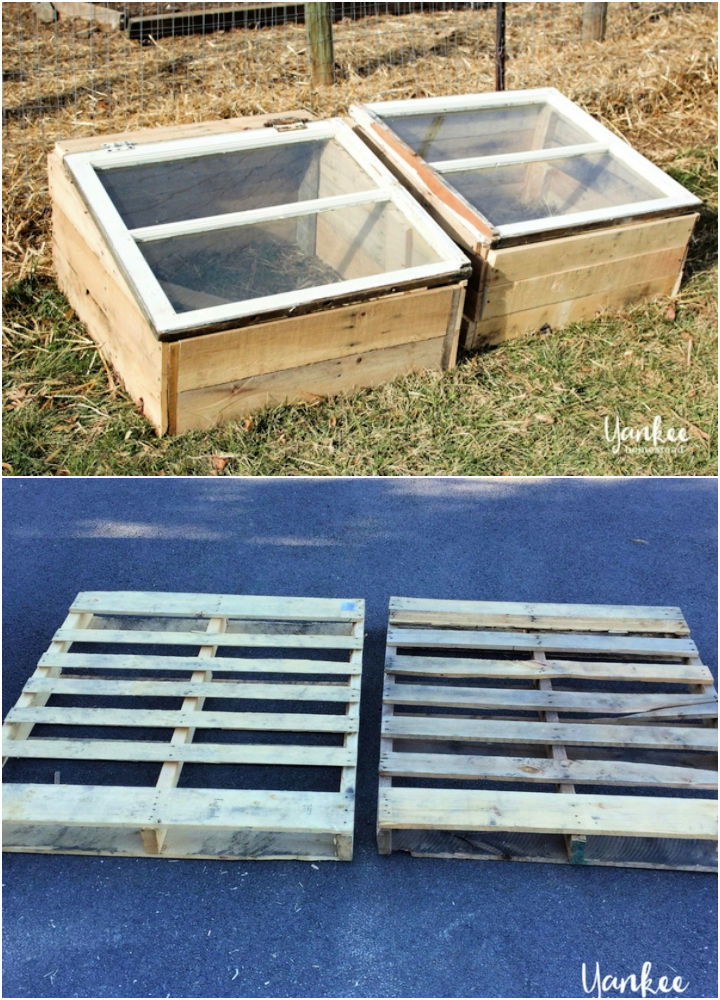 Extend your grown season with this easy to build wooden pallet greenhouse. You need only two pallet skids, a recycled window, screws, and hinges to make this miniature cold frame greenhouse. The best to get out of your pallets for your garden. Get ready with your wooden tools to make it quickly. yankeehomest
2. Easy DIY Pallet Greenhouse for Less Than $50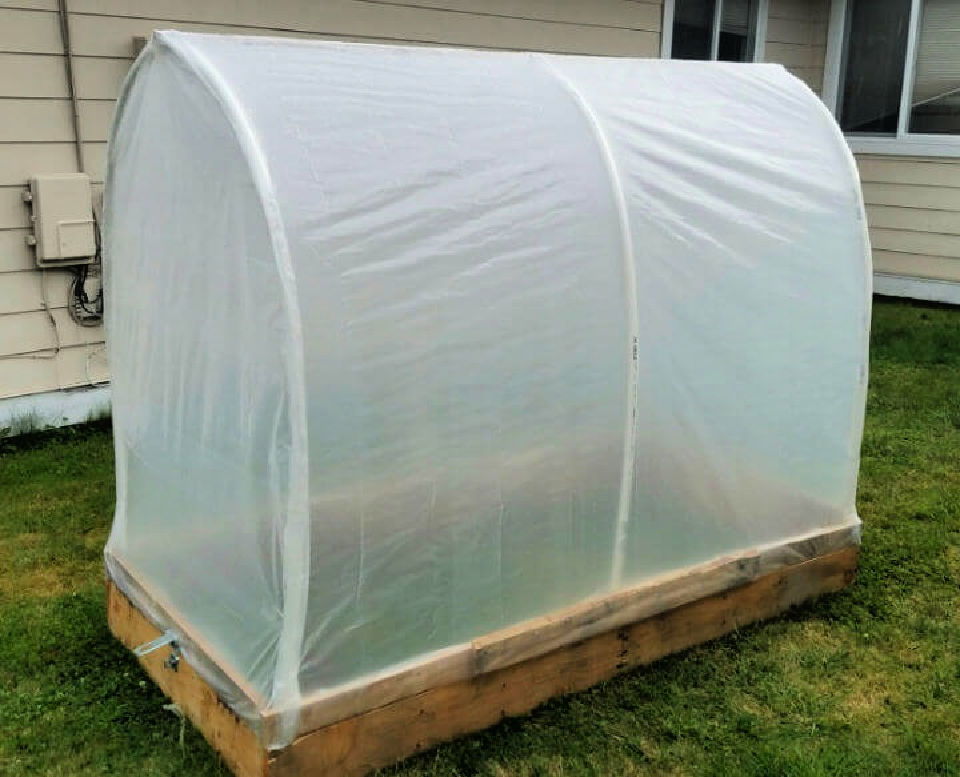 Building a greenhouse can get expensive, build a lovely one at the cost of $50 with free recycled pallets. You only need 12 separated apart pallet wood slats, 25″ x 35″ 3.5 plastic sheeting, and PVC pipes to build this gorgeous wooden pallet greenhouse. The most cost-effective plan for a greenhouse. empathyencom
3. How to Build a Greenhouse Out of Pallets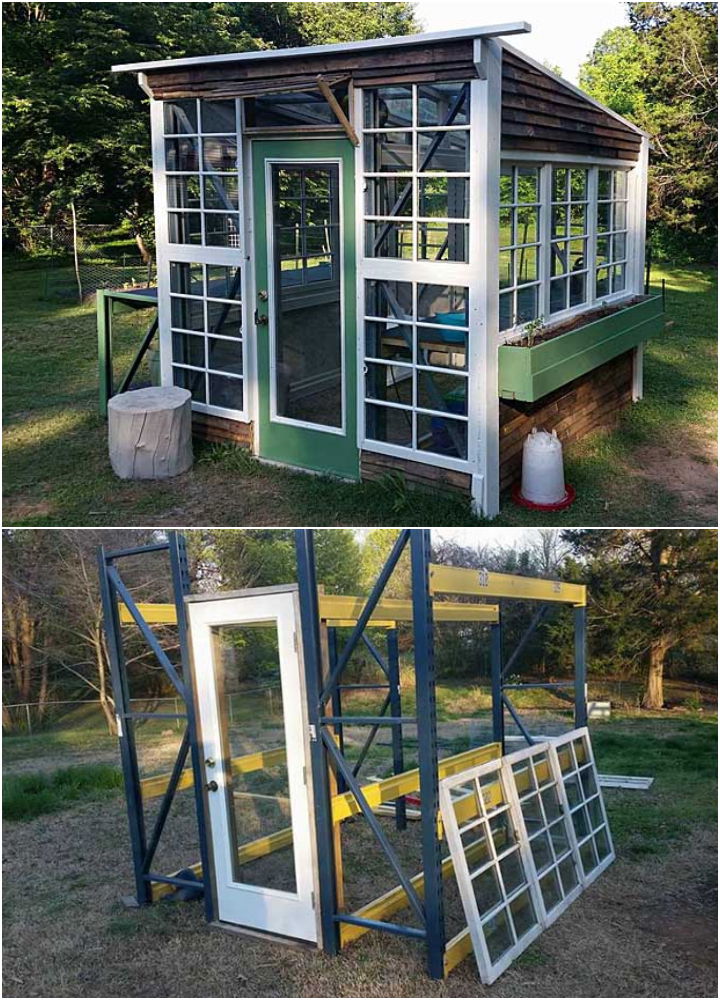 Grab old windows from the recent home renovation, some pallets, and a little extra wood to build this fantastic wooden greenhouse. This will take your gardening to the next level and will be transparent to see what is going inside. Finish it up with a shingled rustic roof. The best place for off-season gardening and to store garden equipment. gardenerspath
4. 5 Euro Pallet Wood Greenhouse Plans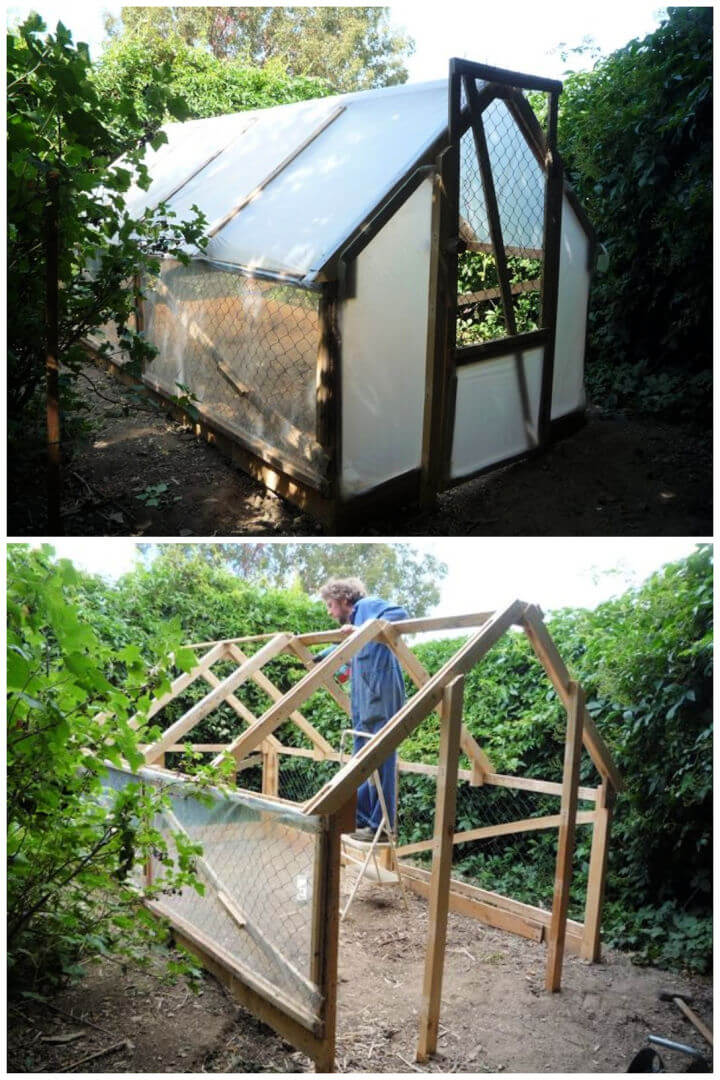 Get here free plans to build a lasting longer, and safer model of a chevron top greenhouse will look like a cute mini chevron house. You need untreated wooden pallets, polyethylene, and chicken wire to build this fantastic model. The construction work is secure and will complete in a few hours. handimania
5. DIY Small Pallet Greenhouse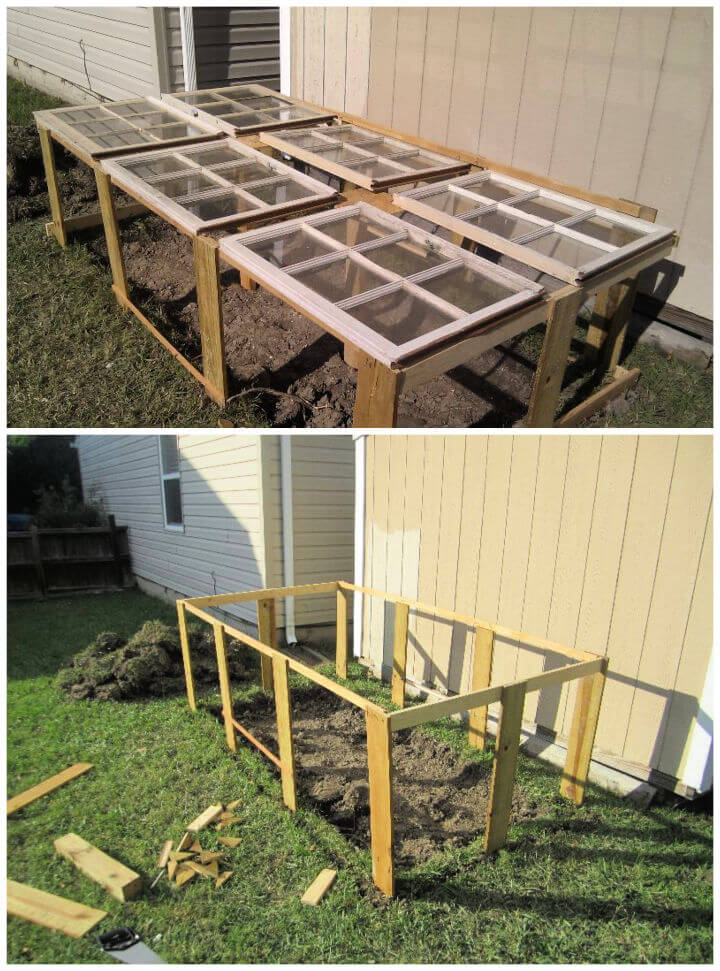 Want to continue gardening in every weather? Then nothing will stop you from growing your favorite plants if you go with pallet greenhouse. The easy greenhouse ever build on a minimal cost price. Build the frame using separated pallet wood slats, top them up with reclaimed glass windows. instructables
6. How to Build a Greenhouse Out of Pallets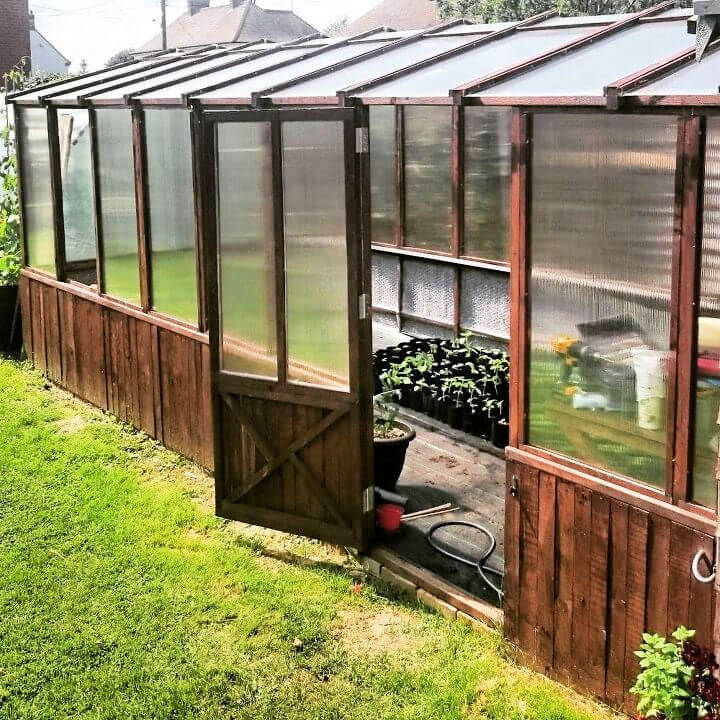 Pallets are super cheap and sometimes available for free. Use this easily accessible source of durable wood to start an off season garden when being on a budget. Building this greenhouse super cheap will make an excellent gift for a garden lover. Install the frame and roof chevron rafters with pallets, next, fill the sides solid using glass panels. hometalk
7. DIY Multipurpose Pallet Greenhouse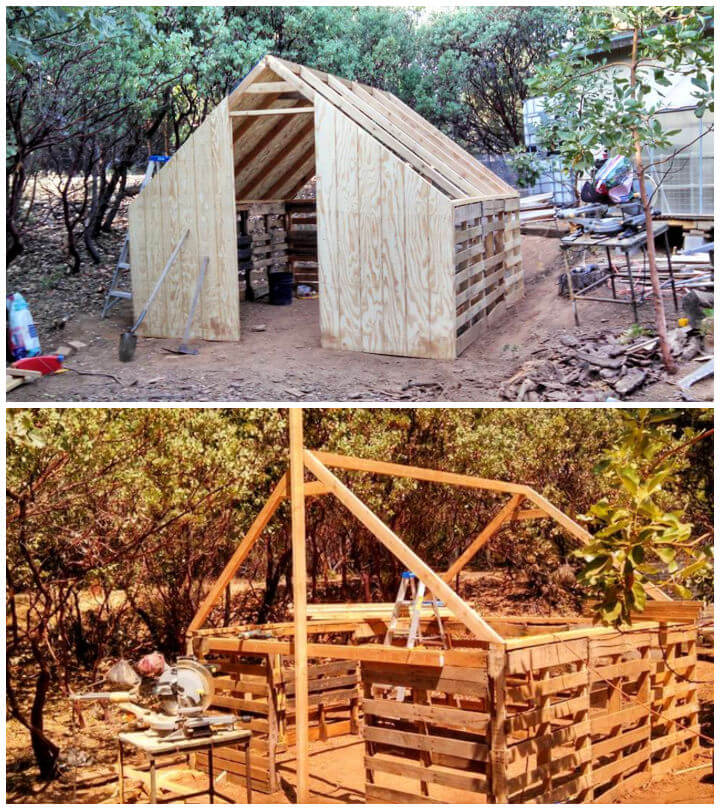 Get amazing garden storage, too, by building this useful pallet greenhouse. It has a fully covered and solid wooden structure and is assured to impress. Align the pallets vertically to build solid side frames, install roof rafters at the top, and next cover the entire frame solid using plywood. Details here steemit
8. Building Greenhouse With Old Windows and Pallets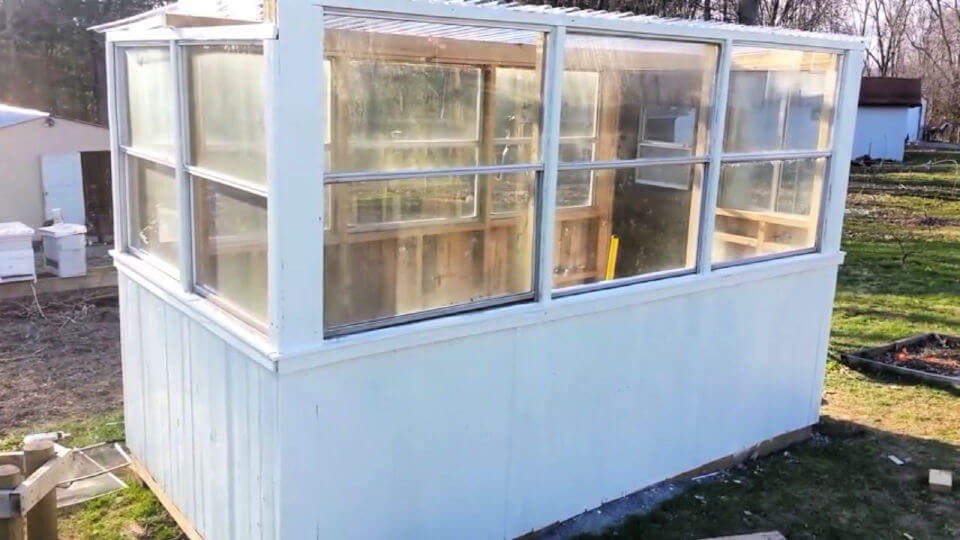 Grown offseason expensive plants in optimum environments and with lots of added protection using this hand-build greenhouse. A big thanks to recycled old windows and pallets for this adorable greenhouse model. A significant pallet achievement will provide pest and weather protection to plants. Video tutorial
9. DIY Mini Pallet Green House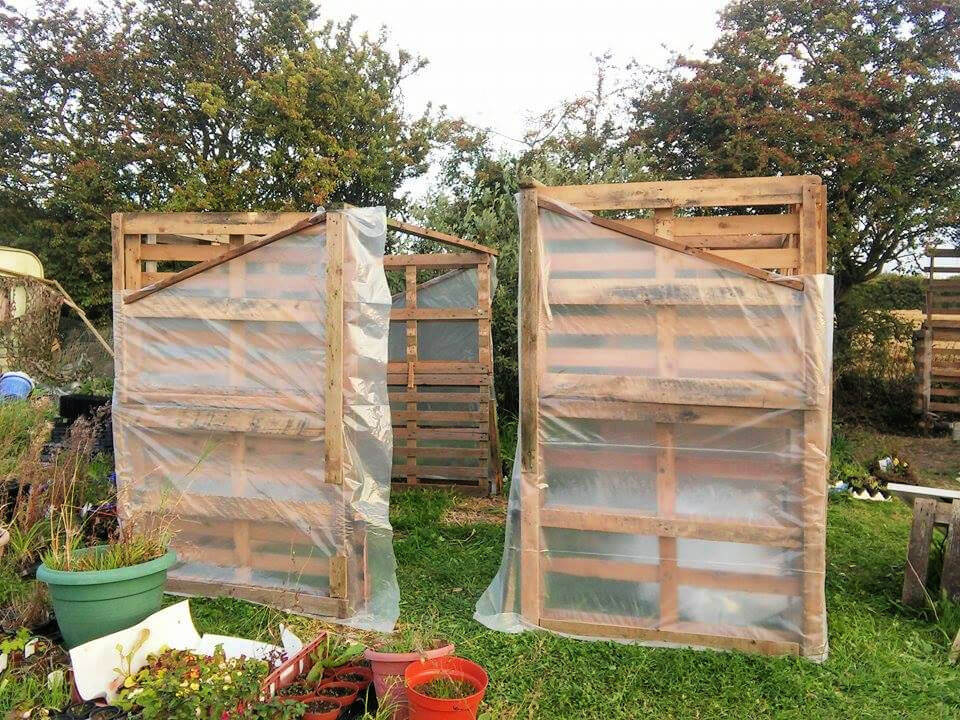 One of the simplest models of the greenhouse to build with pallets. It will rock to provide a custom environment to your plants that are willing to grow in any year's season. You need solid wooden pallet skids and plastic sheets to build these vertical greenhouses.
10. Build Your Own Pallet Green House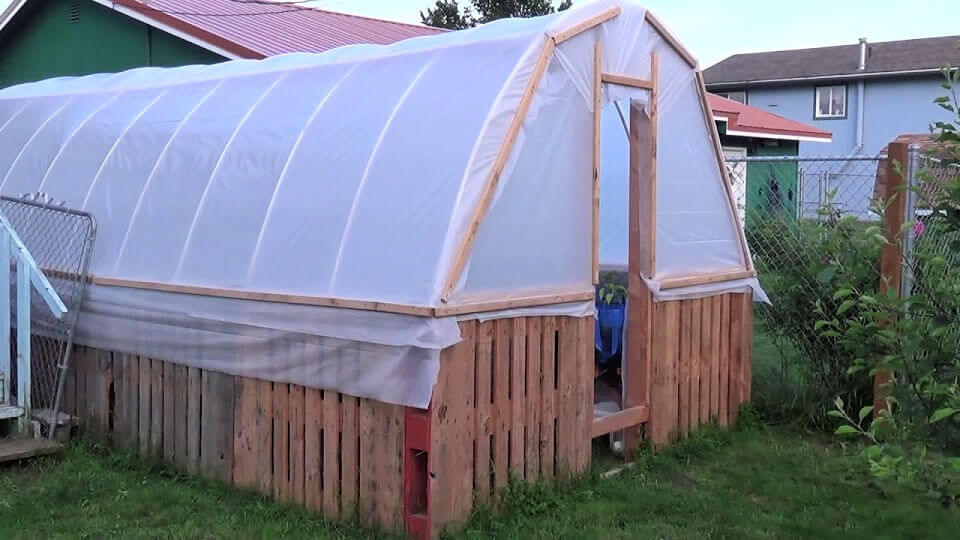 Extend your gardening criteria by constructing no-cost wooden pallet greenhouses. Rock your gardening with this easy to build design, will cost you some pallets, PVC pipes, and plastic sheets. The massive dome style structure will impress at first look. A smarter way to get storage too for your garden. Video tutorial
Related Pallet Projects and Ideas
Pallet Garden: The pallet garden is a very popular, practical and easy-to-build vertical garden that can be used to grow vegetables, herbs, or flowers. The following DIY pallet garden ideas will give you plenty of inspiration for your project.
PVC Greenhouse: You can build a PVC greenhouse for less than $200 with these PVC greenhouse plans with easy to follow guides that include free downloadable PDFs.
DIY Greenhouse: Learn how to build your own greenhouse with these easy diy greenhouse plans. These greenhouse plans are perfect for vegetable gardens, as they keep plants warm and moist. You'll find a variety of styles, sizes, and purposes.
DIY Herb Garden: Grow your own herbs and save money! Find these easy to build diy herb garden ideas of all shapes and sizes – from planters to raised beds, containers to window boxes.
Pallet Projects: Find these brilliant pallet projects with step by step diagrams, each project is unique and has its own style. If you are looking for a way to upcycle those old or unused pallets, then this book is perfect for you.
Fire Pit Ideas: Find easy DIY fire pit ideas that are cheap, quick and easy to build from recycled materials or with minimal tools.
Pvc Pipe Garden Ideas: If you're looking for a way to spruce up your yard, garden, or balcony, these DIY Pvc Pipe Garden Ideas are for you! These ideas are simple and cost-effective.
Conclusion:
If you're looking for an easy and affordable way to add a greenhouse to your garden, consider using pallets. Pallets are easy to come by and can be turned into a sturdy greenhouse with little work. We've provided some plans for building your own DIY pallet greenhouse, so be sure to check them out. With a little effort, you could have yourself a new greenhouse in no time! Have you built your own pallet greenhouse? Share your photos and experiences with us in the comments below.