Quilting is not a big hassle anymore if you are having the jelly rolls. In quilting, the term "Jelly Roll" is a cake or roll of precut 2 1/2″ fabric strips, 1 roll mostly contains 40 fabric strips. So, feel the power of jelly rolls by taking of tour of these 30 free jelly roll quilt patterns that will help you make gorgeous quilts at home. As you have to sew the fabric strips together for an enticing quilt front, so design possibilities are just endless. From simple striped designs to outstanding square blocks to chevron design patterns, you can really do wonders with the jelly rolls. Having precut fabric strips will save a lot of time on cutting and overall quilting.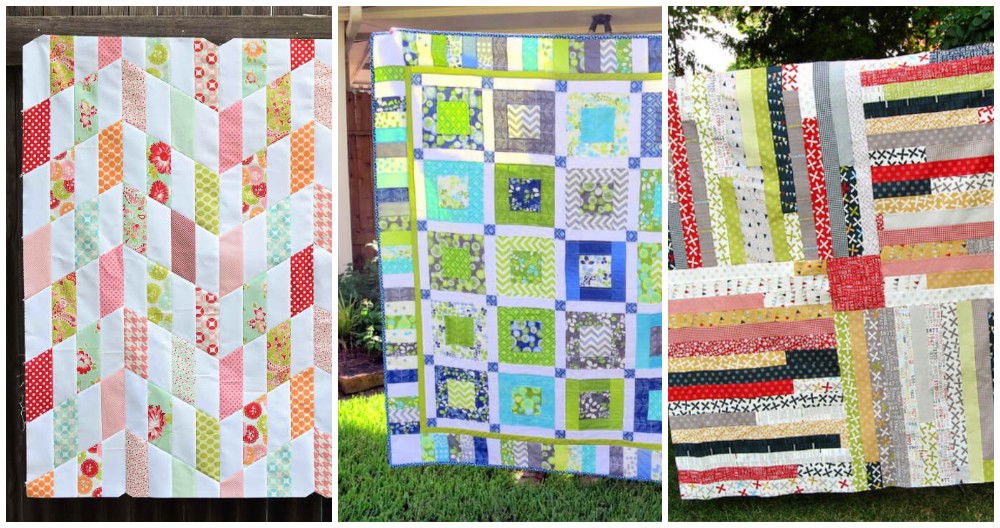 These free jelly roll quilt patterns with step-by-step instructions and tutorials will help you make several different quilting blocks with amazing design patterns using only the jelly roll strips. Next, you will get the guides too about how to weave the fabric strips to gain a basketweave quilt pattern.
The list will impress you with many design pattern wonders done with jelly rolls, making the quilts amazingly beautiful. After making your design block, triangles, or chevron pieces, just lay them on a background fabric. Next, add batting, backing fabric, and binding. Browse the entire list of these Free Jelly Roll Quilt Patterns and get all the professional guides about how to sew a jelly roll quilt like a pro.
1. How to Sew a Jelly Roll Race Quilt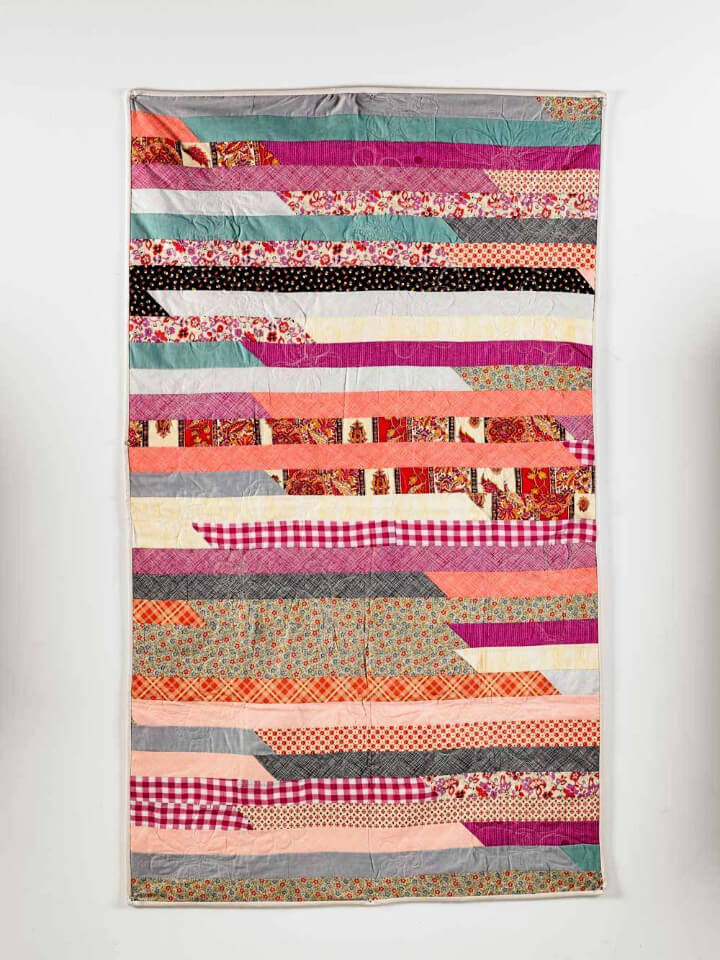 The quilting has become a bit easier using the jelly roll quilt. Use the ready-made rolls of fabric strips to quick sew the quilts. One jelly roll comes with 30-40 fabric strips that may have size 2 1/2″ x 44″. Sew this race quilt for a mother-to-be, will make a sweet gift. Sewing pattern here wisecrafthand
2. DIY Seaside Squares Lap Quilt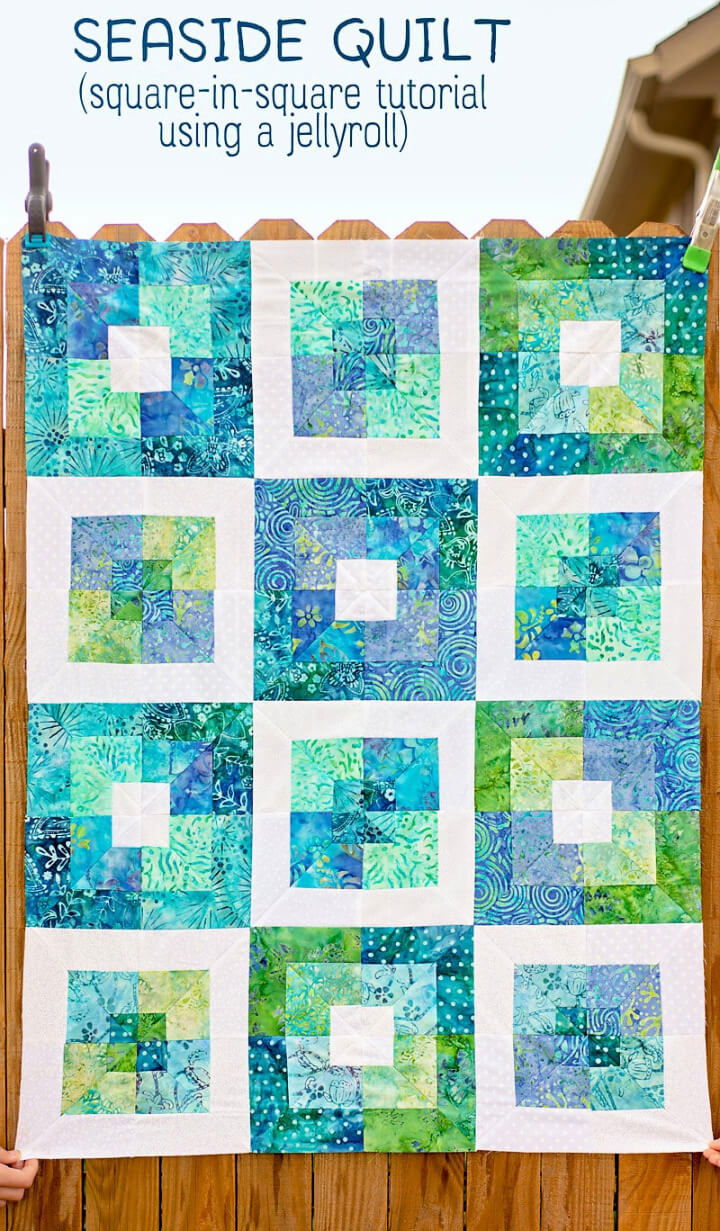 Use the jelly rolls smartly to come up with various outstanding designs of quilts like the seaside squares lap quilt. It will impress at a very first look. Use the rotary cutter, 6.5-inch triangle square up ruler and wonder clips and walker foot to make your work easier. Here this quilt design features 6″ x 6.5″ squares. scatteredthought
3. DIY Four Corners Jelly Roll Quilt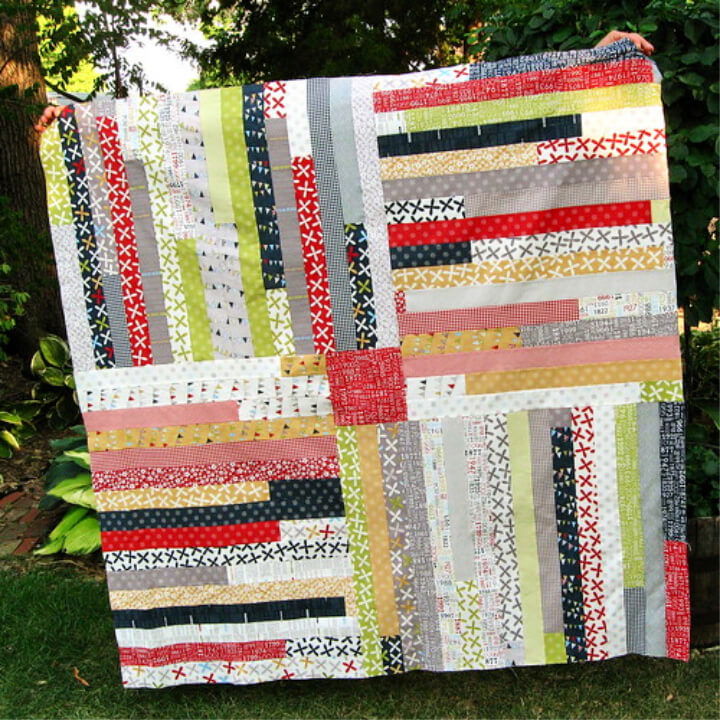 Are you a bigger fan of the colorful line strips? Then you will love to make this four corners jelly roll quilt. Grab the jelly rolls and plan the squares with strips, the accent feature of this quilt design. Use a custom backing and batting, the best quilt design to make for a baby. quirkygranolagirl
4. Paganelli Jelly Roll Race Quilt for Mom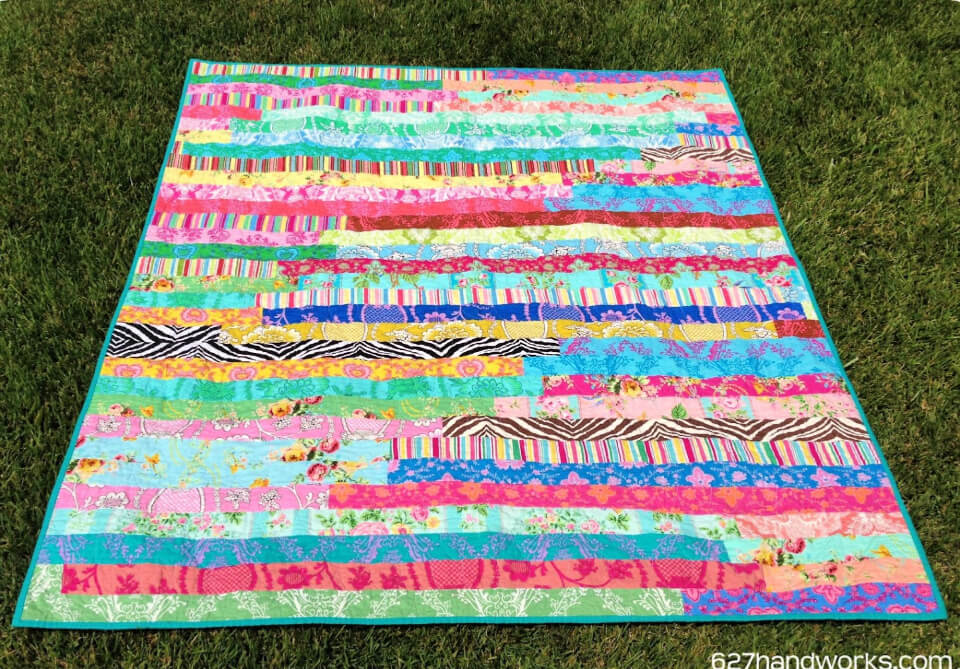 Sew the jelly roll strips in a simple and straightforward to get this quilt design made quickly. The projects involve sewing together the colorful jelly roll strips to get this race quilt made, which will rock for picnic purposes too. Do make this quilt to add to your baby's wardrobe. 627handworks
5. Easy DIY Jelly Roll Quilt
Satisfy your love for the triangular block patterns using this jelly roll quilt. Sew the strips first and then cut 6.5 squares out of them. Next cut the diagonally and sew together to get this jelly roll quilt made. A super quick and bizarre design of quilt to super fast. stitcherydickory
6. Jelly Roll Lasagne Quilt – Sewing Pattern
You will love to own this jelly roll quilt due to incredible softness and line striped design. A big thanks to jelly rolls again for this beauteous quilt design. Unroll the fabric strips, cut into desired sizes, sew them together, making a rectangular quilt size. Add a custom backing fabric and finish with favorite batting. thetiltedquilt
7. Scrappy Granny Square Quilt

Use only 3/4 of the scrappy jelly roll having multiple fabric in a block. Sewing this quilt will fit your budget, and it would be easier to sew the strips to make a granny square block. You need 3.5 yards of white fabric for backing, and each block contains 12 2.5″ white squares and 13 2.5″ assorted squares. quiltylove
8. How to Make Striped Chevrons Quilt

You will love another creative jelly roll achievement, the striped chevron quilt, looking amazingly beautiful. Sew the 4 2.5″ strips of alternate fabric colors, next use ruler for a 60-degree cut and gain an almost 6 inches chevron block. Sewing these blocks together will make you get the striped chevron quilts. kitchentable
Free Quilt Patterns:
Baby Quilt Patterns: Find some of the cutest baby quilt patterns you have ever seen and this list also contains free printable patterns.
Puff quilt pattern: Download the FREE Puff Quilt Pattern! DIY puff baby quilt is perfect for even a beginner to make and is so cute for a baby's nursery!
9. Simple DIY Jelly Roll Quilt

Get rid of scrap fabric strips in a genius and useful way doing the quilt, a jelly roll project. Sew the strips of different colors together, making square blocks, pack a set of 4 jelly roll square blocks to create a giant square quilt. Make sure each alternate square is having a different direction of fabric strips. patchworkposse
10. Make a Jelly Roll Quilt

Opt for this quilt, will make a great lap throw, and the best baby quilt. The most straightforward sewing project that involves sewing simple straight strips of fabric, the jelly roll lengths. Sew the lengths together to the desired width and next into blocks. Sew the blocks again together for making a jelly roll quilt. seasonedhome
11. Jelly Roll Strip Quilt – Free Sewing Pattern

Playing with geometry and colors is highly smart for your brain, sewing this jelly roll strip quilt is going to make you do so. Again you have to sew the jelly roll strips together for making a wide ribbon. Cut block slices of that ribbon that you can sew again together, making the quilt. Use 1.5 yards of off white cotton for back and a batting. seekatesew
12. How to Sew Strip Tube Quilt

The quilts are the warm wraps that you can now create on your own at home. The pattern of your quilt depends on how you sew up the quilt pieces together. If you are looking for a unique and cute quilt this easy to sew strip tube quilt is just apt. abrightcorner
13. Baby Jelly Roll Quit

Are you also collecting the baby jelly roll quilts for some time? Then making this pretty baby jelly roll quilt would be a great idea to use all that quilt scrap. The quilt is quite catchy and colorful but low in volume thus perfect for the little ones. diaryofaquilter
14. Jelly Roll Color Stack Quilt

Fall is the season that lets us enjoy the lightweight quilts to feel all the comfort and warmth. Here is this DIY jelly roll color stack quilt which is quite fitting for the autumn. Get the pieces of one color sewed together in a stack form and it's done. hopefulhome
15. How to Sew Jelly Roll Quilt

Using the fabric strips, sew the blocks with so many fantastic design patterns. Next, sew them on a solid colored backing fabric, finish with batting. Finally, the completed jelly roll will make a sweet baby gift. The best to sew jelly roll quilt. Full guides here shopmartingale
16. Easy to Make Jelly Roll Quilt

Get here instructions to sew all sizes of a jelly roll quilt like a lap size, twin size, queen size, and a king-size quilt. Quilting is damn easy with the jelly rolls, a smart way too to get rid of scrap fabric strips. The quilt looks great with the confetti of smaller blocks and the easiest sewing project. Details here iseestarsquilting
17. Make a Jelly Roll Baby Quilt

Sewing the jelly roll strips together, folding them in half and sew again, fold again and sew so on is what you need to do to make this jelly roll baby quilt. Add backing, batting, and finish with binding. The colorful strips look like a puzzle game, and this is the whole beauty of this quilt design. carrieactually
18. Pretty Jelly Roll Rail Fence Quilt

Piece the 2 1/2″ jelly-roll strips together making square blocks, sew them together repeating until you get a whole big size of rail fence quilt. You need almost 78 total jelly roll strips to sew this quilt having a size 72″ x 78″. Adding the backing fabric, batting, and binding of choice. materialgirlquilts
19. Jelly Roll Stash Buster Quilt

Use the 64 2.5″ strips of jelly roll to sew the 56″ x 63″ size of this quilt. A big stash buster project that involves easy sewing. Sewing the strips, then cutting blocks out of them is the whole process you need to do to sew this quilt design. Sew the blocks in custom arrangements to vary the design texture. cluckclucksew
20. Jelly Roll Curtain Call Quilt

Fabric requirements for this project would be a jelly roll, 3 yards of background fabric, 5/8 yards of binding fabric and 4 yards of backing fabric. The jelly roll curtain call quilt will be loved dearly by all, give it as a sweet handmade gift too to a newly became mother. piecedjustsew
21. Rainbow Quilt from a Jelly Roll

Bring rainbows to your home by sewing these rainbow quilts, will fancy up every baby's room. Take a rainbow jelly roll and sew the strips together, making a 42″ x 60″ size of a rainbow quilt. The backing, binding, and batting will be required as in other quilting projects. crosscutsewing
22. Quick DIY Jelly Roll Quilt

Going with jelly rolls will make the quilting a bit easier, and you will the way this jelly roll quilt will look in a baby's room. Sew the strips, and this time cut square blocks out of them that you can put together on a backing fabric in various different arrangements to get this quilt design made. so sew easy
23. Little Ruby Quilt – DIY Jelly Roll

Making this little ruby quilt with jelly rolls will demand some extra tools like a creative grid 60-degree double stripe ruler and a creative grid hexagon trim tool. The quilt features a pinwheel style design pattern that repeats throughout the design, making a cool jelly roll quilt pattern. blossomheart
24. Make Your Own Basic Jelly Roll Quilt

Go with a custom seam size and sew this very basic jelly roll quilt, looking great. Sew the jelly roll strips together straight for this quilt design having a striped appeal. Add quilt and batting and finish with binding to get the soft fluffy quilt in hands. A super cheap and low-cost idea for making a quilt. justsewolivia
25. Fabulous DIY Cozy Posy Triangle Quilt

The physical act of making quilts helps remove stress from your life. Satisfy your love for triangles making this cozy posy triangle, cut out the triangles quickly out of sewed jelly roll strips. Next, lay them down on a solid fabric piece making a triangle quilt. Finish with batting and binding. modafabrics
26. Charm Jelly Roll Friendship Quilt

Gift-giving helps build stronger friendship bonds. Please, a mama-to-be friend with this charm friendship quilt, the best gift to sew with your own sewing machine. The design features square in a square pattern and looks great with the striped border. Choose a fabric in color of choice for backing and finish with binding. thecottagemama
27. Sew Your Own Stitchy Squares Quilt

This design will impress with the square in square design magic, the best stitch square quilt. Make each block of it using a 5″ charm square and 2.5″ jelly roll strips all around. Each block has a 9″ size, and you need 36 blocks to make this quilt design. sameliasmum
28. How to Make Basketweave Quilt

You need 1 jelly roll, 1 yard of white backing fabric, 1 yard of low-loft batting, 1/2 yard of binding, and freezer paper to make this basketweave quilt design. You need 2″ cream fabric color strips too to make this quilt design. Weave the strips together to sew the accent front. honeybearlane
29. Jungle Path Baby Quilt – Free Sewing Pattern

Using even a single roll of jelly rolls, one can sew fascinating jelly roll quilt patterns. Take quilting to the next level by sewing this jungle path baby quilt. Grab 1 charm pack, 1 jelly roll, and 1 1/2 yard Bella solid in white to make this baby quilt, features a jungle bath block in so many different colors. modafabrics
30. Simple DIY Boxes of Colour Quilt

This quilt design has a totally unique design pattern, the boxes of colors. A 1 jelly roll quilt sewing pattern that will demand 1.5 yards of solid background fabric, 0.5 yards of binding fabric, and 3.5 yards of backing fabric. modafabrics