A carpet is an impressive addition to hardwood, tile, or laminate floors. Get your spaces ready for great first impressions using a jelly roll rug pattern that is as easy to make as they are beautiful. Along with helping in easy noise reduction, these rugs will boost the insulation value of an interior. A big plus point is that you can make these rugs in any color you want, changing the entire color scheme of that particular space. If made in enchanting sparkly colors, they will help brighten up your darker rooms too. So, go with these 10 free Jelly Roll Rug Patterns to enhance your home decor, along with adding softness to your hard floors.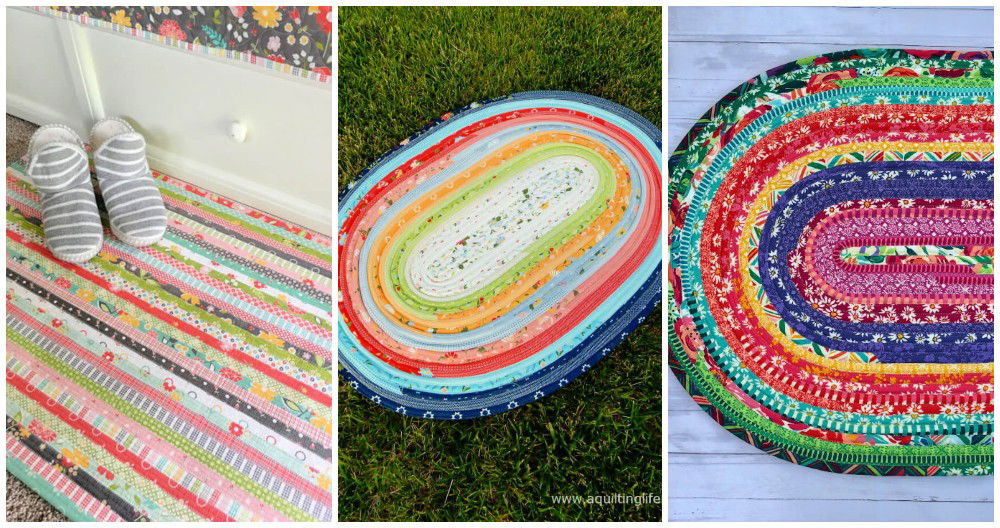 Most of the jelly roll quilt patterns are super easy to sew and involve laying up the fabric strips with the quilt batting strips that one can fold and sew to make fluffy fabric yarn. And, you will need this fabric-covered batting yarn to make all these rug patterns, super soft to walk on barefooted.
After you get the rolls of stuffy fabric yarn, you can start making your rug design. Coil the yarn to make oval-shaped or circular rugs. Sew them straight in place to make striped jelly roll rugs. So, check out all the rug designs given in this list of 10 simple and free DIY Jelly Roll Rug Patterns and get yourself inspired.
1. How to Make Jelly-Roll Rug
Go for a fantastic noise reduction by choosing this jelly roll rug. Use the jelly-roll 2 1/2″ strips and tube batting to sew a fabric rope that you can coil up to make an area rug. Sew the coiled rug with zig-zag stitches, the best jelly roll rug, super soft to walk on. andreasuzannes
2. Sew Your Own Rectangle Jelly Roll Rug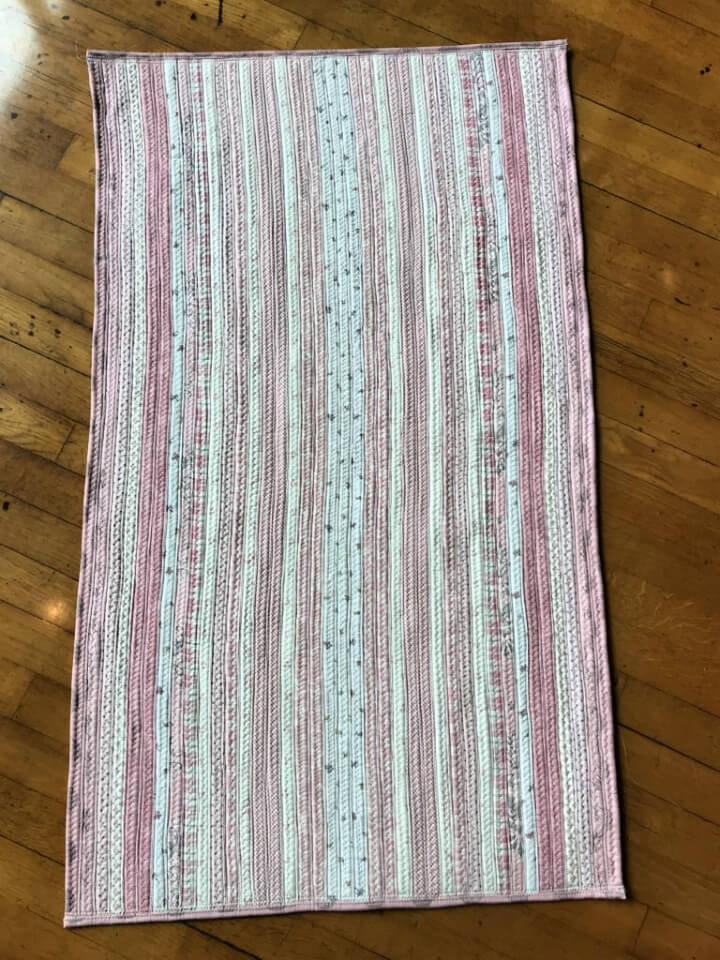 Get your room entrance impressive by adding this rectangle jelly roll rug. This project will demand to make fabric-covered batting yarn that you can put together for making a lovely rectangular rug. The finished rug is 3′ x 4′ and will surely impress. createwhimsy
3. Pretty DIY Jelly Roll Rug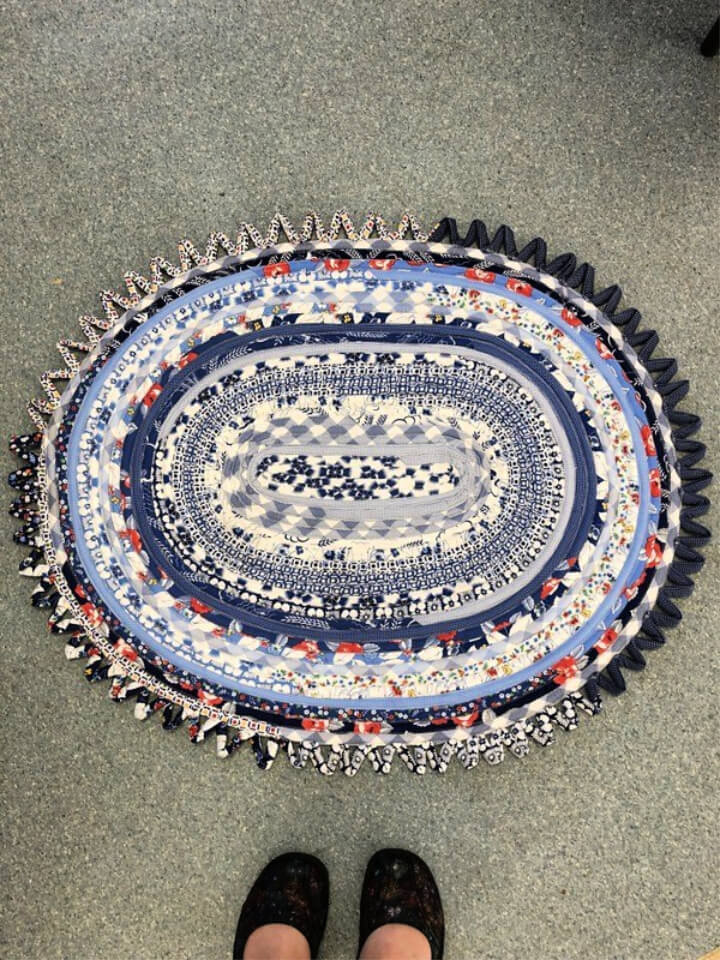 Jelly rolls are just fantastic for quilting. They are great to make accent rugs too. Bring a significant wow factor to any of your spaces by adding this jelly rolls rug having rainbow colors. Use 2 rolls of rainbow batting 2″ x 25m and jelly rolls to make this rug. Sew this jelly roll rug with the quilt batting in them to make batting rolls, required to make this rug. It looks excellent with fancy edging. quiltjane
4. Easy to Make a Jelly Roll Rug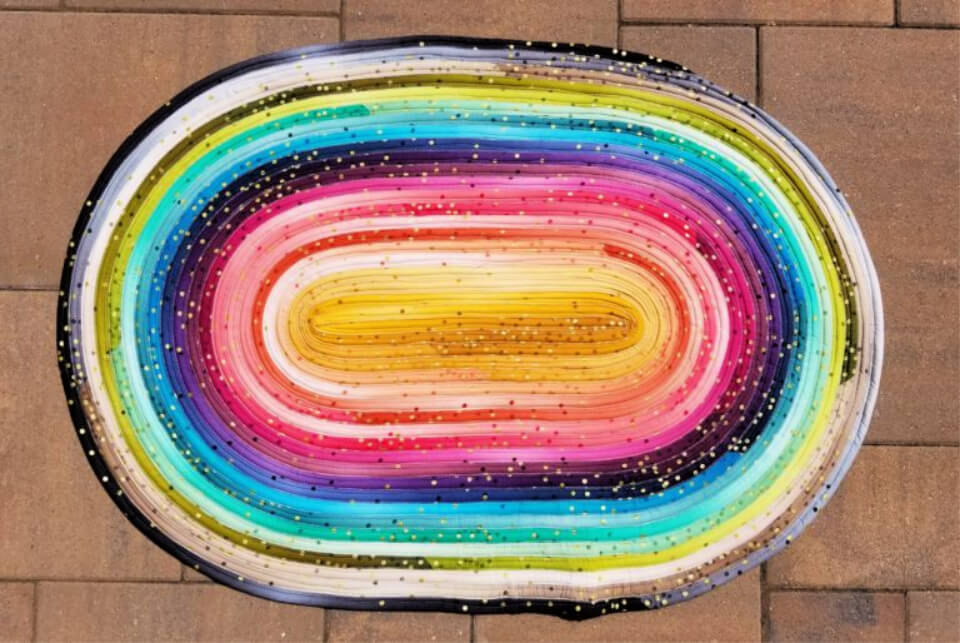 You will fall in love with the beautifully merged bright neon colors of this jelly roll quilted rug, which will add a new definition to any room interior. Sew the jelly roll strips into rolls by sewing them with batting stuffed in them. The fabric-covered quilt batting rope will be all you need to make this rug. Details here dizzyquilter
5. Simple DIY Jelly Roll Rug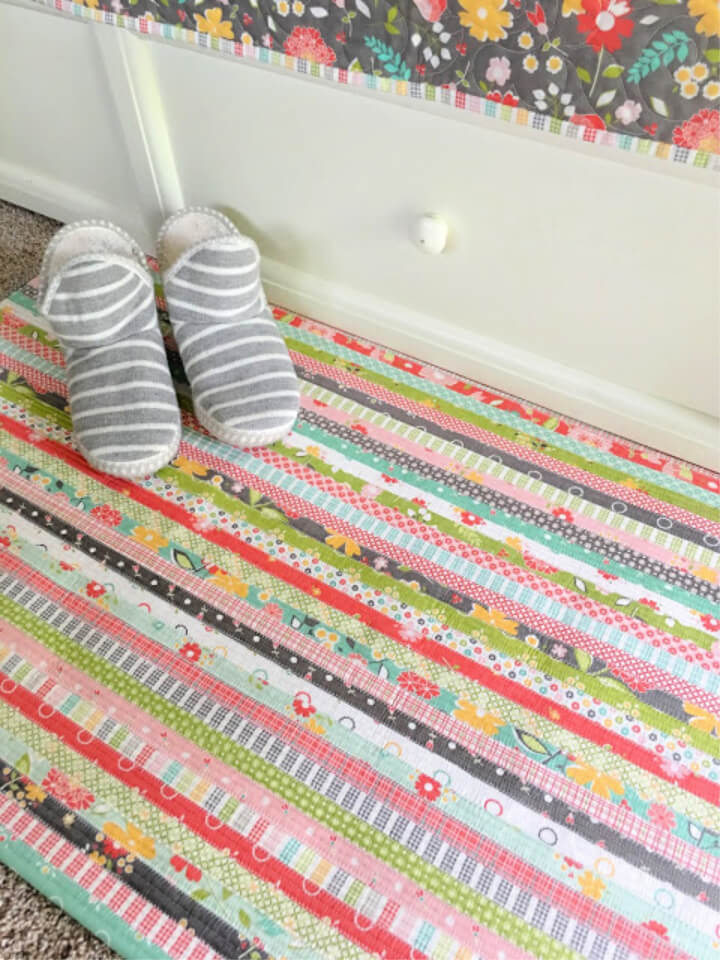 If you are highly obsessed with quilting, you will love making this jelly roll rug, too, looks like a striped quilt. The finished size of this rug is 32″ x 42″. Pair the 1/2″ batting strips with the fabric strips to make the stuffed yarn that you can lay flat as lines to sew as a fab jelly roll rug. carriedaway
6. DIY Jelly Roll Rug Tutorial
Attach 2 strips of precut batting using zig-zag sewing stitch. Next, lay them on the fabric strips. Fold and sew for getting fabric-covered yarn, the ultimate material you need to make this jelly roll rug. Fold the lengths and then coil around, sew in place and gain this rug having size 33″ x 26″. lifewithjane18
7. Jelly Roll Half Moon Slice Rug
Use the partial role of a jelly roll having 22 lengths of 2 1/2″ strips, precut basal batting having 2 1/4″ pieces, wonder clips, and a sewing machine to make this half-moon slice rug. It will impress at a first look and comes with an accent border. Go with 1/4″ seam throughout the project. ohsewsally
8. Clover Hollow Jelly Roll Rug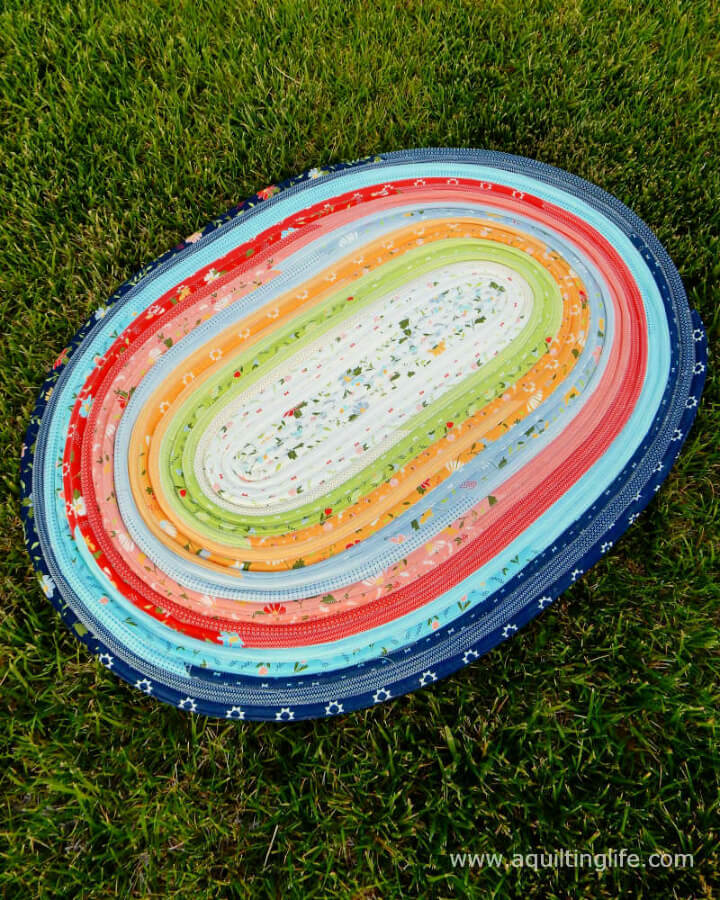 Download the free PDF pattern here to make this hollow clover rug using jelly roll and precut package of batting roll. Layer the batting up with the wrong side of fabric strips, fold and sew to make stuffy fabric yarn. Next, follow the directions in the pattern to make this enchanting and brightly colored jelly roll rug. aquiltinglife
9. How to Sew a Jelly Roll Rug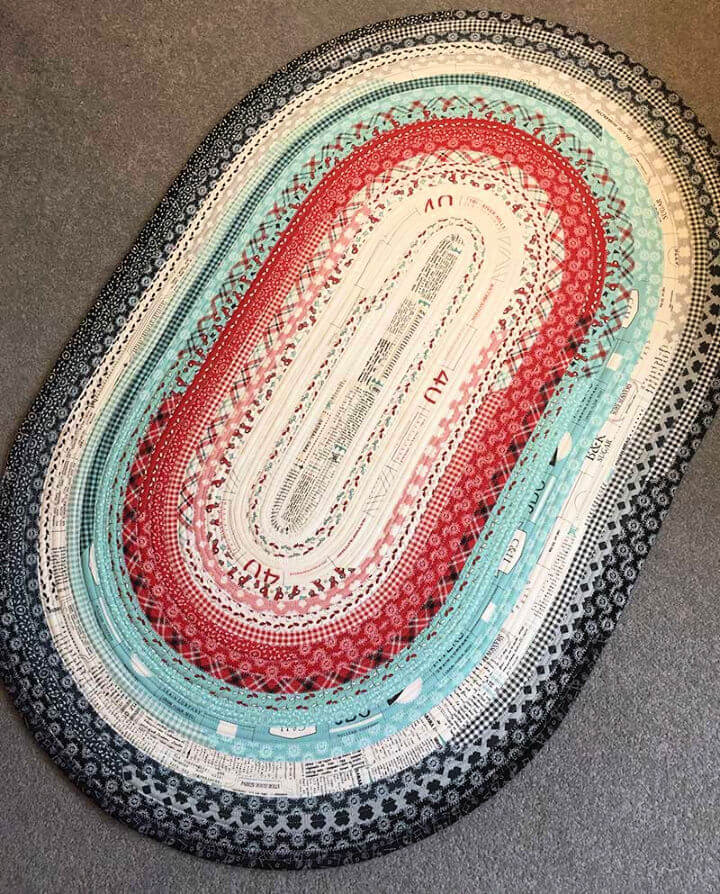 Fancy up your dull spaces with this easy-to-sew jelly roll lug. The colorful appeal is mesmerizing and will win the heart of every home lover if given as a handmade gift. Experiment with this project with desired fabric strips or jelly rolls. Full tutorial here saidwithlove
10. Make Your Own Jelly Roll Rug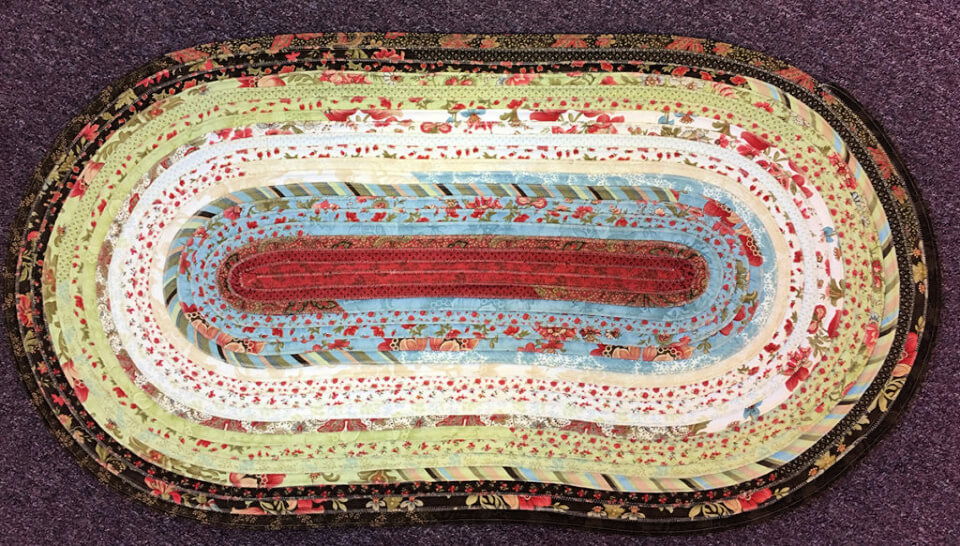 Spruce up your hardwood floors with this jelly roll rug, the quite easy design of carpet to sew in no time. This rugs is another excellent appreciation of the jelly rolls, has made the quilting and making rugs quote easier. Details here quiltingcompany