Looking for a creative, functional way to store your Nerf guns? Look no further! Here are 8 easy DIY Nerf gun storage ideas that will help you keep your nerf guns in tip-top shape, including hanging peg boards, wall-mounted PVC pipe racks, and repurposed dresser drawers. These nerf gun storage ideas not only keep your guns organized but also add a unique touch to any playroom or game room.
Anyone who is into Nerf guns knows that they can quickly take over a home. They are everywhere, and it can be tough to keep them organized and out of the way. That's why we've gathered some of the best DIY Nerf gun storage ideas to help you get control of the situation.
From a simple diy nerf gun rack to complex wall-mounted nerf gun storage systems, there's sure to be a storage option that will work for you. And the best part is that many of these DIY nerf gun storage ideas can be built using items that you already have around the house. So what are you waiting for? Get started on your Nerf gun storage today!
1. DIY Nerf Gun Storage Pegboard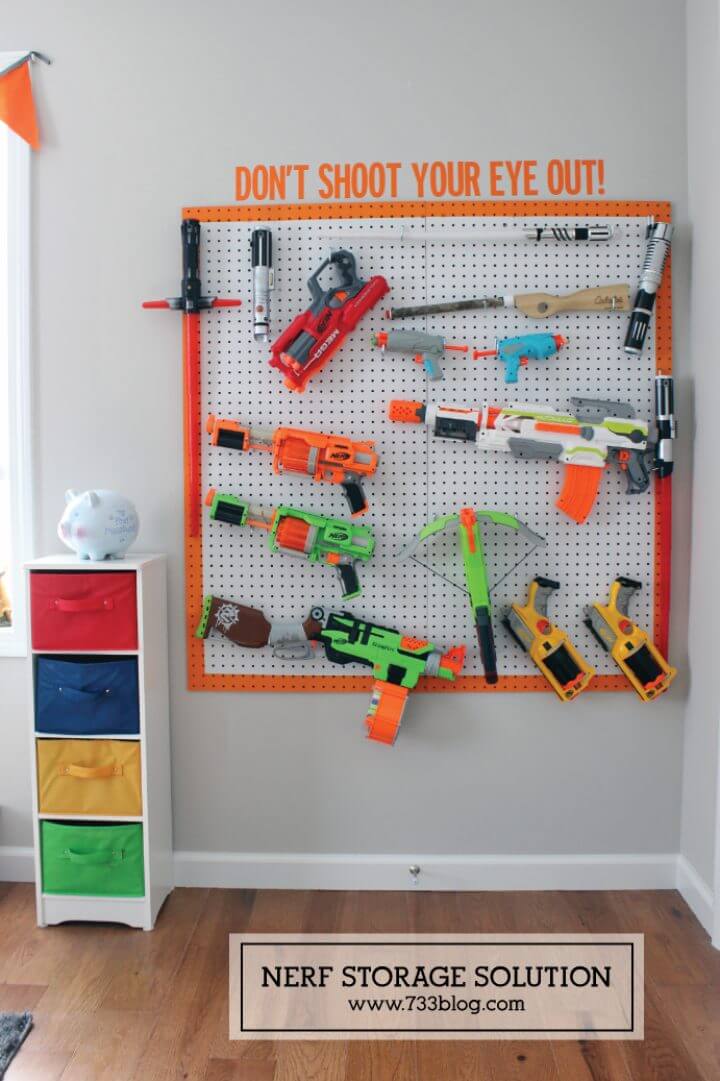 Kids love to play with Nerf guns, and there is really a wide range of these guns available in the market. If your kids are having a lot of these guns, then storing them nicely may be a problem. Solve it using this DIY nerf gun storage pegboard that comes with an accent orange boundary. Details here inspirationmade
2. Make Peg Board Nerf Gun Storage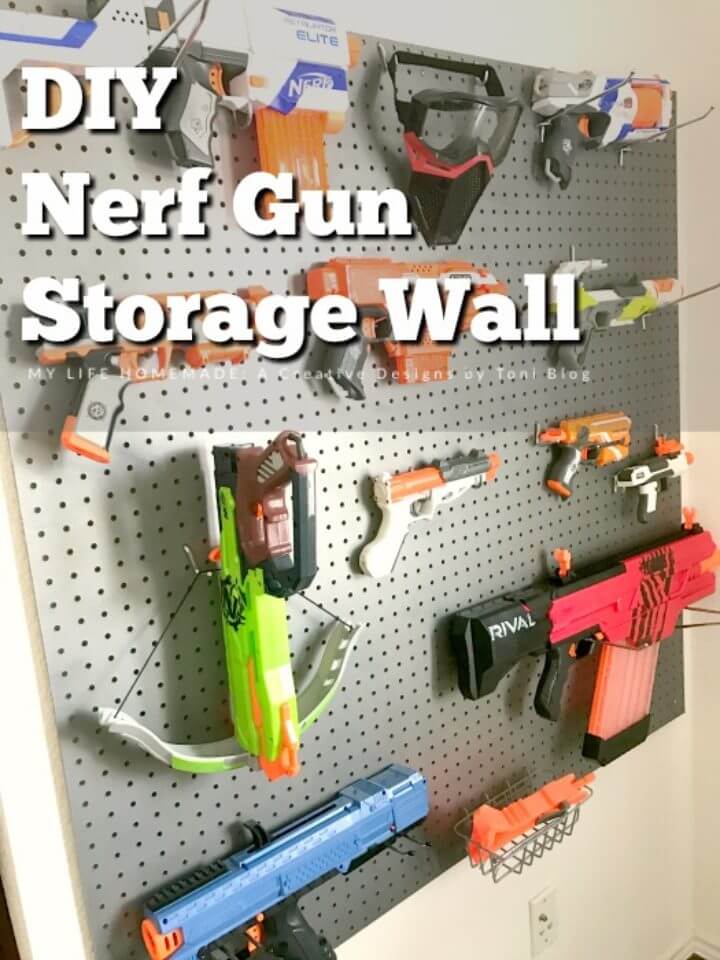 Sorting out the best storage solutions to store and organize the kids' toys? Then you must make this pegboard Nerf gun storage using pegboard. Build a pegboard using a wooden board or grab a readymade one in the desired size. Next, use pegboard hooks and spacers to display a variety of guns. Details here creativedesigns
3. DIY Peg Board Nerf Gun Wall Storage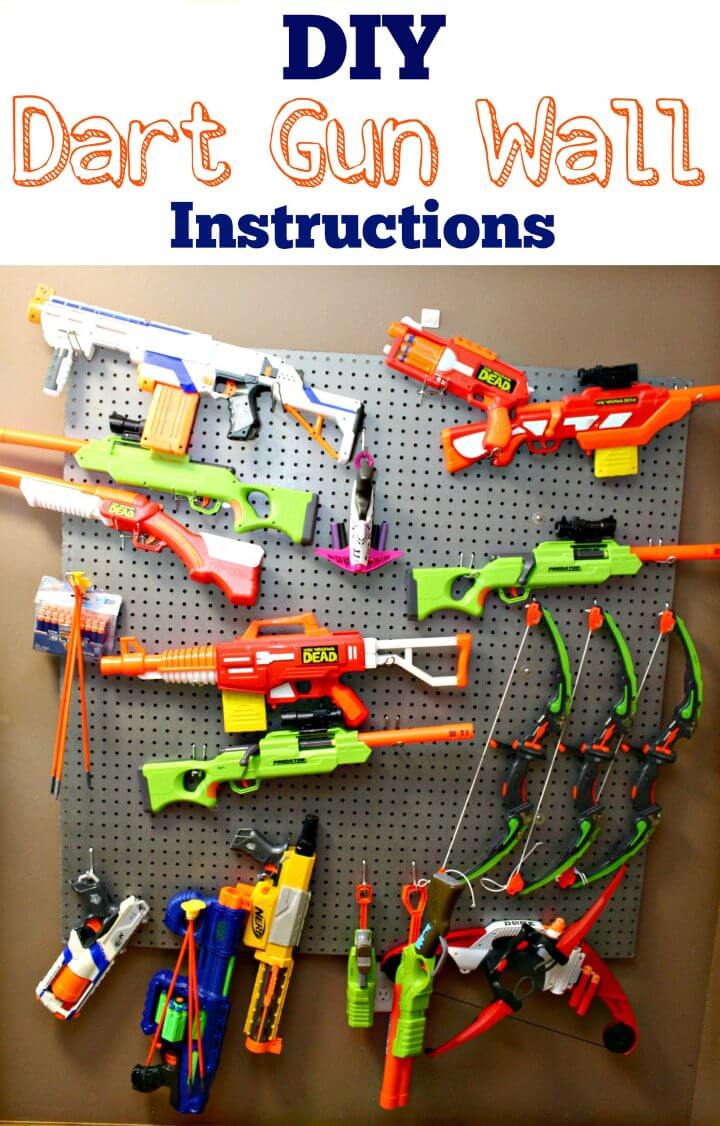 Nerb guns are a big love of all the kids, and even adults love to shoot the foam and plastic balls. So, why not display them beautifully around the home using pegboard? Simply grab a pegboard to the desired size, spray paint its front to look metallic. Organize the Nerf fun collection using pegboard hooks. Details here thriftynifty
4. Nerf Gun Storage Using Peg Board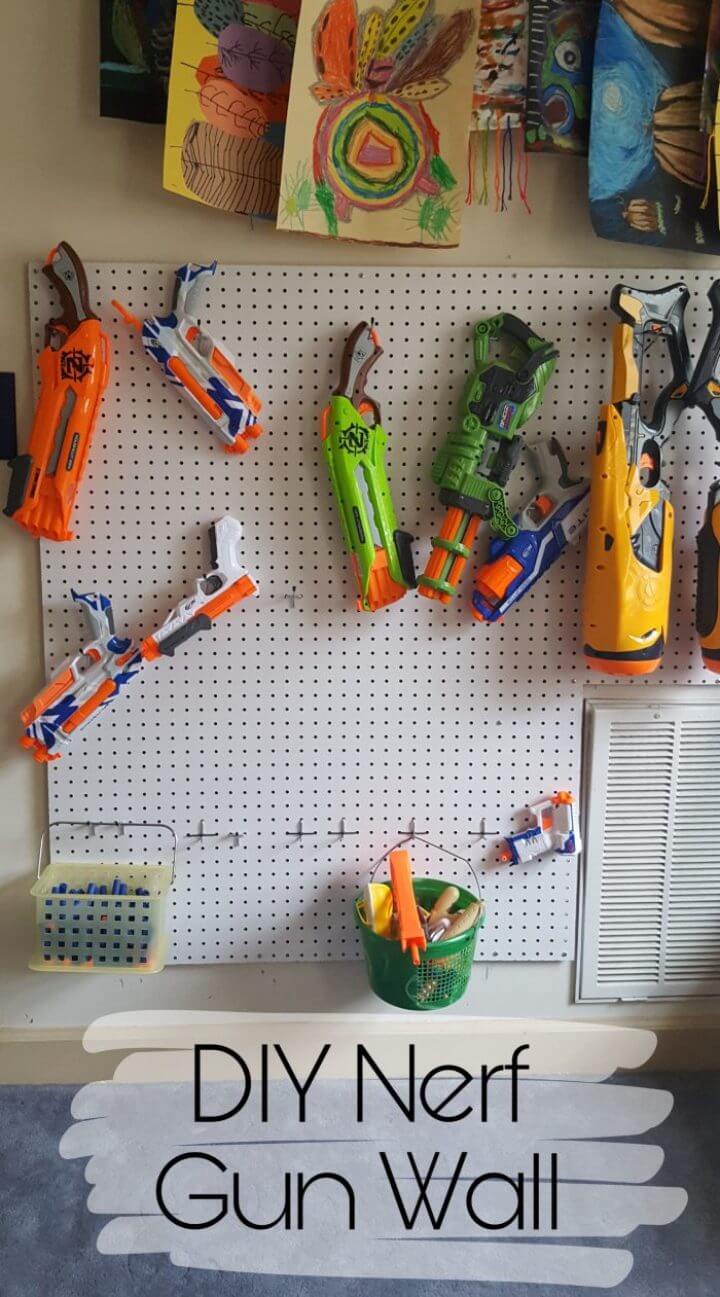 Store the fun shooting guns of kids like a pro using this pegboard, will nicely display the gun collection. One of the best Nerf gun storage ideas without getting a bit expensive. Here you only need a pegboard and some hanging storage baskets to build this kids' storage. Details here ithappensina
5. Nerf Gun Battle Wall Storage for Under $100
Do you love to play with the Nerf guns while the kids are around, then here is how to organize the Nerf gun collection. Create this amusing wall storage for kids shooting gun toys, will cost you less than a $100. Add up the pegboard holes with hooks to display the guns on an enchanting angle. lifewithoutpink
6. Turn Door Shoe Rack Into Nerf Storage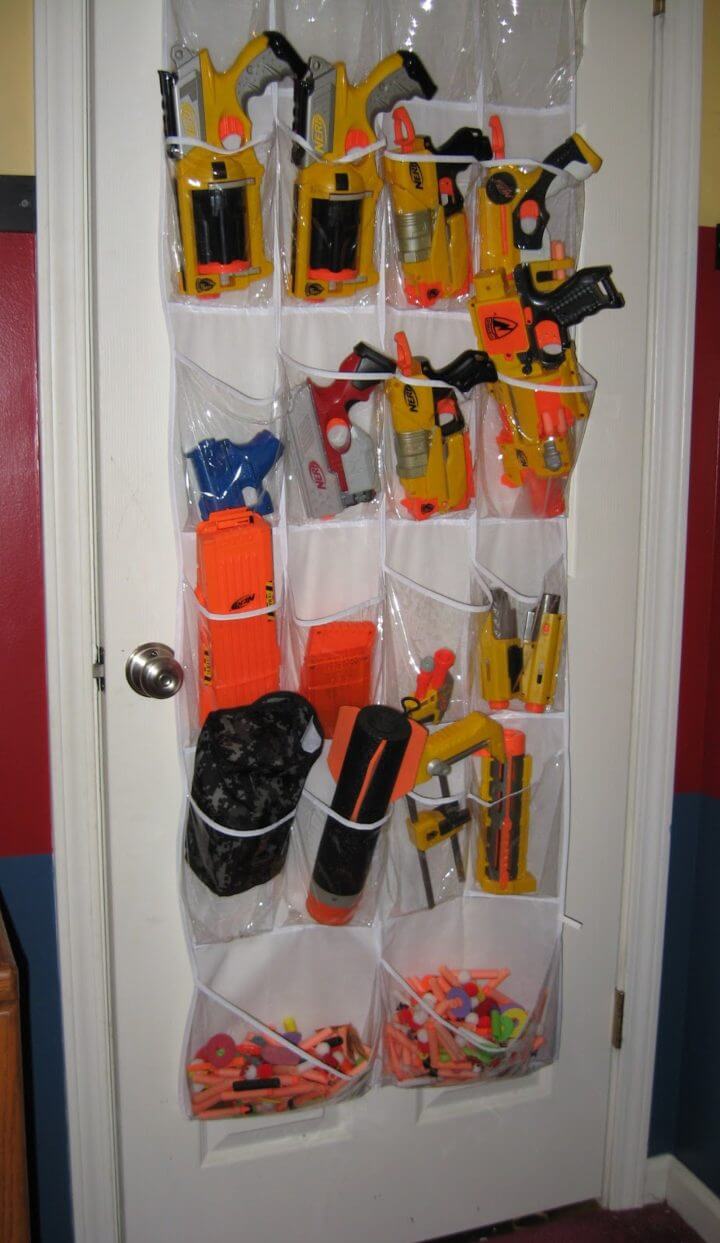 Puzzling at storing the kids Nerf guns? Do this in an amazing way with this door shoe rack. The plastic pockets will be ideal for holding the Nerf gun collection, and due to being transparent, they will display them nicely too. Store bullets and darks in the very lower pockets. mooremagnets
7. DIY Wire Rack Nerf Storage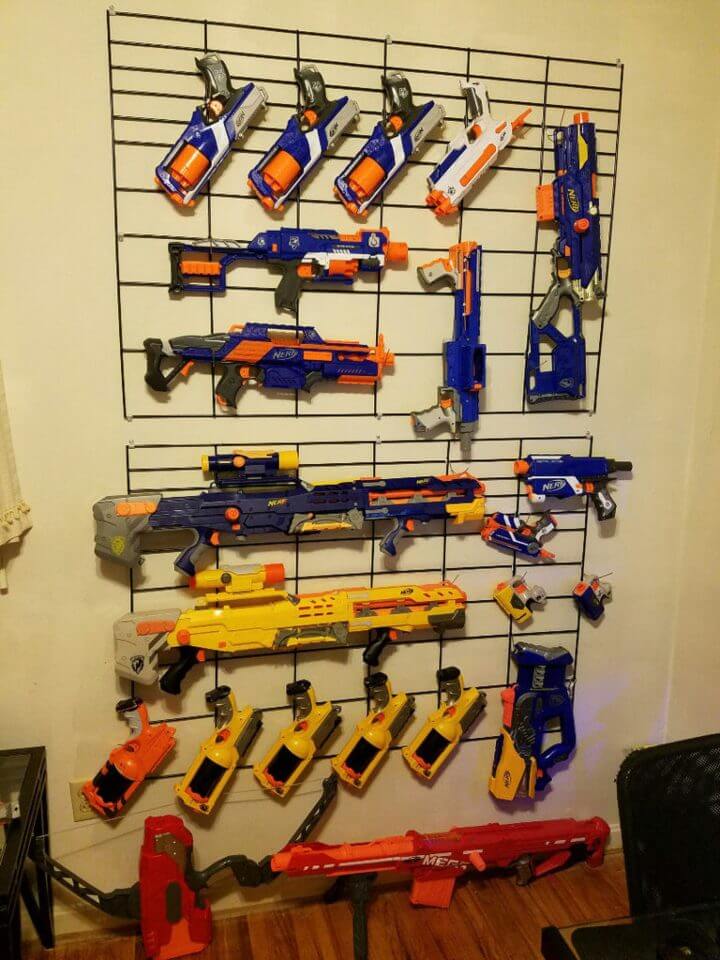 Grab the wire racks too to display the Nerf guns like a pro. Grab the 1/4 nylon clamps to build this wire rack Nerf storage, will be nicely held the gun collection. The wire racks come in so many different styles and designs, and hence there will be lots of design possibilities. instructables
8. DIY Nerf Gun Storage Rack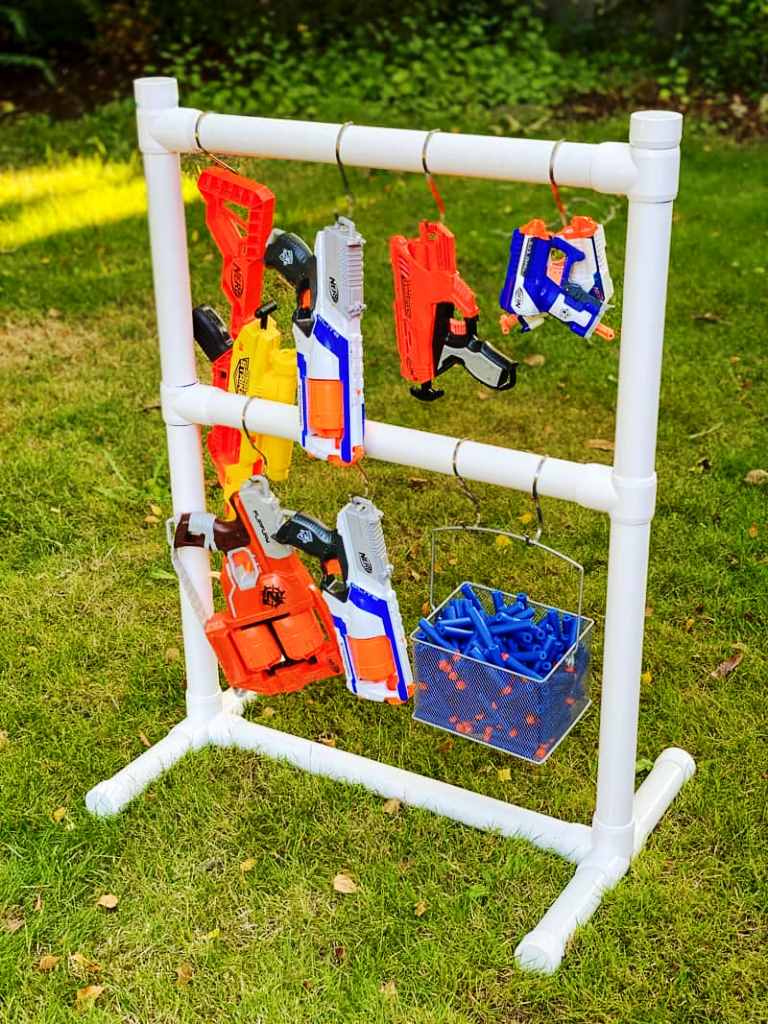 Looking for an easy storage solution for all those Nerf guns? This DIY Nerf gun storage rack is the perfect solution! Made out of PVC pipe, it's easy to assemble and can be hung up in a matter of minutes. Plus, it's a great way to keep the backyard tidy and organized. Simply hang the rack on a fence or wall and start storing all those Nerf guns! Tutorial here
Related DIY Projects:
Outdoor Toy Storage: Having a yard full of toys is great. But if they're not organized, it can lead to some pretty chaotic adventures. Here are the best outdoor toy storage ideas for keeping your yard organized.
Toy Storage Ideas: Toy storage can be a big problem. Here are proven toy storage ideas for kid's room. These 35 storage solutions for toys are great for home, school or office.
Conclusion:
Whether you're a seasoned Nerf gunner or just starting out, having a good storage solution is key. These DIY nerf gun storage ideas will help keep your guns safe and organized. Have you tried any of these diy nerf gun storage solutions? Let us know in the comments below.