As much as we love our kids to be all chirpy and happy, there are times when we all want some calm and quiet around the house. Well, at least for a while. Now that we have entered a digital world and smartphones and tabs have taken over. Still, nothing can replace the importance of a book. If you are a book reading person, then inducing a book-loving gene in your kids must be your point of concern. We have gathered up the 20 sweetest and fun DIY quiet book patterns for your little ones. The idea is to keep the little hands happy productively while enhancing their imaginations!
These DIY quiet book patterns can bring calm and quiet to your house too. In the meanwhile, when your kid is busy exploring through these quiet stories. You can have a nice and quiet. Me time! Our collection of these DIY quiet book patterns is versatile enough with both sew and no-sew ideas as well. You can craft some fascinating and catchy quiet book patterns for amusing your kids.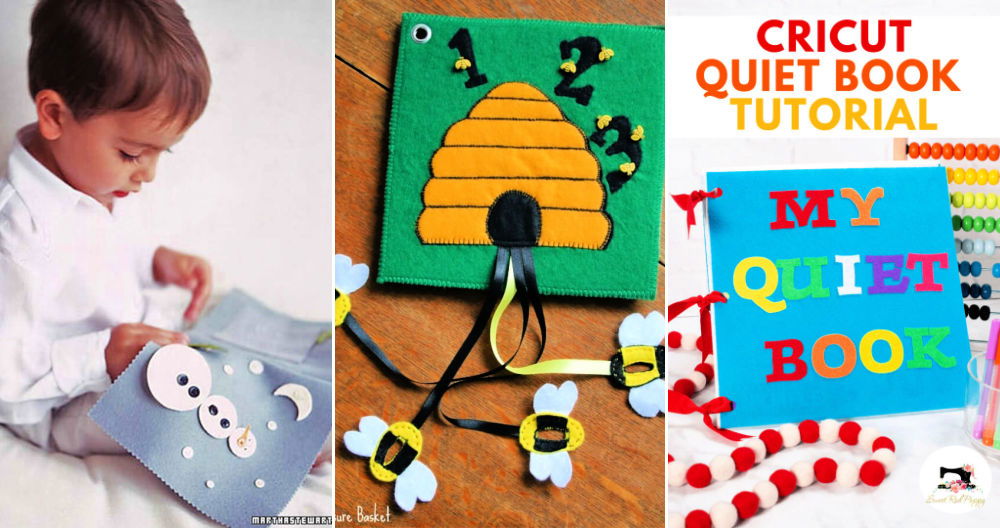 Gather around your creativity, your craft supplies, a sewing kit, and let's get started. You are going to love the versatility of these free quiet book patterns.
1. DIY Under the Sea Quiet Book
This exciting under the sea themed DIY quiet book can get your little fellow a real-time ride under the sea! All you need for the magic is some basic sewing skills and a lot of imagination. Get full details in the tutorial. petitboutdech
2. Felt Mermaid Quiet Book
Mermaids are everyone's favorite! The greatest mystical and beautiful creatures that have taken over the human imagination for a long time. With this tutorial, you can craft this cutest wool felt mermaids. Hit the tutorial now for full details. sweetredpoppy
3. Cricut Maker Quiet Book
How to make a quiet book? Make this uber adorable and exceptionally easy to make no-sew DIY Cricut maker quiet book! You can add some basic learning techniques and colors or numbers for your little to learn while in the pre-school phase. See the full details in the tutorial. sweetredpoppy
4. Make Your Own Quiet Book
Keep the little minds busy by ensuring the little voices down! This fun and craft My quiet book tutorial is going to be your kid's all-time favorite read! Some million pieces of felt joined together can do just the magic. Get details in the tutorial. shescraftyyy
5. No-Sew Jesus Quiet Book for Church
One best way to introduce your kids to your faith by keeping the interest factor in check is to make a beautiful quiet book for their first church visit. Or you can keep introducing them to gospel stories using this DIY no-sew church quiet book pattern! thediylighthouse
6. Simple DIY Quiet Book for Children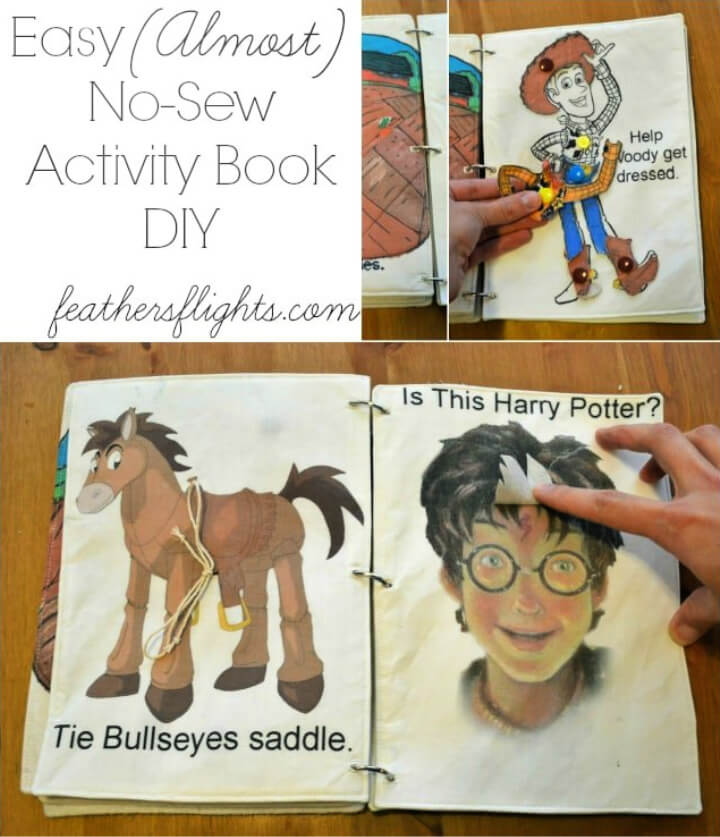 If you are not a person who loves sewing, this will be your favorite DIY quiet book pattern. Because it involves absolutely no sewing and a lot of easy and fun ideas to keep your kid productively occupied. Check details in the tutorial. heatherhand
7. Quiet Book for a Toddler
For your happy go, lucky toddler, in the most exploring phase of his life. This DIY quiet book pattern for a toddler is going to seem like a gift from his fairy Godmother! Use felt paper, buttons, googly eyes, pom poms, zipper, etc.. Get full details in the tutorial. lakatwalk
8. Gabbaland Quiet Book
Make this funky, Gabbaland quiet book for your little ones! The tutorial is not just equipped with the step by step guide for this DIY quiet book pattern, but it also comes with a FREE character's guide. Check now in the tutorial. whistleandivy
9. No Sew Quiet Book
Who says a quit book has to be sewed for a more fun experience?! This tutorial is going to prove that wrong big time! Learning with fun is a major step up game with quiet books. Make this full of learning and thrilling quiet book for your little one! allfortheboys
10. How to Sew a Quiet Book
If you are an idealist or a perfectionist who loves giving the full-fledged experience. With this tutorial, you can become a pro at sewing a DIY quiet book pattern. You can enhance the feel of a quiet book way more with a sewing kit. Details in the tutorial. threadriding
11. Free Quiet Book Pattern
These exciting and full of some basic learning quiet book patterns are going to keep your kids positively inquisitive, active, and knowledgeable. With these exciting activities, you can enhance their sensory and motor skills. See details in the tutorial. sewmuchado
12. DIY Dry Erase Book
Don't let your kids get all sad and lazy during sick days when they are bound to rest on a bed or a couch. This DIY dry erase book will keep your little fellow happily occupied and connected with the family at the same time. Get details in the tutorial. allfortheboys
13. Pirate Island Tic-Tac-Toe Quiet Book Page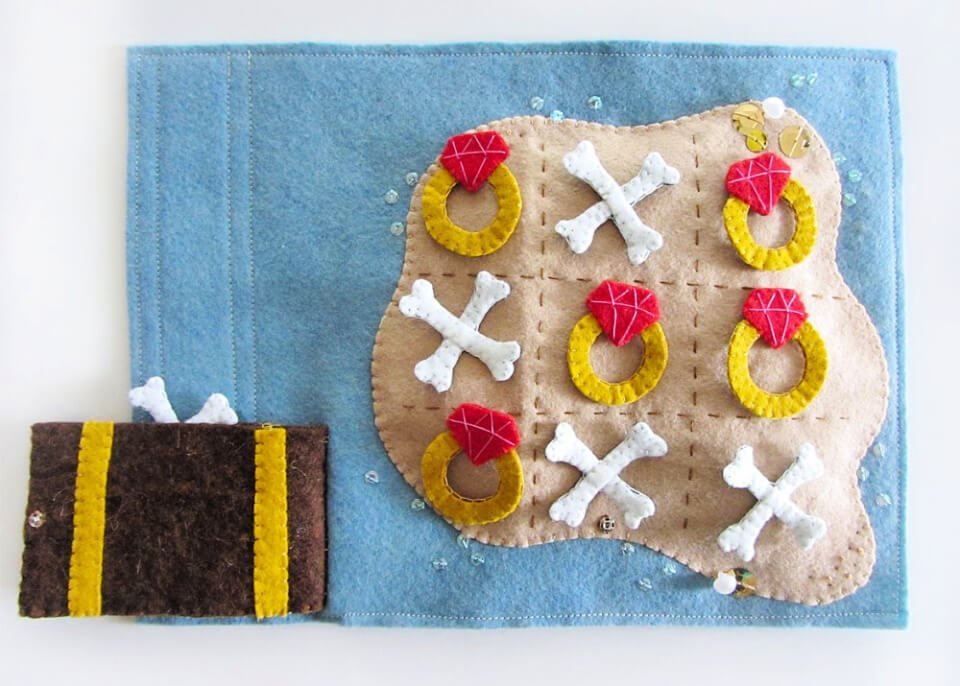 Tic tac toe has been everyone's favorite game regardless of age from the beginning of time, perhaps. This cool and fun challenging game can be your next DIY quiet book pattern to keep your kids amused. Check details in the tutorial. imagineourlife
14. Honey Bee Felt Busy Book
This honey bee quiet book pattern will keep your little monster happily occupied at all times. It is one great learning and activity-filled book that will be one exciting play companion for your kids. Head over to the tutorial now for details. marcstreasure
15. Barn and Farm Animals Finger Puppets Quiet Book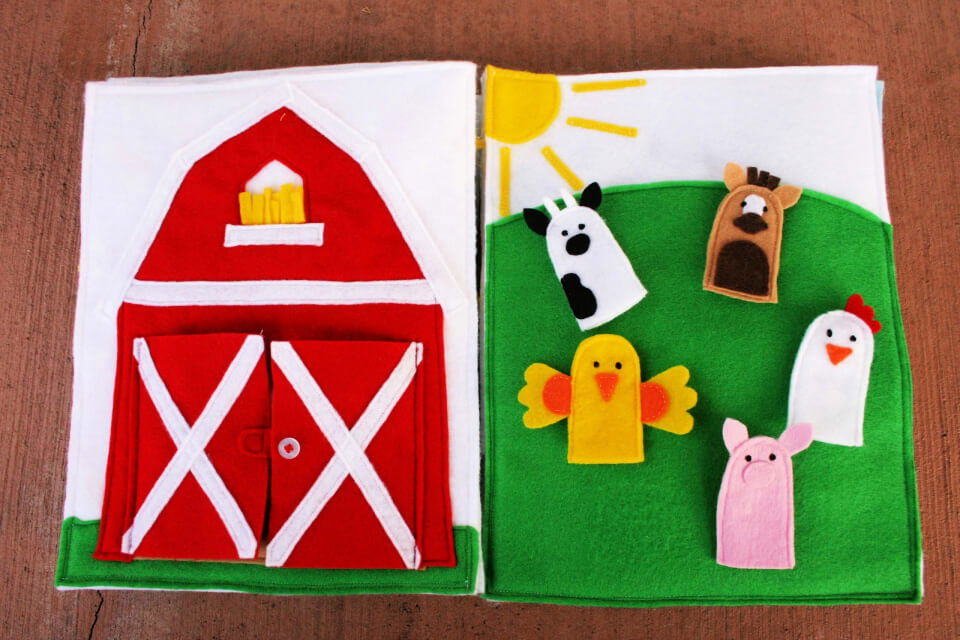 Teach your kids with fun! This DIY quiet book pattern about barn and yarn animals with the added fun of finger puppets is going to be an exciting learning game for your little fellows. Teach them about different animals and their lifestyles with fun! jocelynandjason
16. How to Make Alphabet Quiet Book
With the growing age and in the pre-school phase, every kid needs to be familiarized with the basics of learning. Like alphabets, counting, colors, animals, etc., This DIY quiet book pattern can aid you in making learning fun and easy for your kids! thecraftpatch
17. Paw Patrol Finger Puppets Quiet Book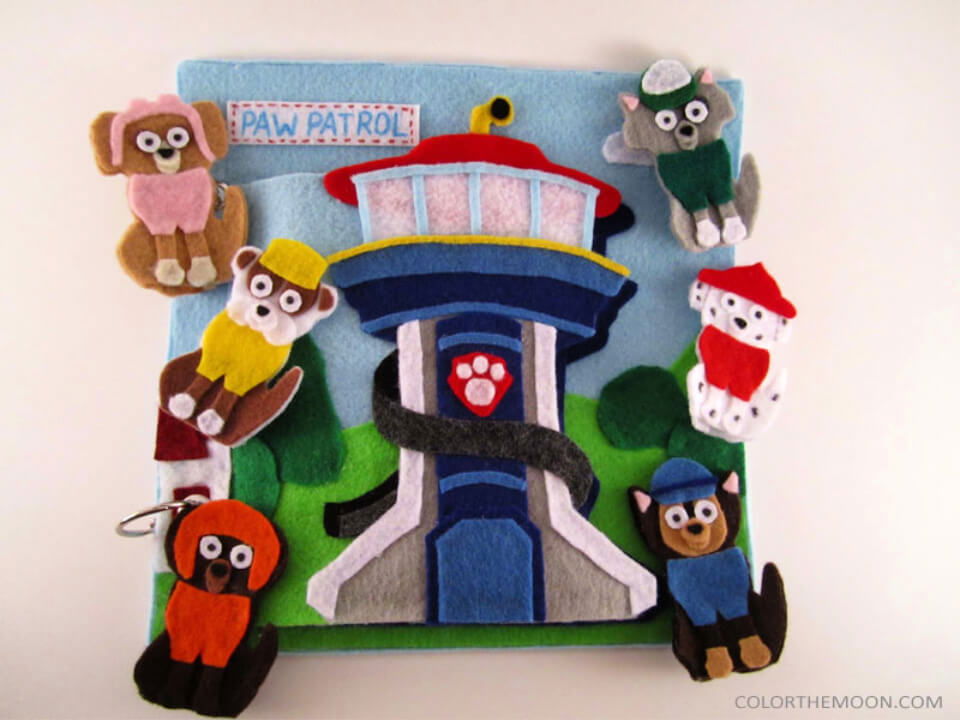 This funky paw petrol finger puppet quiet book will keep your kids positively occupied and induce loving nature and care towards pets and animals, in general. See more in the tutorial that how can you craft this dun book at home! colorthemoon
18. Cinderella Lacing Quiet Book
Each girl's teeny-tiny dream in her childhood is to be this beautiful and enchanting princess like Cinderella. You can make this popular dream transform into reality with very minimal sewing by playing around with this cute Cinderella stuff! girllovesglam
19. Make a No Sew Quiet Book
With this, no-sew quiet book, teach your kid about some basic items like shapes, colors, different fruits. Fun puzzles, introductions to pictures, and what they are called! The best part is this book is going to be a major hit around the house! And you don't even have to sew a thing! owlipop
20. Easy to Make a Quiet Book
For family dinners, traveling, or weddings, keeps your kids happy and productively occupied with this learning-perfect quiet book pattern! Teach them about each season with its different significance, like snowflakes, fallen leaves, flowers, sun, etc., marthastewart
Make your kids fond of learning new things by keeping their inquisitive nature in check! These 20 simple DIY quiet book patterns can be a major parenting guide around the house for you. While you can have some #MeTime easily too!