Halloween is a fun festival that mostly involves the spooky decorations and scary ornaments! While talking about the unique Halloween decorations, the Halloween pumpkins always come first! People spend both time and money for spooky fun decorations of home, but if you go a little handmade then you can decorate in the same way but without spending a penny from your pocket! Just decorate your pumpkins in multiple different ways and put them in your porch area or outside of your front door to welcome the Halloween! Check out these 20 easy DIY Halloween pumpkin decorating ideas and projects for Halloween that are sure to greet those trick-or-treaters! The Halloween decor ideas involve, carving, painting and decorating of pumpkins, so you can quickly put your pumpkins in any shape or style suiting best to your Halloween decorations!
Grab your faux craft pumpkins and insert beautiful marquee letters that will say custom names, quotes or will speak for the Halloween welcome! Grab the white faux pumpkins and make them enchanting through a fresh watercolor makeover, your painted pumpkins will also work great as charming fall decoration! Bring great decorative compliments to your porch using white corset pumpkins that come with woven ribbon through the fixed rows of grommets just like a shoelace! Follow the Mexican art with your sharpie pen and craft the super adorable owl pumpkins that will also hold dear to all trick-or-treaters!
Create also custom photo pumpkins for Halloween by going with the decoupage technique and amaze the passersby! Also, glue the flying black cardboard or paper bats all around your faux white pumpkins for a super spooky Halloween pumpkin, no-carving needed here!
Decorate your pumpkins without going with the carving knives that only put you at the risk of injuries! One great sample is the jeweled pumpkin here, comes with glue-dotted pattern swirls which further comes with black glitter sprinkled over for a spooky touch!

Let the people admire your Halloween decor at night, directly go with glow in dark pumpkins that come merely with adorable neon painted lines and patterns! Grab a set of faux white pumpkins, mount your house number numeral on them and stack them vertically in a wooden bucket filled with moss, this will install the super beautiful topiary for both DIY fall decor and Halloween with your house number noticeable to all onlookers! Craft the kids first minion pumpkins or go with the black laced white pumpkins that will be a big bliss to view as both fall or Halloween centerpieces!
There is a source link posted for each DIY Halloween pumpkin project, browse it to get full project information, step-by-step tutorial and detailed tutorials for free!
DIY Marquee Light Letter Pumpkins:

It looks something missing when pumpkins are not a part of your Halloween decorations as they are majorly concerned in this case! Here is a delightful idea to boost your festive decorations using Marquee lettered pumpkins! Grab some craft pumpkins and insert your selected marquee letters in the pumpkins! To do so first trace out the letters using letter templates and then cut the traced out parts using X-Acto knife! Complete project details and step-by-step instructions here karaspartyideas
DIY Watercolor Pumpkins:

Painted pumpkins can also be added to your Halloween decorations just if you are missing some colors there! Here is a cool way to give amusing colors to your pumpkins using the watercolors and white paint! Just grab your plastic craft pumpkins, and make them look beautiful using water paint colors, check out the samples to get inspired! Complete project details and step-by-step instructions here linesacross
DIY White Corset Pumpkin: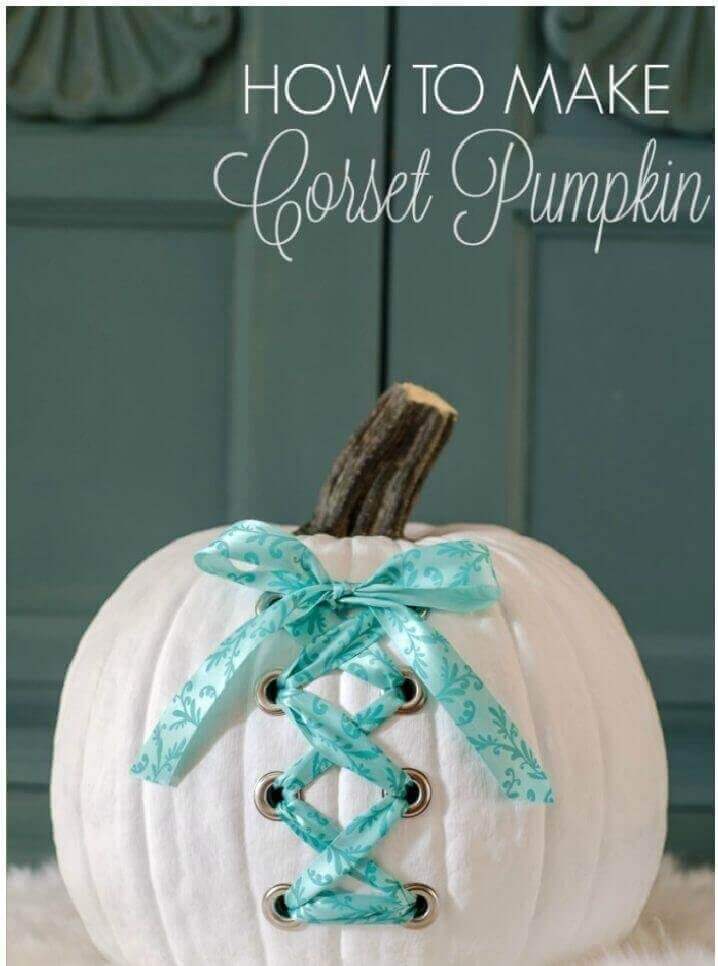 If you are looking for a unique pumpkin decor project for upcoming Halloween then here is a special one! Would make a highly unique Halloween pumpkin ever!
This pumpkin comes with an alluring assortment of grommets through which a decorative ribbon has been passed in a shoe-lace style and has a decorative bow tie at the end!
Cut and separate apart the backside of your pumpkin and make it empty by removing the all the inside guts with a spoon!
Next drill holes in the pumpkin sides for adding grommets and then paint it! Complete project details and step-by-step instructions here homestoriesatoz
DIY Sharpie Owl Pumpkins:

Want some stand out Halloween decorations? Here are the best-looking sharpie owl pumpkins, a brilliant demonstration of Mexican art! Grab some Styrofoam pumpkins and turn them into artistic sugar skulls using custom paint markers!
Silver and black markers would work great for your white and black painted pumpkins respectively!
Make these sugar skull pumpkins a part of your Halloween decorations and be unique! Complete project details and step-by-step instructions here lilblueboo
Decoupage Photo Pumpkin:

Want people talking about your jealousy talking about your extraordinary Halloween decorations? This will be all possible if you go with these unique Halloween pumpkins, the special decoupage Halloween pumpkins!
Grab a little bit of mod-podge and a brush and then paste your favorite photos on your selected pumpkins till they get fully covered! Complete project details and step-by-step instructions here sugarandcharm
Bats Flying Across a Pumpkin: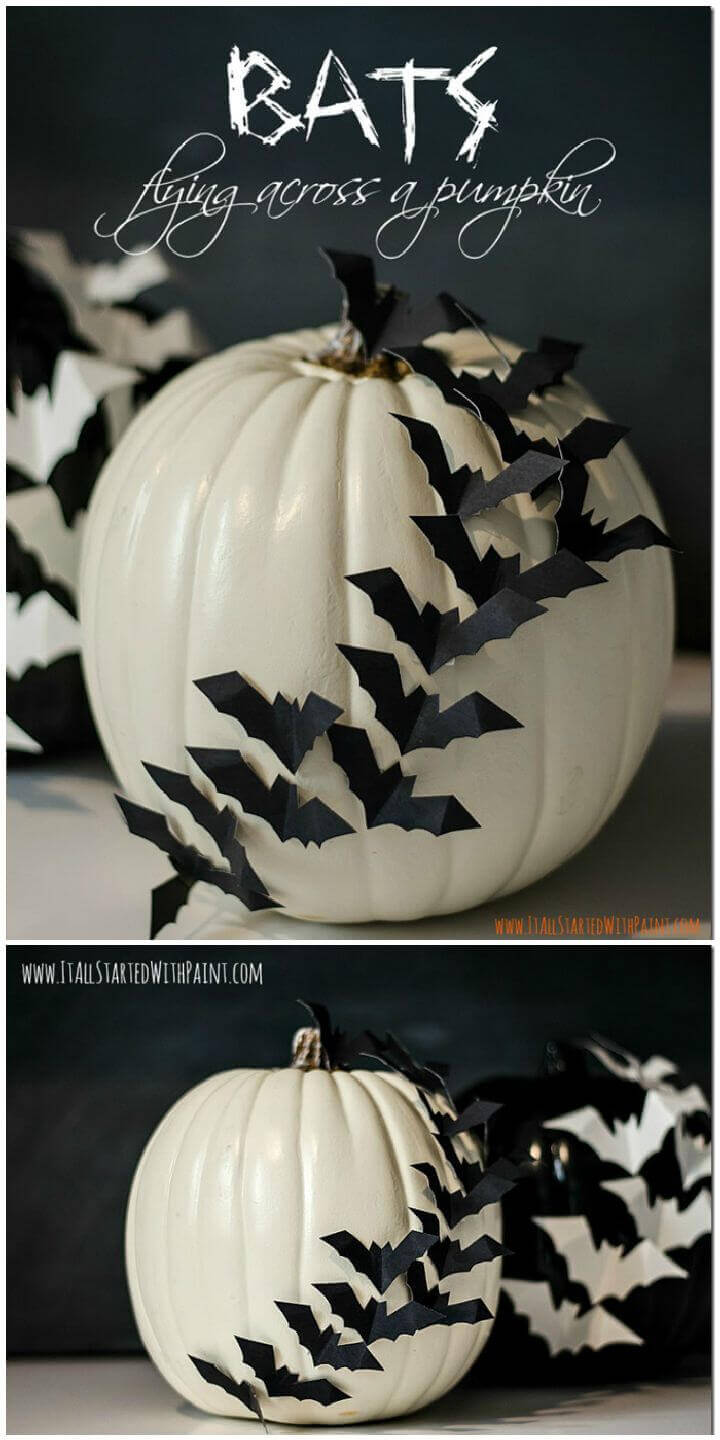 Add four moons to your Halloween decorations with these flying bat pumpkins, will have more significant scary impacts on your overall Halloween decorations! Want to duplicate this super scary version of Halloween pumpkins?
Just grab your favorite real or faux pumpkins and mount the flying across bats on them! Make dozens of bats out of a poster board only by giving a few smart cuts! Complete project details and step-by-step instructions here itallstartedwithpaint
DIY Jeweled Pumpkins: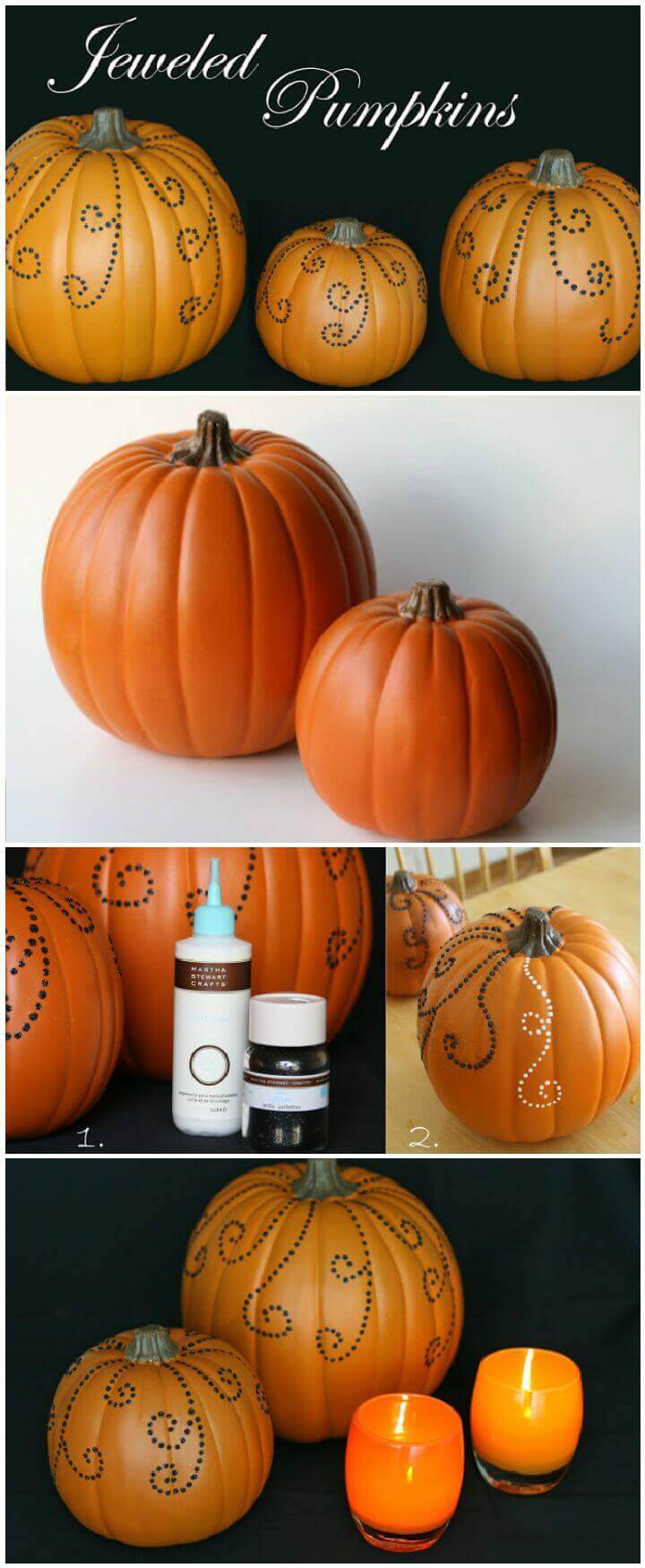 There are many available designs of decorative Halloween pumpkins in the stores which are outstandingly decorative for sure but are expensive too at the same time! So, why not decorate your own Halloween pumpkins at home to get them as most special Halloween centerpieces!
This would not take much time and money to craft the same decorative pumpkins you see in stores and market, grab some glue and glitter to do that! By starting from the simple glue dots, go for a fabulous decorative pattern, and next sprinkle your favorite glitter on the glue dots for amazing decorative designs! The black glitter would work great for a scary Halloween touch!
Complete project details and step-by-step instructions here glorioustreats
DIY Glow in The Dark Pumpkins:

You will love this idea to decorate your Halloween pumpkins!
The idea is to use the glow in the dark neon tulip paints! Just paint your selected craft pumpkins with multiple shades of glow in dark neon paint shades making the custom geometrical, dotted and crazy line patterns that will be visible amazingly at night! Perfect Halloween pumpkin decor idea to try out!
Complete project details and step-by-step instructions here ilovetocreateblog
House Numbers Pumpkin Topiary:

One more brilliant hack here to get the pumpkins for both fall and Halloween decorations, this time the idea is highly unique! It is all about to make a topiary using the Halloween pumpkins that will denote the house number! The hack is to use the plastic numerals that can be screwed in the craft pumpkins!
Next, you have to put the wooden dowel straight through the centers of these lettered pumpkins for an ornament shape! Finally, step would the further garnishing, grab a container and cover it up with some newspapers and moss and then fix your lettered pumpkins in the container with the help of central dowel!
Complete project details and step-by-step instructions here atthepicketfence
Minion Painted Pumpkins: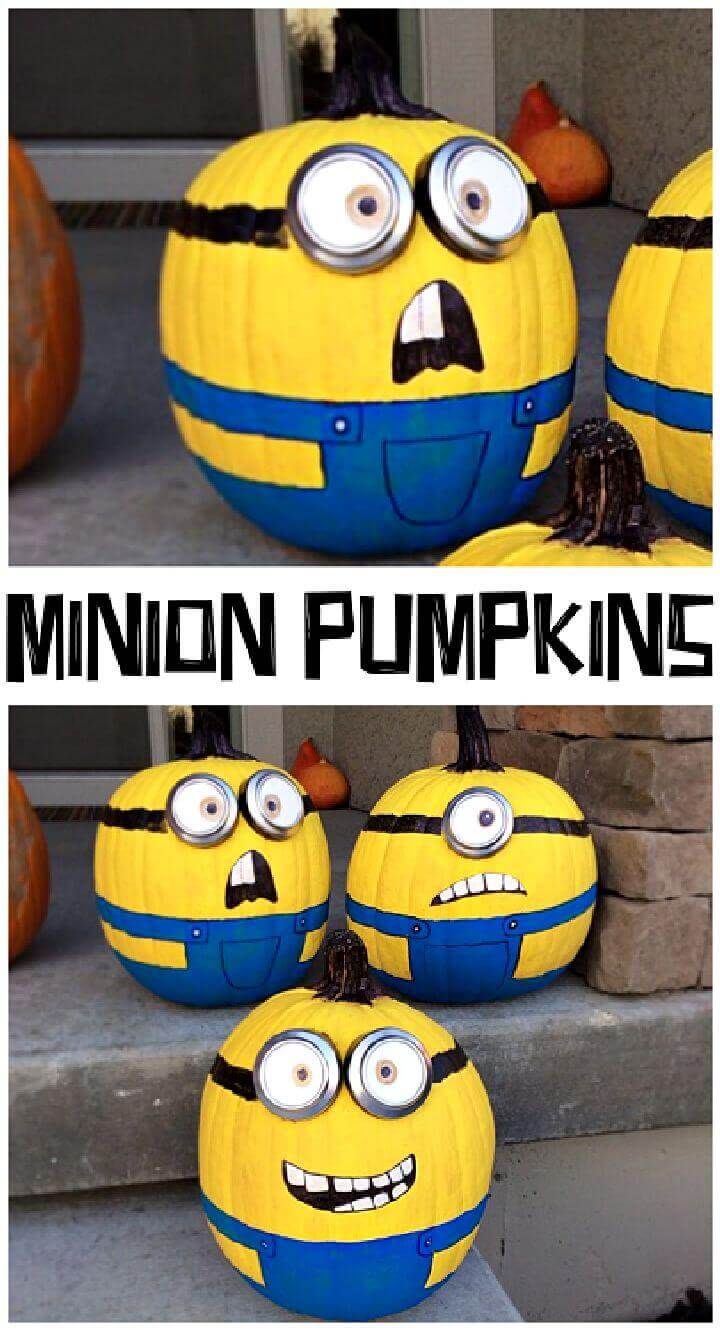 Let these fun-making minion pumpkins please your kids throughout the fall season! These are super easy to craft just by using acrylic paint in yellow and blue and a black sharpie pen!
For big goggles or eyes of the minion, you can reclaim the two coke can bottom along with some white paper of foam inside! Next step would be to go smart with your black sharpie pen to create facial expressions, vary the style of lips and teeth to modify the expressions!
Complete project details and step-by-step instructions here craftymorning
DIY Lace Pumpkins:

After decorating your pumpkins with glitter, sharpie pens and custom numerals the next super cool option is to use the lace appliques! Paste the dip-dyed laces on your faux or real painted pumpkins and enjoy an ever beautiful look of them!
Here for an exclusive Halloween look, the black dip dyed laces have been pasted beautifully on white painted pumpkins using mod-podge, this makes them look a little scary as per demands of Halloween! Another super cool idea to decorate your Halloween pumpkins!
Complete project details and step-by-step instructions here honestlywtf
Gold Thumbtack Covered Pumpkins:

Another crazy pumpkin makeover is here that will transform your pumpkins into ever beautiful and sparkling centerpieces!
The idea is not about to use any glitter or metallic paint, this time you have to go with thumbtacks to cover your pumpkins metallic! Grab brass thumbtacks and start adding them one by one till your pumpkins become fully covered!
This will create a spell-binding metallic texture along with a lot of shine and luster that will be attention grabbing! Complete project details and step-by-step instructions here rosyscription
Neon Dipped Pumpkins:

Get inspired by this amazingly beautiful paint pumpkin makeover, and the idea is all about to give some enchanting colors to your pumpkin decorations with a white color background!
Paint your pumpkins white and then give a crazy neon paint dip for a super beautiful looking pumpkin!
You can experiment with different neon shades to craft a set of colorful pumpkins! Complete project details and step-by-step instructions here anightowlblog
Thumbtack Ghost Pumpkin: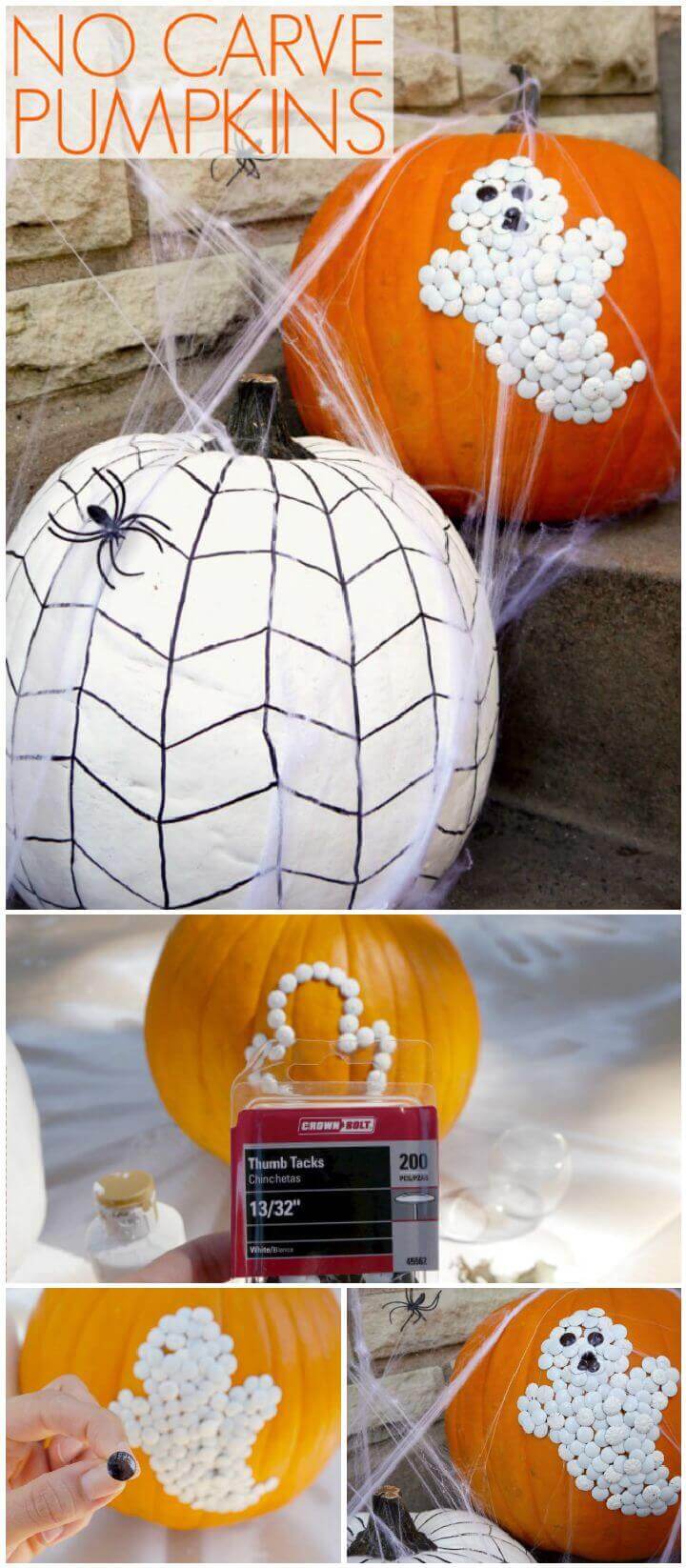 Time to make your pumpkins exclusively Halloween unique by going with some handy makeovers, no carving needed here!
Halloween is all about the scary ghosts, so the first makeover is all about to add a little ghost on your pumpkins using white thumbtacks, paint black the thumbtacks for eyes and mouth!
The next one is different, and it is all about to create scary looks of your pumpkins using a faux black spider, just white paint your pumpkins, add custom black lines on it using a black sharpie and then mount a spider on your finally painted pumpkin!
Complete project details and step-by-step instructions here creatingreallyawesomefunthings
Black and White Glam Pumpkin:
The white and black is what that speaks volumes for Halloween! Here is a white and black glam makeover for your Halloween pumpkins! First of all, paint white your faux pumpkin and then give it a scary compliment by writing the word "BOO" using rhinestone letters!
Next, adorn it with a black paper mache hat that should come with a feather and enchanting black glitter picks!
Next step would be to give the hat a decorative wrap, here a special white ribbon with black printed bats has been used for this purpose!
Another ingenious pumpkin makeover! Complete project details and step-by-step instructions here apumpkinandaprincess
Frozen Elsa Pumpkin:

Are you a big fan of Disney Frozen movies? If yes, then this unique pumpkin decorating ideas only for you that is wholly inspired by Disney Frozen Elsa! For this exclusive decorative makeover, first, paint your pumpkin with glitter blast for a damn beautiful glittery appeal!
Next, adorn your pumpkin with rhinestones and adhesive bling on the roll and also with adhesive glitter snowflakes! The final step would be to fancy up your pumpkin with a Disney Frozen Tiara! Complete project details and step-by-step instructions here apumpkinandaprincess
DIY Fall Halloween Melted Crayon Pumpkin:
Decorate your pumpkins for beautiful fall decorations using the crayons! The idea is to drop the melted crayons all around the pumpkins starting from the top so that the melted crayons will flow down, making beautiful colorful textures as you can see!
Mostly the fall decorations feature nature hues, but this one with lots of colors is sure to captivate hundreds of eye-balls! Complete project details and step-by-step instructions here momspark
Confetti Pumpkins:

Grab your faux pumpkins and layer some glue all around, next cover the glued areas with a colorful confetti of your choice!
Confetti pumpkins would be ready to go to your favorite places to speak volumes for crazy Halloween decorations! Complete project details and step-by-step instructions here madeinaday
DIY Painted Baseball Pumpkin:

Pumpkins are almost round in shape and can be transformed into various fabulous objects you see every day! Here is a baseball inspired pumpkin, crafted to encourage the sports lovers and would make the perfect decor too!
First, trace out the lines for the baseball pattern and then use them according to shades of acrylic paint to paint on the traced lines for a fresh baseball look! Before you go for any makeover, paint white your faux or real pumpkin!
Here black, white, burnt umber and bright red paint colors have been used for near to real looking baseball pumpkin! Complete project details and step-by-step instructions here lifeinleftfield
How to Carve a Pumpkin with a Hot Knife|:

Do you know how to carve? Have you ever go through carving?
Time to use your carving experience next for pumpkin decorative makeovers! Just print out your favorite patterns, numerals or anything else and tape it around your selected pumpkin, now use a needle to make the tiny holes all around the print so that you will get a dotted sketch of the printout at the end!
Now use an X-Acto knife to cut the surface out from the traced out needle dots and enjoy the very new and decorative look of your pumpkin! Here custom home address letters have been carved so that this pumpkin would be perfect to spruce up your home exterior or primary access point!
complete project details and step-by-step instructions here inmyownstyle