Having a gorgeous kitchen with the perfect decor and chic styling is a dream of every homey woman, but a messy pantry turns this dream into a living nightmare. But it's never too late as you can still gird up your loins to work on your pantry organization and thus getting a complete, pristine image of your kitchen, which would inevitably end up bringing a big curved smile on your face every time you enter yours there! So here is a big help for you all in the form of these excellent 60+ DIY pantry organization ideas, that you can get your hands on and create a clutter-free corner for your groceries, food and other pantry stuff.
These pantry organization ideas shed light on a variety of genius ways that you can work on to bring the mess-free and decent vibes to your kitchen decor. The most exciting thing about these ideas is that they all are budget-friendly and easy to get your hands dirty with using the available supplies lying around. The very first thing to cater is, find some suitable space of the pantry station to be established in your kitchen and the list is loaded with the pantry ideas in this regard. The corners of the kitchen, little space behind the fridge and even that these laundry rooms can transform into the pantry station with some witty efforts!
The next key feature of these pantry organization ideas suggests a bundle of smart tricks and hacks to put your groceries and food in order on the pantry shelves using the plenty of storage stuff. Empty glass jars, wicker baskets, plastic bins and so many other plastic containers can be purchased from the market to hold your pantry stuff and get them stored in it. You can categorize the containers in the shelving units of the pantry for more feasible and natural approach to the things you need on time while cooking!
Along with the pantry organization, the embellishing touch to the pantry would add four moons of beauty to your kitchen spaces, and you would find brilliant DIY Kitchen Organization Projects down here to get your pantry look so damn exquisite and fun. You can use wallpapers, paint, and art on the pantry walls for a correctly added style and beauty which would bring out the charm of your organization.

Then you can use the customized tags and labels on the containers and jars to bring a quick, quirky touch to the pantry station and also getting huge help to find your needy things on time. Every pantry organizing idea has a detailed tutorial link to let your experience more convenience and fun to work on your pantry organization projects soon, so click, browse and enjoy!
Pantry Makeover:

The pantry corner of your house can be the messiest for the fact that it got to hold and house a lot of things in it and it can all jumble up so easily. So to clear out your pantry station, you would need to revamp it and so that it not only seems good but also increases its capacity to hold more and more supplies on it in apple pie order and here is the perfect idea to stick to. This pine board made customized pantry station would be the perfect solution to organize your pantry stuff and clear the clutter in style. Details here thehandmadehome
Printable Vintage Chalkboard Pantry Labels:

There are a bunch of items organized in the pantry station, and sometimes it can be hard to find the one you are need of. So here are with this adorable and fun idea of labeling your pantry jars so that you can know what is inside the jars and you can easily get what you are looking for. You can make these cute printable labels in any size and design and then trim and glue them up on the jars. For more comprehensive details and instructions check out the complete tutorial here liagriffith
DIY Country Store Kitchen Shelves:

You can create a pantry station right in your kitchen using the wall mounted shelves that can be gained from a store or created at home from the available wood. Just get the right size shelves, paint them and mount them up on your kitchen walls and now you can hold all your food jars on them and thus get a functional and easy to approach pantry station right in your kitchen. here is the link where you can look for the step by step tutorial details of this super cool idea ellaclaireinspired
Building the Pantry:

Having a shelving area for the pantry storage is not enough you still got to do a lot more to make it look more functional and well organized. So here we are with this awesome idea of using the jars and containers for your dry items like spices and flour and then hold them in apple pie order on the pantry shelves. To grab the step by step detail of this useful and cost well to no idea you would need to peek into this link chezlarsson
My Container Store Elfa Pantry Recreated:

A well organized and well-stored pantry is the dream of every homey lady, and now you can fully achieve it with this container store Elfa pantry recreated. With the shelves and the plastic containers, you can nicely create a well-managed pantry station in your spaces, and with that lovely paint stain, you can add the perfect style and beauty touch too. Here is the complete detailed tutorial link to click and learn honeyandfitz
Dollar Store Pantry Makeover:

With some efforts and little money, you can bring a new life to your kitchen pantry making it look not only organized but super gorgeous and fun too. Yes, you can buy a bunch of the glass containers, plastic containers in big and small sizes, fill them up with your pantry items and then label them up with cute printable designs and they are done. So do catch the complete details of this super gorgeous and super functional pantry station idea here thesocialhome
Magic Decal Transfer Tutorial with Free Printables:

Labels and naming bring a touch of feasibility and style any of the things they are used on. So why not use them on your pantry containers, jars or baskets to get the things easily recognized when you are cooking in a hurry. Using a free printable design and the clear white decal paper you can create these label images on your pantry jars and thus give an organizing boost up to the pantry station and that too so easily.Here is the link for complete details thepaintedhive
Pegboard Kitchen Storage: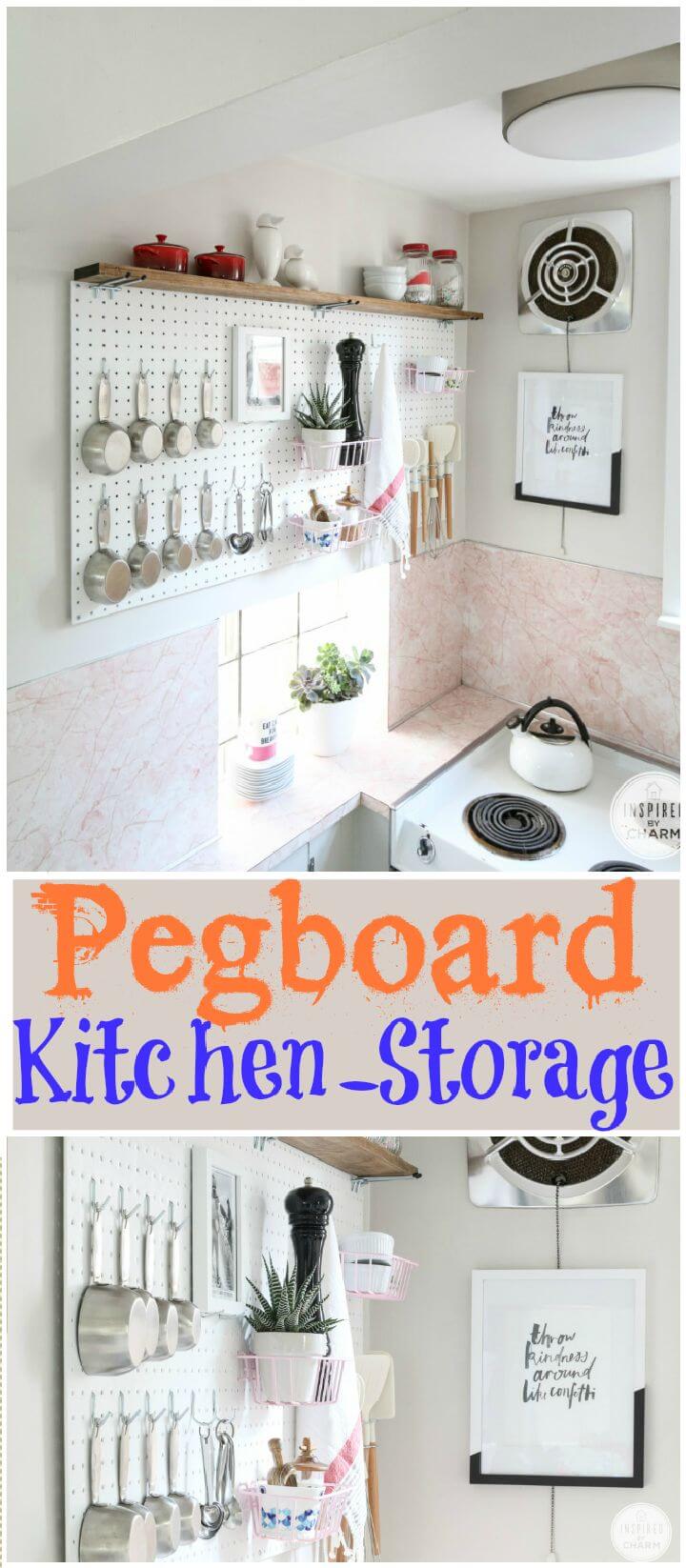 There are so many things around you that can lend you a big helping hand for the perfect organization and storage of your kitchen spaces. Like here pegboards have been used to hold and house a bunch of kitchen accessories on it. The pegboard has been painted in white and incorporated with hooks, a top shelf, and the baskets to get kitchen utensils, pots and jars fully organized on it. Here is the easy and fun tutorial of this project inspiredbycharm
Pretty Bathroom Jars:

For more details and instructions here: eighteen25
Pantry Organization:

When you are on a mission or organizing and updating your home spaces, the pantry stations is the most difficult one to get your hands on as it got a big bunch of the things you need to store. So to ease it out for you, we have this amazingly brilliant idea of pantry storage done with the OXO containers, baskets and the bins in a categorized way to let you organize so perfectly and easily. Here is the link to get the step by step details of this pantry up gradation. abowlfulloflemons
DIY Dipped Kitchen Jars:

The glass jars one of the most used items for the storage of all kinds and so for the pantry station to hold a lot of food and spice stuff in them. But you can make them look all spruced up in their looks and uses with a little paint dip and the cute foam letter stenciling of the name of the contents they are holding inside them. So here we have given you with the link to read out all the instructions and details you need for the project thislittlestreet
How to Organize your Pantry:

A perfectly organized pantry not only makes it easier for you to grab the needy things easily but also make it look beautiful for the decor too. That is why we have brought you this awesome idea or pantry organization which involves the lovely and fresh mint wallpapering with the vinyl, use of baskets and containers and their pretty labeling too. Here is the complete idea details to let you learn it step by step and try this very next weekend classyclutter
How to Organize a Kitchen Pantry:
Make your pantry look all organized and well stored with this brilliant idea of pantry storage having superb suggestions to clear the mess out of your pantry space. So all you need to do is grab some baskets, storage boxes and the containers and house your pantry items in the group-wise and then label them in a nice printable. The link is here where you can not only get more details and help but also the free printable for the labels makinghomebase
How to Organize Kitchen Pantry:

Instead of just holding your pantry things on the pantry shelves in random order where they are hard to find, you can organize them for feasible finding each time even when you are in hurry. So the a perfect storage and management of your pantry would require you to get some plastic containers in small and big sizes to hold your spices, cereals, flour etc. Then using your silhouette cameo you can create those lovely vinyl letters for the labeling. Here is the link for every inch detail of the this functional idea justagirlandherblog
Pantry Organization Next Level:

A cluttered spaces does not give good vibes and make you feel unhappy every time you see it and pantry is that space of the house in most of the cases. So here we are offering a really great idea of organizing your pantry and cut all the clutter in no money but with a little effort and fun. So before getting it started grab some containers and the baskets to use for the pantry storage and then label them up with the things they are container for easy approach. Full tutorial here thesunnysideupblog
Pantry Organization Makeover:

There comes a time when you are get the organization twitch and you start clearing out your spaces to reduce the mess and enjoy the clean tidy house. The holiday season is that time and pantry station is at the top of the list to get organized and well stored. So here we got this brilliant idea of using the plastic containers, woven baskets and the door baskets along with the labels to get your things all categorized and housed in. Tutorial here momendeavors
Labeling The Pantry: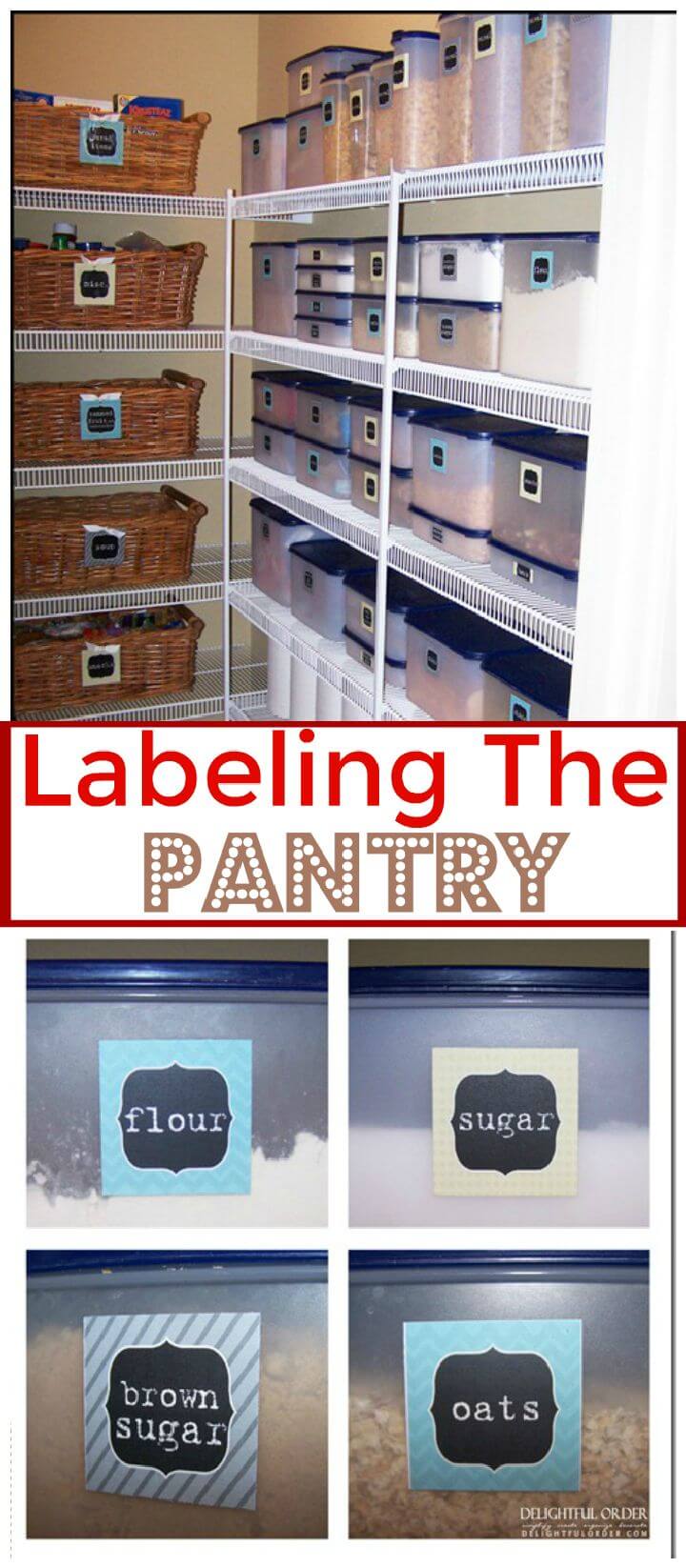 When things are unorganized it wastes a lot of your time to find out the things out of the pantry you need at that time. SO take out some time from your schedule and spend it on the lovely and useful makeover of your pantry station. Just get a bunch of the plastic containers and the baskets, label them up and hold them nicely on your pantry shelves and make it look a well-settled place. Here we have the link where you can find more details of this easy idea delightfulorder
The Most Frugal Way to Organize a Pantry:

Imagine you are to bake a cake but you can find the ingredients things from your messy pantry? So to avoid this horrible situation to happen you can just schedule this lovely pantry station organization to be-be done this weekend with everything being categorized and getting into the wooden crates, plastic containers and the baskets with the really cute and fun labels on them all for an easy search out. Catch all your details here blesserhouse
Tips for an Organized Pantry: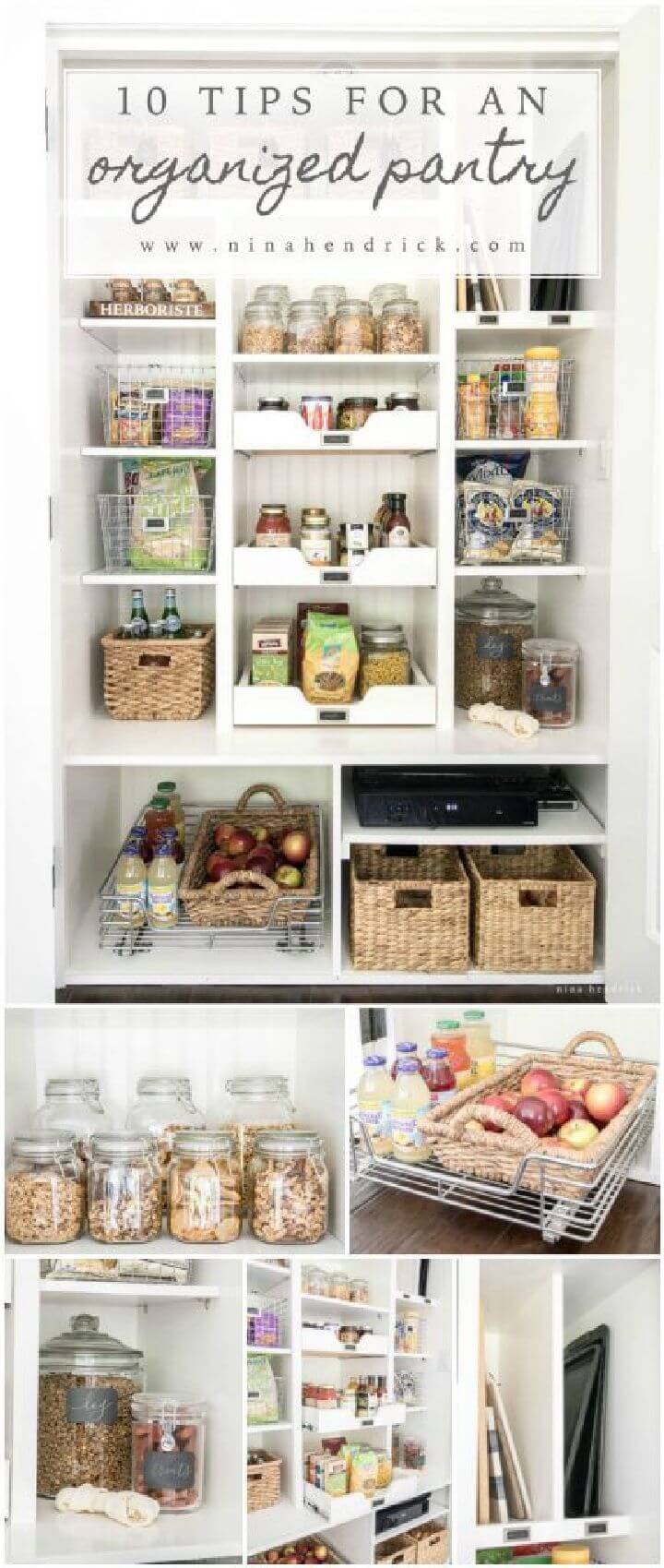 If you are worried about how horrible your pantry looks then its time to get it all organized and for that you need a perfect storage system there. Here we have the link where ten amazingly witty and fun tips have been shared with you so that you can learn them all and apply them on your messy and cluttered pantry to make it look all immaculate, clean and tidy space of your house. Check out the long detailed tips here ninahendrick
Free Printable Pantry Labels:

The pantry station can be made to look really interesting and fun with the little details being adding up to the containers and jars resting on the pantry shelves there. Just grab a lovely printable to label the pantry containers and make them look so spruced up and here we have the link where you can get a free printable for the labels and also some clever tips for further organization of the pantry.  thecreativityexchange
Simple Steps to Organizing Your Pantry:

Sometimes things jut do not click and you do not get your desired results like it can happen to your pantry station which looks messy and cluttered after all your efforts. SO here we have shared these witty yet simple 10 tips that would lead you to the easy and fun ways for the easy storage and organization of your pantry stuff in different kind of containers, baskets and bins and with the cute labels. Get them all in details here designimprovised
Organize The Pantry:

Holding your things randomly on the pantry shelves is not a good idea as it not only looks unpleasant but might get your utilities get damaged by falling down. SO here is the solution to let you make your pantry look fully organized and well stored. Just grab some baskets from any of the dollar stores and get them labeled with the things you would be holding them in a categorized way. Grab the complete tutorial here with the all the guidance and instructions duoventures
Kitchen Pantry Organization Before & After:

No matter how small is your pantry you can still manage to make it look gorgeous and fun with the brilliant organization hacks and storage tips. here we have shared with you a detailed link links to let you grab the amazing tips and tricks that would help you great for the perfect setting of your groceries and foods on the pantry shelves and that too in a tidy and clean way. Check out the instructional tutorial here iambaker
Kitchen Pantry Organization Free Printable:

The pantry station has the perfect rows of the storage shelves but still you pantry can look cluttered and messy due to lack of some witty storage hacks. But not to worry as we got you all those pretty and witty hacks here so that you can view them up and use for the perfect settling down of your pantry using the baskets and cute labels on them. Here is the link where you can get the smart tips and the free printable for the labels too livinglocurto
The Great Pantry Makeover:

One more amazing hack here to open your narrow pantry for more space! Here the main focused part of the targeted pantry is the corners where you can easily add more space just by adding more shelves which can have a shape of round disk! An amazing pantry makeover that gives you the best solution to utilize the pantry corners for more storage space! Complete project details and instructions here decorchick
How To Organize A Pantry:

The main issue your pantry go out of storage is the wrong ordering of your stored items! By going a little smart and by readjusting the items, you can get more storage space to organize your food and beverage canned items! Here is a smart hack about how to organize your pantry items! Complete tutorial and instructions here newtoncustominteriors
Pantry Organizing {At The Dollar Tree}: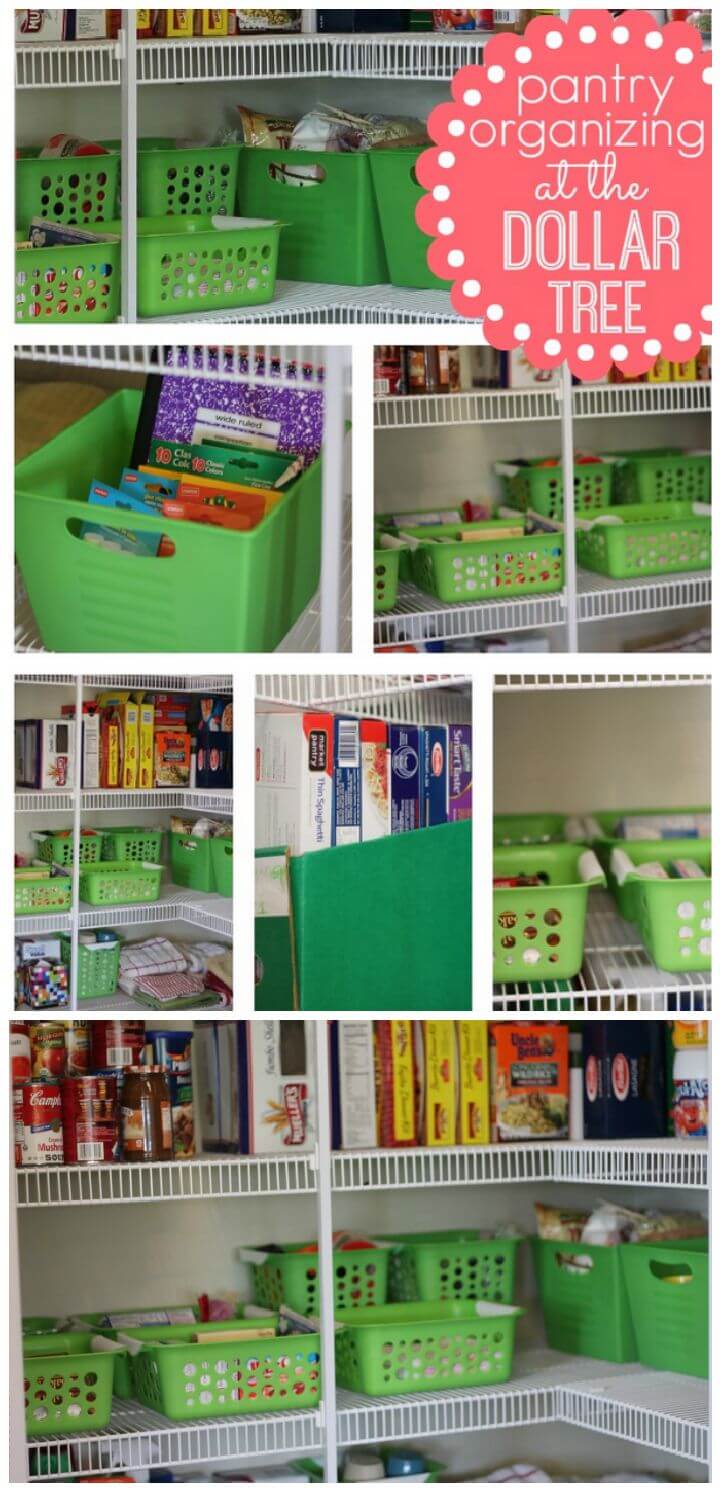 Organizing a pantry nicely is not that easy but going a little bit smart can make it done easily! Here you can see one more pantry organizing hack! Use the custom plastic bin and basket to organize a set of items in your pantry, the storage bins can be put together side by side on shelves for neat type of storage you will love! Using pantry storage units passionatepennypincher
DIY Pantry Chip Rack:

You can not hold your chips with other stuff as it can be crushed getting under the other things or falling down so here we have this lovely and super clever idea for you to get your hands on. You can make this easy functional chip rack using a wooden bar and some hooks and let your chips packs rest on it until they are taken out for a snack time or a party. Here is the link for all the details to make it easily at home on your own 11magnolialane
Small Pantry Organization:

You can hold your groceries, canned food and the things n the card boxes on the pantry shelves but they would not look good in that way. But if you use some kind of jars and containers to store different kind of your stuff in them they would surely create a decor complimentary and a well organized look and you can also use a shoe organizer on the door to expand your storage space. Here is the link for details prettyprovidence
Pull Out Shelves in Pantry:

If you are good with the wood crafting then you can build these really useful and fun kind of pull out shelves in the pantry station and make the organization much more easy and feasible. You can specify each shelf for one kind of grouped items to behold on them for the use. Here is the link for the complete details from cutting down the shelves from wooden boards, adding slides and then loading them with the stuff remodelandolacasa
Easy Pantry Organization with Storage Containers:

The pantry can be organized in so many fun ways and made to look so damn gorgeous and tidy. Here is this utterly functional and cool pantry with a fun storage techniques being utilized. The top shelves have been destined to the canned food and the lower ones have been categorized to be used for the OXO containers holding the dry things in them A pegboard is also shown having been smartly used to hold the utensils too. Here is the link for the details eclecticrecipes
Pantry Organization Overhaul:

If you got some wood near you lying uselessly then you can use for the organization and storage of your pantry things by making the storage baskets out of them. Here are the cute wooden baskets not only making the pantry look fully coordinated with the storage system but also bring some rustic vibes there. The chalkboard labeling has made them more feasible to use and here is the link to grab the complete details of this super functional idea unexpectedelegance
Simple Solutions to Organize a Deep Pantry:

The pantry area should be the most clean and the tidy for being used for the holding of your groceries and food in it. So using the plastic containers, plastic cans and boxes for the safe housing of your pantry stuff would be a great idea to organize your pantry for and make it look a really immaculate piece of space of your house or the kitchen. Here we have shared the link where you can have the link for you to catch the details of it thethriftyhome
Organizing the Cans in Your Pantry: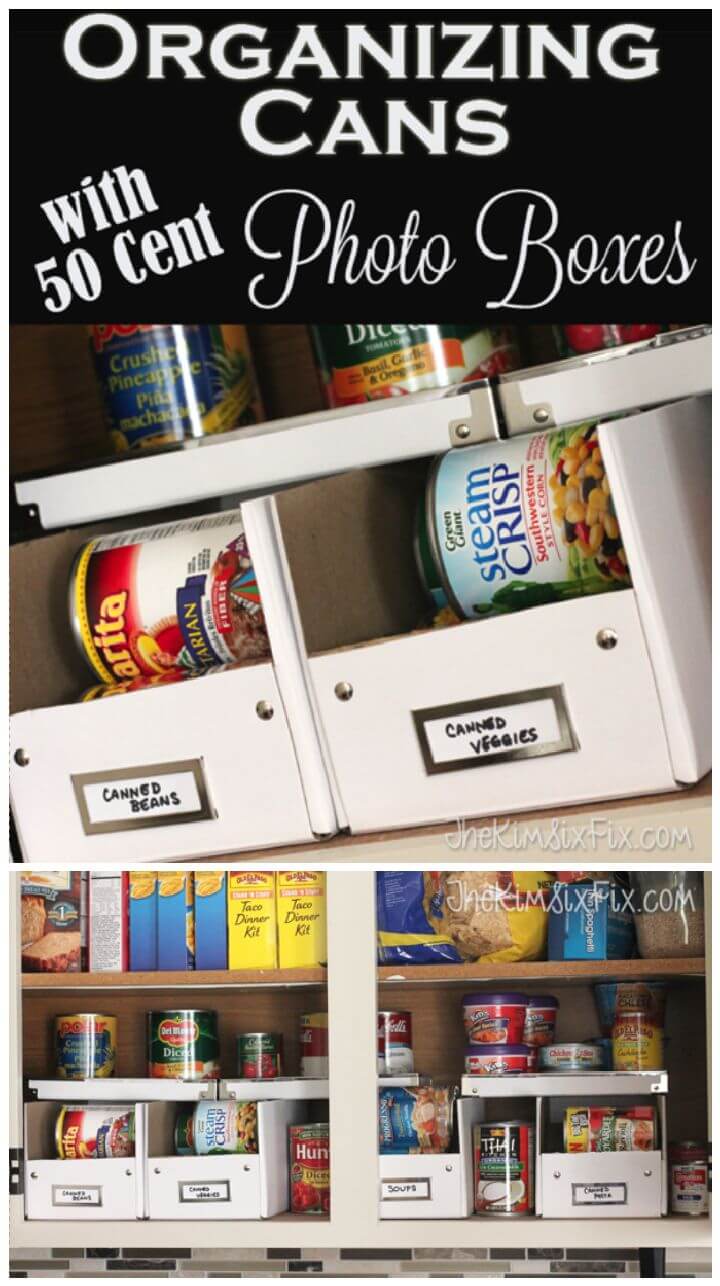 The canned food can be given a special place in your pantry with these nicely created boxes at home. You can just grab the IKEA photo boxes and cut them and turn them into this really cute holder shape with some tool work and then add the pretty labels at the front so that you know which box is holding which canned food in them. Here is the link to let you know more about this super cool and fun idea thekimsixfix
IKEA Billy Bookcase Pantry Hack:

You can turn your bookshelf into the pantry for your spaces with a little makeover and recycling work on it. WE have with this tutorial showing you how an old bookcase has been nicely turned into a functional pantry station with the food and grocery being nicely hold on the bookshelves behind the doors with safety. Tutorial here asavoryfeast
Less Mess Project Pantry Reveal: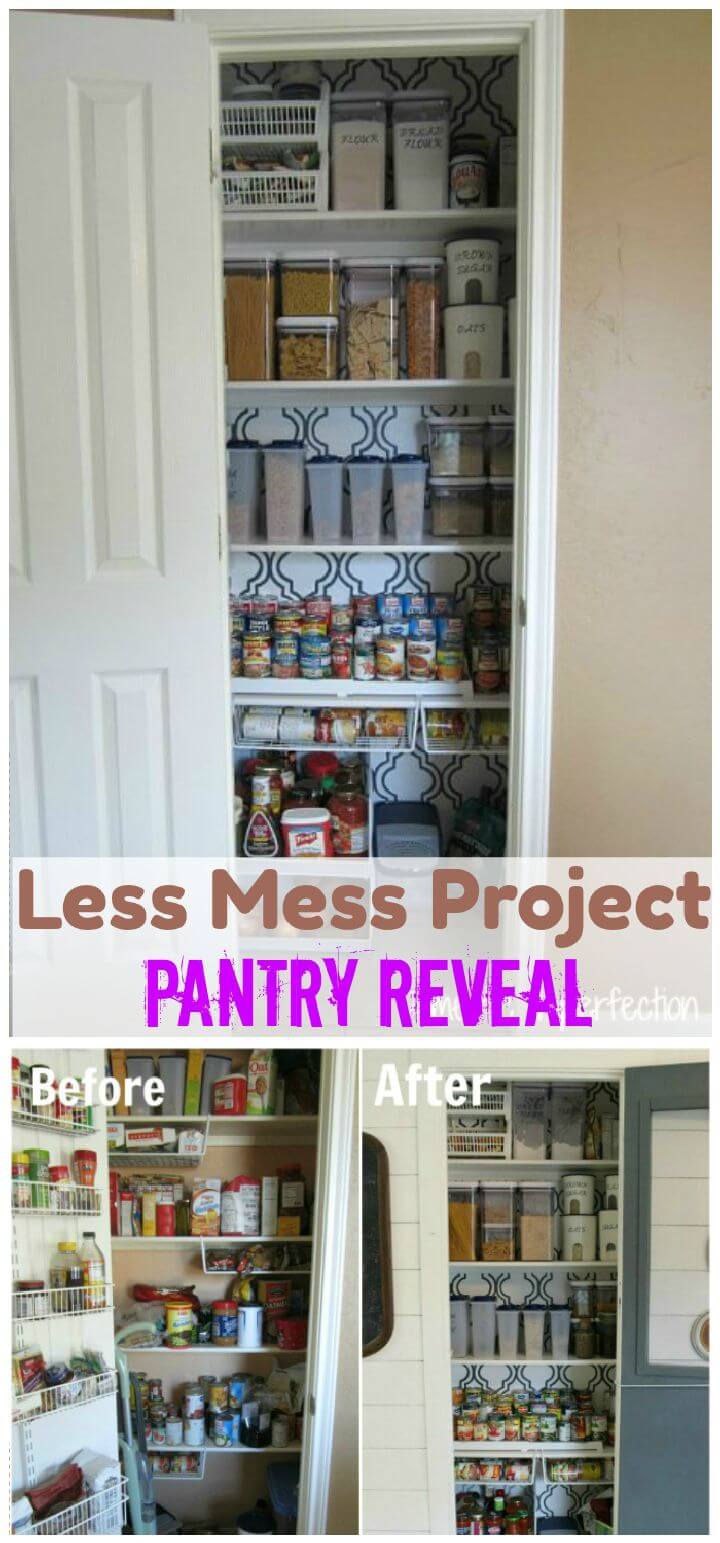 The way you hold your things in the pantry decides the look of your pantry and without a much planning and thinking it would surely result in a huge mess and clutter. So think smartly this time when you are doing the organization work all around the house and use the feasible plastic containers for the storage and organization of your pantry station. You can use any size and shape of the containers you find easily and for more details browse this link domesticimperfection
New Pantry Organization: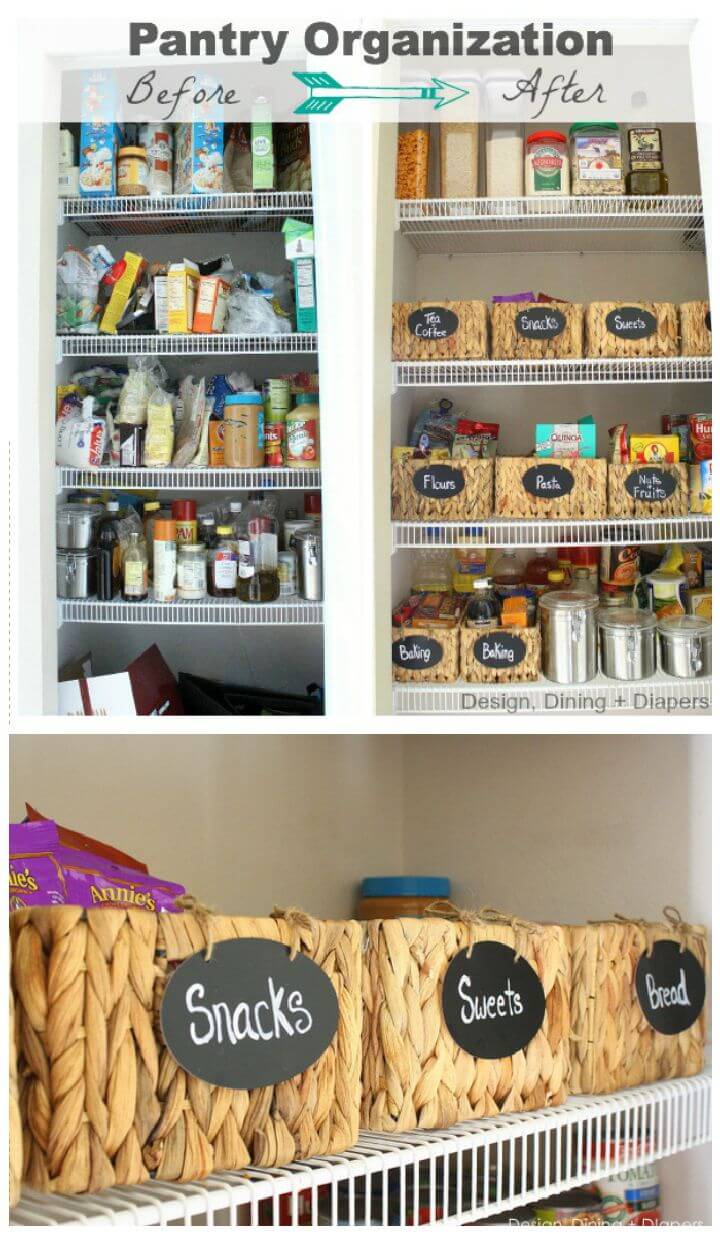 There are so many things available in the market that can really make your pantry organization easy and fun for you so that you do not have to organize it over and over again. Bring a bunch of the wicker baskets and use them for the housing of your grocery and other foodstuff and label them with the cute printable to add more to the utility and beauty of them. The baskets would not make the storage system feasible but also bring about some good decorative vibes too tarynwhiteaker
Hand Stamped Citrus Wall DIY:

The small and cute tiny details add a huge statements to the decor and the perfect example is this citrus wall created on the pantry wall in the kitchen in order to give your kitchen a really cool and fun look. All you would need is some paint and the citrus stamp to use and create this brilliant art on the kitchen walls and thus bring some lively and interesting vibes to the kitchen decor. Here is the link for the complete step by step details thepapermama
DIY Butler's Pantry – Jewelry Organization Idea: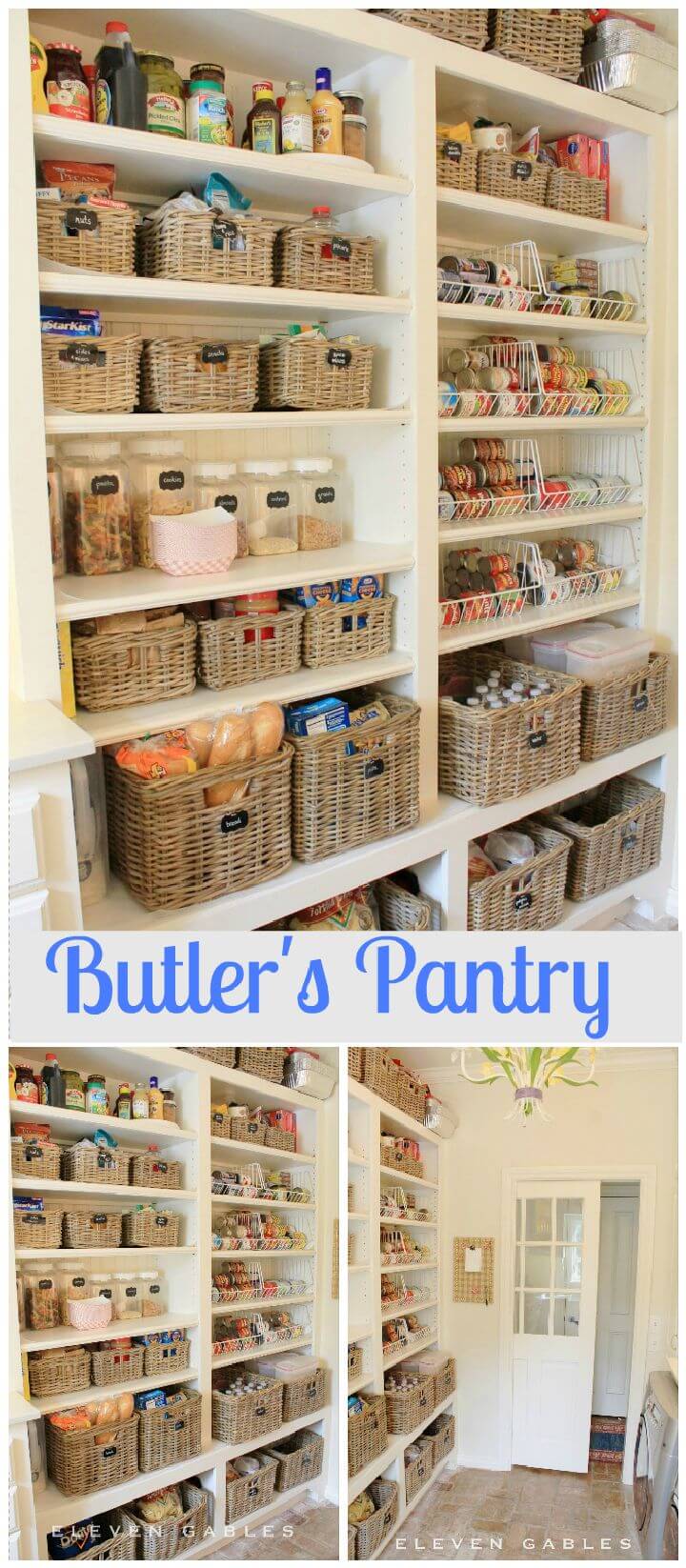 If your laundry closet is not used due to any of the facts and reasons you can turn it into a big pantry station and thus making the most of this left out spaces. Here is the complete tutorial how the laundry closet has been used for the perfect and huge organization of the pantry stuff and that in a gorgeous way using the baskets. You can name the baskets as they are many in number and it would be easy for you to look for the thing you need for your next cooking session. Details here elevengables
Chalkboard Pantry Door Update: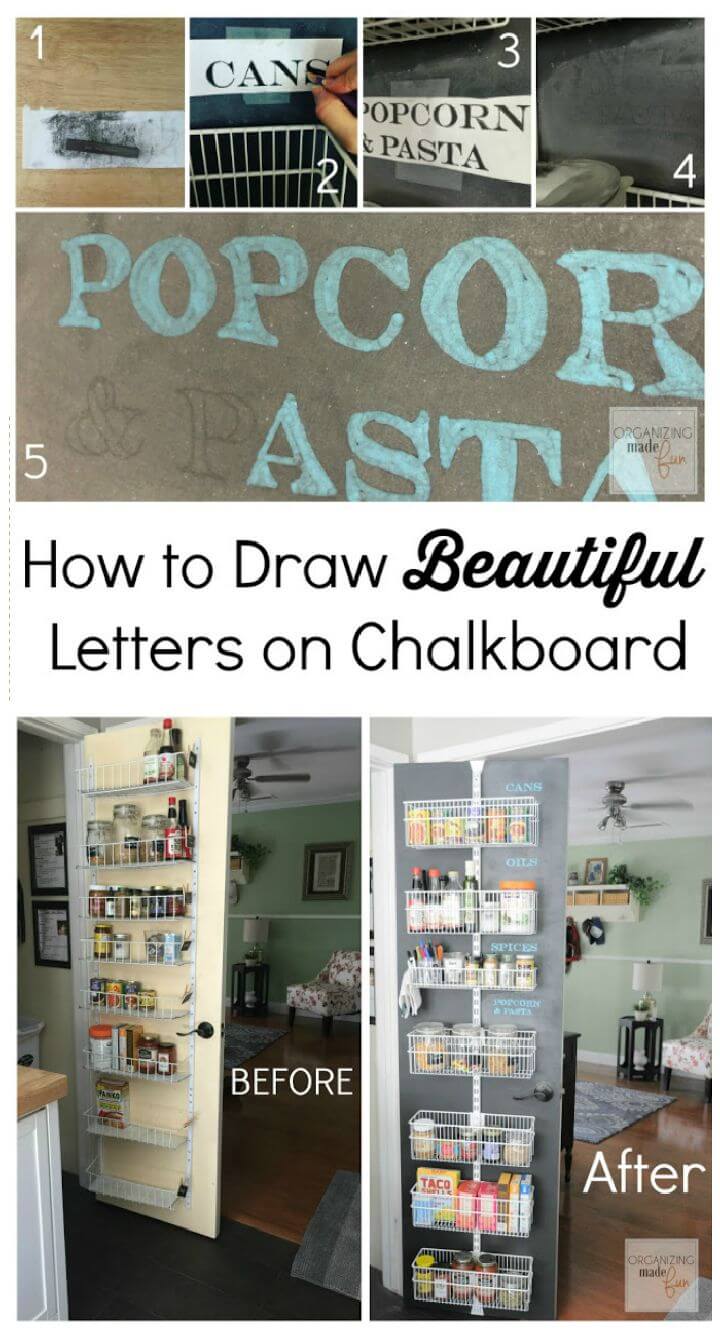 Here is a great pantry station idea for the doors of your kitchen which are just so easy and fun to create yourself at home. All you need is just a chalkboard paint can to paint the door and make it look new and fresh and then add this utterly functional  and sturdy door organizer with enough holders to house your pantry stuff in them and thus letting you enjoy a really feasible and functional pantry station and that too at the cheapest of the cost. Here is the link for complete details organizingmadefun
DIY Space Saving Rolling Pantry: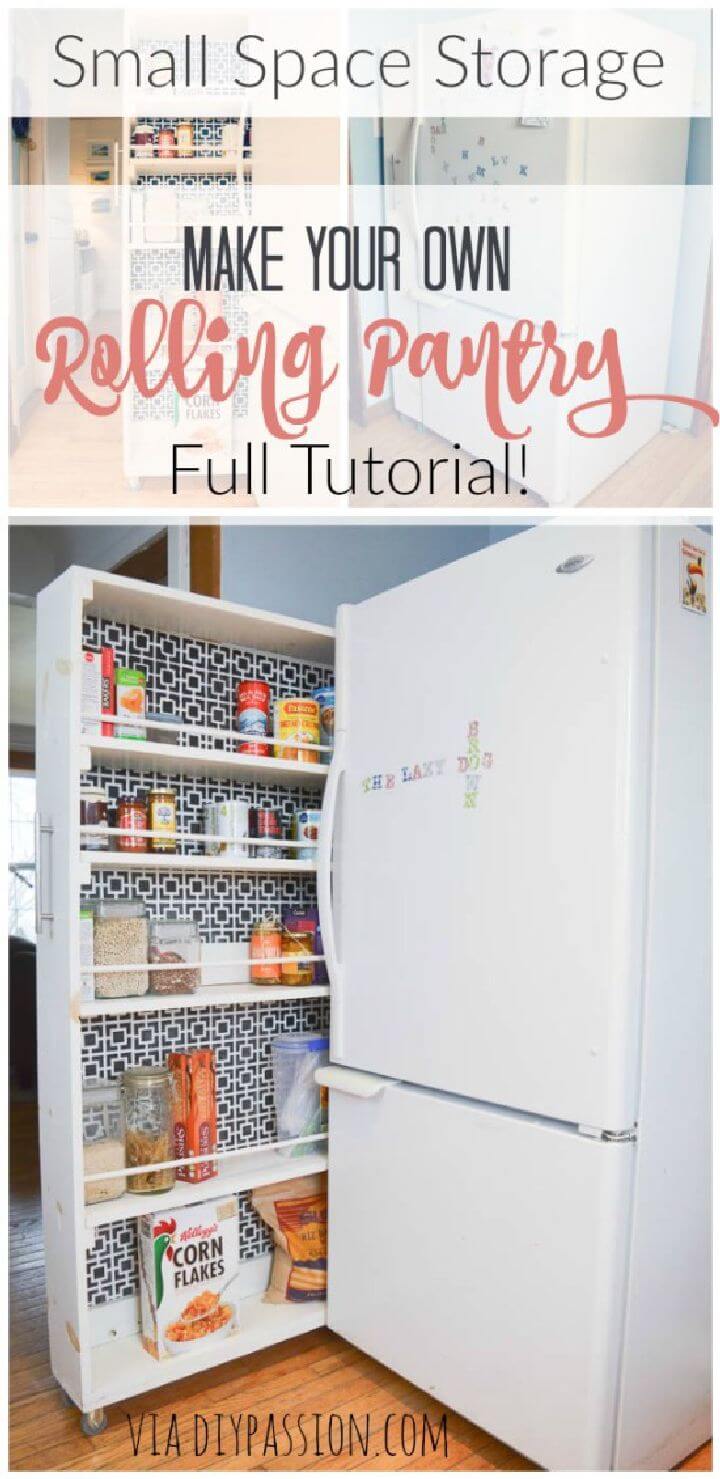 A pantry is the must-have possession of each kitchen, but sometimes the small spaces make it difficult for you to create a pantry station but do not worry as we got the perfect and fun solution to this problem too. Here is this rolling pantry that can easily created out of the wooden boards in layers and then lending wheels to it. You can pull and push it out of the small space its occupying behind the fridge. The white paint look really makes it a chic addition to the kitchen so check out its details all here diypassion
Creating Pantry Dont One:

Do not have a pantry? not a problem as you can now create it easily and cheaply on your own and enjoy a well organised and functional kitchen ever. All you need to have those four blue lockers from the IKEA and then stack them over other and use them for the storage of your groceries, canned food, snacks and dry items going into each locker separately. Here is the link to grab the step by step details of this easy and fun tutorial heshabbycreekcottage
Laundry to Pantry Makeover Before and After:

You would be amazed hugely to see this gorgeous and super functional transformation of the laundry room into a well organized and stylish pantry station. With the addition of the shelving compartments the room has been prepared to be pantry station and hold a bunch of the grocery items and the food possessions on it and that too in well manner. Further the chic white paint and the use of containers and the baskets really make the pantry look so damn pretty and feasible in storage. Check out the details here kevinandamanda
DIY Organized Pantry Reveal:

The holiday season is coming and you must be probing into the matter of renovation, cleanliness and the decoration and here we are with a great pantry makeover idea to ease you out a bit. You can turn your boring, dull and messy pantry into a chic and vintage styled pantry space with some gorgeous and strenuous efforts. Paintwork, containers, baskets, a lovely pendant light and a whole wall being turned into a chalkboard art is what have been done to this pantry. Here is the link with the before and after looks spolishedhabitat
Cost-Efficient Pantry Renovation: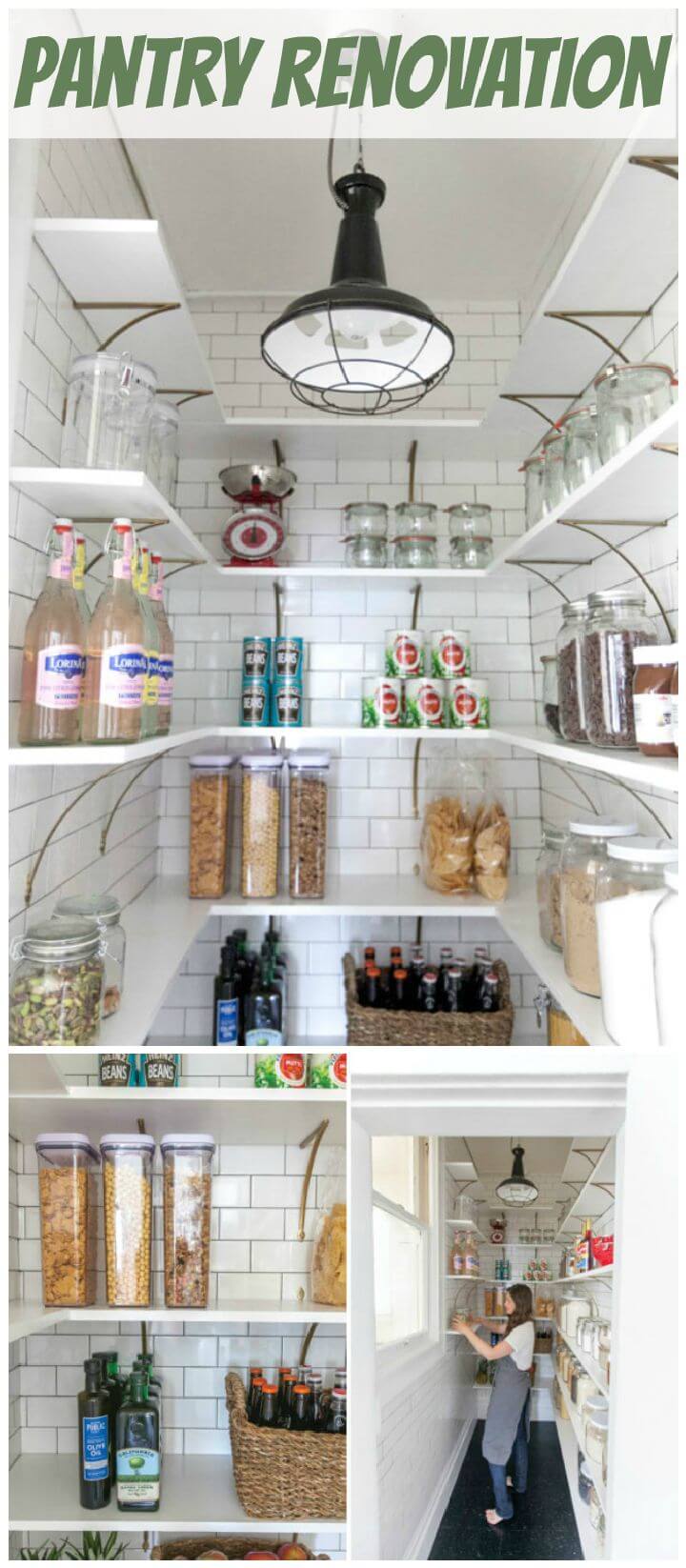 Put a hand on your heart as this gorgeous pantry makeover can steal with its sheer beauty, functionality and the totally chic style it has been awarded with. Using the wooden boards the U shaped shelves have been incorporated to the pantry in multiple layers to create a super stylish and functional storage system along with the baskets, jars and the containers to behold on the shelves. Complete tutorial here ohhappyday
Easy but Great Pantry Makeover: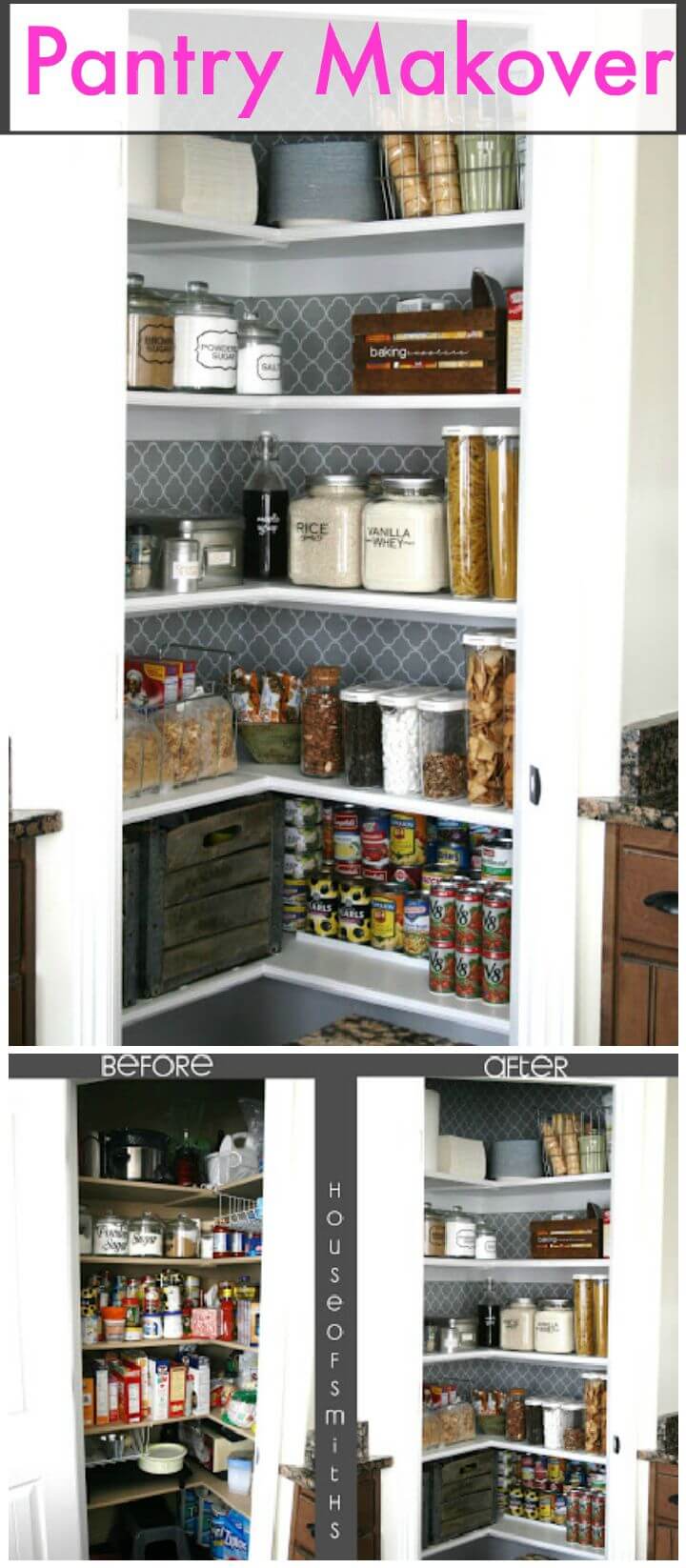 If you are not happy with the look of your pantry then just take out some time and schedule a makeover session for it. Here is the complete restyling of the pantry with easy and fun steps to follow so that you can work this plan out easily and cheaply. You would have to paint the pantry shelves, put a wallpaper background and use containers and baskets to award a successful chic and organized makeover to the pantry on your own. Link here for details thehouseofsmiths
Chalkboard Labels for the Pantry: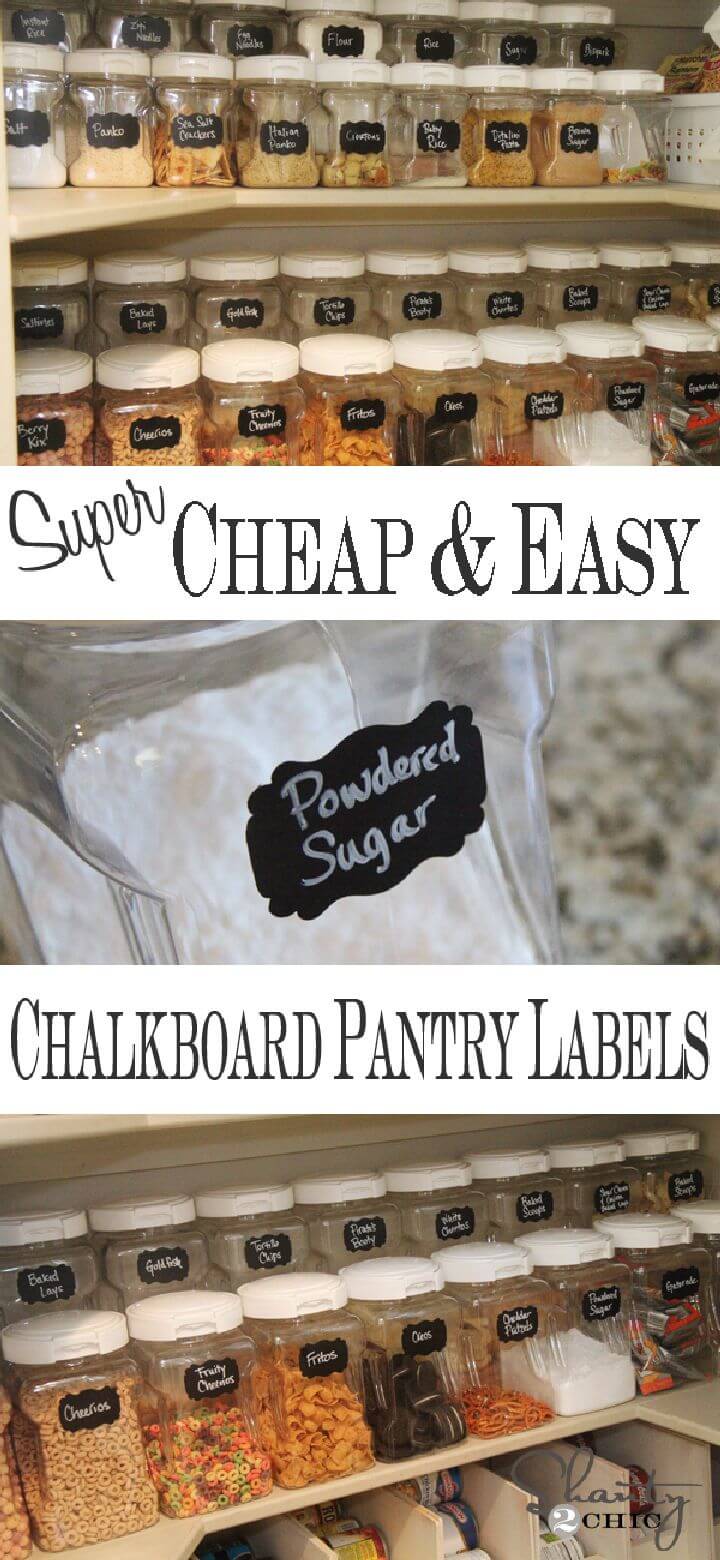 Getting the labels  on your food and grocery containers makes them work more smart and useful as it becomes really easy to find and grab the thing you are in need for at that moment. Here is the link where you can grab the cute details about the complete project how you can prepare these handmade chalkboard on your own with the free printable and the tutorial so check it out shanty-2-chic
DIY Smart Pantry Makeover: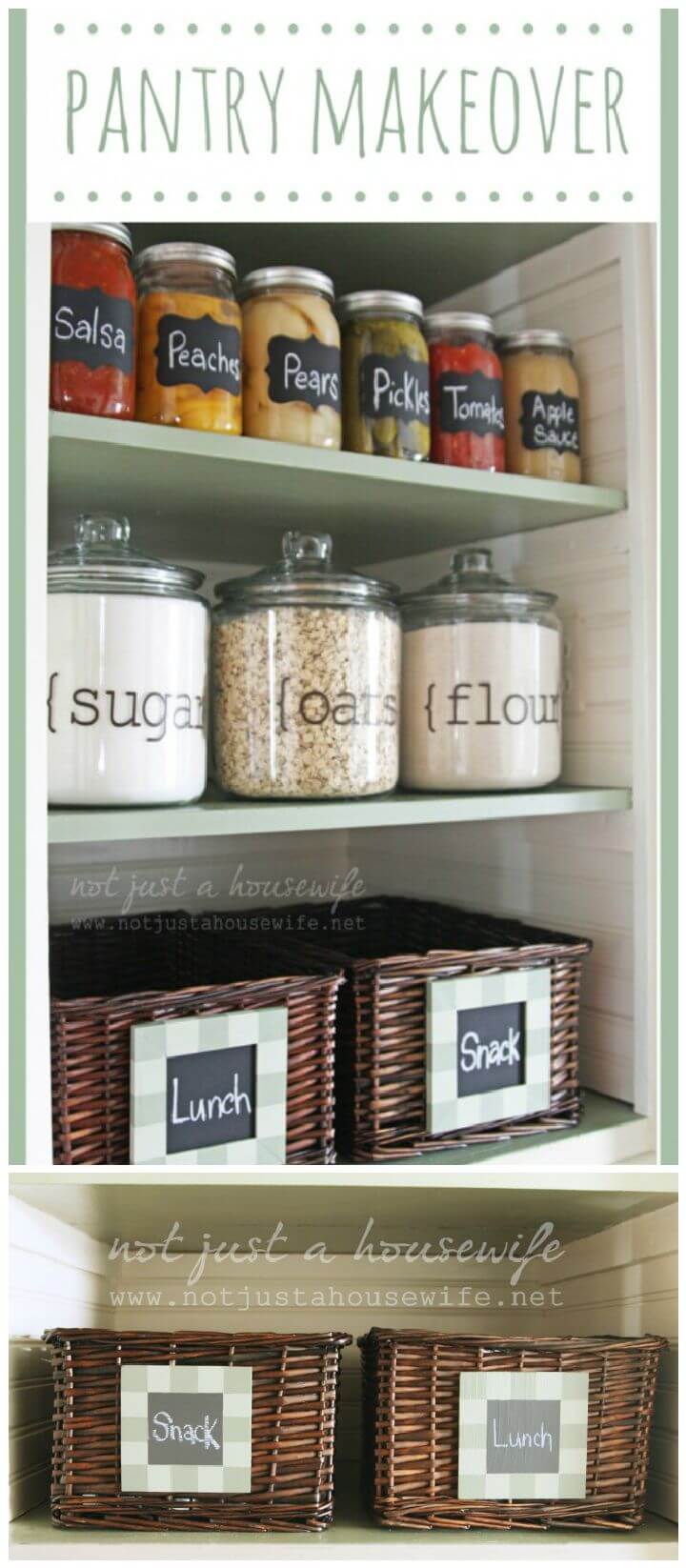 Putting up your food and groceries on the pantry shelves without any specific holder would really create a mess. So you better grab some stuff like the containers of plastic in multiple shapes and sizes, baskets, and the clear glass jar in plenty of cool and cute avatars to update, re organize and re style your pantry for a more functional and gorgeous look. Here is the link to grab more detail sand guidance about this pretty up gradation notjustahousewife
A Cool Pantry Organization Project:

If you have a small pantry with limited space and you are afraid to organize it as it can be a hassle then put your all worries aside and get this perfect solution. Here is a detailed process shown how a small closet has been turned into a really functional and smartly organized pantry with the containers, jars and the cute wooden crates and all being nicely labeled. Here is the link where you can get the complete details of project birgitkerr
A Pantry Organized and All Prettied Up: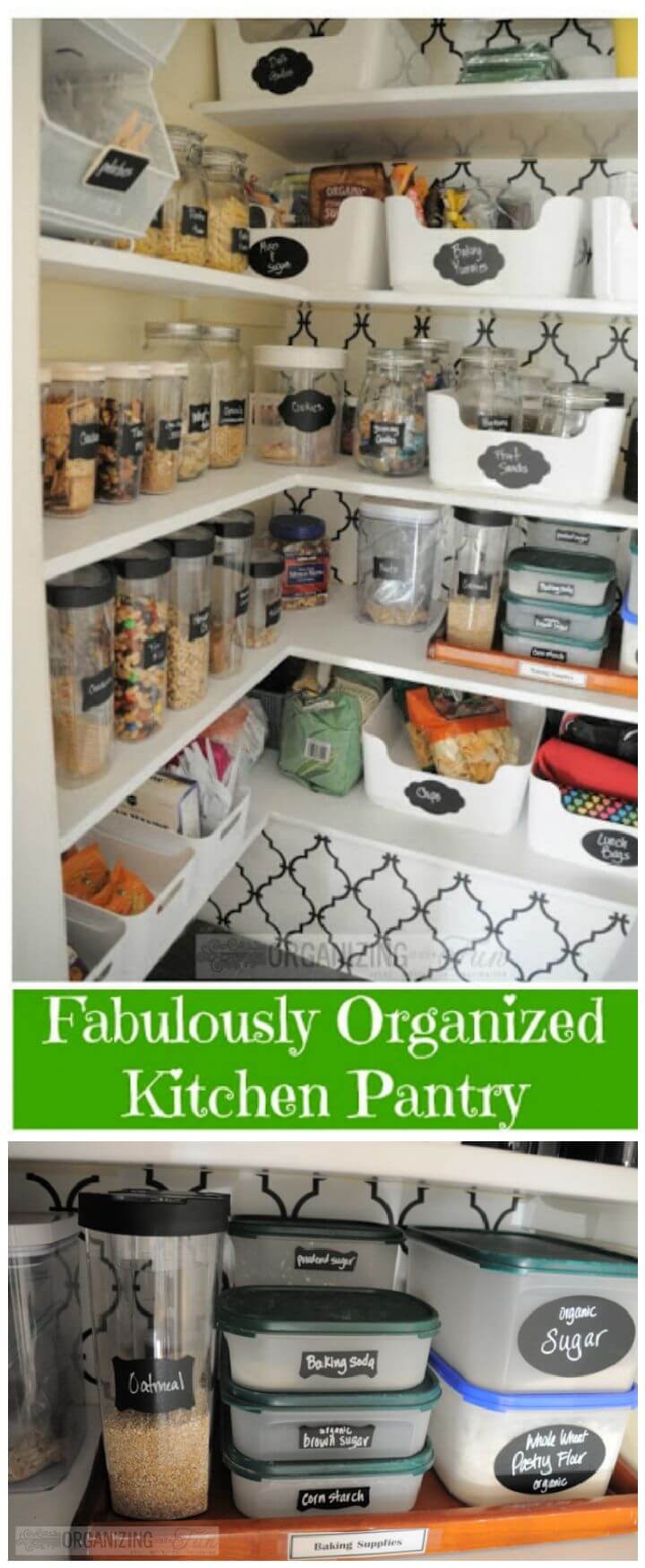 There are so many things that can lend a totally new and chic look to your dull and boring places and so does a wall paper can to your pantry station. Yes along with the use of containers and the clear jars for the storage of the pantry goods the background of the pantry has been all spruced up with a really pretty wall paper to bring some chic and stylish vibes in your kitchen decor. Here is the link where the complete details of this easy makeover can be achieved organizingmadefun
DIY Panty Organization Instructions and Tips:

You can find a variety of the containers, baskets and the clear jars to hold your pantry stuff in them and thus bring the real clean and tidy statements to your kitchen and especially the pantry station. Here is the link where we have shown in detail how the gorgeous pantry has been made to look fully organized and functional with the containers and the labels used on them. Link here cleanandscentsible
Organized Pantry with Neat Method:

A neat and clean pantry gives you the extreme delight and satisfaction and we all can work hard and make some efforts to get that level of satisfaction to get it started. Grab the baskets, a lot of storage containers in different sizes and shapes, label all these storage possession and hence you can award a totally organized and chic look to your pantry so that every time you visit this section you come back with a smile containerstore
Easy Paint Pen Kitchen Organization:

The jars, containers you are using in your pantry for the cute and pretty storage can be made to look more functional and gorgeous with the names of the things written on them that they are holding inside. There are lots of things to use for the naming but the paint pens would be great and fun to use. You can easily use them and write the names in your writing and thus making them look so personalized. Here is the link for details abeautifulmess
Our Organized Kitchen Pantry:

You can work on lots of things in the kitchen to make it look good and make it work better too. The pantry station is probably the messiest and needs to be organized and updated and for a fresh and functional organization. So grab a set of plastic containers and a door rack to get your pantry fully in apple pie order and thus making it really easy and fun for you to grab your things on time. Tutorial here with more tips and details fourgenerationsoneroof
Kitchen Pantry Organization Update:

Get some plastic baskets and print out some cute labels to make your pantry look all styled up and organized in a new and updated way. You can also use a door rack to hold a plenty of your stuff in it and keep your things always near to grab. Here is the link where you can get all these genius and useful tips of pantry organization and get your hands on this weekend to give your pantry a cute and functional makeover heartorganizing
Stackable Canned Food Organizers for Pantry Storage:

You can make so many things to make your pantry look all organized and sorted. Here is this super cool looking wooden can holder that you can make out of the plywood easily and then use it for the perfect storage of your canned food in the pantry. Label it to make it look feasible and fun for the use. Here we have shared the step by step details of the can holder to learn them and make a few for your pantry storage in an interesting way shanty-2-chic
Kitchen Pantry Reveal:

The pantry can be the focus of your kitchen decor if it is well maintained and well organized. This gorgeous pantry makeover is the lovely inspiration for you all to get your hands on and turn your messy pantry into a great storage section of the kitchen with some additions and changes. The wall of the pantry has been designed, baskets with labels have been used along with some jars to get this gorgeous and functional result. Check out the details here pbjstories
Repurposed Coat Closet into Pantry:

If you are shifting your coat closet to any other section of the house then you can use the old one as the pantry station. Being large enough it would an apt space to carry your huge pantry possessions including food and groceries. SO here is the simple and witty way showing you easily you can turn your closet into a functional and well organized pantry with the use of label baskets inside making the storage system more useful. inmyownstyle
Easy Ways Organize Pantry:

When you are stuck with some tough kind of task like the organization for your pantry all you need to do is just think calmly and smarty to find the genius and easy to tackle the problem and here we have something to boost your mind. These are the amazing tips of pantry organization leading you to build a cutting board and jelly jar organizer, fishbowl snack holder and much much more. To get all these awesome tips click here unskinnyboppy