In this age of electronic media, newspapers are still a part of our lives and some people really like the newspaper thrown to their doorstep at every morning! After satisfying your daily hunger of news, a newspaper remains no more a worthy item, so they are mostly destined to recycle bins just after a single use! But for crafting lovers and for those who love recycling and have a genius brain also, the newspaper can be much more than a piece of paper scrap! The white and black hues of them mixed with colorful advertisement sections can be used in the number of different ways in the art of crafting! To show you that how much magical and worthy the newspaper can be in the world of crafting, we have brought these 71 DIY newspaper craft projects that are more than amazing and creative as in your imaginations!
Each project is special and exclusively hand-picked! Furthermore, there is a link attached to each project that will provide you the step-by-step instructional guides and complete DIY tutorials! So, don't hesitate to visit the reference links if you like some projects and want to give them a try!
The most incredible in newspaper crafts is to build the kids fun gifts, toys and ornamental stuff! However, a home lover can also recycle newspaper to build some not very durable items of furniture and custom utensils like bowls and baskets! Newspapers can be changed into long strips that can be put together to wrap an object and can also be woven to amazing crafts and useful objects! Browse the collection of some beautiful samples!
In the decor section, you can craft amazing garlands with newspaper and can also make beautiful buntings, banners, and wreaths that can be painted for to match the decor of your home! Use also the newspaper in making Halloween silhouette and also to make beads that can be used in making newspaper jewelry!
Another most thing in newspaper craft is to turn the newspaper in longer rolls, that can be put together for a bit more lasting craft items, get inspired by given newspaper coasters and wall art! Newspaper rolls can be packed together with endless different decorative and functional objects!

Moreover, you can get crafty with newspaper by turning it into paper mache, this just makes the newspaper an incredible item to use in crafting! By doing so, you can make amazing dummies of plants, animals and vegetables that can be painted for an instant centerpiece for your home!
To do more inspiring with your old newspapers, just browse the whole collection!!!
DIY Newspaper Swirls Photo Frames: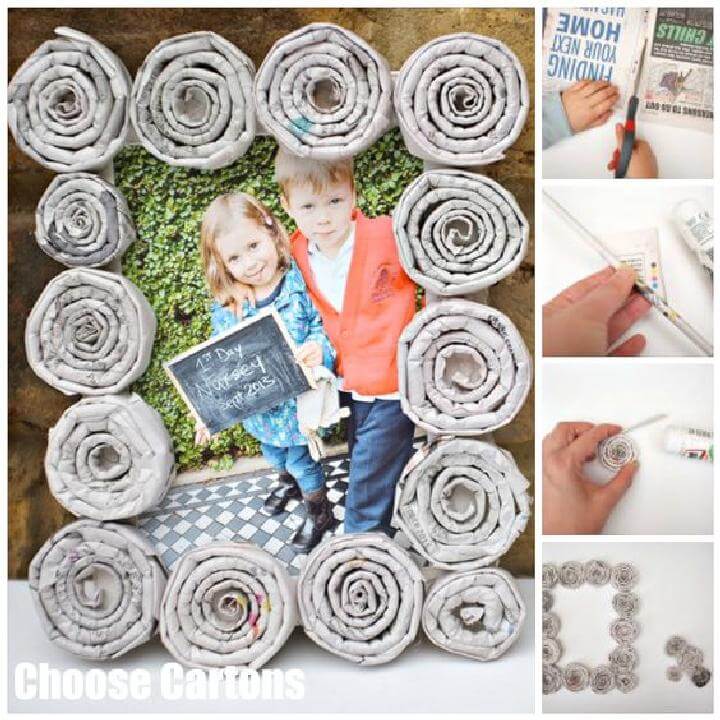 Old newspapers are available in all most every house an they are produced as the regular clutter so here we have brought to you this brilliant idea of recycling them. Cut the newspaper into the stripes, curl them and use these curled paper flowers as the decor of your photo frames. Let them stay unchanged or do paint them to add more fancy touches. Full tutorial guide here redtedart
Newspaper Leaf Garland- DIY Newspaper Decor: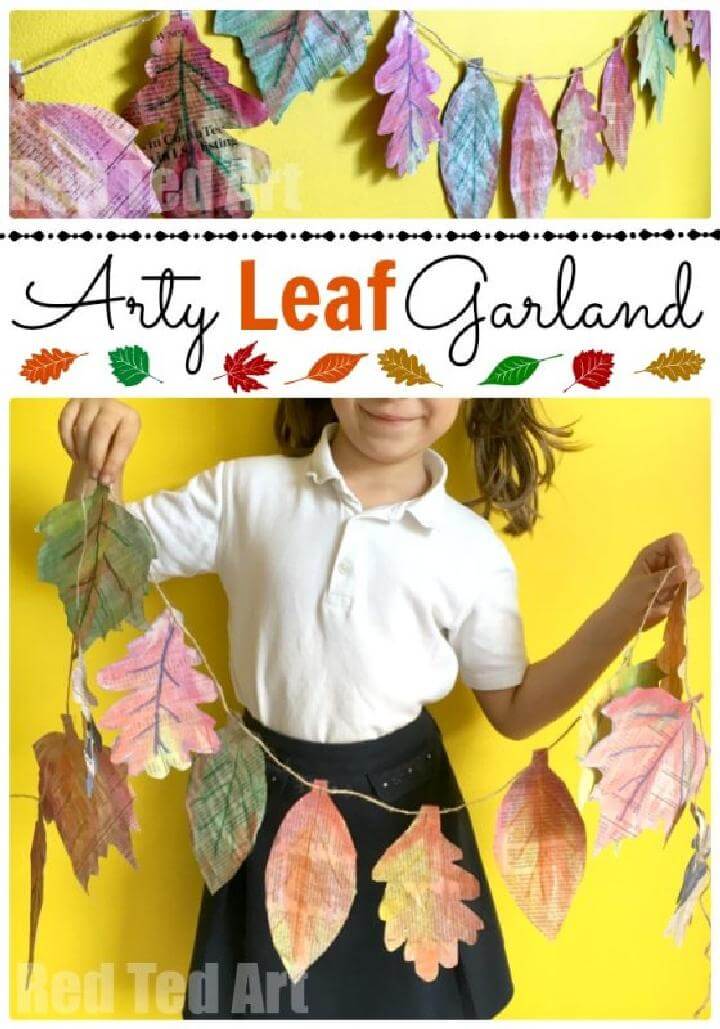 There is a lot to do with the old newspapers when there is huge pile of them in your library. Here is a cute idea for your decor to make these lovely leaves and make a garland out of them. You can download the template of the leaves and then cut them out from the newspaper and color them with the respective hues. So this autumn you know how to decorate your home at no cost at all sredtedart
Lovely Newspaper Heart Garland: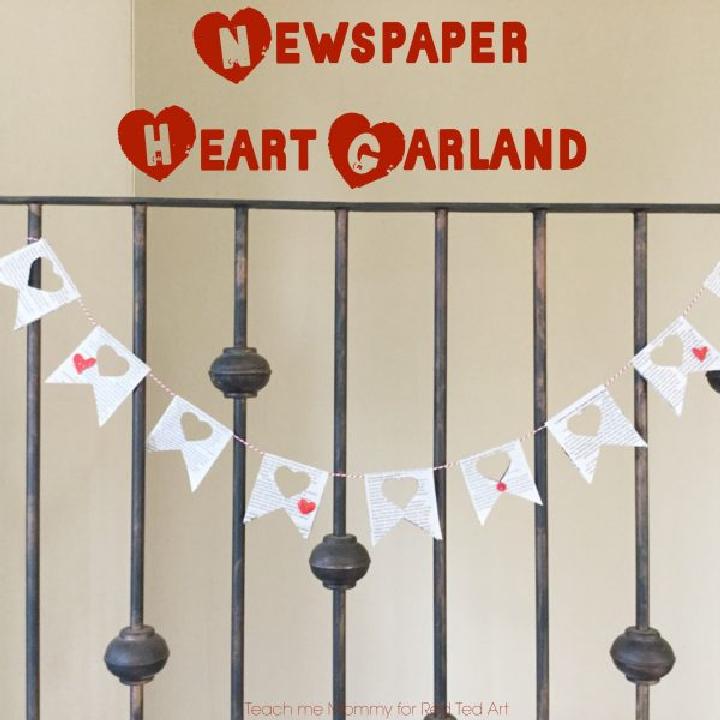 Buntings and garlands are the must part of party decors for almost all the occasions. So this valentine make this simple yet fun looking newspaper heart garland and display it on your windows, doors, tables or rails as the perfect love decor. Get the more details of this simple, easy and cheap newspaper garland project right hre redtedart
Homemade 3D Painted Newspaper Heart Buntings: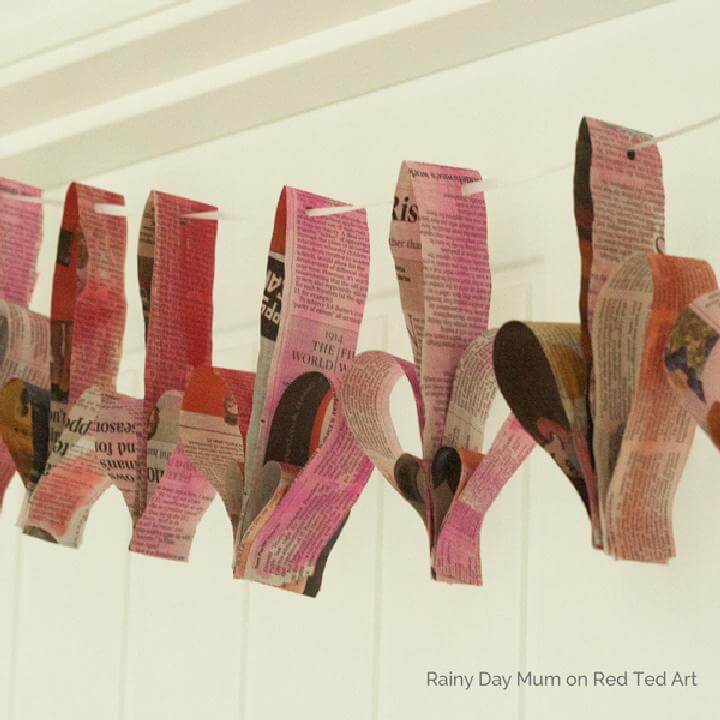 Heart shapes means love and they are the best symbol and sings to show love so these newspaper heart buntings are just prefect to craft and display in any of your party decor or use them in regular days to bring some fun aspect int he decor. They are too easy to cut out and form a garland and here is the link to know the crafting tutorial  redtedart
Handcrafted Newspaper Flowers: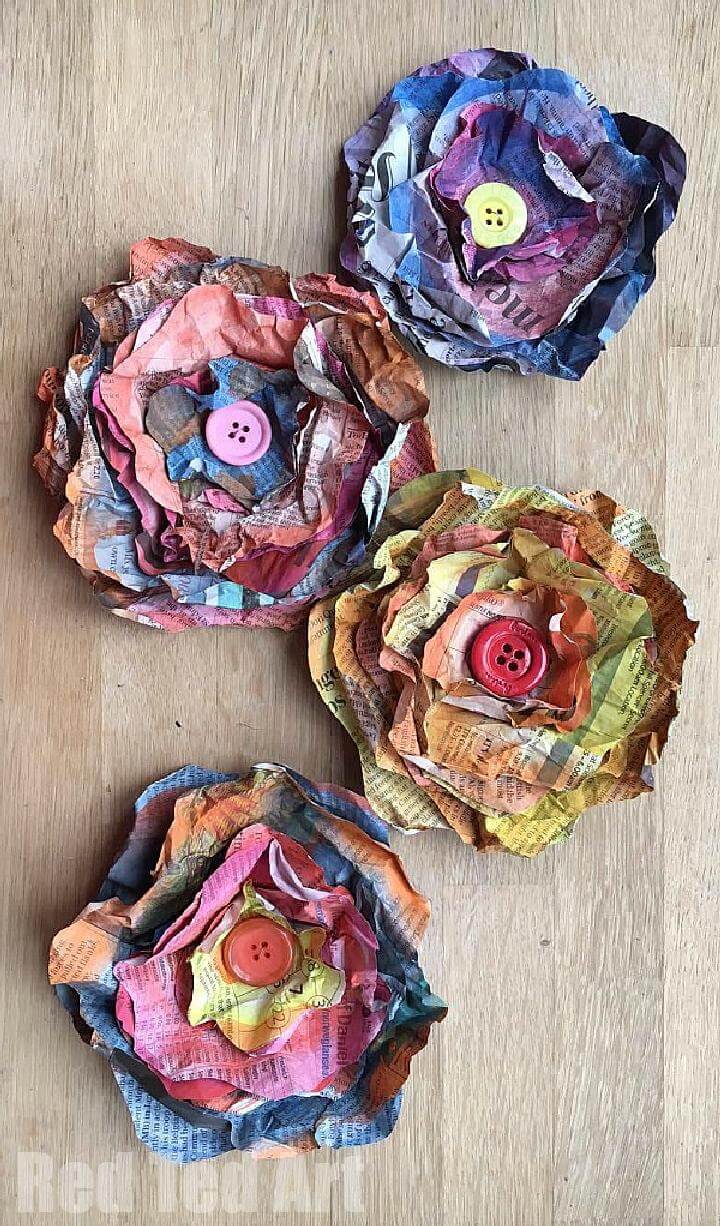 Using the simple crafting tools and tricks these pretty and adorable flowers have been made out of the newspaper which you can easily get. You can use these flowers for so many decor purposes in the house, Just cut out the flower petals, paint them in nice hues and them combine them with a button and the cute newspaper flowers are ready. Here is the full viedo tutorial link redtedart
DIY Timeless Newspaper Gift Bag:

Paper crafting is so much fun and gives us so much to adore and so much to use also. Here is another amazing paper craft made with the newspaper and these are the cute gift bags to carry the gift accessories. The newspaper has been folded to form a bag and a house has been drawn on it using a marker penicl snd thus its looks really cool and cute. Here is the step wise instructions redtedart
DIY Newspaper Spiral Penguin on a Sledge: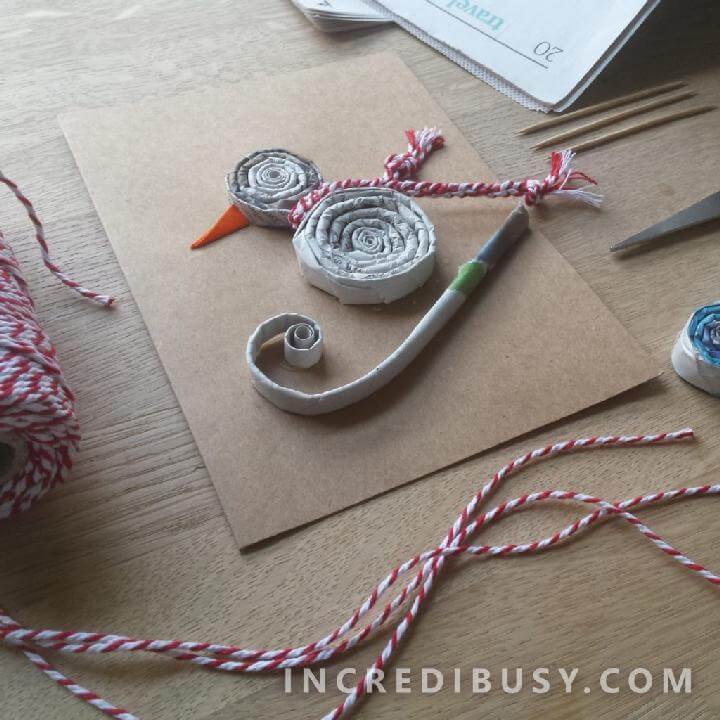 After reading once the newspaper is no more in use so you must use it for some other purposes because with the next day there would a new newspaper. So here we are sharing with you people the newspaper crafts to recycle the newspaper so nicely. This cute and spirals have been made from the newspapers so easily and can be used for so many decors and styling up of the home accessories. Here is the link to see more details kidschaos
DIY Newspaper Spirals Snow White Mirror: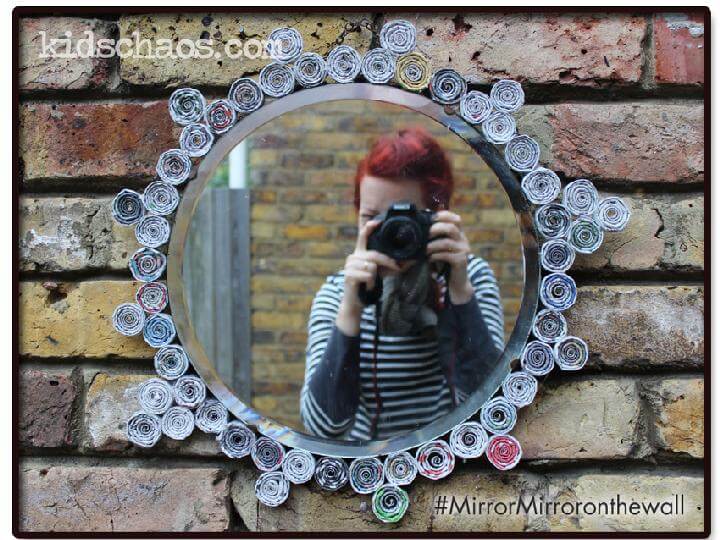 A lovely stylish touch to the mirror can really bring some freshness to your home decor. So either you have a mirror in your foyer, hall or bedroom spaces you can give a gorgeous makeover and that too cheaply. Yes using the newspaper you can make these curled spirals and used them all over around the mirror like a round covering. Little stain hues added tot he spirals really make it a bit fancy in looks. Here is the tutorial kidschaos
DIY Newspaper Fort or Building Block: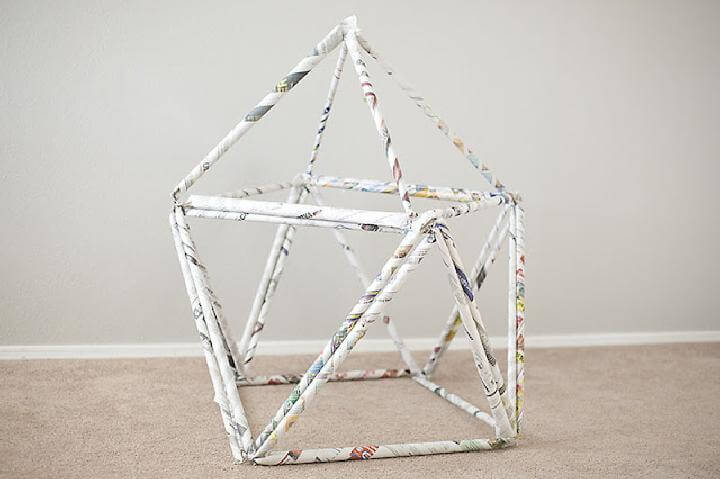 Making the structures and shapes from the blocks is really a fun and learning activity for the kids and now using the news papers they can form up the blocks and then create the favorite structures to play with. Grab the newspaper sheets and roll them to form the long size blocks which would further get joined to each other and form these geometric shapes to play with according to their imagination. Full tutorial here modernparentsmessykids
Easy Newspaper Coiled Square Mat: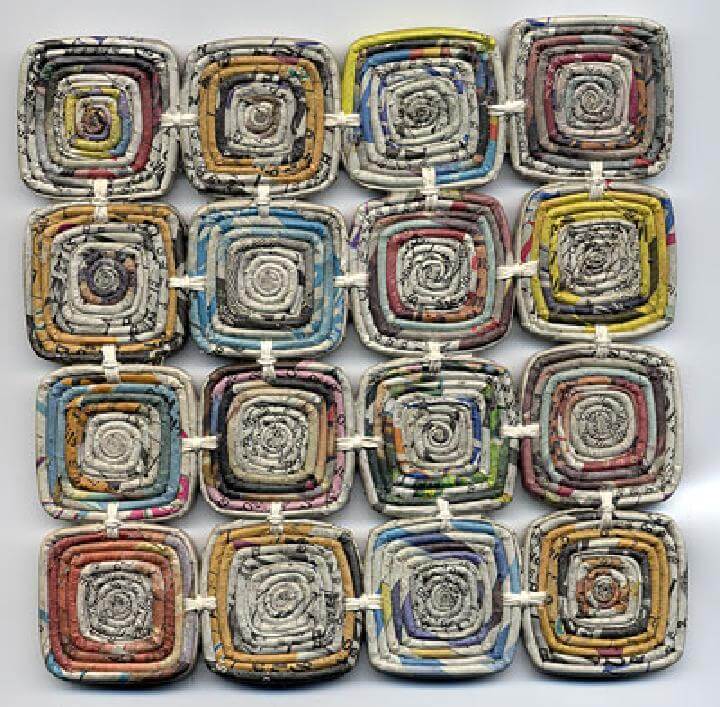 If you are in need of a simple wall decor then newspaper can really help you. Just grab some newspapers, color them with your desired shades and then start crafting the small squares. All you need to do is just curl up the newspaper sheets and coil them together to form a square and then bringing these small squares you can form a big one to display on your walls for decor. Full tutorial is here havemuse
DIY Easy Newspaper Envelopes: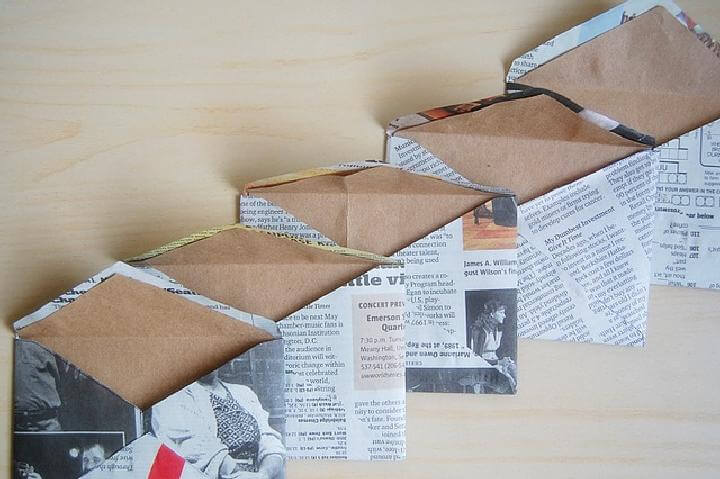 Cards and letters are still the part of old traditions and we love them so much even now. And with letters and cards there comes the envelope and now instead of buying them from the market you can make them of your own using the old newspapers. These handmade envelopes are just too cute and personalized to use an they are too easy to craft also. Here ist he link to know the feasible way to make them kanelstrand
Handmade Newspaper Leaf Decor: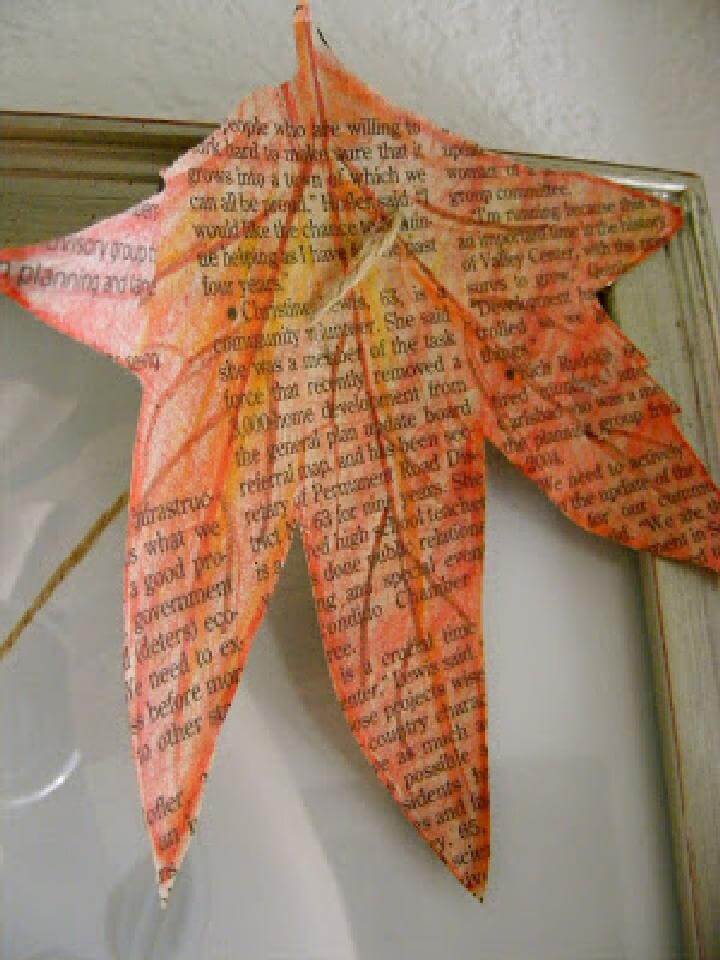 Leaves are the custom part of the fall decor and now you can bring those fall leaves in your decor which would never wither away. Just get a newspaper and cut out a fall leaf out of it and then color it with the crayons and its ready to get hung on the walls, windows and doors and bring the custom decor vibes right in your home decor. Full tutorial is here villicanamomma
Easy Newspaper Heart Garland: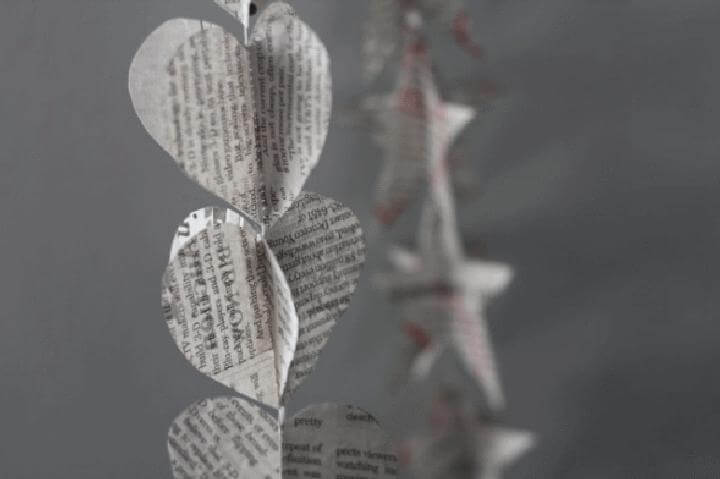 Heart garland are just too cute and adorable to resist. Here are these fun looking heart shaped garlands made out of the newspapers and thus would totally fun, easy and cost free to make. Just cut out the heart shapes from the paper and sew them together to form a garland line. Here is the full tutorial to know more details and instructions of this cute and fun decor project. Tutorial here thinkcrafts
Kids Handmade Newspaper Hat: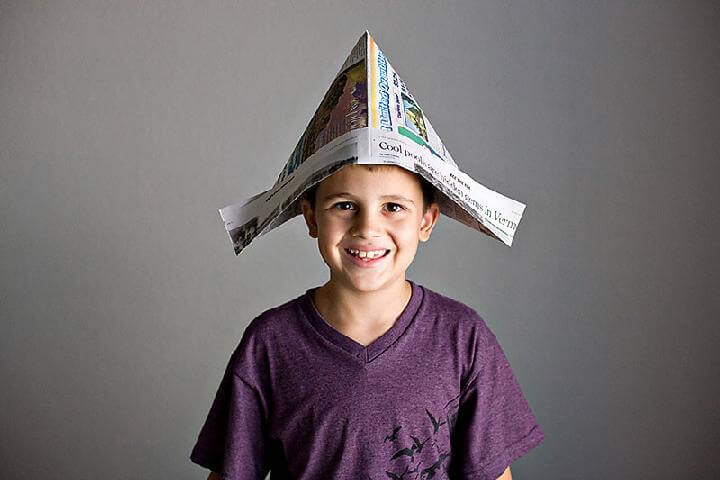 Kids can have lots of fun with the newspaper and the fun crafts they can make out of them. There is a lot things a newspaper can yield fro the kids for example a  pirate ship, hat and telescope etc and thus enjoy being a cute little pirate at home. And they are so easy to make that the kids can craft them of their own. Here is the full tutorial to know the more details of them allfortheboys
DIY Newspaper Wedding Bouquet: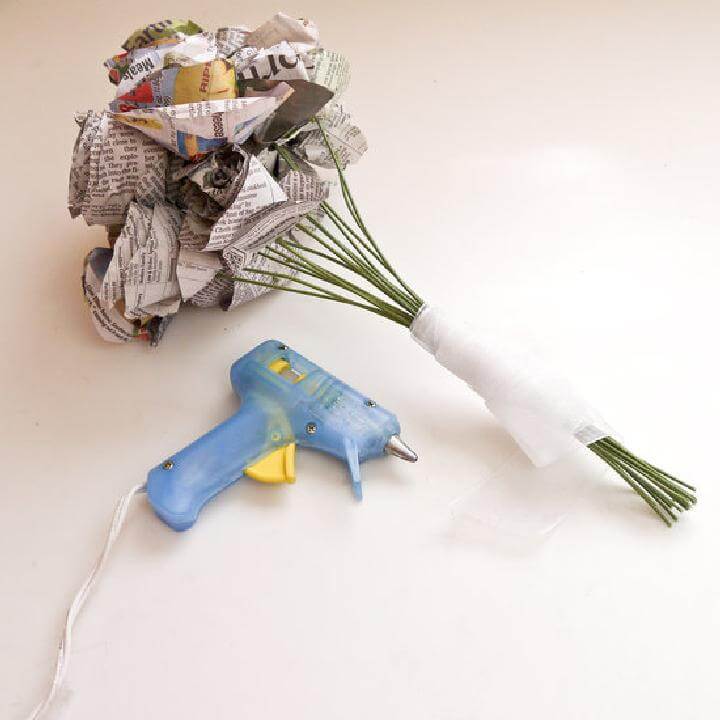 The wedding day bouquet are really special and no bride wants to toss it off and most of them use a cheap one bouquet as the replacement for the tossing custom.  But now you do not even need to  buy that replacing bouquet as you can make a perfect one of your own and that too using the old news papers at your home. Cut the flowers and then bind them together and this lovely newspaper bouquet is ready to rock your wedding day. Here is the full tutorial for details popsugar
DIY Newspaper Easter Bonnet Hat: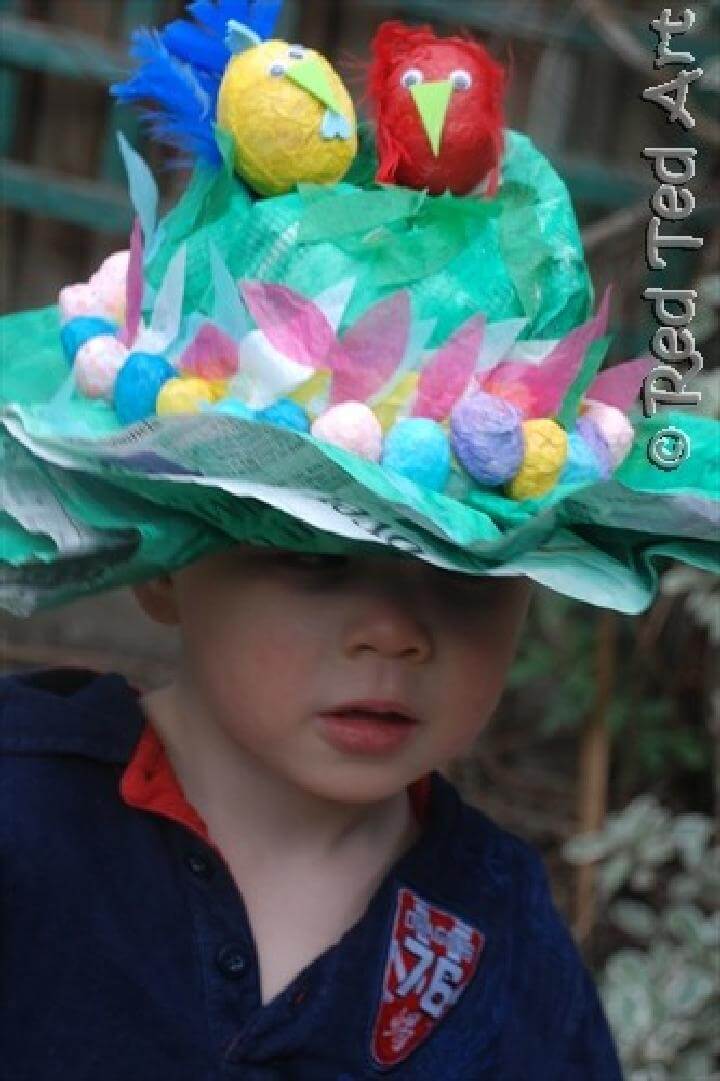 Festivals are celebrated best by the kids especially the Easter bonnet as the kids get to wear those sun and exciting bonnet hats over their heads. And now using the old and recycled material at your house you can make your kids the cute and pretty bonnet hats. Using the newspaper and the tissues this lovely bonnet hat with the flowers and cute tiny Easter eggs has bee so nice and easily crafted and thus saving your time and money. Here is the tutorial link to know more details and directions redtedart
DIY Brilliant Newspaper Furniture: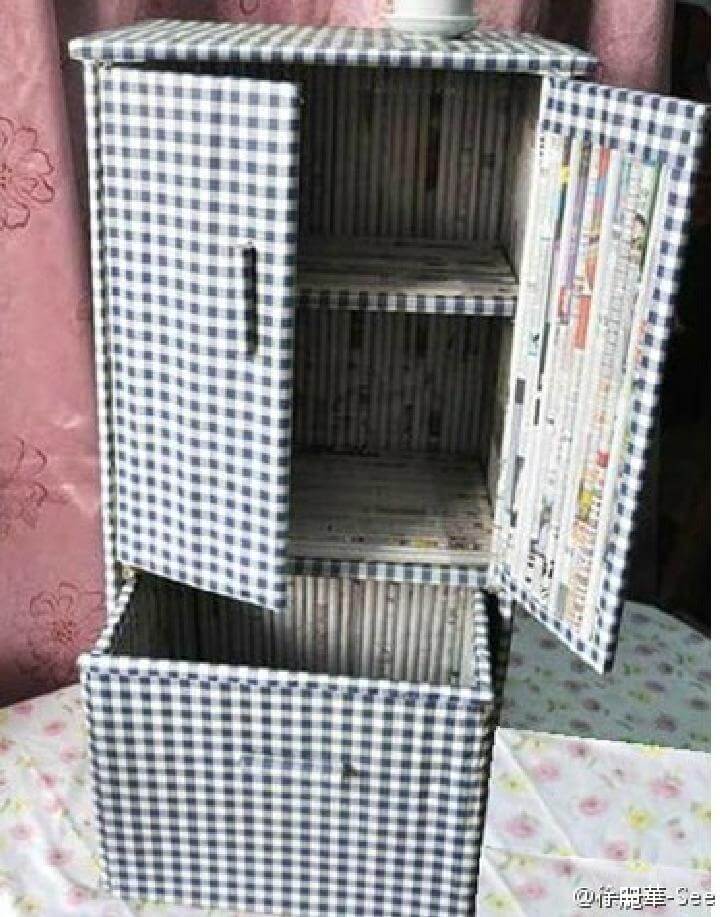 If you have a huge pile of the newspapers and want to get rid of them, then building this cute cabinet would the best and most efficient idea to re-purpose them. Just get some glue and start rolling the newspaper sheets to form the thin cylindrical structures and you would need them in a huge numbers. Then stacking these long rod like structures together you easily form up this  cabinet to hold your jewelry, make up and lot more. Tutorial here duitang
DIY Woven Newspaper Basket: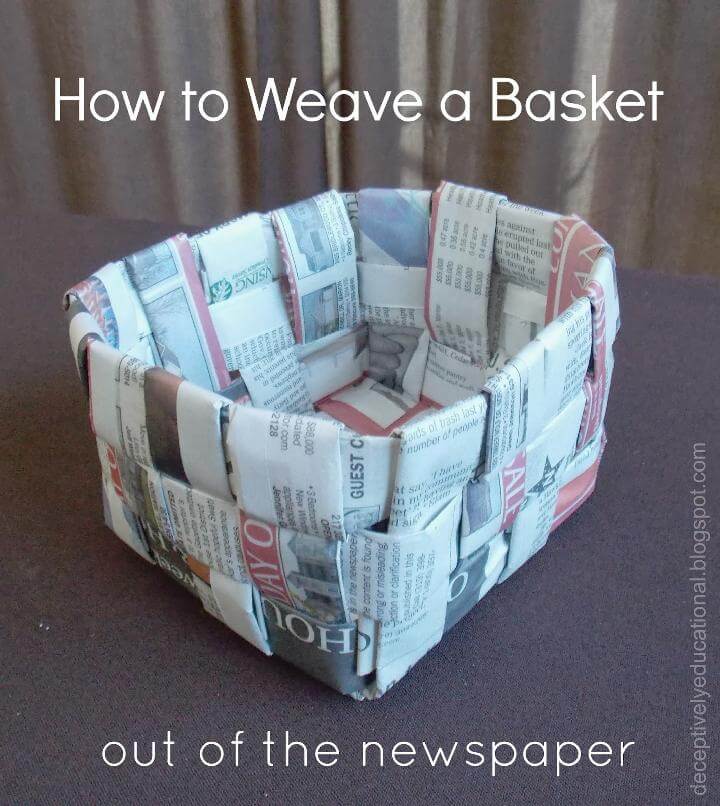 If you are good at weaving then you would really like this challenging idea of weaving a basket out of the newspapers Just cut the stripes of the newspapers and weave them to each other to form up this cute square basket which you can use only for the decor purpose or hold some light weight things in it too. Here is the link to know more details of this cute proejct deceptivelyeducational
Handcrafted Newspaper Treat Bags: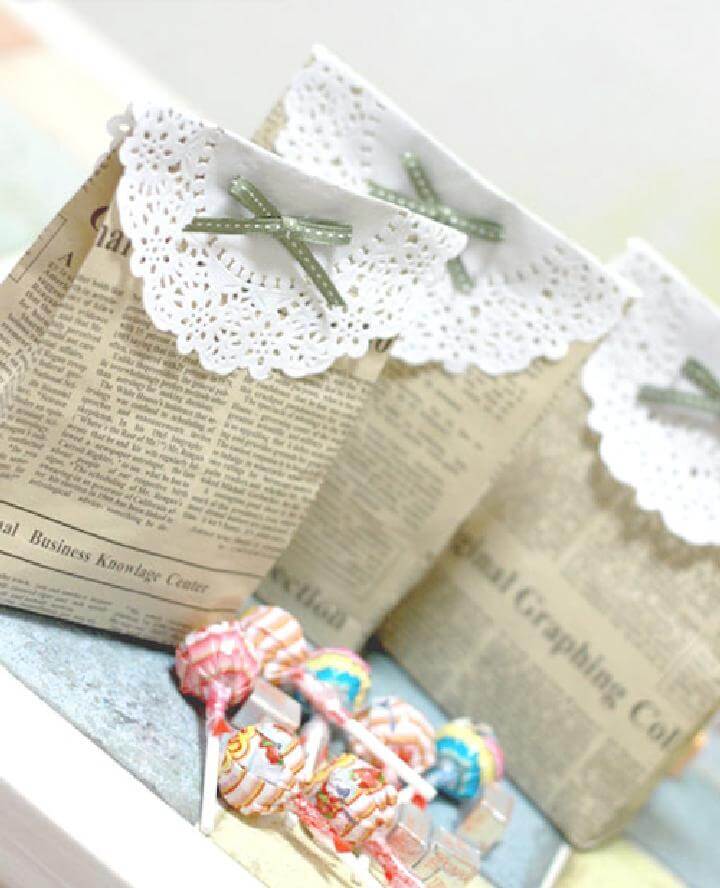 Giving treat is the part of festive traditions and using the cute and pretty bags to hold the treats in has become the style and fashion. And there are lots of ideas to make the  treat bags at home and this newspaper treat bag is one of them. The paper has been folded into the cute small bags with the lace and ribbons used as the finish touch and they turned out to be immensely cute. Tutorial here kenh14
DIY Newspaper Gift Bag Instructions: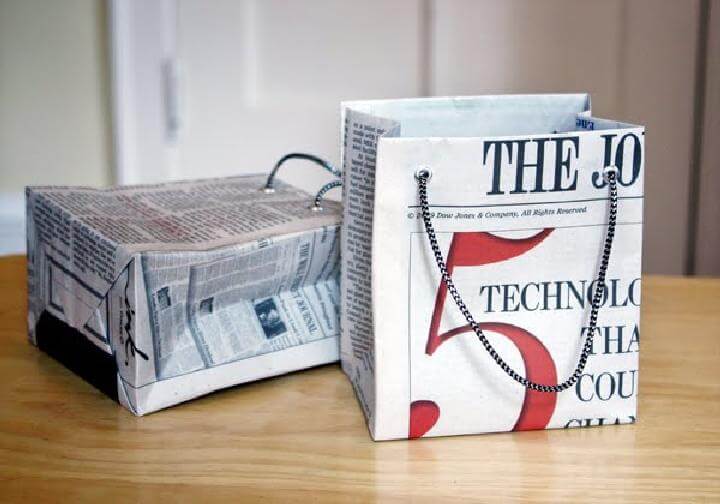 Gifts should be presentable and there are lots of things like the packing and the bags which really matters making a git look nice. So here we have this fun and feasible idea to make the cute and pretty gift bags at home using the newspapers. It would be totally simple and cost free to make and add a custom touch to your gift packing. Here is the link to know more details of this cute newspaper gift bag howaboutorange
Beautiful Newspaper Wallpaper: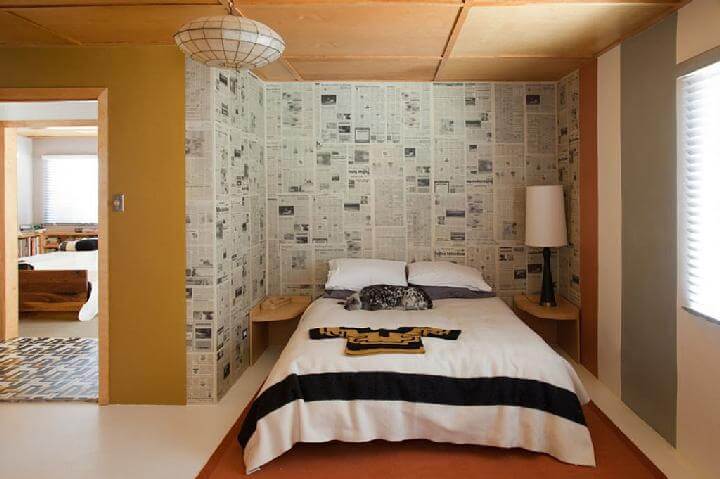 If you are living in a small apartment with small bedroom sections then we have a nice idea with which you can really lend a  chic and unique touch to your bedroom spaces. Us e the newspaper and paste it all over the walls of the bedroom and its done. The idea is too cheap,easy and fun to do have its all details here youhavebeenheresometime
DIY Newspaper Seedling Pots: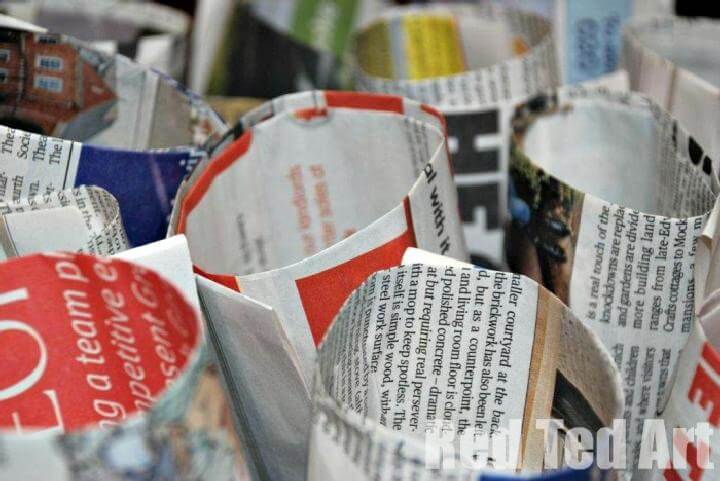 When you have a party at house you need to do lots of preparations to please the guests and making the cute treats is one of them. For treats you obviously need some treat bags and these newspaper can really help you to make the cute and tiny treat bags with some glue and a bit folding. Here is the link to know more details and directions about them redtedart
DIY Newspaper Paper Boats: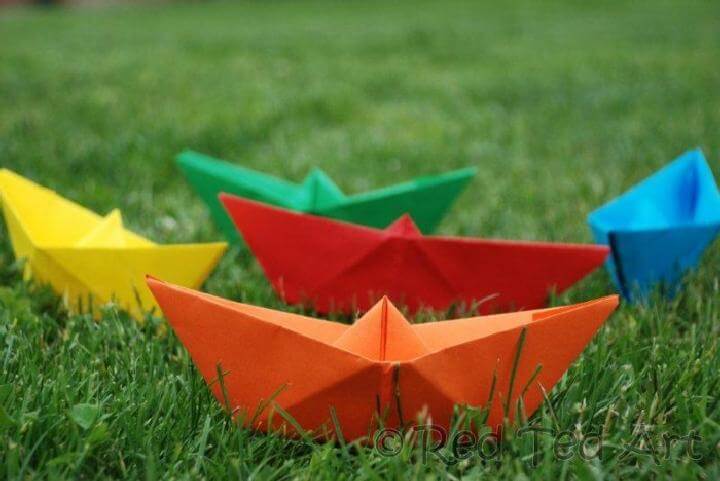 Making the boats from the papers is one of the old and the most fun paper craft ever and now you can try making these cute boats with the newspaper too. You can make as many as you like and paint them in colors and display them nicely on your tables, shelves and mantles and thus spruce up the decor a bit. Here is the full link to the details of these cute paper boats redtedart
Handmade Newspaper Wreath: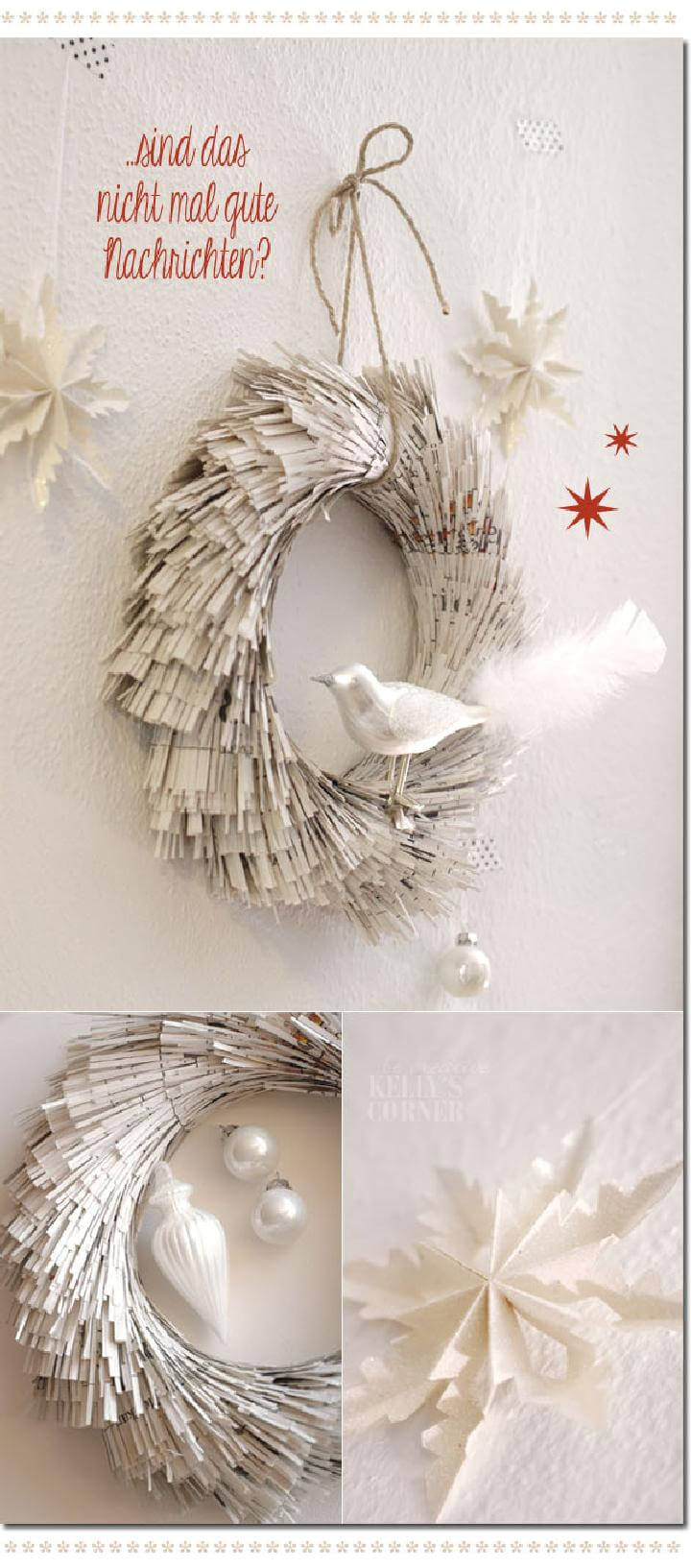 Wreaths are made from a lots of recycled stuff and here is a cute addition to it with the newspapers. Cutting the cute fringes from the newspaper and then wrapping them around the wreath ring you can create this lovely and unique wreath of your own with no cost and hassle. Full tutorial is here lestissuscolbert
DIY West Elm Coiled Newspaper Decor:
You can create this lovely wall art star piece from the news paper with some simple crafting steps. Just color up the paper, cut them into stripes, curl them up and form the coils and hence bringing these coiled up piece together you can easily create this cute paper star to mount up on walls and elevate the decor level. Full tutorial here savedbylovecreations
Handcrafted Paper Ornaments: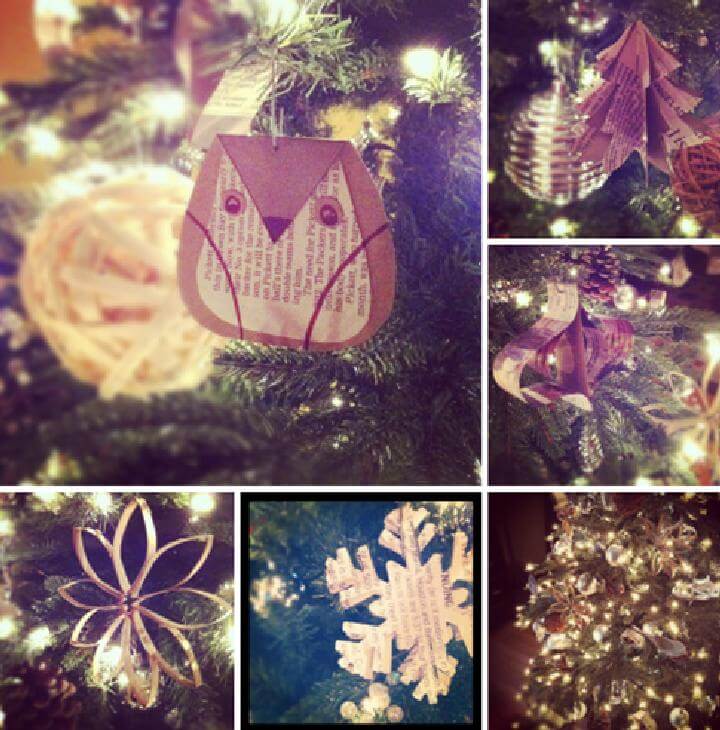 I bet your would just really adore and love this idea of using paper craft on the Christmas tree. You can make many shapes and images from the paper and hang them nicely on the tree with the bulbs and they would look just super cute and fun. Flowers, owls, hearts there are lot of ornaments to make from the newspapers. Tutorial here natepk
DIY Newspaper Party Hat: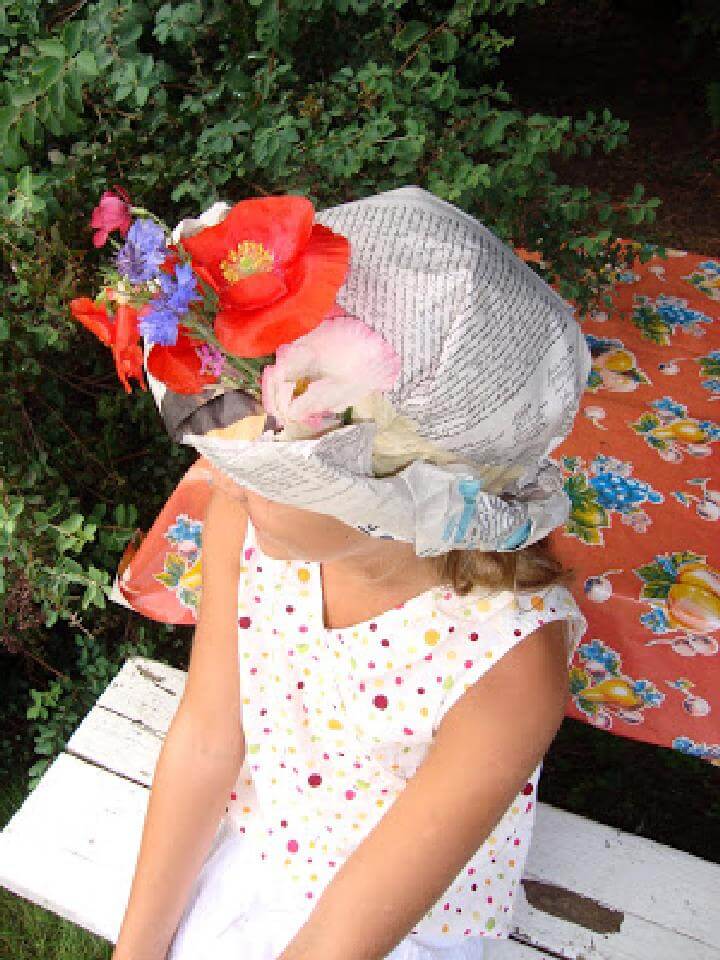 Kids party is just undone without the cute and fun part hats and now you can save a lot of money over the market bought hats by using some home lying supplies like the newspaper. yes using the old newspaper and some paper flower this lovely hats have been crafted to grace up the heads of your little princess and her friends. Full tutorial here mayamade
Amazing Rolled Newspaper Flowers: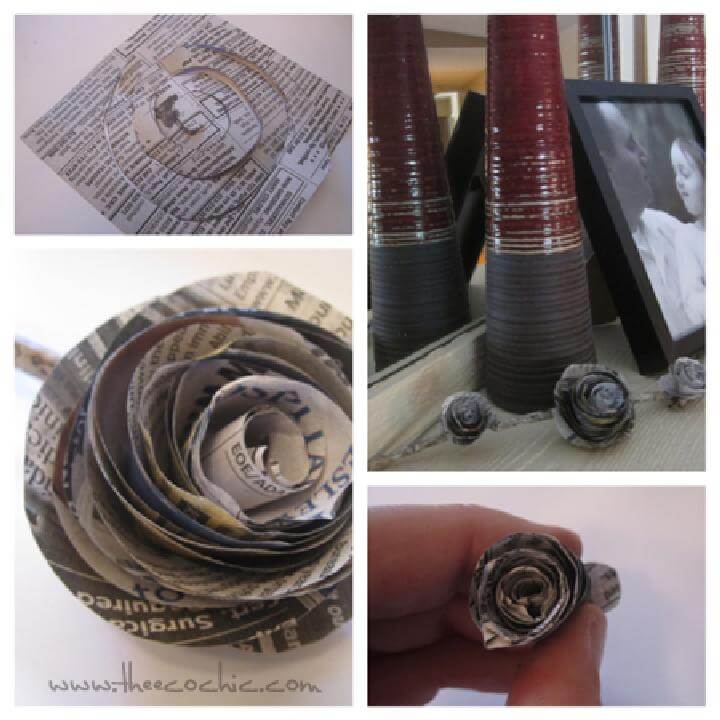 Paper craft is just one of the easiest crafts to do at home and they are most inexpensive too. Using the old newspaper now you can make the lovely flowers and flaunt them around in your home decor on your desired spots. Just cut the thin stripes from the paper and curl them, fold them or roll them to form up those cute tiny flowers and use them for decor and home styling. Tutorial here theecochic
Easy Ballard-Inspired Newspaper Dress and Accessories: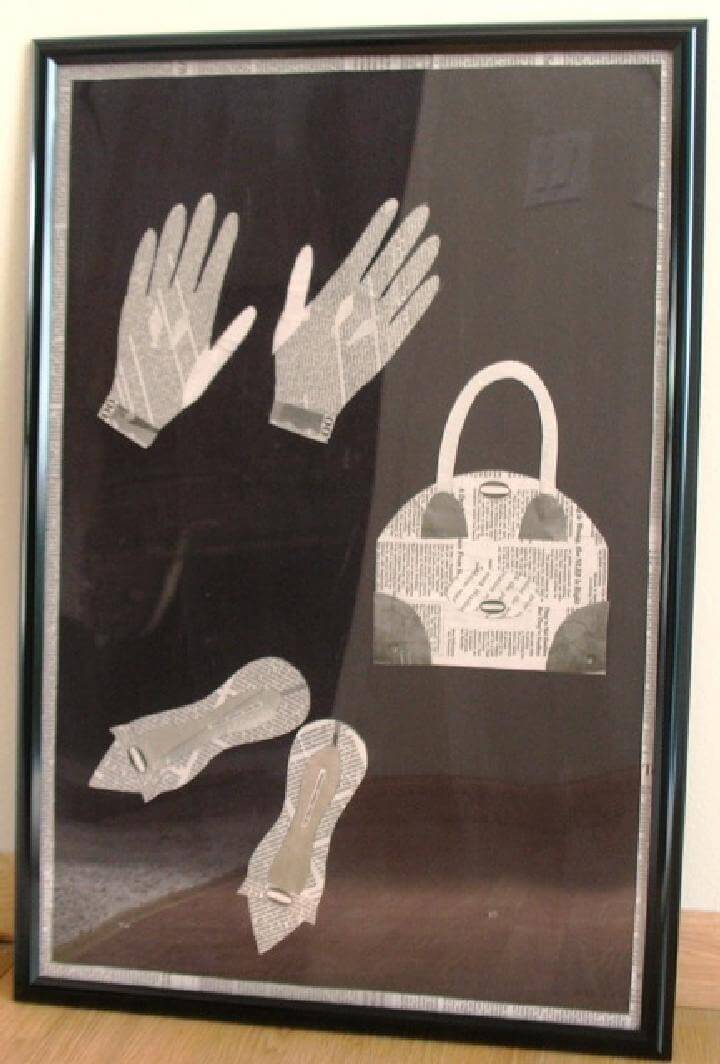 If you are in love with the Ballard decor projects then you would love this Ballard inspired newspaper crafts for sure and try them of your own. Just cut out the printable hands, dresses and bags from the newspaper and frame them up. Thus so nice and easily the lovely art is ready to rock your walls with. Here is the tutorial to know more details of this project craftybutt
Gorgeous Newspaper Wall Art: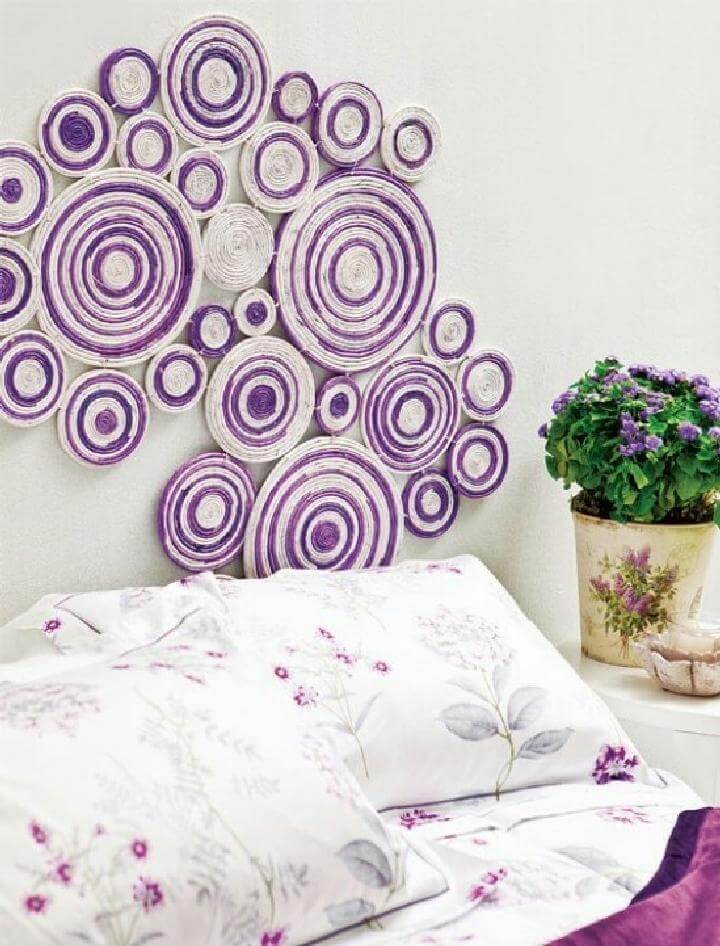 There is a lot to explore from this paper craft and we have a lot here to inspire you< you can really bring the chic beauty and style statements in your decor with the newspaper.  Just cut out the stripes form the newspaper, make cornets from them and then paint half of them in plum acrylic paint. Now curling up the plain and purple cornets form the differnt size coils and joining those coils together a gorgeous decor pattern can be created on walls. Full details here diy-enthusiasts
DIY Newspaper Kitchen Wall Art: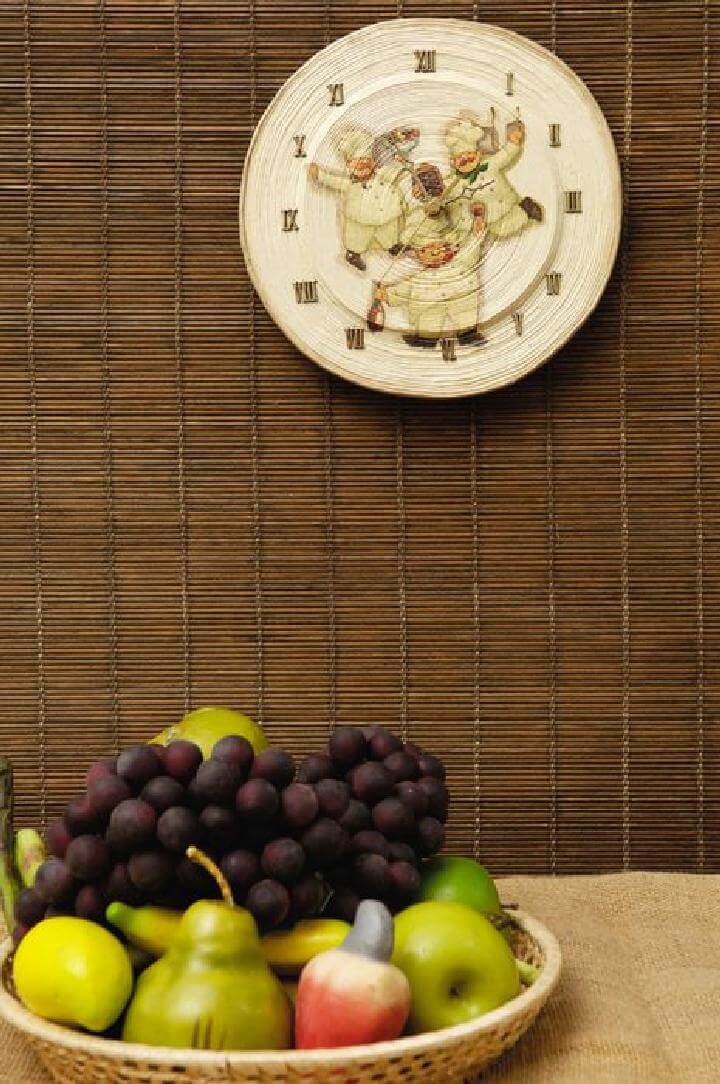 Women just love their kitchens and spend lots of time and efforts to make the kitchen decor look gorgeous and attractive. And using the home lying supplies now you can really create that cute chef art for the kitchen walls. Its too simple and fun to create of your own just grab a bundle of news paper and get the rest of the details from this link provided diy-enthusiasts
Handmade Newspaper Gift Bow: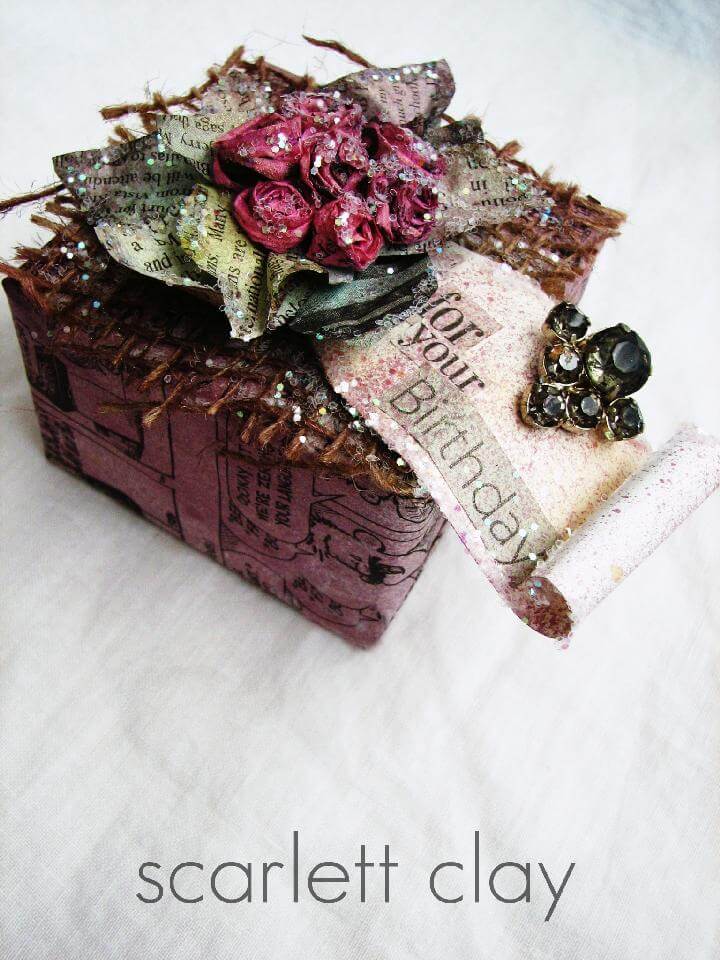 A gift is the most precious art while you are making it of your own and now using the newspaper like cheap material you can dress up your gifts with the most gorgeous and cute ornaments ever. You can make flowers, bows and even the wrapping can be done with the newspaper. Here is the link to know the details of this lovely project bluepurpleandscarlett
DIY Cute Newspaper Bargain Birdies: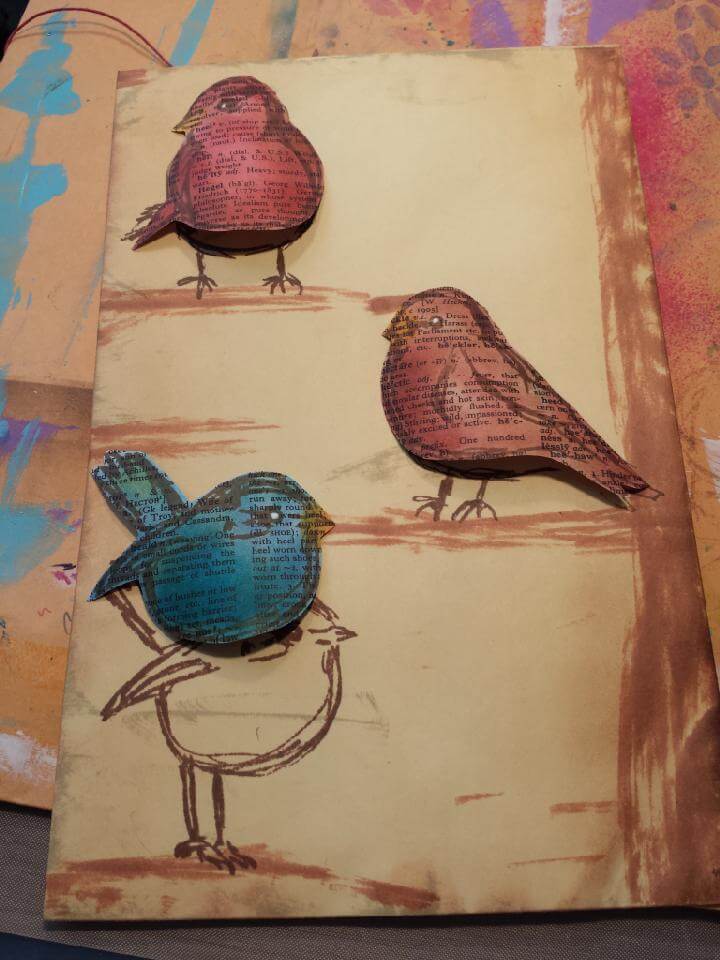 Now you can give your cards, books or files a cute and adorable look with this handmade birdie decor. Just grab some newspaper and cut out the cute bird shapes from the newspaper, Color them up along with the leaves and paste them on the relevet thing you want to dress up and its done.Here is the full tutorial to get the more details of this cute and fun newspaper art christinalorraineyoung
DIY Rolled Newspaper Faux Rosewood Wreath: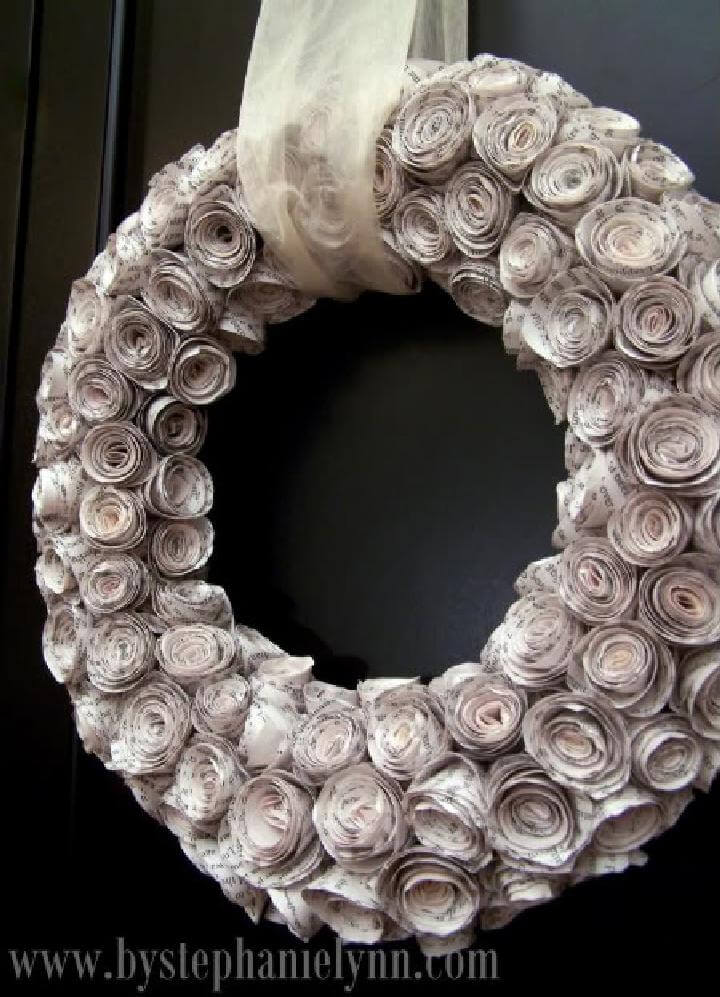 using the newspapers can be really boost up your decor a you can create a lot of decor stuff from them. Here is this cute and fun flower wreath made out of the faux roses having been easily made out of the newspaper. It would take a lot of time and effort but the results would really worth it. Here is the full tutorial link bystephanielynn
DIY Newspaper Mache Light Up Globes: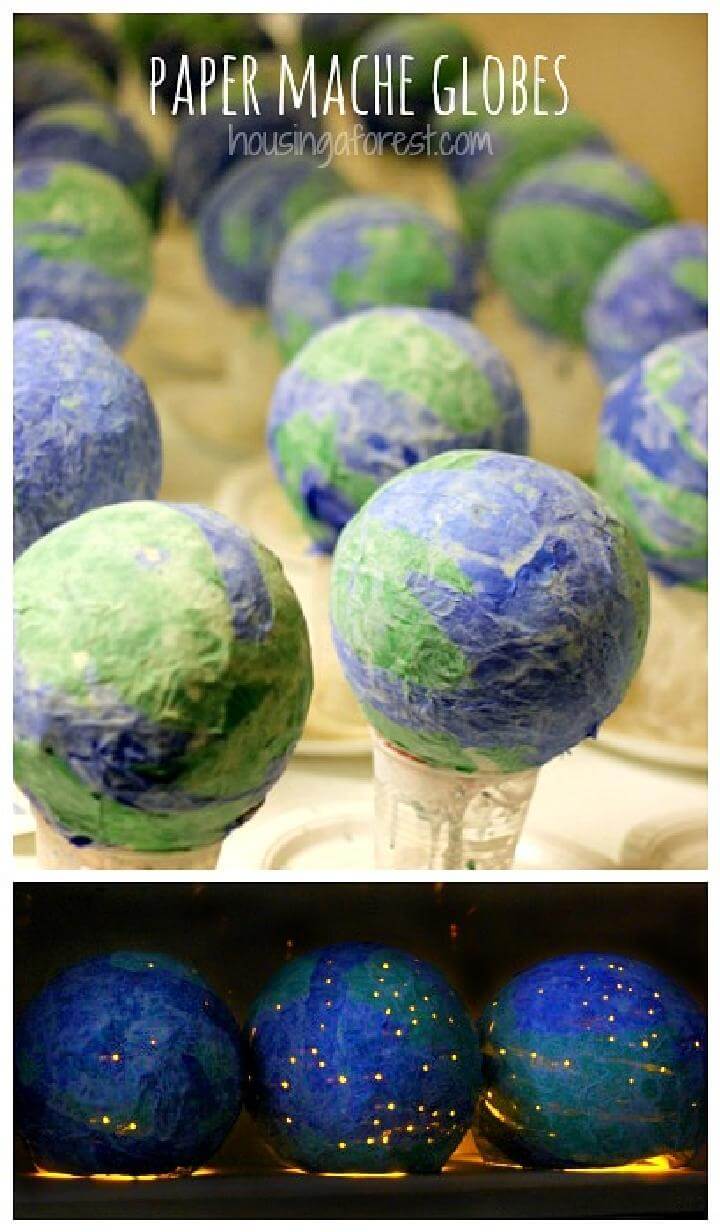 Pay tribute to the earth this earth's day by making these cute and fun mache globes and that too cost freely. You need some simple crafting things like the newspaper, balloon and some colors. Getting the stripes wet and then pasting them on the balloon this lovely round earth globe has been built. With the colors and lights it turned out so amazing arts. Full tutorial here housingaforest
DIY Newspaper Lots of Halloween Silhouette: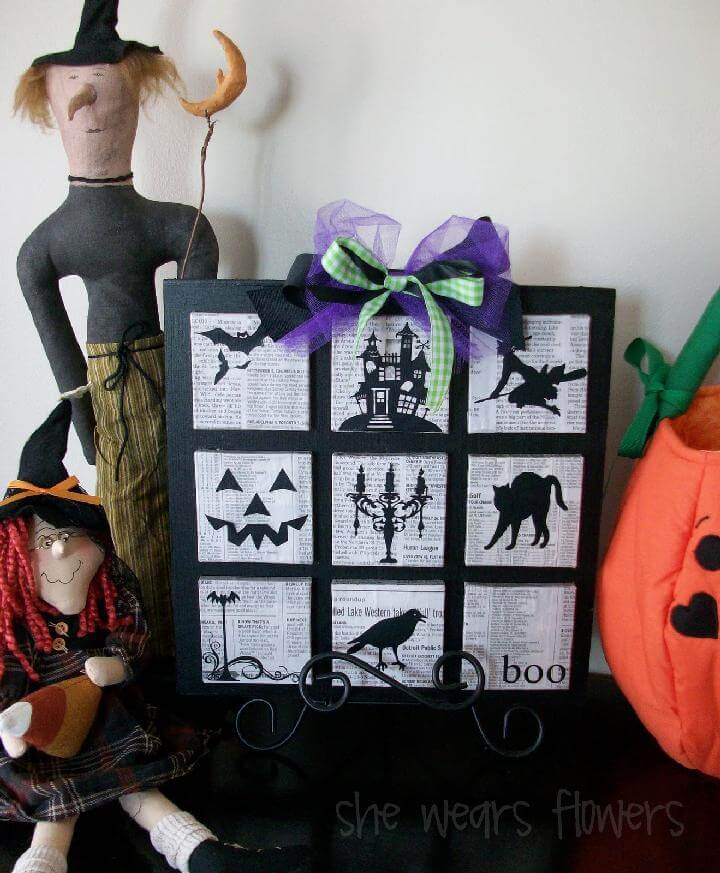 The ideas and inspiration can come from anything around like its the Halloween and you want some spooky craft, its done with the newspaper lying around you. Yes using the spooky silhouettes on the newspaper and pasting them on black canvass you can create a perfect craft for the Halloween displaying on the tables. Here is the detailed tutorial she-wears-flowers
DIY Newspaper Gift Wrap and Bow: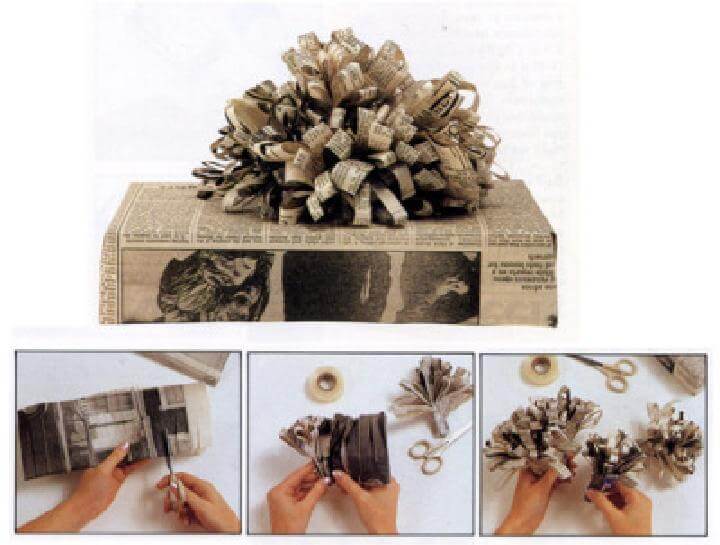 If you need a quick gift for your dear ones and you are short on time, then the newspaper can really solve your problem. Yes you can use a newspaper sheet as a gift wrap and cut out the cute flowers to use as the gift ornament and the pretty gift with adorable packing is ready. Here is the full tutorial craftdiscoveries
DIY Beads and Necklace Made of Newspaper: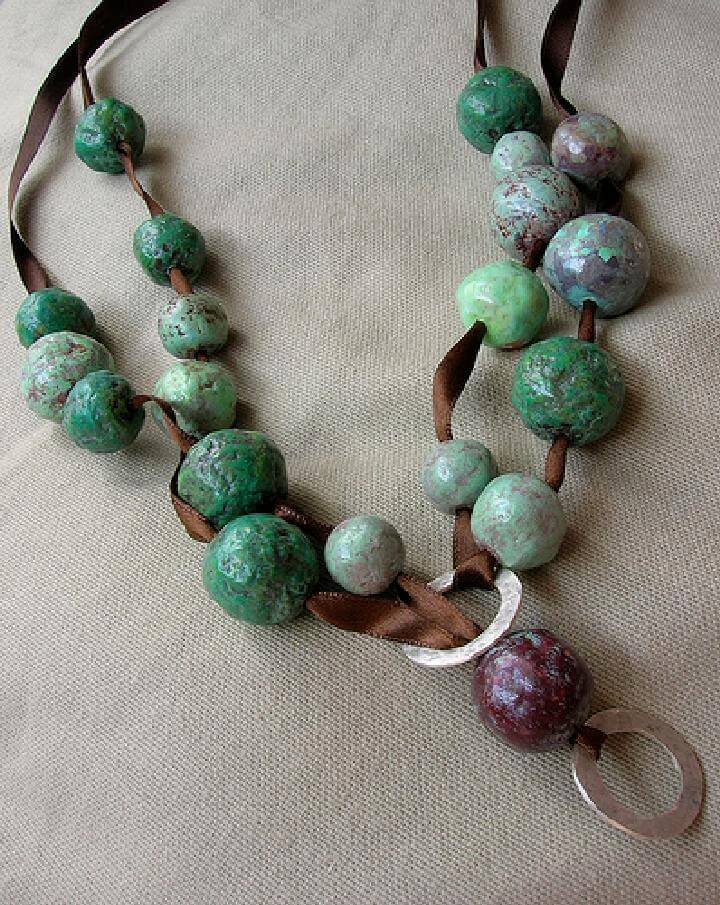 Beads are part of so many crafts especially for the ladies they are used for lots of ornamentation of different things. And no you can make beads of your ow n choice, size and color using the most cheap materiel and that is the newspaper. With the soaked newspaper these lovely beads have been created and painted to form a cute necklace for free.Here is the link to get all the details of this project astorybooklife
DIY Easy Handmade Newspaper Basket: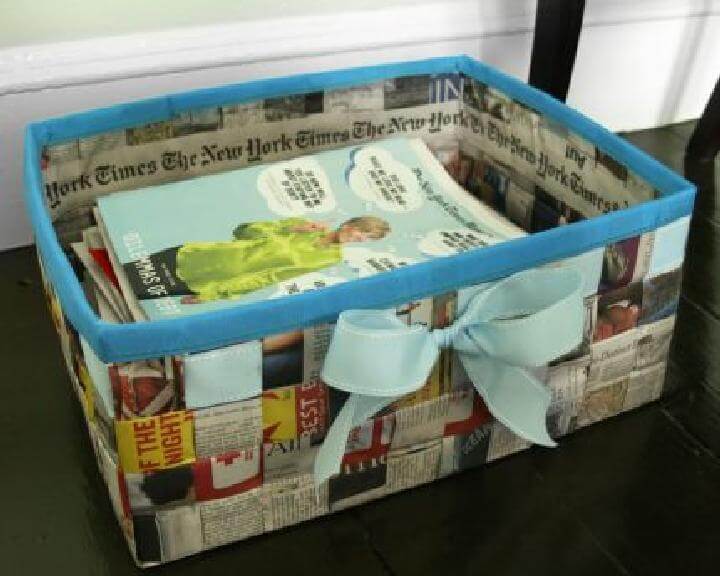 What we like to read the most are the newspapers and the magazines and now using the newspapers you can make a cute basket to hold your magazines in. Jut cut the newspaper sheets into the stripes and use the weaving technique to form up this lovely and cute basket with a ribbon bow adding more cuteness to it.Tutorial here craftstylish
Handcrafted Newspaper Roses: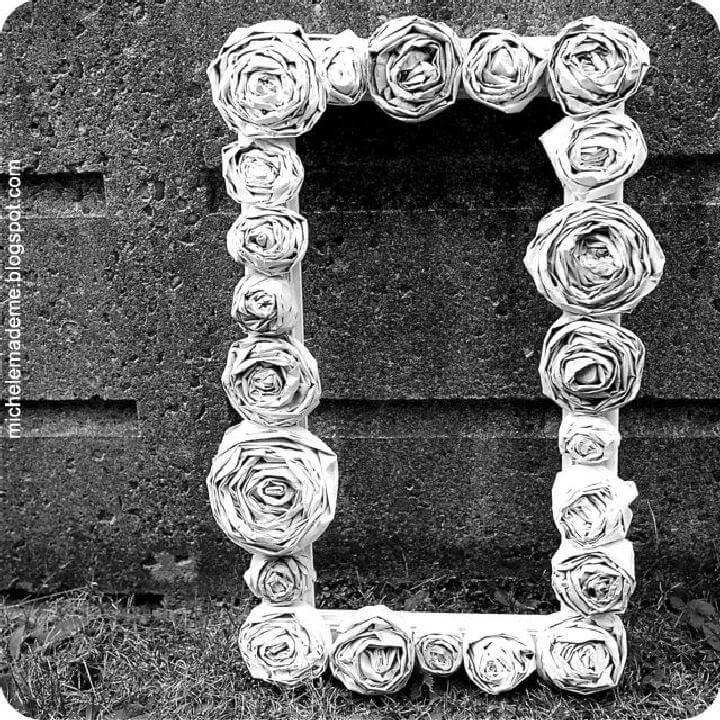 The newspaper can be used to create the cute roses of different size and you can use those flowers to decorate your frames and make them look all spruced up.Just cut the stripes out of the newspaper and fold them to form these cute roses for free to style the frames and enhance their beauty michelemademe
DIY Easy Glittery Newspaper Tree: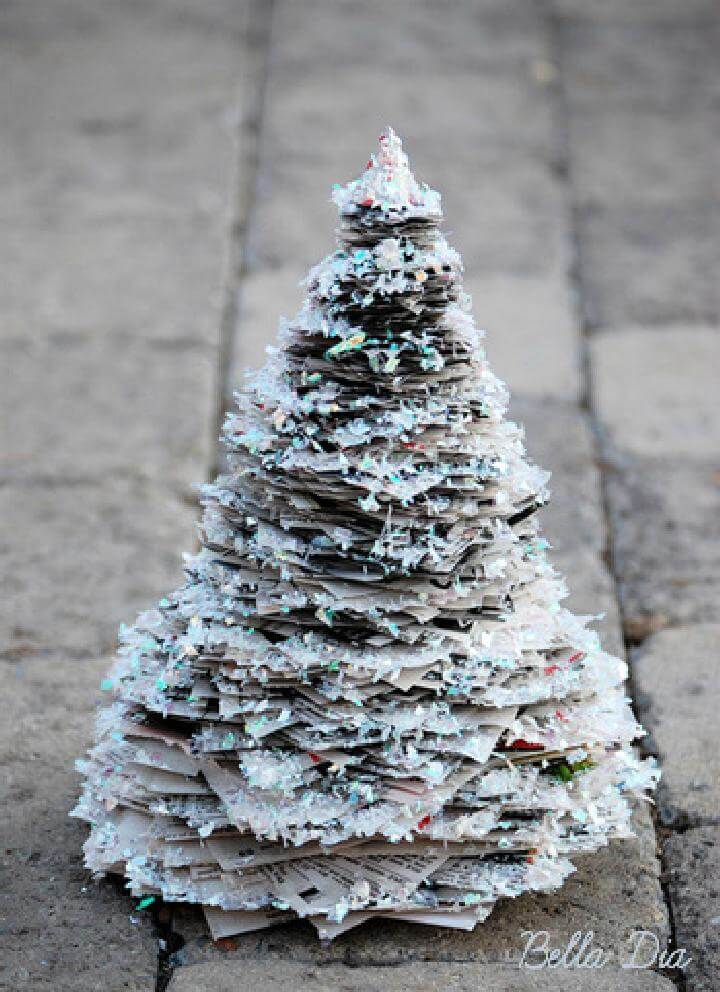 A cute Christmas tree is the life line of the festive decor and now you can make it with the newspaper just adding lots of glitter to the project. Cut the newspapers into the smaller pieces and stack them together to form up the tree like structure. Add the glitter and its ready to rock your decor with their unique and smart presence belladia.typepad
DIY Beautiful Newspaper Flower: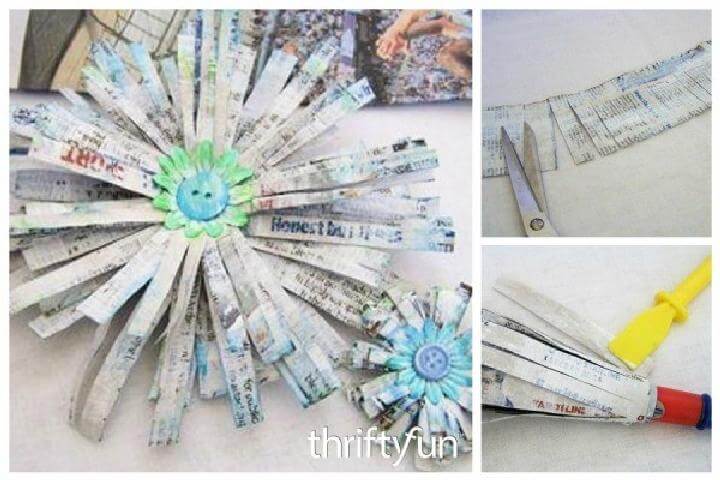 Instead of throwing away the old newspapers, you can craft some really cool stuff for the home decor.Here are the cute and lovely flowers made out of the newspapers with simple stripe cutting and folding. You can do it all yourself with a little inspiration and and guidance which is right here on this link thriftyfun
DIY Super Cute Newspaper Birds: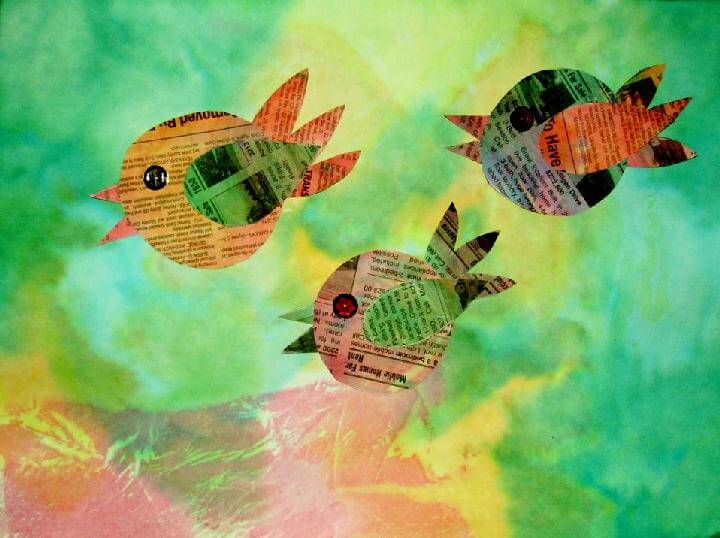 The cute little birds can really enhance the beauty of your so many homey things being pasted on them. Walls, frames, books you can decorate all of them with these cute little birds cut out from the newspapers. Just paint the newspaper first and then cut out your cute little birds out them and they are ready to get pasted on any of the things. Tutorial here lbrummer68739
DIY Newspaper Black Baroque:
Gorgeous art frames on your tables and shelves can now be easily created with the newspaper. Getting the lovely frames in black and red, the newspaper has been used as the background of the frame with your pictures, keys and flower silhouette as the main art. Full tutorial here kimboscrafts
DIY Newspaper Joy Banner: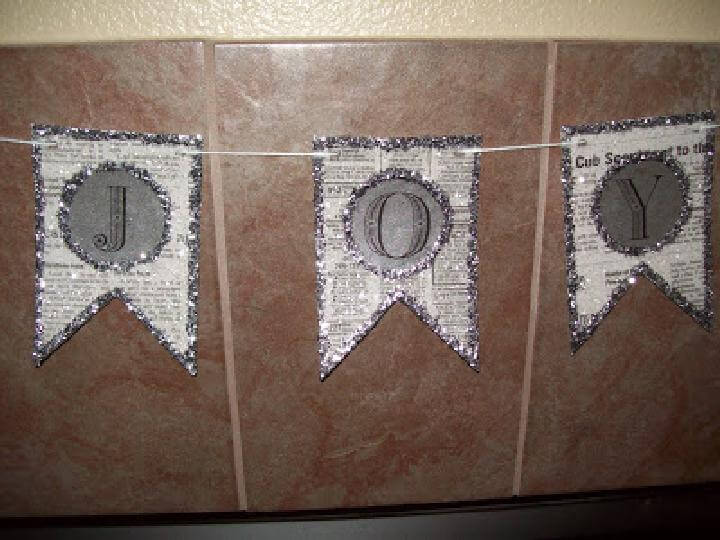 The cute and gorgeous buntings are the part of every party decor and these moments are literally of pure joy. So do make these cute JOY buntings to display them in your party decor and you can make them at cost free rates with the use of newspaper and some glue. Here is the full tutorial aprilshomemaking
DIY Timeless Newspaper Seedling Pots: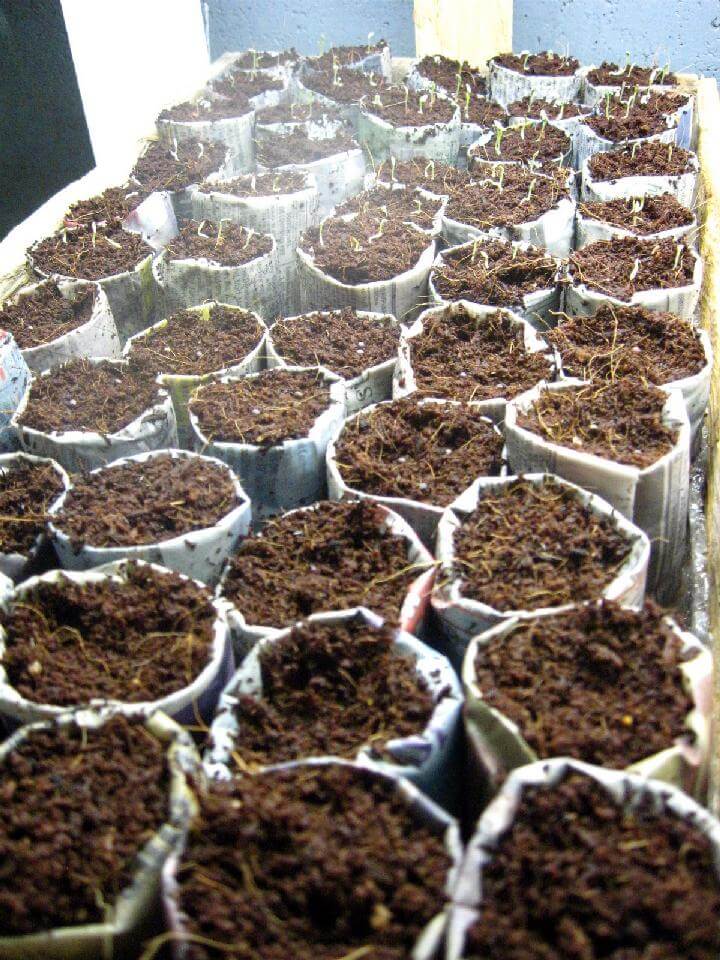 You can create a whole seedling garden in your spaces with the cute and tiny pots being made up wit the newspaper. With a few steps of folding and gluing techniques these cute little seedling pots would get ready so damn easily and cheaply. Here is the link to know more details of the project littlehouseinthesuburbs
DIY Rolled Newspaper Pirate Swords: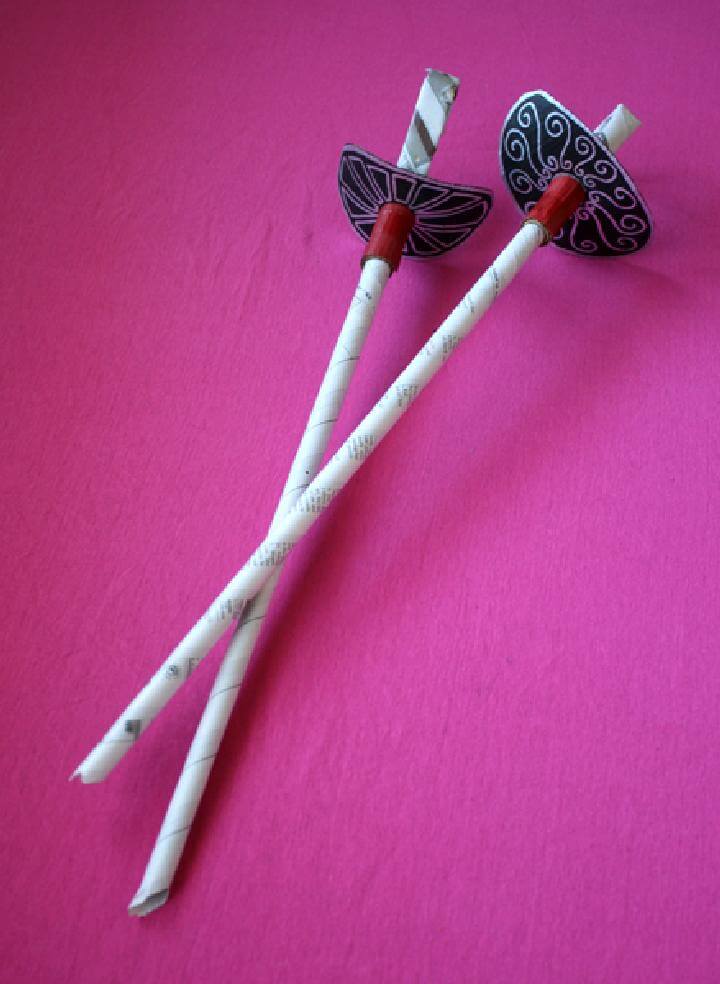 Let the kids have some fun with these cute and fun prate swords to play with. Using the newspaper stripe and rolling them    these small and pretty swords have been prepared so nice and easily to let the little pirates have some fun time with the siblings or friends. Here is the link to get step wise details alphamom
Handmade Newspaper Wigs: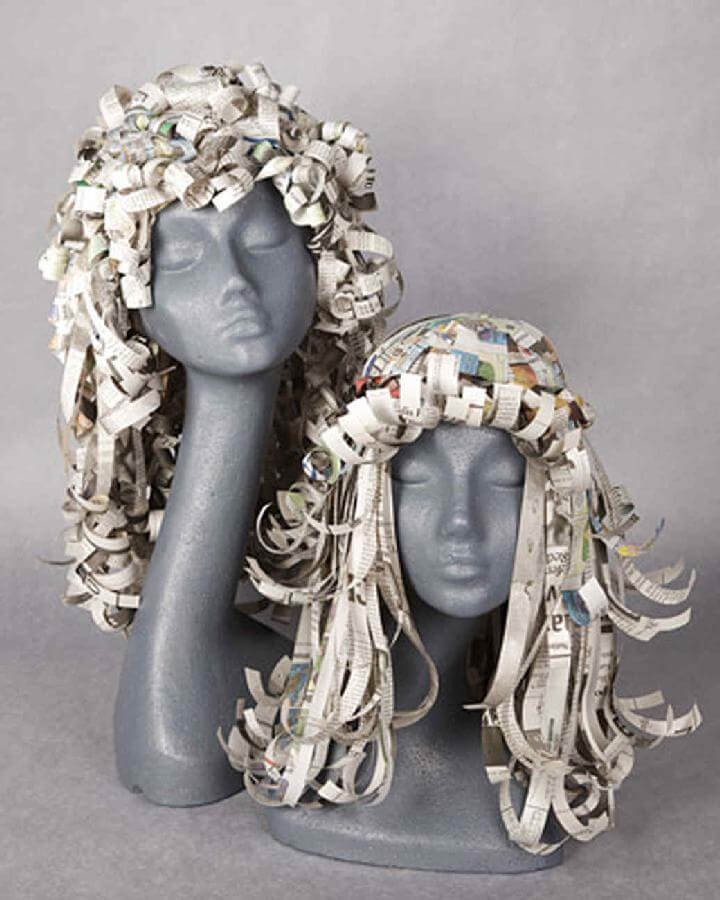 Wigs are needed when we are trying some fun costumes to get the perfect attire. And now you can get the cheapest wig of your own using the newspaper for your Halloween dress ups and costumes. They are so much fun and easy to create with the full tutorial guide here on this linkk marthastewart
DIY Newspaper Carrot: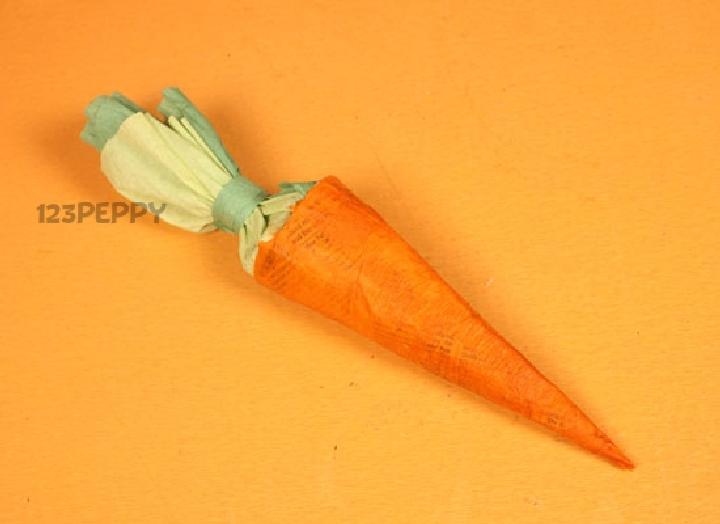 When there is some re-purposed paper lying around your creativity would come out automatically. So here is this simple and cute craft of newspaper carrot to make and display in your kitchen decor or in the kid's room.Here is the full video tutorial to make this simple carrot of your own crafts.123peppy
Easy and Beautiful Newspaper Coasters: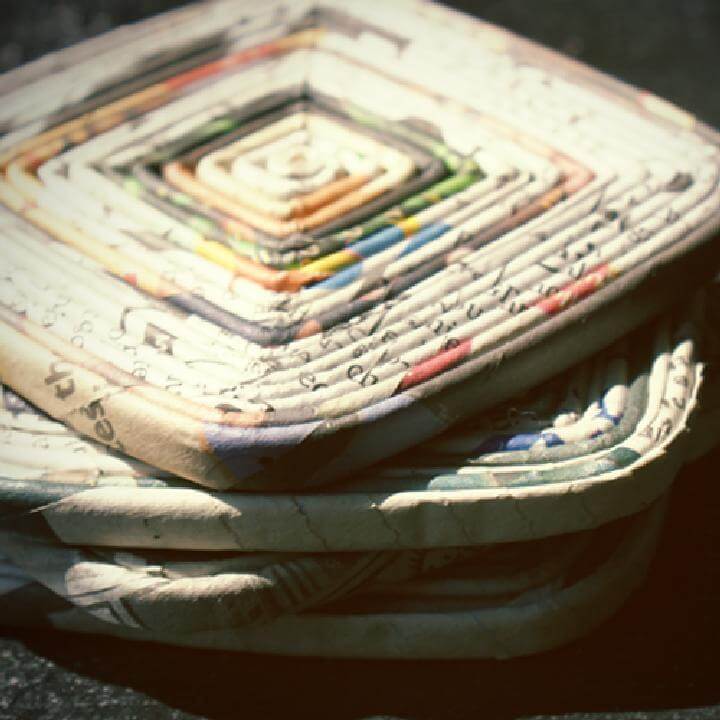 Cutting the stripes from the newspapers, then folding them to from a a square and then joining together the gradually small in sizes squares these cute coasters have been made from the newspapers. After fomring them up do give it a coating of mod podge so that it turns out to be water proof. Here is the link for tutorial help savedbylovecreations
DIY Handcrafted Newspaper Sunflower: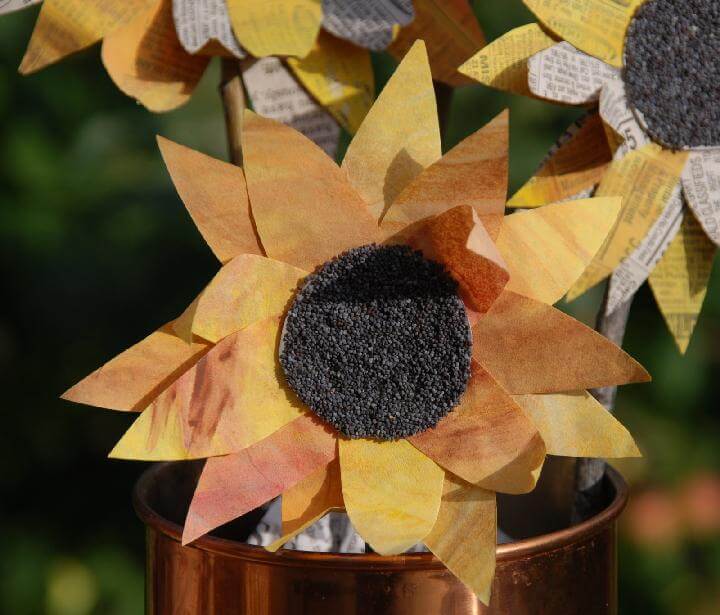 To make these cute and adorable sunflowers of your own you need some newspaper and colors. First of all paint the newspaper in the relevant hues and then cut out the petals and the round center, glue the parts together an the flowers are ready. Complete tutorial link here thatartistwoman
DIY Anthro Inspired Newspaper Pears: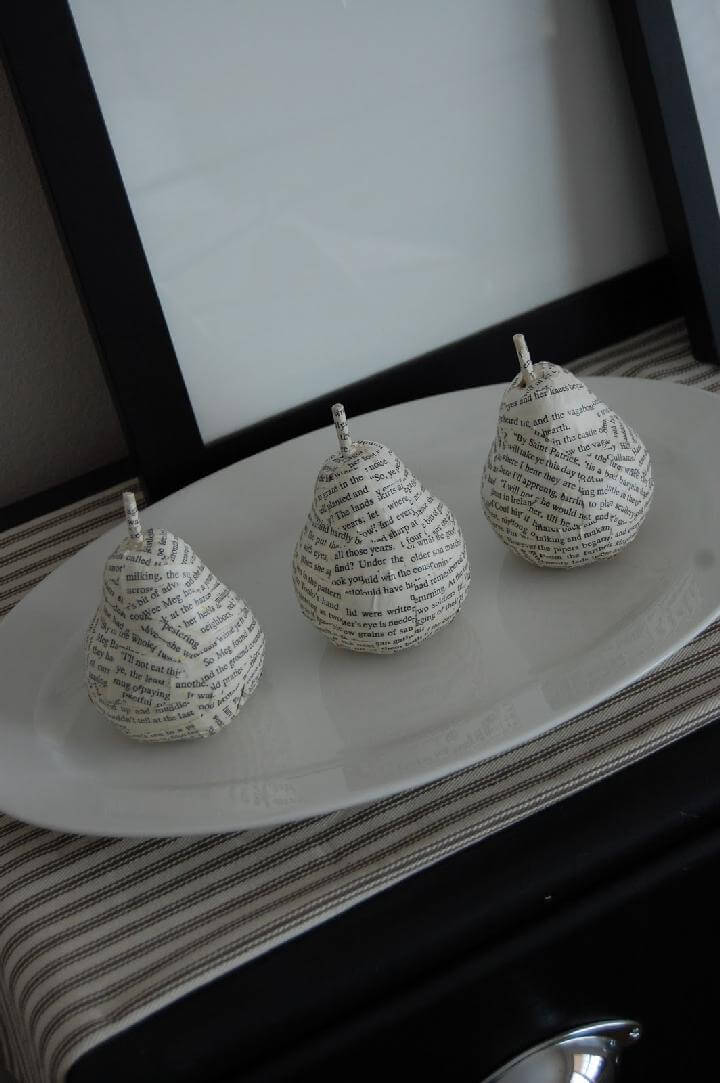 With the cover up of the newspaper you can give a nice makeover to any thing at house and enhance its look. Here is the cute idea of dressing up the faux pears with the news papers and giving them a nice chic look. Here is the step by step instructional tutorial lifeonthevside
DIY Newspaper and Cotton Wool Snowman: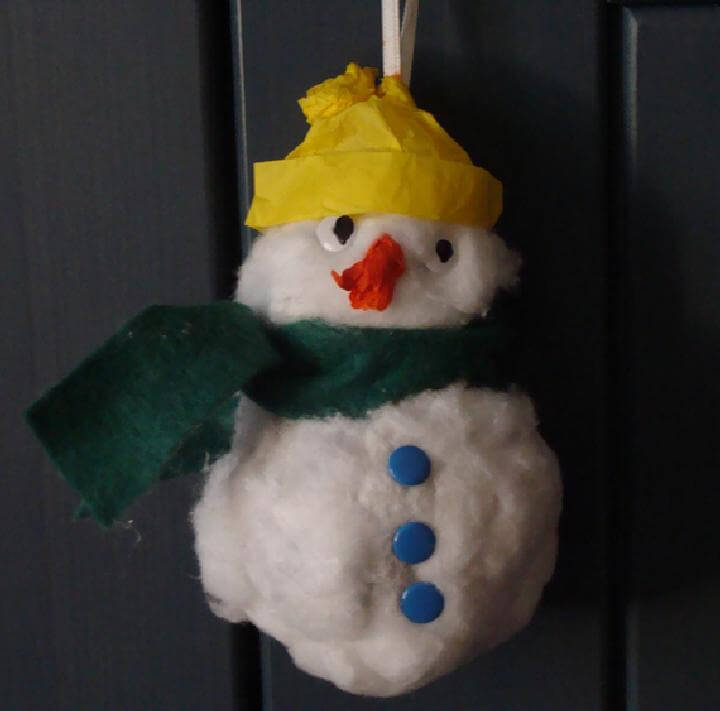 Snowmen are the perfect cute crafts for the winters and now you can make them from the cotton and some newspapers especially when there is no snow around you. This the most simple and the most fun tutorial to get your hands dirty with. Link here fabmums
DIY Handmade Newspaper Flowers:

We love making paper flowers and adorning like anything with them. So its time to use newspapers for the making of these utterly cute and gorgeous flowers and use as the perfect ornaments for so many things like frames, gifts, walls and so on. Check out the tutorial here craftzine
DIY Easy Newspaper Vase:
If you think your glass vases have worn out and need some instant makeover then using the newspapers can be a really good idea to lend them a whole new refreshing look Just wrap up the vase with the newspaper using some glue and its done. Get the complete idea here with details howaboutorange
DIY Shredded Newspaper Lantern: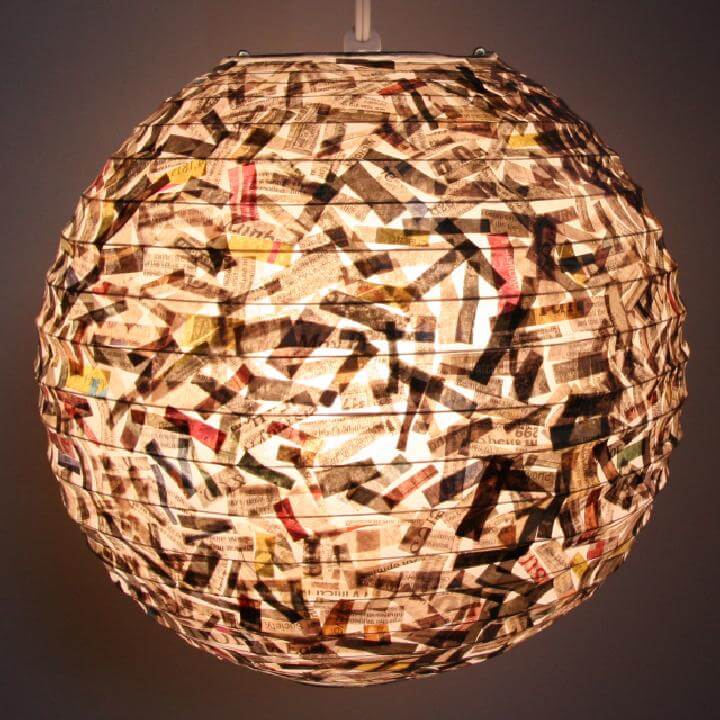 from old and boring to fresh and exciting you can give a nice style touch to your lantern using the shredded pieces of the newspaper along with the glue and mod podge mixture. When light up the ink and the texture of the newspaper would really make the lantern look damn pretty. Full tutorial link is here the3rsblog
DIY Easy Decoupage Halloween Pumpkin: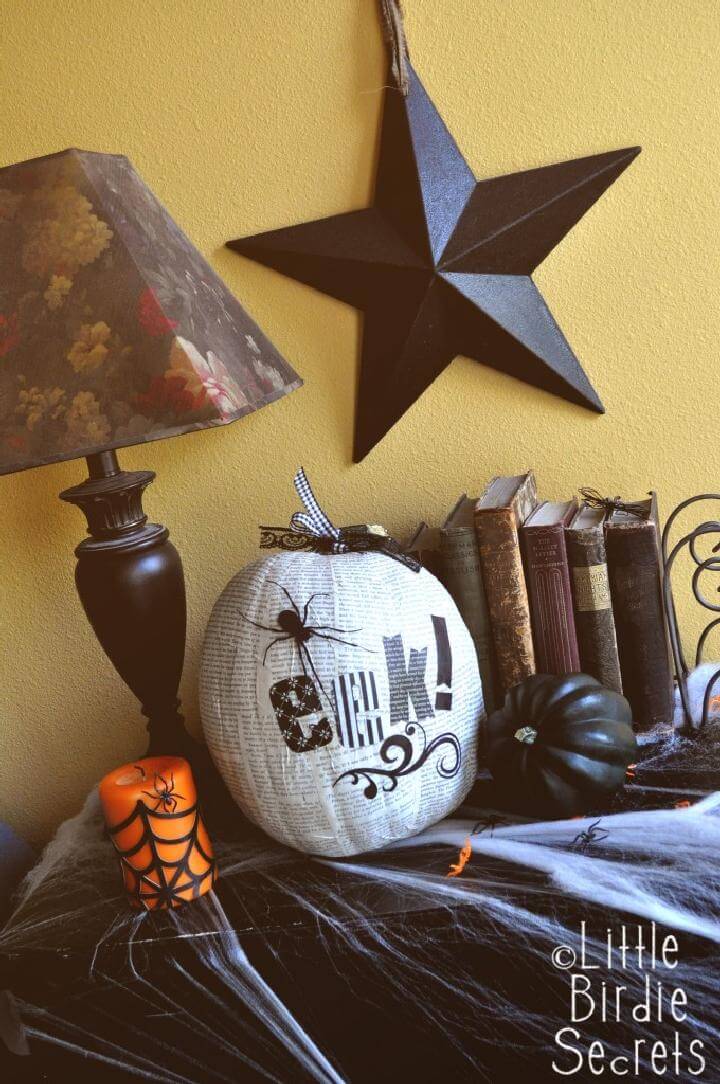 You can exalt the spooky factor of the Halloween decor with the simple and cheapest materiel like the newspaper. Here is shown how a pumpkin has been turned into a Halloween decor with a newspaper covering and added spooky silhouettes all around with a spider too. Here is the full tutorial to know all the details makeandtakes
DIY Handcrafted Newspaper Star: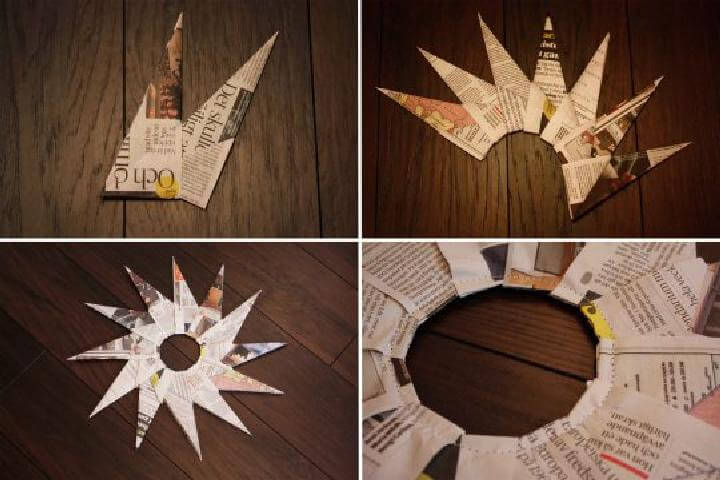 bring out the crafter inside your kid and the paper crafts are just perfect to get started with. There is a lot to make with the kids and create the crafting interest in them. Here is the cute and lovely paper star to craft yourself involving your kids with and they would love it.Here is the full tutorial worldofscrap
DIY Newspaper Pencil Holder: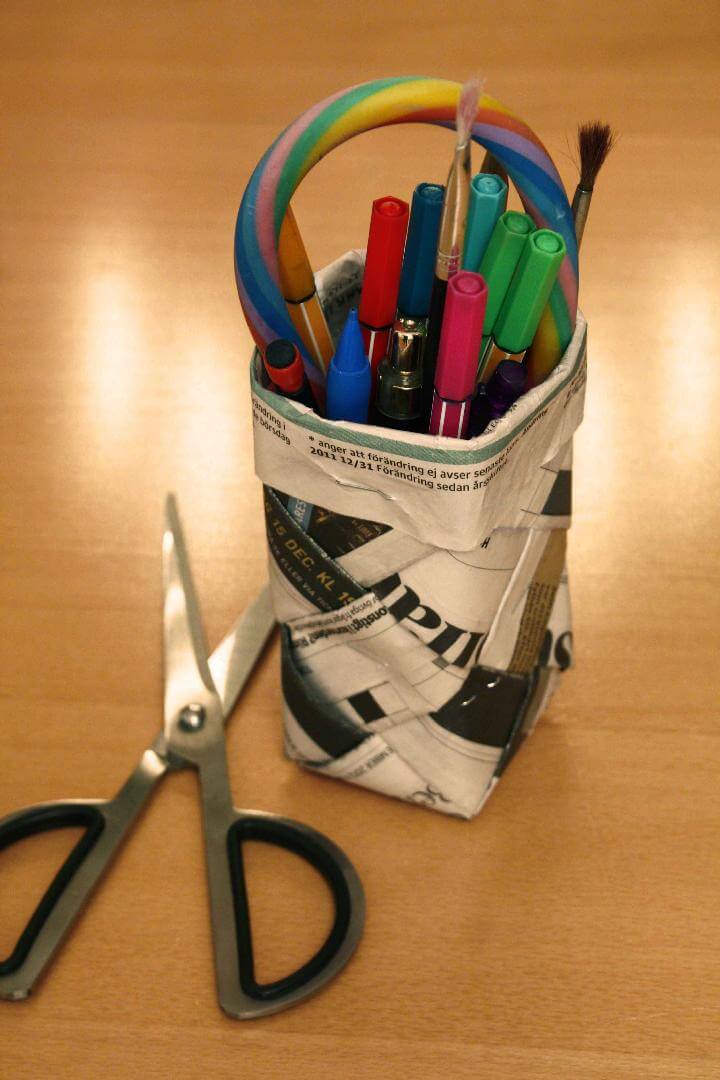 The pencil holders are available in lots of designs and styles in the market but making your own would be still a fun. Here is this cute pencil holder tiny basket like structure made out of the newspaper folding. Here is the link to know the step wise directions for this immensely cute craft worldofscrap
Handmade Newspaper Pumpkin Stud:
This is one of the most gorgeous newspaper crafts for the Halloween. Its a simple pumpkin covered with the newspaper, drawn up with the spooky face features and studded all over and it looks just mind glowingly gorgeous and fun. So make it and display it in your decor with the details lying here plaidonline
Homemade Newspaper Mache Snowmen: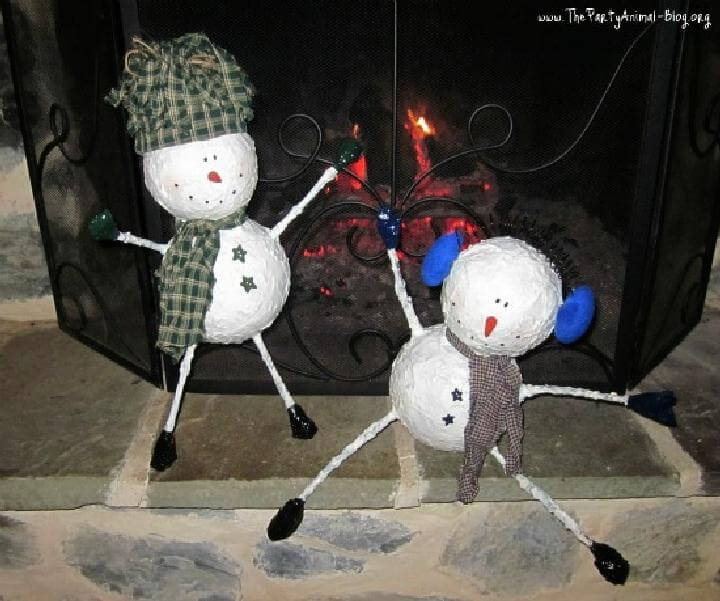 Snowmen are the integral parts of the outdoor decor when there is the winters. You can now make the cost efficient or let me say cost free snowmen with the newspaper. Just grab the old newspaper bundle lying in your store and start crafting these immense cute snowmen with all the instruction of crafting method here thepartyanimal
Newspaper Paper Mache Mushroom: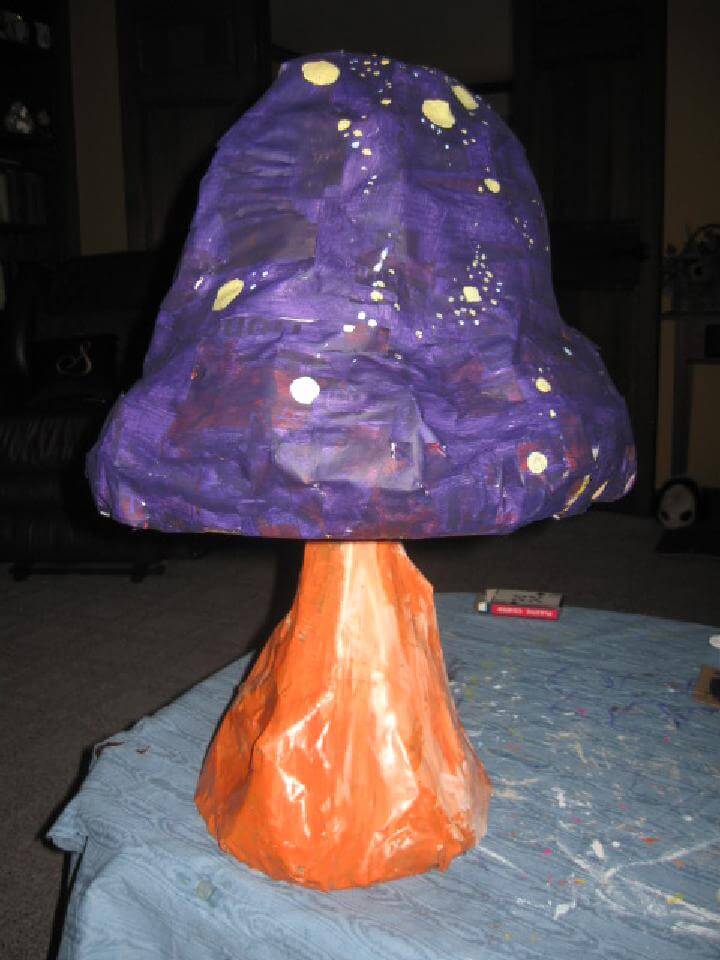 If you are celebrating the Alice in wonder land theme for any of your party or gathering then this mushroom would be the center piece of the theme decor. And you can make it of your own with the newspaper and some acrylic paint colors of your own. Here is the link to know the full crafting method for it dizzilydreaming
Handcrafted Beautiful Newspaper Flowers: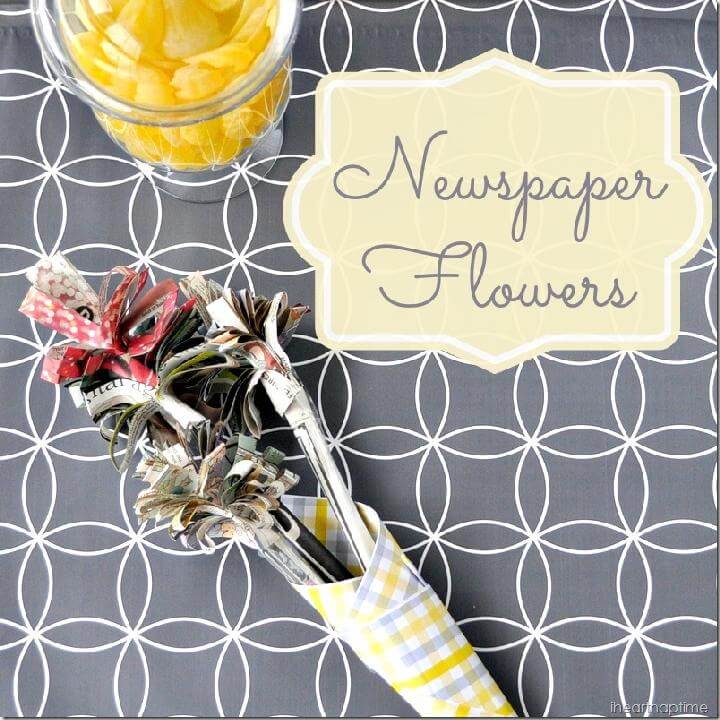 Placing some nice flowers in the breakfast tray is the cute gesture of love and hospitality. Now you can make some cute and adorable looking flowers of your own with the use of newspapers and hold them in a napkin made cone to put in the breakfast tray. Here is the link to get more details of the project iheartnaptime
DIY Brilliant Newspaper Art: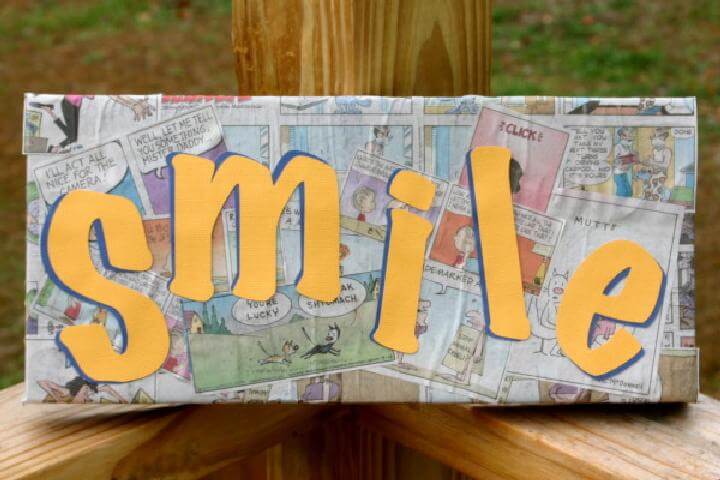 Word art is really interesting and fun for all the homey sections and with the newspapers now you can create your own phrase or word crafts. Here a shoe box lid has been covered all over with the newspapers and then the words SMILE has been pasted on with with the fun bright orange color.Get the tutorial here and make it to display in the kid's room as a perfect handmade art craftingagreenworld
Vintage Newspaper Decoupage Lampshade: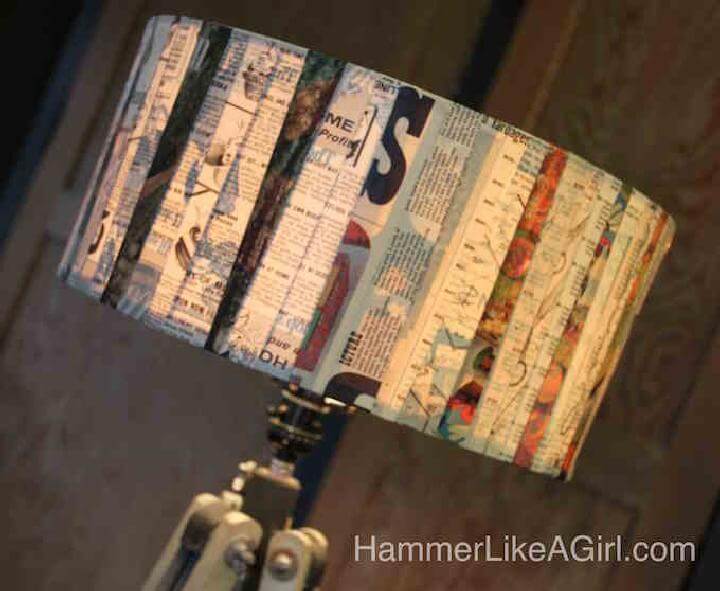 Bring some vintage vibes in the home decor and that too at the rate of free cost using the newspaper. Youc an make this totally unique and funky lamp from a tripod stand a lampshade being covered with the newspaper all around. Here is the full tutorial to the details of this smart newspaper craft of the vintage modpodgerocksblog
DIY Rolled Newspaper Picture Frame: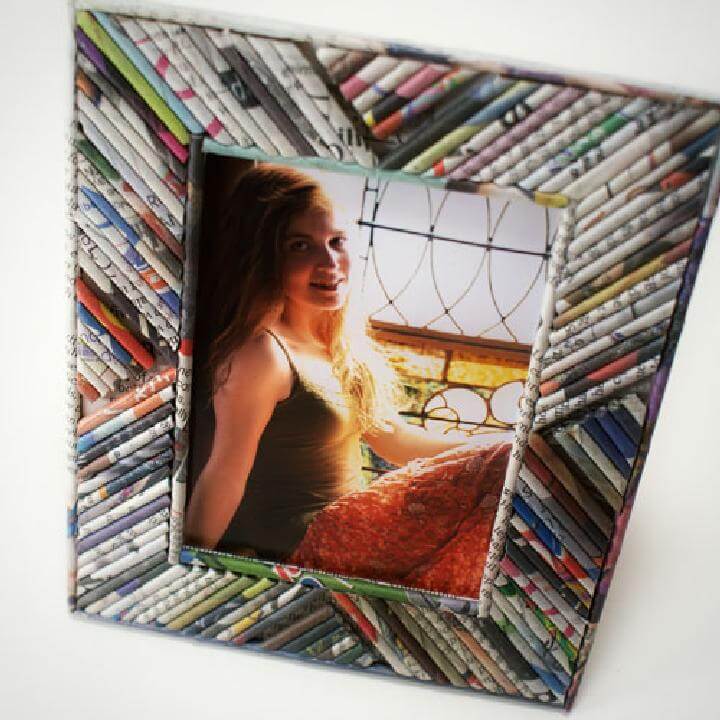 Picture frames are the major parts of our home decor and having the most personalized and custom made frames is the priority of every homey person. So hack this idea of making this adorable picture frame from the newspaper rolls and enjoy a unique and smart kind of frame on your walls, tables or mantles. Full tutorial here savedbylovecreations
DIY Newspaper and Glue Pinata: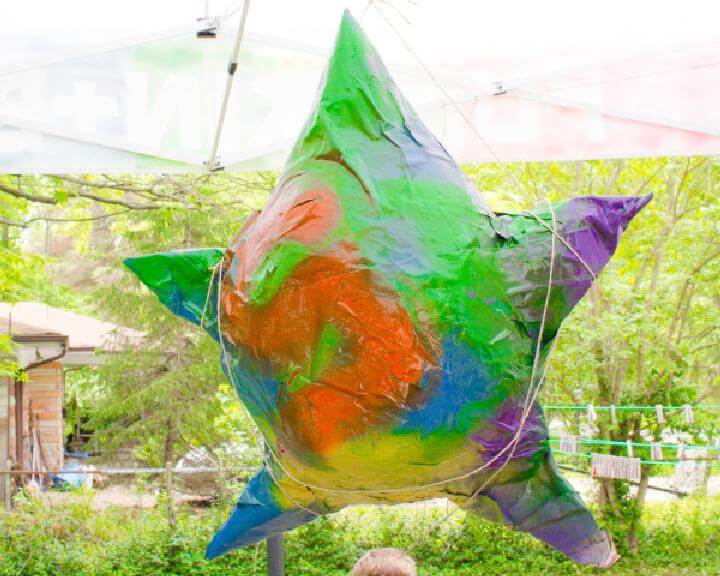 A pinata is the must part of the kid's parties and now you can make it yourself according to the theme of your party. This lovely, colorful and star shaped pinata has been made up with the balloon and and news papers to have loads of fun in the party. Here is the link to know more details of it craftingagreenworld
Homemade Newspaper Dress: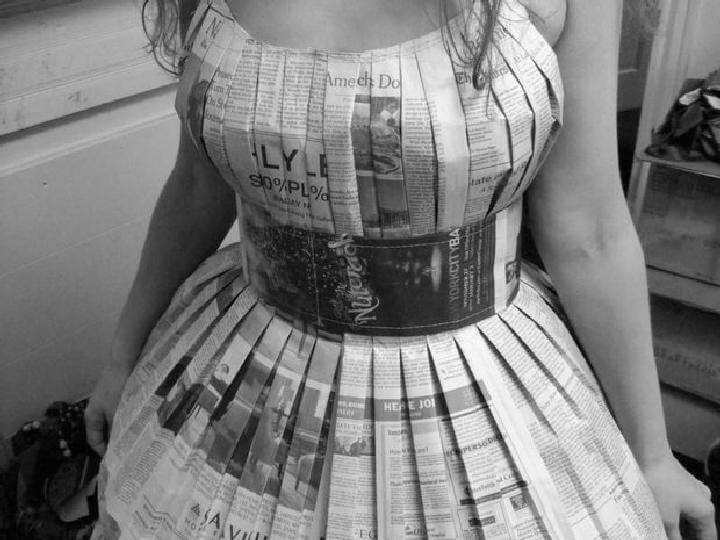 If you are looking for a unique and fun costume for the Halloween to look really one of a kind among the crowd then you would really like this idea of newspaper dress. If you know how to stitch then this idea or project is like a half an hour craft for you with nos cost at all. Here is the link to know the more details of the project. instructables
DIY Easy Woven Newspaper Clutch: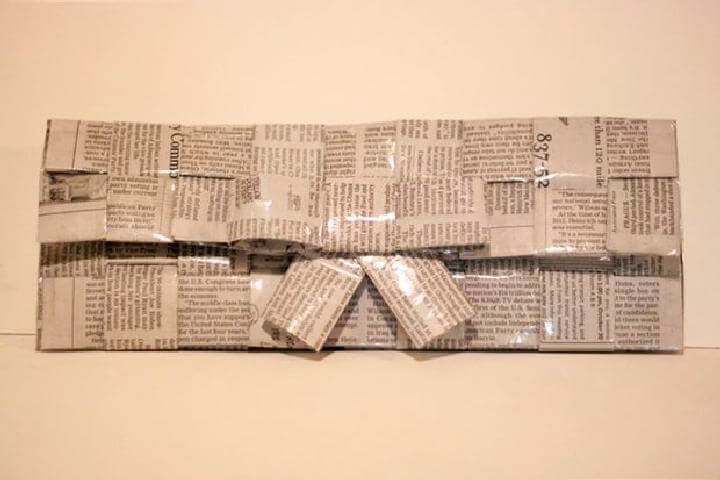 Little girls really like to play and act like the moms with those big shoes, high heels and all other accesories. So let them be the little Momies but with the faux accessories like this cute and fun looking newspaper clutch that is just so easy and fun to make at Home. Here is the full tutorial to its crafting method instructables
DIY Newspaper Ceiling Covering: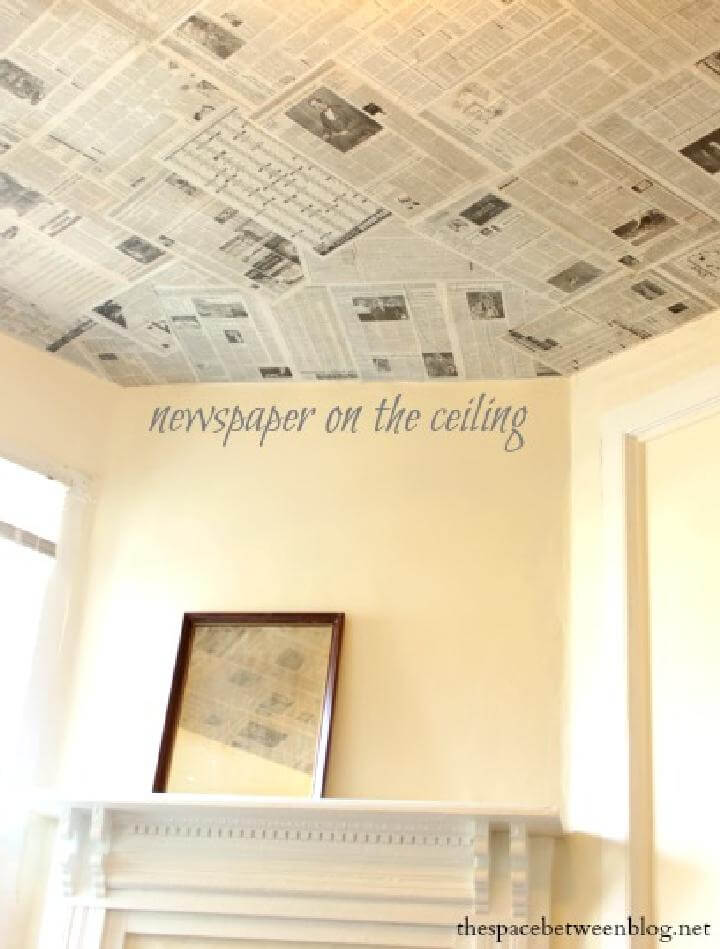 Bring back those vintage vibes in your house with the newspapers and there are just lots of ways to do that. Here is an amazing one leading you to cover up the whole ceiling of your room with the newspaper sheets and thus adding a really refreshing and fun look to your room.Here is the link to get all the details of the project thespacebetweenblog
DIY Woven Newspaper Table Runner: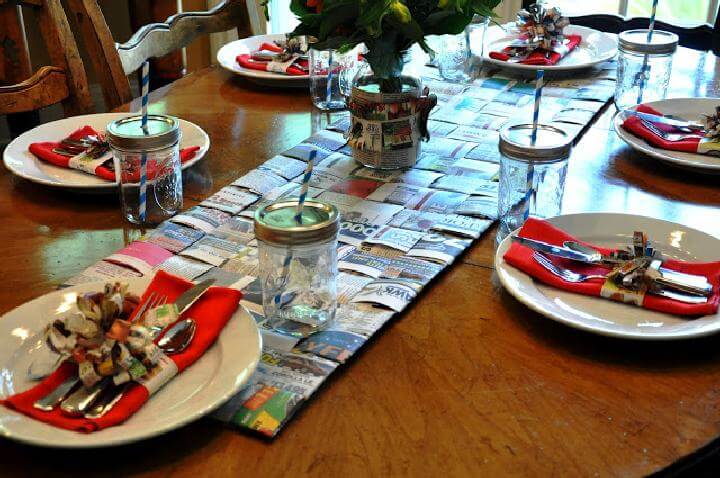 Now you can spruce up the decor of your dining table in the most fun and unique way and that too using the feasible material like the newspaper. Just weave the newspaper pieces together and form this too cute and innovative looking table runner out of it. Here is the link to know this idea in lots of details serendipityrefined