Are you an avid hunter or need to do some shooting sports game practices? Learn how to make a crossbow with these 5 easy to follow DIY crossbow plans that are perfect for the avid hunter who wants to build a homemade crossbow from scratch.
These homemade crossbows will be something you will love to have in your possession. Build the best crossbows with these 5 DIY Homemade crossbow plans sharing the professional guides and free plans for building a crossbow. You will get detailed guides for building and fitting all parts of a crossbow together like a barrel, riser, flight groove, trigger, and string mechanism.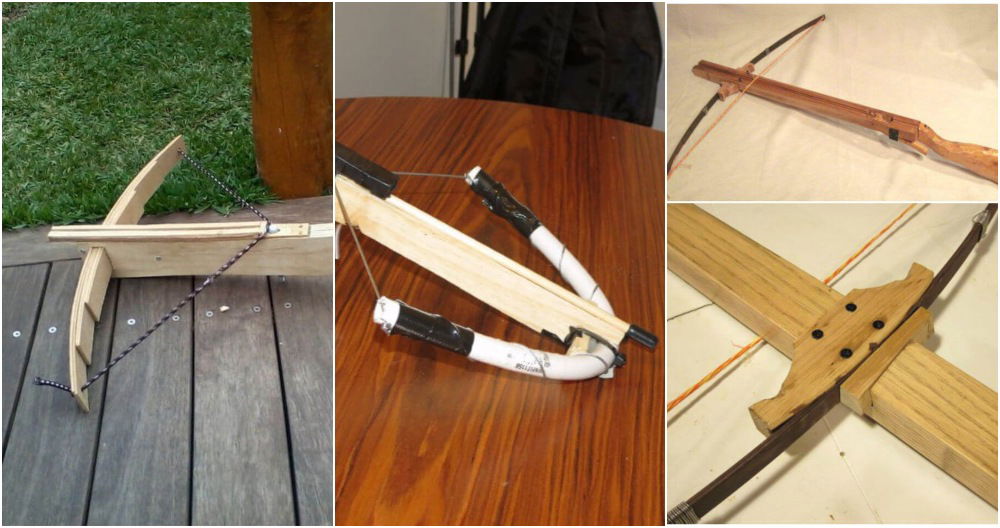 The list is sharing 5 different crossbow plans having different features. All will make a great choice. Furthermore, the crossbow designs made with recycled PVC pipes and those used as pencils as shooting bullets will grab your attention. They are going to be the best crafting projects to do for kids using back-to-school supplies and extra hardware like hinges and metal bars.
Some shooting crossbow guns will create too much fun for the kids making them practice professional crossbow sports. Some are to prepare for professional hunting and can be the best to make out of recycled wood and your genius crafting skills. These projects will take precisions, and they should be accurate to hit the target accurately. Check out also all the plans to get guidelines even for installing shooting string mechanisms in lots of different ways.
1. DIY Homemade Cross Bow
Bring more fun to your outdoors with this DIY homemade crossbow to be a part of your activities there. You can shoot and enjoy your time a lot with your family and friends. The handmade crossbow would need some little wooden boards and the rope along with some hardware to get easily shaped up. instructables
2. How to Make a Crossbow
Do you love crossbow shooting? If yes, then getting your hands on this project of the handmade crossbow is going to be so much fun for you. With feasible things lying around just like some wooden pieces, rope, elastic, and bamboo stick. You can carry this crossbow to your camping and have more fun doing your activities there. bestoutof
3. Binder Clip Office Supply Crossbow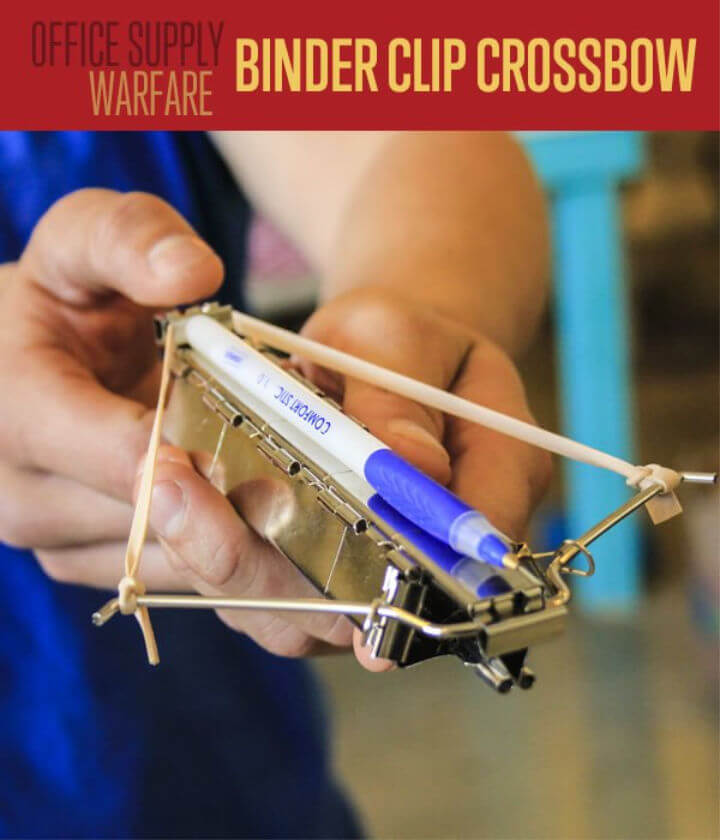 Getting bored in the office? How about making this fun crossbow and shoot some targets and have fun. You would find all the supplies of this crossbow right in your offices. Like the binder clips, rubber bands, and the ballpoint. Also, you can make your kids learn this craft at home too. diyprojects
4. Homemade Crossbow Pistol
It's time to up your creative skills and the craft game by making this handmade crossbow pistol. Your boys are going to love this craft as they can have shooting fun with this. So gather the supplies like wooden blanks, PVC pipes, and some wooden dowels to shape up this pretty cool and fun crossbow pistol. instructables
5. DIY Homemade Crossbow
You do not need to buy those things ate hefty rates from the market that you can cheaply make at home. This DIY homemade crossbow project is here to let you save a lot of your time and money. So, no more boring time in the outdoors, when you have these crossbows to have so much shooting fun with. woodgears
How do you make a crossbow with household items?
There are a few ways to make a crossbow with household items. One way is to use a wooden spoon as the stock, and two chopsticks as the bow. Another way is to use a pencil as the stock, and toilet paper or paper towel rolls as the bow. You could also use a straw as the stock, and a rubber band as the bow. Whichever way you choose, make sure the crossbow is well-secured and won't fall apart when you shoot it. Enjoy!
How to shoot a crossbow?
To shoot a crossbow, you must first cock the bow by pulling the string back. Next, place an arrow on the rail and pull the trigger to release the arrow. Aim the bow at your target and pull the string back to release the arrow.
What should you do when cocking a crossbow?
When cocking a crossbow, you should use two hands. One hand should hold the bow and the other should pull the string back. Be sure to keep your fingers away from the string when cocking the bow, as it can cause injury.
Which safety guideline for using bows is unique to the crossbow?
The unique safety guideline for using bows, including crossbows, is to never point the bow at anything you don't intend to shoot. This applies to both the bow itself and the arrows. Keeping this rule in mind can help prevent accidents and injuries.