If you intended to make a small office at home from where you can provide services to the company or department you work for, then it would be a great idea! The very first demand to build a professional looking home office would be a functional design of desk that should be fit right to your decided space and should also provide the required amount of storage space along with some certain features that will make your more comfortable to operate your computer!
However, if you need a large desk space for multi-tasking or for two or more people to work at the same time, then you can simply opt for the corner desks that will help provide sufficient desk space even in the small room interiors you have selected for your home office! The corner desks will fit the decided corner beautifully allowing you to work comfortably but buying a custom model of the corner desk that will fit best to your needs and will also suit your home office décor style, can cost you big!
But DIY again here for a big help, you can make your corner desks at home with pro features and design structures, and this is not going to be even a little expensive! So looking forward to some grand design inspirations and DIY home decor ideas for making a cool corner desk at home? Then browse this collection of DIY corner desk ideas that have only been shared for you and would provide you various homemade designs and the styles of the desk that you can easily clone for your home office space!
Here the list will show you that how you can upcycle your old furniture items to make outstanding and functional models of corner desks and you will also learn great hacks here to repurpose the old objects for building special corner desks at almost zero cost price!
DIY Projects to Update Your Home!!
Just grab the custom wooden slats and install them on the walls using custom wooden or metal brackets and support them by installing extra wooden braces, this will give you the superspace savvy wall mounted corner desk to set up a beautiful home office! Go also manually with the wood to make custom and professional styled models of the corner desk at home, and it will demand a little work experience, have a look at the given sample design that has been painted in white! Build the rustic farmhouse style corner bench in beefy dimensions and also with artistic legs and also install a floating corner desk that will not take much space of your short spaced home office!
Just Check out many hand-built corner desk designs in the given below list and add your favorite design in your to-do list of projects! Simply browse the attached links to get full free corner desk tutorials, open plans, step-by-step instructions and everything you need to build a selected design!
How To Make Standing Corner Desk: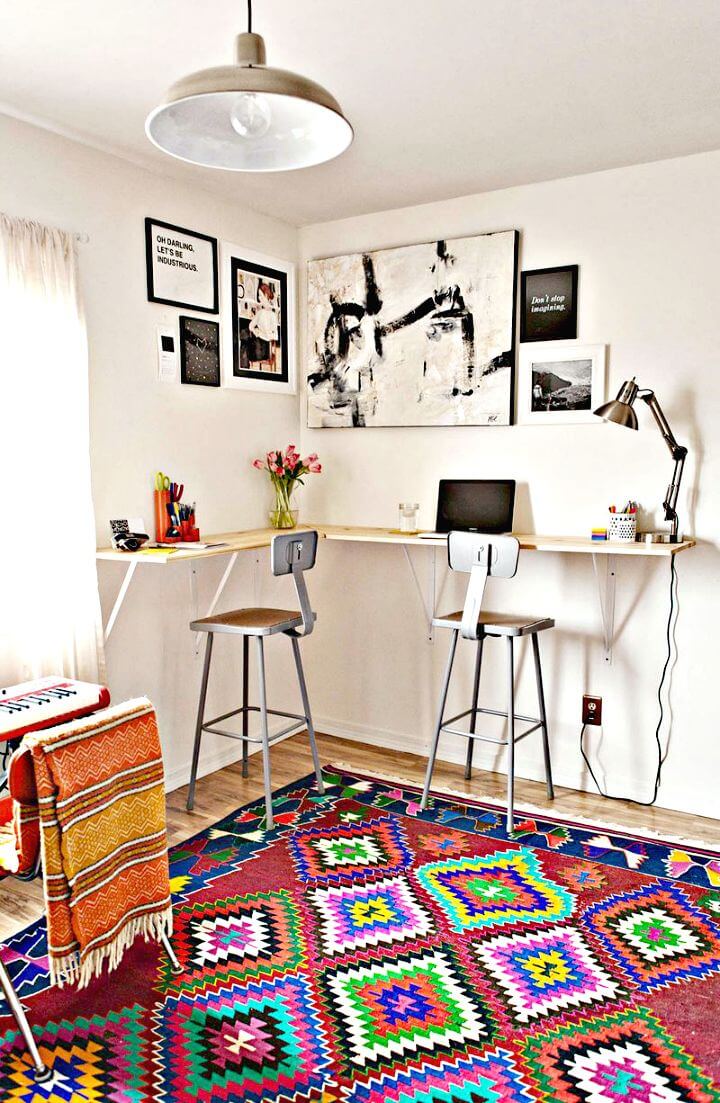 To keep your spaces mess free from your working supplies here is the idea of creating a nice functional working space in your room corners and thus making the most out them. Just cut out L shape wooden boards of your desired length and size and make them hang over your corner walls with the hooks and you are done with an instant working station. abeautifulmess
Pretty DIY Corner Desk: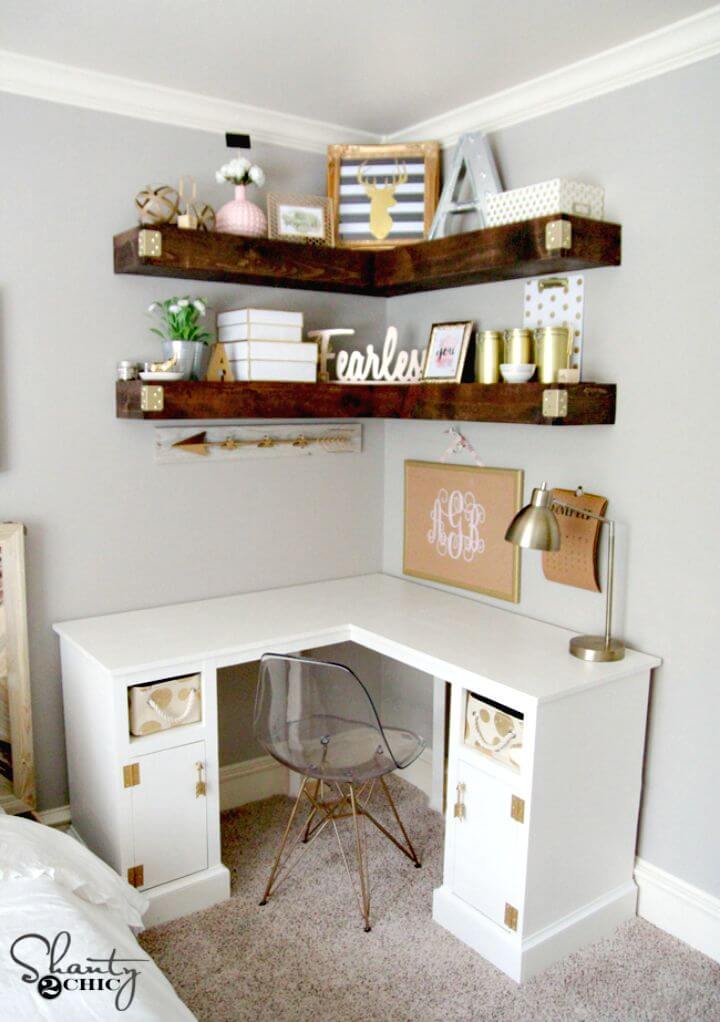 A corner desk can solve your problem of facing the low space when you need a working area in your compact spaces and here is the idea. All you need is some wooden plank pieces to shape up this gorgeous-looking corner desk that can be worked by making the base, the top and then attaching them. shanty-2-chic
How To Build Corner Desk: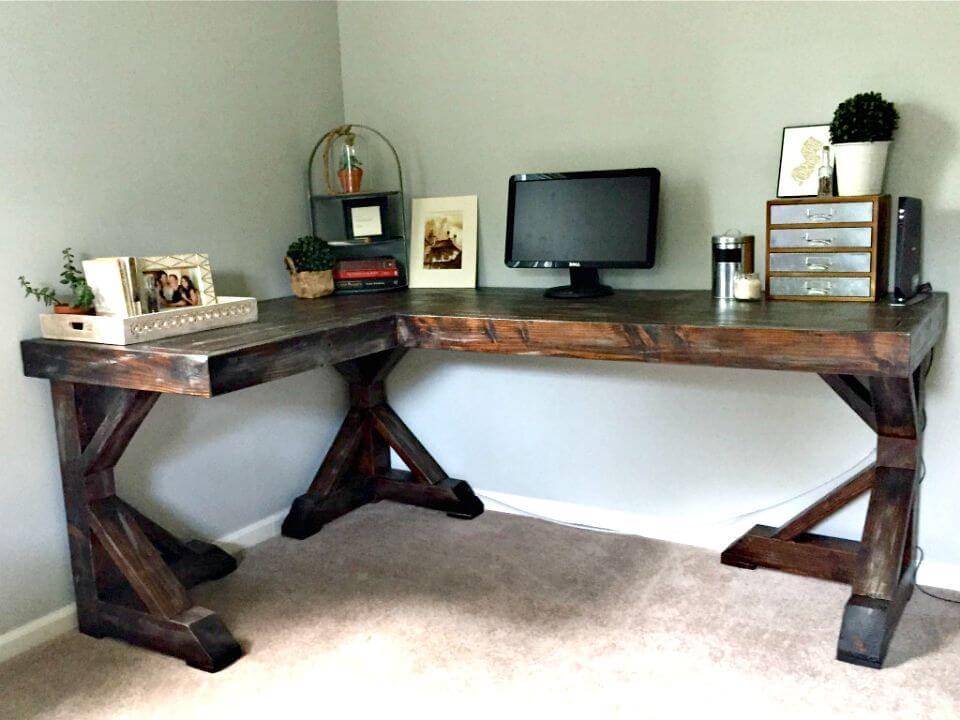 Here is a kind of desk that would not only provide you enough space for the work but also add oodles of rustic charm and beauty to your room spaces and here is the perfect desk to be made at home this weekend. It would fit your room corners and thus not only save you a lot of time and money but spaces too. little home
Make A Floating Corner Desk: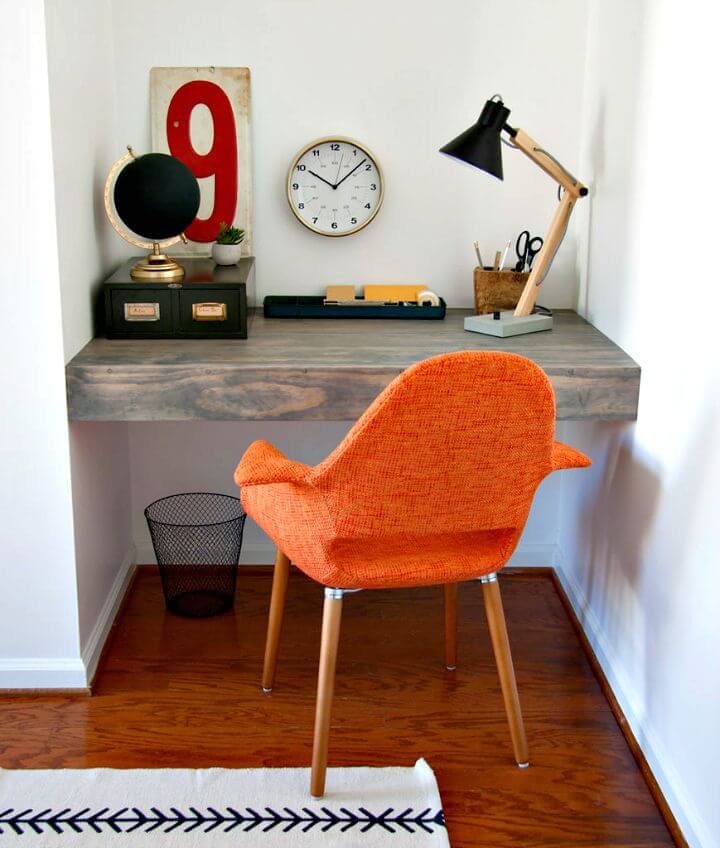 A separate working station is all you need to work attentively and efficiently and here is an idea of using the corners of your house for the purpose. Yes, you can use the corners to develop these functional working stations there with this free desk because the corners are alone and nobody goes there. iliketomakestuff
DIY Butcher Block Corner Desk: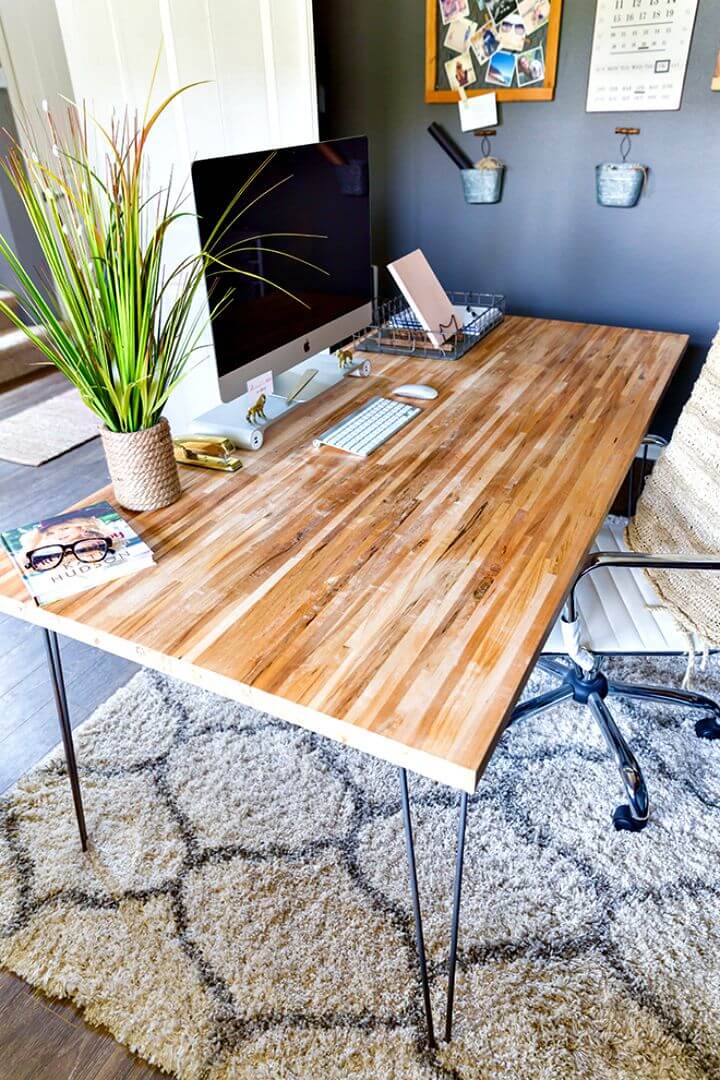 To get a desk on your own at home is a delight as you can work in a professional atmosphere in a working desk corner of your own and here is how you can build one on your own. Yes, you can make this functional desk using a sold wooden butcher top and the hairpin legs to enjoy the utility of a desk in a great industrial style. modishandmain
How To Build L Shaped Double X Desk: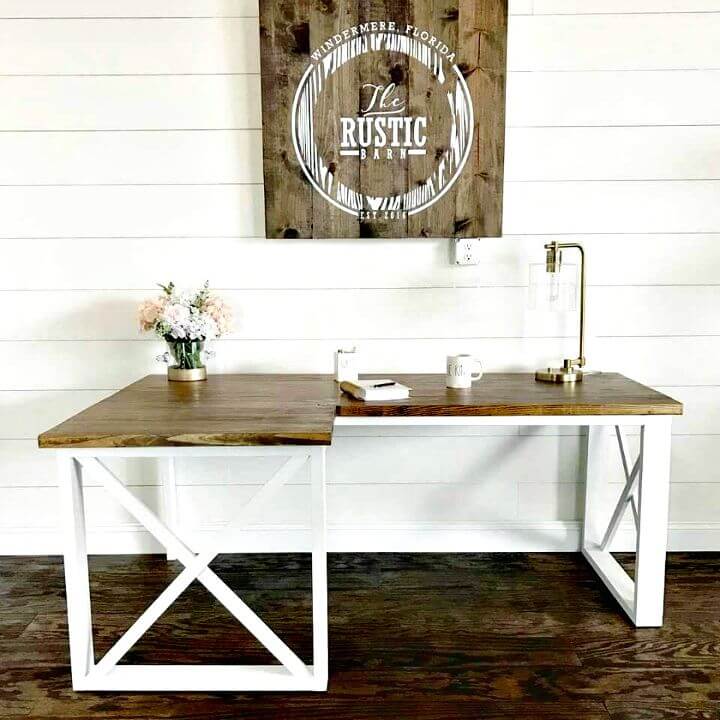 A desk makes it easy to spend your working hours so damn easily and nicely with all your working items having a place to rest on in an organizing manner. With this gorgeous and shabby chic in style L shape desk, you can get yourself a working desk with cross legs that uplift the design of the desk more. handmade
Adorable DIY Custom Corner Desk: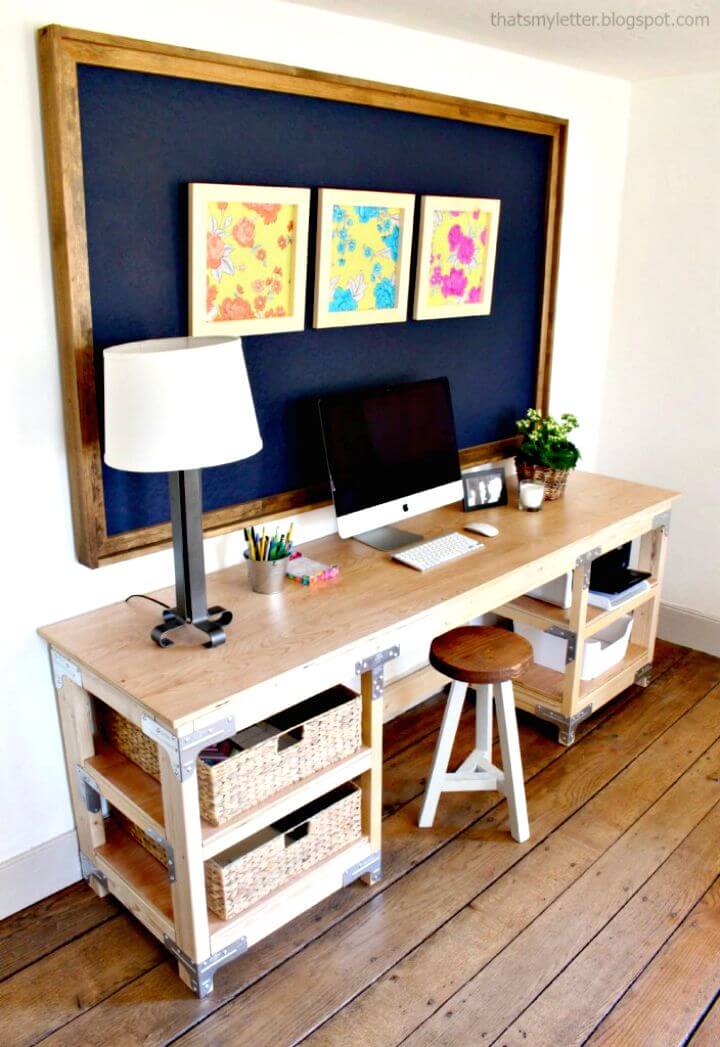 A working desk not only offers you an available space to work on your laptop and also enjoy your crafting sessions with great delight and ease. Here is this custom made the working desk with a lot of storage to hold your crafting and working material in the baskets and thus keep your places so much organized and well managed too. diydoneright
Build a Framing Wood Corner Desk:
The corners of your house can work wonders when you are low on space but need a working station to be installed there. SO with this handmade L shape wooden desk being nicely made and fitted to your corners of the living or the bedroom you can enjoy a well organized and peaceful working space in the house. abeautifulmess
DIY Custom Industrial Wooden Desk: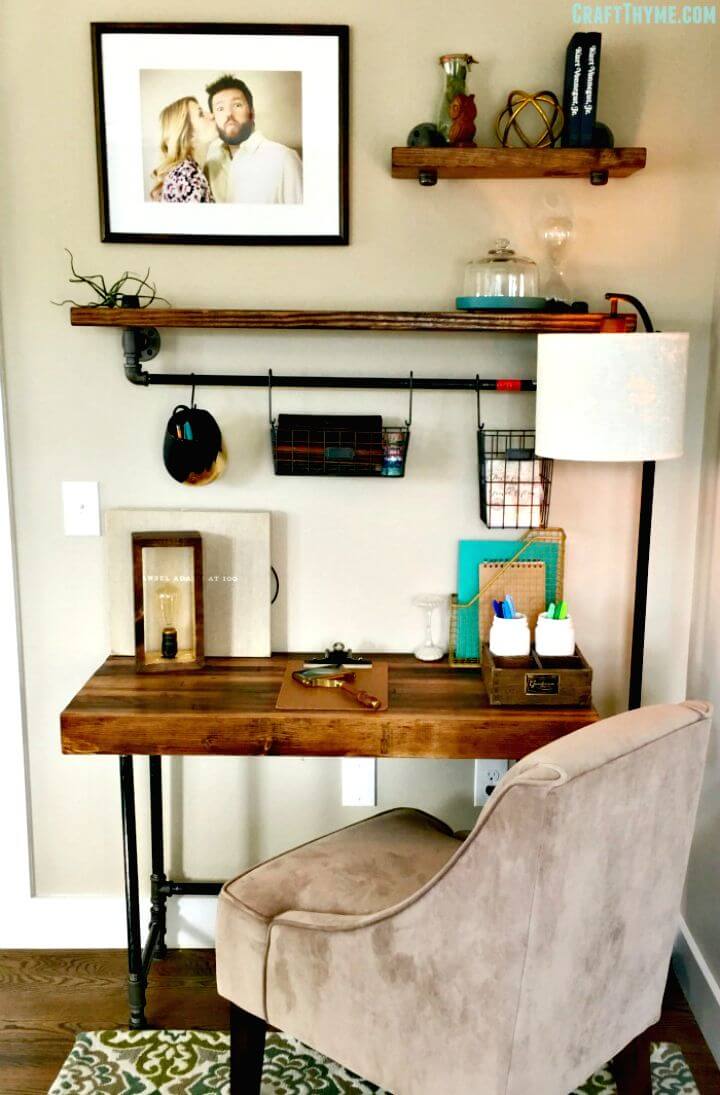 When you need a working space in your house but you are low on money and space then the idea of creating a DIY corner desk is the best to get your hands dirty with. Using the lumber pieces being stacked together the top has been formed, and the steel pipes make the robust support for the desk and its ready to rock the corners. craftthyme
DIY Vintage Yardstick Homework Desk: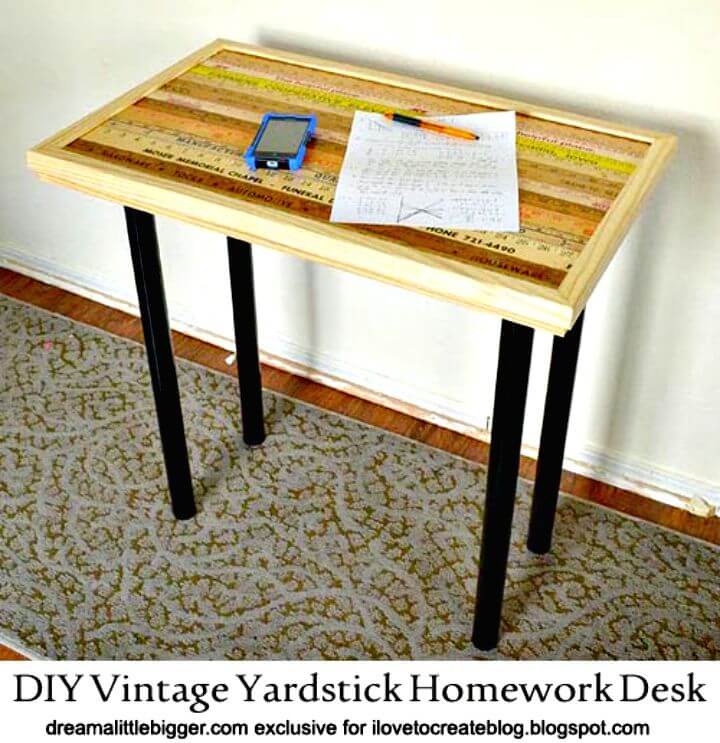 Not only we elders but the kids also need the perfect professional environment to work on their crafting, and school projects and this cute little desk would nicely work for them. The fun thing about this desk is that its top has been made to look so quirky and fun with the vintage yardsticks being stacked there. ilovetocreate
Easy To Make File Cabinet Desk:
You would be amazed to see that how this file cabinet has been turned into an amazingly functional and good looking working desk for your spaces when you need a home office to work on. The file cabinet has been provided with two legs at a side and a desk top and its done to work on for your office work or for homey crafts. refashionablylate
Build Your Own Corner Desk: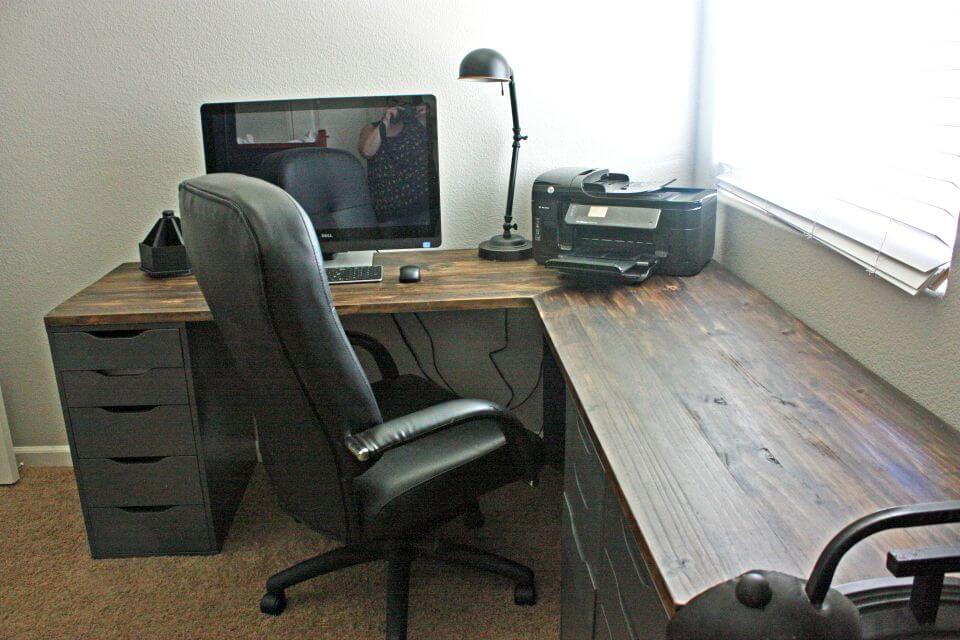 Those stylish yet expensive working stations on the online brands are totally impressive but not affordable by anyone and here is the idea of creating a handmade working desk on your own to save yourself lot of money and space too as the desk is to fit your corners. Just use your file cabinets as the legs or the support system with the added wooden tops to them and serve as the perfect working home corners for you. lizzy-caplan
Make A Corner Desk: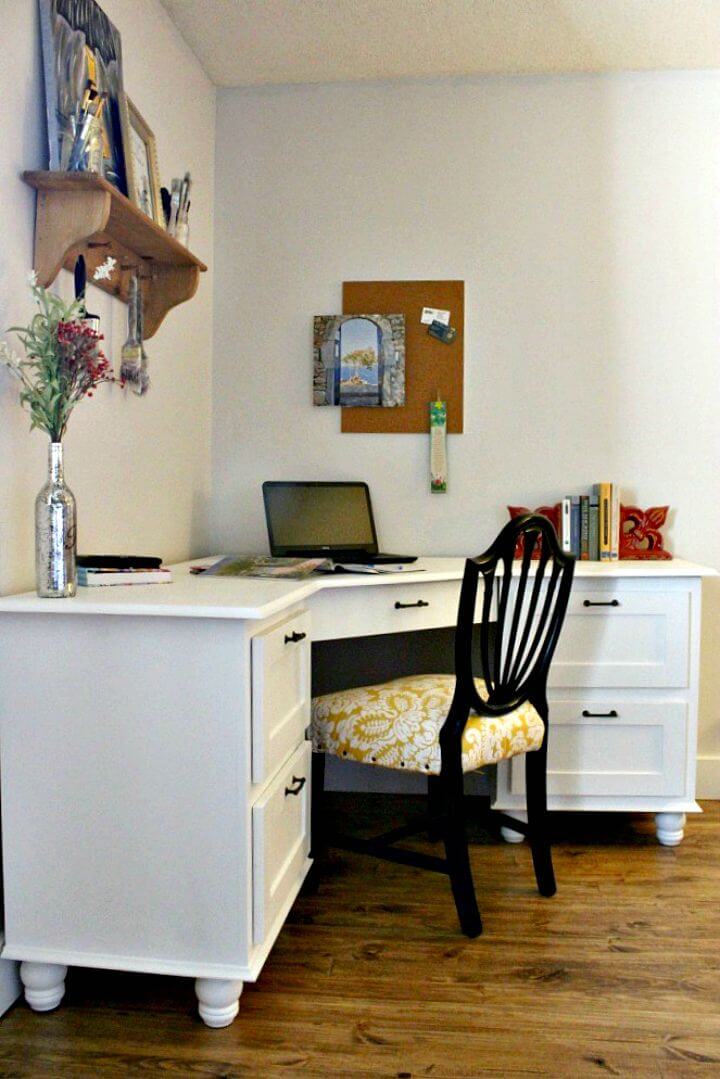 Here is the idea of creating not only a functional but a totally classy and elegant looking desk for your spaces and thus uplift the charm of your spaces in a really decent way. The desk is to fit your corners so if you are living in a studio apartment you can easily create a home office to work in a professional and peaceful way. woodshopdiaries
DIY Desk with Concrete Desktop and Wood Legs:
With the complete white stained look, this table seems to be normal but it got a quirky feature, and that is its concrete top. Yes over the leggy wooden support the concrete top has been used as the desktop, and thus it would work robust and could bear holding a lot of stuff on it. Details can be hacked here's homedepot
How to Build File Cabinet Desk:
You can easily find some cheaper wood around then you can use to satisfy your home furniture needs just like a home office desk and here is the idea of doing it with the recycled wood and two file cabinets. So hurry to grab the wood and make a large wooden desktop out of and then use the file cabinets as the support for the top and thus so nice and easily you got your home working desk. hometalk