We wish to live the moments, again and again, we enjoyed too much with our beloved ones, with friends or alone! But this is just not possible, but you can recall those happiest moments of life to fill yourself with great joy, this is possible if you capture those moments in your camera! Yes, you can make the photos and pictures of the happiest time of the life you are going through to make some sweet memories, and this is what all people do while enjoying gatherings! However, if you are also having a nice collection of some memorable photos of you and your family, then the time is to display them all around your home to create some fantastic focal points in your home and also to keep staring at those photos every day at any time!
The walls are always a great space to display your photos and often the higher wall spaces are used to create a stimulating display of your photos! But what holds the images there with enchanting configurations, is often the photo frames shelves or ledges, and here we are with the amazing DIY hacks that will teach you how to make your beautiful picture ledges at home without getting a bit expensive! Just have a look at these 15 Easy DIY picture ledge plans that are amazing, mind-blowing and cost-efficient and will also amaze yours with the insane creativity involved in their creation!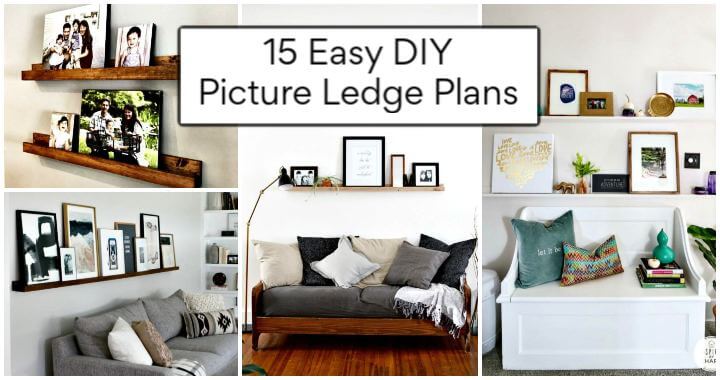 While intending to DIY some beautiful picture ledges at home then the very thing you can do is to recycle the old wooden planks from home to build some free of cost picture frame ledges! Just sand well the planks, remove the splinters, paint and stain them to match your interior wall decors and that's it! Just have a look at some fantastic given below samples that will amaze your senses and are truly beautiful! Next, you can make use of bigger picture frames to make some great looking picture ledges on your wall area, put together a few of slats of wood and make a thicker base for the frame and next mount the frame in front to make a handsome looking picture ledge!
DIY Home Decor Ideas:
You can put the wooden slats straight on some artistic shelf brackets already mounted on the wall to gain some instant cool picture ledges for your walls, and you can also make the fenced picture frame ledges that will come with back and front a little raised to look cool and to hold the picture frames safely and beautifully! Get inspired by some given below samples that are great and cool! Next, also make the floating picture ledges and also the super nice L-shape corner photo frame ledges that will really rock in the living room and will create a focal point there! Browse the entire collection to see some more exciting picture frame ledges and also click the attached links to reach full free tutorials and visual guides!
Make Picture Frame Ledge:
Add some perfect amount of decor and style to your spaces with this awesome and amazingly functional picture frame ledges to be a part of your room embellishing. You can easily create these handmade wooden frame ledges and display your gorgeous collection of memorable photos on it with custom paint hues for a more efficient look. homemadebycarmona
DIY Picture Ledge Over A Couch:
You can fill up the wall of your living that is right behind the big sofa with this elegant picture frame ledge and display a bunch of your memorable and cute photos on it and thus add oodles of charm and fun to your spaces and that too on your own. They are super easy to make out of the wooden planks with matching paint hues for a finished look. thediyplaybook
Quick and Inexpensive DIY Picture Ledge:
We love to buy and make a lot of display stuff to boost up the beauty and decor of our spaces and here is how you can demonstrate them in the coolest and the most practical way. Yes, you can create this pair of chic white photo ledges to be mounted on the living or bedroom walls and display all your decorative stuff with so much proud on them. inspiredbycharm
DIY Picture Frame Shelves:
If you are a travel lover, then the best ways to show off your beautiful and fun memories of your different trips is to make these photo frame shelves which would hold a number of your scenery and fun photos and let your relive those fun days every time you put a glance over this awesome collection. Details here popsugar
Adorable DIY Picture Ledge Shelves:
The addition of a picture frame shelf to your living room space would warm up the spaces with the memories and love as you get a lot of spaces to house your favorite picture, art and quoted frames on it. Just measure the size and cut out a custom shelf from your wooden planks, stain it and mount it up on the designated wall position. themerrythought
DIY Custom Picture Ledges: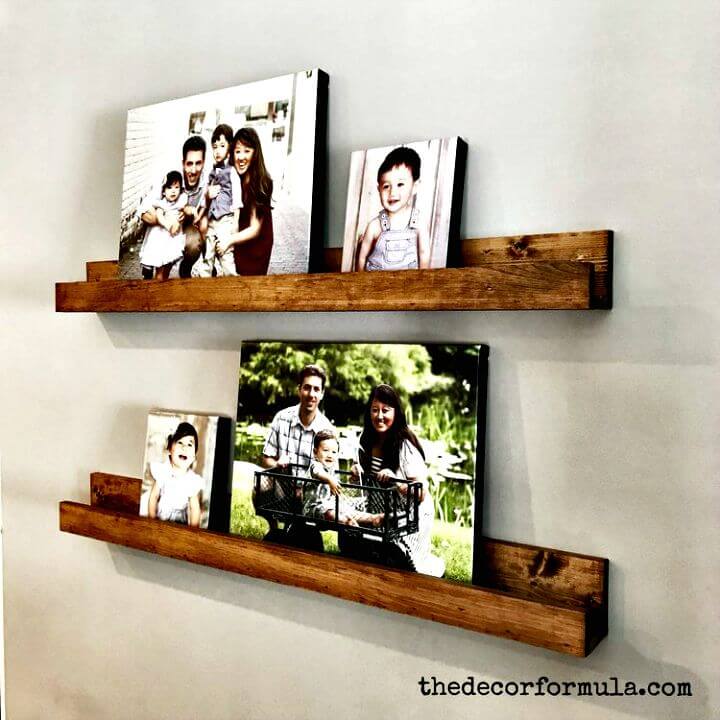 Why waste money on the branded wooden ledges when you have the perfect way of making them right at your home with some wooden planks, your tools, and rustic brown stain hues. You can make a pair and hang them over your walls to gracefully hold your adorable and cute family picture collage on them and thus adding love and warmth to your home decor. thedecorformula
How to Build Picture Ledge Shelves:
The picture frames are only worthy and valuable when they are showcases in your home decor over the walls, and the wooden frame ledges provide them the perfect space to rest on. You can easily order or make yourself a bunch of wooden ledges and stain them in desired hues and form a really pretty and fun display spot for the pictures and the books too. creatingreally
DIY Heart Pine Photo Shelves for The Dining Room:
Pinewood is a great wooden supply to work on and bring the perfect rustic charm and beauty to your spaces and this time you can bring these fun pine wood frame wooden ledges to create a fantastic and wow-worthy display of your frames, artifacts and so much more on. Complete details here oldhousecrazy
DIY Picture Ledge Floating Shelves:
Why let your homey walls stay empty when they can nicely be filled up to add so much style, and beauty to your spaces and creating this bunch of floating shelves is the apt idea. Depending on the dimensions of your walls you can easily cut out the fitting shelves for your walls and put all your frames, arts and other painting possessions to a cool and fun display. thecraftpatch
DIY Picture Ledges for Under $10:
Do not let your favorite paintings rest in the drawers when you can show them off and win yourself lots of praise. So creating the pair of these pretty in design wall mounted frame ledges to put all your artistic work on a cool and fun display that would also add a lot of custom appeal to your homey spaces too. justmeasuringup
Easy To Make Photo Frame and Shelf:
If you are working on a cute frame for your little girl, then you should be giving a try to this adorable and fun looking picture frame holder too so that you can create a adorable details on the walls of your little girl's room. The frame holder has been easily made out of stacking of some wooden bars together, and the tutorial of it is here pinspiredtodiy
How To DIY Photo Ledges: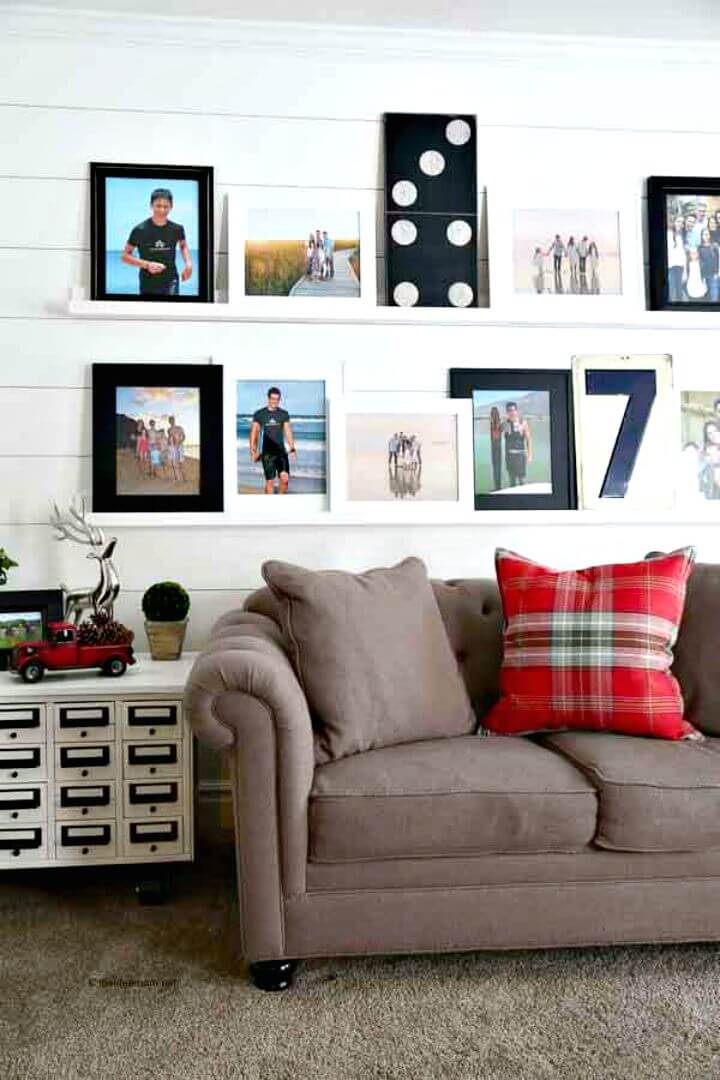 Show your family love through your home decor with these adorable and cute looking pictures of your family being nicely put to a wall mounted shelf display. Over these handmade and painted white chic frame ledges, the collection of your favorite family photos would turn out to be a vibe creator for the decor. theidearoom
How To Make Deep Picture Ledge:
The walls of the house are so undone when you do not have the wall mounted shelves there to create an artistic display of your frames. You can make the lovely picture ledges of desired size and length to be on your walls, holding the perfect amount of your adorable art frames and adding so much beauty and style to your spaces. placeofmytaste
Adorable DIY Picture Ledges:
We love framing up the best moments of our lives and they need to be showcased gracefully over your walls and creating this pair of wooden ledges would be just perfect as you can nicely put your frames on the perfect show off to everybody and get so much appreciation for it.They are feasible to build and mount up on the walls. cityfarmhouse
Make Floating Corner Shelves:
If you think there is no room the addition of new shelves for the display in your rooms then here is the idea of creating the perfect display spot with the L shape frame ledges to be added in the corners of your spaces and thus saving yourself lot of money and space. You can build as many as you want to fill up the spaces and to enjoy maximum storage. abeautifulmess