In this age of electronic media, newspapers are still a part of our lives and some people really like the newspaper thrown to their door step at every morning! After satisfying your daily hunger of news, a newspaper remains no more a worthy item, so they are mostly destined to recycle bins just after single use! But for crafting lovers and for those who love recycling and have a genius brain also, the newspaper can be much more than a piece of paper scrap! The white and black hues of them mixed with colorful advertisement sections, can be used in number of different ways in art of crafting! To show you that how much magical and worthy the newspaper can be in world of crafting, we have brought these 71 DIY newspaper craft projects that are more than amazing and creative as in your imaginations!
Each project is special and exclusively hand-picked! Furthermore, there is a link attached to each project that will provide you the step-by-step instructional guides and complete DIY tutorials! So, don't hesitate to visit the reference links if you like some projects and want to give them a try!
The most incredible in newspaper crafts, is to build the kids fun gifts, toys and ornamental stuff! However, a home lover can also recycle newspaper to build some not very durable items of furniture and custom utensils like bowls and baskets! Newspapers can be changed into longer strips that can be put together to wrap an object and can also be woven to amazing crafts and useful objects! Browse the collection for some beautiful samples!
In the decor section, you can craft amazing garlands with newspaper and can also make beautiful buntings, banners and wreaths that can be painted for to match the decor of your home! Use also the newspaper in making Halloween silhouette and also to make beads that can be used in making newspaper jewelry!
Another most thing in newspaper craft is to turn the newspaper in longer rolls, that can be put together for a bit more lasting craft items, get inspired of given newspaper coasters and wall art! Newspaper rolls can be packed together for endless different decorative and functional objects!

Moreover, you can get crafty with newspaper by turning it into paper mache, this just makes the newspaper an incredible item to use in crafting! By doing so, you can make amazing dummies of plants, animals and vegetables that can be painted for an instant centerpiece for your home!
To do more inspiring with your old newspapers, just browse the whole collection!!!
DIY Newspaper Swirls Photo Frames: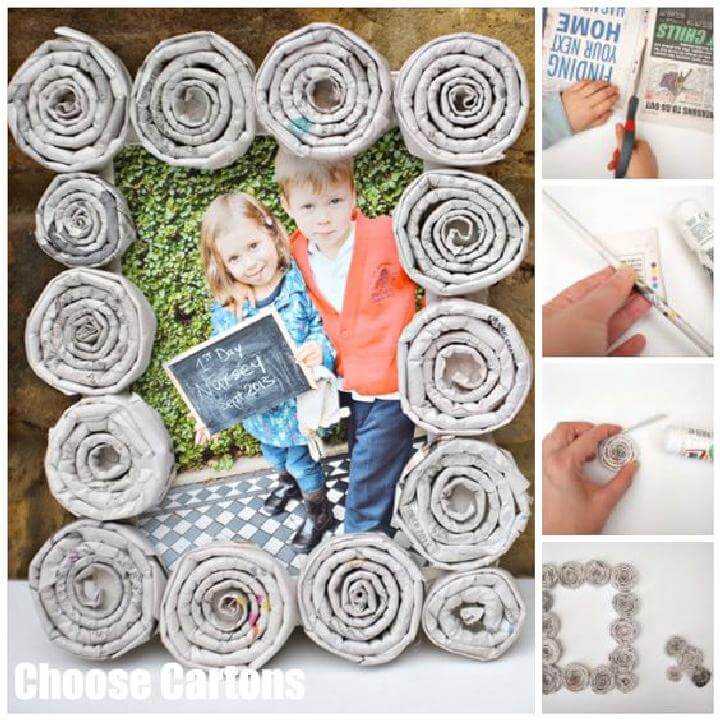 Old newspapers are available in all most every house an they are produced as the regular clutter so here we have brought to you this brilliant idea of recycling them. Cut the newspaper into the stripes, curl them and use these curled paper flowers as the decor of your photo frames. Let them stay unchanged or do paint them to add more fancy touches. Full tutorial guide here redtedart
Newspaper Leaf Garland- DIY Newspaper Decor: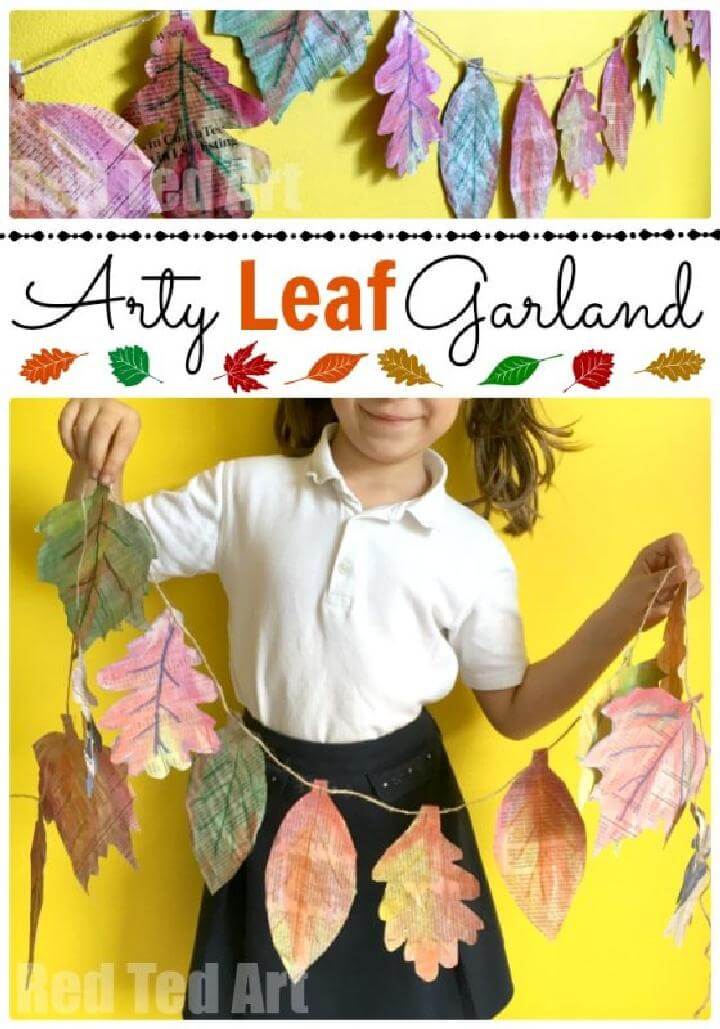 There is a lot to do with the old newspapers when there is huge pile of them in your library. Here is a cute idea for your decor to make these lovely leaves and make a garland out of them. You can download the template of the leaves and then cut them out from the newspaper and color them with the respective hues. So this autumn you know how to decorate your home at no cost at all sredtedart
Lovely Newspaper Heart Garland: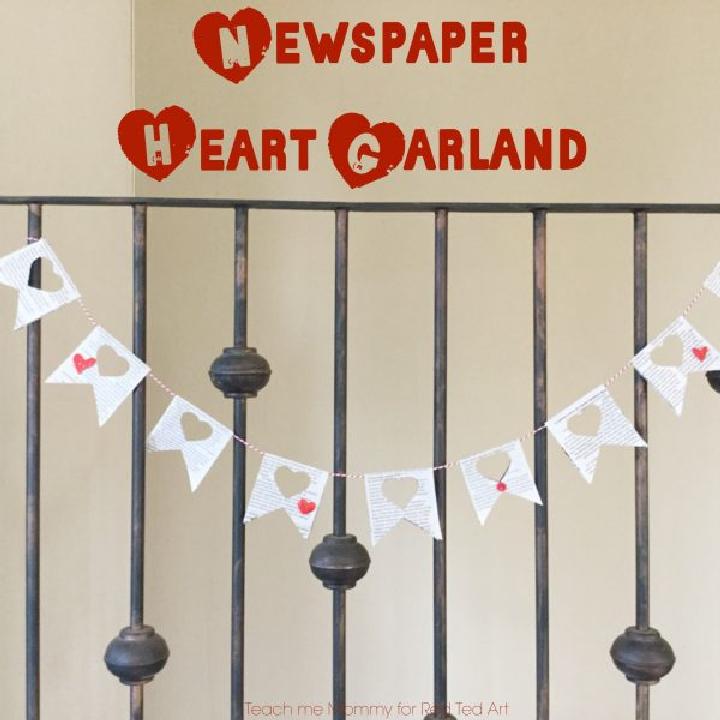 Buntings and garlands are the must part of party decors for almost all the occasions. So this valentine make this simple yet fun looking newspaper heart garland and display it on your windows, doors, tables or rails as the perfect love decor. Get the more details of this simple, easy and cheap newspaper garland project right hre redtedart
Homemade 3D Painted Newspaper Heart Buntings: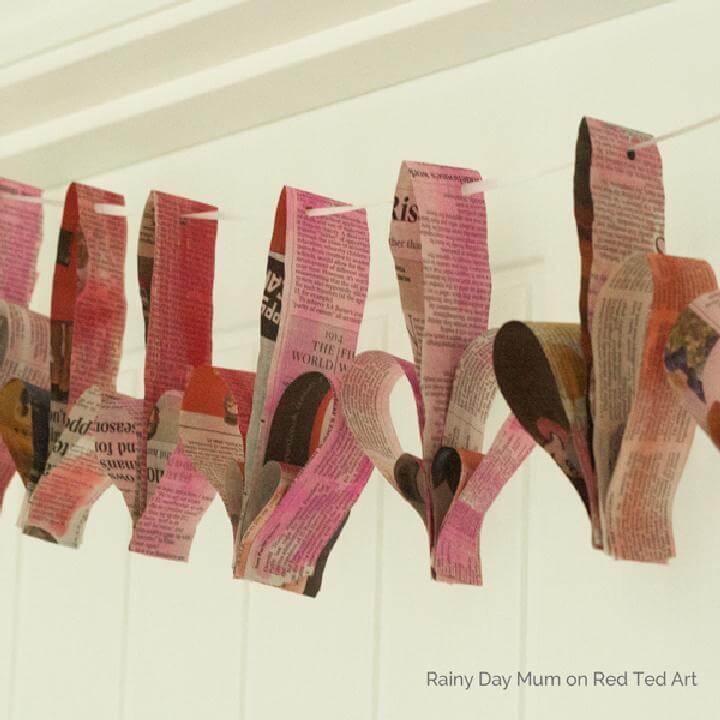 Heart shapes means love and they are the best symbol and sings to show love so these newspaper heart buntings are just prefect to craft and display in any of your party decor or use them in regular days to bring some fun aspect int he decor. They are too easy to cut out and form a garland and here is the link to know the crafting tutorial  redtedart
Handcrafted Newspaper Flowers: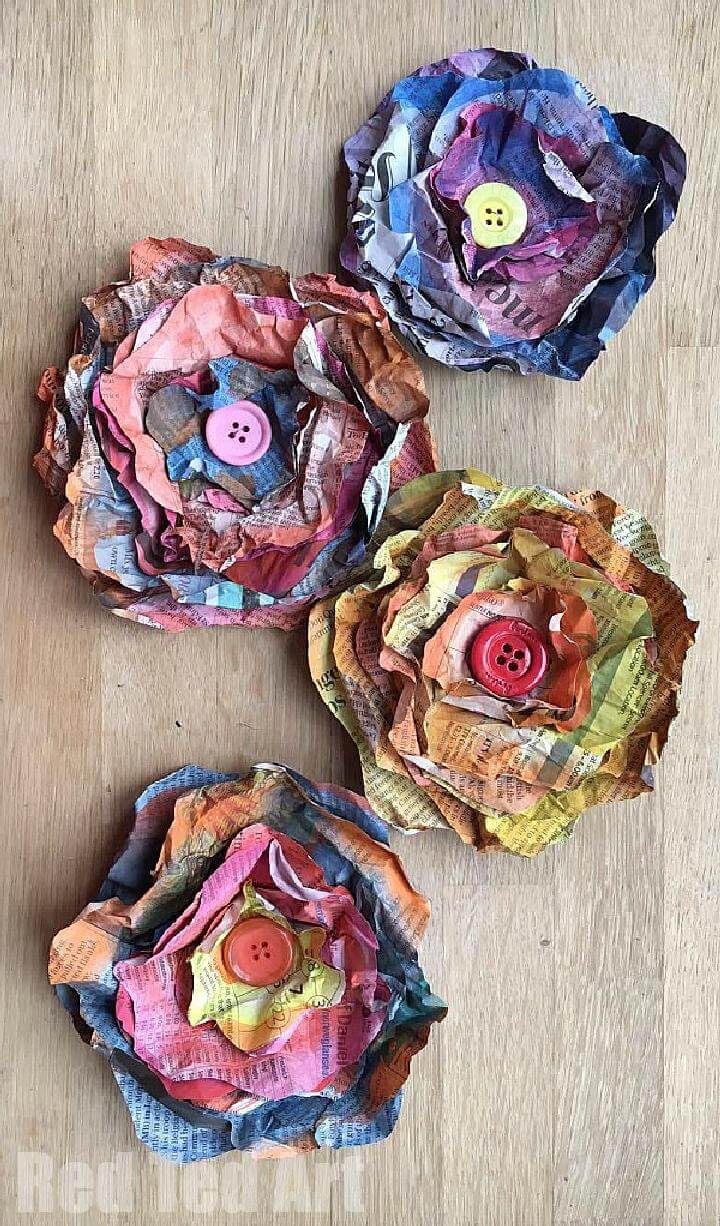 Using the simple crafting tools and tricks these pretty and adorable flowers have been made out of the newspaper which you can easily get. You can use these flowers for so many decor purposes in the house, Just cut out the flower petals, paint them in nice hues and them combine them with a button and the cute newspaper flowers are ready. Here is the full viedo tutorial link redtedart
DIY Timeless Newspaper Gift Bag:

Paper crafting is so much fun and gives us so much to adore and so much to use also. Here is another amazing paper craft made with the newspaper and these are the cute gift bags to carry the gift accessories. The newspaper has been folded to form a bag and a house has been drawn on it using a marker penicl snd thus its looks really cool and cute. Here is the step wise instructions redtedart
DIY Newspaper Spiral Penguin on a Sledge: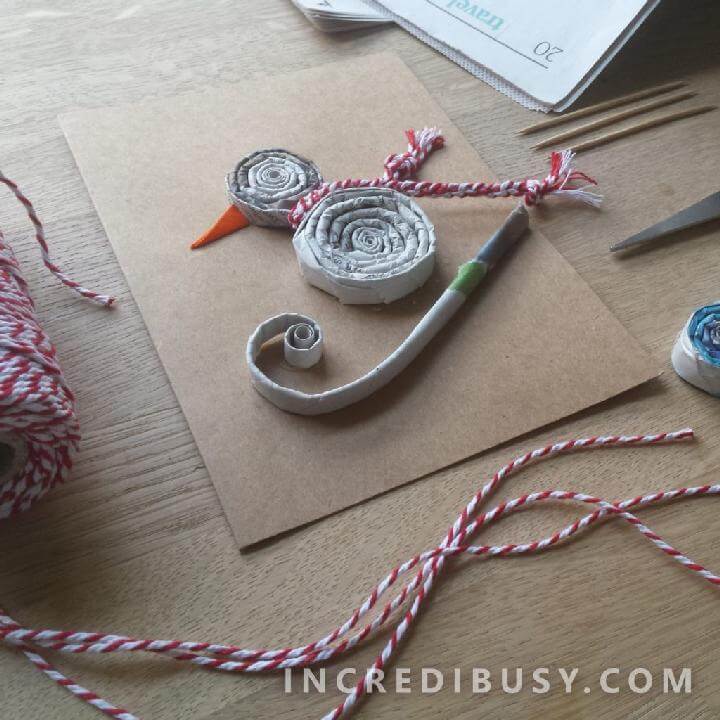 After reading once the newspaper is no more in use so you must use it for some other purposes because with the next day there would a new newspaper. So here we are sharing with you people the newspaper crafts to recycle the newspaper so nicely. This cute and spirals have been made from the newspapers so easily and can be used for so many decors and styling up of the home accessories. Here is the link to see more details kidschaos
DIY Newspaper Spirals Snow White Mirror: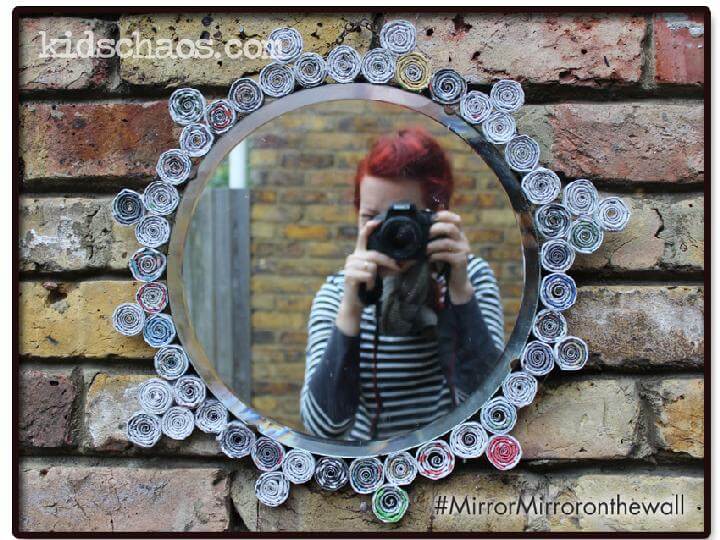 A lovely stylish touch to the mirror can really bring some freshness to your home decor. So either you have a mirror in your foyer, hall or bedroom spaces you can give a gorgeous makeover and that too cheaply. Yes using the newspaper you can make these curled spirals and used them all over around the mirror like a round covering. Little stain hues added tot he spirals really make it a bit fancy in looks. Here is the tutorial kidschaos
DIY Newspaper Fort or Building Block: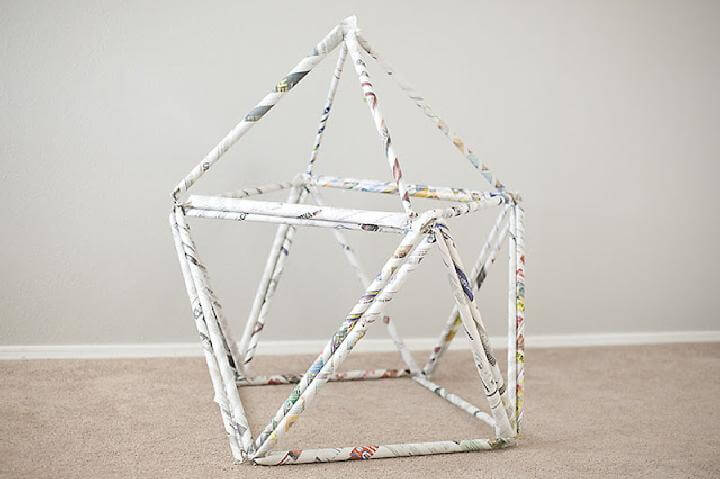 Making the structures and shapes from the blocks is really a fun and learning activity for the kids and now using the news papers they can form up the blocks and then create the favorite structures to play with. Grab the newspaper sheets and roll them to form the long size blocks which would further get joined to each other and form these geometric shapes to play with according to their imagination. Full tutorial here modernparentsmessykids
Easy Newspaper Coiled Square Mat: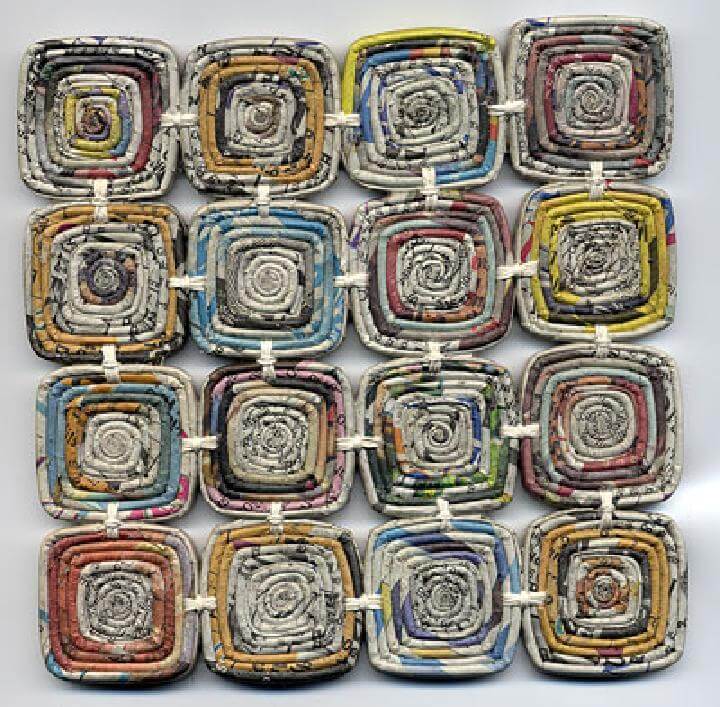 If you are in need of a simple wall decor then newspaper can really help you. Just grab some newspapers, color them with your desired shades and then start crafting the small squares. All you need to do is just curl up the newspaper sheets and coil them together to form a square and then bringing these small squares you can form a big one to display on your walls for decor. Full tutorial is here havemuse