Learn how to make a fascinator with these 15 easy diy fascinators, including easy-to-follow step-by-step instructions and detailed tutorials. Discover how to make stunning fascinator hats, headbands, and even whimsical teacup designs that will add flair to any outfit. These diy fascinator ideas include easy-to-follow step-by-step instructions and detailed tutorials, making these projects suitable for beginners and seasoned crafters alike. From elegant feathered hat fascinators to adorable flowery bow designs, these DIY fascinator ideas have something for everyone.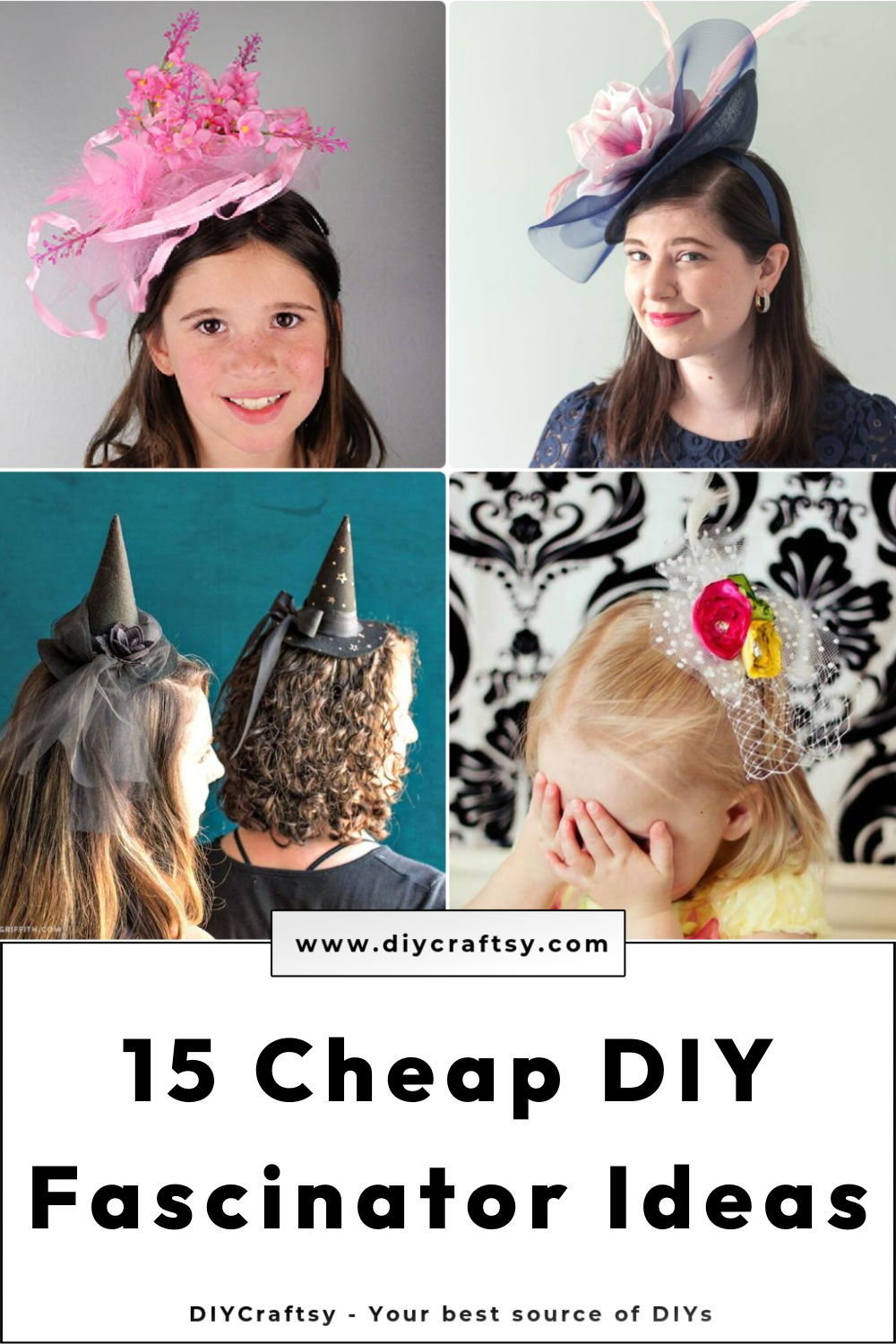 Elevate your wardrobe and make a statement at special events like weddings or the Kentucky Derby with your unique, handmade fascinator hat. Not only will you save money by creating your own fascinator, you can also customize the size, color, and materials to truly make it your own. So, gather your supplies and get ready to explore the enchanting world of DIY fascinator making – it's time to transform your style and make beautiful, one-of-a-kind accessories that will impress.
1. How to Make a Cute Fascinator
Add charm and elegance to your hairstyle with a custom-made fascinator! This comprehensive tutorial offers a simple yet effective method to make your fascinator, perfect for photo shoots, weddings, and other special occasions. The choice to include feathers adds a whimsy, while millinery lace lends a vintage appeal.
Starting with a free satin flower hairclip pattern, you'll assemble this delightful accessory using everyday materials like felt, satin, tulle, and a few ornamental buttons or jewels for added sparkle.
This project is wonderfully adaptable, allowing for personalization based on your preferred style or color palette. This versatile accessory will enhance your outfit, whether a mini top hat or a pirate hat! fleecefun
2. Adorable DIY Flowery Bow Fascinator
Channel your inner crafter and gear up for the racing event of the season with these DIY Kentucky Derby fascinators! Two stunning styles, the flowery bow, and the tip-top flower, come to life with simple materials: a headband, washi tape, wildflower flat sheet wrapping paper, hot glue gun, scissors, satin ribbon, and a paper flowers kit.
Their creation process is straightforward and requires no specialized skillset, making it a fun project for all. Each design exhibits its unique flair, seamlessly blending functionality and style.
Adding these handmade fascinators to your Derby attire not only amps up your fashion game but also injects personality into your look. So, don't wait; craft your way to a standout Derby style today! source
3. Making a Kentucky Derby Fascinator
Ignite your Kentucky Derby party with a simple yet stylish DIY tissue paper fascinator! This easy-to-make accessory brings the fun and excitement of the Derby right to your home or kid's event. You need some basic materials: tissue paper, a headband, white floral wire, string, a glue gun, netting, and an extra silk flower.
With less than $10 and an hour of your time, you can craft a fascinating Derby-inspired headpiece. Attach the handmade giant tissue paper flower to the headband, jazz it up with some netting, and you're set!
This project is excellent for relishing the Derby atmosphere without breaking the bank; this tutorial guides you through each step, ensuring an enjoyable crafting experience and a stunning result. Happy Derby Day crafting! polkadotchair
4. Fancy Feather Fascinator Hat Tutorial
Unleash your inner milliner and craft your feathery, fabulous fascinators with this comprehensive guide. This DIY tutorial walks you through crafting two delightful fascinator styles using simple materials such as craft feathers, silk flowers, felt fabric, and a hot glue gun.
Following the detailed instructions, you can make these beautiful headpieces right from the comfort of your home, perfect for high tea parties or Kentucky Derby festivities.
The key ingredient in this crafting adventure is your creativity and the desire to have fun! So, grasp your materials and get ready to design your fashionable fascinators. Bring a tinge of class to your ensemble and uplift your spirits with these charming creations. tikkido
5. DIY Three Paper Fascinators
Evoke the grandeur of royal weddings with DIY paper fascinators, perfect for celebrating such regal affairs. Crafted from cardstock, a hot glue gun, and a headband, these accessories are chic and affordable. Discover three unique designs: a paper fan fascinator, Curly Q Fascinator, and a Princess Beatrice-Inspired Fascinator.
With detailed instructions provided, the making process is straightforward and suitable for all crafters. Each unique design features distinctive elements like accordion-folded paper medallions, looped and curled paper strips, or an elegant bow.
The purpose? To add a tinge of royal flair to your wardrobe while celebrating significant events like Harry and Meghan's royal wedding. Don't just watch from the sidelines – immerse yourself in the festivities with these fabulous paper fascinators! thehousethatlarsbuilt
6. Easy-To-Make Witch Hat Fascinators
Craft a captivating Halloween look with our DIY witch hat fascinators! These miniature hats add a dash of spookiness without requiring a full costume. You can make a gorgeous headpiece that will make your All Hallow's Eve unforgettable in a few easy steps.
The materials you'll need include a low-temp hot glue gun, scissors, a cutting machine, a sewing needle, and an iron along with black felt, iron-on black glitter and rose gold foil, black ribbon, a headband, tulle, black thread, floral wire, a white fabric pencil or crayon, and a black marker.
After crafting your hat and decorating it with tulle and a mini felt rose, your Halloween accessory will be ready to steal the show! So, cast spells this Halloween and manifest your inner witch with our fascinating project. liagriffith
7. How to Make a Fascinator Hat
With this DIY guide, get a beautiful, handmade fascinator to accentuate your outfit for any special occasion. This unique hat, adorned with intricately placed feathers, mesmerizes with every movement. Despite its grandeur, the hat is minimalistic, as a base for striking feathers and other embellishments.
A few materials required for this project include sinamay fabric, hat wire, crimp wire, ribbon, and feathers. In a few steps, you can shape the fabric and wire, make a ribbon decoration, and secure the feathers in a bouquet arrangement.
Personalize your fascinator with other decorations like plastic flowers, netting, or sequins. This artistic venture lets you express your style while crafting an accessory perfect for any special occasion. stguitars
8. DIY Headband Fascinators for The Royal Wedding
Elevate your style with these DIY headband fascinators, a perfect accessory for special occasions like the Royal Wedding, a Derby race, or themed parties. These elegant pieces, demonstrating versatility through distinct styles, are created using inexpensive materials at a local dollar store. The materials range from headbands, faux flowers, feathers, tulle, and even a brooch for a vintage appeal.
This craft is easy to make and customizable according to your preferred colors and themes. A detailed guide illustrates assembling the headbands, offering tips like choosing a headband color that complements your hair or the decorative elements.
Whether you prefer the lush look of faux ranunculus, the bridal elegance of white peony with tulle, or the dramatic allure of black feathers with a brooch, these headband fascinators are a fun and fashionable project to undertake. lifeatcloverhill
9. Make Your Own Felt Fascinator
Bring a unique touch to your fashion ensemble with a homemade felt fascinator, an effortless project using the Cricut Explore. Channel your inner milliner by crafting this vibrant yellow DIY accessory, using felt, interfacing, and a headband as your main materials. The process begins by ironing the interfacing onto three pieces of felt and using the Cricut Explore to cut out intricate bow and donut designs expertly. Once the pieces are assembled and stitched together, your stylish fascinator can be attached to a headband, ready to debut. The Cricut Explore streamlines this creative process, making it an easy and enjoyable craft project, leaving you with a fabulous fascinator that will turn heads wherever you go. albiongould
10. Simple + Stylish DIY Fascinator Hat
Have an elegant hair accessory inspired by the iconic look of Kate Middleton with this DIY tutorial. This fashionable piece, modeled after a Gina Foster design, is surprisingly simple and affordable, needing only a placemat and a few crafting items. Using cheesecloth to form a delicate bow, gluing it to the placemat.
Next, place a large faux yellow flower at the center of the bow for a vibrant touch. Attach a pair of duckbill hair clips using small pieces of felt to ensure a secure fit. This eye-catching accessory, costing less than $10, exudes a royal charm, making it a stunning statement for fancy soirees or garden parties. Craft your very own Kate Middleton-inspired hat today! hgtv
11. Easy DIY Rainbow Fascinator
Bring the fun of St. Patrick's Day to life with this DIY rainbow fascinator project! An excellent addition to various festivities beyond March 17th, this colorful hair accessory can brighten tea parties, bridal showers, or any event requiring a touch of whimsy.
Crafted with an array of tissue paper colors, a headband, scissors, hot glue, and tape, this project allows for customization based on personal preference or event theme.
With simple steps involving the creation of color-coordinated tissue 'poofs,' adhering them to a headband, and fanning them out to reveal a vibrant rainbow, this task serves as an engaging, creative outlet. Enhance your celebratory gear with this rainbow fascinator, ensuring you're always party-ready! studiodiy
12. DIY Fascinators Hat
Experience a creative and entertaining way to celebrate special events like royal weddings, tea parties, or the Kentucky Derby. Make a fashionable, whimsical fascinator using easily accessible dollar store supplies. These DIY headpieces are built around simple headbands and paper plates, forming a stable base to customize according to your style.
This guide outlines how to utilize various items, from fake flowers and feather boas to loofahs and ballerina skirts, to add texture, height, and a unique twist to your fascinator.
Not only is this a great activity to add festive joy to your special occasions, but it also makes for a fun-filled craft night with friends. You'll certainly enjoy crafting these fashionable hats, which will spark conversations at your next event. clumsycrafter
13. Make A Fascinator Hat For Under $10
Immerse yourself in creativity and be the highlight of your celebration with this DIY fascinator hat. It is designed for those looking to bring a touch of royal flair to their next Kentucky Derby Party or Royal wedding celebration. This small, flamboyant hat or hairpiece typically commands high prices, but we will help you make a unique, budget-friendly version.
This guide emphasizes using common supplies like scrap fabric, small paper plates, tulle, deco-mesh, ribbon, and a large flower. The step-by-step instructions include crafting the hat base, adding hat lining, clipping mechanism, mesh, and embellishments.
This project ensures you have a bespoke accessory ready for any outfit for any occasion. Tap into your inner Duchess of Sussex, and make a fascinator that's bound to captivate! knockitoffkim
14. How to Make Whimsical Teacup Fascinators
Embark on a delightful creative journey with a hands-on project, perfect for any tea-themed event or costume party. Discover how to craft whimsical DIY teacup fascinators, the talk of the town at any gathering. Not only are these pieces a fun craft project, but they also make unforgettable party favors or costume accessories.
Creating these unique pieces has been perfected to ensure they are lightweight and balanced, allowing for comfortable wear throughout your event.
It's a rewarding and engaging journey, from picking your materials to designing and assembling your unique piece. The best part? No expertise is needed, just a zest for creativity and a love for unique, handcrafted items. Make your next party a hit with these delightful teacup fascinators. debbeesbuzz
15. Perfect Fascinator for the Derby
Get ready to add a dynamism of creativity to your Derby Day attire with this informative guide on crafting a handmade fascinator. Taking on this unique DIY project allows for individual style expression and offers a touch of whimsical elegance to your Kentucky Derby look.
This tutorial provides clear, step-by-step instructions on using supplies such as a headband or fascinator base, silk flowers, feathers, hot glue gun, wire cutters, and more to craft your bespoke piece.
This guide will even help you find the perfect positioning to ensure all-day comfort and stability. Let's make your next Derby event a fashion statement with a personal flair by crafting your fascinator. polkadotchair
Conclusion:
In conclusion, creating DIY fascinators at home is a rewarding and enjoyable activity for crafters of all skill levels. With our 15 easy-to-follow diy fascinators, you can learn how to make a wide range of fascinator designs, from cute and flowery to fancy and elegant. Make a statement at your next event with a homemade fascinator hat or headband, and explore various materials and techniques to design your own unique accessories. So, embrace your creativity and start making your own DIY fascinators today!