Make a unique and charming atmosphere in your home with DIY teacup candles! Learn how to make teacup candles with these 25 easy DIY teacup candles, including step-by-step instructions. These delightful projects help you utilize vintage tea cups or modern designs to make eye-catching candle displays. Not only do these candles serve as elegant home décor, but they also make heartfelt and personalized gifts for friends and family on special occasions like Mother's Day or bridal showers.
Tea cup candles can be crafted using various scents and techniques, such as wood wick candles, soy candles, or even adding relaxing elements like rose petals or stress-relief fragrances. With detailed guidance and clear instructions provided in these DIY teacup candle ideas, beginners and advanced crafters alike can enjoy the creative process and transform ordinary tea cups into beautifully crafted candles.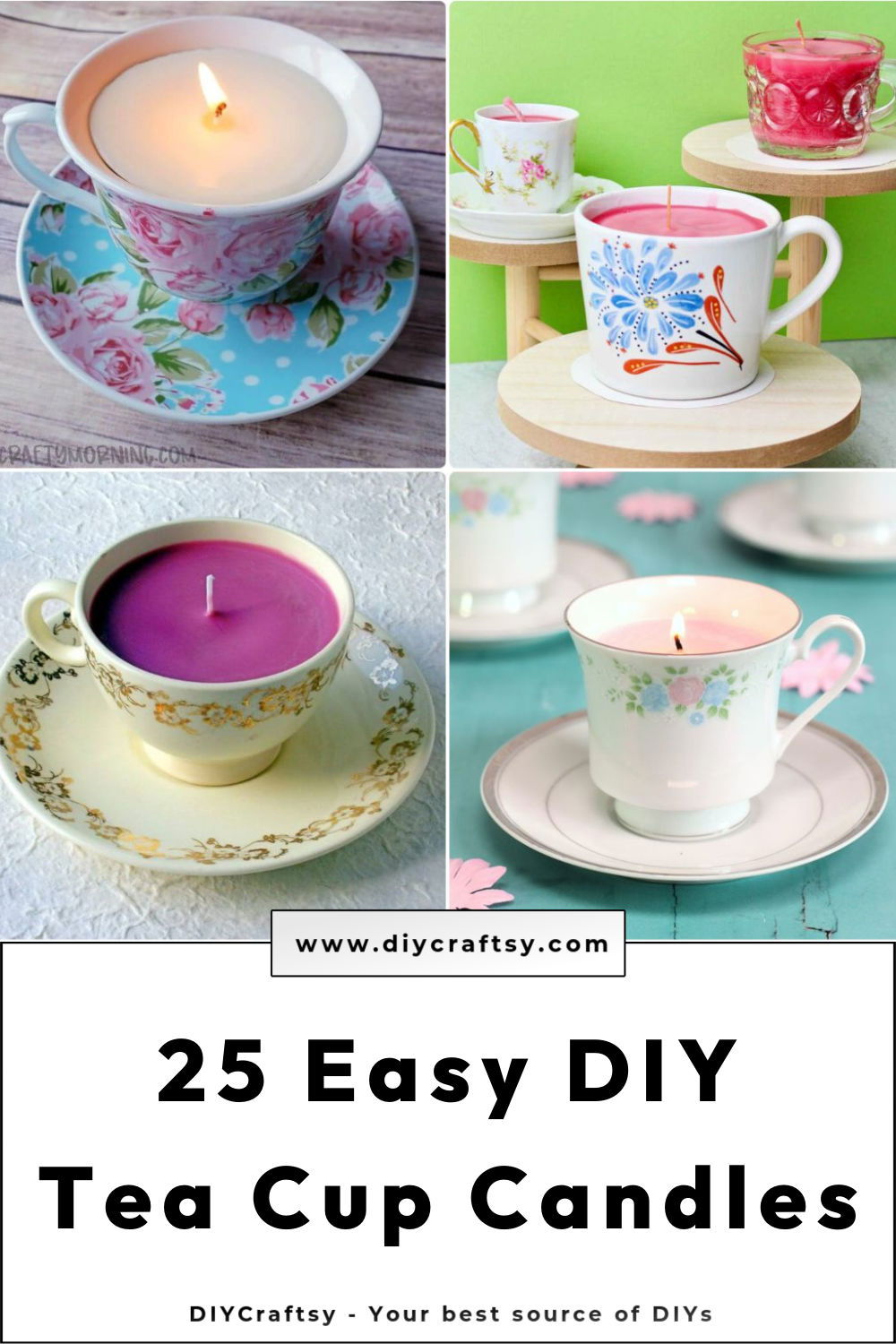 So gather your favorite tea cups, grab some supplies, and make your home shine with the warm glow of these handcrafted teacup candles. Light up your evenings, adorn your mantel, or brighten up your next party with these one-of-a-kind, delightful DIY teacup candles!
1. Homemade Tea Cup Candles
Looking to repurpose thrift store teacups creatively? Try transforming them into elegant DIY candles, perfect for gifting or home decor. This project offers a second life to old teacups and an opportunity to engage in a fun and simple candle-making process.
All you need is candle wax, wicks, an optional scent, and old crayons for coloring the wax. The entire process, from securing the wick to the teacup to letting the wax harden, takes about 30 minutes plus drying time.
This unique crafting project offers an affordable and enjoyable way to make thoughtful gifts or decorative pieces for your home. Step into the delightful world of DIY with these charming teacup candles. thecraftpatch
2. How to Make Vintage Style Teacup Candle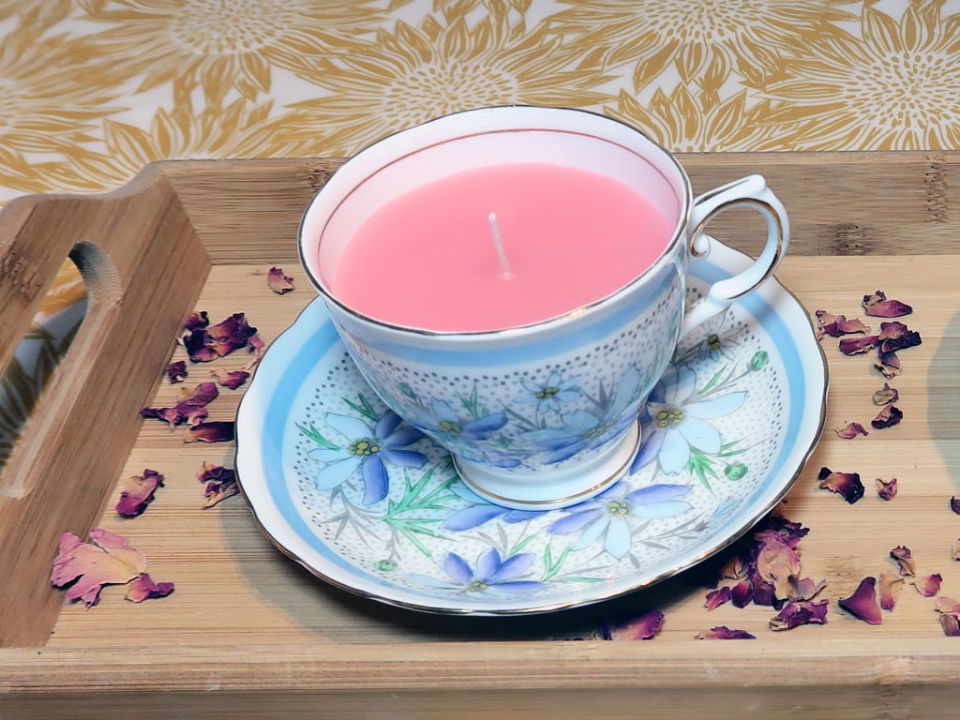 Venture into the enchanting world of DIY crafting with this charming Teacup Candles project! Ideal for candle enthusiasts, this creative idea allows you to convert ordinary teacups into whimsical decor pieces.
An ideal choice for containers, soy wax, serves as our primary ingredient due to its clean-burning, eco-friendly nature and tendency to burn slower than paraffin wax, ensuring your candles last longer.
Transform inexpensive thrift store teacups into striking creations using a metal jug, wax pellets, fragrance oil, and super-concentrated colorant. Not just a delightful home decor item, these teacup candles can also serve as memorable gifts for vintage decor lovers or charming props for parties. savvyhomemade
3. DIY Teacup Candles for Mother's Day Gift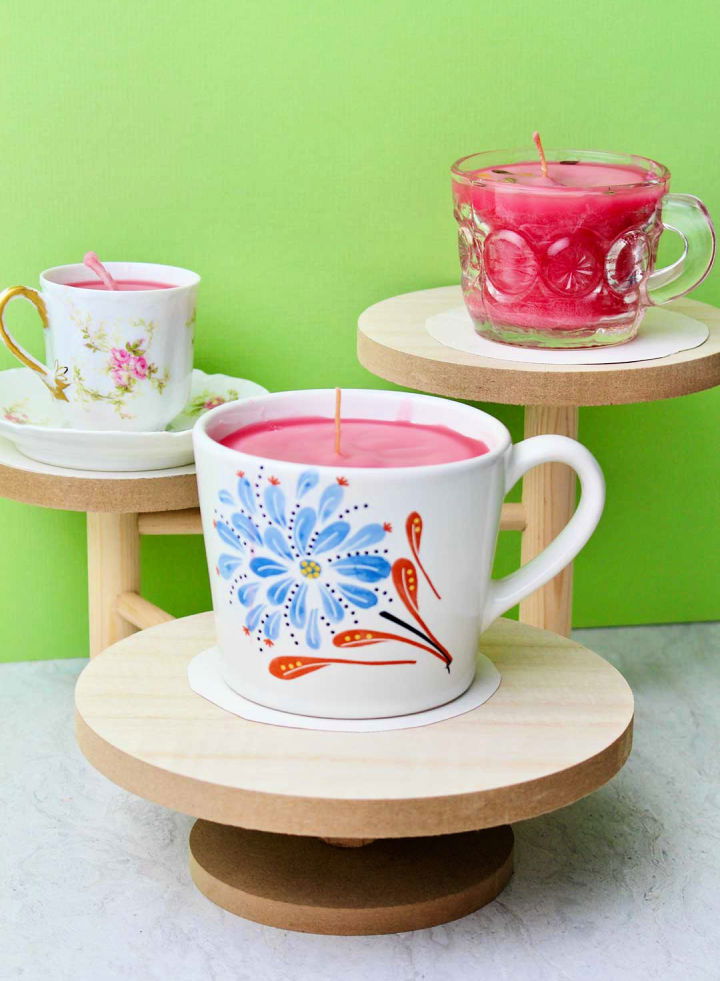 Craft delightful DIY candles in teacups as heartfelt gifts for Mother's Day or any special event. Reuse old candles or opt for fresh wax to make a gift Mom or Nana will treasure. Select your teacup or glass punch cup, melt your wax using a double boiler, and prepare your candle wick. Immerse yourself in the joy of crafting while adding optional coloring and scents to personalize your candle further.
This charming project is an enjoyable way to spend time and offers an opportunity to upcycle unused household items. So, why wait? Start creating your unique, handmade teacup candle today! welcometonanas
4. How to Make Tea Cup Candles at Home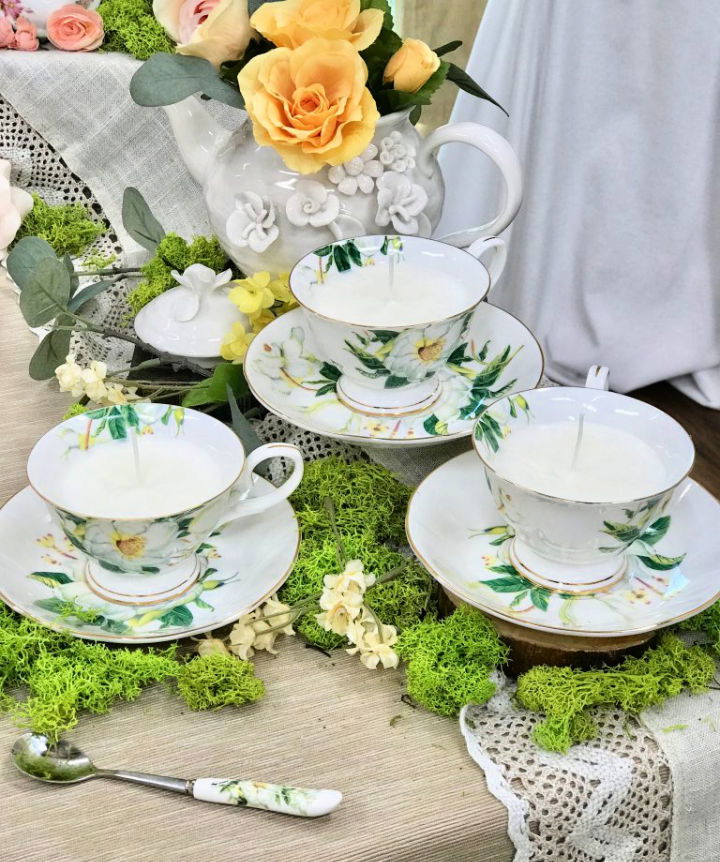 Immerse yourself in the romantic atmosphere of royal weddings and bring that ambiance into your home with DIY teacup candles. This unique crafting project allows you to make elegant, princess-inspired candles in vintage teacups.
Made using candle wax flakes, wicks, and optional fragrance oils for added aroma, this project provides an engaging crafting experience. Follow our step-by-step guide to master the process, keeping safety in mind.
Remember not to light these container candles for extended periods and to use the right oils for scenting. The key to a successful tea cup candle is patience and precision. Enjoy crafting your royal, mood-setting teacup candles! scratchwithmaria
5. DIY Wood Wick Teacup Candles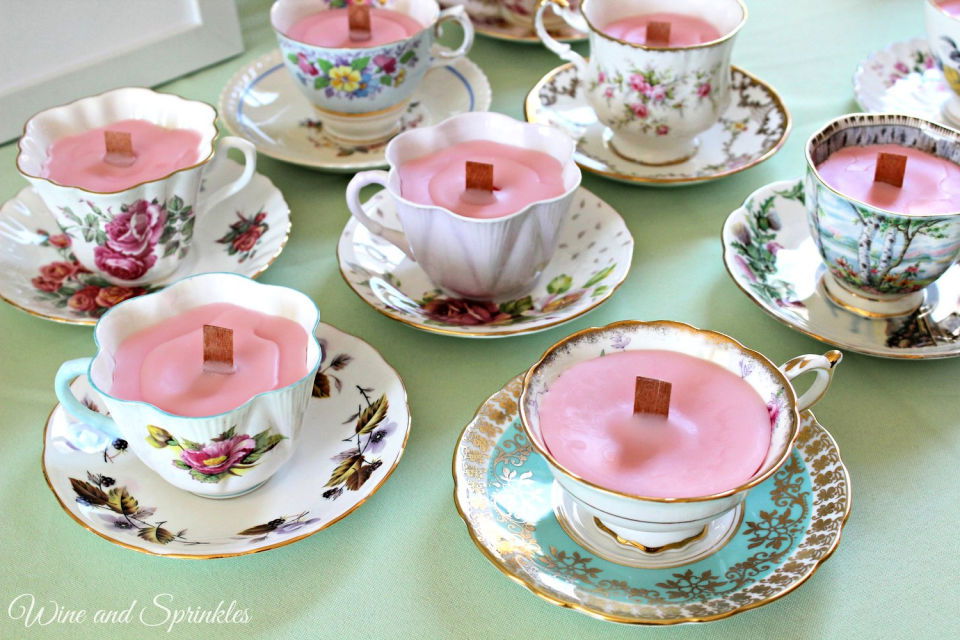 Bring a whimsical touch to your next event with DIY teacup candles! Perfect for a Beauty and the Beast-themed bridal shower, Mother's Day brunch, or a simple tea party, these candles add vintage charm to any occasion.
With a warm crackle from wood wicks reminiscent of a cozy fireside, these teacup candles serve as a nod to beloved characters Mrs. Potts and Chip. The process involves using easily available supplies such as mismatched teacups and saucers, wooden candle wicks, candle wax, powdered candle dye, and essential oils for fragrance.
They can be crafted as party favors or as attractive prizes for shower games. With this step-by-step guide, you can make a unique set of candles that captivate everyone at your next gathering. So why wait? Start crafting these beautiful teacup candles today! wineandsprinkles
6. Make Your Own Teacup Candle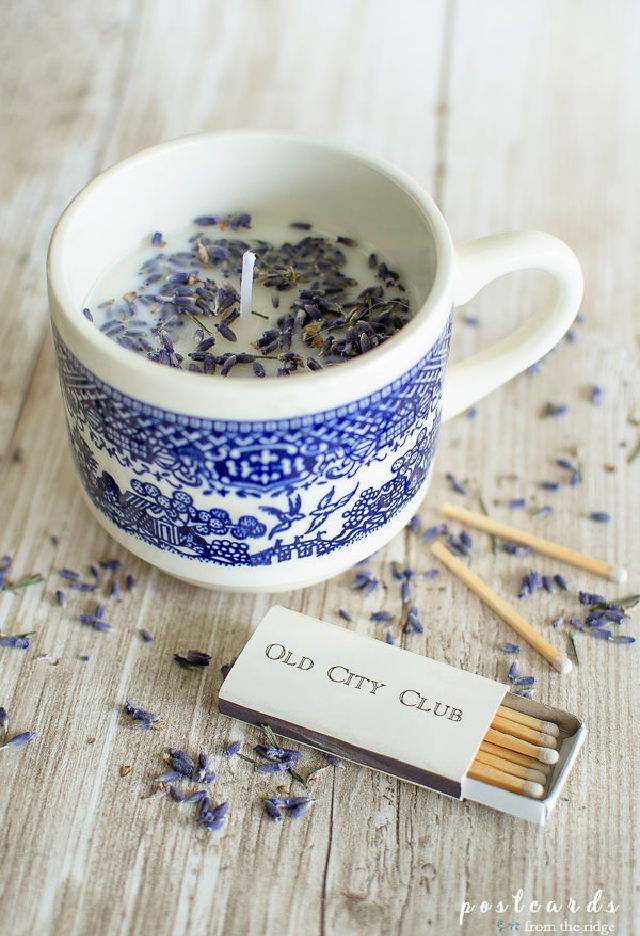 Embark on a fun, eco-friendly DIY project – making your candles at home! Using vintage or recycled containers and soy wax, this hands-on activity combines sustainability and creativity. Experience the delight of melting wax, pouring it into beautiful containers, and adding your favorite fragrances like lavender or any other scent you prefer.
This simple yet gratifying process results in stunning homemade candles and allows for special bonding time with your loved ones. With detailed step-by-step instructions, crafting customized candles that brighten your space and offer a calming ambiance has never been easier.
Recast your house into a home with your homemade candles' soothing glow and fragrance. Your living space will smell fantastic and be lit with your personality and style! fromtheridge
7. Turn Ordinary Tea Cups Into Candles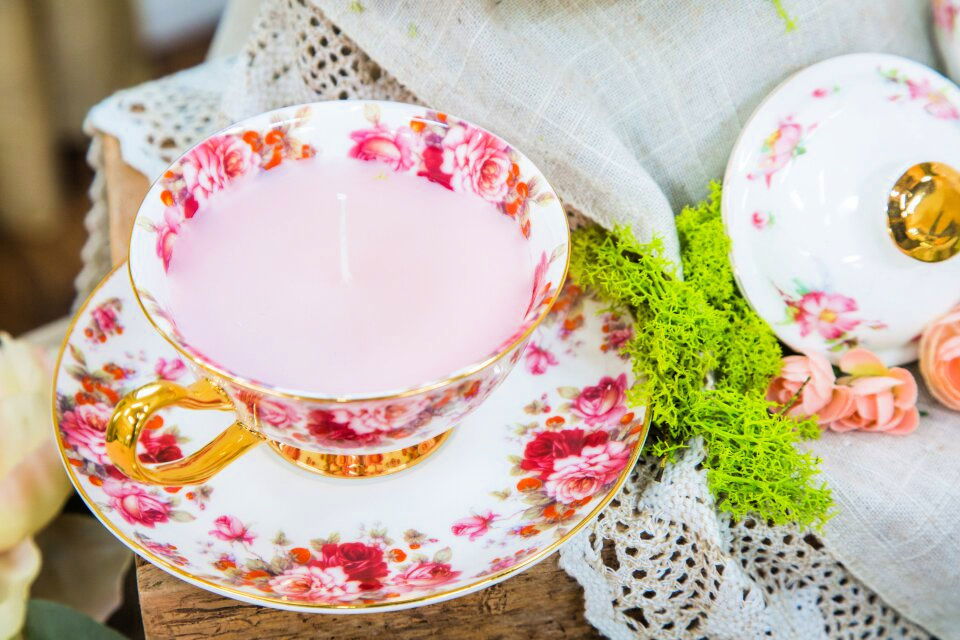 Unleash your creativity with a DIY project that turns ordinary tea cups into delightful, DIY custom-scented candles. With materials such as vintage tea cups, candle wax flakes, and popsicle sticks, you can craft unique candle creations that add a personal touch to your home decor.
Following simple, step-by-step instructions, you will learn to properly measure and melt the wax, secure wicks, and add your chosen fragrance and coloring. The process emphasizes careful attention to detail, including the ratio of scent to wax and safety precautions.
The outcome will provide a cozy ambiance and a sense of accomplishment. This engaging activity is perfect for anyone interested in DIY projects, candle-making, or unique home decor solutions. hallmarkchannel
8. DIY Teacup Candles for Lighting on Roof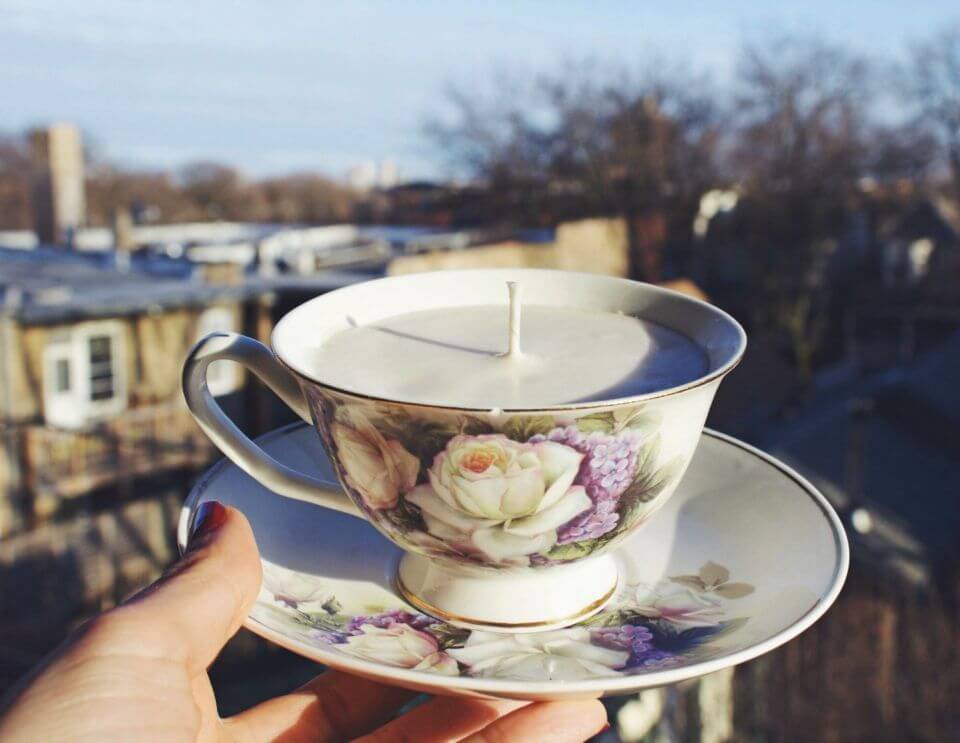 Make a charming DIY teacup candle for your home or as a thoughtful gift! This easy and enjoyable project repurposes teacups and turns them into adorable, functional candles. You can make this novelty item in your kitchen using a clean teacup, a wick, and wax chips. A well-centered wick ensures a balanced burn, while a clothespin or skewers can help keep the wick stable during the process. Carefully pour melted wax forms the candle's body, solidifying faster in a cool environment. Finish your masterpiece by trimming the wick. These cute, homemade teacup candles bring a touch of cozy nostalgia to any space! bellezzacorner
9. Caramel Latte Tea Cup Candle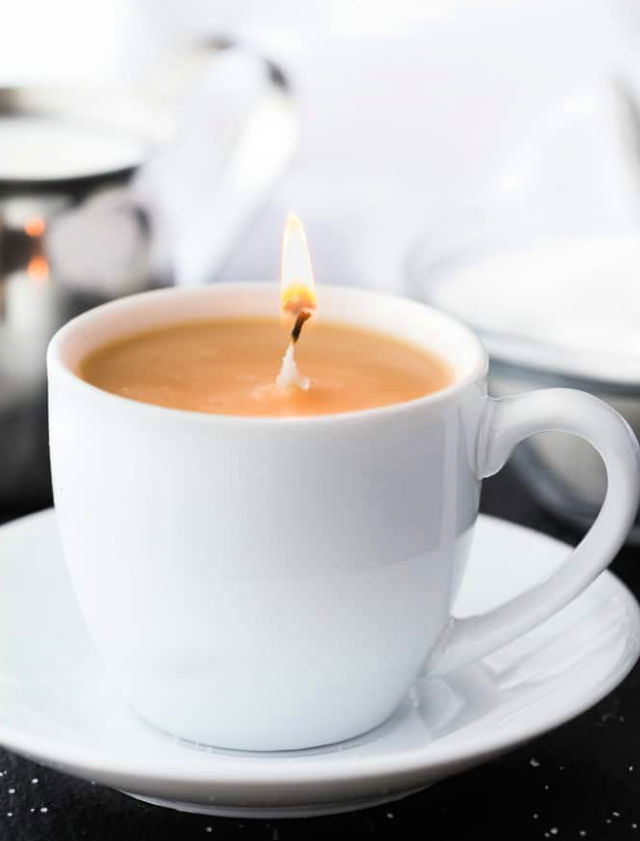 With this step-by-step guide, relish a charming and aromatic DIY caramel latte teacup candle! An ideal gift for a coffee lover, this candle is easy to make and doesn't require much time. All you need are the following:
Soy wax flakes.
Caramel liquid dye.
Caramel Latte fragrance oil.
A candle wick.
Wax adhesive.
A teacup of your choice.
The process involves:
Melting the wax flakes.
Adding the dye and fragrance oil.
Carefully filling the tea cup with the concoction.
The pleasant aroma of caramel latte will fill the room, making this candle a delightful addition to any space. The technique is simple, yet the result is a lovely and thoughtful gift anyone would appreciate. Craft this fragrant candle today! simplystacie
10. DIY Earl Grey Tea Cup Candle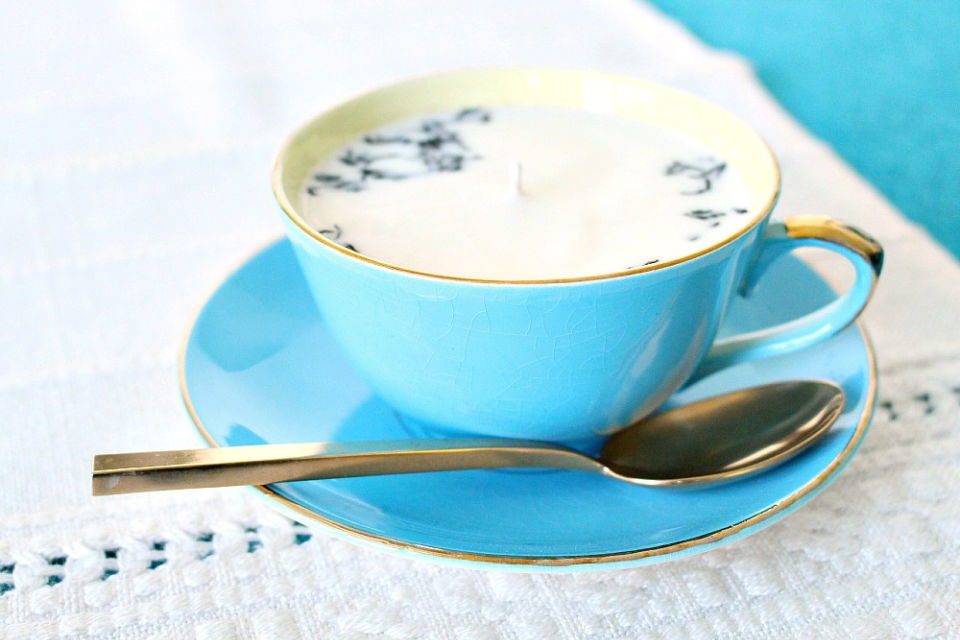 Explore the delightful experience of crafting your own DIY Earl Grey tea cup candle! This project breathes new life into vintage tea cups, turning them into exquisite, functional home decor.
Using easily-sourced materials like soy wax flakes, wicks, bergamot essential oil, and a teacup, this project offers an engaging and relaxing activity with a scented reward. The real magic lies in the addition of Earl Grey tea leaves, lending a touch of authenticity to the creation. Embrace your creativity, engage your senses, and discover the therapeutic effect of making your own Earl Grey tea cup candle! danslelakehouse
11. Easy DIY Teacup Candle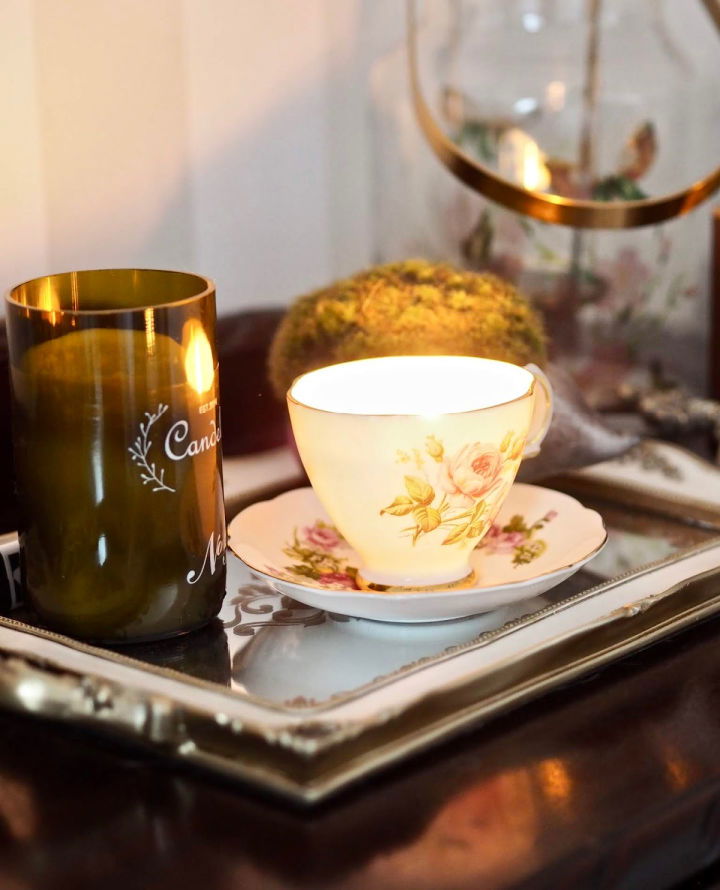 Breathe new life into your cherished china teacups by crafting beautiful DIY candles. Transforming teacups into candles gives your collection a new purpose and offers a charming, elegant glow when lit.
With easily accessible materials, including old china cups, your choice of wax (be it soy, paraffin, or beeswax), wicks, essential oils for personal fragrance preference, and a double boiler for melting the wax, you can craft these exquisite candles right at home.
This project offers a unique way to repurpose china and can serve as a delightful, custom-made gift. Enjoy the soft, comforting glow of your teacup candles today! daintydressdiaries
12. Soy Teacup Candle Tutorial for Beginners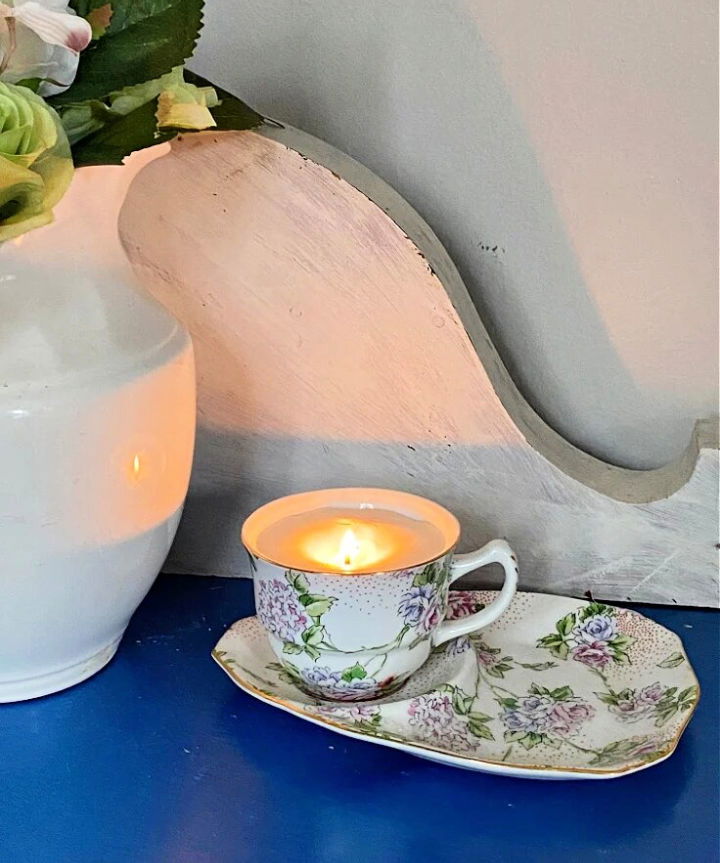 Experience the charm of vintage elegance infused with the soothing scent of handmade soy candles. Crafted from thrift store teacups, these unique candles are an excellent gift for Mother's Day, birthdays, or to show appreciation.
Utilizing readily available supplies like soy wax flakes, candle wicks, teacups, bamboo skewers, and essential oils, you can easily embark on this journey of repurposing a vintage teacup into a beautiful, aromatic candle. The process involves:
Securing the wick within the teacup.
Melting and pouring the wax.
Adding your preferred essential oil fragrance.
Sprinkle in your creativity by choosing a significant teacup, and add a favorite fragrance to personalize your gift. From the soothing lavender scent to a refreshing citrus blend, make a bespoke candle that delights the senses and doubles as a charming decor piece. ourcraftymom
13. How to Make Vintage Teacup Candles
Dive into the fascinating DIY world with these Vintage Teacup Candles, a project that infuses nostalgia and warmth into your home decor. Boasting affordability and simplicity, this DIY project requires minimal supplies, including vintage teacups, eco-friendly candle wax flakes, wooden kabob skewer sticks, and common household items like a stove and scissors. The process involves:
Creating wooden wick supports for the teacups.
Melting the wax flakes.
Carefully pour the molten wax into them.
Letting it cool to form the candle.
Once completed, you'll enjoy lighting these unique, self-crafted candles that spread light and a vintage aesthetic. These Vintage Teacup Candles can serve multiple purposes beyond brightening your home. They make for exquisite, personalized gifts and can be wonderful additions to bridal showers or any event that could benefit from a sprinkle of vintage charm. Priced at just $40, this DIY project lets you infuse character into your space without breaking the bank. rhiannonbosse
14. How to Make Teacup Candles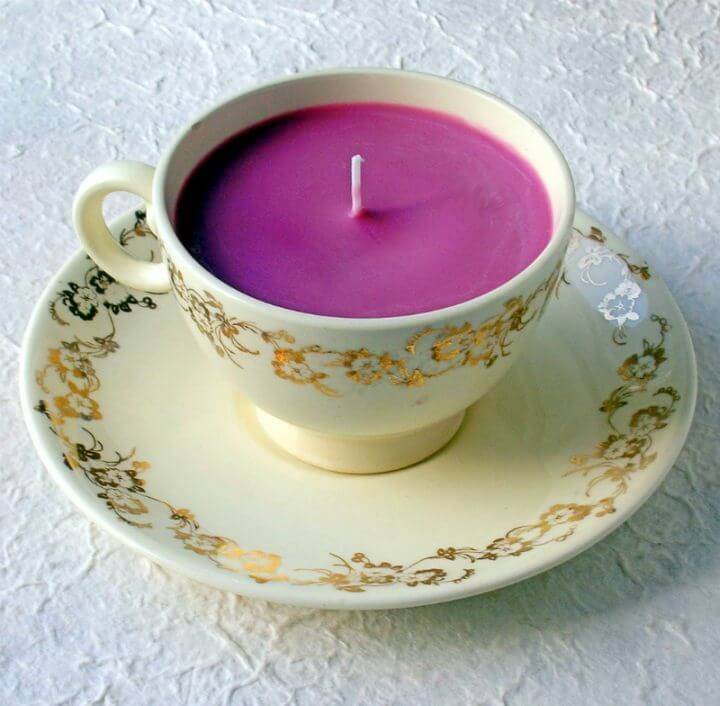 Delight in the elegance of your surroundings or impart a distinctive gift with DIY teacup candles. The charm of vintage or simple teacups you own is accentuated by transforming them into beautiful candle holders. Soy candle wax flakes, which are preferred due to their non-smoky burn, candle wicks, wooden skewers, a pouring pot, tape, and optional additions of candle dye or essential oils, constitute the needed supplies.
Starting with wick supports, then carefully measuring wax quantities, the step-by-step process includes boiling, simmering, stirring, and pouring, ensuring the wick is kept steady. Each teacup is filled ¾ of the way with carefully scented and colored wax before leaving to harden.
A final trim of the wick results in an aesthetic and uniquely charming teacup candle. With a blend of creativity and practicality, these teacup candles introduce a novel touch of elegance to any decor. thefunnybeaver
15. DIY Candle in a Tea Cup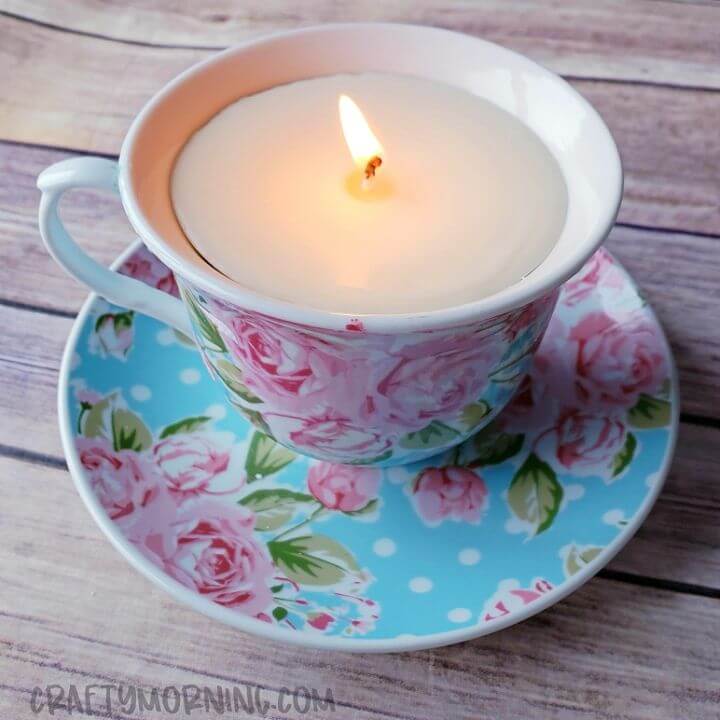 Undergo the joy of handcrafting a beautiful tea cup candle, perfect as a personalized gift or a decorative element for your home, with this easy guide. This crafty project employs a vintage tea cup, a candle wick, and an old candle, making it a budget-friendly and creative endeavor.
Begin by securely fixing the wick within the teacup using a pencil or a skewer. Melt your chosen candle on a warmer, then carefully pour the melted wax into the teacup, ensuring the wick remains centered.
Allow it to cool and solidify before trimming the wick. This unique DIY teacup candle represents a thoughtful, bespoke gift and an innovative way to upcycle old candles and vintage tea cups. Embrace your creativity and start crafting today! craftymorning
16. Make Teacup Candles for a Gift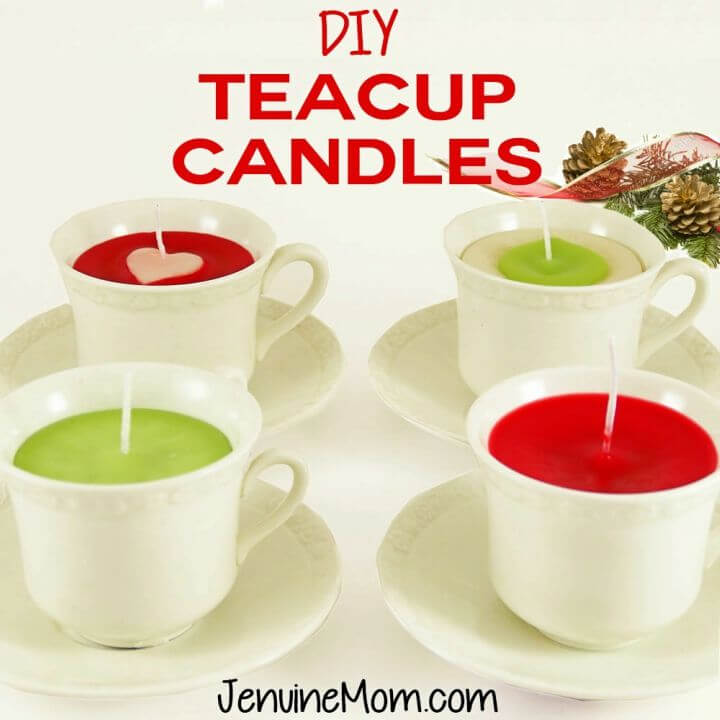 Bring new life into thrifted teacups and old candles by crafting DIY teacup candles! This budget-friendly project is a great way to make charming, personalized gifts. You can transform a lazy afternoon into a productive crafting session with used teacups, recycled wax, wicks, and other supplies.
A heart-warming and eco-conscious option, it's a great way to reduce waste by repurposing vintage teacups and old candles. Moreover, when lit, the candles emit a soothing glow and sweet smell, enhancing any home ambiance. Try it out and make a meaningful present for any occasion. The joy of gifting a handmade item is truly unmatched! jennifermaker
17. Repurposed Teacup Candle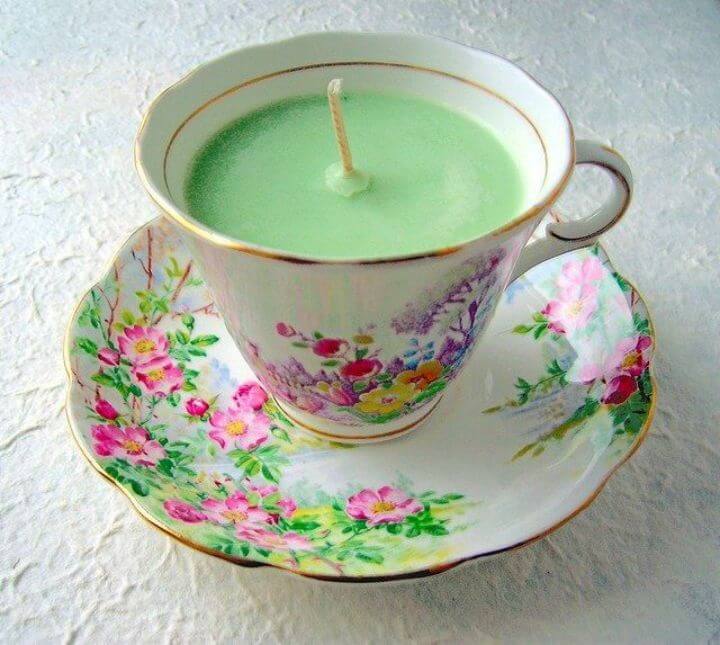 Illuminate your space with vintage elegance by making DIY teacup candles! A project that transforms thrift-store finds into the stunning decor, teacup candles are more than just ornamental; they infuse warmth and character into your surroundings.
Select your preferred cup and saucer set from various designs and gather simple materials like candle wax flakes, wicks, and optional scents or colors. With tools such as chopsticks or kabob sticks, tape, scissors, and a double boiler, you can master this craft in no time.
Set up your wick, melt and scent the wax, pour it into the teacup, and let it cool until firm. These handmade candles make thoughtful gifts that add a personalized touch. Illuminate your home with teacup candles today, an easy yet rewarding project. goodwillsp
18. Make Candles Using Teacups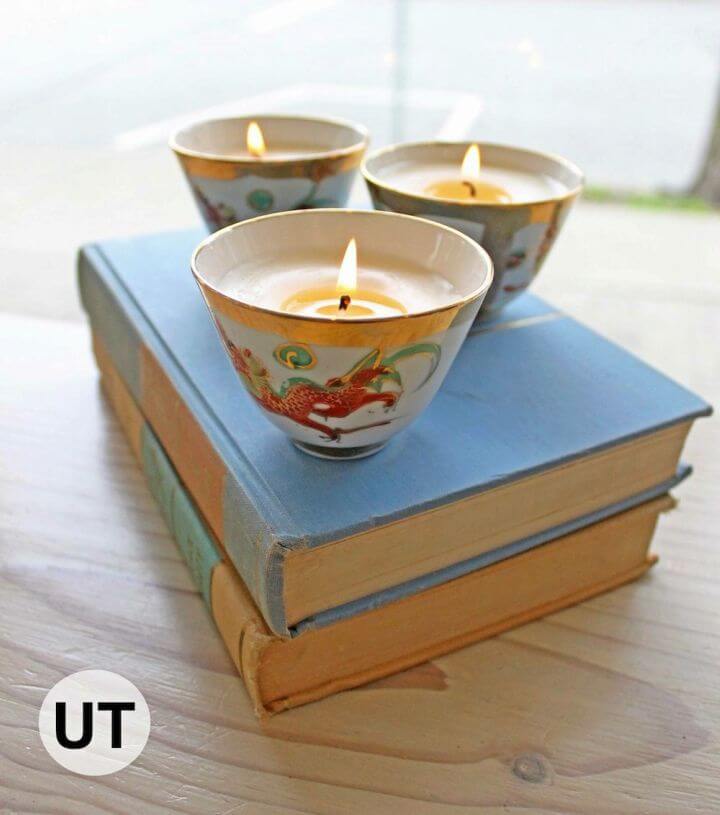 Relish a warm, inviting atmosphere with DIY teacup candles, an innovative way to upcycle vintage teacups into delightful home décor. These candles, crafted using soy wax, are not only eco-friendly due to the renewable nature of soybeans but also exude a soft, clean burn that enhances the ambiance of any room.
You'll need teacups, soy wax, a double boiler (or a small pot nestled in a larger one), candle wicks, wick supports, and essential oils for fragrance!
These homemade candles are an affordable, enjoyable project, perfect as personalized gifts or charming additions to your living space. Enjoy the subtle artistry and aroma of your handmade teacup candles today! upcyclethat
19. DIY Teacup Candle for the Party
Embark on a charming adventure of crafting DIY teacup candles, a perfect addition to any tea party or a unique handmade gift. Contrary to common belief, candle making is neither labor-intensive nor difficult. The entire process is fun and a wonderful way to learn and bond.
All you need is a candle-making kit and teacups, which can be sourced from your local thrift store. The kit contains everything required to mold your first set of homemade candles. The process involves melting soy flakes, adding color, and choosing a blend of scents like lavender and vanilla.
Then, pour the mixture into teacups and watch it harden into a beautiful spring green. Make sure to use Liquid Dawn Soap for any accidental spills for a quick cleanup. So, light up your creativity and space with these adorable teacup candles. mycreativedays
20. Homemade Stress Relief Teacup Candles
Unwind this holiday season with charming DIY teacup candles! These simple, aromatic creations double as stress-relievers and delicate decor pieces. Made with a soothing blend of lemongrass and lavender essential oils, these candles bring relaxation to your bathtime routine and style to any tea table.
You only need thrifted teacups, soy wax flakes, wax dye, essential oils, pre-waxed wicks and clips, and common kitchen tools. With some patience and ingenuity, you can easily craft these scented delights.
Not only are they a superb way to de-stress, but they also make thoughtful, unique gifts for friends and family. The aroma of lemongrass and lavender will aid in relaxation, and the endearing teacup design will add elegance to any space. Start making your very own teacup candles today for a stress-free holiday season. frugalmomeh
21. Teacup Candles Bridal Shower Favors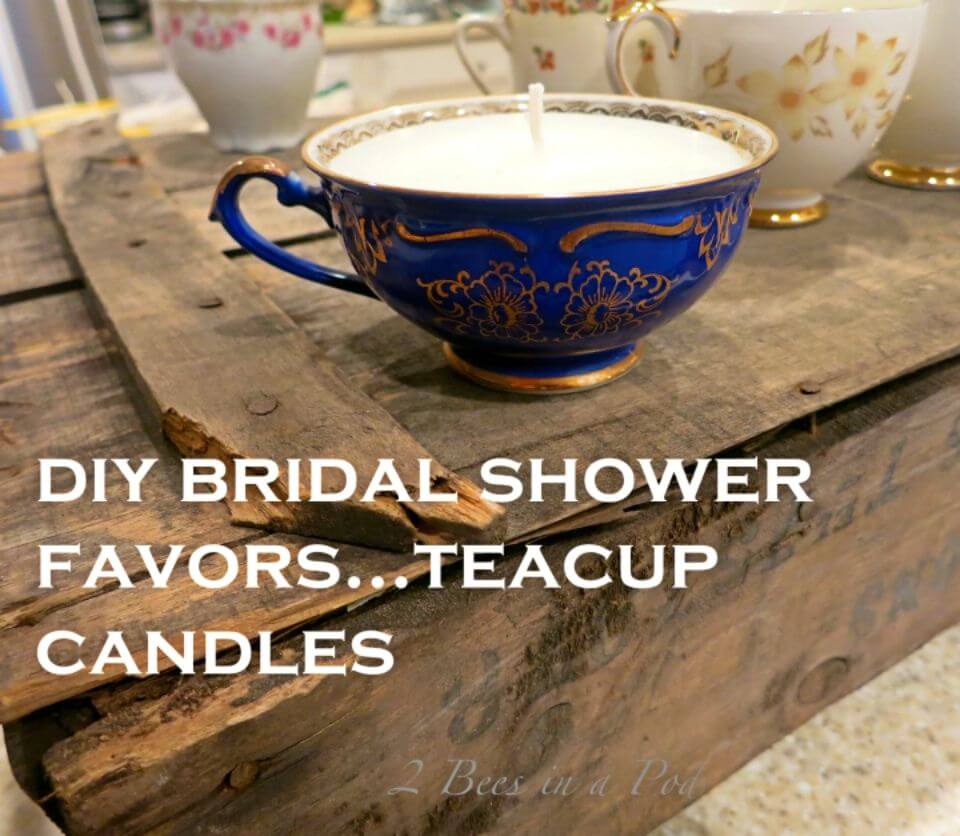 Looking to make unique, vintage-inspired party favors? Try your hand at crafting these charming DIY teacup candles! With a collection of thrifted teacups, some candlewick, weights, and wax, you can whip up personalized keepsakes that your guests will adore.
The process involves anchoring a piece of candlewick in each teacup using weights and cocktail stirrers, then carefully pouring melted wax around it. Allow the wax to dry completely, and voila – your teacup candles are ready to light up any occasion!
These beauties serve as a token of appreciation for your guests and double up as stunning decorative items. These easy-to-make teacup candles bring a hint of vintage elegance to your events. 2beesinapod
22. Do It Yourself Teacup Candles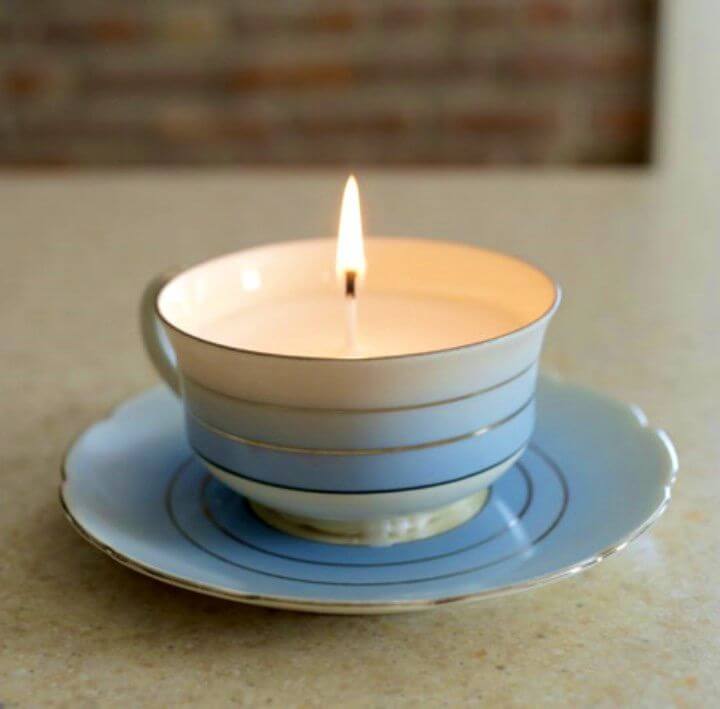 Get the delight of repurposing with this simple DIY teacup candle project. This task promises success even if you've faced disappointment in previous craft endeavors. Transform thrift store finds or abandoned household items like teacups and candles into striking décor pieces.
You can melt and remodel any candle into your chosen teacup with a few materials like a double-boiler, liquid candle scent, wooden dowels, and some patience. Ensure your cup is heat-safe and crack-free.
This activity is an excellent way to express creativity and makes a splendid pastime, and the resulting teacup candles add a charming touch to your home decor. Take a break from the mundane, try this craft, and brighten your spaces with personalized, fragrant teacup candles. estatesales
23. Making Tea Cup Candles With Rose Petals
The warmth of the teacup candles, combined with the sweet scent of rose petals, is a perfect recipe for relaxation. Create an enchanting ambiance in your space with the allure of DIY teacup candles adorned with rose petals. This hands-on project emanates a vintage vibe and can serve as a unique gift, transforming simple teacups into radiant decor.
You can embark on this charming venture by utilizing materials like a pouring pot, thermometer, hot glue gun, and ingredients such as soy wax, Love and Sunshine fragrance oil, a candle wick, and rose petals.
The process is straightforward; begin by determining the wax quantity, place the wick, and finalize by adding a sprinkle of roses to the candle top. Illuminate your surroundings with this home-crafted teacup candle that glows and adds old-fashioned elegance to any setting.
24. How to Make Your Own Teacup Candles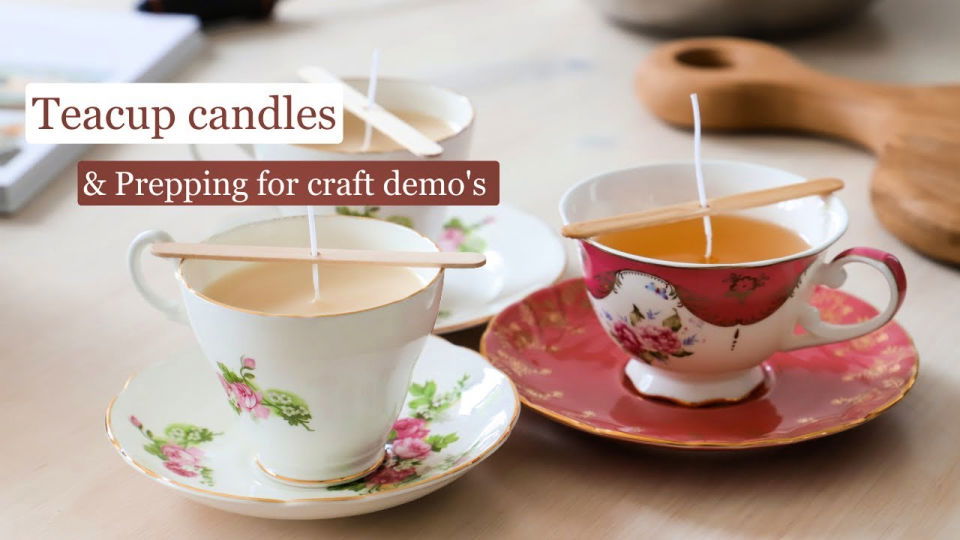 Delve into the world of do-it-yourself crafts as you explore the art of making teacup candles and transforming china plates into clocks. This captivating DIY craft demo begins with making beautiful soy wax teacup candles, requiring materials such as soy wax flakes, teacups, a thermometer, and essential oils. The process involves:
Melting the soy wax.
Adding essential oils.
Setting it into a beautiful and functional home accent.
Following this, discover how to give a new life to your china plates by turning them into chic clocks, adding an innovative touch to your home décor. So, switch off from the digital world, ignite your creativity, and start your DIY journey today for a more beautiful and personalized home.
25. Easy Way to Make a Teacup Candle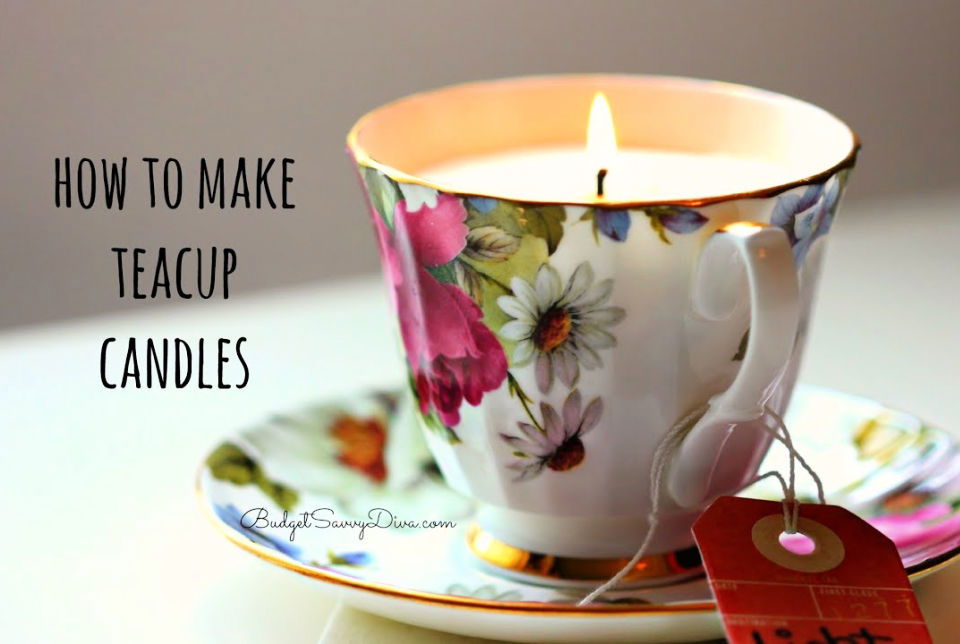 Merge the elegance of vintage teacups with the cozy ambiance of candles in this easy DIY project. Making unique, scented teacup candles is an excellent way to upcycle and personalize your space or gift something memorable.
Use a candle-making kit and favorite vintage teacups to make these attractive, aromatic pieces. As a bonus, these custom candles can cater to personal preferences by adding a few drops of your chosen oil for a pleasing fragrance.
Ideal for a range of occasions like bridal showers, Christmas gifts, or just for a delightful inclusion in your home decor, this project is both affordable and creative. Craft your teacup candle today and illuminate your space with vintage charm.
Conclusion: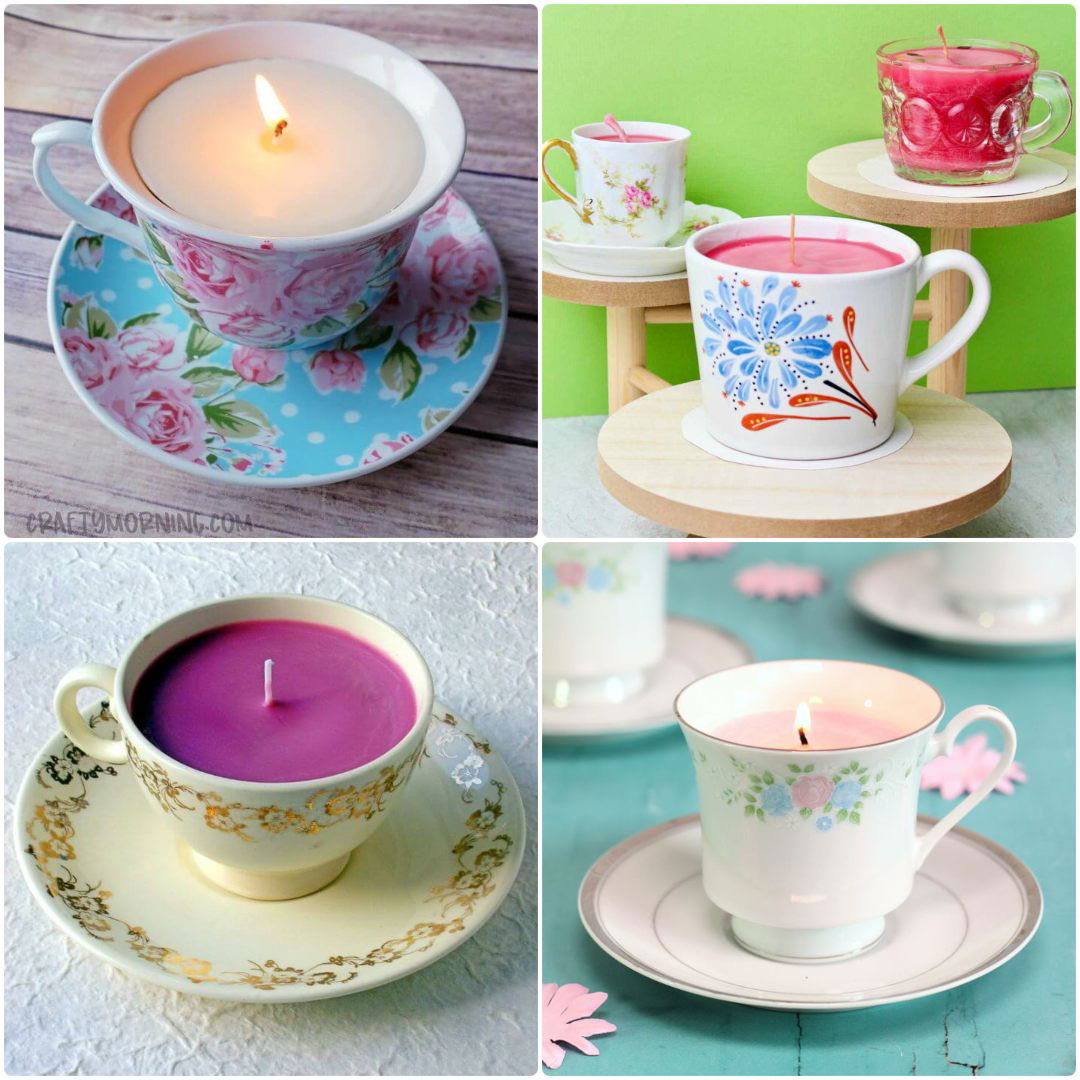 In conclusion, these DIY teacup candles offer a creative and charming way to repurpose vintage teacups, enhance your home décor, or make thoughtful gifts. With a variety of designs and scents, such as caramel latte or Earl Grey, there are endless possibilities for personalizing your teacup candles. From easy tutorials to more intricate creations, anyone can try their hand at crafting these unique and delightful DIY teacup candles.