Hair is the main feature of our body making us look beautiful so when you lose your hair you actually lose your beauty and attraction. This is the reason that losing hair makes the person distresses, low in self-esteem and confidence. There can be several causes of hair fall or baldness like genetic factor, using chemical products, too much heating, hormonal imbalance, improper diet, unhealthy lifestyle etc. But whatever may be the reason, no one ever wants to see his head without hair or with less hair. But not to worry at all as there are several solutions on how to regrow hair? back on your head. Instead of opting for painful and expensive surgical treatments we offer you some natural and home remedies to get your lovely hair back. Apart from hair growing tips and tricks this post would induce you to bring some healthy changes in your lifestyle, diet, and routines. Because without changing your habits the remedies would not turn out to be best effective.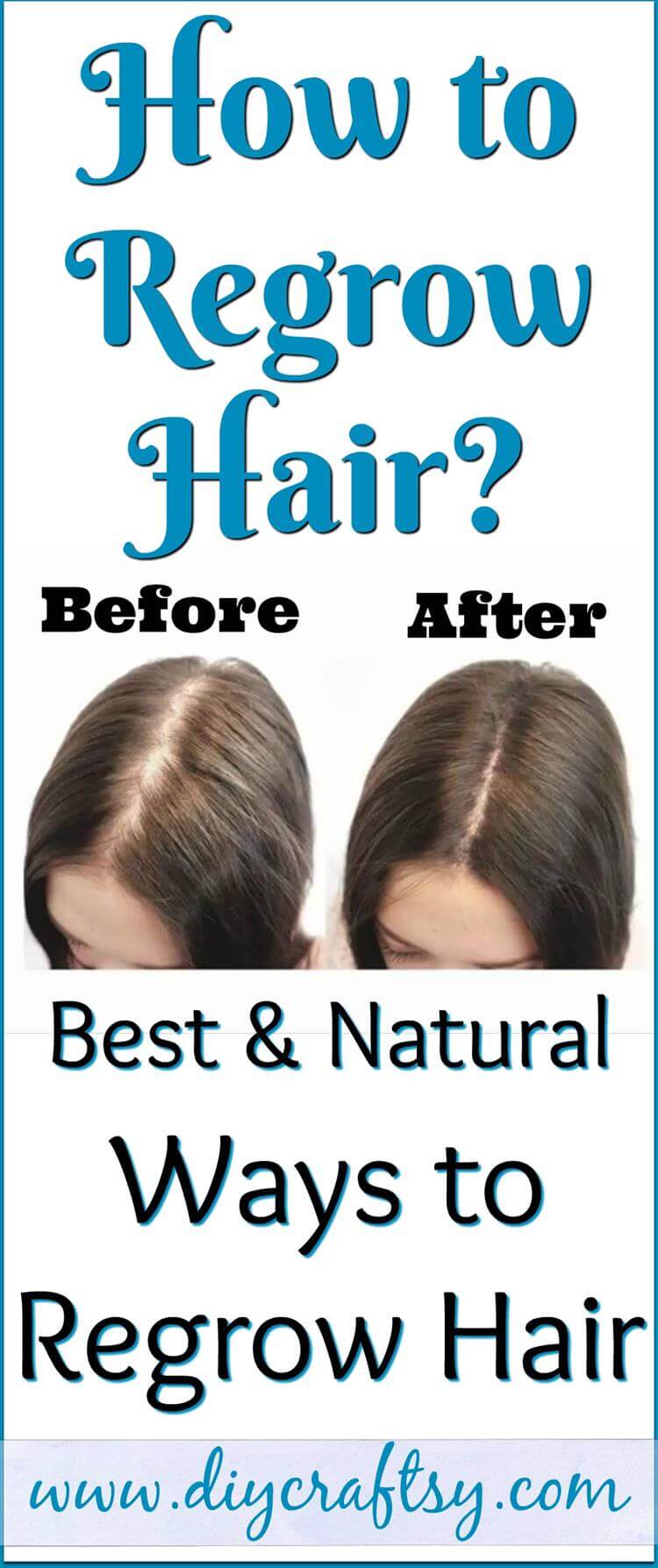 Massage the Scalp:
To get a healthy head of hair the first thing to do is massage your scalp with your fingers. It is like a most important thing to do when you are on your hair grow mission. Gently massage your head and scalp with the finger pads for at least 10 minutes. Massaging would increase the blood circulation in the scalp and also remove all the toxins from it. You can do the massage without oil but if you want to see fast and great results you are suggested to take an oil massage.
Olive oil, coconut oil, avocado oil, castor oil, flaxseed oil, sun flower oil any of these can be used depending on which one suits your scalp the most. When you are going to take bath you can oil and massage your hair before one hour. Or do it before bed time leaving the oil overnight and washing in the morning.
Onions:
Onions are the regular part of our foods but have you ever thought it can bring back your precious hair? Yes the sulfur rich onions have been proved to be really promising for the growth of the hair. You can eat onions, use the onion paste or onion juice on your scalp to stimulate the hair growth and avoid further hair loss. You can confidently try onions as they have been suggested after researches and studies.
Using Herbal Hair Masks:
Many things from your kitchen can make a great mask for your hair showing happy results. Things like honey, egg, avocado, aloe and apple cider vinegar can be used for hair mask in order to moisturize hair and promote hair growth too. here are the mask recipes.
For dry hair use equal parts of honey, egg white and argon oil.
For normal hair take equal quantities of honey, aloe and olive oil.
For oily hair combine honey, castor oil and apple cider vinegar.
Use the above masks for 10 to 15 minutes on your hair covering the head with a shower cap. After the mask application use a mild shampoo to wash your hair.
Say No To Sulfate Shampoos:
Sulfur is the cleanser agent used in the shampoos which can really damage our hair making them dull, dry and brittle with the time and leading to complete hair loss. So whenever you go to buy a shampoo choose that product which shows less sulfate contain. And now the natural and herbal shampoos are also in the market so do give them a try.
Use Natural Conditioners:
It's now a trend to use a branded conditioner after shampooing your hair. But believe me it's no more than harming your hairs with more chemicals. You can use natural alternatives to soften your hair like the oils and butters. Jojoba oil, olive, oil, almond oil and coconut oil are the excellent to leave in conditioners and so are the butters like shea,kokum and aloe butter.
How to Use:
To smooth down your frizzy hair naturally use a small quantity of these natural oils or butters. Put pea size oil or butter in your palm, rub your palms well and apply it on your damp pr dry hair. Not only the hair would get soften but would also notice added shine and beauty to your hair.
Exercise and Mediation:
Quit your dull and lazy routines and adopt a healthy lifestyle by starting your day with exercise. Exercise is necessary for the whole body and hairs are no exception. Exercising for 25 o 20 minutes would sweat you out and this sweat would open the blocked follicles on your scalp and increasing the blood flow. And a ten-minute meditation a day is necessary to keep your mind and soul calm keeping the worries and tensions at bay as they are also a factor behind hair loss.
Balayum Trick:
The word Balayum may be new to the western people but it is well familiar with the Asians and more commonly with the Indian people. This trick says rubbing the identical fingernails for 20 minutes a day would show a good impact on your hair growth. The studies show that the technique definitely works but it takes time to show its benefits so you have to be patient while trying it out. The period might extend from 3 to 6 or 6 to a year to give you the desired outcome.
What to Eat:
What you eat has a vital impact on your whole body and so on the hair. When you are making strenuous efforts to fill up the bald patches of your head you need to add iron and protein-rich foods to your diet. And these important ingredients can be gained from a lot of healthy sources like vegetables leafy greens, fruits, lentils, meat, fish, eggs, avocado, nuts etc. iron would remove the dullness and the protein would boost up the hair growth speed.
Bonus Tips:
Always use wide wooden instead of hairbrushes and plastic ones.
Never stick to tight ponytails and braids as they can weaken the hair and make them fall fast. Use soft and low ponytails to manage your hair.
Keep yourself hydrated so drink enough water and say no to coffee, tea or soda and alcohol.
Do not wash your hair daily but every three days avoiding unnecessary pressure and strain on the hair.
Heat up your hair with dryers, curlers or straightening irons only for the special occasion as heating affects hair the most.
Most importantly stay happy and regularly remind yourself with healthy hair affirmations like " I love my hairs", " my hairs are gorgeous" etc.
If you are still losing your hair, then you will surely find Popular laser caps for hair loss helpful.