Want to spice up your jewelry collection? Learn how to make studded earrings with these 25 easy DIY stud earrings that are fun and fashionable. These easy DIY stud earring ideas comes with step-by-step instructions on how to make stud earrings, all designed for beginners in mind. From wire and bead designs to polymer clay creations, there is a tutorial for every style and taste. With the ability to customize the color, size, and shape of your earrings, you can truly make one-of-a-kind accessories for yourself or as a thoughtful handmade gift.
Whether you are looking to make swirly heart stud earrings at home or make crystal statement pieces, these free how-to guides provide all the information needed to craft beautiful earrings while also gaining valuable earring-making skills. Don't be afraid to explore new techniques, like using a Cricut machine or transforming dangle earrings into studs – there are no limits to your creativity with these DIY stud earring tutorials at your fingertips.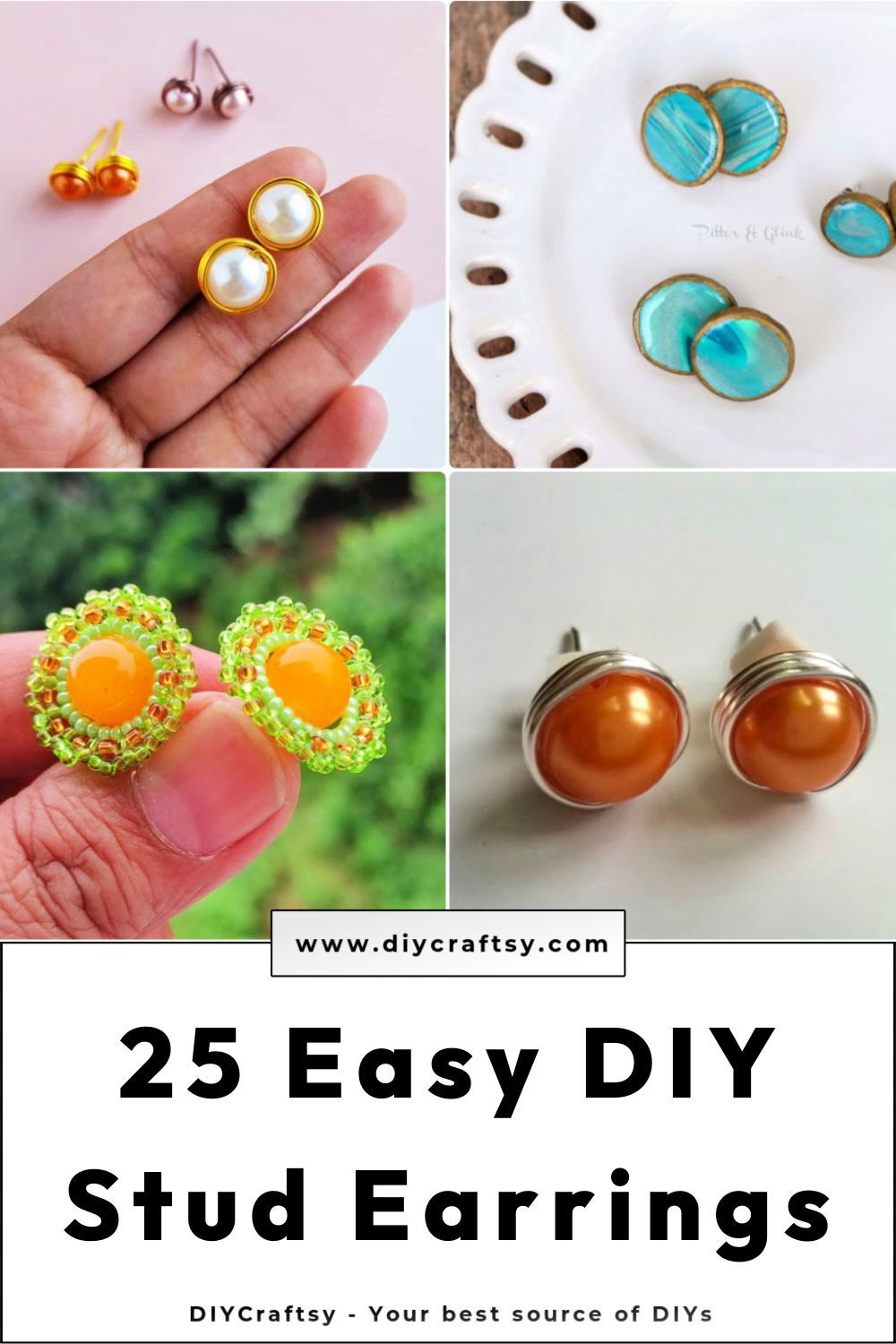 So gather your materials, get inspired, and start crafting the perfect pair of unique and fashionable stud earrings today. With these 25 easy DIY stud earrings and instructions, you'll soon find yourself immersed in the creative world of earring making and impress others with your beautiful handmade accessories.
1. DIY Stud Earrings With Wire and Beads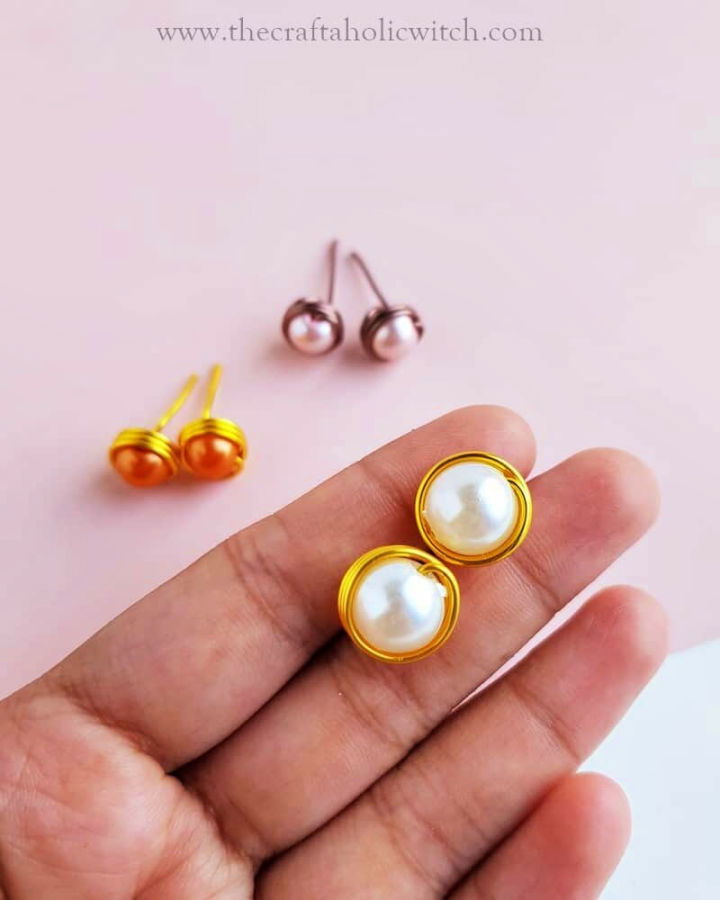 Experience the joy of DIY with this simple and colorful stud earrings tutorial. As summer approaches, these earrings bring a refreshing splash of color to your wardrobe, made with carefully chosen beads and wires that reflect your unique style. The process involves using jewelry pliers, 18 gauge wire, and round beads, the size of which should not exceed 1.5 cm.
This ensures comfort while wearing them. Following a detailed, step-by-step guide covering everything from selecting materials to forming the bead base, you'll have a pair of beautiful earrings ready in no time.
This handcrafted accessory adds to your summer jewelry collection and offers the satisfaction of making something beautiful with your hands. Dive into this creative journey today and craft your perfect summer accessory! thecraftaholicwitch
2. How to Make Swirly Stud Earrings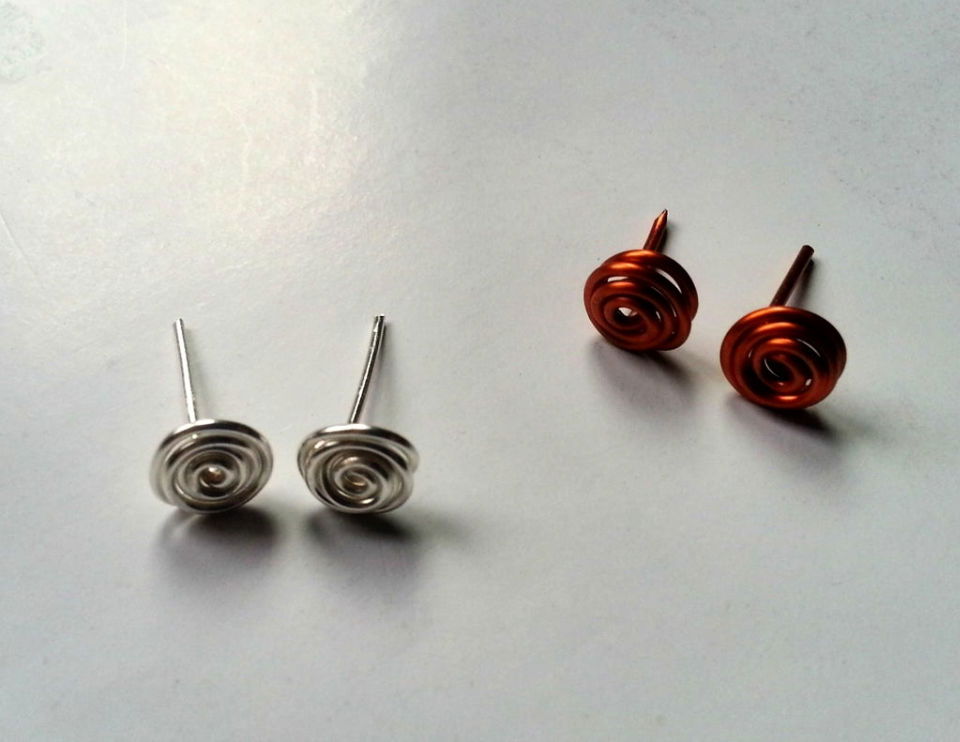 Embrace the charm of minimalist jewelry with DIY swirly stud earrings. Effortless to make, these earrings are as budget-friendly as they are stylish, proving that simplicity is truly the ultimate sophistication. The primary component is craft wire (18-20 gauge), which can be manipulated into an attractive swirl design using jewelry pliers.
Adding a unique touch, erasers or rubber form the earring backs, easily cut into small square pieces using an X-acto knife. The design can be customized further by opting for craft wires in different colors or even incorporating beads or stones for extra sparkle. Start crafting today and add these elegant swirl earrings to your accessory collection! instructables
3. Make Faux Agate Earrings From Polymer Clay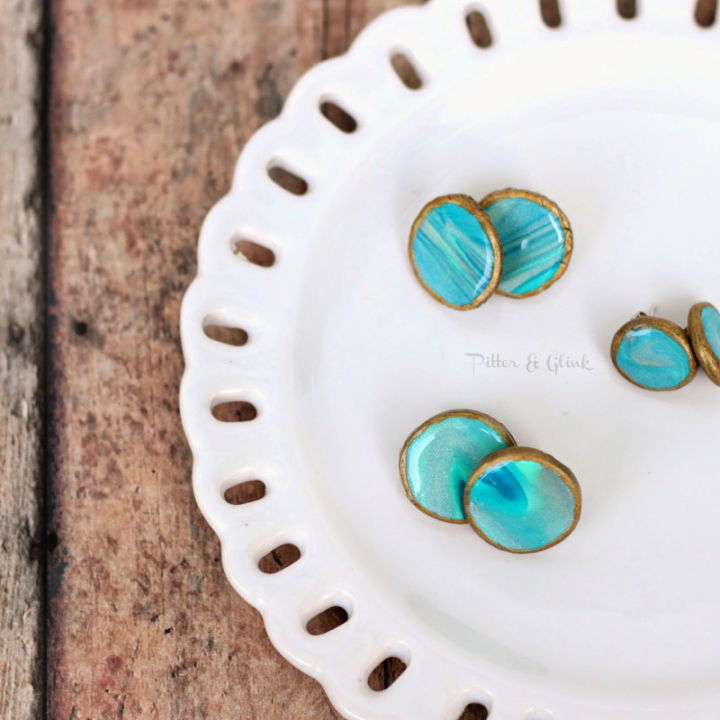 Craft your DIY agate jewelry and add a touch of chic elegance to your ensemble. This guide will take you through making faux agate earrings using polymer clay. The malleability and versatility of polymer clay make it the ideal medium for crafting intricate jewelry.
Combine shades of pearly white, silver, and blues to mimic the mesmerizing swirls of natural agate stones. You can make unique patterns by flattening, rolling, and cutting the clay. After baking and cooling, use a gold paint marker for a touch of glam and dimensional magic for the agate-like shine.
A gloss Mod Podge layer adds the finishing touch, ensuring the longevity of your crafted pieces. Each pair of earrings you make promises to be unique, opening the door to endless creative possibilities. pitterandglink
4. Homemade Pearl Stud Earrings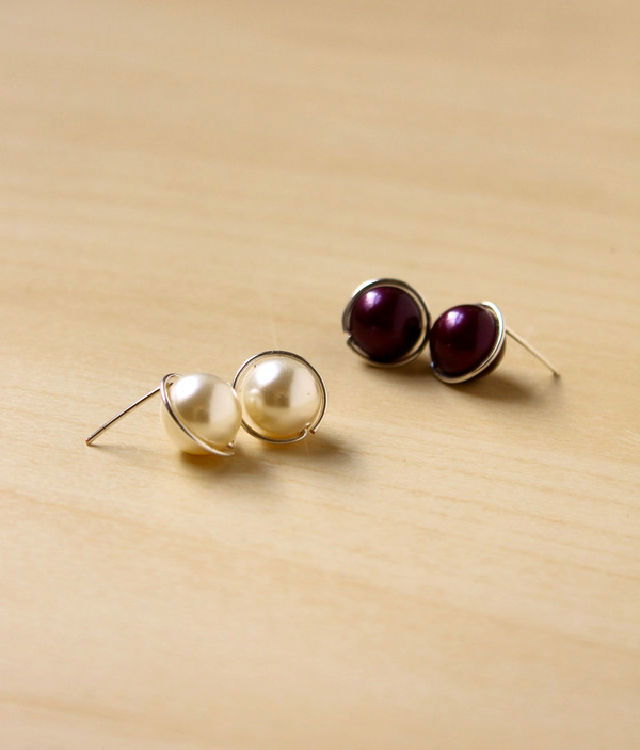 Spruce up your style with these DIY pearl stud earrings, made effortlessly with just a few materials! These earrings are timeless and customizable and are made from 8mm Swarovski Pearls in Light Creamrose and 0.6mm silver-plated wire. Tools required include chain nose pliers, wire cutters, and a nail file or fine sandpaper.
After threading a pearl onto a 10cm wire length, bend the wire at a right angle, making the earpiece. Wrap the remaining wire around the pearl, trim the excess, and finish with a quick file for comfort.
Not limited to pearls, this method works with any round bead, making it perfect for utilizing leftover materials. Try it out and add these homemade pearl studs to your jewelry collection! makeandfable
5. How to Make Swirly Heart Stud Earrings at Home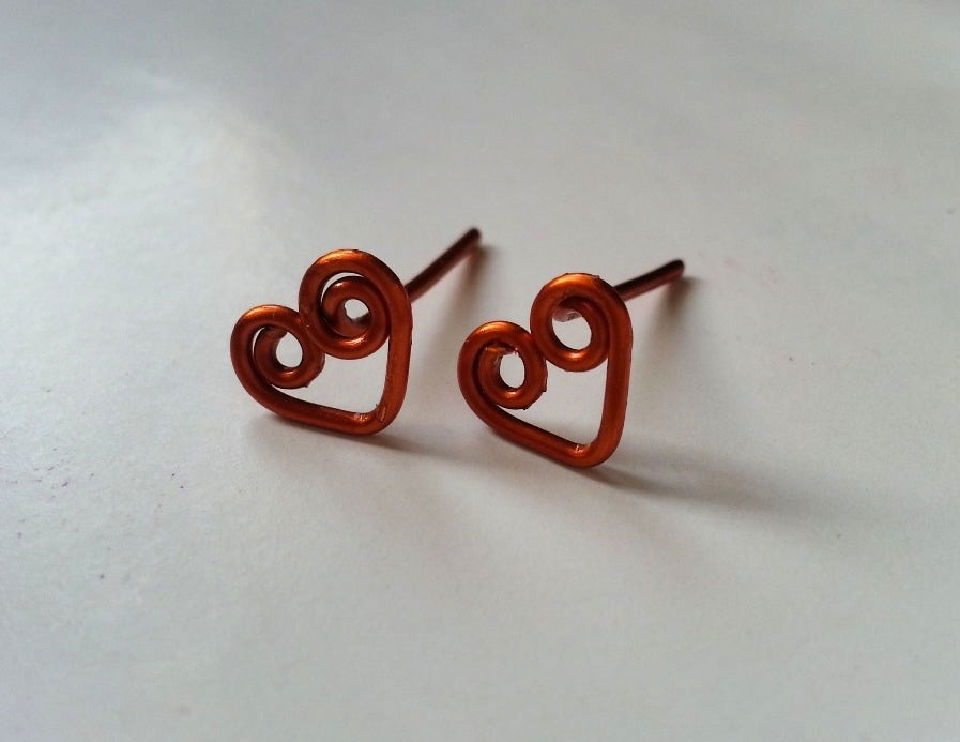 Show your artistic side with these DIY swirly-heart stud earrings. Crafted from 18-gauge craft wire in your choice of copper, gold, or silver, these homemade earrings bring a touch of charm and creativity to any outfit.
All you require to complete this project are cutting, a flat nose, looping pliers, an eraser or rubber for the earring backs, and an X-acto knife. The process involves:
Creating an enticing swirly heart design.
Attaching it to a stud.
Completing it with a homemade ear-stud back.
A fantastic, cost-effective project, these earrings are a great way to accessorize on a budget or even gift to your loved ones. Experience the joy of crafting these adorable pieces today! instructables
6. DIY Crystal Statement Stud Earrings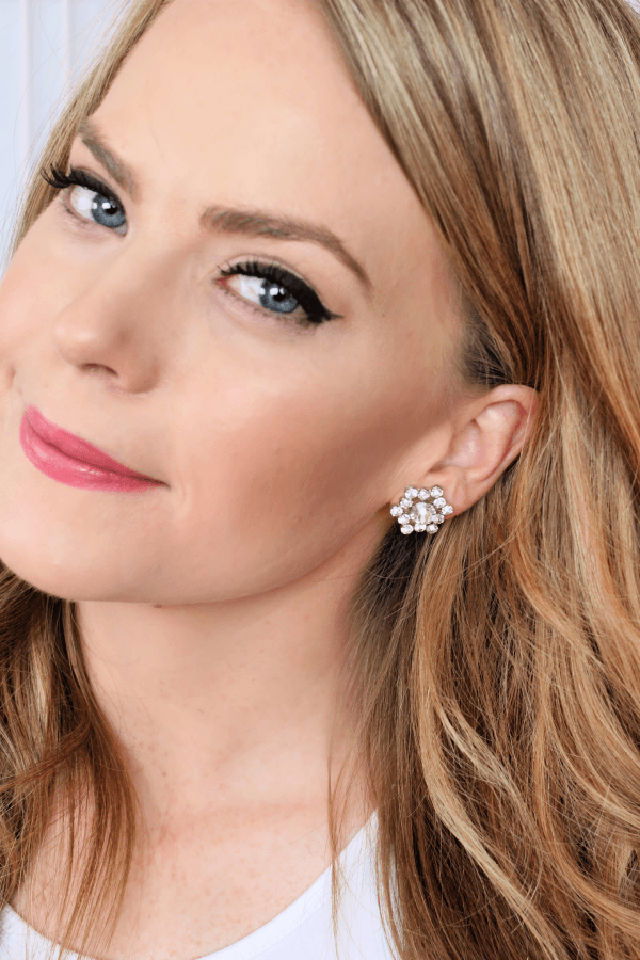 Brighten up your Spring wardrobe with DIY crystal statement stud earrings! A pair of these dazzling adornments, whether in pink and blue or gold and rhinestones, instantly elevates any ensemble. The best part? Making these stylish accessories requires minimal effort.
You'll need E6000 Glue, a pair of crystal-studded pendants, and earring backs for materials. The process involves dabbing glue onto the pendant with a toothpick, attaching the earring back, and allowing it to dry.
Remember, when rocking these statement earrings, let them shine by understating other accessories. Give your outfits a glamorous touch with these eye-catching crystal earrings today! missysue
7. Handmade Bead Stud Earrings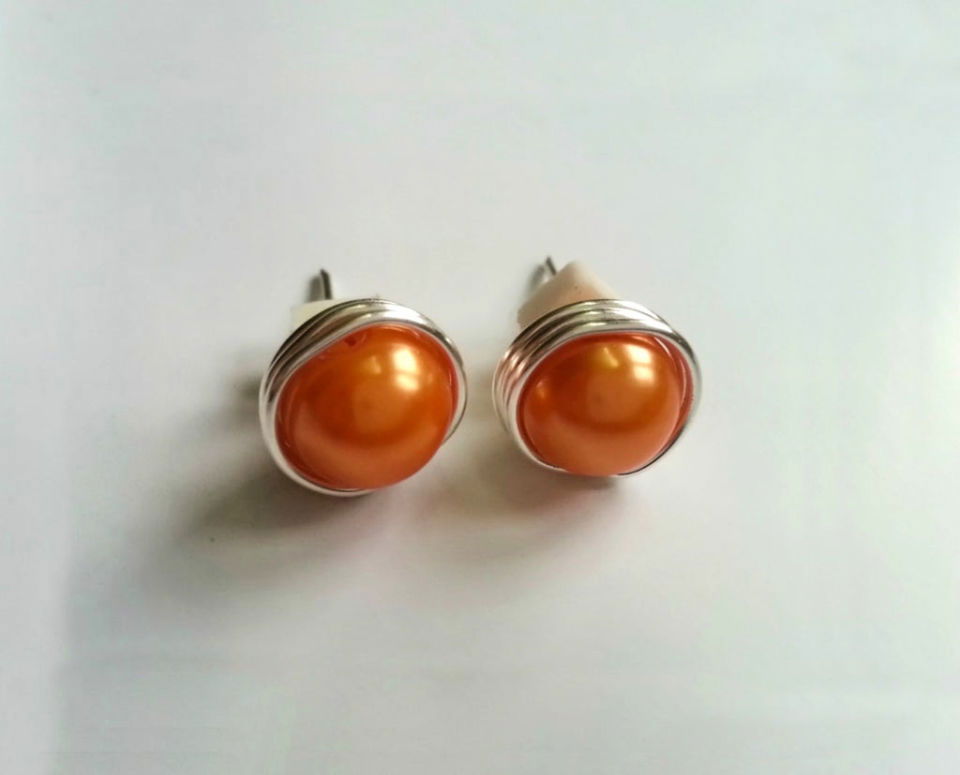 Unleash your creativity with these quick and easy DIY bead stud earrings. With just a handful of materials – craft wire, pliers, and your choice of beads – you can craft a charming set of earrings in just 5 minutes.
Perfect for those who love collecting beads of all types and colors, these stud earrings are a fun and fashionable way to wave your collection. The process is as simple as wrapping the bead, making the stem, and crafting ear-stud backs.
No prior experience is needed. Enjoy the versatility and freedom of designing your very own unique accessory. These vibrant, handmade earrings add a personal touch to your fashion today! instructables
8. Easy Lego Stud Earrings Tutorial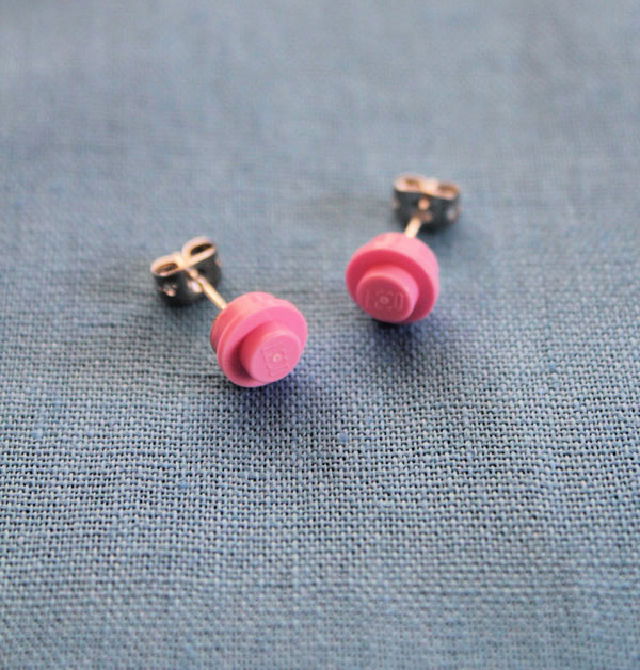 Delve into the playful side of fashion with these charming DIY Lego stud earrings, tailor-made for those who harbor a fondness for this timeless toy! A quick and straightforward project, these earrings can be personalized to your color preferences, offering a fun and unique style statement.
The process is simple – all you require are stud earring blanks, your chosen Lego studs, high-quality glue, and a Styrofoam base.
Insert the points of the earrings into the Styrofoam, apply a touch of glue, and position a Lego stud on top. You can exhibit your new nostalgic accessories once the glue is dried. Add a dash of playful creativity to your look today with these delightful Lego stud earrings! 30minutecrafts
9. How to Make Stud Earrings With a Cricut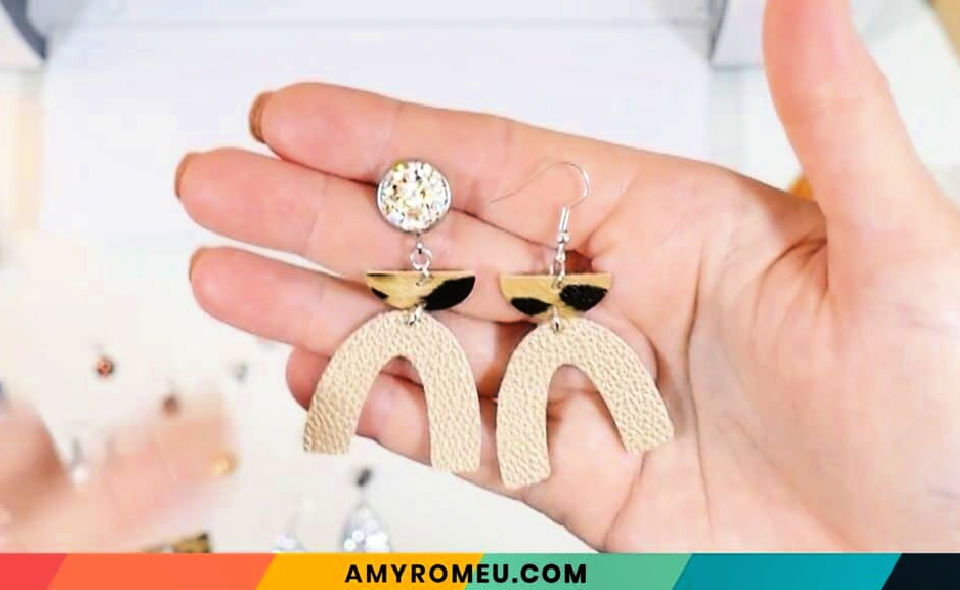 Revamp your accessory collection with this DIY guide on crafting modern, sleek stud earrings using faux or genuine leather! This is not about the old-school studs; it's about making bezel settings adorned with cabochons or leather circles. Breathe new life into your discarded faux leather scraps by turning them into stylish earrings, perfect for your inventory if you're into selling handmade pieces.
Whether you own a Cricut Maker, Explore Air 2, or even a Cricut Joy, this tutorial provides three different ways to make these fashion stud earrings – with and without a Cricut. Plus, it features links to 10mm and 12mm stud earring SVG earring templates in the tutorial's materials section.
Crafting these trendy earrings will be a breeze with a circle punch, leather punch, and Cricut. So why wait? Start making these best-selling earrings today and add more elegance to your collection or offerings! amyromeu
10. Make Stud Earrings Out of Magazines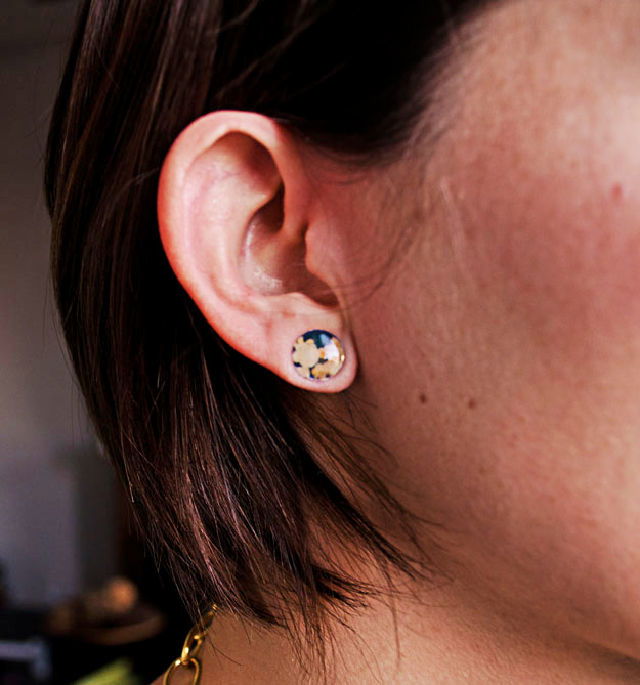 Unearth your old magazines and add a touch of personal style to your accessories with this DIY tutorial! Inspired by a stunning pattern on a J.Crew dress from a Spring lookbook, this project explores how to make custom stud earrings. You can effortlessly recycle old magazines into charming earrings with simple supplies such as a flat earring stud blank, mod podge, mod podge dimensional magic, scissors, and a pencil.
Follow a four-step process that involves tracing, cutting, gluing, and sealing to transform your chosen magazine pattern into fashionable ear studs. Such projects promote creativity and advocate recycling, emphasizing that style and sustainability coexist. Enjoy the process of making your unique, wearable art! happinessiscreating
11. Faux Druse Stud Earrings – Step-by-Step Instructions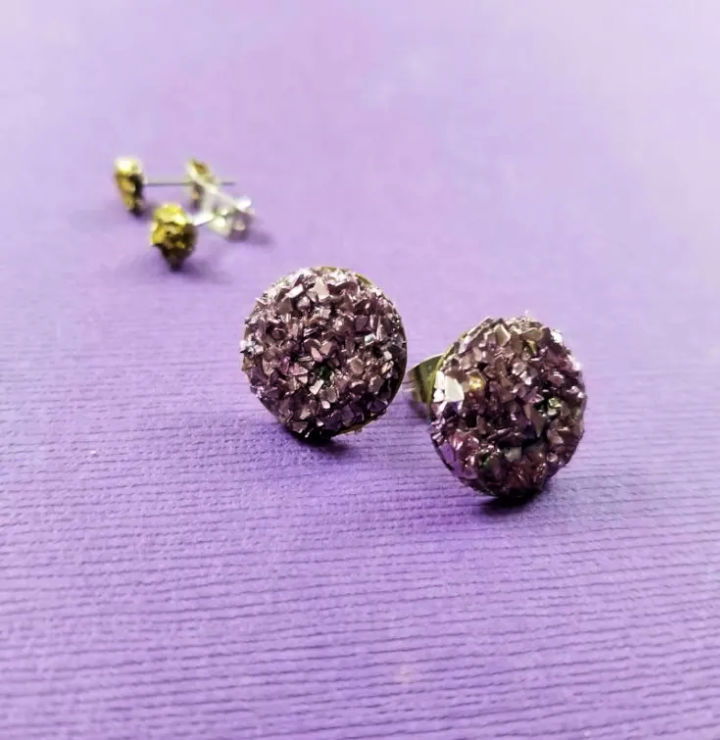 Experience the charm of druzy jewelry without the hefty price tag through a DIY process that lets you make your faux druzy earrings! This creative endeavor lets you emulate the stunning effect of natural druse, a beautiful mineral coating of fine crystals over rock formations. You only need simple supplies like glass glitter, mod podge super gloss, and optional metallic nail polish.
These easy-to-find materials allow you to mimic the unique crystalline surface of real druse. Experiment with different mod podge finishes, base sizes, and glitter layers to find the combination that produces the most enchanting and authentic-looking result.
Adding a touch of metallic gold to the edges adds an extra level of sophistication. This project produces stunning accessories that add subtle elegance to any outfit and provide an enjoyable creative experience. momsandcraft
12. How Do You Make Stud Earrings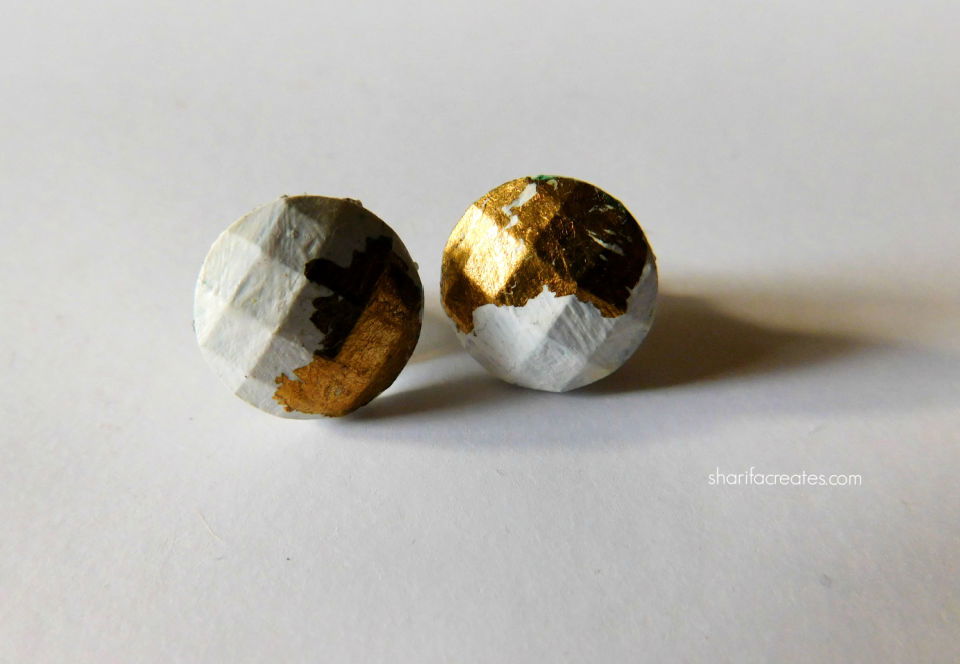 Make stunning, custom DIY stud earrings with this comprehensive guide, perfect for those seeking to make a personal statement. Building your handmade jewelry collection can be rewarding and fun, with the opportunity to explore diverse styles, colors, and shapes.
This earring project requires minimal supplies – gems with flat backs, flat post earrings, earring backs, acrylic paint, a hot glue gun, and gloss sealant. Optional items include gold leaf or paint markers for added style.
Start by painting your gems, adding decorations if desired, sealing them, gluing them to the earring post, and disinfecting them before wearing them. The post-placement can control how the earring sits, making this process incredibly customizable. Add a touch of personal class to your jewelry today! sharifacreates
13. Make Pyramid Stud Earrings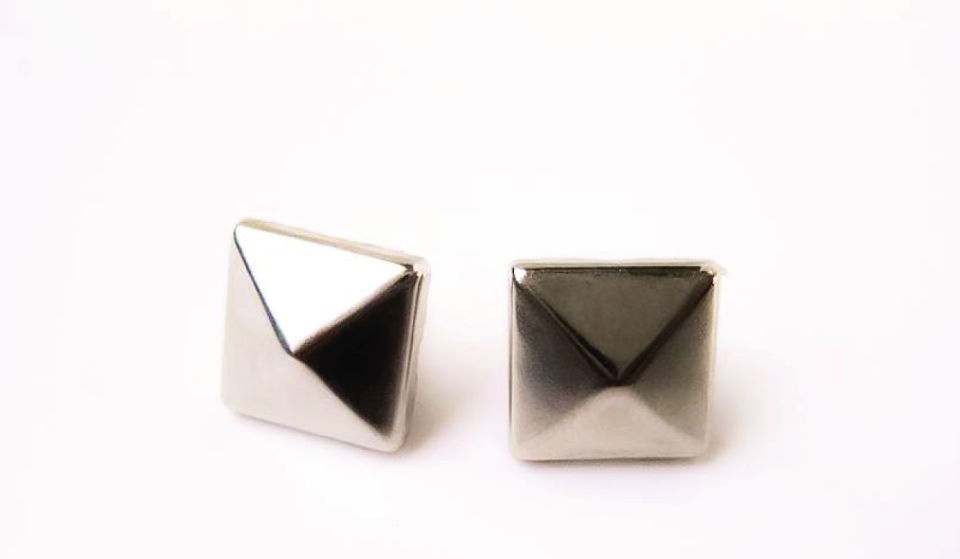 Revisit your jewelry collection with a simple yet stylish DIY project – crafting your pyramid stud earrings. It's an easy and quick way to elevate your accessory game, taking under 5 minutes to make a trendy piece that stands out.
With readily available items like silver plated earrings, pin pairs, stud back lock post pad, silver pyramid studs, nailheads, flat nose pliers, and E-6000 glue, you can make an affordable pair of earrings with a chic and edgy appeal. This do-it-yourself activity is not only engaging but also economical.
Compared to high-priced store-bought earrings, this project lets you make a trendy accessory at a fraction of the cost. So, get your DIY temptings flowing and start crafting your pyramid stud earrings today. You'll wonder how simple it is, yet how stunning the result can be. prettyprudent
14. DIY Stud Earrings Made From Magnets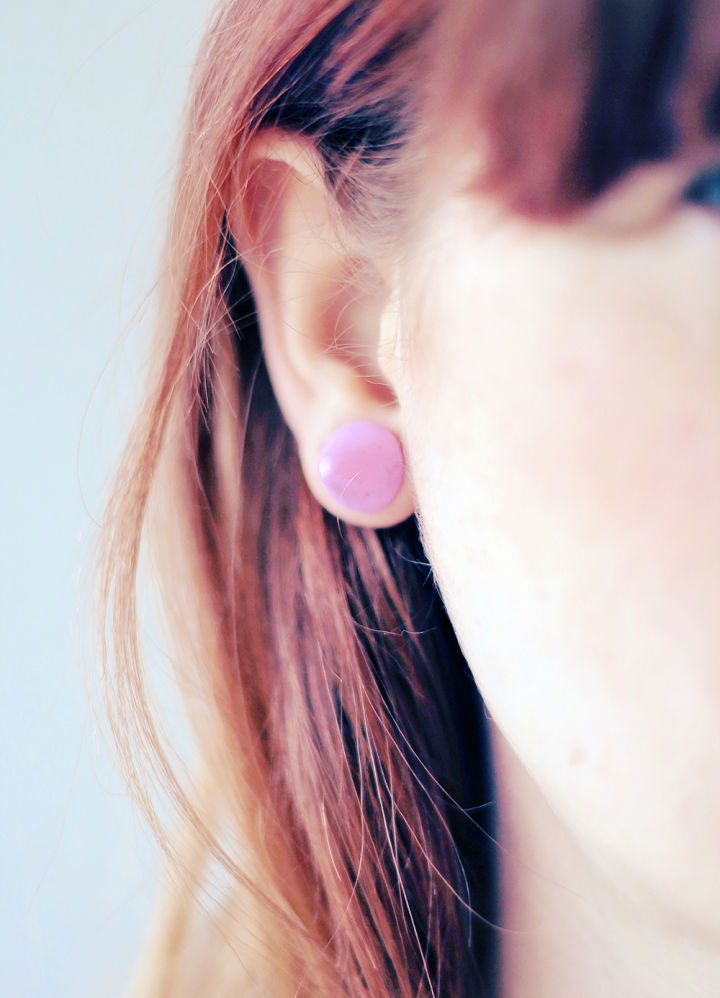 Are you longing for stylish designer earrings, but the budget doesn't quite stretch that far? Fear not, because there's an accessible, affordable DIY solution that yields a stunning pair of Givenchy-inspired small cone earrings. Plus, they are perfect for those without pierced ears. You'll need polymer clay and magnetic clasps for this budget-friendly fashion adventure.
The crafting process involves molding the clay into cone and sphere shapes, incorporating the clasps, and then boiling the clay pieces for optimal color preservation. After cooling, reinsert the magnets, wait for the glue to dry, and voila! You have your chic and unique homemade earrings ready to wear.
This method saves you money and allows you to customize your earrings, providing a versatile accessory that matches any outfit. Unearth your inner designer and make your personalized fashion statement with this fun and easy-to-follow tutorial. fallfordiy
15. Easy DIY Copper Circle Stud Earrings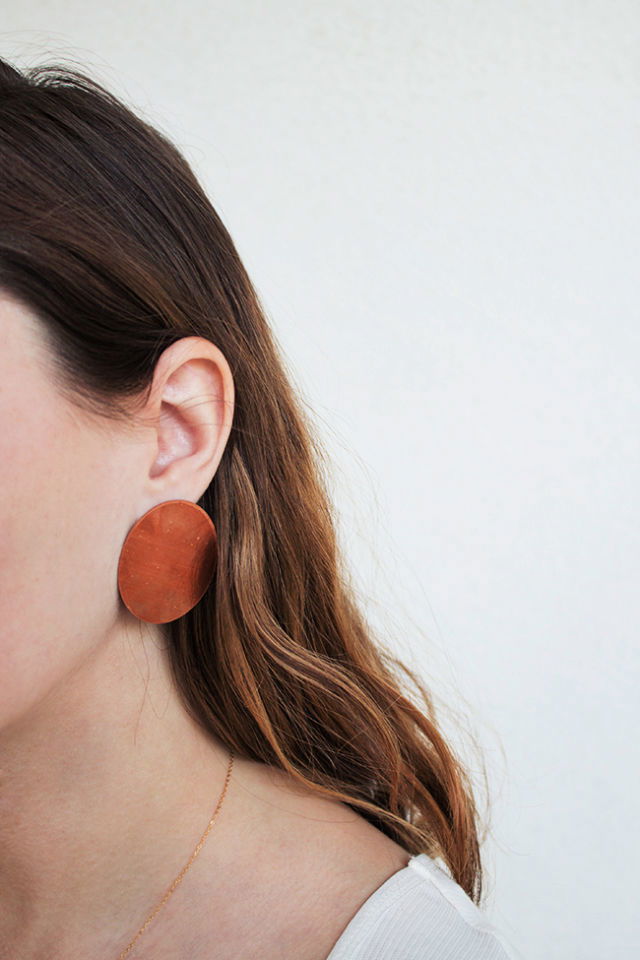 Add a touch of stylish minimalism to your look with these easy-to-make DIY copper round earrings. A fun alternative to store-bought jewelry, these statement earrings can be made from copper rounds, effortlessly bringing a chic, modern flair to any outfit.
As simple as gluing one part to another, the process is incredibly straightforward, with no step-by-step photos necessary! You can choose from various online sizes to best suit your style preference.
So, why wait? Elevate your accessory game and design your pair of round copper earrings today. Remember, creativity knows no bounds when making fashion uniquely yours! almostmakesperfect
16. Cute DIY Pearl Stud Earrings Using Eye Pin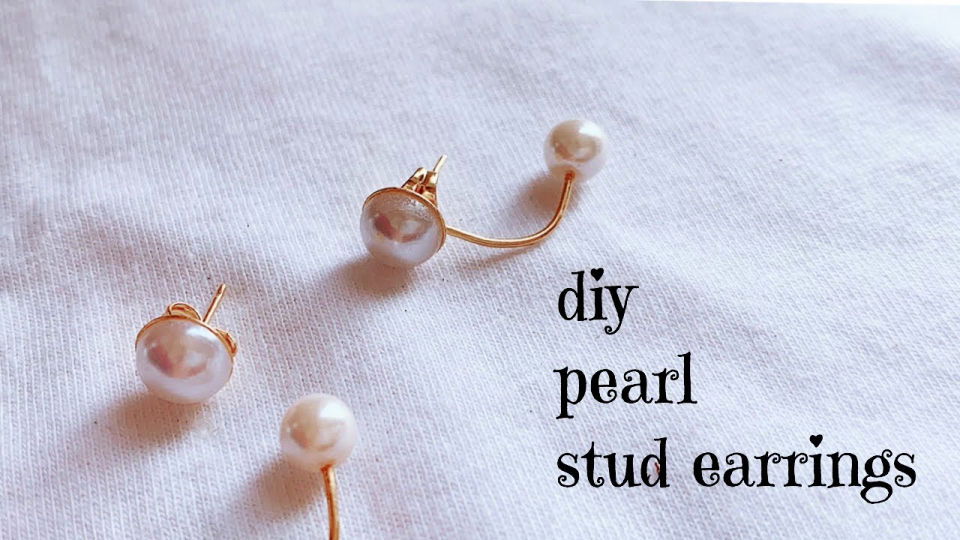 Unveil the secret to crafting your pearl stud earrings with this step-by-step guide. Immerse in DIY jewelry and make elegant double pearl stud earrings in just two minutes. You'll be amazed at how simple yet satisfying this process can be!
You'll require an eye pin, gum or glue, and pearls, the show's stars, to bring these gorgeous earrings to life. A particular application of these supplies can yield a set of accessories that could rival those found in a store!
Making jewelry fuels your creativity and allows you to match your unique style and preferences. Plus, gifting these handmade pieces can turn ordinary moments into special memories. So, get started on your journey into today's enchanting world of DIY jewelry design.
17. Simple DIY Stud Earrings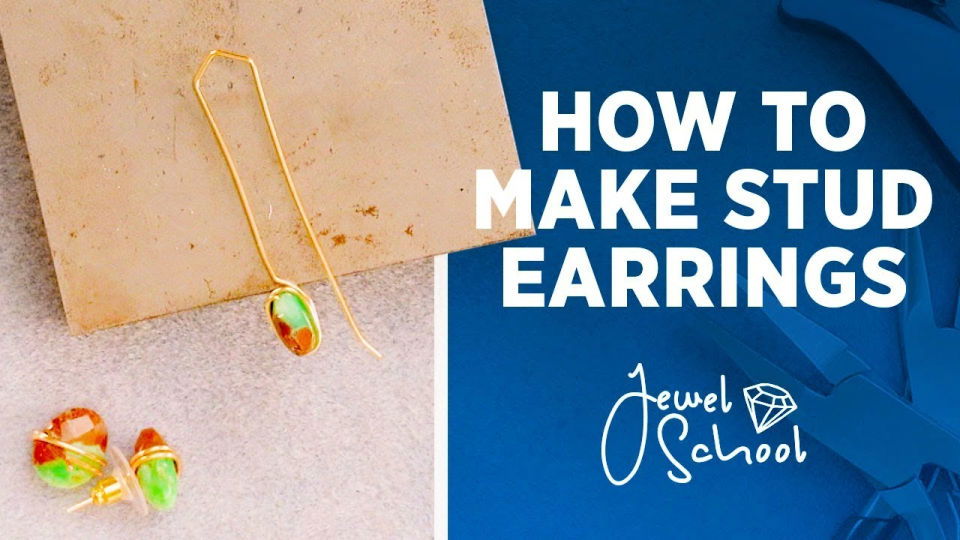 Bring sparkle to your style with these DIY bead post-earrings! Crafted with meticulous detail, these earrings are a charming accent for any outfit. You can remake these delicate pieces With various materials, including beads, wire, and pliers.
The process involves wire wrapping and is as simple as rewarding, making it a great activity to exercise your creativity. As a bonus, these earrings can make thoughtful, handmade gifts for loved ones.
Highlighting the primary material – the beads, you'll love how they catch the light, adding a touch of glamour to your look. Dive into this project and elevate your jewelry game with these elegant bead post-earrings.
18. How to Make Beaded Stud Earrings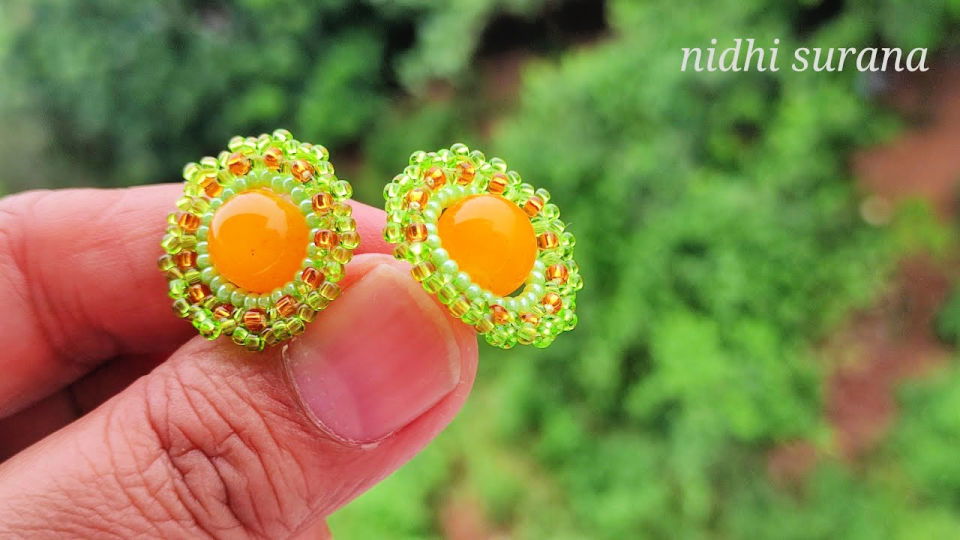 Enhance your style with the beautiful DIY beaded stud earrings tutorial! This project utilizes simple materials such as 10mm glass beads, 11/0 seed beads in 3 different shades, and a stud base, transforming them into a unique fashion statement.
Making these earrings is enjoyable and allows you to express your creativity through handcrafted jewelry. The adhesive is also necessary to ensure the beads stay in place.
The result is a slick pair of earrings that make a charming accessory for any outfit. They could also serve as a thoughtful, handmade gift for someone special. This tutorial delivers an engaging way to make beautiful jewelry while offering the joy of crafting with beads.
19. How to Make Your Own Druzy Stud Earrings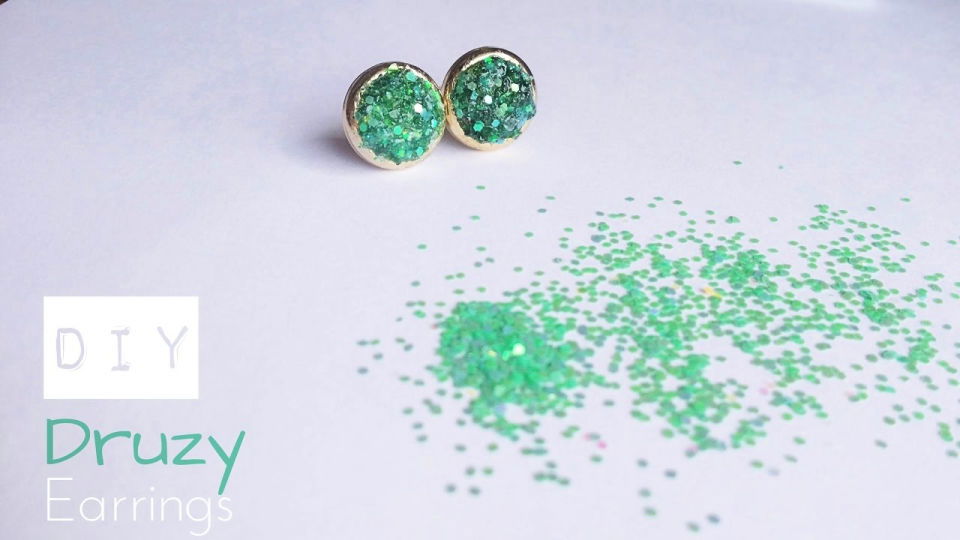 Let your inner sparkle shine with these homemade druzy stud earrings crafted right in the comfort of your own home! An enchanting addition to your accessories collection, these faux druzy earrings will add an instant spark to your overall look.
The simplicity of this project belies the elegance of the final product, which replicates the natural beauty of druzy crystals with mesmerizing precision. Crafted with just a few materials like earring studs, glitter, glue, and sealant, you can follow the uncomplicated steps and fashion these lovely adornments in no time.
Their striking appearance and the fulfillment of making your jewelry make crafting a truly rewarding experience. Transform everyday materials into beautiful earrings that will surely turn heads.
20. Beaded Cherry Blossom Stud Earrings Design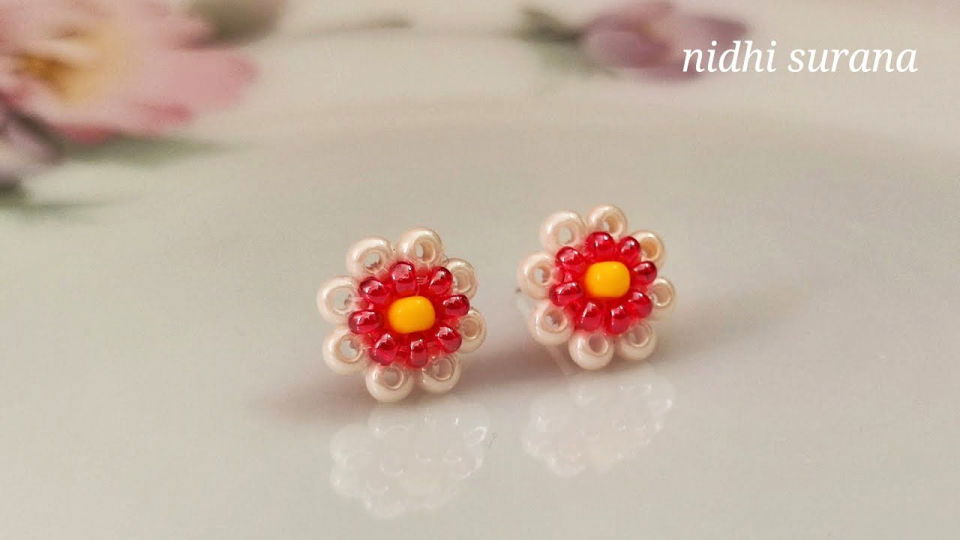 Experience the delight of making custom jewelry with this DIY video tutorial to teach you how to craft intricate copper wire ear wires and clasps. You can meticulously fashion unique and stunning accessories using simple tools and ingredients like copper wire, beading thread, seed beads, beading needles, and fishing line.
This comprehensive guide is perfect for those who love to express their creativity through bespoke crafts. Not only does it offer a step-by-step process on how to assemble your piece, but it also helps you understand the value and benefits of making personalized jewelry.
This artistic endeavor encourages the use of copper in handcrafting delicate yet sturdy jewelry pieces. Lastly, this tutorial is engaging, helpful, and designed to empower every viewer with the skill of jewelry creation. Craft your copper wire jewelry and make a bold, artistic statement today!
21. Cheap DIY Stud Earrings Made of Epoxy Resin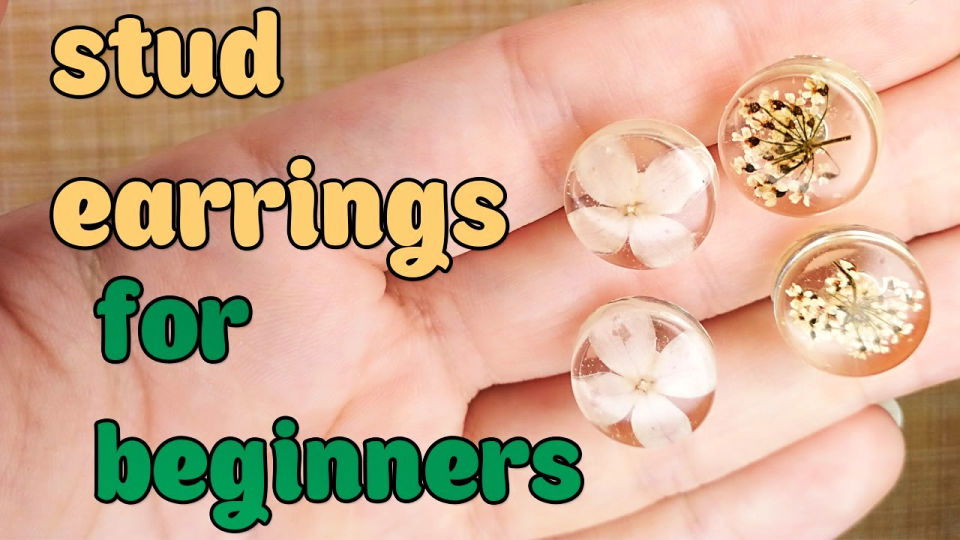 Make an elegant statement with DIY carnation earrings crafted from actual flowers and epoxy jewelry resin! In a beginner-friendly project, you'll use simple materials like a recycled tablet package for the mold, perfect for a sustainable jewelry-making approach. The stunning blend of nature and artistry results in a one-of-a-kind piece, breathing new life into your accessories collection.
Not only will you be wearing something unique, but you'll also learn the basics of epoxy resin techniques, perfect for those keen on DIY jewelry crafting. Dive into this fun and affordable project today, and watch your creativity blossom into beautiful carnation earrings.
22. Inexpensive DIY Paper Stud Earrings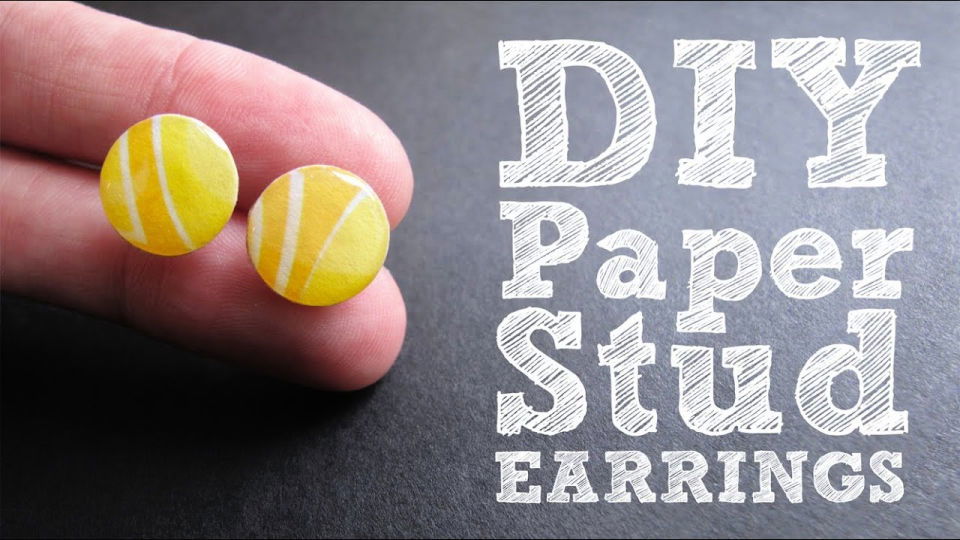 Dive into the world of sustainable creativity with this DIY stud earrings tutorial. You can easily transform waste into a delightful fashion accessory using leftover scraps like cardboard from a notepad and pieces of colorful scrapbook paper.
With just a 1/2-inch circle punch, Mod Podge dimensional magic, and glue-on earring posts, these vibrant upcycled earrings can be made with minimal effort. Every step of the process brims with potential for creativity as the choices of colors and patterns of scrapbook paper are limitless.
This tutorial showcases an innovative way to recycle materials and lets you personalize and show off your style. Give new life to your old scraps and make charming stud earrings to spice up any outfit today!
23. Make Your Own UV Resin Stud Earrings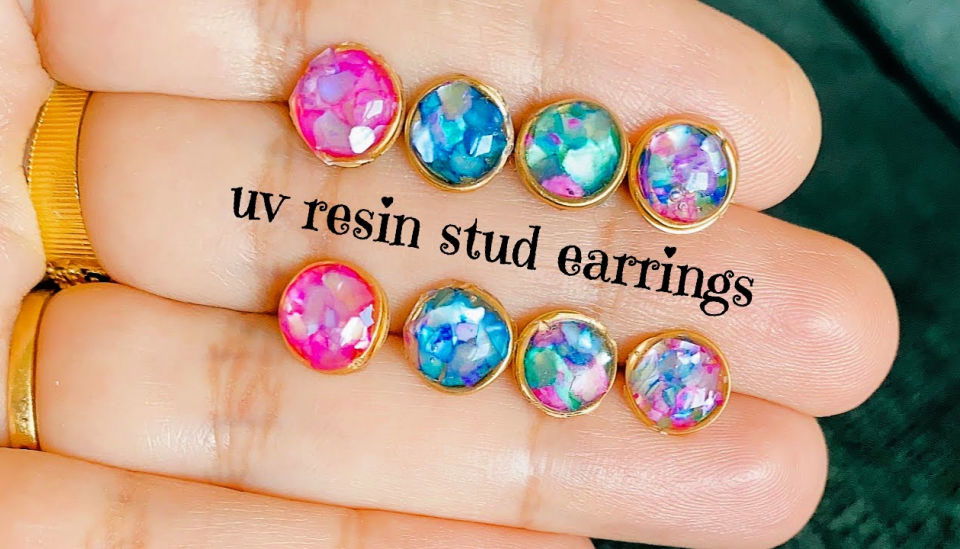 Modernize your accessory collection with these DIY stud earrings, creatively crafted using UV resin and jump rings. These handmade jewelry pieces offer a delightful blend of style and simplicity, perfect for any attire. You can transform ordinary components into extraordinary pieces using UV resin, crushed seashell glitter flakes, jump rings, and a stud base.
Add a UV LED light and some jewelry metal glue, and you're all set to make a pair of stunning earrings that reflect your style. The best part? The versatility of this project allows for endless creativity; each pair is uniquely yours. Begin your jewelry-making journey now and enjoy making beautiful accessories with just a few simple steps.
24. Making Your Own Beaded Stud Earrings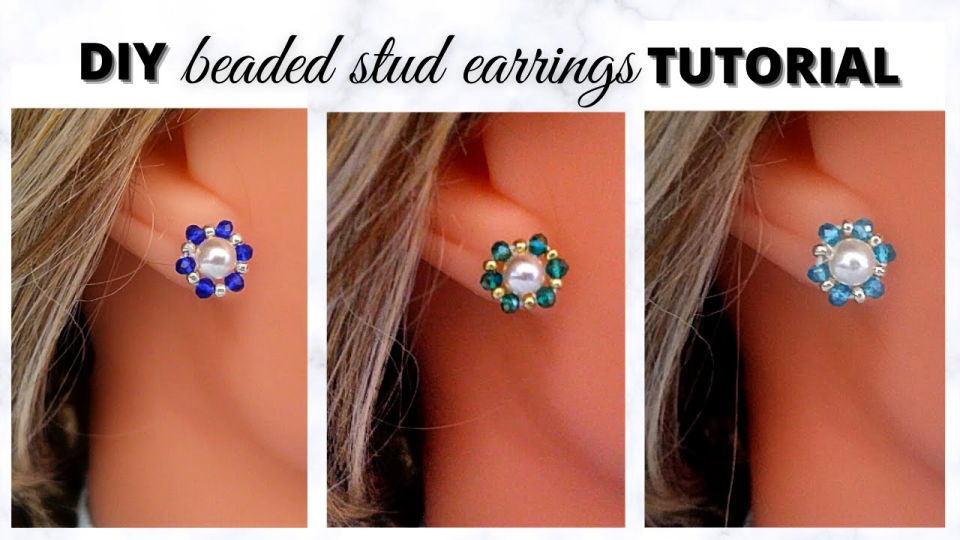 Upgrade your style with homemade elegance through these easy DIY stud earrings. This project, requiring just under ten minutes, allows you to personalize your jewelry collection with your choice of rondelle bead color to complement your outfits perfectly. The process is straightforward – follow the step-by-step tutorial and have your creation ready quickly.
The required materials include your preferred rondelle beads, stud posts, and a reliable adhesive. Not only does this project offer the benefit of a unique accessory, but it also allows you to explore your creativity. Experience the joy of crafting your fashion statement today!
25. DIY Wire Stud Earrings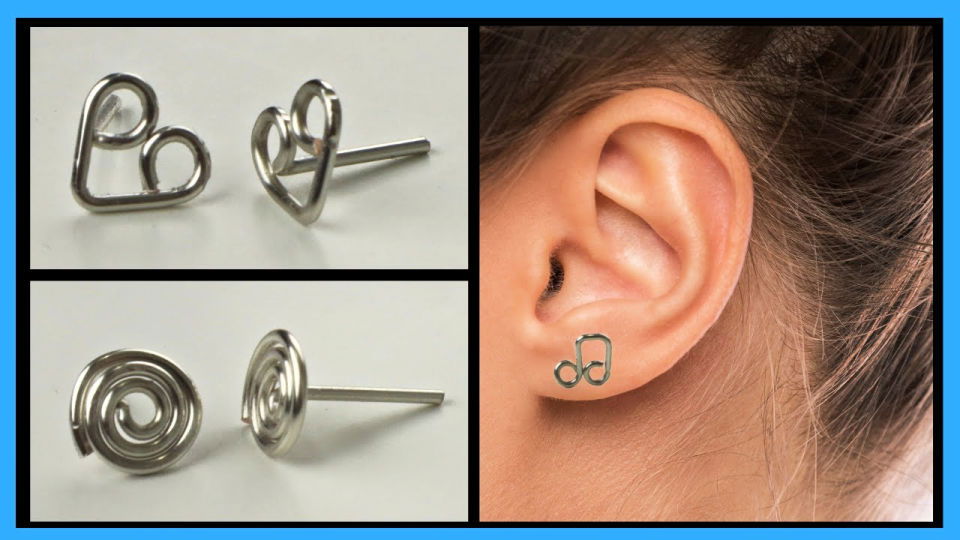 Express your creativity and design your wire stud earrings with this effective DIY guide. Following this easy-to-understand tutorial, you can design unique earrings with sterling silver or Argentium wire. This enjoyable process requires minimal supplies – just your chosen wire and basic jewelry-making tools.
Crafting your wire stud earrings fosters creative expression and yields stunning, personalized pieces that can elevate your jewelry collection.
With the right equipment, wire, and a dash of creativity, you can transform simple wire into intricate stud earrings – a perfect handmade addition to your accessory line-up. Enjoy crafting in the comfort of your home while developing a rewarding new skill.
Conclusion: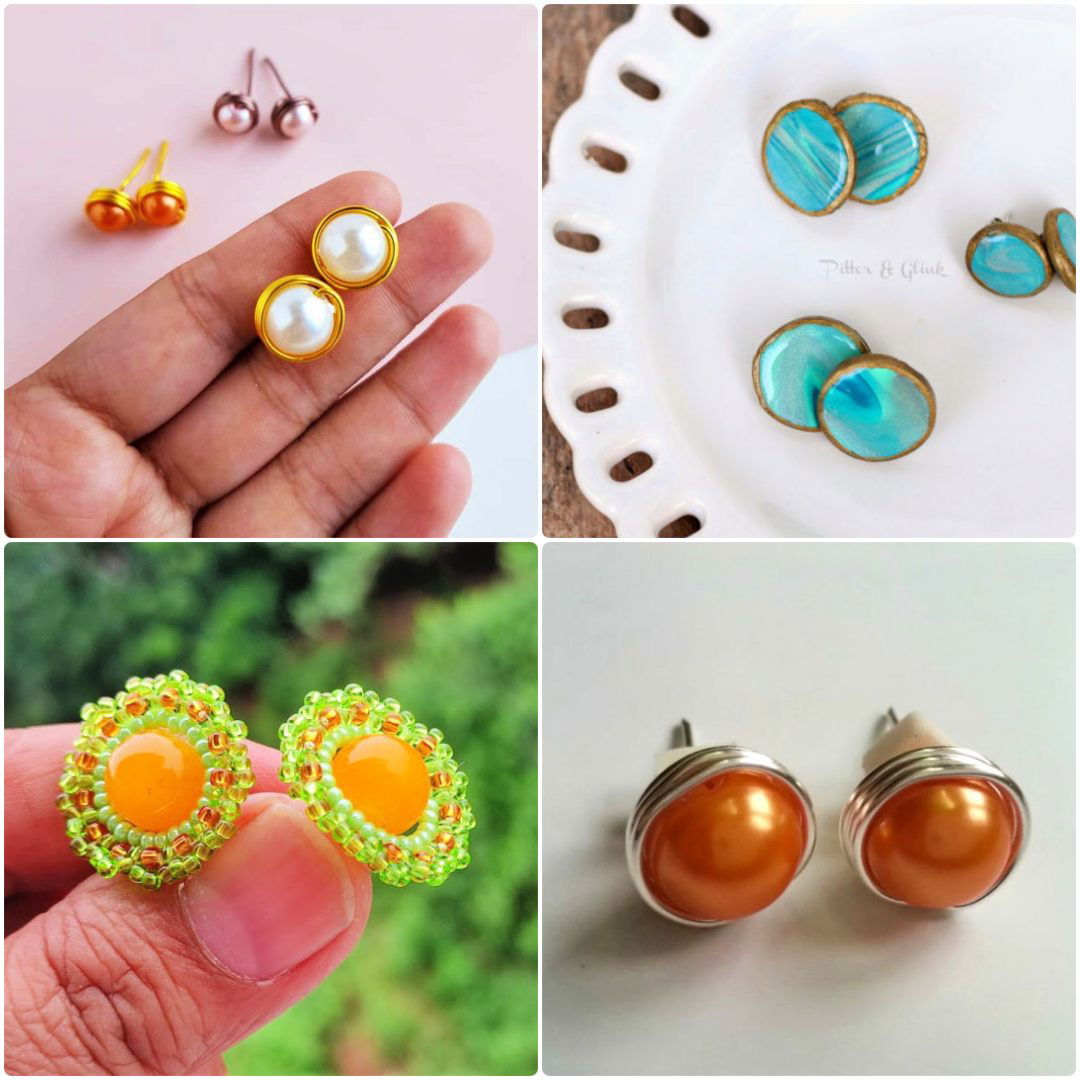 In conclusion, making one-of-a-kind DIY stud earrings is a fun and rewarding DIY project. With 25 unique DIY studded earrings to choose from, such as wire and bead designs, faux agate made from polymer clay, or even upcycling magazines, there are endless possibilities to suit various skills and tastes. Homemade stud earrings are not only cost-effective but also allow for customization, making them perfect for personal use or thoughtful gifts. So, try your hand at making stud earrings and unleash your creativity today!