If you are a man with model features and body measures, then the men suits will make you look hot! Men really look great in the outfits especially the groomsmen but there is a particular type of décor that can easily add the wedding décor dimensions to a normal men's suit, and it will just turn the suit into a wedding special outfit! Yes, we are talking about the pocket square, the folded handkerchief peeking out of the pocket really goes for more prominent style statements of men's suit fashion! There is a wide variety of the pocket square in the market to choose from, and you can select them with fantastic colors, styles and design patterns that will suit best your wedding outfit!
But if you are not that kind of lazy person, then you can also tweak your hands a little on the handkerchief to make some beautiful pocket squares at home, and it will only demand you to give some smart folds to your favorite selected handkerchief! So, whether you intend to look dominant from the groom's side or you are just willing to look prominent on your wedding day in the suit, they must make the pocket squares a part of your wedding dress up or outfit!
So, if you are interested in making your charming pocket squares at home then do take a short round-up of these 10 DIY pocket square ideas that are a super genius, mind-blowing and will please all the pocket square lovers! Here the purpose of this list is to teach you some outstanding different styles of making the lovely pocket squares that will bring great visual details to your personality and wedding dress up letting the people praise your style! You can fold the handkerchief in so many different styles to make a lovely pocket square, and the list is going to show you all those styles for making incredibly beautiful pocket squares without spending too much time and money!
Just fold the handkerchief and make unique chevron topped pocket square that will be enticing to look at! Stamp your handkerchiefs for custom shapes, letters, and quotes and fold them to make lovely pocket squares that will instantly turn you handsome if being placed in your pocket! Next also make the tilted top pocket squares that will also bring a "wow" factor to your wedding dress up and also go sew and make the lovely taco pocket square, check out a lovely sample that is colorful and enchanting!
Add tons of focal stimulation to your wedding suit with the polka dot pocket squares that will be super quick to make and also go handmade with a red handkerchief that can be folded smartly also to make a lovely heart shaped pocket square that will also bring a love statement to your wedding outfit! Check out too much more homemade pocket square designs in the given below list and clone your favorite ones for your wedding or a friend's wedding! Open up the pocket square making tutorials just by browsing the attached links!
DIY Weddings Custom Pocket Squares: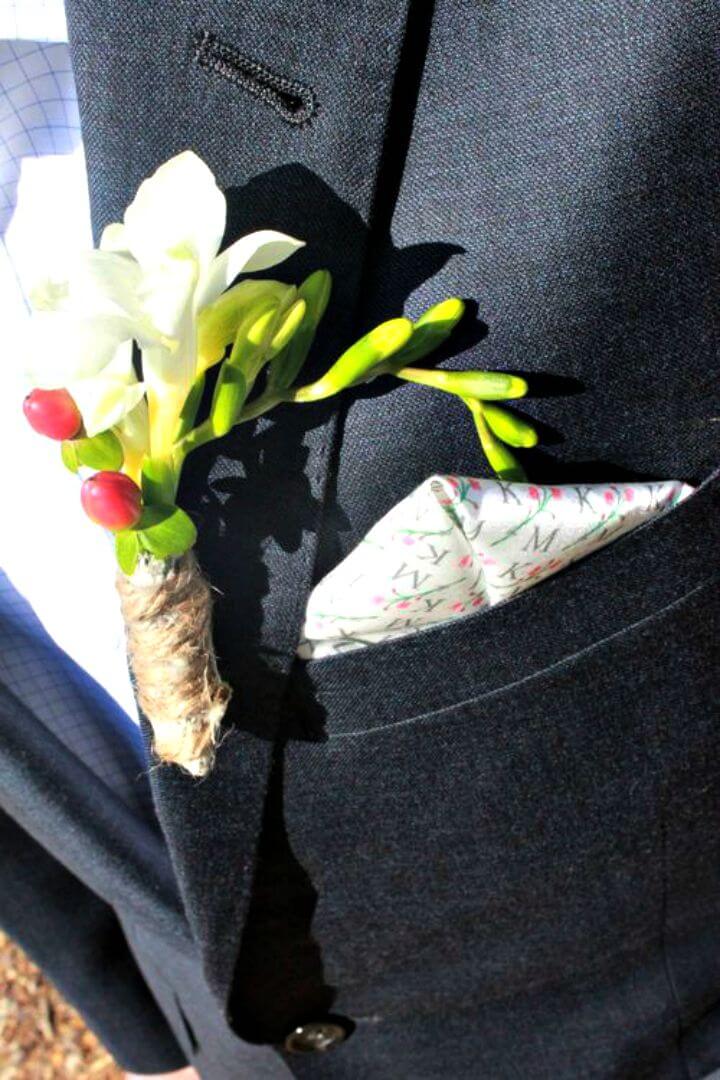 Here is this lovely idea of doing some custom wedding crafts at home and add some personal finishing touches to your wedding and that too spending the least. You can get this custom spoon flower cotton silk fabric and make these pretty squares for the groom and the groomsmen and bring some custom charm to their wedding dresses. The pocket squares are so much easy and fun to sew and here is the link to check out the complete details of their making at home spoonflower
How To Make Pocket Square:
Here is how you can make the suits of your men look so much more stylish and let them appear on the wedding as utter dapper. Yes by adding this pretty silk square pocket to their suits or the day jacket you can jazz up the fashion of their outfit on the weddings or the day parties. There are plenty of options to fold the fabric for the pocket square and here is how you can create this pretty and chic one on your own. Details here to make it quickly and feasibly at home marthastewart
Easy DIY Stamped Pocket Square:
Men suiting can also be fashioned up at home if you can DIY with the pretty things around. So here is the idea of stamping the fabric at home and then getting some custom styling possessions for your outfits just like this nautical sign stamp has been used on white fabric and turn it into a cute and unique gift for the men as the lovely square pocket. You can personalize your square pockets with personalized stamp signs and designs and create some beautiful and innovative square pockets as the gifts for Father's day and more. Complete details here along with the stamp making ajoyfulriot
Adorable DIY Pocket Square – 3 Ways:
You can use colorful fabrics to make some cute square pockets for the men in your life and make their wardrobe look all summer themed up. With a few a folds and the sewing stitches, you can easily DIY your own square pockets for the day parties in the summers. They would also make a beautiful and quirky gift for father's day too and here is how you can make them quickly at home and award some funky touches to their boring and dull suiting beatnikkids
How to Sew Taco Pocket Square:
Hey, girls here is the idea to spruce up the fashion and style of your denim jackets at home and make them look all styled up for the summers. With some green lace and with some orange felt fabric you can easily create this lovely taco square pocket for your jacket and add some charming and funky touches to it. The idea is cool and fun and would cost you the few pennies only so here is the idea you can follow to the details of making it on your frankie
Make Your Own Pocket Squares:
Adding some personalized touches to your wardrobe really make you look boho and chic every time you dress up for a wedding, party or the dinner. So here is the charming and simple idea of sewing up these mini square pockets for your waistcoats, jackets, and the suits and now you can make them on your own and here is the link to check out the details of the idea to make one on your own autostraddle
Sew An Origami Heart Pocket Square:
Here is how you can DIY your man's suits for the Valentine day and make your dinner date turn out to be really more cute and romantic. You need some pretty fabric in red and cut out a heart out of it and then add it as the square pocket to your man's suits and jackets. Not only for your man but it would also work as an excellent gift for your father, son or any other man that you really love in your life. Here is the link to check out the details of the idea and try making them on your own macted
How To Turn An Old Shirt Into Pocket Square: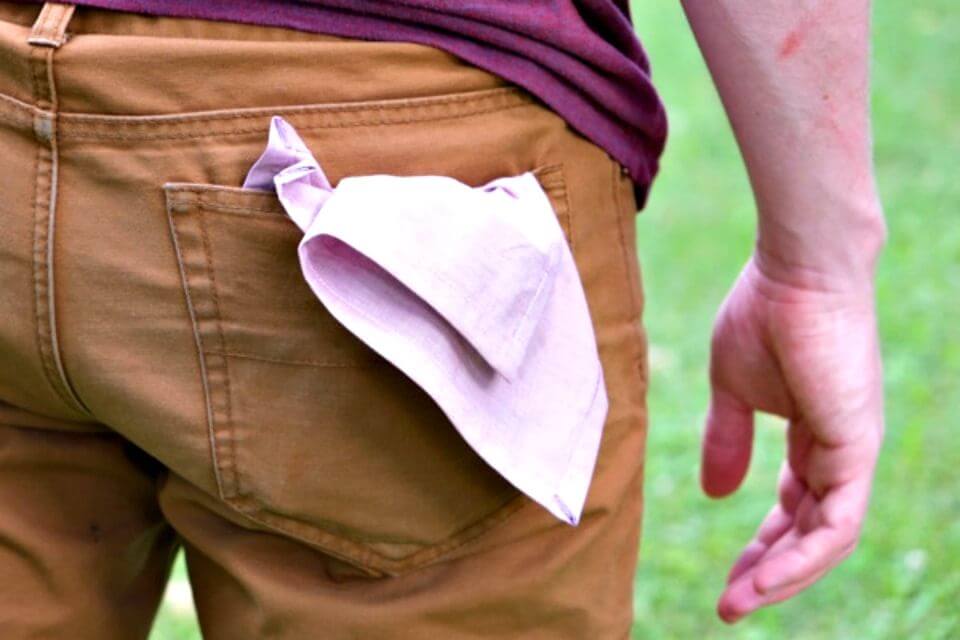 An old shirt is never out of use even when you have to throw it away for not being able to wear anymore. Here is the idea of using a shirt for a secondary purpose and that is making those cute square pockets or the handkerchief for the pockets of the jeans too. The idea is amusing and easy to work on and here is the link to check out the details of sewing it on your own in a straightforward and fun manner and you can create a bunch of them and use them as gifts for the men in your life manmadediy
How To Make A Pocket Square:
Denim jackets are so much in fashion, and men just love them. Here is how you can make their favorite jackets more favorite for them by adding these cute square pockets to them. You can use any fabric with delightful pattern and design that is lying in your stash for the making of this really cool and funky looking square pocket that would really make a great mini gift too. You can check out the details of the idea here to make one on your own bespokeunit
DIY Pocket Square – No Sewing Required:
Sometimes a little change can really bring some huge impacts on your dress ups. So if you think your husband's suit is looking dull and boring and it needs to be spiced up then adding this pretty cute square pocket to your suit is the right thing to do. You can use silk or the cotton silk fabric with a little sewing and the folding techniques this pretty and fun looking pocket square would be ready to jazz up the beauty and style of your man's suit and make him look more handsome. Learn to make it here artofmanliness