Office organization is the key to an efficient workspace. To maximize productivity and creativity, it is important to organize office supplies, desk items, storage, and office space. Think beyond the usual office organization ideas like two-tiered filing cabinets or basic office storage. Get creative with your office organization by repurposing everyday items as office supplies holders or creating unique shelving units. A well-organized office will not only help you increase efficiency but will also enhance productivity, boosting morale and giving you a sense of accomplishment!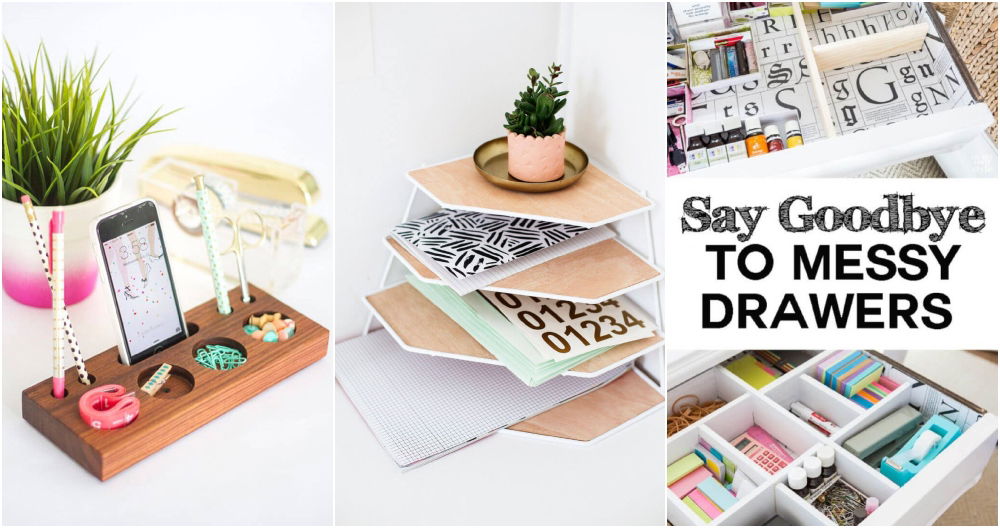 Simple Office Organization Ideas to DIY
DIY Office organization is key to saving money and staying productive in today's fast-paced world. Fortunately, achieving an organized office space doesn't require expensive professional services. With these 30 simple and creative DIY office organization ideas, it has become easier to transform your workspace into an orderly and efficient area.
You can start with simple ideas such as organizing office supplies or utilizing office storage solutions, then upgrade to more creative projects like repurposing furniture or transforming unused walls into bulletin boards for displaying information. For any home office organization project, some solutions fit any size of office and budget – from smart small office organization ideas involving dual-purpose furniture pieces to using pegboards for desk organization. With just a bit of creativity and some effort, you can bring order to your office – all without spending a penny more than necessary.
1. Modern DIY Paper Tray Desk Organizer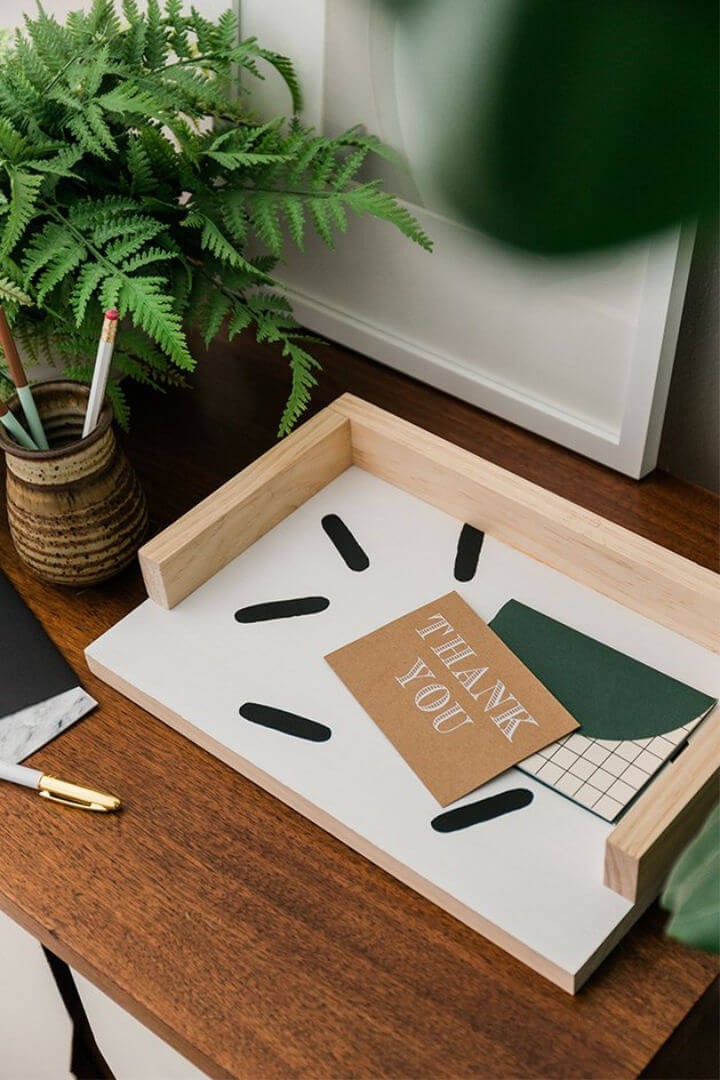 You need to incorporate highly functional storage organizer in your office for smooth functioning of your office! If you are concerned with the perfect storage solutions over the office desk then make first this paper tray using scrap wood! It will nicely hold the paper stocks and stacks and will be much affordable! Details here hunker
2. Homemade Mobile Bulletin Board for Office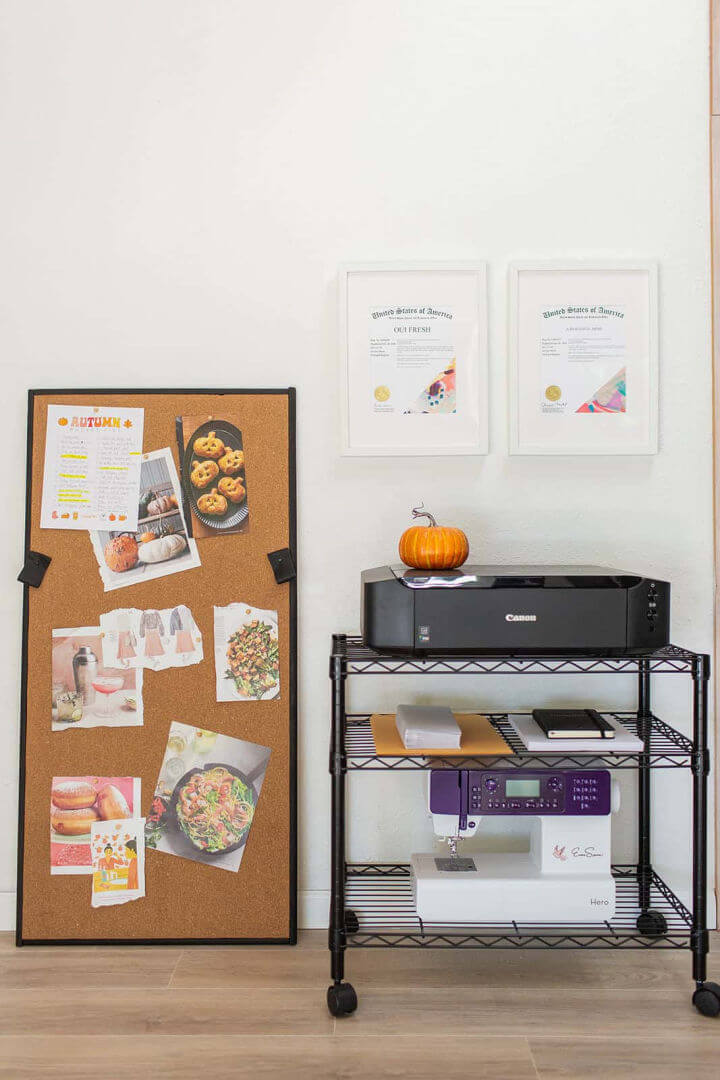 Help yourself keep in mind all the meetings, appointments and full day list of to-do tasks by building this mobile bulletin board, a crucial need of every office! Make this mobile bulletin board using plywood, wood trim, cork board rolls and foam board! Full how-to details here abeautifulmess
3. DIY Magazine Holders for Only $4 Each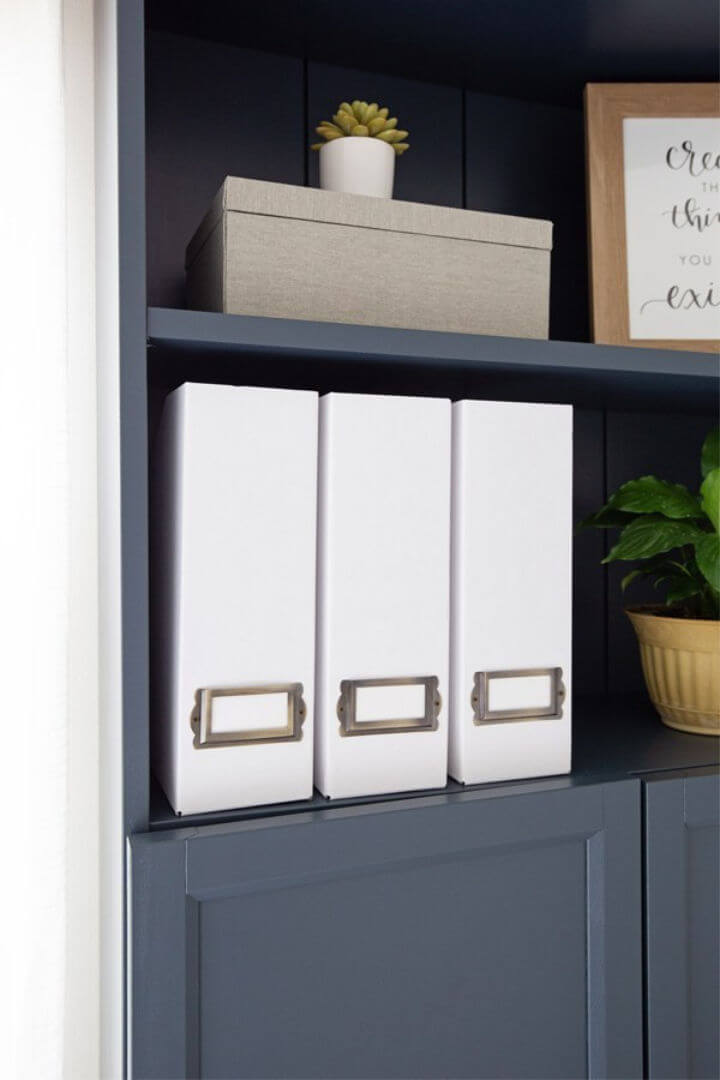 Looking at the messed office files often annoys you? Solve this issue with these magazine holders, each will cost you only $4! Also, add the metal label holders to name the category of stored files! A smartest, modern and frugal project for instant office organization! Details here angelamariemade
4. Easy DIY Tabletop Rainbow Paper Organizer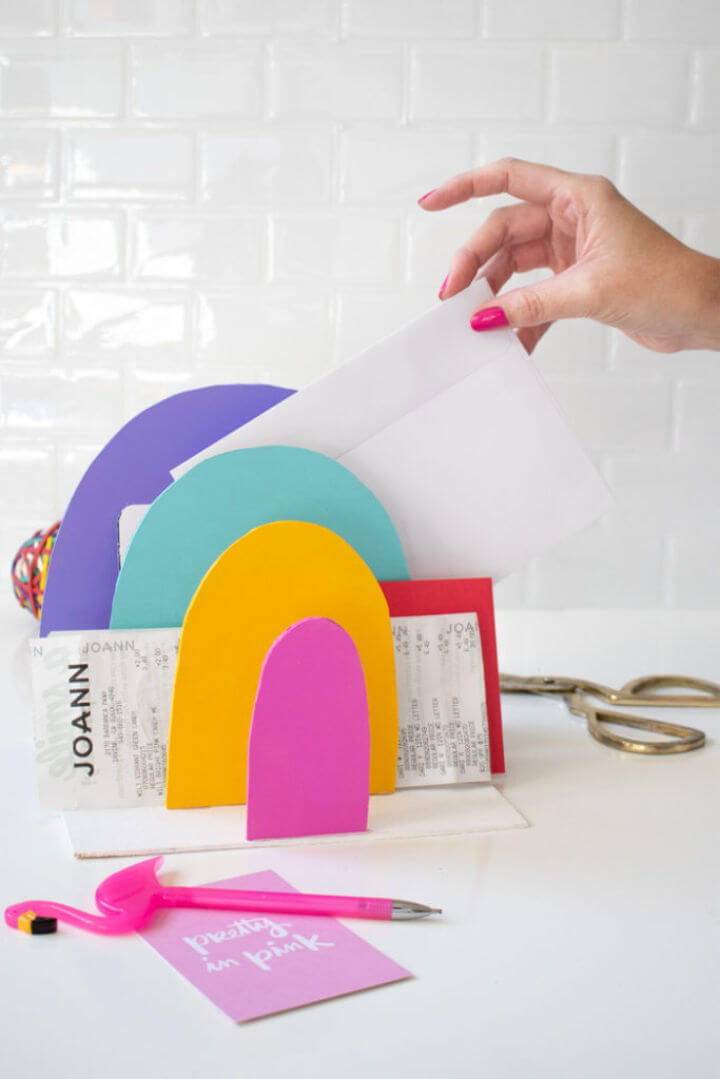 Cut the balsa wood pieces in gradually decreasing sizes and all with arched tops! Paint them in a nice color combo and put them together to make a paper organizer for your office table! Hack a great design inspiration by looking at the given sample that is sure to impress! Full tutorial here clubcrafted
5. Making a Desk Magazine Holder
Do you need office organization ideas to keep your desk looking neat? This DIY desk magazine holder is the perfect office supplies addition for you. It's easy to make and allows you to store your magazines and other desk items in an attractive and organized way. This holder can be used on desks, office tables, or even book racks. Its eye-catching design will add flare to any office area while providing a practical solution for tidying away documents, office supplies and magazine collection. Also, Its lightweight nature ensures it won't take up too much valuable office space.
Help yourself to work in flawless clutter-free office environments by making custom organizers at home! Tidy up your files on the office design by whipping up this cool magazine holder, which will bring a great marble touch to your desk space! Here is how to make it ehow
6. DIY Minimal Wood Office Desk Organizer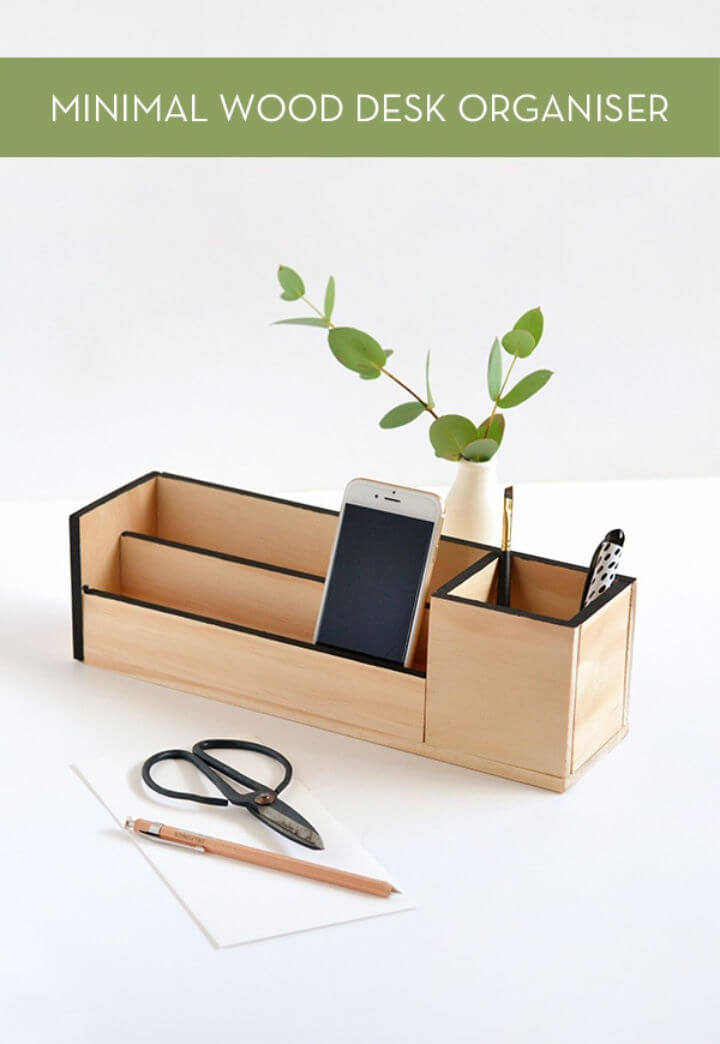 Make also this cool and handsome desk organizer using the pinewood slats, will bring a modern elegance to your office desk and will definitely hold your things with care! It comes with multiple built-in cubbies, slots, and pockets to organize well the most used office desk items! Details here curbly
7. Handmade Framed Fabric Pin Board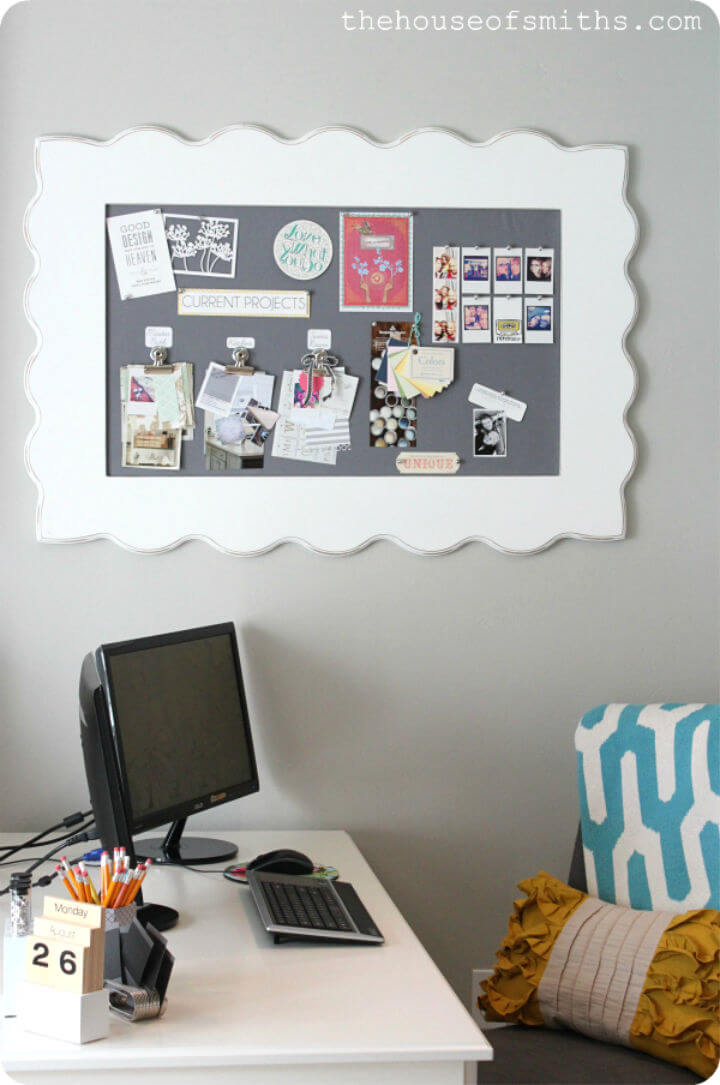 Adding a pinboard in your office is crucial to keep an eye on the everyday to-do lists of tasks! So, make your own beautiful fabric pin boards, will work very well! Grab the empty picture frames with decorative designs, next add them with a cork board or MDF backing covered with fabric! Details here thehouseofsmiths
8. DIY Balsa Wood Desk Organizer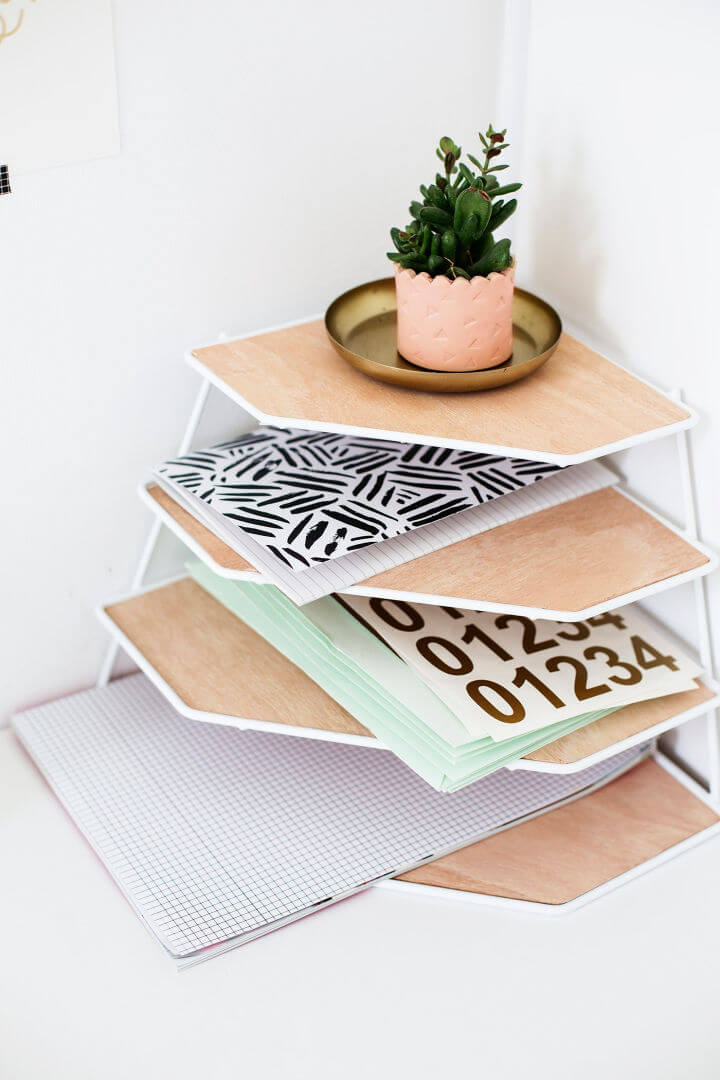 Willing to update your office storage with a tiered organizer? Make a modern one using wire dish rack, balsa wood, and duct tape! Cut the balsa wood sheets to size to fit in the wire dish rack levels! Paint the frame in the way you like, and here you go! Details here thelovelydrawer
9. How to Make a Pinboard
Avail the dual functional behavior of this pinboard to organize and beautify your office! A lovely pinboard that has a shape of "a" alphabet! Trace your design on the craft wood and then layer it up with the cork sheet! This project will demand accurate tracing and cutting! Details here look what
10. Make Your Own Nesting Desk Organizer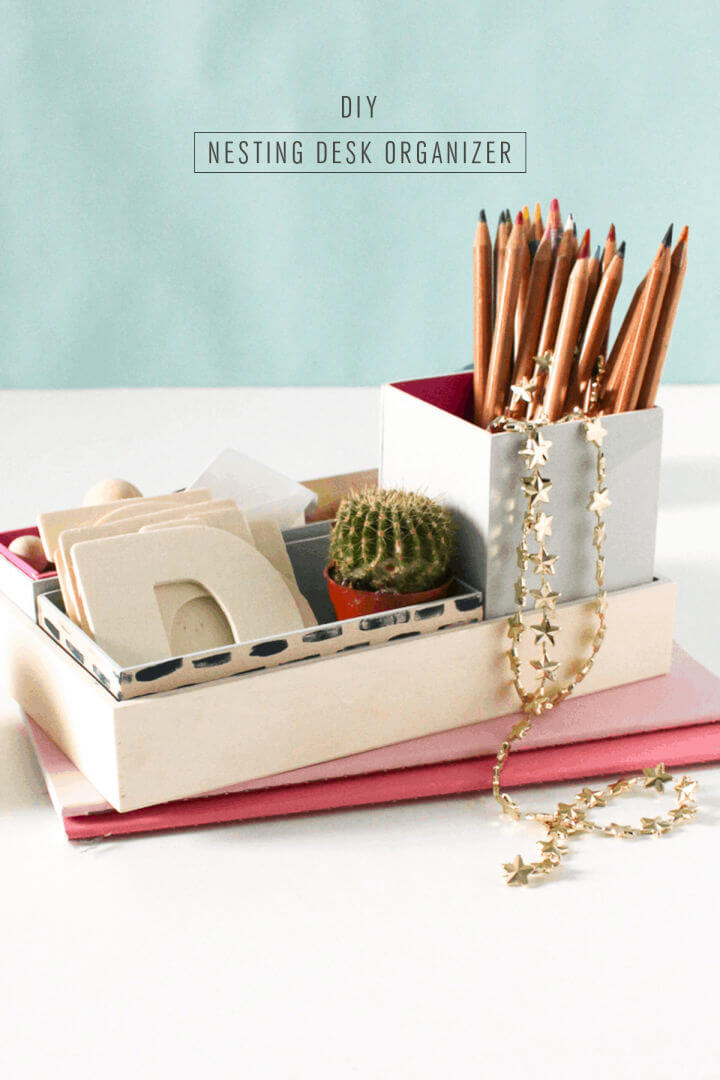 Do you feel like your office space could use some organizing? Look no further than the DIY nesting desk organizer. This easy-to-use system helps organize office supplies and maximize your office space, making it a great office organization idea! The organizer comes with drawers of varying depths and sizes, so you can customize it to fit your specific needs and keep everything organized. Additionally, you can stack multiple organizers together in a "nesting" formation to get the most out of your office space without taking up too much room.
So if you're looking for simple office organization ideas that are life-proof and as efficient as possible – look no further than a DIY nesting desk organizer! Boost also the efficiency of your office workspace by building this nesting desk organizer, which will stylishly hold your items of need! Make use of basswood panels and a wooden box or tray to make this superb nesting desk organizer, which can be painted in your chosen colors! Full how-to details here sugarandcloth
11. Giant DIY Mood Board Organizer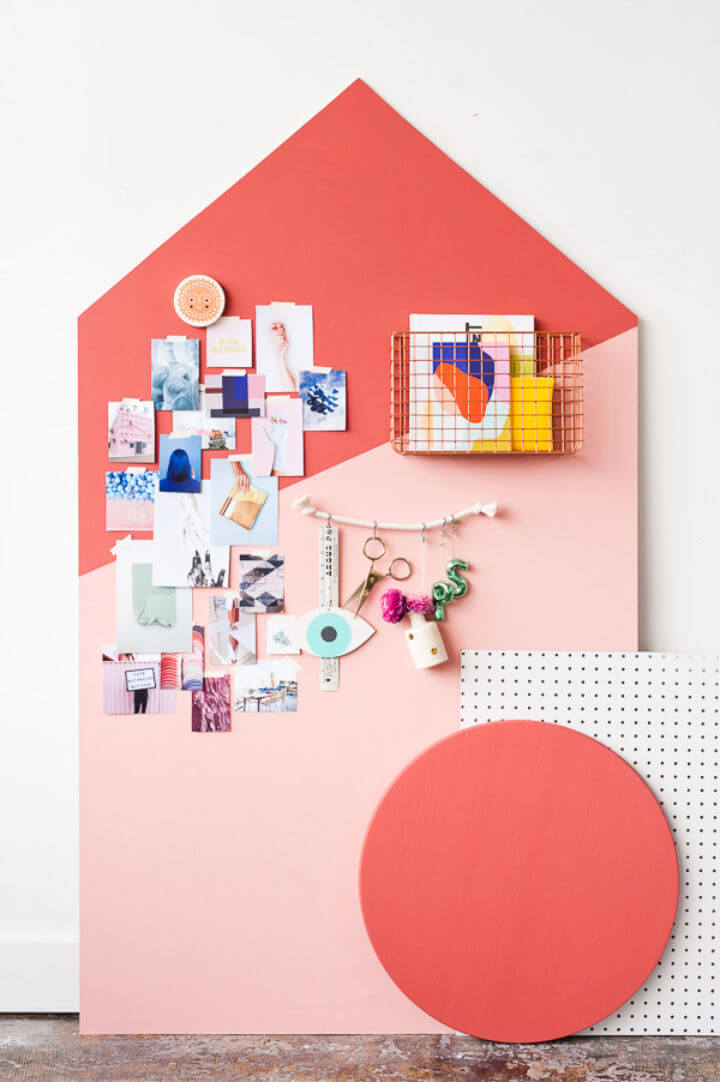 Building this organizer will take much less time as you think, a mood board organizer will hang like a charm on the office wall! Get your hands onto a sheet of plywood and a wire basket and some rope to make this mood board organizer! Use desired paint colors for a modern painted appeal! Details here papernstitch
12. DIY Home Office Organization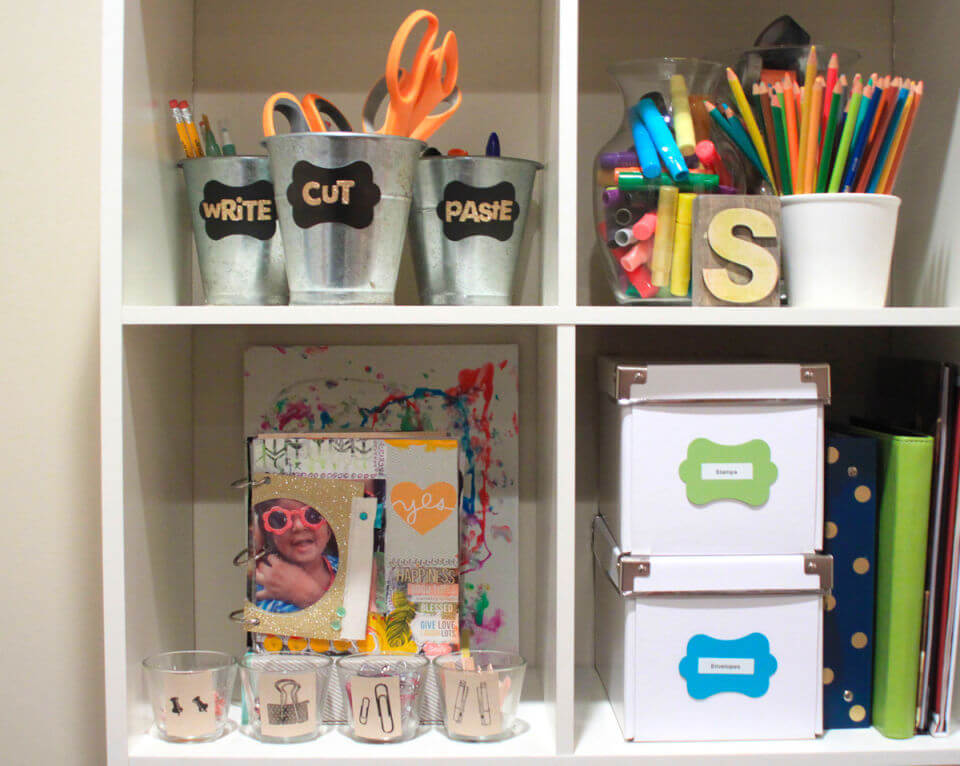 Get tidy up in your office with this open cabinet, has modern chic white appeal and will provide brilliant storage space for office supplies in the form of compartments! This office storage is best when you need great ease to pick your favorite material or object! One more brilliant office organization hack! Here is how to make it fiskars
13. Hanging Storage Bins from Recycled Containers
Installing smart storage options is crucial for the smooth functioning of your office space! Recycle also old and empty containers from home to build these incredibly cost-efficient hanging storage bins will allow categorical storage of your office supplies! They are quite easy to hang on the wall hooks! Details here makeit loveit
14. Make Wood Desk Drawer Dividers
If you are blessed with some huge storage drawers in your office storage options then can be updated with smartly made dividers for the amazing no-mess type of storage in them! This idea will also rock when you need to store a lot more things and materials in the big drawers without installing further storage organizers! Details here inmyownstyle
15.Simple DIY Bulletin Board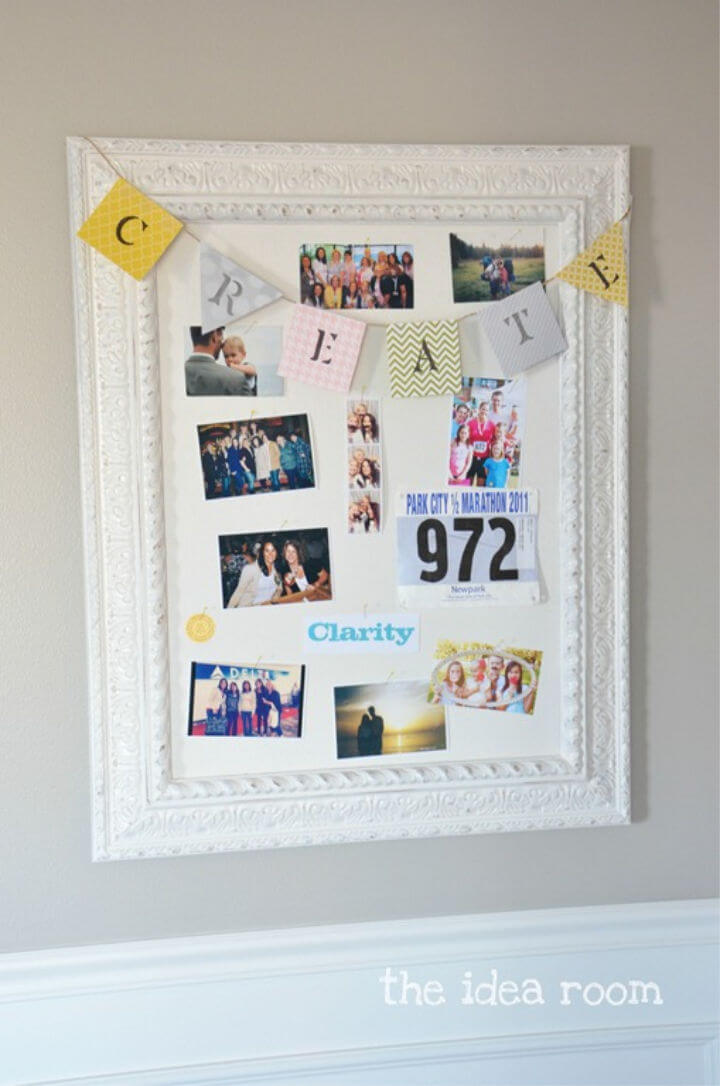 Hack also great storage solutions for your office using your recycling mantra! Upcycle the old picture frames to make instant beautiful bulletin boards, will nicely hold your everyday notes, messages, and tasks! White paint the recycled picture frame and fit a white painted cork board to its backside, and that's it! How-to details here theidearoom
16. DIY Wooden Charging Station
Ease yourself in office desk organization with this hand-built wooden charging station! Build this two storage pocket cubby out of recycled wood, finish with a hardware label holder! Give a nice wood finish, and that's it! Full how-to instructions here drivenbydecor
17. DIY Pocket Full Hanging Organizer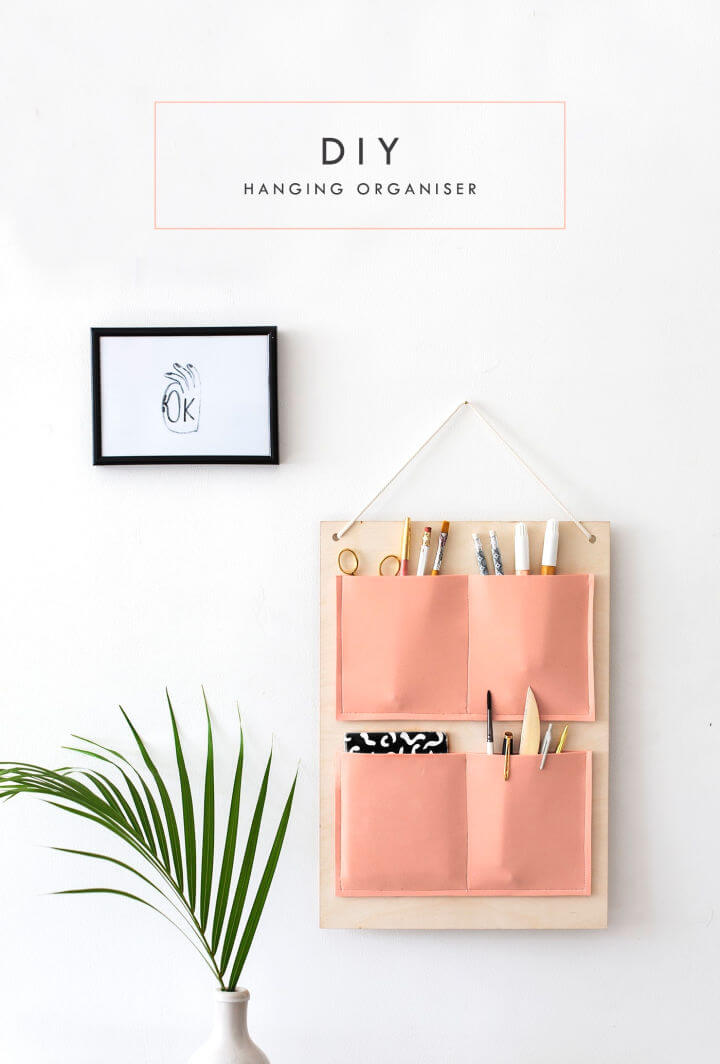 Upgrade your office storage by installing beautiful pocket organizers on the wall! Add up a plywood piece with foam or leather pockets and build a hanging pocket organizer, will be an ideal place to organize the pens, scissors, and other office concerns! Full details here thelovelydrawer
18. Easy DIY Mason Jar Organizer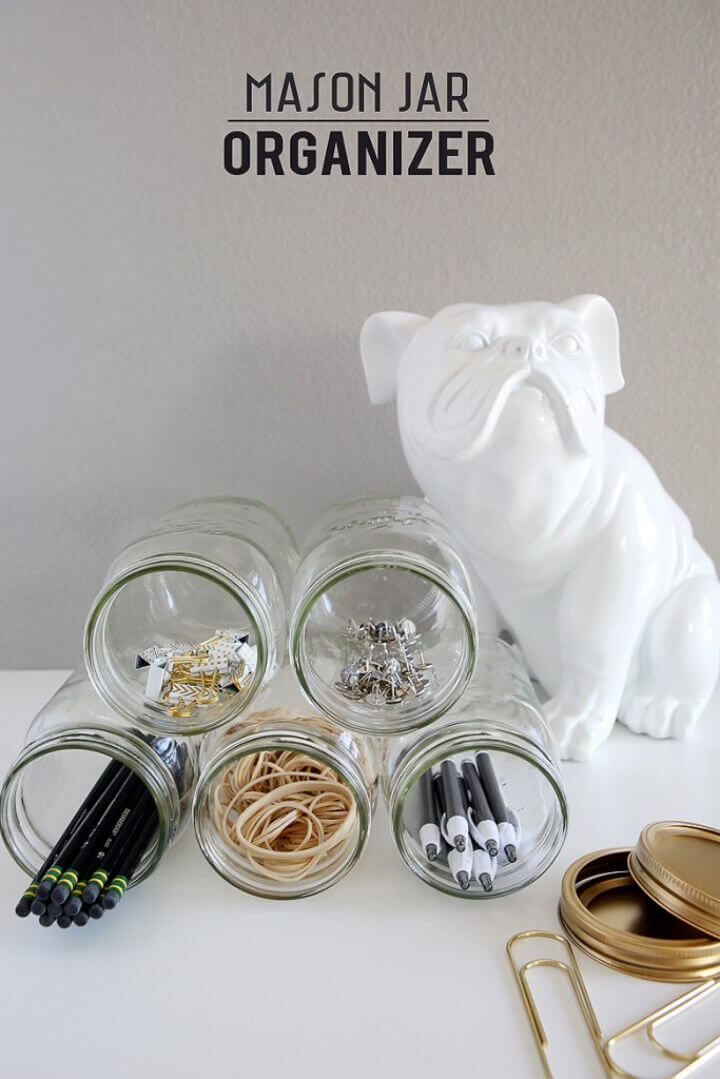 Look through this another great idea to declutter your office in a budget-friendly way! Grab a stock of empty Mason jars and then just stack them up in custom configuration and build this handsome Mason jar organizer in no time! Full how-to instructions here eighteen25
19. Desk Organizer from a Block of Wood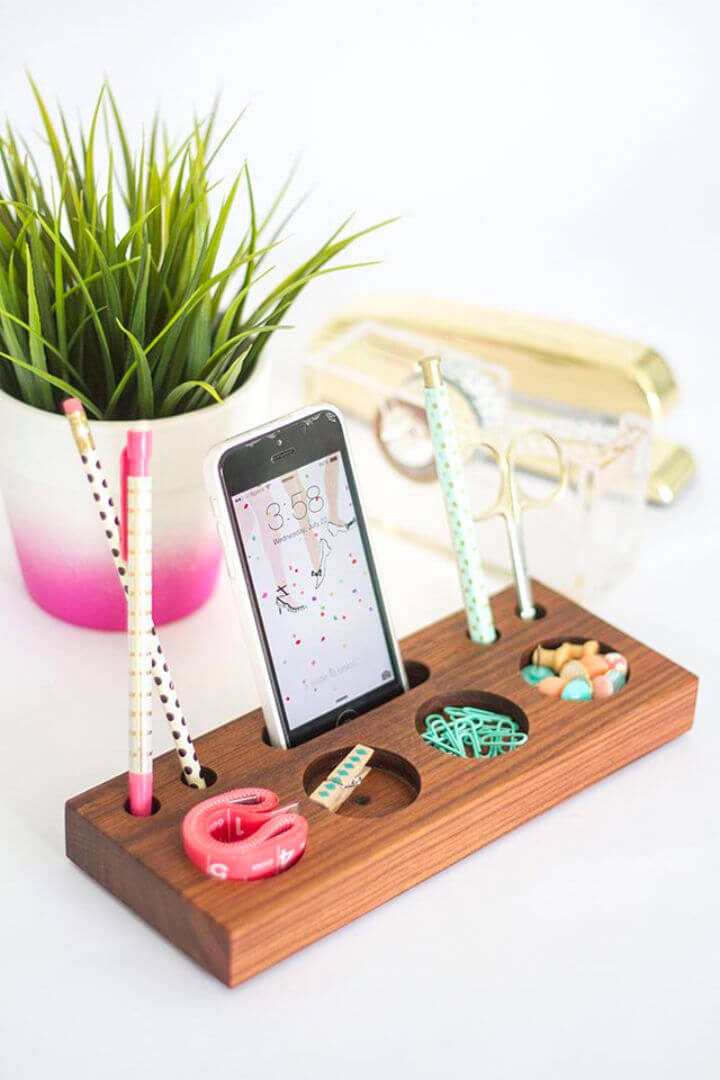 This DIY office organization idea is about creating a desk organizer from a wood block. This is an easy and inexpensive way to spruce up your office space. Additionally, you can customize the size, color and design of your office organizer as much or as little as you wish. Once complete, a desk organizer crafted from wood makes office items easier to find while hiding them away in plain sight.
It's perfect for storage and a great office organization solution. Even an old block lying uselessly around can be worthy of being in your modern office as a graceful organizer! Bring it in accurate dimensions, cut slits, slots, and holes, and set it on your office desk to hold your things stylishly!  How-to details here ehow
20. Old Picture Frames Into Table Organizer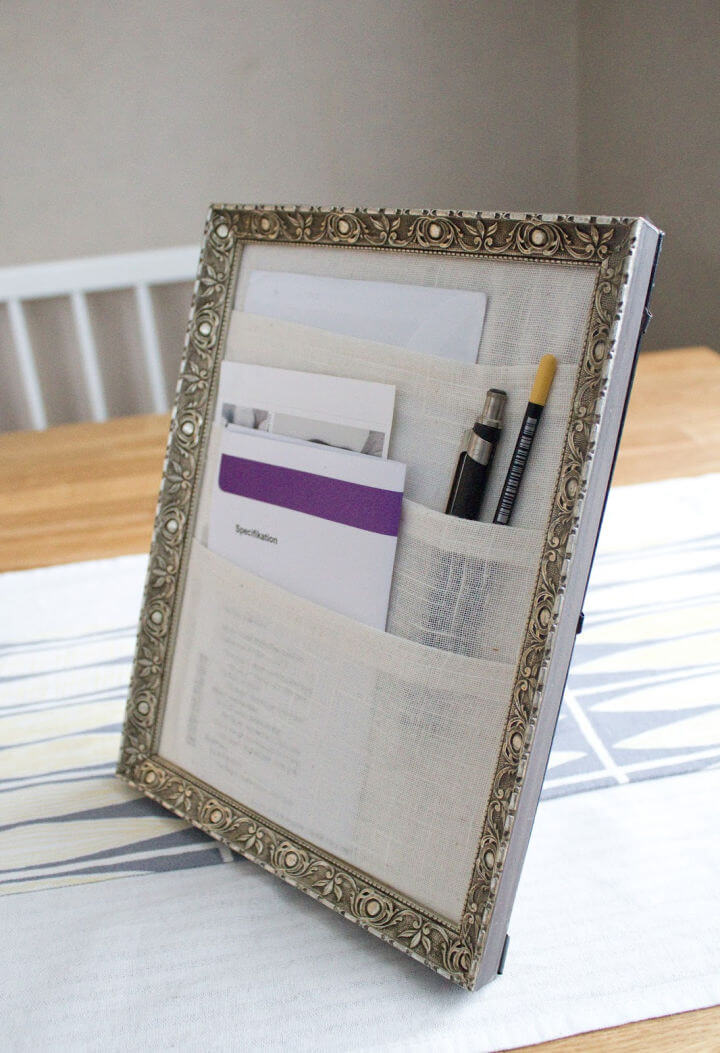 You will love the way this picture frame organizer will stand on your office desk! It comes with several fabric pockets to hold your things up nicely! It will be an ideal organizer for holding your mails, letters, and pens! Here is how to make it wishfultinker
21. Modern DIY Pencil Holder
Choose also the modern storage options for your modern office! Hopefully, you can make some amazing ones at home too like this modern DIY pencil holder! Use the plexiglass sheets to build the plastic box that will sit in the triangular wood frame beautifully! Full how-to instructions here anikasdiylife
22. Old Books Mail Organizer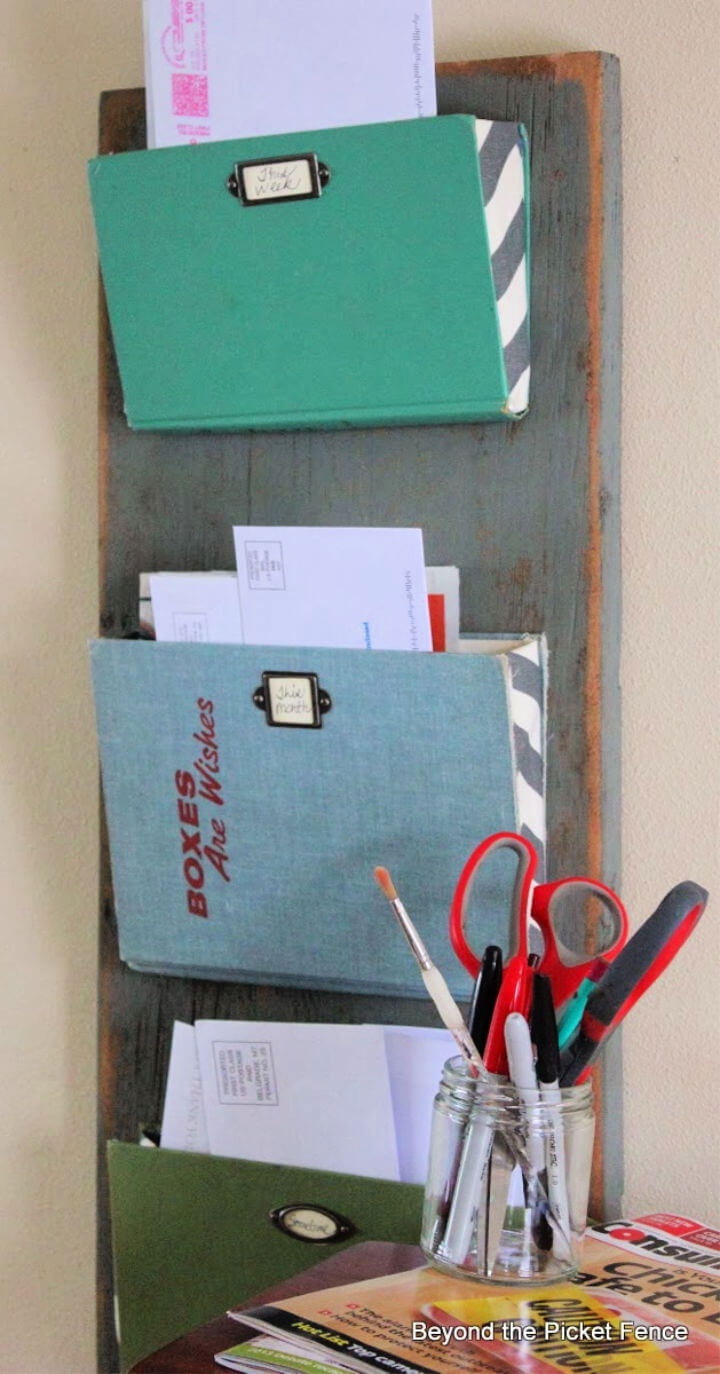 Connect and cover the sides of your old books with the leftover fabric and regain them as lovely storage pockets! Next, mount them on the wooden boards to make precious mail organizers hang on your office walls! Scrap wood, old books, and scrap fabric will be the total supplies to make this frugal office organizer! How-to details here beyondthepicket
23. Cabinet Door Pockets to Organize Bills and Receipts
Add also the more storage features to the storage options you have already installed to let them serve more! Update the office storage cabinet doors with custom pockets to organize your bills, mails, letters, and receipts! Another great and awesome storage solution for your office! Complete project details here organizinghome
24. How to Make Magazine Holder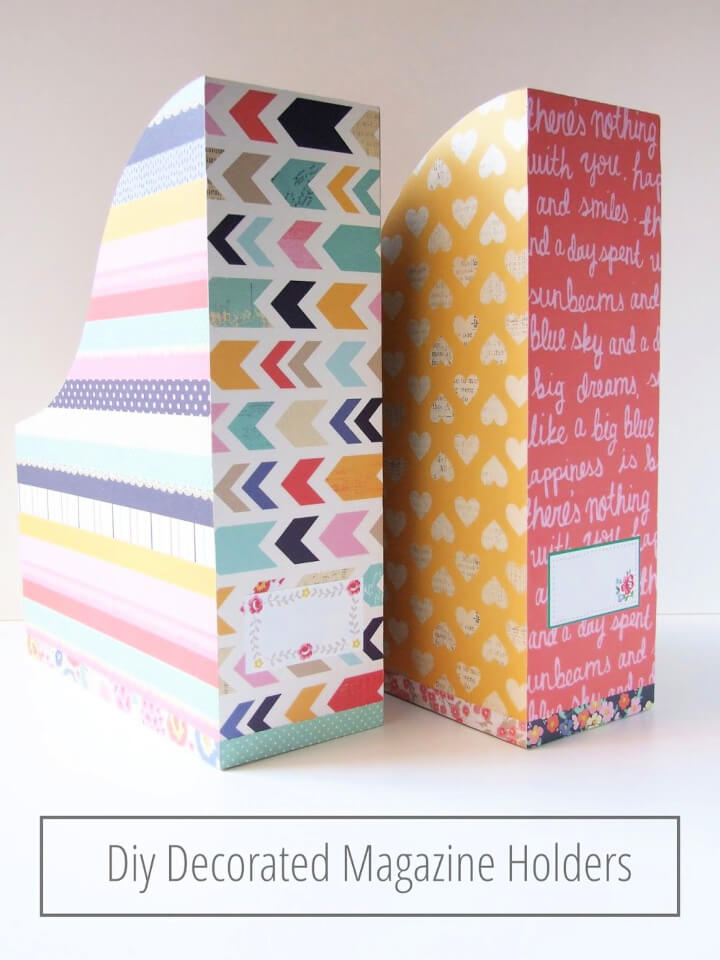 The magazine holders are the ideal candidates to incorporate to your office for an added storage space! They are cost-efficient to buy and can quickly be decorated to match the office decor! Decorate magazine holders with scrapbook papers, decorative papers and with washi tape! How-to details here gatheringbeauty
25. DIY Pegboard Wall Organizer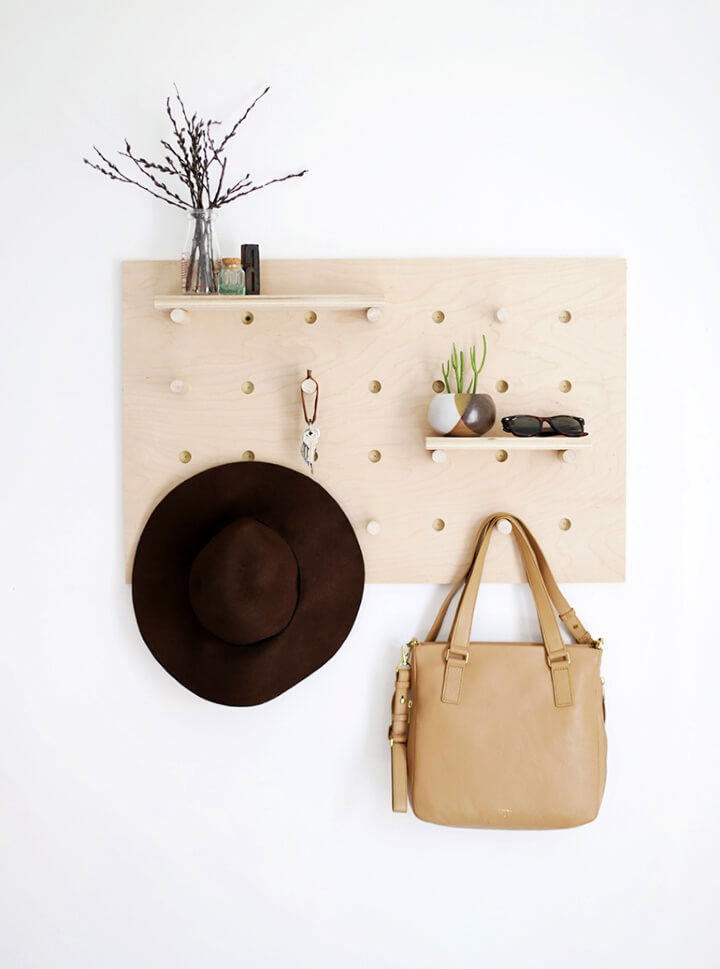 If you're looking for creative and simple office organization ideas, why not give a DIY pegboard wall organizer a try? A great way to clear up cluttered office spaces and bring some order to your desk, this easy-to-assemble project requires just a few thumbtacks, some pegboard from your local hardware store, and your imagination!
This simple solution can be used in any office setting and, perhaps most importantly, looks great. If you're after office organization ideas that are as stylish as they are functional, the DIY pegboard wall organizer is the perfect project for you!
Grab a pegboard, add peg hooks, and let them hold the wooden shelves that will display your things nicely! Here this pegboard wall organizer comes in blank wood appeal! Details here themerrythought
26. Making a Fabric Bulletin Board
You can announce something important to your office audience without having a bulletin board! Make your own beautiful bulletin board using plywood, cork sheet, fabric, and nice wood trim! An interesting readymade sample is here to grab your attention, a fabulous handmade office organizer! How-to details here build basic
27. Cheap DIY Geometric Hanging Cubbies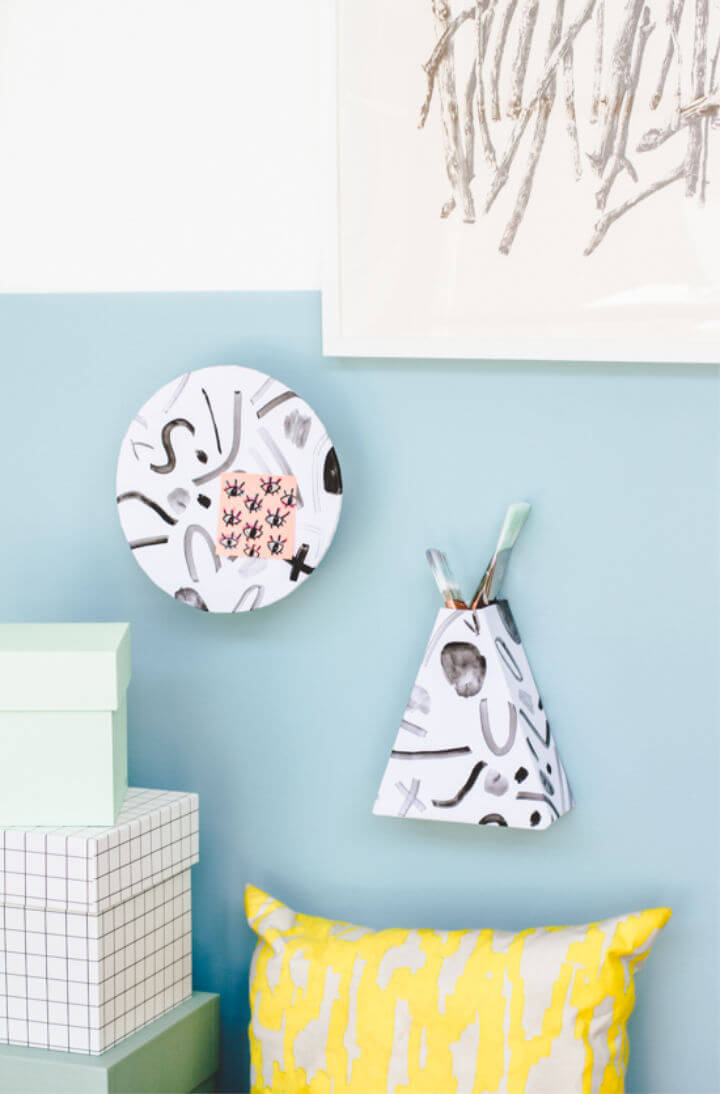 The geometrical decor always go spell-binding! Create also an arresting appeal of your office by adding geometrical hanging cubbies, will also add in office storage space! Whip up these geometric hanging cubbies using decorative paper and foam board! How-to details here papernstitch
28. Giant Pegboard – Perfect for Office Organized
Choose the oversized organizers to tidy up a large messy collection of office supplies! Let this giant pegboard help you to get a clean and neat look at your office! Paint a pegboard in style, add accent wood trim and next put flat some shelves on peg hooks, will rock to highlight the office concerns! How-to details here acraftedpassion
29. Magnetic Colorblock Desk Accessories
Does your office storage need a refresh? Add these magnetic colorblock desk accessory holders that will whip up super quickly! Paint the paper mache circular boxes with your favorite paint and next glue the magnets inside of it so it will nicely hold the metal paper clips, pins, and other office supplies! Full instructions here shelterness
30. Make Your Own Pencil Holder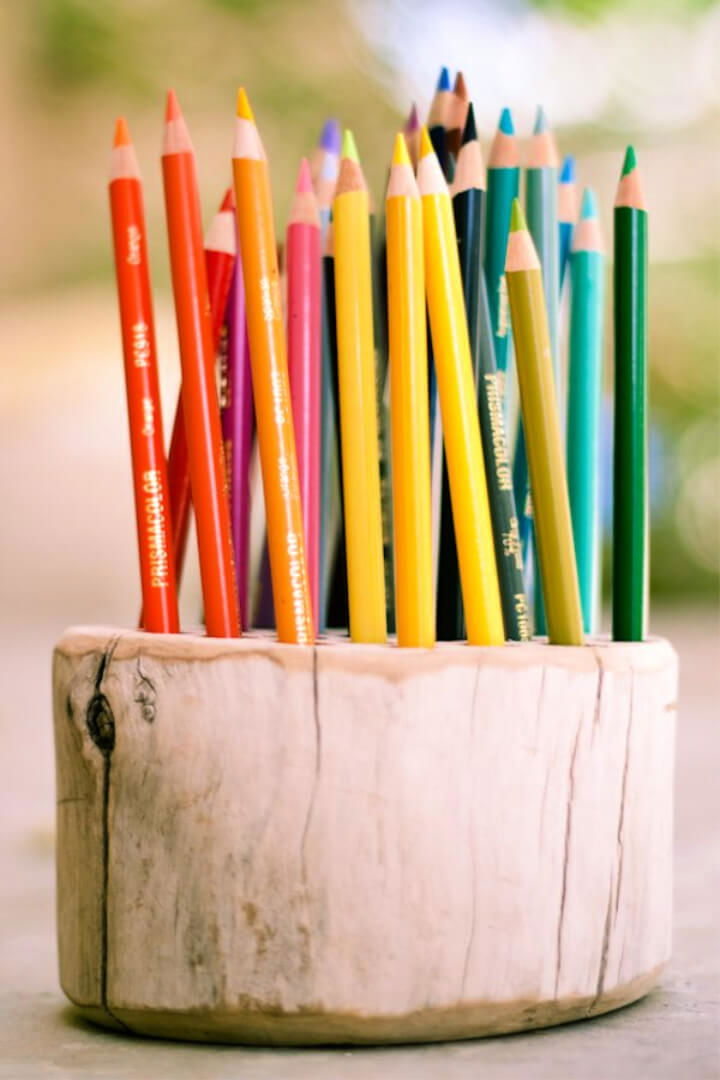 You can't resist this pencil holder when you need to update your office storage, a rustic pencil holder, will look divine on your modern office desk! Grab a small slice of wood and drill pencil size holes in it and next add your pencils in them! Another smart office storage solution! Full instructions here thesweetes
Related DIY Projects and Ideas
Bulletin Board Ideas: Bulletin boards are a great way to not only organize your home and office spaces, but also to encourage creativity and make your space feel more welcoming. Here are easy DIY bulletin board ideas that anyone can do.
Desk Organizer Ideas: Whether your desk is cluttered with work, school, or your personal life, these simple DIY desk organizer ideas will help you get organized.
Room Organization Ideas: Check out these unique room organizing ideas to get your room in order. From the living room to the kitchen, these ideas are perfect for making every inch of your space more functional and beautiful.
Wall Storage & Organization Ideas: If you are living in a small apartment, have a cluttered garage, or just need some storage space, these awesome wall storage & organization ideas will give you some inspiration.
Refrigerator Organization Ideas: The fridge can be a mess of jars, bottles, and condiments. Follow these best refrigerator organization ideas to find what works for you.
Pantry Organization Ideas: From a small corner cabinet to a major kitchen revamp, these top pantry organization ideas will help you create the perfect space for your family.
Kitchen Organization Projects: Organizing a kitchen can be daunting, but it doesn't have to be difficult! These brilliant DIY kitchen organization projects will give you a new and improved cooking space.
Conclusion:
Ready to get organized? Check out our roundup of 30 DIY office organization ideas that will help you declutter and streamline your space. From desk organizers to file cabinet makeovers, we've got you covered. And if you need a little extra help, be sure to check out our favorite office organization ideas. Happy organizing!