The Mason jars are one of the most used and most popular materials in the world of crafting! You can really do wonders with these empty glass jars that are free to get and easy to access! One can take a visit of the craft stores to get a good supply of empty Mason jars by paying next to nothing and you can also manage a good stock of Mason jars from home to do some amazing crafting projects! There are various food items from baby food to processed food and seasoned items that come in the Mason jars so you can repurpose those Mason jars when they get empty! There are tons of craft projects to do with mason jars from getting amazing storage options from your home to making incredible home decors or centerpieces, and also from precious light decors to thanksgiving gifts for every event and occasion!

However, the DIY Mason jar crafts are for every skill level like from easy to intermediate to tough and once easily choose the Mason jars projects according to his skill level! So, if you are sorting out some perfect Mason jars projects for your kids so they will also enjoy the crafting fun by making precious things and objects with the Mason jars then you are just staying at the right place! Just check out here these DIY Mason jar Craft Ideas for kids that are amazing and will create too much fun for your kids! Here these Mason jar crafts will also give a great creative boost to the thinking of your kids and these Mason jars crafts for kids will also rock for the rainy days!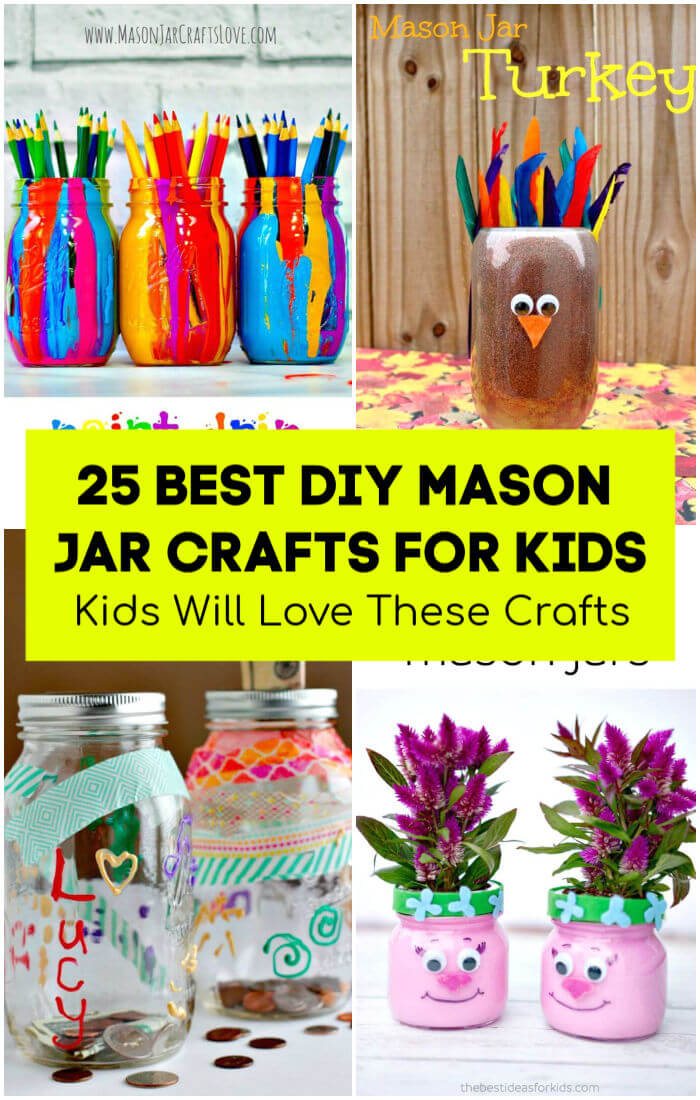 Let your kids get crafty with the Mason jars and the Neon paint and make the cute fireflies-in-the-jar gifts that will definitely please the siblings! If you are going through the fall season then your kids can also make the fall luminaries out of Mason jars, just paint the Mason jars, add a fall leaf or tree monogram and then add a battery operated light inside! If your kids just love to save the money then they can also make the sweet Mason jar money banks at home, just give custom cuts to top lids of the Mason jars and then decorate them with washi tape, ribbon and with other embellishments for a cool look!
Let your kids make the fairy Mason jars that would make a perfect light décor and gift and next they can also paint the Mason jars with some superhero logos for making outstanding superhero mason jars that will definitely amaze all the other kid friends! Let your kids also get crafty with the Mason jars, with paint, felt and googly eyes to make the precious turkey jars that would go eye-catching to all fun loving kids! Check out a number of more Mason jar kids crafts in the given below list and choose the ones that your kids will like the most! Visit also the attached links to reach to full free project guides and tutorials!
DIY Paint Drip Mason Jars:
Mason jars are so cool to have for the kids crafts as you can play with them in a lot of fun and exciting ways and making these painted trip pencil holders would just be great. Just grab three mason jar and pour your favorite paint drops on the bottom and let them drip to the top and create this lovely set of stationery organizer for the homework desks.
Tutorial: masonjarcrafts
Make Mason Jar Crayon Candle:
The kids can make the perfect gifts for their teachers on their own and getting your hands on this crayon made candle jar would be the best and here is the complete plan. You just need to cut your crayons into halves and pour them all in the mason jar with a waxed wick in the center and thus create a gorgeously colorful candle inside the jar.
Tutorial: brittanyestes
Pretty DIY Trolls Mason Jars:
The kids are just in huge with all the cartoon movies and trolls is a big hit among all the kids and you can use their troll love to make these adorable troll mason jar vases for their room decor and they would just love it. You would need a pair of mason jar, pink and green paint, googly eyes and some felt to do more embellishing.
Tutorial: thebestideas
DIY Glitter Snow Globes from Mason Jars:
Winters are here and these gorgeous snow jars would add the perfect appeal and beauty to your spaces and that too in a really easy and fun way that the kids can do it themselves too. Just fill up the jars with the waterproof glue, add glitter and the animal figurines like a zebra or giraffe and your perfectly cute snow jar is ready.
Tutorial: diynetwork
Make Mason Jar Fairy House Craft:
There is everything magical and sheer beauty about the fairies be it their land, their attire and their houses too so here is how kids can go crafty with their fairy craze by creating this lovely fair house and that too in a mason jar. Just let them paint the mason jar with doors, window and flowers to create a house image and a candle inside would add more intimating features.
Tutorial: easypeasy
Cute DIY Fireflies In A Jar Craft for Kids:
Kids are so fascinated by the glowing fireflies in the dark and many of them try to collect them in a jar and see the most gorgeous light magic created in a jar. So if it's not possible for your kids to make get the fireflies they can make this faux firefly mason jar using the jars of course and the glow candles and have so much fun.
Tutorial: survivingatea
DIY Mason Jar Piggy Bank: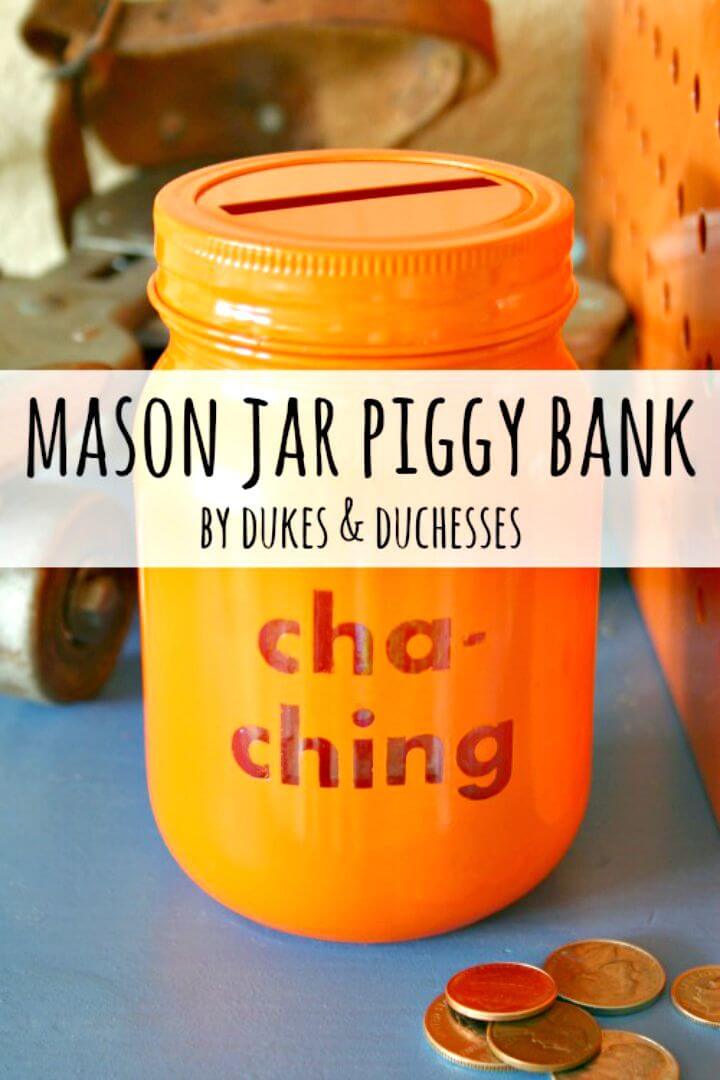 Kids can learn the real value of money from the young age by collecting the money in these small and cute handmade piggy boxes made out of the mason jars. Just make a slot in the lid of the mason jar and then paint it up in an exciting and radiant shade like the orange and to make it a custom possession you can add some letters too.
Tutorial: dukesandd
DIY Mason Jar Turkey Craft: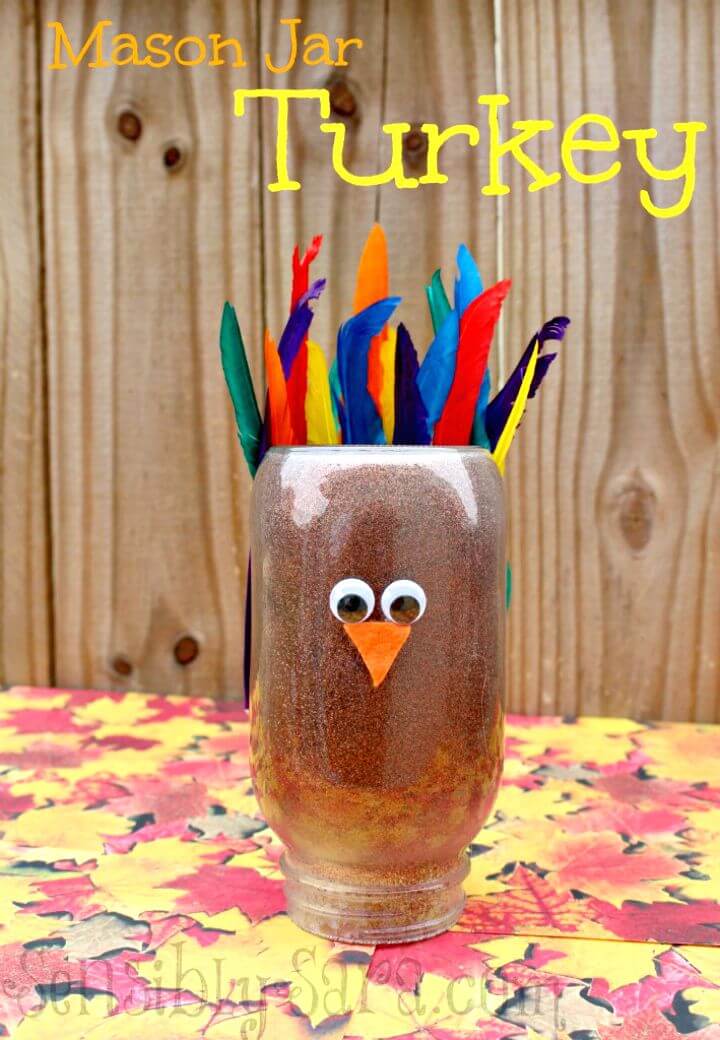 For the Thanksgiving a turkey can be the center of your decor crafts and you can create this adorable turkey for your party or dinner table as the pretty and cute center piece. Even if you do not have time to make this cute turkey your kids can make it as it is super easy and fun to make out of a mason jar, glitter, wiggly eyes and the pack of colorful feathers.
Tutorial: sensiblysara
DIY Mason Jar Fall Luminaries Craft:
These immensely gorgeous and fun looking mason jar fall luminaries would bring the perfect charm and beauty of the fall to your spaces and they are super cute and fun to make even by the kids. All you need to do is just glue up the fall colored piece of the tissue papers to the jars and add the candles to the jars and they are done to light up your spaces so gracefully.
Tutorial: whereimagi
How to Make Mason Jar Lanterns:
Summers are here and you would find so much fun to do with your kids in the form of lovely and excited crafts and the mason jars can be your experimental tools. Yes you can let your little one paint the mason jars and then use them as the gorgeous and custom lanterns for your outdoor spaces and here are the details of it.
Tutorial: suburble
DIY Decorate A Mason Jar Bank:
When it comes to kids crafts the mason jars are so much fun and there is a huge variety of the ideas and projects to do with them. Here is a super cute and fun idea of creating these mason jar money banks for the kids and that too on their own. Let them paint up the mason jars with their creative and imaginative approach and save money in this cute and handmade money box.
Tutorial: makeandtakes
DIY Fairy Mason Jar Tutorial:
Girls love fairy tales and they can bring a bit charm of the fairy land to their rooms by creating these adorable fairy mason jars for their spaces. Just add some glitter and the glow sticks to the mason jars in your favorite colors and your lovely fairy jars are just ready to glow up the rooms of your little ones in a really whimsy and fun way.
Tutorial: momdot
DIY Mason Jar Superhero Banks:
While girls are crazy for the fairies and fair tale heroins the boys are mad for the super heroes and super man and batman are their huge favorites. So they would love painting up the mason jars with the superman and batman themes and create the most amazing and cute mason jar money banks for shelves to save their coins in.
Tutorial: firefliesand
Cute DIY Mason Jar Turkey:
The kids can make this lovely and cute mason jar turkey gift to their friends or their teachers and make them by their own hands so damn nice and easily at home. Just add the turkey features like a felt cut nose and the wiggly eyes to the jar and colorful card stock feathers and each of them written with a thanksgiving note.
Tutorial: localadventurer
DIY Mini Mason Jar Aquariums:
The mason jars are so cute and fun for the kids crafts as the kids can create a world of their fantasy in this little mason jar and making this lovely aquarium would really be a nice kids craft idea for the weekend. Direct them to fill the mason jar with the water, glitter and infuse all the cute aquarium figurines inside and the mini mason jar aquarium is ready to rock your decor.
Tutorial: alittleclaireifi
DIY Thumbprint Flower Mason Jar:
Kids just always want to contribute when ever they see their mothers involved in some cute and colorful crafts and this sun flower mason jar vase would let them play some crafty part too in the making of it. You can paint the whole mason jar in white and then ask your kids to thumb paint the yellow petals on it and its done.
Tutorial: masonjar
Make Your Own Turkey Jar Craft:
The Thanksgiving decor is just so undone with out making a cute turkey for your display spots and now you kids can make one and help you out for the Thanksgiving decor and other preparations. Just paint the mason jar in brown, add the googly eyes and the felt cut nose and the colorful feathers at the back and a lovely turkey decor is ready to be flaunted around your spaces.
Tutorial: yesterdayon
Easy DIY Mason Jar Aquarium:
Kids just love to have a aquarium in their spaces and if you do not have that much money and space to afford one in the house then making this mini aquarium in a mason jar is the best idea to work up their aquarium desires. It can easily installed the kids themselves by just adding water, blue color, some sea stones and the plastic sea figurines in the jar.
Tutorial: hellowonderful
DIY Mason Jar Night Light: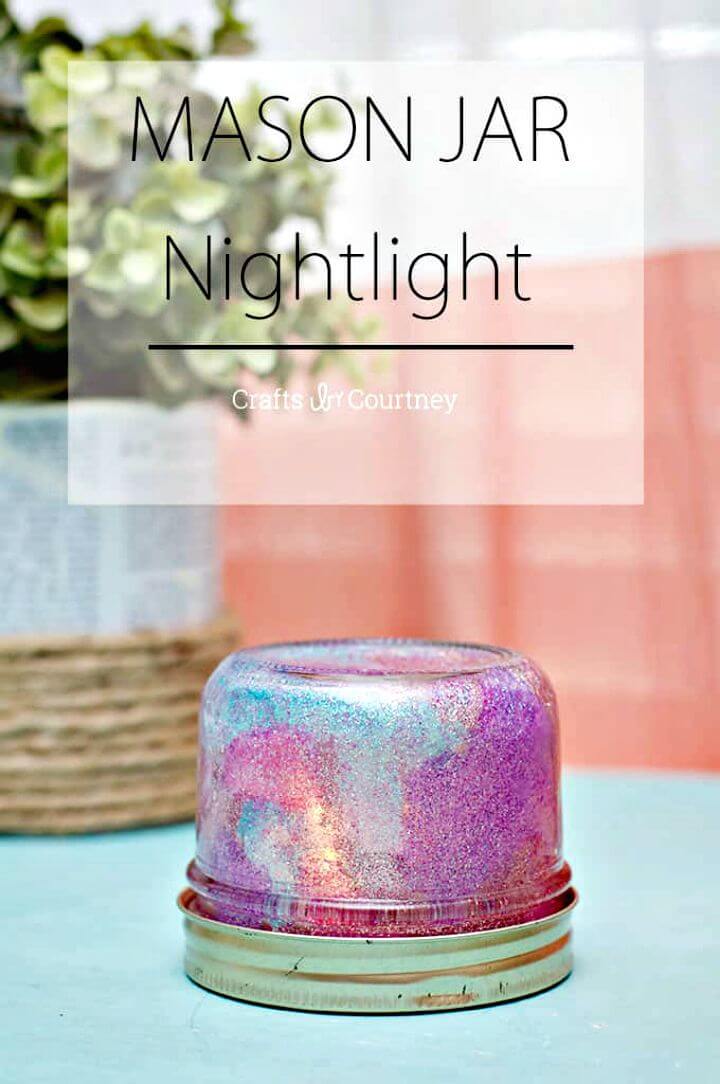 The pretty lights really add to the atmosphere and the vibes of your spaces be it indoor or the outdoor and here is the idea of creating these gorgeous and romantic glitter lights from the Manson jar and add so much jazzed up features to your summer decor with them. You just need to glue up the glitter to the mason jar walls and add your candle and these whimsy lights are just ready to rock the decor.
Tutorial: modpodge
How to Make Mason Jar Terrariums: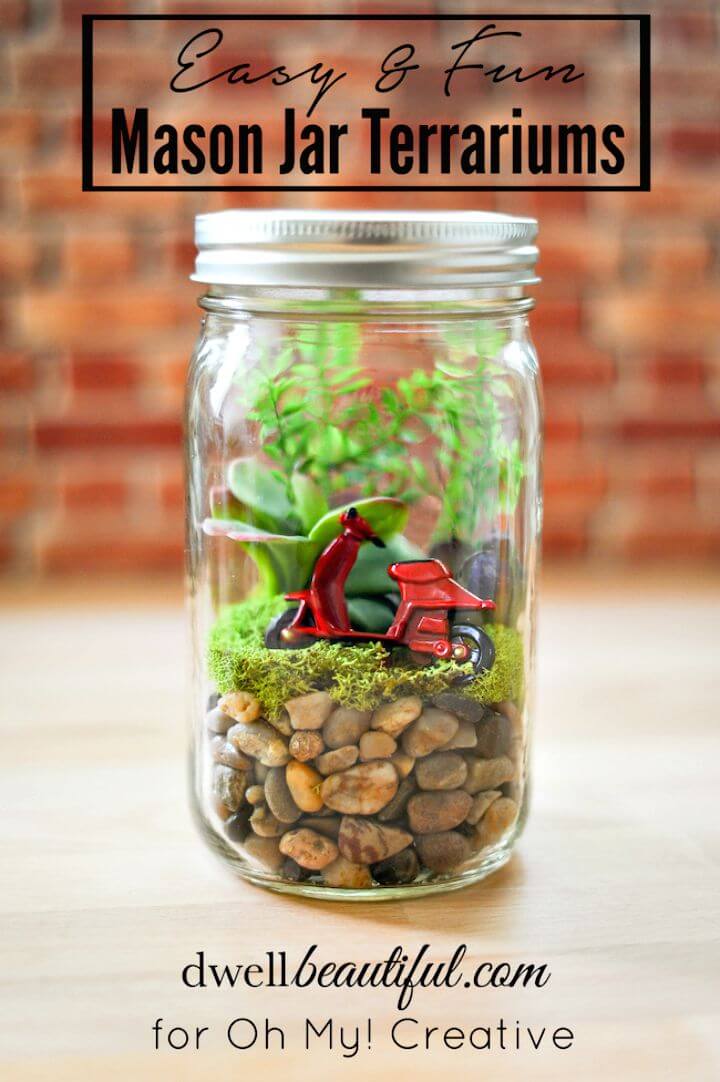 Bring some beauty of the land to your spaces this summer by adding this mini terrarium jar in your home decor and it is super easy and fun to be built up the kids and let them enjoy a great crafting time. Just fill up the mason jar with the rocks, faux grass and the plants and a lovely plastic figurine of any kind and your beautiful terrarium is ready to beautify a table top, shelf or the mantel space of yours.
Tutorial: ohmy-creative
DIY Mod Podge A Mason Jar Candle: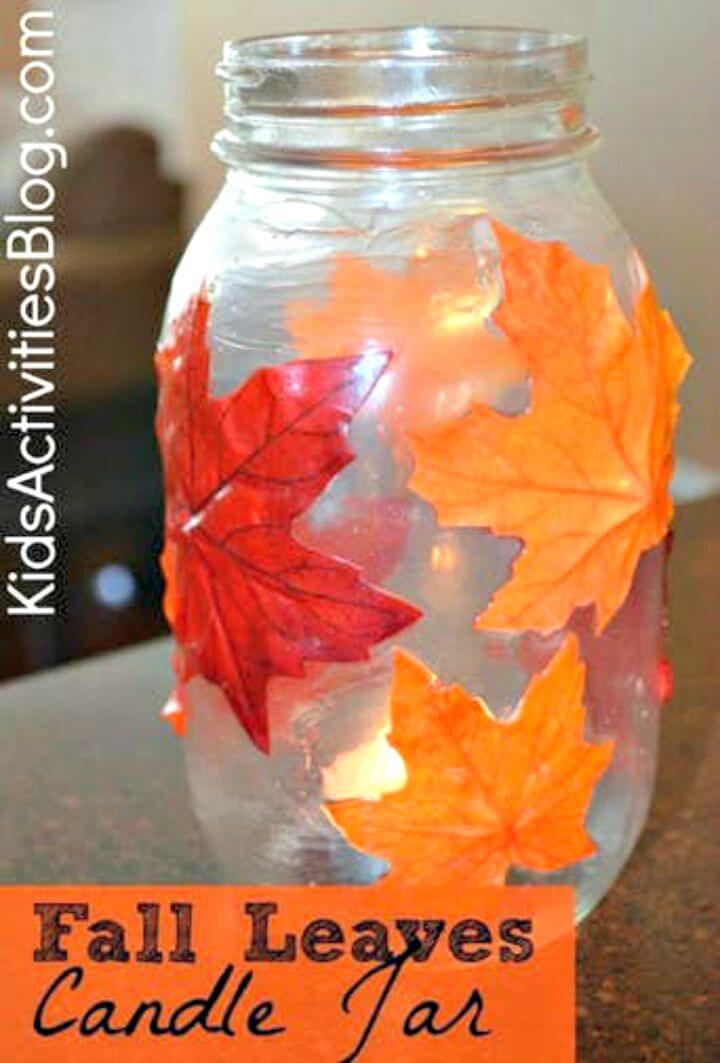 Fall is one of the most beautiful times of the year for bringing us so many festivals and celebrations so to make your home look so much romanticized with the fall love and beauty you really need to make these adorable fall eaves candle jars and the so easy that the kids can make them. All you need to do is just glue up the faux fall eaves in multiple shades to the jars and put candles inside and you are done.
Tutorial: familymaven
How To Make Mason Jar Bird Feeder:
Making bird feeders is one of the favorite crafts and the activities that the kids enjoy to make and have fun with you and this time mason jars can really help you to create a lovely and functional bird feeder on your own. Yes with a mason jar, a chicken feed plate and some rope you can shape up this really cute and unique bird feeder with your kids involved.
Tutorial: littlehouseliving
DIY Baby Keepsake Mason Jar:
If you want something to hold your kid's keepsakes then here is the idea of creating this lovely keepsake mason jar for your kids and it would be so much fun to make with your kids at home. The jar has been painted in a lovely acrylic blue and you can take your kids cute little hand to create a hand print on it and make it a custom piece for his keepsakes.
Tutorial: happilyever
Make Mason Jar Craft for Kids: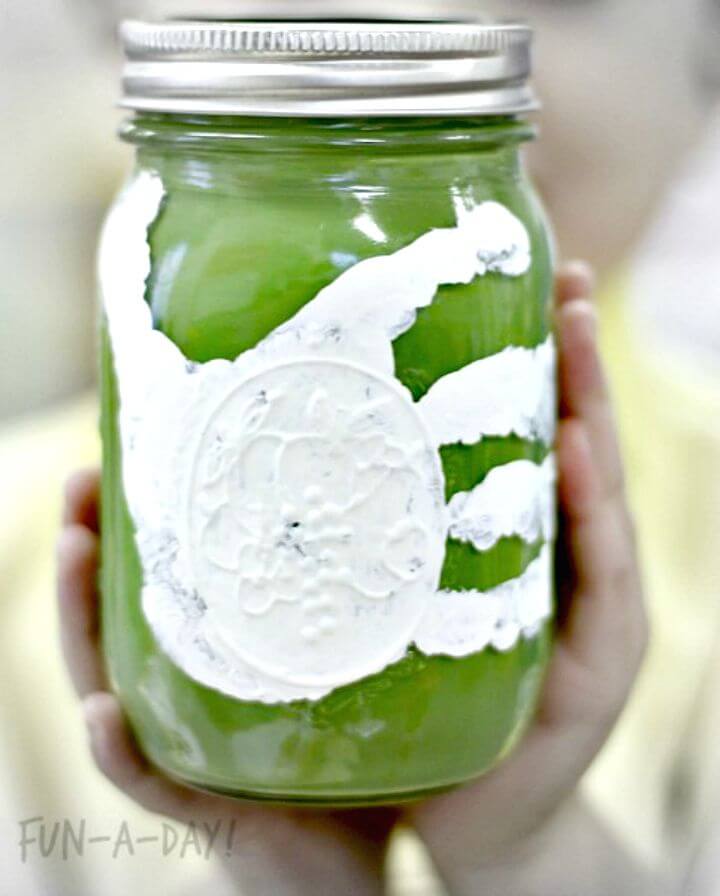 Father's day is coming and here is how you can help your kids to make this lovely gift for their dads and they would just love it. Just paint a mason jar in any of your favorite hues and then let you kids hand print their hand on the mason jar and fill the mason jar with some fatherly goodies and the gift is ready.
Tutorial: fun-a-day
Pretty DIY Mason Jar Aquarium for Kids:
Kids are in huge love with the sea and the sea creatures and here is how you can enjoy their love by making this lovely aquarium on their own. They can fill the mason jar with colorful river rocks and the cute mermaids being put inside. They can also paint the jar on their own to enjoy a more custom touch being added to this beautiful aquarium.
Tutorial: momtastic