Learn how to build your own server rack with our list of 20 free DIY server rack plans. From wooden server racks to compact soundproof cabinets, we have something for everyone – no matter your skill level or space requirements. Our collection of DIY server rack plans features step-by-step instructions and detailed guides that cater to beginners and experienced builders alike. Crafted to suit various needs, these DIY server rack plans include options for small wood server closets, homemade mini network racks, and even IKEA server cabinet hacks!
Building a server rack is not only a cost-effective solution but also an opportunity to personalize and tailor your storage needs. With our carefully curated list of free DIY server rack plans, you will discover ways to build an organized and efficient server setup, utilizing readily available materials and tools.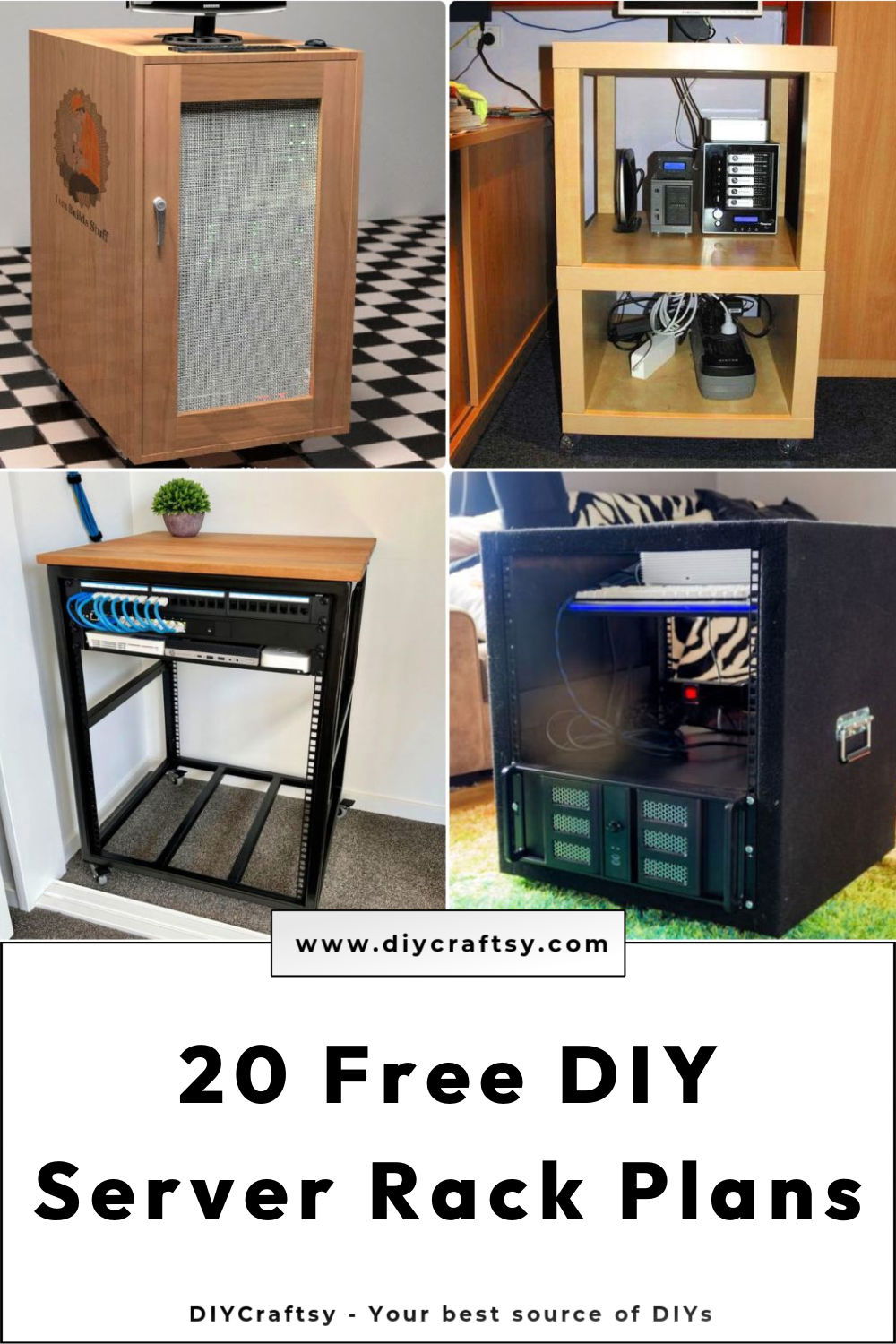 So, get ready to embark on a rewarding DIY journey and build your own server rack today that is both unique and functional! Start exploring these 20 free DIY server rack plans and find the perfect one that speaks to your style and requirements. Happy building!
1. Free Wooden Server Rack Plan
Build your 20U server rack without breaking the bank with this detailed tutorial that provides cost-effective materials and step-by-step instructions to construct a personalized open frame or enclosed server rack for your home or small office.
Effortlessly organize your servers and equipment with a server rack tailored to your needs. This informative guide offers customization options and benefits to quickly simplify storing and accessing your server gear.
Make the most of materials you likely already have, use basic tools, and save money compared to the cost of a pre-made rack. Don't settle for a generic one-size-fits-all solution for your server needs. Instead, build a stylish and functional server rack for efficient storage and accessibility. tombuildsstuff
2. How to Make a Server Rack
Looking for a practical solution to house your expanding network equipment? This detailed DIY guide will walk you through building a custom, short-depth open-frame rack. Catering to a space of not more than 600mm, the design offers 10-16U – ample room to accommodate your current setup and future additions like a UPS and servers.
The instructions illustrate how to fabricate the frame, attach castors, fit a reclaimed timber top, and install rack strips using basic tools and materials. In fact, by opting for DIY, you can save nearly $100. So, if you're searching for a budget-friendly, efficient, and scalable solution, consider creating your personalized network equipment rack. scottmckendry
3. Homemade Server Cabinet
Explore how to efficiently build a silent DIY server cabinet, an IKEA hack, for your home lab. Constructed using IKEA's BESTA Frames, Shelves, and doors, this server cabinet delivers a high 'Wife Approval Factor' with its classy design blending effortlessly into home décor.
The tutorial gives a comprehensive guide on the required materials, including non-IKEA items, tools, and a step-by-step process from joining frames to ventilation setup. The build also addresses the noise issue, leveraging the acoustic insulating properties of the IKEA material.
Complete with thermal tests and cable management, this is perfect for tech enthusiasts seeking a space-efficient, aesthetic solution for their home lab setup. rossbrigoli
4. DIY Wood Server Cabinet
Discover the world of DIY server rack plans and transform your workspace with customizable, cost-effective solutions for your organization. Enhance your technological setup with a DIY wood server cabinet build! This home innovation project modifies existing rack plans to economize on the more costly elements, such as 3/4″ plywood, without sacrificing quality or function. The finished creation is a robust server cabinet, expertly crafted to accommodate specific hardware, such as 12U threaded rails.
This build requires a keen eye for detail, careful measurements for accurate dimensions, and a thorough understanding of cabinet interiors. It's a unique opportunity to boost your tech infrastructure while engaging your DIY spirit. Experience the satisfaction of custom-crafting your very own server cabinet! imgur
5. IKEA Server Cabinet Hack
Discover how to unclutter your home network setup and upgrade your space aesthetics with a DIY server rack encased in an elegantly designed AV cabinet. This comprehensive guide will take you through acquiring a suitable rack unit (RU), its assembly, and its integration into a custom-made cabinet that blends perfectly into your home decor.
This innovative solution does not require an exclusive "server room" but can accommodate advanced networking equipment with deep dimensions, offering a streamlined and compact alternative to typical server racks. Transform your living space and embrace the joy of building this appealing, space-saving, and budget-friendly home network hub. josephlo
6. Build Your Own Rack Case
Learn to transform your space and elevate your tech game with a custom DIY rack case. If you're one for organization and customization, this beginner woodworking project is for you. With the help of basic tools, you can build a sturdy frame that organizes your computer case and other devices in a sleek, functional design.
Adapt the blueprint according to your needs, deciding on the rack's height, depth, and rails. Despite being a seemingly daunting task, it's quite affordable and rewarding.
Constructing your rack case allows you to alter the design as you please, by adding handles or wheels or modifying its size. This project is a perfect combination of craftsmanship and tech organization! makeuseof
7. How to Build a 19″ Server Rack
Introducing a comprehensive guide on constructing your personal virtualization test environment or home lab. This DIY guide provides a step-by-step process to make a compact, cost-effective, and flexible test environment with networking and storage capabilities.
This guide not only introduces you to the necessary materials and equipment but also elaborates on the process of assembling these elements into a robust and aesthetic rack. Moreover, the procedure can accommodate larger components or adjust to personal preferences.
This custom-built rack provides a solution for tech consultants and technicians who need a private test environment and serves as a creative project blending industrial aesthetics with functionality. Make your custom rack today, simulate entire companies virtually in little more than a PC, and step into the exciting world of tech consultancy and system testing. mybenke
8. Smallest Server Rack With Ups and SSD Storage
Get the delight of crafting your space-saving, super-efficient DIY server rack at home! This handy mini server rack fits snugly on your desk, next to your coffee cup, making it the world's smallest server rack. Built-in features include a UPS for seamless performance during power outages and an SSD for file and media storage.
You'll need a Raspberry Pi 4b, sugar three plus ups, and geekworm m to construct this. Two naff shields, m. two SATA SSD, Noctua nf-a4x10 5v fan, i2c OLED display, breadboard jumpers, and various screws and nuts, with a reality ender-3 s1 pro and a guide cloud Laser as your main tools.
With detailed instructions and a comprehensive list of tools and materials, you'll have your server rack in no time. Enjoy the benefits of having your personalized home lab without sacrificing space or comfort! the diy life
9. Making Your Own Server Rack
Want to organize your expanding network equipment? Discover how to build a custom, durable, and versatile DIY server rack using readily available materials. With a friend's gifted rack rails and lumber, you might already have to lie around; you can construct a sturdy frame using 2x4s.
This design incorporates pocket hole joinery, specifically the Kreg KJHD jig with Heavy Duty pocket screws – a system known for its robustness and anti-corrosion coating. Adding 3″ polyurethane caster wheels allows easy mobility, while the open space concept supports better airflow for your equipment.
This rack is entirely glue-free, allowing you to easily disassemble, reuse, or modify it as your network grows. Gear up to make this practical, cost-effective solution to tidy your network space today! magneticmad
10. DIY Small Wood Server Closet
Building efficient storage for your equipment with free DIY server rack plans, offering flexibility and adaptability for your unique space. Construct a beautiful and efficient DIY server closet with an IKEA MOLGER. Known for its appeal in bathroom storage, the MOLGER takes on a new life as a clever small server cabinet. It's elegant birch or light wood finish transforms the typically cold and metallic server box into a warm and inviting piece. The 37x37x37cm dimensions offer a convenient and compact solution, ensuring an airy, well-maintained environment for your Wi-Fi spot and hub. Transforming the MOLGER involves simple modifications.
Follow the standard assembly instructions after trimming the legs to form a neat square box. Use the seat background piece to make an intermediate shelf with small screws. The cover piece is then attached with hinges to form a door, while the addition of magnets ensures secure closure.
Finally, mount your new server cabinet on the wall with metal angles. Despite its sophisticated appearance, this unique project rates a 6/10 on the difficulty scale. Enjoy this elegant, efficient storage solution today! ikeahackers
11. Simple DIY 19 Vertical Server Rack
Upraise your home tech with a custom-made 19″ DIY server rack. This project utilizes a Sun Fire V480 as the cornerstone, but the design caters to any 19″ mountable server. Build this unit with affordable, lightweight wood, enhanced by 'modern' materials like vises and angle irons to boost efficiency.
For the practical DIYer, this design cleverly integrates two 12U rack strips obtained from eBay for that professional touch. You'll find this homemade server rack capable of housing a network switch or similar devices. Mobility is a key feature, with wheels added to ensure easy transport.
Safety is addressed via two beams to limit tipping, allowing you to slide out a server easily. While crafting this unique, cost-effective 19″ server rack, enjoy the blend of hands-on woodworking and tech-savviness, making your home technology setup truly personalized. navni stuff
12. Handmade Mini Network Rack
Optimize your workspace with a DIY mini-network rack! This compact solution accommodates network devices, such as an 8-port gigabit switch and a wireless access point, perfectly fitting on your desk. Using materials like Meccano, you can build a 6-inch wide rack that houses your equipment and adds an aesthetic touch to your workspace.
Follow a simple construction process, adding sturdy supports to ensure stability. In the end, enjoy the benefit of a tidy work area, free from the clutter of large devices. Unclutter your desk today with this innovative, space-saving, neat mini-network rack design. instructables
13. How to Make a Server Rack at Home
Traverse the process of constructing a personalized DIY home server rack and enhance your tech setup. With standard server rack equipment, you, too, can establish a custom solution for your digital storage and networking needs. The development process is straightforward and rewarding, offering practical knowledge and insight into server technology.
This unique project elevates your technological prowess while providing functional benefits, offering a centralized location for your devices, and improving network performance.
Embrace this opportunity to delve into the world of home technology and develop a tailor-made server rack that meets your specific needs. Benefit from the seamless interplay of tech-savviness and DIY spirit for a satisfying and beneficial endeavor. Enjoy enhanced connectivity today with your very own home server rack!
14. Building a Frame Wall Mount Network Rack
Dive into DIY networking solutions with this innovative home network rack project. Having been inspired by the intricate server and network setups found in online communities, this project showcases the creation of a robust, compact, and aesthetically pleasing home network rack. The project's cornerstone is assembling an open-frame rail rack using inexpensive materials.
Incorporating a rack-mount switch, power distribution unit, and cable management accessories, this custom-made network rack is a practical solution and an opportunity to develop welding, design, and assembly skills. This comprehensive guide will direct you through each process step, from unboxing materials to the final assembly.
15. DIY Wooden Soundproof Server Cabinet
Take on the captivating journey of crafting a soundproof DIY server cabinet! This task can be undertaken to mitigate the noise generated by a rack-mountable server, proving a robust solution for a peaceful workspace. Using durable wood as the primary material, this project serves as a functional and aesthetically pleasing solution for noise dampening and provides secure storage for network equipment.
This creative endeavor requires standard woodworking tools, demonstrating how to repurpose readily available materials into a noise control solution.
Enhance your working environment and challenge your creativity with this remarkable project of building a soundproof server cabinet. Remember, making a quieter workspace doesn't have to be complex; all it takes is the right knowledge and determination!
16. Cheap DIY Rack Mount
Unleash your inner tech expert by exploring DIY server rack plans designed to optimize organization and improve your home network. Learn how to acquire a free rack mount for your DIY Powerwall with this informative guide. Learn the step-by-step process of obtaining this practical addition for your batteries, ensuring a cost-effective solution. Unleash your creativity and uniqueness as you explore the materials and tools needed for the preparation.
Follow the detailed instructions and method, allowing you to build and devise a customized rack mount effortlessly. Unlock the benefits and uses of this essential component, optimizing your project with style and functionality.
17. How to Build a 19-Rack Mount
Boost your home studio setup with a custom DIY 19″ rack mount gear enclosure. With a need for a quick, efficient solution, you'll appreciate the simplicity and affordability of this project. Requiring less than $10 worth of pine lumber, you can assemble your rack mount in no time, helping you to organize your recording equipment efficiently.
Ideal for musicians who host bands or record frequently, this rack mount solution is necessary for those short on time but not creative. Revamp your studio space, start recording soon, and elevate your music production with this functional project.
18. DIY Server Rack Makeover
Witness a remarkable server rack transformation in this captivating DIY tutorial. Say goodbye to the old wooden rack as we unveil the revamped setup. Discover how a dated wooden rack gets replaced with a cutting-edge alternative, enhancing efficiency and functionality. Unveil the exciting modifications and additions to the brand-new rack, ensuring optimal performance for your server setup. Experience the thrill of this extreme makeover, taking your server infrastructure to new heights of excellence. Give it a must-shot!
19. Easy DIY Server Rack for $10
Dive into the ultimately comforting DIY project with this step-by-step guide on transforming an ordinary IKEA Lack table into a stunning and unique server rack. This creative hack requires minimal materials and tools, making it accessible to beginners and experienced DIY enthusiasts.
Follow the cost-effective process to unleash your creativity and the full potential of this versatile table. With its affordable price and endless customization options, this IKEA Lack table hack is a must-try for anyone seeking a budget-friendly way to add a class and personality to their space.
20. DIY 6U Wooden Network Cabinet
With this informative and creative DIY guide, discover how to build your custom-sized DIY home network rack using simple 2×2 pine and dowel joints. With a focus on tidying up and organizing your equipment, this step-by-step guide takes you through constructing the basic frame. Whether you're a beginner or an experienced DIY enthusiast, this project offers a creative solution for locating and consolidating your gear. Find inspiration for your wooden server rack build, follow this easy guide, and see how this project evolves!
Conclusion:
In conclusion, the 20 free DIY server rack plans listed above offer various options for creating your own custom server rack. From wooden server racks to IKEA hacks, small closets, and soundproof cabinets, these plans cater to various preferences and needs. Building a server rack or DIY server cabinet can be a rewarding project, offering an affordable and personalized solution for your home or business network setup. Start exploring these free diy server rack plans and enhance your network infrastructure with a tailor-made server rack today.