A DIY aquaponics system is an exciting project if you're interested in sustainable farming and gardening! By combining the principles of aquaculture and hydroponics, aquaponics enables you to produce vegetables, fruits, herbs, and fish simultaneously in one self-sustaining ecosystem. Learn how to build an aquaponic system with detailed instructions and 18 different diy aquaponics systems and setup guides available below. It's easier than ever to get your own DIY aquaponics system up and running. From choosing the right plants or fish species to selecting the right filtration components or water pumps, these guides are a valuable resource for anyone looking to create their own aquaponic system at home.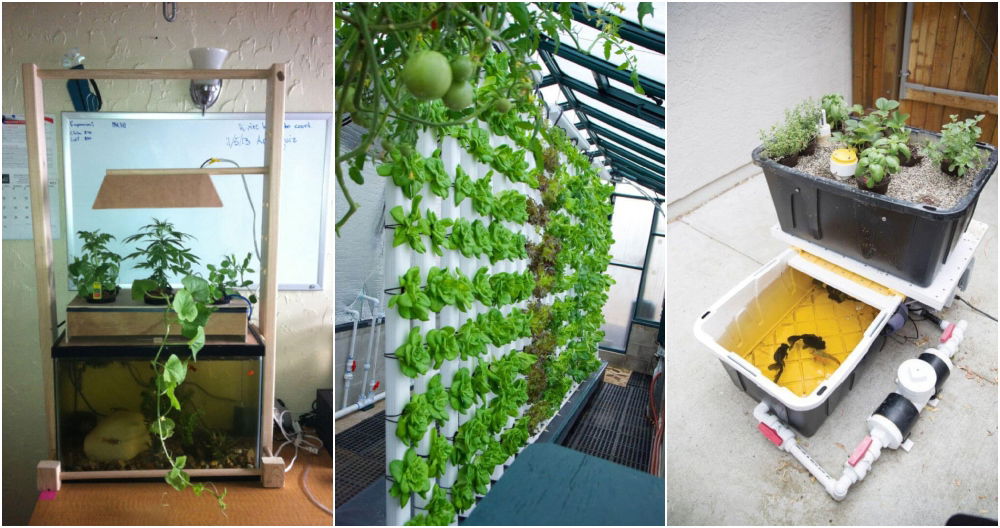 18 Cheap DIY Aquaponics System and Setup Guide
Who wouldn't want to make such an accommodating system at home that would help them grow both plants and fish in a clean DIY aquaponics system with minimal work? Many people are now preferring to experience this trend! If you are a plant person and you have a thing for sea animals, you are so in for a treat! We have rounded up below these fantastic and easy-to-make DIY aquaponics systems that can brighten up your days on earth! Enter the ultimate enjoyment of growing your hydroponic plants alongside raising fish. All by utilizing a natural cycle! Pretty exciting, right? You can surely find many pre-made aquaponics systems in the market, but they can be quite expensive.
If you have a thing for aquaponics systems but can't really afford that kind of big blow in your pocket. You will love these 18 DIY aquaponics system guides that can be really helpful. You can find many creative tries and efforts to work on a DIY aquaponics system and see how creative the results turned out to be actually! Explore these DIY aquaponics in our collection below, made using PVC pipes, Ikea shelves, IBC, barrels, and so much more. You can see a range of simple to complex DIY aquaponic system setups below. Keep reading for more exciting details.
1. How to Make Bathtub Aquaponics System
The aquaponics is a food growing system that utilizes a synergy between plants and fish to create an extremely water-wise growing system. Does it seem complicated? No, just learn How to Make Bathtub DIY Aquaponics System with this and create one at your home. So the bits you need to make this are 1 metal bathtub, 1 aquarium pump, pebbles or clay, pipes, fence fittings. milkwood
2. DIY Hobby Aquaponics System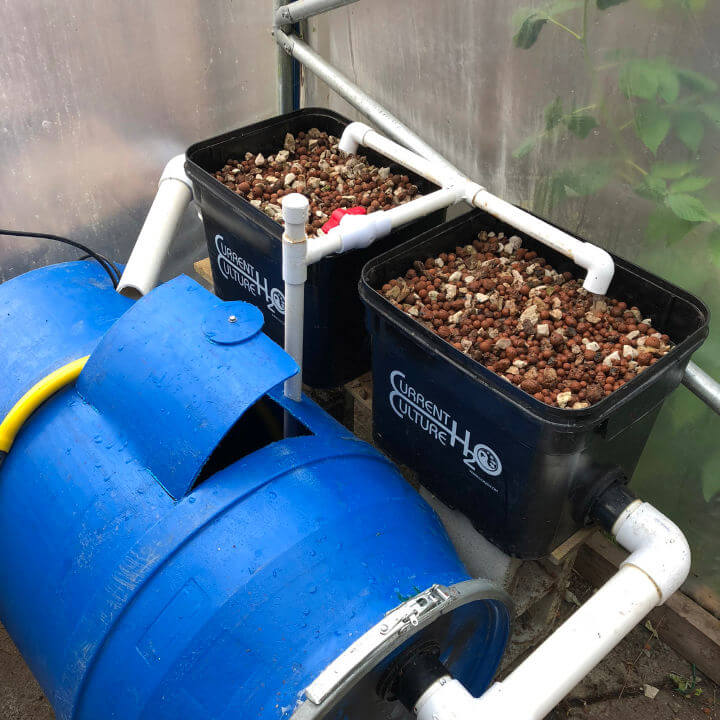 Aquaponics is a fun, easy, and productive thing to do. You just need to adhere to some rules while building this DIY Hobby Aquaponics System. Use a 55-gallon polythene drum with hydroponic system modules. Add clay pebbles and grow stones, flood or drip trays, small mag-drive submersible pump, 1-3 lbs solid limestone, 150-watt aquarium heater, and water filter for removing chlorine. grozine
3. How to Turn Ikea Shelf Into an Indoor Aquaponics System
Planning a decor revamp? And if you do want it to be done in an economical budget, learn How to Turn Ikea Shelf Into an Indoor DIY Aquaponic System! Using tools like a drill, scissors, electrical tape. Furthermore, You'll need a water tank, 2.5 lbs of gravel, 3-4 watt water pump, 1''-3'' water stones, aquarium air pump, grow bed 3''-8'' deep, PH test kit. instructables
4. DIY Balcony Aquaponic System Plans
Learn how to build an aquaponic system at home using cheap materials. This balcony DIY Aquaponic System requires a grow bed that holds soil or other media for plant growth. It also adds moisture probe and temperature probe, water inlet, and water drain. You'll need 27 gallons of fish tank, fish tank cover, grow the platform, electric drain valve, Double leg support, solids filter, air pump, and connection plumbing. instructables
5. DIY Indoor Aquaponics System
Before you begin to construct this DIY Indoor Aquaponics System, it's important for you to know how everything works with. You require 55 gallons of the fish tank! A grow bed (where your plants grow), a bell siphon (use in ebbs to flow aquaponic and hydroponic system), Drill bi 1/8", automated water pump, clay pebbles, lava rock, and pea gravel. makezine
6. Build an Aquaponics System Using an IBC
Isn't it exciting to get an idea of growing plants and breeding fish at the same time? Build an Aquaponic System Using an IBC. For building this DIY aquaponic system, the material and tools you would require are; IBC tote Container, Saw, Drill, growing media, water pump, air pump, filter, plastic pipes, PH testing kits. hometalk
7. DIY Gravity-Based PVC Aquaponic Growing System
Building aquaponic at your home is a surprisingly effective way to reduce your food bill and even do your bit to help the environment. Make this DIY Gravity-Based PVC Aquaponic Growing System using a material like pipes, 15-20 feet PVC, 4pcs 4" elbows, 2 pc 50-gallon drums, plastic cups, strips of cloth, scrap wood, 15-20 feet aquarium tubing, 2 rolls electrical tape and pump. ecosnippets
8. Making Two Barrel Aquaponics System
Want to grow your own vegetable and even some food for fish? You don't need some enormous space to make it happen with this Two Barrel Aquaponics System. What you need for barrel aquaponics are 2 barrels, mainly! With one for fish and one for grow bed, gravel, water pump, water tubing or piping, air pump and tube, air stones, water testing kit, and nitrifying bacteria. backyardaquaponics
9. How to Build a Aquaponics Systems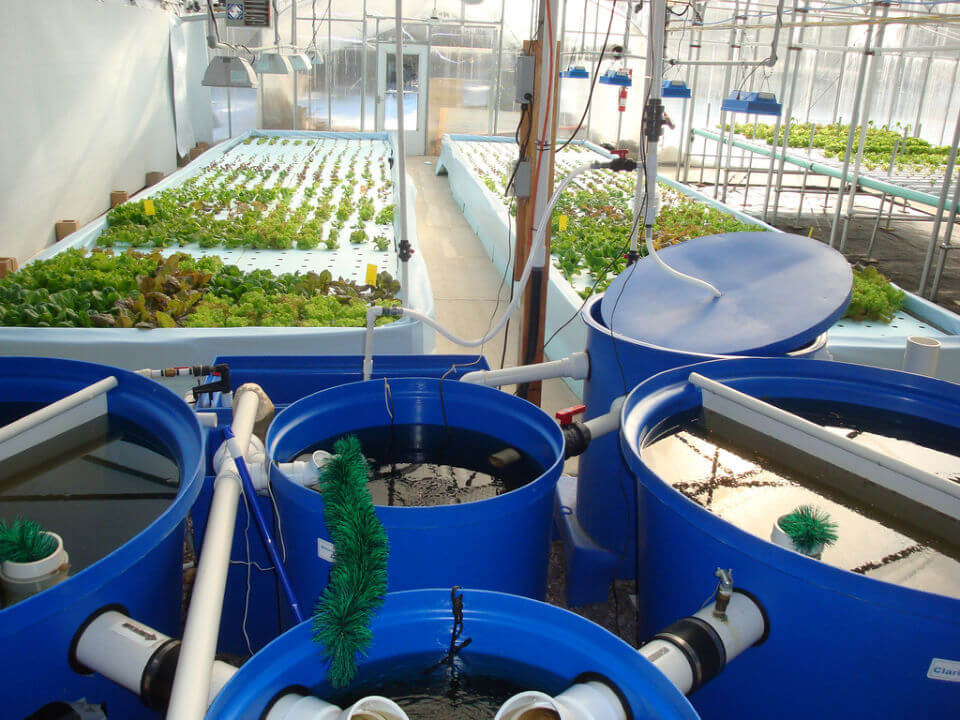 It will cost you a lot of money if you buy a pre-made aquaponics system. Fortunately, since aquaponics is an easy to replicate ecosystem, you can build a cheap aquaponics system for yourself. Build an Aquaponics System by having materials like a fish tank, flood table, grow bed, water pump, air pump, grow bed media, plumbing, and bell siphon. thedailygardener
10. DIY Vertical Aquaponics System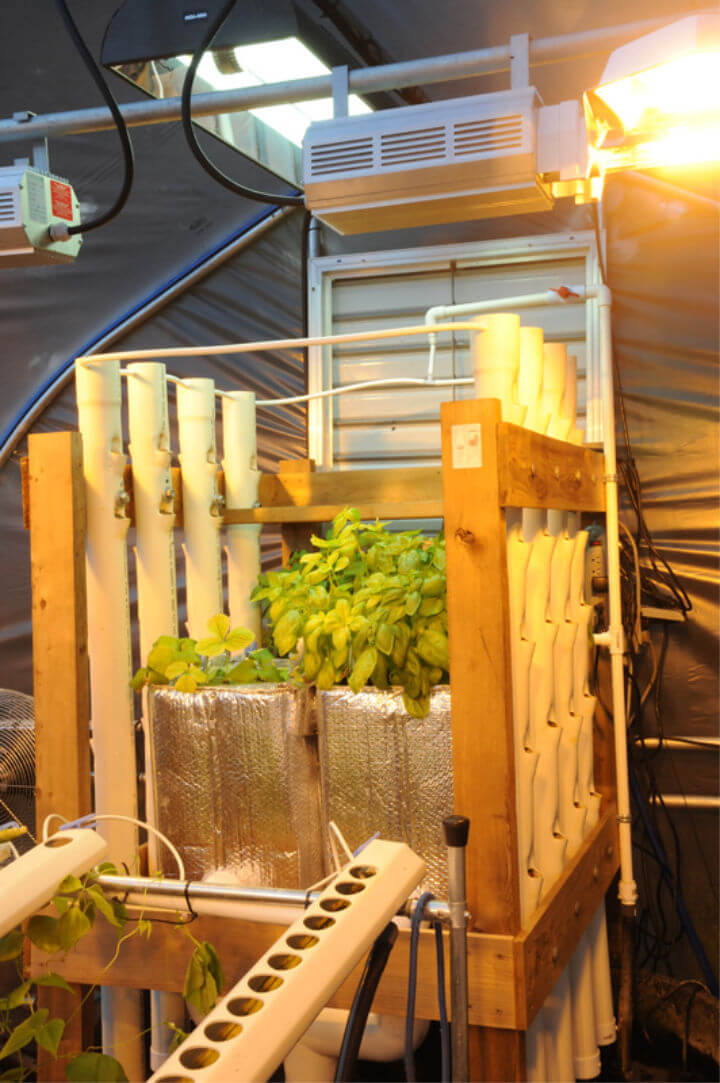 You can turn your small yard into a thriving vertical farm for vegetables and fish! This DIY Vertical Aquaponics system can fit into a 3ft by 5ft area and feed a family for a year. You will need material and tools like pipes, two 50 gallons drum, plastic cups, scrap wood, electric tape, and power drill or hand drill. grozine
11. Homemade Rain Barrel Aquaponics System
There is always something new to experiment with if you keep a bright mind. Build this Homemade Rain Barrel Aquaponic System. Gather tools and supplies like two food grade 55 gallons barrel, ¼ inch stainless steel carriage bolt, washers, and nuts, aquarium safe silicone, PVC scrap, ½ inch ball valves, a small pond pump. livingecho
12. DIY Aquaponic System for Balcony
Add the enjoyment and fun of raising fish and your favorite hydroponic plants by utilizing a natural cycle. This DIY Aquaponic System for the balcony will help you to enjoy good health. The items required to make this aquaponic system are to have two tubs. One must be a little flat to grow bed others must wait deep for the aquarium, pipes, electric tape, air, and water pump. shanghaiaquaponics
13. Solid Aquaponic System for Balcony Garden
Build a Solid Aquaponic System for Balcony Garden a get a healthy and fresh diet by sitting at home. To build this solid aquaponic, you require to have a fish tank, bioreactor, grow bed, electric drain valves, double leg support, and growth platform. greendiary
14. Easy DIY Basement Aquaponics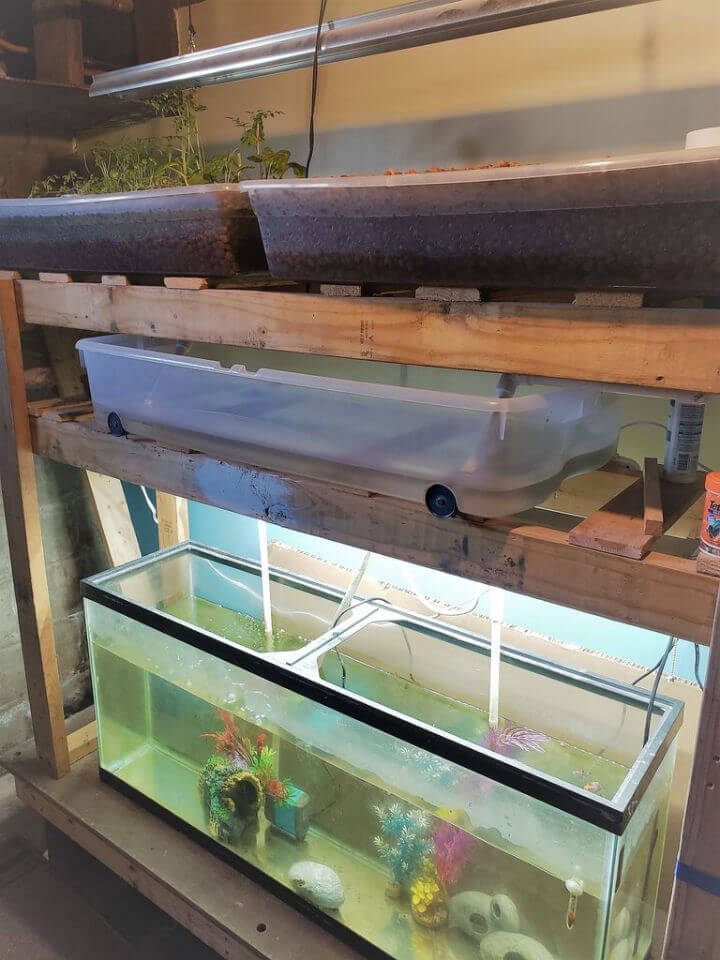 Aqua system is a sustainable system that allows you to grow fish and plants together by occupying some extra space to your home, like the basement. This Easy DIY Basement Aquaponics requires you to have a sturdy shelf of three surface level. Moreover, you need to have a fish tank, water pump, water heater, light fixtures, mesh pots, rock wool plugs, PVC pipes. instructables
15. How to Make Aquaponics System
Eat healthily and live healthily. Instruct yourself How to Make Aquaponics System with few materials and tools. You need tools like a drill, hacksaw, pipe cutter, Razorblade, Thread seal tape. And the material would be needed 15-gallon plastic bin, ½" irrigation tubing, ball valves, barb adaptor, elbows, rings, PVC pipes, and caps. gardenpool
16. DIY Barrel Aquaponic Systems
This DIY Aquaponics System is the combination of aquaculture! It is simple; you feed the fish, and the fish feed your plants. And the plants keep the water clean. With some conveniently available tools and materials from the nearby hardware store, you can make this aquaculture easily at home. backyardaquaponics
17. Vertical Aquaponics System Ideas
Have you ever come across the issue of lack of space? With this Vertical DIY Aquaponic System, you wouldn't. Feel free to place it anywhere in your home and in front of any useless wall and Build one own your own using PVC pipes, Plastic cups, elbows, rings, and nuts, Air and water pump, strips of cloth
18. DIY Aquaponics System Step-by-step Tutorial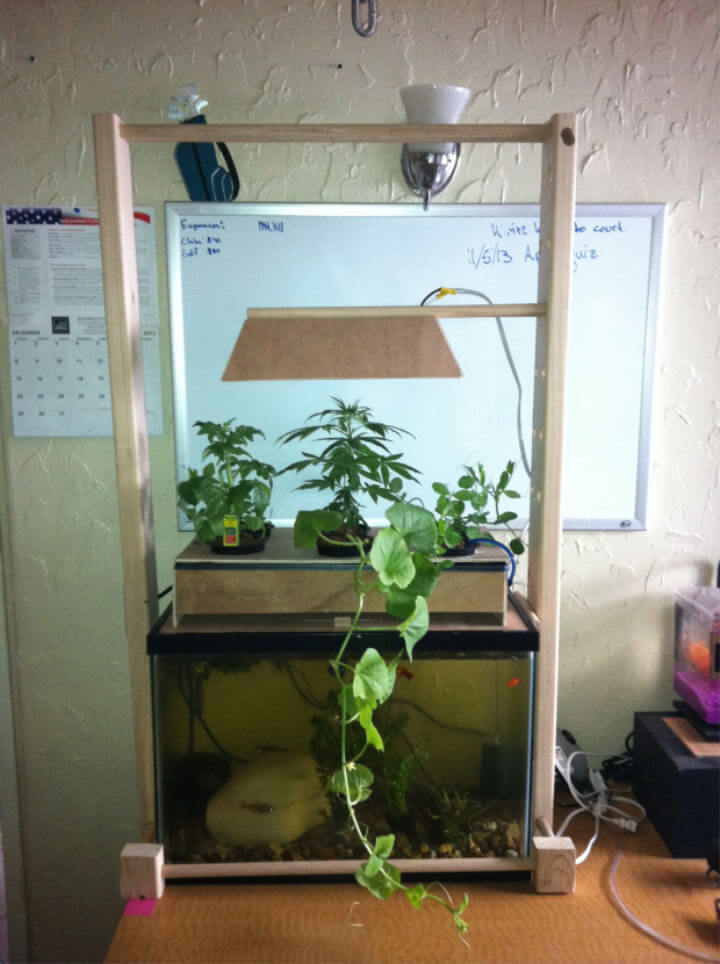 This DIY Aquaponics System and its Step-by-Step tutorial will help all the new learners to make one at their home economically and within a few hours. Go and grab some material from the nearby hardware store like a fish tank, growth bed, pebbles and stones, PVC pipes, air and water pump, filters, electrical tape, aquarium tubing. mutualisticsym
Related DIY Projects and Ideas
Herb Garden Ideas: Planting your own herb garden is a great way to get the fresh ingredients you need for cooking and baking. These amazing diy herb garden ideas will help you pick the best herbs for your space.
Pallet Garden Ideas: Pallet gardens and vertical pallet gardens are the perfect solution for people with a small space. Get started with these gorgeous DIY pallet garden ideas that include front porch herb garden, vertical gardening, and more!
DIY Garden Projects: Looking for new ways to make your outdoor space beautiful and inviting? Check out these cheap and easy DIY garden projects that will help you to transform your yard into a lush, green sanctuary.
Raised Garden Bed Ideas: With these easy DIY raised garden bed ideas, you're sure to find one that fits your needs. These plans show how to build raised garden beds using a variety of materials.
DIY Fairy Garden Ideas: Fairy gardens are a great way to get your kids to explore their creativity and have fun outside. These cute DIY fairy garden ideas will help you get started and give you plenty of inspiration.
Cinder Block Planter Ideas: Cinder blocks are a cheap and easy way to build a garden box, fence, or even an outdoor kitchen. Check out these simple DIY cinder block planter Ideas to get you started.
PVC Pipe Projects: Discover amazing DIY PVC pipe projects you can make from just PVC pipes! From tables and chairs to planters and shelving units, learn how to create fun and functional pieces for your home or garden.
Conclusion:
Even if you are not a very high-tech person, you can still find many easily applicable and doable DIY aquaponics systems here! Using quite simple supplies that you might already have in your garage. So, why buy the super expensive ones? When you can DIY the cheap, affordable, and functional ones by yourself.