A great idea to welcome the winters can be to bring coziness to most of your items of interest including the DIY home decor items to personal accessories! Just in case if you are on a mission to create some amazingly cozy avatars of various home objects then you can head over to crochet covers, sleeves and sleeves that can bring lots of focal stimulation too to that particular item along with being a cozy cover! So we are here with 74  free crochet cozy patterns just waiting for you to make.
So when you are creating crochet cozy for everything like for interior home vases, for the furniture and also for your mobile phone then how can we forget about your coffee mugs? This would just be a creative idea to adorn your coffee mugs and cups with colorful yarn sleeves! Just to make you get the perfect ones, we have brought here a big showcase of 74 Free Crochet Cozy Patterns that are all borderline genius and are sure to satisfy all the tastes! There are couples of reasons more than coffee mug sleeves are so popular…!
They just help to retain the heat longer inside the cup by stopping the cold climates hitting the cup or mug surfaces directly!
They help to hold the mugs safely even in both of your hands otherwise the hot coffee mugs may burn your fingers!
They are a beautiful way to add colors to your favorite coffee mugs! If they come with lovely color stripes, charming textures and with another decorative pattern then will also be a way to make your coffee mug artful!
One can crochet cozies inspired by some famous cartoon characters, of heroes, birds and also inspired by some animals so that would be a smart way to create whimsical fun shapes on your coffee mugs!
They also help to personalize your coffee mugs, like you can crochet some cup cozies with custom monograms, symbols or signs also!
Moreover, the crochet mug cozies can also be preferred to give as a Thanksgiving gift! They will make the great gift for a coffee lover, and you can crochet them with some heart shapes in the center to turn them into a beautiful Valentine's Day gift, check out some brilliant samples given below! In the same way, you can also please Pokémon lovers, cartoon fans and wild animal lovers in your family by giving them the several crocheted design of crochet cozies! Get inspired by some fab free crochet patterns given below!
You Can also make crochet flowers on your crochet cozy with free patterns.
If you are coffee lover then you will also like these Free Crochet Coaster Patterns for your coffee mugs.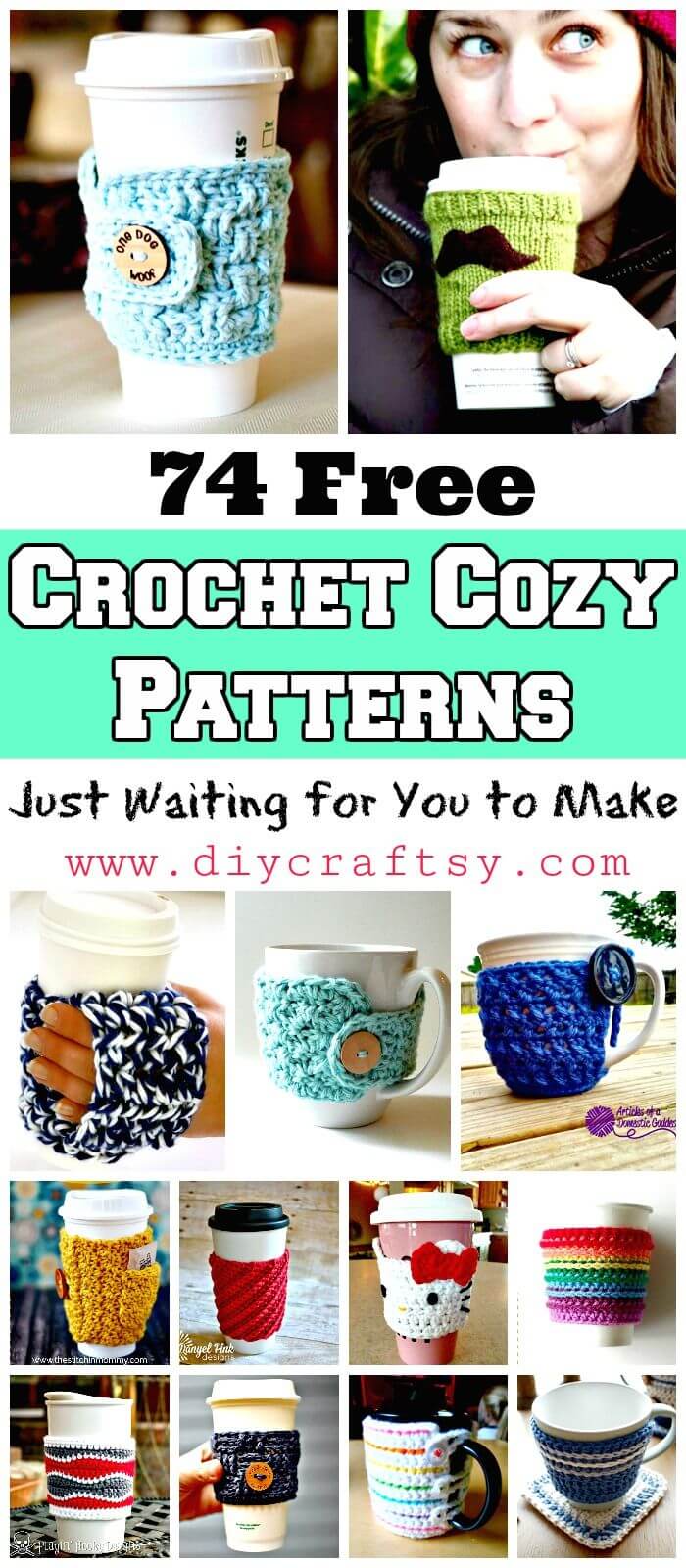 For each project that is showcased below, there comes a source link posted just underside of it! You can just visit that link to explore further crochet cozy patterns, step-by-step visual guides and free crochet patterns for your respective selected projects!
You will also love these Free Crochet Patterns:
Free Crochet Crooked Coffee Cozy Pattern: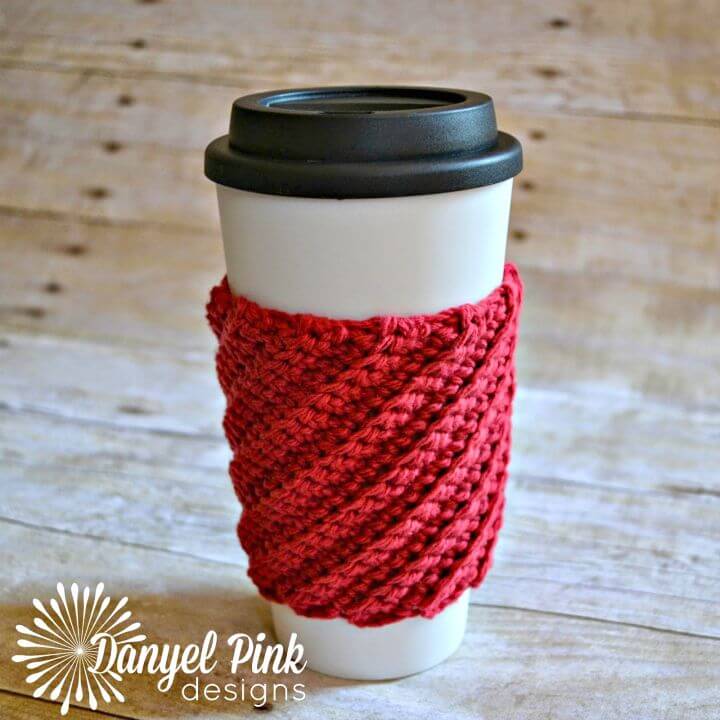 It is difficult to hold the hot coffee mugs in dead of cold as your hands are mostly trembling in dead of cold! An easy solution to this problem would to crochet some coffee mug snuggies and one brilliant one here, the charming crochet coffee mug cozy raised in eye-catching yarn colors! Find the complete free pattern and visual guide from here danyelpinkdesigns
Free Crochet Brain Waves Coffee Cozy Pattern: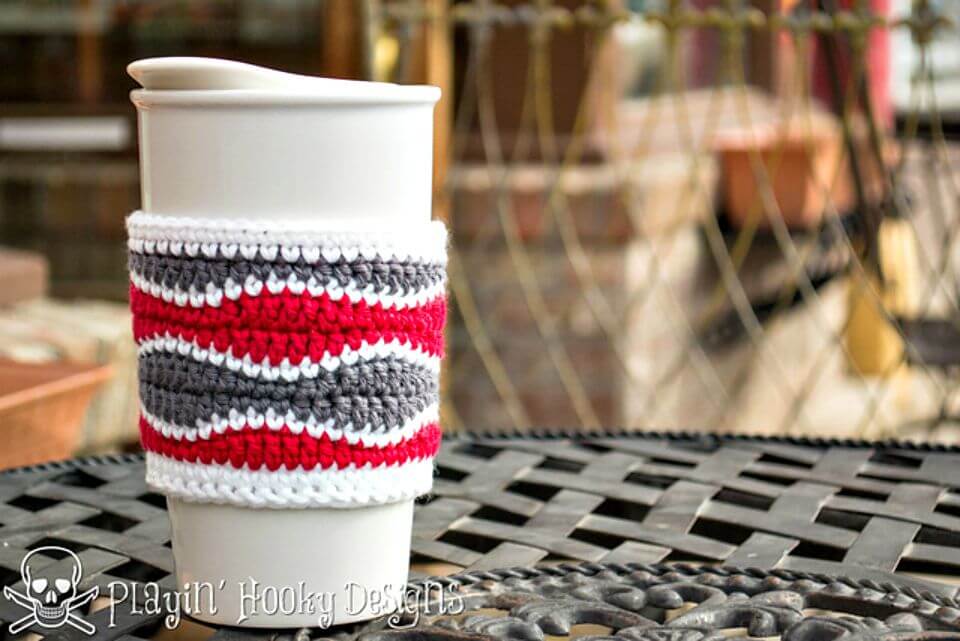 Here is another precious winter gift for a coffee lover, the brilliant brainwaves coffee cozy, come in red, grey and white color and is highly enticing! The fun way to keep your fingers safe while holding hot coffee mugs in hands! Intending to crochet this precious coffee mug sleeve? Find the full free pattern and tutorial here ravelry
How To Free Crochet A Rainbow Cup Cozy Pattern: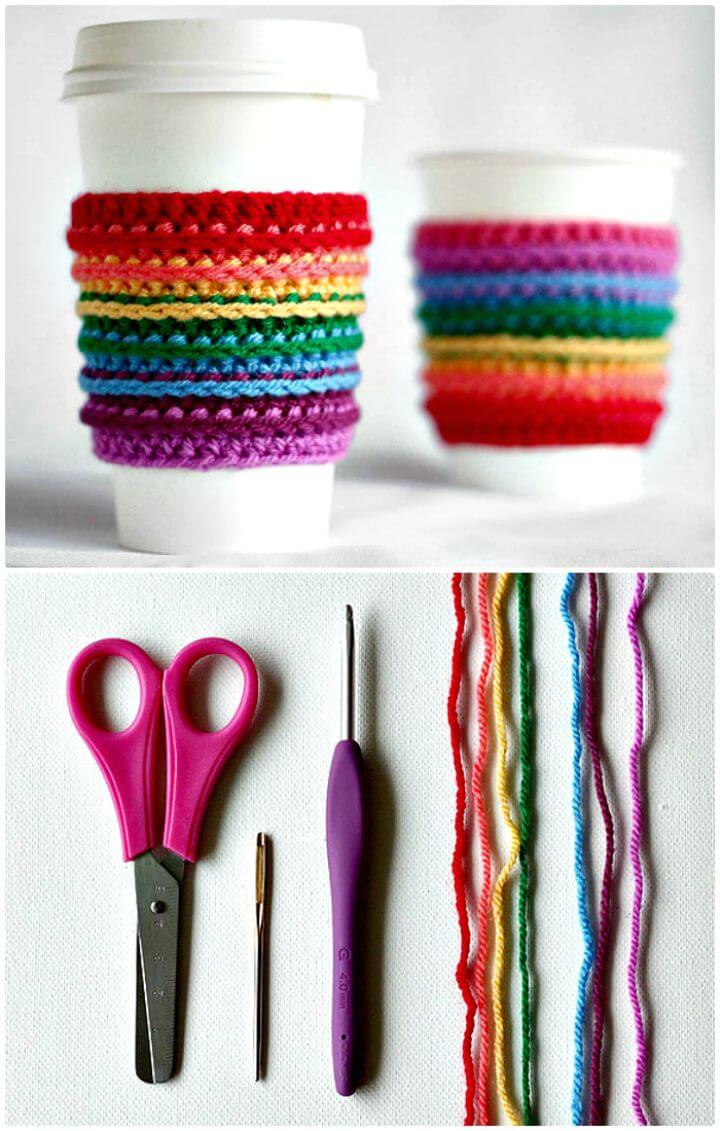 If you are all a big fan of colorful stripes then here is something that is sure to hold dear to your eyes! This is here a mind-blowing crochet rainbow cup cozy that is another precious yarn gift for the coffee lovers! You should duplicate this enticing coffee mug sleeve to adorn your coffee mugs! Find the complete free pattern and instructional guides here tutsplus
How To Free Crochet Heart Coffee Cozy Pattern: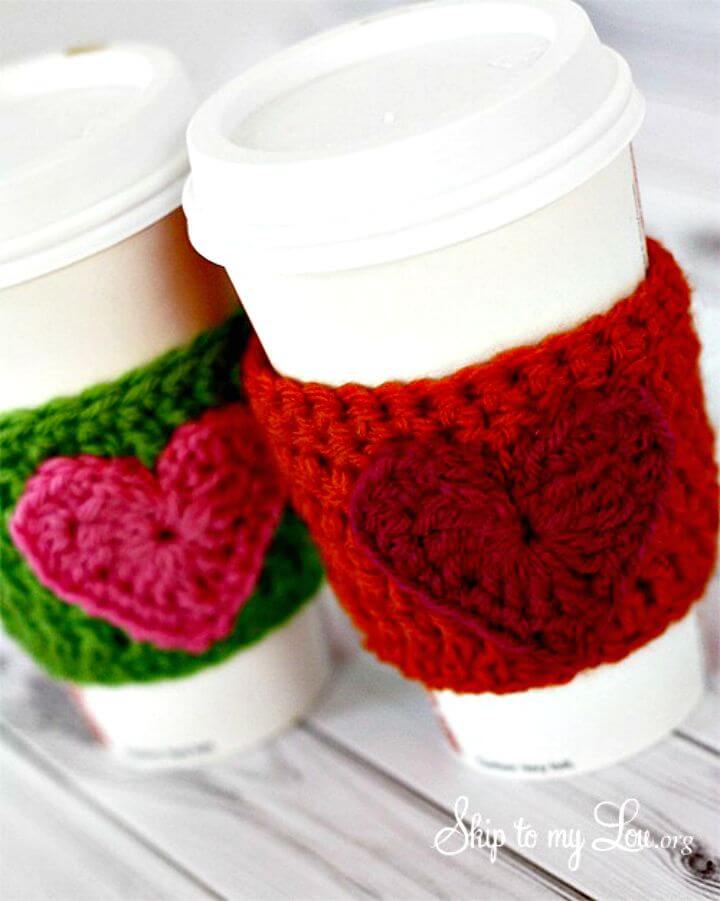 If you are brainstorming to give a beautiful gift to a friend who is a big coffee lover, then there is something special for you! The crochet heart coffee cozy that will express your love too! The crocheted heart shape in the center really makes this cozy eye-catching! Willing to duplicate this very precious cup sleeve? Find the complete free tutorial and easy crochet pattern here tatertotsandjello
Chevron Coffee Cozy – Free Crochet Pattern: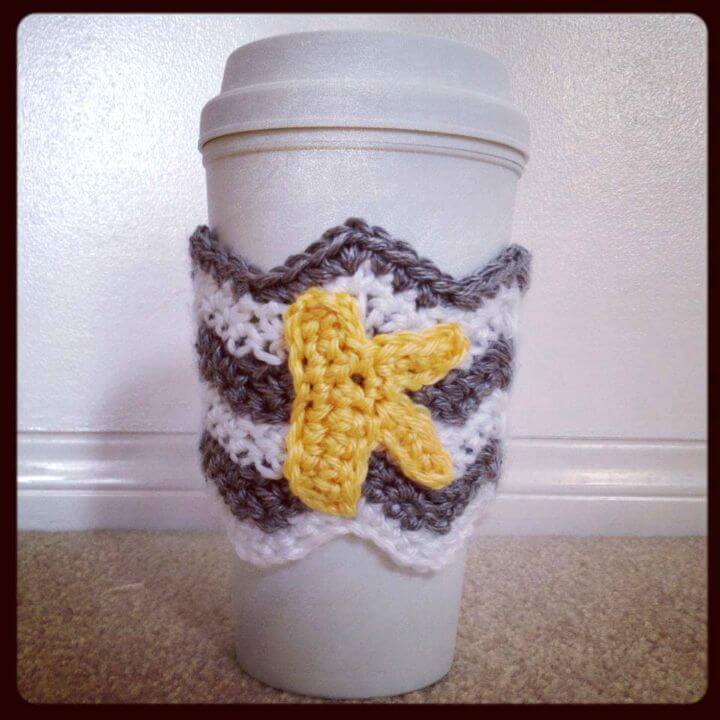 The design ideas for crochet coffee cozies are just never-ending, here is another beautiful one that is amazingly eye-catching! This one comes with chevron lines and with a crocheted monogram in the center! Hence this coffee cozy has been personalized beautifully and will also make a remarkable present! Find the complete free crochet pattern here sadiesbasket
How To Free Crochet Coffee Cup Cozy Pattern: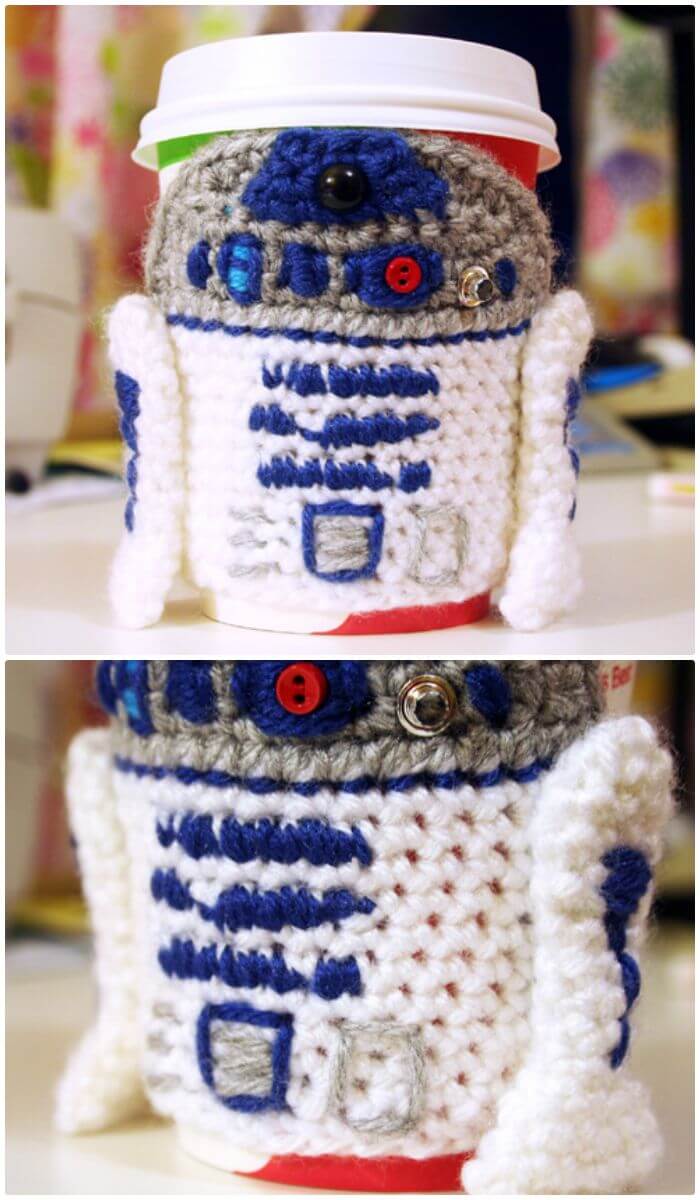 If you are willing to crochet an insanely unique but adorable design of coffee cup cozy then here is what you are looking for, a unique coffee mug sleeve, that comes with enchanting design texture and is just a child's play to crochet! Another great crochet cup sleeve pattern that requires an easy skill level! Further project details and free crochet pattern here twinkiechan
Easy Free Crochet Patons Cup Cozy – Kitchen Decor Pattern: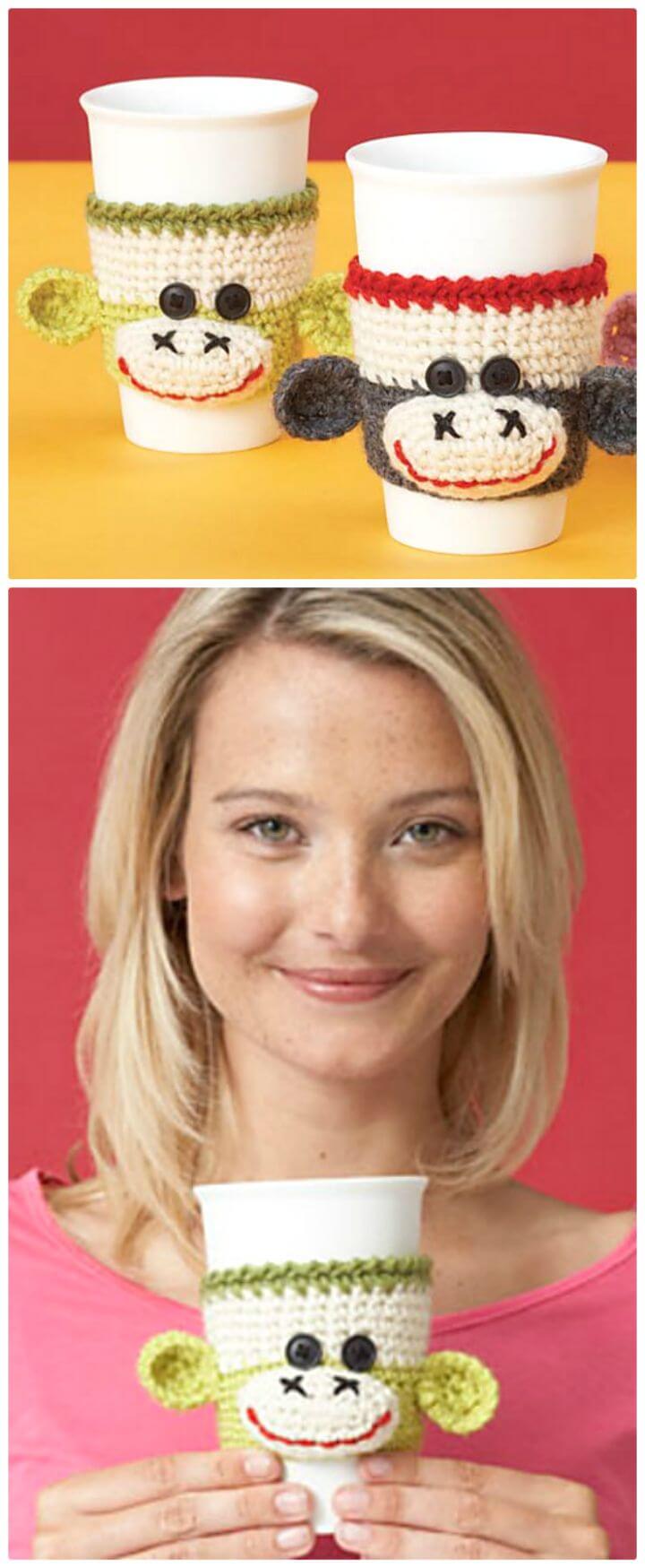 Willing to adorn the mugs of your kids this winter? Here is a great suggestion for it, just spruce them up with these patrons cup cozies that are a big delight to view and will create a big fun statement! This fun shaped coffee cup sleeve will also go favorite to matures so will make an epic present for any coffee lover! Complete free pattern and visual instructions here yarnspirations
Free Crochet Owl Coffee Cozy Pattern: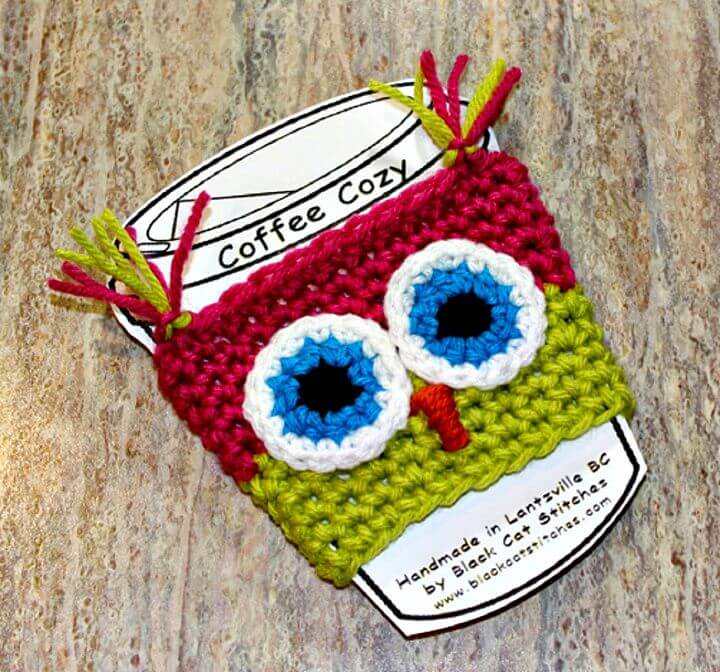 Like the owls very much? Want to recall them every day? Here is a beautiful way to do this! Just crochet some owl coffee cozies like this given one sample that is utterly cute and will definitely win the heart of an owl lover who is a big coffee lover too! Just go with your own special yarn weights and yarn colors and just try to crochet this enchanting design of owl coffee cozy! Another great crochet coffee sleeve pattern! Complete free pattern and visual instructions here blackcatstitches
Easy Free Crochet Textured Coffee Mug Cozy Pattern: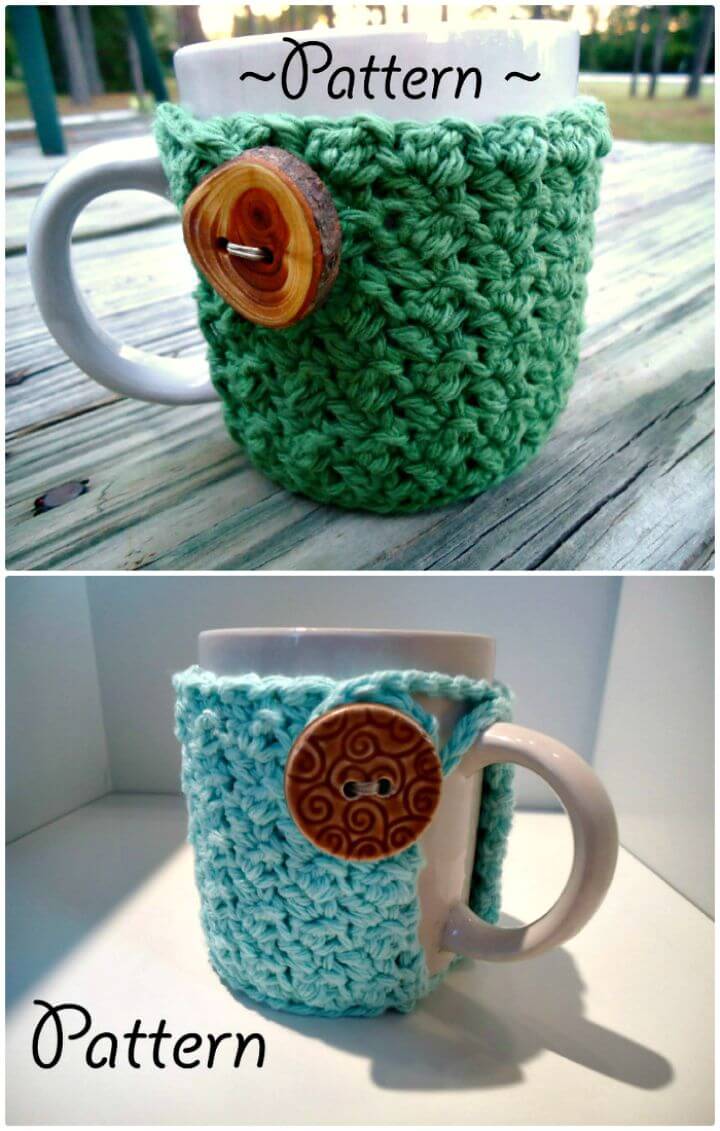 Adorn your coffee mugs with this another great coffee mug cozy that comes with a fantastic texture! Another great way here to create a cozy look of your mugs! This coffee mug cozy also demand an easy skill level, so just go all beginners can crochet it to gift someone or for the personal use! Complete free pattern and tutorial here lovelycraftymamashop
Red Bow Cup Cozy – Free Crochet Pattern: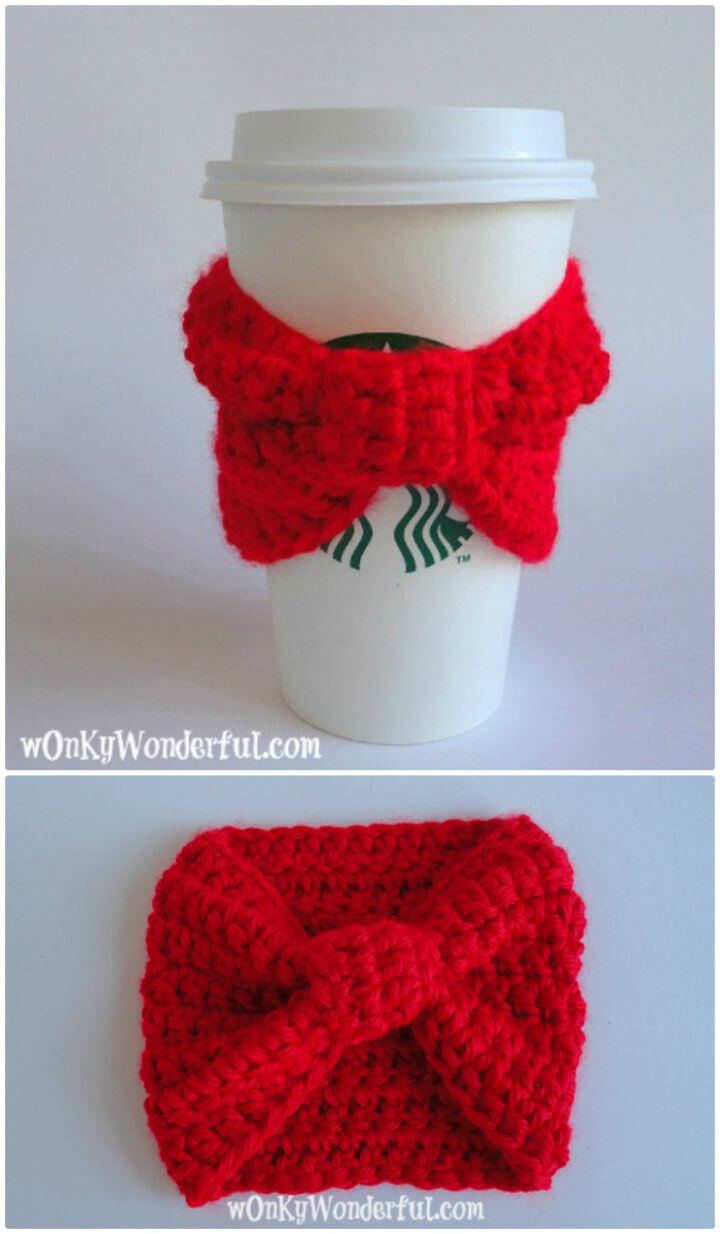 Here is how to create a handsome look of your coffee mug, just crochet a bow cup cozy that will create a beautiful personality of your mug, get inspired of this given red bow cup cozy that looks stunning to eyes also! Grab the full free pattern and visual instructions from here wonkywonderful
Free Crochet Moustache Coffee Cozy Sleeves Pattern: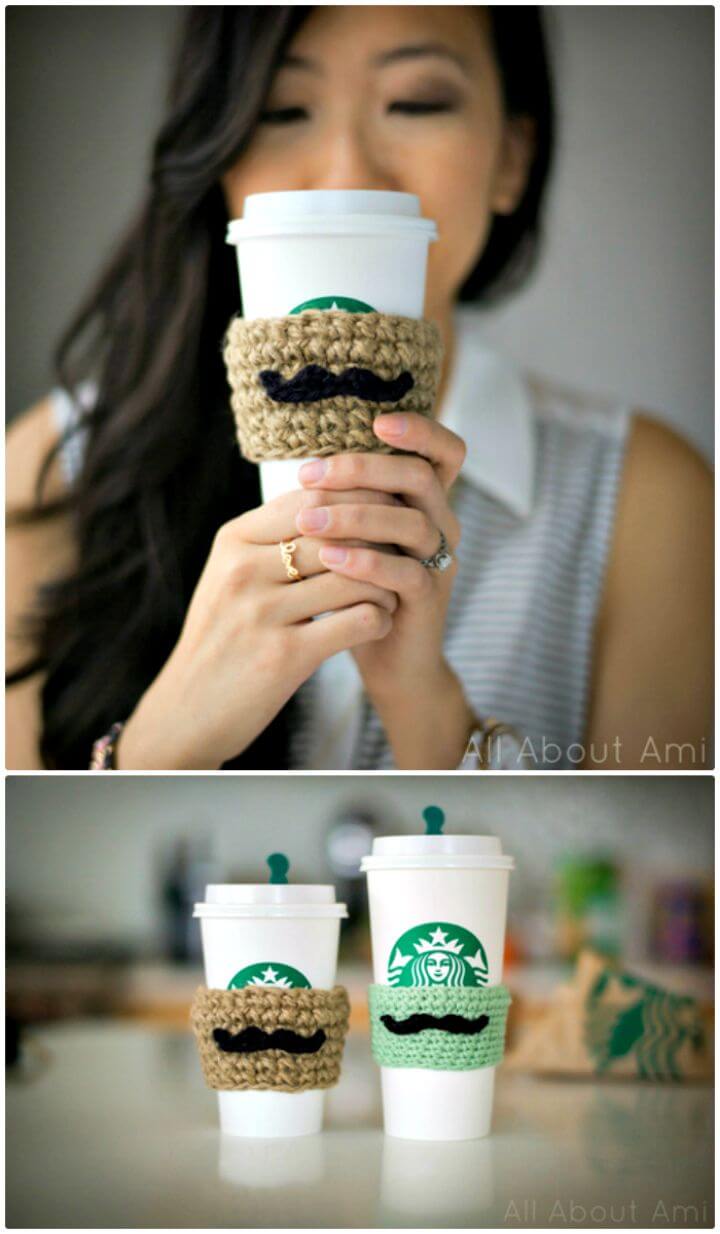 Turn the taking coffees into a big fun just by using your crochet hook a little in a smart way! All you need is to crochet this moustache coffee cozy sleeves that will make you look like you have the moustache on your face while taking a sip of hot coffee! Another fun way to adorn your coffee mugs! Find the complete free pattern and guide here allaboutami
Free Crochet Sugar Coffee Cozy Pattern: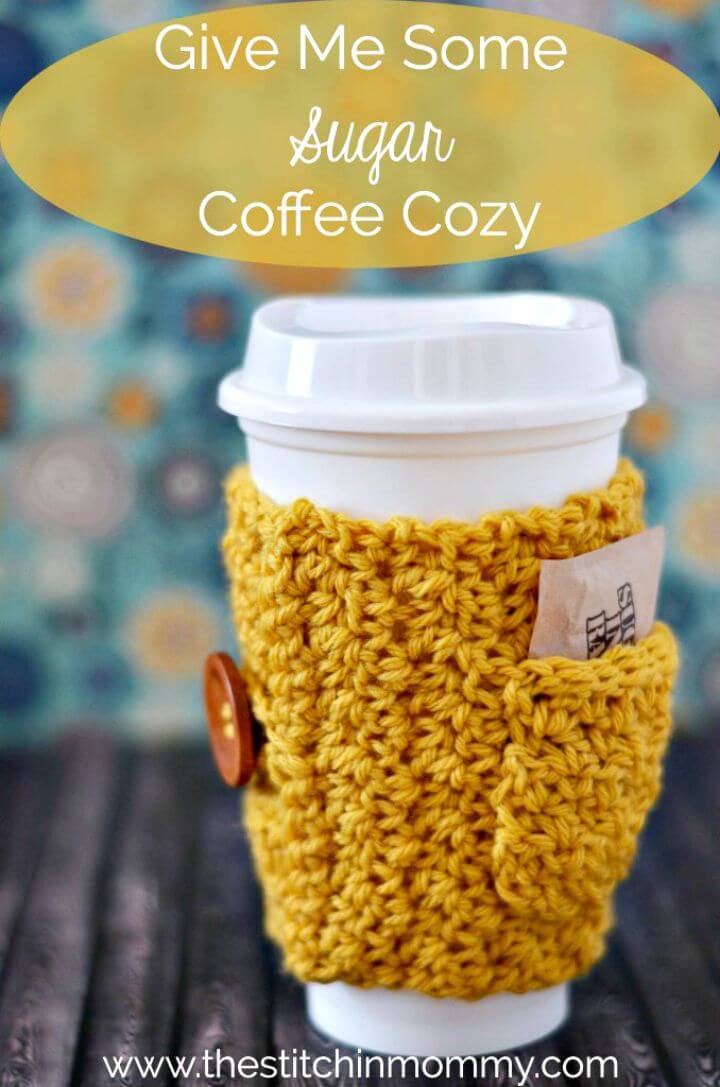 If you are a big fan of some tight crochet textures that this precious coffee cozy is only for you, comes in yellow appeal and is having tightly filled stitches! Finally it has been adorned with the slouchy button at one end while the other end comes with a loop, both help to fasten the cozy around the coffee mug! Duplicate it with the help of free crochet pattern and instructional guides given here thestitchinmommy
Free Crochet Coffee Mug Cozy Pattern: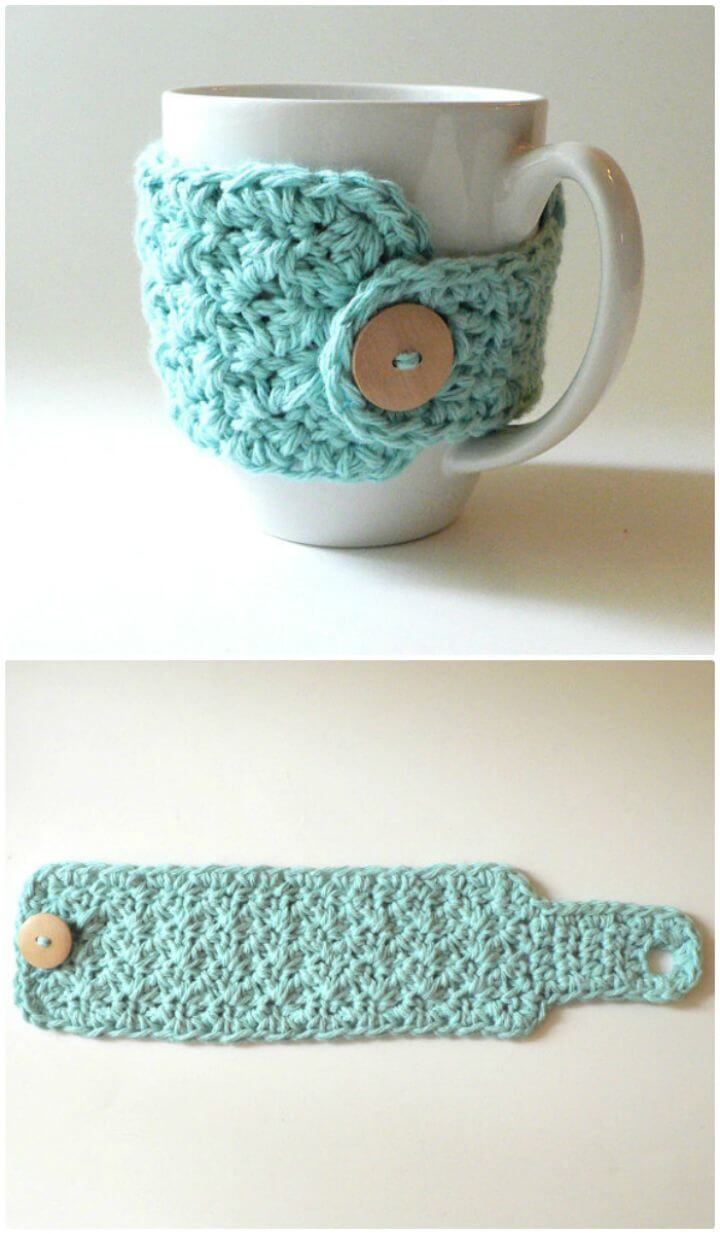 Get inspired by this another precious coffee mug cozy, will make you enjoy the hot winter coffees without making your hands burnt a little! Crochet this mug cozy for a coffee lover even if you are not skilled enough, it is pretty easy peasy to crochet! Find the complete free pattern and tutorial here bubblegirlknitandcrochet
Free Crochet Basket Weave Coffee Cozy Pattern: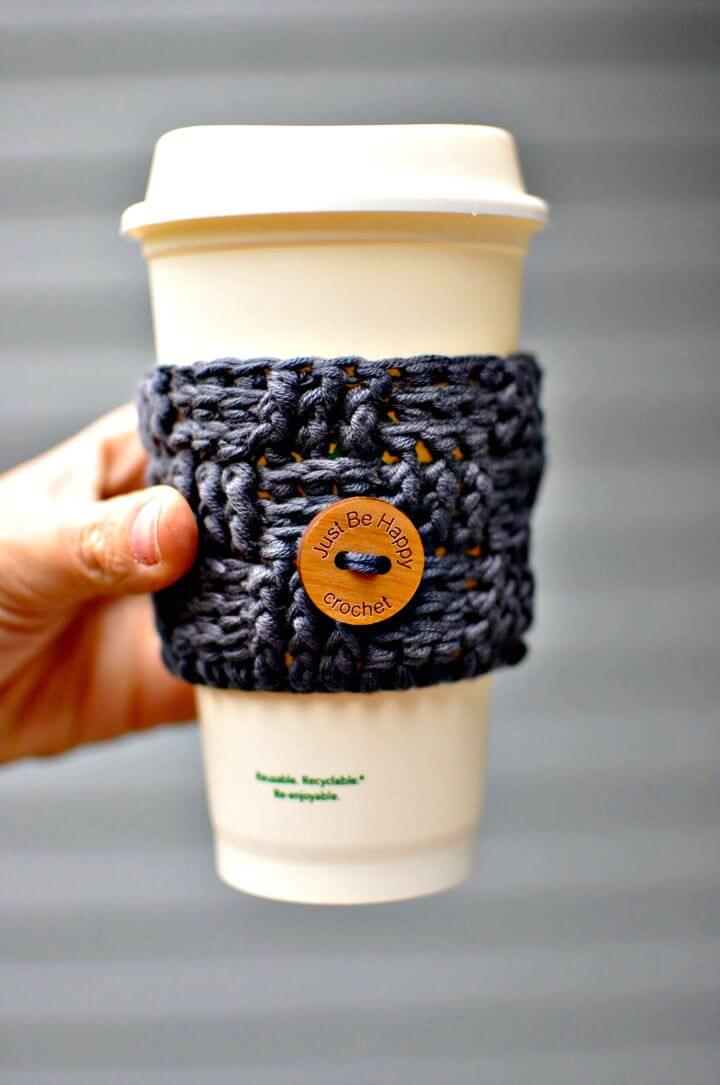 Simply change the style of crochet stitching to give alluring textures to your finally finished cozies! Just check out here a brilliant sample that has been crocheted in basketweave and is just super praise-worthy! Intending to duplicate this coffee cozy to personalize your winter mug? Grab the full free pattern and guide from here justbehappylife
Free Crochet 15 min Coffee Cozy Pattern: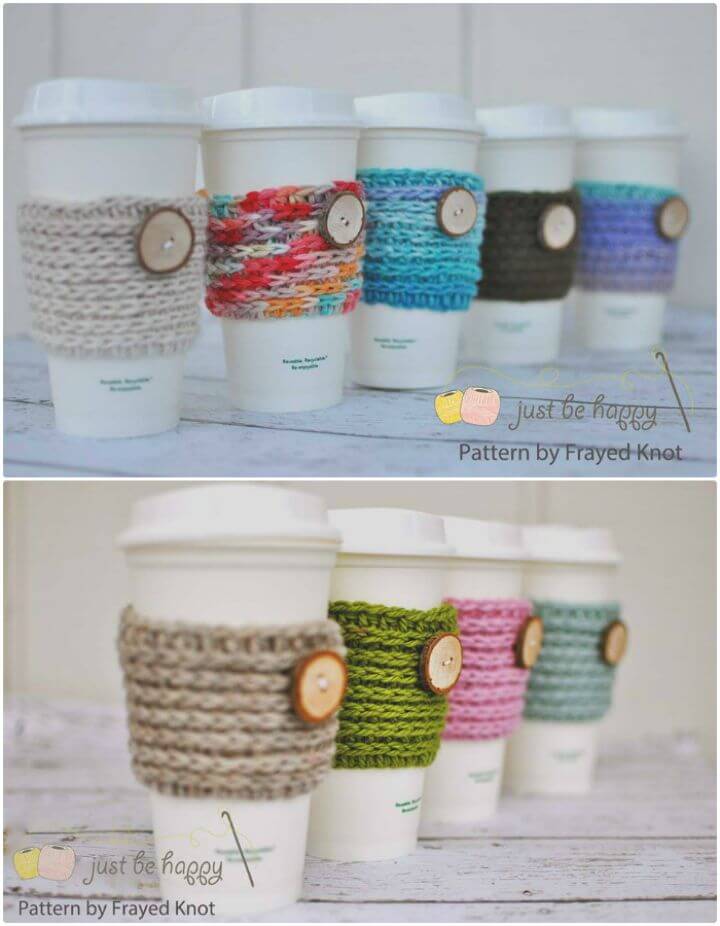 One of the easiest crochet patterns is to crochet coffee cozy; it will not take time to be in your hands! Just spend the last 15 minutes with your crochet hook and crochet fantastic looking mug cozies like the given ones here! Just follow the straight lines with single or multiple yarn colors and crochet these coffee cozies for a special one! Another crochet gift to please the coffee lovers! Full free crochet pattern and guide here imfrayedknot
Free Crochet Hello Kitty Cozy For Hot Cups Pattern: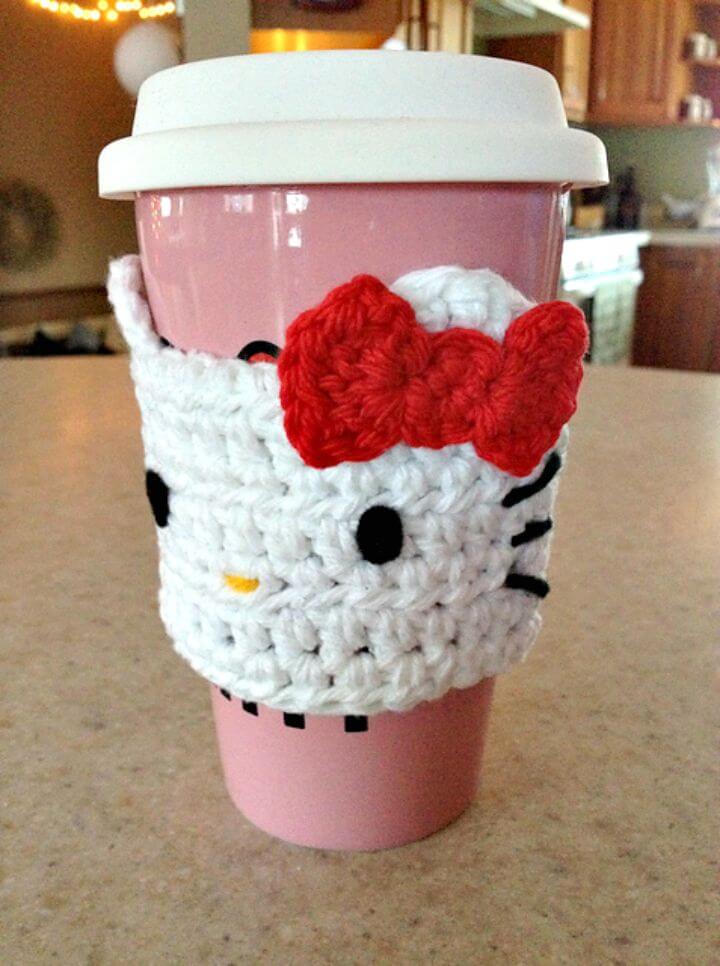 Check out here another good way please a kitty fan, the idea is to crochet a sweet hello kitty pattern for him or her! After the hello kitty plushie or amigurumi, this hello kitty coffee cozy would just make the perfect gift for a hello kitty lover! Just go with the respective yarn colors and crochet this precious hello kitty pattern that is all beginner friendly! Free crochet pattern and complete project details here ravelry
Free Crochet Snowman Cup Cozy Pattern: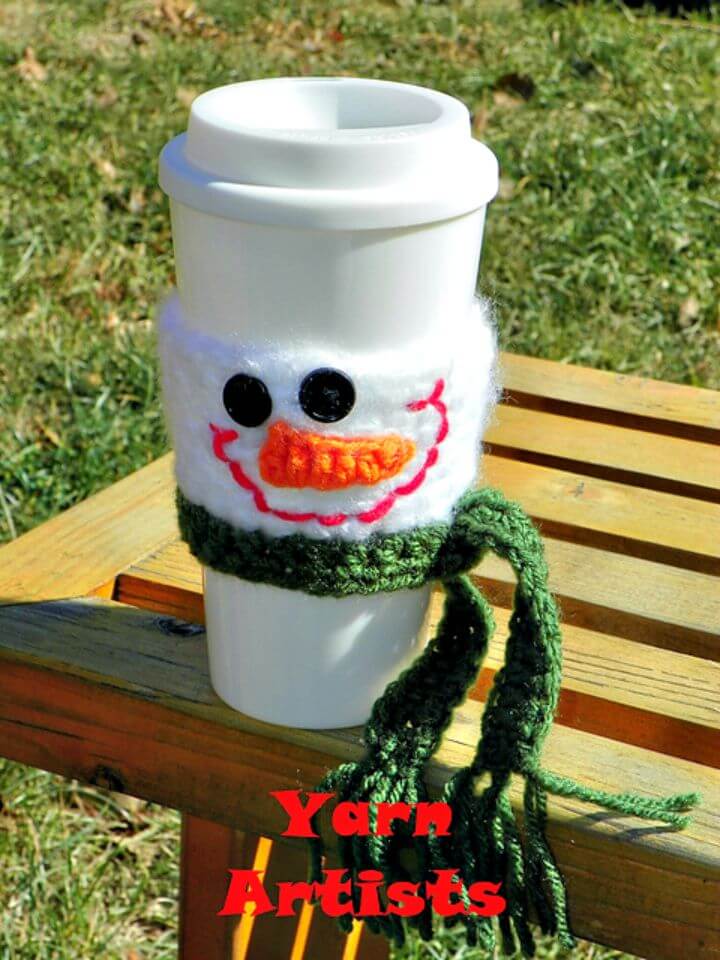 If you are living in a region which is currently going through extra cold weather or fall then this the respective and fantastic crochet pattern for you! This is here a snowman cup cozy that will speak volumes for the fall season! It is also what that will make a gorgeous gift for a snowman lover or fan! Along with a funky expression this snowman coffee cup cozy also comes with a scarf tied around the neck beautifully! Full free crochet pattern and step-by-step visual guide here snowman
How To Make An Adorable Crochet Mug Hug And Rug Coffee Cozy Pattern: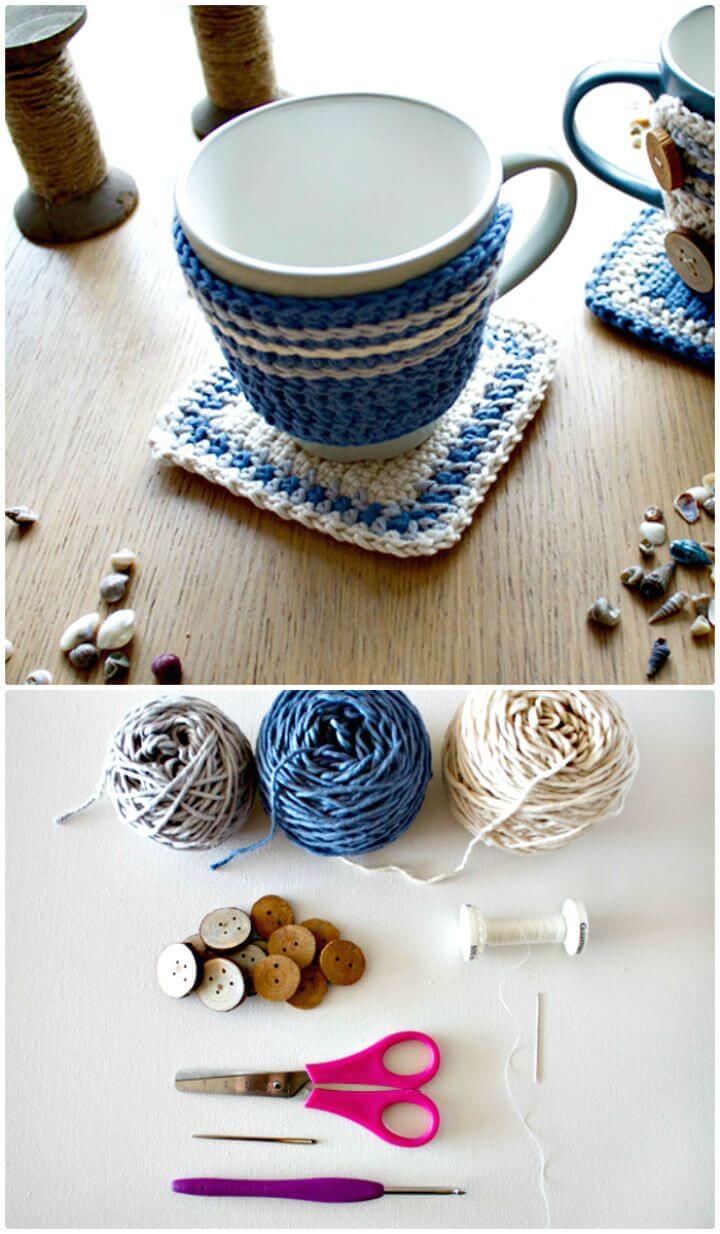 Here is what that will make taking coffees a big delight, just crochet some beautiful coffee mug sleeves and also the matching coasters add fantastic colors to both to your coffee mug and to your coffee table! Check out here the sample patterns that come in white and blue yarn colors and are super enticing! Experiment these mug sleeve and coaster set with custom yarn colors! Grab the full free pattern and visual instructions from here tutsplus
Free Crochet Valentine's Day Mug Coffee Cozy Pattern: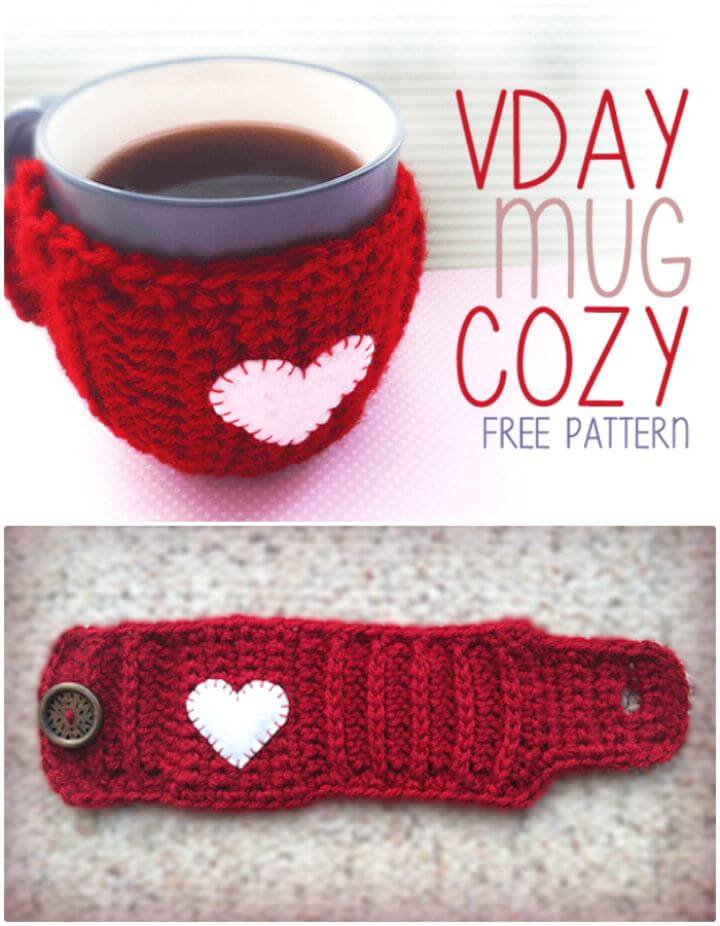 Here is what that will make a perfect Valentine's Day gift, the super sweet mug cozy that comes in hot red yarn color and has been given a love expression by crocheting a white heart sign in front! The perfect gift for a lover who is a big love to take coffee in routine! Don't forget to add a button to one end of the mug cozy and a loop to another that will help fastening the sleeve around the coffee mug! Full free crochet pattern and visual instructions here littlemonkeyscrochet
Free Crochet Coffee Cup Cozy Template Pattern: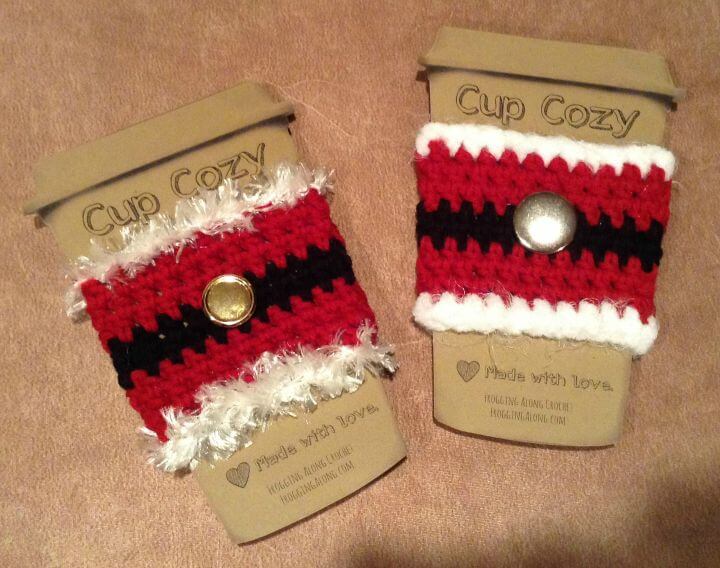 These are patterns and design textures that make every crochet pattern visually attractive! So, if you are big fan of colorful stripes then this coffee cup cozy is only for you as it comes with white, black and red stripes and also with metal accent buttons as eye-catching embellishments! Another great crochet cup sleeve pattern that is inspired by a Pokemon ball! Full free crochet pattern and step-by-step visual guide here froggingalong
Easy Free Crochet Minion Coffee Cozy Pattern: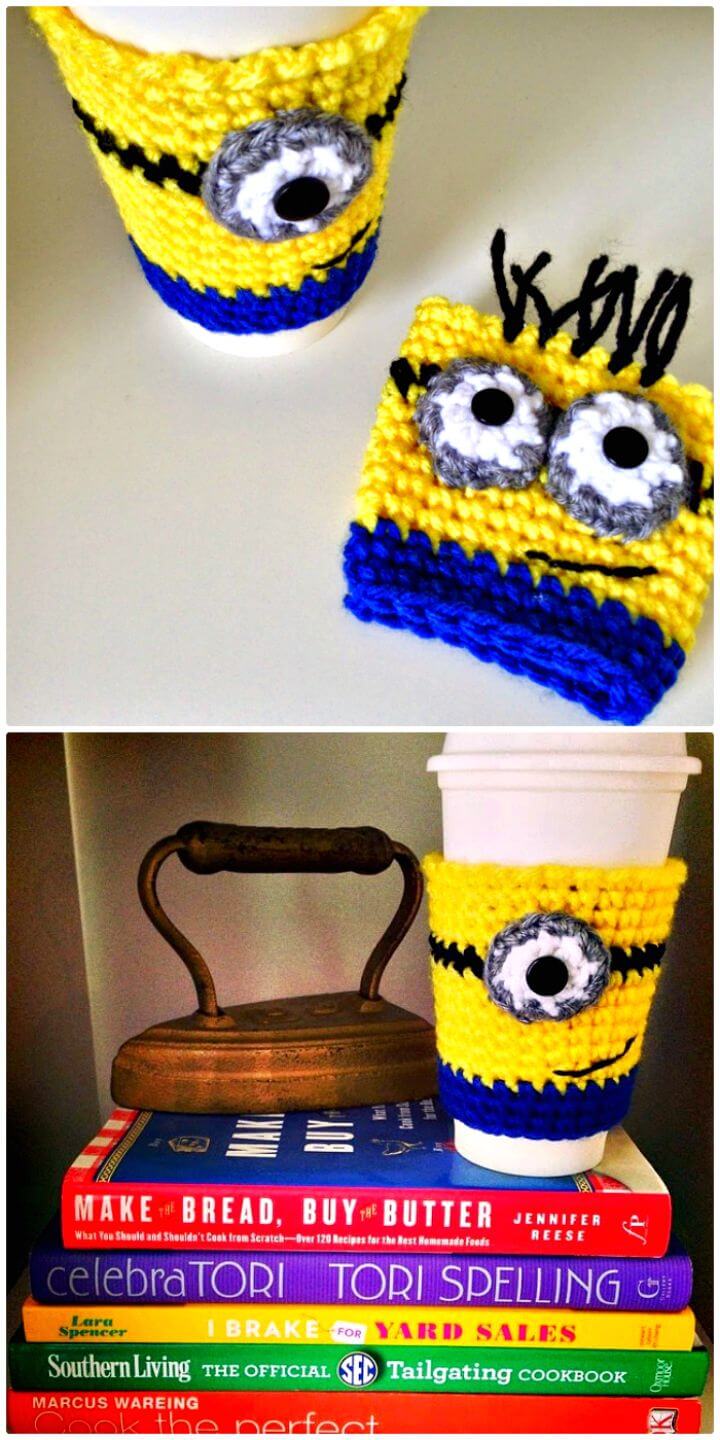 Mimic various fun shapes while crocheting beautiful coffee cozies just make them look love and eye-catching! A great sample here is this minion coffee cozy that will go eye-catching to kids and to a minion fan! Perfect gift for a coffee lover who also like the minion cartoon character too much! Another mind-blowing crochet coffee sleeve pattern! Get the full free crochet pattern and tutorial from here weekendpursuits
Free Crochet Basket Weave Cup Cozy Pattern: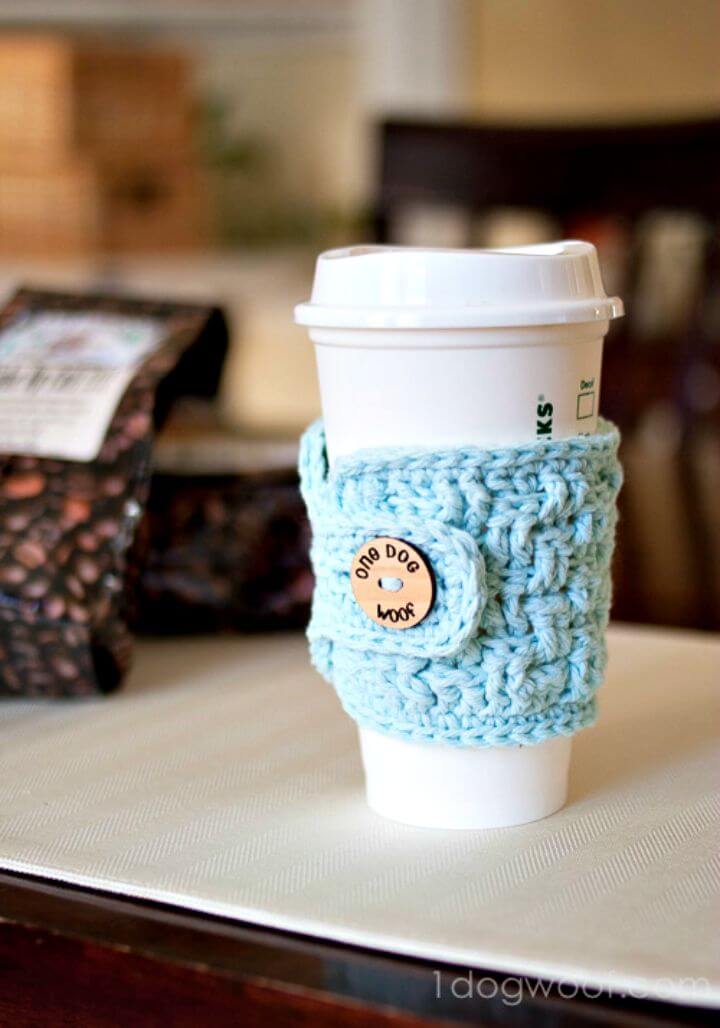 Basketweave is a most popular style of crochet stitching as it creates a pleasing yarn texture! Here you are going to see this basket weave style of stitching crocheting a perfect cup cozy that is amazingly attractive to eyes! The basketweave tend to crochet the small crochet squares each time with different alignment of lines and this add tons of focal stimulation to finally finished crochet pattern! Complete free crochet pattern and visual guide here 1dogwoof
Free Crochet Star Stitch Pumpkin Coffee Cozy Pattern: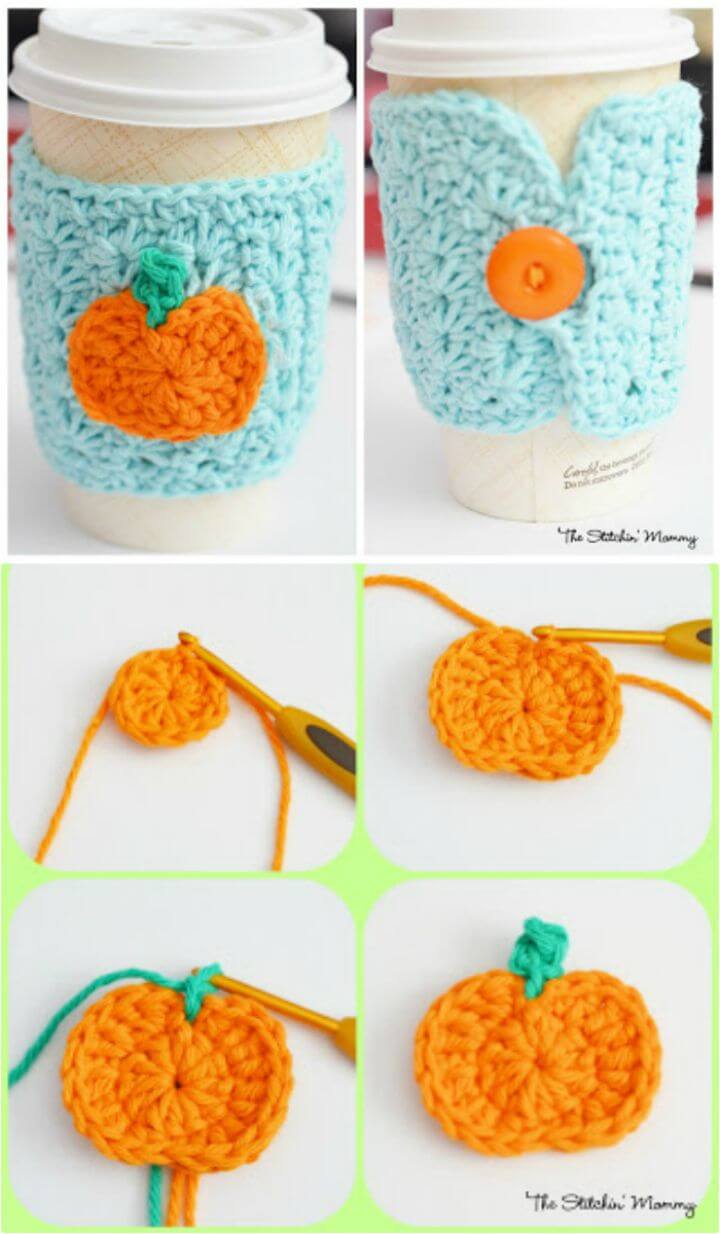 The design limit for crochet coffee mug cozies is just endless and here is another great one, the crochet pumpkin coffee cozy will make a great present for a pumpkin-loving fan! This coffee cozy will just work great for fall season will help keep your hands safe while holding hot coffee mugs! One more enchanting coffee sleeve pattern here! Find the complete free pattern and step-by-step instructions here thestitchinmommy
 Easy Free Crochet Coffee Cozy Pattern: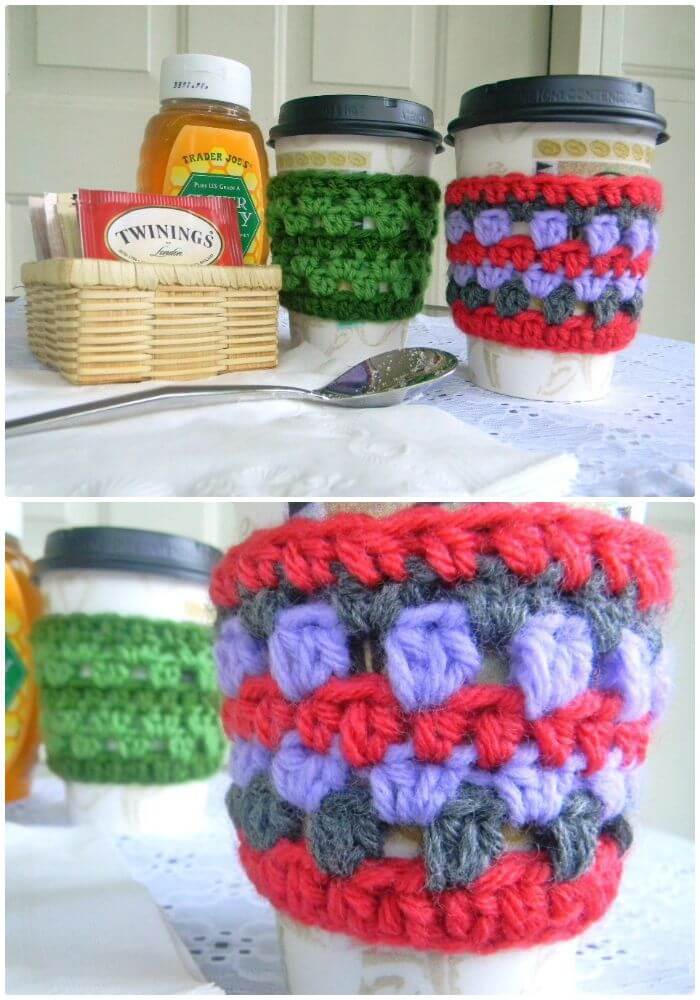 Just praise this another crochet design texture, it comes with both the colorful stripes and also with beautiful puffs! This is here a brilliantly beautiful crochet puff stitch coffee cozy that is a delight to view and will make a mind-blowing gift! Have you got inspired of this beautiful coffee sleeve pattern? Grab the full tutorial and crochet pattern from here jjcrochet
Free Crochet Brain Freeze Coffee Cozy Pattern: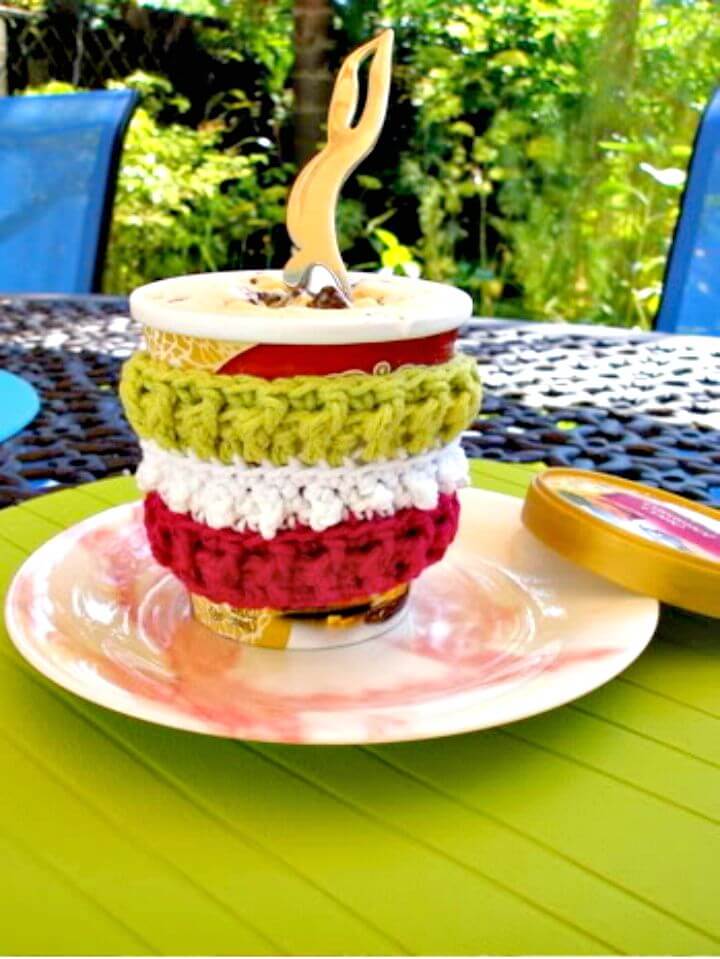 Give fantastic colors to your coffee mugs along with making them super soft to touch just by using some brilliant coffee mug cozies! One enchanting one is given here, the brain freeze coffee cozy that comes with precious color stripes! Red, white and green yarn colors have been crocheted for this so beautiful design of crochet cozy! Another eye-catching coffee mug sleeve pattern! Find the free crochet pattern and tutorial here thecrochetdudepatterns
Free Crochet Dr. Seuss Inspired Coffee Cozy Pattern: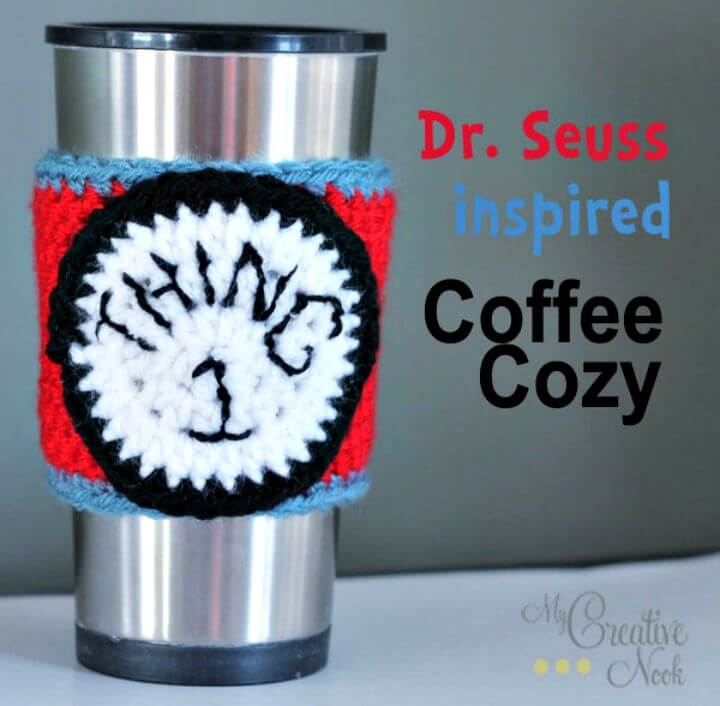 It would be a great idea to duplicate some famous characters while crocheting some fantastic coffee mug cozies! A brilliant one is here, the Dr. Seuss inspired coffee sleeve that has been crocheted in respective yarn colors but you are all free to experiment it with different yarn colors! Full free tutorial and visual guide here mycreativenook
Easy Free Crochet Coffee Mug Cozy Pattern: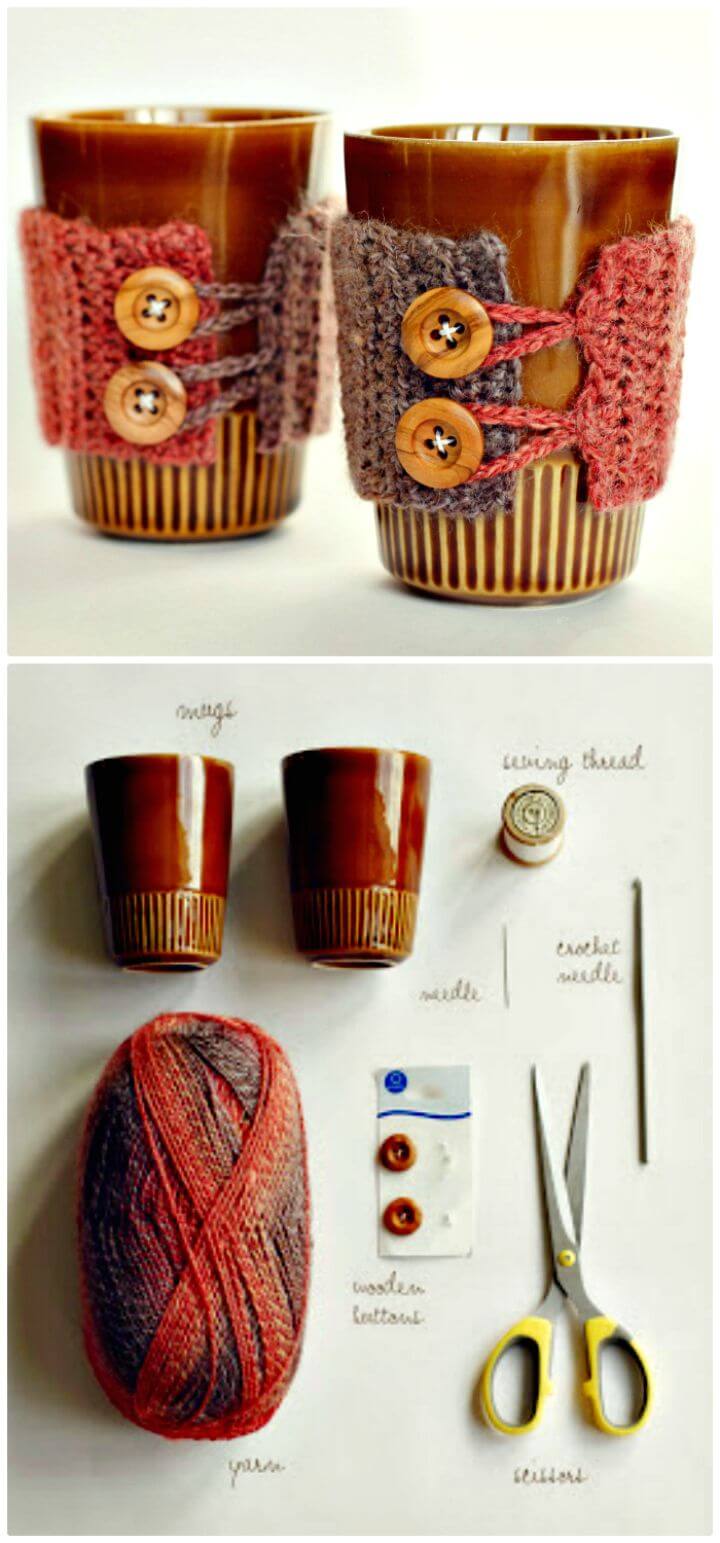 Check out here another beautiful coffee mug cozy design; this one comes with double button and loops so will be perfect around your favorite coffee mug or teacup! Here you also need to have the basic crochet skills to crochet this lovely sleeve, enjoy happy hooking and duplicate this coffee cozy for a tea or coffee lover! Free crochet pattern and tutorial are provided here lovalizious
Free Crochet Owl Cup Cozy Pattern: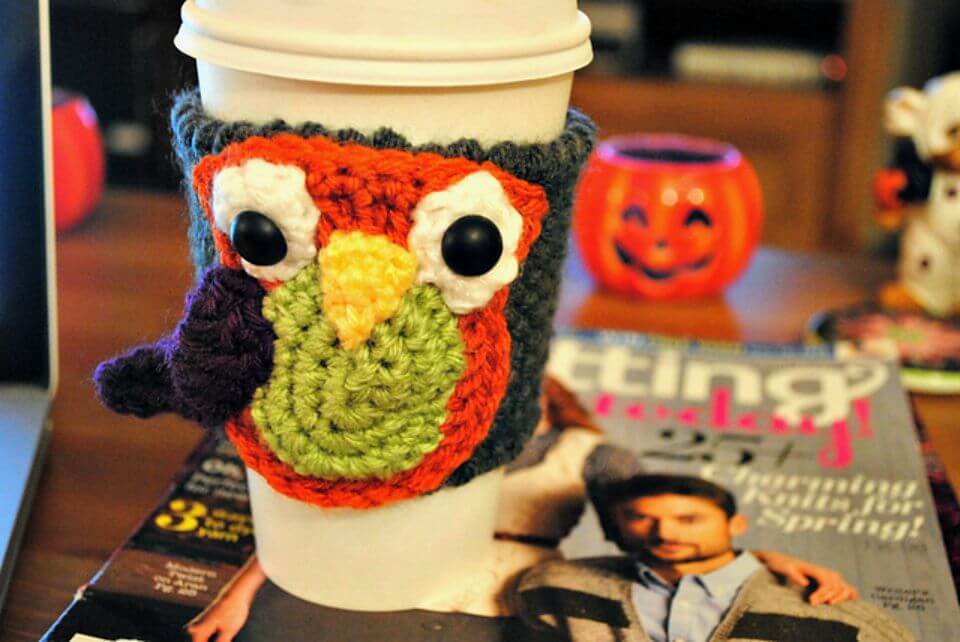 Do you like the owls very much? If yes, there is a mind-blowing way to pay bigger attributes to them using your crochet hook! Just crochet an owl cup cozy and see your favorite owl everyday with every sip! This is here a great idea to add fun to your coffee taking routines! Another lovely crochet owl cup cozy pattern! Free crochet pattern here ravelry
Free Crochet Grumpy Octopus Coffee Cup Cozy Pattern: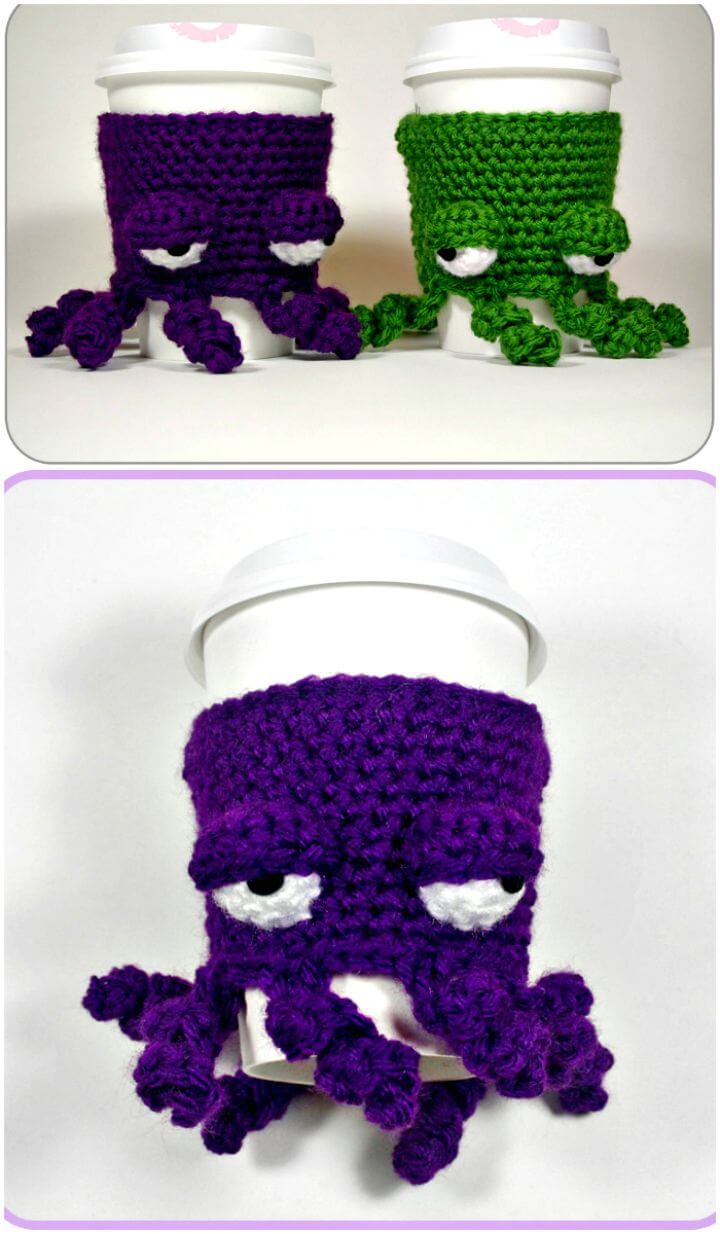 Here is how to create a grumpy or bad-tempered personality of your favorite coffee mug! Just make your favorite coffee mug wear the these grumpy octopus sleeves this will also create a fun statement for sure! Another unique but adorable coffee cup cozy pattern! Further project details and free crochet pattern here twinkiechan
Awesome Free Crochet Coffee Mug Cozy Pattern: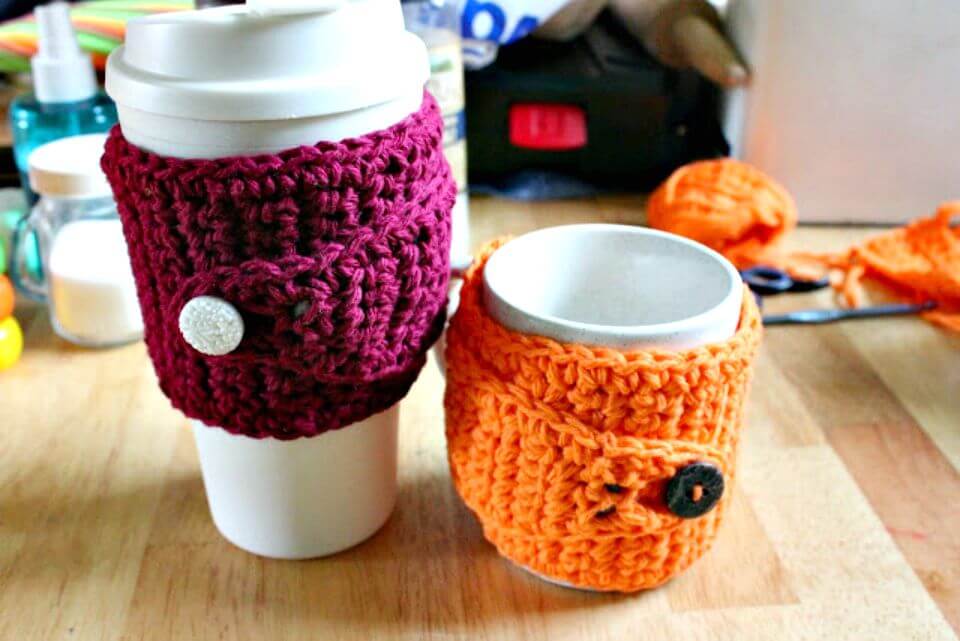 Sometimes it is all great to go with a single color as simplicity is the real beauty most of the time! So presenting here the super simple but enchanting coffee mug cozies crocheted in red and orange colors! Will just make it possible to hold your hot coffee in both hands while enjoying the cold weather! Free crochet pattern and visual guide here stormflycrafts
Free Crochet Mustache Coffee Cup Cozy Pattern: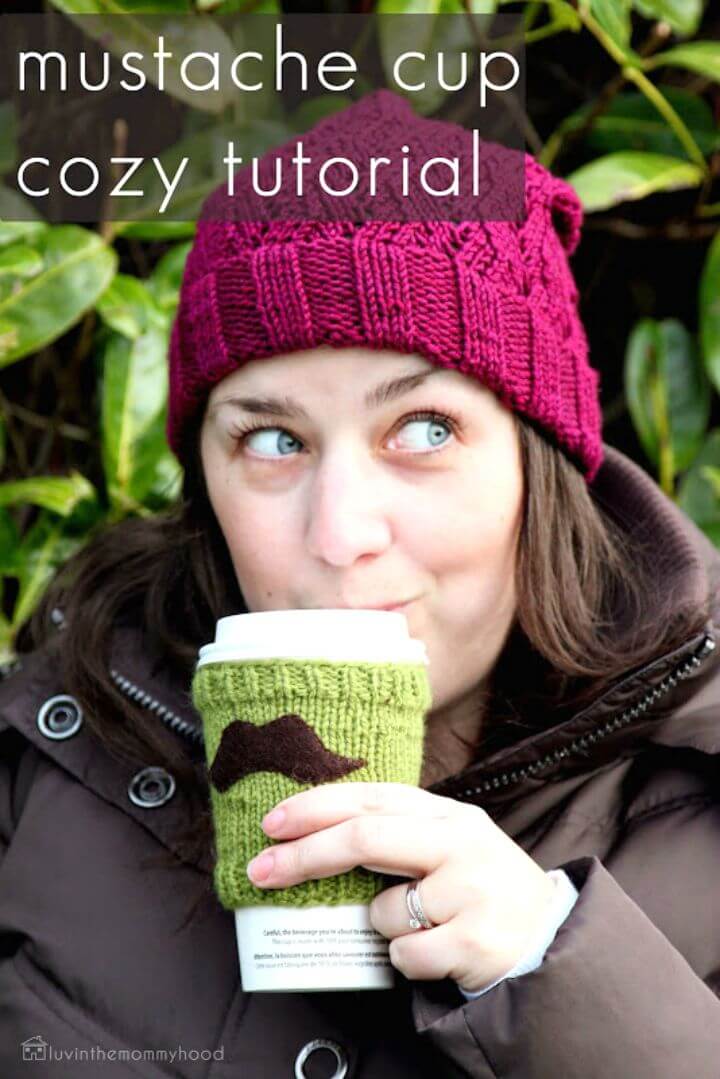 Make everybody laugh while enjoy the delicious sips of your hot winter coffees! This is only possible if your coffee mugs are wearing these mustache coffee mug cozies that are amazingly beautiful and fun-making! Another rare but remarkable coffee cozy pattern to duplicate for a coffee lover! Duplicate it to give as a gift! Free crochet pattern and tutorial guide is here veryshannon
Free Crochet Happiest Starbucks Coffee Cup Cozy Pattern: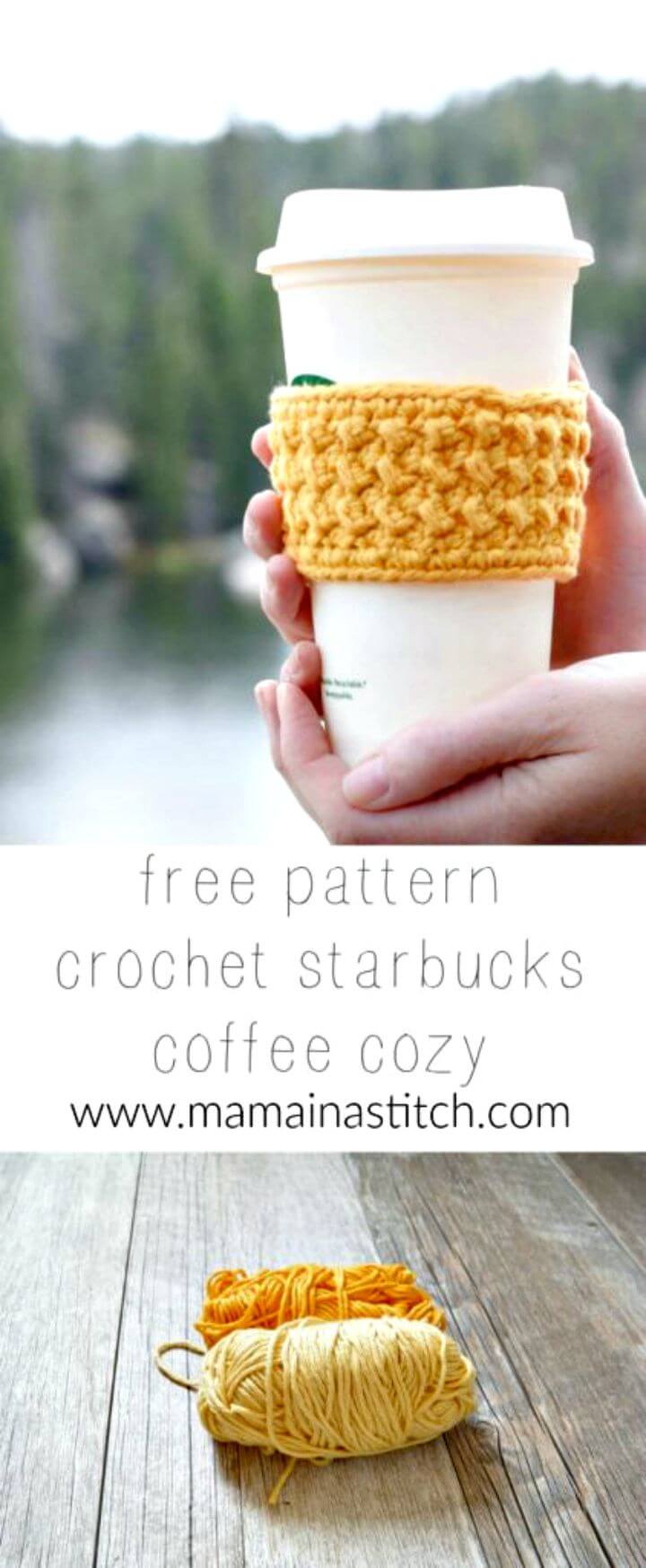 Are hot coffee mugs are making your hands burnt? Here is the solution that will also create a divine look of your coffee mugs! Just crochet your favorite yarn colors and weights for brilliant coffee mug cozies just like this happiest Starbucks coffee cup cozy that is true bliss to view and is mind-blowing sample here! Duplicate it with the help of free pattern and instructional guide given here mamainastitch
Free Crochet Sock Monkey Coffee Cozy Pattern: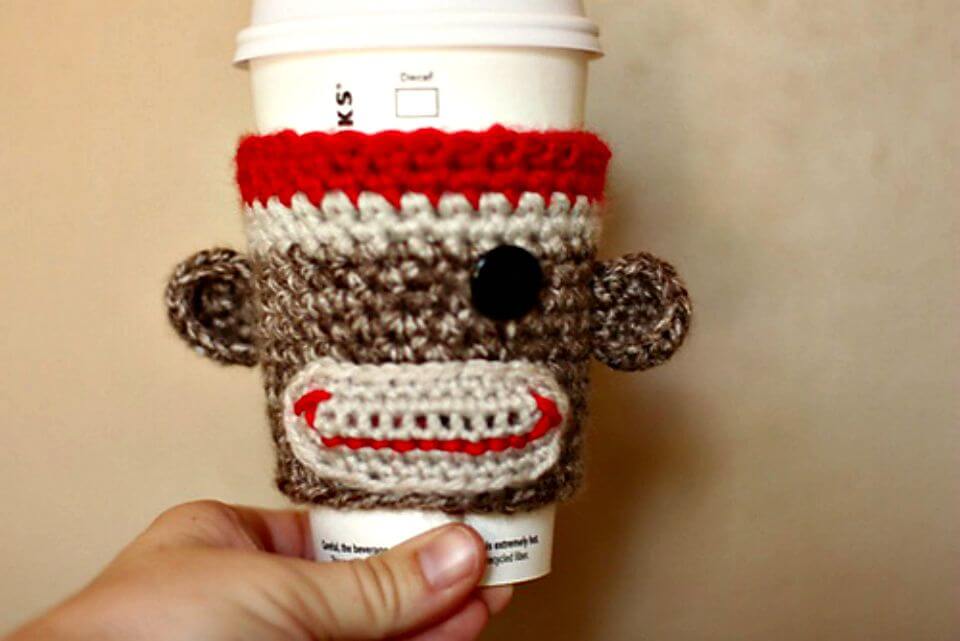 Sock monkey is another famous character that is dearly loved by the kids! So, why not crochet some sock monkey coffee cup sleeves that will held much precious to eyes of sock monkey lovers! A great idea here to create a fun look of your coffee mugs! Just go with respective yarn colors and duplicate this given sock monkey coffee cozy with the help of free crochet pattern given here ravelry
Easy Chevron Coffee Cozy – Free Crochet Pattern: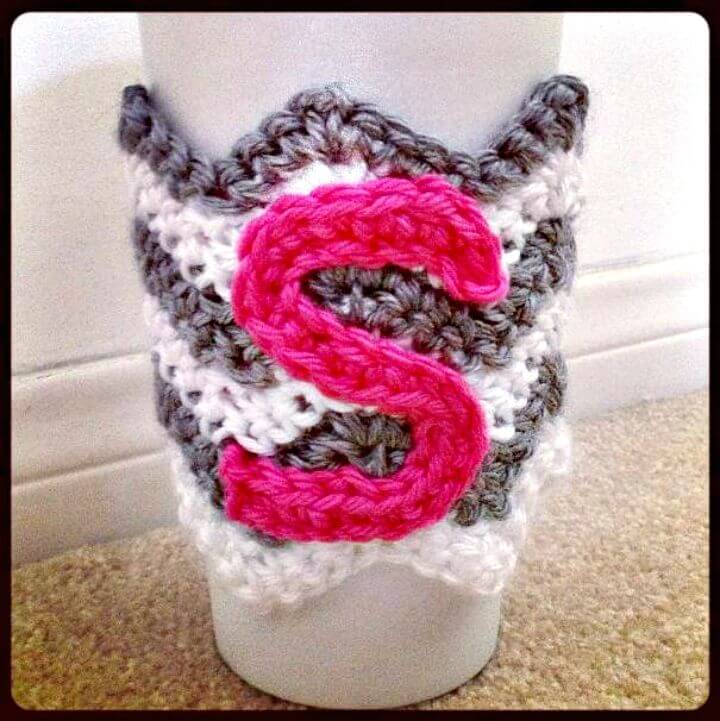 Coffee mug cozies can also be a great way to personalize your coffee mugs! This can easily be done with you crochet sleeves with custom name letter initials! Get inspired of this chevron coffee cozy that comes with a letter "S" monogram that shows that this coffee mug belongs to a special person in family! Another beautiful crochet coffee cozy pattern here to inspire your hook! Complete free pattern and visual tutorial here sadiesbasket
Free Crochet Coffee Cozy Within 1-Hour:

Spend only an hour and crochet fantastic mug sleeves just like this precious coffee cozy! This is here the perfect last hour gift idea using your crochet skills, another mind-blowing crochet coffee cozy pattern! This coffee cozy pattern also demands for an easy skill level! Find the complete free tutorial and step-by-step guide here favecrafts
Free Crochet Happy Handle Coffee Cozy Pattern: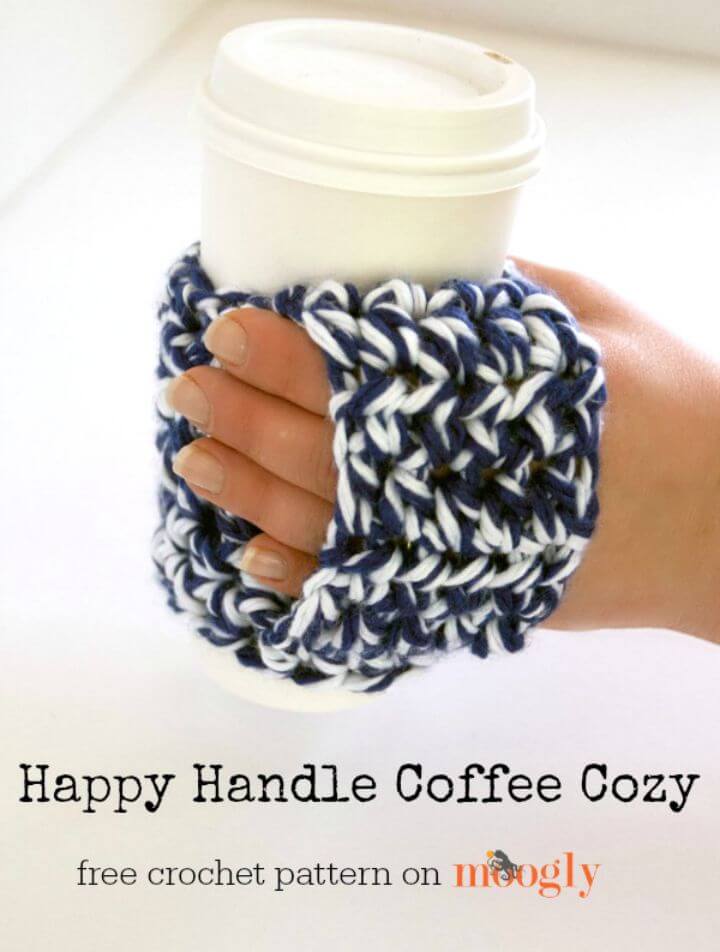 You can give mind-blowing changes to your coffee cozies to make them perform better! One can easily do so using his creativity along with his crochet hook! If you need a great inspiration to take a smart start, then check out this happy handle coffee cozy that will also cover your coffee cup handle! This coffee cozy is just a perfect coffee cozy that will cover your entire cup to hold safely! Free crochet pattern and step-by-step guide here mooglyblog
Free Crochet Cable Stitch Coffee Sleeve Pattern: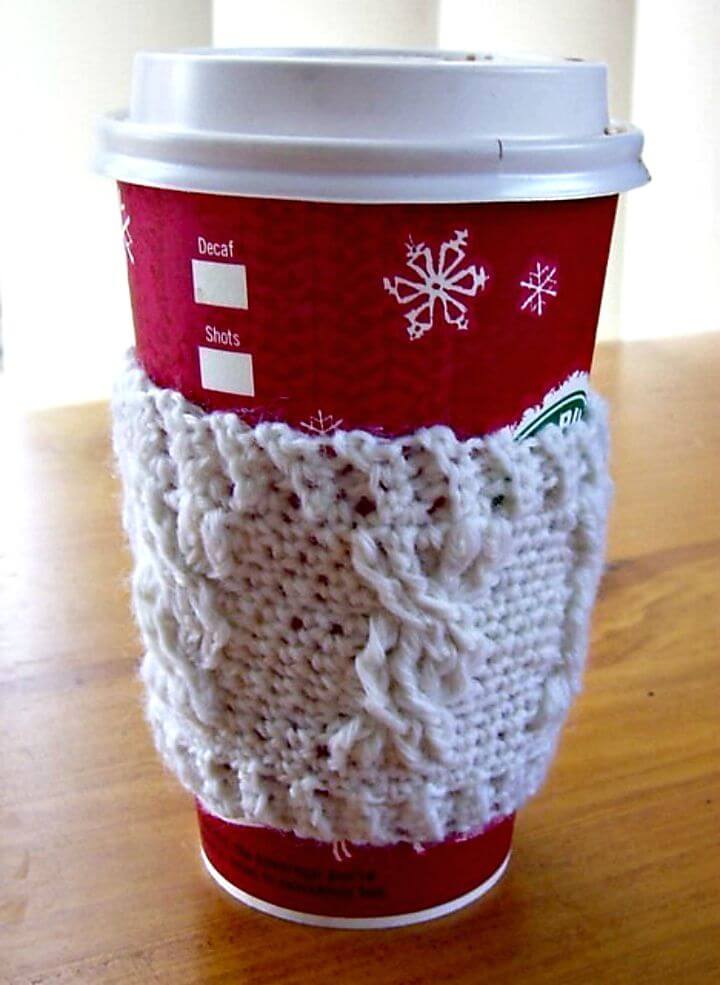 Are you a big fan of neutral or white hues that rock in fall or in deadly cold weather? Then here is the perfect crochet pattern in this case, the crochet cable stitch coffee sleeve, crocheted to inspire and is another mind-blowing way here to adorn your coffee mugs! Want to see you mug next wearing this cozy? Full free crochet pattern and visual tutorial here ravelry
Free Crochet Textured Coffee Mug Cozy Pattern: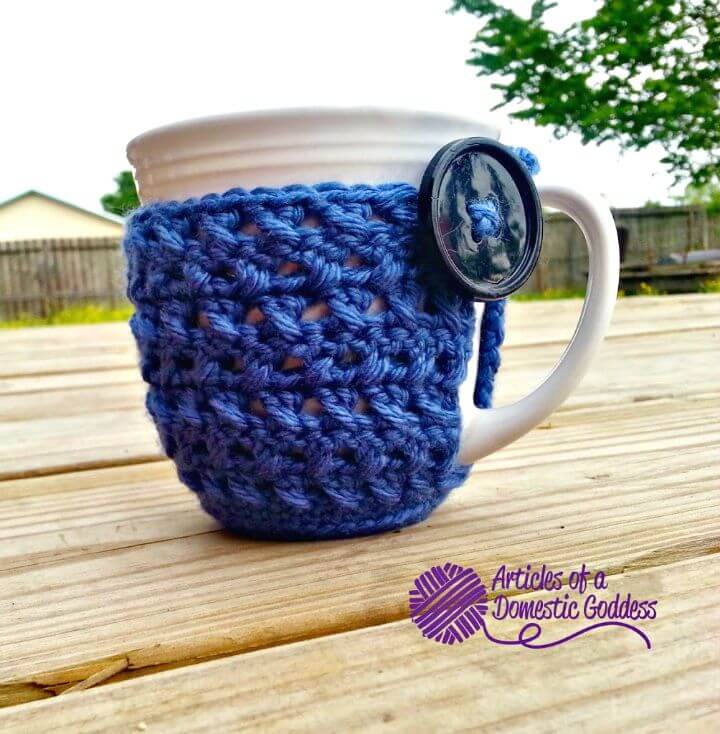 If you are all a big fan of stunning crochet textures then you are definitely going to praise this fantastic coffee mug cozy! This one comes with brilliantly beautiful texture and has been crocheted in single blue color! This crochet coffee mug cozy pattern is a little airy and breezy! Intending to duplicate it? Find the full free pattern and tutorial from here articlesofadomesticgoddess
Free Crochet Cup Full Of Love Coffee Cozy Pattern: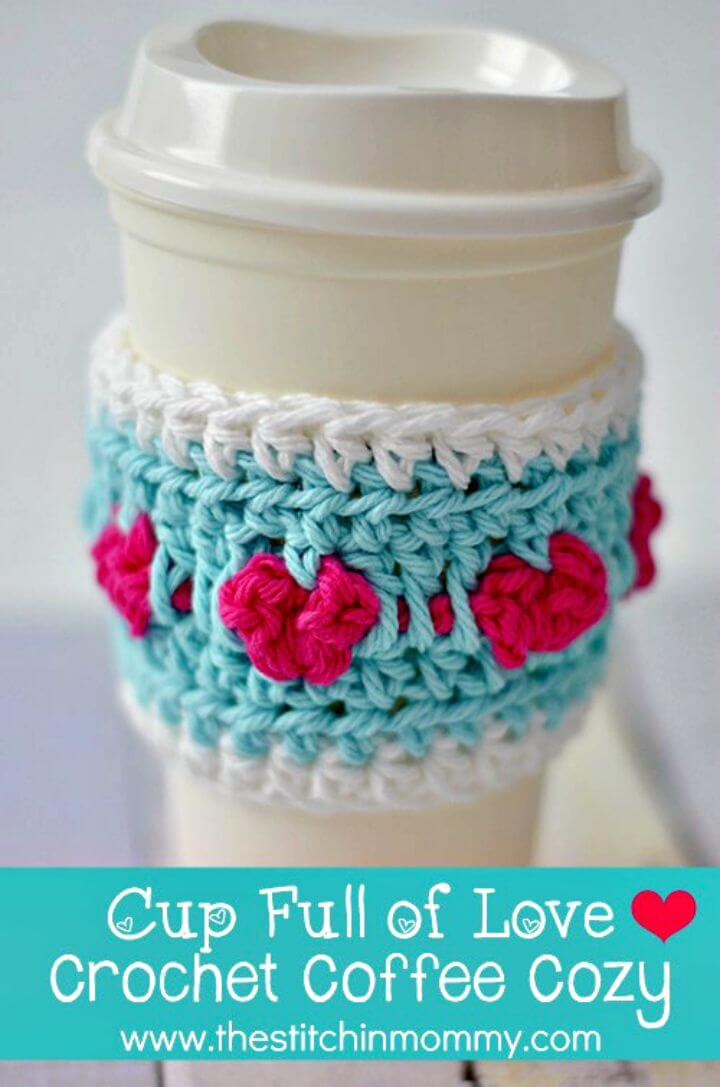 Check out here the tightness of crochet stitches that simply goes fetching! Along with the tightness of stitching that creates a lovely texture of this love coffee cozy, there is also a mind-blowing yarn color combination that will amaze you! This crochet cozy has been crocheted in turquoise yarn color and comes with white ending loops! Moreover there are hot dark pink crocheted puffs making it look lovely! A fantastic crochet coffee cozy pattern here! Get the full free pattern and tutorial guides from here thestitchinmommy
Free Crochet Stash Buster Coffee Cup Sleeve Pattern: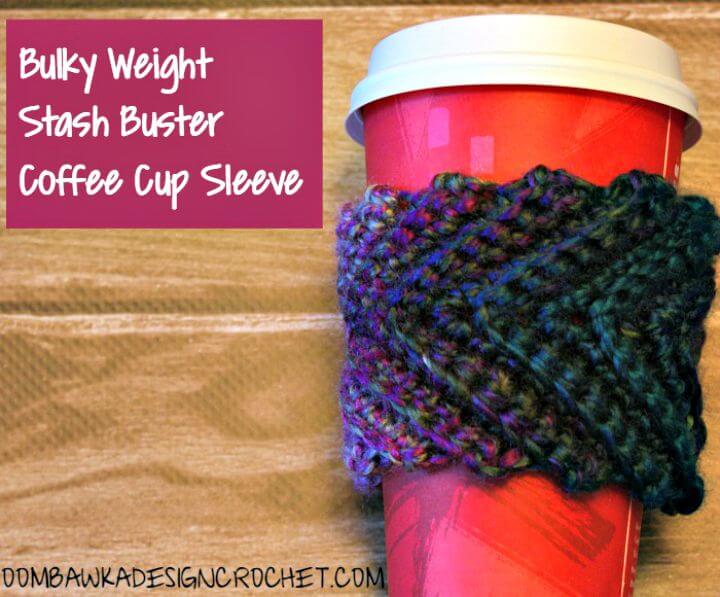 Get inspired of the thicker and amazingly noticeable chevron lines of coffee cup sleeve that makes it enticing! Here this is the stash buster coffee cup sleeve that is easy to crochet as it is precious! Another handsome dress for your coffee cup or mug that will also make you to hold your coffee mug safely with causing any unbearable heat to your fingers! Duplicate this coffee cup sleeve with the help of free crochet pattern given here oombawkadesigncrochet
How To Easy Free Crochet Coffee Mug Cozy Pattern: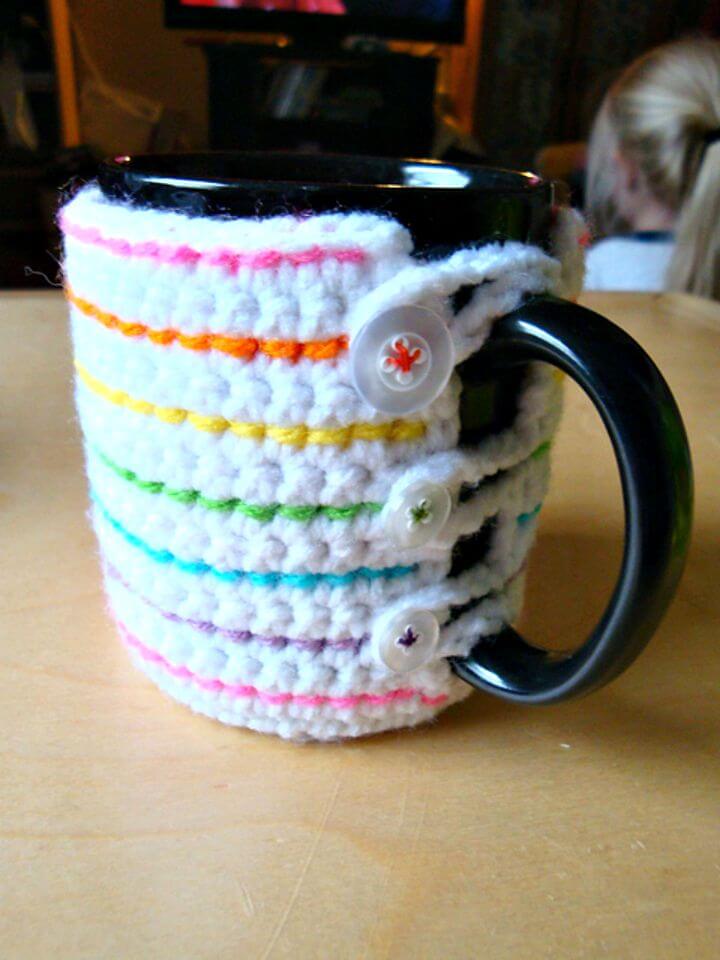 Duplicate this another fascinating crochet coffee mug cozy pattern that is both gift-worthy and praise-worthy! It has majorly been crocheted with white yarn that serves as a mind-blowing background! Next the enticing colorful lines in different colors have been crocheted that turn it into a big visual delight! Another fantastic crochet coffee mug sleeve idea and pattern! Free crochet pattern and step-by-step visual tutorial here ravelry
How To Free Crochet Coffee Cup Cozy Pattern: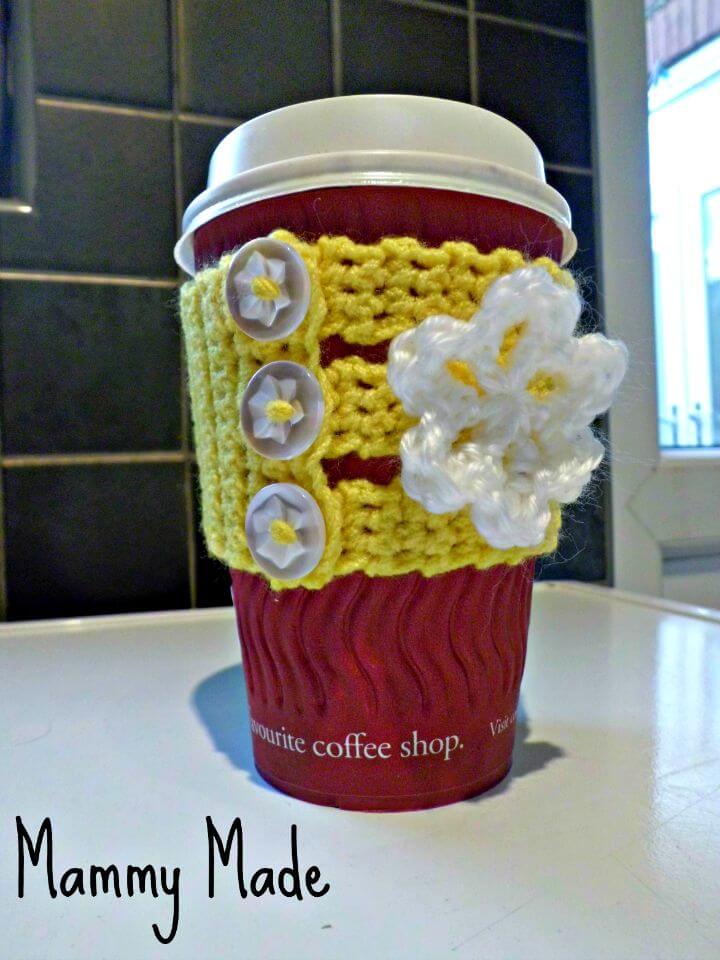 Flowers are a big delight to view and make you fill with joy at very first look so why not crochet some fantastic floral coffee cup cozies? This would be a fantastic idea and you can simply take a look at this crochet coffee mug sleeve that comes with a white flower embellishment and is much visually captivating! 3 buttons at one end and 3 loops at the opposite edges would help to adjust this sleeve perfectly around the coffee cup as you can see! Free crochet pattern here mammymade
Free Crochet Breast Cancer Awareness Coffee Cup Cozy Pattern: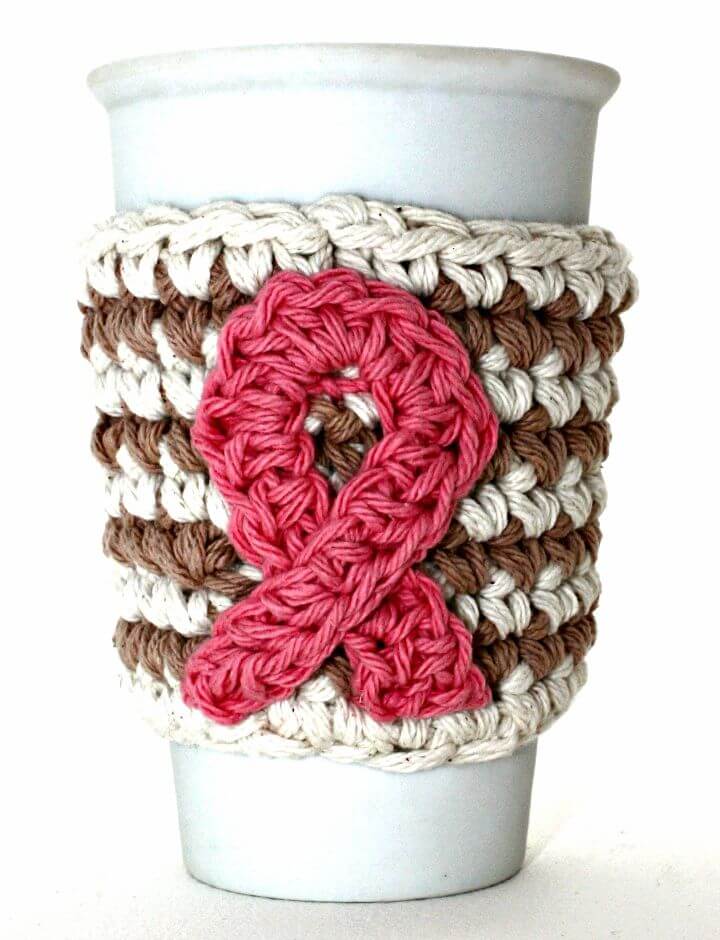 You can also crochet the sleeves with various symbols that can help deliver some messages! Just for a smart example, you can simply take a look at this coffee cup cozy that has been crocheted to give the breast cancer awareness and hence comes with the respective logo or sign! Another great design of crochet cup cozy to inspire you hook! Full free pattern and tutorial guide here yarnspirations
Easy Free Crochet Coffee Mug Cozy Tutorial: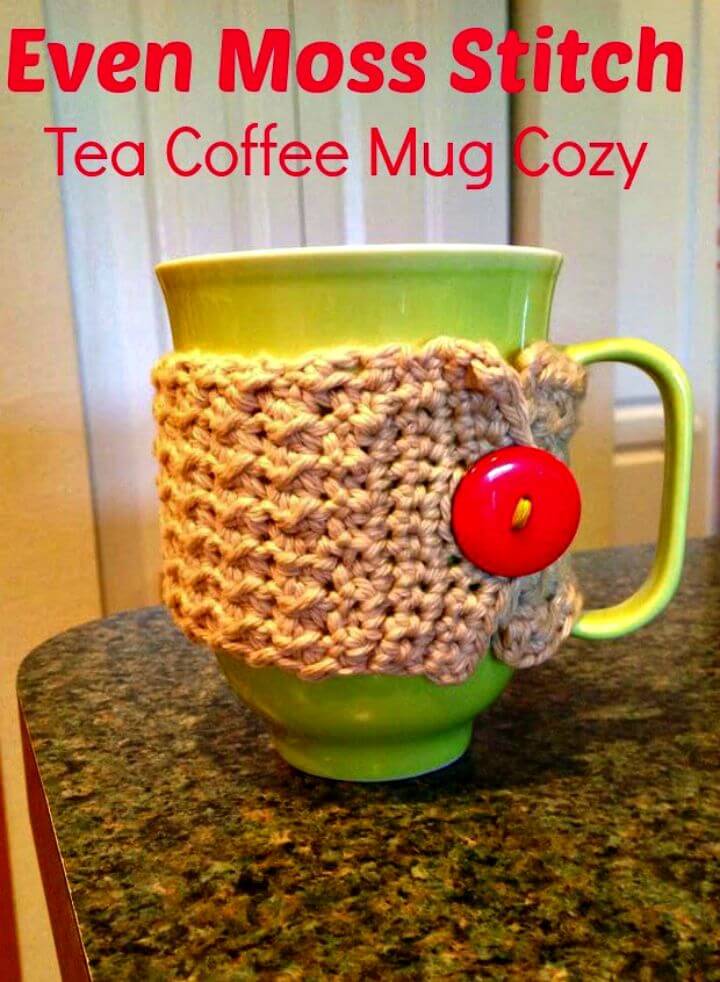 There is never-ending design suggestion for crochet mug sleeves, just check out here another remarkable one, the precious crochet coffee mug cozy that features a neutral and hue! Here the red button has been used to fit in the hole while adding this cozy all around your coffee cup and this hot button also works great as an embellishment! Want to clone this fantastic coffee mug cozy? Full free pattern and visual tutorial here fabi
Easy Crochet Festive Cup Cozy – Free Pattern: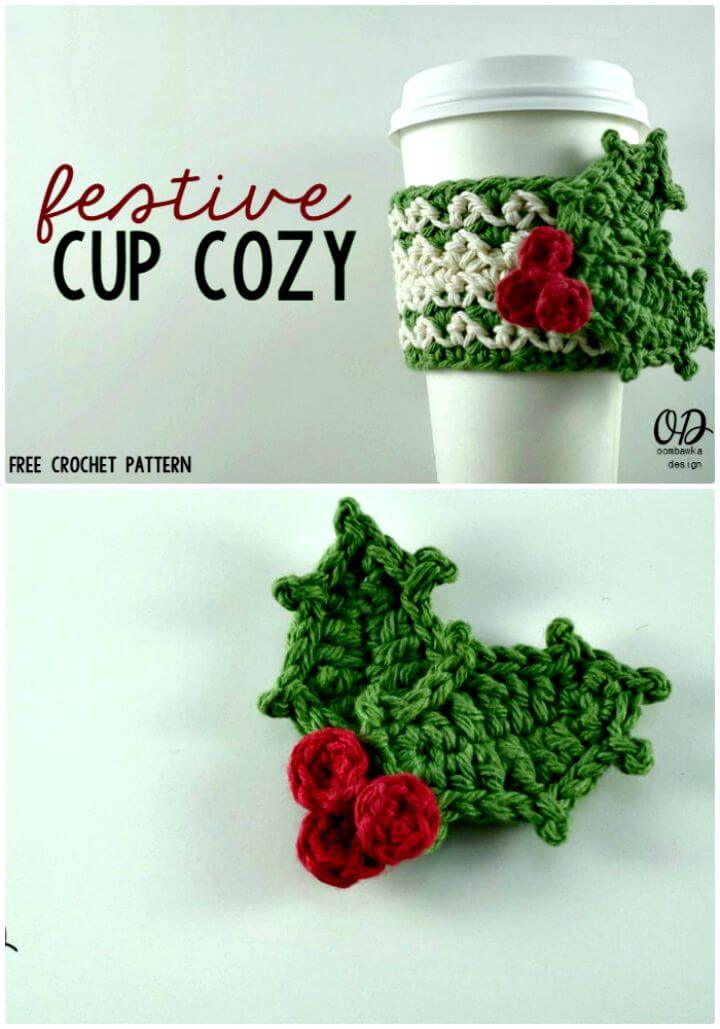 Clone this another fantastic design of crochet cup cozy that will make a Thanksgiving gift also to a coffee lover! This is here the festive crochet coup sleeve that looks stunning in green, red and white yarn color combo! Another great coffee mug cozy pattern here to inspire your hook! Find the complete free crochet pattern and tutorial from here oombawkadesigncrochet
Easy Crochet Esc Coffee Cup Sleeve Cozy – Free Pattern: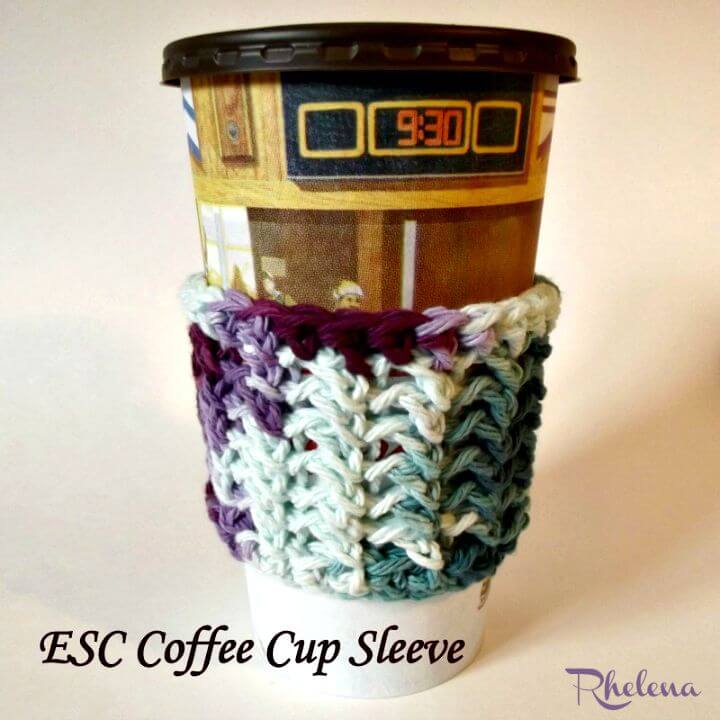 Fall in love with the design texture of this coffee cup sleeve that is truly eye-catching here! The textured vertical yarn lines full of colors just make this cup sleeve super-beautiful! This is here another fancy dress for you coffee mug that is sure to make your mug look lovely! Willing to duplicate it now? Find the complete free pattern and tutorial from here crochetncrafts
Easy Crochet Cluster Coffee Cup Cozy – Free Pattern: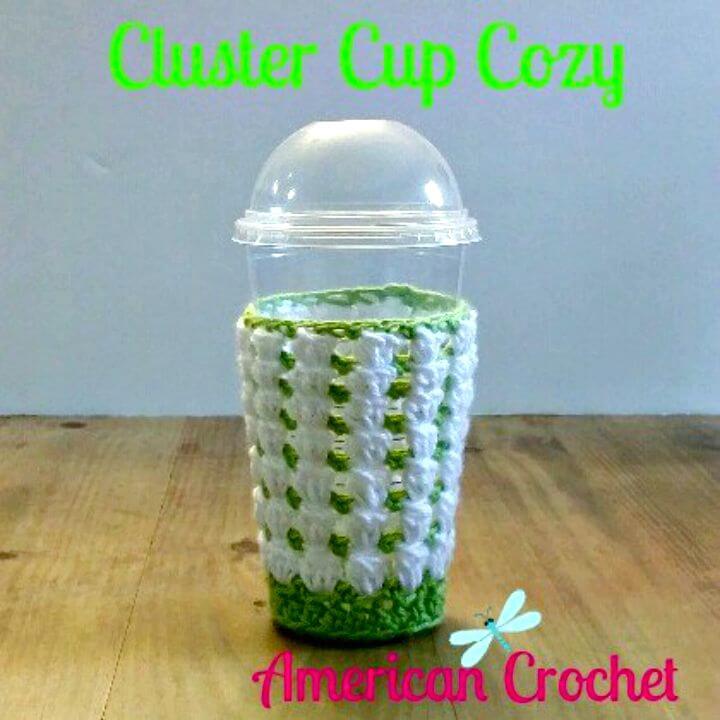 Sometime little tiny dots on your items of interest makes a great decorative pattern and polka dots are the most favorite ones in this case! You can also crochet some fantastic coffee mug sleeves with enticing dots, a mind-blowing sample is this cluster coffee cup cozy that comes in white hue spruced up with tiny green dots! Another fantastic crochet mug sleeve pattern here! Duplicate it with the help of free crochet pattern given here americancrochet
Free Crochet Coffee Cozy Pattern: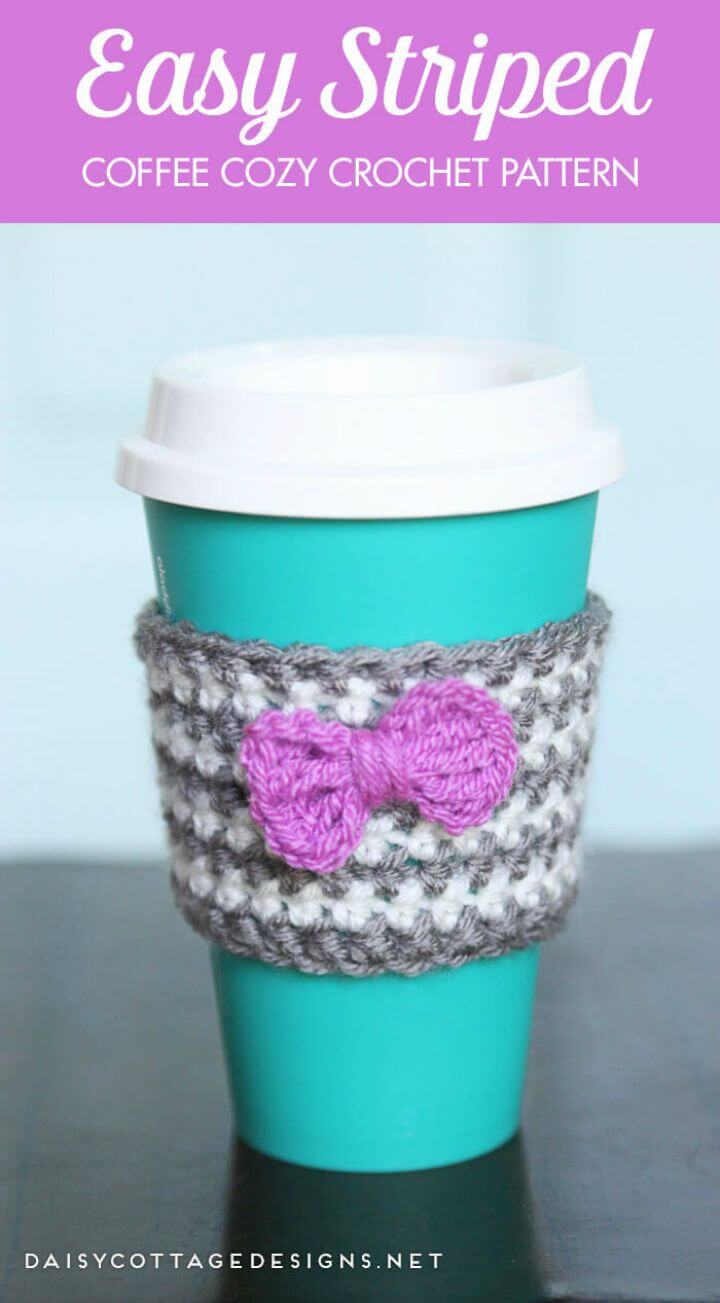 Another handsome crochet coffee cozy here that is surely to create a lovely personality of your mug! Put a glance at this very beautiful crochet bow sleeve that is beautiful piece of work here of art of crocheting! This is something here that will make you coffee mug look dashing! Grey and white stripes serve as a great background here while the pink bow makes a perfect décor and embellishment! Find the complete free tutorial and free crochet guide here daisycottagedesigns
Free Crochet Autumn Stroll Coffee Cozy Pattern: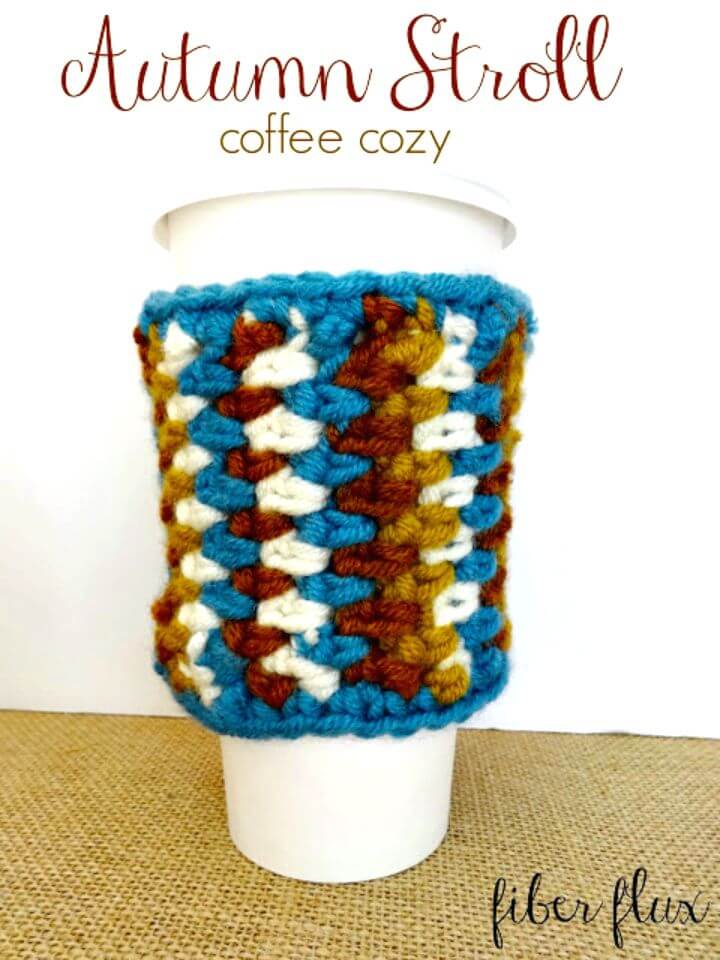 Check out here another hot mix of yarn colors that results in a beautiful crochet coffee mug cozy! Just look at this autumn stroll coffee cozy that is here another fancy sleeve or snuggly for your coffee mug! Just can't hold your hot coffee mugs in both hands? This crochet cozy is a great solution here! Willing to duplicate it now? Find the complete free pattern and tutorial from here fiberfluxblog
Free Crochet Dancing Sheep Mug Cozy Pattern: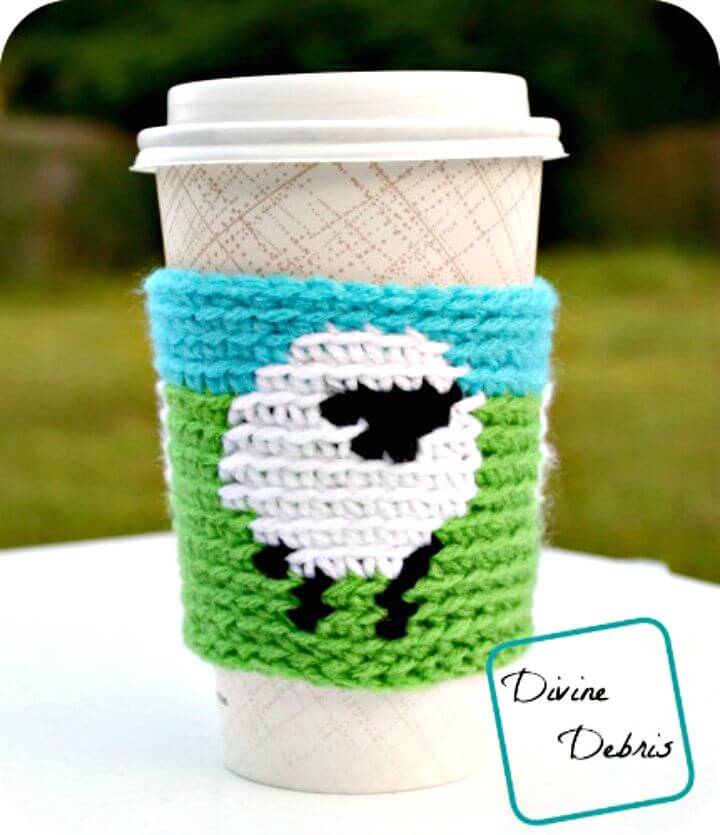 Your targeted person, to whom you are willing to gift a crochet mug sleeve, can be a big fan of various animals, design textures and shapes! So, just incorporate his likings in your crochet pattern to make the gift heart-wining! A great example here is this dancing sheep mug cozy and you can go with any other fun animal shape! Intending to duplicate this precious mug cozy? Find the complete free pattern and guide here divinedebris
Free Crochet "Celebrate" Cozy & Coffee Sleeve Pattern: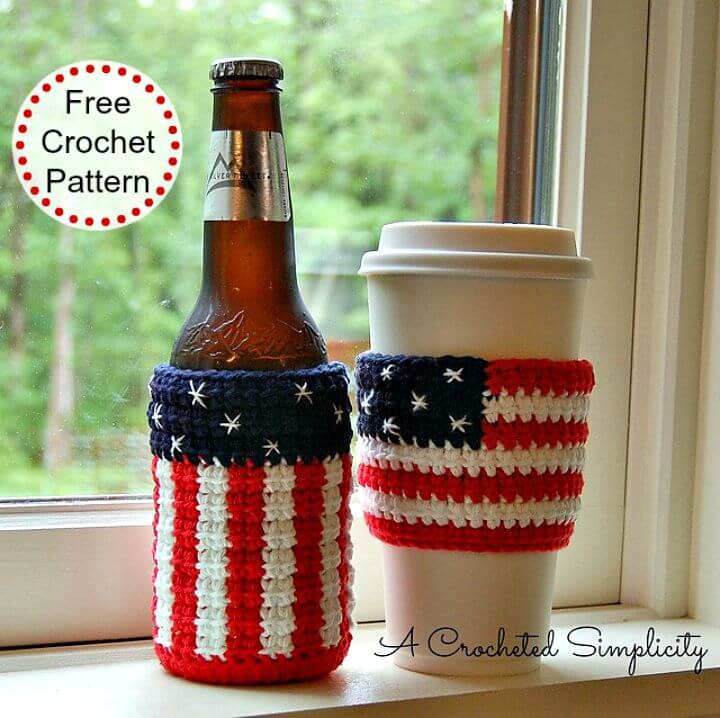 All the country lovers can be seen celebrating the Independence Day passionately holding the favorite drink bottles and coffee mugs in hands! So, here is how to make your mugs and drink bottles speak volumes for the Independence Day! Just crochet some country flag sleeves for them! Just check out some precious sample sleeves here to inspire your creativity! Full free crochet pattern and visual instructions here acrochetedsimplicity
Free Crochet Unicorn Coffee Cozy Pattern: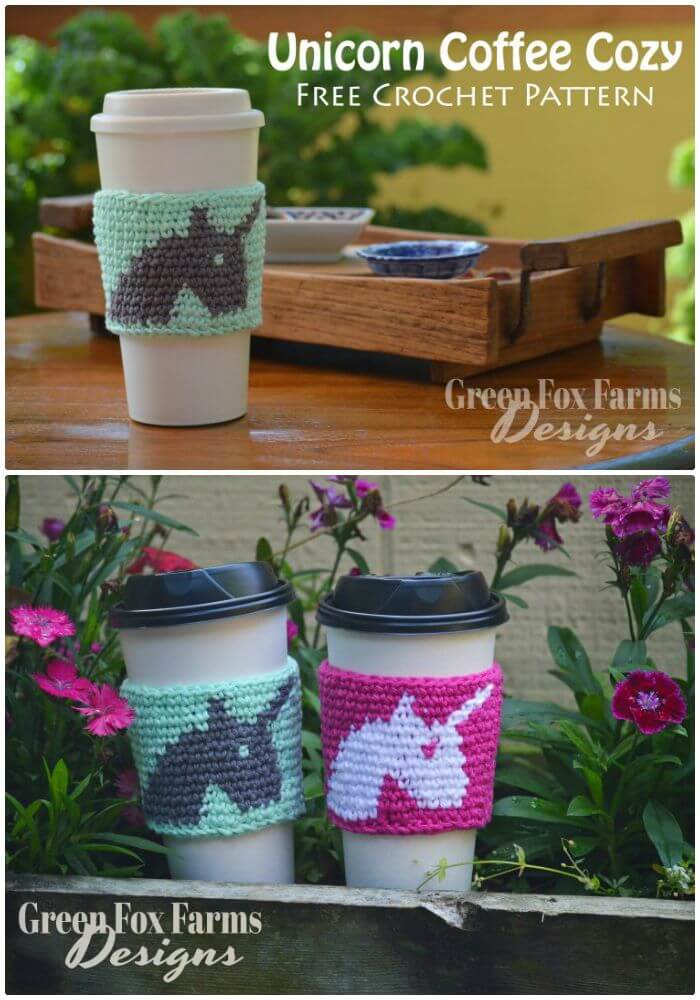 The artful design of crochet coffee cozies have just no end, this is here another fantastic one, the precious crochet unicorn coffee sleeve, perfect to crochet as a gift for a unicorn fan who is big coffee lover too! Another fancy dress to crochet for your favorite coffee mugs! Grab the full free pattern and visual guides from here greenfoxfarmsdesigns
Free Crochet Pikachu Coffee Cup Cozy Pattern: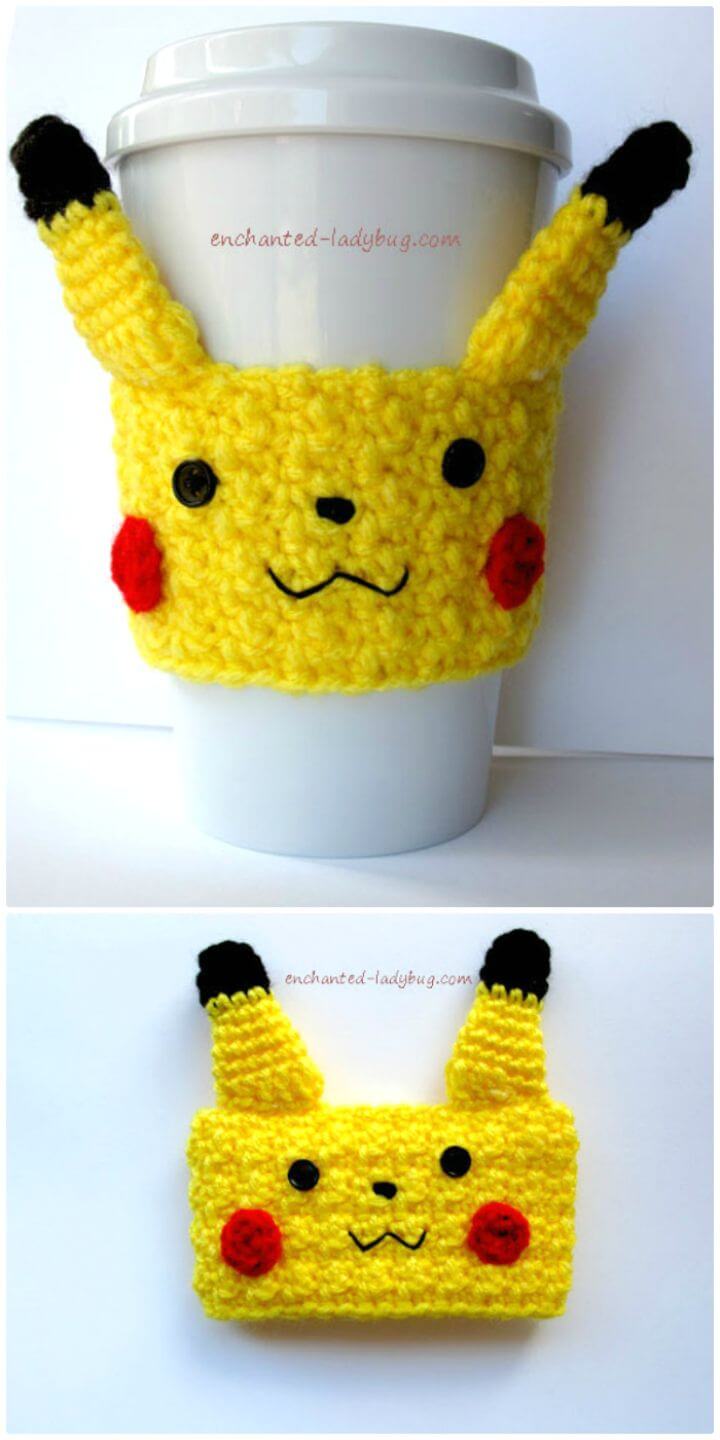 Have any coffee lovers in your home or friend's group who also a big fan of Pokemon Crafts? So, here is this special gift for them that would like killing the two birds with one stone! This is here the special Pokemon coffee mug sleeve that will please both a coffee lover and also a Pokemon fan! This one comes with a crocheted Pikachu, but you can go with any Pokemon you like while duplicating this pattern! Grab the full free crochet pattern and visible tutorial from here ladybug
Free Crochet Angry Birds Coffee Cozy Pattern: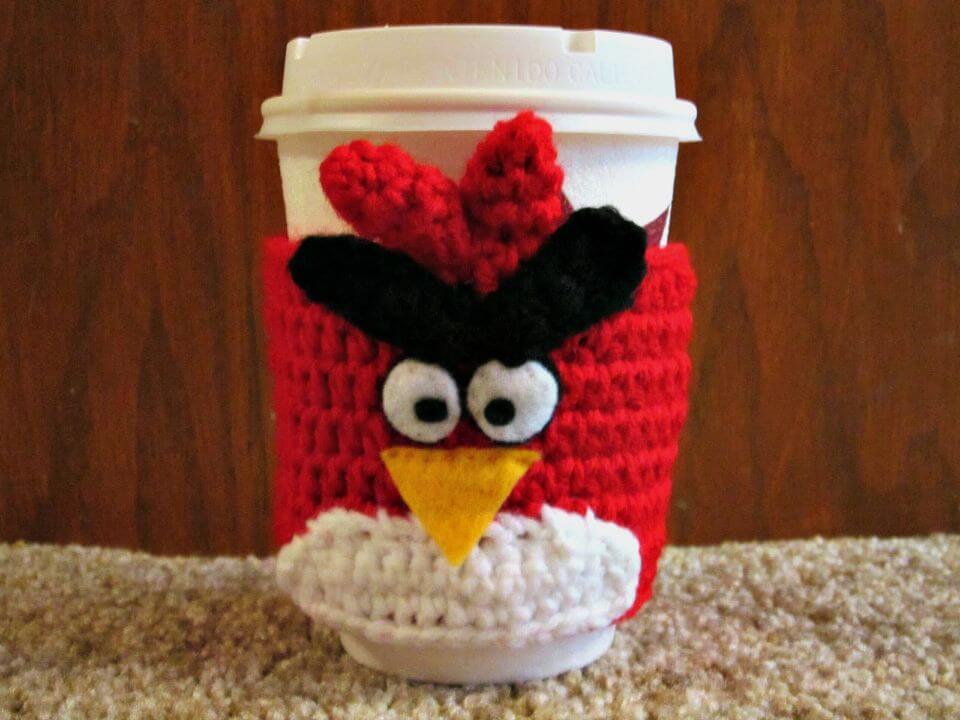 Put a glance at this very special crochet coffee cozy that is more than fantastic! This is here a mind-blowing crochet coffee cozy that is inspired of an angry bird! So, this will go lovely to an angry bird fan, so this is surely going to be a perfect crochet pattern that would be super-gift worthy too! Willing to duplicate this very special angry bird coffee mug sleeve? Find the full free pattern and step-by-step tutorial from here thecrochetmommy
Free Crochet Coffee Cup Cozy Pattern: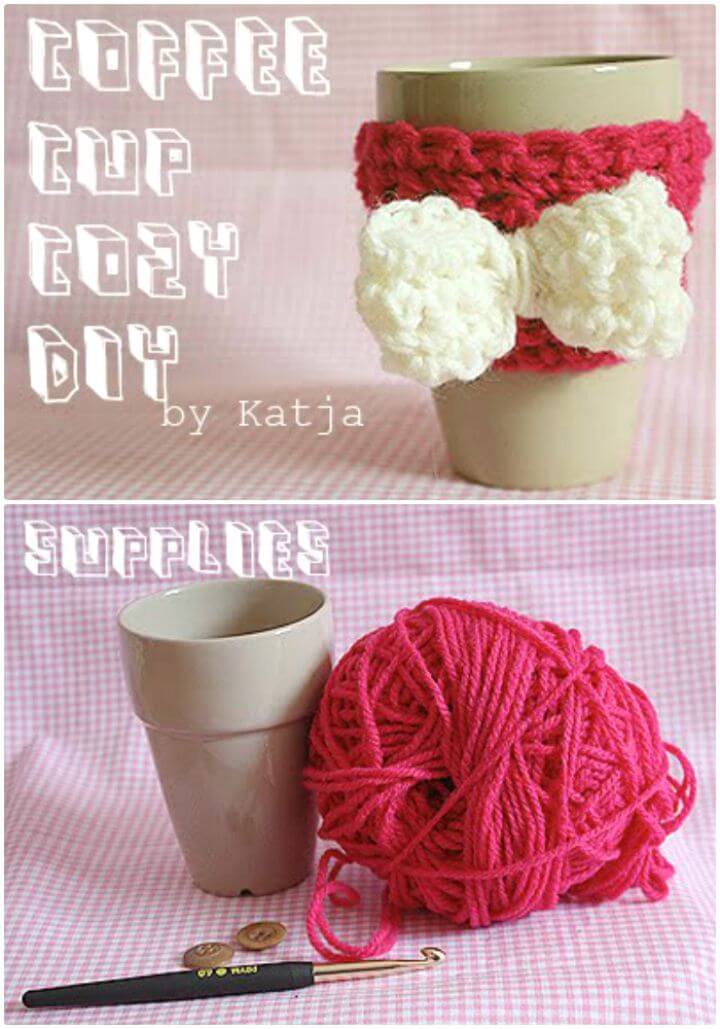 Intending to crochet some handsome coffee cup cozies? This is here a perfect crochet project and a unique crochet sleeve pattern too! This is here a fantastic crochet bow cup cozy that is a delight to view and will spruce up your coffee cup also outstandingly! Willing to duplicate this very stunning pattern of coffee cup sleeve for a coffee lover? Find the complete free pattern and tutorial here nelliemaeii
Free Crochet Special Coffee Cup Cozy Pattern: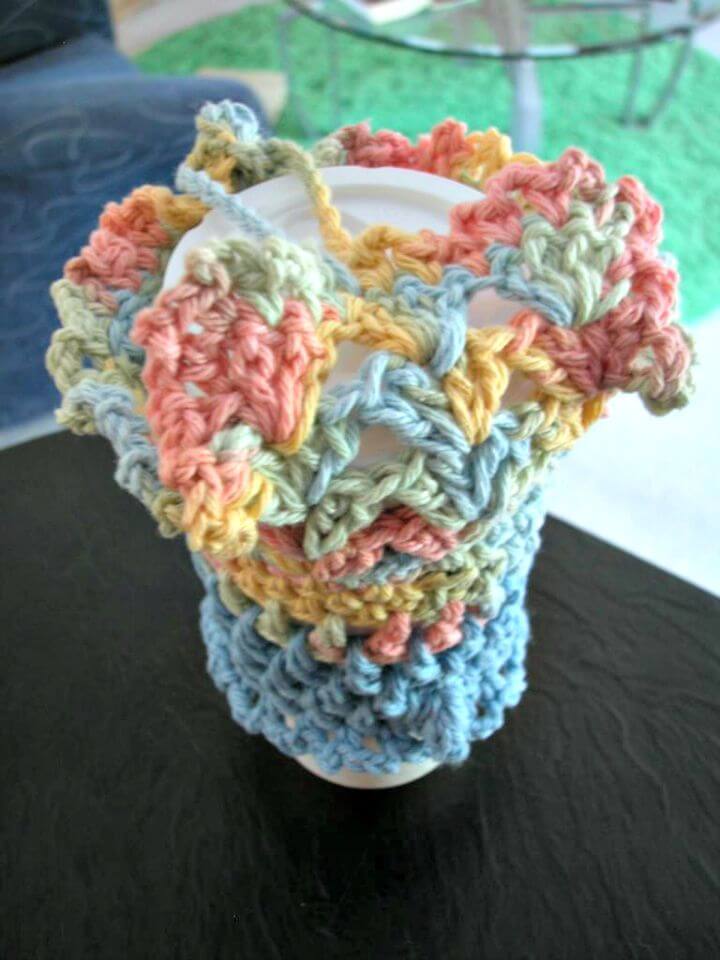 If you are all intending to see various yarn design textures holding your favorite coffee mugs then just duplicate this very special coffee cup cozy here! It comes with an alluring mix of colors and is as easy to crochet as it is beautiful! This is here a fun way to keep your hands safe from touching the hot coffee mug surfaces while taking the sips of your favorite coffee! thecrochetdude
Free Crochet Harry Potter Coffee Cozy Pattern: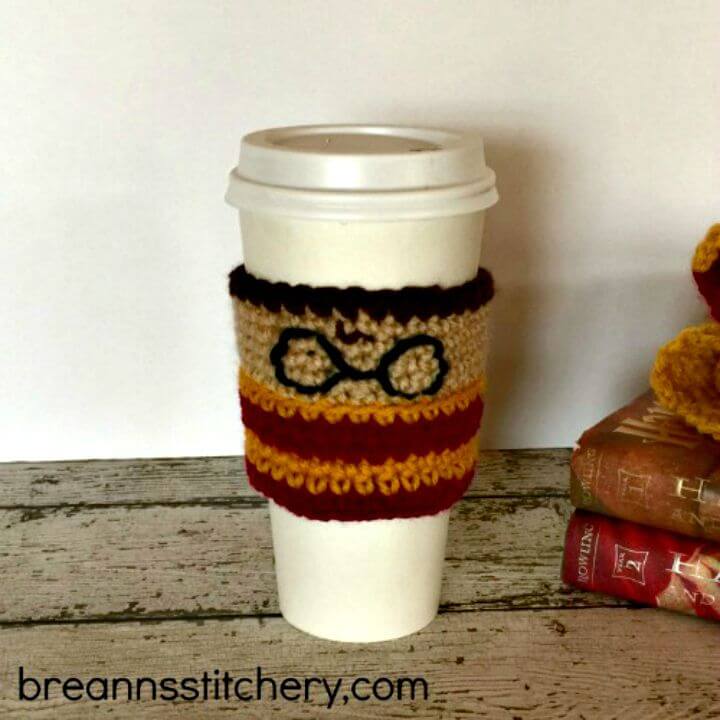 Harry Potter is the most popular hero in fictional Hollywood movies! The fans of Harry Potter are in millions and maybe a few in your home or in friend's circle too! So here is the best way from medium of crocheting to please a Harry Potter fan! Just gift him/her this Harry Potter coffee cozy that is much easy to crochet! Grab the full free pattern and visual tutorial from here hookedonhomemadehappiness
Oscar The Octopus Coffee Cozy – Free Crochet Pattern: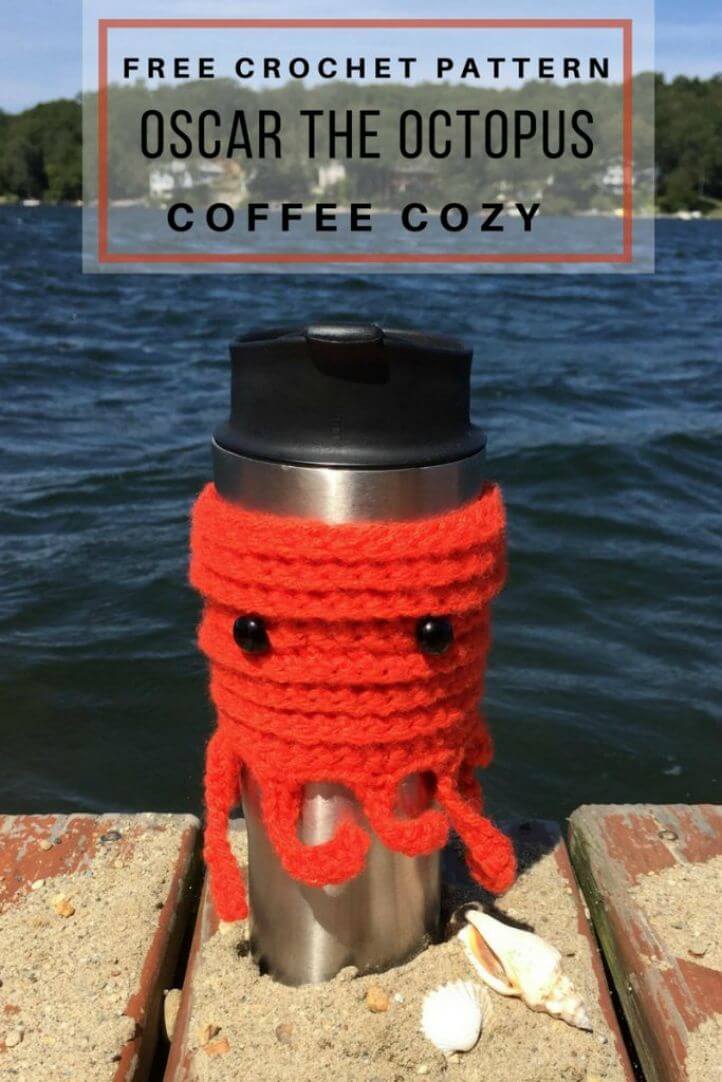 It is amazing to use your hook to crochet some beautiful snuggies and sleeves! Crochet sleeves for your items of interests work like the new dresses and here a coffee cozy that is having a beautiful fun shape! This is here the very cute Oscar the octopus  coffee cozy that has been crocheted to make you hold your hot coffees without any inconvenience and is a damn cute cover too for your coffee mug! Complete free crochet pattern and free visual tutorial here ambassadorcrochet
How To Free Crochet Coffee Cup Cozy Pattern: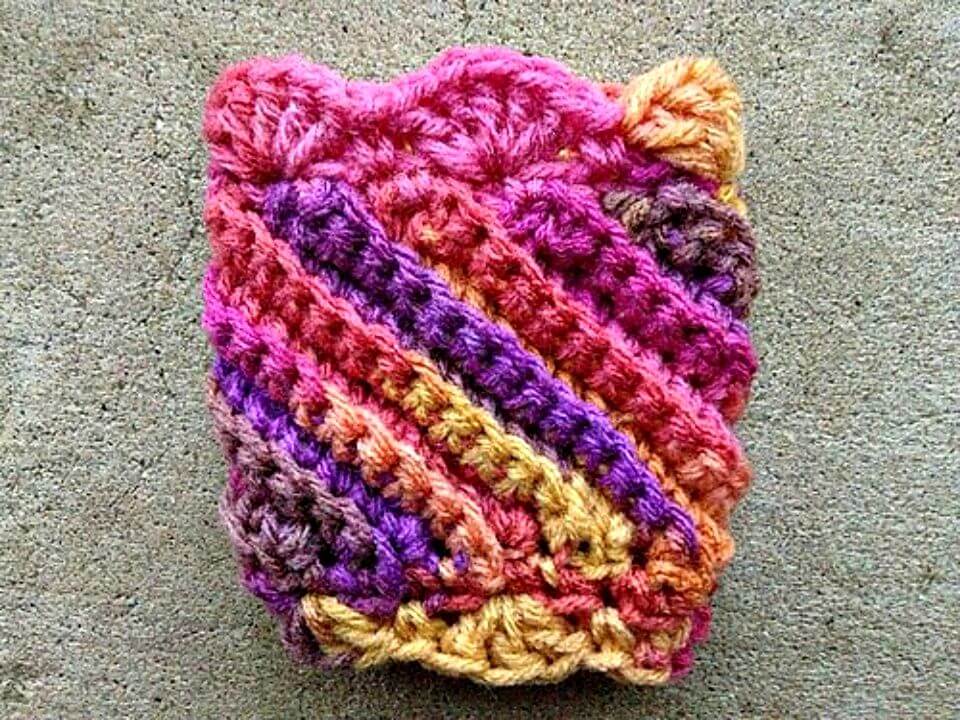 Another beginner-friendly crochet coffee cozy pattern, this one comes with colorful diagonal lines and is damn beautiful one! This is here another beautiful outfit for your favorite coffee mug and will be something that will not let your hand burnt when you will hold the hot coffees! One more crochet coffee cup that comes with amazing design texture! Free crochet pattern and step-by-step guide here crochetbug
Crochet Heart Mug Cozy Pattern: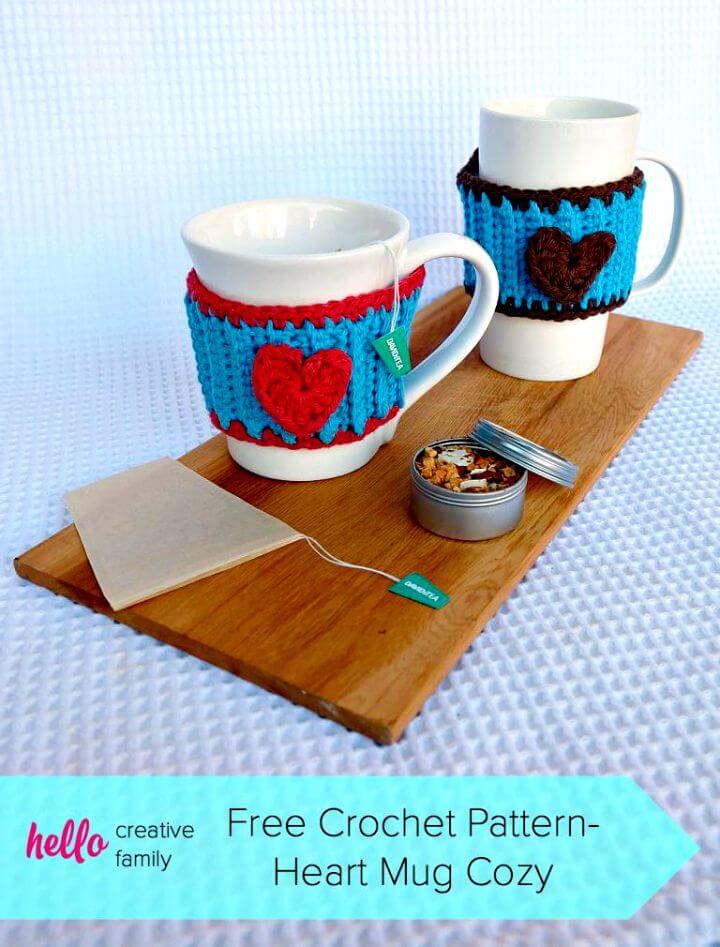 Willing to crochet some beautiful love gifts? Here is a beautiful idea for it, just crochet some heart mug cozies that will make your lover recall you and your love everyday while she/he is enjoy the coffee! All you need to crochet a normal cozy with your favorite yarn colors but with a lovely heart in the center! Check out some beautiful samples here that are super eye-catching! Free crochet pattern and step-by-step visual instructions here hellocreativefamily
How To Free Crochet Coffee Cozy Pattern: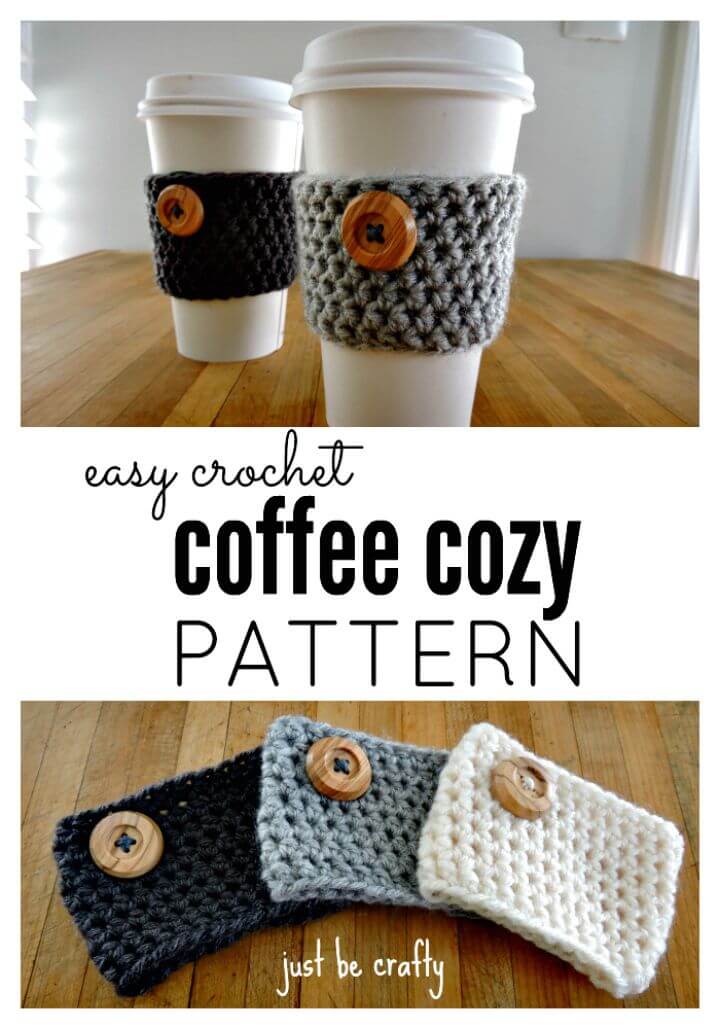 Sometime going with single yarn colors make you gain the better results! You will find it so true after putting a very first glance at this crochet coffee cozy that come dignified with accent wooden button!  One more perfect sleeve for your coffee cup or mug that you can crochet at home with minimal crochet skills! Free crochet pattern and tutorial guide here justbcrafty
Free Crochet Red And White Coffee Cozy Pattern: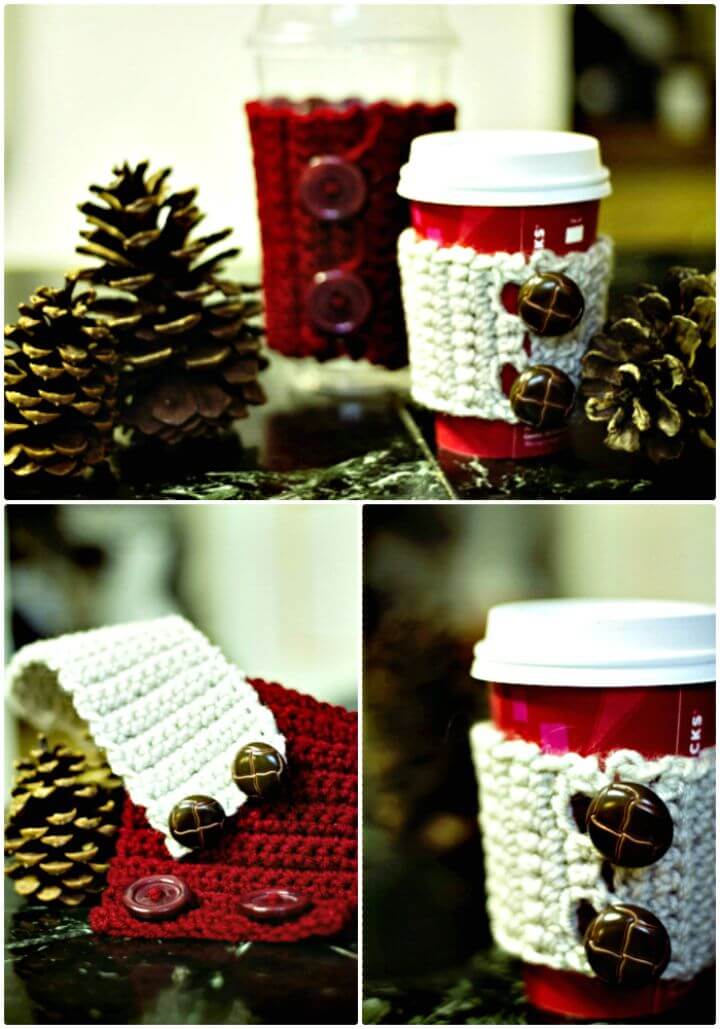 Fall in love with the easy yet beautiful design texture of these crochet coffee cozies that cover the coffee mugs in a delightful manner! To wrap these cozies perfectly around the coffee mugs, great help has been taken from the two added buttons that fit into two holes in the opposite end of the cozy! Experiment these single color coffee sleeves with multiple yarn colors! Complete free pattern and step-by-step instructions here skiptomylou
Free Crochet Yellow Coffee Cozy Pattern: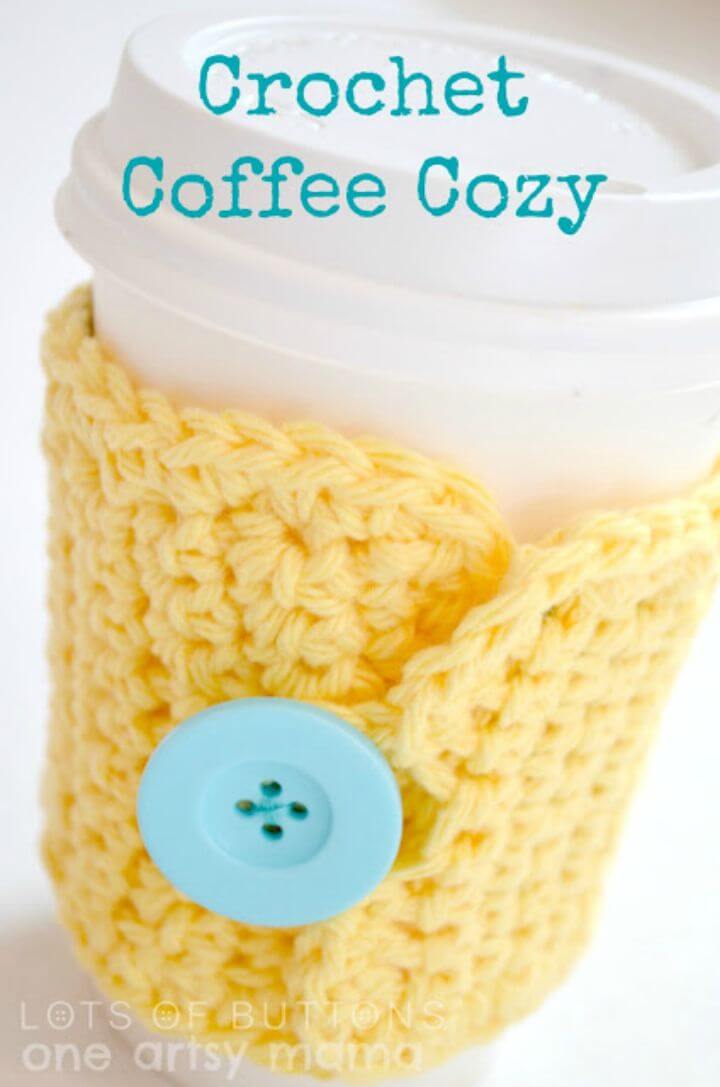 Check out here another precious yellow coffee sleeve, crocheted for a coffee mug just to create a winter special look of it! If it is all difficult for you to hold the warm coffee mugs then this coffee sleeve will be a perfect solution here! This coffee sleeve is all easy to crochet even for a dedicated beginner! Free crochet pattern and step-by-step visual guide here oneartsymama
Free Crochet Mickey Mouse Coffee Cozy Pattern: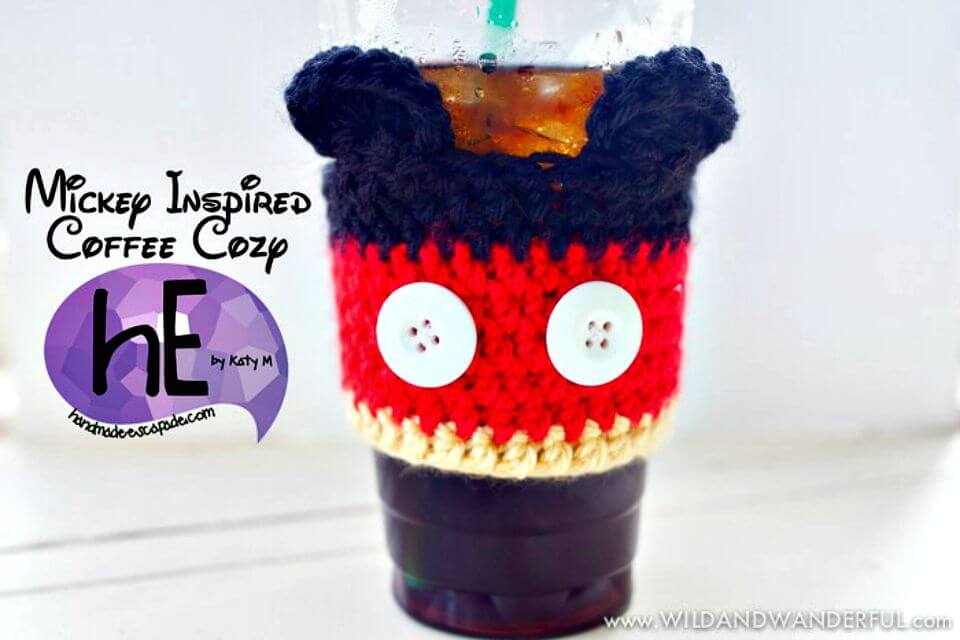 Add this coffee cozy in your to-do list of crochet projects as it something damn beautiful and easy to crochet! This is here the sweet Mickey mouse coffee cozy that is a best gift to give to a Mickey mouse fan just to earn more of his/her love and respect! This is something here that will create a fun look of your mug along with adding lots of colors! Want to duplicate this brilliantly beautiful coffee cozy? Free crochet pattern and step-by-step guide here wildandwanderful
Free Crochet Rapunzel Coffee Cup Cozy Pattern: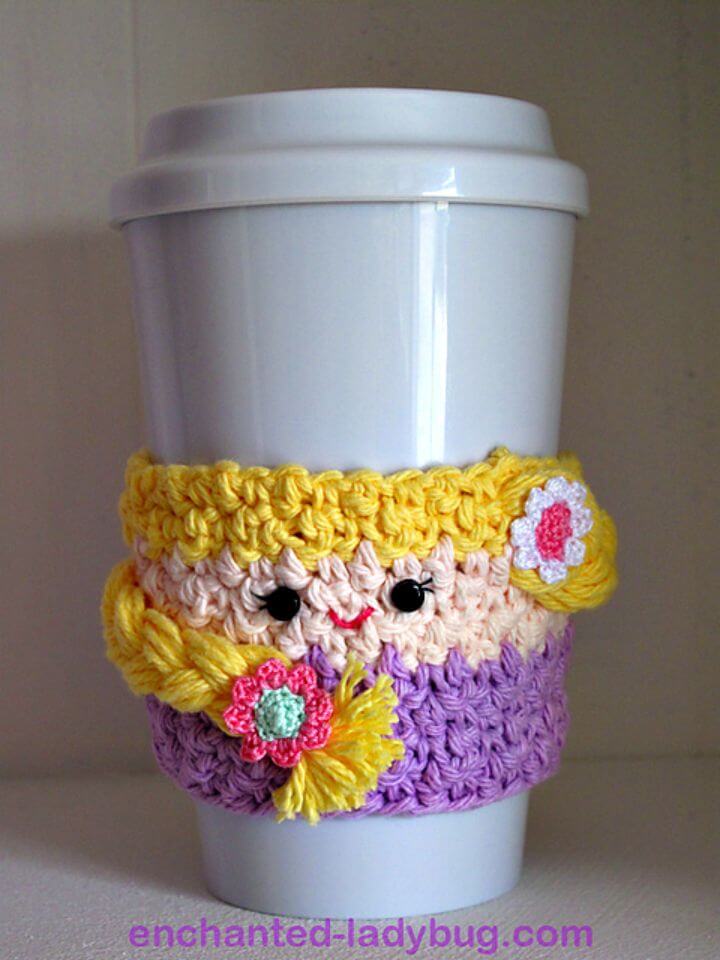 Check out here another gorgeous coffee cozy that is come from the Disney world! This is here the rapunzel coffee sleeve, the most praised fictional character of Disney world! Are you in touch with various Disney lovers? This is here a perfect gift ideas to please them! Intending to duplicate this Disney coffee sleeve for a rapunzel's fan? Free crochet pattern and visual tutorial here enchanted
Free Crochet Caffeinated Coffee Cozy Pattern: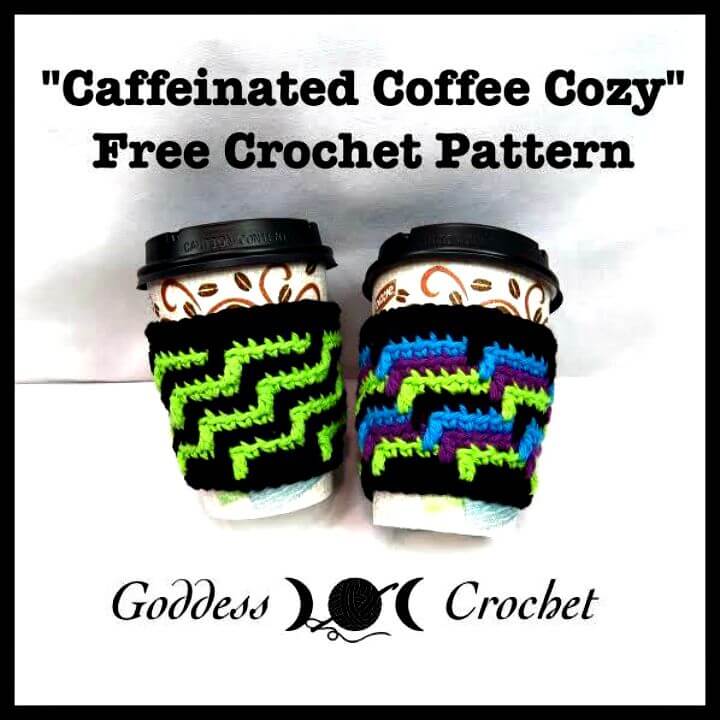 Want some extra unique crochet coffee sleeves? Here are a beautiful samples that will make you a big fan with their amazing design texture! These crochet coffee cup cozies come with a black background but with a colorful stair style lines that just double up the beauty of entire coffee sleeve! Another great design of crochet mug sleeve to crochet in your spare time! Free crochet pattern and visual guide here goddesscrochet
Free Crochet Reindeer Mug Cozy Pattern: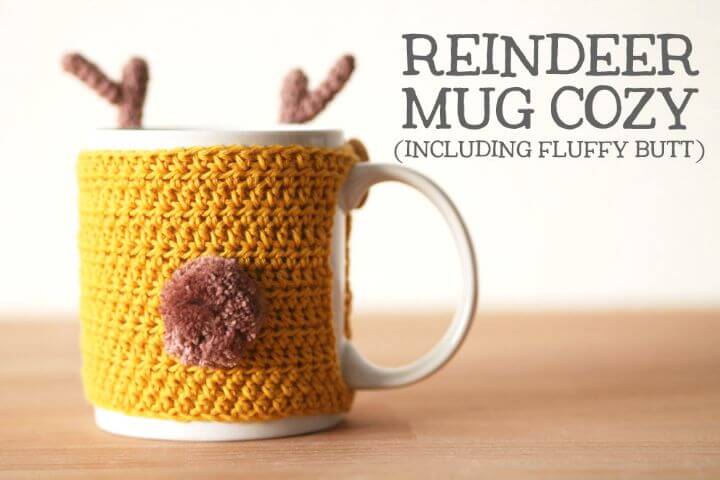 Are you a big fan of wild animals like reindeer? Here is way to recall them with every sip of your favorite coffee! The idea is to crochet some coffee mug sleeves that should come with designs inspired of wild animals! A great sample here is this reindeer mug cozy that also comes with beautiful antlers is damn beautiful! Another great crochet coffee mug cozy pattern! Free crochet pattern and step-by-step visual guide here haakmaarraak
Free Crochet Fringe Cup Cozy Pattern:

Willing to make your coffee mugs look super cute? Here is how to add amazing cuteness to them just crochet some beautiful sleeves for them! A mind-blowing sample design is here, the precious fringe cup cozy that would be a delight to view while being wrapped around your coffee mugs! Here two things are super praise-worthy one is the design texture and other is the hanging yarn fringes! Another adorable crochet coffee mug cozy pattern! Free crochet pattern and additional project details here caabcrochet
Halloween Crocheted Cup Cozy Pattern: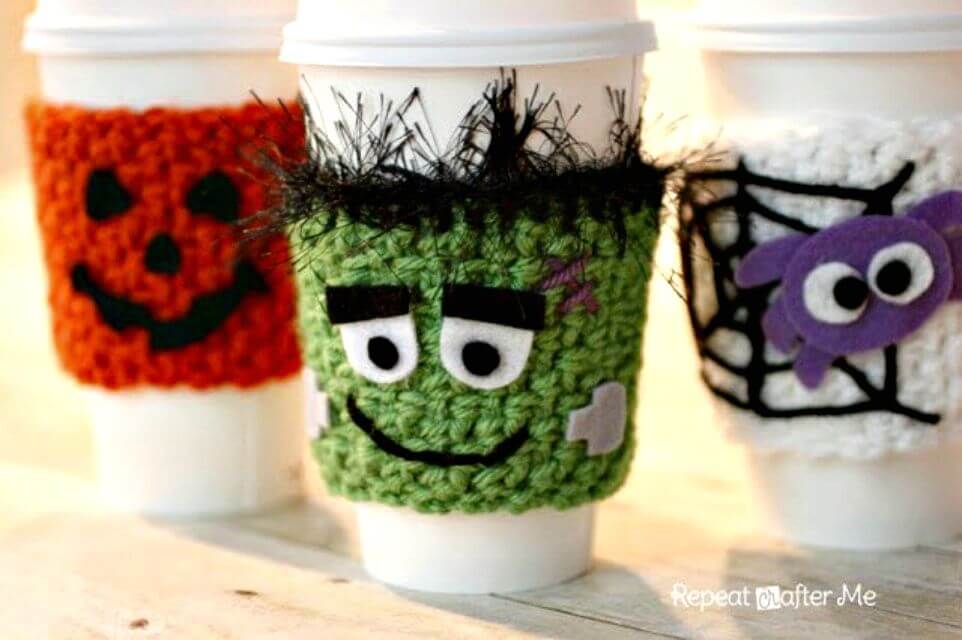 This not just ends here, you can crochet brilliant coffee cozy design in accordance with every upcoming event or festival! Some mind-blowing examples have been given here, just take a look at these crochet Halloween coffee cup sleeves that are spooky and are inspired of scary monsters! Willing to duplicate these coffee cozies for the Halloween? Grab the free crochet pattern and tutorial from here repeatcrafterme
Free Crochet Mug Cozy Pattern: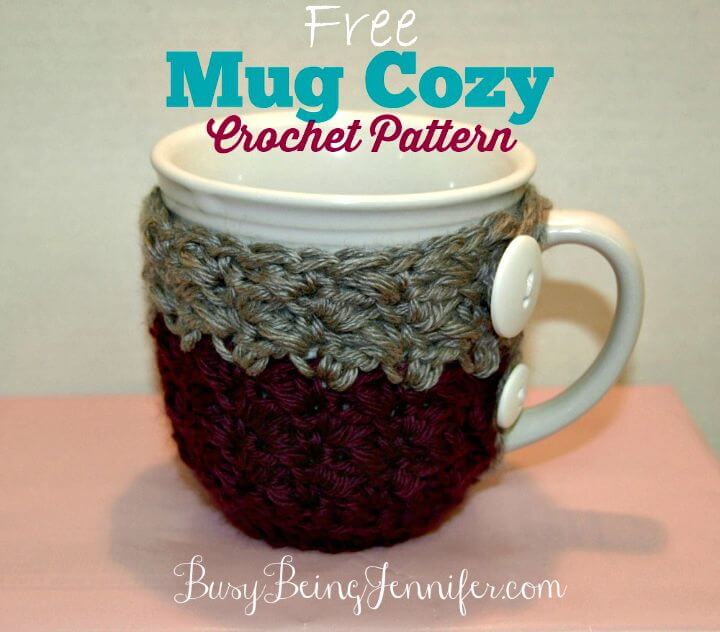 A very first look of you at this crochet mug sleeve with just enchant your eyes! An inspiring design of crocheted mug cozy here, this one comes in dual yarn color, grey and red! The design texture is also beautiful and this pattern also demand for an easy skill level! So all beginner can enjoy crocheting this beautiful mug cozy that is super gift-worthy too! Find the complete free crochet pattern and visual tutorial here busybeingjennifer
Free Crochet Spike Stitch Coffee Cozy Pattern: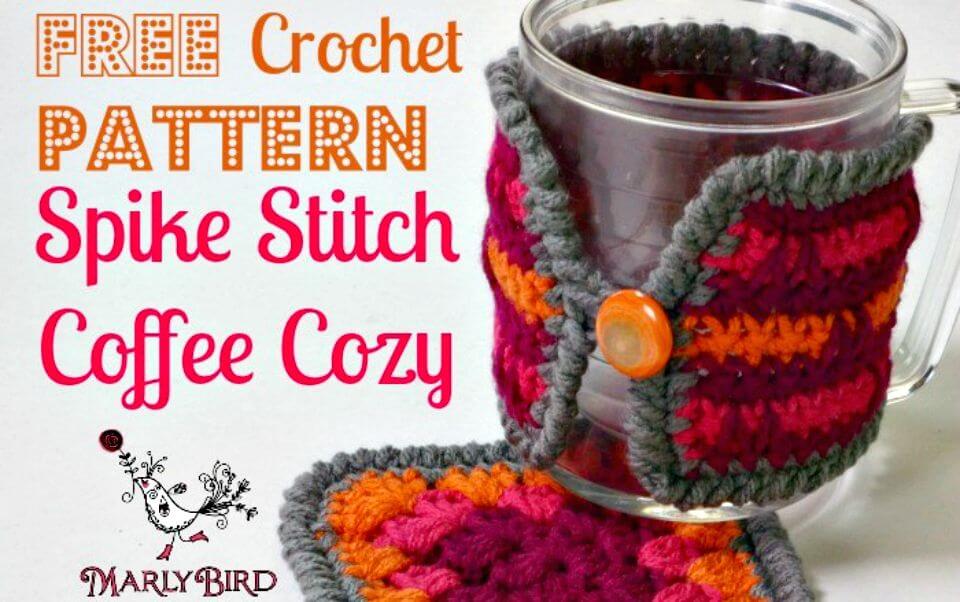 Love to crochet in your spare time? Willing to get some new yarn inspirations? Check out here a mind-blowing one, a crochet spike stitch coffee cozy that come with fetching design texture! This pattern will demand you to get master hands in spike stitch and then you can easily clone this gorgeous mug cozy for any coffee lover just to give as a beautiful gift! This design comes with pink, purple and orange color stripes but you can go with your own custom yarn color combo! Free crochet pattern and step-by-step visual instructions here marlybird
Free Crochet Wonder Woman Coffee Cup Cozy Pattern: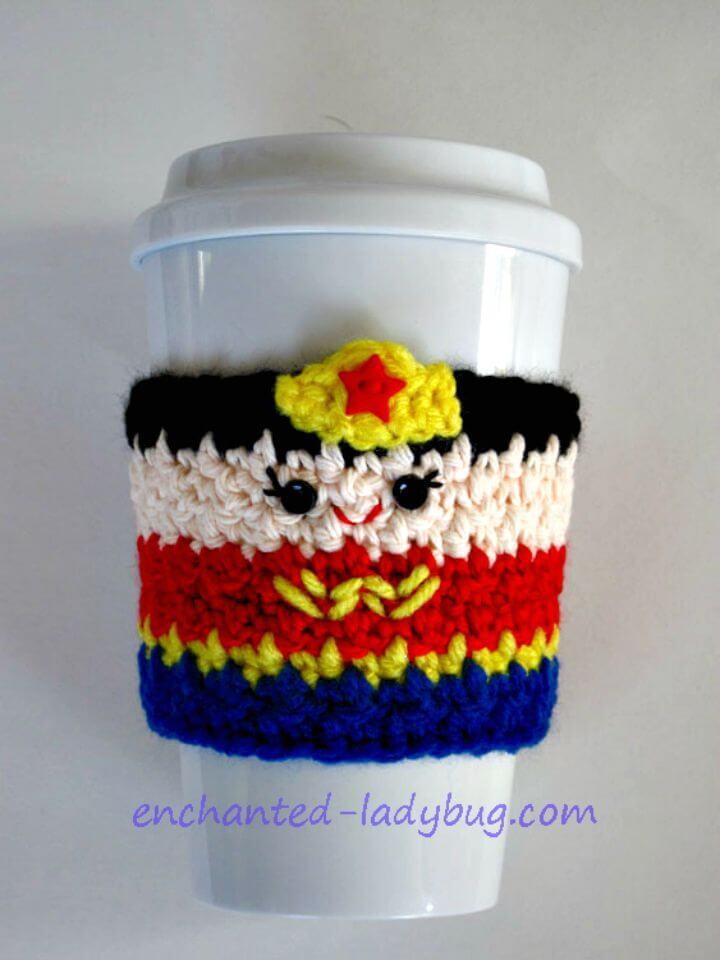 One more cute design of crochet coffee cup sleeve here, this one is inspired of a wonder woman and will really go enticing to kids eyes and to all wonder woman fans in your home! Just go with respective yarn colors and crochet some fab stripes making a perfect coffee cup cozy! Don't forget to crochet the lovely nose and eyes and crown! Another handsome crochet coffee cup sleeve pattern! Duplicate it with the help of free crochet pattern given here ladybug
How To Free Crochet Striped Mug Cozy – Free Pattern: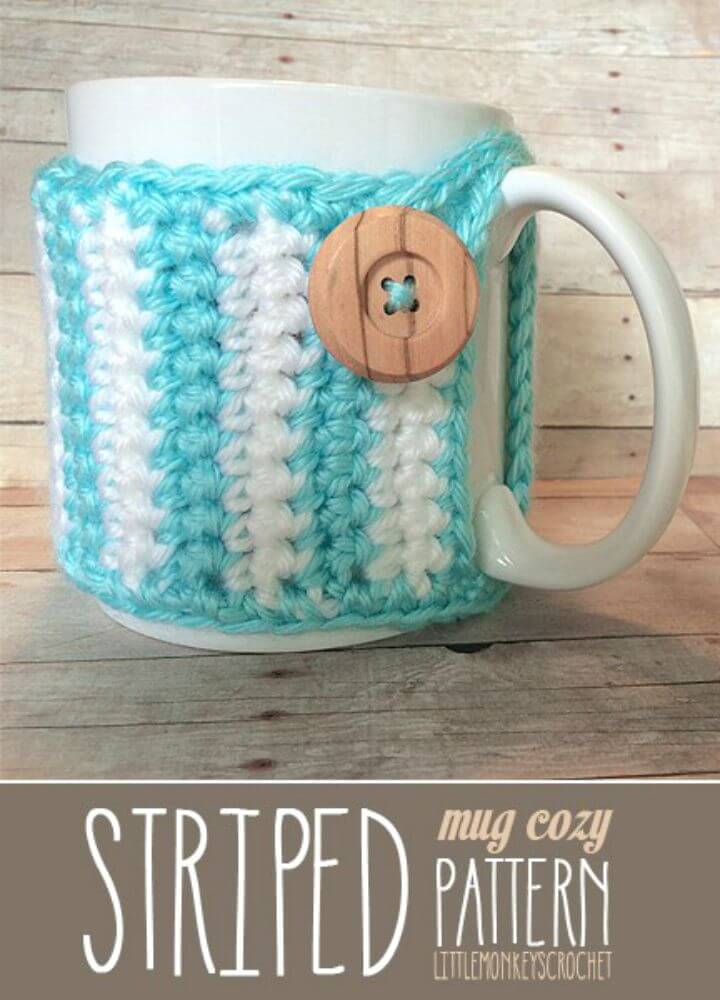 Are you a big fan of colorful stripes? If yes, then this crochet pattern will truly go eye-catching for you! This is here a beautiful striped crochet cozy that come in vertical white and turquoise stripes! Moreover, this mug cozy has been dignified with a slouchy button embellishment that also helps to bind the cozy around the cup as it fits beautifully in the loop on the other end! Another great coffee cozy pattern that some with lovely design texture! Free crochet pattern here littlemonkeyscrochet
How To Free Crochet Sowl Mug Wrap Pattern: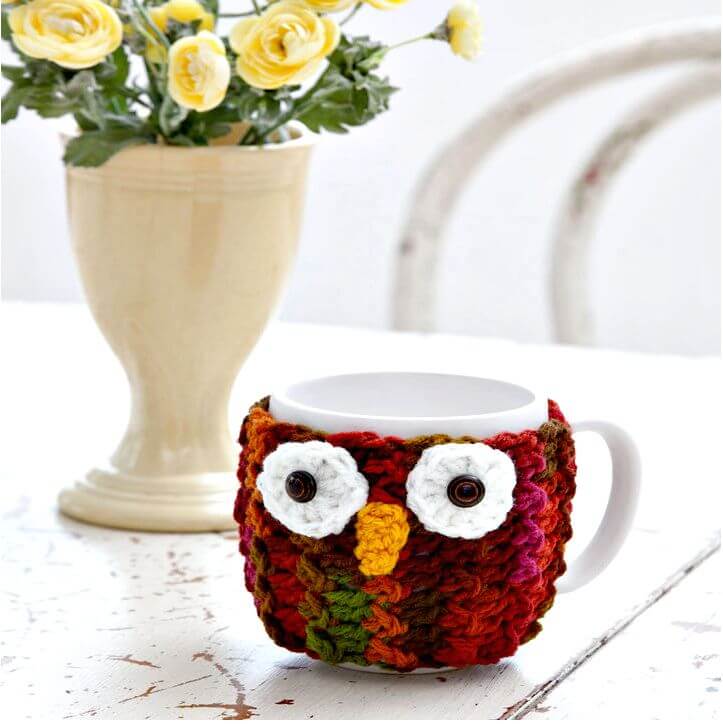 Is it an always exciting for you to crochet some animal or bird inspired crochet patterns? Then there is a beautiful one, the lovely crochet owl mug cozy that will make an epic present for an owl lover who is addicted to coffees also! Here lots of attention has been given to colors, so the final owl cozy pattern comes in damn beautiful colors! But you are all free to go with custom yarn colors in your case! Free crochet pattern and step-by-step visual instructions here redheart