Homemade fly traps are an effective and eco-friendly solution to help eliminate annoying flies in and around your house. Learn how to catch flies in house with these 25 homemade DIY fly trap ideas, including indoor and outdoor use. These DIY fly traps utilize easily accessible materials, such as apple cider vinegar, soda bottles, and sugar, to make a homemade fly trap that effectively attracts and captures flies.
Making your own fly trap can be both cost-effective and environmentally friendly, especially when using a water bottle or soda bottle as the base. Not only can you control the ingredients used in your homemade fly trap, but you'll also avoid the harmful chemicals found in commercial fly traps. Furthermore, these DIY fly trap solutions offer an excellent opportunity to repurpose and recycle household items that would otherwise end up in a landfill.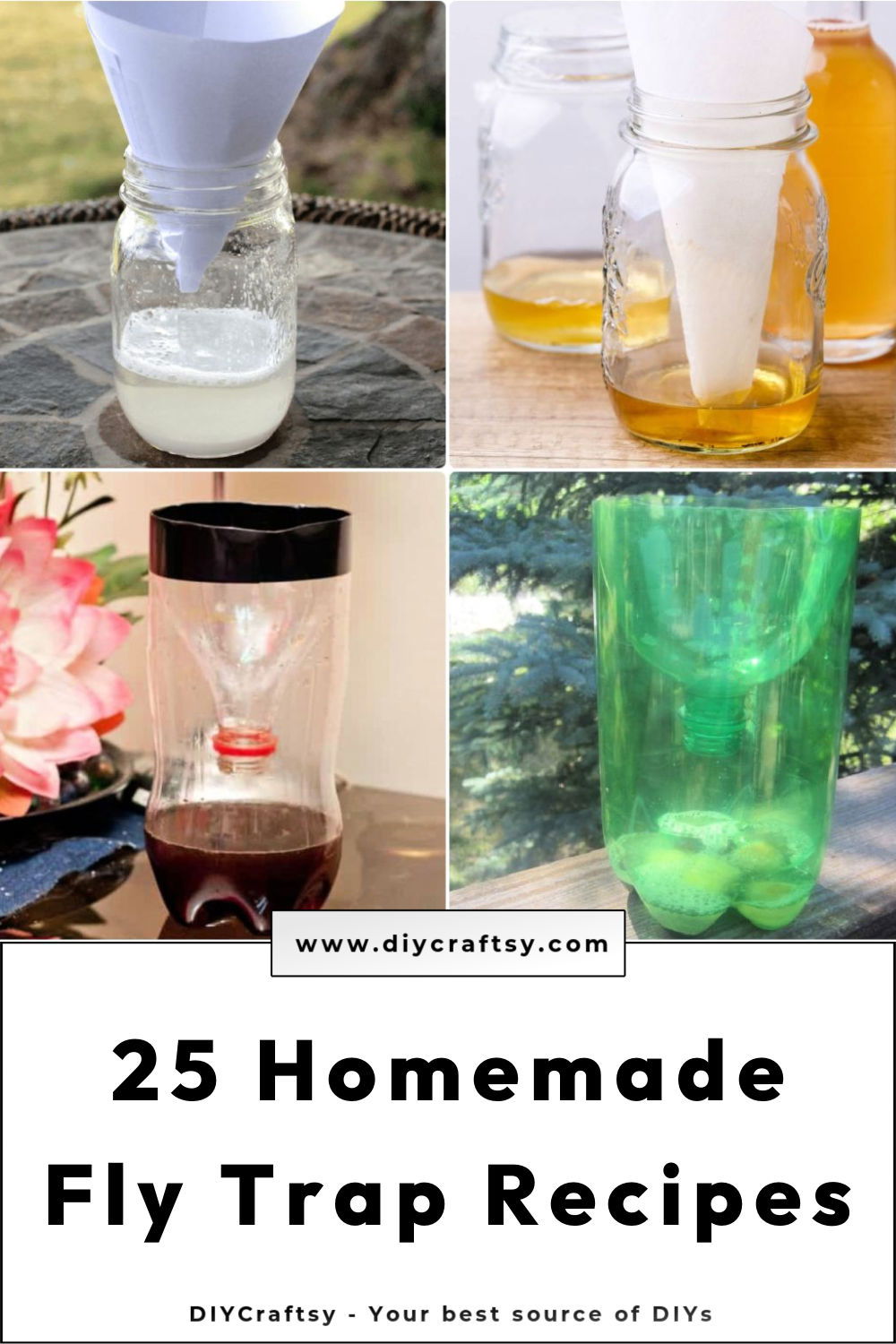 These 25 easy DIY fly trap ideas come with step-by-step instructions, ensuring success for anyone looking to make a homemade indoor or outdoor fly trap. Whether you need a natural fly trap for inside your house or an outdoor fly trap that withstands various weather conditions, this list of homemade fly trap ways has you covered. So, grab your materials and learn how to catch flies with one of these easy DIY fly trap ideas today to keep your home fly-free and environmentally friendly.
1. Best DIY Apple Cider Vinegar Fruit Fly Trap
Say goodbye to annoying fruit flies with a practical and safe solution – a homemade fruit fly trap using apple cider vinegar! This effective DIY trap, concocted from ingredients readily available in your pantry, like apple cider vinegar and liquid dish soap, will dramatically reduce fruit fly infestations in your home.
Learn how to catch a fly with these simple steps, including dividing the vinegar and dish soap into jars, wrapping the top of one jar with clingfilm, and designing a funnel from parchment paper. Place the traps strategically in your home, and watch as the flies get irresistibly drawn in.
The best part is that the trap is free of harmful insecticides, making it a safer household choice. Try this eco-friendly, cost-effective solution today and regain control over your fruit fly problem. It's not just a project – it's a remedy that truly works! nurturedhomes
2. Make a Fly Catcher Out of a Soda Bottle
Breathe a sigh of relief with this simple DIY fly catcher project. Flies aren't just a nuisance but also carriers of harmful diseases like E. Coli and Salmonella, posing potential risks to your poultry. This guide offers an effective, inexpensive solution – a DIY flycatcher built from a used soda bottle.
You need everyday supplies like a sharp knife, stapler, hole punch, fishing line, and something that decays and stinks, such as raw fish, eggs, fruit, meat scraps, and sweet ingredients like sugar water, honey, and vinegar. The vinegar deters beneficial honeybees while still attracting flies.
This easy project helps maintain a healthier environment for your flock and adds a creative edge to your pest control methods. Use this guide to make your flycatcher and enjoy a safer, cleaner, and less buzzing environment. fresheggsdaily
3. Make Your Own Fruit Fly Trap
Escape the annoyance of fruit flies in your kitchen with this simple and effective DIY fruit fly trap! You can quickly assemble a fly hotel using a container, plastic wrap, rubber band, and tempting bait like wine or old fruit.
Cover your container with plastic wrap, secure it with a rubber band, and punch a few holes for the flies to enter. Maintaining cleanliness in your kitchen is crucial, eliminating potential hiding spots for these pests, such as uncovered fruit or unattended garbage.
For a trap that can be used continuously, periodically freeze it overnight to prevent it from turning into a breeding ground. No more struggling with pesky fruit flies; make your fruit fly trap today! instructables
4. Homemade Deer Fly Trap
Get ready to reclaim your outdoor spaces from the annoyance of deer flies with this quick and cost-effective DIY deer fly trap! This straightforward project requires minimal materials, including a large blue plastic cup, a pole or stick, and a sticky coating you can easily purchase or make. Using the color blue, which is known to attract deer flies most, enhances the effectiveness of your trap.
Setting up the trap in your garden or yard will help minimize the potential discomfort and health risks associated with deer fly bites, from painful, itchy welts to the potential for Lyme disease transmission. So, why wait? Follow this simple guide and enjoy your outdoor activities without the nuisance of deer flies today! homeeconomist
5. Easy Fruit Fly Trap Recipe
Say farewell to unwanted visitors this summer with a simple and effective homemade fruit fly trap. This easy DIY solution needs only apple cider vinegar, dish soap, water, and plastic wrap to entice and eradicate fruit flies in your kitchen. Attracted by the scent of the vinegar, the flies get trapped in the soapy mixture, eliminating them in no time. You'll see these pests disappearing within twelve hours with just a few household items and steps. Enjoy a fruit fly-free environment and maximize fresh summer produce with this safe and efficient method. weekendatthecottage
6. How to Make Fly Trap at Home
Eliminate the annoying house flies and gnats from your home with these easy and effective homemade traps! Using household materials and ingredients, like a plastic bottle, apple chunks, white vinegar, honey, and red wine, you can make a variety of traps to effectively deal with these pesky pests.
The concoctions are designed to attract the insects and trap them inside the containers, making it difficult for them to escape. Besides being highly efficient, these solutions are non-toxic and safe, adding an environmentally-friendly aspect to your pest control methods.
Take control of your spaces from your kitchen to your garden and enjoy a gnat-free and fly-free environment with these easy-to-follow steps. familyhandyman
7. How to Make Your Own Fly Trap
Eradicate the irritating flying visitors this summer with this DIY fly trap. Crafted from household items like a mason jar, paper, sugar, water, and dish soap, this eco-friendly solution is the perfect way to take control of your home without relying on chemicals or pesticides.
Ideal for urban and country homes, the trap uses a sweet and fragrant mixture to lure flies into the jar, where they become trapped. The construction process is straightforward and accessible, making this an excellent project for homeowners looking to tackle fly issues themselves.
It's more than just a fly trap; it's a testament to simple solutions' ingenuity and power. So, why not embrace a greener approach to pest control with this easy fly trap? kenarry
8. Outdoor Fly Trap – Step-by-Step Instructions
Discover how to craft an effective DIY fly trap using a mason jar, soda bottle, and lure. The method yields 100% authentic outcomes, proven by trials from a backyard. The key to successful fly trapping isn't the container but the lure used. A timely approach is essential – set the trap before the pests multiply.
This guide explores different baits such as fermented chicken feed, raw sweet corn, fresh chicken poop, and raw shrimp. However, it's noted that raw shrimp, though rather stinky, attracts flies overwhelmingly.
For indoor use, a less-offensive fly bait recipe is provided. Utilize this method along with natural predators to mitigate your fly problem. Build your traps today and reclaim your backyard from unwelcome guests! theartofdoingstuff
9. Do It Yourself Fly Trap With Vinegar and Sugar
Tackle those unwelcome houseguests – flies, with an innovative, cost-effective DIY fly trap. Crafted from everyday household items, this practical solution helps reduce the fly population in your home. The supplies needed are simple: apple cider or white vinegar, sugar, water, dish soap, and a mason jar or an empty bottle.
There's no need for exact measurements; just mix these ingredients and watch as the trap works magic, attracting and drowning the bothersome flies. This homemade method eliminates house flies and can be adapted to deal with fruit flies too.
The frugal-minded can reuse the trap by rinsing and resetting it. Say goodbye to costly store-bought traps and hello to a pest-free environment with this efficient DIY solution. fabulesslyfrugal
10. Make Your Own Vinegar Fly Trap
Get rid of pesky flies effectively and stylishly with a DIY fly trap! Using simple materials like water, apple cider vinegar, sugar, dishwashing liquid, and glass jars, you can make these attractive and effective traps.
First, spray-paint your jars for a decorative touch, then fill them with water, vinegar, sugar, and dishwashing liquid. This mixture attracts and drowns flies. You can use a greaseproof paper funnel or plastic wrap secured with an elastic band for the flies to enter.
This trap can be hung anywhere around your home where flies are a problem, and they blend well with your decor. Replacing the mixture every two weeks ensures it remains potent. Craft your fly trap today and enjoy a fly-free living space. thegardener
11. DIY Fruit Fly Trap for Kitchen
Learn how to catch flies in house with this simple recipe. Keep those pesky fruit flies away with an efficient DIY fruit fly trap! This cost-effective solution helps you regain control of your kitchen without resorting to harmful chemicals. The trap harnesses the fruit flies' natural attraction to sweet, ripe produce by employing common household items like juice, wine, or apple cider vinegar.
A touch of dish soap ensures the fruit flies can't escape once they've entered the trap. Easy to assemble, you'll require a small glass bowl, your chosen bait (like juice), some natural dish soap, plastic wrap, and a bamboo skewer.
The fruit fly trap can be prepared in a few minutes and starts working almost immediately. This trap is not only an effective way to rid your home of fruit flies, but it's also an eco-friendly solution. This handy guide makes maintaining a fruit fly-free home a breeze, ensuring you can enjoy your kitchen without unwanted guests buzzing around. gardentherapy
12. Homemade Fly Trap
Frustrated by pesky flies invading your home and backyard? It's time to tackle them with a simple and effective DIY fly trap. Safe to use in any environment – from home to the corral – this trap utilizes common household items for a quick and hassle-free setup.
Its simplicity lies in repurposing a plastic bottle and crafting it into an enticing trap using overripe fruits or a sweet solution as bait. It takes 10 minutes to build and promises to significantly reduce the buzzing nuisance in just a few days.
Ditch hazardous pesticides and give this organic solution a try to maintain a fly-free environment. Whether for your house, chicken coop, or garden area, this trap is the eco-friendly answer to your fly problem. originalhomes
13. How to Make Water Bottle Fly Trap
Making your DIY fly trap will eliminate those pesky houseflies with an eco-friendly solution. Not only is this homemade trap efficient in dealing with irritating insects, but it's also safe for your family and pets. You can make an irresistible trap for the flies by using a plastic bottle and a concoction of brown sugar, vinegar, and water.
This easy, inexpensive project transforms an everyday item into an effective tool to maintain a fly-free home. The trap can be placed around your home, preferably in the kitchen, to ensure it's most effective.
The trap is safe for households with kids and pets, but remember to keep it out of their reach to avoid mess. With this guide, wave goodbye to chemical solutions and welcome a natural approach to fly control in your home. sweettmakesthree
14. DIY Queensland Fruit Fly Trap and Bait
Keep your garden thriving and free from the notorious Queensland fruit fly with a DIY trap from simple household materials. Using an empty clear plastic bottle, some real fruit juice, cloudy ammonia, and a piece of wire or string, you can make an effective trap that controls this pest and promotes sustainability by repurposing everyday items.
Set your trap in the shade on the eastern side of your fruit trees, and renew the bait weekly for optimum results. This trap provides a cost-effective and environmentally friendly method to safeguard your garden's bounty. It's a must-try solution for gardeners everywhere. deepgreenp
15. Fly Trap With a Regular Plastic Bottle
Combat pesky fly infestations with an effective homemade fly trap. Construct this eco-friendly DIY flycatcher in minutes using everyday items like a plastic bottle and scissors.
The trap operates similarly to a carnivorous Pitcher Plant, enticing flies with a potent odor before trapping them inside the container. Simple to construct, the trap involves:
Cutting a plastic bottle.
Inverting the top portion.
Adding bait such as raw meat or fish.
With just half a cup of water and your chosen bait, the trap is ready to capture bothersome flies. This highly efficient trap captures dozens of flies in less than a day. Choose this solution for a cost-effective, easy-to-make method to reduce the presence of flies in your home. cleaneatingwithkids
16. How to Make a Fly Trap in 5 Minutes
Get ready for a fly-free summer with this DIY fly trap guide. This ingenious trap works by attracting flies with bait and trapping them inside a plastic bottle, where they eventually drown. The bait is a sweet concoction of old fruit, honey, and syrup that flies simply cannot resist. The creation process is straightforward, needing just a plastic bottle, a knife, wire, or string, and a hole punch along with your chosen bait.
This eco-friendly solution will drastically reduce the fly population in your home or garden, making for a much more enjoyable outdoor experience. Recycle an old plastic bottle and prepare your homemade fly trap today for a peaceful, fly-free summer season. homemademastery
17. Eco-Friendly Fly Trap Recipe
Encounter a sudden invasion of tiny flies after a vacation? Discover a convenient solution right at home with a DIY fly trap that's both effective and eco-friendly. You all need common household items: a recycled soda or water bottle, apple cider vinegar, scissors, and tape.
This straightforward solution uses the attractiveness of vinegar to trap bothersome insects, making your home a fly-free zone.
Best part? It's safe for kids to help, adding a little educational activity. Place them in any fly-prone areas of your home and experience the relief within a day or two. Say goodbye to annoying flies today with your very own fly trap. theinquisitivemom
18. DIY Trap to Get Rid of Fruit Flies
Bid farewell to the nuisance of fruit flies in your home with these five simple, homemade fruit fly traps. By taking advantage of the fly's attraction to fermenting and rotting fruits, you can effectively clear your home of these pests.
Among the methods discussed are an apple cider vinegar trap, which uses fermented vinegar, a mason jar, a funnel, dish soap, and optional overripe fruit, and a jar-type trap with fruit, using a jar, plastic wrap, a toothpick, ripe produce, and soapy water.
Another innovative method is the merry fly trap, luring the insects with red wine and the tried-and-true old farmer's almanac recipe that has been successful since 1850. As a bonus, a lemongrass spray is suggested to keep them at bay. Clear your home of these pesky invaders with this easy-to-make, chemical-free traps. everydayroots
19. DIY Reusable Fruit Fly Trap
Learn how to keep your home free of fruit flies with an efficient DIY fruit fly trap. As warm weather brings bountiful produce, it also invites pesky fruit flies. Despite maintaining a clean home, these tiny annoyances can invade, especially if you prefer organic or locally sourced produce. Don't let these pests ruin your summer; learn to craft a simple yet effective fruit fly trap using household materials.
Your fruit fly trap needs a medium-sized jar or glass container, a nail or awl, and apple cider vinegar or beer. Punch holes in the lid large enough for the flies to enter but not escape. Fill the container halfway with beer or vinegar and place it where you've seen fruit flies.
This trap uses the scent of beer or vinegar to lure the flies, causing them to hover above the liquid before drowning. Replenish the liquid every few days for a fresh aroma and continued effectiveness. Say goodbye to fruit flies and enjoy a bug-free summer! curbly
20. Indoor Apple Cider Vinegar Fly Trap
Make a simple yet effective DIY apple cider vinegar fly trap home to eradicate your pesky fruit fly troubles. You can set up a no-nonsense trap with ingredients readily available in your kitchen to eliminate those annoying flies. You'll need a cup or a glass, apple cider vinegar, dish soap, plastic wrap, a toothpick or knife, and a rubber band to make this fly trap.
Begin by filling the cup with an inch of ACV (apple cider vinegar) and half a teaspoon of dish soap. Stir this mixture and then cover the top with plastic wrap. Secure it with a rubber band around the edges. Poke tiny holes in the top with the help of a toothpick or a knife. When placed next to fruits on the counter, this trap efficiently attracts and exterminates fruit flies.
This method is quick, cost-effective, and can be a major relief when fruit flies become a common nuisance in the warm summer months. This homemade fly trap can bring you a fly-free kitchen with just a little effort. Say goodbye to fruit flies, and enjoy a cleaner, healthier kitchen environment. craftymorning
21. Cheap DIY Indoor House Fruit Fly Trap
Tackle annoying fruit flies with an ingenious, cost-effective DIY fruit fly trap! This trap exploits fruit flies ' attraction to fermenting foods from household items like an old plastic bottle, plastic wrap, an elastic band, and sweet bait (such as a piece of fruit or honey).
The principle is simple: the flies enter through small holes to get to the bait but can't exit, thus reducing their infestation in your kitchen. The trap setup involves a cut-out bottle filled with bait and sealed with plastic wrap.
Then, pierce a few holes and place them near potential fly hotspots like sinks or drains. By implementing this straightforward solution, you can efficiently manage fruit flies, providing your family with a cleaner and healthier living space. instructables
22. Simple DIY Fly Killer
Tired of flies buzzing around your home? Try this simple DIY fly killer and say goodbye to pesky pests! Using just a Coke bottle, some bait, and a few other household items, you can make an effective fly trap to make your living environment more comfortable.
This easy-to-follow guide walks you through the process, ensuring you eliminate those pesky pests. No special tools or equipment are needed; just repurpose a Coke bottle for this clever gadget.
This fly trap eliminates flies and aids in waste management by using recycled materials. Dive into this worthwhile project and witness the effectiveness of your homemade fly trap in action!
23. Inexpensive DIY Fly Trap Without Vinegar
Unleash a smart, eco-friendly solution to pesky flies in your space with a homemade fly trap using recycled plastic bottles. This do-it-yourself method not only rivals commercial versions but significantly outperforms them. The secret lies in a highly effective bait that drives the flies wild.
One of the main advantages of this homemade trap is its reusability, in stark contrast to single-use store-bought traps. Your creation can be refilled and returned to work, effectively reducing waste. Make your own practical, budget-friendly, green DIY fly trap today for a much fresher and more comfortable living environment.
24. Handmade Fly Trap
Looking for an effective yet environmentally-friendly solution to pesky flies? Craft a homemade fly trap using simple materials you likely have around your home! This easy-to-follow DIY guide will walk you through the process, making it a quick and straightforward task.
You only need household items like plastic bottles, sugar, and yeast. After some easy preparation, you'll have a functional fly trap that can be used indoors or outdoors.
With the bonus of being cost-efficient and reusable, it's a unique solution to common insect troubles. Take a step towards a fly-free home today and craft your fly trap in just a few simple steps!
25. Making an Apple Cider Vinegar Fly Trap
Explore the world of citizen science with this insightful guide on how to make a DIY apple cider vinegar (ACV) fly trap. Perfect for monitoring the presence of spotted wing drosophila in your environment, this trap can help gather vital data for the Quekett Drosophila Survey Experiment.
With easy-to-find items such as ACV, a jar, and a simple funnel, you can set up this effective trap in no time. The resulting data can provide invaluable insights into local fruit fly populations. So why wait? Contribute to science and understand your local ecosystem better with this ACV fly trap today.
Conclusion:
In conclusion, DIY fly traps offer an effective and natural way to combat pesky insects at home. By utilizing homemade fly traps and simple materials, such as apple cider vinegar, soda bottles, sugar, and water bottles, these traps provide a budget-friendly and environmentally-friendly solution for both indoor and outdoor fly issues. With a wide variety of DIY fly trap ideas and instructions, it's easy to find the perfect option to suit any personal preference or specific fly-related problem.