DIY sliding doors can bring a touch of charm and practicality to any home decor. Learn how to make sliding doors with our list of 25 easy DIY sliding door ideas, you'll have all the inspiration you need to craft your perfect entrance. These simple and free DIY sliding door ideas come complete with step-by-step instructions, taking you from materials list to finished product with ease. By constructing a DIY sliding door, you'll have the freedom to choose the dimensions, finish, and overall design that suits your interior aesthetic.
Ranging from rustic barn-style doors to contemporary four-panel designs, there's a DIY sliding door to complement any room. You'll be guided along the way with detailed instructions, making the assembly process clear and straightforward. Some DIY sliding door guides even come complete with video tutorials to ensure no detail is overlooked.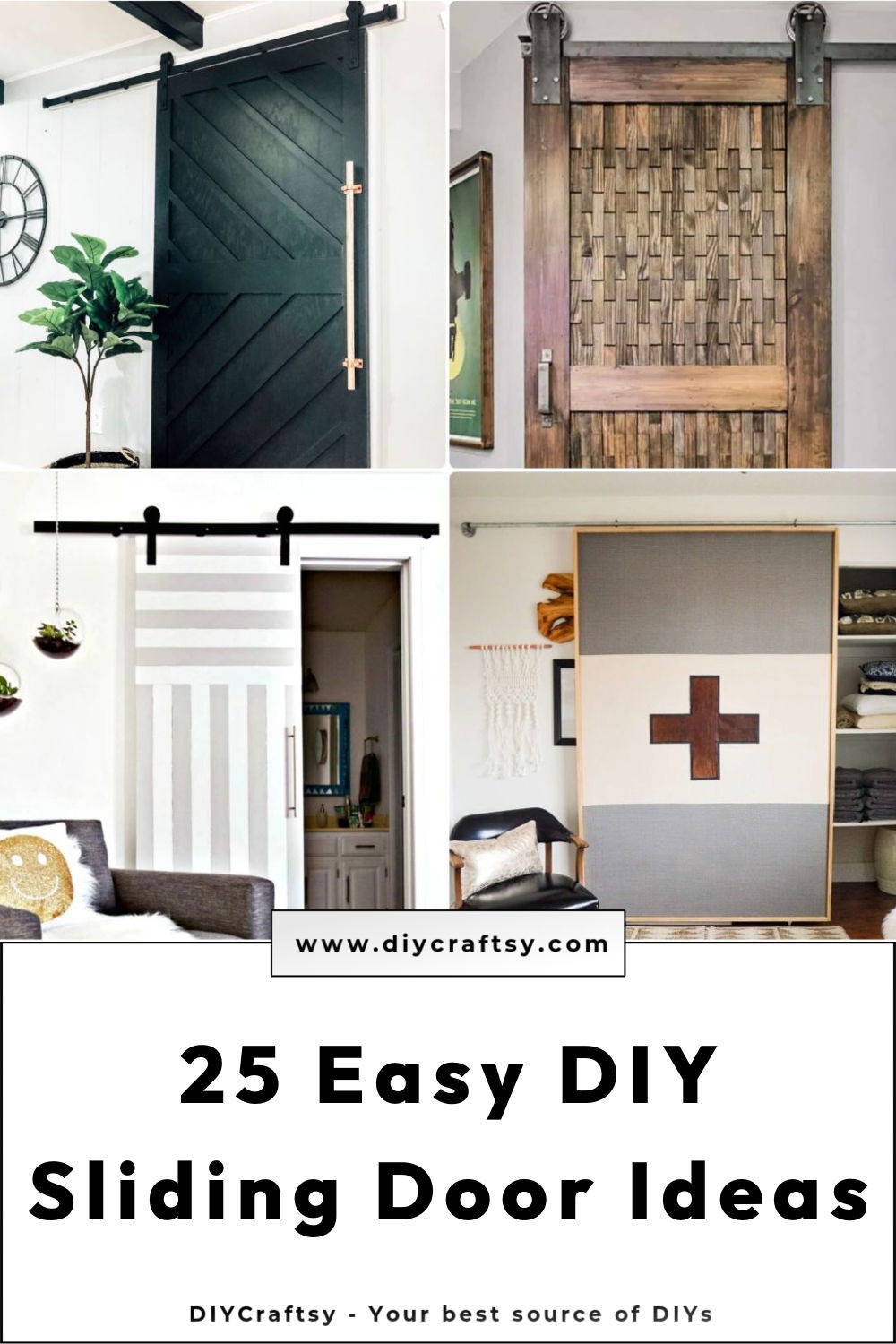 Beginners will find easy-to-follow plans, while more confident DIY-ers may be daring enough to make a sliding door from unconventional materials, such as plumbing pipe or old pallet wood. Some instructions for DIY sliding door ideas even cover the challenge of small spaces, offering innovative ideas for the conservation of square footage.
With these free DIY sliding door ideas, you can transform your living area, make a statement in your hallway, or even bring that country charm into your bathroom! So, get your hands busy and start building your DIY sliding door today to add personal touch to your home.
1. DIY Sliding Barn Door for Under $200
Transform your living space with the ease and beauty of a DIY sliding barn door – for under $200! This farmhouse-looking door provides an oversized piece of art that will instantly modernize any room.
It is budget-friendly, and you can easily replace the master bathroom door with a sliding door to add convenience and style. With this project, you get all the beauty of a classic barn sliding door without breaking the bank. Plus, starting at just under $200 for everything needed, you'll have enough money to accessorize or make other improvements around your home.
Make sure to measure thoroughly before beginning so everything fits perfectly in place – then use easy step-by-step instructions on installing and making beautiful handmade doors that fit your style! bourntocreate
2. Beginner Friendly Wooden Sliding X Doors
Adding a unique touch to your home doesn't have to be expensive or difficult. Making DIY wooden sliding X doors can be an easy and creative solution to the open entryway between your living room and downstairs bonus room.
All you need are basic tools, 1×3's, plywood, and some spare time on the weekend. With these simple materials, you can build a custom X-style sliding door from scratch or spruce up an existing plain door. No matter your route, this beginner-friendly project will add character and charm quickly! jennasuedesign
3. How to Build a Sliding Barn Door
Something unique and beautiful with your own two hands – a sliding barn door! This easy project will make you feel pretty dang loveable, as it adds an elegant touch to any room. Plus, the lightweight sliding door can be made in no time.
With a few simple materials and tools easily accessible from most hardware stores, you can make a fantastic addition to your home for only a fraction of the cost. So why not give yourself an amazing DIY challenge? Get started with building your very own sliding barn door today! vintagerevivals
4. DIY Lightweight Sliding Barn Door
You are introducing a revolutionary new way to customize your space with minimal effort—a DIY lightweight sliding barn door! This fabulous door is the perfect solution for those looking for an aesthetically pleasing yet lightweight option for their home. Unlike traditional barn doors, this one is made of a special material that ensures it won't be too cumbersome to move.
Choose from creative fabrics and colors to match your style and decor preferences. Best of all, installation is easy; follow the instructions, and voilà – your custom sliding barn door will be up in no time! Whether you need something chic and modern or rustic and classic, this innovative new product has covered you. vintagerevivals
5. How to Install Double-Sliding Barn Doors
Bring a rustic charm to the home with DIY double-sliding barn doors. Impress your guests with their unique design and warm, natural wood tones that look great in any kitchen or living space.
With easy-to-follow instructions, you can make modern and stylish sliding barn doors for your pantry or another storage area quickly and easily. These beautiful pieces of craftsmanship will add the perfect element to complete any room's decor! This double sliding barn door kit has everything you need to construct a fully functioning door set that glides effortlessly on smooth stainless steel tracks.
So let creativity take hold as you experiment with different sizes, finishes, colors, and more! Make these iconic farmhouse staples part of your home today – it'll surely be worth all the effort when they're proudly displayed in all their glory! fourgeneration
6. How to Make a Rustic Barn Door
Turn your home with an impressive DIY rustic barn door, saving money and time. With a complexity rating of intermediate, this project is perfect for those who want to test their skills and make something unique that will last for years. Make beautiful custom accents in any room with the natural wood look of a rustic barn door.
The best part? You can complete the entire project within multiple days! Enjoy the satisfaction of making something special without breaking the bank using low-cost lumber to make it all come together perfectly. Start your journey today and transform your space into one you'll be proud of! familyhandyman
7. Modern DIY 4 Panel Sliding Barn Door Under $50
Contemporary-styled and highly functional, these doors offer an elegant solution for every room in the house. Not just limited to bedrooms or bathrooms, they can be used as dividers or feature pieces in their own right. Plus, at only $50, this investment won't break the bank!
With four panels that slide together seamlessly and simple installation instructions included, you'll have your masterpiece up and running before you know it – bringing luxury living to any space without compromising on style. Start making memorable interiors today by investing in a high-quality modern DIY 4-panel sliding barn door! southernhome
8. Build a Wooden Chevron Barn Sliding Door
Gorgeous! Transform your home into a beautiful haven with this DIY wooden chevron barn door featuring an intricate herringbone pattern. This PDF woodworking plan makes it easy to build the sliding door using either reclaimed wood or fresh lumber.
With just a few tools and some basic carpentry skills, you can make a stunning custom piece that will bring character and charm to any room in your home. Plus, you'll love feeling proud knowing that you made this stunning statement piece with your own two hands. So why wait? Download today's plans and start building this gorgeous wooden Chevron barn sliding d Door! remodelaholic
9. Handmade Sliding Door With Plumbing Pipe
Are you seeking a unique, creative, and stylish way to upgrade your space? Look no further than adding a sliding door with a plumbing pipe! This inexpensive yet attractive solution offers a smooth experience with the kinks ironed out from previous projects.
Adding a splash of color or pattern can revamp any area while maximizing shelf space. Also, installing this type of door is an accessible do-it-yourself project. This master closet needed something special, and adding a DIY sliding door made with plumbing pipes was just what it needed! jennaburger
10. Inexpensive DIY Wooden Barn Sliding Door
This inexpensive DIY wooden barn sliding door will provide an inviting atmosphere for any room. With this door, you can easily bring the cozy feeling of an old-fashioned barn into your living space. Love this sliding barn door's look and durable quality – and best of all, it won't break the bank!
It is inexpensive and easy to install, so you don't have to worry about hiring someone else. Make your dreams come true with a wooden barn sliding door today – experience the rustic charm at an unbeatable price! homemade
11. How to Make a Sliding Door – Step by Step
Have you ever wanted that sleek, sliding door look but don't want to rip out your wall? With this easy DIY solution, you can get that desired modern feel without spending much money or time on installation. The best part is that anyone can do it! This simple yet stylish product provides an effortless way to get the look for less.
Get ready to show off your space with a beautiful design while giving it extra functionality and convenience- perfect for busy households! No more struggling with doors opening the wrong way or taking up too much room in tight spaces – make sure every sqm counts when having guests over by investing in this great deal today! letteredcottage
12. Gorgeous DIY Sliding Barn Door
Take advantage of having one of these gorgeous sliding doors in your shed – grab yours today! With its sleek design, you'll hardly be able to tell that it was fashioned out of a regular skateboard. This skateboard barn door slider is easy to assemble and fits perfectly in any room.
Plus, it's one of the cheapest and most practical ways to make over your home! With just some basic skills and tools, you can quickly make this stunning piece to impress family and friends. So why wait? Start making your own DIY sliding barn door for an amazing transformation at an incredible price! instructables
13. Free Sliding Barn Door Console Woodworking Plans
This intermediate-level project is perfect for those who want to add a rustic charm to their homes while keeping the budget low. Whether used in the living room or bedroom, this console will impress with its sliding barn door design.
If you're up for the challenge, the detailed plans are available online to start building immediately and make a beautiful piece of furniture you'll never tire of. With simple tools and materials like wood panels and doors plus hardware like screws and hinges from any local hardware store, this easy-to-follow tutorial will guide you through each step of the process. So why wait? Get started today on making your own one-of-a-kind DIY barn door console! ana white
14. Homemade Fabric Sliding Door
Introducing a unique and creative way to decorate your home: DIY fabric sliding door! This economical option is perfect for any room, whether a kid's playroom or the living room. Making and hanging this door only costs under $100 – plus, you can save money by using the fabric of your choice.
What better way to let your creativity shine? With the simplest tutorial ever, you can make something crazy that will bring life into the space! Get on board with this cool project today and ensure everyone knows who created such an amazing piece of art in their home. petitemodernlife
15. How to Build a Wooden Sliding Barn Door
Nothing adds more character to a room like the rustic charm of barn doors, and with just a few household tools, you can easily construct your own beautiful and functional hand-crafted doors.
Add personality, style, and functionality to any door opening in your home while giving it tons of character. This DIY wooden sliding barn door is an easy way to provide privacy or separate rooms without major renovations or construction work – all you need is some woodworking skills and basic tools. Not only are wooden sliding barn doors stylish additions that look great in modern homes, but they're also incredibly practical, saving space by not needing extra clearance for swinging open.
And best of all? They come at a fraction of the cost compared to other expensive projects. So if you're looking for an easy way to bring character to your home on a budget, consider building one of these simple-to-build wooden sliding barn doors – you won't regret it! turquoisehome
16. Turn Old Pallet Wood Into Sliding Barn Door
Give your home a creative DIY project that looks amazing and adds character – turning old pallet wood into a sliding barn door! With this simple, cheap, and easy-to-make project, you will have an eye-catching entrance that saves space.
This unique style blends the rustic charm of traditional barn doors with modern functionality. Start by collecting all the needed materials, such as reclaimed wood pallets, hinges, screws, paint or stain to finish off the look. Then let your creativity take over while you transform those pallet wood planks into something beautiful and special for your home's entryway.
The best part is when it's finished; everyone who enters will be amazed at how stylishly different yet practical it is! So don't wait any longer: start crafting today and turn those old pallets into a stunning sliding barn door that looks fantastic and serves its purpose perfectly! lehmanlane
17. Building a Sliding Barn Door for Media Console
This beautiful piece creates a rustic farmhouse style in record time and looks like an old-fashioned bookcase when not in use. There is no need to break the bank on a new media console — you can make one that's unique!
Attach these sliding barn doors to the frame of the media console for added contrast and charm, perfect for adding a special touch to your master bedroom. This easy project requires minimal tools and supplies, so it's ideal for those looking to add gorgeous decor without spending too much time or money. Try out this DIY project today and give your room a cool upgrade! shanty 2 chic
18. DIY Sliding Door Solution for Small Spaces
You are introducing the perfect DIY sliding door solution for small spaces! This gorgeous and creative door adds an amazing character to any room without needing extra square footage. Plus, it's surprisingly affordable – this unique sliding door costs about $80!
So now, even if you're working with a tiny space and opening a traditional hinged door isn't possible, you can still walk through easily thanks to this DIY sliding option. Its easy installation and stylish design accents make the possibilities for making the most out of your smaller living endless. Don't let limited square footage keep you from achieving your dream look – make your sliding door solution for small spaces today! abeautifulmess
19. Build Your Own a Sliding Barn Door
Add personality to your home with a stunning DIY sliding barn door! Perfect for that rustic farmhouse appeal, this door is thick and substantial so that it won't compromise style or security. It's the perfect addition to any mud room entryway and can be customized for any space.
Don't let size limitations stop you from making a statement – build the ideal sliding barn door today! With easy-to-follow instructions, all the necessary materials, and plenty of customizing options, you'll have an amazing new feature in no time. Make sure your entry stands out with a dynamic DIY sliding barn door – start building yours now! beneathmyheart
20. Build a Sliding Barn Door With Plywood
This creative and unique design is functional, making it the perfect addition to any space. The process is simple:
Cut a plywood sheet to size.
Add trim boards.
Give it some good yank to overcome the friction underneath.
With these features, you can make your own modern, rustic, or unique look on the weekend! Go for an elegant finish by adding decorative details such as layered wood shims, or leave it plain for a more rustic feel that will bring character to any room. Get ready to enhance your home decor with this fun and innovative DIY sliding barn door made from plywood today! thehandyman
21. Make a Sliding Barn Door for Bathroom Cabinet
Keep your bathroom storage from being an eyesore! Add a rustic charm to the space with this DIY sliding barn door for bathroom cabinets. It's easy to attach and takes only minutes to install.
Plus, the open shelving is perfect for displaying decor and organizing items you want out in the open – like extra hand towels or toilet paper. But, it also has a hidden storage area so you can store everything that could be more pretty but necessary nonetheless. Get step-by-step instructions on how to build this amazing addition, plus free printable plans from our website today!
Not only will it make your bathroom look great, but it'll also make tidying up much easier. So don't wait any longer – get started on this super easy project now and enjoy having the perfect mix of open shelving and storage in your bathroom today! shanty 2 chic
22. Lovely DIY Sliding Herringbone Barn Door
This lovely DIY sliding herringbone barn door brings unique and rustic charm to your home! This gorgeous door is the perfect way to tie a little more warmth into any space while adding stylish wood elements. Installing this beautiful door doesn't have to be difficult; anyone can do it easily, thanks to its surprisingly simple construction.
Plus, you'll save time and energy by not needing to hire an expensive contractor – making it faster and much easier than ever! You can bring the country chic look of a herringbone barn door into your home with minimal effort. bowerpower
23. Faux Stained Glass Sliding Barn Door
Let the light of creativity shine through with this stunning DIY faux stained glass sliding barn door! Installing one is a fun, creative activity perfect for anyone who wants to show off their style and give their home an artistic touch.
With easy-to-follow instructions, you'll be able to get the job done in no time! The faux stained glass material provided makes it simple – all you have to do is cut it into shape and attach it to any existing door frame or sliding barn door system. Plus, because these materials are non-toxic and completely damage-free, you can feel confident making something beautiful without compromising your family's or pets' safety.
With this colorful project, even those with limited experience will feel like professionals as they make a custom design with endless possibilities! Make something special today with a faux stained glass sliding barn door – an easy yet stunning way to make your home look amazing from the inside out! lovelyindeed
24. Make a Sliding Barn Door for Less Than 20 Bucks
Bring a rustic and timeless look to your home with the DIY sliding barn door for less than 20 bucks! Sliding barn doors are very popular in home design, with an amazing ability to transform any interior space.
If you're looking for a perfect solution that won't break the bank but will still look great, this is it. You can make the entire thing yourself for less than twenty bucks – now, how's that for an inexpensive option? Not only do you get a beautiful feature piece at a fraction of the cost, but you also get to show off your creative side by making something all on your own. Get ready to impress family and friends with this stylish sliding barn door – if they ask where you got it from, say, "I made it myself"! vintagefinds
25. Latest DIY Sliding Barn Door Design
Are you looking for a unique and stylish way to add character to your home? Look no further than the latest sliding barn door design! Add a rustic charm to any place in your home with this handmade sliding barn door.
Make an amazing look that will turn heads with all the customization options. And the best part is that it comes at an incredibly affordable price – under $75! Whether you want to upgrade your main living space or need something special for a guest bedroom, this would be the best option. Get creative with it, and have fun customizing and installing your new DIY sliding barn door today! eyeinthedetail
Related DIY Projects to Save Money
Learn how to save money with simple and creative DIY projects that you can do at home!
Easy DIY Projects
Conclusion:
In conclusion, DIY sliding doors are a versatile and cost-effective way to upgrade your home. From lightweight sliding barn doors to rustic creations made from reclaimed materials, the DIY sliding door ideas are endless. Building a sliding door is a viable project for anyone interested in enhancing their interior design, regardless of their skill level or prior experience. Embarking on this creative journey can bring striking results and unique touch to any space. Explore various resources and tutorials to make the perfect homemade DIY sliding door for your home.