Kids just like the toys on the basis of their play value! Higher the play value, higher would the engaging rate! Play kitchen has been found to have a high play value that's why all the kids are a big fan of them! The play kitchen is all favorite to all kids in the department of toys and hence they can keep the kids busy for hours! A market-bought play kitchen can have a very modern and sizzling appeal but they are expensive too at the same time! So if you have decided to get a play kitchen for your kids but can't stand with the sky-high market price then you should definitely choose the DIY medium! Just to save all your hard earned money, we have brought here these 50 DIY Play Kitchen projects that can beat also the market-bought ones in style, features, and colorful appeals!
Each listed and showcased DIY play kitchen is unique and you are going to love all for sure! Complete DIY guides and pictorials will be available for you with just click! Choose your favorite play kitchen and just click the reference link to view construction details and list of supply material!
There is a huge list of home materials you can use in making stylishly amazing and kids-oriented DIY play kitchen with all the modern features! All you need is just to add extra wings to your creative imaginations and genius thinking!
First of all, you need to take some visits to nearby thrift stores, scrap material sales and the surrounding areas where you can find the deleted and discarded pieces of furniture to repurpose for play kitchen! Old dressers, nightstands, TV units, entertainment center, cabinets, crumbled tables, and shelving units can be transformed easily into very modern looking and aesthetically pleasing models of play kitchens! Check out some mind-blowing inspirations about it given on the list!
You can also reuse the old wood from home or the barn wood to build fantastic wooden play kitchen with custom underside storage shelves, front display shelves, and storage cabinets! Check some amazing samples on the list to get inspired!

Moreover, cardboard is also a great option to build smarter and budget-friendly play kitchens for kids at just a drop of a hat!
For complete details, picture construction guides and DIY tutorials, simply click on the pasted reference links!
DIY Beautiful Play Kitchen Tutorial:

Girls love to have a play kitchen and play with it all the time with the siblings and their girlfriends so here is a lovely and totally chic DIY play kitchen for the little girls made out of an old tv stand with all the kitchen compulsions like stove, buttons, sink, etc. and here is the full tutorial to know all about its making 1dogwoof
DIY Kitchen for the Mini-Gourmand:

Not only girls even some small boys really like to be in the kitchen and cook something of their own and here is cute play kitchen idea for you boy that you can easily pull off without costing much. Just grab an old dresser from anywhere and give it a new look with paint and then supply it all kitchen accessories from a toy store and its done. full details here katescreativespace
DIY Cardboard Kitchen or Cooker for Kids: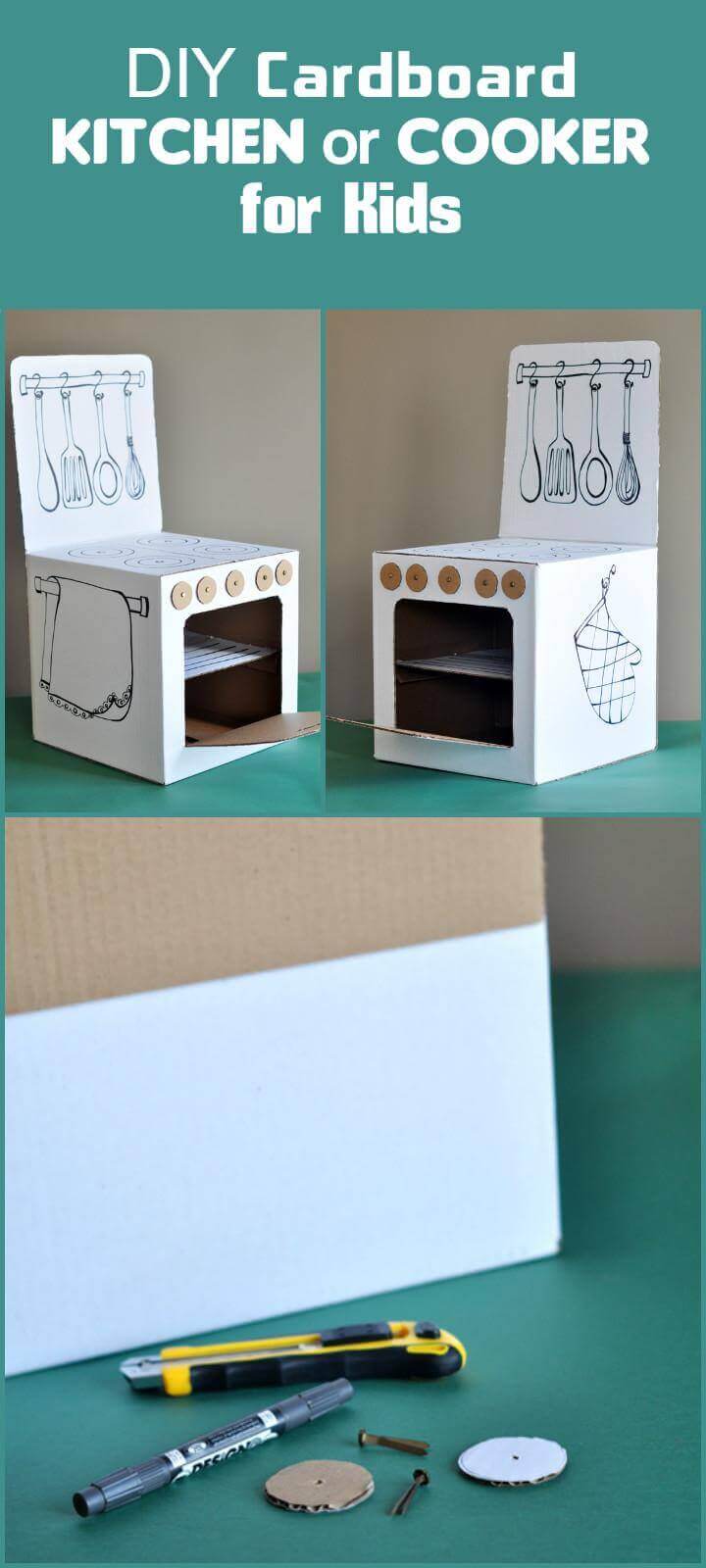 If you think that making a kitchen out of the wood is not your cup of tea then you can try your hands on the cardboard and make this lovely kitchen for your kids to get busy with and play.It would be damn feasible and fun to make this kitchen from the cardboard so grab all details from here and get it started this weekend estefimachado
DIY Old Cabinet into Play Kitchen Tutorial: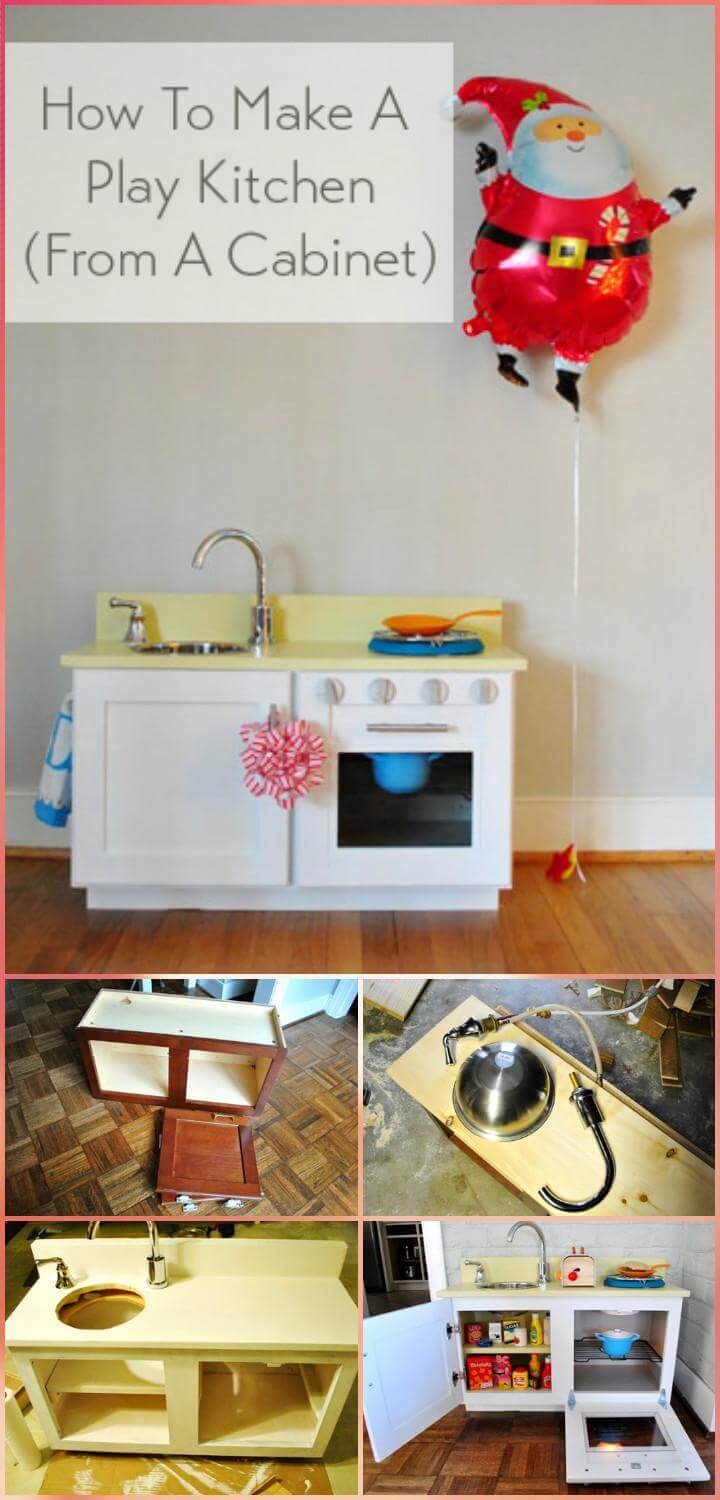 Getting an old kitchen cabinet, painting it, supplying it sink and stove and lastly painting in that vivid hue this lovely play kitchen for the kids have been feasibly and cheaply crafted at home to let the kids drool over it for the fun they would have to play with it. Here is the link to step by step instructional tutorial younghouselove
DIY Blue Play Kitchen for Kids: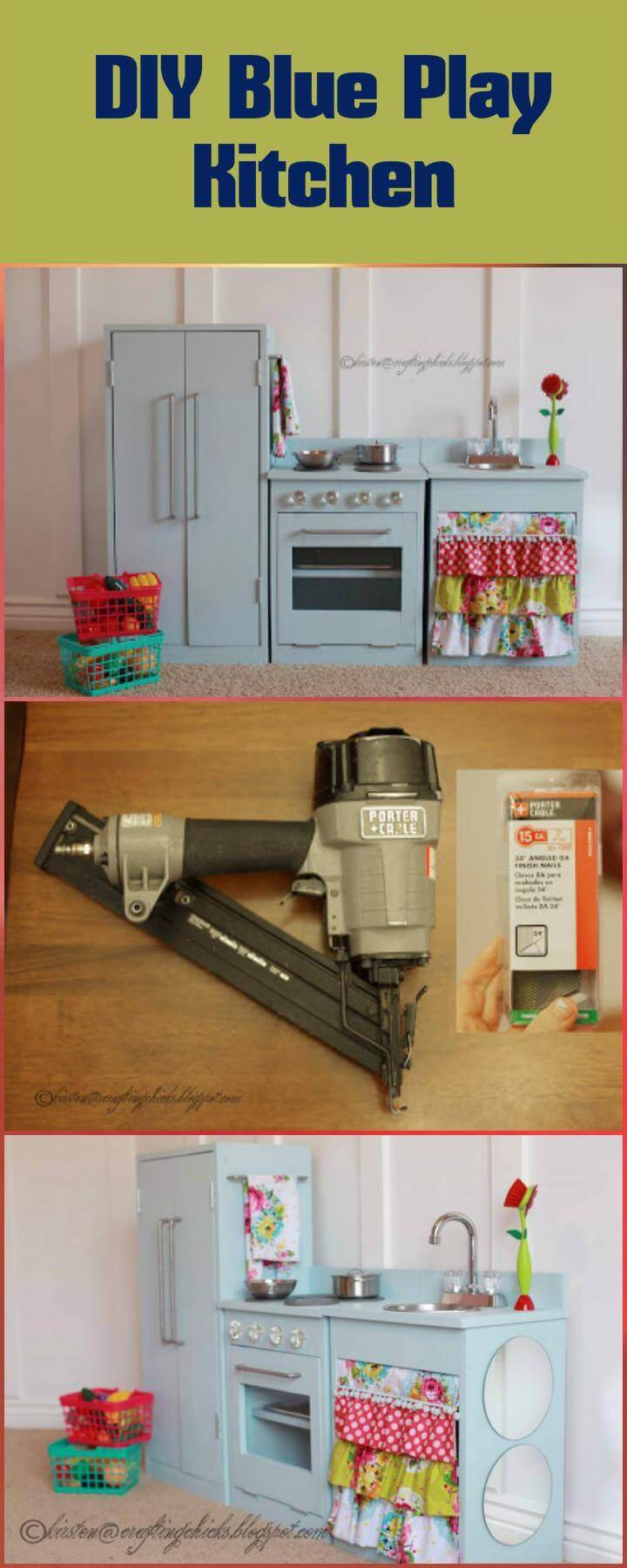 If you can not afford an IKEA play kitchen for your kids then make them one exactly the same and here we have a sample of the same kind with this DIY blue stained play kitchen. what supplies you need and what they would cost all the details are shown right here so just click and browse and add it in your next to do list thecraftingchicks
DIY Entertainment Center Play Kitchen: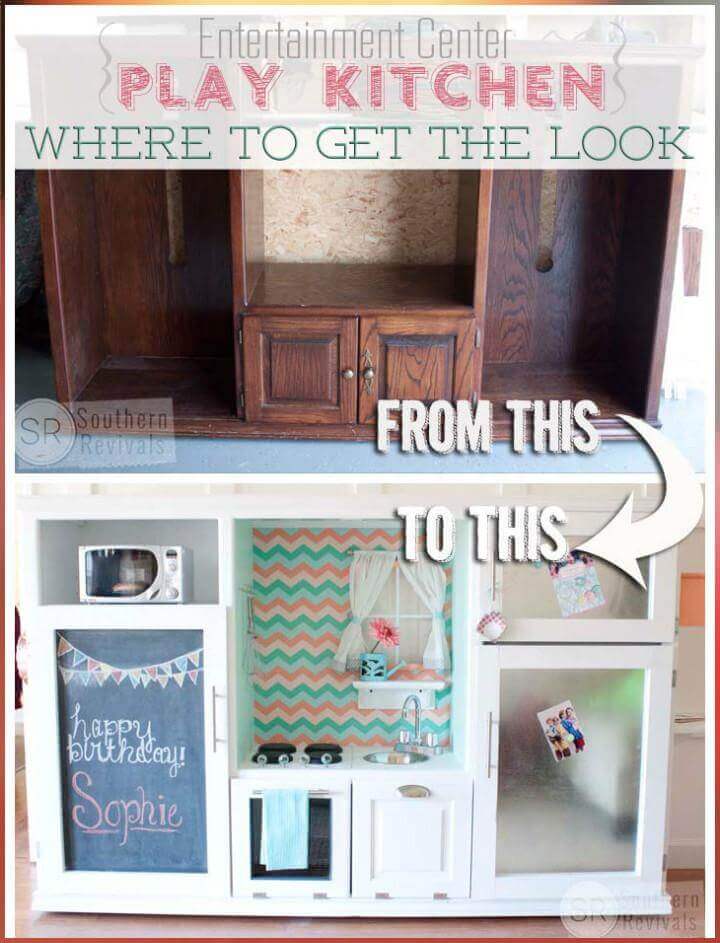 What can be a great gift idea for your little princess than making her a beautiful and fully ornamented play kitchen as shown above?
With some magical paintwork and wrapping an old entertainment center has been turned into this hugely gorgeous play kitchen with microwave, stove, sink, and a fridge section too.
Get the long pictorial and instructional guidance here southernrevivals
DIY Children Stove with Oven: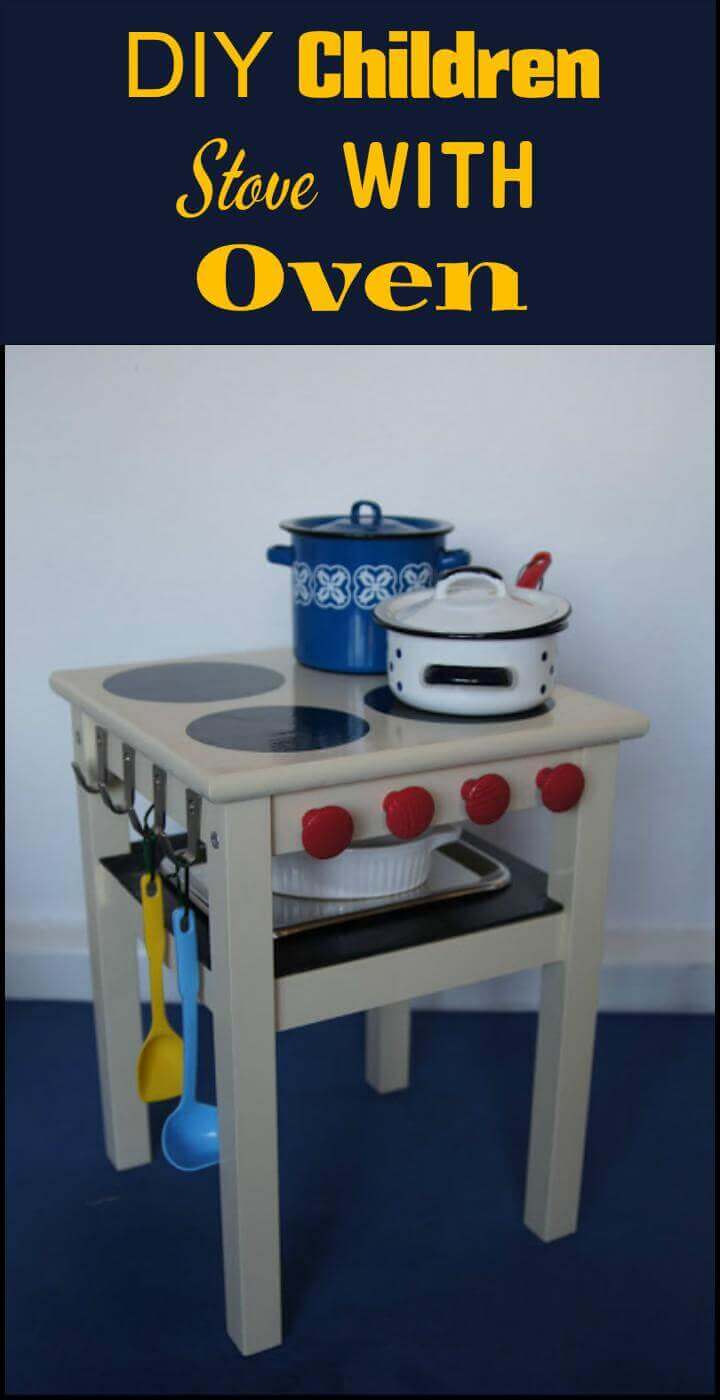 Make your kids this lovely play kitchen so that instead of playing with the mobile and tabs they spend their time in healthy and more fun activities.
You need a wooden stool like furniture piece and then paintwork and kitchen toy accessories would do the rest of the work. Here are step by step instructions ikeahackers
Handcrafted Simple Wooden Play Kitchen:

If you are good at wooden crafting then making this cute and little play kitchen for your little ones and let them get busy in the healthy and most fun activity at home.
You need some wood piece and some kitchen toy stuff like utensils, stove, sink, jars and much more. Here is the link to know its step by step directions artsyants
DIY Ikea Hack Play Kitchen:

IKEA items are no doubt super impressive but not everyone can afford them but you can hack them well at home like this lovely play kitchen has been made at home out of wood and looks nothing less than an IKEA play kitchen in design, features, and accessories.
Get all the needy details spaceycaseycreates
DIY Play Kitchen Tutorial: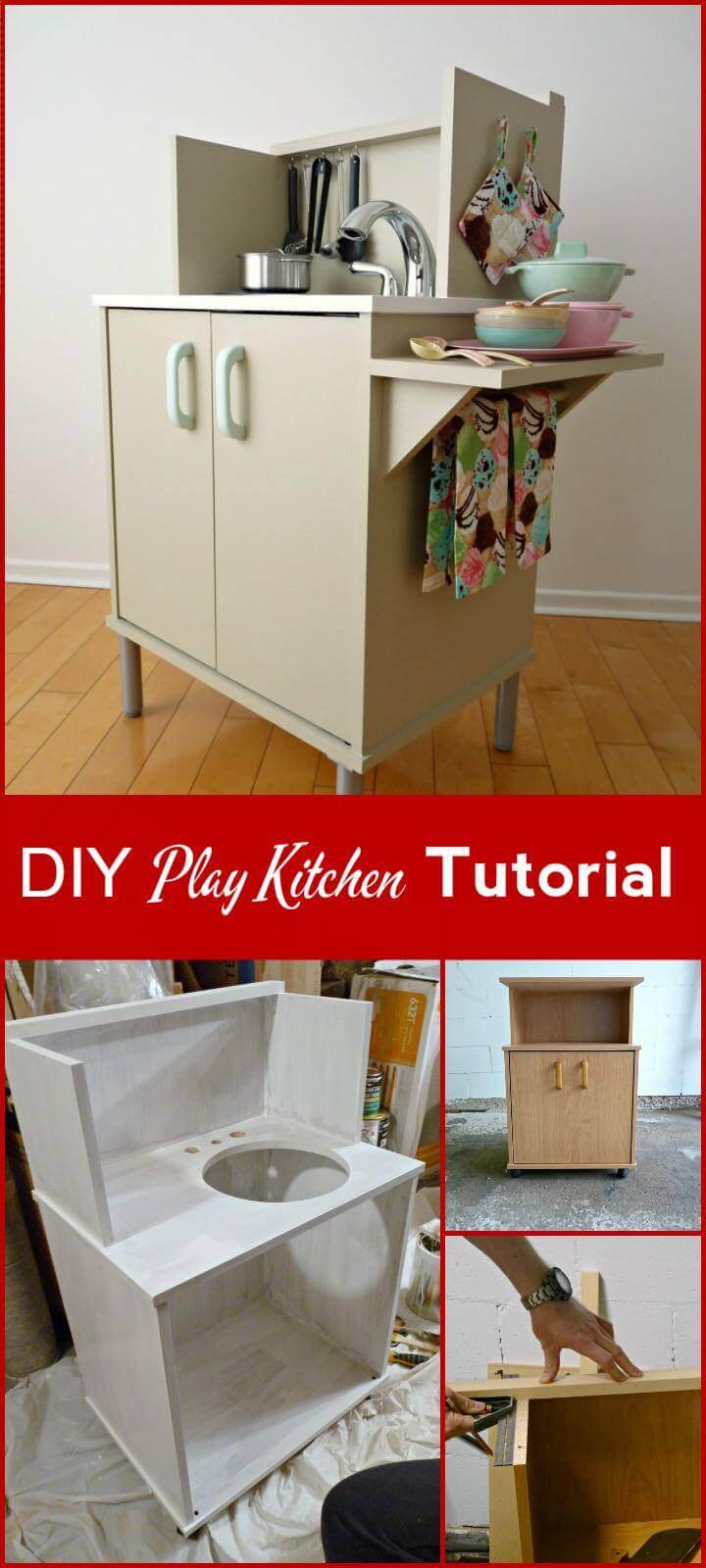 Here is another cute addition to the play kitchen ideas for kids here made out of the wood with double cabinet doors at the front and a shelf at the side and all in all it qualifies to be a complete kitchen and would really be a play delight for the kids to play with danslelakehouse
DIY Modern Play Kitchen:

If you are going to dispose your old nightstand and buy new ones then take a moment as you can repurpose them and make this lovely and totally modern DIY play kitchen for your kids to play with and have lots of fun in a healthier way.
Here are complete details of this lovely transformation smallfriendly
DIY Super Beautiful Ikea Hack Play Kitchen:

This adorable play kitchen is something so pretty that seems to come out straight from a kids fantasy.
With lovely stain hues in blue and white and totally chic accessories, this kitchen would be so much fun to make also.
Here are every inch details you need to know about this cute kitchen littleredwindow
DIY Outdoor Play Kitchen from an Old Shelf: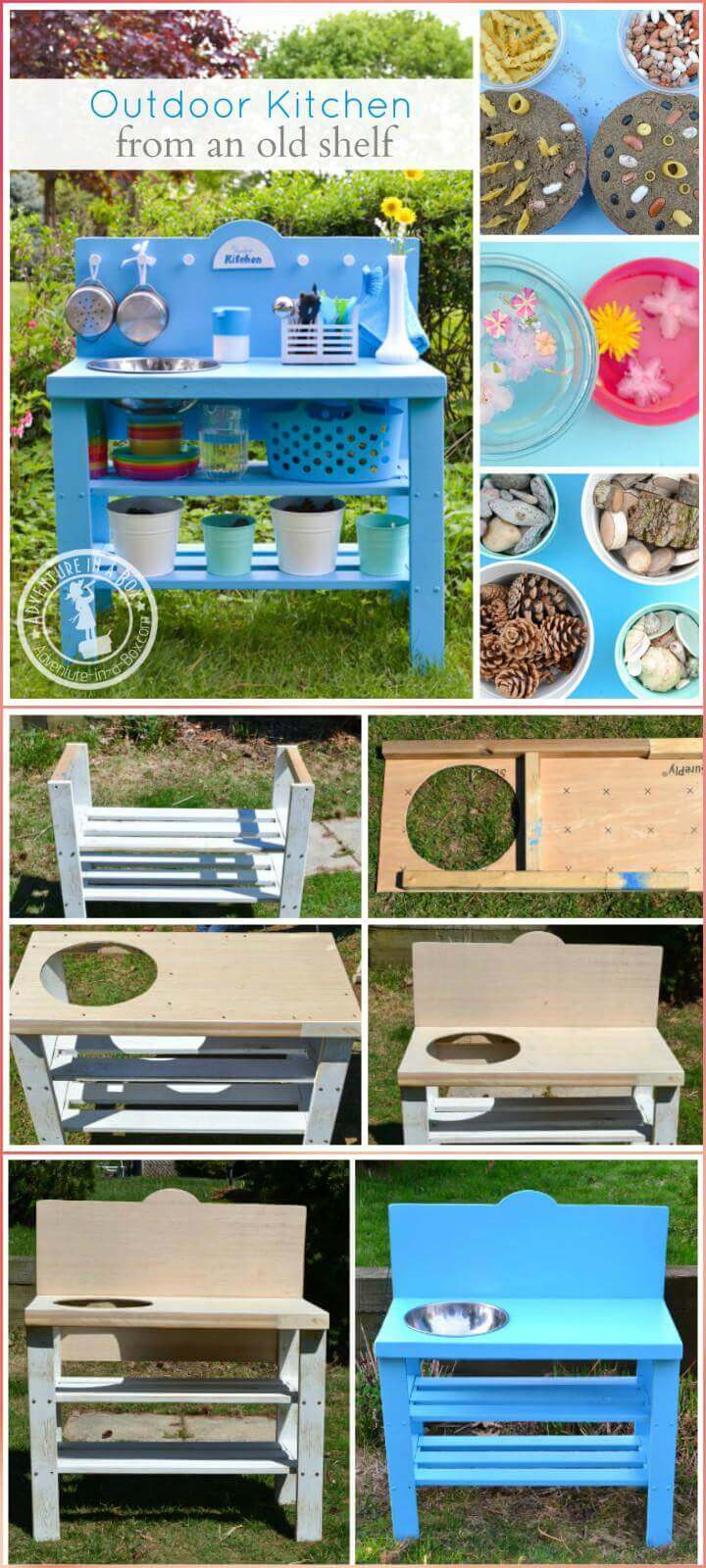 From an old wooden shelf, this adorable play kitchen has been raised with exquisite paint hues and those tiny kitchen accessories to attract the kids and let them enjoy some fun outdoor activities rather than wasting time on video games and cartoons. Ge the complete crafting tutorial of this dreamy kitchen here adventure-in-a-box
DIY Old Chair into Beautiful Kids Play Kitchen:

You would applause for this sheer creativity that has yielded this lovely and adorable kitchen out of a chair with added folding shelves at the seat sides and a cabinet sections above the backrest of the chair. The lovely paint hues are making it look more tempting so here is the complete tutorial to get more of its details alldadallday
DIY Kitchenette Tutorial:

Never ever throw an old nightstand or cabinet as it can go under some creative crafting and turn out be this lovely and pretty kitchen for the kids with each and everything a kid would love to see in their small little kitchen. So give your girl the happiest thrills with this handmade play kitchen having its tutorial here abeautifulmess
DIY Play Kitchen in a Box:

This one is the unique and totally amazing idea to make a play kitchen out a box in which the kids can put all their kitchen stuff after playing in that fabric wrapped box. So do make it and give your kids a sheer delight to play with and have a immense fun oomanoot
DIY Pack-n-Go Kids Play Kitchen:

This pack and go play stove is the quickest and the simplest idea one can ever come across for a play kitchen for their kids and thus it is too cheap and feasible to make out of a simple plastic container and some paint work for the stove appearance on the top. Know it more here pinkcakeplate
DIY Upcycled Nightstand Play Kitchen: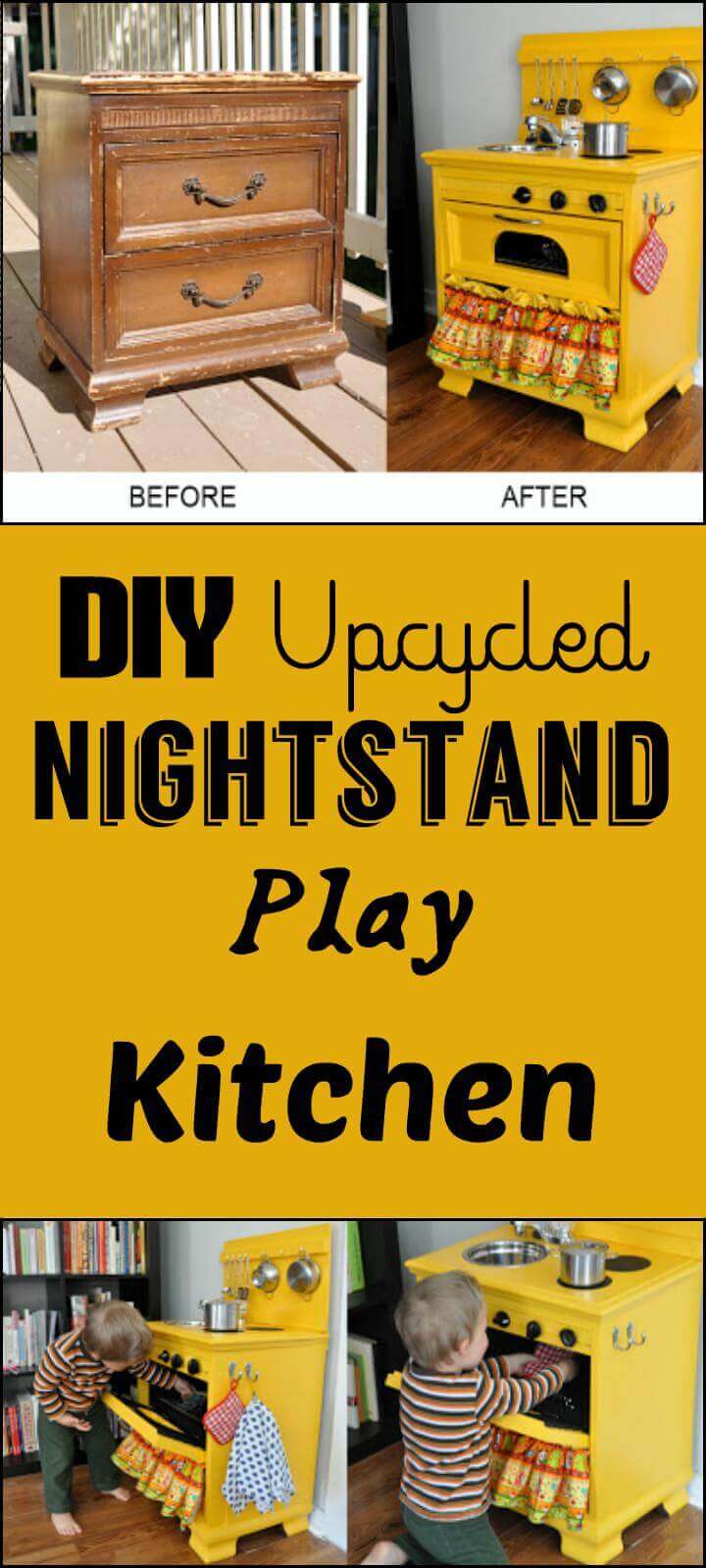 Need a play kitchen idea that would even beat an IKEA kitchen station? Here is the one made out of an old nightstand with attractive stain work, added shelf at the back a microwave compartment at the base with some lovely drapes adding more fun flairs to it. Here is the step by step instructional tutorial of it bubblestitchquilts
DIY The Kids Play Kitchen:

The play kitchens are equally famous in the boys too so even if you have boys at home you can make them this lovely and enchanting kitchen out of the nightstand and let them have some indoor fun. The details of this simple and cute kitchen are here nikkisnacs
DIY Extra Beautiful Kids Play Kitchen: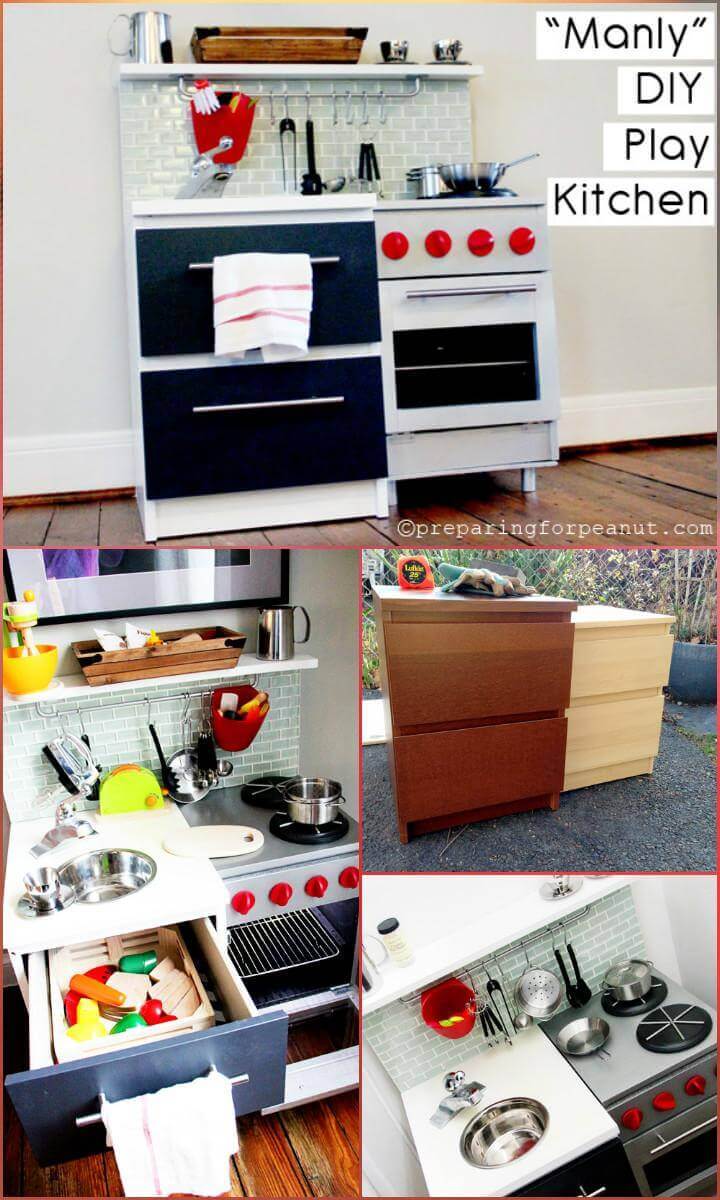 Do not need to go to an expensive market to buy a play kitchen for your little boys or girls as you can make one at home and that without disturbing your budget so here we have this lovely kitchen idea made out of two-night stand with some fun kitchen crafting all over preparingforpeanut
DIY Old Nightstands into Play Kitchen Set: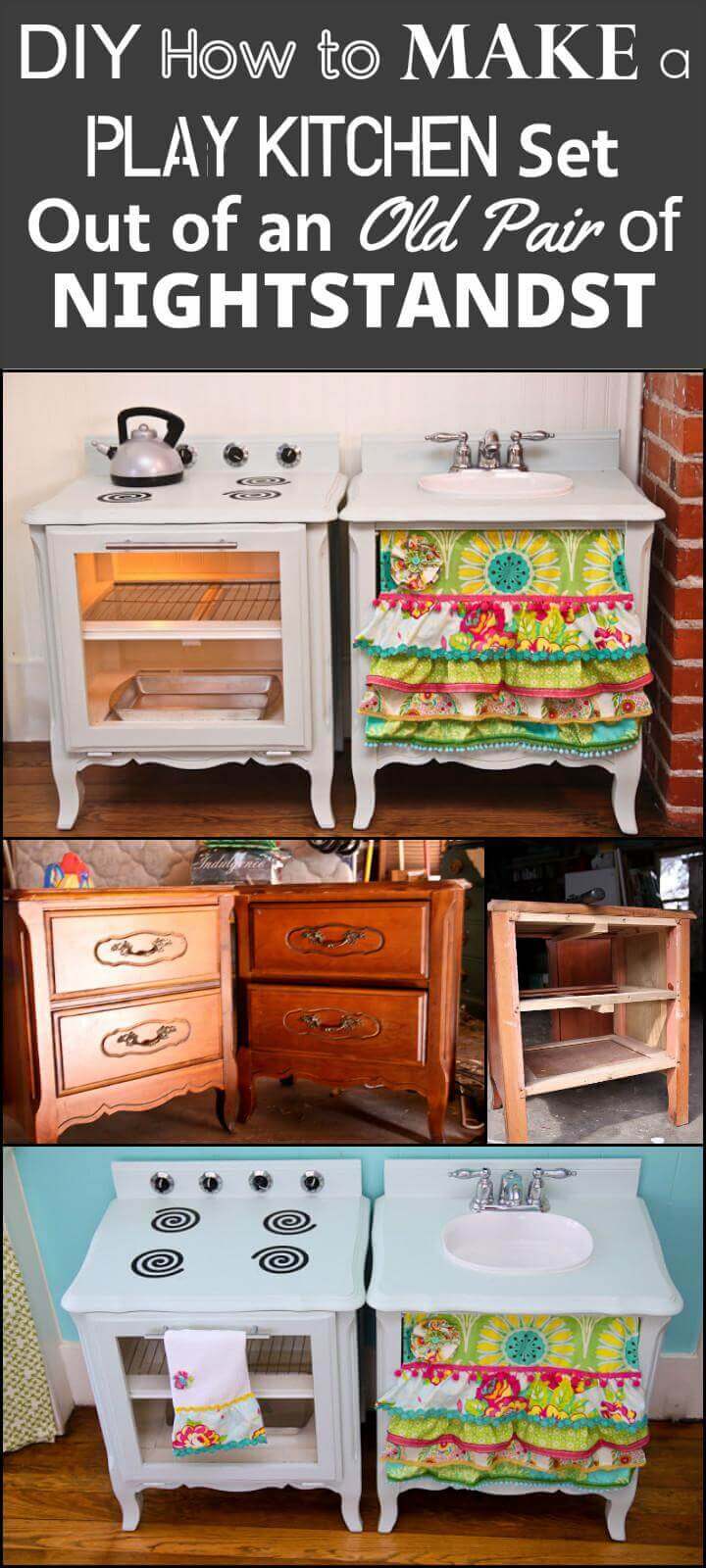 If you can manage to get a pair of old night stands from any store you can turn them into these beautiful play kitchen for your kids with a stove unit and a sink unit with lovely and attractive hues adding much beauty and style to both thefarmersnest
DIY Old Nightstand Play Kitchen:

Enchanting paint shades, absolutely cute utensils, a side phone, and the much more adorable features would make this pretty play kitchen go crazy for. It looks like a fallacy piece and you can surely make it yourself with the help of an old side table or nightstands with complete details here littlegraytable
DIY Handmade Kids Play Kitchen: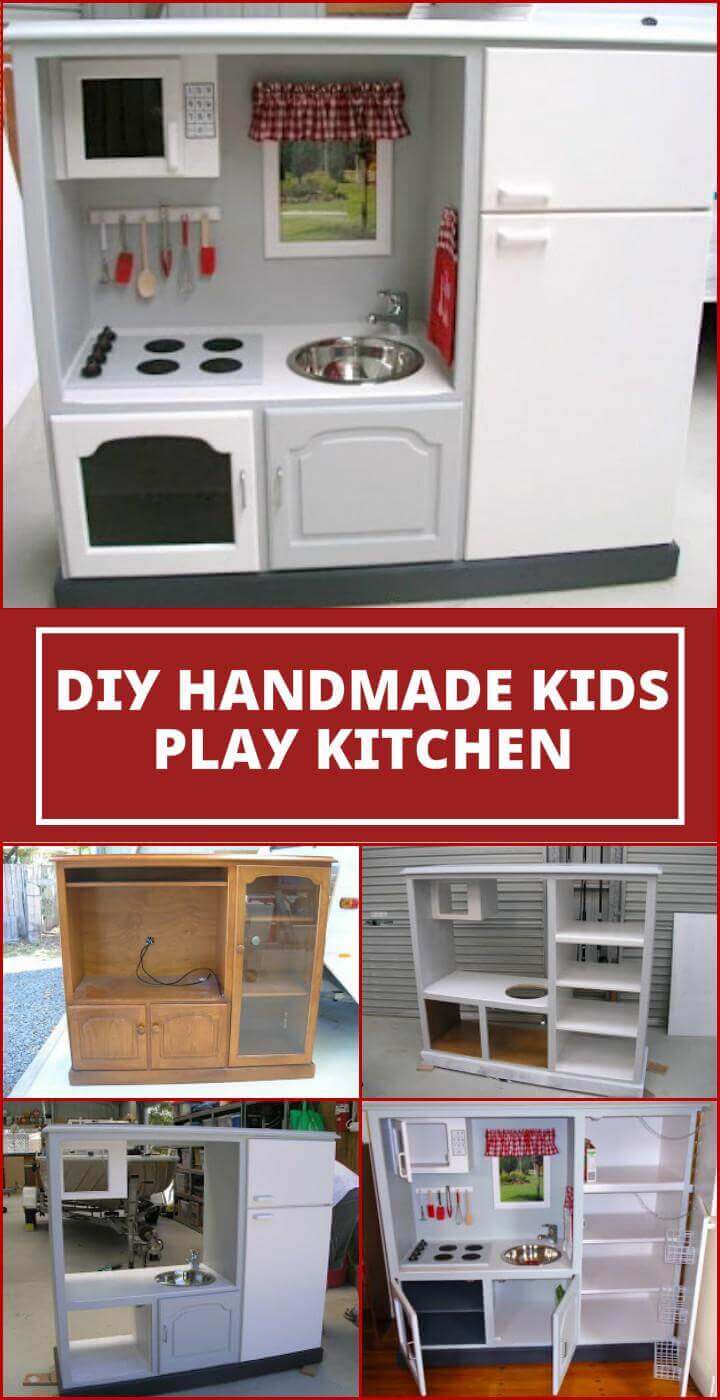 This cute kitchen would surely keep your kid busy in cooking some imaginary dishes in, then washing, baking and freezing she or he can do all in this kitchen and have immensely fun time spent at home.
So here is the link to know the details of this cute kitchen with attached fridge section too giggleberrycreations
DIY Cardboard Play Kitchen: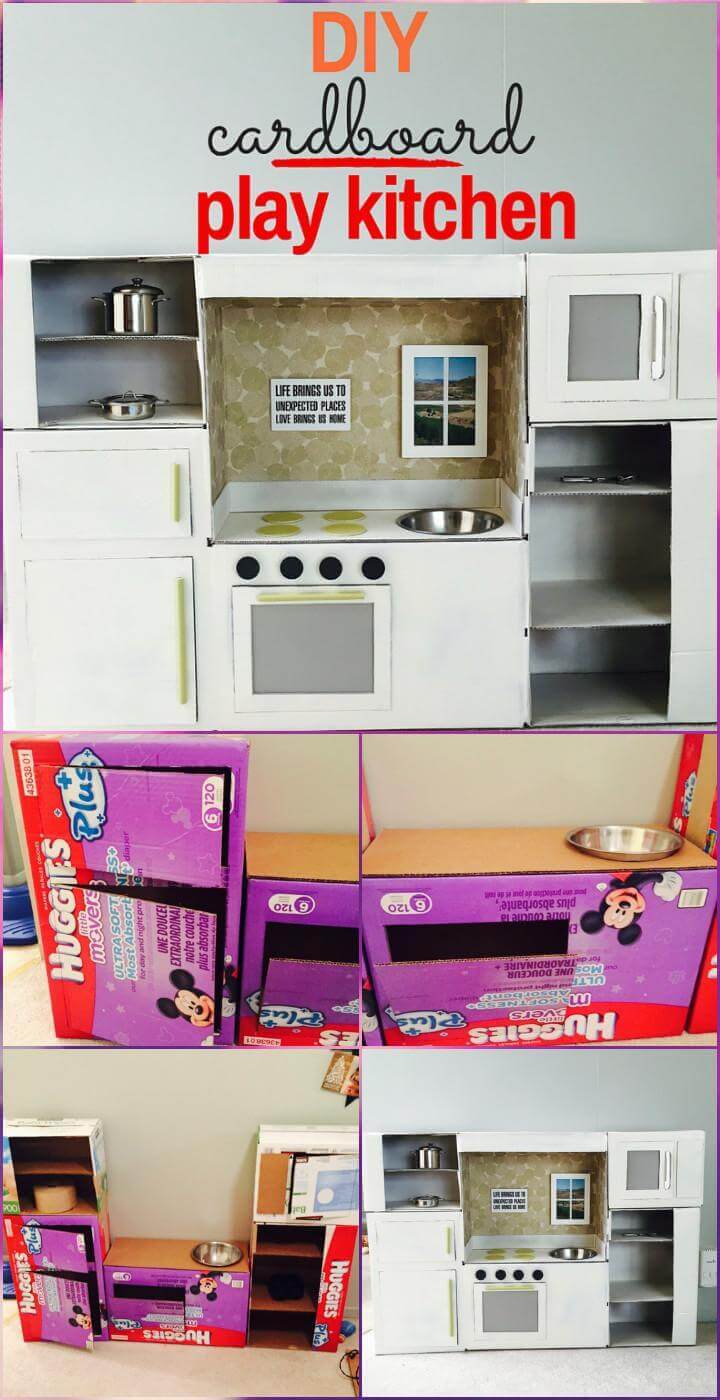 Cardboard is one of the feasible supplies that you can use for the making of most of the DIY stuff and here is giant crafting presentation in the form of this lovely and big DIY play kitchen for the kids with stove, sink microwave, cabinets and fridge section. Don't look further just grab the details from this link and get it done soon nextnursery
How to Make a Play Kitchen: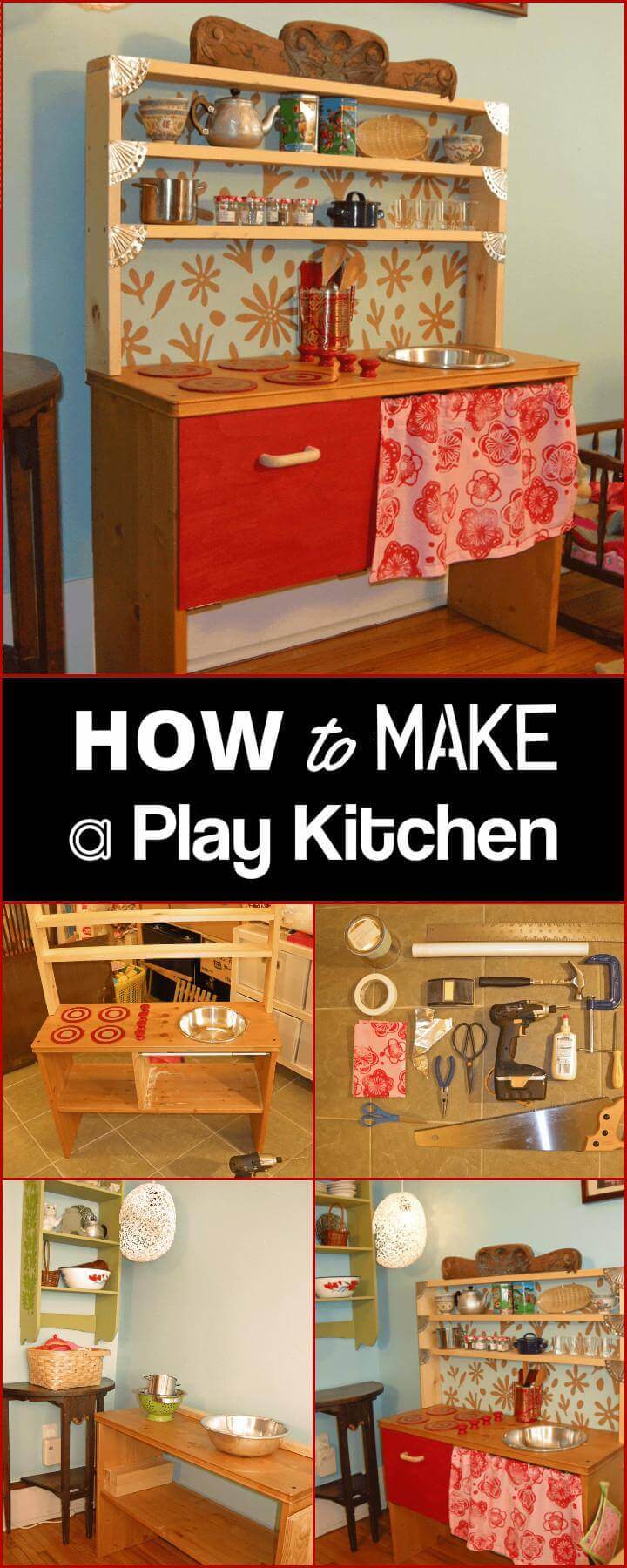 Made out of an old shelf unit this play kitchen is the cutest one to with all the needy features like oven space, stove and also the base storage for a lot of toy kitchen stuff in them.
With some old furniture like nightstands and some thrift store purchases you can easily make it at home yourself apartmenttherapy
DIY Big Play Kitchen For Kids:

This absolutely stunning big play kitchen is a complete play station for the kids and looks too real. It can seem impossible but yes you can make it yourself at home using the recycled products. The paint, supplies and the decorations stuff how you can get all of these has been listed in detail here katherinemariephotography
DIY Tablecloth Play Kitchen For Kids:

Here is another mind-blowing play kitchen idea especially for the non-crafters. So all you need to do is grab a table cloth and paint on its top the stove, sink, cutting boards etc and at the falling side of the table cloth, you can create a big hole to use as micro. Know this fun idea more precisely here learningmywaythrough
DIY Handcrafted Beautiful Wooden Play Kitchen:

A little girl's playroom is incomplete without a cute play kitchen in it so if you need one you can check out this lovely grey and green play kitchen having detailed kitchen feature like the stove, micro section, bottle rack, spice storage, a fridge at the left, wash basin and what's not. Here are the more fun details of this super cool play kitchen thisgreyhouse
DIY Tres Beautiful Chic Play Kitchen:

Here is the cutest mini kitchen for your girls to play with and enhance their love for cooking so that when they are all grown up they are ready to perform great in the kitchen. Made out an old bookshelf this adorable pink play kitchen with a chandelier looks a fantasy piece for a play room twicelovely
DIY Super Easy Kids Play Kitchen:

Whenever in a toy shop the girls always go for the mini kitchen apparatus so build them a kitchen where they can really play fun and realistically with those kitchen toys and here we have a huge delight in this regard. Learn to build this colorfully enchanting playhouse right here and provide them a fun indoor activity allthingsheartandhome
DIY Nora's Kids Play Kitchen: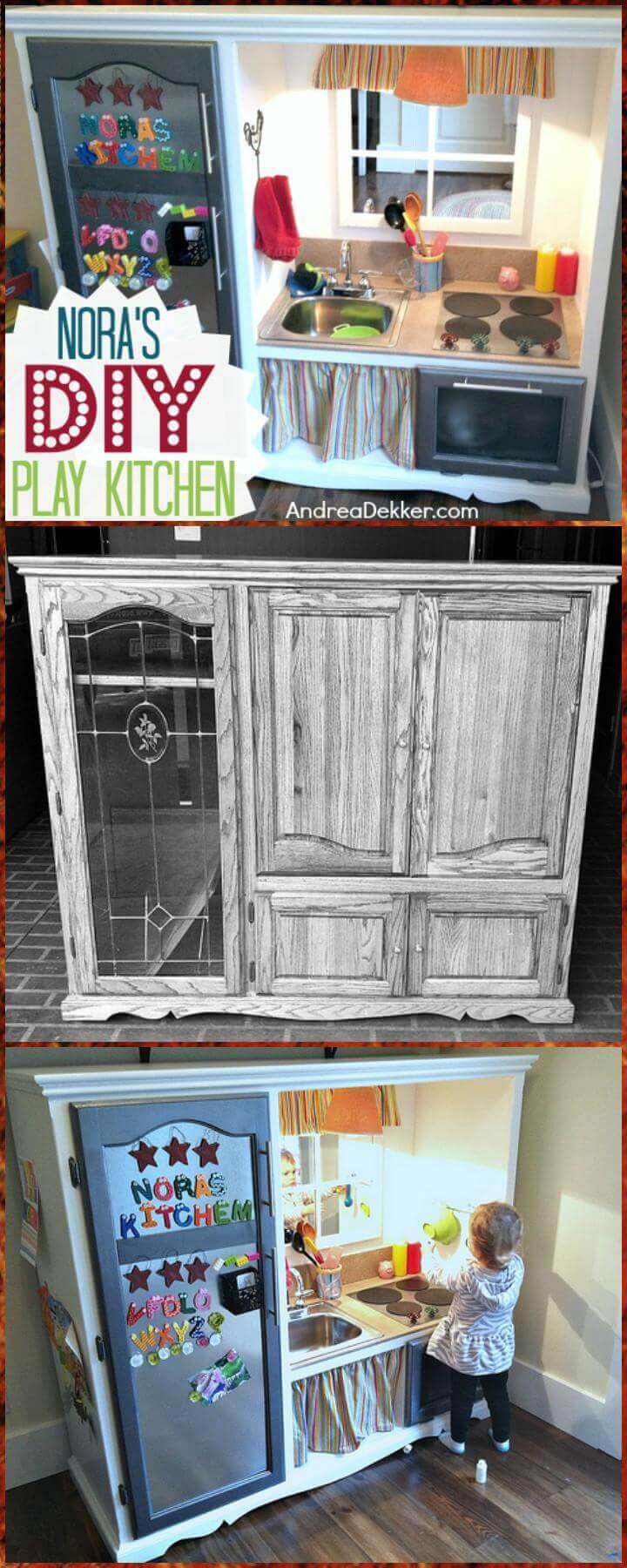 Playing kitchens can be really helpful for the girl to develop an interest in the cooking and no doubt they love doing it so if you have a girl in your house make her this lovely Norah's play kitchen and let her practice being a master chef one-day andreadekker
DIY Old Table into Play Kitchen:

Here is the acutely cute DIY play kitchen for he girls made too quickly and too simple with the easy to grab supplies like a nightstand, some white paint, knobs, and hooks and it would be done in just a few hours. Here is the full tutorial to let you know every inch detail about it theboyandme
DIY Upcycled TV Unit Play Kitchen: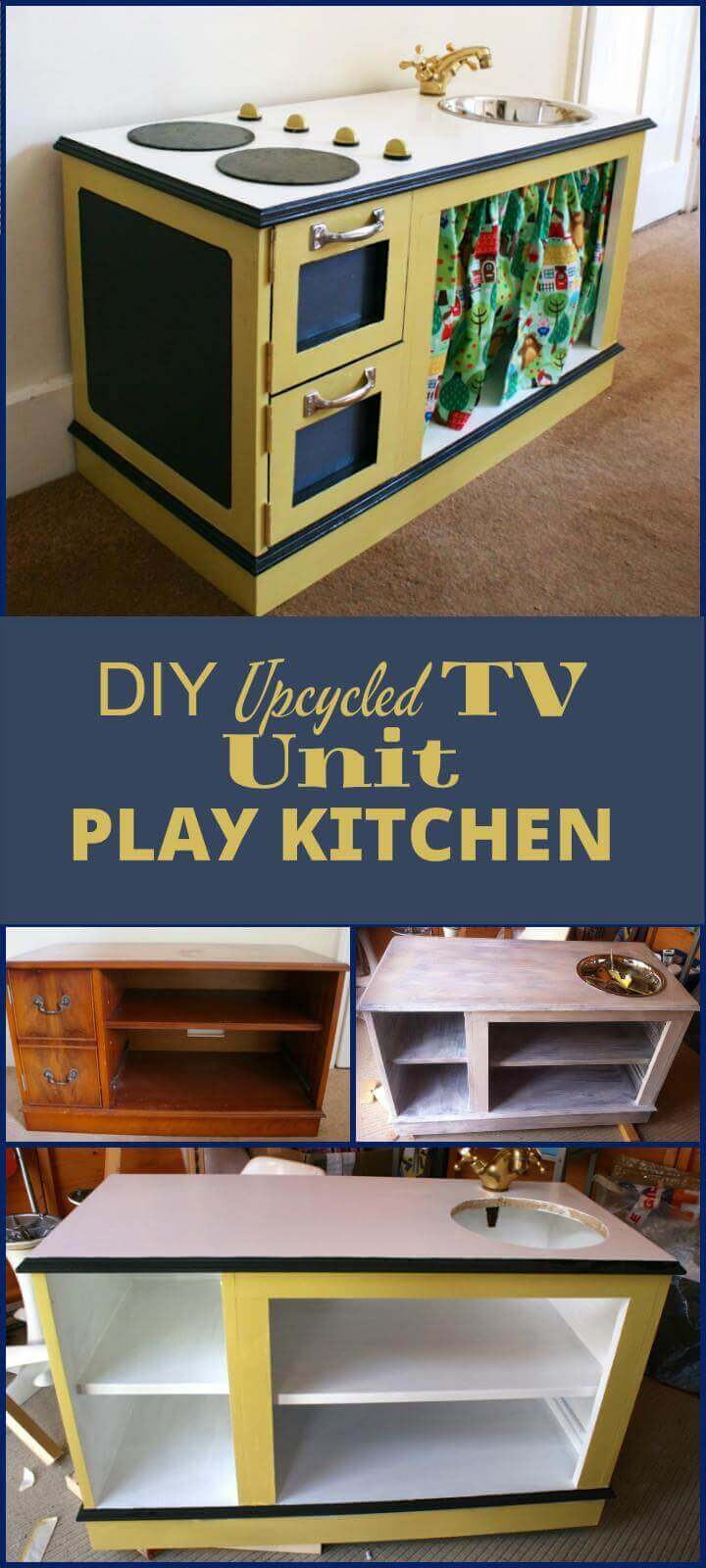 Here is another simple to do DIY play kitchen for your kids using an old TV stand or something looking like the same with lots of sanding, a delightful paint session and then decoration.
All these details are given right here so browse to know everything about this project madebytoya
DIY Easy Upcycled Play Kitchen: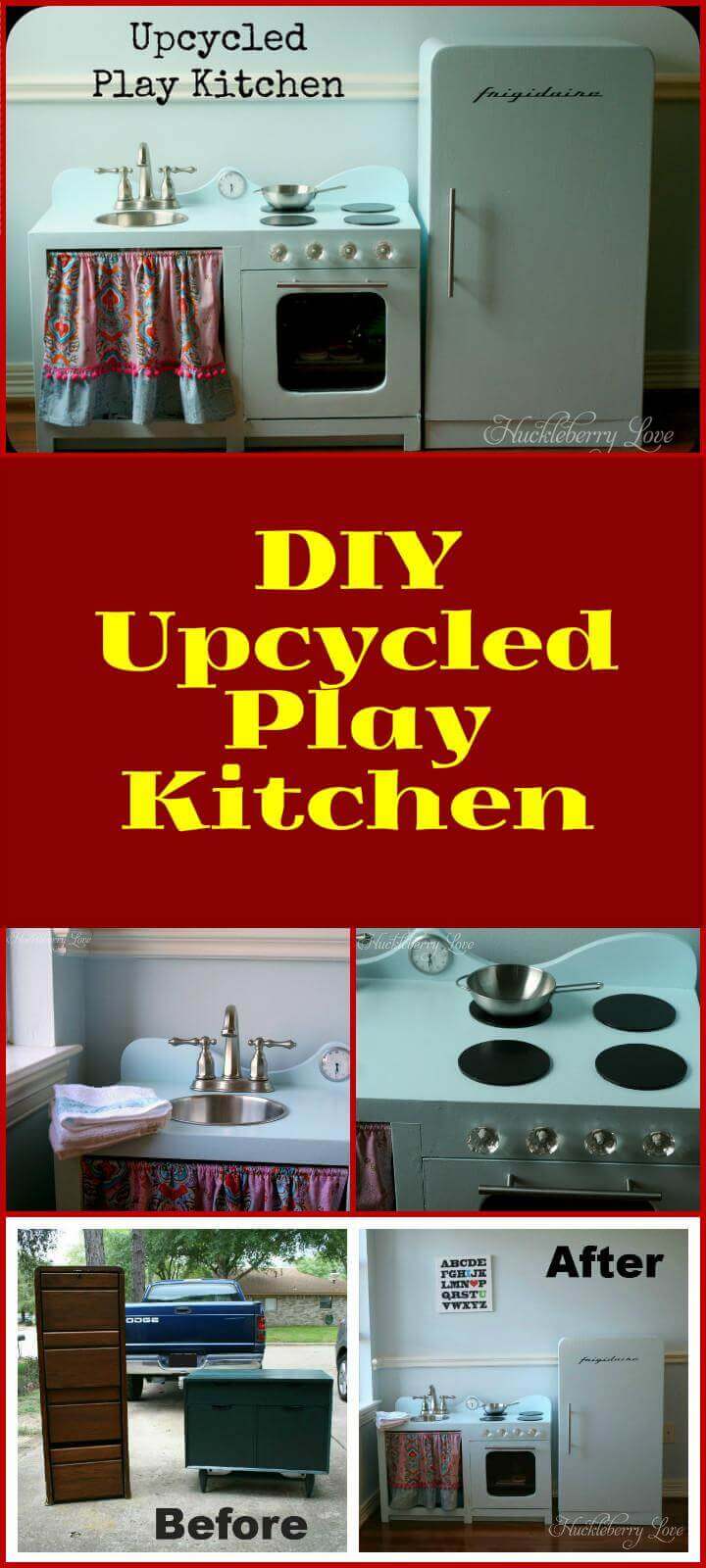 This exquisite play kitchen has an oven and stove set along with a cute fridge at the side and has been made from an old dresser and full cabinet respectively.
This lovely kitchen would be the happiest Christmas gift than the dresses and toys for the little girl huckleberrylove
DIY IKEA Mini Play Kitchen Makeover (hack):

IKEA is an expensive brand but it does not mean you can enjoy having a cute kitchen for your little girl.
Here is an incredible DI play kitchen that you can easily make yourself at home and decorate with personalized touches of paint and accessories.
Know it more here visualvocabularie
DIY Brilliant Cardboard Play Kitchen:

Getting crafty with the wood can really a hassle especially for a beginner so they can try making this lovely kitchen set for their kids from the cardboard which is hell easy to cut an glue up for the desired shapes and transformations. Catch more details of this feasible idea here parents
DIY Cardboard and Duct Tape Play Kitchen: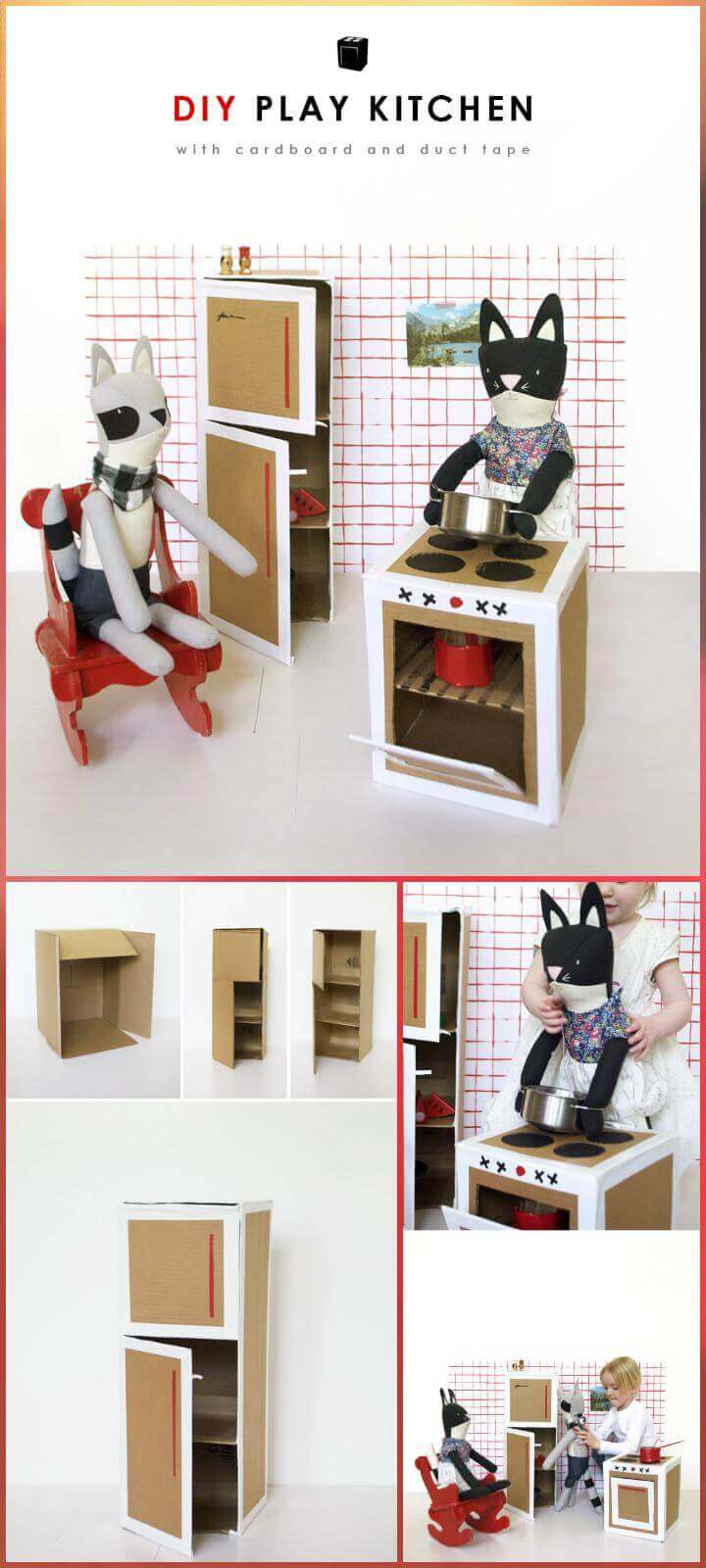 For kids their toys are their treasures so are the stuffed animal dolls and playing with these dolls in a play kitchen station would be a hell more enjoyment so here we offer you to make this pretty and totally simple play kitchen from the cardboard and duct tape. Check it out mermagblog
DIY Upcycled Old Nightstand Kids Play Kitchen: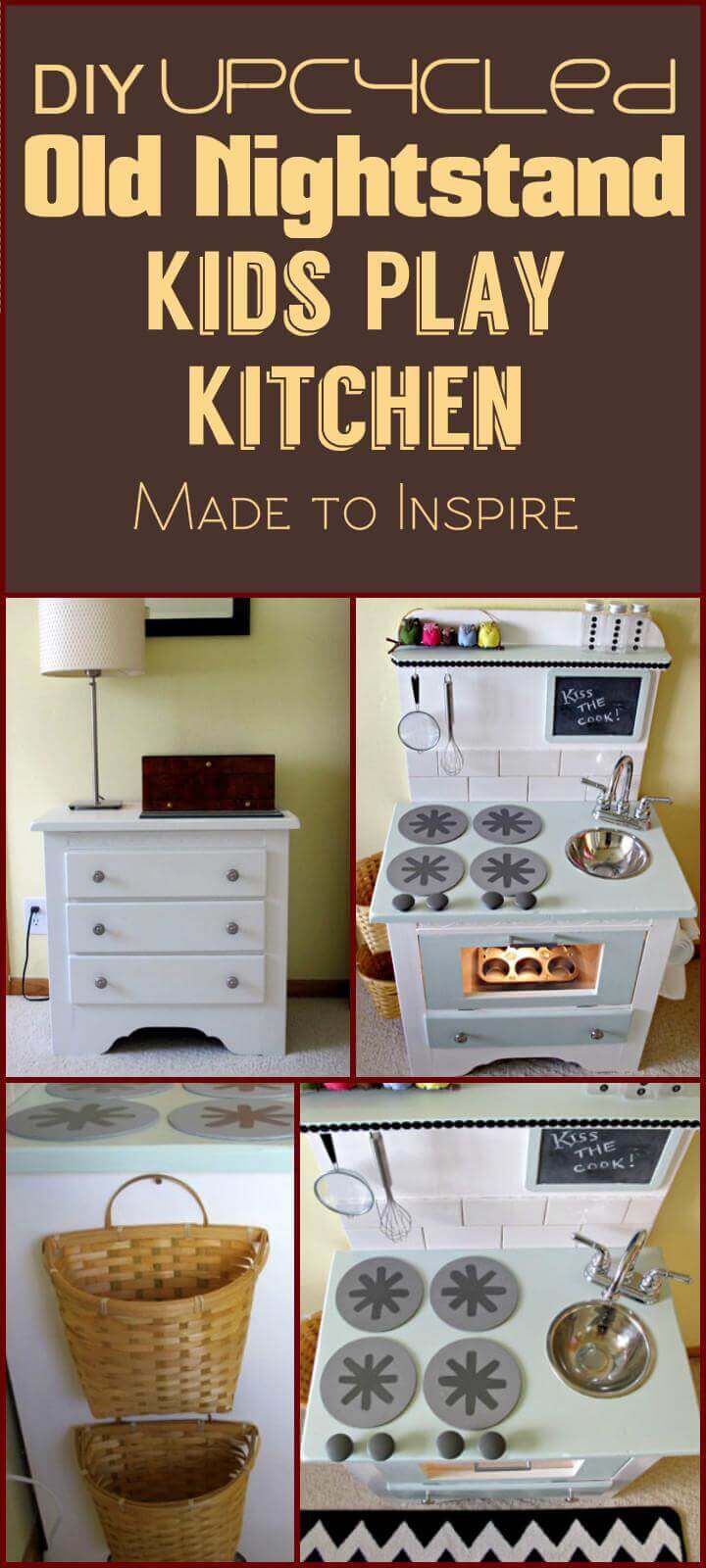 A playroom is the militate joy world for any kid to make it more fun and happening with the addition of this lovely and cute play kitchen made out and a chic nightstand with all the lovely kitchen features a little cook would want to have in his kitchen. Stepwise instructions and directions here babycenter
DIY Scrap Wood and Small Shelves Kids Play Kitchen:

Even a totally dead nightstand come up nicely to be a tiny play kitchen for the kids with a nice and neat white paint coating, stove disks, sink bowl and added back shelf with hooks to hold the stirrer set and its done. Full details and directions are right here on this link ginaandkris
DIY Super Beautiful Kids Outdoor Play Kitchen:

It's a sheer bliss to see your kids playing outside in the healthy environment and you can make this lovely play kitchen to promote more outdoor act ivies in them where they would cook in the faux toys and present you their cutely invented dishes. So click here and know to make this lovely kitchen of your own self blueeyedyonder
DIY Wooden Self-Made Play Kitchen:

If you can work well with the wood then never miss a chance to craft a cute play kitchen for the kids and here we have a perfect sample for you in this regard with all the features like the stove, sink, microwave sections and a top shelf for a cute and fun display. Here is the complete tutorial
DIY Old Chair into Mind-Blowing Kids Play Kitchen:

A simple home chair is a half kitchen in itself and with a little more addition like the side folding shelves and a top shelf on the backrest and a microwave section with a curtain under the seat would make a perfect tiny kitchen for the little ones to have bundles of enjoyment in weegallery
DIY Peanut Play Kitchen for Kids:

This perfectly cute play kitchen is like any other one kitchen you have seen but still, it has been managed to look a bit different and more fun with the fridge door made as a chalkboard where you little master chef can write a daily menu of his creative cooking. Learn here to make it yourself at home here akicsihaz
DIY Modern Minimalist Toddler Boy's Play Kitchen:

You can simply combine two side boards or nightstands together and make this absolutely adorable double unit kitchen with one stove and sink set and a cute microwave set and it would be a perfect spot for your kids to have all day enjoyment with. Here is the link for complete details of this blue stained kitchen for boys laybabylay
DIY Easy Play Kitchen from a TV Unit:

With enchanting hues, a cabinet storage section, stove section, microwave set, a cute sink, upper shelves for spices jars, hanging rods for stirrers and a cute window in the center decorated with curtains is the best ever fully featured kitchen you can ever have for your kids to make pizzas and sandwiches in. finchfoundblog
DIY Old TV Stand into Beautiful Play Kitchen: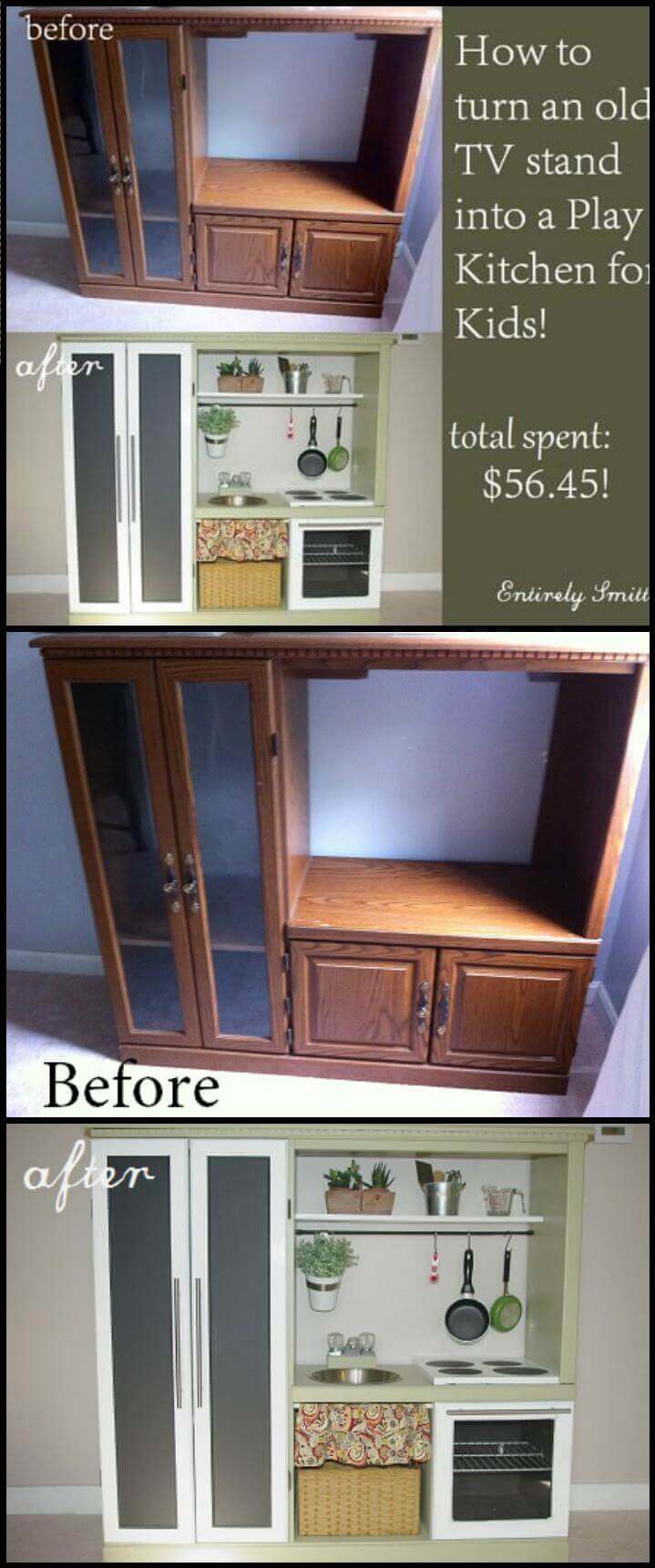 Old tv stand makes a perfect kitchen for the kids to play with and have all day enjoyment in so here we have this lovely sample for your in this regard with a complete or let me say more than a kitchen for having a side closet like the section to keep lots of their stuff in. The instructional and pictorial guideline is right here for this tv stand made fun play kitchen planetoftheapels
DIY Homemade Adorable Kids Play Kitchen:

Instead of spending dollars on the market bought play kitchens you can make one for your kids at home which would be more fun to make and would be more valuable for the invested emotions you poured in it while making it.
So here is the link to know its all details and try it of your own at home with wood apartmenttherapy
DIY Beautiful Wooden Kids Play Kitchen:

Using wooden shelf boards together this tiny little kitchen with two main compartments have been built one is as oven sections and other can be used by the kids for the storage and on the top there is the stove, sink and an added shelf with hooks to hold their cute and tiny cups and mugs on.
Know the dimensions and other crafting details of this kitchen here apartmenttherapy
DIY Improvised Ikea Play Kitchen:

For those who fall into the category of the lazy crafters can try this lovely and too quick to make a play kitchen for their kids from a two shelved bookshelf with added stove disks while the cute woven baskets can be used by the kids for the storage of their cute little crockery and spice jars. apartmenttherapy
DIY How to Build a Play Kitchen from Ikea Components:

You can collect Ikea components to make this lovely DIY kitchen for the kids at home and let them enjoy the best of the bliss at home by playing with it.
All you need to do is just ensemble the shelves according to the dimensions which are given right here so do try this home. Here is the full tutorial of its instructions and directions apartmenttherapy