Every person's home or office decor is different as per their choice of decor and working requirements. We have rounded up here some brilliant and highly functional as well as stylish DIY pipe desk ideas for you to revamp your decor game BIG time. Our collection of these highly versatile 24 free DIY pipe desk plans comes with detailed tutorials, step by step guides with comprehensive illustrations. Plus, you are in for a treat. As some of these ideas have also got FREE plans.
Since the industrial-inspired DIY pipe desks have taken over the internet and the furniture world with a full-fledge hold. Almost everyone is inspired by a decor remodel. There are plenty of functional options available in the market, but it is not unknown that still finding the perfect match for your requirements is not just that easy. But, if you have a grip on DIY and you love customizing your own things, you are going to adore our DIP pipe desk ideas.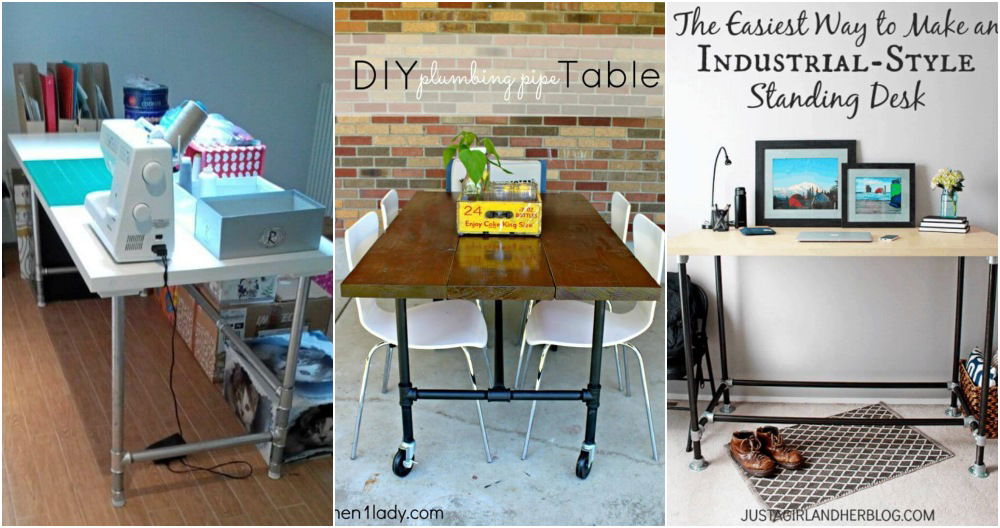 From long-standing tall and handsome DIY pipe desks to small and functional computer tables, we have got all the details here. If you are searching for reasonable patio furniture options or a versatile and chic living room standing table, you can surely find some great options below. No need to spend heavy bucks on commercial pipe desks or otherwise stylish furniture. Make something that could be totally befitting your needs at one end and be utterly moderate and durable too!
1. How to Build a Pipe Desk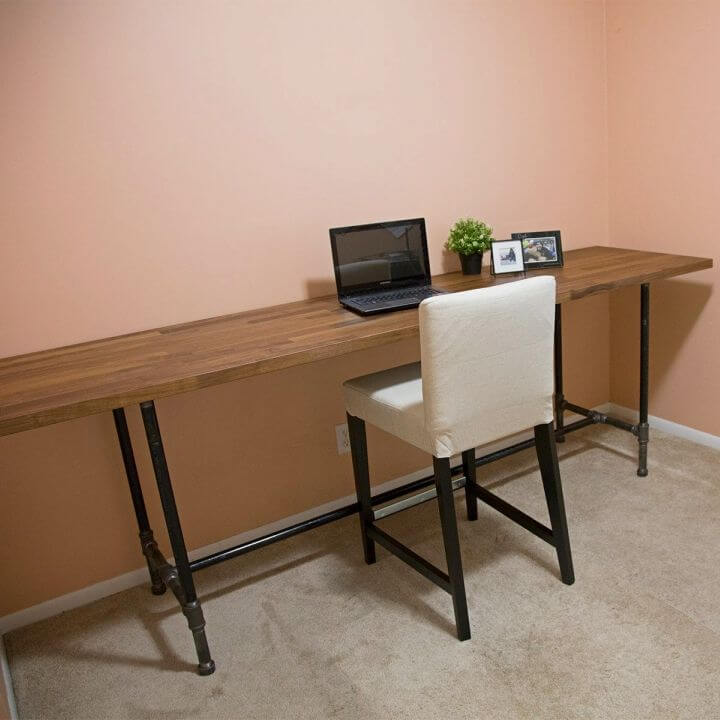 Make an exquisite pipe desk using IKEA butcher block and black steel pipes. Bring a classy roomie upgrade to your office desk with this step by step tutorial by the Family Handyman. familyhandyman
2. DIY Desk With Industrial Pipe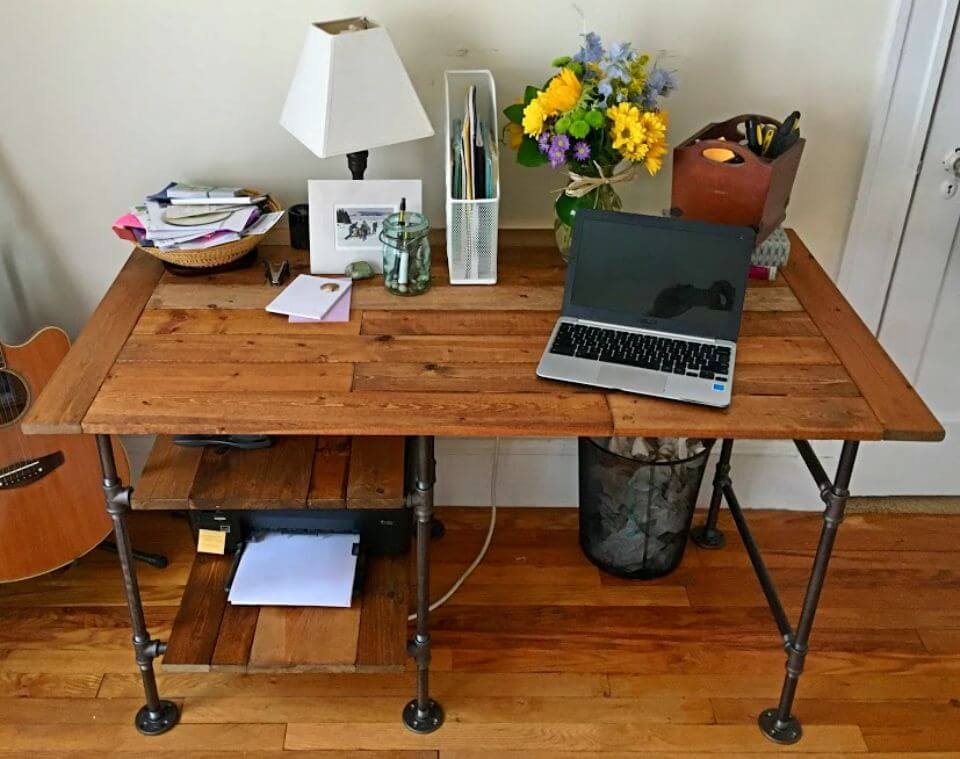 Inspired by the industrial design make this uber classy DIY pipe desk for your home office. If you are looking for a pretty beaten up idea which is both practical and cheap, here's your clue. The best part with pipe fittings is that they are very easy to assemble. houseandham
3. Make a Black Pipe Standing Desk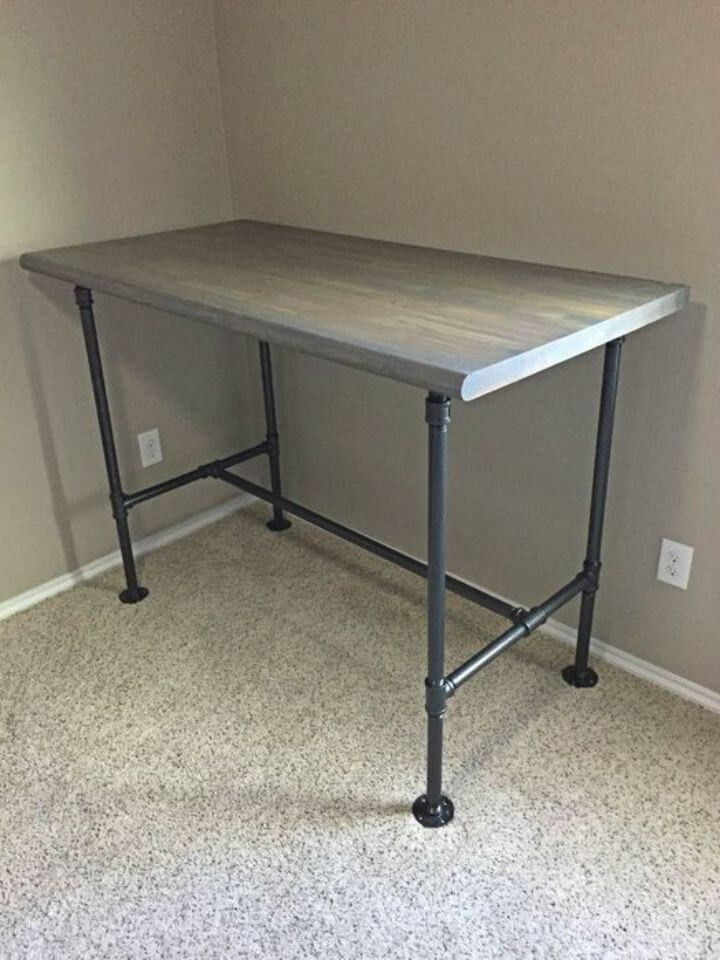 Customize an ultra-modern standing desk as per your office use. Customize the desk with ideal height and width. Add an elegant and vintage grey wooden table top to elevate the room's decor and vibe. instructables
4. DIY Metal Pipe Desk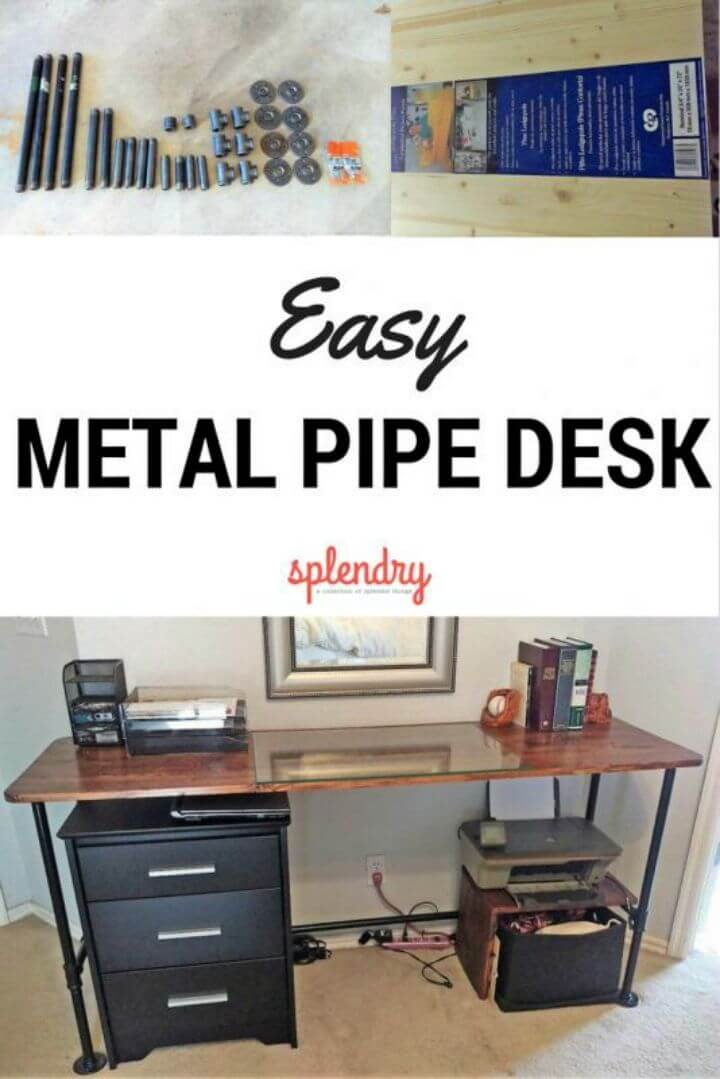 One of the best things with DIY pipe desks is that they are low on budget. This reclaimed wood of the desk with metal pipes look gives it a totally catchy appeal and outlook. Explore the full step by step guide and details here at splendry. splendry
5. How to Make Floor Mounted Table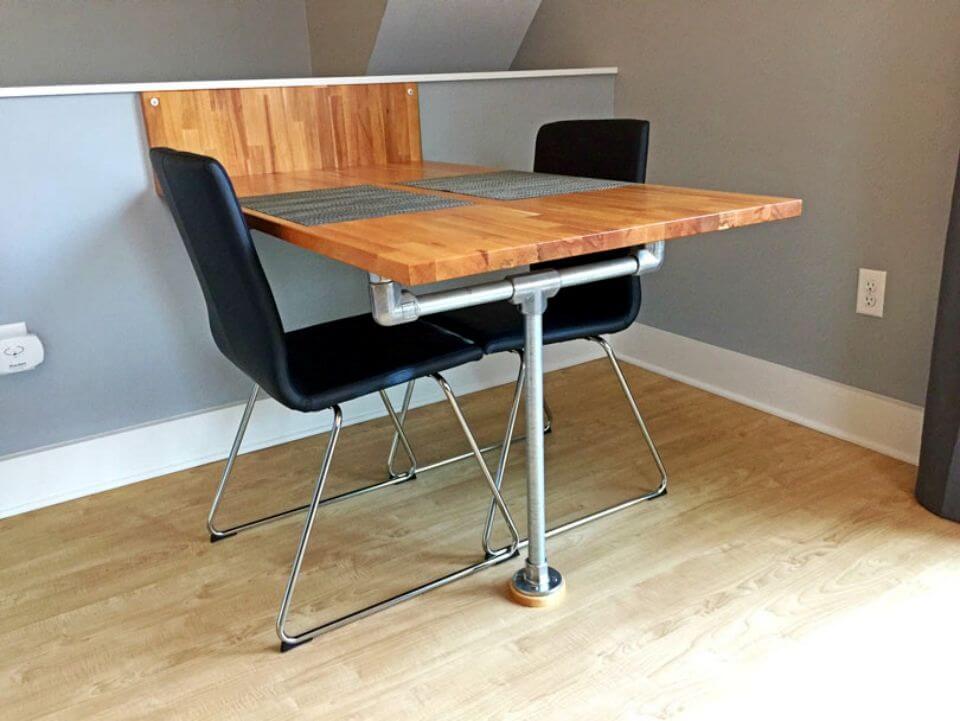 Create something totally unique with this DIY Ikea wall, and floor mounted table. The table features a pretty chic and cool standing leg made using pipes. The whole texture of the wood and metal pipes is enhancing the entire decor game of the spot. simplifiedbuil
6. Rustic Table Using Galvanized Pipes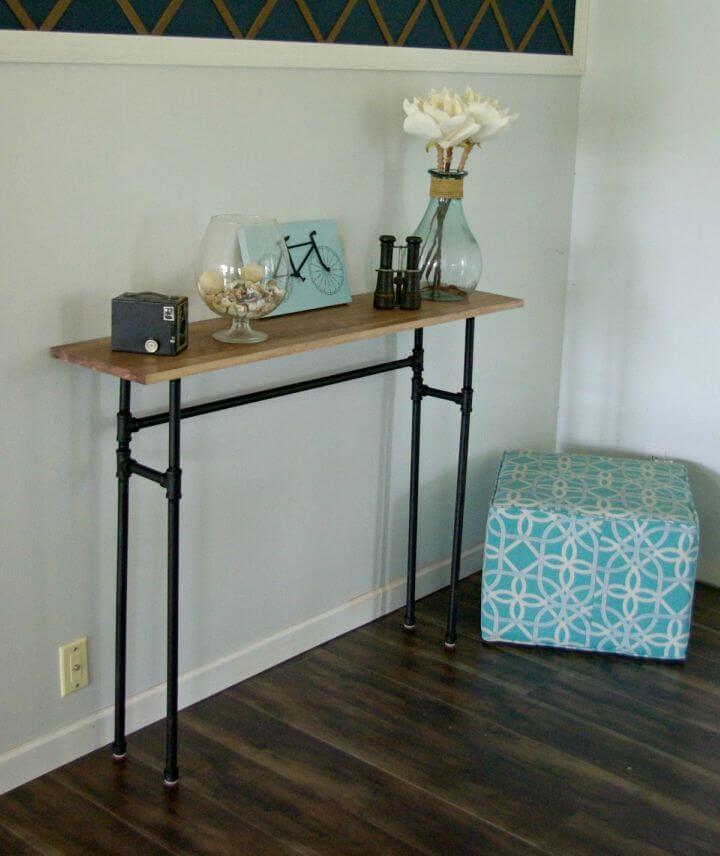 A rustic tall standing table with added galvanized pipes is all you need to cover the empty spot around your living room or bedroom wall. The height of the table is giving it an utterly majestic appeal.
7. DIY Iron Pipe Standing Desk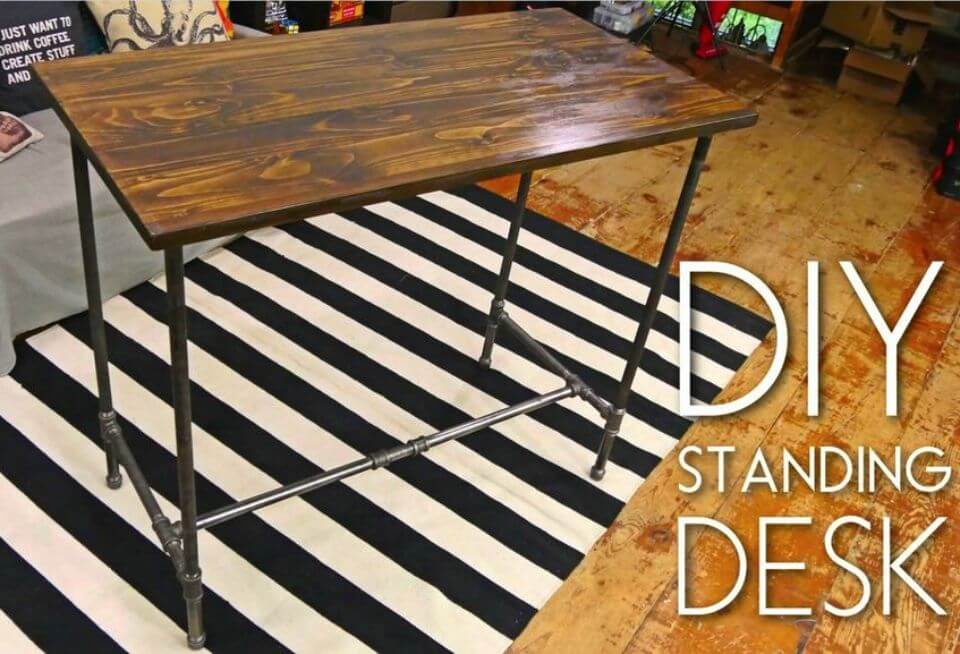 If you are looking for a simple, modular, and durable desk for your office or home, this could be it for you. Make this super enchanting DIY pipe desk with a slightly minimalistic appeal and the shiny wooden stain on the surface. instructables
8. Workbench With Butcher Block and Pipe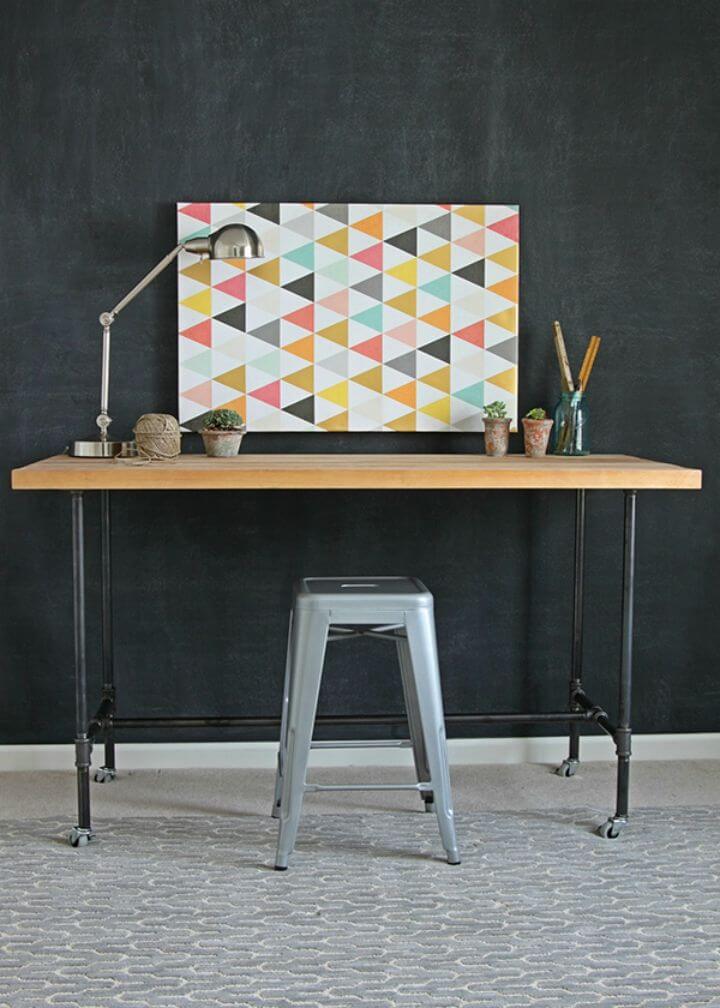 If you are into arts and crafts, you must crave your own working corner in the room. Try this super cool industrial style workbench using galvanized pipe and a butcher block top. April Hoff by House of Hoff is here to put it together with us. homedepot
9. Easy to Make Pipe Desks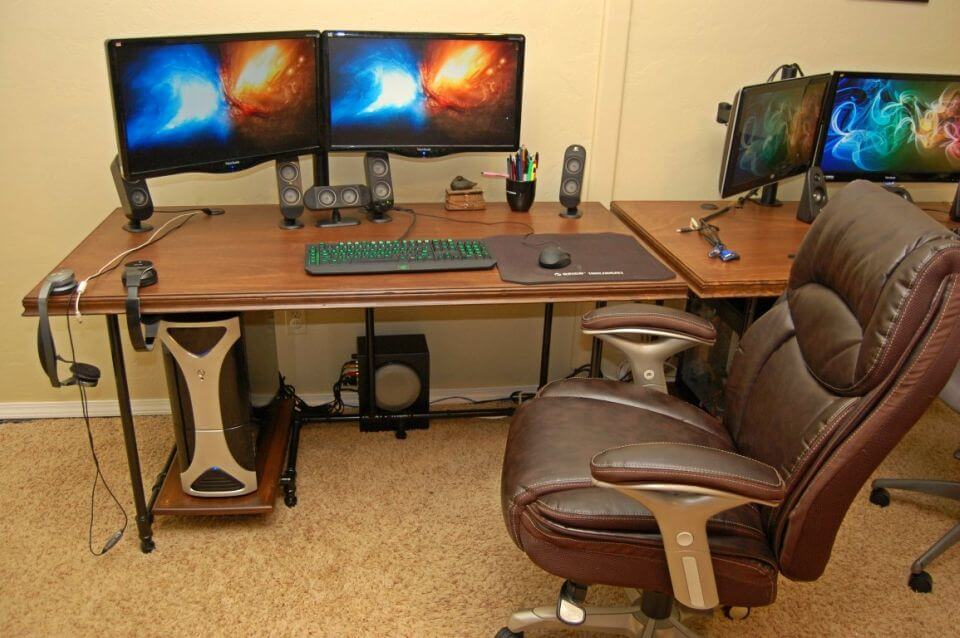 Add a sturdy and good looking desk to your work office or studio with Imgur! Pro-tip; if you are working with threaded steel pipes, work your way around one corner of the desk and the start moving to the other end or corner. imgur
10. DIY Pipe Desk Using a Door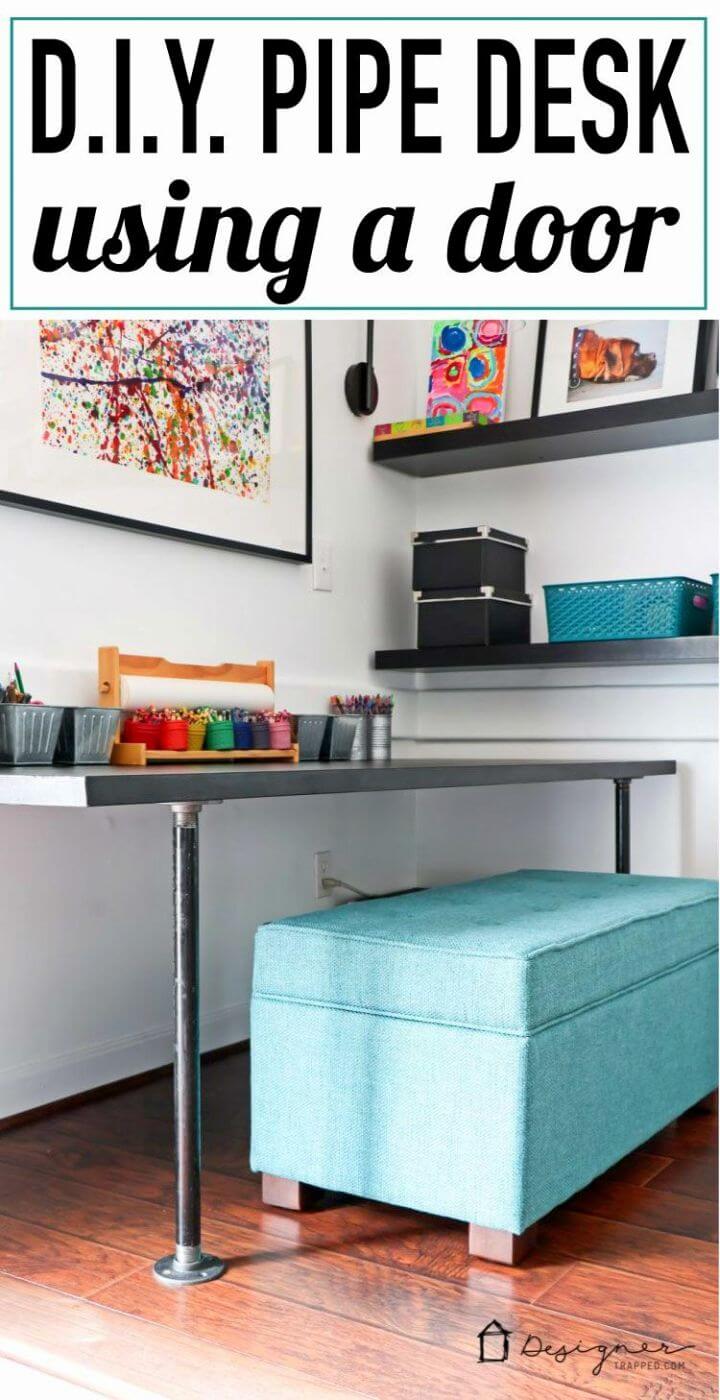 If you are planning to revamp your bedroom door or putting up a sliding door for your living room, don't throw away the wooden door yet. Let's put it into this creative DIY pipe desk with hollow wooden door top. designertrapped
11. Industrial DIY Pipe Desk with Shelves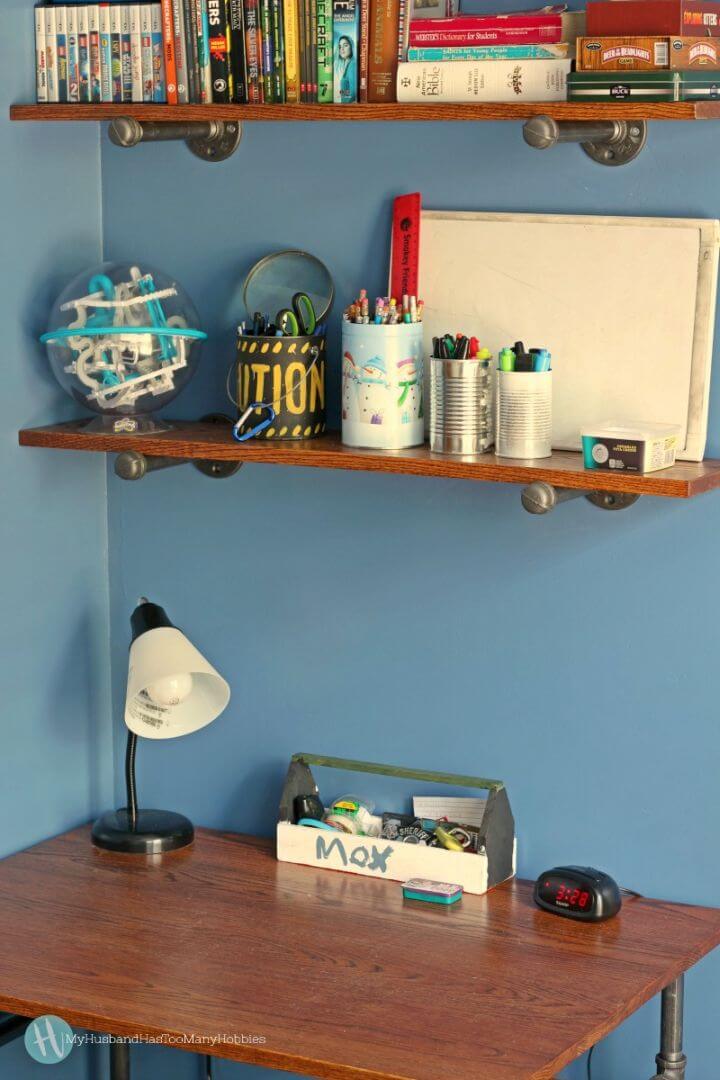 Cover the empty wall spots in your room with this uber perfect and sensational idea! Put up some charming and vintage wooden top with pipe legs in the form of shelves and underneath a beautiful, broad DIY Pipe Desk with Shelves! myhusbandhas
12. Adorable Plumbing Pipe Table
If you can't find the perfect patio table for your home, just build one all by yourself. Just get together some wooden boards and plumbing pipes and bring a catchy decor addition to your patio furniture. Get details and complete desk plan. 4men1lady
13. Simple DIY Pipe Desk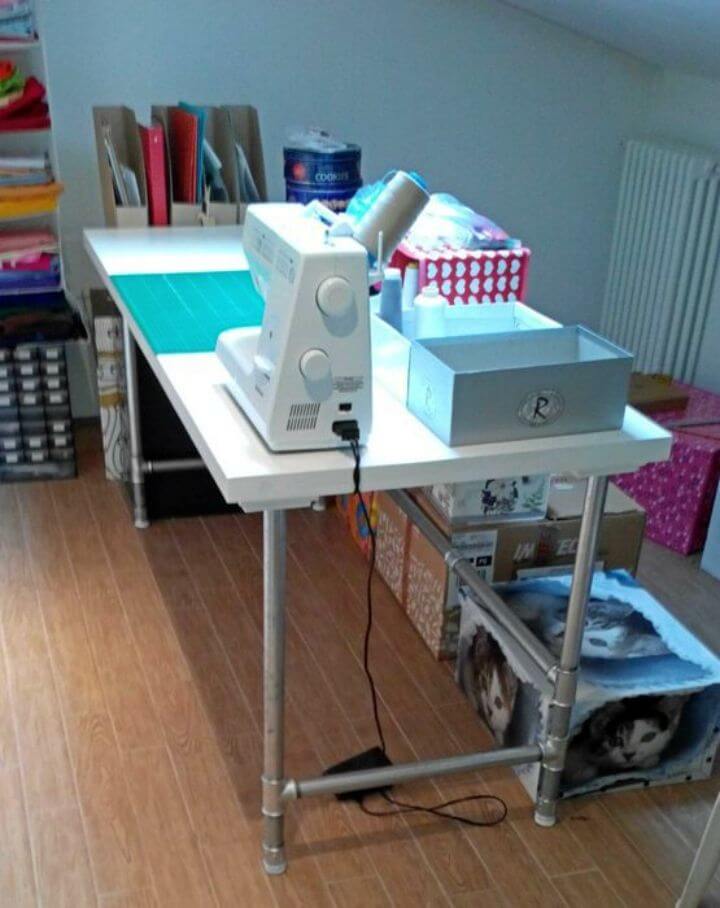 With some simple and fast carpentry involved, make this uber classy DIY desk with metal pipe legs. You can use this perfectly balanced and broad table as your craft or sewing table for a fully functional work space. Stain it and synchronize the color with your room decor. instructables
14. How to Make Pipe Table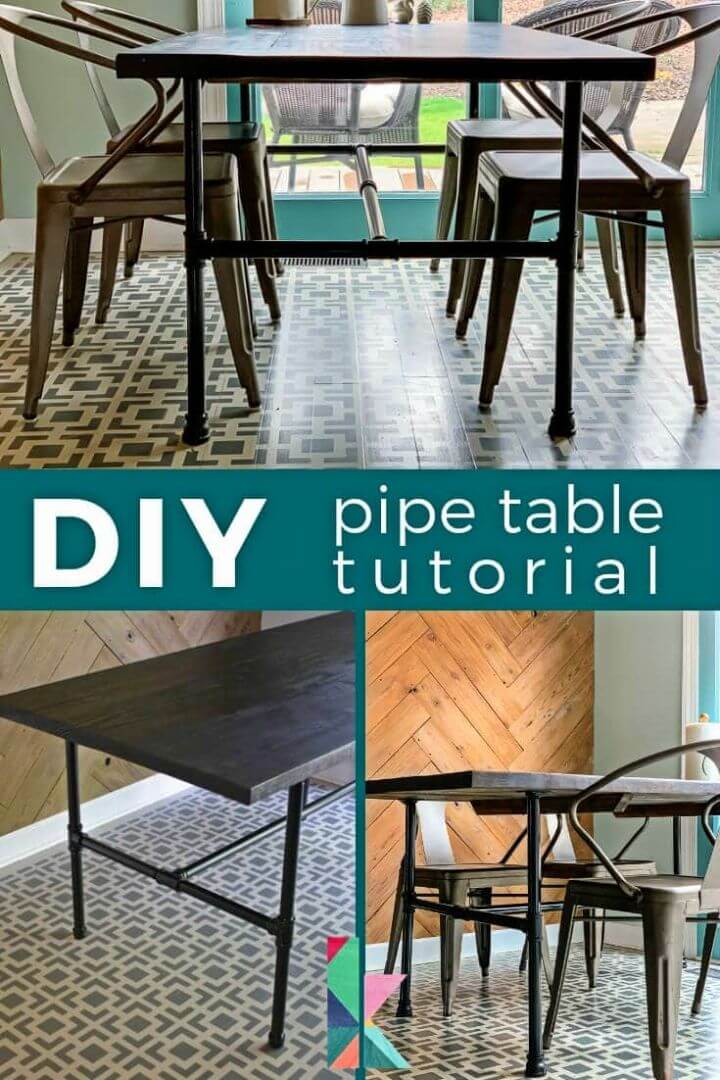 Patio furniture or eat-in kitchen table needs to be very moderate, durable, and classy at the same time. Build yourself a totally easy to make and high-end furniture desk using pine boards, galvanized pipe, black spray paint, screws, table saw, and miter saw. designertrapped
15. Build an Industrial Pipe Leg Desk
What is better than making yourself a totally classy, industrial style inspired and portable DIY pipe desk with wheels at the end. The perfectly stained magical and serene white top at the metal pipes is totally enchanting. Get full details here and amuse yourself. simplydesigning
16. How to Build a Copper Pipe Desk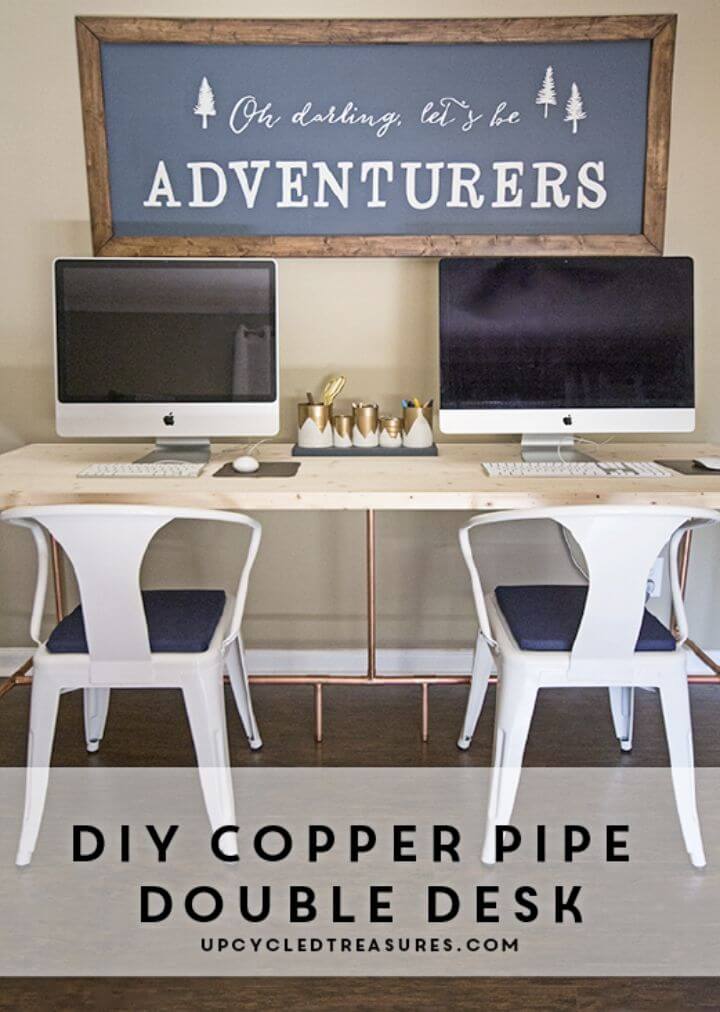 Though the word around the town is that copper pipe is the weakest type of pipe as compared to other pipe types. But still, it makes such a beautiful and delicate looking table that is totally irresistible. Check out this DIY desk pipe with a glammed up table base. mountainmod
17. Homemade Steel Pipe Standing Desk
Now that you have decided to go DIY on your office furniture or workspace decor. Why not make it as perfectly befitting on your requirements as you would like it to be? Make a totally worth it high end standing DIY pipe desk using galvanized pipe and oak desktop. spacekat
18. DIY Industrial Pipe Standing Desk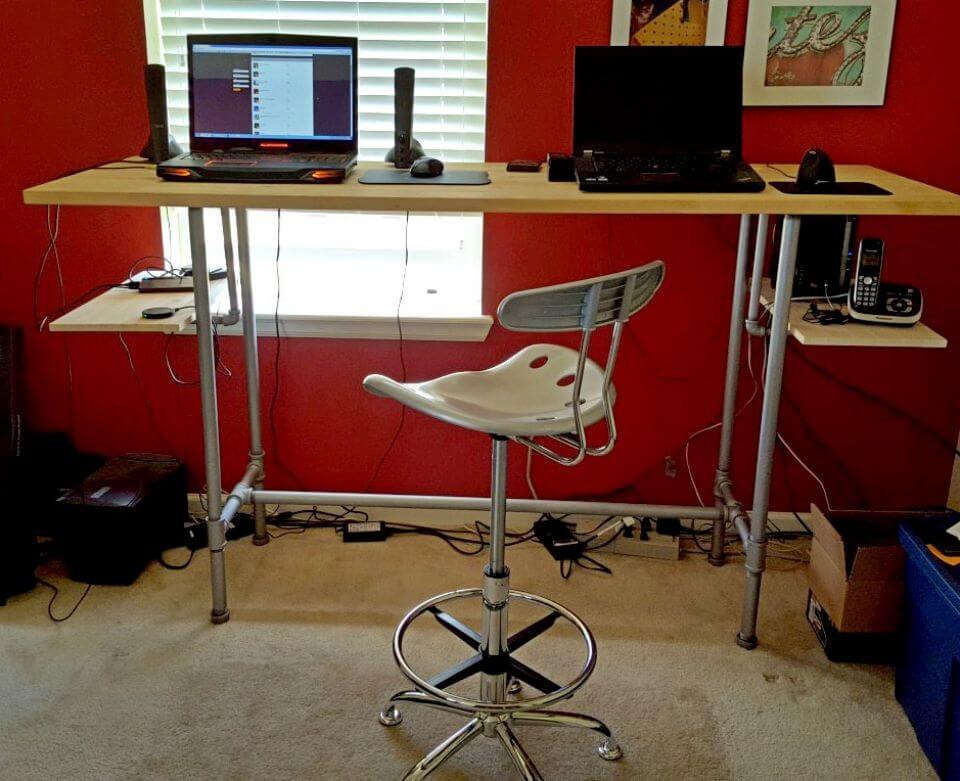 Build your own standing desk for a comfier work from home approach and set up a more appealing decor in the meanwhile. The tutorial suggests using 1" black iron pipe which by the by happens to be even cheaper than galvanized steel. chriswgperez
19. Make Copper Pipe Child's Desk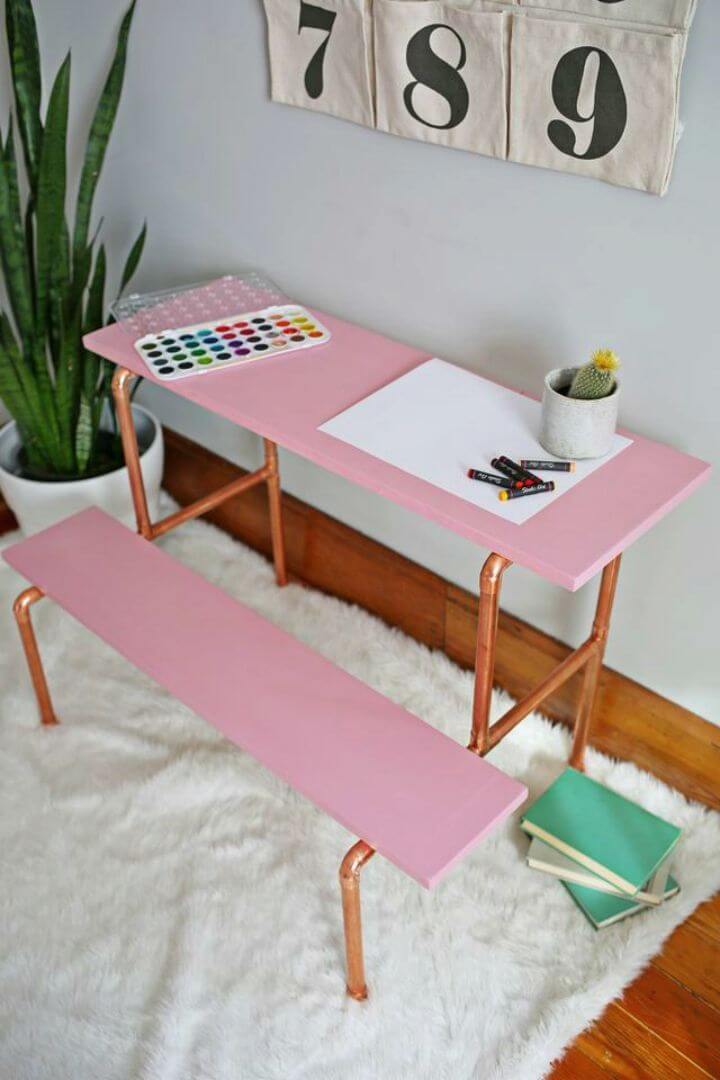 Check out this bright and bold child desk with those shiny and perfect copper legs and flawless table top and desk bench. Test out this child intended DIY pipe desk by letting your kid work and play around the area. abeautifulmess
20. Beautiful Pipe and Wood Table
Here's another classy DIY pipe desk by Store Front life, which is made using black pipes harmoniously joined with diagonal ends too. And has this perfectly stained and simple wooden top. The design is pretty simple, yet it gives a very versatile appeal. storefrontlife
21. Quick DIY Industrial Pipe Desk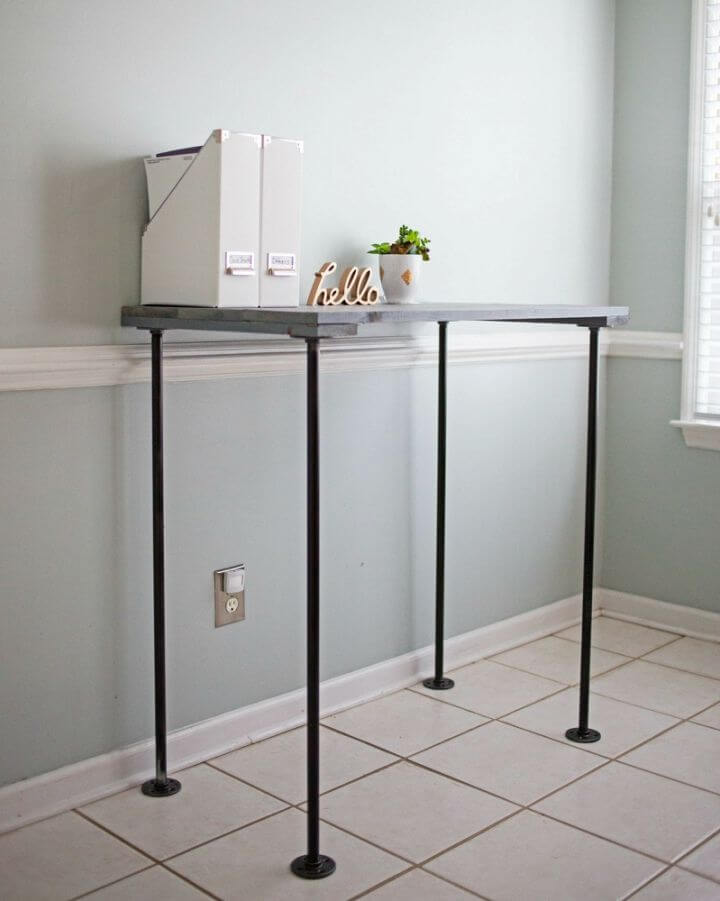 If you are obsessed with galvanized steel and how the industrial inspired style has totally taken over the internet and the furniture world. We are here with the perfect standing tall and highly appealing tall DIY pipe desk. craftboxgirls
22. Small Computer Desk With Pipe Legs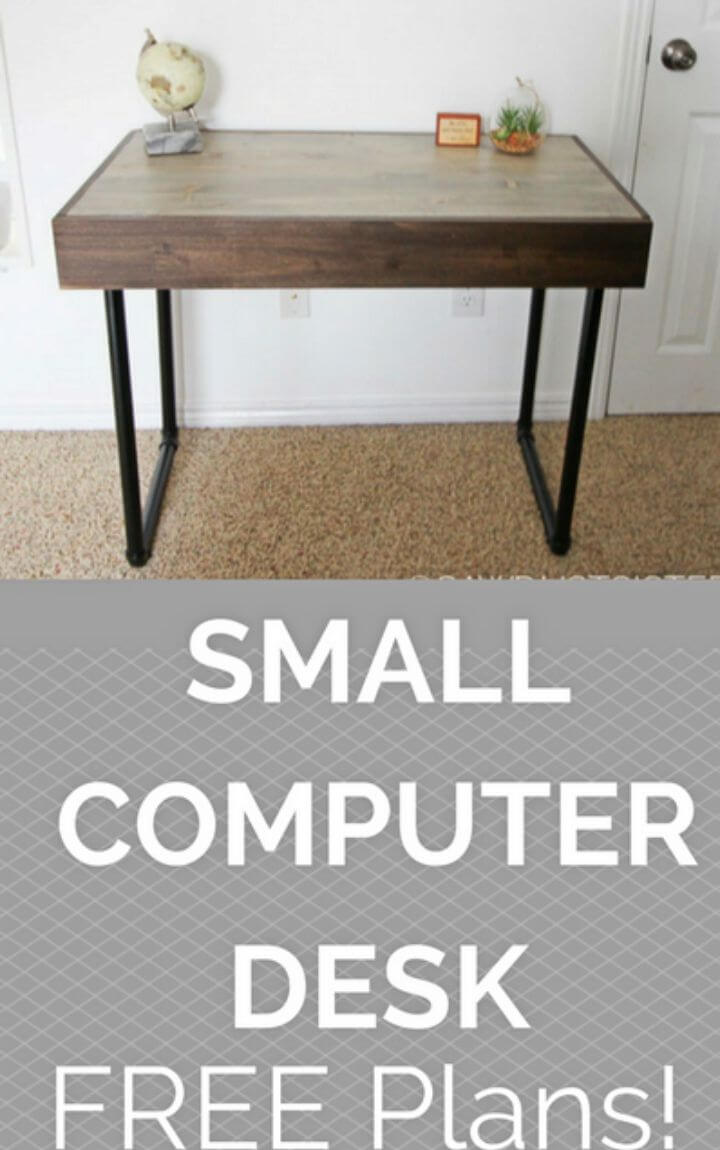 We know the best thing with DIY is that you have the liberty to customize the size and width of the DIY project. Build this small DIY desk for a cool computer table in your little one's room. It will be the style and function combined. sawdustsisters
23. Rustic Factory Salvage Desk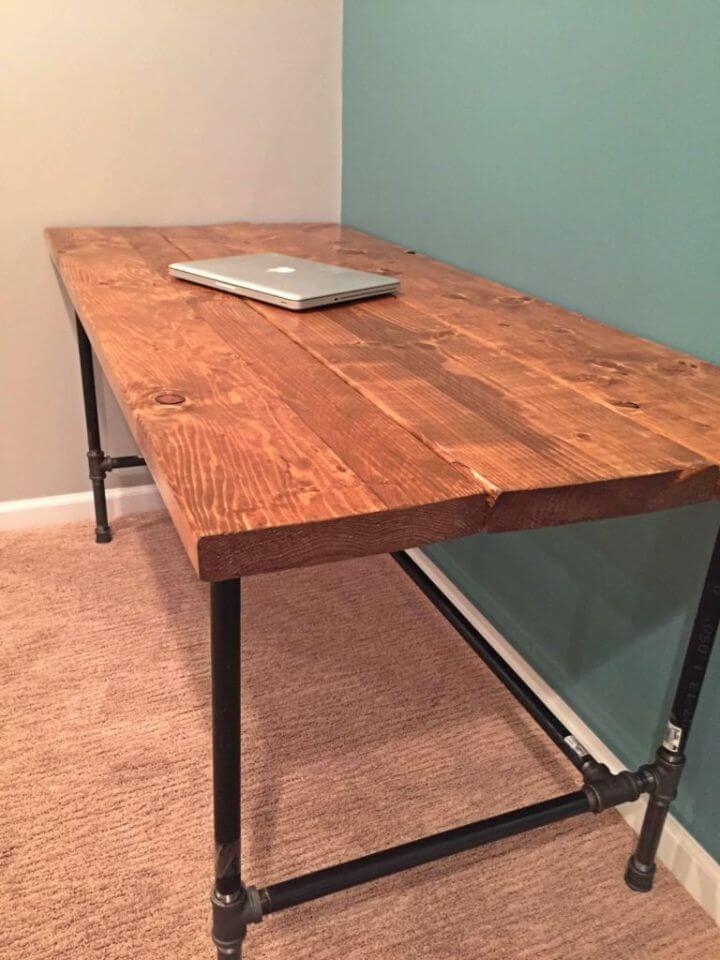 The beauty of this rust pipe desk is that it is versatile enough to blend in any decor themes and it can undoubtedly upgrade any decor game. The size and width of the desk are completely blend-able in versatile, functional capacities. homestratosphere
24. DIY Industrial-style Standing Desk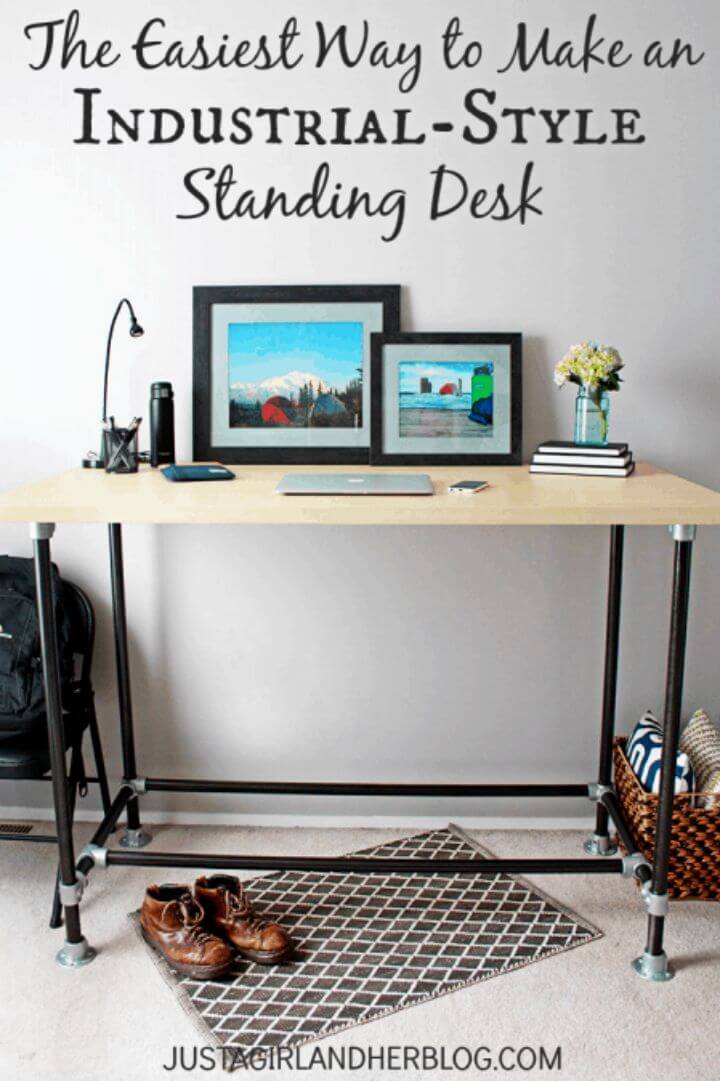 Here is one more option for a cool and modern standing desk for your home office. It has this base made of the wooden top and tall dark-colored pipes to make the whole thing stand out even more. Get the easiest step by step tutorial by Just a Girl and her blog, here. justagirlandher