Learn how to make button bracelets with these 25 easy diy button bracelet ideas including step by step instructions, material list and PDF pattern. With the right colors of cords and some contrasting buttons, be them plastics or metal or even the charming wooden beads. You can make some really charming button bracelets! We have gathered these lovely and exquisite 25 DIY button bracelet ideas below for you! To prepare for yourself, your BFFs, or help your kiddos make these for their besties back at high school! From simple button bracelets to unique bracelets with vintage and huge old buttons, you can really end up making some pretty amazing additions to your jewelry collection! The best part is that you can also make matching DIY button bracelets with your outfits!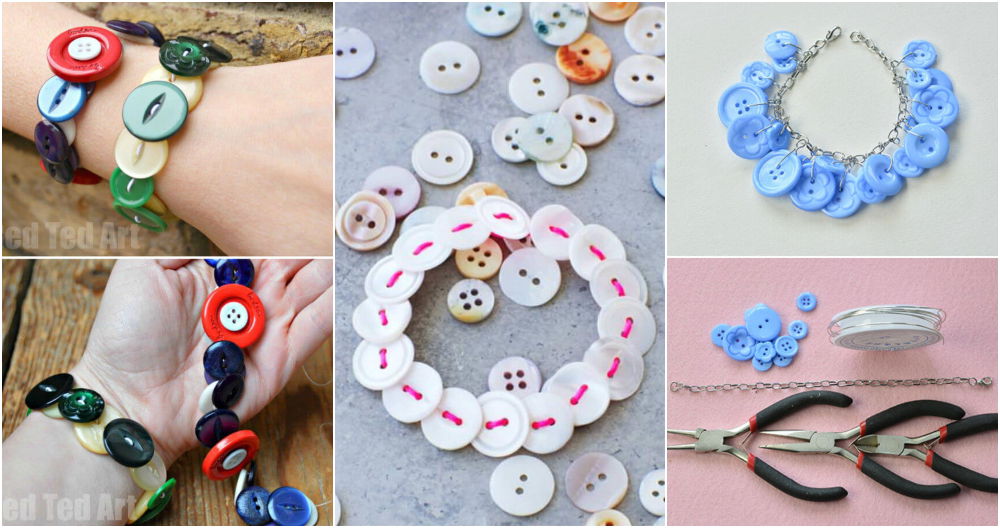 In our 25 DIY button bracelets, the key lies in finding and choosing the stylish and perfect buttons you want to make a style statement out of! You can combine small and teeny tiny buttons in a perfect and pretty button bracelet! Want to take it up a notch? Add a huge, glittery, or glassy button in the middle. It is really just a game of orientation and keeping the buttons in place using a cord, chain, or strings. You can even make some really charming and exquisite button cuff bracelets using any kind of buttons you want to! So, if you have a box of lost buttons somewhere in your sewing corner, time to put them all to some creative use by following through our 25 DIY button bracelet ideas!
1. Gorgeous DIY Button Bracelet for Kids

Your baby girl takes you as a role model and imitates your every little bit of action or fashion. So, next time when you are wearing your bracelet, make sure your girl wears one too. Make this gorgeous DIY Button Bracelet for kids with any spare chain, some buttons, and a wire to wrap. lc pandahall
2. Faux Fur and Vintage Buttons Bracelet
So next time when your button fells off to your lap, start to collect them to make this DIY Faux Fur and Vintage Button Bracelet. Use any extra fur fabric with a steel chain, some vintage buttons, and a thread to sew them on the fur chocolateandcraft
3. Pretty Button Friendship Bracelets

Learn to make this pretty DIY Button Friendship Bracelet and strengthen your friendship bond by giving this bracelet to your friends on Friendship Day and make a pinky promise. This funky colored bracelet can be made easily using three buttons and any two-color ribbons to braid. happyhourpro
4. DIY Button Bracelet
Let your creative mind do some creative crafting like this DIY Buttons Bracelet. This Button bracelet is such a piece of cake to make. All you need to have one colored button and a thick thread to ties them together and make yourself a bracelet that you can put it on all the time. sweetpaulmag
5. How to Make a Button Bracelet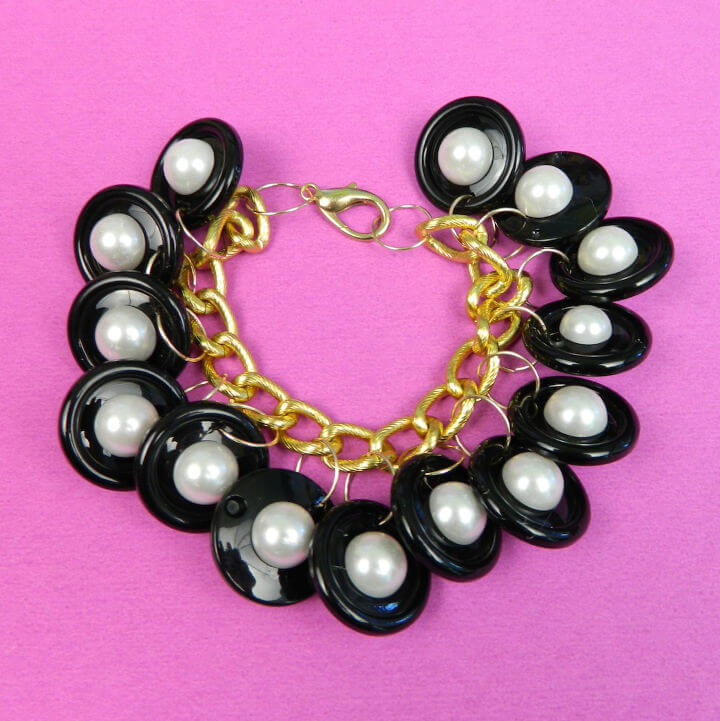 Use your mind more and use your money less. Save your time and money on shopping bracelets if you can make one at home with little time and money. Learn How to make a button bracelet with one shape and frame of buttons and wrap them with a wire. markmontano
6. Make Wire Wrapped Button Bracelet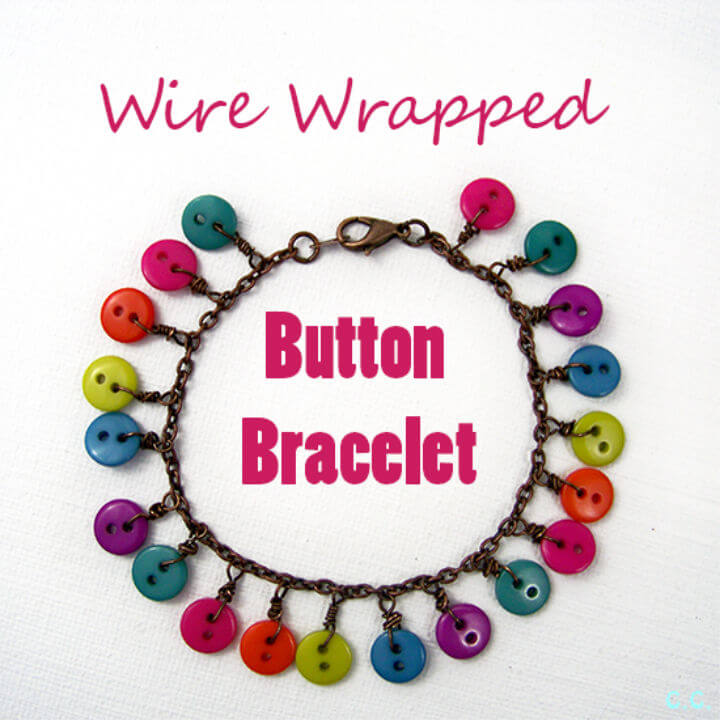 If your friend's birthday is around the corner and you want to gift her something special, make her this wire wrapped button bracelet. This beautiful handmade bracelet would surely make her feel infatuated and loved. Just use some colorful buttons and wire-wrap them. thecwafty
7. DIY Bracelet from Metal Buttons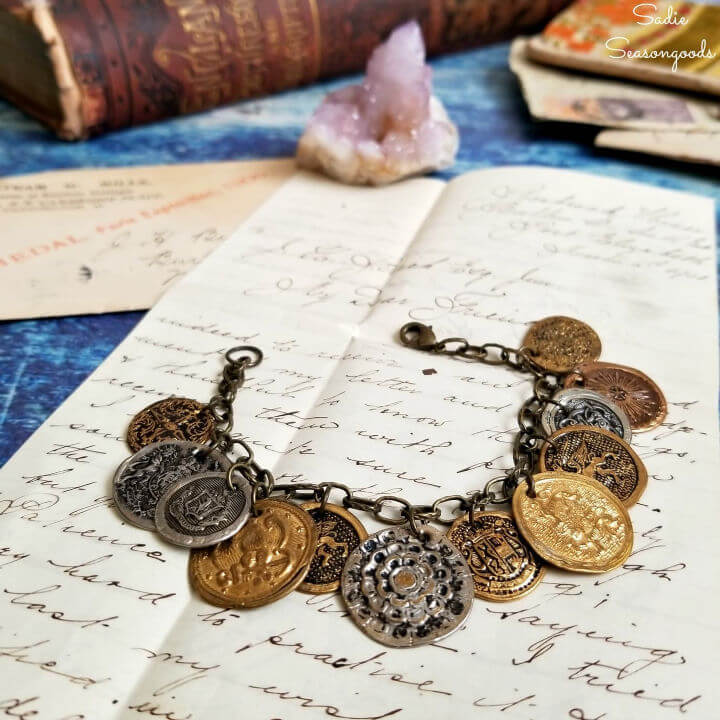 If you love the sound of bells, chime, then create this amazing DIY Bracelet from Metal Buttons. This bracelet will produce a melodious series of ringing sounds when the metal coins struck together. Use some Meta Coins and wire wrapped it in a chain to make a chime bracelet. sadieseasongoods
8. Make an Elastic Repurposed Button Bracelet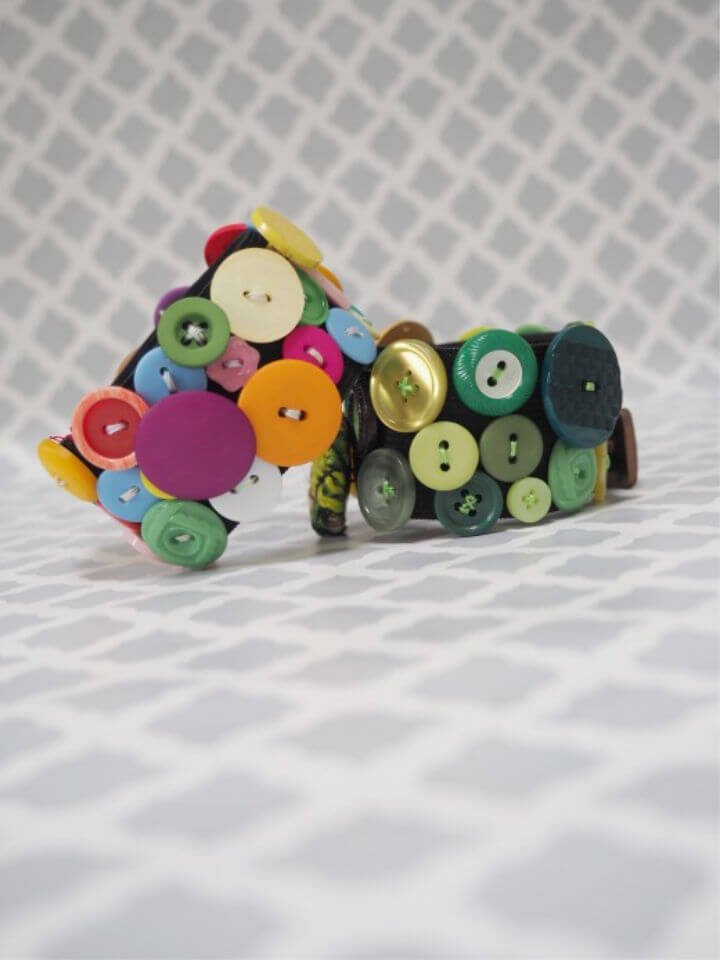 Reuse your extra buttons that are useless for other purposes and make an elastic repurposed button bracelet. Adorn your arms with these beautiful different shaped and styled buttons, adjoin them with an elastic ribbon so that it get fits on any sized arm. feltmagnet
9. DIY Vintage Button Bracelet
Next time whenever you're throwing away your buttoned jacket or dress, don't forget to take the buttons off the coat and reuse it with this easy DIY Vintage Button Bracelet. Craft your bracelet with the vintage buttons and give it an antique look. thecraftaholicwitch
10. Simple Button Bracelet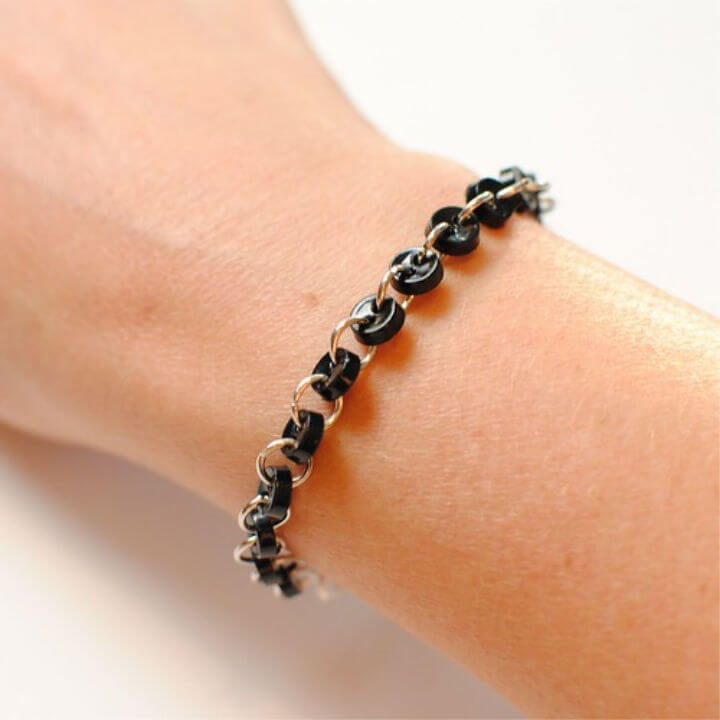 Show your affection to someone by making them this Simple DIY Button Bracelet. For this, you just need to have one colored teeny tiny buttons and join them with a wire. You can wear this casual bracelet all the time as it never going to poke your arms. justcraftyenough
11. Pretty DIY Button Bracelet
So, are you in pursuit of making your friend's wedding a special one by presenting her with something more unique? Learn to make this Pretty DIY Button Bracelet. This fancy silver colored flower pearled bracelet can be a total match to her wedding dress. sadieseasongoods
12. Button Bracelets for Kids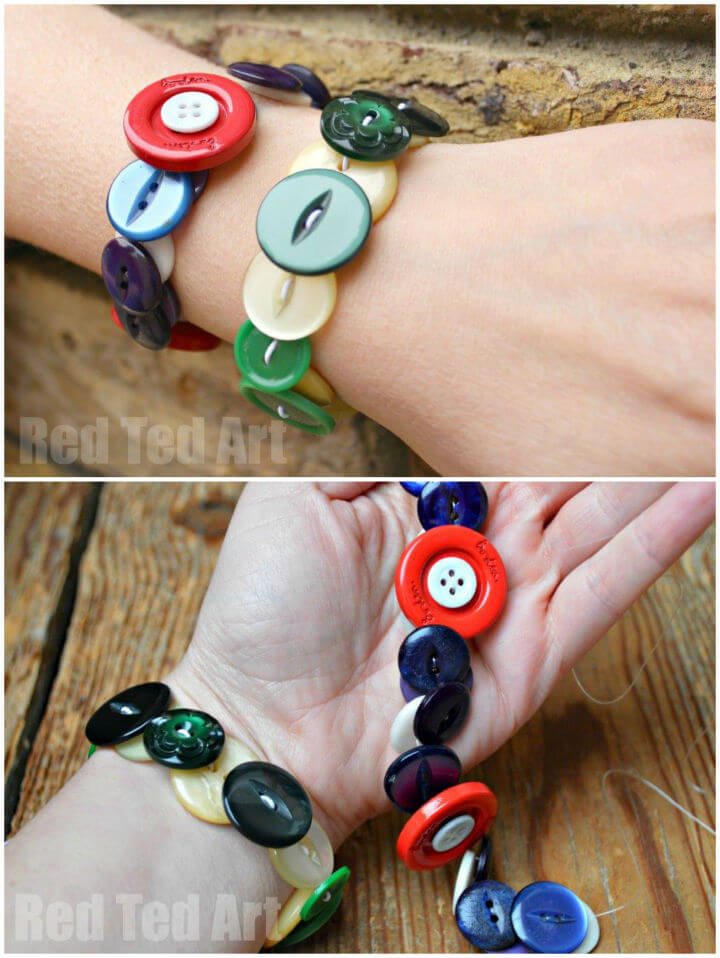 Indulge your kids in some creative stuff with you and make them learn this Button Bracelet for kids. This bracelet is super easy to make and super cool to wear. All you need to have some spare buttons at home and an elastic thread to join them. redtedart
13. Button Bracelet for Mother's Day
Is your mom's birthday around the corner? And so is the desire to make your mum a special gift on her birthday. This DIY Button Bracelet for her birthday or Mother's day can win your mother's heart. Pick some flower printed buttons and wire wrapped it with the size of your mother's wrist. hometalk
14. Make a Fabric Cover Button Bracelet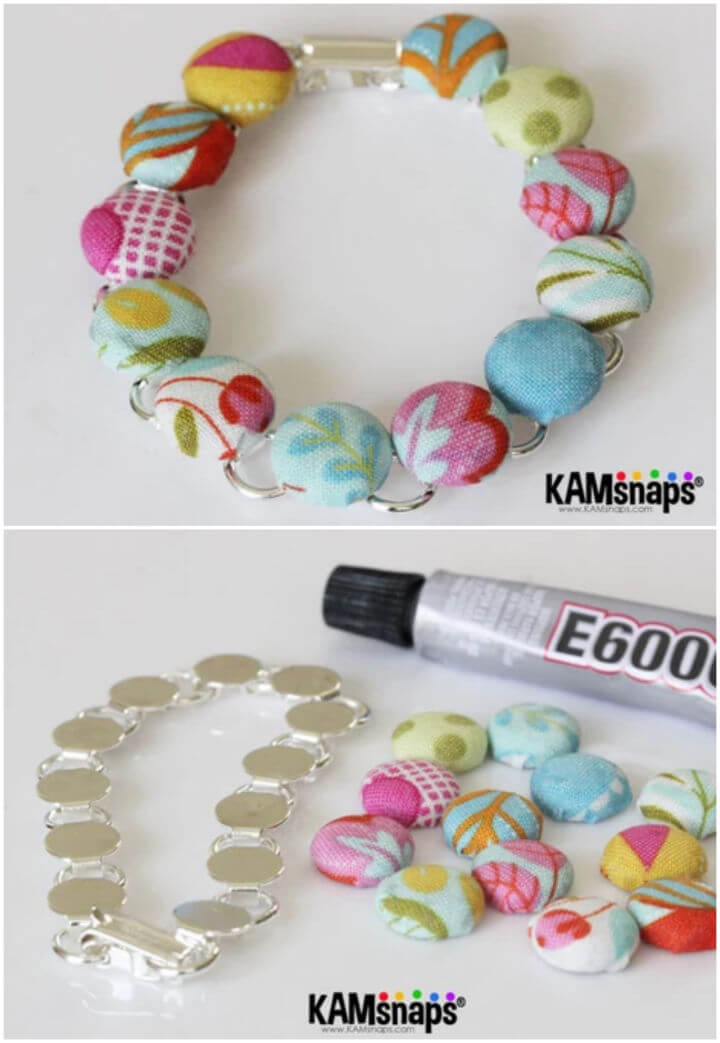 Bring your own trends and fashion to this fashion world and let the other people follow you. Make this Fabric Cover Button Bracelet simply by gluing any printed design and colored fabric on a button and join them well with a wire or an elastic thread. kamsnaps
15. Avocado Pit Button Bracelet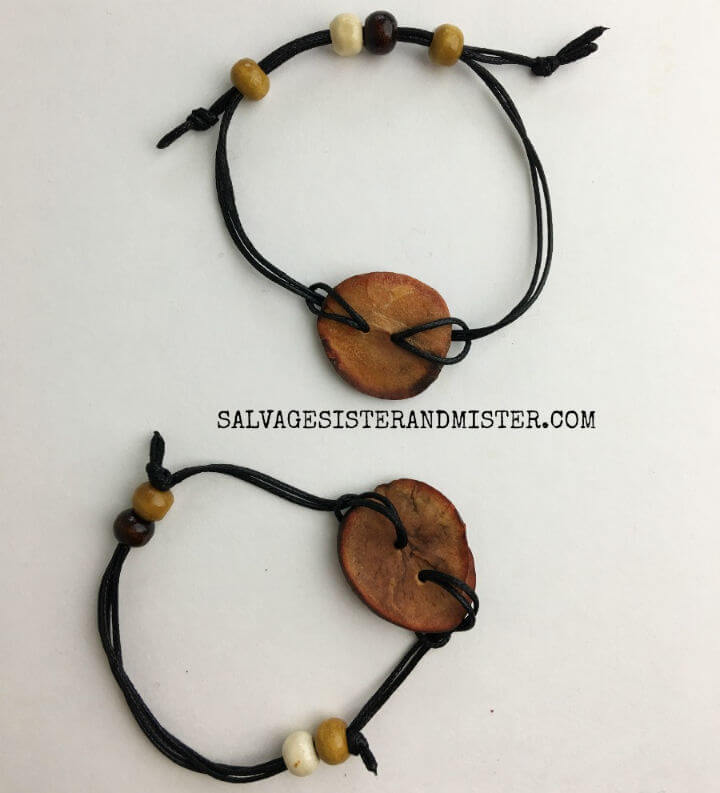 You would be surprised knowing that there are buttons made of Avocado pits. Here is This Easy DIY Avocado Pit Button Bracelet, a prototype to make you learn a lovely and cute bracelet with avocado pits. Be creative and craft eccentrically. salvagesisterand
16. Make Your Own Button Bracelet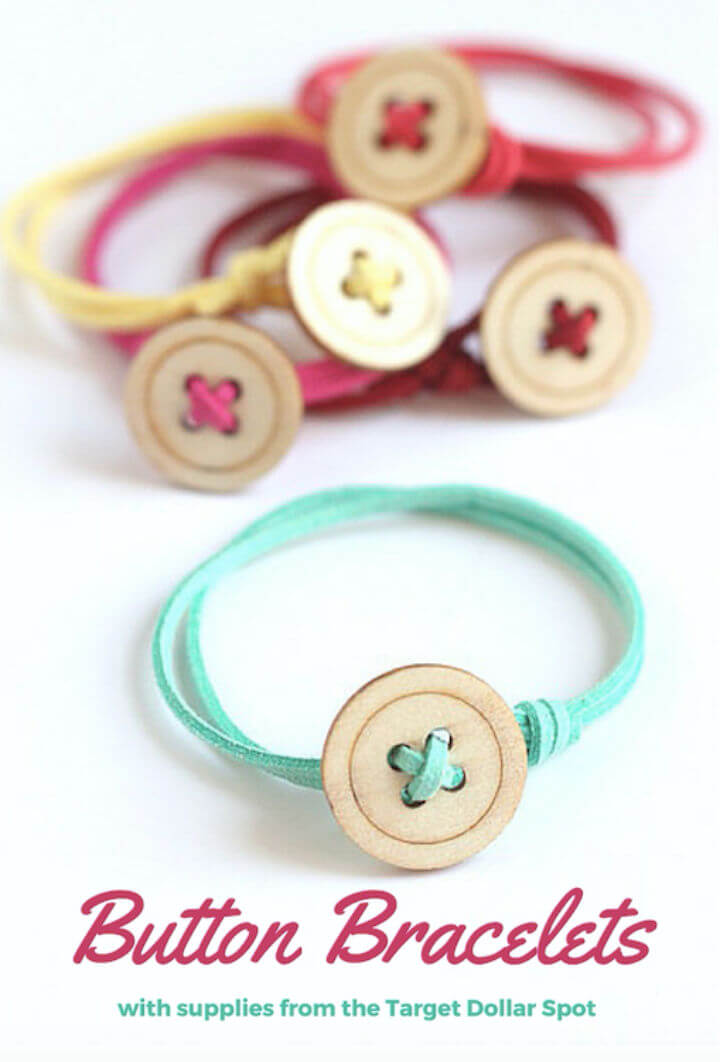 Don't waste your money on buying those bracelets that you can craft yourself epically and easily at your home. Make your own Button Bracelet by using any leftover buttons available at your home and put them into a rubber band, and Bam! There, you're with a cute bracelet. allthingstarget
17. Colorful Button Bracelets
For the girls having a glowing personality, shine brighter with this DIY Colorful Button Bracelet. This rainbow-like Bracelet is such a funky boost in your personality. Use colorful buttons with teeny weeny pearls and attach them with a wire. pandahall
18. Homemade Button Bracelet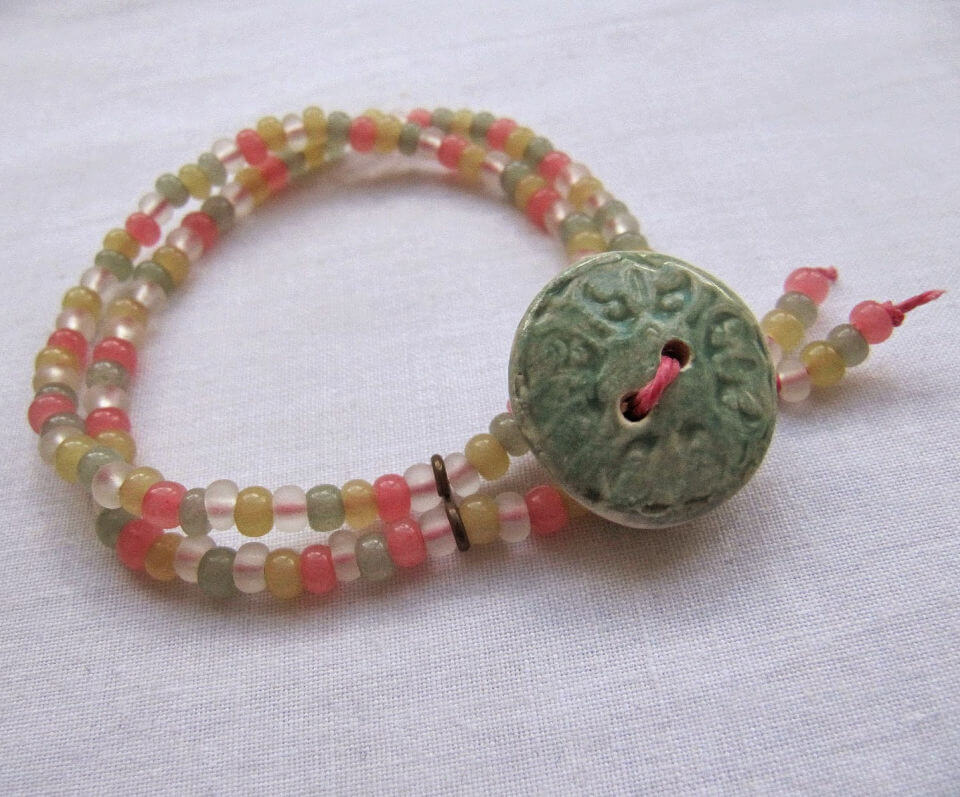 Take your time out for yourself in this busiest life, because you need YOU! Soothe yourself by crafting this Super Simple Button Bracelet by linking the colorful pearls and knot them with an antique style button. artbeadscene
19. Vintage Button Cuff Bracelet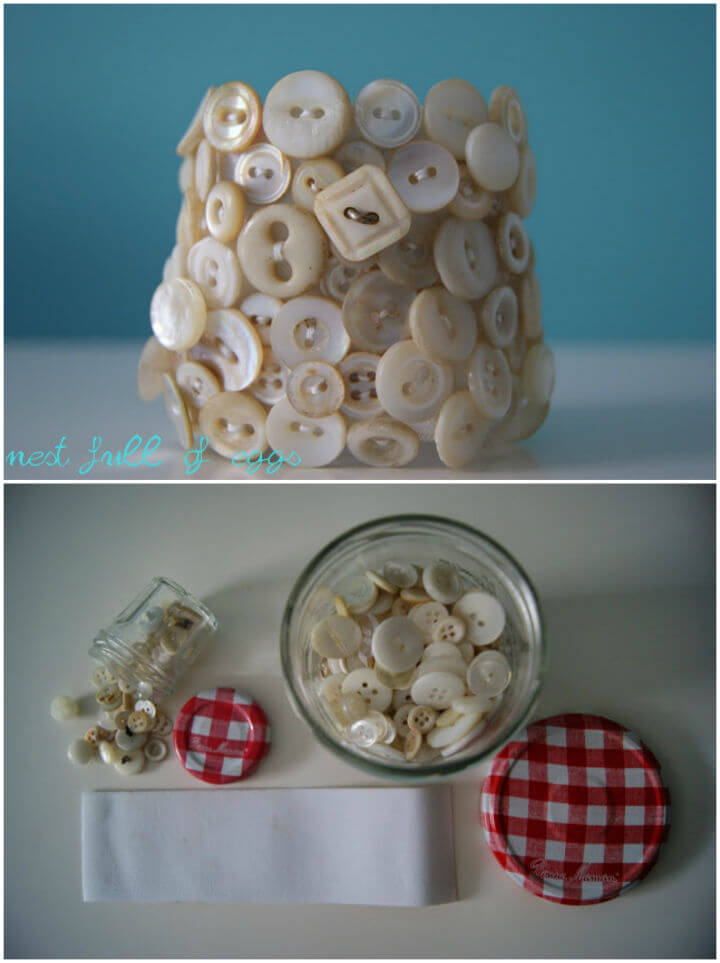 Give an amazing texture to your Bracelet with this DIY Vintage Button Cuff Bracelet Tutorial. Watch how astoundingly different designed buttons can make a beautiful cuff bracelet. Use some supplies like bracelet bending plier, glue, and a stack of buttons. nestfullofeggs
20. Awesome DIY Button Bracelet
Make your own unique style accessories at home. This awesome DIY Button Bracelet uses random sized, and styled buttons and wire wrapped it in a way that you like it to fasten on your wrist. popsugar
21. How to Create Button Bracelets
Getting bore but not in a mood to go outside? Make something productive for yourself at home with this Quick and Easy DIY Button Bracelet. The supplies you need for this bracelet are any available button and an elastic thread. outnumbered3
22. Quick DIY 3-knot Bracelet
Ready for something quick and easy? This Quick DIY 3-Knot Bracelet can take only your 10 to 15 minutes. Use any two simple hair rubber bands and tie a knot to the bands from three sides and accessorize it with any carved button. shop mybluprint
23. How to Make a Button Bracelet
To all the moms out there, Instruct yourself with this "How to make a button Bracelet" and furnish your kid's wrists with this cute bracelet. You can use any of your kid's favorite character cartoon button and attach it to the bracelet. They will love it. candiecooper
24. Easy to Make Vintage Button Bracelet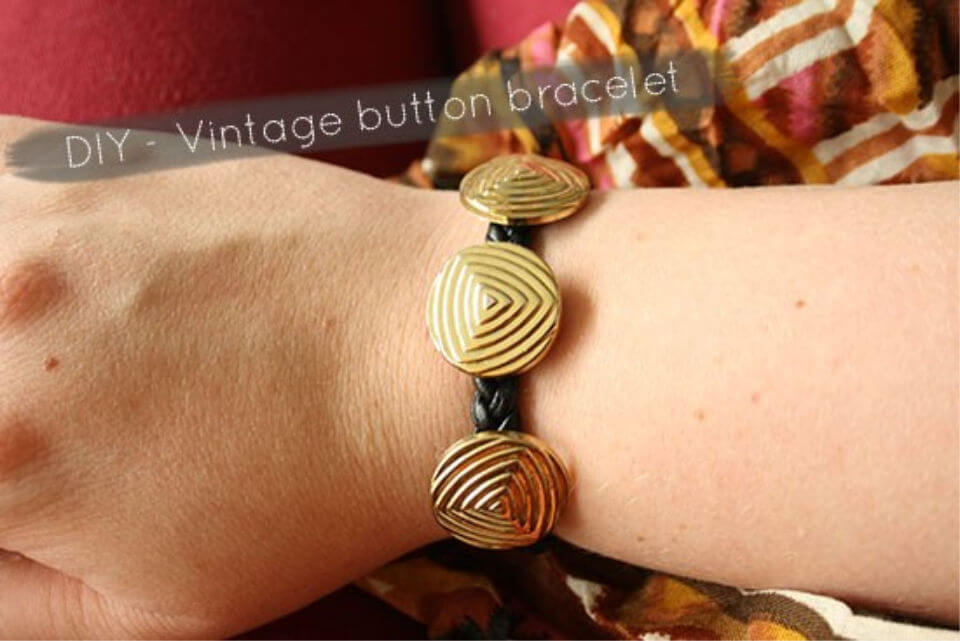 Hey girls, who need a vintage bracelet to bring grace to their arms? Here is this Easy to Make Vintage Button Bracelet for yourself using any old buttons and paste it to a braided strip. bywilma
25. Cute DIY Button Bracelets
Collect any substantial sized buttons that come off from your bags or sofas and use them to make this Cute DIY Button Bracelet. This bracelet needs just three gigantic buttons and a twisted thread to fasten the buttons. thecraftingnook
Related DIY Ideas To Try
DIY Bracelets: Check out these easy DIY bracelet ideas that you can make from simple supplies. These diy bracelets are written in a friendly, easy-to-follow style with step-by-step instructions and illustrations.
DIY Jewelry Making: Whether you're a total beginner or an experienced jewelry maker, this list of simple DIY jewelry ideas is guaranteed to spark your creativity. From simple beaded bracelets to intricate woven chains, there's something for everyone.
DIY Boho Jewelry: Looking for homemade boho style jewelry? You don't need to be a jewelry designer to make stylish, boho-inspired jewelry. Here are some of the best DIY boho jewelry ideas that will have you looking like a boho style in no time!
DIY Earrings: Explore our DIY earring ideas and be inspired to create your own pair of earrings. Choose from a wide range of designs, shapes, colors and materials to create the perfect pair for any occasion.
Crochet Jewelry Patterns: Want some creative ways to use your crochet skills? These free crochet jewelry patterns will change your fashion for the better. From simple headbands to stunning cuffs you can even wear as necklaces, these jewelry are versatile and easy to make.
Crochet Necklace: Learn how to crochet a beautiful necklace with free crochet necklace patterns for a classy accessory that you can wear anytime, anywhere!
DIY Necklace: Looking for some inspiration on how to make a necklace? Check out these handmade DIY necklace ideas that are fancy and easy to make.
How to Organize Your Jewelry?
DIY Jewelry Organizer: Find the perfect solution to store your necklaces, earrings, rings, bracelets, and more. Here are easy DIY jewelry organizer ideas to make your room look fabulous!
DIY Earring Holders: From a vintage frame to a magnetic strip, these DIY earring holder ideas are fun, functional and easy to make. These DIY earring holder ideas can be done with things you might have around the house.
Conclusion:
Being at the top in style and staying trendy is just a matter of imagination and thinking out of the box! Who knew all these super expensive bracelets you see at the market could be easily weighed down with these few tips and tricks to make your own DIY button bracelet charmers at the ease of your home? So, be your own stylist!