Making DIY rings is a great way to express yourself and produce unique pieces of jewelry that no one else can have. Learn how to make a ring with these 45 easy diy rings with step by step instructions. From homemade wire rings to beaded rings, you'll find a homemade ring that suits your style. Many of these homemade rings involve simple wire rings made with materials found around the house. With time and patience, you can easily fashion stylish diy rings that look like they were bought in a store. Get inspired today by searching below for different homemade wire ring ideas and see just how much your creativity can take you!
After a quick search below, it is not hard to find an array of DIY rings and homemade wire ring ideas. From trendy copper clad rings to more unique wire wrapped stones, there are countless creative ways to make homemade rings. Whether you're looking for unique jewelry pieces or simply trying your hand at a simple DIY wire ring, the options are endless for customized diy rings. So round up your supplies and prepare to take on a diy ring project with one of the many fantastic homemade DIY ring ideas!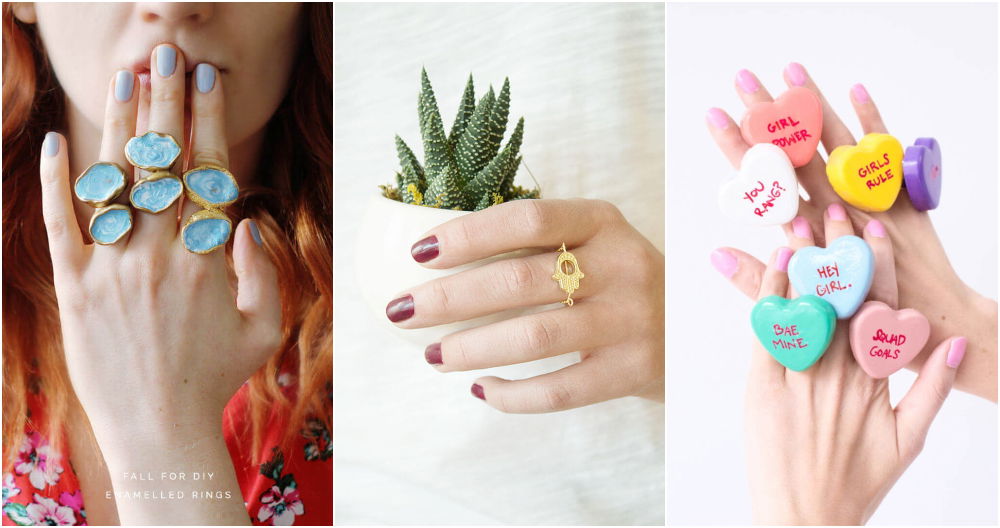 Learn How to Make Rings at Home!
Every woman's favorite and one of the most important accessories is her rings! That's the golden collection that never gets to the point where you can say I have got so many of these rings! While you can buy so many rings from the market, they can never beat the fun you can have by going for these DIY ring ideas. We have these 45 easy and cute DIY rings for you ladies to explore and spruce up your ring collections even more! The best part is that you can bring many exciting and charming newcomers to your ring drawer or displayer that will liven up pretty much!
1. Make Your Own DIY Enamelled Rings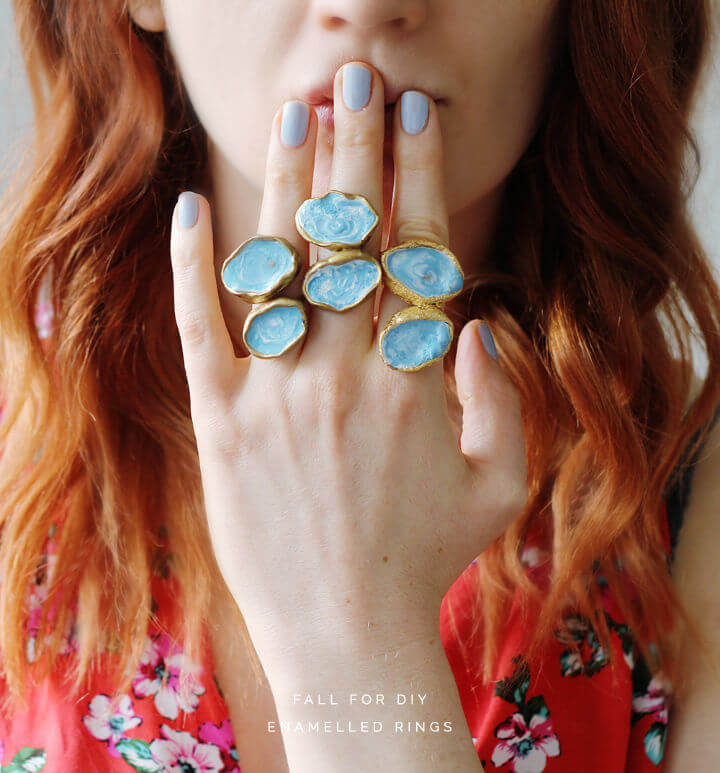 Give your hands these shiny and luxurious accessories by DIYing these beautiful rings! Make these by using epoxy putty and wire with gold metallic spray paint. For step by step guide, please hit the tutorial. fallfordiy
2. How to Make Button Rings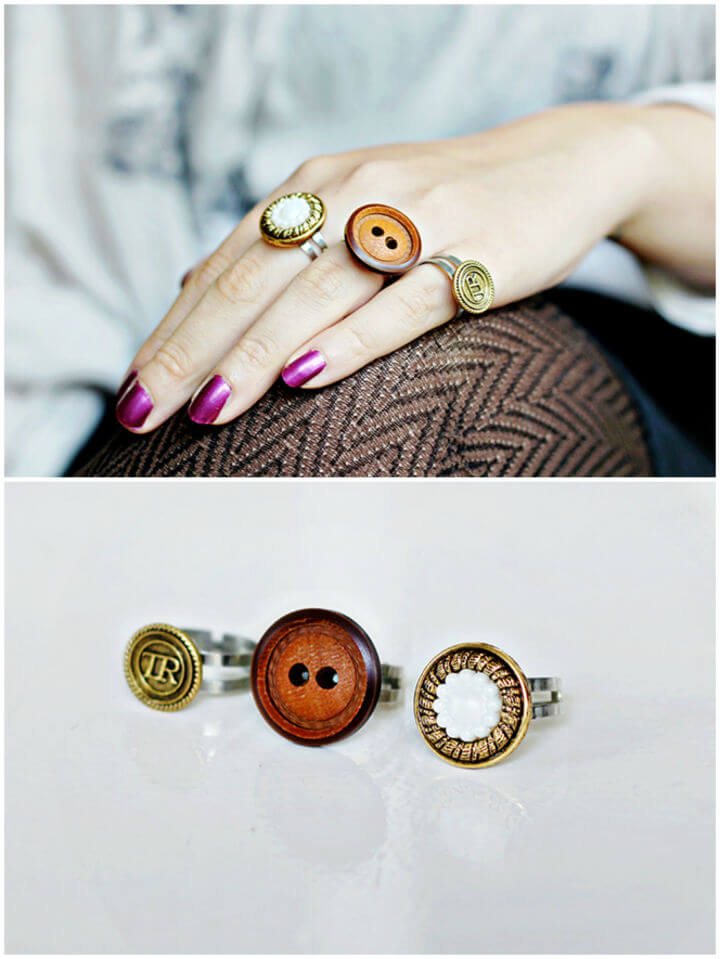 Head off to your sewing notions drawers and get some old buttons that you might have picked up over time and left in there! Time to transform the buttons into these charming rings. Using adjustable sized rings, pliers, super glue, and buttons. lanaredstudio
3. DIY Metal Stamped Rings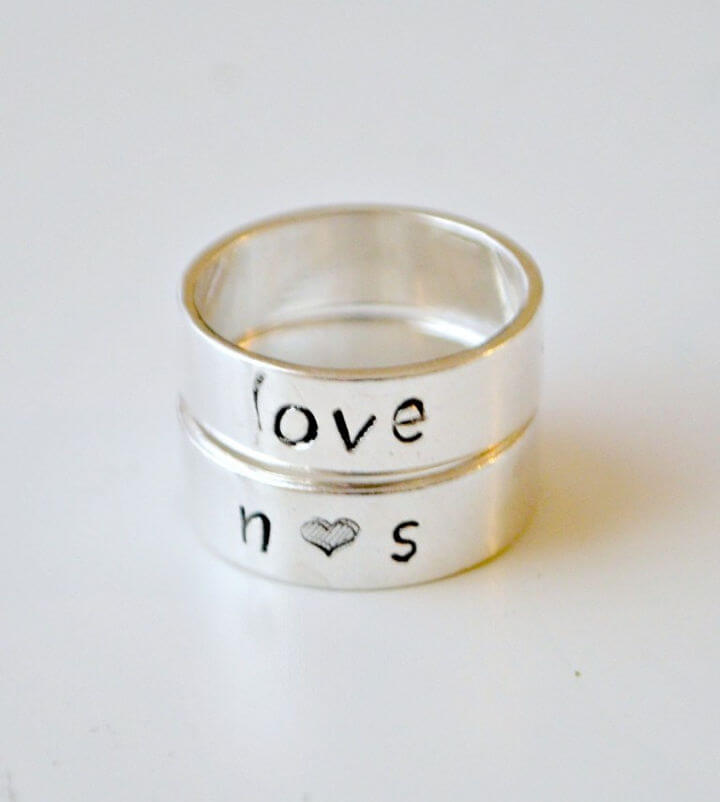 Get your hands on metal stamping hammer, alphabet stamps, steel ring mandrel, sandbag, stamp enamel, sterling silver ring back, and a soft cloth or paper towel. The tutorial will walk you through the step by step guide with illustrations. amylattacreations
4. DIY Felted Wool Ball Ring
With winters around the corner, you can add this DIY felted wool ball ring to your accessories and go trendy! These are quite adorable, right? With cheery and lively wool colors and the shiny silver shanks. danslelakehouse
5. Make Stone and Wire Wrapped Rings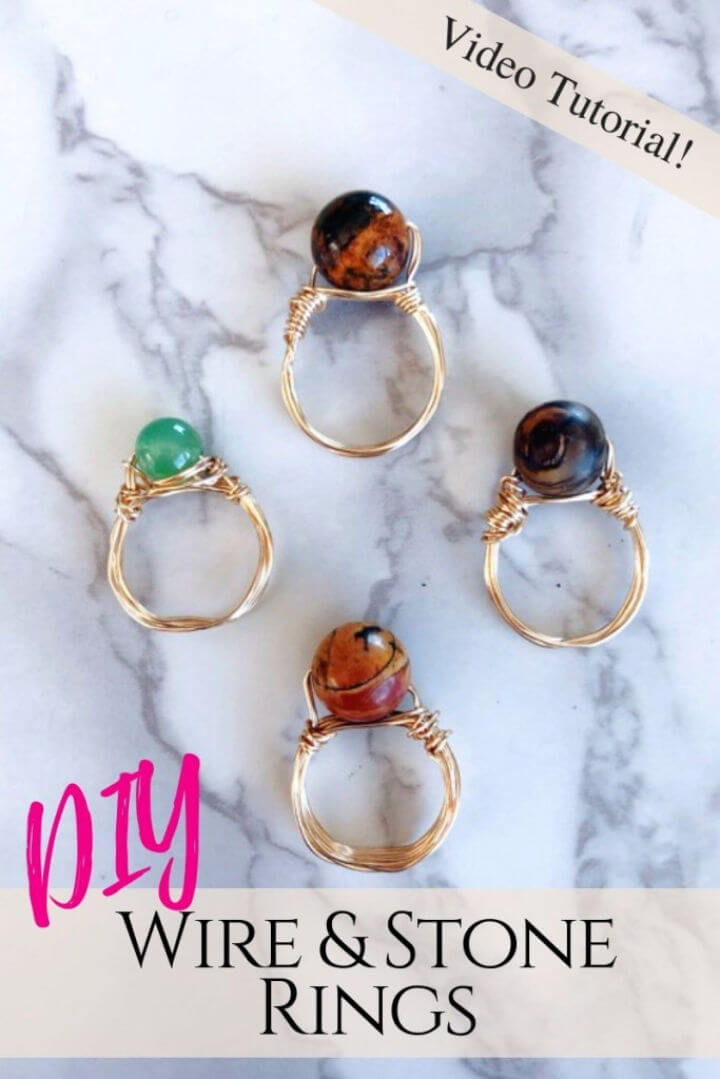 Looking for the best friendship gift for your gal pals? How about making these enchanting metal wire rings with stones? You can make so many of them and go matching with your fellas! All you are going to need is stone beads, gauge brass jewelry wire, jewelry pliers, and ring sizer mandrel. creativefashion
6. Beautiful Flower Blossom Homemade Ring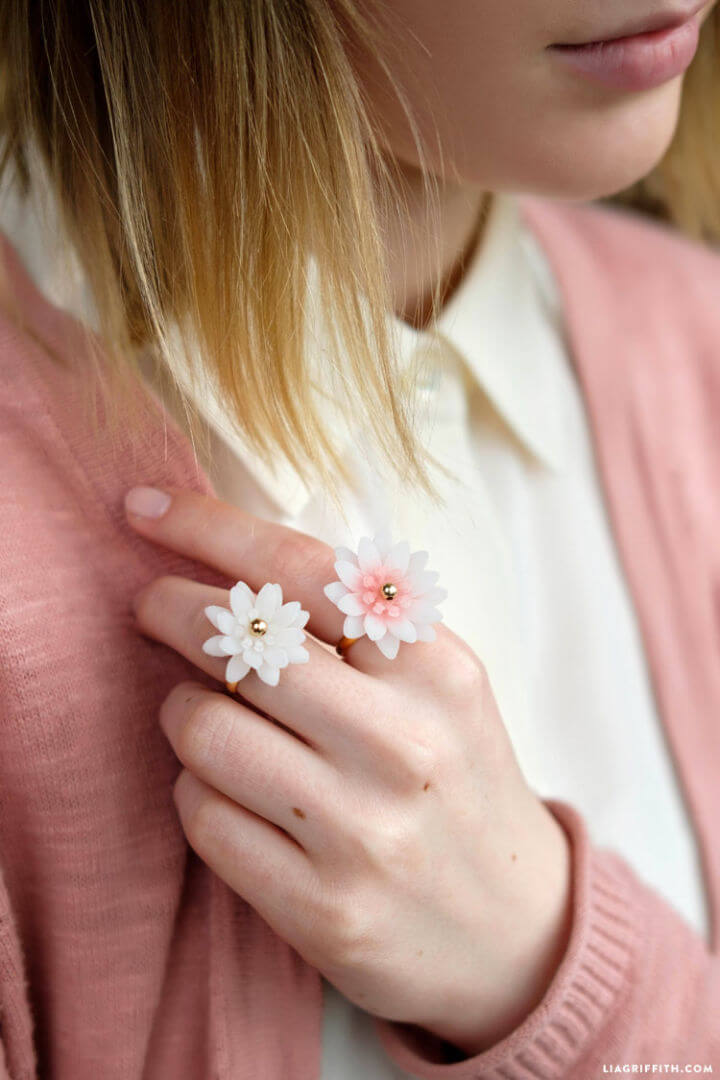 In the loving spirits of the spring season! Blooming flowers and glazing hopes. These DIY flower blossom rings are quite the treat to look at! Making them is super simple, and the end result is a beautiful accessory to flaunt around. liagriffith
7. How to Make Pom Pom Ring
Pom poms are quite a famous supply in the world of crafting for quite some time now! There are so many wonderful things you can add a pom-pom to, like this funky DIY ring. Use some small pom poms, with some hot glue on ring blanks. cozyreverie
8. Pretty DIY Glitter Ring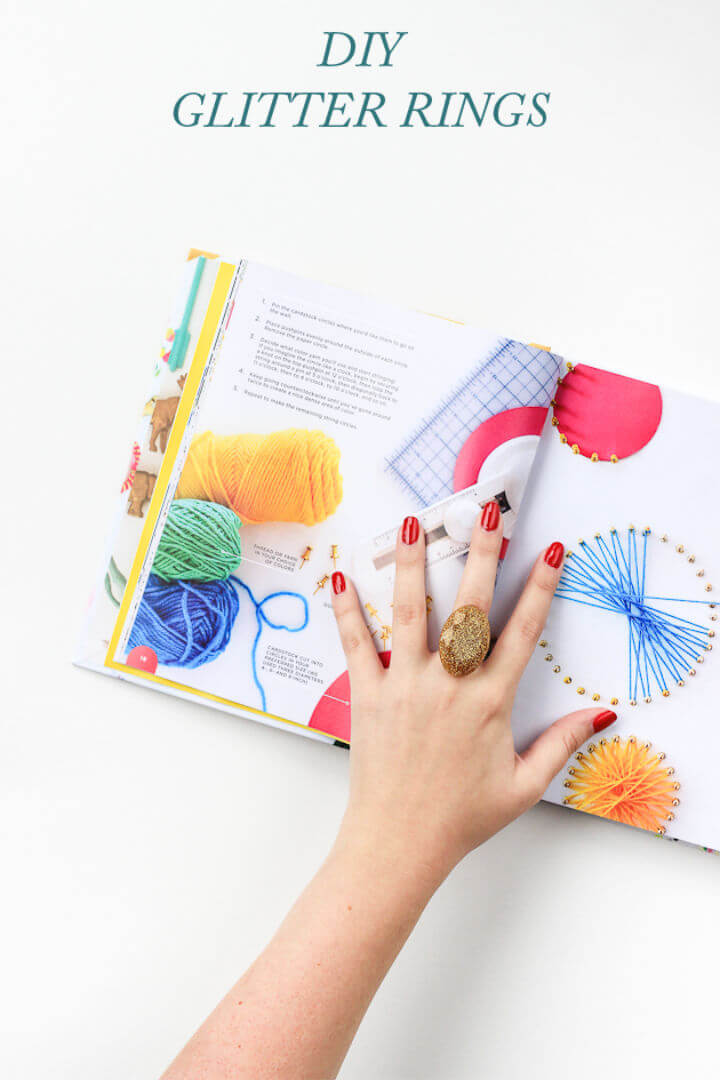 Check out this pretty and large DIY glitter ring! It is hardly going to take 15 minutes of your day, gather around the supplies! Including resin, silicone mold, glitter, plastic cups, E 6000 glue, and ring backs. thecraftedlife
9. Making a Wire Wrapped Ring at Home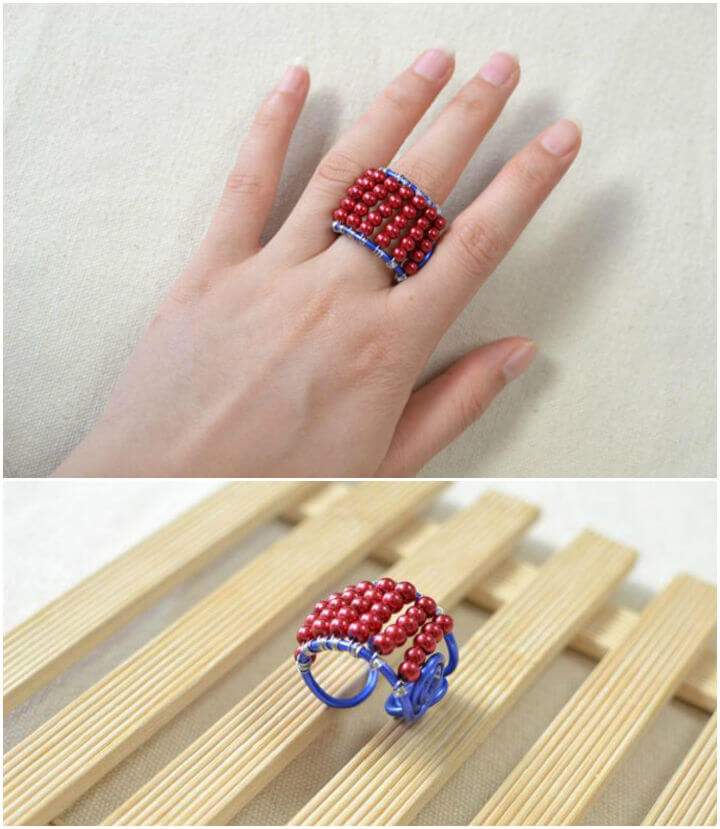 Perhaps for Christmas dinner or any other family night, you can turn things towards quite the sensational way by making these beautiful beads and wire rings for the family ladies! You need some pearl beads, aluminum wire, copper wire, side nose plier, round nose plier, and long nose plier. pandahall
10. How to Create a Cluster Ring
Cluster rings are the elite or luxurious versions of rings! They look especially very pretty when you wear them with pretty much any outfit, but a semi-formal or formal dress can go best with these. Learn how to cluster this cluster ring in the tutorial! curiousandcatcat
With our DIY ring ideas, you can make your gal pals the most sensational and heartfelt handmade gifts you and the whole gang can enjoy having together! From adults to kids, we have got all your ladies covered. Plus, did you know ring making is not such an intricate art? It is just the simple materials you can find anywhere or even at the back of your sewing drawers, like some old buttons or old jewelry items like vintage earrings. So, gather around your basic craft notions and make some beautiful, memorable, and darling rings for yourself and your gal pals!
11. DIY Rings from Vintage Earrings
How often have you lost an earring to the earrings drawer or damages? With Crafts unleashed, you can transform your vintage earrings into these beautiful and catchy rings. Pick up the E-6000 glue, gather your vintage earrings, jewelry pliers, ring blanks, and a large container of rice. consumercrafts
12. Handmade Faux Fur Fimo Clay Ring
Inspired by the fur rings of Delfina Delettrez, these faux fur rings can make quite a charming addition to your accessorize collection! To make these, you will need Fimo clay, hose clamp, large rhinestone, faux fur, and Aleene's max tacky adhesive. trinketsinbloom
13. Homemade Nut Rings
Nut rings are the best! They are one of the most fun and easy to make DIY rings. Other than this, they can pretty much compliment any dress and bring out quite the best look. All you need is to work around some nuts and heated fimo! chocolateandcraft
14. DIY Wrapped Crystal Ring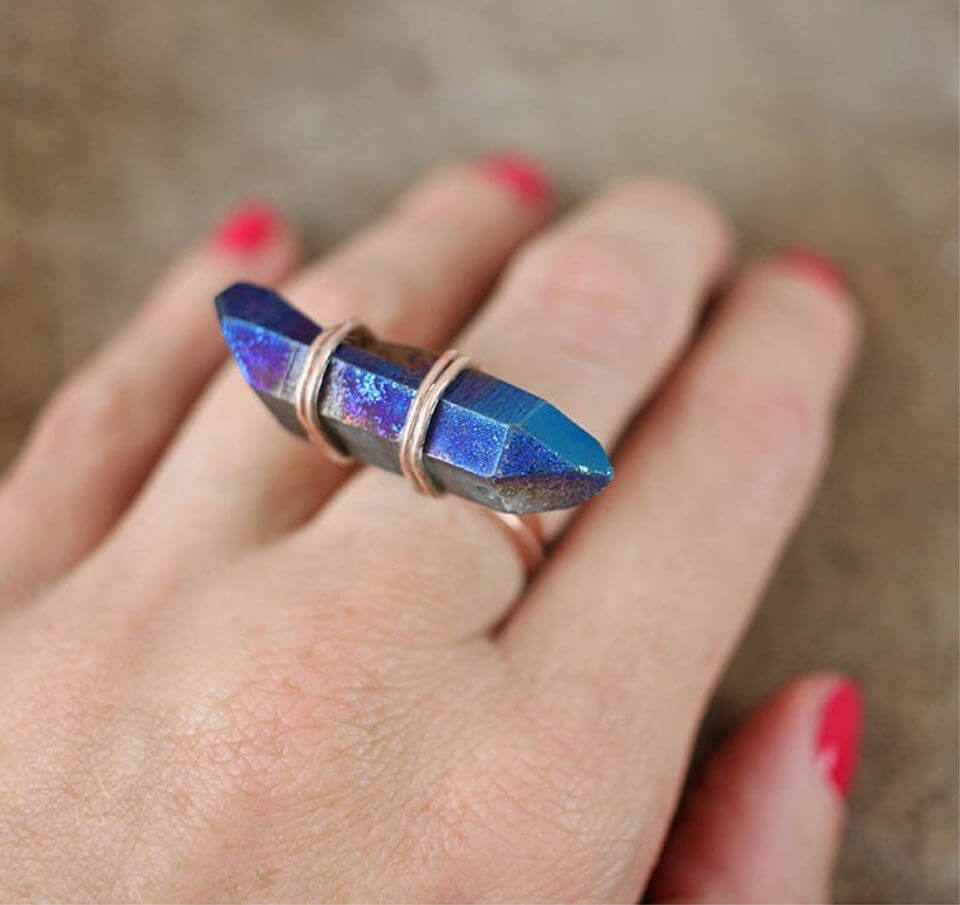 Check out this enchanting warped crystal ring! The wrapped wire is giving all the major attention to the crystal center! You can make this using a ring mandrel, luster stone nugget, bendable jewelry wire, glue, and jewelry pliers. gina michele
15. Delicate Pearl Knuckle Rings
We love these delicate pearl knuckle rings. Pearls are quite the delicacy themselves, and wrapping them around knuckles in shiny gold ring shanks can quite add up to the serene appeal of pearls. adventuresinfas
16. How to Make Wrapped Wire Rings
This is quite an easy one from our DIY ring ideas! It uses a few supplies, and you can use different colors of beads to give them this enchanting look. You will need silver-plated copper wire, ring sizer, wire cutters, jewelry pliers, and the beads your love. consumercrafts
17. Pretty DIY Faux Druzy Cocktail Ring
By using glitter and mod podge, you can give the tiny crystals this glittery, also known as the Druzy cocktail look. To make that, you will need a ring, glass glitter, mod podge, and paintbrush. Get the steps from the tutorial! gina michele
18. DIY Chain Hamsa Ring
Do you like wearing the evil eyes off charm with you all the time? Adventures in Fashion has got this charming Chain Hamsa ring for you to make at the ease of your home and wear it whenever you want! It is hardly going to take ten minutes to make this. adventuresinfash
19. Homemade Mini Beaded Rings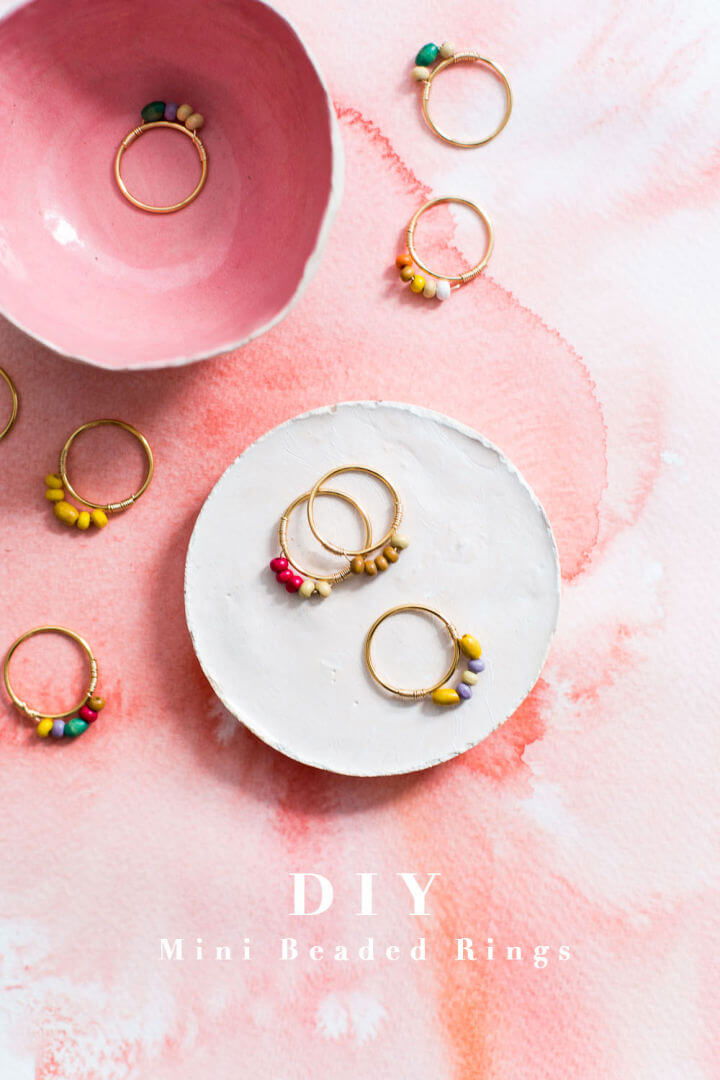 These homemade mini beaded rings are nothing but just darling! You are going to need a 1.5 mm wire, 0.5 mm wire, small wooden beads, and jewelry plier set. Wrapping the wires around to sew in the beads is a bit tricky, but once done, it is beautiful. fallfordiy
20. Make Beaded Stackable Rings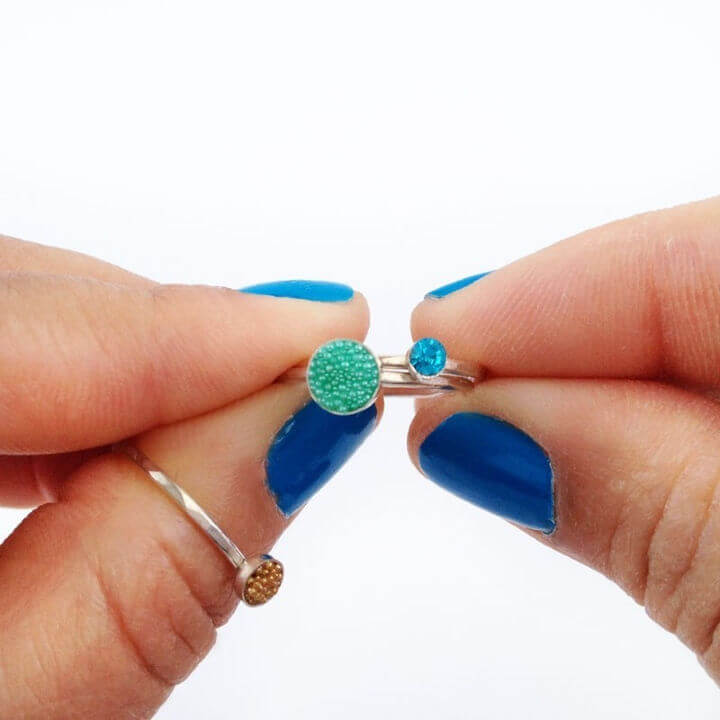 Check out these beady stackable delights for your fingers! Get some ring blanks, Martha Stewart micro bead set, clear glue, and mod podge sealer. It is super simple to make, and you can make so many of them in monotone or multi-colors too. maritzalisa
21. DIY Golden Stone Ring
Stones have always been these beautiful and enchanting things that have taken over the hearts for mankind sometime now! Add these beautiful golden stone rings to your collection and make your days gold! Get the step by step guide from the tutorial. themerrythought
22. Wrapped Peach Aventurine Ring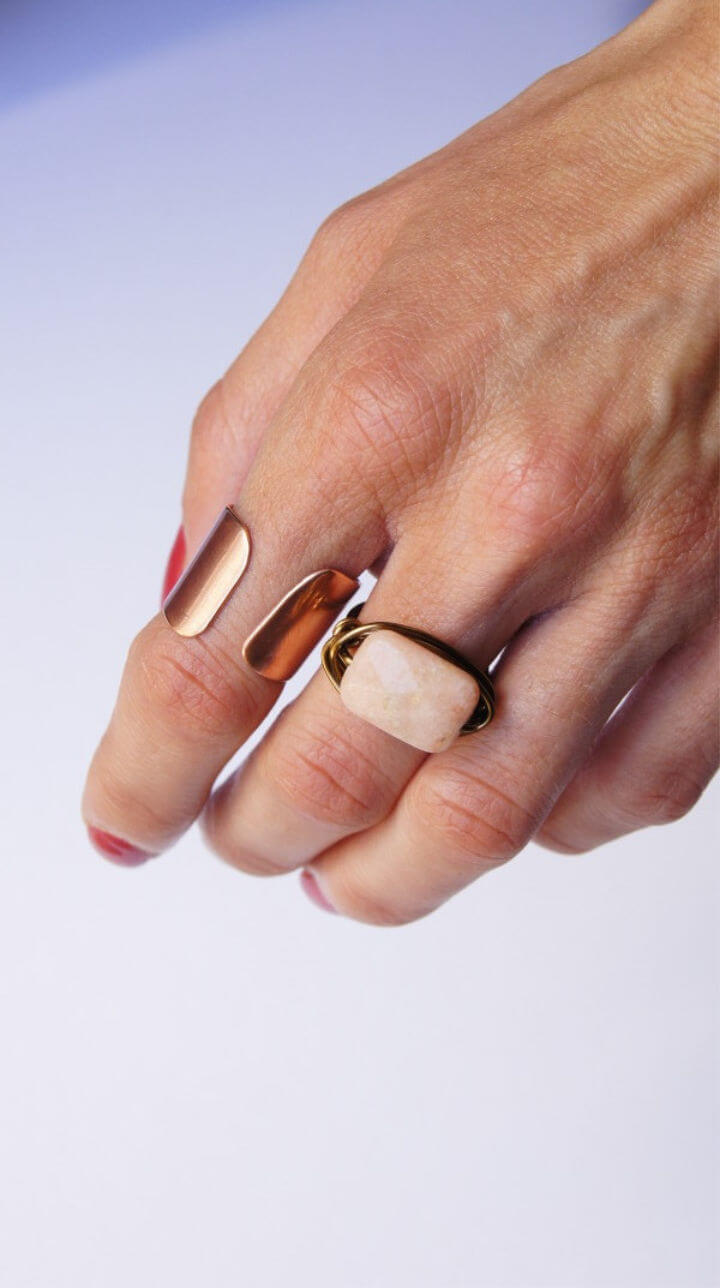 Are you inspired to make this wrapped peach adventurine ring? You will be needing Artistic Wire 18-Gauge tarnish resistance silver wire, 1 bead, Ring mandrel finger sizes gauges, and jewelry plier set. oheverythinghan
23. DIY Flower Cabochon Rings
It's raining flowers! Make these lively and whimsical flower cabochons rings for your gal pals by using just a few supplies and sparing just a few minutes of your day! You will need a ring base, flower cabochons, and hot or jewelry glue. thediydreamer
24. Quick DIY Button Rings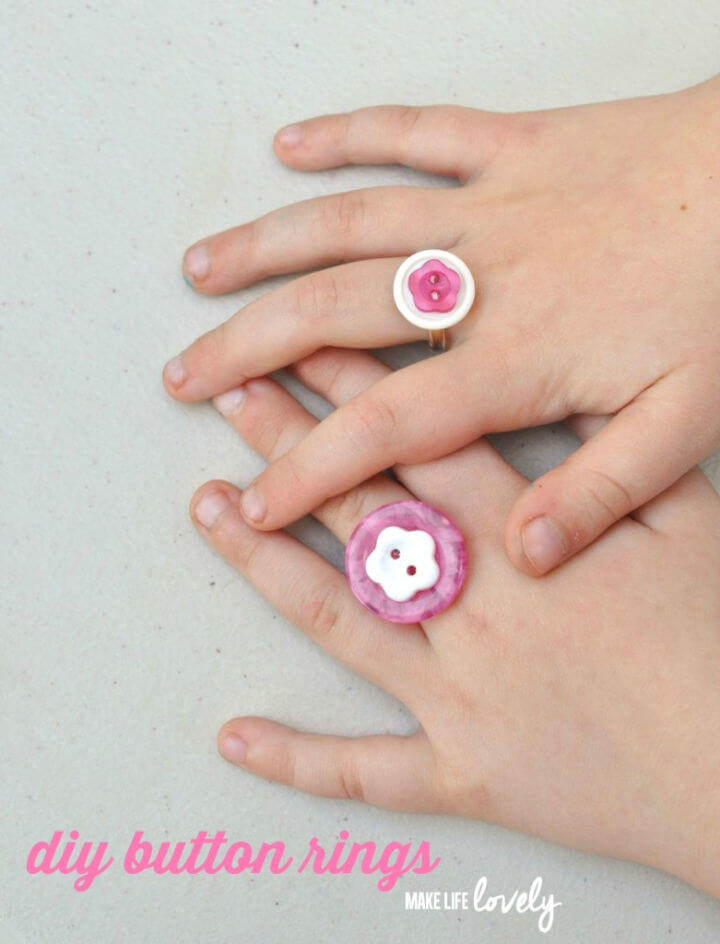 DIY button rings are quite fun, quick, and easy to make! Especially for all the little ladies in your life, including your little princess, niece, or granddaughter. They can easily make these as cute party favors too. By using a strong adhesive on a button at the back of a ring blank. makelifelovely
25. DIY Wire Wrapped Pearl Ring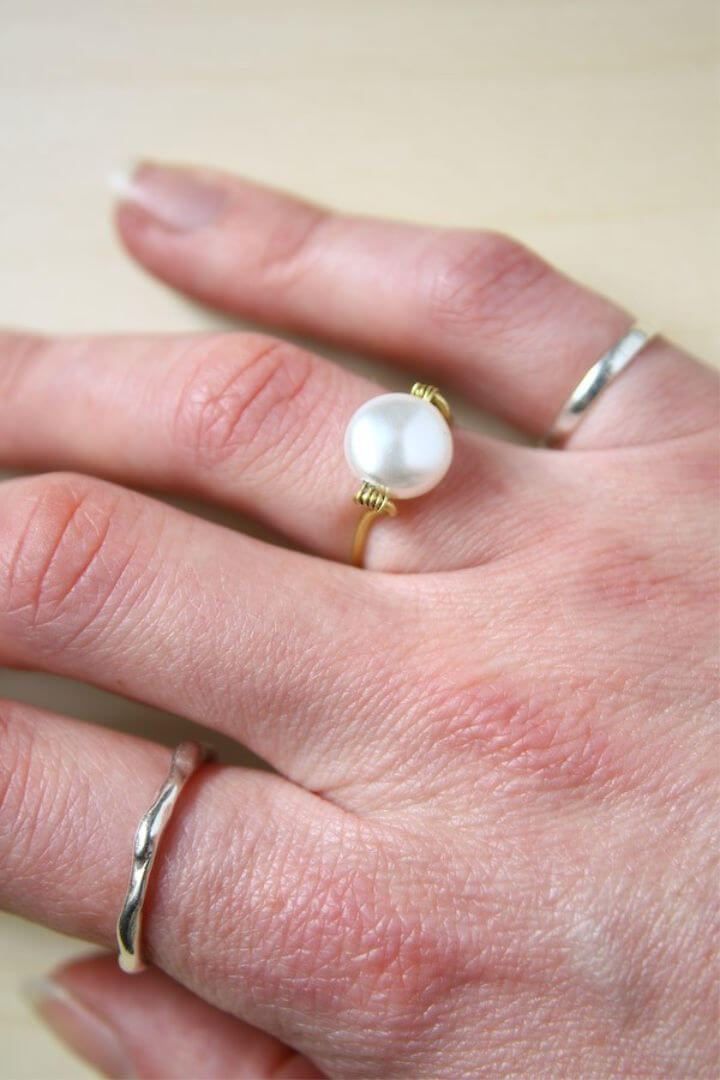 Another pearl vibe to brighten up your day! Make yourself these absolutely stunning and charming wire wrapped pearl rings to make your beautiful hands stand out even more. Just a pearl wrapped around a wired ring. makeandfable
26. How to Make a Braided Ring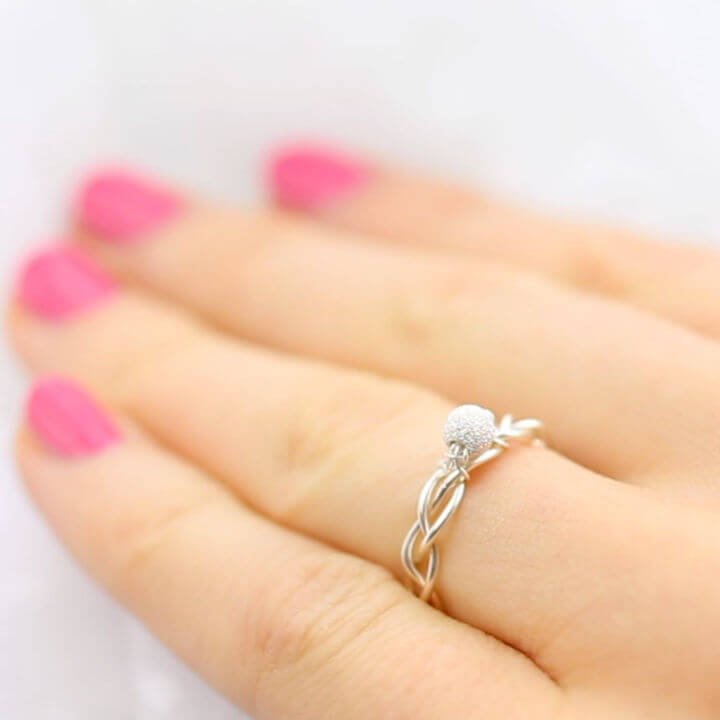 Braided is the new beautiful! Anything in the braided pattern adds quite a beautiful touch! Create your own DIY braided ring using copper wires, gold plated copper wire, silver-plated copper wire, jewelry pliers, and small beads. instructables
27. Glitter Ring with Mod Podge Dimensional Magic
The magic of mod podge in transforming a simple ring into this dimensional glitter ring! Get this ring blank with a small lip, mod podge dimensional magic, glitter in any color and scrap foam or box for holding the ring while it dries. number 2 pencil
28. How to Make Chain Rings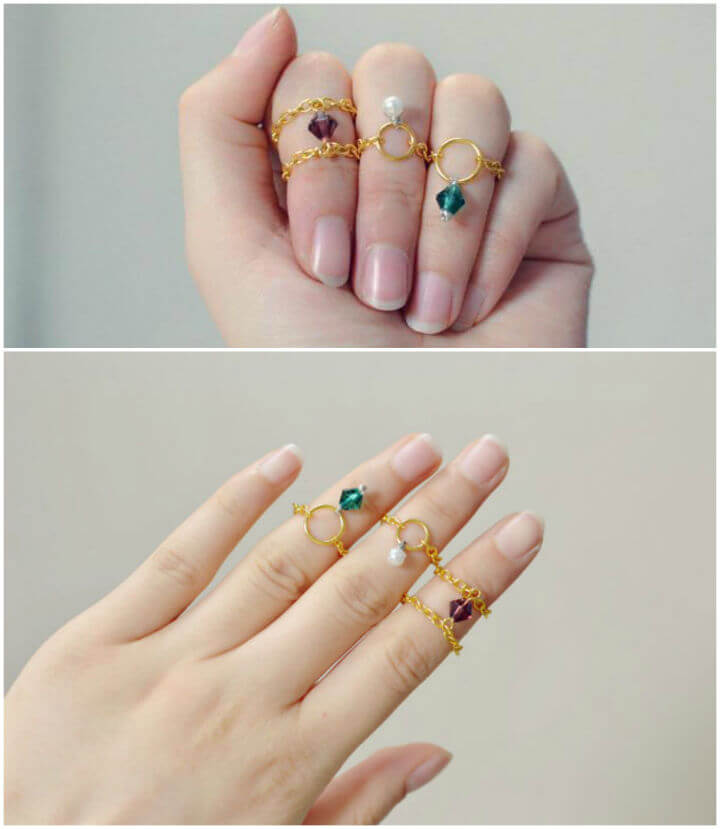 Aren't these chain rings absolutely beautiful? We love the minimalistic yet classy appeal of these chain rings. These are designed with glass beads and pearl beads. By using copper wire, eye pins, round and flat nose plier. pandahall
29. Awesome Ribbon Wrapped Ring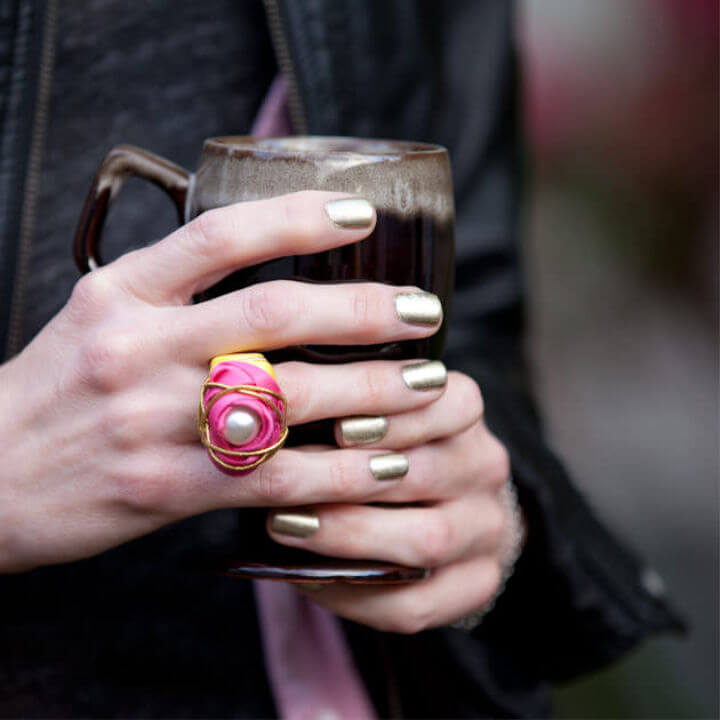 Can you believe the base of this ribbon-wrapped ring is made from a pure hardware item? You will need one hose clamp, 2 colors of ribbon, gold elastic, one large bead, scissors, hot glue, needle, thread, and a screwdriver. trinketsinbloom
30. DIY Wooden Rings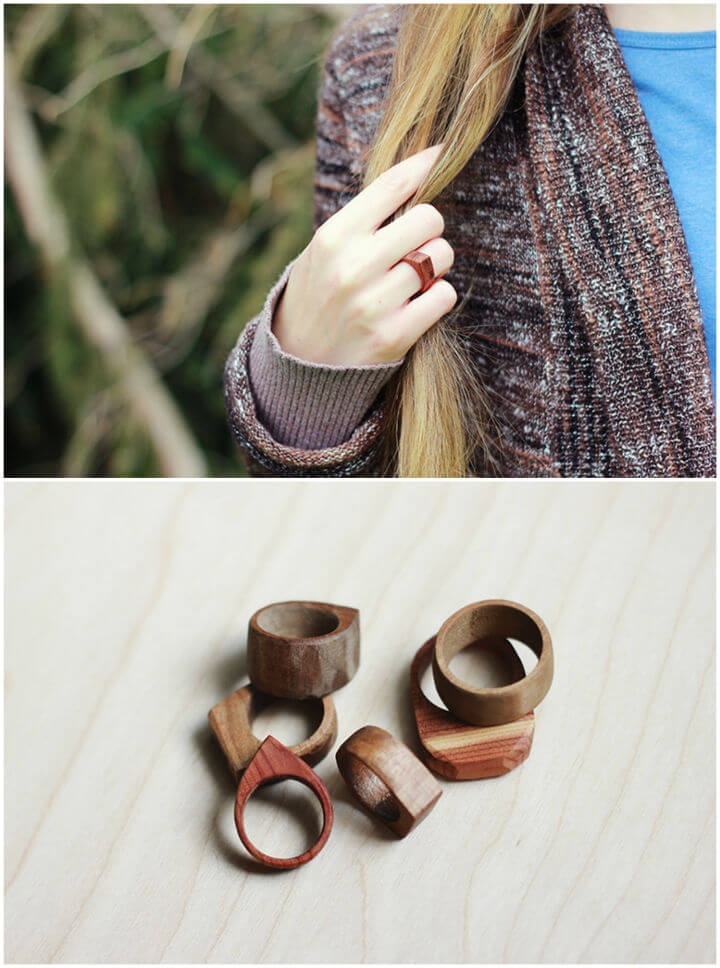 If you have some scrap pieces of hardwood like cedar, cherry, or mahogany, you are in for a treat! By using a drill, scroll saw, belt sander, and any type of finish like Minwax stain, you can totally nail these DIY wood rings! themerrythought
31. Easy DIY Bling Rings
If you are a Breaking Bad fan, these bling rings can be a treat for you to make. You will need some loose rock candy or Wilton sugar gems. With confectioners' sugar, ½ cup sugar, lollipop sticks, lollipops, measuring cup, and a cooking thermometer. 1finecookie
32. DIY Rose Shaped Wire Ring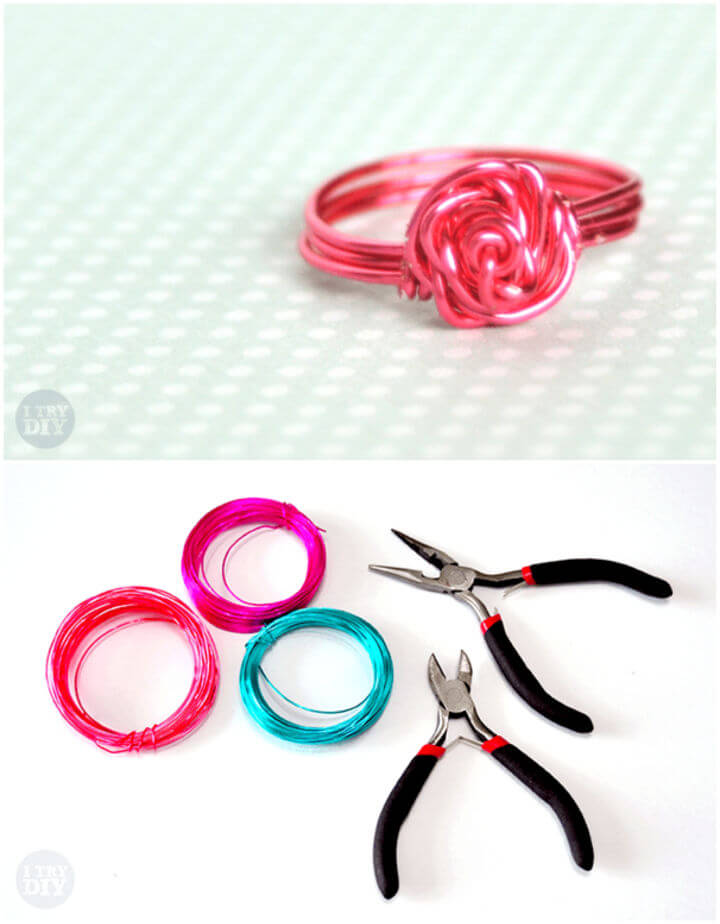 Wirey roses for the rescue! Don't you love the serenity of this DIY wire rose ring? Get a shaper and twist the wire around it. If you keep twisting and turning the wire around your anchor, you can get a rose shape. itrydiy
33. Creative Beaded Cluster Rings
In just 40 minutes, design this beautiful beaded ring! For making this, you need an adjustable bead-able ring, 4 mm miracle beads in assorted colors, wire cutters, and 28 to 32-gauge wire. Start threading the beads into the bead adjustable ring. amylattacreations
34. Simple DIY Penny Ring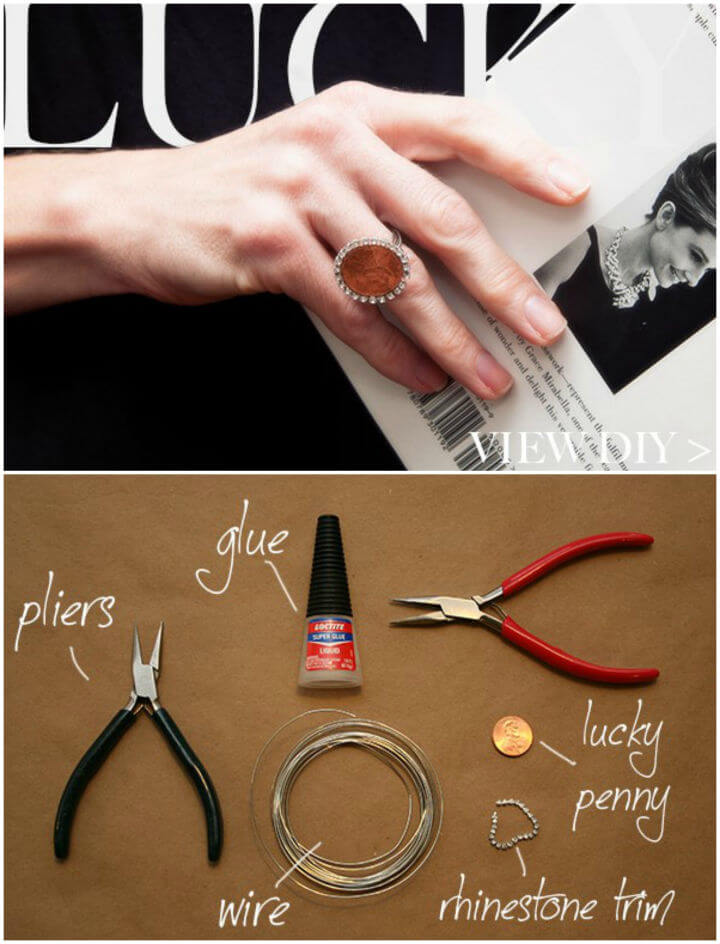 Here is another one from our classy DIY ring ideas! If you feel you have a lucky penny, wouldn't you love wrapping it around your hand always? Make this by just the simple supplies such as a lucky penny, 2 to 2.5 inches of small rhinestone trim, wire, pliers, super glue, and an anchor to wrap the wire around. trinketsinbloom
35. Make Your Own Giant Gem Rings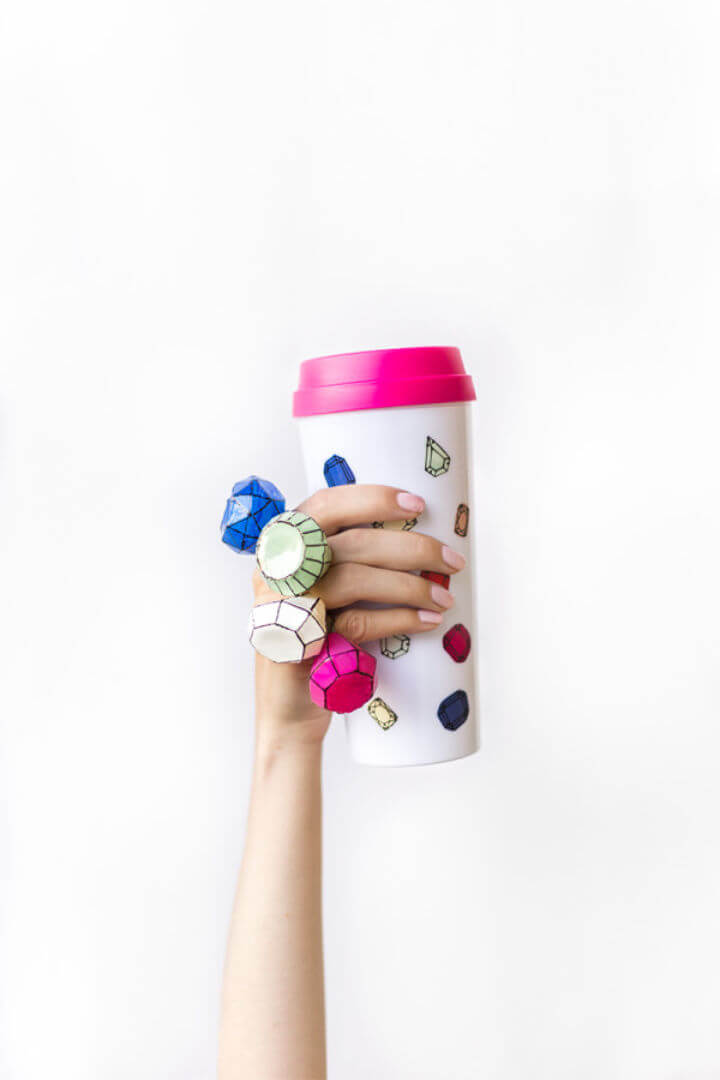 Do you love these huge ol' rings? Well, who doesn't? They can actually make you feel like a queen in yourself. You can make these using a pan, water, and a freezer. Along with hot glue, nail polish, nail art pen, ring blanks, and butter knife. studiodiy
36. Tiny Faux Taxidermy Style Animal Ring
Create your own faux taxidermy by making these whimsical tiny animals rings! You can also make these for the little girls in your family. They are super easy to make by only using plastic animals, ring blanks, X-acto knife, glue, spray paint, and acrylic paint or a clear nail polish. trinketsinbloom
37. Faux Granite Rings With Polymer Clay
Get crafty with polymer clay! We love the textural vibes these granite rings have got going on there. So, get your hands on some granite polymer clay, white polymer clay, roller, craft knife, pipe, and a pan or oven. fallfordiy
38. How to Make Swirl Ring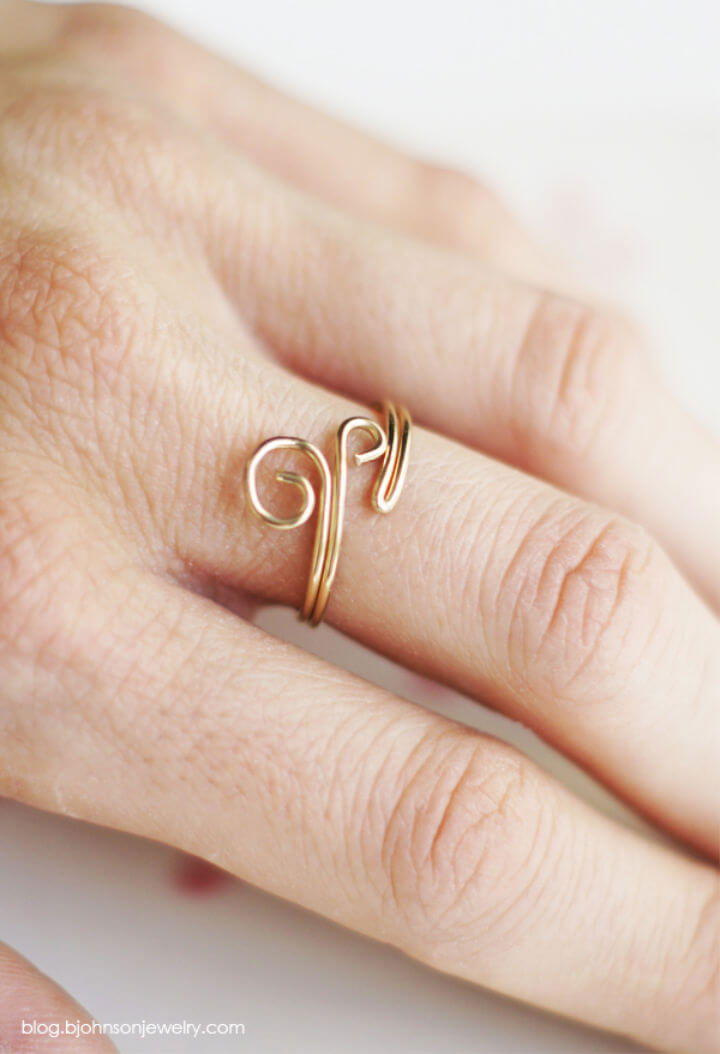 We are totally swirling over the magic of these swirl rings! Isn't this absolutely beautiful? Use the jewelry plier set, 6" inches 18 grams half-hard wire, rawhide mallet, and ring mandrel finger size gauges. oheverythingha
39. Make Your Own Tube Rings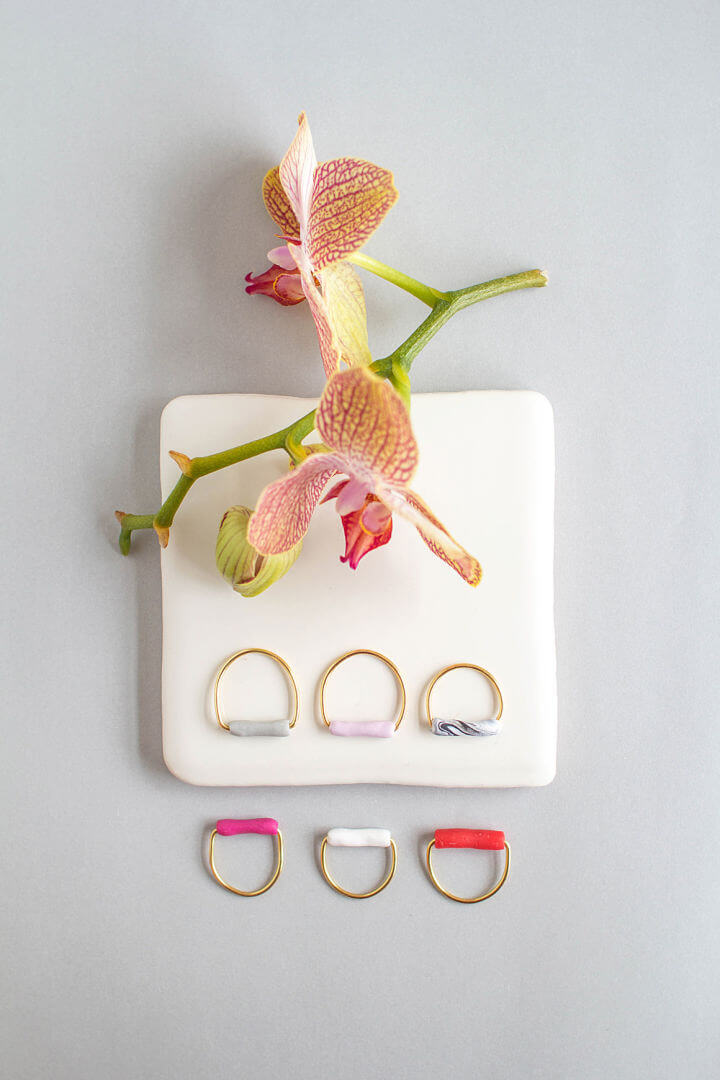 Make these fancy schmancy tube rings and go matching with your outfits! These are just so pretty, and you can make so many of these in just a few minutes. You will need polymer clay, ring mandrel, craft knife, wire, cutters, and flat nose pliers. fallfordiy
40. Unique DY Cocktail Ring Using
While statement jewelry could be quite expensive, with Craft of the Day, you can make your own statement jewelry! Make this beautiful cocktail ring using wire cutters, jewelry glue, ring base, and old costume or earring. huffpost
41. DIY Conversation Heart Rings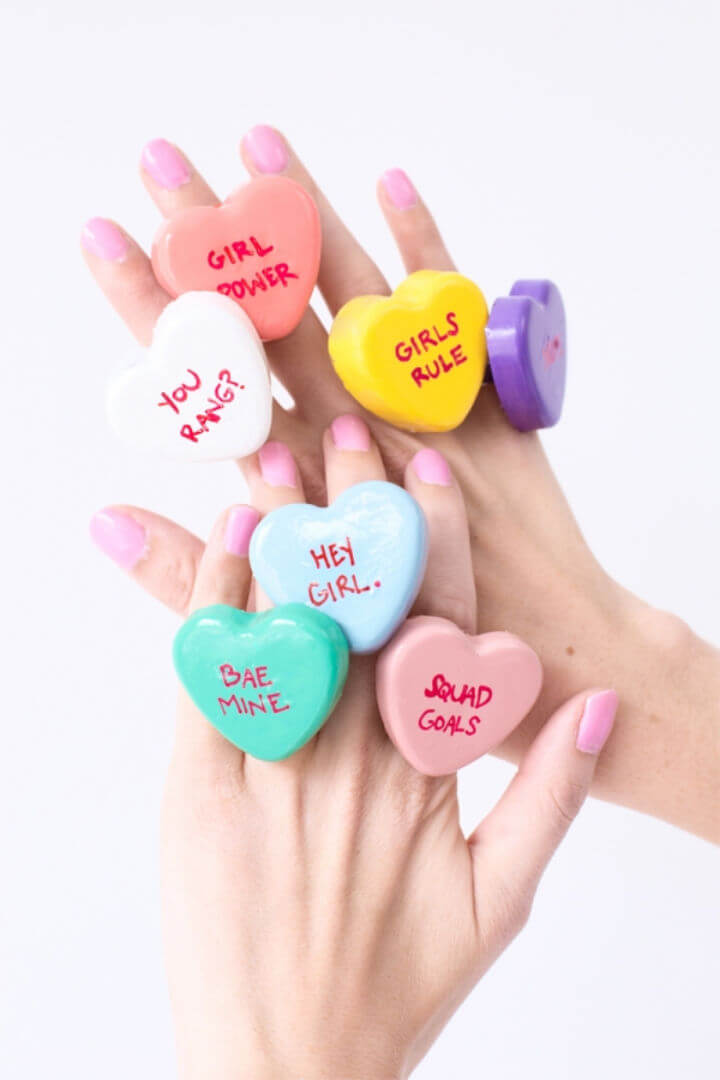 We have selected just the best idea for you and your gal pals! These conversation heart rings are going to make your squad quite famous around the town! Be each other's powers and go-to person by saying these pretty and loving words! Hit the tutorial for details. studiodiy
42. Easy to Make Button Rings
This is a great idea to reuse your old buttons and transform this into these pretty DIY button rings! You can make these using buttons, strong glue, ring blanks, and wire cutters or scissors. Got any vintage buttons lying around?! youwantmetobuy
43. Pretty DIY Wire Bow Ring
Convert a simple plated wire into this whimsical wire bow ring! All you need is some wire and jewelry pliers. Start with 6" of wire and making loops carefully! The tutorial will walk you through the step by step guide. ispydiy
44. DIY Chain-linked Rings
Chain linked rings are quite a charm! You can make these all by yourself by working with just a few supplies, including jewelry pliers, thin gold ring, thin gold midi ring, thin chain, rhinestone or gem connector, small jump rings (about 4) and measuring tape. stylestories
45. Special Pearl Ring Design
Check out this beautiful pearl ring and add up to your jewelry collection this charming style! You can make this using a thin wire, flat wire, pearl, pliers, and a big marker to be used as an anchor for making the ring around. mywhiteideadiy
Related DIY Projects and Ideas
DIY Jewelry Ideas: Create your own jewelry with these cheap and easy DIY jewelry ideas that are perfect for beginners. Make necklaces, earrings, rings, bracelets, and more.
DIY Earring Ideas: From simple earrings to elaborate, these fabulous DIY earring ideas are perfect for the girl who likes to be a little more experimental with her style.
Easy DIY Bracelets: Bracelets are the perfect accessory for any occasion. With these cool DIY bracelet ideas you can learn how to make bracelets from all sorts of supplies.
DIY Necklace Ideas: There is nothing more fun than being creative and making your own necklace. Let these stunning DIY necklace ideas inspire you to create a unique piece of jewelry.
Button Bracelet Ideas: Button bracelets are a favorite among kids and adults alike. With these easy DIY button bracelet ideas, you'll find an original way to wear a favorite accessory in minutes.
Jewelry Organizer Ideas: Looking for the best DIY jewelry organizer? These best DIY jewelry organizer and holder ideas will help you organize your jewelry in a way that's both stylish and practical.
Crochet Jewelry Patterns: Make your own crochet jewelry that's as fashionable as it is affordable! Here free crochet jewelry patterns to make necklaces, bracelets, and earrings.
Crochet Necklace Patterns: Winter is here so crochet patterns are super trendy right now. Check out these free crochet necklace patterns to find the perfect one to make for yourself or as a gift.
Friendship Bracelet Patterns: Friendship bracelets are a great way to show your friends that you care. These friendship bracelet patterns are easy enough for beginners, and there are plenty of bracelet designs and easy to follow instructions that will help you create beautiful bracelets in no time. Friendship bracelet patterns don't have to be complicated!
Conclusion:
With these easy and elegant DIY ring ideas, you can add up some beautiful, charming, and whimsical rings to your jewelry collection! Sure, you can find a lot of statement rings in the market, but they can be quite expensive. Also, nothing can beat the taste and charm of DIYing. Make these DIY rings for yourself or any of your favorite ladies! Make yourself feel special by making homemade rings that you can cherish for some time!