Learn how to make macrame bracelets with our 25 free macrame bracelet patterns that are perfect for DIY enthusiasts of all skill levels. These step-by-step macrame bracelet patterns offer many designs, including beaded, adjustable, spiral, and rainbow bracelets. These DIY macrame bracelet patterns provide detailed and clear guidance, making it easy to make unique macrame bracelets that showcase your creativity.
Macrame bracelets are versatile and fashionable accessory that allows you to express your unique style, and they can be customized for a variety of occasions. By following the free macrame bracelet patterns available, including tutorials and helpful illustrations, you can master the basics and advance your skills quickly.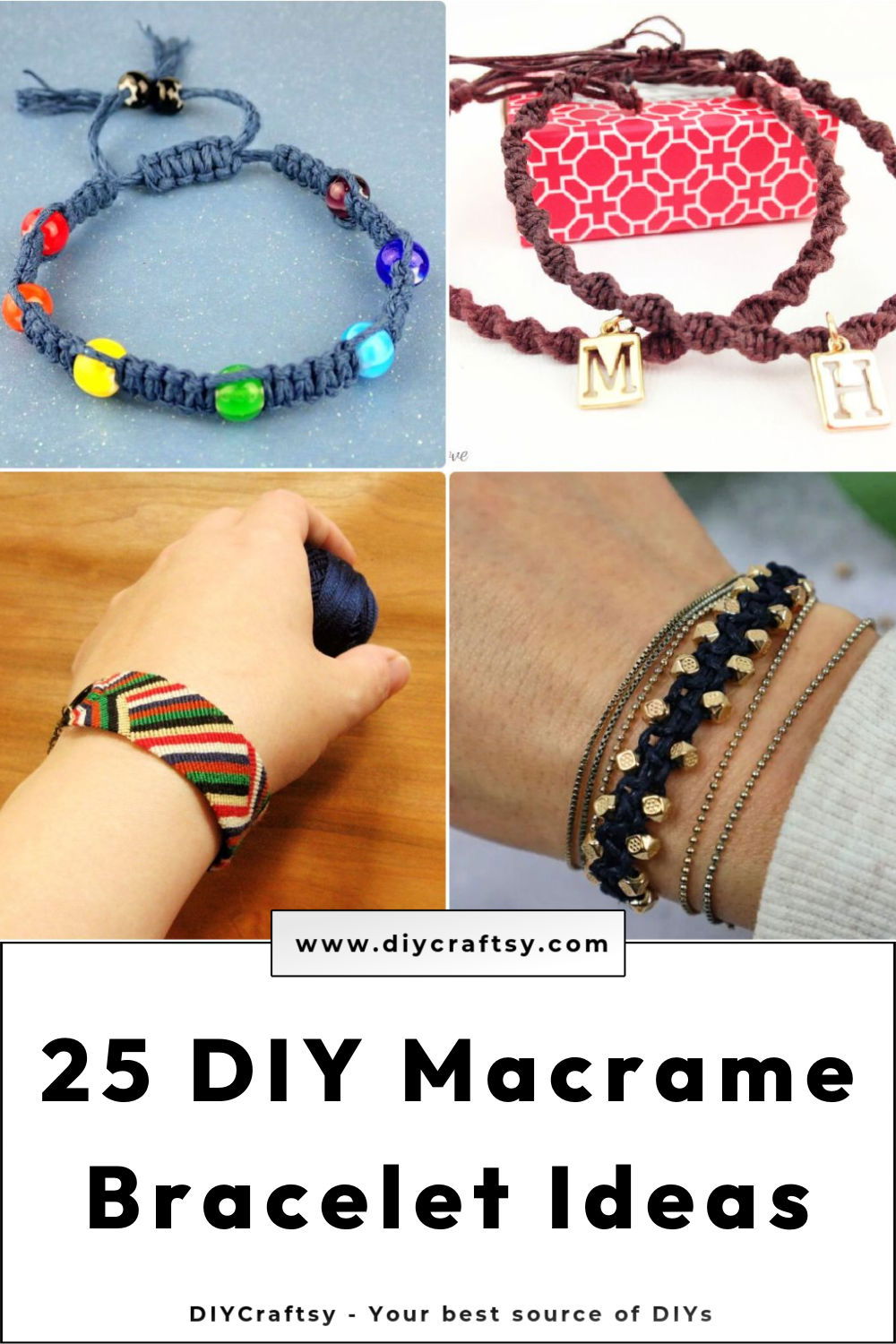 Unleash your creativity by exploring all the available free macrame bracelet patterns and design your very own macrame jewelry with these simple, yet stylish macrame bracelet patterns.
1. Easy DIY Macrame Knot Bracelets
Immerse yourself in nostalgia with this fun and engaging guide to crafting homemade friendship bracelets using macrame knots. Revive childhood memories of summer camps and sleepovers as you learn the techniques originally used to make 'hemp bracelets.
This step-by-step tutorial enables you to use either yarn or embroidery floss for a personalized touch, showing how the choice of material can affect the final design. Equipped with scissors, tape, cardboard, and creativity, you can fashion a charming piece of jewelry for your wrist.
The versatile knotting technique can be applied to make other accessories, from anklets to guitar straps. This project also offers opportunities for fun modifications, like adding beads or alternating knot patterns. Make one today, and express your creativity and friendship through these beautiful macrame bracelets. jenniemasterson
2. Free Macrame Bracelet Pattern for Beginners
Embark on a fun and accessible craft journey with a DIY macrame bracelet project. An ideal endeavor for teens and adults alike, it allows you to make unique, personalized jewelry at home. To showcase your style, your bracelet can be customized with beads, metal links, chains, and more. In addition to personal use, these macrame bracelets can serve as distinctive party favors.
For the creation process, you'll need simple supplies like a nylon cord, scissors, measuring tape, lobster clasps, jump rings, 3mm beads, a lighter, and optional clear tape.
The step-by-step instructions guide you through forming the key lark's head knot, adding the beads, and securing your macrame creation. Enhance your wardrobe or gift someone special with this handcrafted macrame bracelet, showcasing your creativity and flair for DIY. craftsyhacks
3. Adjustable DIY Macrame Bracelet – Step-by-Step Instructions
Journey back to your high school and college days and rekindle your love for making macrame hemp bracelets with this engaging step-by-step DIY guide! Offering three distinctive patterns – the beaded square knot, plain square knot, and twisted half knot, this tutorial ensures you'll have a variety of unique designs under your belt.
Moreover, each bracelet has an adjustable sliding closure, further simplifying the process. All you need is some medium-weight hemp cord, a set of scissors, and some craft glue, along with beads for the beaded variety.
So why wait? Rekindle your crafting passion and add these charming macrame hemp bracelets to your collection or gift them to your loved ones. Happy crafting! marchingnorth
4. How to Make a Macrame Rainbow Bracelet With Beads
Master the art of knotting with these intricate macrame bracelet patterns for all skill levels. Showcase your love for colors with this versatile Chakra bracelet featuring a classic ROYGBIV rainbow of Czech glass star beads. Ideal for adorning your wrist as a statement of pride or a reminder of hope. Master the art of knotting with this DIY project using this comprehensive guide. The bracelet is adjustable, with knots that can be scrunched together or pulled apart to fit your style.
Use pliers to help with tight knots and avoid breaking your needle when sewing the tails back in. The rainbow palette comprises Czech Glass Cornelian Star Beads in Siam, Hyacinth, Translucent Yellow, Light Emerald, Aquamarine, Sapphire, and Amethyst.
Use Hemp Cord in your preferred color to string these radiant beads together, crafting a visually striking accessory and a vivid representation of Chakra or Pride symbolism. Unleash your creativity today and adorn your wrist with a vibrant rainbow. rings things
5. DIY Double Macrame Bracelet
Explore the world of craftsmanship with this distinctive double macrame bracelet DIY guide. Utilizing simple macrame techniques, the project results in a stylish and unique bracelet that appears as two separate bracelets fused into one. Crafted with four distinct yarn colors, a key ring, scissors, and glue, this guide walks you through each step of making this intricate accessory.
Each step is thoroughly explained and easy to follow, from cutting and knotting your yarn to executing the macrame technique. Notably, the guide includes creative solutions to give the bracelet a neat and clean finish.
Regardless of your knowledge of macrame, this step-by-step guide will lead you to produce a stunning end product. Show off your handiwork and make a fashion statement with this double macrame bracelet! instructables
6. How to Make the Shambala Macrame Bracelet
Relish the artistry of crafting a Shambala macrame bracelet, a contemporary piece inspired by ancient Tibetan prayer beads. It's more than just a bracelet; it symbolizes friendship and a fashionable accessory. Materials required are minimal and readily available, including 12 round faceted crystal beads in champagne and clear AB colors, a white hemp cord, a vintage Victorian button, and a clipboard.
Following this clear, easy-to-understand guide, you can make an elegant, intricate piece to wear or gift to a loved one. The joy of making this bracelet is its versatility; swap out beads and colors to design a unique piece every time.
Engage in this tranquil activity, making a stunning accessory that adds a personal touch to any outfit. It's a craft and an expression of personal style and creativity. runningwithsisters
7. Easy Macrame Bracelet Pattern
Learn how to make a unique macrame bracelet adorned with vibrant resin rhinestone beads. The show's star is the versatile double half hitch knot, a common knot used to interweave strings and make beautiful patterns. The bracelet is crafted with 12 strings of 1mm nylon thread, brought to life with resin rhinestone beads, and finished with a lobster claw clasp for easy wear.
The process includes preparing the strings, making the bracelet pattern with beads, finishing the macrame, and finally attaching the clasp. Crafters will also need tools like ribbon ends, a jump ring, tape, lighter, wire-cutting pliers, and scissors.
Despite being somewhat time-consuming, this DIY project is approachable for all. So get those hands busy and transform simple materials into beautiful handcrafted jewelry that will draw attention! lcpandahall
8. DIY Macrame Spiral Bracelet for Couples or Bff's
Craft endearing DIY macrame spiral bracelets for yourself and your loved ones, a perfect blend of minimalistic style and personalization. These bracelets incorporate charms that add a special touch, making them unique to the wearer. The materials needed are simple: waxed cotton cord, scissors, a clipboard, binder clips, fabric glue, charms, a measuring tape, a tapestry needle, and protective band-aids.
In five easy steps, with a photo and video tutorial available, you'll learn how to tie macrame half-knots, and square knots, add a charm, finish up, and make an adjustable sliding knot clasp for convenience. These bracelets look great on both men and women, offering a subtle way to keep your loved ones close. craftifymylove
9. Homemade Jewel Macrame Bracelet
Explore a variety of free macrame bracelet patterns to create stunning, handmade accessories for any occasion. Prepare for sun-soaked days with a chic, DIY jeweled macrame bracelet. Crafted using a natural braiding cord, antique jewels, and small jump rings, this accessory can amplify your summer style. The assembly process is simple – attach rings to your chosen jewels, cut cords in specified lengths, and interlace the cords using a square knot.
Afterward, design a secure closure. The finished piece will adorn your wrist elegantly, invoking nostalgia for classic friendship bracelets while introducing a touch of elegance. So, set aside an evening to unwind and tap into your creative side, immersing in the serenity of bracelet-making. This project adds to your summer accessory collection and offers a soothing, therapeutic activity. helloglow
10. How to Make a Macrame Bracelet
Jump into the latest trend with a chic DIY macrame bracelet! Guided by a macrame expert, you'll quickly be weaving your summer accessory. The boho-style, chunky bracelet is versatile and easy to knot, making it a perfect introduction for those new to macrame. Personalize your creation with a color that matches your wardrobe, or craft a meaningful, handmade gift for a style-conscious friend.
Key materials you'll need include macrame string, measuring tape, scissors, a crochet hook, and optional masking tape. Make your macrame bracelet today and share your newfound skill with friends, family, or children. Don't stop at bracelets, though!
This basic macrame technique opens possibilities, including making matching jewelry or a trendy macrame purse. Get started today and flaunt your unique, handmade fashion statement! gathered
11. Making a Micro Macrame Bracelet
Venture on an exciting crafting journey and design a chic micro macrame bracelet with rings. With its intricate knots and color schemes, this accessory offers a sophisticated touch to any outfit. You'll need simple supplies such as perle cotton, rings, a jewelry chain, a clasp, and essential tools, including pins, measuring tape, and jewelry pliers.
Select your favorite color combination from a vast range of perle cotton colors to make a design that perfectly complements your style. The detailed instructions direct you through the process from securing cotton strands to the rings using a lark's head knot, making a beautiful pattern with a double half hitch knots, and finishing it with a hidden hem.
This unique, easy-to-wear jewelry piece can be customized to match any look or mood. Enjoy making your personalized bracelet and add a trendy touch to your jewelry collection. youmakethis
12. How to Macrame Hemp Bracelet
Engage your children in an enjoyable, easy, inexpensive home activity: DIY macramé bracelets! Using minimal materials like hemp cord, beads, scissors, and tape, your children can craft beautiful bracelets while enhancing their creativity and motor skills. The process involves intricate knotting and beading, and each bracelet can be personalized to their liking. The activity keeps them engaged and provides a sense of achievement. Moreover, the bracelets can be shared with friends and family, strengthening bonds. Enhance your children's creative skills today with this fun-filled macramé bracelet activity! richlandlibrary
13. Simple Macrame Bracelet Tutorial
Get an elegant and personalized macrame bracelet reminiscent of childhood summer camp days with simple supplies like a knotting cord, pre-drilled stamping blanks or beads, scissors, and a lighter. This process is so straightforward and engaging it could easily be done while watching your favorite movie!
The real beauty of this DIY project is in the fusion of nostalgia with adult sophistication. Replacing neon plastic beads with a sleek brass bar and itchy hemp with a delicate cord, the bracelet is transformed into an understated yet chic piece of jewelry.
Dive into the enchanting world of macrame and make a bracelet that's more than just an accessory; it's a testament to your creativity and style. It's an activity suitable for all ages and skill levels, promising a delightful experience of making something beautiful and unique from scratch. Happy knotting! abeautifulmess
14. Make Your Own Charm Macrame Bracelet
Dive back into the timeless art of crafting with an elegant and easy DIY project – the macrame bracelet. Despite a lengthy hiatus and the unfortunate loss of craft materials, our guide has created an exquisite range of these bracelets, bringing together creativity and simplicity. Armed with the tools you have, follow step-by-step instructions to weave your bracelet.
The versatile macrame knots allow for numerous designs, promising more posts in the future with different variations. It's an excellent way to spend leisure time, resulting in a charming accessory that is a testament to your creativity.
Embrace this opportunity to explore your artistic side and make a piece of beauty that's not just a fashion statement but a reevaluation of your unique personality. So get started on your project today because there's no better joy than the satisfaction of making something beautiful by hand. prettyquirkypants
15. DIY Macrame Bracelet With Steps by Step Instructions
Discover a delicate and beautiful approach to macrame with this lacy, openwork bracelet. Crafted using #10 crochet cotton, large rings, sharp scissors, sewing pins, and other jewelry-making tools, this design is faster to knot and exudes a delicate, elegant aesthetic. Begin by determining the length of your bracelet, then cut eight strands of cotton.
Make lark's head knots and secure them with a ring, gradually forming intricate double half-hitch knot patterns. Continue this process, incorporating additional large rings for structure and a clasp for functionality. Once completed, enjoy wearing a piece of handcrafted elegance on your wrist. howdidyoumakethis
16. Make a Wide Macramé Bracelet
Get ready to elevate your style with a trendy DIY macramé bracelet! This unique accessory can be crafted at home using embroidery thread, straight pins, a piece of cardboard, and a clasp of your choice. Start by drawing a straight line on cardboard and arranging your pins along the line.
The width of your bracelet is determined by the number of pins you use – for instance, 32 will yield a 3.25-inch-wide bracelet. Utilize a tri-color scheme or personalize it with your preferred colors. This simple yet elegant piece of handcrafted jewelry will give you a sense of creative satisfaction. Happy crafting! 365daysofdiy
17. DIY Rainbow Macrame Bracelet
Discover step-by-step macrame bracelet patterns to craft unique and fashionable pieces for yourself or as gifts. Immerse in knotting with this vibrant DIY rainbow macrame bracelet, a fun and colorful addition to your accessories collection. Crafted from a meter of wax string in seven hues, it showcases a beautiful gradient transitioning with each knot. You can customize it with a single hue or color combination that resonates with your style.
Simple tools like a styrofoam board, a tape measure, pins, scissors, and a lighter are all you need. An optional touch of beads can add extra flair. Follow this tutorial to arrange your strings, secure them, and start knotting using the "Double half hitch knot" technique.
This project enhances your creativity and results in a wearable piece of art perfect for personal use or as a thoughtful handmade gift. Experience the joy of crafting this rainbow macrame bracelet today! instructables
18. Easy and Stylish Macramé Bracelet Pattern
Boost your creativity and craftmanship with this engaging DIY micro macramé bracelet tutorial. This handcrafted accessory, ornamented with glass cabochon and silver beads, offers a unique blend of sophistication and bohemian style.
With simple materials like a styrofoam board, wax string, beads, scissors, and a lighter, you can weave intricate knot patterns using nothing but your fingers. The tutorial uses three types of knots: the square knot, the double half hitch, and the lark's head, each contributing to the bracelet's intricate design.
Choosing the right beads is crucial to maintain the aesthetic balance of the piece. The sticky, robust, and easily moldable wax string provides longevity to your bracelet. Immerse in the world of micro macramé, and make your standout piece today! instructables
19. How to Make a Macrame Bracelet at Home
Delve into the charm of crafting your own stylish and adjustable macrame bracelet, using a simple knot to make a mesmerizing helix pattern. This macrame bracelet DIY project requires minimal equipment, just a macrame cord of your choice, scissors, a tape measure, and some Scotch tape.
Follow this easy-to-understand guide, outlining six comprehensive steps to help you make this eye-catching accessory. Perfect for gifting or enhancing your accessory collection, the bracelet can be personalized by choosing the color and size of your cord, adding beads, or incorporating unique charms.
Maintaining your macrame bracelet is straightforward, involving a quick spot wash with mild soap and lukewarm water as needed. So why wait? Start crafting your adorable macrame bracelet today, and enter the world of easy, engaging, customizable jewelry craft. onelittleproject
20. DIY Two-Color Macrame Bracelet
Experience the realm of macrame and give your accessories a fresh, handmade touch with this informative guide on crafting an Aztec Sun Bar bracelet. Featuring a unique blend of grey and orange hues, this design uses waxed rope and adds a touch of elegance with silver beads.
The use of straws innovatively assists in making secure barrel knots. This distinct style of jewelry-making utilizes a variety of knots, including the snake knot, endless falls knot, and lark's head knot.
The bracelet's circumference can be tailored to suit your preference. This hands-on project helps hone your creativity and offers a personalized bracelet that carries the warmth of your touch. Transform a few simple materials into an intricate and stylish piece of wearable art. Dive into the world of macrame today and let your creativity shine!
21. DIY Macrame Bracelet Square Knot
Delve into the world of macrame with these beautiful free macrame bracelet patterns perfect for beginners and experts alike. Enhance your style with a self-made macrame bracelet square knot! This DIY tutorial is tailored for those seeking an introduction to macrame bracelets. With a focus on the square knot technique, this project allows you to make a unique piece of accessory with just a few supplies.
You'll require a 2mm rope in pink and black, a lighter, and scissors. The process involves weaving a pattern using a 200 cm long pink thread, a 40 cm pink thread, and two 40 cm black threads. This tutorial will help you craft a bespoke accessory boasting a unique square knot design. Make your standout bracelet and add a personal touch to your accessory collection today!
22. Easy DIY Macrame Bracelet
By making your DIY macrame bracelet, express your creativity and add a personal touch to your accessory collection. This captivating square knot/cobra stitch friendship bracelet tutorial makes the process incredibly accessible, even to those new to the craft.
With a few simple supplies like 0.8mm Nylon Thread for the blue bracelet, gold beads and spacers, and vibrant red silk thread, you're well on your way to making a bespoke piece. This macrame bracelet is not only robust but also exhibits an adorable charm.
Following this easy, step-by-step guide, you'll soon be mastering the art of macrame and producing a lovely handcrafted accessory to wear yourself or gift to a cherished friend. Transform simple materials into stunning, unique creations today!
23. Make Your Own Macrame Bracelet
Undergo the joy of crafting with this beginner-friendly macrame bracelet tutorial! Ideal for those new to the macrame world, this step-by-step guide will instruct you to make a unique bracelet. You'll fashion a charming accessory using common supplies such as a macrame cord, scissors, and a clipboard.
This tutorial breaks down the knotting process into manageable parts, ensuring an easy and enjoyable crafting experience. The handmade macrame bracelet you make will testify to your burgeoning creativity and a stylish addition to your accessory collection. Undertake this fun project today and immerse yourself in the world of macrame craft!
24. DIY Macrame Bracelet for Beginners
Undertake your travel into the world of macrame with this easy beginner tutorial on making a beautiful and simple bracelet. The tutorial guides you through basic knots using just a few supplies: a nylon cord (1mm), beads, a lighter, and scissors.
This DIY project can add a personalized touch to your jewelry collection or make a meaningful gift for a loved one. This tutorial offers clear, step-by-step instructions, making it suitable even for those new to macrame.
However, some viewers have suggested different colored cords for better visibility during the process. When completed, the bracelet showcases a lovely pattern that can enhance any casual or formal outfit. Try this creative project today and explore the artistic world of macrame. Remember, practice makes perfect, and each creation enhances your skill!
25. Best Macrame Bracelet Design
Swoop into the intriguing craft of macramé with a step-by-step tutorial that makes crafting unique bracelets and accessories easy and rewarding. Crafters can utilize common materials such as cotton cords, beads, and metal rings to fashion stunning personal and chic pieces.
From making macramé square knot bracelets to intricate beaded designs, the process is as enjoyable as a result. The featured instructions are detailed yet easy to follow, enabling you to master the art of macramé knots at your own pace.
Enjoy the therapeutic benefits of crafting while producing stylish accessories that make perfect gifts or additions to your collection. With this helpful guide, transforming simple cords into beautiful macramé creations has never been more accessible.
Conclusion:
In conclusion, exploring the numerous free macrame bracelet patterns available can lead to countless creative and fashionable designs. By trying your hand at different bracelet styles, such as easy DIY macrame knot bracelets, macrame spiral bracelets, or even intricate macrame jewelry patterns, you'll find the perfect free macrame bracelet pattern to express your personality and style. Don't forget that free macrame bracelet patterns and step-by-step tutorials can make the crafting process more enjoyable while providing valuable guidance. So why wait? Start making your unique DIY macrame bracelets today!