If you are on a mission to crochet best summer fashion with your hook then crocheting some bare arm patterns would work great! Add some funky sleeveless crochet sweaters and tank-tops to your wardrobes this summer just by spending a little time with your favorite yarn weights and crochet hook! We have smartly picked and showcased here these 10 free Crochet Tank Top Patterns that are both praise-worthy and gift-worthy! Every style-conscious and fashion loving lady will love to include these tank tops in here summer outfit collection! They are just best to pair with jeans and with making an eye-popping throw-on for every summer outfit!
As you are not going to crochet these sweaters for chilly days but to beat the summer heat, so you must vary the style of stitching from dense to lacey to get you finally finished crochet pattern breezy and airy! All these crochet sweaters are sure to go lightweight on your torso and will create a damn gorgeous bare arms look of you!
Crochet the breezy summer sweaters that may come with colorful stripes for ridiculous style statements; one mind-blowing sample is given here, the chevron black and white stripe pattern! Another fresh example is the given x-stitch crochet tank top that comes with white lines for an alluring look! If you want to see lots of enchanting colors in your crochet top then going with color block technique will just work great, get inspired of the given short-sleeve crochet top that will double up the cuteness of cute girls!
The list also promises to make you get with the patterns that are inspired of designer's outfits and even of Hollywood fashion, one great sample is the breezy beach cover-up, the perfect crochet top that will create a celebrity look of you in just no time! Crochet also the summer caron tunic to boost your summer fashion that is also super airy and lacey! Moreover, crochet the Lea Blouse that is all you need for more prominent summer fashion statements and can be layered up with any summer t-shirt!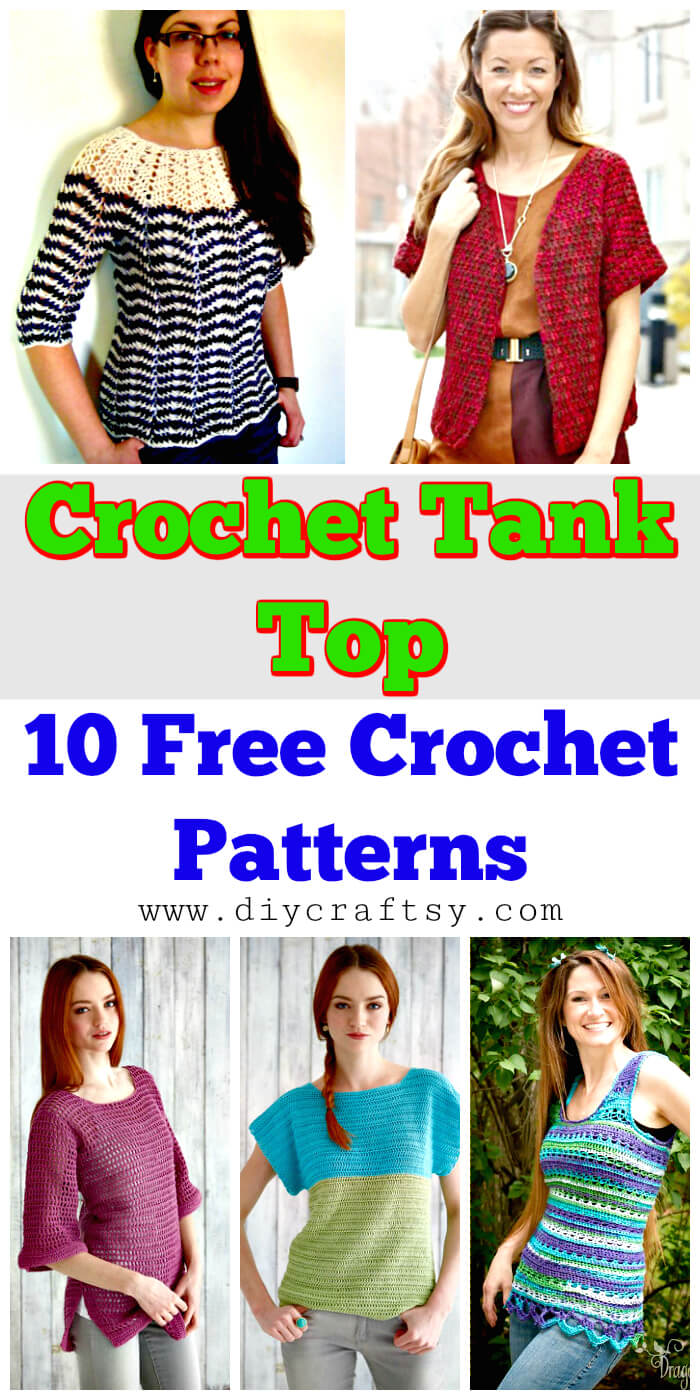 While taking a roundup of an entire collection, also go through the source links to get free crochet patterns, step-by-step photo tutorial and instructions guides for your favorite crochet summer tops!
Free Crochet Sweater Pattern:

Bring warmth and style to your torso and arms with this easy-to-crochet but super stylish crochet sweater, the beautiful black and white chevron stripes sweater, crocheted to inspire all the winter fashion lovers! Crochet it for yourself, for a teen or for a girl or just to use in gift-giving! Complete free sweater pattern and step-by-step instructions here makemydaycreative
Crochet Tank Top Pattern:

The best ever sleeveless t-shirt for the women, the crochet tank top, crocheted to be airy so would go amazing for winter fashion! The treble x-stitch has been used to crochet this fantastic crochet tank top which generate a great texture, the mixed white lines give an alluring impact to entire beauty of the sweater! This praise-worthy winter sweater should definitely go to your winter or spring wardrobe! Complete free pattern and step-by-step instructions here pattern-paradise
Free Crochet Patons Colorblock Top Pattern:

Some a single color not goes enticing to you so you wish the selected fashion clothing to be more colorful! So, by keeping in mind the people who love colors, this color block top has been crocheted which is truly something that will make all women happy! Whether you need winter warmth or the stylish winter fashion statements, this crochet tank top is the perfect choice for both! Willing to clone this fantastic top? Complete free pattern and step-by-step instructions here yarnspirations
Crochet Bernat Mesh Top – Free Pattern:

The best top for a winter day to feel cozy! This nice crochet top comes airy and contains a beautiful mesh texture which is purely eye-popping! The arms of the top comes a little more than the half and this brings more cuteness to the user! The perfect crochet fashion shirt to wear in less chilly days to look adorable and gorgeous! Do experiment this mesh top with your own desired yarn weights and colors! Complete free pattern and step-by-step instructions here yarnspirations
Crochet Summer Love – Knot – Free Crochet Pattern:

Want a perfect crochet shirt that will pair best with your jeans? You will find no best alternative to this crochet love knot top, perfect to wear in summer, the sleeveless design will definitely help you to beat the summer heat making you look adorable and cute at the same time! You can crochet it with sleeves and can go with more dense yarn stitching if you thinking to wear it in winters! Complete free pattern and step-by-step instructions here ravelry
Crochet Breezy Shell Tank Top- Free Pattern:

One more breezy tank top here for boosting your summer fashion! This one comes with 2 parts crocheted separately and then have been combined beautifully by stitching the sides up nicely! First you can crochet the bodice straps and then the rest in different colors! After you will put them together, you will get a perfect color block tank top that will truly go amazing on your torso! Here you have to go with shell stitches to crochet this alluring sleeveless crochet sweater! Complete free pattern and step-by-step instructions here cre8tioncrochet
Crochet South Beach Cover Up – Free Tank Top Pattern:

This one is just perfect to throw on a t-shirt for amazingly cool fashion statements! The design is wholly inspired of Hollywood fashion and it would make a best beach cover up ever! Crochet the golden style of stitches with your hook completing this tank top pattern which you will definitely love to crochet! It can also be layer up with many of your winter dresses in a lots of different ways! This is really a must-have item for your winter or summer wardrobe! Complete free pattern and step-by-step instructions here redheart
DIY Cardigan – Free Crochet Pattern:

You probably willing to have a crochet jacket which you can pair up with every of your winter dress up! If you are really looking forward for this kind of crochet stuff then there short-sleeve crochet cardigan is best for you! Another specially designed crochet tank top to hold your attention would bring a perfect fashion to style-loving teens who are willing to catch more eyeballs! Willing to duplicate this very special cardigan? Complete free pattern and step-by-step instructions here yarnspirations
Crochet Caron Tunic Pattern:

Not merely the winter fashion, you can boost also the summer fashion with your hook! This crochet caron tunic will tell you how! It has been crocheted breezy and lacey and the design is sleeveless, perfect for those who want to enjoy the summer with bare arms, which is just perfect to beat the summer heat! This lacey crochet t-shirt should definitely go to your summer wardrobe! Want to clone this crochet pattern? Complete free pattern and step-by-step instructions here yarnspirations
Crochet Lea Blouse – Free Pattern:

Follow an easy crochet stitch which you can repeat from neckline to down to hem to crochet this beautiful Lea Blouse that will look fantastic on the torso of any style loving girl! Why not experiment it using different yarn colors? You will definitely love crocheting this beautiful blouse that will a delight to wear and will make a heart-winning gift too! Complete free pattern and step-by-step instructions here girliescrochet