The deadly cold weathers just make your stay longer at home and you also love it to get wrapped in a cozy blanket and to read some books! You really want to cover your lap and legs warm in the dead of cold and you often want to do so while watching TV or reading some story books in winter just by sitting or laying down over your comfy living room sofa! So, intending to cover your legs and lap warm in a scary style? Yes, it would be great fun and you can really make some scary type of blankets just like these Crochet Shark Blanket with top 10 free crochet patterns that are amazingly beautiful and great and will make you look like you are in the mouth of the shark! So, here you need to crochet some sharks that will be super easy if you are having just an intermediate skill level! Here all the shark blankets would go kids special as they always love the things that create too much fun!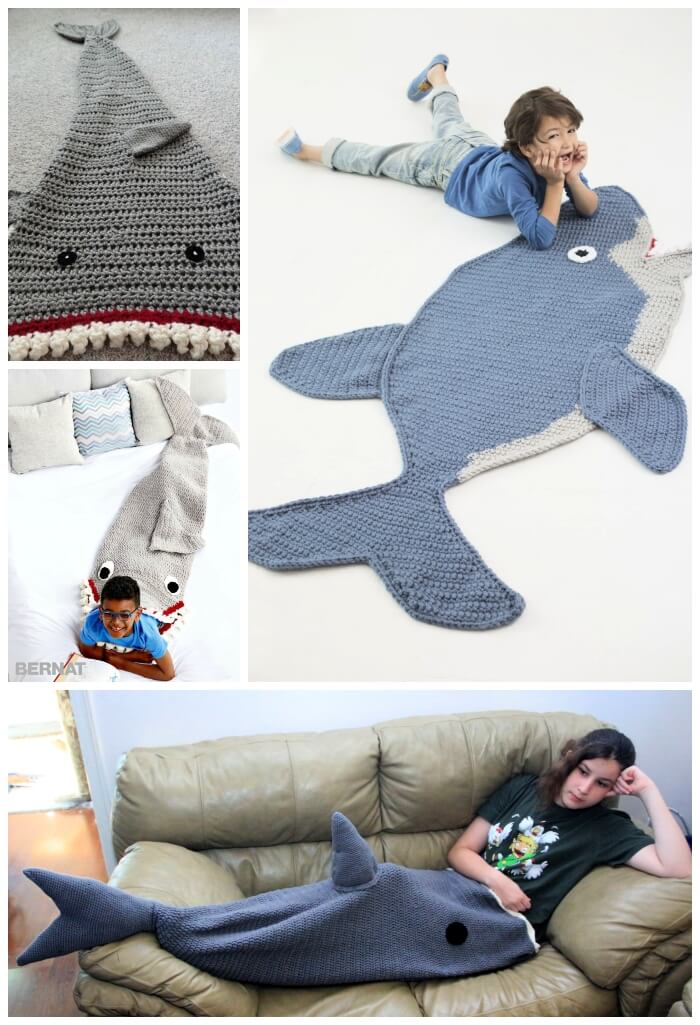 Here this series of crochet shark blankets is inspired by the mermaid tail crochet blanket patterns that are a big hit over the internet and are popular around the globe! So, these crochet shark blankets would be the next most praised and lovely series of the kid's blankets that all crochet loving moms can crochet at home! Here the basic purpose of these shark blankets would be to bring a lot of comfort to your lap and the necessary amount of warmth to your legs and hence you will be more comfortable to lay down on a sofa to enjoy your favorite TV shoes and storybooks! These snuggle sacks would work up quickly and they will a great addition to your kids winter wardrobe!
Free Crochet Patterns You May Love to Crochet:
Here you can separately crochet the components first like the shark tail, eyes, fins and the rest of the shark body and then can combine the components to gain a lovely shark! Here crocheting the teeth and face of the shark would be a little tricky part but the visual guides would be there to help you at every point and step where you will puzzle at! So, time to crochet these shark blankets with no hesitation! You can stuff also the separately crocheted fins and the shark tail so they will remain straight and erected and would not fold or twist as the blanket folds or twists!
Here these shark blankets would rock for all like for the adults, kids and even for the babies! They will also make great handmade gifts if you are intending to win the heart of a special kid or of a beloved one! Just browse the entire list to see some more interesting crochet shark blanket designs and also open the attached links to grab the full free crochet shark blanket patterns!
Free Crochet Adult Shark Blanket Pattern: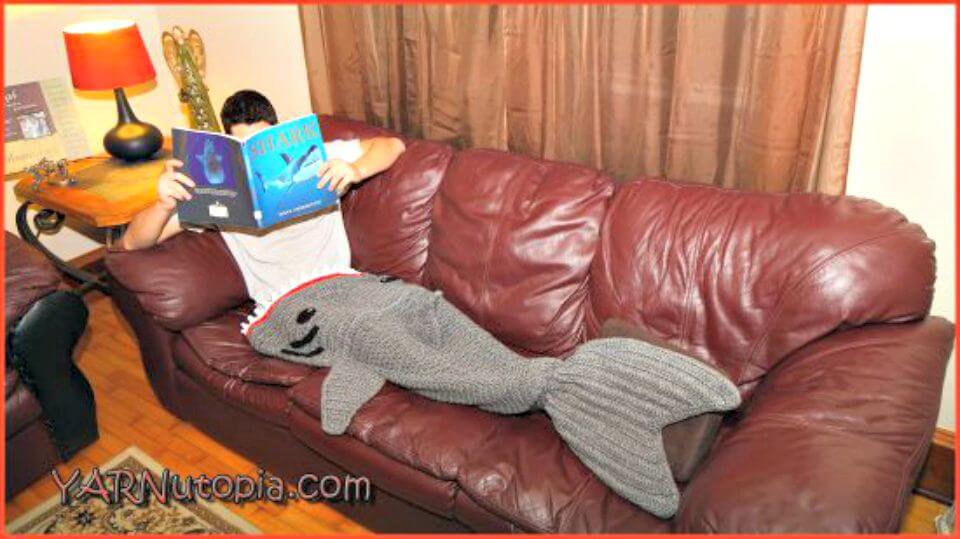 Enjoy reading books on your favorite couch without letting the cold cause trembling to your legs! All you need this crochet adult shark blanket that is a perfect snuggle sack and just promises to keep your entire lower body warm and cozy! Just like the mermaid tale blankets, this is here a shark tale blanket that would make your kids feel super excited if given as a gift! Free crochet pattern and easy tutorial guide is here yarnutopia
How To Free Crochet Fin-Tastic Shark Snuggle Sack Blanket Pattern: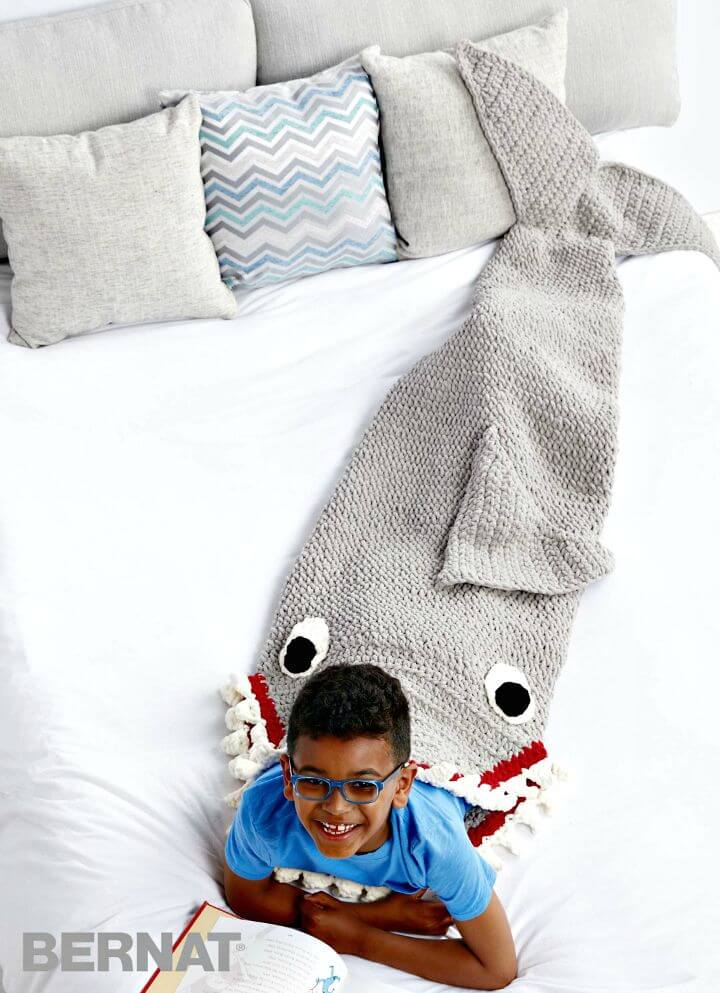 You will love this crocheted shark attacking your little kids as it is here the beautiful crochet snuggle sack or shark blanket that has been crocheted to inspire and amaze! This is here the super fun-making kids blanket or leg warmer that will make an epic gift or present too! This is here both cute and scary kids blanket that that will get so many praising comments too! This fin-plastic shark legwarmer would also make an outstanding gift! Duplicate it via free pattern and visual tutorial provided here yarnspirations
Easy Free Crochet Shark Blanket Pattern: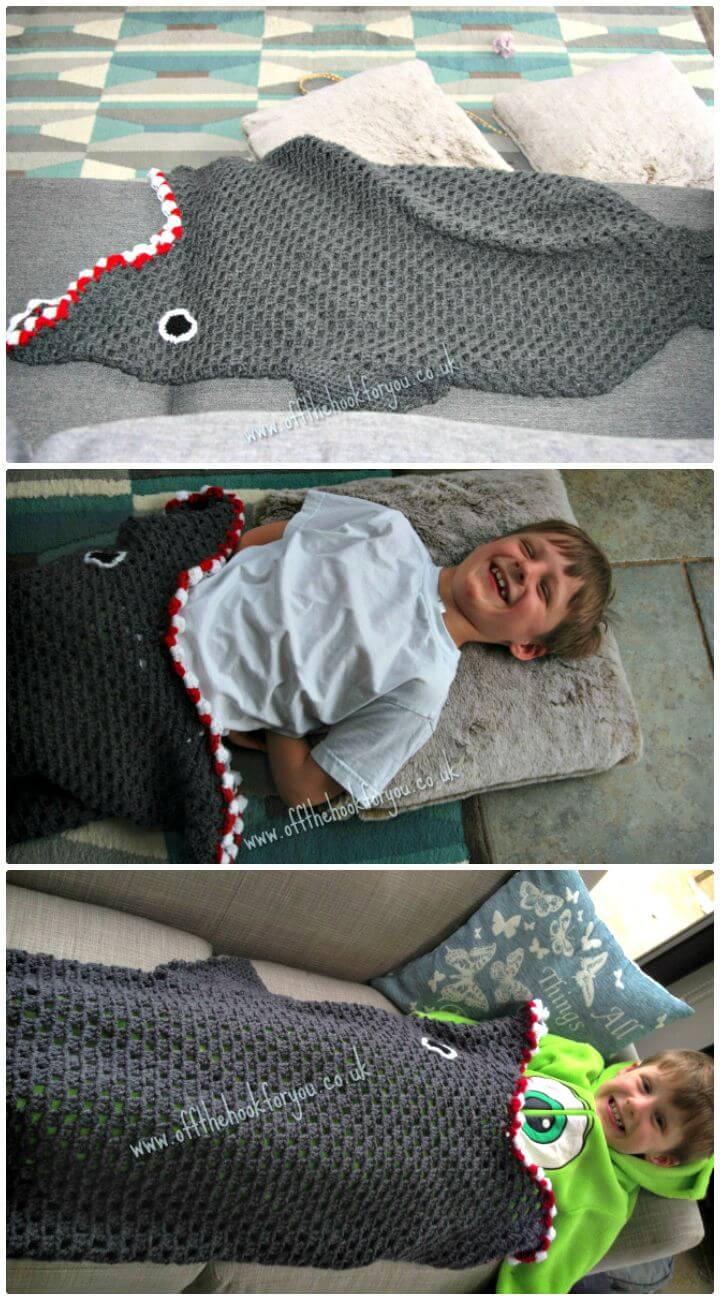 While laying on your living room sofa in the dead of cold to watch TV or movie, get your feet and legs in this crochet shark blanket that would be a fun way to keep your entire lower body warm and cozy! This is here another adorable legwarmer that is a scary alternative to mermaid tale blanket and is just super gift-worthy also! This will held equally pleasing to both kids and adults and is something you should definitely give a try! Intending to duplicate it now? Grab the full free pattern and tutorial from here
offthehookforyou
How To Free Crochet Shark Afghan Blanket Pattern: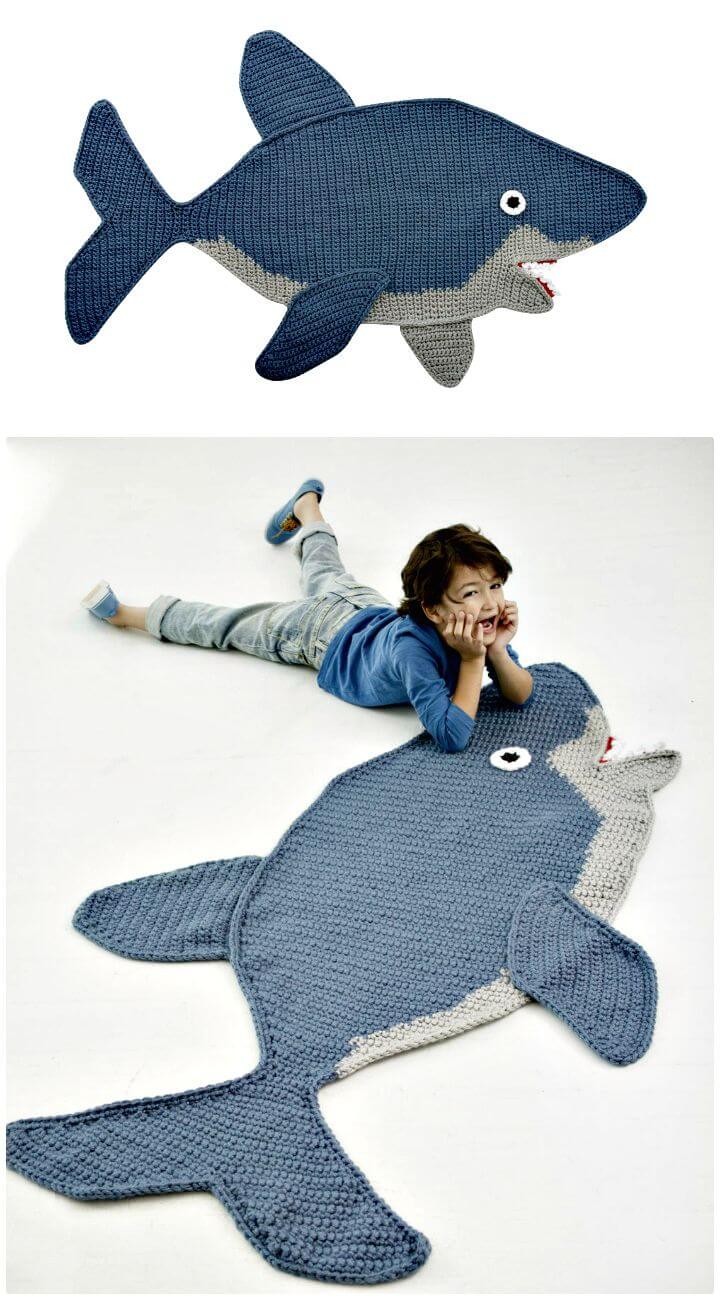 Willing to gain a super sweet and fun-making afghan blanket for your kids? Kids always feel attractive toward fun shapes and colors and this shark inspired crochet afghan blanket will really go eye-catching to kids! Let your kids snuggle in it to feel warm and cozy without missing out the fun! This is something that all moms will love to see in their kids' wardrobes or closets! Another great shark crochet pattern to inspire your hook! Grab the full free tutorial and easy crochet pattern from here lionbrand
Free Crochet Shark Attack Blanket Pattern: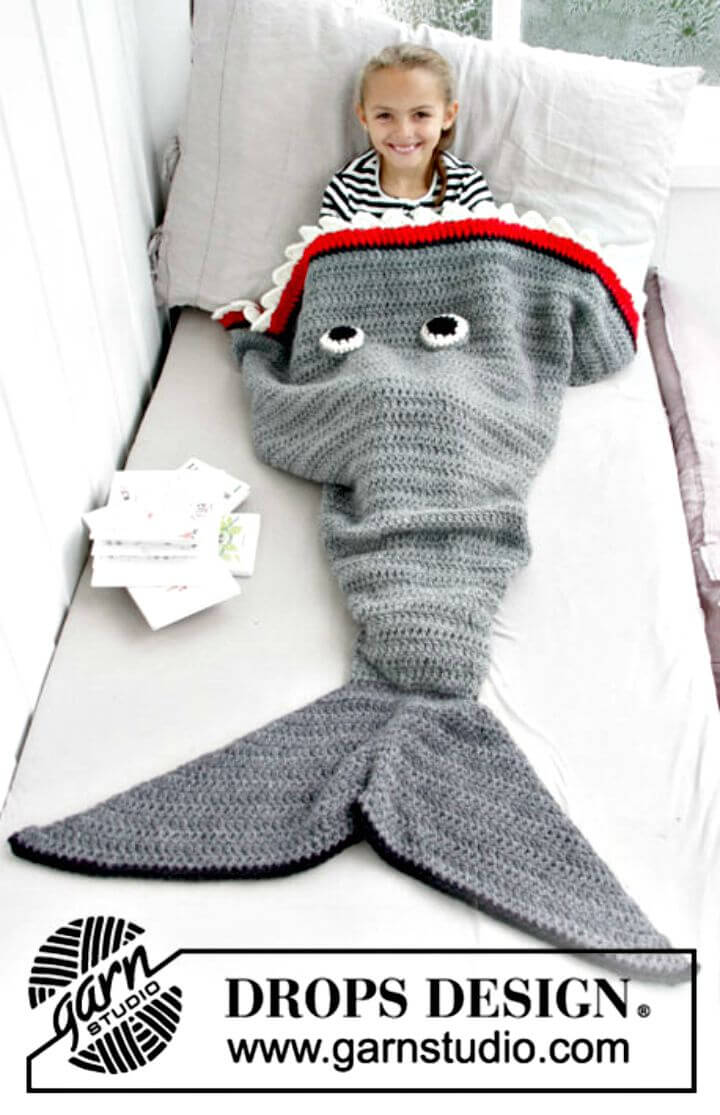 Here you are definitely going to praise the cutest attack of the shark that will help to keep your kids winter protected! This may sound strange to you but we are just talking about this shark attack crochet blanket that will be loved dearly by all fun-loving kids and is something mind-blowing to crochet also! The precious fins, the scary mouth with killing crocheted teeth and eyes just absolutely create a near to real look of the shark! Want your kids next snuggled in this fun blanket? Just duplicate it now by getting the free pattern and tutorial from here garnstudio
Free Crochet Shark Blankets Pattern: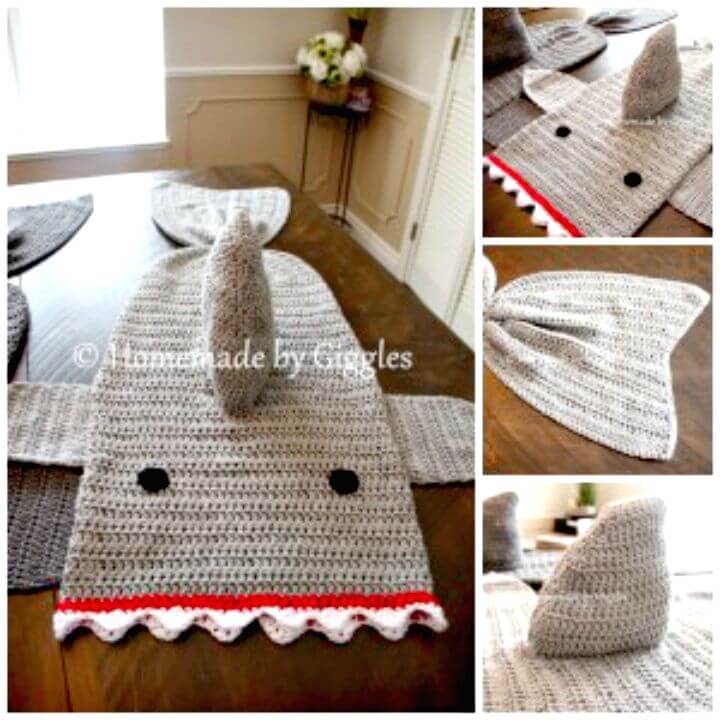 Swaddle your babies or little kids in this shark blanket that will also work great as cocoon! This is here the cutest crocheted shark that your kids will love to adore! This shark blanket will also make a brilliant baby birthday or baby shower gift and will also go as an epic present in hands of a mother-to-be! Willing to clone this very precious looking shark blanket for a baby? Just grab the free project details and easy crochet pattern from here homemadebygiggles
Easy Free Crochet Shark Blankets Pattern: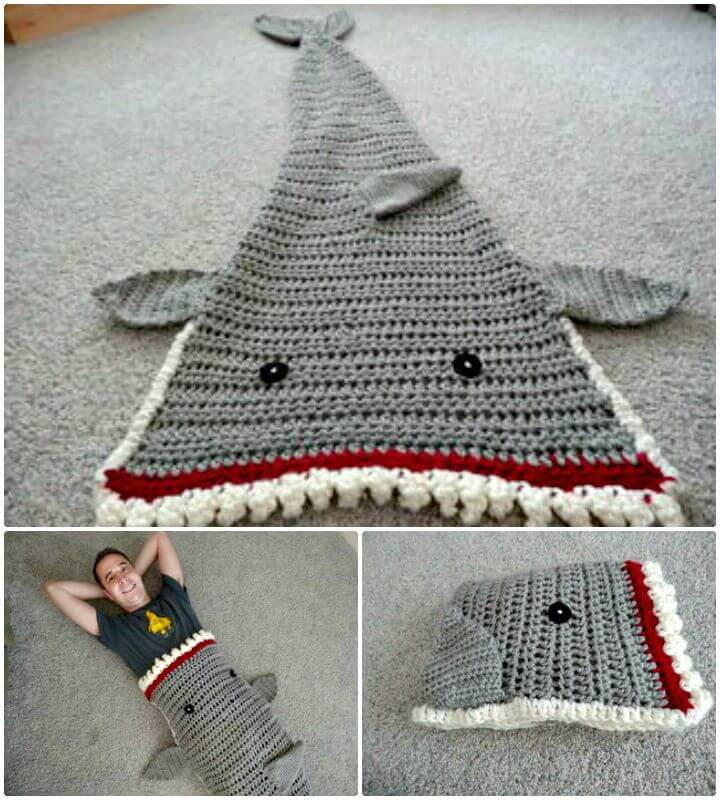 By varying the hook size, by changing the yarn weights and also by varying the style of yarn stitches, you can give amazing variations to your shark blankets! So, check out here another design of crochet shark blanket that is looking beautiful due to small eyes and scary attacking teeth that come at the opening end of this shark snuggle sack! Another perfect let or lower body winter warmer that every crocheter can crochet without concerning about the skill level! Further project details and complete visual guides are here instructables
Free Crochet Shark Time Pouch Blanket Pattern: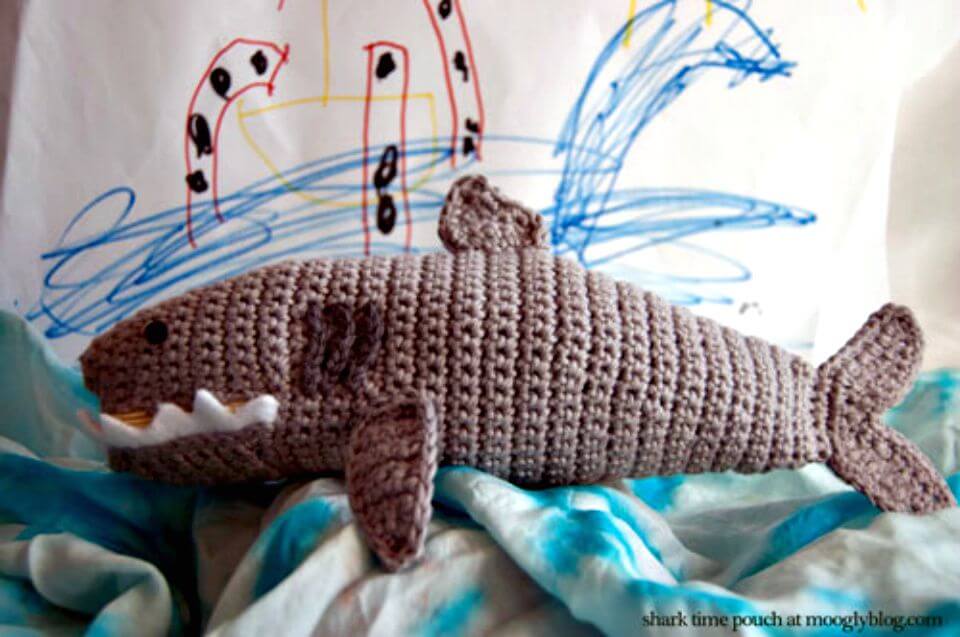 One more eye-catching shark blanket here that come in pouch style and will also make an outstanding stuffed shark toy for all fun-loving kids! Here this divine crocheted shark comes in light brown shade and with brilliant yarn texture generated by the tightness of crochet stitches! The white attacking teeth are what that still make this soft-to-touch shark a little scary! A super fun-making crochet blanket inspired of a shark! Willing to own it for a baby as it would make a perfect winter legwarmer or lower body cozy? Then just grab the free visual guides and easy free crochet pattern from here mooglyblog
Free Crochet Shark Lapghan Pattern: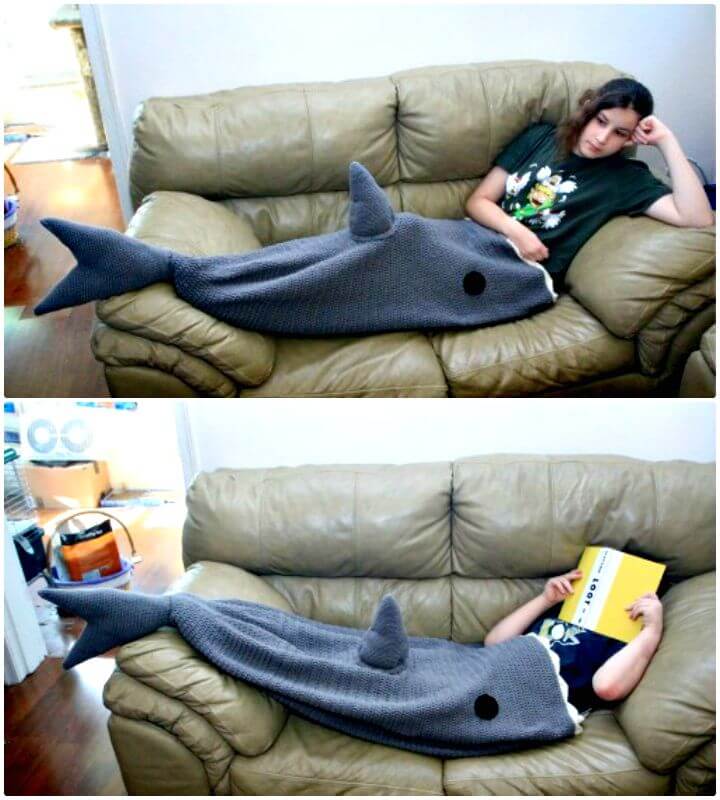 Here is how to go for happy book reading in the dead of cold while sitting on your favorite couch! The idea is to wrap your leg in a beautiful legwarmer and you will nothing better than this crochet shark lapghan that is sure to bring warmth to your lap along with keeping your entire lower body warm and cozy! This is here another precious crochet shark blanket pattern to inspire your creativity! Free crochet pattern and tutorial guide is here madhooker