There too many different stitches in the art of the crochet stitches that are used to incorporate different textures in the finally completed crochet patterns! Stump stitches give the stunning jumps to the design textures of the crocheted patterns, and some create the fantastic lacy appeal of the finally finished appeal! So bring some fantastic geometrical pattern to your crochet patterns like the waffle stitch that gives an enticing small square pattern to a crocheted pattern!
There are basket-weave and pop-corn stitches too that bring a lovely texture and design appeal to a crochet pattern! Moreover, you can also go with the crocodile and puff stitches to bring some excellent puffy texture to your pattern you are going to crochet! So, you can make use of different crochet stitches according to situations and demands! However, if you wish to crochet a pattern that should be thick, cozy, plush and sturdy in texture then you can really go with the cable stitch, one of the most famous stitches to crochet the patterns for the chillier fall and extra cold winter days!

So, do you know how to crochet in the cable stitch? If yes, then you can put your learned stitches to test by crocheting some particular kind of patterns, so do you wish to crochet some beautiful pattern based on the cable stitch? If yes, then take a look at these 26 Free Crochet Cable Stitch Patterns that will make you practice the cable stitch nicely and would be the great additions to your winter fashion wardrobes! Here all these crochet patterns would go fall or winter special, and you will love the texture they will come with, and the tight spacing among the stitches would not allow the air to pass making the design a bit cozier!
Crochet Stitches You May Like:
Crochet the cabled twist hats that will come with a stunning line texture and would be big fun to wear on your head! Here the list will also provide you the step-by-step tutorials to crochet the cabled twist nicely that will add interesting visual details to your finally crocheted patterns!
Work also in the cable stitch and make fabulous blankets and also throws for your interior home spaces, just have a look at the given sample that comes with an exciting design texture and fringes and would make a great gift! Also, crochet the cable stitch stocking that will be thick to wear and hence will rock as legwarmers and also make lovely cable headbands that will rock your style and fashion and would go much bewitching to eyes!
Crochet excellent cable and stripes hats that will boost your fashion and will also cover your head warm and too crochet chunky cabled cowls that would be a great addition to your winter fashion wardrobe! Browse the entire list of the given crochet cable stitch patterns and do duplicate your favorite ones at home! Browse also the attached links to grab full free patterns, visual guides, and step-by-step instructions!
Free Crochet Cable Twist Hat Pattern: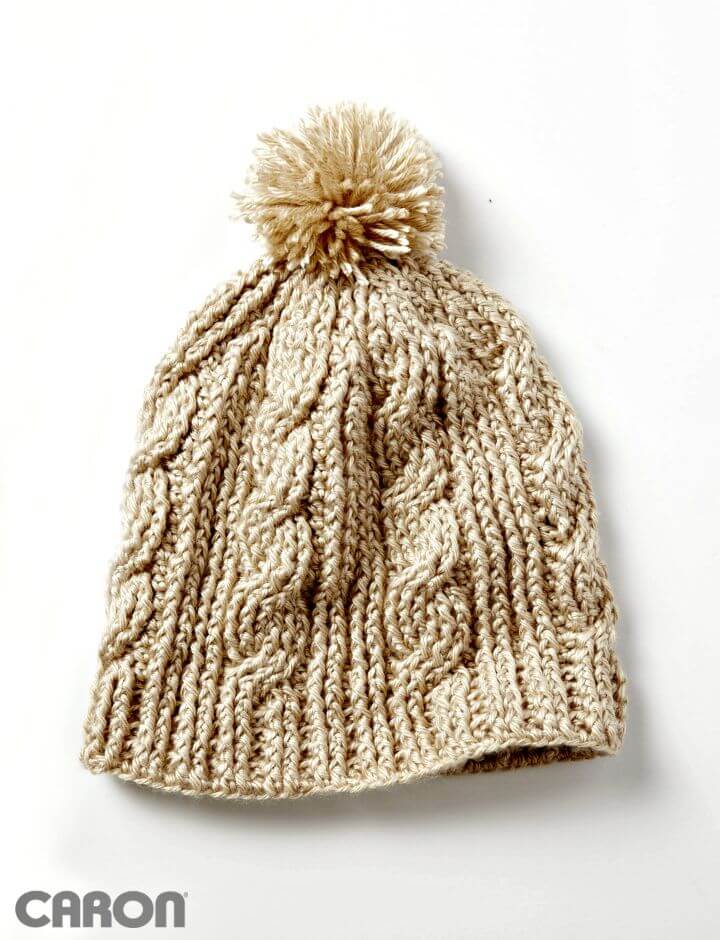 Cable stitch is very popular in the art of crocheting especially when you are to crochet some bigger patterns like of blanket mostly! Check out here this precious pom-pom hat that has been crocheted using braided cable stitch that also creates a ribbed design texture of the hat! Moreover, this hat features a neutral hue and will make an outstanding gift too! A mind-blowing crochet cable stitch pattern! Free crochet pattern and visual guides are here yarnspirations
How To Easy Free Crochet Cables Pattern: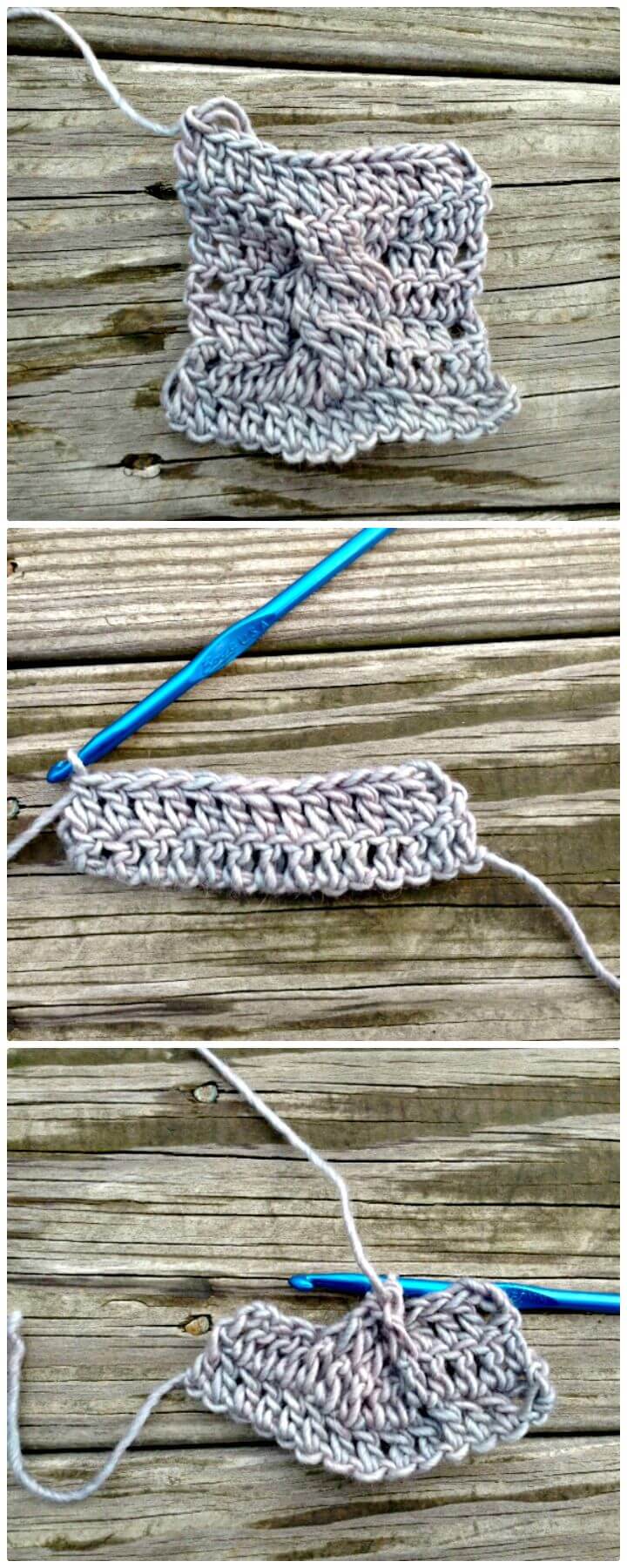 It is pretty easy to crochet in cable stitch, just in case if you do not know much about it then time to get master hands in crocheting cables! Just check out here the visual instructions and tutorial guides about how to crochet the cables nicely that will help to create some many different crochet patterns! Easy tutorial and visual guides are here craftsy
Crochet Owl – 92 Free Crochet Owl Patterns
Free Crochet Cable Work Blanket Pattern: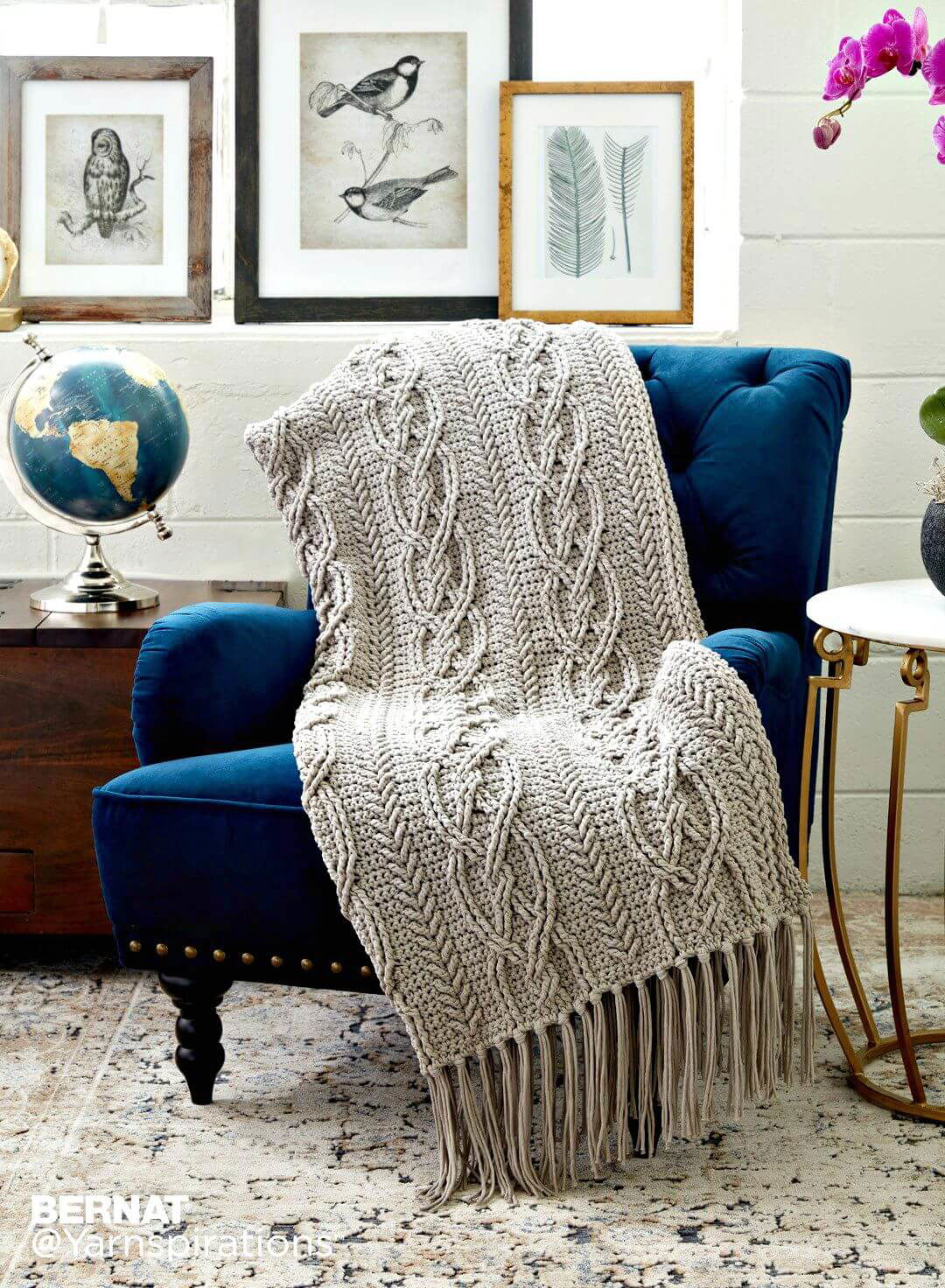 Check out here another outstanding work done with cable stitch, and this is here the mind-blowing crochet blanket that comes with both ribbed and braided design texture that creates an eye-catching appeal of this entire crochet blanket! This given blanket that features a neutral hue is an alluring mix of chevron and braided lines and has been trimmed with accent tassel style fringed edging as you can see here! Another great crochet project using cable stitch! Easy tutorial and free crochet pattern here yarnspirations
How To Free Crochet Cable Stitch Pattern: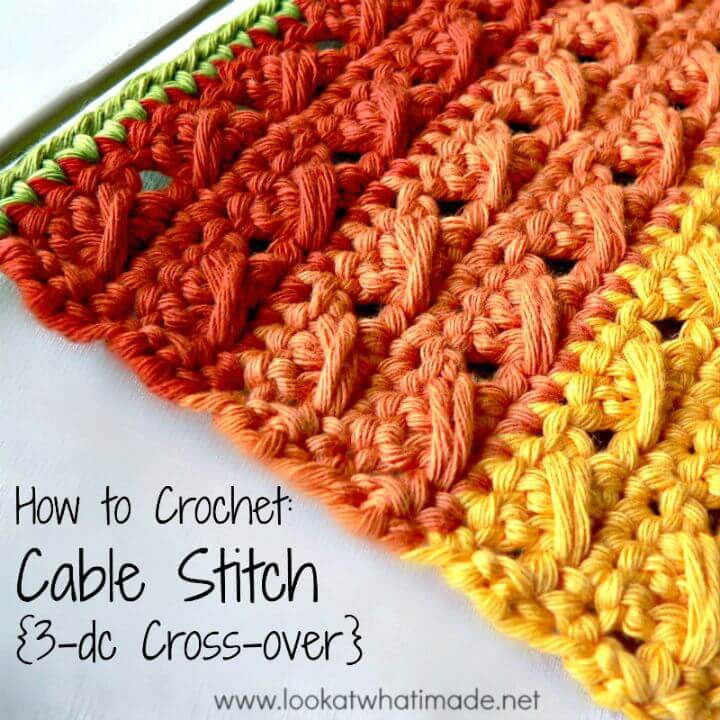 Crochet cable stitch pattern by going with cable stitch, still not having master hands in crocheting cable stitch? So, you should learn it as it may help to crochet any particular pattern with amazing design texture! Check out here the sample crochet cross-over stitching that will help crocheting adorable blankets, hats, afghans and any other item of winter warmers you like! See here the design texture of this crochet cable stitch and get your hook inspired! Free crochet pattern and tutorial guide is here lookatwhatimade
Free Crochet Cable Stocking Pattern: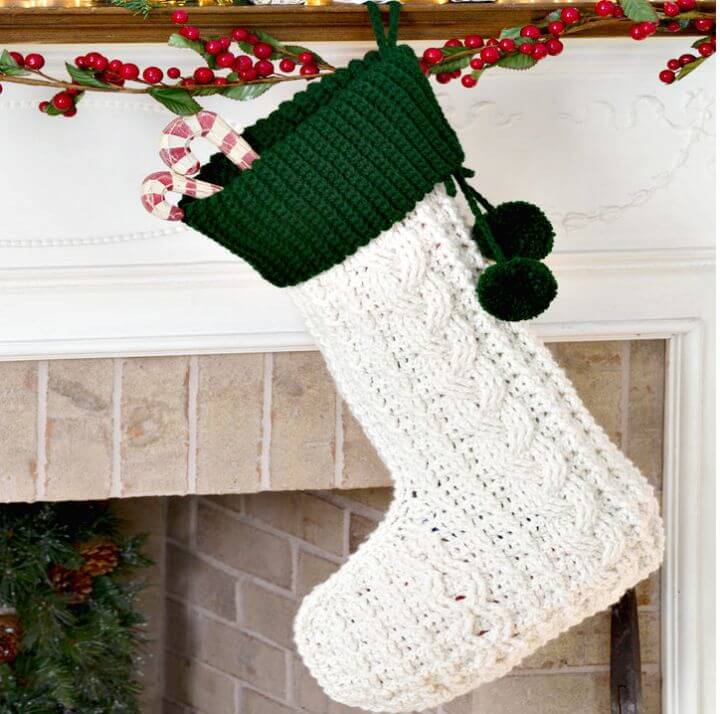 Check out here the beautiful gift stocking, crocheted with custom yarn colors and weights using the cable style of stitching! The so enticing design texture you see in this crochet stocking pattern is all due to the crochet cables, and there this stocking comes in a green and white appeal to look extra beautiful! Moreover, there are hanging pom-pom embellishments that raise the beauty of this crochet cable stocking to peak level! Want to duplicate this cable crochet stocking? Get the full free crochet pattern and tutorial guide from here redheart
Easy Free Crochet Cable Headband Pattern: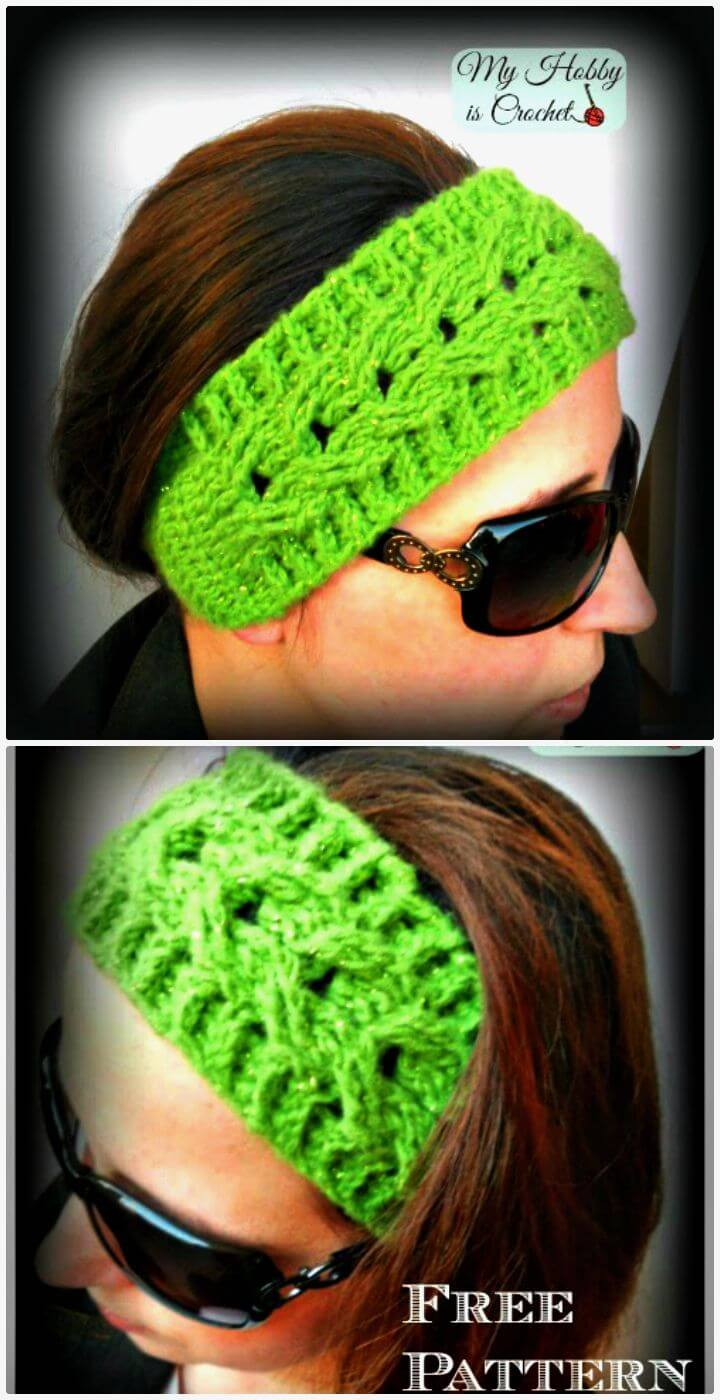 Crochet also fab looking accessories using cable stitch, get inspired by this crochet cable headband here that is a mind-blowing sample here! Here this hat comes in neon green color and also with ribbed design texture that is all due to braided cables! So, if you have learned how to crochet in cable stitch then why not gift this headband a try that would make an outstanding handmade gift too! Grab the complete free pattern and easy tutorial guide from here myhobbyiscrochet
Free Crochet Unforgettable Cables Pattern: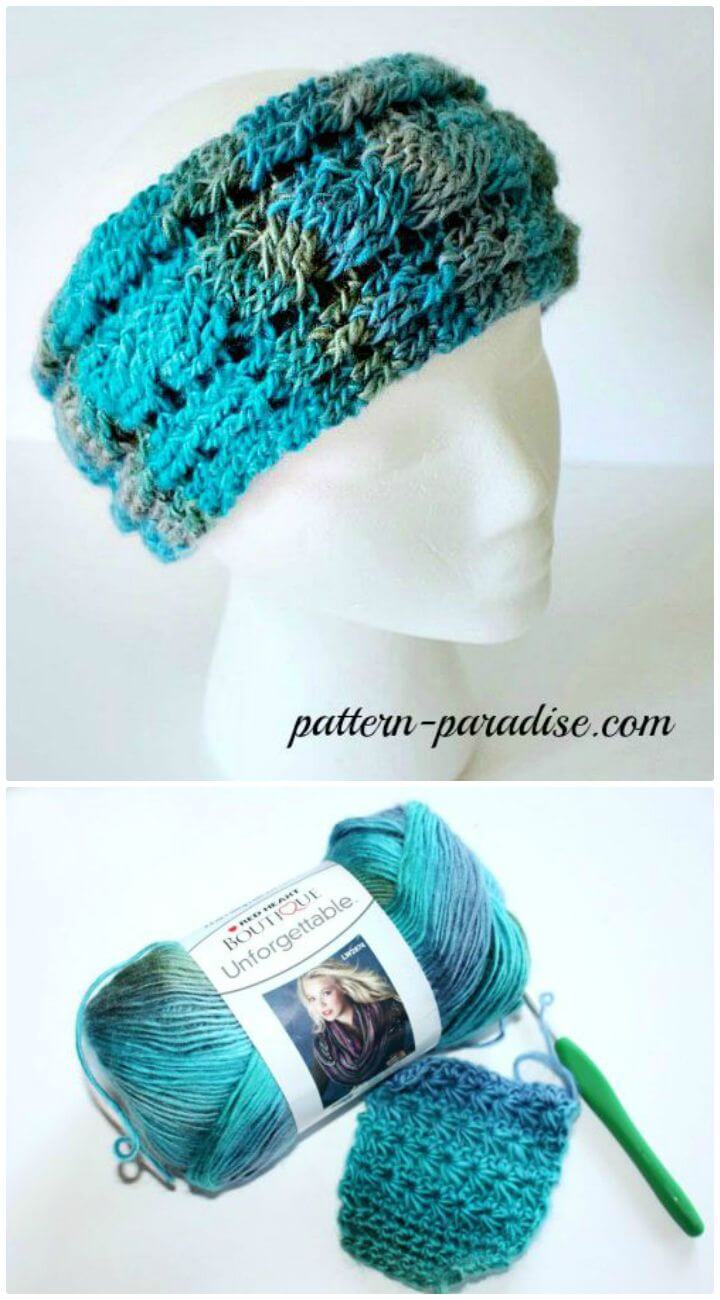 Here is what special you need to get winter-protected, this is here the precious crocheted headband that will also make a dashing ear warmer! A perfect gift-worthy crocheted item that will work up quickly also if you go with the cable stitch! This is here another beautiful crochet pattern done with the cable stitch and is something that all style loving teen or ladies would love wear over the head! Further project details and free crochet pattern here paradise
Easy Free Crochet Cables And Stripes Hat Pattern: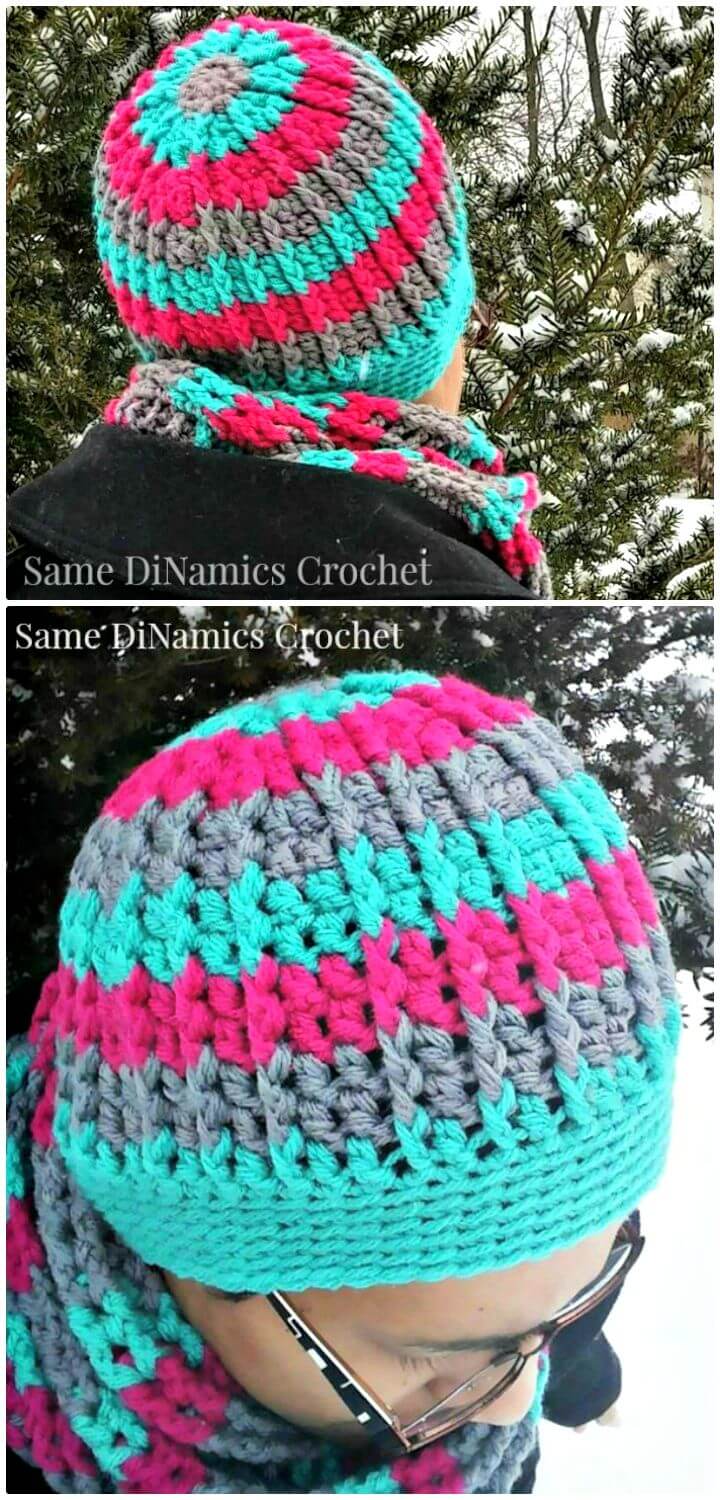 Willing to own a beautiful hat that will bring both style and warmth to your head or of any beloved one! We would just suggest you duplicate this very interesting crochet hat design that is much focally stimulating! It has been crocheted in cable stitch and comes with outstanding yarn color stripes for an extra gorgeous and colorful appeal! Here this special that comes in turquoise, grey and pink yarn stripes but you can go with any yarn color you like! Grab the full free tutorial and easy crochet pattern from here cre8tioncrochet
Free Crochet Chunky Cabled Cowl Pattern: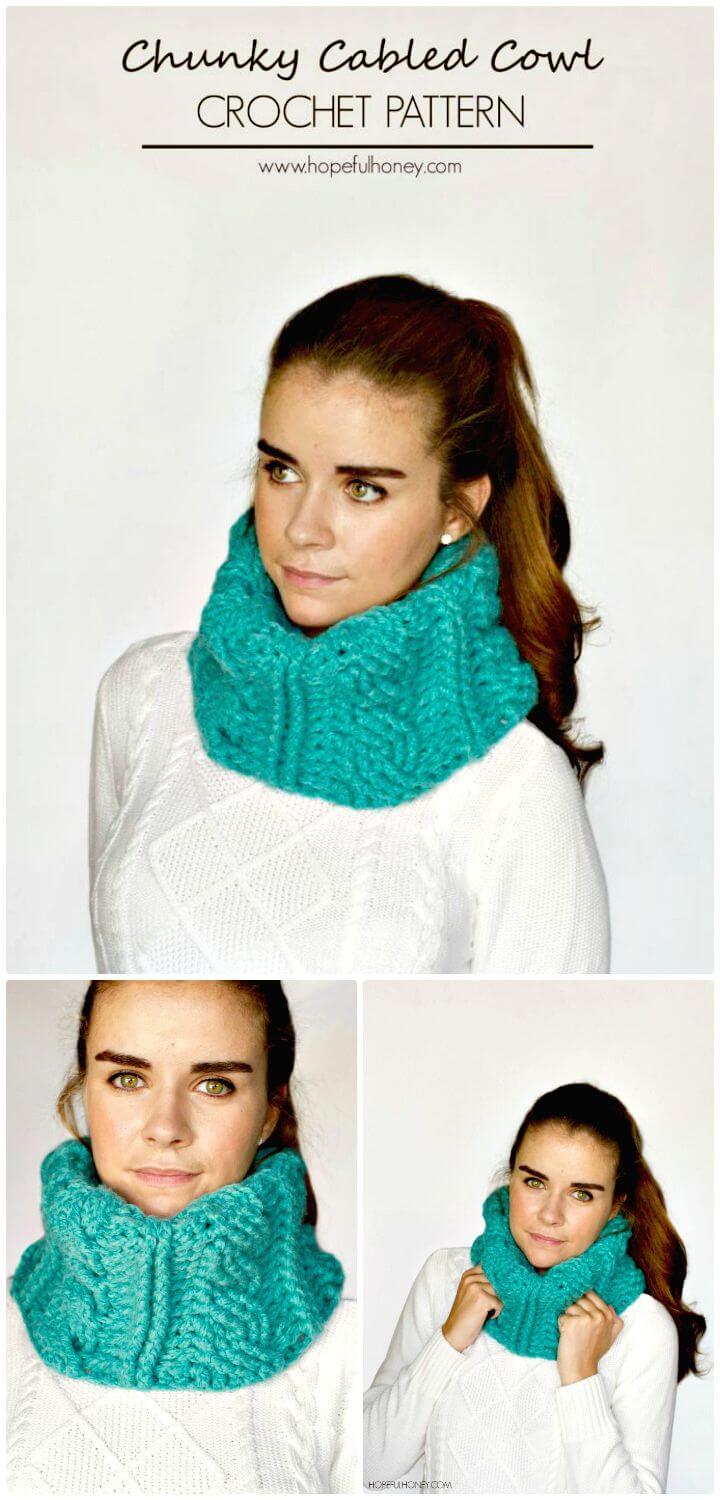 Boost your style this winter with this chunky neckwarmer, a precious cowl crocheted with cable stitch and is a big achievement! This is what here that is a wardrobe must-have for any style loving teen and every beginner can easily duplicate it for personal use or to gift someone special! Willing to duplicate this very handsome design of crochet cowl? Just grab the full free tutorial and easy instructional guides from here hopefulhoney
Free Crochet Rockin The Cables Hat Pattern: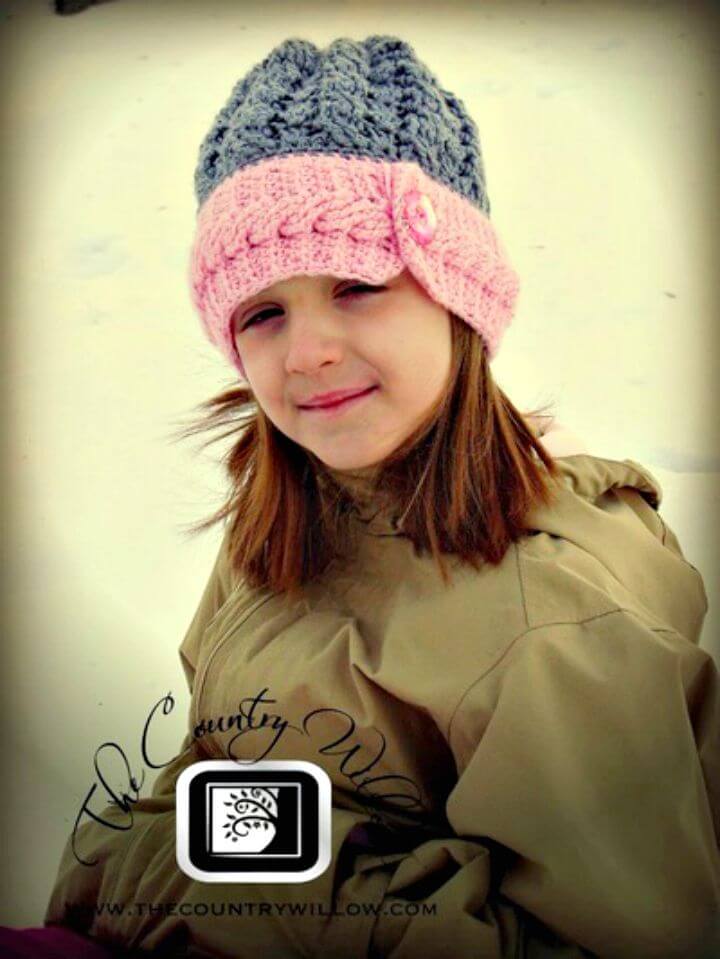 Sorting out a perfect fall gift to crochet for a kid or for any beloved one? Here is a beautiful suggestion, the lovely crochet rockin the cables hat that comes in pink and grey hue and is just looking fabulous in that! This special little girl chunky yarn hat has also been worked up using cable stitch and it will also make a great addition to winter wardrobes of your kids! Moreover, this special crochet hat has been brought to prominence using a button accent as you can see! Willing to duplicate this hat now? Grab the full free pattern and tutorial guide from here thecountrywillows
How To Free Crochet Tiny Cable Stitch Basket Pattern: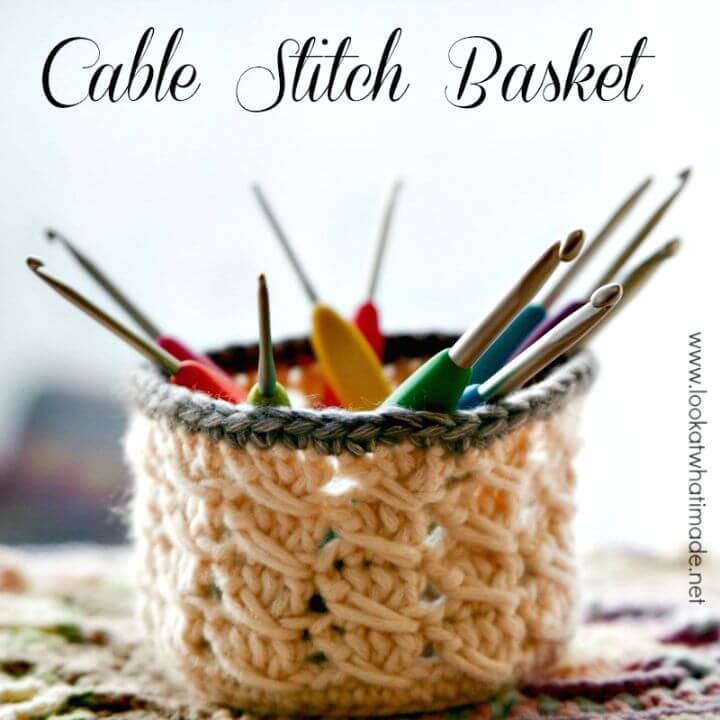 Crochet amazing pattern by going with simple cables and cross-overs! You will definitely like to praise this very good looking crochet basket that has been done with cable stitch and comes with fascinating design texture! It features a neutral hue and is just best to organize your craft room supplies and also the set of crochet hooks! Another mind-blowing crochet pattern based on cable stitch! Grab the full free tutorial and visual guides from here lookatwhatimade
Free Crochet A Cable Pillow Pattern: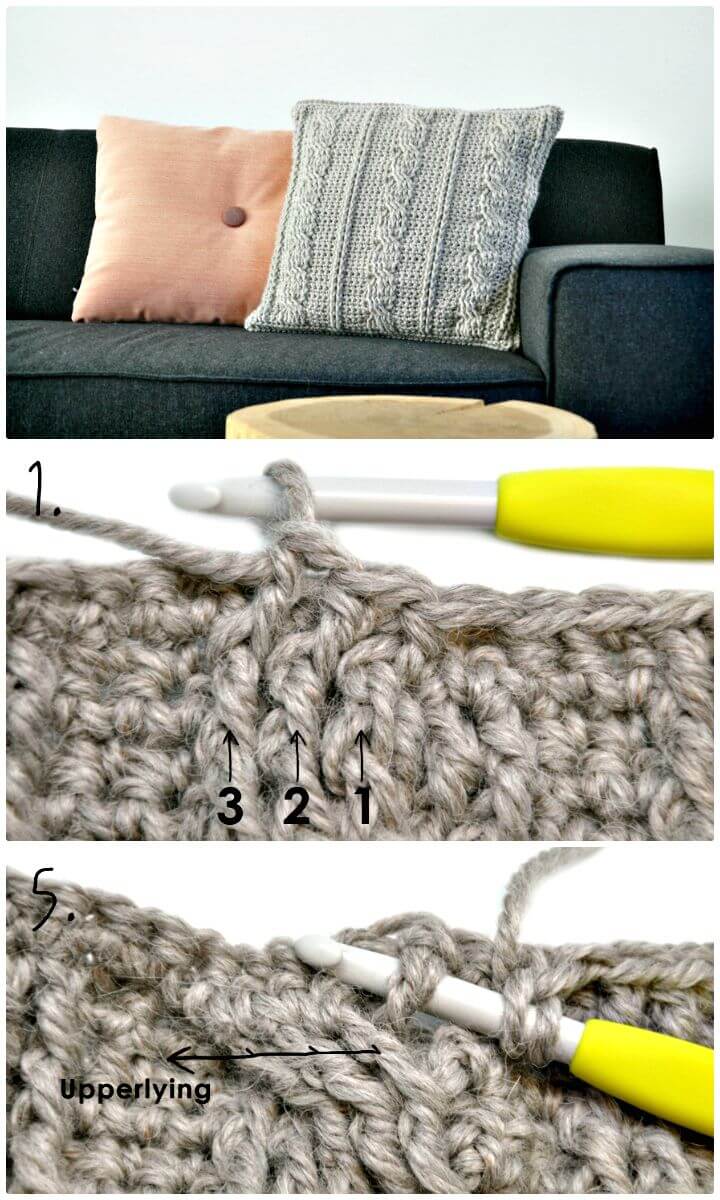 Fall in love with the raised braided or straight lines that appear in this crochet pillow pattern! This is here another mind-blowing achievement done with the crochet cable stitch and you will definitely like to own this beautiful cable pillow for your bedroom! Moreover, this is also something super gift-worthy, it would also make a great gift to a neighbor and precious housewarming gift to a new homeowner! Grab the full free pattern and tutorial guide from here yarnplaza
Free Crochet Chunky Braided Cabled Blanket Pattern: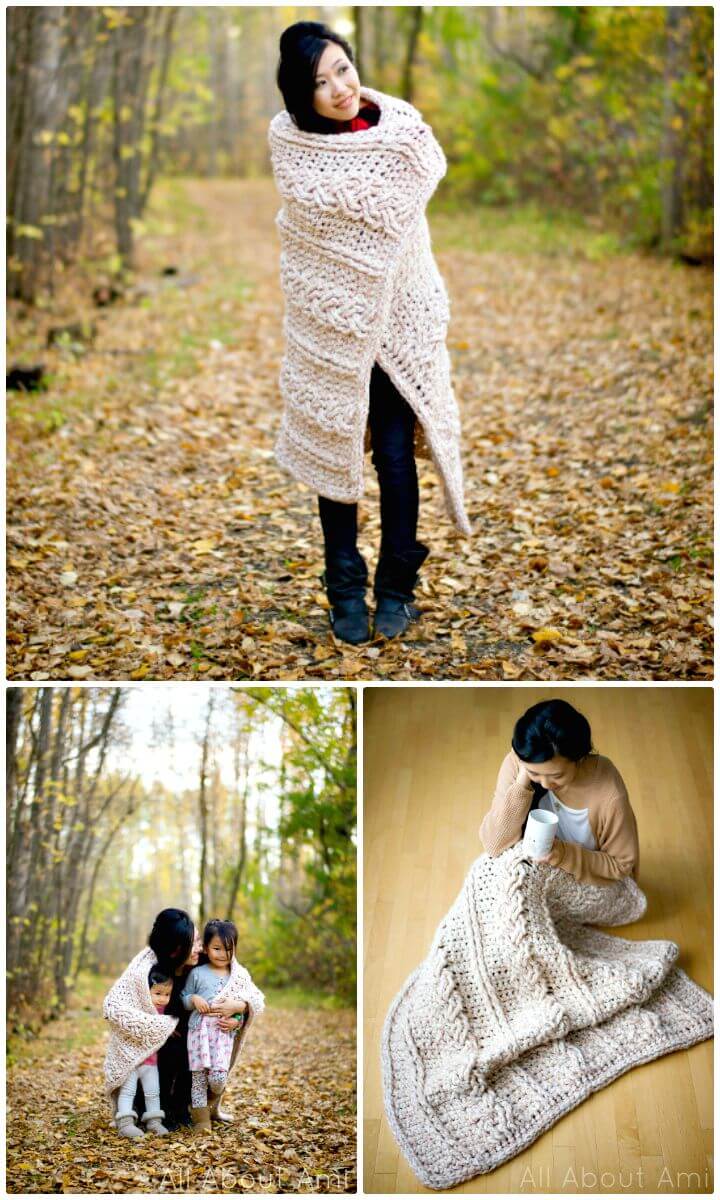 It's hard to get outside of the house when the temperature is too low but there are so many things that can let you enjoy the outdoors with the warm and cozy feels and this pretty crochet blanket is one of them. With the chunky and a bit breezy pattern this blanket has been worked out with the crocheted braids to result in it as a superb stylish blanket with an awesome and textured design. You can catch the complete details of the pattern right here to follow the pattern step by step allaboutami
Free Crochet Cabled Messy Bun Hat Pattern: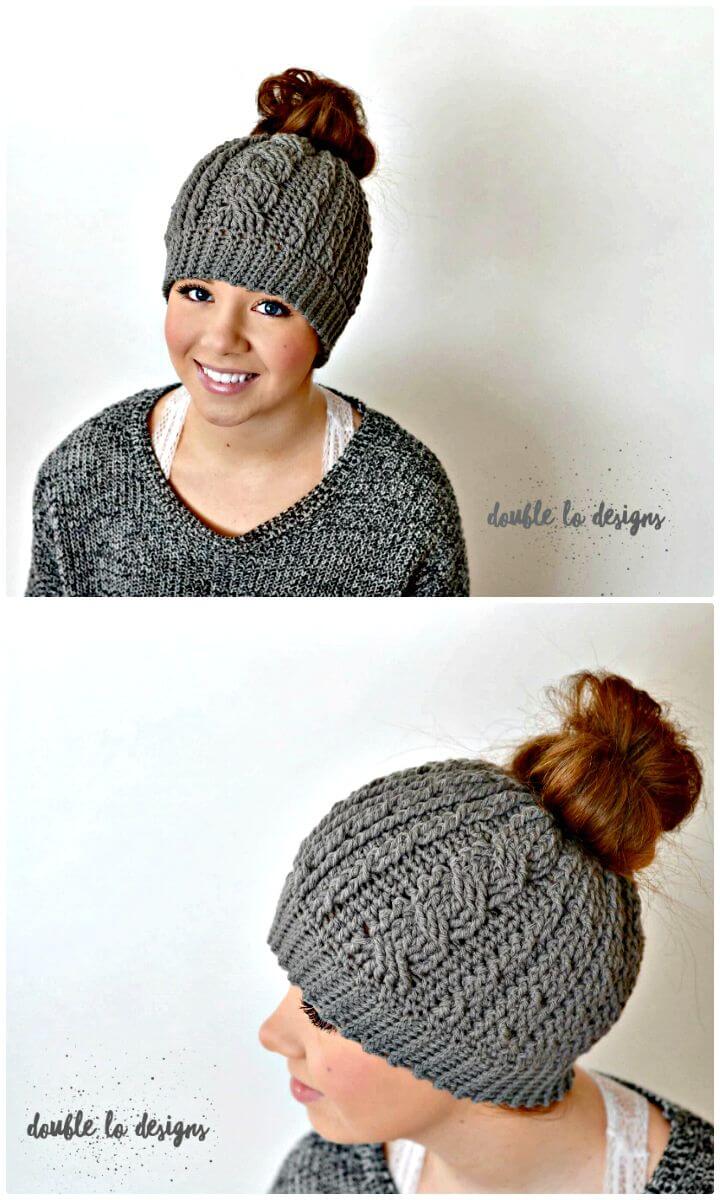 Hair buns are just so cute as they really make your look pretty with all your hair tied up so that you can work without any disturbance. SO in winters while you want to flaunt your bun but also cover your head from the cold, these crocheted beanie bun hats are the right things to accessorize your hair with. So here is this simply cabled pattern for the cute bun beanie that you can make with the matching pattern and design of your sweater and thus look dapper in the winters too. ?Details and the free pattern are lying here acrochetedsimplicity
Easy How To Free Crochet Cable Beanie Pattern:
Free Crochet Pattern Here: luqyandmary
Free Crochet Woven Cable Basket Pattern: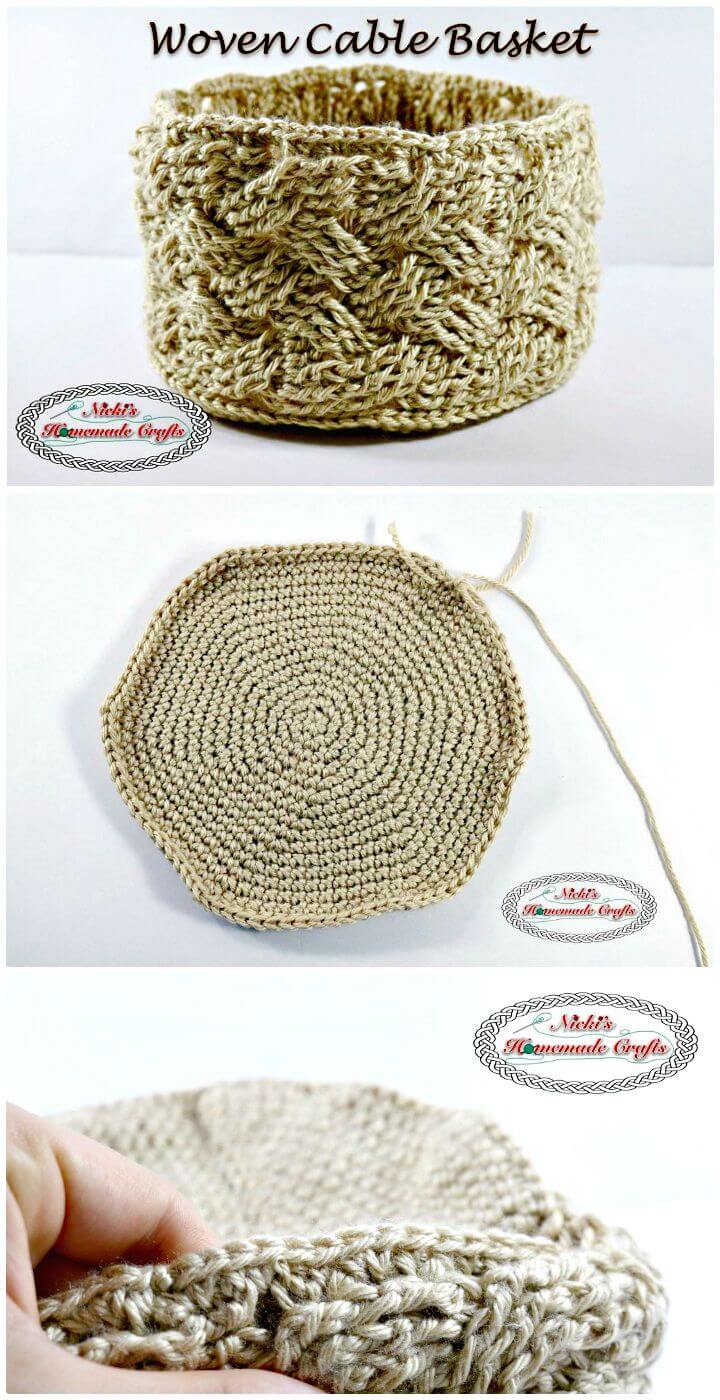 Crocheted baskets are really functional to have as they not only provide a stylish solution for the storage of your knick-knack but also add oodles of charm and appeal to your decor with their pretty yarn shades and the pattern. Here is this lovely crocheted basket made out of the lovely intermingling of the crocheted cables to each other with a coiled base. You can easily learn to make this adorable basket right here to hold your pencils, yarn skeins, crafting supplies and more nickishomemadecrafts
Easy Free Crochet Heirloom Cabled Throw Pattern: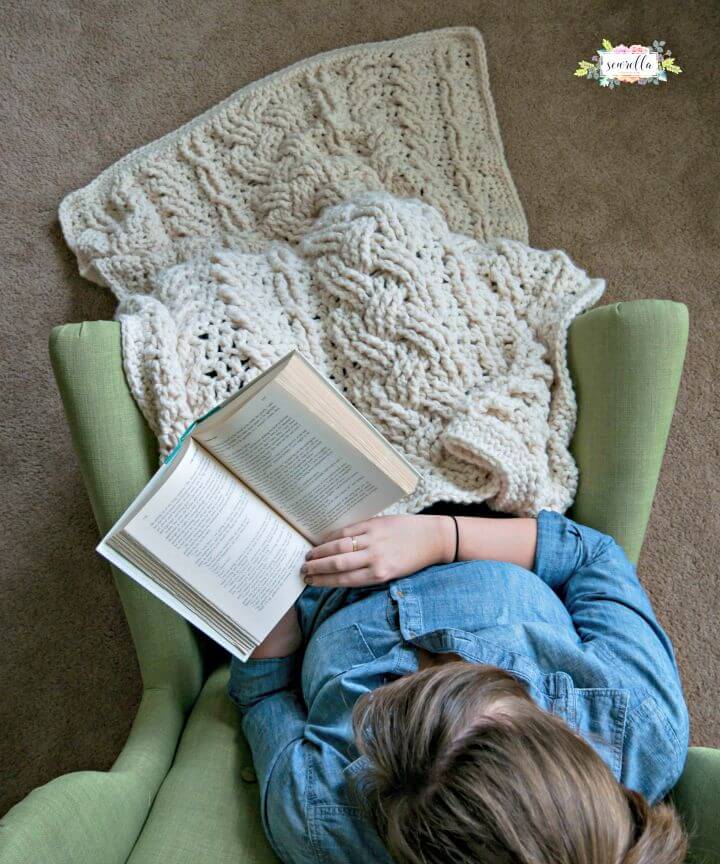 A crocheted throw can be used by all the family members and so it can be passed to the generations for being a timeless possessions. SO if you also want a heirloom throw for your family then we have this gorgeous one with us revealing an exquisite pattern and design made out with the crocheted cables which further have been nicely crossed over to each other to turn out this throw so gorgeous and fun.Here is the link where you can grab the step by step details of this pretty throw pattern sewrella
How To Free Crochet Cables Beanie Pattern + Video: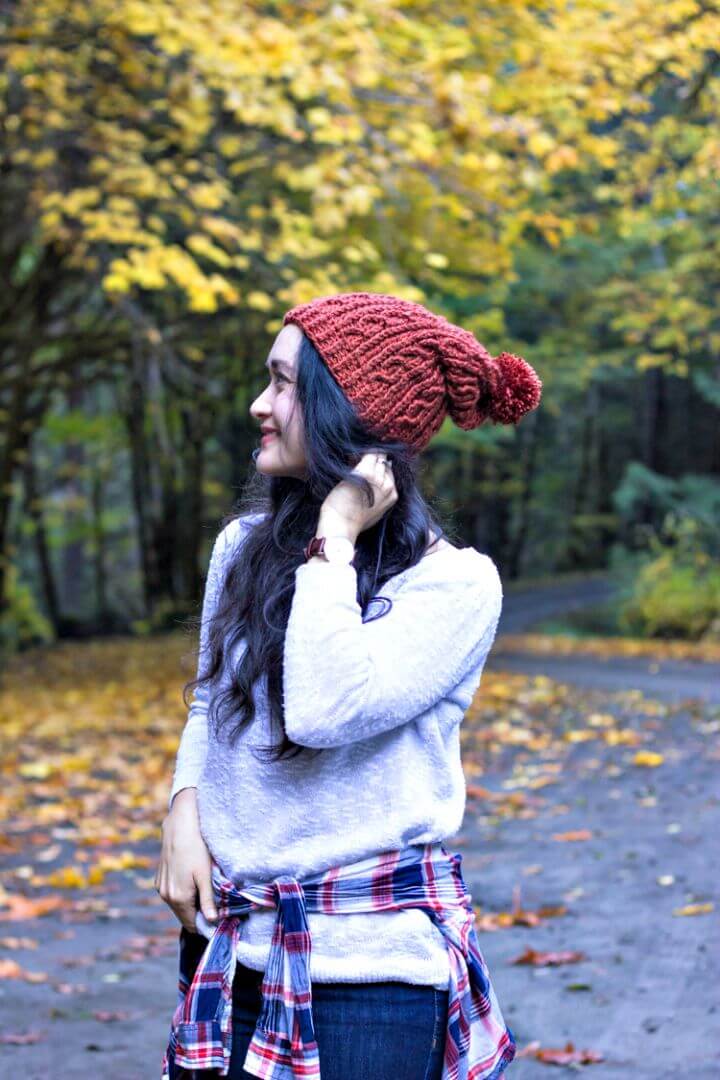 Let your hair feel the best stylish in the winters as you can keep them open and free but covering the head from cold can mess up your hairstyle unless you do it with the beanie hats which are just too cute and simply fashionable to jazz up your hairdo and the overall look for the colder weather. Here is this amazing pattern of the beanie hat having been worked up with the cable stitches for that mind-blowing result with a fun pom pom at the center. Fully detailed tutorial here deliacreates
Easy Free Crochet Plus Size Cable Bag Pattern: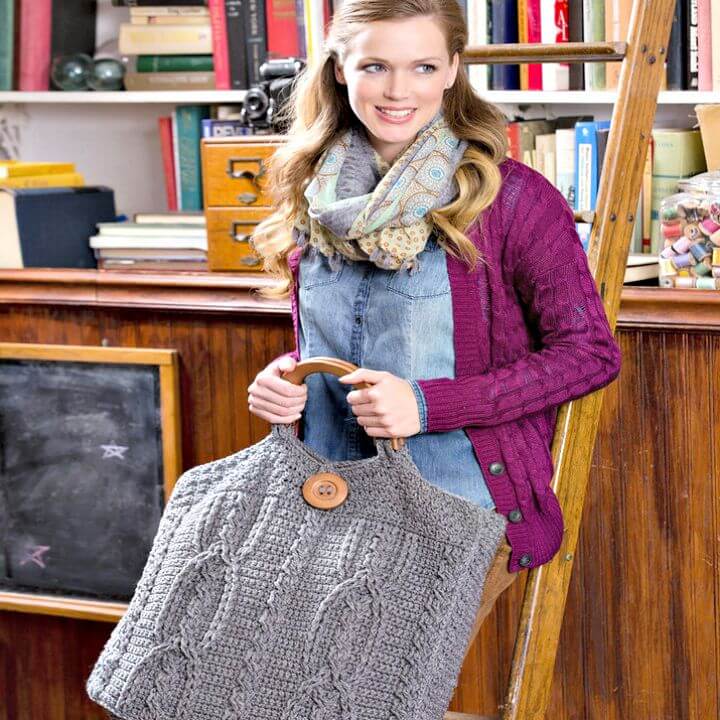 With the pretty cabled design, the cute biggie size, that button and the wooden handles are the enchanting features that make this lovely crocheted bag an instant hit among the girls and the ladies around.It can be picked up to go to the office, college and the market too for being so gorgeous and timeless in its design and style. It would also make a delightful gift for your close friends on tier birthdays so get all the details of the pattern here and make it right this weekend redheart
How To Free Crochet Cabled Ear Warmer Pattern: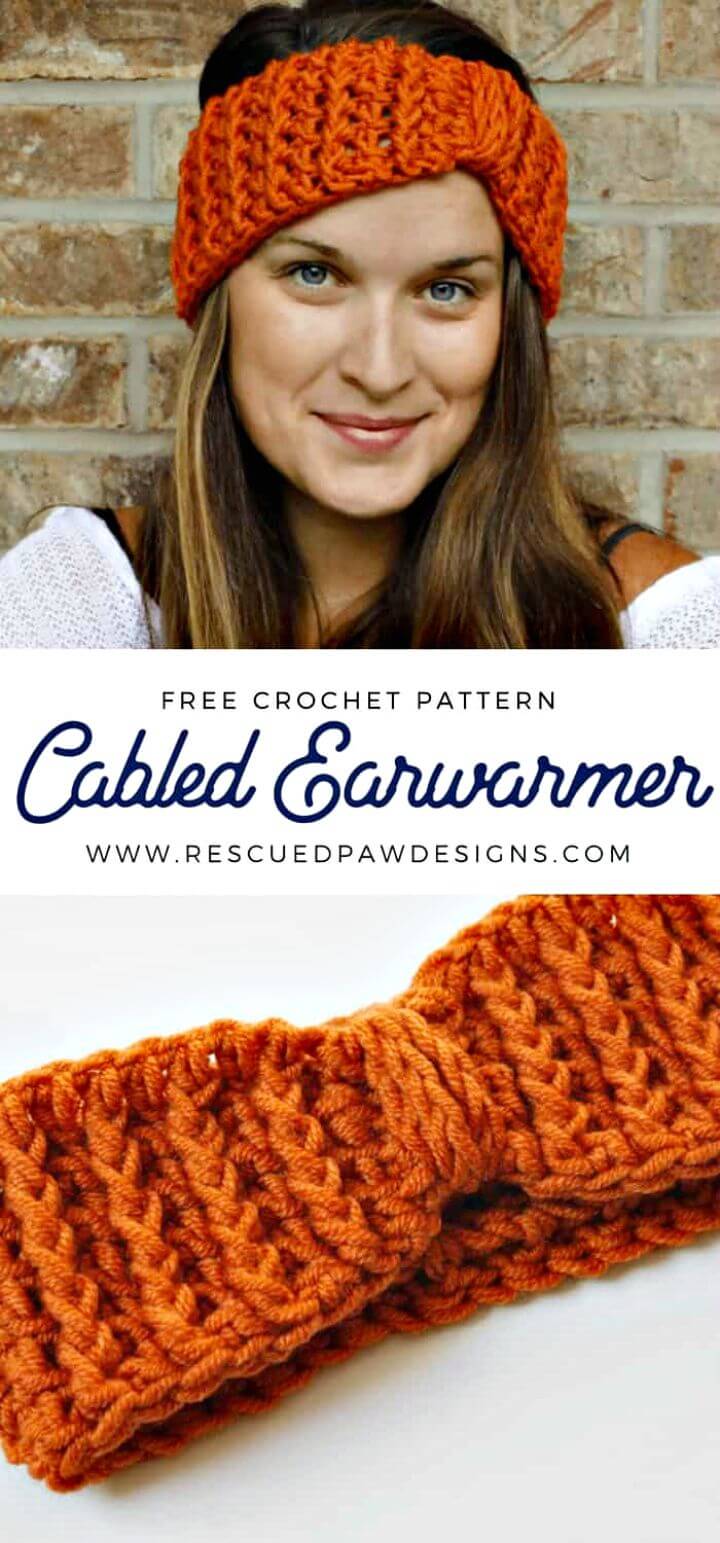 If you think that the ear warmers damage your hairdo for during the cold weathers, then you should check out this awesome crocheted ear warmers in the pretty and stylish bow design. With the custom fall color of the yarn this ear warmer becomes an amazing way to bring the fall spirit in your fashion and also get yourself warm and cozy when there is a chill and breeze in the air. It would also make a cute gift for your dear and near ones for the fall celebrations so do grab its details and the instructions right here to make it easily and quickly at home rescuedpawdesigns
Free Crochet The Comfy Cables Pillow Cover Pattern: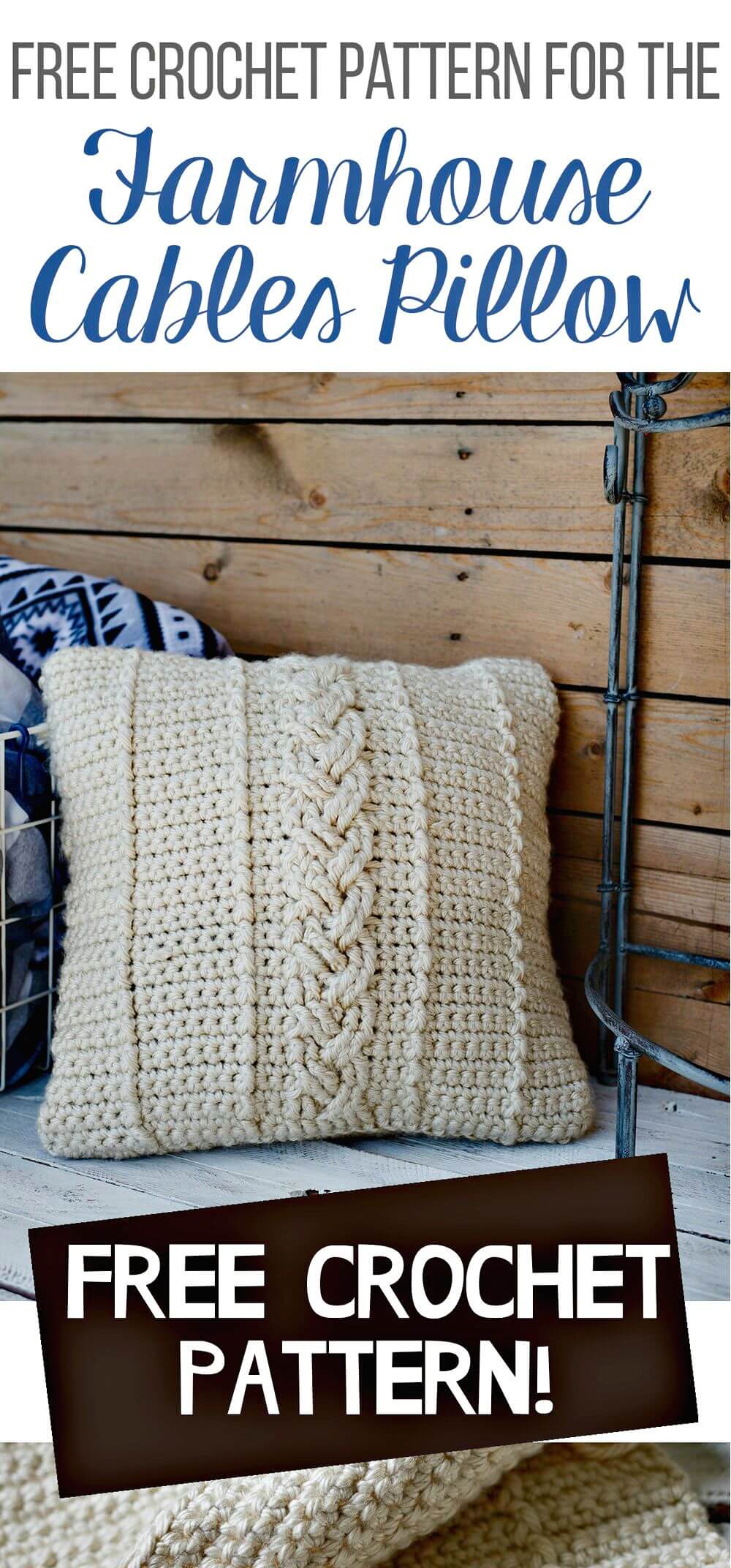 Bring some rich style statement in your living or bedroom spaces with this gorgeous in design and pretty in pattern crochet pillow cover. You can easily create this pattern using the fun cable stitch and get this super stylish pillow cover to award some makeover appeals to your spaces. The skin yarn really make the pillow cover look a winter-perfect piece for your home decor s do get it around the Holidays with the easy details and instructions all lying here megmadewithlove
Free Crochet Holiday Cables Throw Pattern: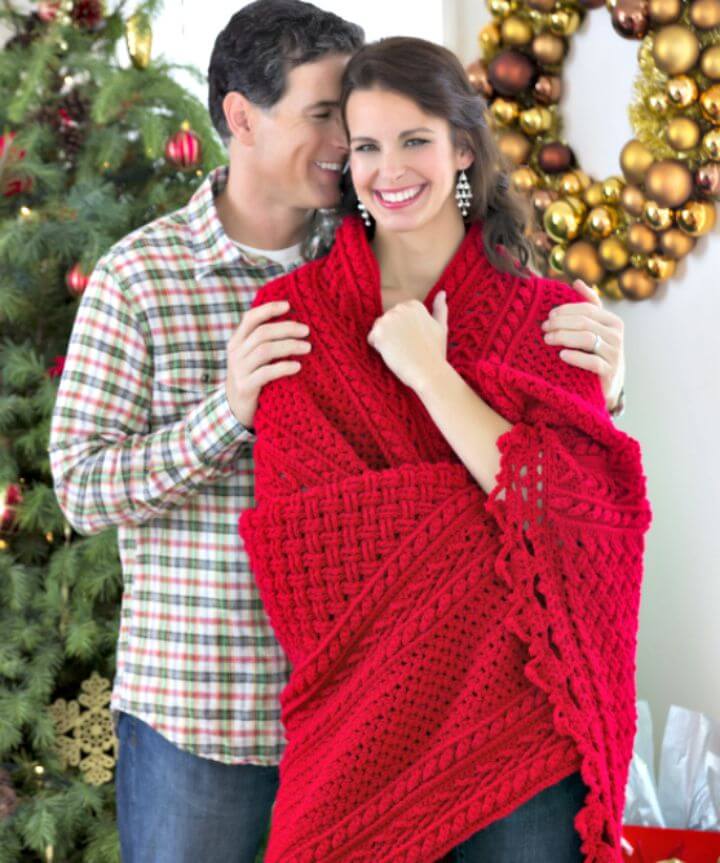 Its just so much fun and romantic to have a stroll outside with your husband at the nights or evenings of the winter holidays and exchange the feelings , emotions and so much more. SO to make yourself look stunning yet cozy and warm you can use this beautiful crocheted throw over your body and stay all comfortable during your love walks. The chunky cable stitch has been used to work up this gorgeous chunky throw pattern and for that cute breezy look of the throw and you can check it out all here redheart
Free Crochet Honeycomb Cabled Beanie Pattern: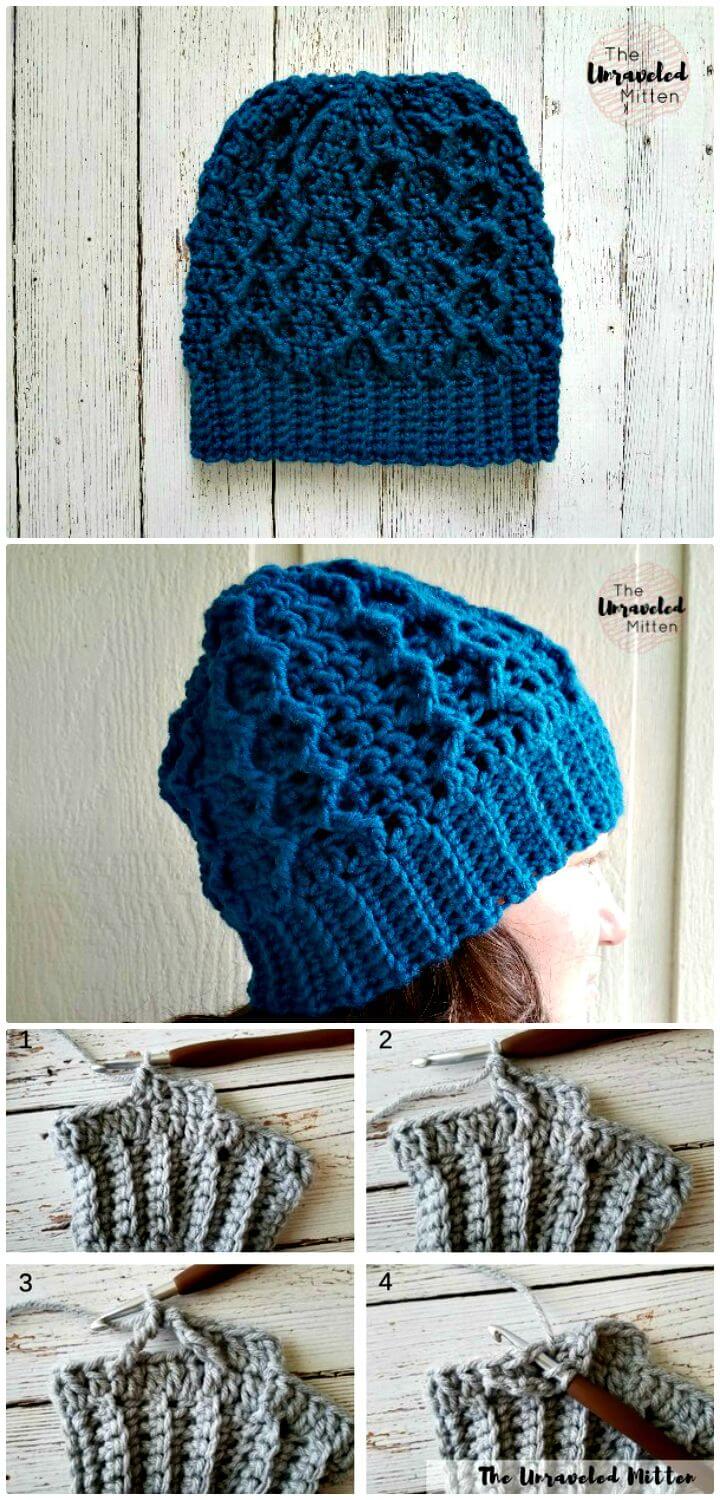 The honeycomb pattern is considered really complex and tough to get your crochet hooks on but not now as you can make this pattern with the cable stitch work. With a few crocheted cables you can complete this lovely and simple beanie hat for yourself or for any other member of the family with some alternation in the size. So stay warm and cozy but in a cute way with this pretty honeycomb beanie hat having all its details lying here theunraveledmitten
Free Crochet Faux Cabled Bun Beanie Pattern: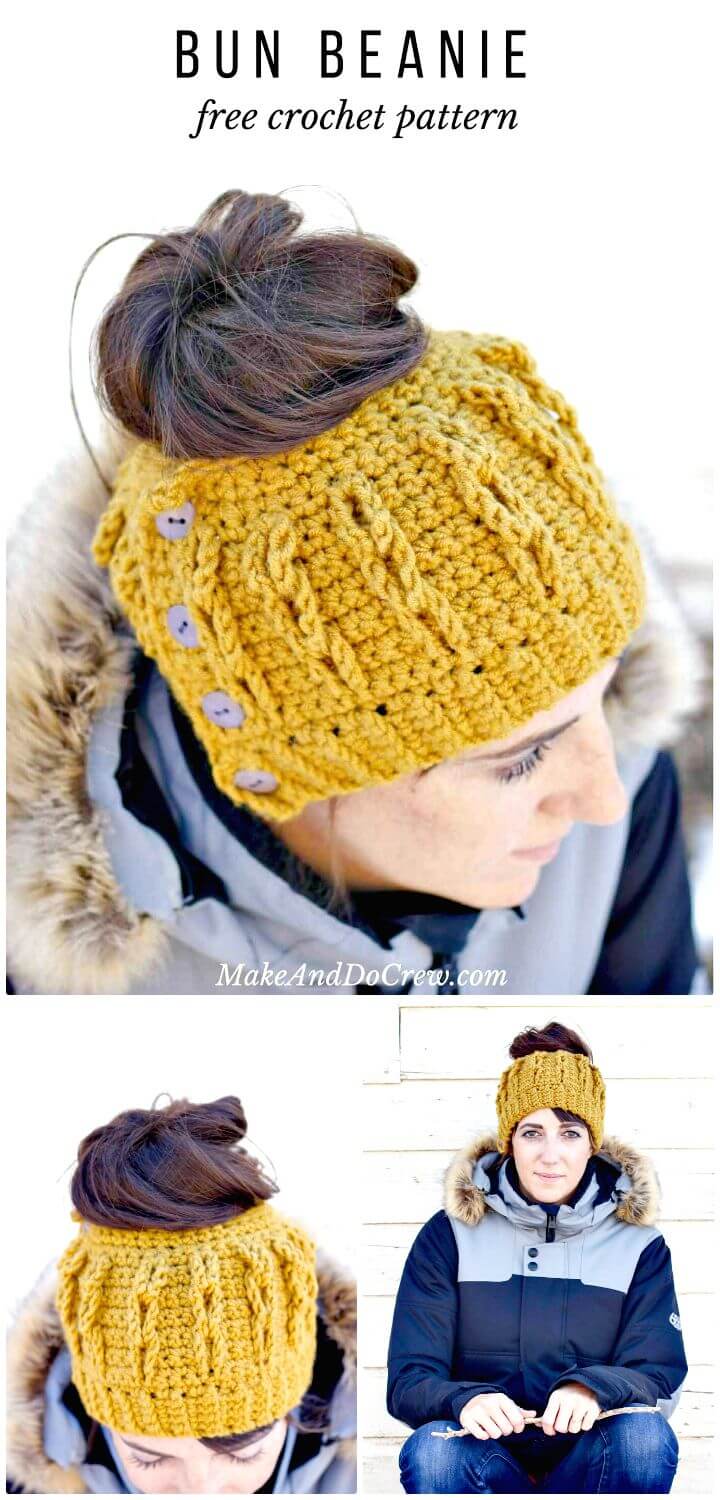 Get your hairdo look so much stylish and fun ?this winters with these easy and boho looking bun beanie hats with a touch of buttons at the side making it look funky and fun. The chunky pattern of the bun beanie hat has been gained by the easy crocheting with the cable stitch work all over and you can learn it all here to make one for yourself or for your pretty girl gang as the delightful Holiday gift in the winters.Details and free pattern here to download makeanddocrew
Simple Free Crochet Chunky Cable Slippers Pattern: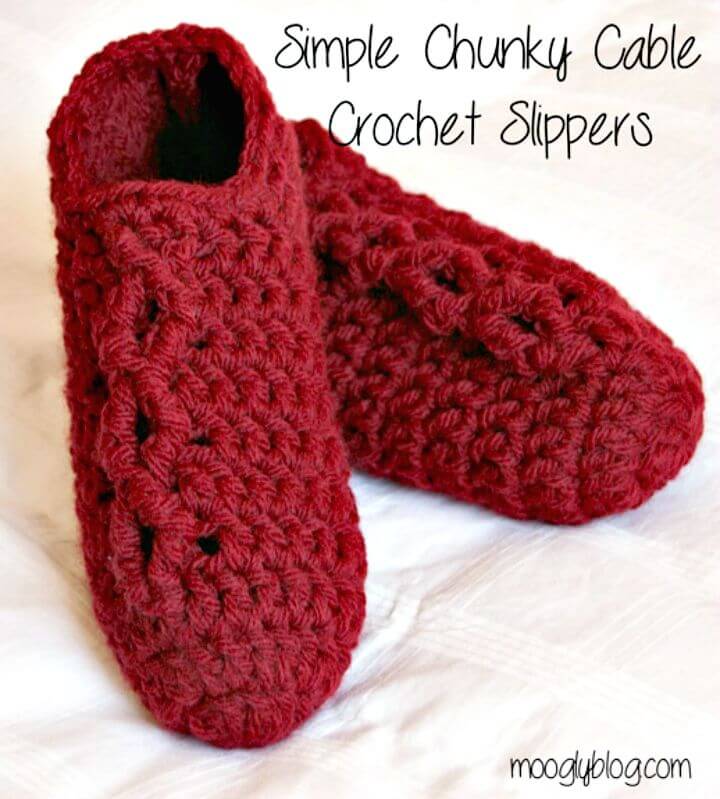 The beauty of the cable stitch is that chunky design that you get after the completion of the project and that look so fancy and fascinating. So here is this lovely pair of slippers that you can crochet by working up your hooks with the cable stitch and get these pretty slippers for your little ones. It would also make an adorable and heartwarming gift for your niece or nephew too so do get the details of the pattern here and own this amazing slipper pair mooglyblog
Free Crochet Chunky Cabled Headband Pattern: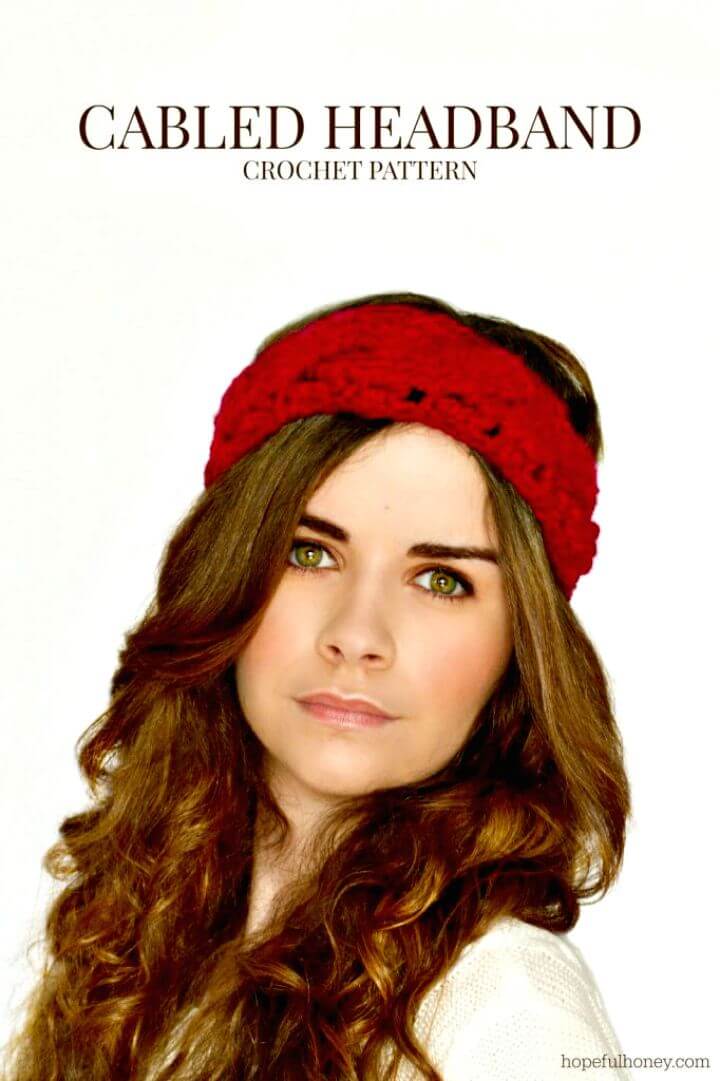 The headbands are just great to crochet and use as the perfect gifts for your favorite girls around. There is a variety of the patterns and designs to get your hands on and here is this lovely headband with chunky pattern which is the result of the cable stitch. You can easily work up this stitch and quickly crochet this headband that would be so gorgeous to be a gift for your friend, mother, sister, teacher or the colleague.Details here to get the pattern and make one hopefulhoney