Crocheting is really a great way to get the low-cost fashionwear at home mostly for the winters! But you can also crochet various stunning patterns for the spring and summer fashion too like the lacy shawls, scarves, airy outfits, beach cover-ups, tops and much more! However, no matter for what season you are getting busy with your crochet hooks, crocheting your patterns with the brilliant tassels would really bring extra grace and charm to them!
More, the fringes and tassels added to your completed crochet patterns would just be way also to decorate your crocheted patterns without using additional embellishments! Moreover, the fringes and tassels would also rock if you want to crochet some bohemian fashion inspired accessories and home decors at home using your own favorite crochet hook!
54 Free Crochet Fingerless Gloves Pattern for Beginners
SO, need to look at some brilliant crochet projects that will come with enticing fringes or tassels? Then just check out these crochet tassel patterns that especially been picked and showcased and would definitely inspire your hook! Here you will have great fun while incorporating different crochet stitches for these lovely crochet tassel patterns and these crochet patterns would also go double cute to eyes for sure!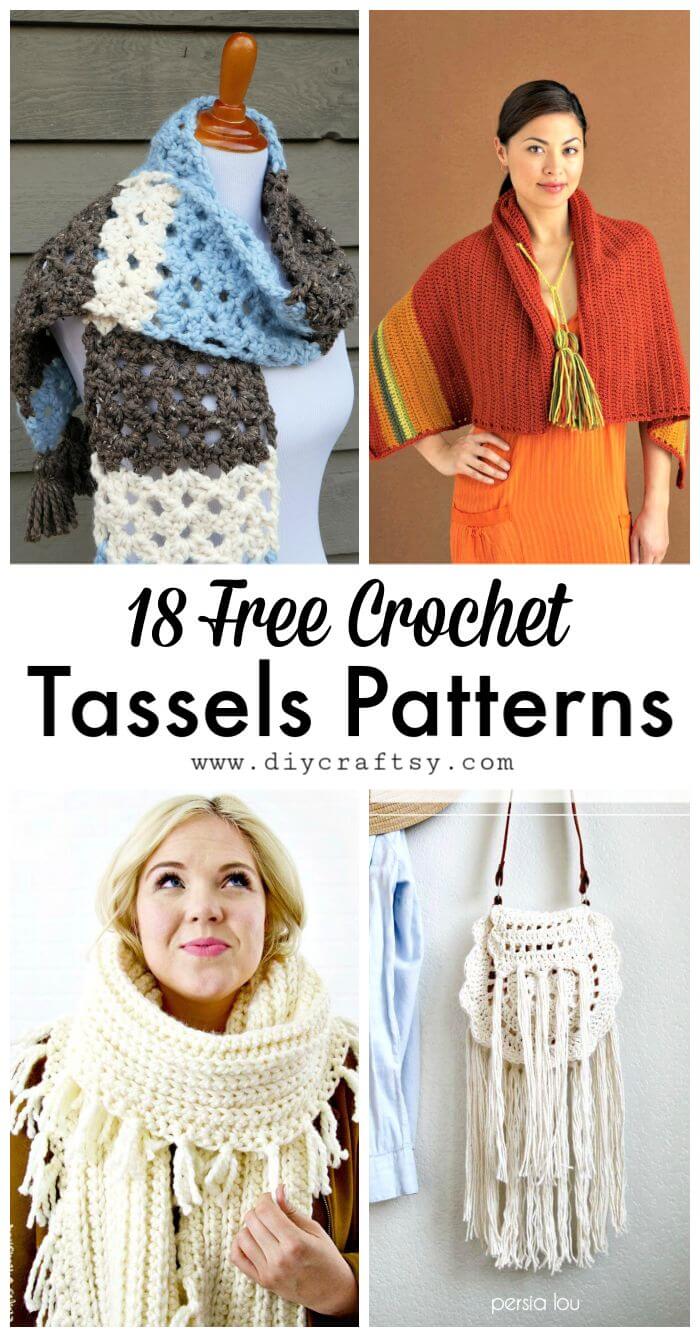 Here you will also learn first that how to make the tassels using custom yarn weights and colors! Here the list will provide you're the step-by-step tutorials and visual instructions to make a lovely set of colorful tassels at home that can be used for accent side trimming of your crocheted items and patterns and you can also make smart use of tassels only to make lovely home decors like the given tassel garland that has been made just by stringing up some tassels on a piece of string!
Free Crochet Patterns You may Like:
Crochet the boho tassel bag at home that will make a perfect celebrity fashion inspired accessory for a style loving lady, take a look at the given sample bag that features a neutral hue but comes with alluring leather straps! Crochet the chunky scarves for the fall fashion and also give them a nice trimming by making custom fringes to sides or by adding some lovely tassels, just get inspired of the given design that would make a great winter neckwarmer also! Make the crochet blankets with the accent tassels to their corners and also make the crochet tassel afghans and baby blankets that would make an excellent mother-to-be gift also!
Cover your shoulders warm by making the granny tassel shawls using your own favorite yarn colors and weights and also crochet tassel winter wood scarves that would be a big pleasure to see and wear around your neck! Make also the fringed scarves for the fall that will rock your fashion and also crochet the ribbed fringed scarf for your winter fashion wardrobe! Just browse the entire list to see some more interesting crochet tassel projects and also visit the attached links to grab full free crochet patterns for your selected projects!
Free Crochet Boho Tassel Bag Pattern: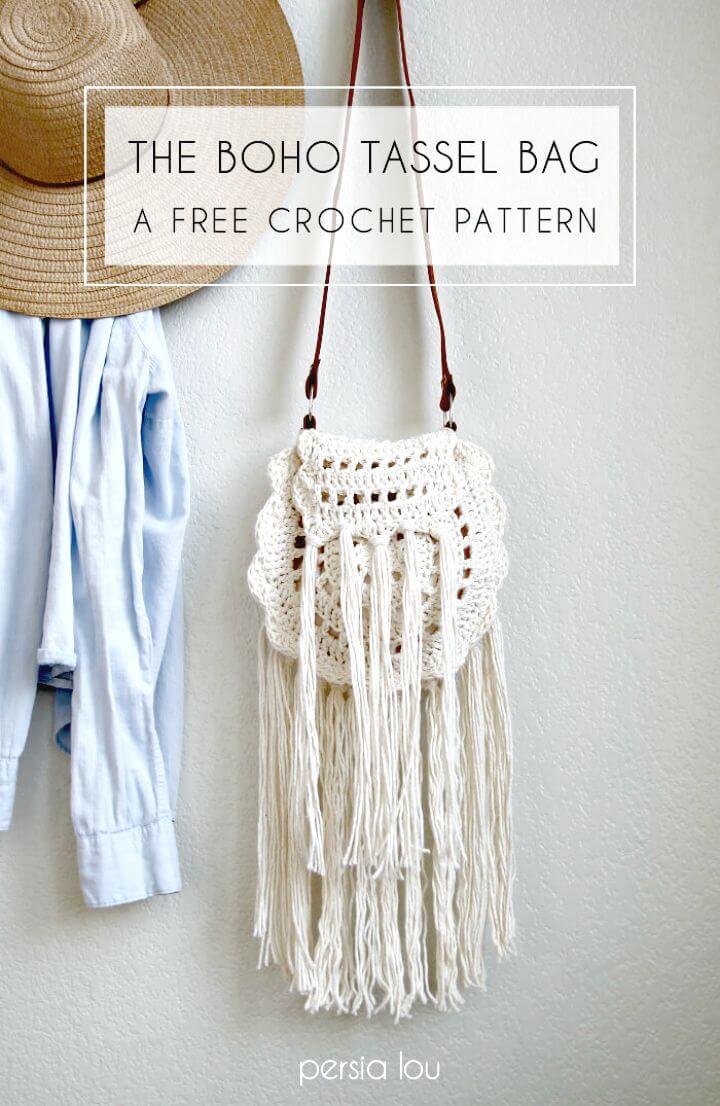 The summer fashion can be me boosted up with so many crocheted crafts to be made on your on and add the perfect personalized touch to your fashion. This pretty and chic white crochet bag would the best of the styling accessories to charm up your summer dress up with and what makes it look so boho and fun are the tassels hanging back and forth. The purse or bag would be so much fun to crochet yourself and you can have it all here with free pattern and details persialou
How To Make A Tassel – A Step By Step Free Crochet Pattern: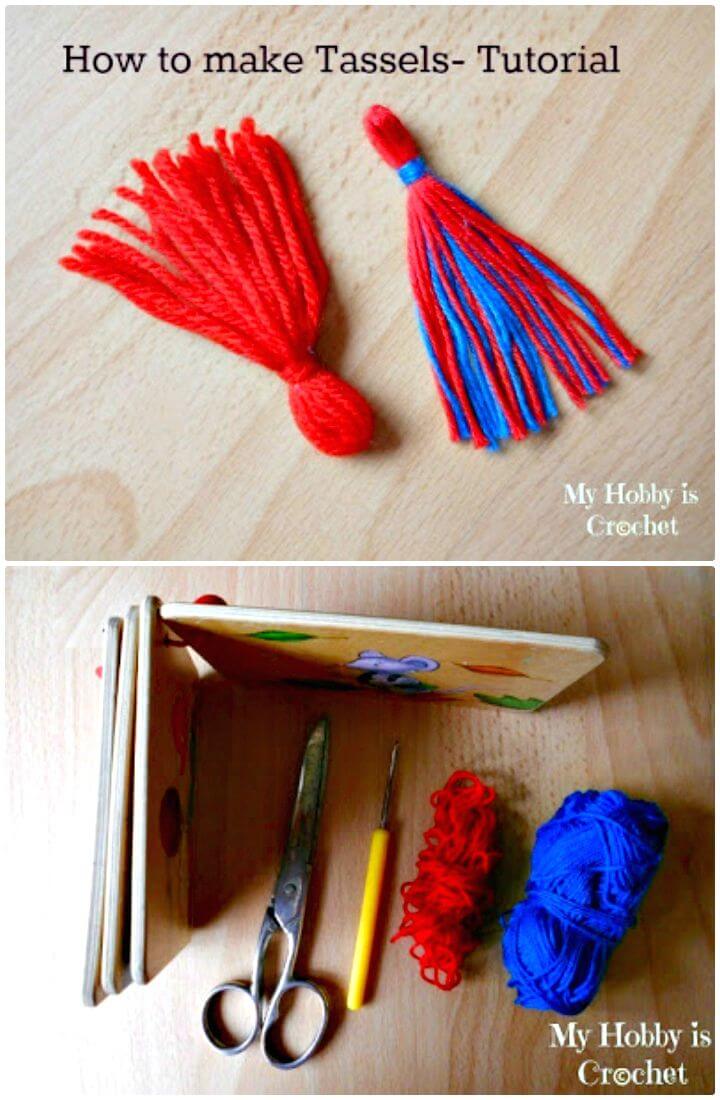 There are so many things that can award and instant fun and enchanting look to the boring and dull possessions of the house and tassels are one of them. Instead of spending your money on market bought tassels now you can make a full bunch of cute and custom tassels on your own and add to so many things at house to spruce up the decor of your spaces like curtains, pillows and more. You can learn the easy tassel making method here
myhobbyiscrochet
Free Crochet Cape With Tassel Pattern: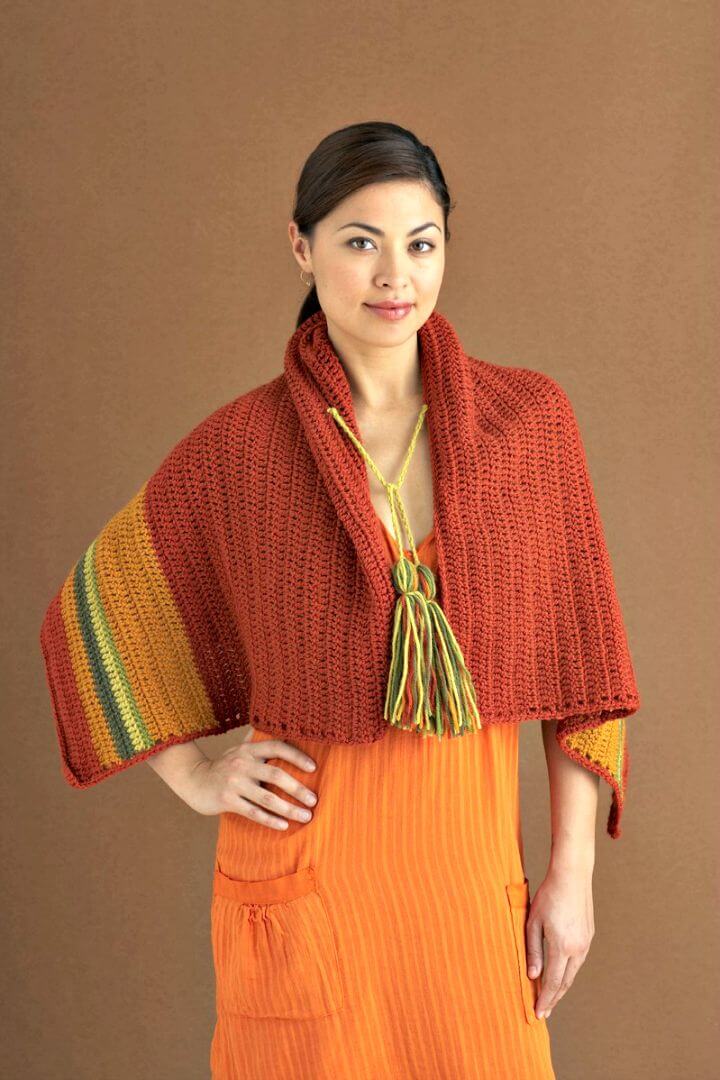 Crocheting cape shawls is not so new but you can make it with some pretty and stylish twists like here this lovely cape shawl has been made to look so much funky and fashionable by the addition of a tassel pair holding the both shawl sides together. You can easily make this cute pair of the tassels using the same colors of the yarn you crocheted your shawls with to bring some matching fun there lionbrand
Free Crochet Chunky Tassel Scarf Pattern: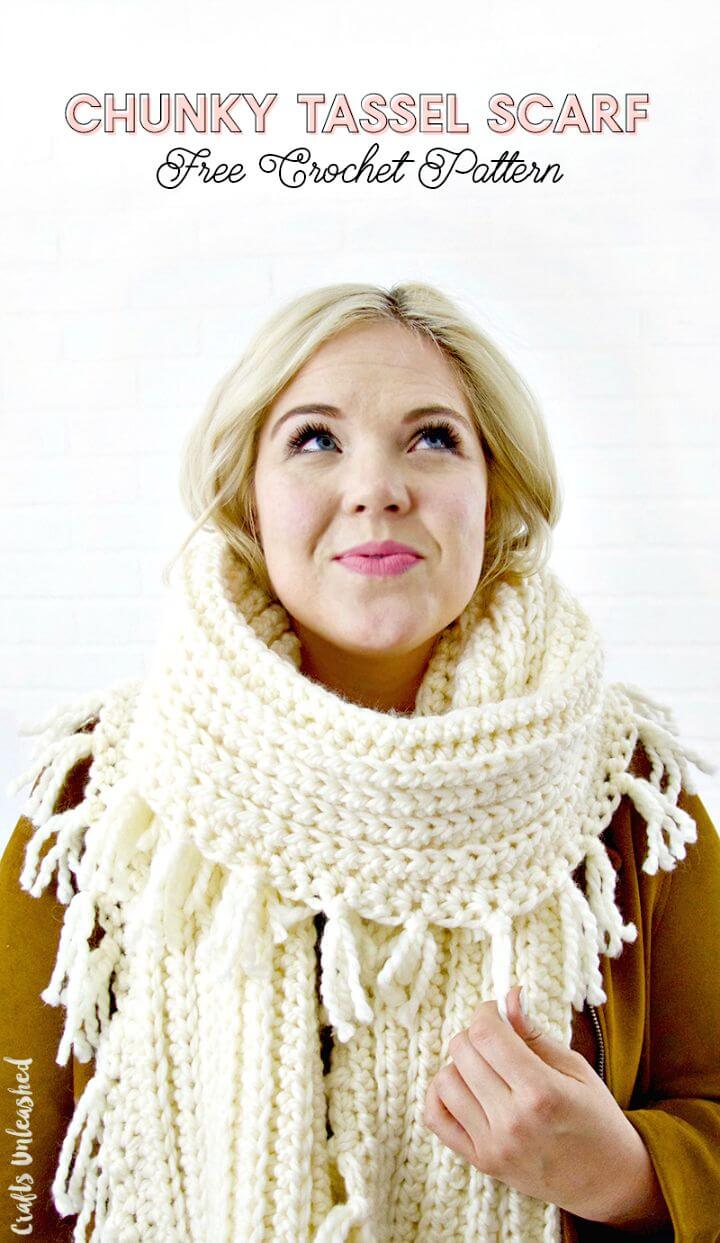 Hey you girls out there we have this fun winter project for you to combine the style and coziness together in your dress up and thus defend the cold in a a fashionable way. You can crochet this chunky scarf with a bulk to provide you all the warmth with those small and cute tassels at the edges for the unusual and cute finish of the scarf. The scarf and the tassels are too feasible to get your hands on and you can see the tutorial details here consumercrafts
How To Free Crochet Tassel With Yarn Pattern: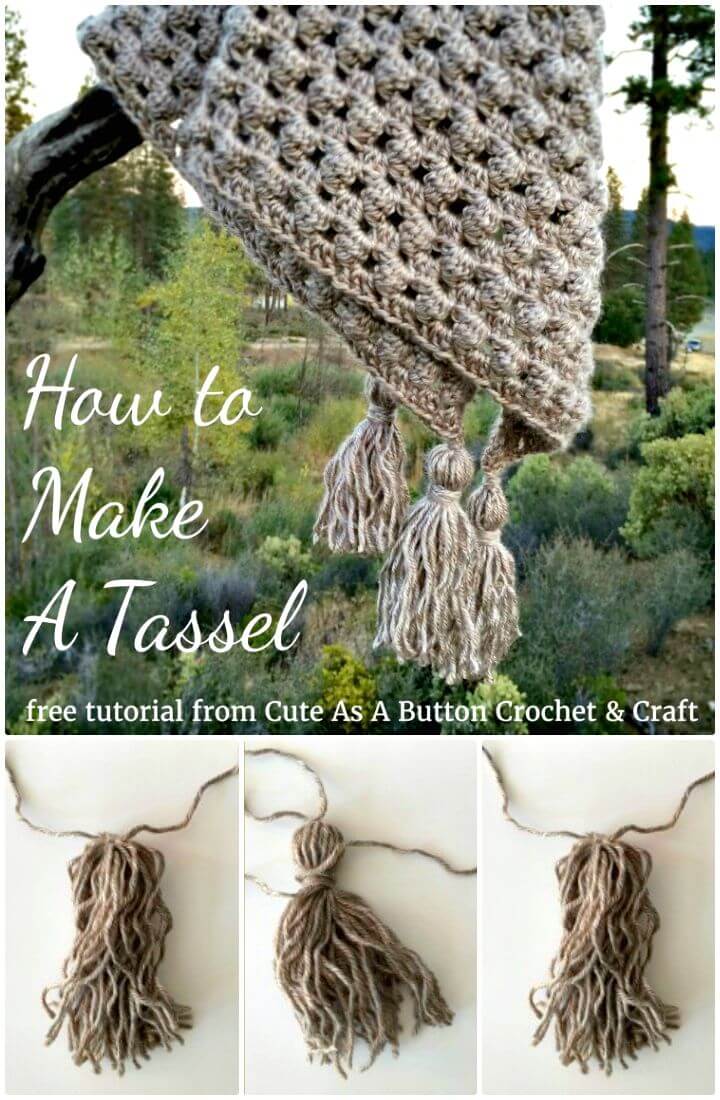 You can no more look boring and dull in the winters with the caps and scarves as you an ow crochet some cute and stylish stuff for your head and neck to keep yourself warm and fashionable. Here is this pretty scarf with the tassels to look so much gorgeous and unique in its design and pattern. You can crochet it easily and embellish it with the tassels which are too fun to create on your own. Here is the link to get your hands on the tutorial of these lovely tassels caabcrochet
Easy Free Crochet Tassel Bunting Pattern: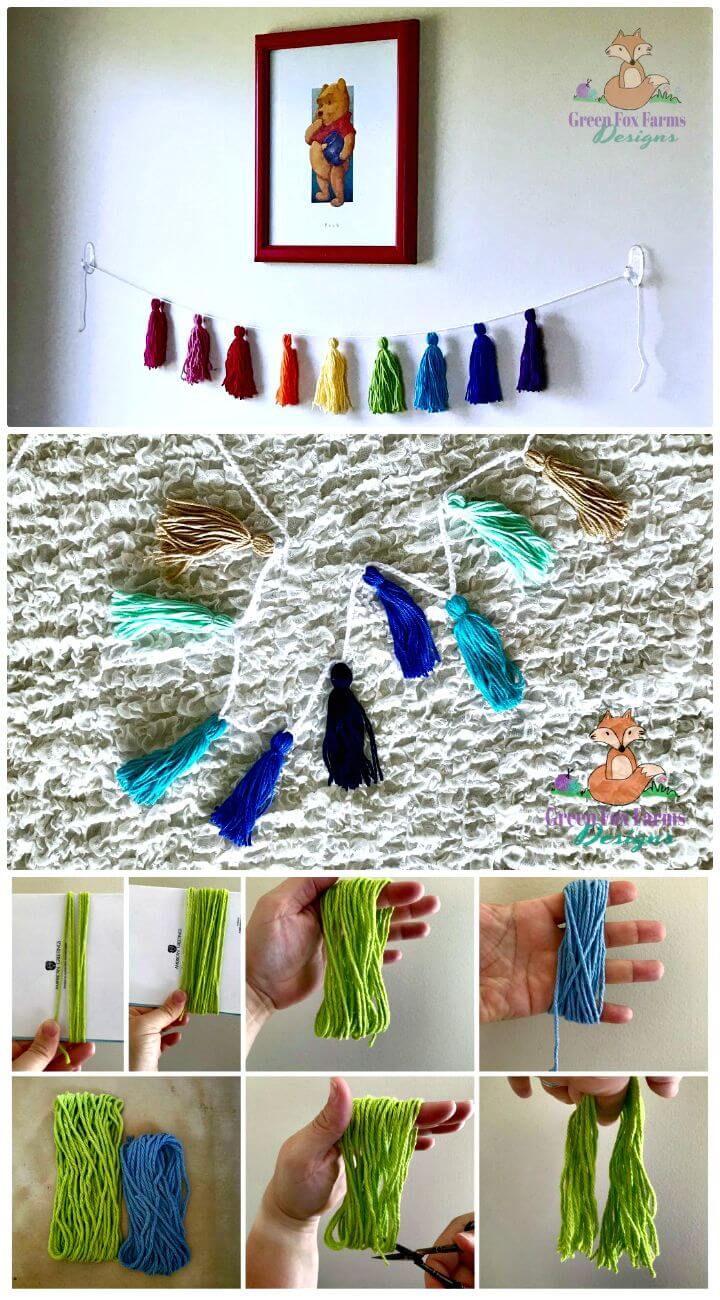 If you are a regular crocheter then you must be having a big bunch of the the yarn stash and looking for ideas to use them for some fun projects and be glad as we got one. Yes you can crochet these tiny and colorful tassels to bust your yarn stash productively and use them to decorate your baby's nursery as the cute and enchanting bunting on the walls. They are so much fun and quick to make with a few cutting ad tie up tricks and you can get them all here greenfoxfarmsdesigns
How To Free Crochet Granny Tassel Shawl Pattern: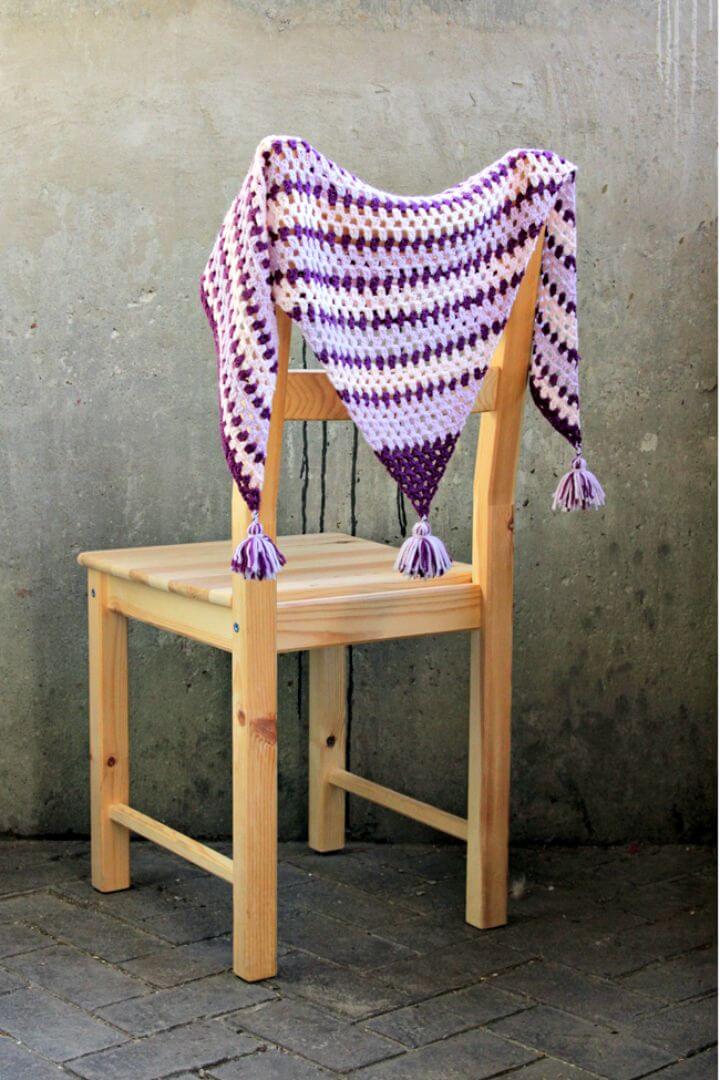 The shawls are great for the summers as they save you from the chilly air in a really cool style and now you can make your crochet shawls look so much fun and personalized with the added tassels at the ends of the shawls. The tassels are so much fun and easy to make with a bunch of yarn threads and you can easily learn to make them here if you got any doubts about them handsoccupied
Free Crochet Tassel Winter Woods Scarf Pattern: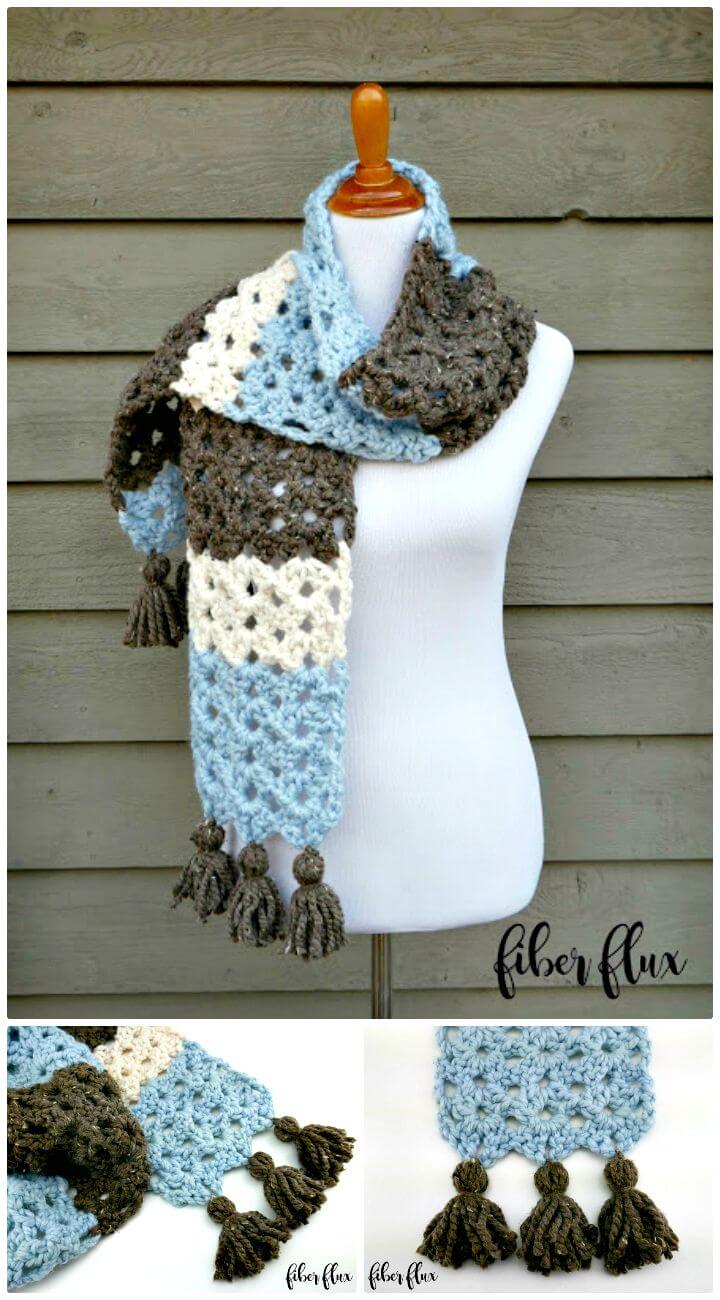 Scarves are the fun accessories to style up yourself around the winters and also get comfy and warm feels around your neck. You can crochet he scarves with simple pattern and stitches but what to make them look fun and appealing? the answer is tassels. Yes you can make some cute tassels and make them hang on the scarf edges and thus easily fashion up your simple scarf. You can learn to do this tassel thing right here fiberfluxblog
Free Crochet Fabulously Fall Fringe Scarf Pattern: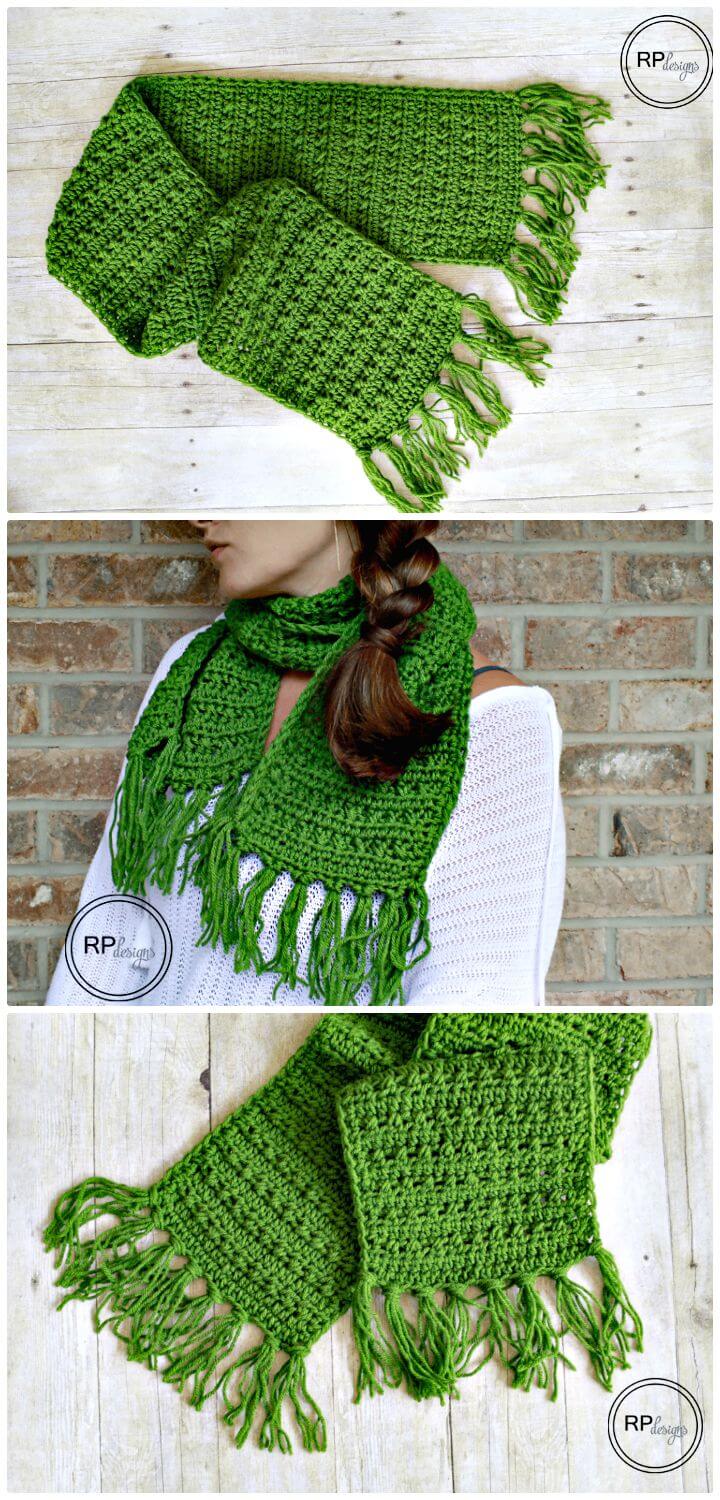 The light weight yarn is just perfect to crochet some soft and comfy scarves for the less cold weather like the fall and here is one with the cute fringed endings to look so much adorable and lovely. The thin scarf with the small and thin tassels look great and would be so much easy and fun to crochet yourself. You can add it to your fall closet or use it as pretty gift for your mom, sister, teacher or the best friend. Check out its details and pattern instructions here rescuedpawdesigns
Free Crochet Striped Ribbed Fringe Scarf Pattern: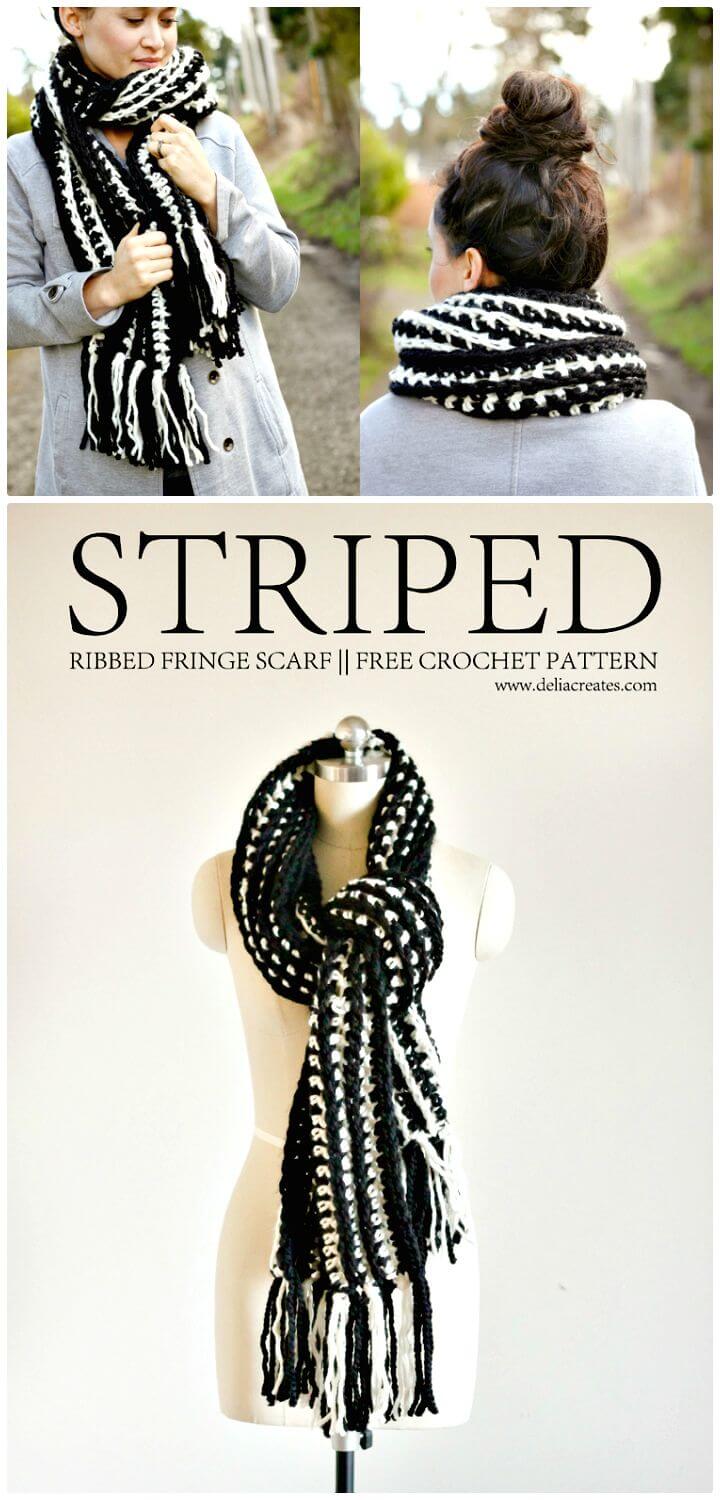 The closet for the cold weather is incomplete for the girls without having a bunch of cute and fun scarves to style up their winters dress up with and here is another pretty scarf to beautify and cozify yourself with. This black and white striped scarf wit the tassel edging is just too cute and gorgeous to be around your neck and add oodles of charms to your regular dress up for the college, office or market.You can have its complete details here deliacreates
How To Free Crochet Tassel Necklace Pattern: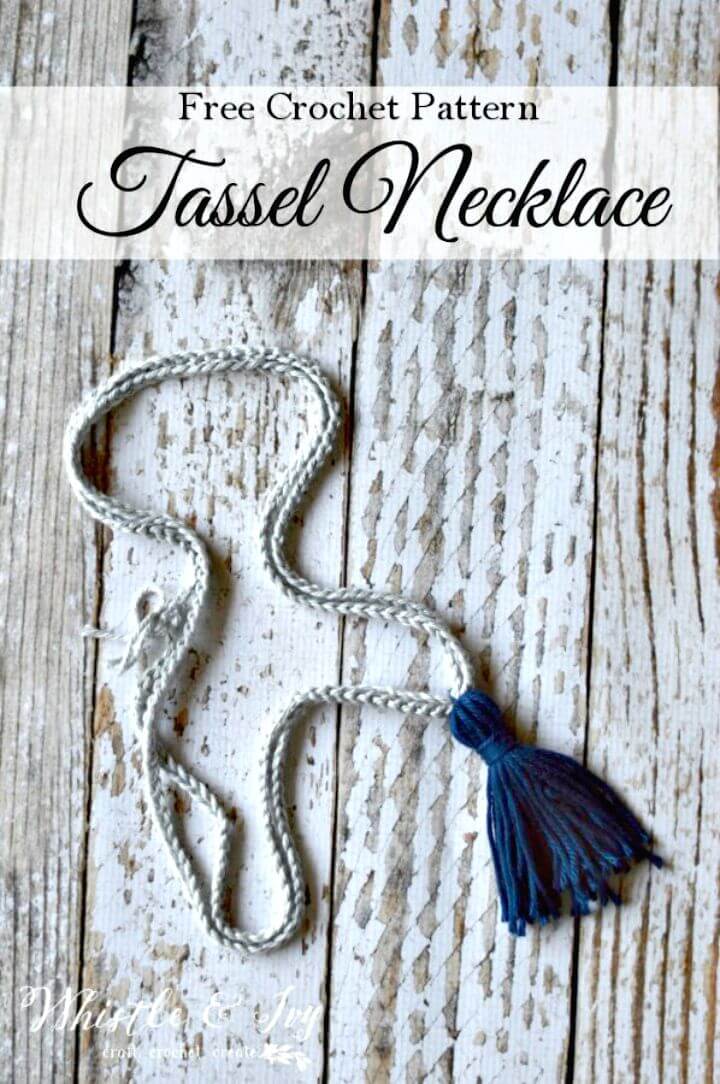 Free Crochet Pattern here: whistleandivy
Free Crochet Boho Tassel Scarf Pattern: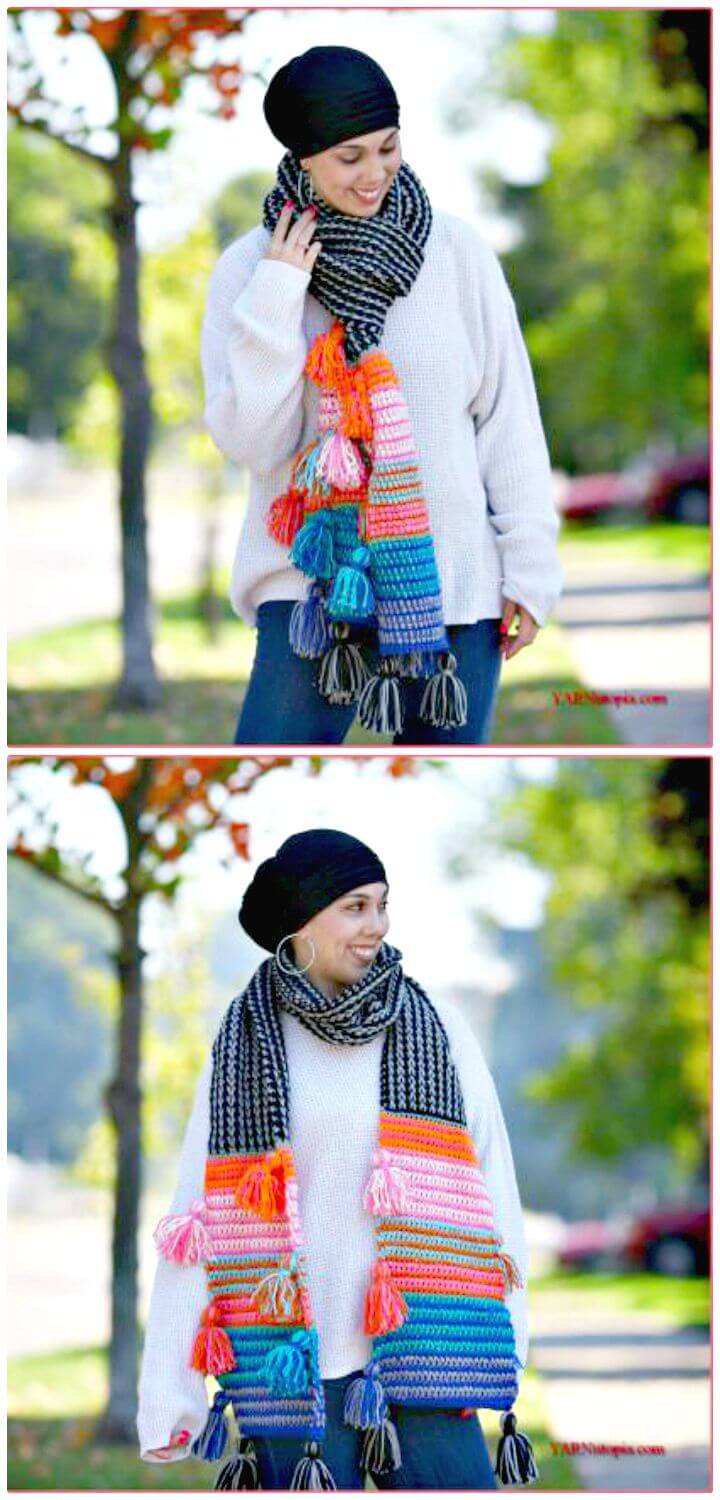 The scarves are so common wrap ups for the winter and the chilly summer evenings too but a boho person wants everything unusual and totally accustomed to her personality and style taste and this one would be surely liked by all the boho girls out there.with the black,white and colorful chunks and the funky thick tassels at the ends are just making this scarf look so cute and cool to be around your neck to warm you and style you up.Grab the easy details of this funky scarf pattern here yarnutopia
Super Easy Crochet Scarf Free Crochet Pattern: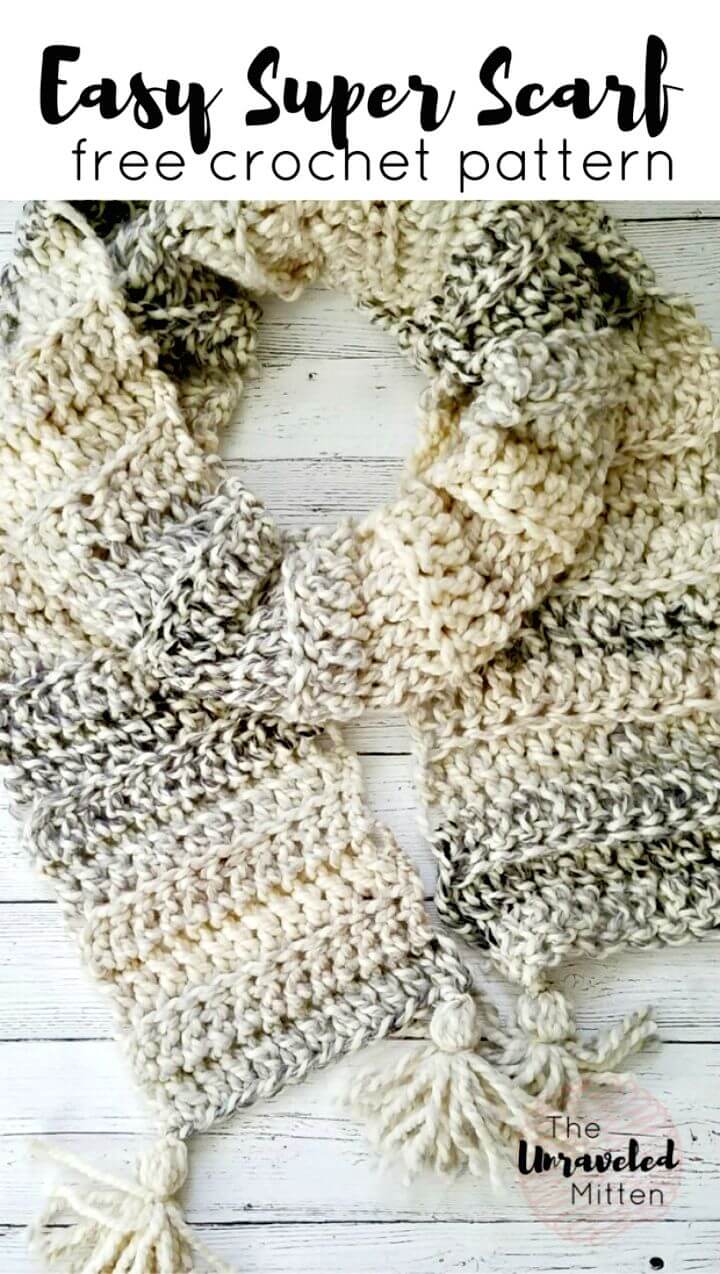 Using the easy stitches and pattern you can easily crochet a simple, gorgeous and comfy scarf for yourself to loop around your neck and get it all warm and comfortable. And to style up the scarf and make it look a totally custom possession you can make four tassels and make them attached to the corners of the scarves on both sides and thus instantly boost up the look and style statement of the scarf and that too so feasibly and cheaply. Easy and fun details here theunraveledmitten
Free Crochet Perfect Throw Pillow With Tassels Pattern: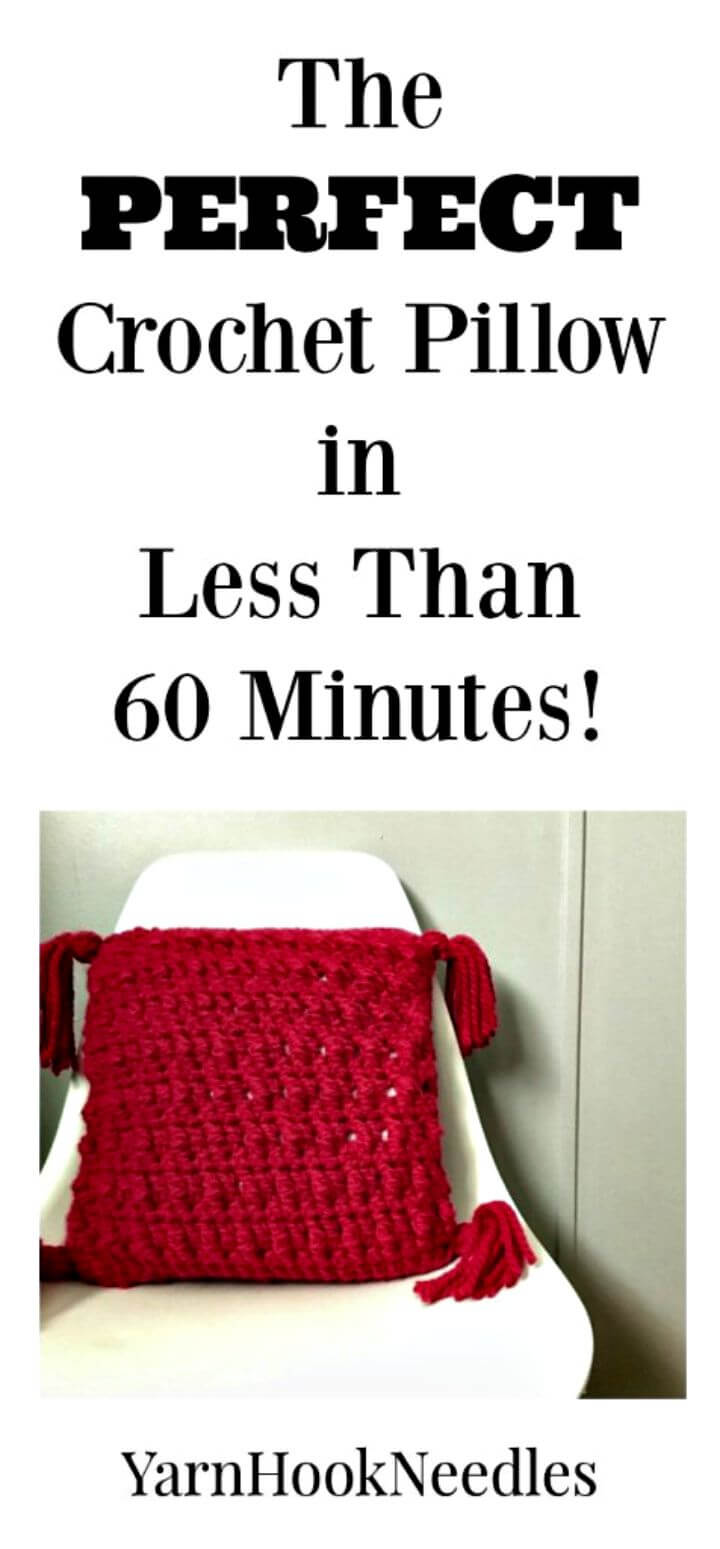 Crocheting is the best craft to get your hands on for the decor boost of your house for the colder weather as there are lots of plans and projects you can work up to bring some comfy details to the things and decor around. Here is this pretty and red hot pillow case nicely crocheted and made to look absolutely funky and stylish with those cute tassels hanging around the four corners of this square pillow case. The pattern and the the tassels are just so amazing and exciting to get your hands on with details here to guide you enough yarnhookneedles
Free Crochet Patriotic Vest With Fringe Pattern: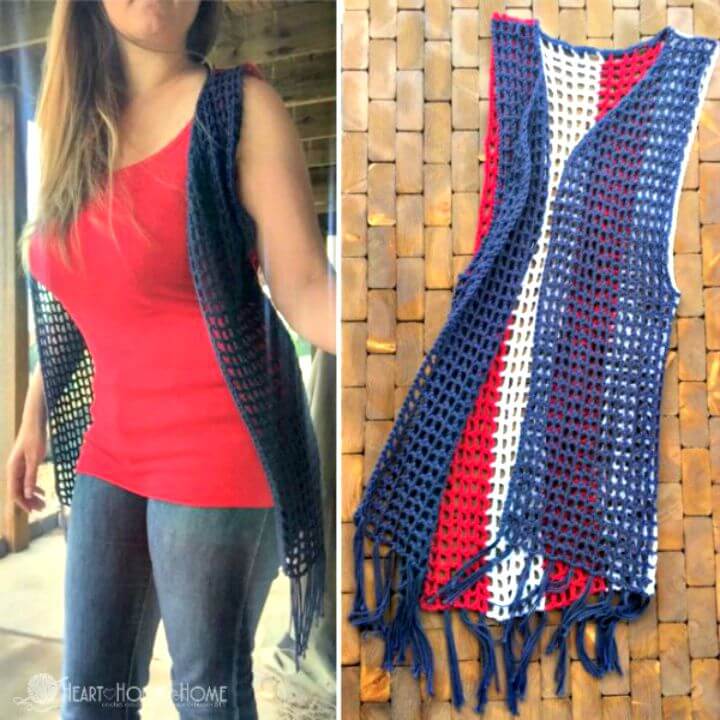 The 4th July and the other American celebrations occur in the summer season so here is this lovely and patriotic vest to crochet yourself and look so much fun and themed to the occasion. The lovely flag strips and those cute tassel fringes at the ends are just adding the perfect style to this light and airy pattern of the patriotic vest which is just immense easy to crochet yourself at home.Here is the link to grab the step by step details of this cute vest pattern hearthookhome
How To Make A Knit Look Scarf, Even If You Crochet – Free Pattern: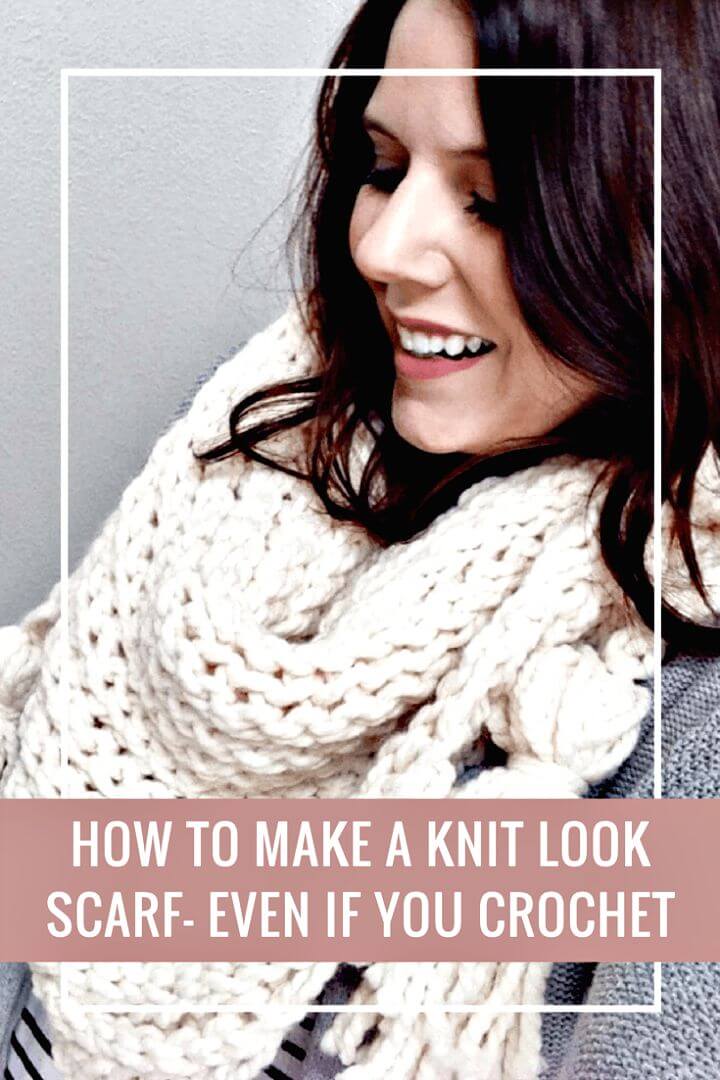 The best thing about scarves is that they can worn in so many styles and thus give a different look every time you get your hands on them to be around your neck to style up your personality and to warm you up too. So here is this chic white beautifully crocheted scarf with the tassels at the ends to look cute and fashionable and thus get nicely added to your trendy wardrobe for the winters.You can check out the details of the pattern here and learn it quickly to make it yourself at home sweeteverlyb
Easy Free Crochet Spring Scarf With Tassel Pattern: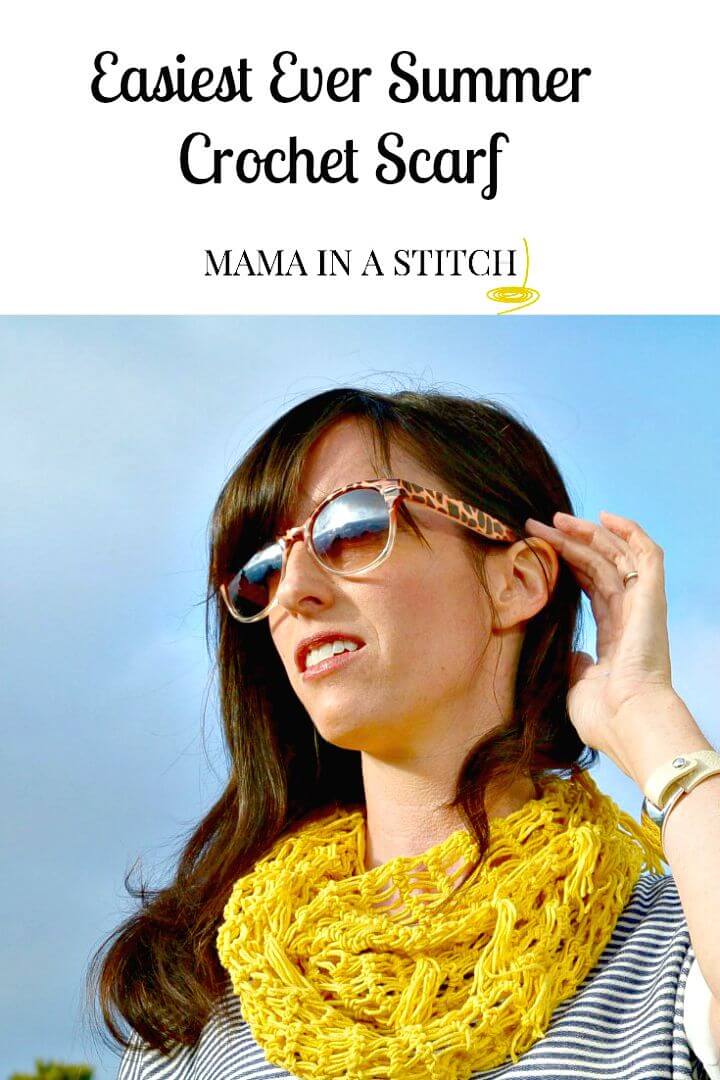 Scarves all season's styling possessions to make you look so much pretty, fashionable and cool pr your dress up demands. For the cool spring weather you can crochet this breezy and light weight scarf in bright yellow, having been beautified and glamed up more with the attachment of the tiny tassels at the end and thus it would look so funky and cute when looped around your beck over a stylish top or tank. Grab its complete details and the instructions to make the tassels here mamainastitch
Free Crochet Long Sari Silk Yarn Scarf With Tassels Pattern: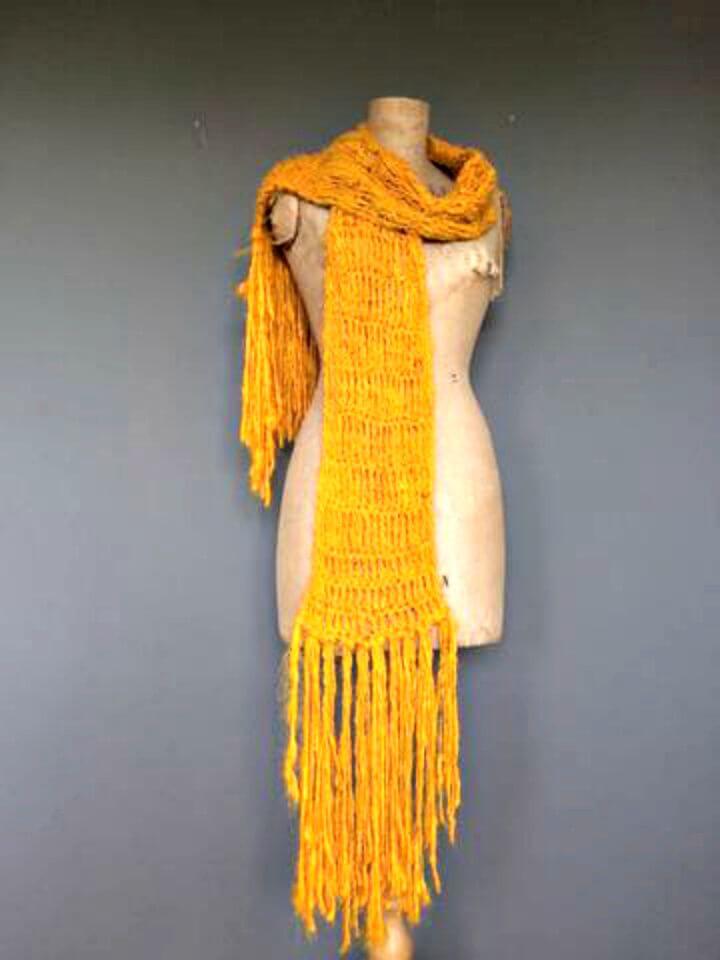 When you are a skilled and addicted crochet person the persons around you expect to get some pretty crocheted gifts when its the time to exchange the pretty presents with each other. SO here is this lovely scarf with the stylish long fringes at the ends to make the scarf look a totally handsome piece for the winter or summer fashion and make it ready to go as the super cool gift for your girl gang be it in the family or in the friends.Details and the free pattern here yarnyarn