I talk about the most fantastic crochet stitches then the crocodile stitch comes at the top! This stitch is a significant achievement in its own and is highly famous due to the design texture that it provides to the patterns you are going to crochet! The scalloped shells not only makes the crochet pattern a bit thicker but they also offer amazing visual details to the design, so it looks extra beautiful too! As the puff stitches bring the lovely puff to your complete crochet pattern, in the same way, the crocodile stitch creates a crocodile skin like texture that every onlooker love to look at twice!
Crocheting with different stitches is ways to gain your finally finished patterns in a lot of different textures, and different stitches also allow you to vary the spacing among the stitches making the final patternless or thicker! So, if you are also a big fan of the crocodile stitch and want to incorporate it into your next crochet projects then here are a few great inspirations for you! Just have a look at these 20 Free Crochet Crocodile Stitch Patterns that are lovely and amazingly beautiful and would inspire your hook! Time to do wonders with the crocodile stitch in the world of the crocheting and these ideas would be a big help for sure!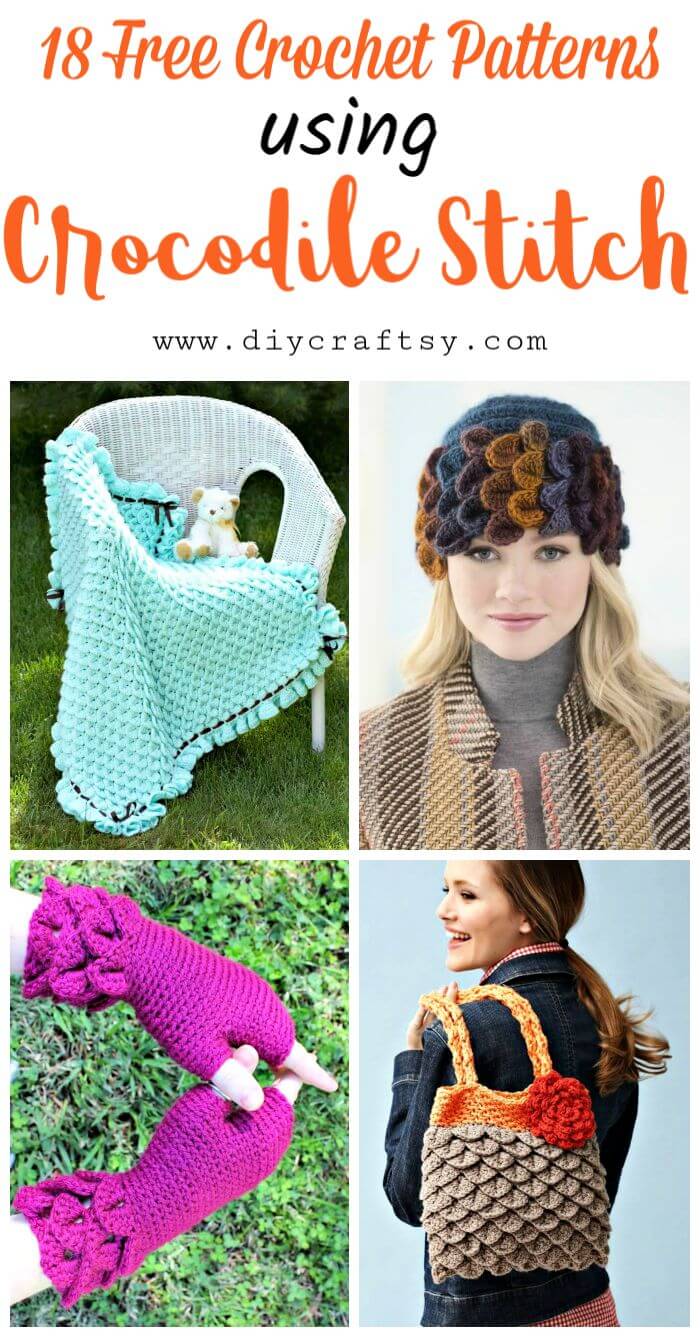 Crochet the crocodile clutches that will definitely boost your fashion and also create a great personality of your this winter by wearing a crocodile crochet headscarf, have a look at the given sample that also comes with the eyes and tail! Work even in crocodile stitch and make brilliant looking owl plushies that will make the cutest stuffed toy for a kid and also wear the colorful crocodile skin by crocheting a crocodile stitch Rio scarf that would be super easy to crochet also!
Crochet Stitches You May Like:
Bring tons of comfort to your babies by crocheting lovely crocodile stitch blankets at home and also crochet the enticing crocodile stitch backpacks that would make the epic present for a school going kids and you can also use such a backpack for cycling, outings, and picnics to carry your stuff with you! Also, work in the crocodile stitch and crochet fabulous purposes which can be finished with a drawstring for a lovely appeal and easy opening and closing! Just take a look at the given below samples that are too beautiful to win your heart!
Also, go smart with the crocodile stitch and make mermaid tears purposes that may come with the crochet flower embellishments for a lovely appeal and also crochet crocodile fingerless gloves that would make the perfect winter hand warmers and will also add a fab finishing touch to your winter outfits! Just check out some more interesting crocodile stitch patterns in the given below list and to select some of them to duplicate at home! Open the attached links to grab the full free crocodile stitch patterns and visual tutorials!
Free Crochet Crocodile Clutch Purse Pattern: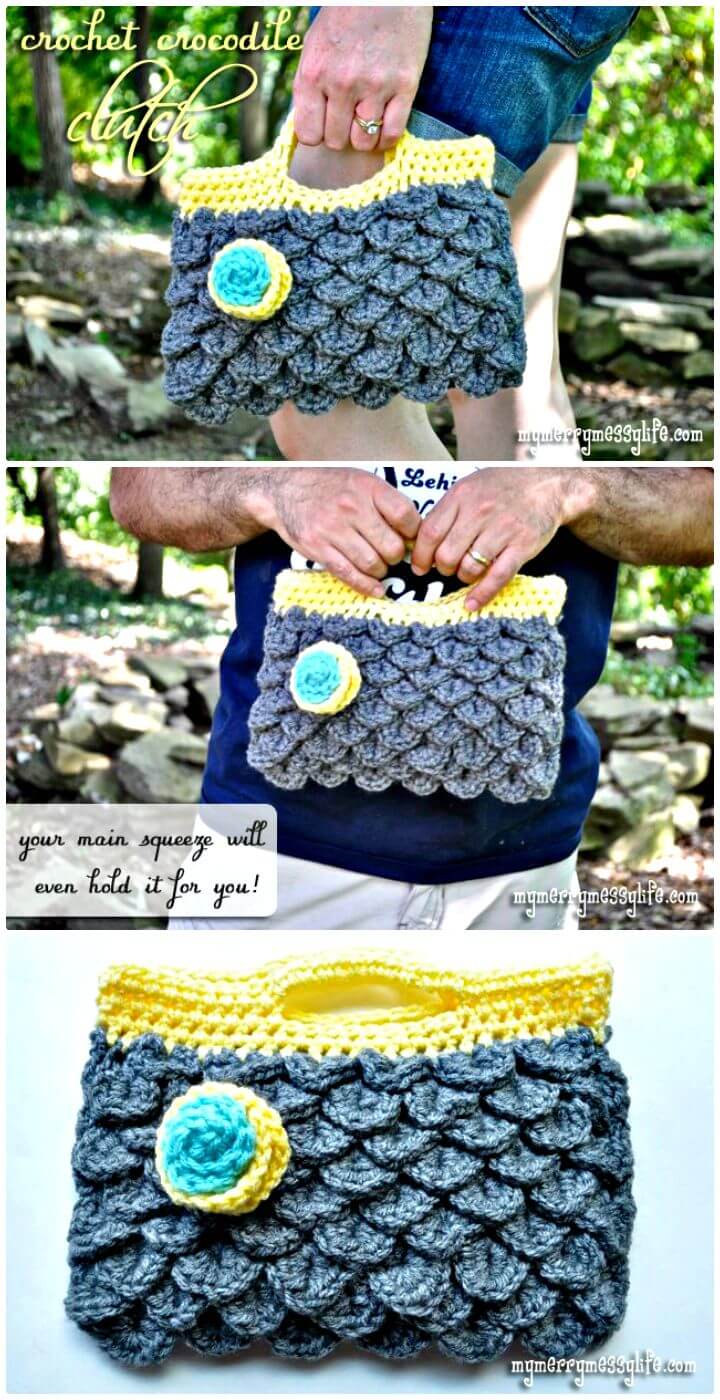 The clutches are the must part of a lady's wardrobe and they want it in all the styles and designs for a lovely collection. So if you do not have a crocheted purse or clutch, then this crocodile clutch is the apt thing to get your hands dirty with. The adorable crocodile scales have been worked up in amazingly gorgeous and pretty contrasted hues of the grey and yellow for a complete enchanting clutch to spruce up the fun of your dress up and personality mymerrymessylife
How To Free Crochet Crocodile Scarf Head Pattern: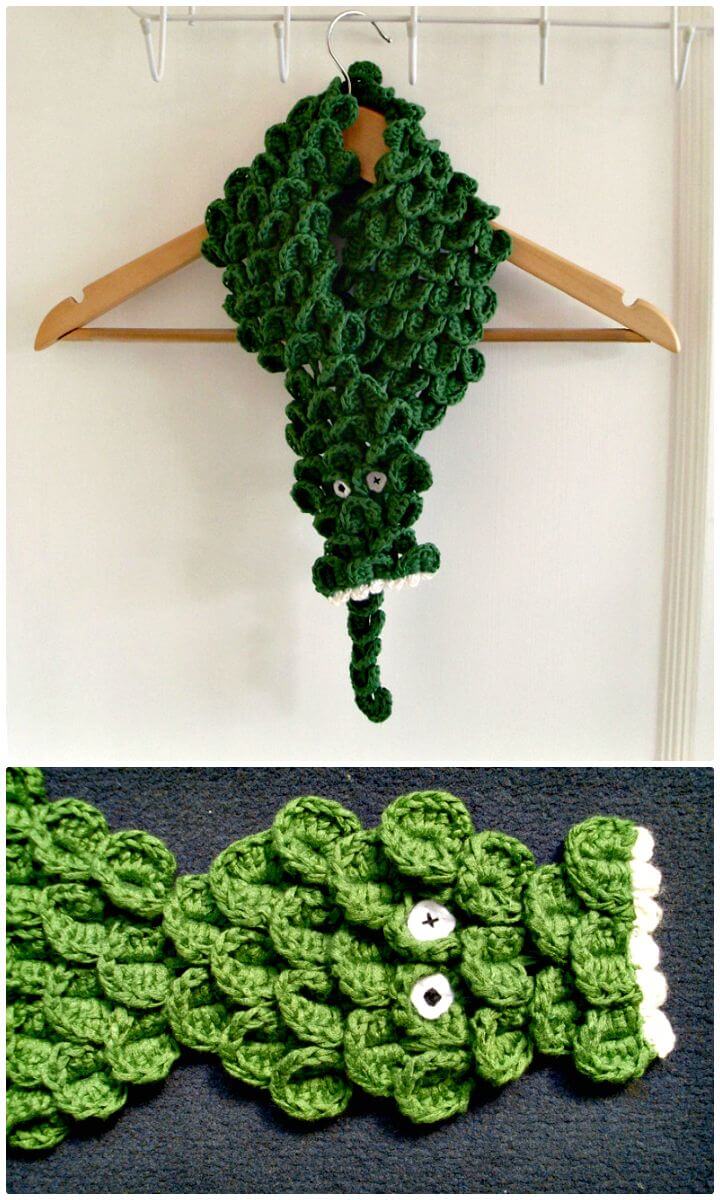 The crocodile stitch is the cute pattern to make some fun and pretty possessions but this not only the crocodile shells you can crochet a complete crocodile in this pretty scarf design for your kids. You can easily crochet the shells in thick layers for the crocodile boy, a thin layer for the tail and the eyes and the white crochet teeth on the mouth to give it a complete realistic look. The step by step tutorial of this fun kids scarf is lying here cultofcrochet
How To Free Crochet Crocodile Stitch Owl Pattern: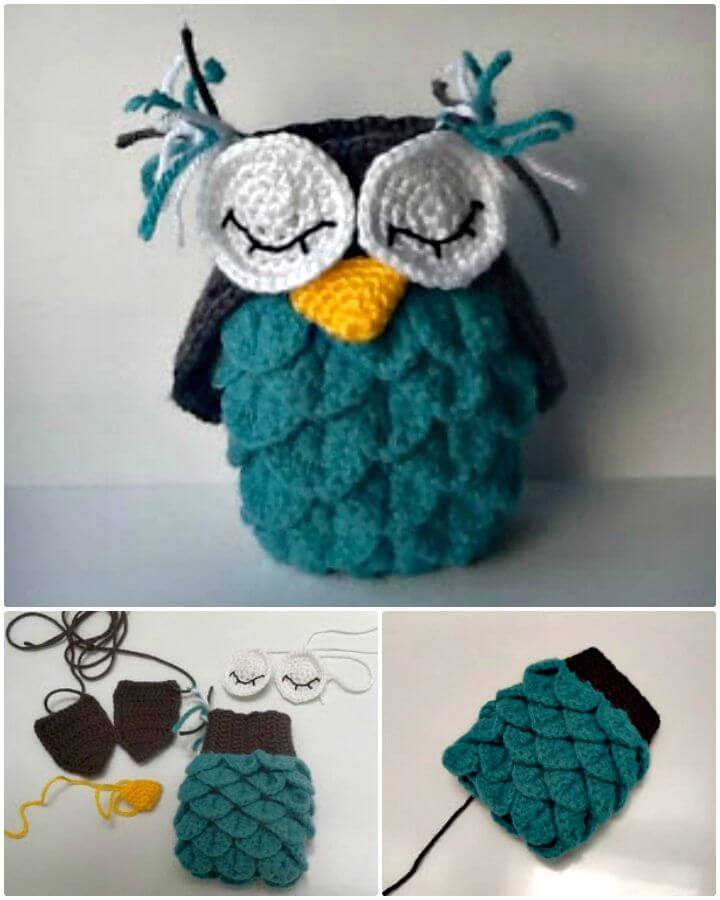 The crocheted owls are really getting popular among the crochet lovers and you can twist the owls in so many ways to get the gorgeous and fun avatars of the owl possessions. Here is this awesome owl with cute features yet what steals the lime light of this owl is the lovely crocodile stitched body of the owl. You can work up this lovely owl in any of your favorite hues to get a complete personalized result for your decorative boost up over the mantels or the shelves craftnotes
Free Crochet Crocodile Stitch Rio Scarf Pattern: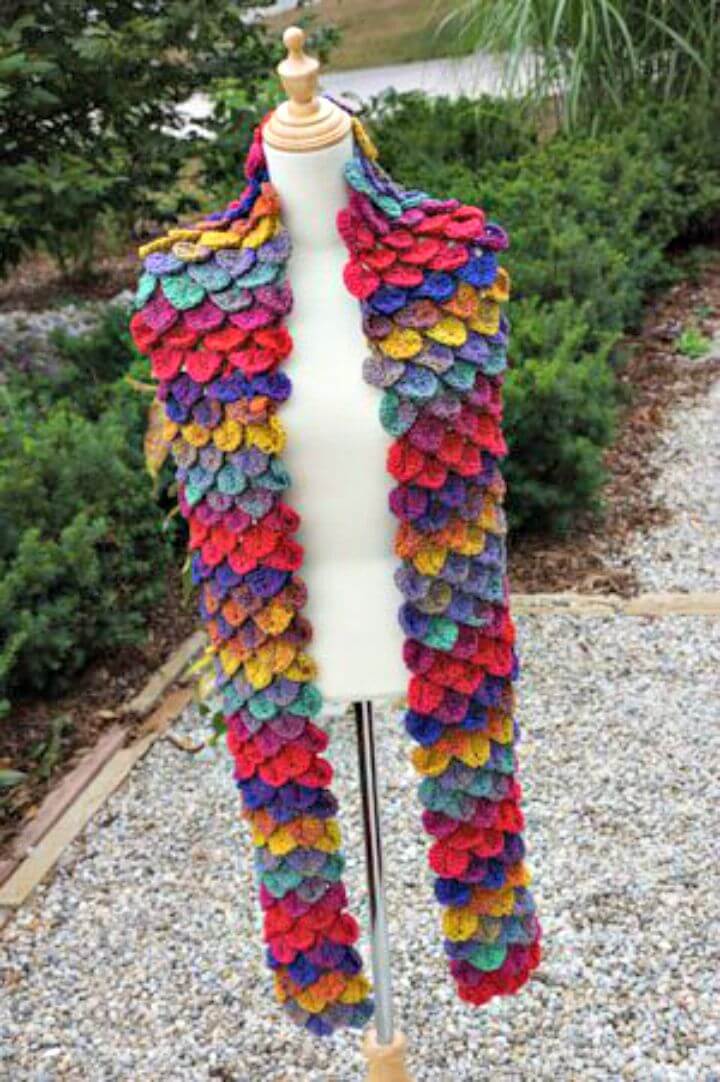 Unlike the hard and rough scales on the crocodile body, you can work upon these colorful, soft and cozy ones to get this so funky and fun kind of scarf for your self or the other girls in your family. It would be a great idea to bust up the left out yarn from your other crocheted projects and get a colorful and delightful scarf to warm up your neck in a pretty and fun style this winters. It would also make a cute gift so you really need to check out its details and instructions here favecrafts
Free Crochet Crocodile Stitch Baby Blanket Pattern: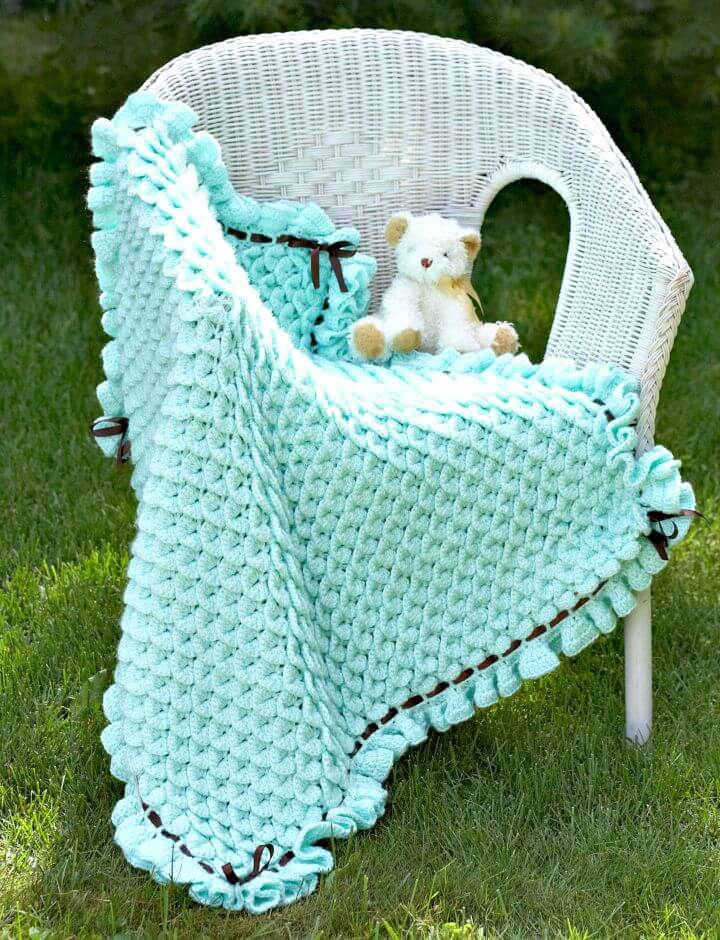 The crocodile stitches are one of the famous crochet stitches to create any of your favorite crochet possessions for the colder season. As blankets are the perfect to warm up yourself while lying in the sofa or bed so here is this totally mind blowing and beautiful crocodile blanket pattern with ribbon ed and ruffled edges to look more gorgeous and appealing. The vibrant yarn color really make it look truly and eye catching piece.Fully detailed pattern here yarnspirations
Free Crochet Crocodile Stitch Backpack Pattern: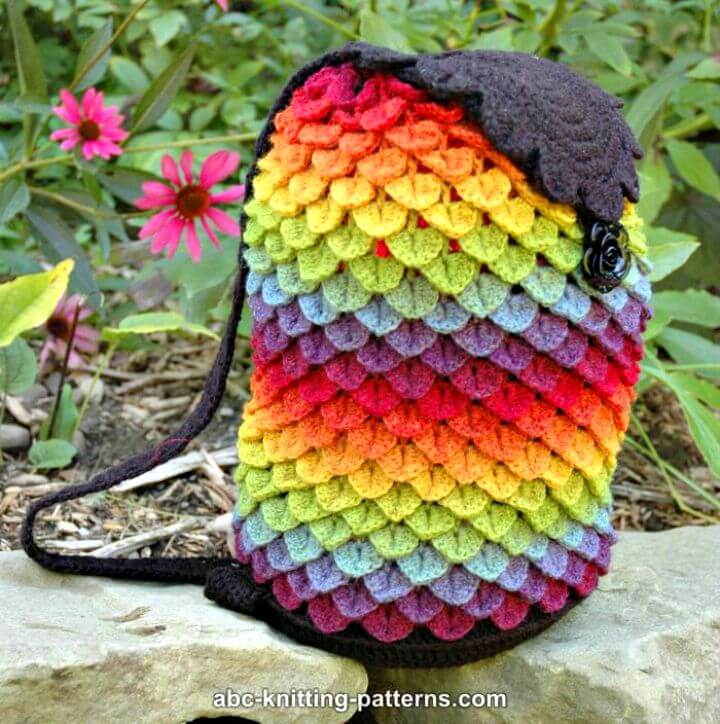 Kids just love backpacks as they can carry their possessions be it toys or the school essentials anywhere and at any time. So here is this lovely crocheted backpacks that you can easily crochet and present a lovely gift to your little ones. The crocodile stitch work and the multiple colors of the yarn in cute layers really make the backpack look so gorgeous and fun. You can easily make this backpack by getting its free pattern and details from this link patterns
Free Crochet Crocodile Stitch Drawstring Purse Pattern: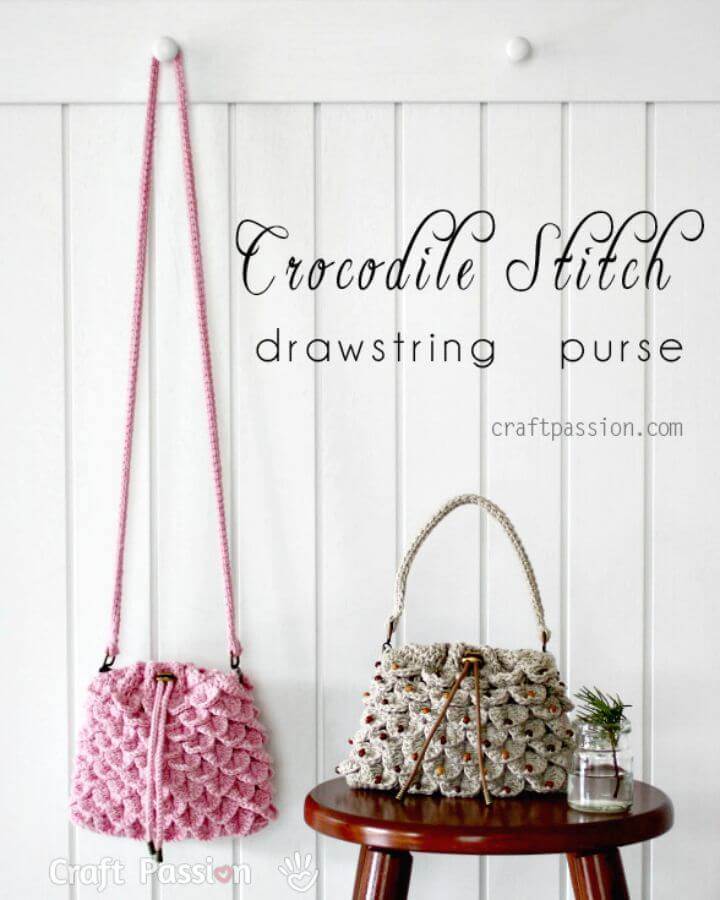 A funky and stylish purse add just the perfect boost up your fashionable personality and boosts up the dress up of yours and here is how you can make these utterly beautiful and super cute draw string purse on your own. The teens and the young girls going to the college or high school would love these crocodile stitch purse to hang around the shoulders so nicely.The ladies can make the same purse but with a shorter strap or handle to make it look elegant and decent. Complete details here craftpassion
Free Crochet Crocodile Stitch Draw Bag Pattern: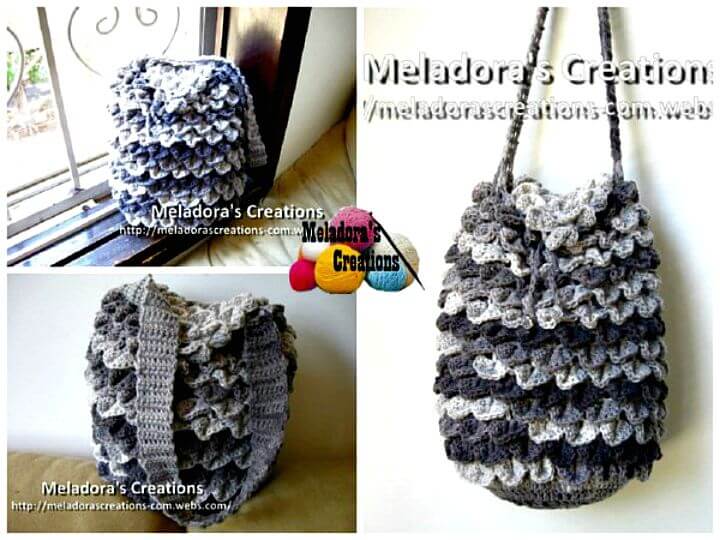 The beauty of the crocodile stitch is that it provides and unusual touch to any of your crocheted things and make them look so extra ordinary and fun. SO here is this cute little draw bag for your girls made up with the pretty layers of crocodile stitch in blue grey and white yarn with a plain crocheted strap for a refined finish. Here is the link to grab the step by step details of the pattern so that you can make this bag and gift it your girls meladorascreations
Easy Free Crochet Mermaid Tears Purse Pattern: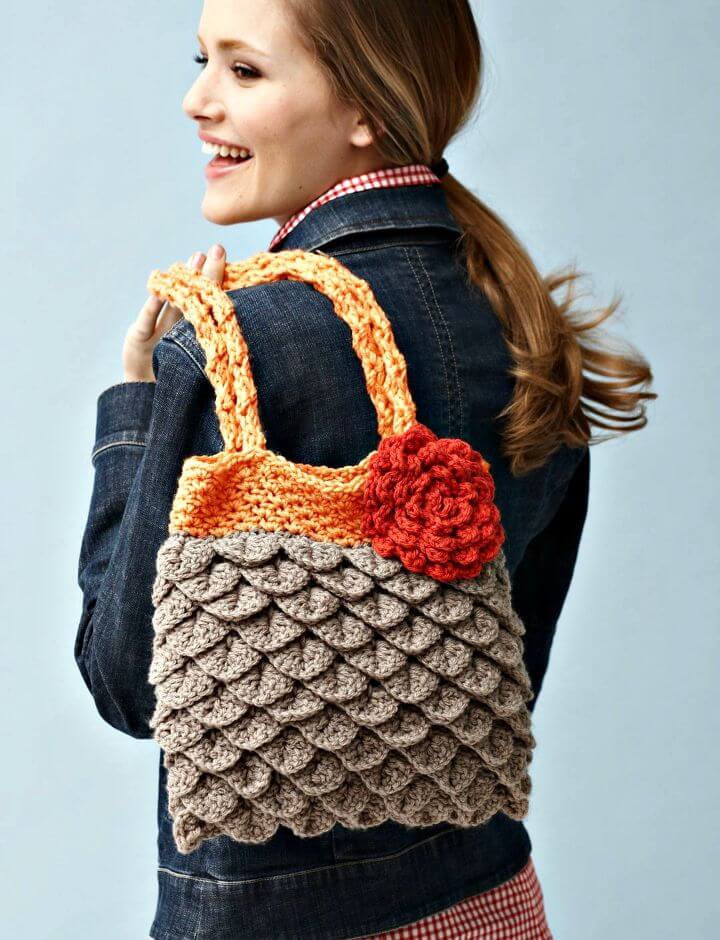 The crocheted crocodile stitch really awards and awesome look to your possessions that is why this bag in the pictures look so stunning and beautiful. The skin layers of the crocodile stitch, the orange top line and that big red flower are the pretty details making this bag look so much an exquisite accessory to carry and flaunt around. It would also make a delightful and stylish gift for your girl fellows in the family and the social circle so do have its free pattern and the details right here yarnspirations
Free Crochet Crocodile Stitch Finger Less Gloves Pattern: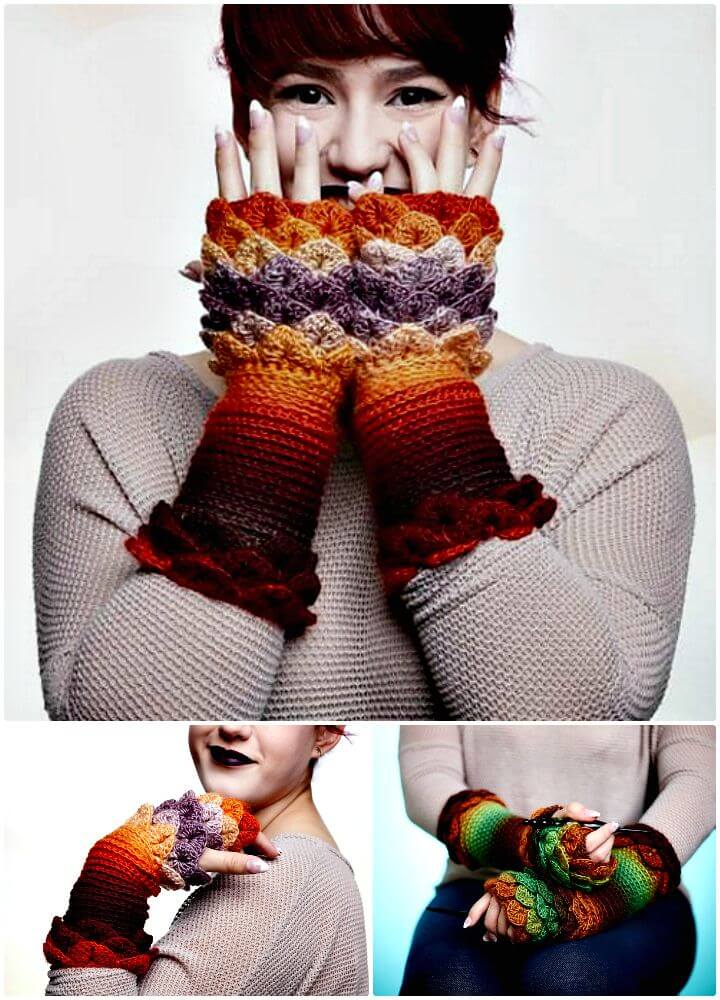 Finger less gloves are just apt to get your hand on as they really warm up your hands while keeping the fingers free to work and perform any tasks at home or in the office too. So make this super gorgeous an stylish kind of finger less gloves stitched out of the lovely crocodile pattern with the use of mesmerizing yarn hues to get that whimsical overall result of the gloves. You can change the hues to get some custom pairs of the gloves for yourself or for your girl fellows ravelry
Free Crochet Crocodile Stitch Hat Pattern:

The hats really add to our over all look and personality in the winters so it ought to be stylish and unique and this crocodile stitch hat surely falls in that category we are talking about. With the whimsical yarn hues being gorgeous combined and that crocodile patch added to the hat front, really make this hat look so awesome to glam up your dress up for the winters. Steal the free pattern and the details of this pretty hat from this link provided and enjoy making it this weekend on your own lionbrand
Free Crochet Crocodile Stitch 6-12 Month Leg Warmers Pattern: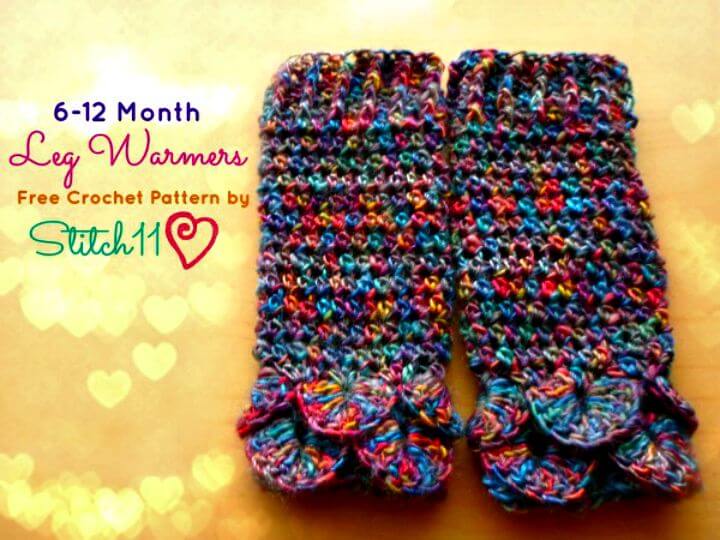 With the simple crochet rows these exquisite leg warmers for the kids have been crocheted so easily and to award it a more fancy look the crocodile stitch has been worked upon at the ends of the leg warmers giving it a really wow and pretty look. The use of multiple bright shades is also the reason behind the appeal and charm of this cute leg warmers pair so crochet it for your new born or for the coming ones in your family as a pretty baby shower gift.Complete details of the pattern here stitch11
Free Crochet Crocodile Stitch Adult Hat Pattern: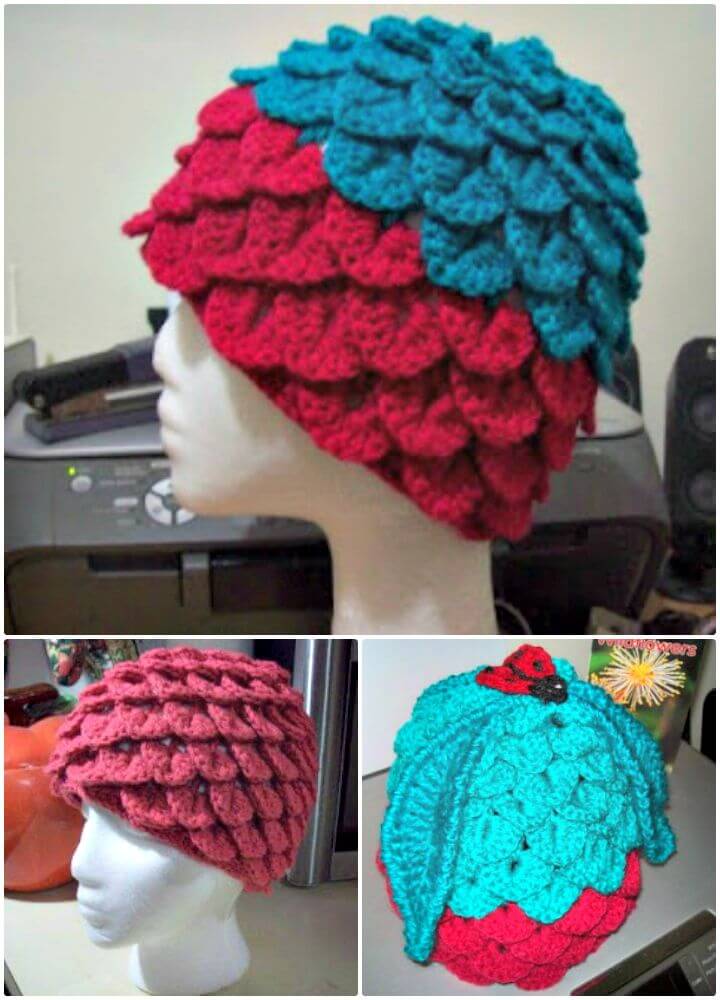 The crocodile stitch works up the same like the scales on the skin of a crocodile and that is why they have been named so. Here is this lovely hat to be crocheted in the crocodile stitch to form up this pretty hat for your girls and boys who are in teen age. YOu can use the one color yarn for the complete hat or you can combine two colors in layers for a more funky and cool style effect added to your dress up. The easy details and the free pattern are given here so grab them up rockin
Free Crochet Crocodile Stitch Baby Bonnet Pattern: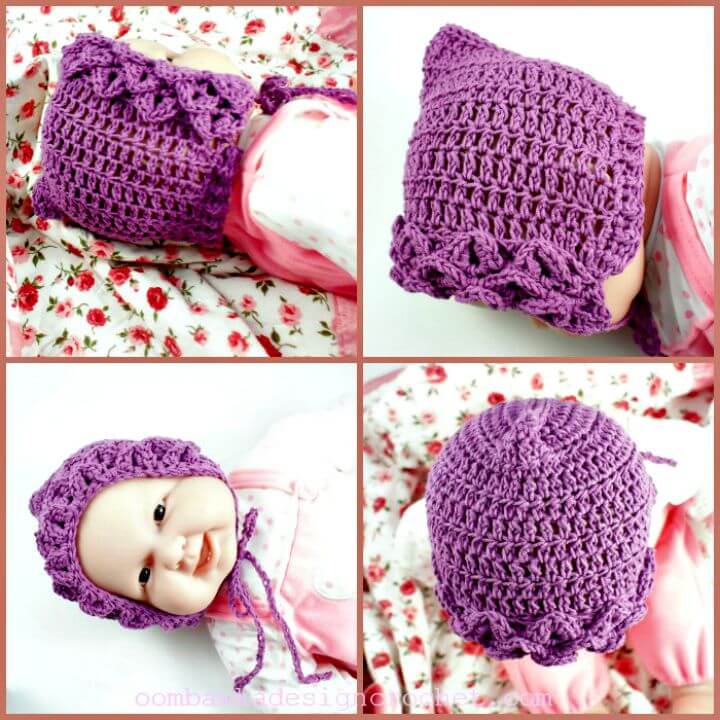 The crocodile stitch can add oodles of charm to any of your simply crocheted items and this baby bonnet is the perfect example. You can crochet the complete hat with the simple rows and pattern and the for the edging you can work up your hooks with the crocodile stitch and thus lend this cute baby hat a really usual and fun look. You can hack this idea and crochet it in any of the hues you like for a custom achievement.Link here for details and free patterns oombawkadesigncrochet
How To Free Crochet Crocodile Cuff Mitts Pattern: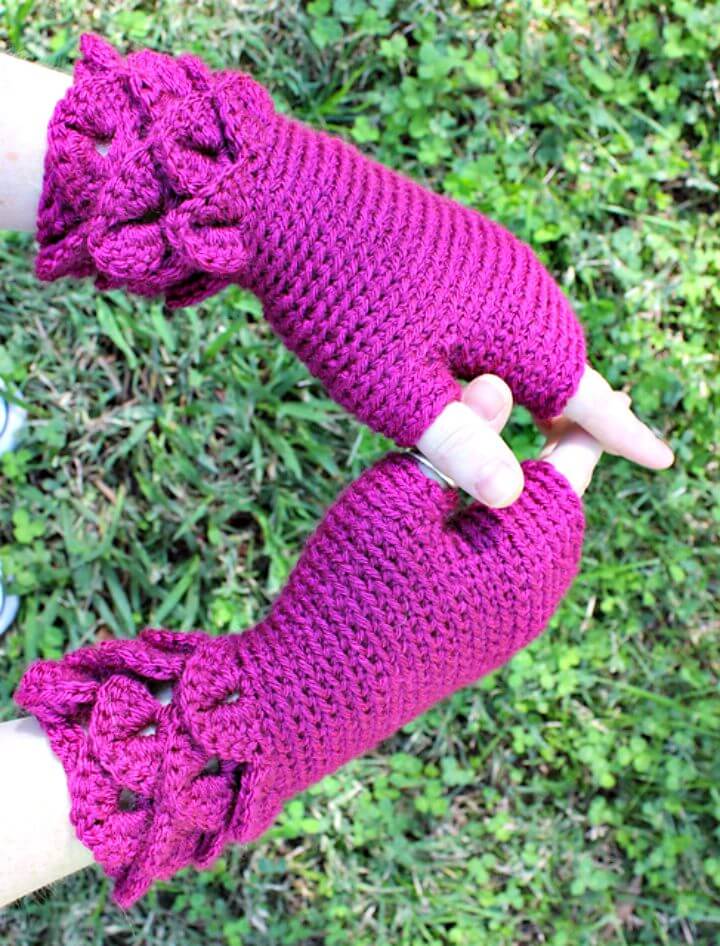 If you can learn to crochet the crocodile stitch, you can add so many twists and perks of it to your crocheted projects of all sorts and make them look so fancy and fun than just simple and boring. So if you are crocheting a pair of mittens and have not finished it yet, then you can end it with these pretty crocodile cuffs and thus make it look so much unique and stand out with only one stitch work which you can learn here and get skilled in with some practice ravelry
Easy Free Crochet Crocodile Finger Less Pattern: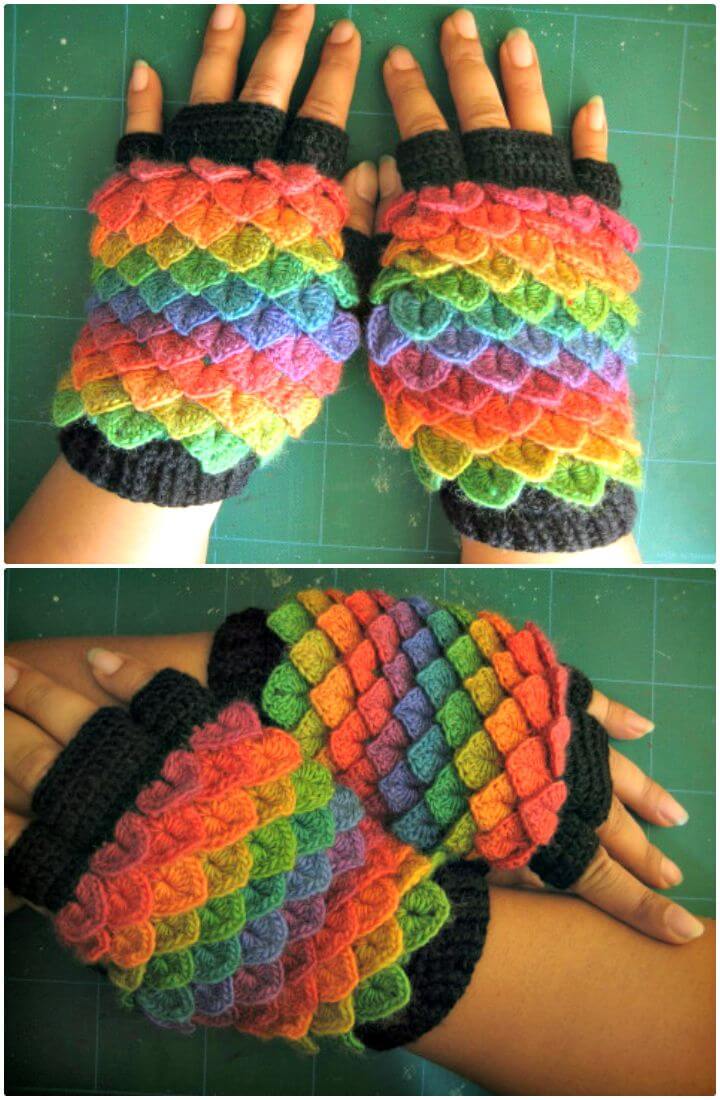 The mittens are so cute to wear and feel yourself all warm and cozy for the winters. The colors and the pretty layers of the scales in multiple shades really make the mittens look so damn pretty and fun especially with the black edging at the finger edges and the wrist. You can easily make the pair for yourself or for the ones you love the most among your girl gang. You can grab the complete pattern here to make it on your own with all the details and guidance provided thanesprayers
How To Free Crochet Crocodile Stitch Mittens Pattern:
Here are these lovely finger less gloves to get your hands on and feel all stylish and warm in the cold weather. The multiple layers of the yarn in bright and bold hues and that simple crochet work paired with the crocodile hand cuffs really make this pair of gloves a pretty and lofty possession. You can make it for anyone by varying the size and the colors of the yarn and here is the link where you can grab it all bonitapatternsblog
Free Crochet Crocodile Stitch Mermaid Tail Blanket Pattern: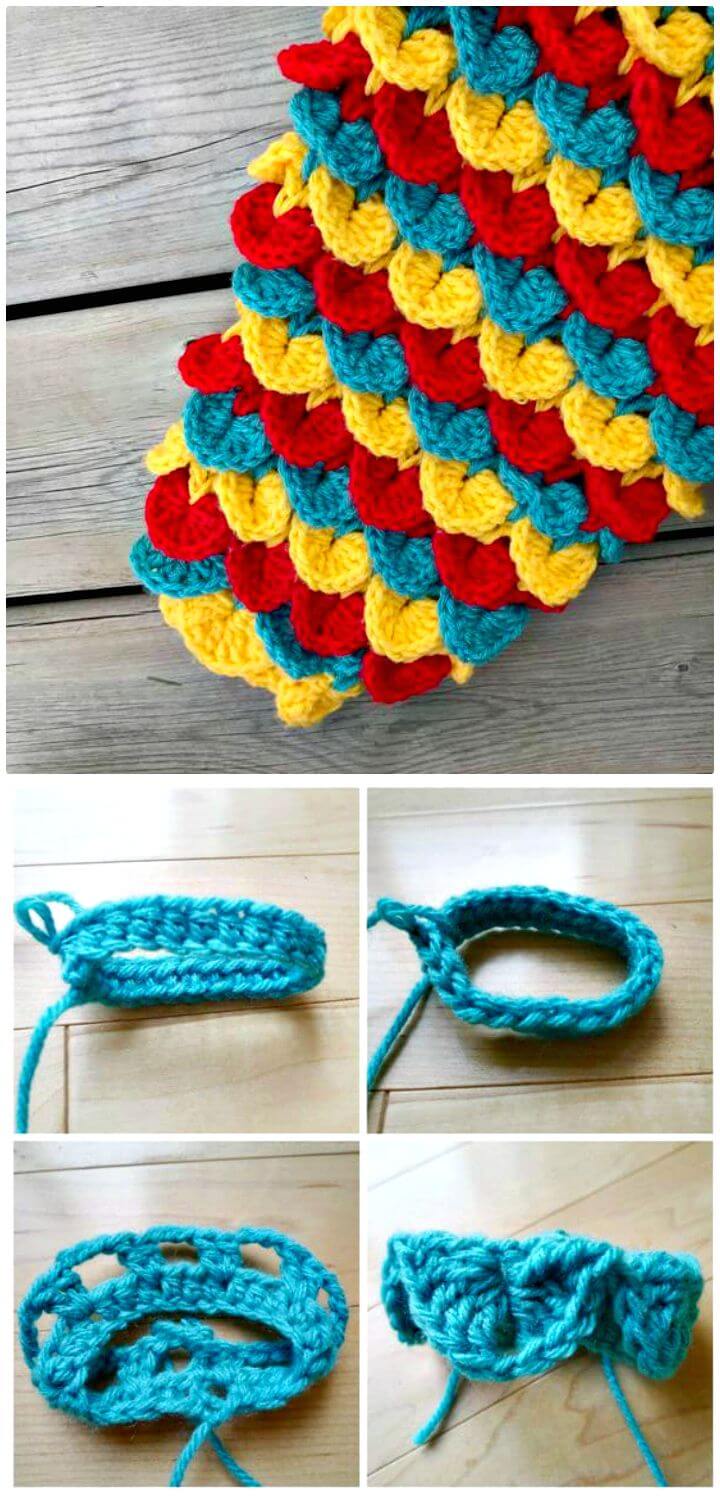 Mermaids are always the fancy characters that girls adore and fascinate the most. What makes the mermaids look so pretty and mesmerizing are their pretty fish tails under the human body. And the mermaid tail blanket is the great idea to make your legs warm and comfy this winters in awesome colors and the enchanting crocodile stitch making the design and the pattern look more appealing and full of cozy textures. Kids, new born an the adults all can enjoy these mermaid tails so grab their details from this link and learn it all here allaboutami
Free Crochet Owl Amigurumi Using The Crocodile Stitch Pattern: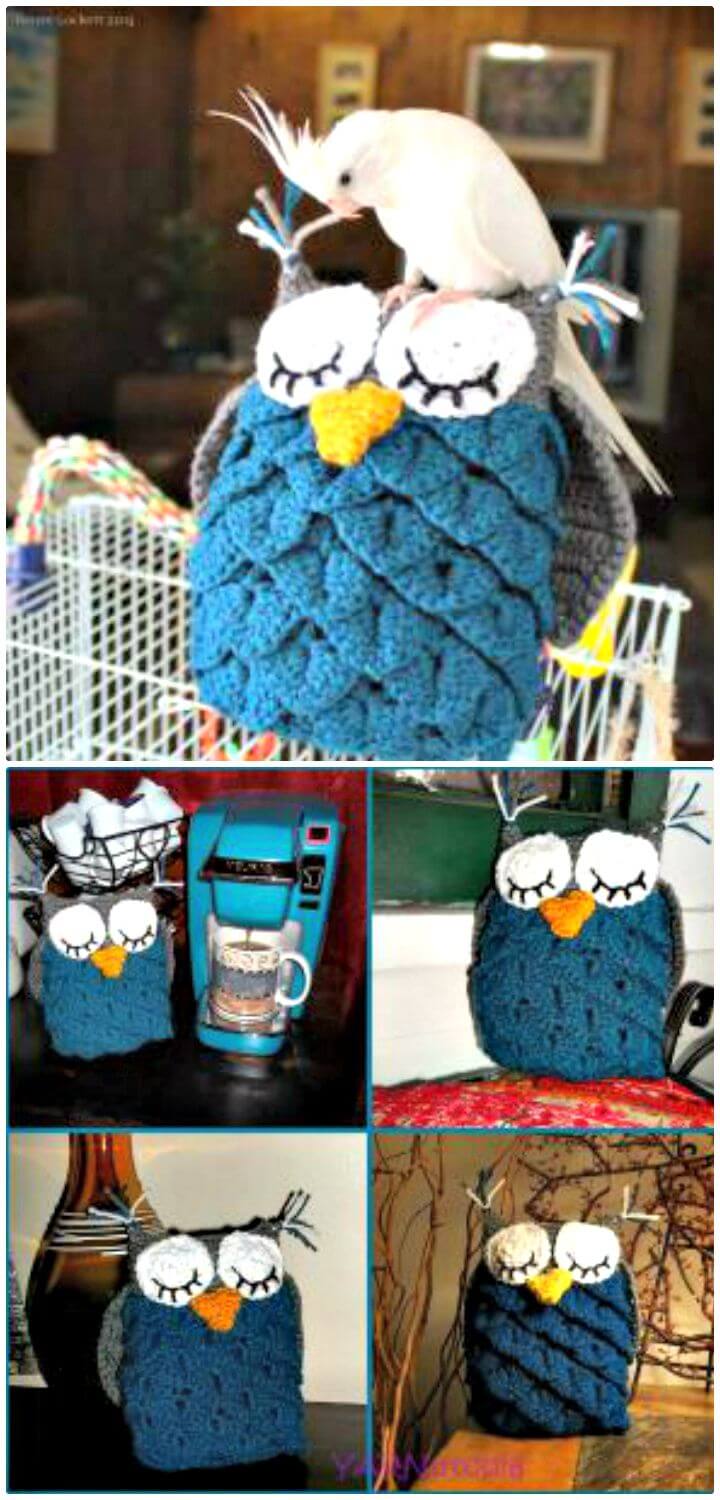 The owls are getting really popular as they are making a huge contribution to kids room decor with their so pretty appeal. There are various kind of patterns and designs to get your hands on to make a cute owl out of. This owl has been made with the adorable crocodile stitch with cute expressions on the eyes, a pretty colorful nose and those lovely feathers. You can easily get the pattern and thus have a cute owl to decorate your kid's room with by displaying it on the tables, mantels and the shelves.Here is the link to grab the details yarnutopia
Free Crochet Crocodile Stitch Dragon Gloves Pattern: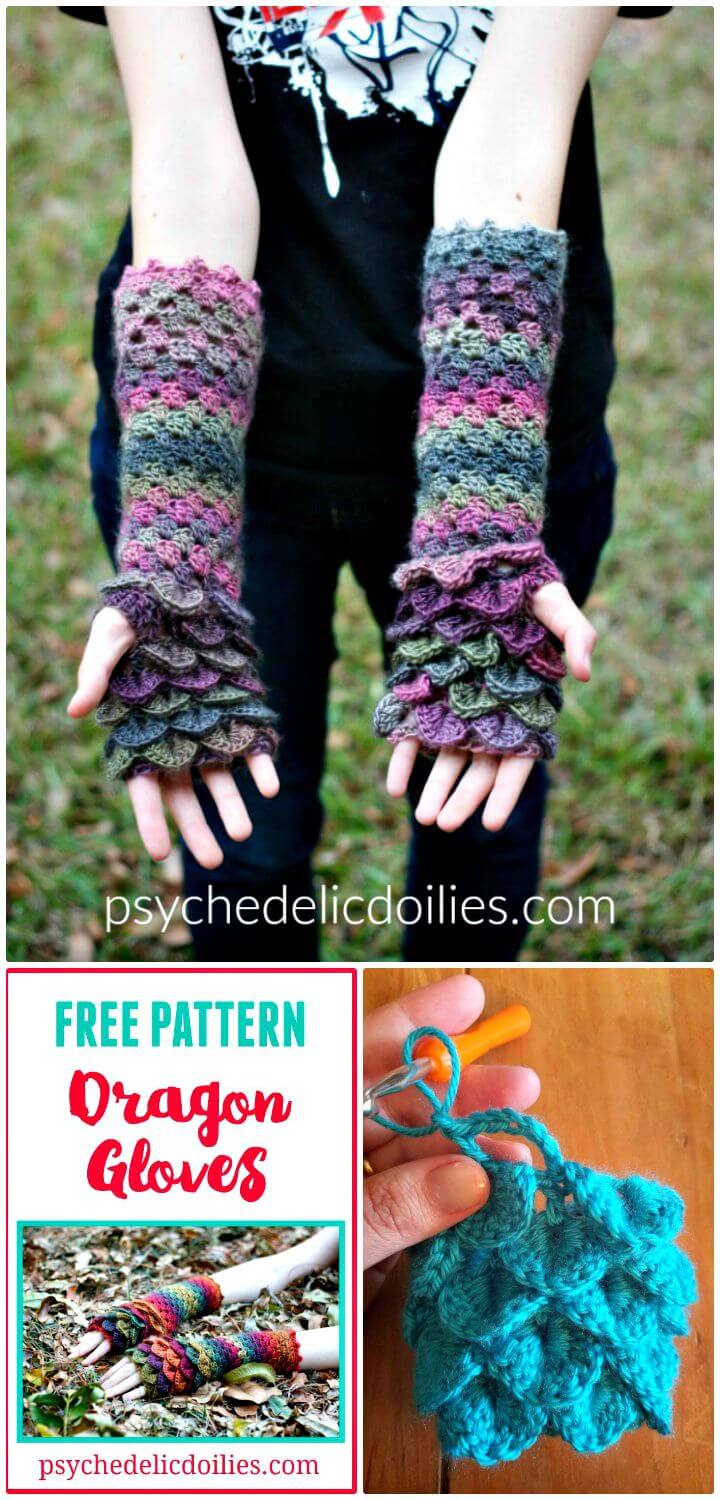 The finger less gloves are so cool and stylish to get your hands on as they can really enhance the charm and beauty of your dress up for the colder weather and also keeping you warm and cozy too. Here is this exquisite pair of the finger less gloves in multiple shades to get one pair for yourself to wear with any kind of dress up or clothes as they got so many colors in them to match each of your tanks, tops and jeans. It would also make a perfect for the Holidays too so here is the link to grab the complete tutorial of making this awesome glove pair psychedelicdoilies
Free Crochet The Crocodile Flower Pattern: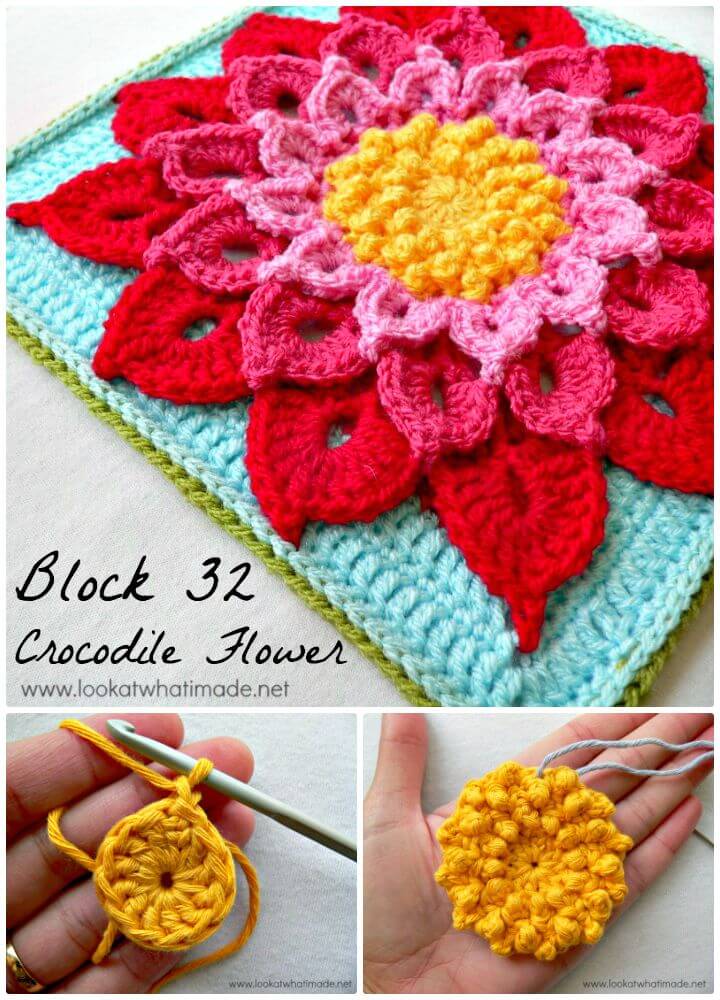 The crocodile stitch works up great and the scales like structures it make can be used for so many other crocheted crafts and thus get the most pretty and fun kind of possessions for your home decor, for your winter comfort and more. This pretty and cute flower has been made out of the crocodile stitch with lovely colors and shades of the yarn and can be used as a pretty applique for any of your things to boost up the look of them.Details here lookatwhatimade