The spring season has just reached and time to crochet some amazing spring patterns to give a warm welcome to spring! You can get busy in crocheting the vibrant color yarn weights as spring is the season of colors when there are colorful flowers to see all around! So, here we have brought 35 free crochet spring patterns that will spruce up your spring home decors and also the spring fashion! These crochet patterns are having tons of colorful pattern that you can crochet to pay bigger attributes to the beauty and colors of the spring! The blasting good news is that the list has patterns for all skill levels, so no matter if you are a beginner, you can still crochet some brilliant spring patterns from the list to test your stitches and also to show your love for spring!
Crochet the handsome daffodils that would rock as embellishments for various spring crochet patterns and can also be used individually in several different ways as charming spring decors! Crochet the lover flower hair headbands that will turn your little girl into a cute princess and make colorful flower garlands that will hang across any special item as a fantastic spring decor, check out the given sample that will rock your rock if hanged on your front door as an enticing spring decor!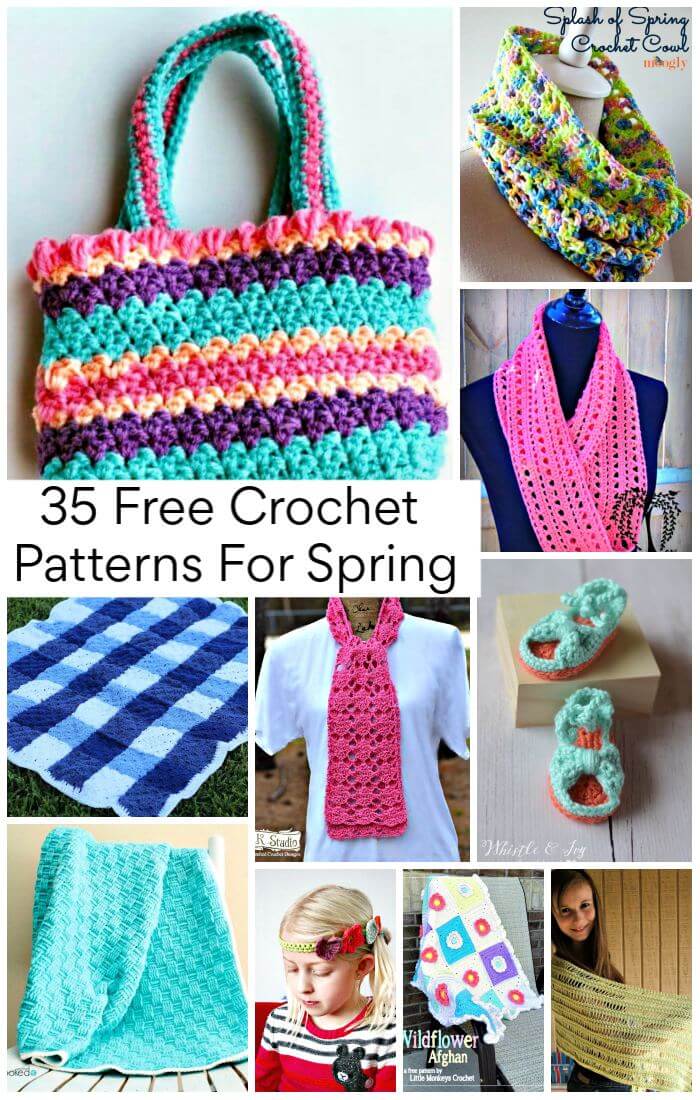 Next crochet also the dashing garden party hats in your favorite yarn colors that will also make outstanding gifts for all style loving ladies and fashion enthusiast teens! Get inspired by the sample hats that come with colorful yarn flower embellishments! Next crochet also the sweet pink spring scarf to boost your fashion and also bring tons of cuteness to those tiny toes by crocheting bitty bow baby sandals! Test your stitches also by crocheting beautiful spring special cardigans, will make cool spring gifts for style loving ladies!
Free Crochet Patterns for Spring and Summer:
Crochet the basket weave blanket for someone special to give as a spring gift and also enjoy the picnics in spring by using gingham picnic blanket! Get busy with your hook also to crochet the cotton hat that may come with crocheted spring blossoms as adornments and also crochet the beautiful yarn egg cozies that will make an interesting gift too for a kitchen loving mom! Spruce up your coffee tables with colorful crochet spring flower coasters and also work in seed stitch to make gorgeous purses and yarn handbags that will also make exciting spring gifts for beloved ones!
If you are concerned with the kids to spring gifts then crochet a spring chick hat and also please a sewing loving lady with a crochet granny square pincushion gift! Crochet the spring stuffed bunnies that will make awesome yarn toys and friends for your little kids and can also be put in the Easter gift baskets! Moreover, crochet also dashing Easter egg covers using your favorite yarn colors that will make the Easter gift basket special and eye-catching, get inspired by the lovely sample basket given below! Check out too much more interesting spring patterns by taking a quick and complete tour of the entire collection! Don't forget to click on the pasted links to get the free crochet patterns for your chosen projects!
Easy Free Crochet Daffodils Flowers For Spring Pattern: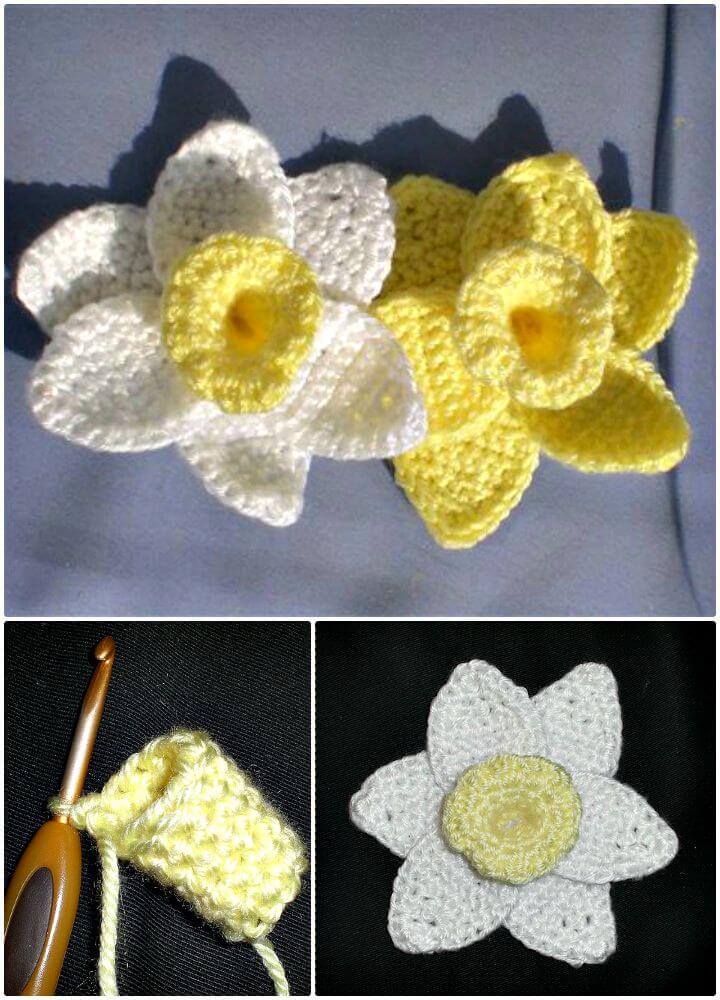 Enjoy the spring this time with the crochet art by creating these adorable and beautiful daffodils for your self, for your girls or the house decor as they can be used as the pins, brooches, headbands, appliques on so many things or just go in the vases. So grab the white and light pale yarn and start working on these gorgeous spring flowers to bring in the decor this flowery season interweave
Free Crochet Lovely Hair Band Pattern: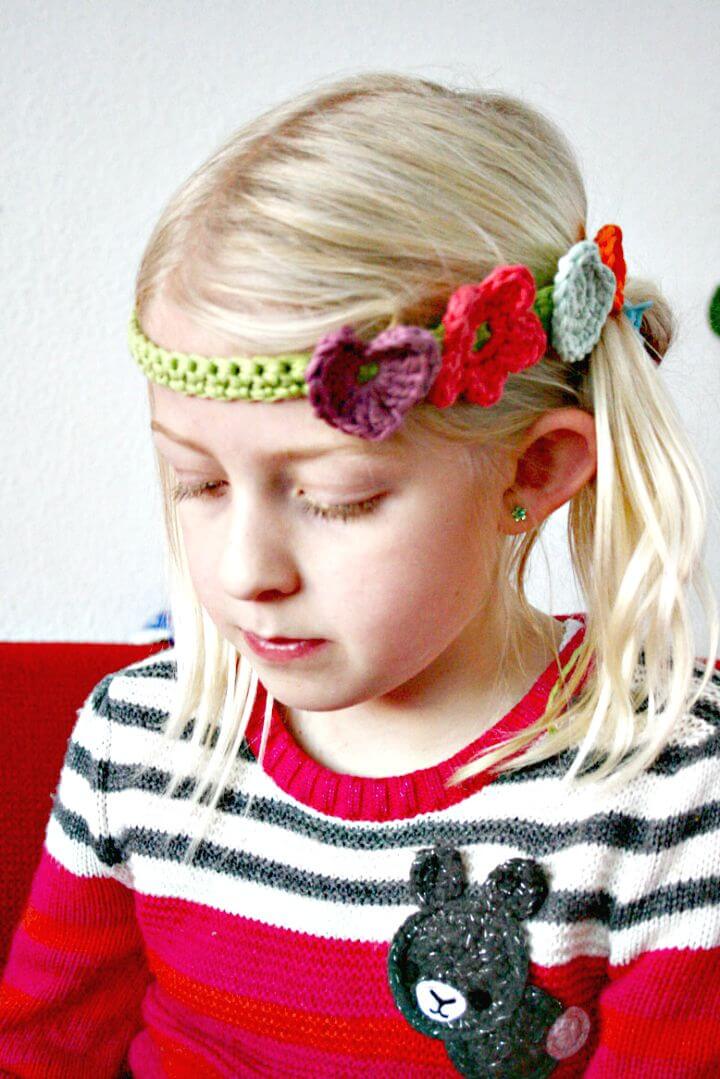 Spring is all about the gorgeous and the colorful flowers sprouting around so add some flowers to your little girl's fashion too with this pretty and utterly cute spring flower headband. With the colorful flowers, the headband would be so much easy and fun to create, and it would also go as a great gift for your nieces, neighbors or friends daughters too. Catch the pattern details of the lovely headband here typepad
Easy Free Crochet Flower Garland Pattern: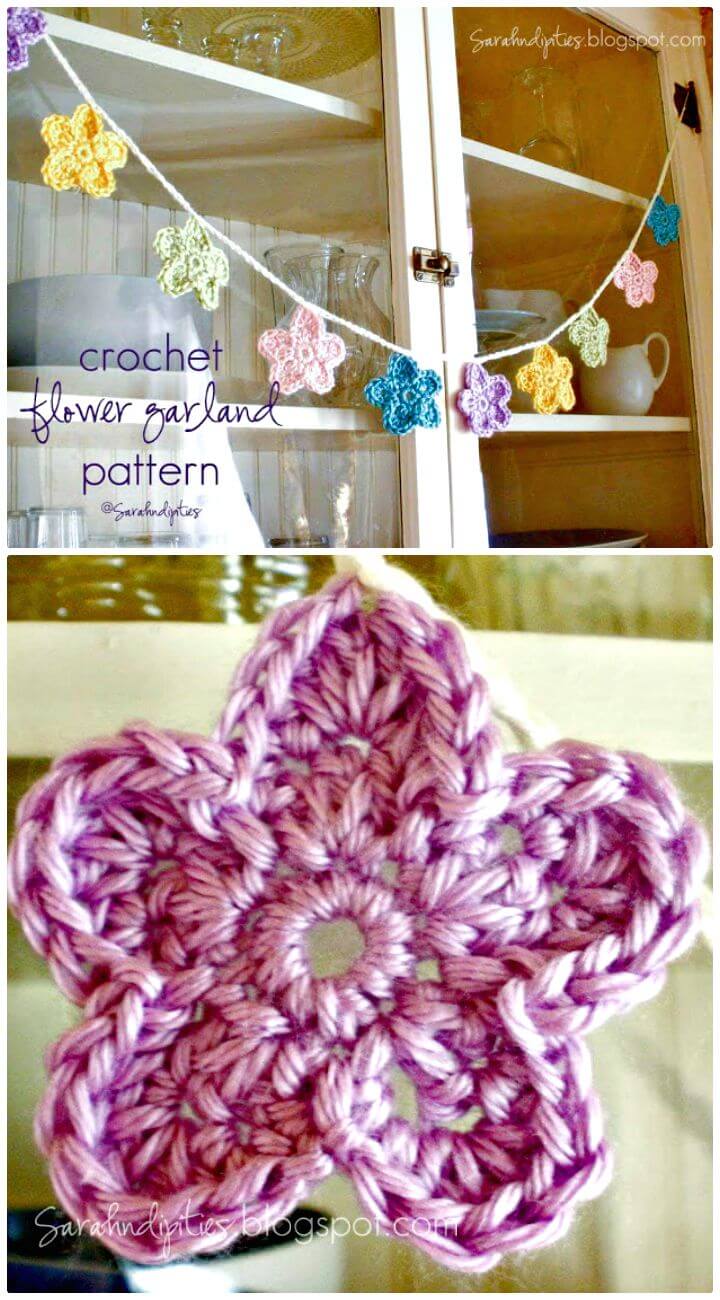 Bring the perfect spring touches to your decor with the decor crafts, and if you are a crocheter, you can crochet the flowers to celebrate the spring festival. So here is this idea of making this adorable flower garland that can beautify lots of your spaces in the house like hanging around your mantles, display shelves, and the wall mounted kitchen cabinets. You can choose any of the hues to crochet the flowers of the garland to get them matched with your decor. Free pattern with details here sarahndipities
Free Crochet Garden Party Hat For Spring Pattern: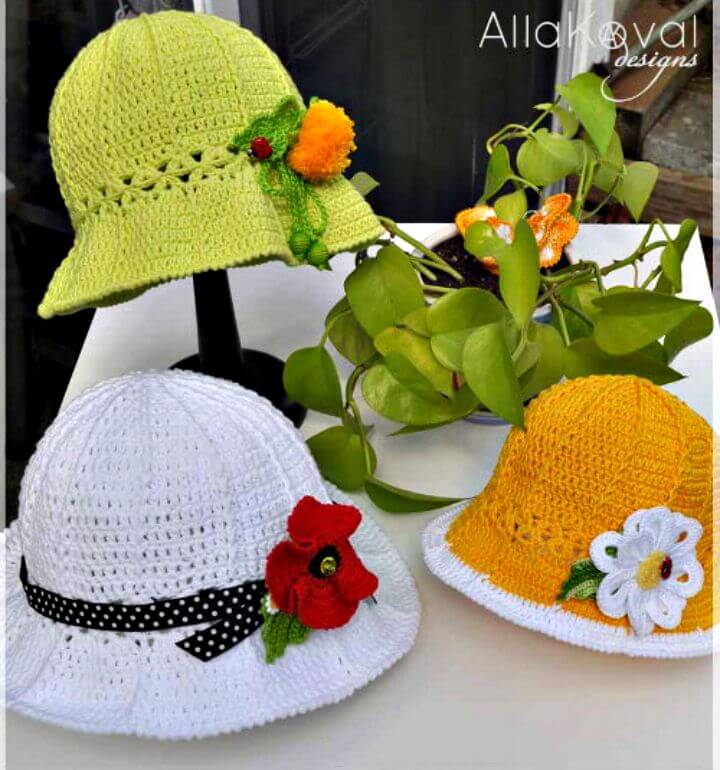 Spring is one of the best seasons to enjoy around with your family and friends and also have pretty and funky dress ups. SO this spring season you can crochet this pretty garden hat with the flowers and the ribbons and enjoy the spring at the full swing with the seasonal fashion and style added to your personality. You can make these pretty hats in any color and in any size and for anyone in the family or friends. You can check out the pattern details here favecrafts
Easy Free Crochet Sweet Pink Spring Scarf Pattern: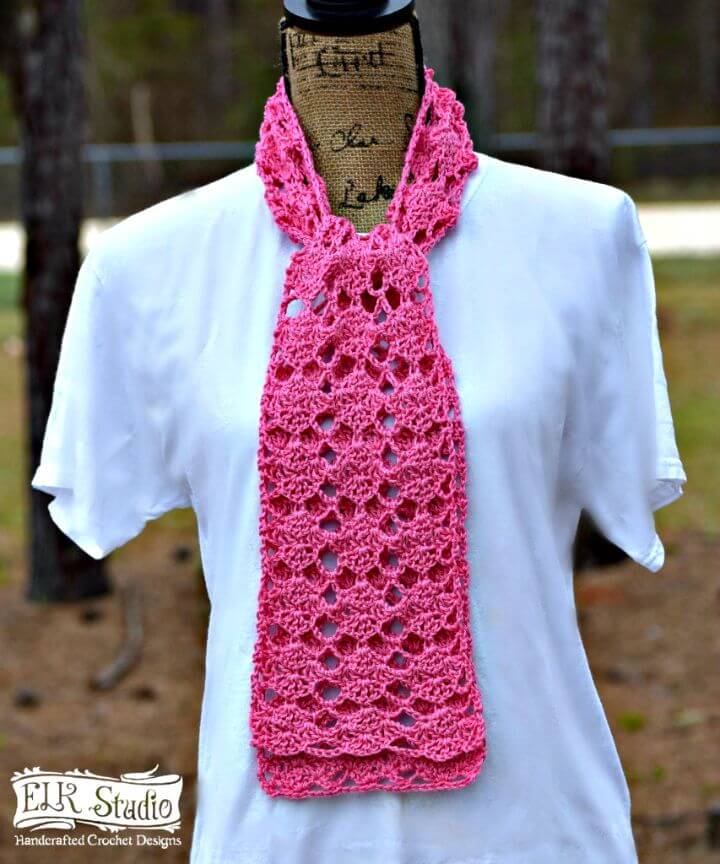 The two highlights of the spring are the gorgeous flowers and the beautiful bright colors so as the spring is approaching its time to add the colors in your style and fashion. This lovely pink scarf would be the perfect idea to bring the pretty spring touches in your personality with the adorable shade of the yarn and the beautiful chunky pattern. You can also use this scarf as the cute gift for your best girls and here is the link to grab the free pattern and the details of it elkstudiohandcraftedcrochetdesigns
How To Free Crochet Bitty Bow Baby Sandals For Spring Pattern: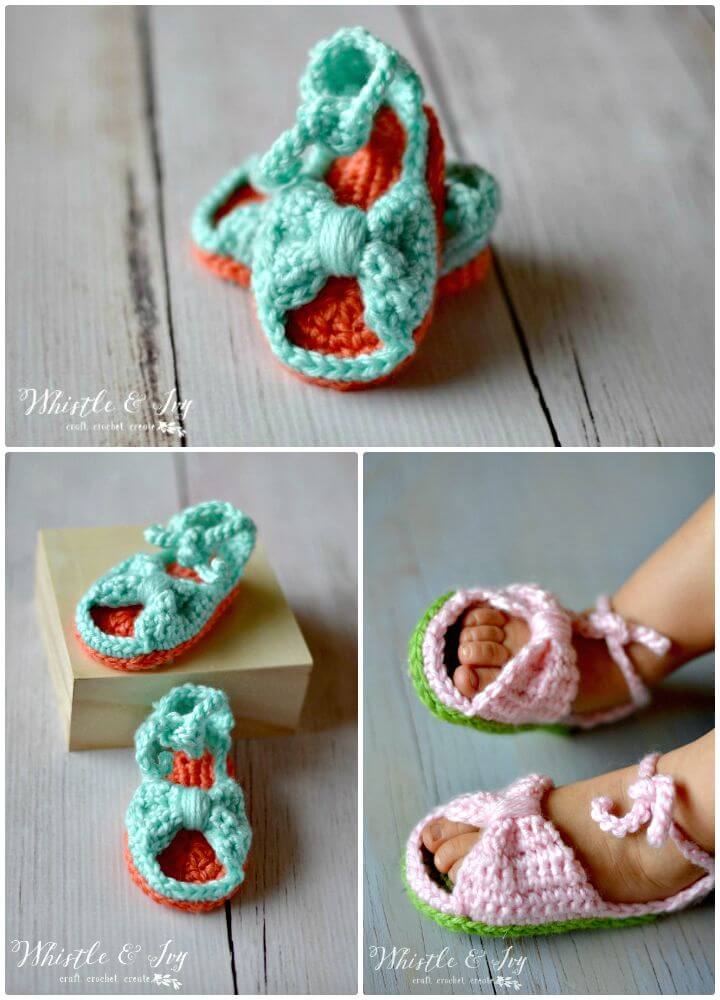 When the spring is here, you can be light on everything from your clothes to your shoes, and for the babies and toddlers, these comfy and gorgeous crochet sandals would be the best way to enjoy the lovely spring around. The pretty design of the crochet shoes come with the bitty bow and the binding straps, and the girls would just adore them to the core. You can choose any of the shades of the yarn to create your favorite color contrast or to get them matched with their frocks and tops. Complete details of the pattern lying here whistleandivy
Free Crochet Cardi For Spring Pattern: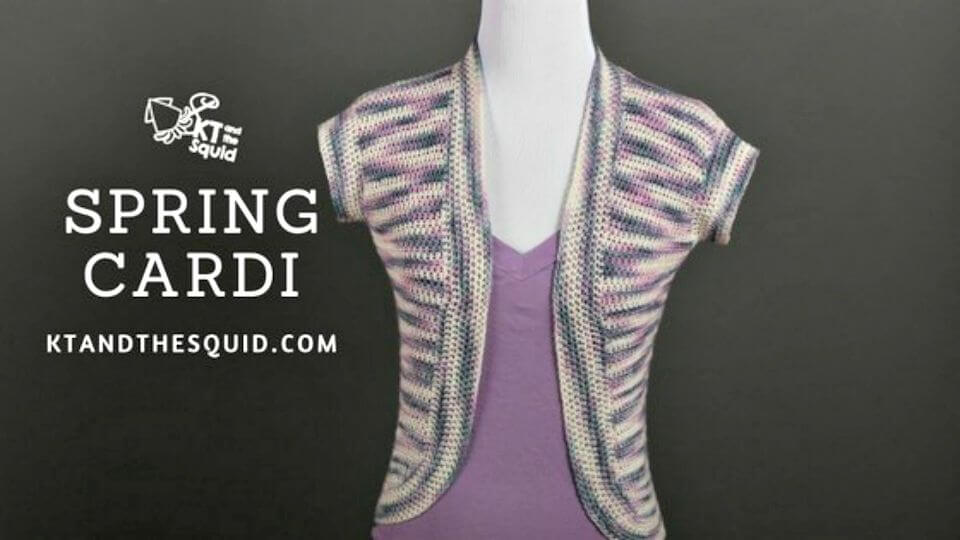 Springs are all about the outdoor activities to be enjoyed to the fullest, and now you can enjoy it all with a touch of style and the comfort when the spring evenings are cooler and windy. You can wrap around this lovely and quite fashionable cardigan over your shoulders and be all at ease and get warm and roam around so comfortably. It would also make a great gift idea for your mother, sister, aunt or the best friend so do hack the pattern and the instructions from this link ktandthesquid
How To Free Crochet Spring Kisses Infinity Scarf Pattern: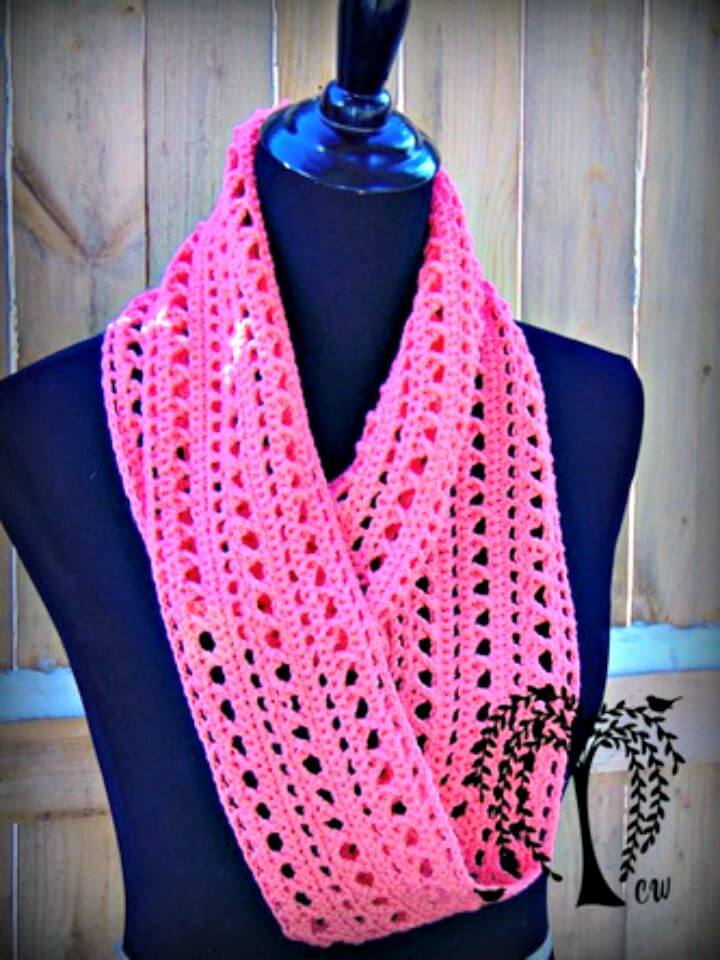 Pink is the favorite, and the symbolic shade for the girls and so does it fits perfectly to the spring spirit for its brightness and beauty. There are so many things you can crochet in pink, but this beautiful infinity scarf would be the best idea to add oodles of spring charm in your personality. You can grab the free pattern for this simply stylish scarf right on this link and get it done right this weekend thecountrywillows
Easy Free Crochet Basket Weave Baby Blanket For Spring Pattern: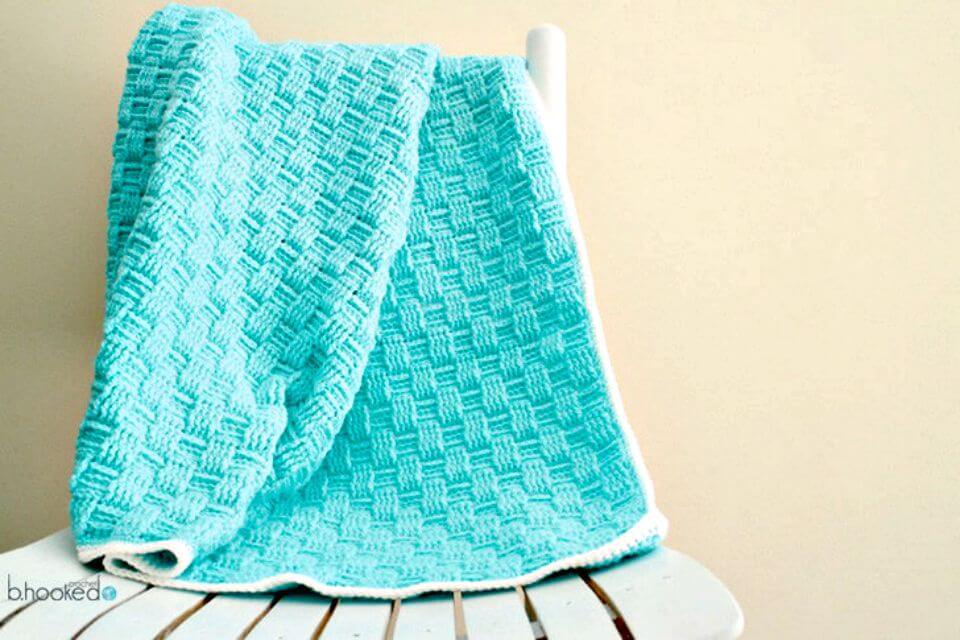 The spring shades are so much bright and lively unlike the dull and boring colors of the winters. So as the spring is approaching you should be getting your hands on some spring crochet projects to enjoy the spring zealous in style and for the babies too. So here is this cute spring idea of crocheting the pretty crochet blanket for your little ones in the delightful shades of the blue and the amazing basket stitch pattern. Learn the complete tutorial right here bhookedcrochet
Free Crochet Gingham Picnic Blanket Pattern: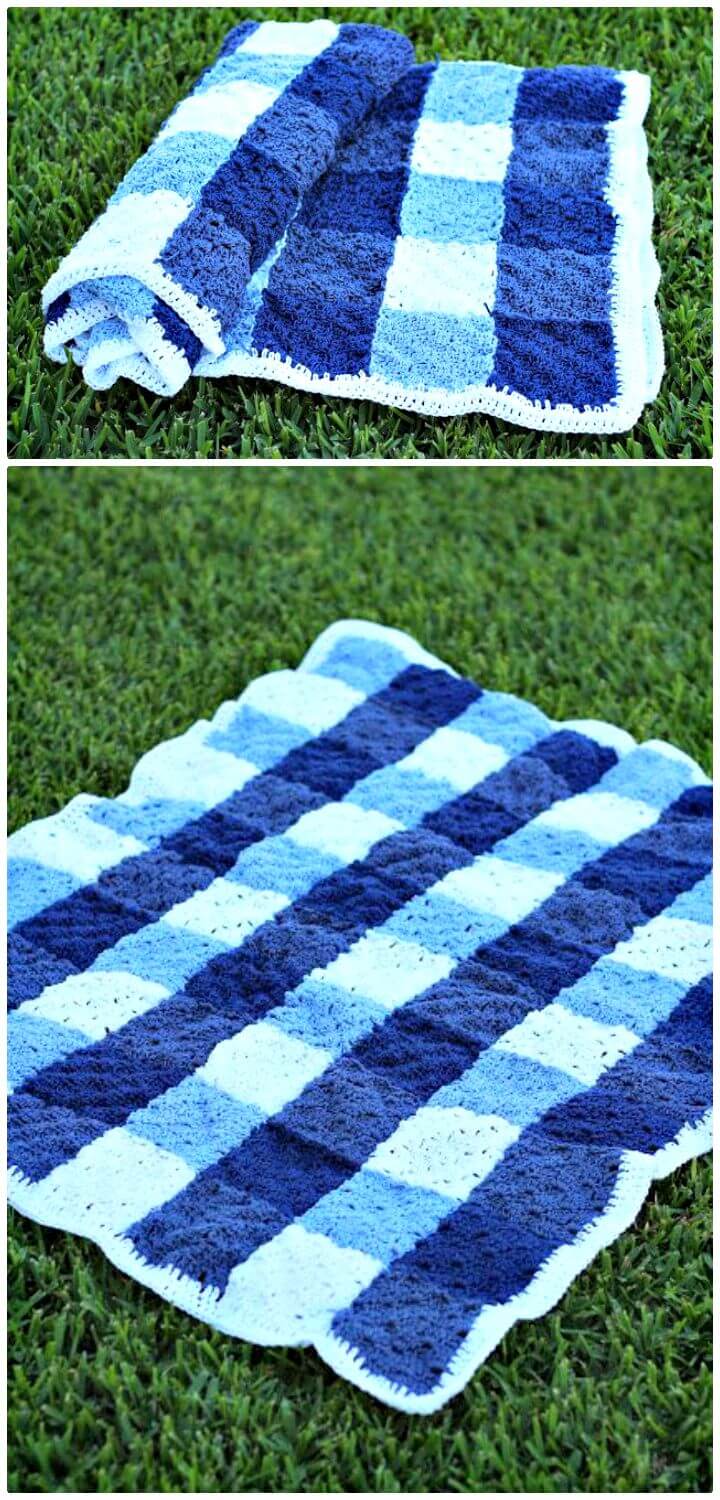 With the arrival of the spring, the outdoor fun gets started, the visits are planned, the picnic is arranged, and the trips are lined up to your favorite spaces. SO there is something that can boost up the fun and the charm of your garden picnics, and that is this pretty in shades and adorable in pattern crochet picnic pattern with the cute blue squares all around. The pattern would easy and fun to crochet yourself, and you can learn the details of it here sewrella
Free Crochet Cotton Hat with Spring Blossoms Pattern: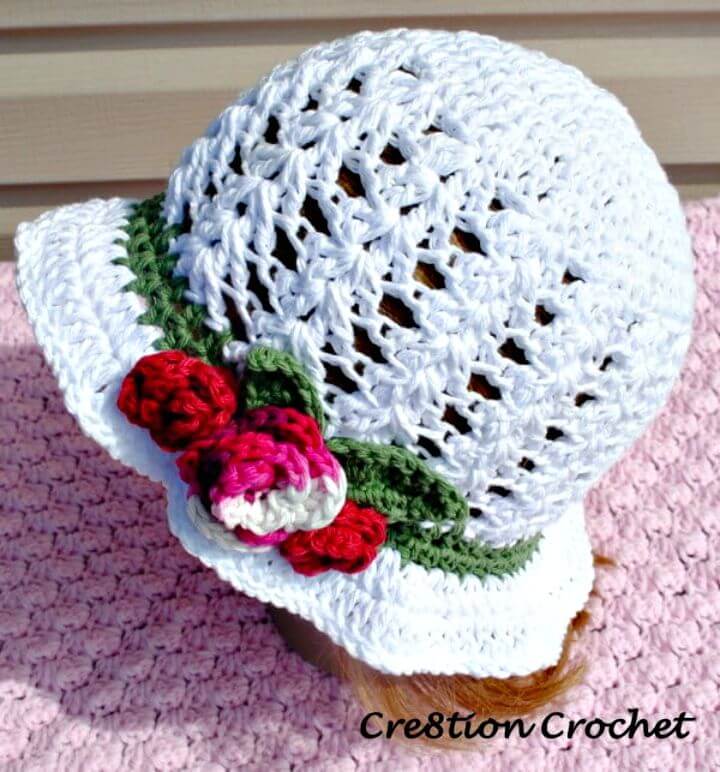 Be it summer. winter or the spring the hats fits the fashion of all seasons with the perks of their own. So if you intend to crochet a hat for the spring, it ought to be inspired with the flowers and the pretty colors like this one shown above. The dazzling white crochet hat has been nicely sprung up with those cute and colorful flowers added on it. You can make it for any one from your mom to your sister, friends and the little girls around and they would all adore it. To catch the free pattern you need to click here cre8tioncrochet
Easy Free Crochet Egg Cozy Pattern: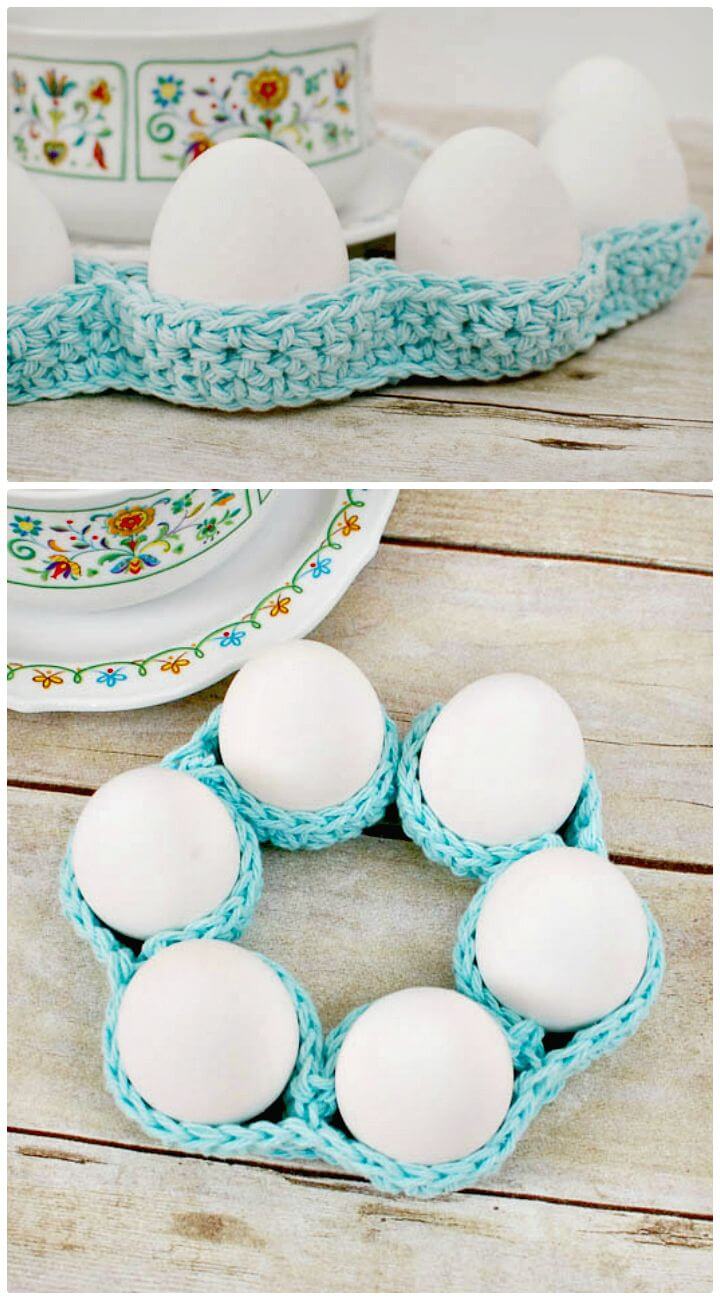 Crochet art can award the pretty perfect touches to any of your area of the house and that too so gracefully. Like here is this adorable in the shade and colorful crochet egg cozy to spruce up the charm and decor of your dining tables and also keeping your eggs safe and warm. It would be so much fun to crochet and would make a great gift for the kitchen or the cooking lovers. Learn the pattern details here petalstopicots
Cute How To Free Crochet Spring Lil' Flower Pattern: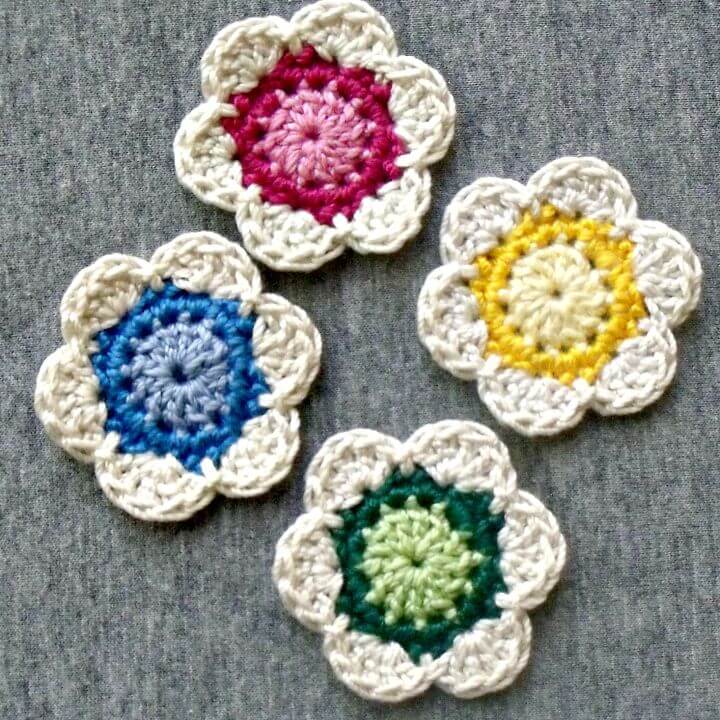 Flowers are the most beautiful creation of nature and so does they beautify the things and the spaces around us. So as the spring is the lovely flowery season you should be making some flowers and crocheting a few would be a great idea to keep up with the spring trend. You can combine any of the bright shade with the white yarn and crochet these simple and cute spring flowers and use as the perfect appliques for so many of your decorative and personal stuff. The fully detailed pattern is lying here divastitchescrochet
Free Crochet Seed Stitch Purse Pattern: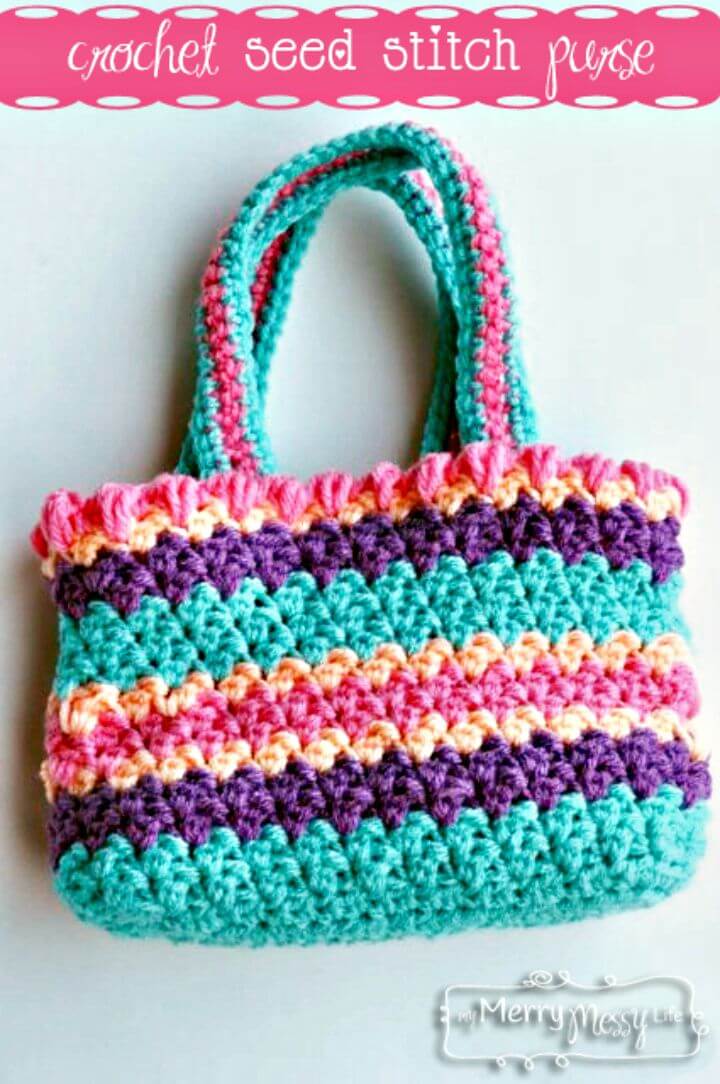 After getting bored with the dull and the nude shades of the winter the spring bring the colors to our home decor and the fashion as well. So for the little girls, this awesome seed stitched purse would be the perfect way to get glammed up for the colorful swing. The combination of multiple bright yarn hues make the purse look a delightful accessory for the little girls, and you can aptly use it as the gift for them. Tutorial details and the free pattern are here to follow mymerrymessylife
Free Crochet Spring Chick Hat Pattern: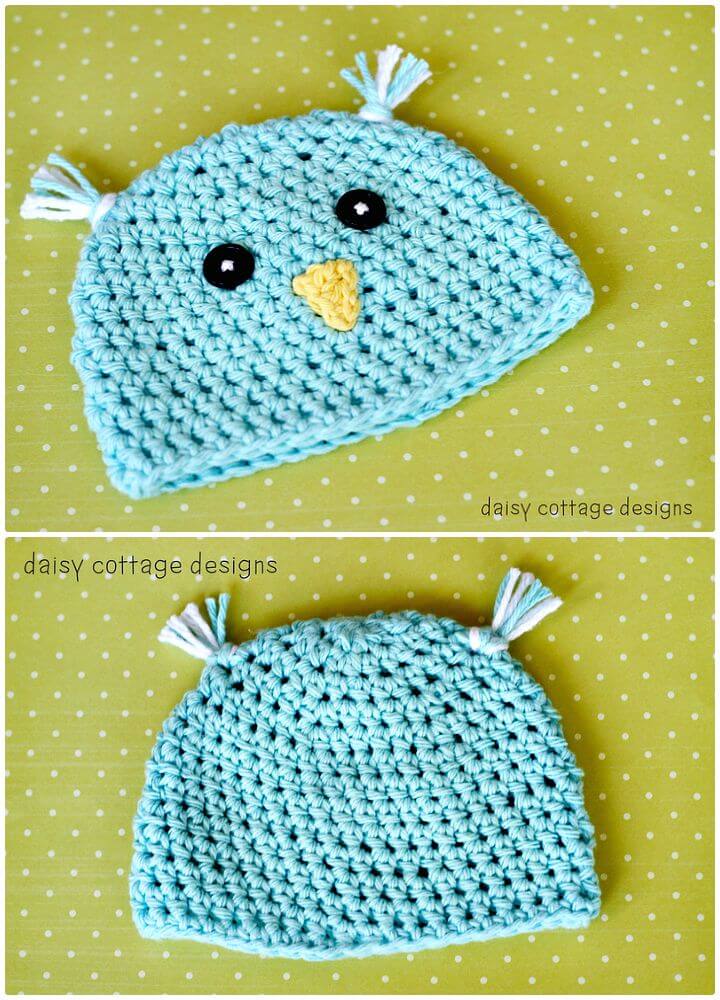 Winters are better for the crocheting, but in the spring you get the opportunity to play with the vivid hues of the yarns and create some colorful delights, unlike the winters. So here is this idea of crocheting this bright shaded and cutely designed chick hat for your little ones and make them look cuter and safe in the cold spring evenings. The hat would fit awesomely both the boys and the girls, so the pattern is a must hack to create the pretty gift for your kids in the family for the outsiders if their birthday is coming in the spring daisycottagedesigns
Easy Free Crochet Granny Square Pincushion Pattern: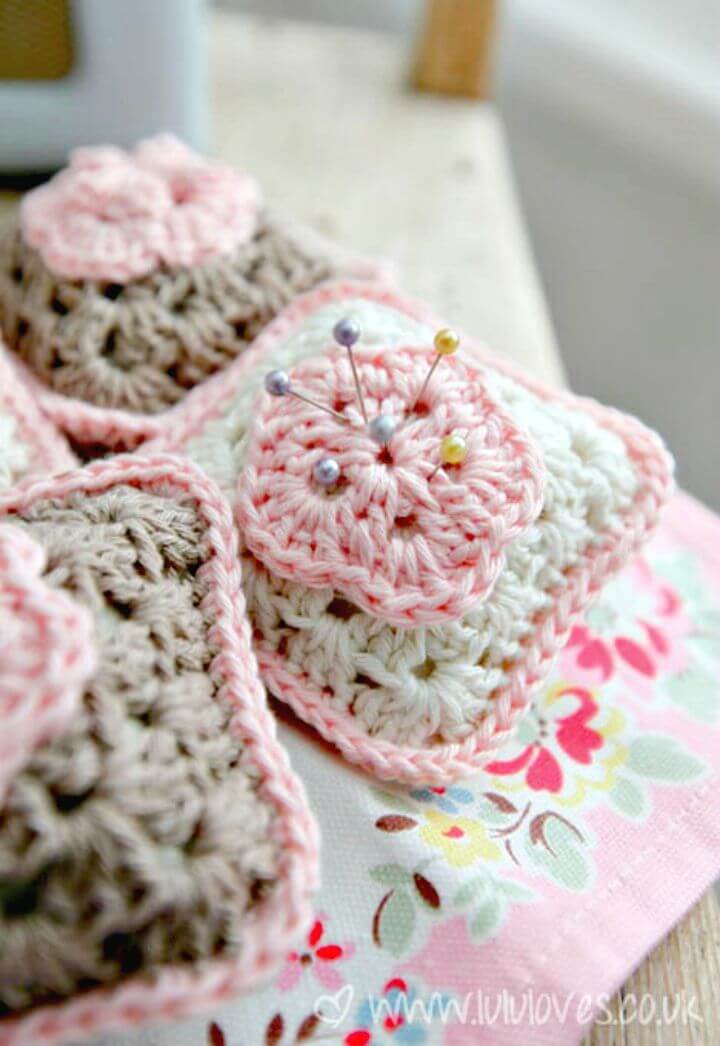 Even the little cute details can create big decor differences in your spaces like the craft basket on your table and holding these adorable, and chic pink shaded pincushions would be so much a beauty added to your shelf or the table decor. The pattern is the granny square, the easiest of them all and the color is pink the favorite of all so these tiny little pink cushions ought to be a great hit. You can make them and gift to the sewing lovers too so you need to check out the easy and simple pattern here lululoves
Cute How To Free Crochet Spring Bunnies Pattern: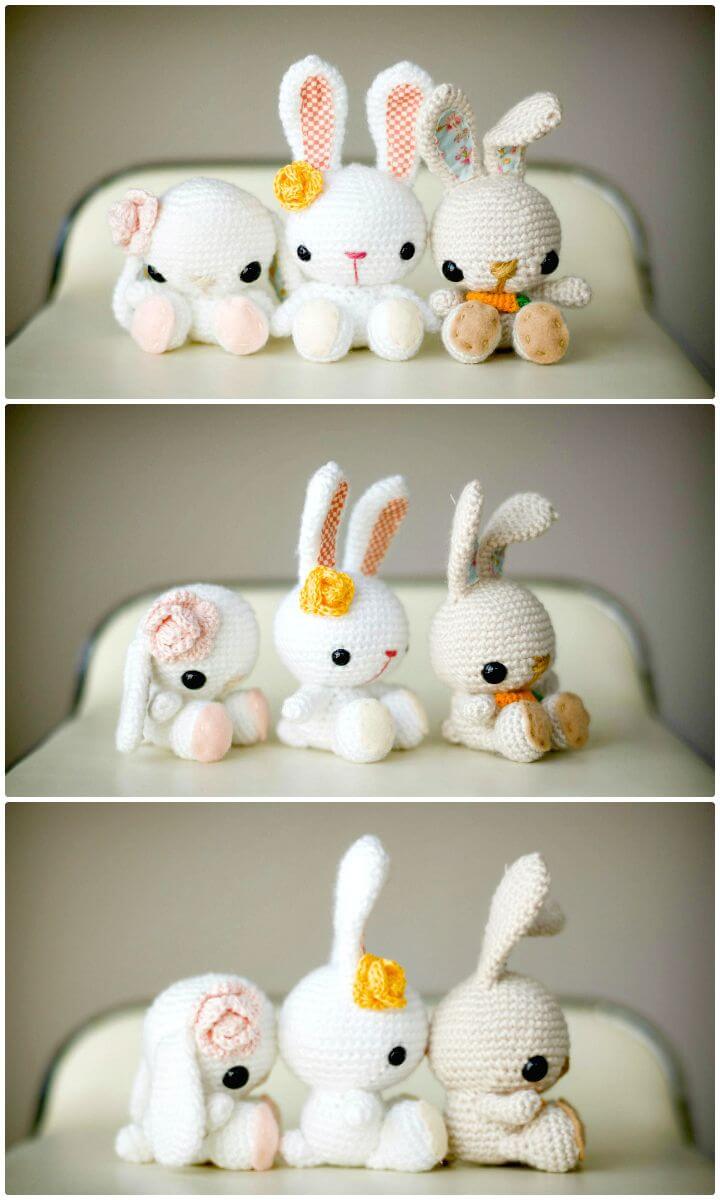 Bring some spring fun in your baby's room with the cutest addition of this bunny crew to be the perfect part of their room decor. It will not only be their favorite stuffed toy team but also a lovely display for the shelves or the tables when they are done playing with them. The cute white crochet bunnies are looking immense adorable with those cute, colorful flower headbands and you can hack this project all here allaboutami
Free Crochet Easter Egg Covers Pattern: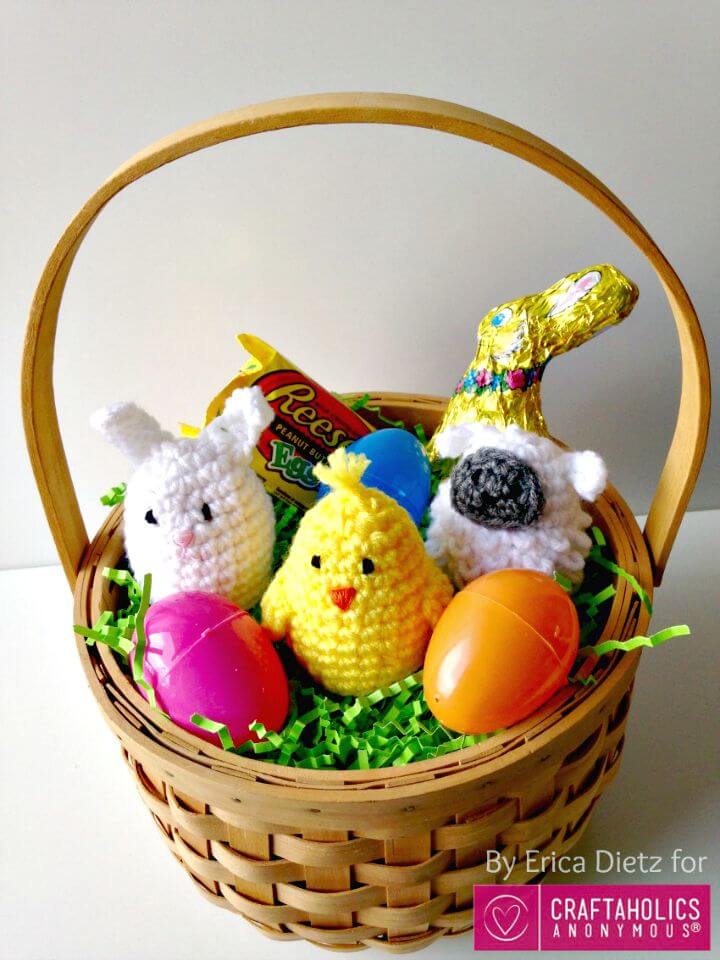 There are so many ways to decorate the pretty and colorful Easter eggs and here is another adorable one. You can crochet these awesome covers for the Easter eggs in the shape of a cute chick, sheep and the bunny and make them nicely sit in your Easter basket and thus the perfect centerpiece for your tables is ready to drool over. You can grab the free pattern right here on this link craftaholicsanonymous
Free Crochet Valentine Sweet Heart Pattern: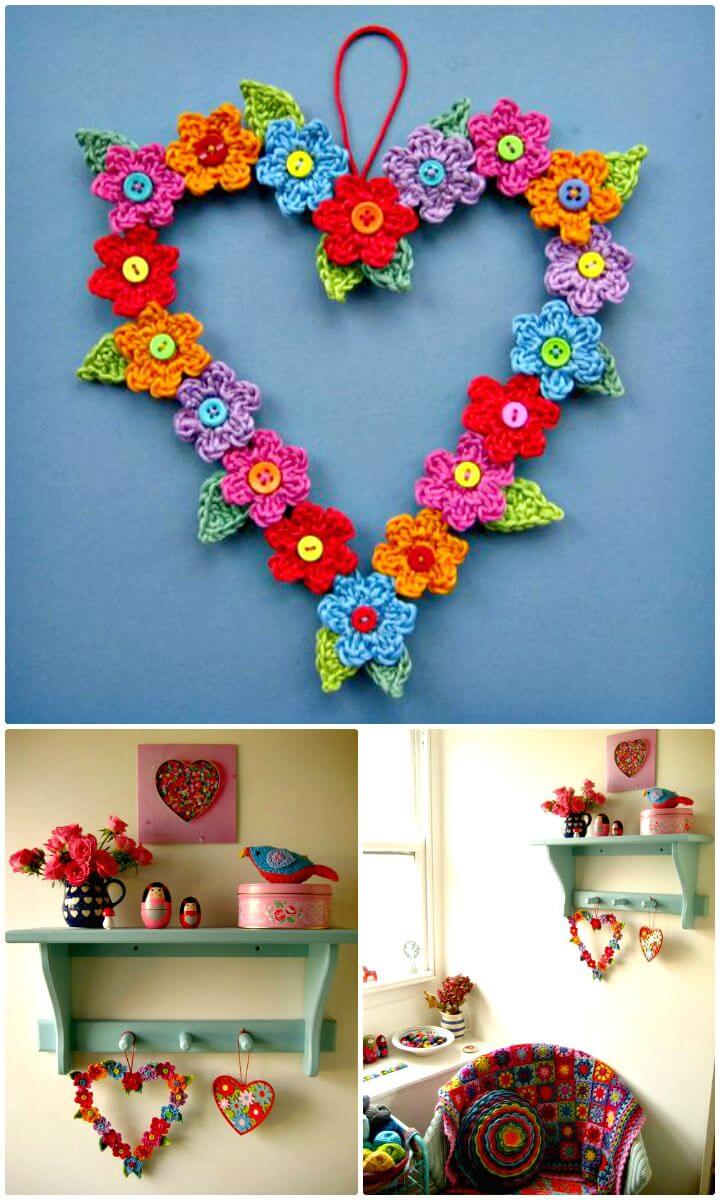 Valentine day is the day of the hearts, and you need to bring some heart in your decor too when the 14 Feb is around the corner. So spring up your heart with this enchantingly colorful crochet heart of flowers that would be gorgeously hanging around your decor and bringing so much pretty and love vibes in your home decor. You can check out the easy and fun details of the crochet flower heart here typepad
Easy Free Crochet Spring Wildflower Afghan Pattern: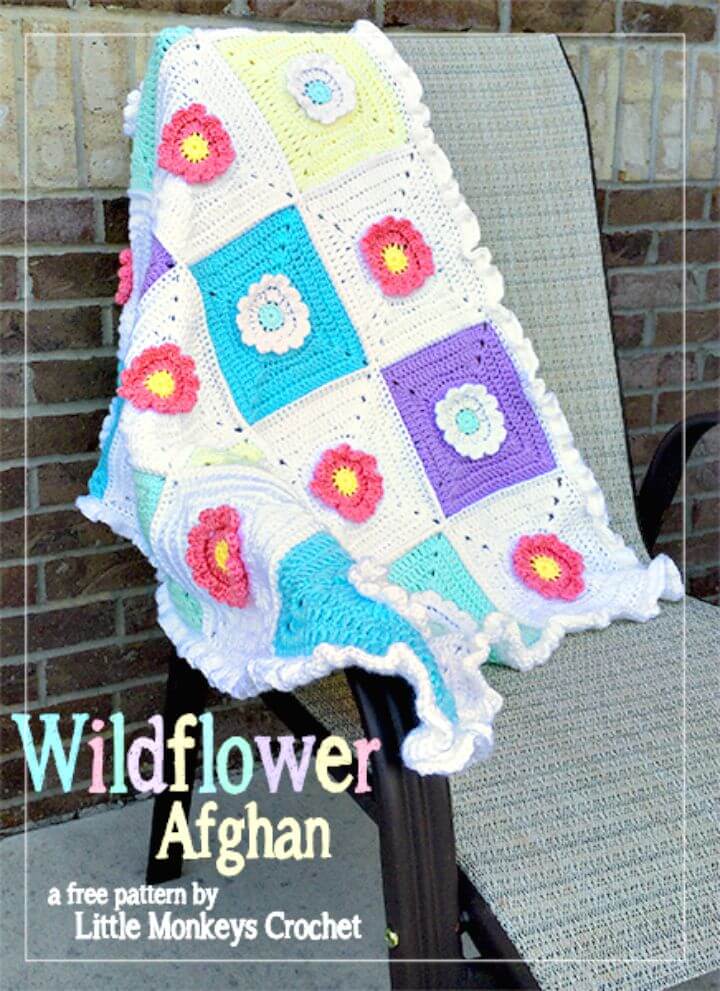 If you want to crochet something in the spring spirit, the flowers are the best theme to work on and here is the pretty wildflower blanket that you can get your hands on. With the biggie squares and the colorful flowers, this Afghan comes out so much soothing and delightful tot he eyes and so it would be to your body when wrapped around. You can grab the complete pattern and the details of it here littlemonkeyscrochet
Easy Free Crochet Spring Chick Hat Pattern: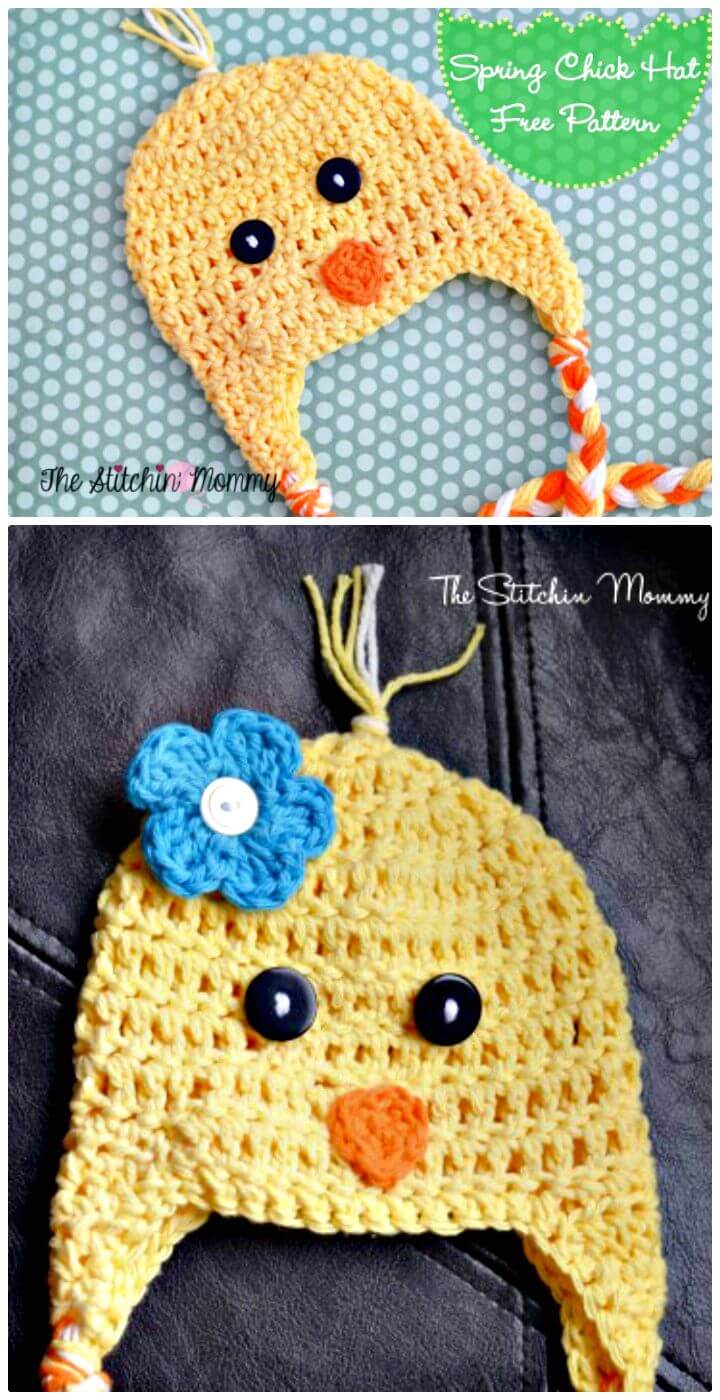 Spring is the favorite season of most of us because it brings us the colors and joy of Easter. So this Easter you can make your little kids wear this pretty chicken hat to boost up the fun of the Easter happiness. So catch some yellow yarn and your crochet hooks to shape up these awesome and custom hats for your little ones on this Easters when they would all enjoying the eggs around. Details of the pattern here thestitchinmommy
Cute How To Free Crochet Rose Of Spring Pattern: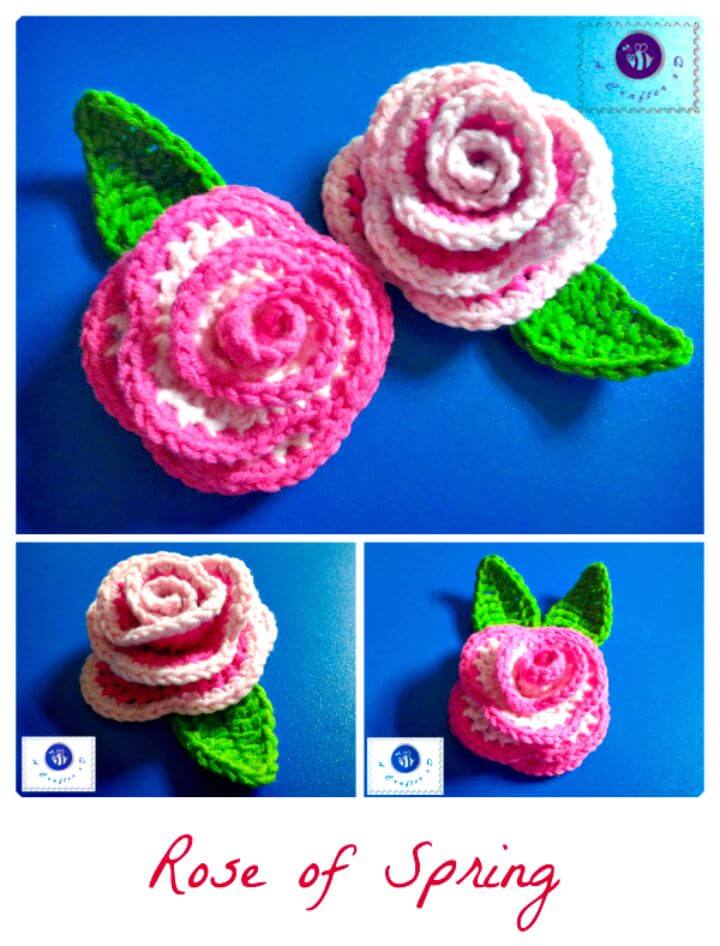 Yes, its spring and you would see flowers and flowers everywhere around. So why not bring them in your crochet projects and create these adorable roses to be used as the perfect embellishment so many things around be it gifts, hats, blankets, scarves, headbands and so much more. So grab some pink and green yarn to do away with these gorgeous crochet rose embellishments with the free pattern given here beacrafter
Free Crochet Splash of Spring Cowl Pattern: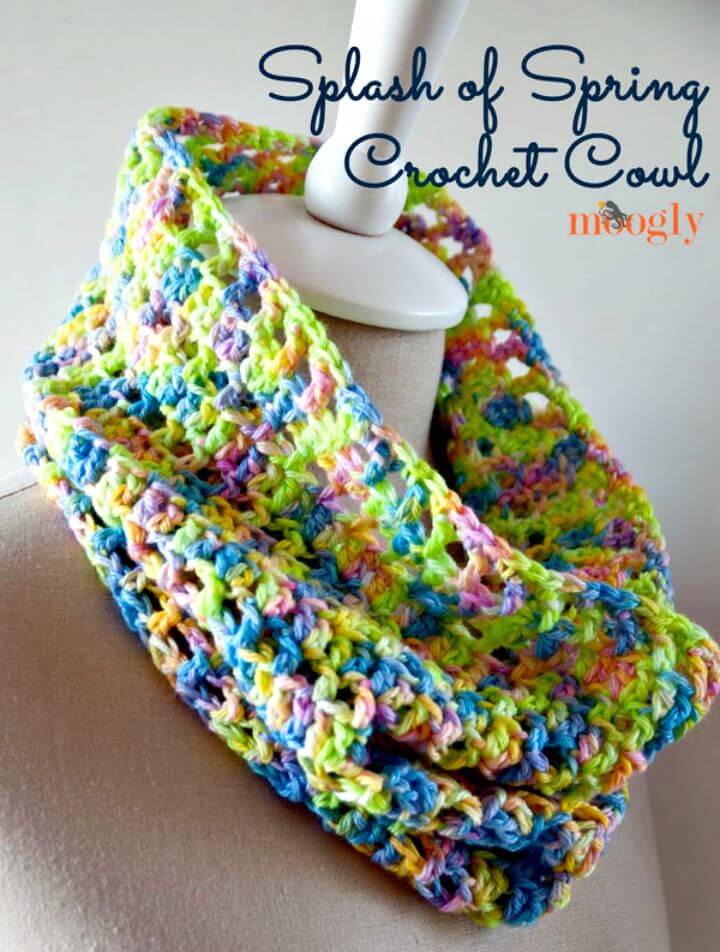 With a few dull and nude colors of the winters we just eagerly wait for the spring to come up and freshen up our senses, eyes, and heart with the delights of the colors. So here is how you can enjoy the colors in your personality with this chunky and colorful crochet scarf hanging around your neck. You can check out the details of the pattern with written instructions right on this link  provided mooglyblog
Easy Free Crochet Spring Easter Basket Pattern: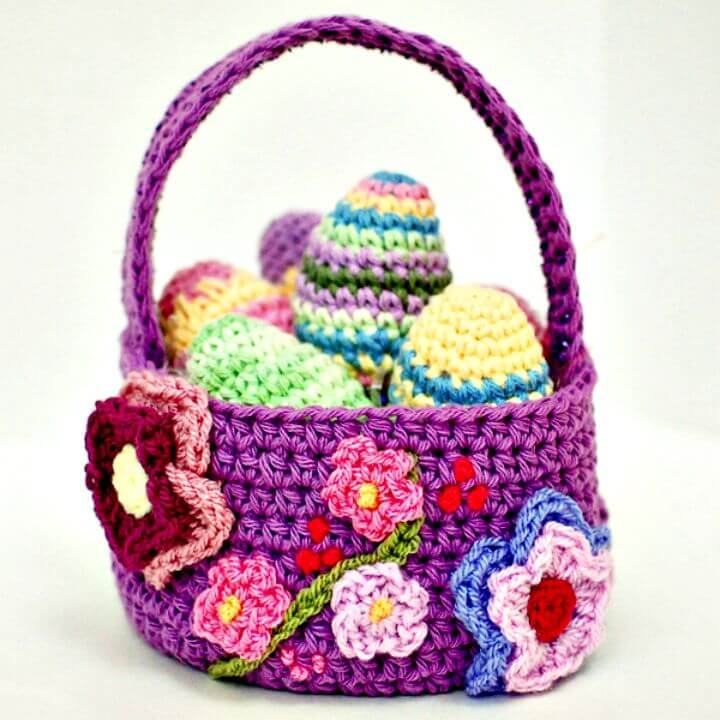 Spring is so attractive due to the colors it brings with it, and we are happy to receive them and get rid of the winter boringness. So here is how you can welcome the spring in your decor by crocheting this cute and colorful crochet basket with the crochet Easter eggs and the crochet flowers used to embellish it. It would look super gorgeous and fun standing on your tables, shelves or the mantle when the Ester is there. Follow the free pattern and the details here petalstopicots
Free Crochet Spring Flower Coaster Pattern: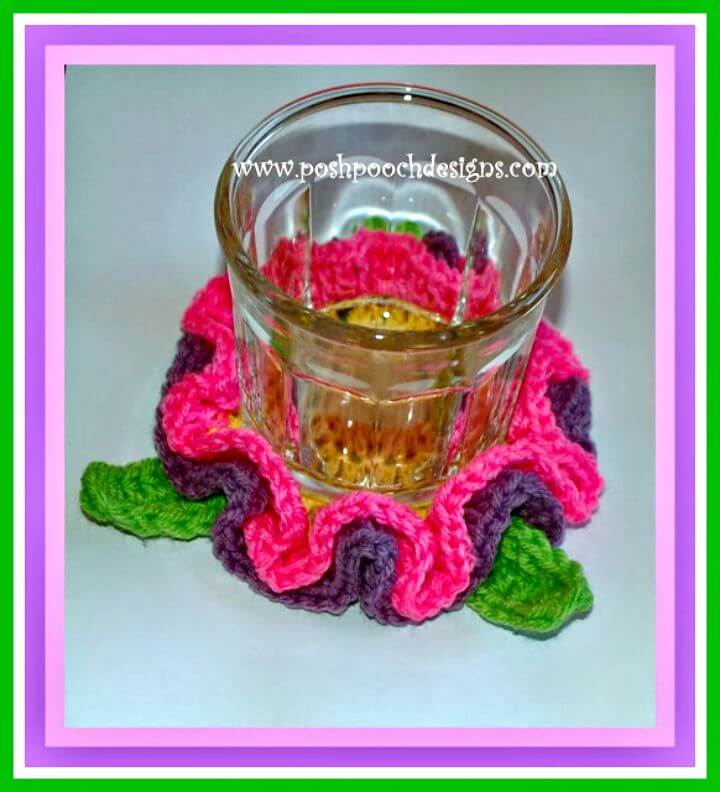 The spring flowers can be turned up into any of your favorite things like if you are kitchen lover and love the coasters to be unique and fun, then these flower coasters should be on your tables for the spring servings. The double layers of the petals make the flower coaster look more pretty and functional. You can combine any of the colors and the shades to bring out all the color love for the spring. Free pattern here poshpoochdesigns
How To Free Crochet Spring Shawl Pattern:
The spring shawl is made with the easy crochet work up, and you can own it very simply and easily at home with some yarn and your crochet hooks and thus get yourself a perfectly stylish wrap up when the spring breeze is cool outside. The airy shawl would be an amazing gift too for your near, and dear ones too so do get it all here. crochetkim
Free Crochet Spring Blossoms Pattern: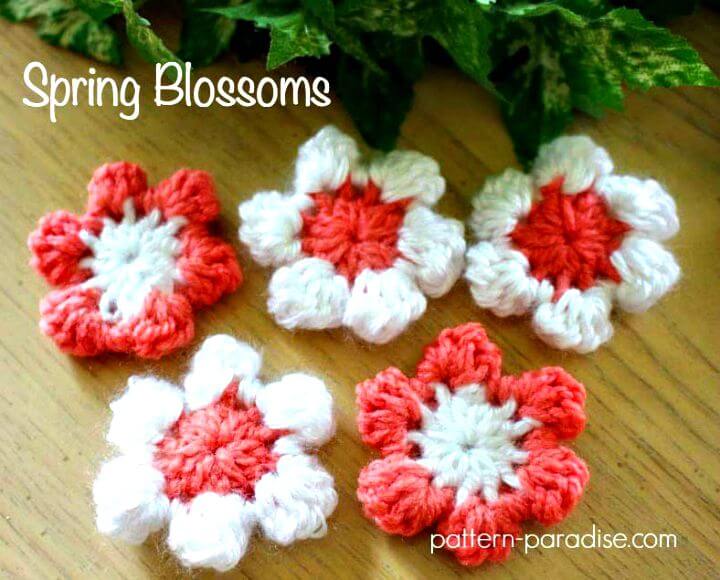 With the arrival of the spring, everything seems to be so much fresh, happy and colorful and the pretty blossoms are the reason behind this charm of the spring. So bring the lovely of the blossoms in your crochet love by crocheting this bunch of adorable flowers in any of your favorite color combinations and jazz up your decor with them in a variety of the ways. You can check out the details of the pattern here paradise
How To Free Crochet Spring Time Booties Pattern: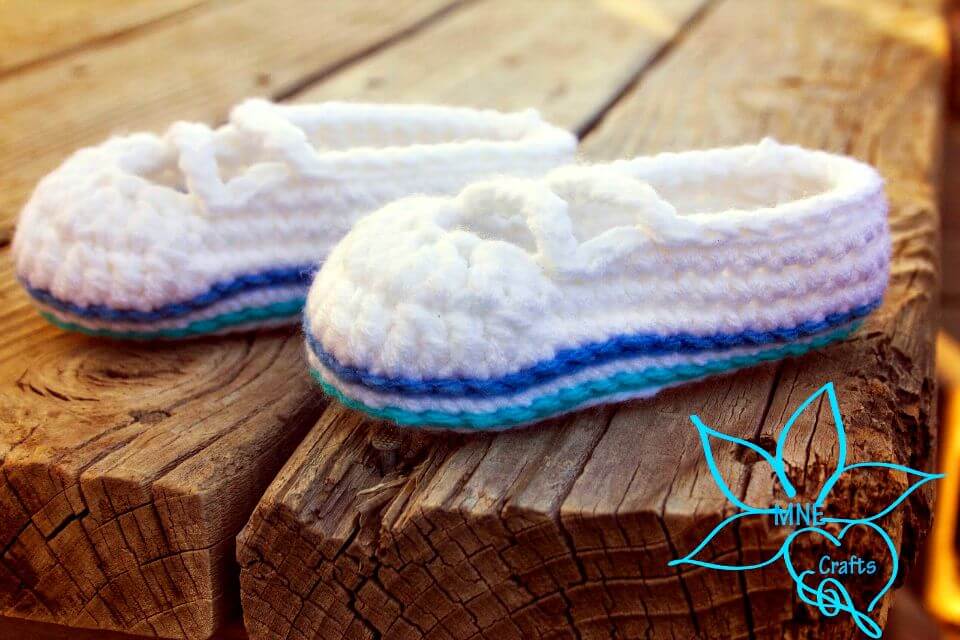 While getting rid of all those thick socks and the heavy boots the springs are to be enjoyed with the lightest and the cutest footwear around. So grab your crochet hooks to work up this cute crochet project of spring booties for your little ones and let them be in the air while enjoying some fun time in the garden. The easy  and quick tutorial of the pretty booties is lying here with instructions mnecrafts
Free Crochet Chameleon Hat Pattern: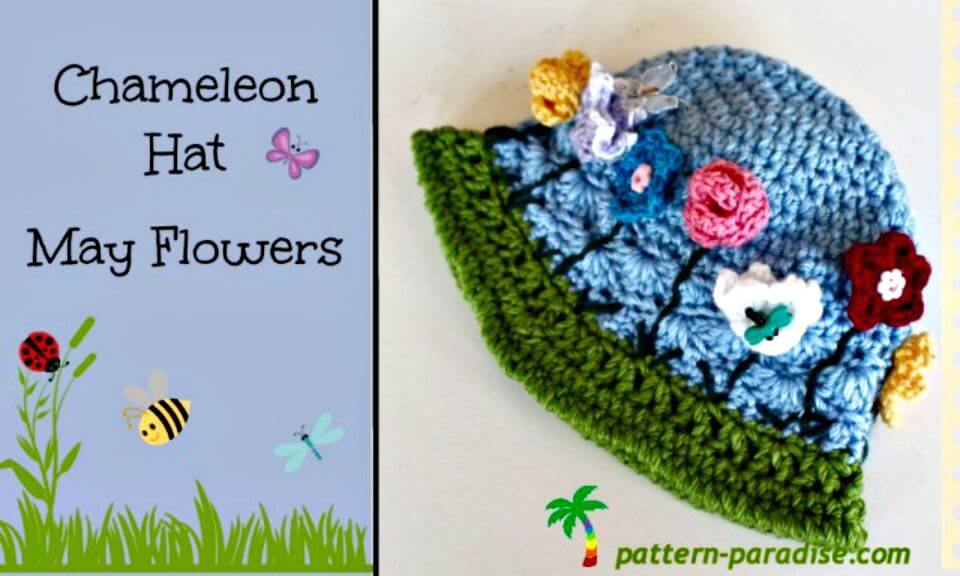 Watching this chameleon hat, it seems that the whole spring has been compacted in this pattern. It got pretty colors, flowers, butterflies and the pretty green grass. So you would need plenty of yarn colors to create this brilliant piece of spring hat for yourself, for your princess and for your friends too as the perfect token of love in the spring festival. You can learn to crochet the hat and the flowers right here paradise
Easy Free Crochet Spring Wreath Pattern: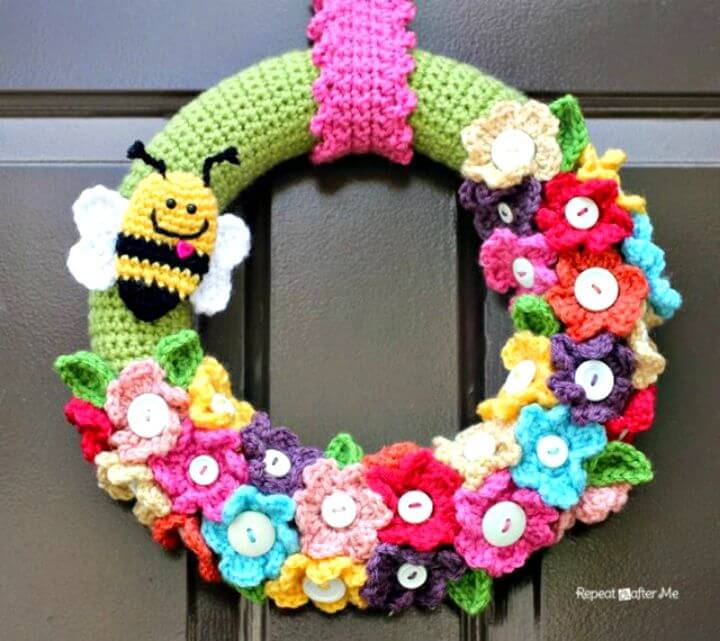 The spring decor is just incomplete without a cute and colorful wreath hanging around your door and here is the crocheted version of the wreath to bring more warmth and fun to your wreathing. The crochet wreath has been embellished with loads of colorful flowers making it befitting to the spring theme and that cute bee on the side adding more icing once the cake of beauty for this gorgeous wreath.Details here repeatcrafterme
Free Crochet Granny Bunny For Spring Pattern: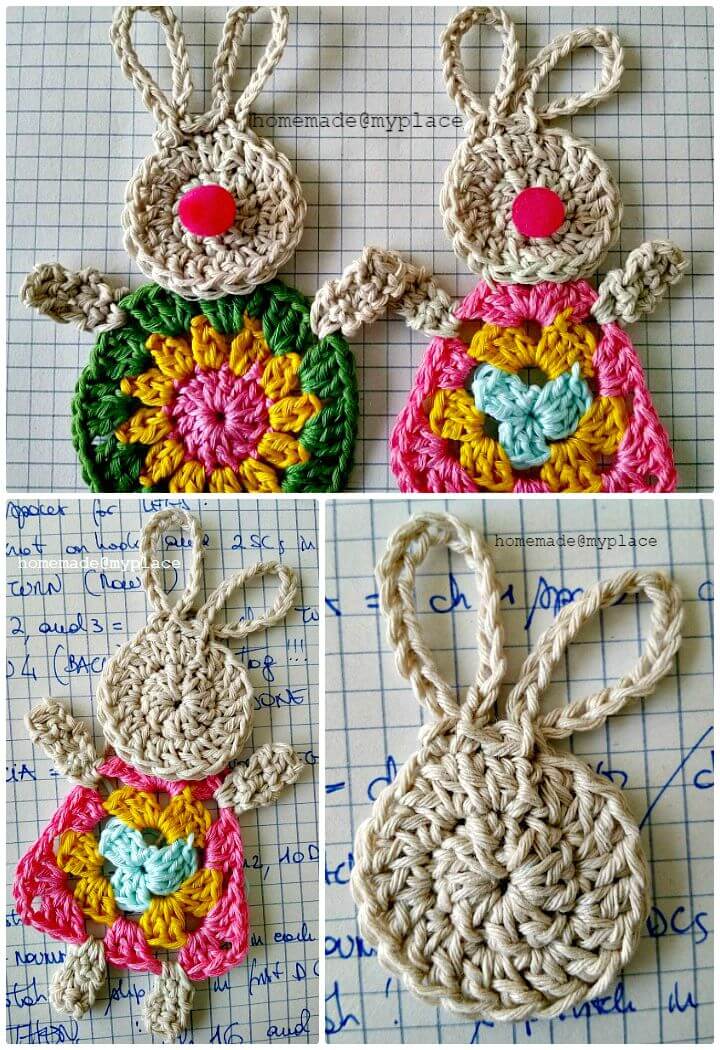 What can cuter than the spring bunnies and now you can crochet them in the pretty and bright spring colors and thus bring more cuteness and adorable touches to them. So here is the lovely bunny that you can crochet in parts like the ear,s heads and the body to be crocheted separately and then stitched together to form the cute and colorful bunny whole. You can learn to create super adorable bunny on your own with the help of the details given here homemadeatmyplace
Free Crochet Spring Hen & Chicks Amigurumi Pattern: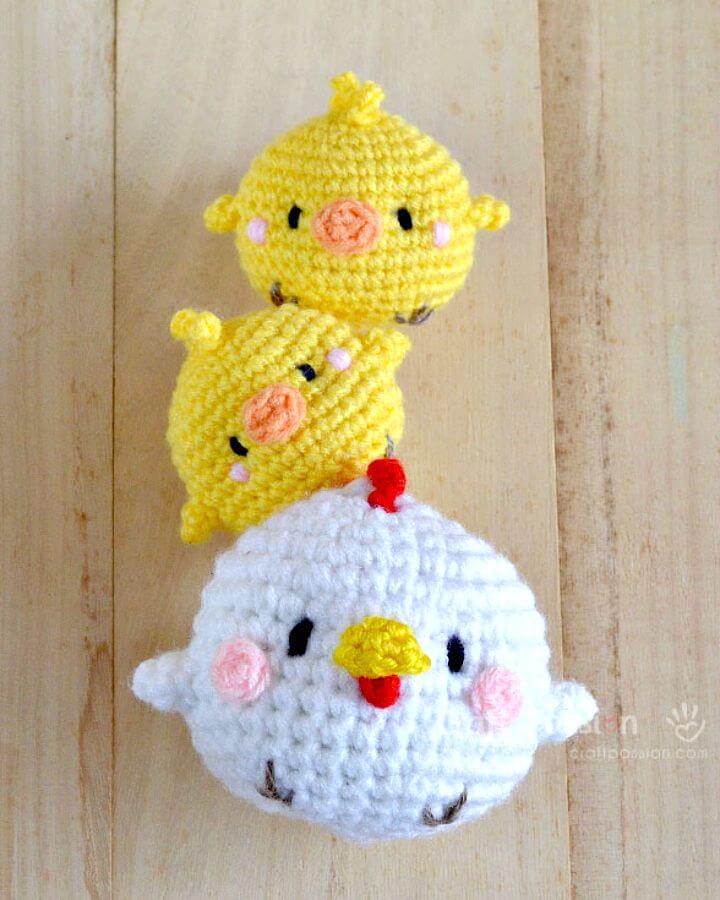 Your crochet love can bring the perks of uniqueness to your decor and home styling for every festive around. So for the spring when the Easter is around the corner, you can crochet these adorable stuffed chicks to hang around and bring some Easter love to the decor of your spaces and that too with the perfect spirit of the festive. Learn to work up this pretty project right here craftpassion
Free Crochet Classic Stuffed Bunny For Spring Pattern: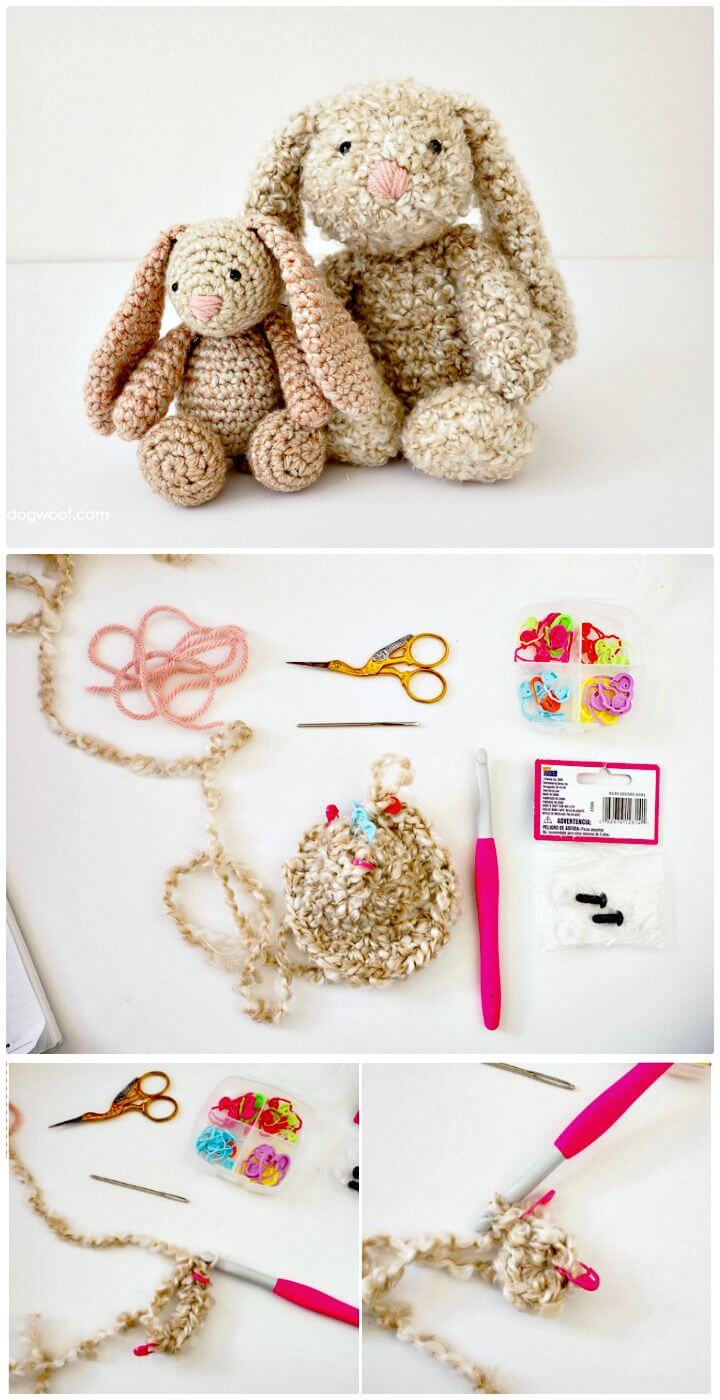 If your little princess's birthday comes in the spring then gifting her this adorable bunny would the best idea to make her day more special and fun. Not only it would be her best buddy to play with, but it would also bring the perfect cute vibes in her room decor for the spring too. So catch the yarn you need and grab your crochet hooks to work up this pretty little bunny for your girls as the drool-worthy gift ever. Details of the pattern and more here 1dogwoof
Free Crochet Sheep For Spring Pattern: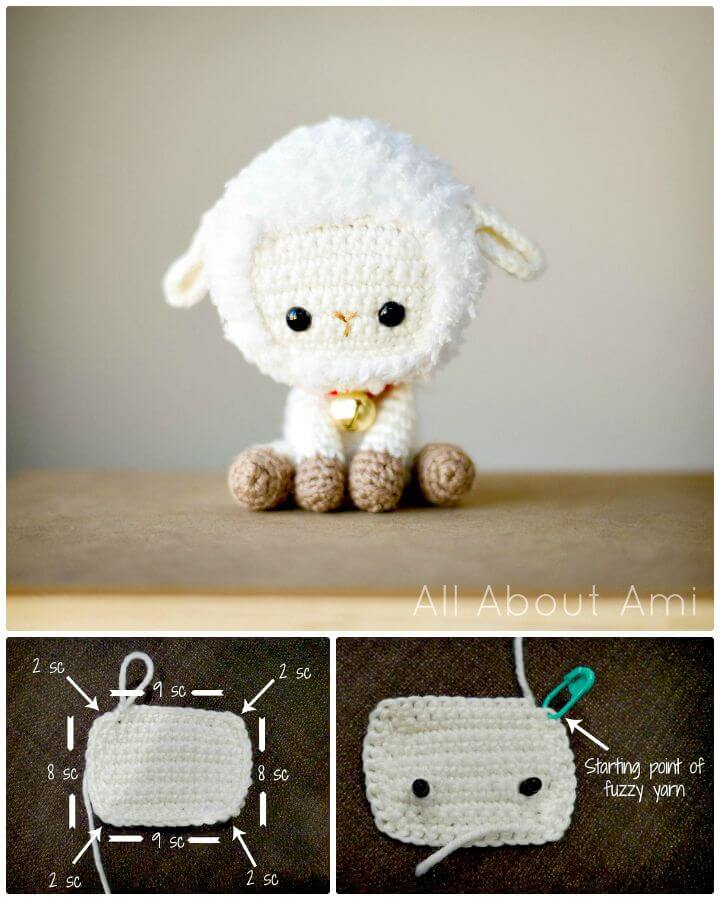 It's so much fun to celebrate the Chinese new year that has been named after the animals so if you also want to have fun the Chinese new year this time you can crochet this pretty lamp or sheep and add it to the decor of your new year celebrations. You can create one for a table or shelf display or a whole clock of them for more enchanting vibes. You can learn the making of this pretty sheep here allaboutami