Provide the comfy separate space to your dogs where they can rest their bones, by building some lovely dog houses for them! Along with a being a very personal property of your furry friend, they will make great protective caves for the dog to say bye to bitter weather conditions they can't withstand! To make you build all sorts of small and big, simple and featured, and airy and insulated DIY dog house at home in a budget-friendly way, we have sorted out and showcased these 40 Inexpensive DIY Dog House Plans that are all mind-blowing and each design idea in the list is different and unique and hence you are going to get tons of inspirations here to build a custom featured model of a DIY dog house in your own favorite dimensions! To make the constructions a breeze for you, all the ideas come with the attached reference links which can click once to get the full free DIY dog house plans, free step-by-step instructions!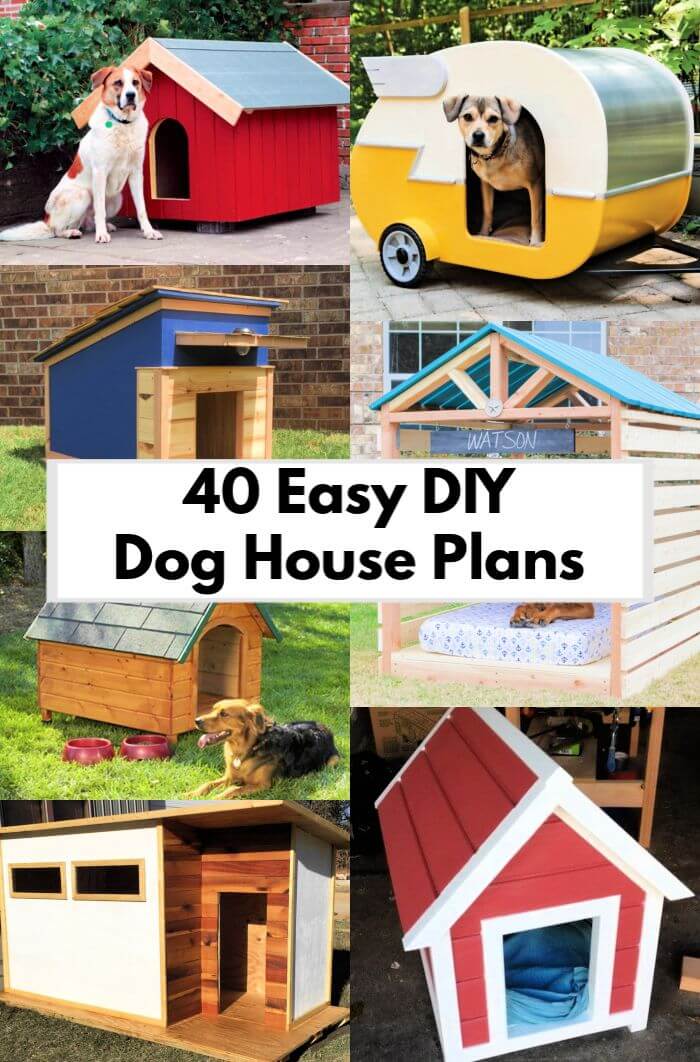 The dog house plans are of vital importance as you can house your naughty dog friends there who are causing big damage to furniture by scratching and jumping on the furniture! Moreover, if your dog is carrying germs on his skin it will also be a great idea to rest your dog in a dog house to keep in home living environments hygienic! And most importantly, they will only belong to your dog and hence they can enjoy all their resting hours there in a happier mood! So, do gather the materials and some free wood to build a lovely DIY dog house and feel proud by gifting it your dog!
Here this list will provide you a big variety of design inspirations and you can start building any of them depending on your skill level and space you are having at your outdoor! You will find here all the miniature DIY dog house to large dog kennels to big bungalow style dog mansions and at the same time, you will learn the tricks here to add extra features to them depending on your dog's needs! Build the DIY dog house with an attached veranda or deck and also build the dog mansions with attached dog runs and dog feeding stations, the list is going to provide free dog house plans and tutorials for building all kind of dog house that you will prefer for your dogs!
Build a Crooked Doghouse: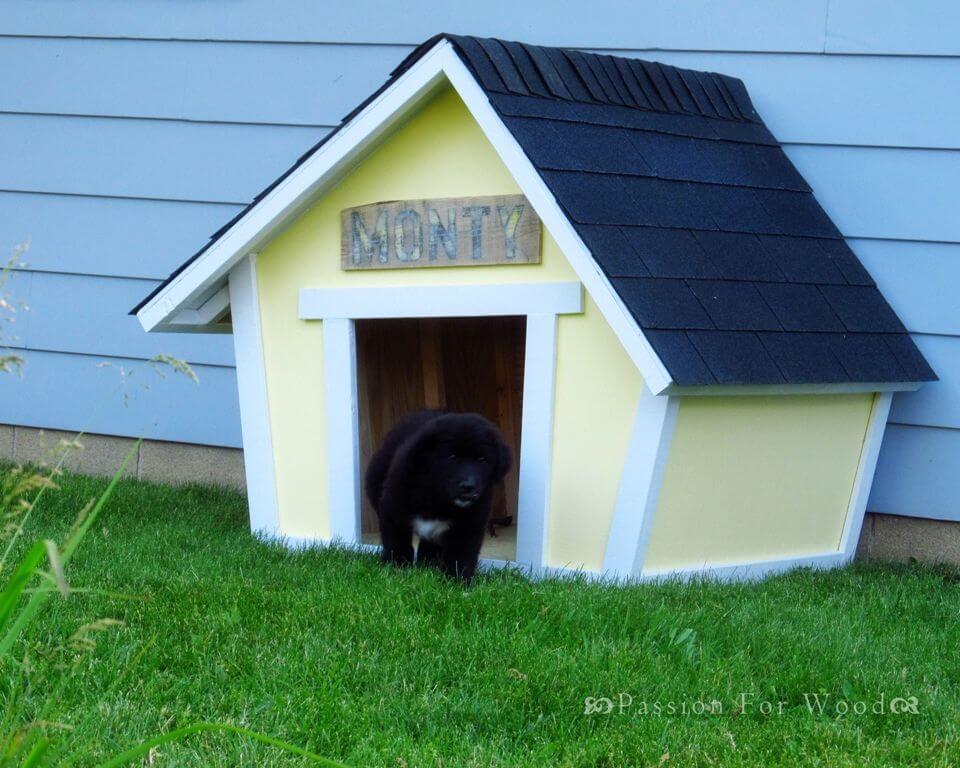 Sometimes imperfection looks perfect and you will find this so true after taking a close look of this crooked doghouse that does not come in the perfect dimensions but it is looking too good! This Awesome doghouse model is made of wood and has nicely been painted, it also comes with a shingled roof! Free plans here ana-white
How to Build a Dog House: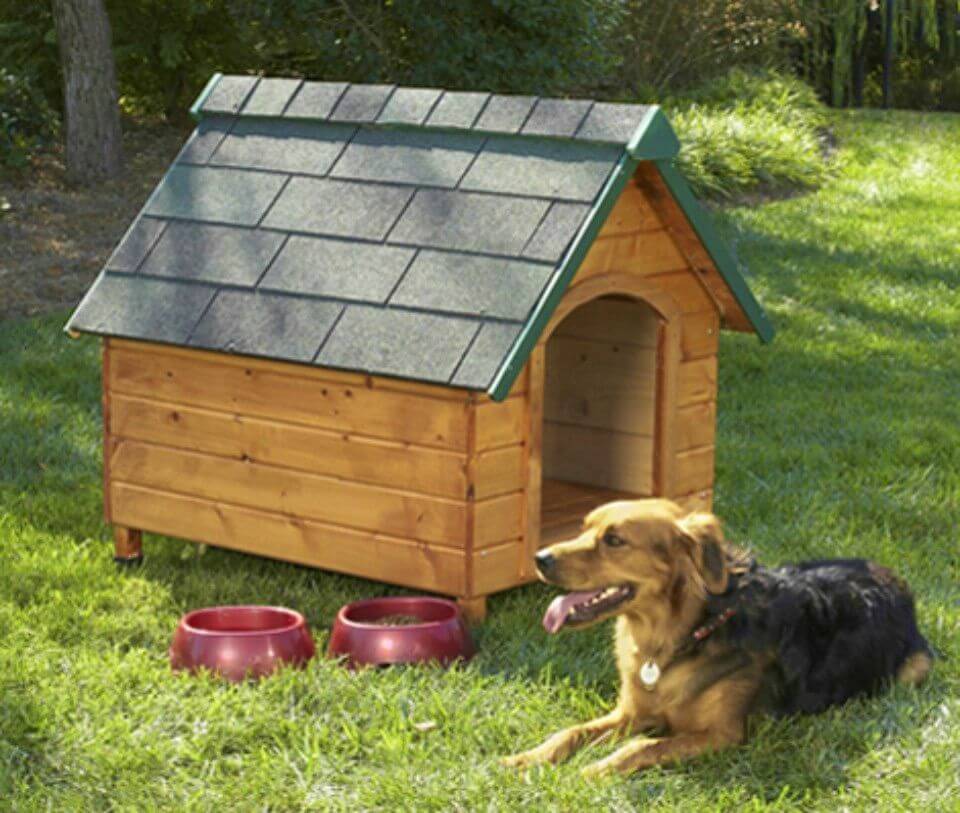 Build the bungalow style caves for your dog; he will love to live in! The trick is to build the wooden boxes or cubes big enough to house your dog and next you can finish them with a chevron roof and also with a veranda! Duplicate also this given model that comes with faux tiled or shingled chevron roof! Here is how to make it lowes
DIY Doghouse with Deck: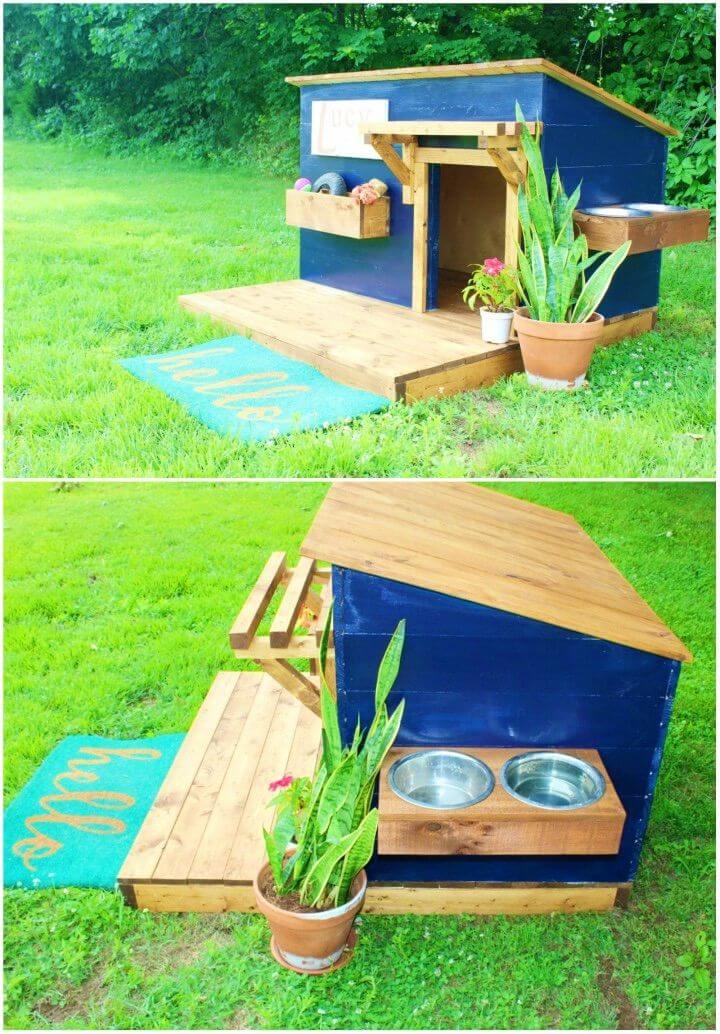 If the hottest days are killing your dog, then do make this precious ventilated mansion for your dog that will be an excellent relief for sure! Here this wooden doghouse comes with a lovely deck and also with a tilted roof and looks terrific in the blue painted appeal! Next, it also comes with attached dog bowls! Details here woodshopdiaries
Simple DIY Gabled-roof Doghouse: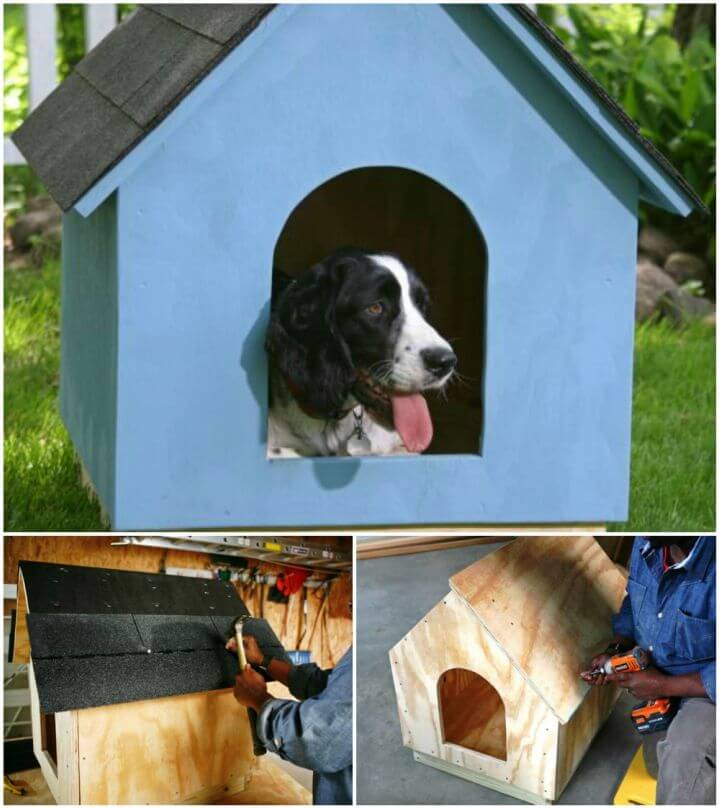 Provide your dog a house of his own where they can live freely and comfortably in the bitter weather conditions! Build lovely doghouses at home with your own custom features and specifications; get your creativity inspired by peeking into details of this handmade gabled-roof doghouse that is made of plywood! Details here diynetwork
DIY Insulated a-frame Doghouse for Under $75: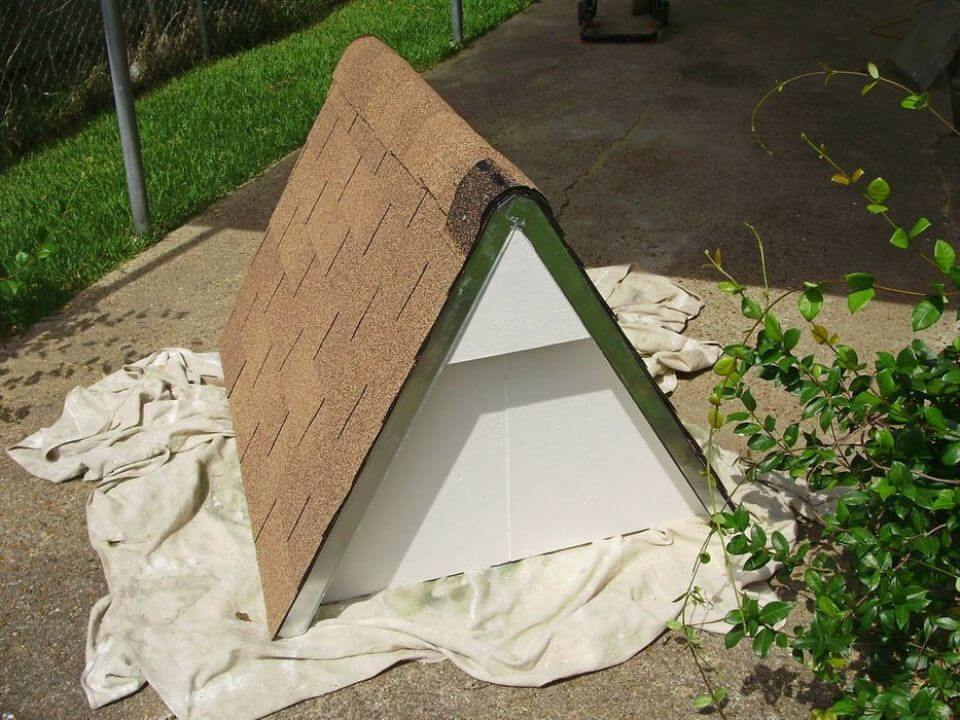 If your dog needs a shady cave to get relaxed in the hot weather condition then do provide him this insulated A-frame doghouse that will cost you under $75 and would be the best gift for your furry friend and also for a pet loving friend! This design of doghouse is unique and you can build it in any dimensions! Details here instructables
How to Make East Fork Free Doghouse: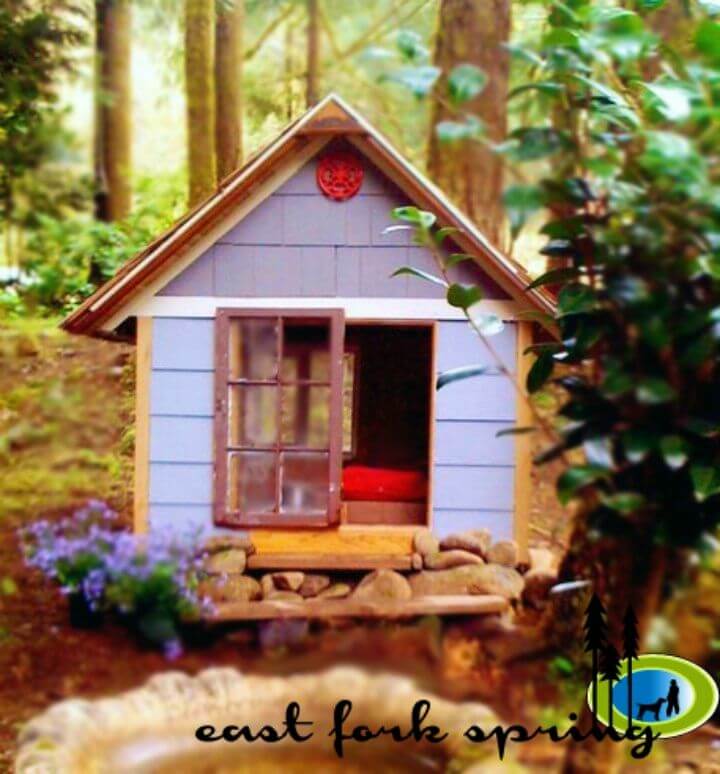 If your dog is naughty and causes a lot of damages to your indoor furniture then prevent further damages by providing them a house of their own! If you need to choose the best model, then this east fork doghouse will make a great choice, and it is just like a mini bungalow and is super easy to make! Details here ana-white
Build Your Own Mobile Dog House: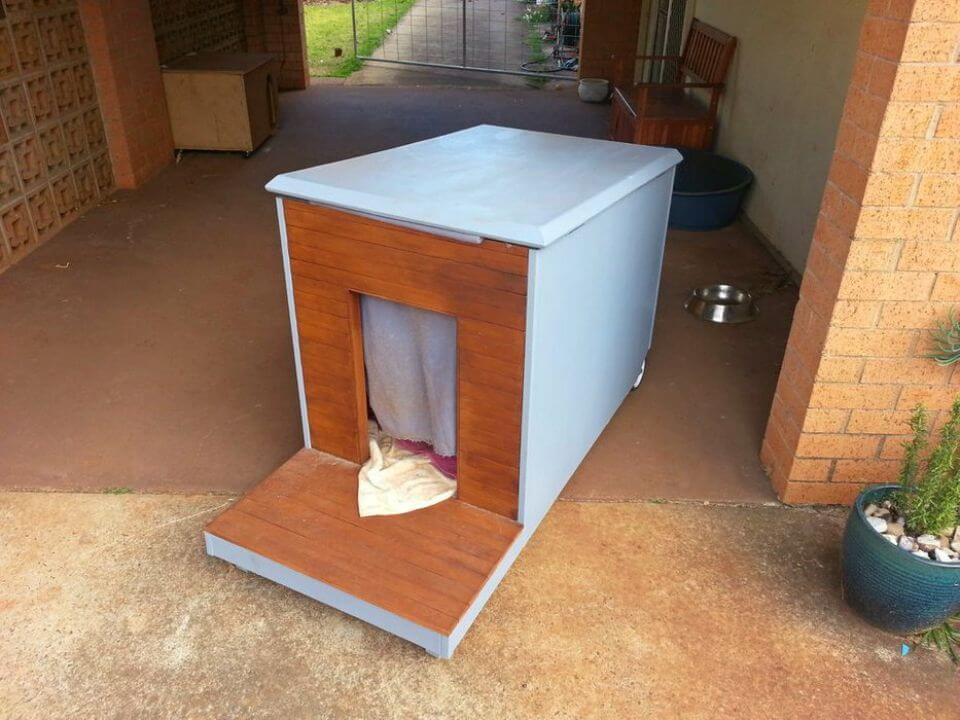 You will never find a dog kennel more than beautiful than this given one this elegant and is long enough to house properly a dog! It is going to be a modern residence for your dog and you can quickly build it at home using the cement sheeting, plywood, and other wood lengths! Full free instructions and free plans here instructables
Easy DIY Dog House: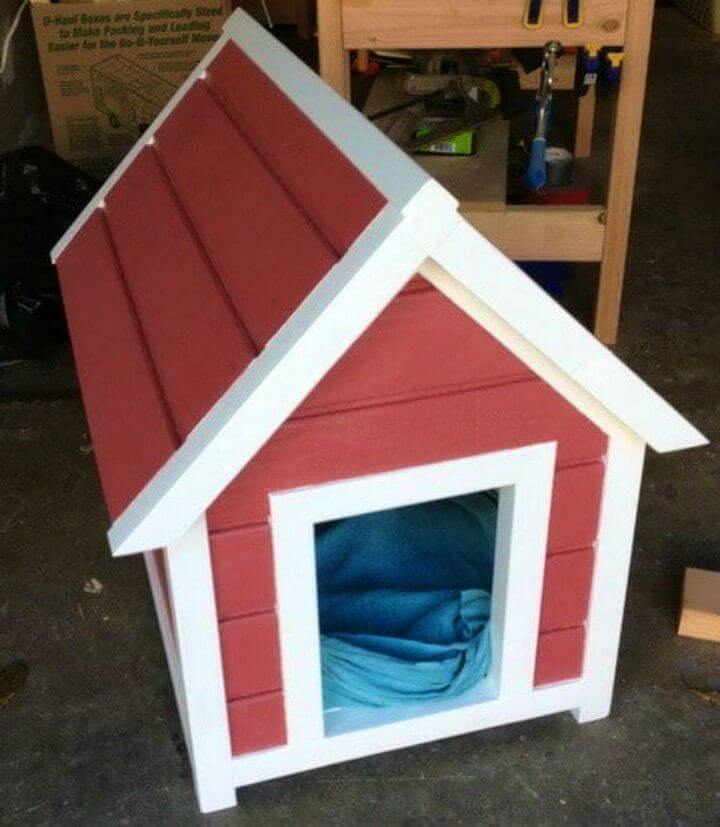 Have a look at this another hand-built wooden dog shack that will go much enchanting to eyes due to red and white appeal! It gains cuteness from the chevron shingled top and would make a great handmade gift to a dog loving friend! You have to get crafty with the wood of choice to make it! Free plans here removeandreplace
DIY Large Wood Pet Kennel End Table: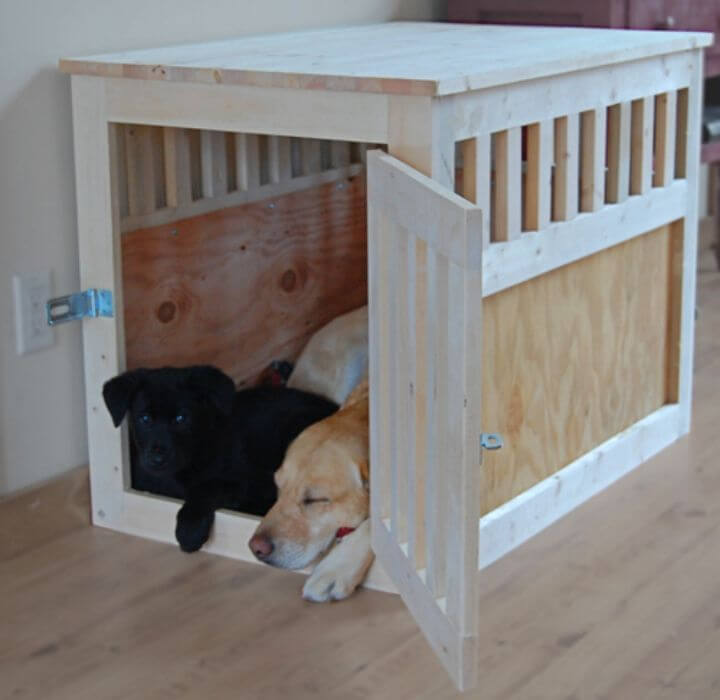 Here is 2 in one wooden dog house that even a beginner can make at home beautifully without investing a lot! Grab the wood slats and plywood to build this large wood pet kennel that you can also drag to any location to serve as a cool side table! Comfy it up more using a mattress and here is how to make it! ana-white
Make Dog House with Roof Top Deck: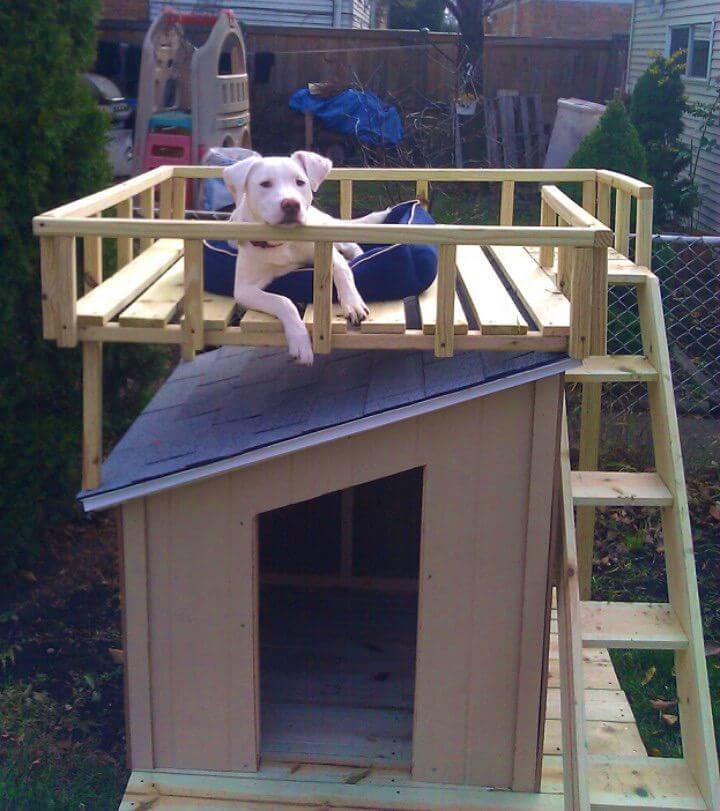 Save your dog from the bitter and harsh weather conditions by making a lovely doghouse! If you need a design idea then duplicate this dog house design that comes with an attached deck at the top and is sure to be loved dearly by all the dogs! A luxury house for your furry friend! Details and how-to instructions here community.homedepot.
Build Your Own Dog House: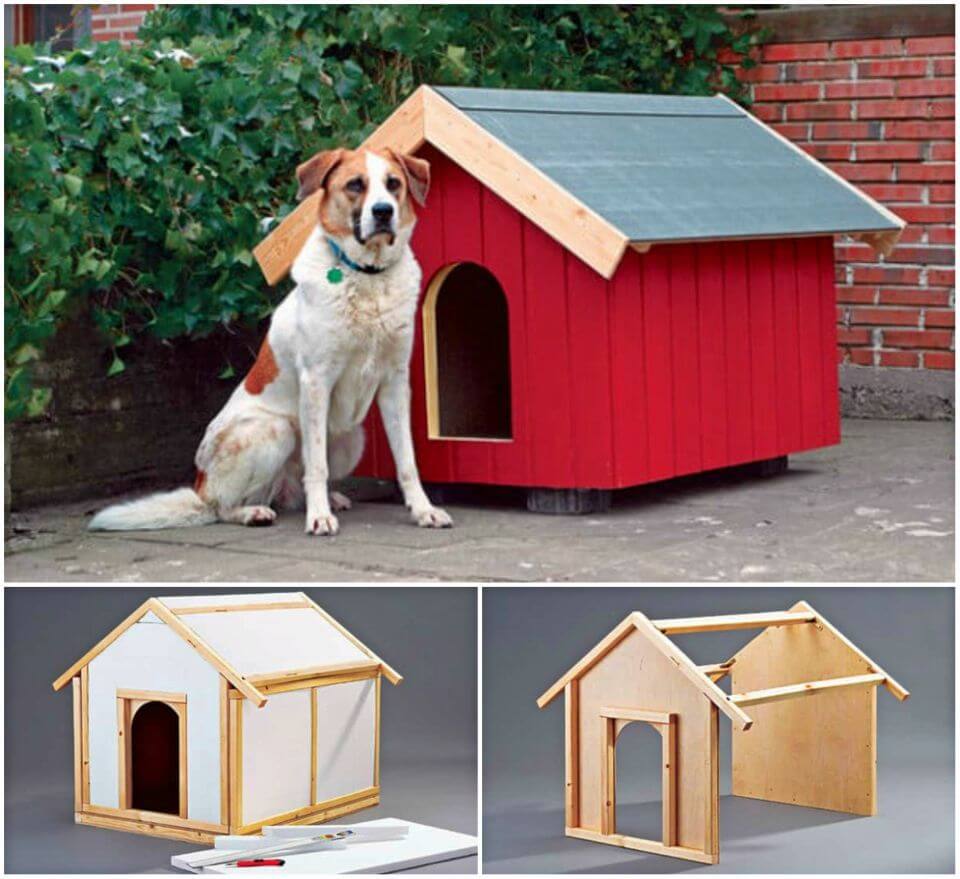 Separately house your dog to make him enjoy the resting hours by building this awesome dog house that comes with amazing features and design dimensions! Along with durability and solid structure, this dog mansion also provides a chevron roof that is above all in its beauty features! Make using wood slats square wooden dowels and plywood! Details here handymantips
DIY Country Dog House with Porch: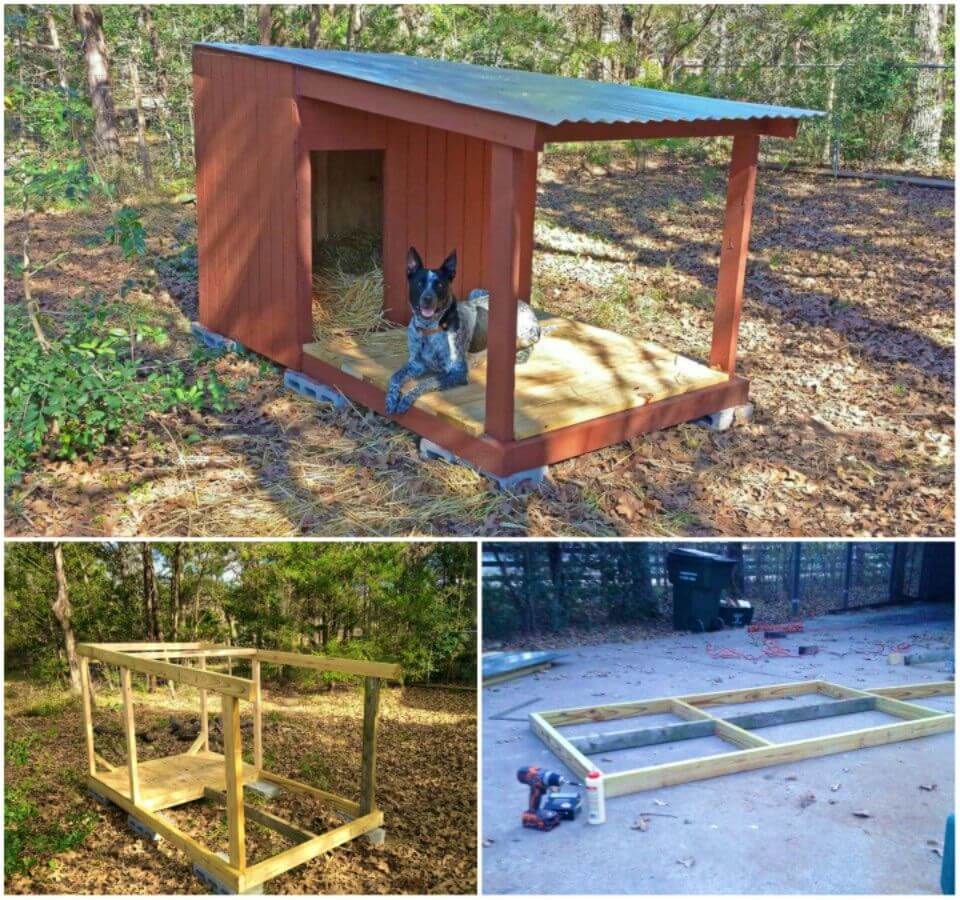 Build also the rustic and farmhouse style DIY dog house at home using the fee and recycled wood! Clone this country dog house that comes with a porch that is a gorgeous extra added feature in the design that doubles up its beauty and functional behavior! Here this dog hose comes with tilted metal roof! Details here diyattempt
Make Knock-down Dog House: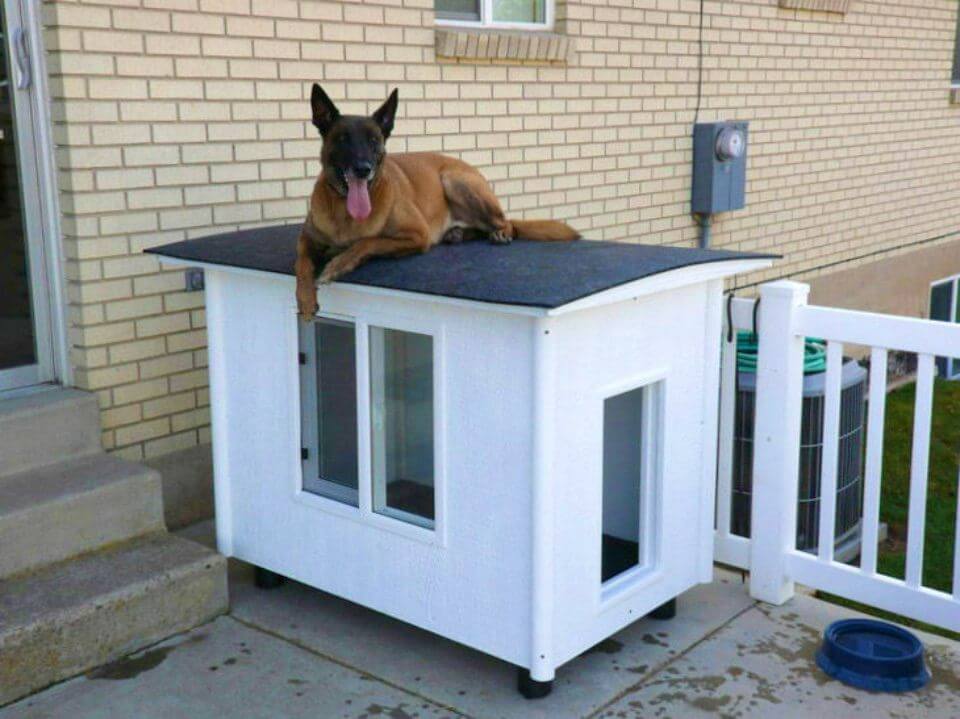 A best ever design of dog house is here that you can build at home! Use the lumber, plywood, melamine board, wood posts, insulating foam, PVC pipe, and exterior sheating to make this gorgeous dog house that comes with all the luxurious feature that your dog will love! Do build this ultra-modern and featured mansion for your dog! instructables
Build a Dog Treehouse: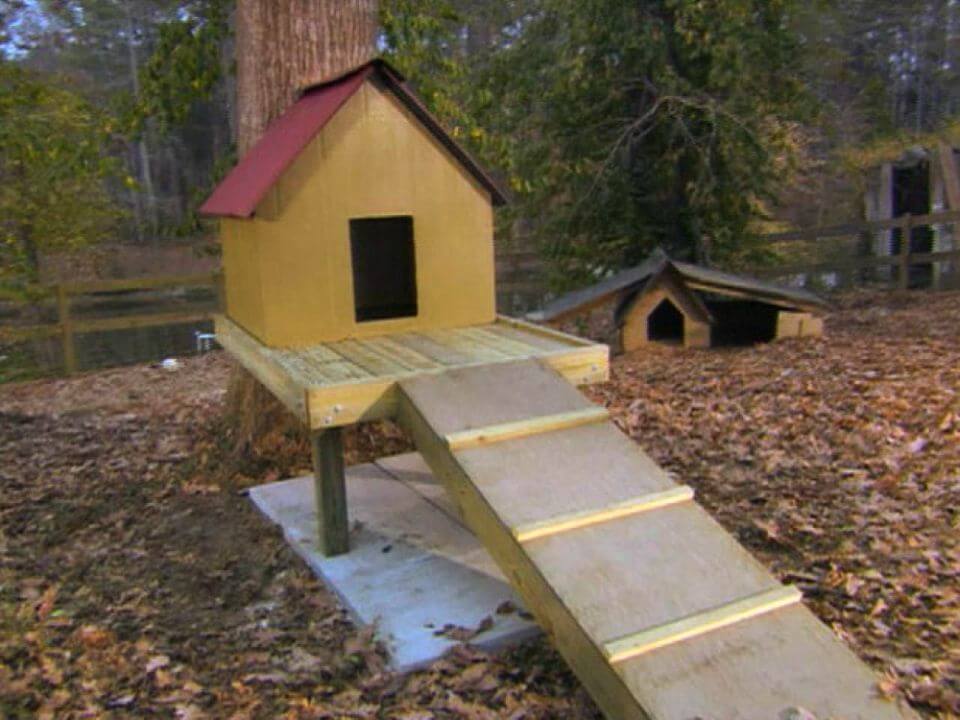 All kids and even the adults like to live and play in the tree houses and in the same way you can also boost the fun of your dogs by building special dog treehouses for them! Have a look at this given model that provides stairs to reach to an elevated residential apartment that looks like a luxurious mansion due to red painted chevron roof! diynetwork
Easy to Make 1,000 Year Doghouse: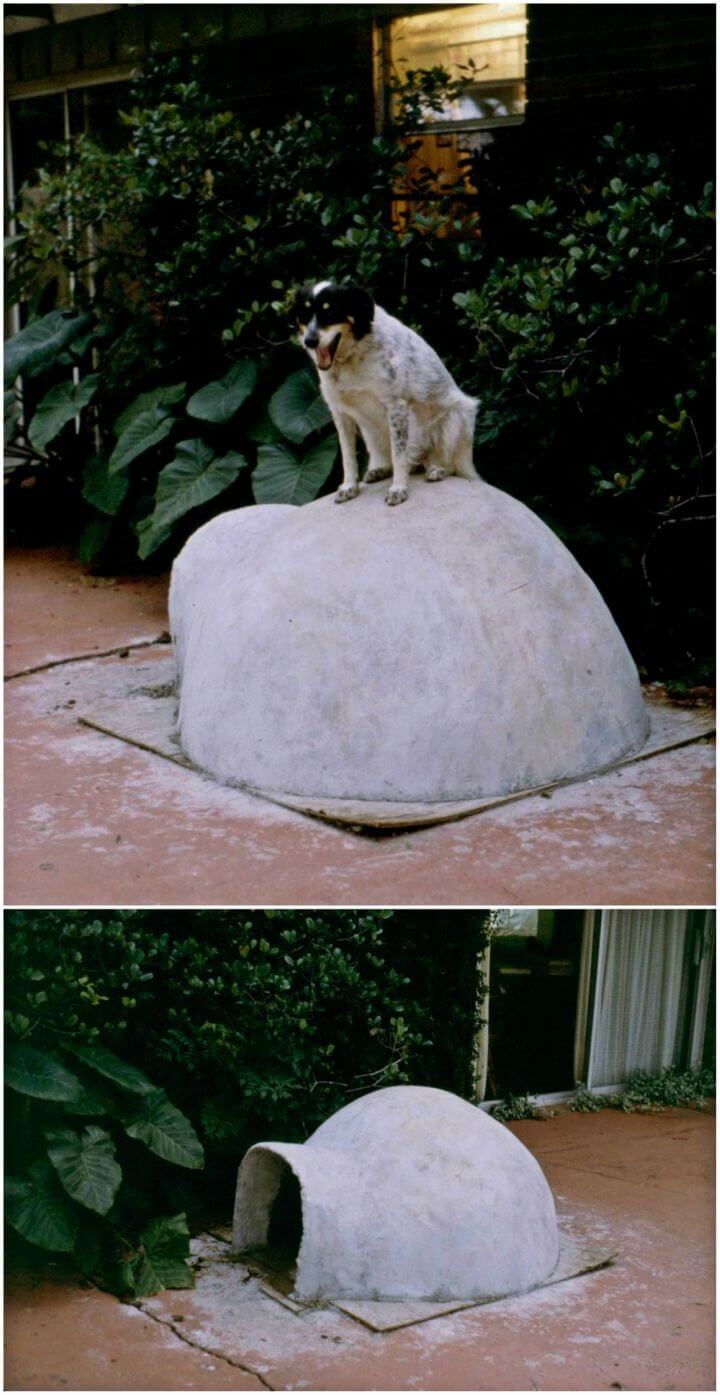 Build also the very natural looking doghouses at home that will live longer than the usual dog house mass! Put a glance at this sample dog house that is made of wire mesh and concrete and hence would be extra durable! This is here the perfect ever cave that you can build at any outdoor for your dog! instructables
How to DIY Dog House: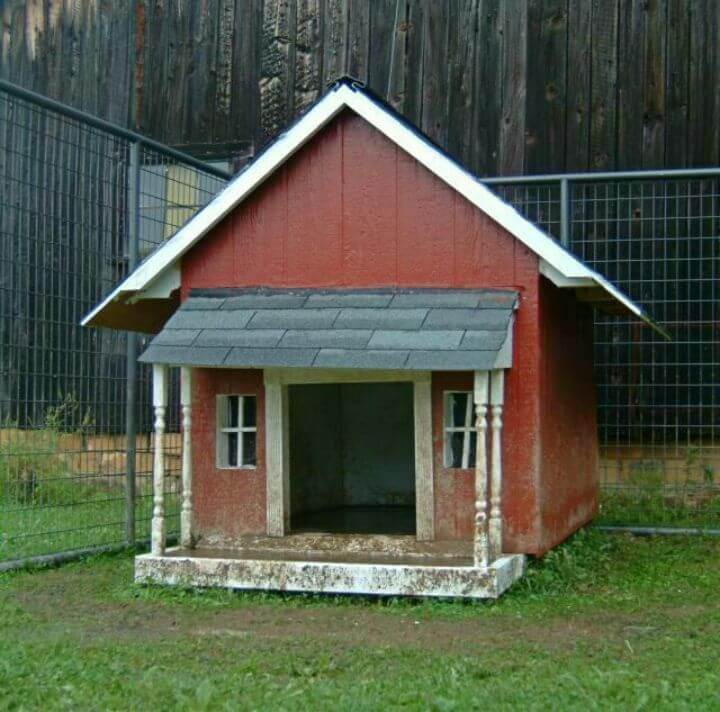 One more exceptionally beautiful and gorgeous model of the doghouse that you can build for your dog! Chevron roof of it is made of sheating and the rest of the whole model is made of durable wood! It gains extra beauty with the added porch that comes with white painted pillars! Here is how to make and paint this dog house ranum
How to Make Dog Tent: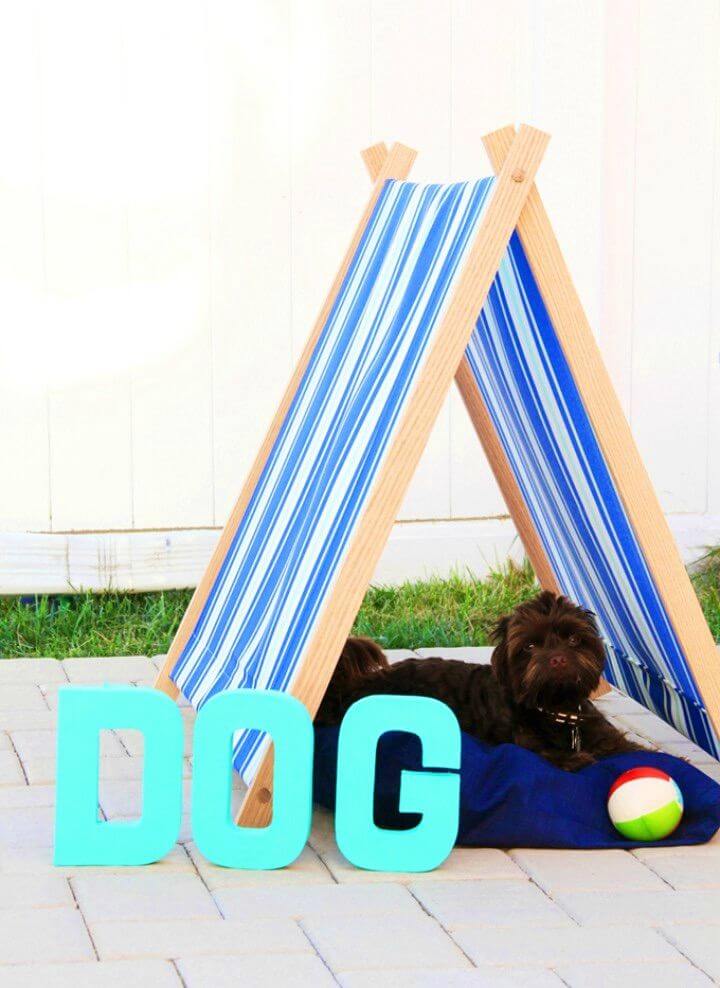 Do you need some instant pet residences? Then do install the quick mini tents at outdoor that will serve as the same as a dog house! Duplicate this A-frame dog tent that is sure to be loved by all the dogs! Build the frame using wood dowels and wood slats and then cover the frame using outdoor fabric! joann
Easy to Make Doghouse: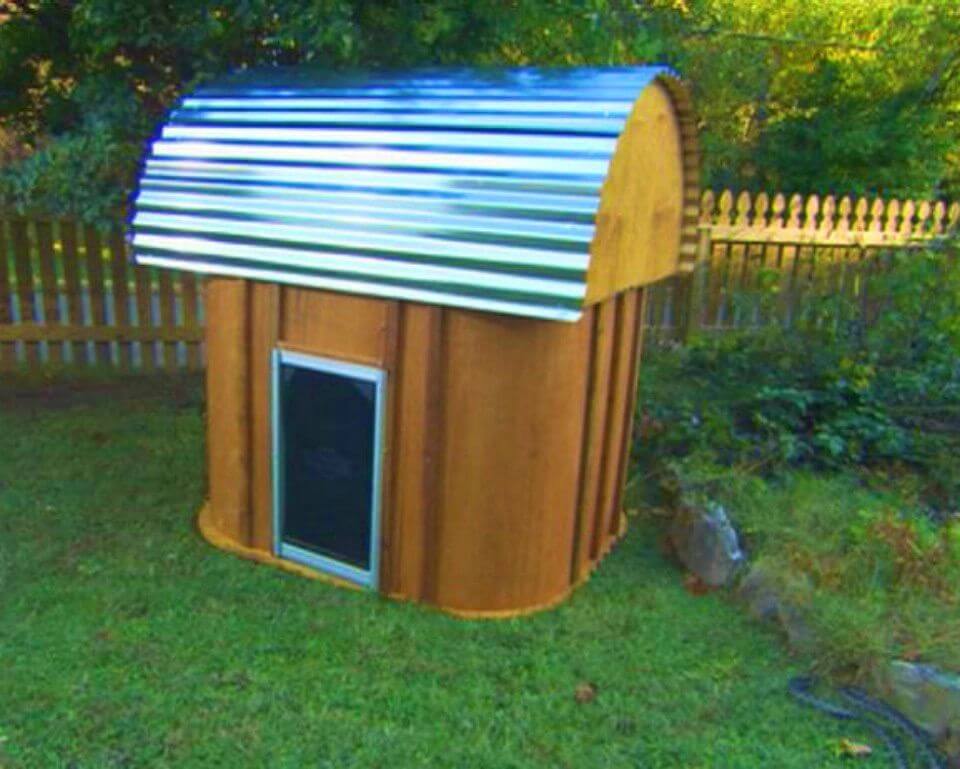 You will love the design curves of this dog house that is handcrafted one and provides the galvanized dome style steel roof! This is here the best ever dog house that a man can build at home using the plywood, galvanized steel, and vinyl interior pads! Want to clone it for your dog? Here is how to make it diynetwork
Make Shasta-style Puppy Camper Playhouse: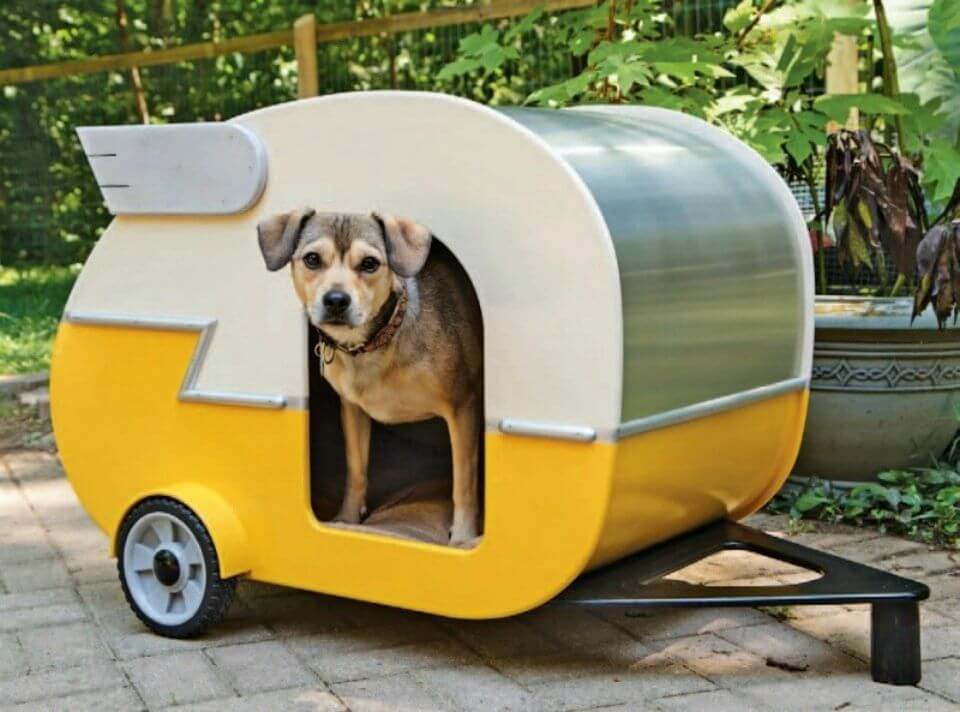 Make your dog live the luxury by building the camper playhouse that is totally unique from the rest of handmade dog house designs! Make this superior model of dog residence using luan plywood, bending plywood, AC plywood, and normal plywood sheets and there are lots of other materials to use for building this luxurious dog mansion! How-to tutorial here thebark
DIY Luxury Pallet Kennel with Sun-deck: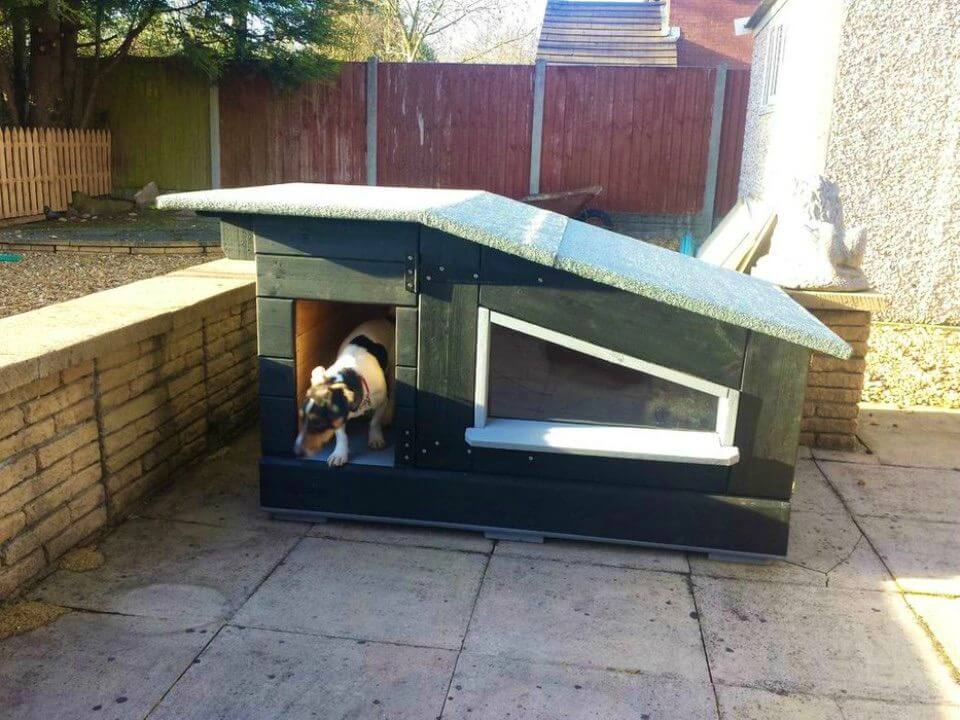 Bring great comfort to the life of your dog by building this superior wooden kennel for him that comes with sun-deck and also with custom added features that will make your dog live the luxury! This unique dog house design with a tilted roof is sure to be liked by all the dog lovers and is also easy to make! Details here instructables
Build a Doghouse Gazebo: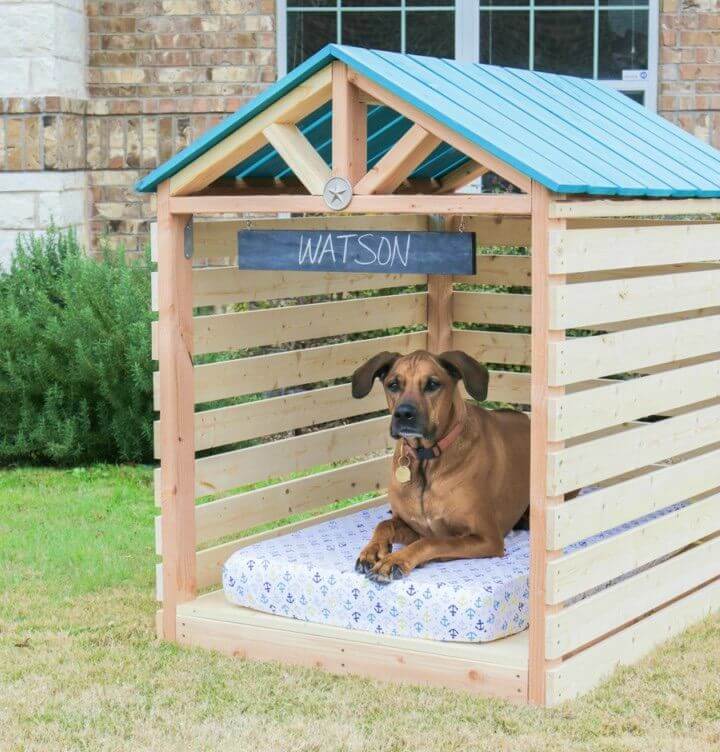 By following the simple slatted arrangements of the wood planks and slats, you can quickly build this doghouse gazebo that is a beginner-friendly doghouse design is here to make for your dog and also for a dog lover! Here this dog house comes with blue painted slatted chevron roof and is sure to be liked by all the dogs! jenwoodhouse
Modern DIY Dog House: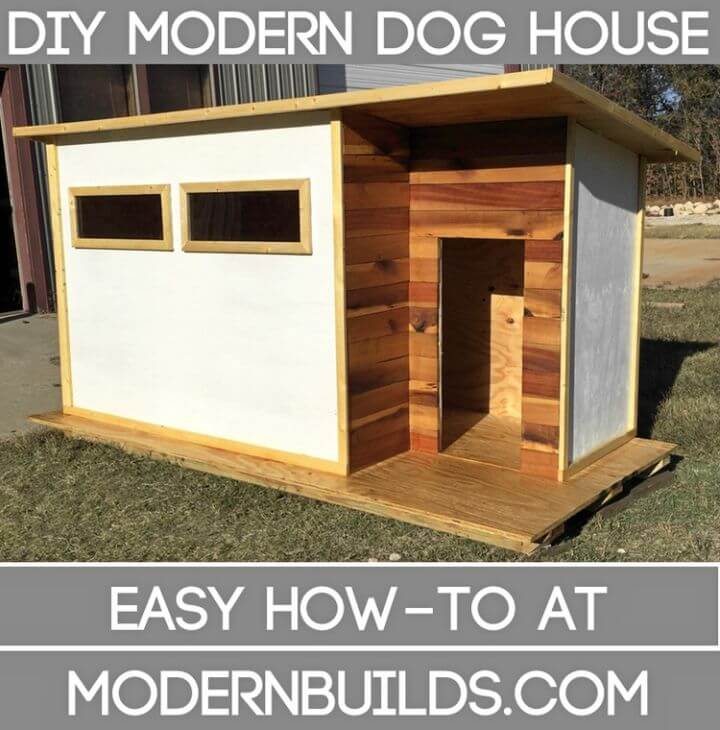 Build also the modern and featured DIY dog house at home with no woodwork experience just by following simple instructions and tutorials! Clone this modern dog mansion for your dog using plywood, pressure treated wood posts, acrylic sheet, plywood and furring strips! Full free plans and video tutorial here modernbuilds
DIY Mini Ranch House for Your Pooch: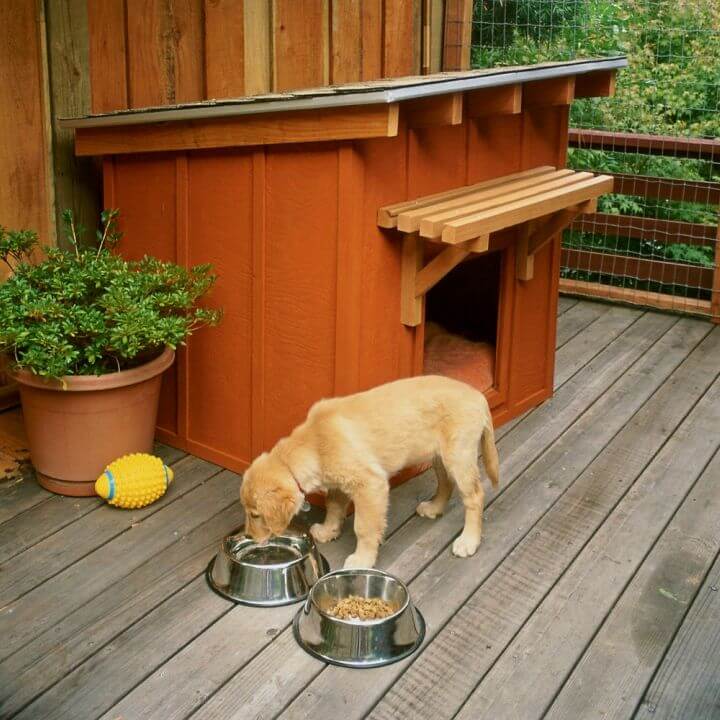 If you love the DIY dog house that come with tilted roofs that do not allow the retaining of rainwater then you will definitely like this mini ranch house that you can quickly build for your dog friend! Here it comes with sloped roof and with an extra shade installed to the primary entrance that enhances the visual details of it! sunset
Adorable DIY Dog House with Porch: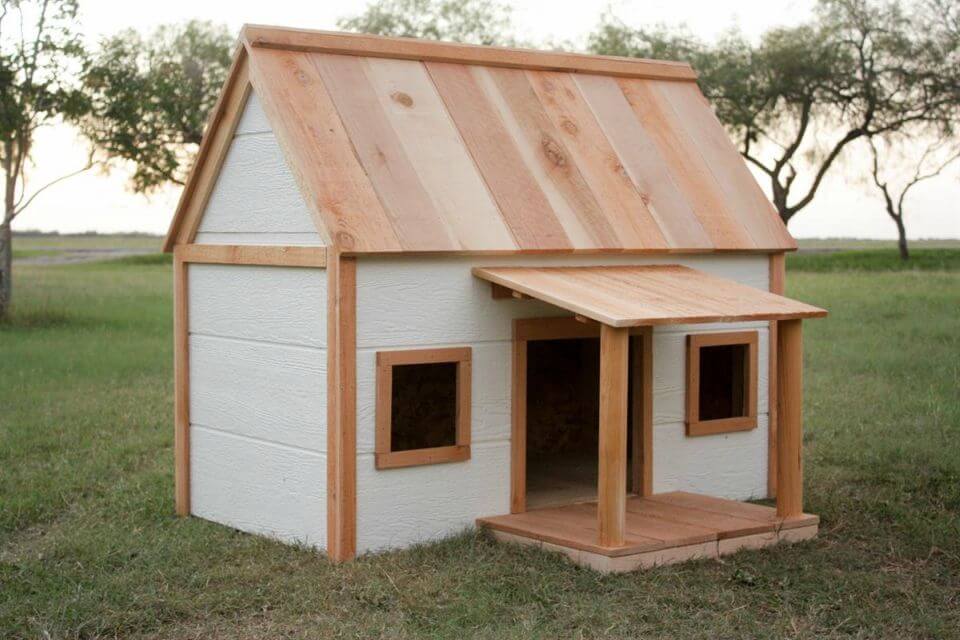 Please your dog also by building this another modern dog house for him that comes with an attached porch and hence it multi-featured! A creamy white and wooden appeal of this dog house turns it into a big visual delight! Here is how to make this eye-catching model of dog house at home! buildsomething
Build Double Door Dog House: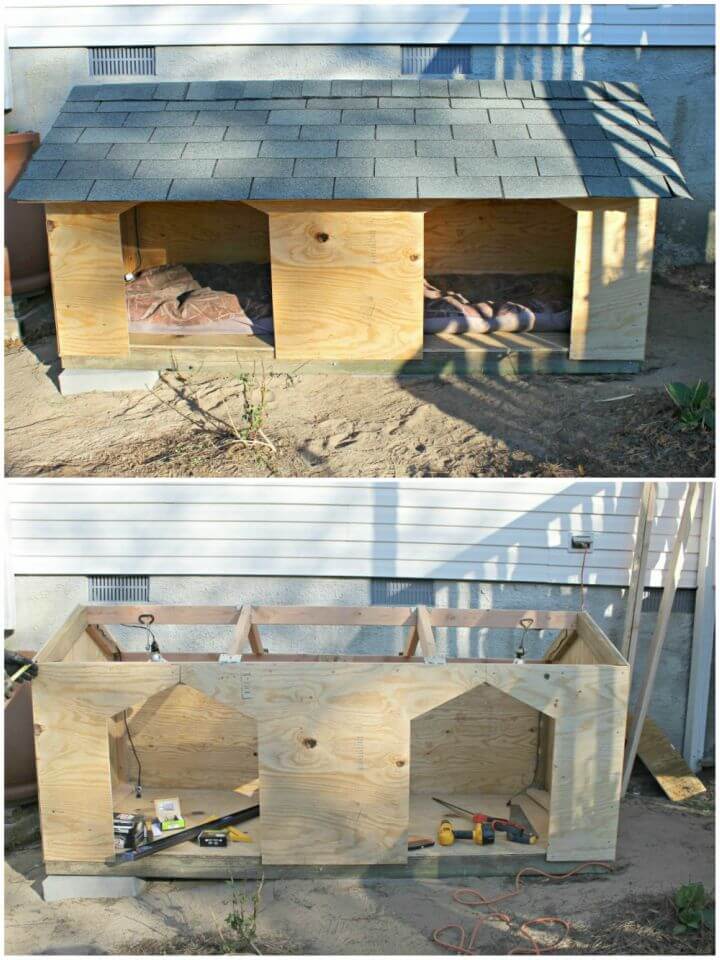 A big thanks to plywood for this adorable dog house creation, it offers two entrance doors and hence looks unique and impressive! You can also clone this double door dog house for two dogs, and it would be super fun to make even for a beginner! Paint it or enjoy a blank wooden appeal of it! Details here intelligentdomestications
Make a Dog House: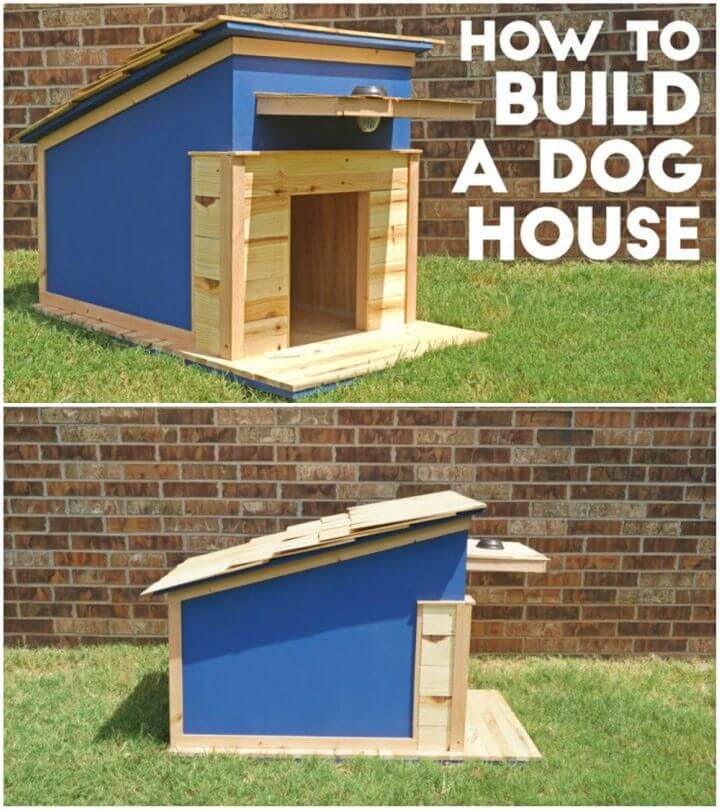 Here is the homemade design of dog house that will make you say a big "WOW" as it is having precise dimensions and also a fantastic modern design that comes with tilted shingled roof! It gains extra attention due to blank wooden and blue painted design appeal, and this is here the best ever homemade design of dog mansion! modernbuilds
Build a Dog Run with Attached Doghouse: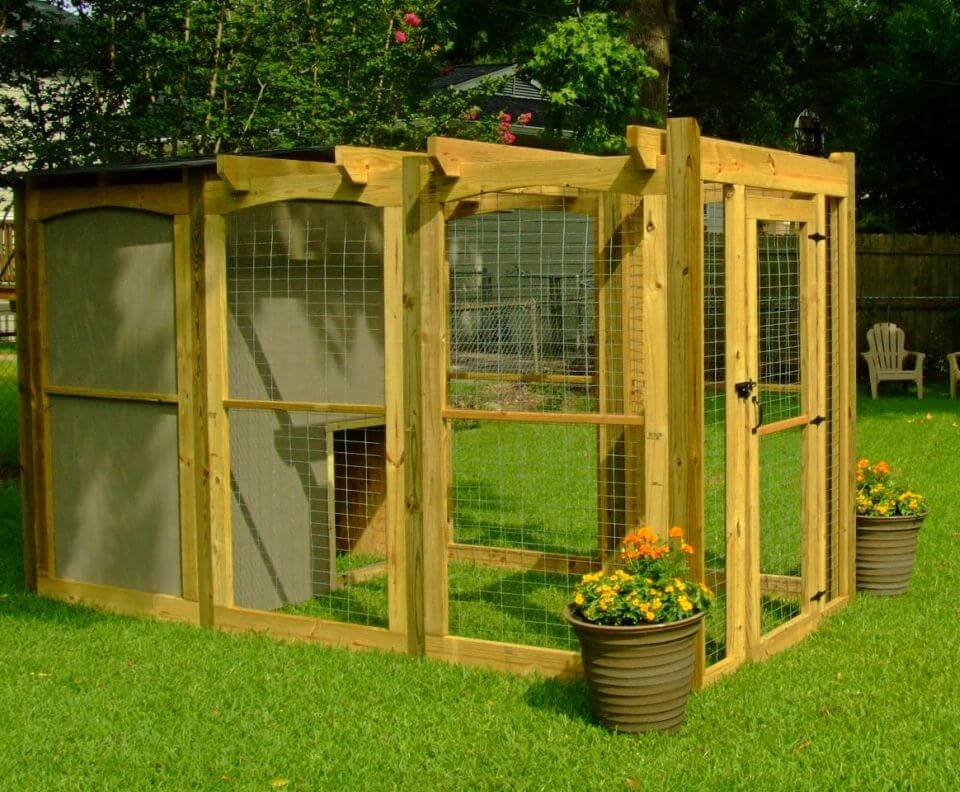 Just by keeping in mind the freedom and interests of your dog, you build large doghouses with custom added and attached features! Here this large dog mansion comes with an attached dog run that you can build using the wooden posts and wire mesh and it comes with a slatted roof! Here is how to make it like a pro diynetwork
Build a Dog House with Air Conditioning: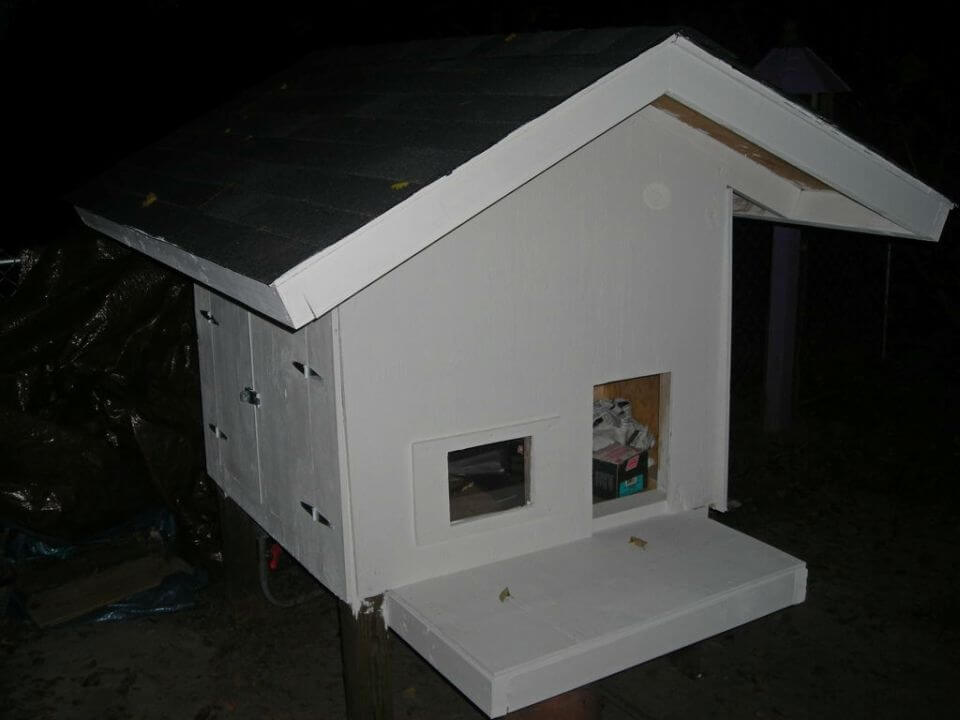 Why should human beings have all the fun, make also the air-conditioned DIY dog house that will be a big comfort for your dog in the hot days! Build the dog mansion with the chevron roofs and custom added features and then install the air conditioning systems in them! Look at the sample design and do duplicate it instructables
DIY Dog House Without Any Nails or Screws: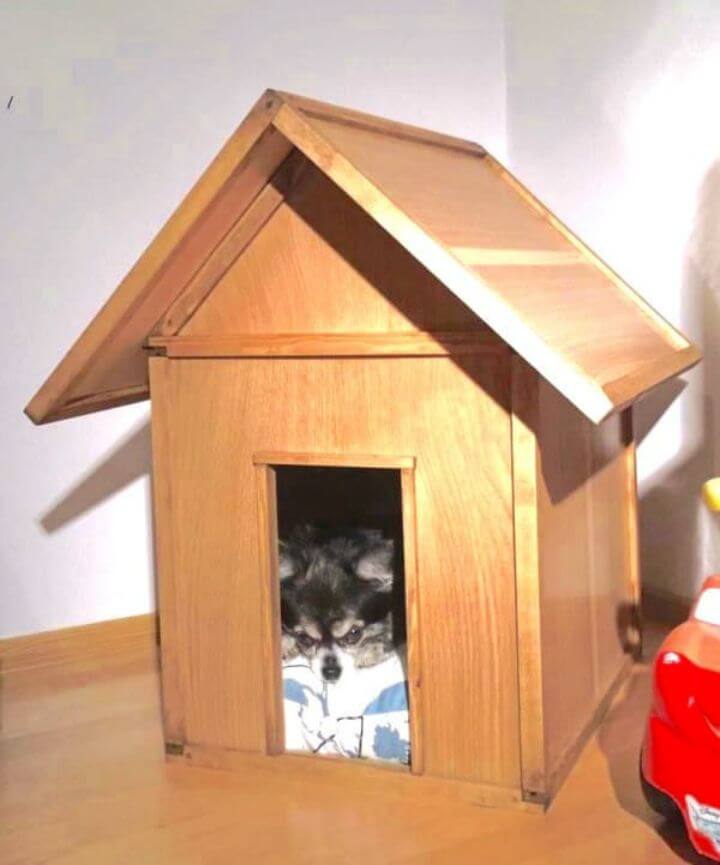 This totally sounds strange, build the wooden DIY dog house with using any nail or screw, this is here the best model for you to make at home if you don't like the hardware assembly of the wooden structures! Grab the wood posts or square dowels to make the frame and then cover the sides with plywood! Free plans here littlethings
How to Make Duplex Dog House:
This is a luxurious house for your dog to make at home that comes with an attached porch and is sure to be liked by all the pet lovers! This dog house is big and comes with red painted chevron roof and tilted veranda or porch shade! Use the pallet wood, wood posts, and plywood to make it doityourself
Make Insulated Dog House: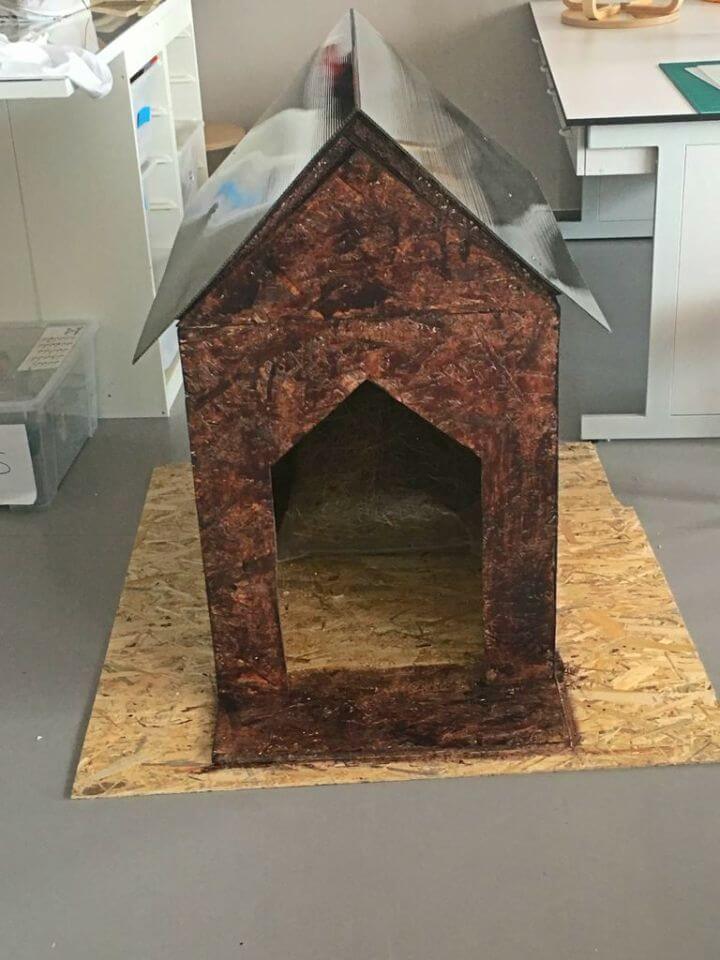 Make also the insulated dog kennels that will be a big comfort for your dog to live in the harsh or bitter weather conditions! Look at this given sample model that is made of plywood and polystyrene and is sure to be insulated from inside, and it would be less warm in summers and less cold in winters! Details here instructables
Make Your Own Dog House: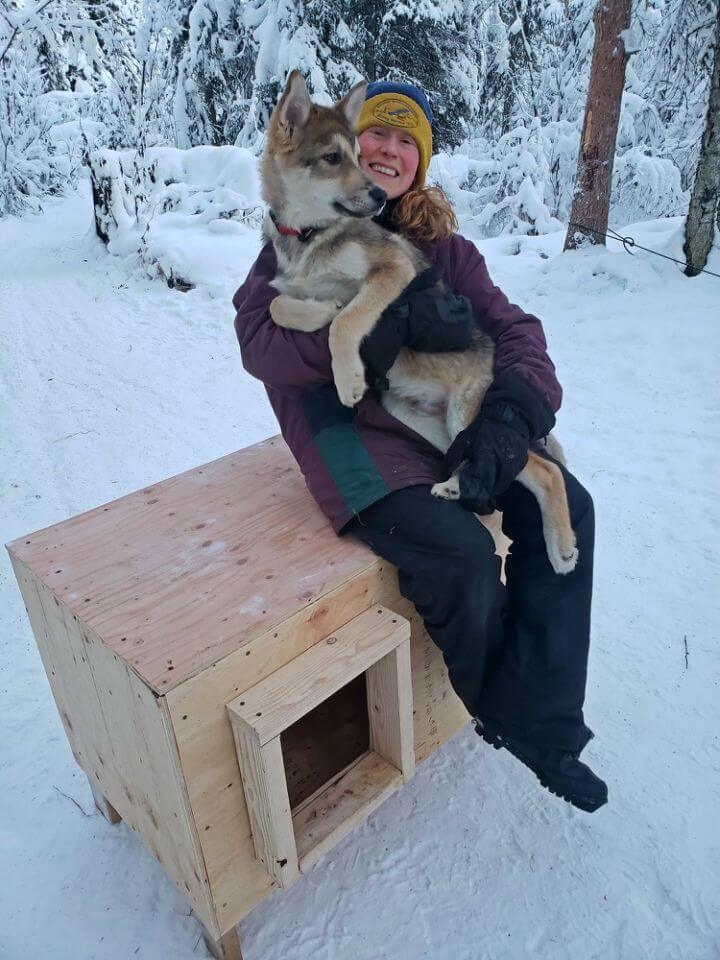 Build the bigger box style DIY dog house that will be extra safe to house your dogs! Build it with any wood that you are having in hands like the lumber, pine or pallet wood! Build a big box, raise it on the short wooden legs and then install a cool entrance to it! Paint it or enjoy a lovely blank wood appeal of it! borealjourneysak
Inexpensive DIY Dog House: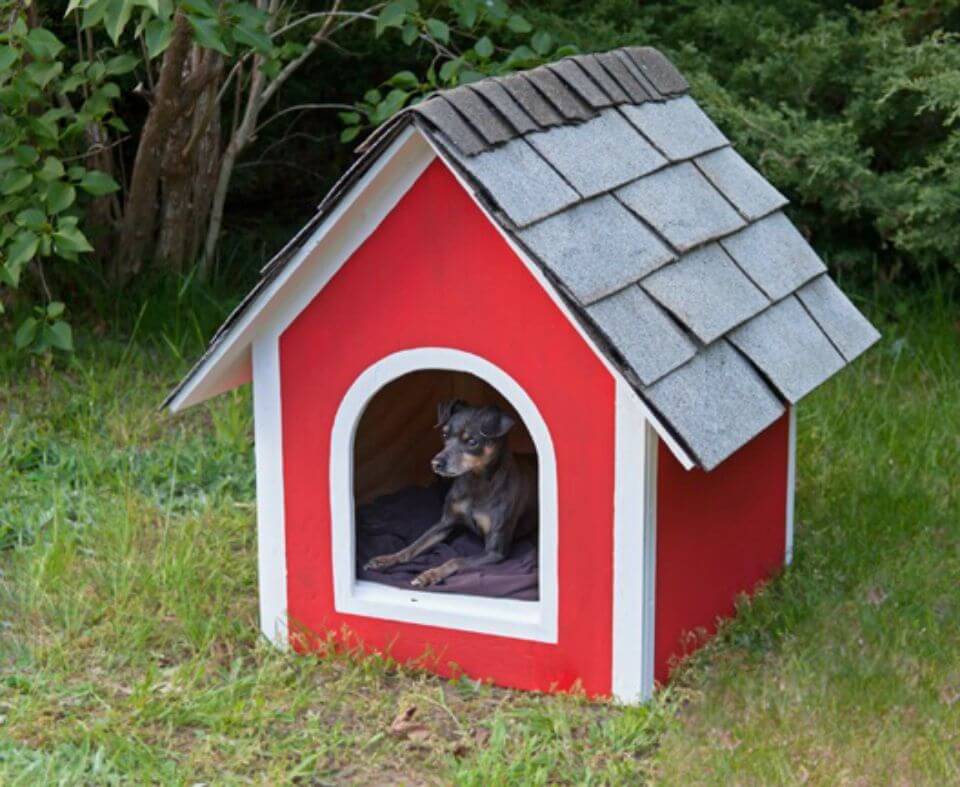 If you are on a budget but still want to get a pretty house for your dog then here is the beautiful but super inexpensive dog house that you can quickly build at home! Make this entire cute model of dog house using the plywood and paint it in colors you like! Finish it up with a chevron roof and decorate it more with felt shingles! blackanddecker
DIY Craftsman-style Doghouse: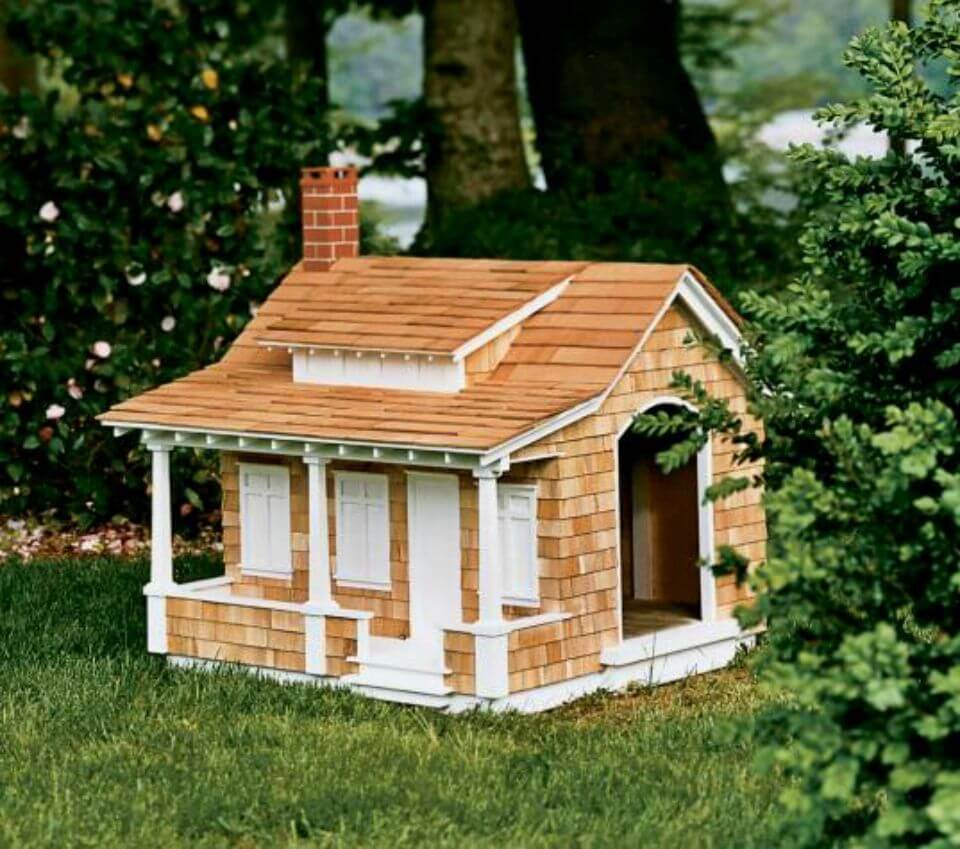 One of the most bizarre dog mansions is here that is a perfect mini bungalow for your dog, it comes with a veranda, with a porch and also with a fireplace chimney that is the luxurious features of this pretty cute dog house or bungalow! Do duplicate this craftsman-style doghouse with minimal wood experience! thisoldhouse
Super Easy DIY Dog House: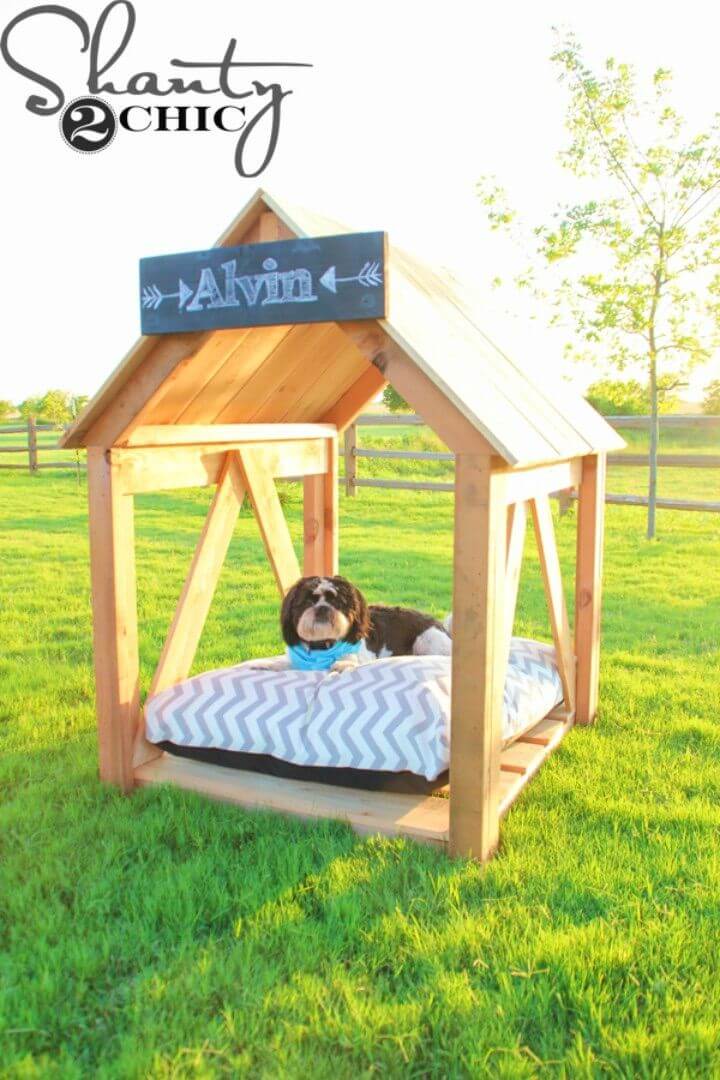 Build also the super breezy and airy houses for your dogs that will be a big pleasure for your dog to live in the summer season! Build a wooden dog house with chevron roof frame and open sides and put a mattress over its wooden floor and build a perfect open dog house, the best summer gift for your furry friend! shanty-2-chic
Quick to Make Doghouse: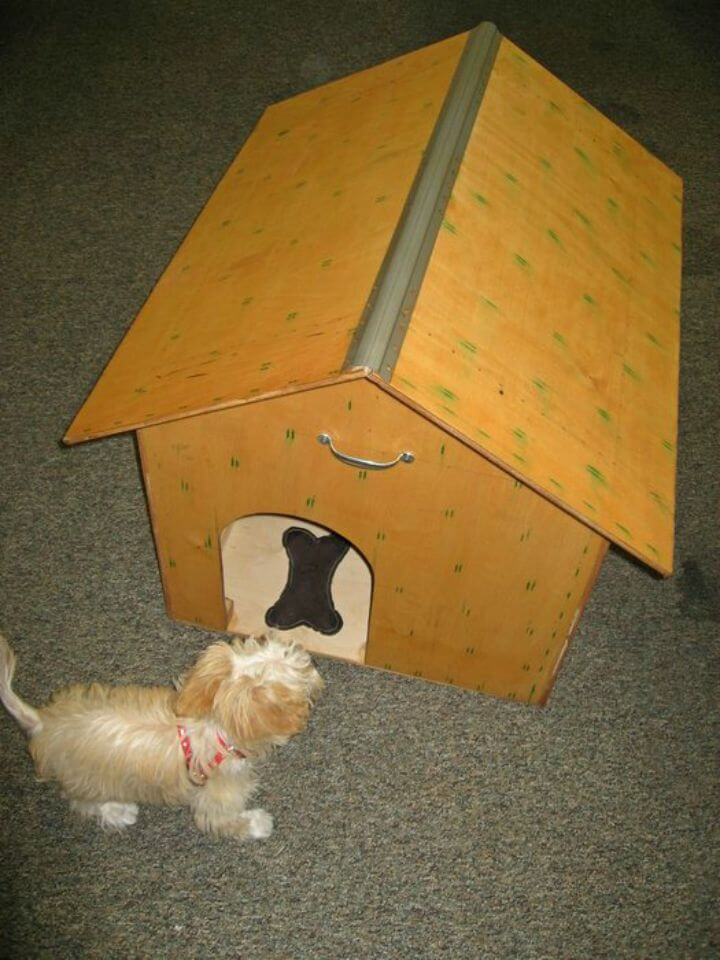 If the wood projects that take too long for their completion, make you bored then build this quick doghouse that is beautiful and durable and will be ready at just a drop of a hat! Grab some plywood sheets of sufficient thickness and then build this lovely doghouse or dog kennel out of them! Step-by-step tutorial here instructables
Cute DIY Dog House: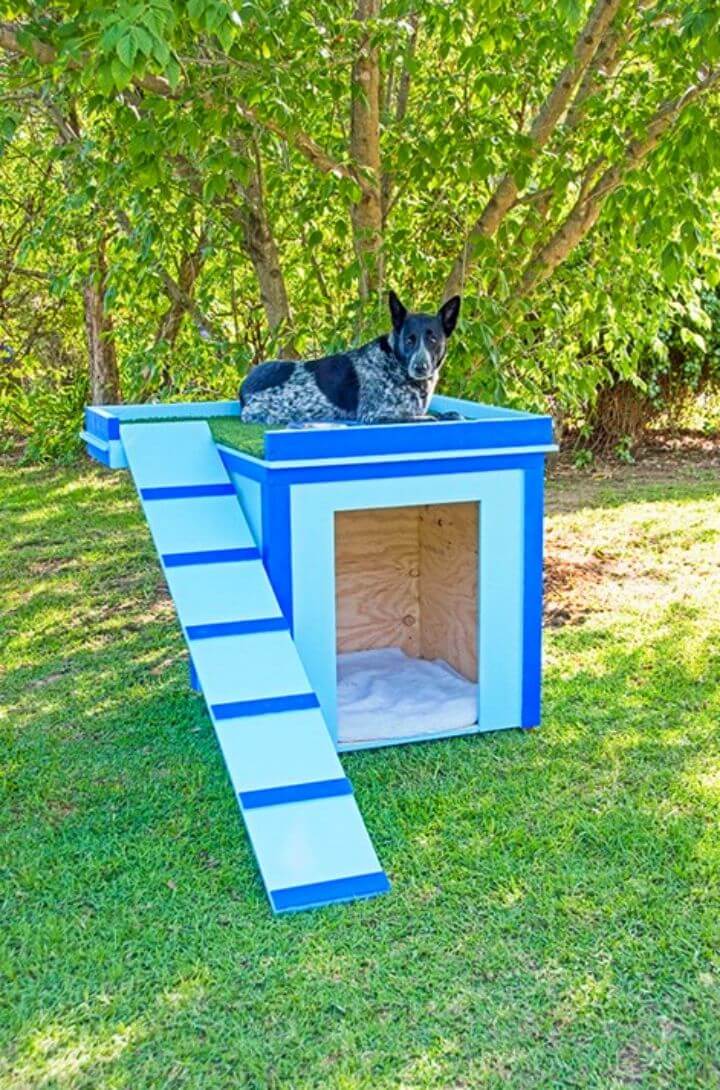 At a very first look, you will have a big crush on this hand-built doghouse that will be a breeze to make but it has divine design structure and also with extraordinary features like the faux grass-covered deck at the roof! It becomes extra beautiful due to painted appeal and here is how to make it bhg
DIY Dog House: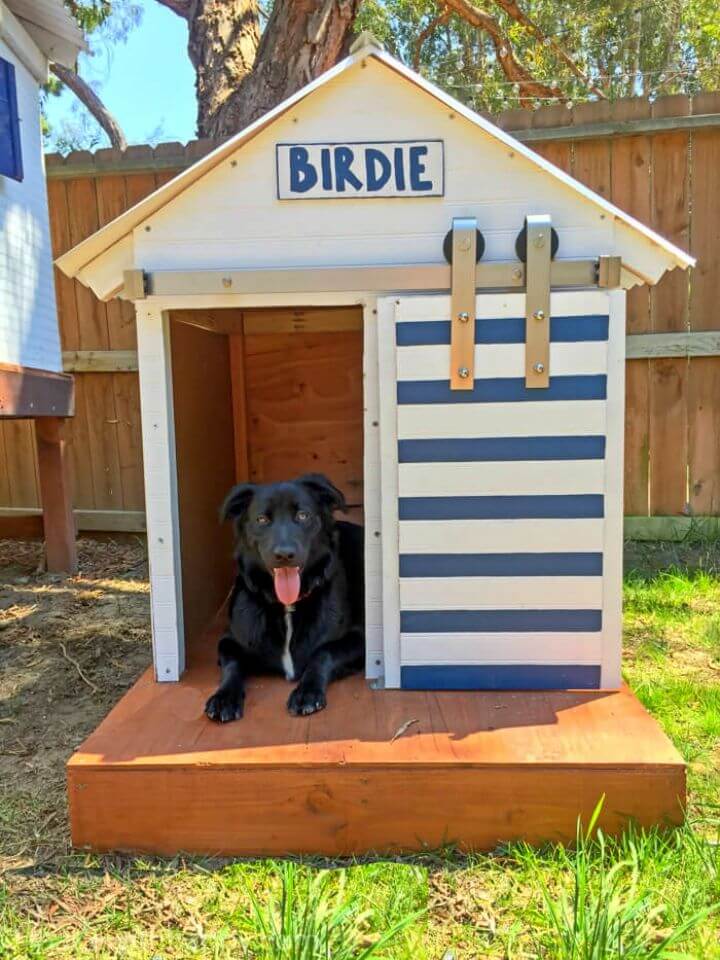 Build also the unique model of DIY dog house by adding unique features to the design! Here this is normal hand-build dog house design that gains uniqueness from the sliding wooden door entrance! Grab the sliding door hardware to install the door and build the rest of the dog house design using the wood of choice! Free plans and Tutorial here madewithhappy
Build an Open-air Doghouse: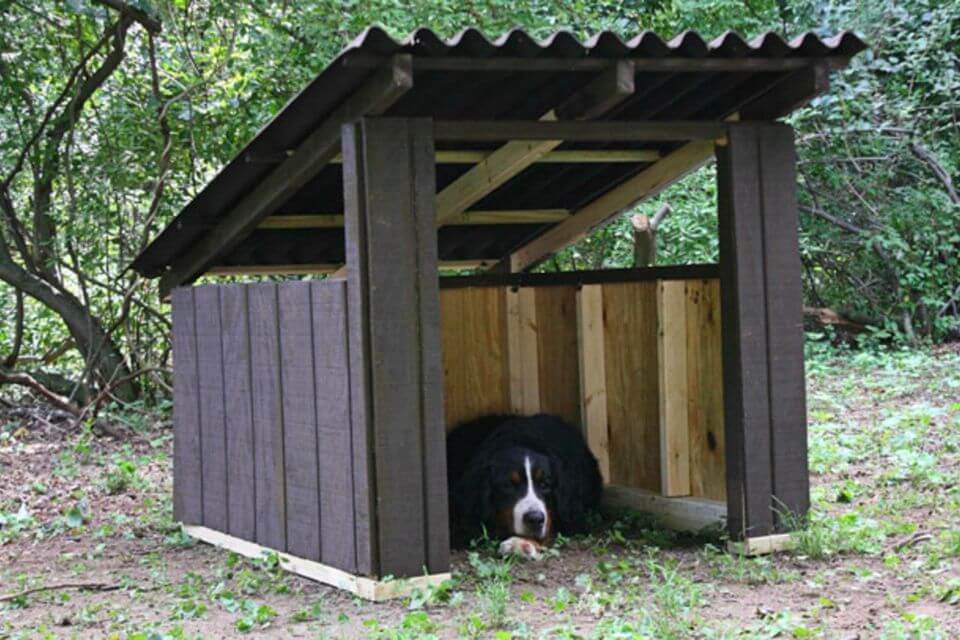 Another exceptionally beautiful and airy model of the doghouse that will rock for the summer season and can easily be settled to any outdoor! What is special in this design of dog house is the metallic tilted roof that will prevent retaining of rainwater, the dark painted wooden appeal, breezy design, and the big open front! Details here diynetwork
DIY Dog House with Perfect Landscaping: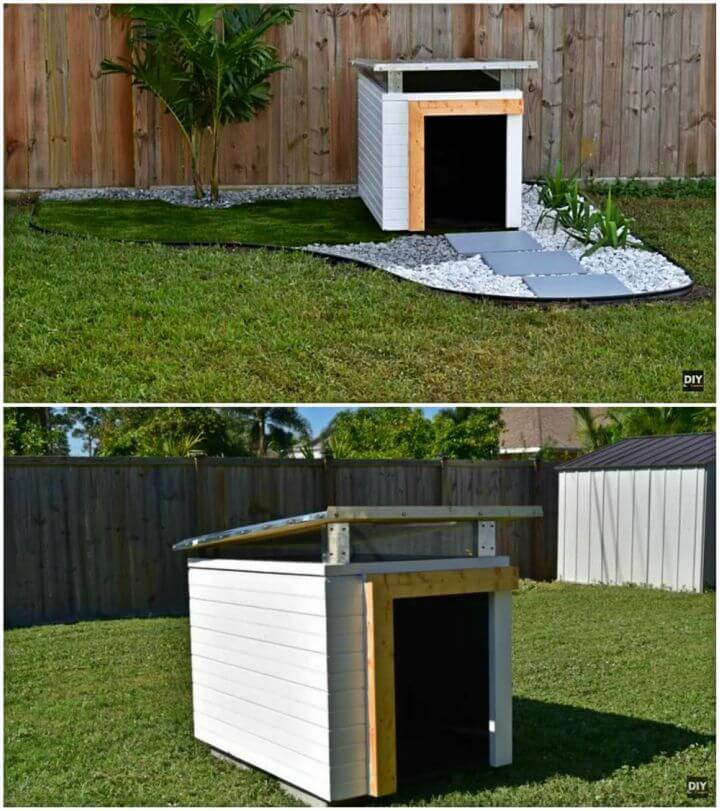 Boost also the visual of your outdoors by building exclusive doghouse just like this given one that will comes with perfect landscaping features! Build this super beautiful and modern dog mansion using the plywood, wood posts and do the assembly with metal plates and other hardware! Don't forget to install the steel tilted roof! Details here homecrux