It is an expensive affair to decorate your home exteriors! Outdoor landscaping projects may indeed cost you big for getting that divine look of your home outdoor that you have wished for! Doing bigger projects can add a stunning curb appeal, but sometimes the mini details and some small projects may have bigger impacts on the overall beauty of your home exterior! The DIY mailbox plans are always something that if selected in beautiful look or appeal, can add a great curb appeal!
So, if you are having some boring or less attractive mailbox installed to your home exterior, then you can just consider redecorating them for an engaging look and appeal so it would add a great curb appeal! You can really decorate your mailboxes and mailbox posts in so many different ways, really need some cool suggestions and ideas for this? Then just check out these DIY Mailbox plans that will definitely win your heart and will help bring tons of charm to your boring mailboxes or posts! Here all these ideas from the genius crafters around the globe and hence will definitely amaze your senses with the creativity involved!
Adhere the stones all around your wooden posts and create a stunning stone look of your posts, install the new mailboxes and make fabulous looking mailbox posts that will also create a refined look of your home exterior! Make also smart use of wood and PVC pipe to make lovely mailboxes like a pro which will demand a very low maintenance! Next, build the adorable wooden mailboxes which can be painted and added with metallic house numbers for a superb look and appeal! Have a look at the lovely given below sample that has been painted in white and choco! Also, make the natural blank looking wooden posts and add the new mailboxes to them, add custom house numbers and make enticing looking mailboxes that will add great curb appeal for sure!
Make also the white painted wooden posts for the mailboxes and add black mailboxes to them for getting a cool black and white mailbox right in your lawn, get inspired of the given sample that is really looking lovely and great! Get also crafty with the recycled wood and make fabulous house-shaped mailboxes that everyone will just look at twice, just have a look at the given bungalow style mailboxes that will also make a great toy for the kids!
Next, you can also do amazing makeovers of your mailboxes like you can paint your mailboxes for quick enchanting appeals, just have a look at the posh looking copper painted mailbox! Also, decorate your boring mailboxes on a custom theme, the given coastal mailbox will make a great inspiration in this case! Next also paint your mailboxes for alluring stripes using paint or duct tape! Check out the entire collection to see some amazing DIY Mailbox Projects and Makeover Ideas and browse the respective attached links to reach to full free guides and visual tutorials for free!
Easy DIY Mailbox Makeover: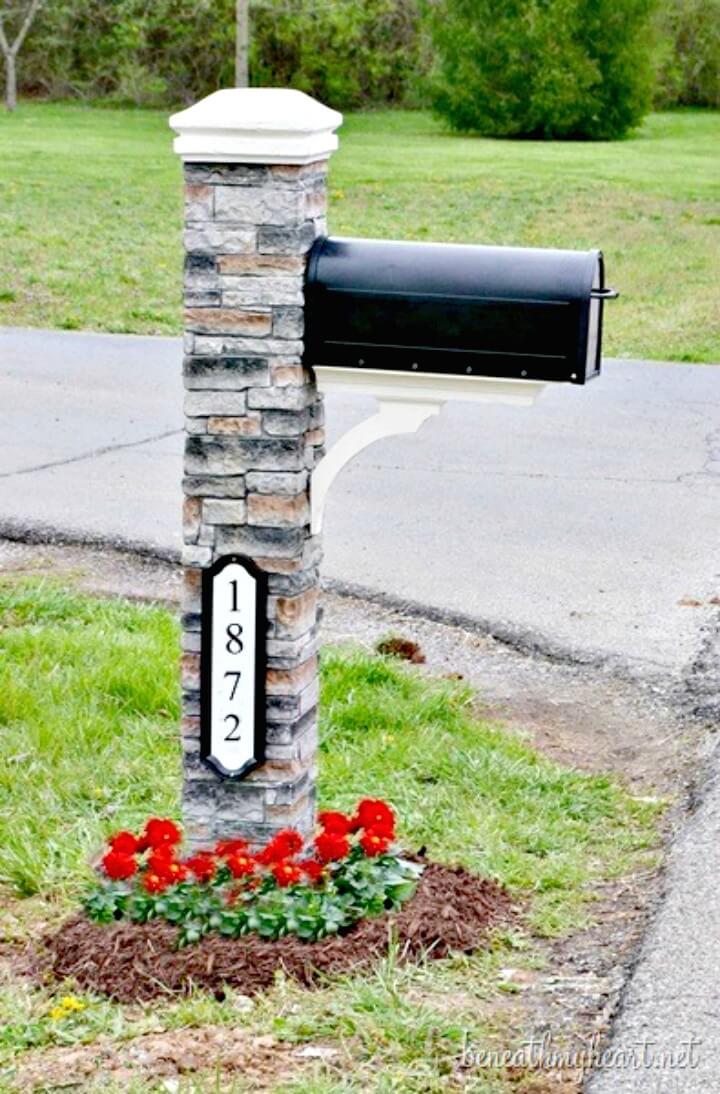 There are so many makeover tasks to do when you buy a new house and the mailbox is really one of them. SO here is how you can turn an old and dull looking mailbox into a really fun and updated outdoor possession with simple DIY work. You can layer up the wooden post with the stone post and then add a new mailbox to it and it would be all refreshing and fun to look at and put your mails in.You can check out the details of the complete idea here beneathmyheart
Build Your Own Low-Maintenance Mailbox:
When you are a DIY lover then you can solve all your home decoration problems and makeover plans on your own. You can create this lovely mailbox on your own and spruce up the decor of your outdoor spaces with it. You would need some wood, some PVC pipe, mailbox accessories, and some paint to build this lovely mailbox and award a new refreshing look to your outdoor spaces with it.You can check out the details of the complete idea right here familyhandyman
Adorable DIY Wooden Mailbox Tutorial:
When you can work with the wood and your crafting tools you can do so many fun projects to add beauty and style to your spaces. So here is the idea of creating a self made mailbox with the wood with a rich wooden appeal, gorgeous stain hues, enchanting design and the timeless possession for your outdoor beauty and decor.You can check out the complete making details of the mailbox here with easy and step by step instructions to follow yourself feasibly at home fourgenerationsoneroof
DIY Mailbox Garden and Makeover – Spring Garden Project:
One of the things that comes across you first when you enter someone's house is the mailbox and it ought to be gorgeous and stylish so that your first impression of the house goes really well.SO here is how you can make your mailbox loo all stunning and fun with some changes like planting flowers in the pots feet, staining the mailbox and then adding house number to the post. You can learn the complete details of this makeover idea right on this link to try them out homedepot
DIY Mailbox Makeover Tutorial:
Do not ignore your mailbox as it can add oodles of charm to your outdoor beauty and home style once done with a touch of utter beauty and style. So here we are sharing with you the lovely idea of mailbox makeover that involves the painting the post and mailbox, planting the base of the post and then circling it with the garden stones. You can learn the complete tutorial of the mailbox makeover right on this link so do check it out thegardeningcook
Build Your Own Custom Mailbox: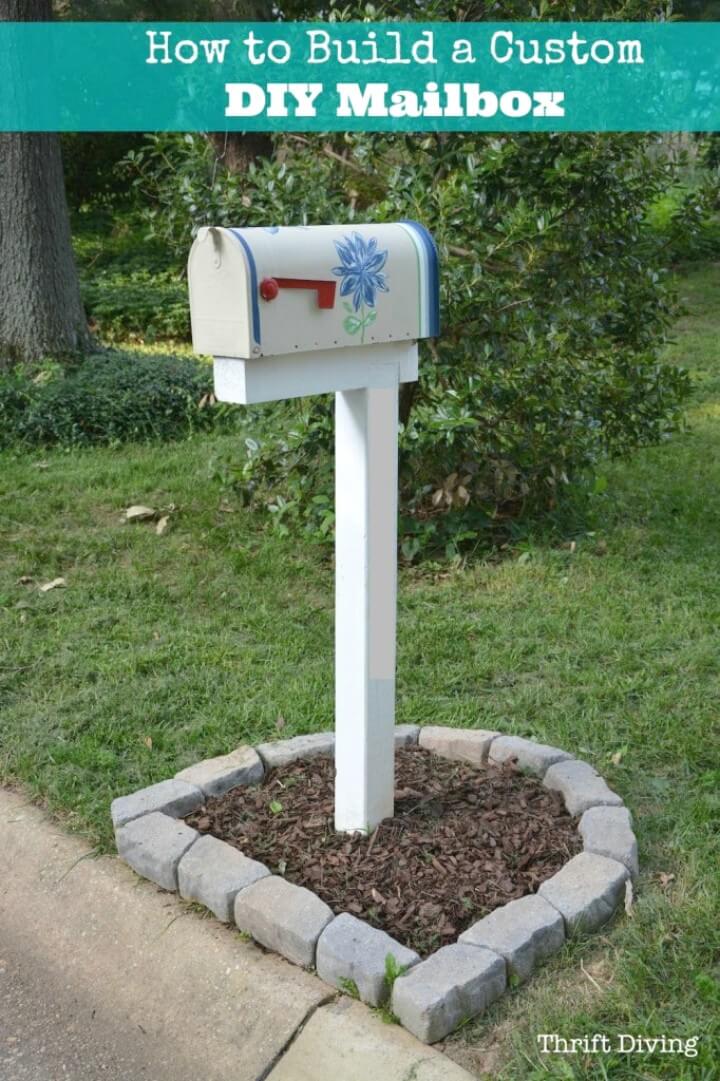 It would bring a smile on your face every time you get to put your mails in that lovely and adorable looking mailbox standing upright in your outdoor spaces. The post and the mailbox has been stained in white for a complete dazzling look and the base has been rounded up with a stone circle and thus easily turned this pretty post into a fancy and chic outdoor decor spot along with being a function possession.You can check out the details of the idea right here thriftdiving
Make Your Own a House Shaped Mailbox: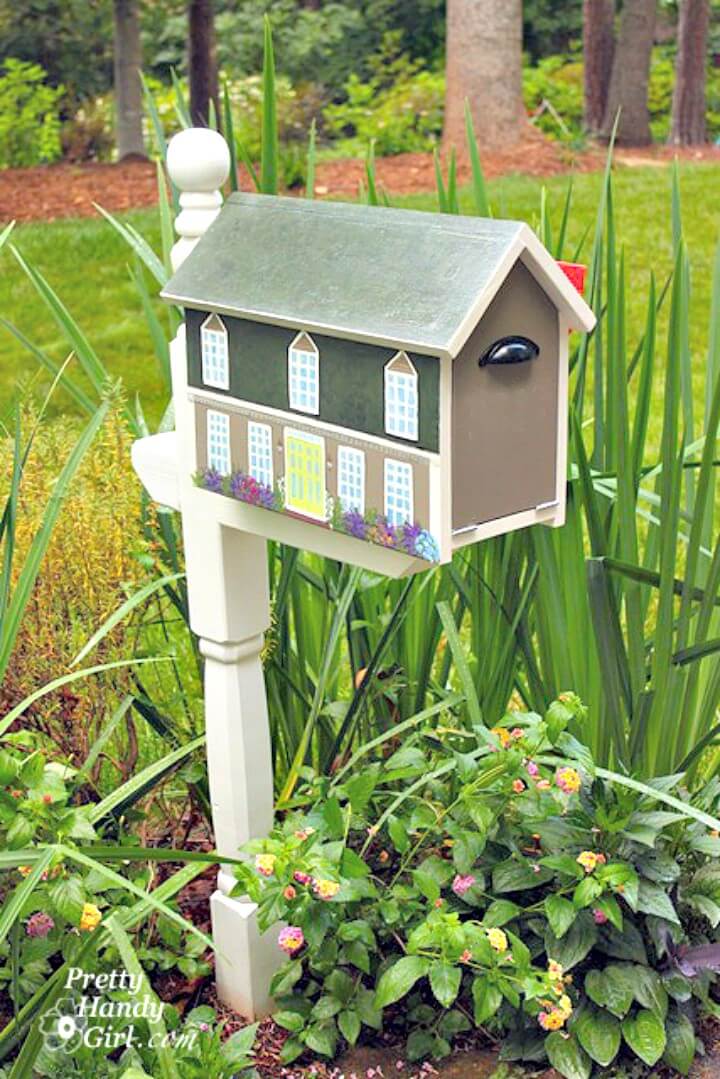 Hey, you all the homey lovers if you are in search of some unique and fun ideas for the restyling of your mailbox then here is the idea of doing it with the home theme. Yes, you can turn your mailbox into the shape of a house and painting it with all the features of a house as a door, windows, and that pretty flowery lawn and thus make it look so cute and lovely with just a few strokes of the paint and paint brush.You can check out the step by step details of the complete idea here prettyhandygirl
DIY Mailbox Makeover Using Copper Paint:
There are so many great ideas when it comes to the pretty makeover the mailboxes and here is a cool one with us to share with you and you would surely fall in love with it. The mailbox has been spray painted all over with the copper with the black stain on the post and the pretty flowers adding more to its whimsy look. You can learn the complete tutorial here with easy steps and instructions so do catch it here sandandsisal
DIY Coastal Mailbox Makeover: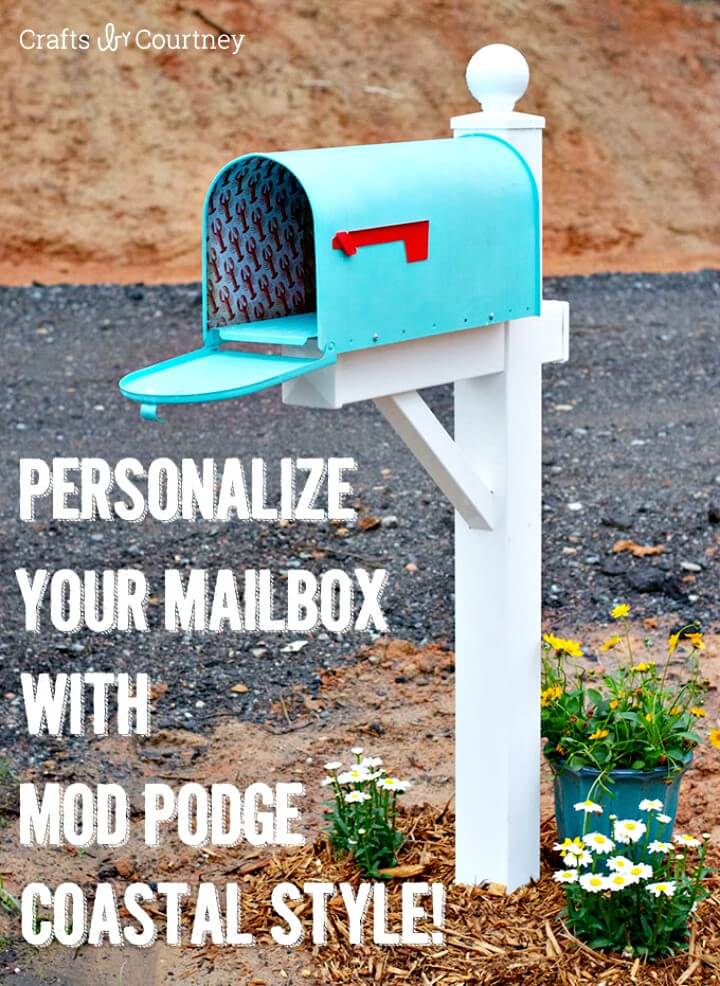 This summer brings some coastal vibes to your home decor including the outdoor section of your house too. So here is how you can make your mail box look so much fun and beachy and that too with just the paintwork on it. The wooden post has been painted in white and the mailbox with the aqua shade and the combination really brings out the cute summery look of the mailbox that would really startle up your outdoors for sure.You can check out the details of the idea right on this link to own it this Summer modpodgerocksblog
How To Turn Boring Mailbox Into A Traffic-stopping Piece Of Art:
When you can work with the tools and the wood you can really bring some custom touches to any of your decors be it the outdoor or the indoor spaces of the house. Here is this really quirky kind of wooden mailbox having been made up from the inspiration of the traffic stopper. A wooden vertical post has been installed by stacking the wooden planks and then staining them rustic brown and then attaching the painted mailbox to it.You can learn the details for the complete idea here mailbox.littlethings
DIY Mailbox Makeover With Duck Tape & Paint: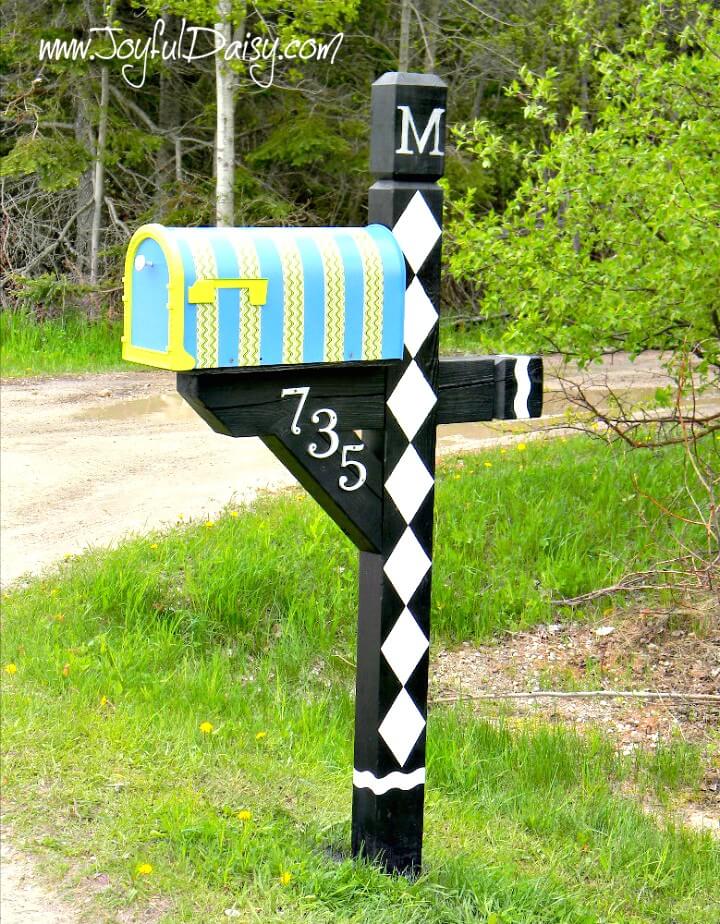 If you are a lazy crafter then here is the real time, money and effort saving idea for you to work on and make some interesting changes to your outdoor decor with this pretty makeover of your mailbox in the outdoors. Being available in lots of colors and patterns this mailbox has been turned to look so much fancy and delightful with the use of duct tape all over it.You can catch the step by step details of the idea here so that you can easily try this lovely mailbox makeover idea on your own.You can check out the details of the idea here joyfuldaisy
How To DIY Mailbox Makeover:
The mail boxes are one of the things that let people form the first impression about your house and the home decor and here is this lovely mailbox that has been easily and nicely made over at home to let you bring the personalized touches to your decor with some paint strokes, some patterns and that custom initial of your sir name on it along with the house number.You can check out the details of the idea here to grab the step by step instructions of the mailbox lollyjane
Inexpensive DIY Cardboard Mailbox: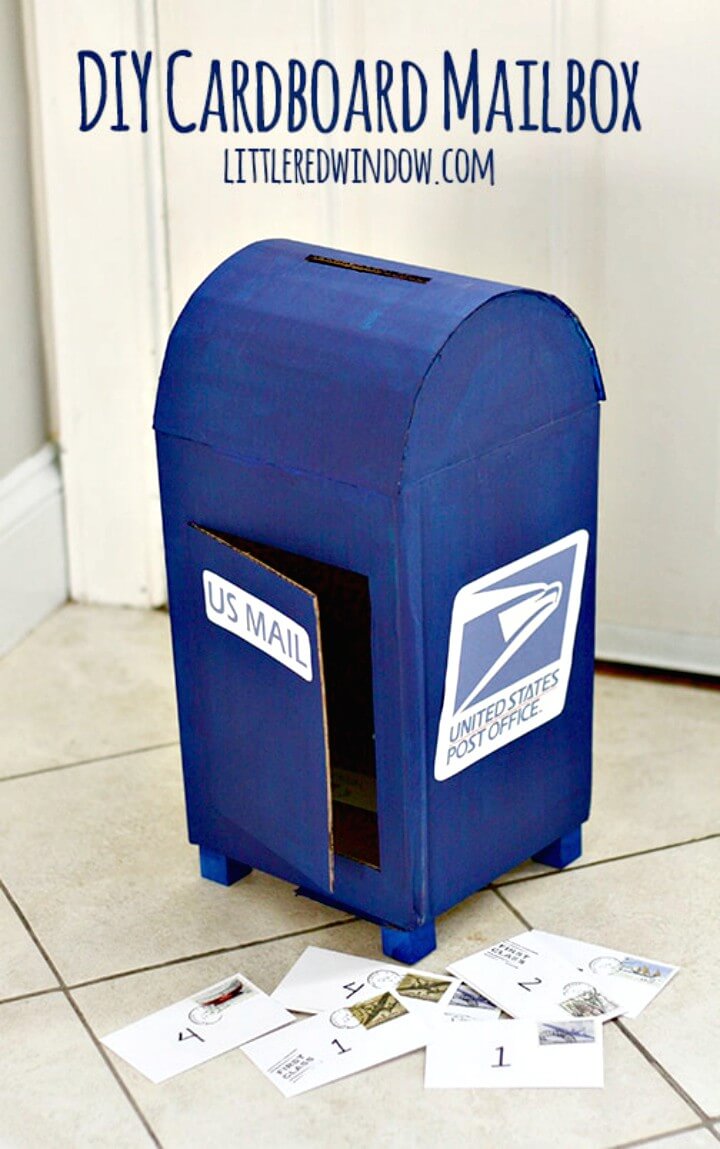 Card boxes are available in every house and there is a lot that you can make out of it and bring some fun touches to your decor and home beauty. This pretty mail box has been made been out of the card box with some cutting and gluing and then stained in the enchanting and lovely blue stain for the perfect catchy look. Everybody especially the kids would love to post their mails in this lovely and adorable mail box and here is the link to create it on your own with easy steps and instructions littleredwindow
Make A Trendy Mailbox Curb Appeal:
If you got an old and boring mailbox then we got this real genius and smart idea to turn it into the fancy front of your house. This double mail box has been easily installed from an old mailbox duo with the pretty makeover changes. It has been stained, painted, planted around and with a gorgeous wooden wall behind it.You can award this whimsy makeover to your mailbox when you by learning all its details here homemadebycarmona
Cute DIY Felt Mailbox for Kids: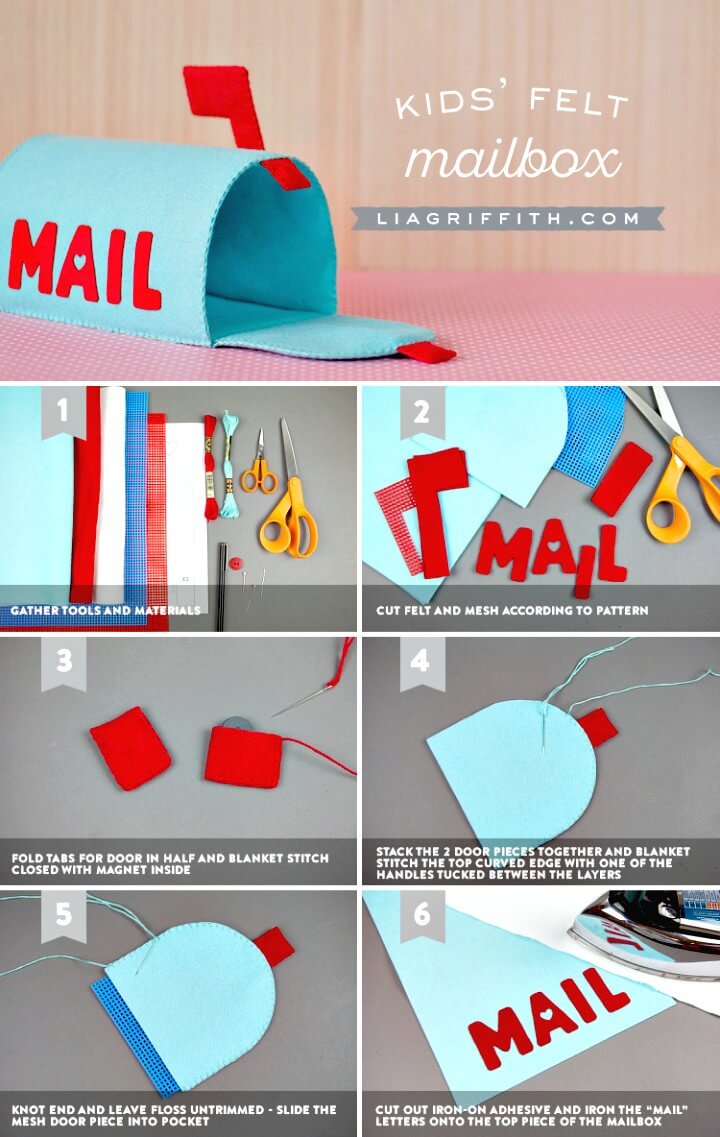 Felt is the best of the crafting things to get your hand son when you really need to add cute colors to any of the boring a dull things around like that 90's mailbox you are having in your outdoor spaces. Here is the complete tutorial showing how the mail box has been covered with the felt, written with the MAIL on the box with the pretty color combination of blue and red. You can check out the details of the complete tutorial here to do it yourself at home.Link here liagriffith
Make Your Own Mailbox Tutorial:
Even if IOU are low on budget you can still manage to bring some dazzling effects in your home decor with some cheap and genius DIY decor hacks like this smart mailbox makeover to one yourself at home. Yes, this old and outdated mailbox has been made to look completely updated and sassy with the paint added to it and that too in the complete dazzling manner. Yes, the post and the mailbox has been painted in complete white and the top metal part along with the house number has been done in black to make it look all stunning and cute.Check out the details of the idea here tidbits-cami
Adorable DIY Valentine's Day Mailboxes:
We love sharing the love letters to our beloveds on the valentine day and now you can do it the most interesting manner with the touch of traditional mailbox added to it. Yes these mini mailboxes have been made with the foam boards and decorated with the red fabric, ribbon and flowers so that you can make it a lovely part of your valentine day decor and table setting. You can check out the complete details of the idea here to own it for this 14th Feb jenwoodhouse
Simple DIY Doorknob Mailbox:
If you are looking for a fun and quick craft idea for the weekend to be done with the kids then you should be really working up this amazing card box made mailbox for your spaces. It would be so much fun and really quick to be done at home yourself along with your kids. You would need to cut a design of the mailbox and then write some custom words on it with the marker and make it hang on your door knob and its done. More details are given here crayonsandcroissants
DIY Cool Mailbox From A Pallet For Under $13:
Pallet wood is lying all around to make your so many furniture needs and home decor demands to be nicely fulfilled. So here is how you can add more functional and decorative touches to your outdoor decor with the use of the pallet wood by creating this really cute and gorgeous rustic wooden mailbox for the spaces of your backyard or garden. You can check out the details of the complete idea here to own one for your spaces oldworldgardenfarms
How to Make Valentines Mail Box:
You can enjoy the love Day with so many fun crafts too like creating this lovely mailbox to let everyone post a love letter for you in it and for other family members and cry their heart out. Using the card stock in red and a pink glitter sheet this pretty and cute table mail box has been nicely made up. It would really easy to trace your design and then cut it out and here is the link to check it out completely and learn its making step by step so that you can make it with your kids at the valentine day weekend lovepomegranatehouse