Enhancing your bedroom space with DIY floating nightstands is a fantastic way to add functional and stylish storage to your room. Floating nightstands, also referred to as bedside floating shelves, are perfect for keeping bedtime essentials close at hand, yet they occupy minimal floor space. Learn how to build floating nightstands with these 25 easy DIY floating nightstand ideas with comprehensive step-by-step guides suitable for beginners. Each DIY diy floating nightstand shelf plan, from wall-mount nightstand to IKEA floating nightstand hacks, is free and comes with a detailed guide, including a PDF plan and instructions, making assembly straight.
Whether your taste veers towards a modern DIY floating nightstand or a homemade floating bedside table with X-style sides, this curated DIY floating nightstand shelves collection will inspire you. Even if you're new to DIY home projects, these easy-to-complete plans will guide you throughout the whole process. Choose the perfect DIY floating nightstand that suits your style and improve your bedroom space today!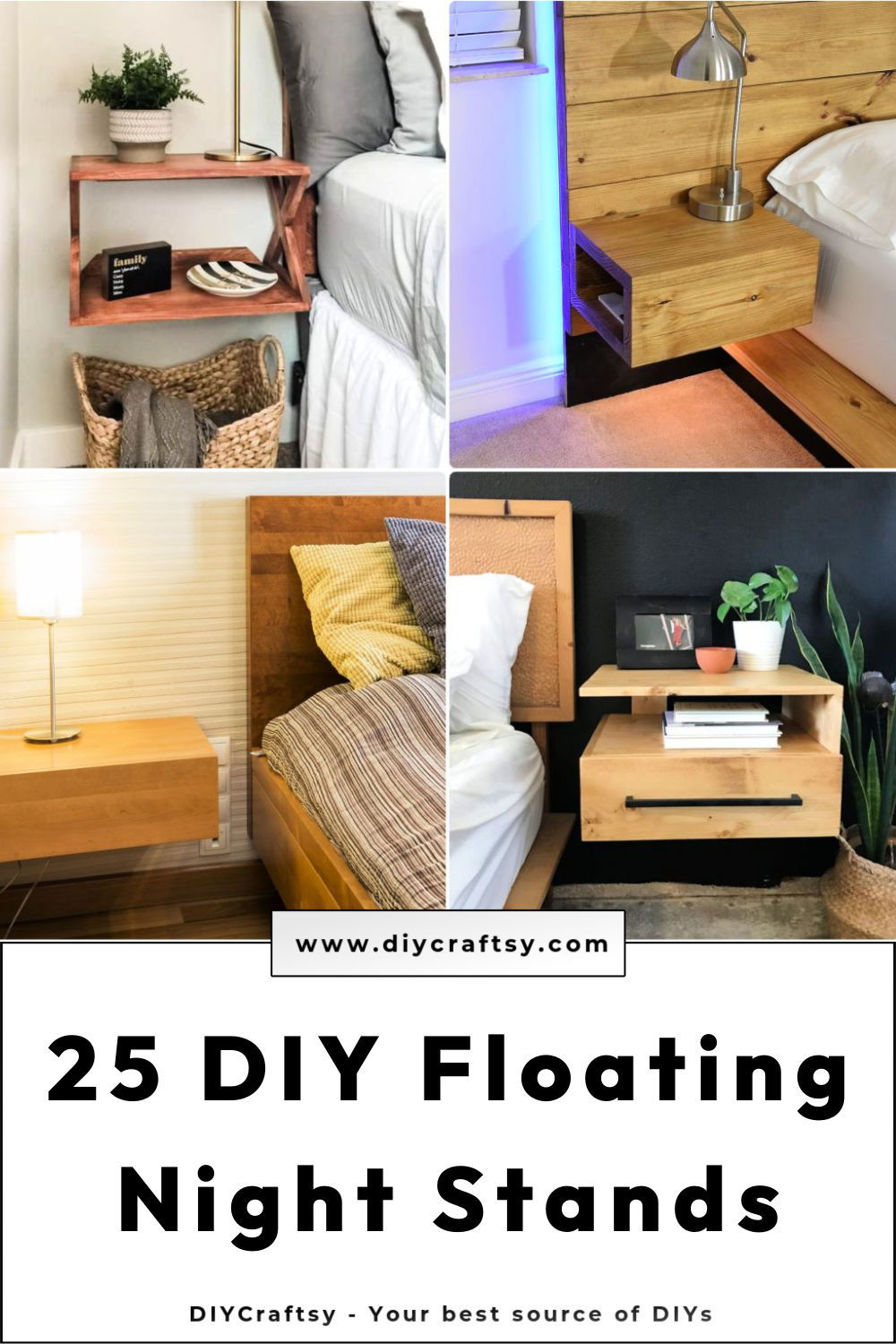 Discovering these DIY floating nightstand ideas is as fun as assembling them. Make a personalized space that speaks volumes of your creativity with our 25 DIY floating nightstand ideas that you can make easily with some basic tools and materials. Whether you want a simple shelf, a drawer, a basket, or a light, you will find something here that suits your taste and budget.
1. Floating Bedside Table With X-Style Sides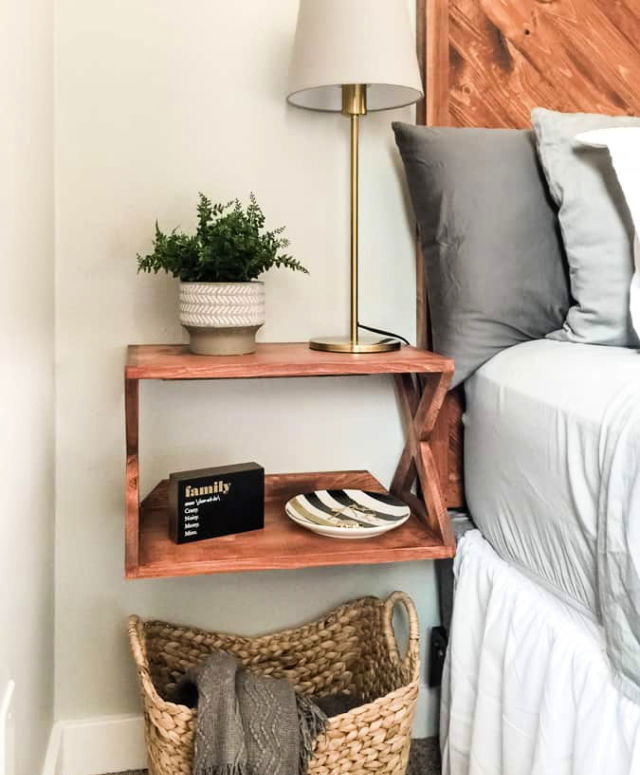 Learn how to build a DIY floating nightstand using basic lumber in just an hour! This farmhouse-style nightstand adds style and function to any bedroom while making the illusion of more floor space. Customize it with your preferred paint or stain color to match your design.
The tutorial provides step-by-step instructions, including cutting boards, sanding, assembly, staining, and sealing. Mount the nightstand securely to the wall using screws and anchors. Enhance your bedroom with these sturdy and stylish floating nightstands. Follow along with the printable materials and instructions to create your own. joyfulderivatives
2. Modern DIY Floating Nightstand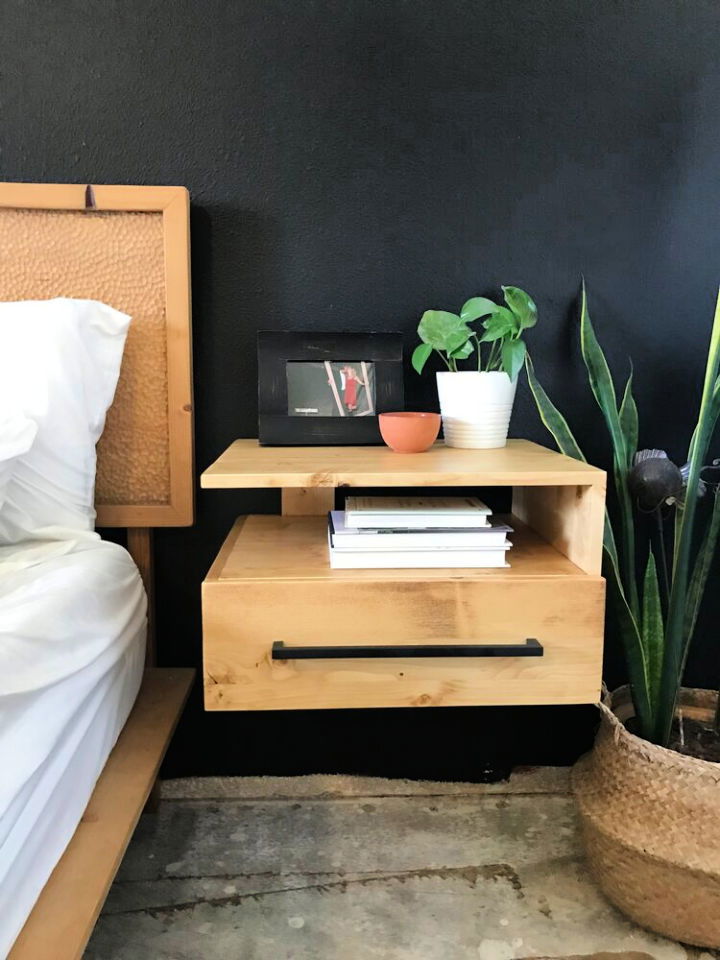 Build modern floating nightstands easily using kreg's new 720 pro pocket hole jig! This sponsored post provides step-by-step instructions to help you in the process. Spend only about $57 on materials like a 20″ x 96″ x 3/4″ pine project panel, 14″ soft-close drawer slides, and 1/8″ plywood or hardboard for the drawer bottom.
Enjoy features like an open shelf for easy access to items and a hidden compartment for additional storage. These floating nightstands are designed to provide ample room underneath while keeping dust away from your bedroom floor. Start building now! theawesomeorange
3. Homemade Floating Bedside Table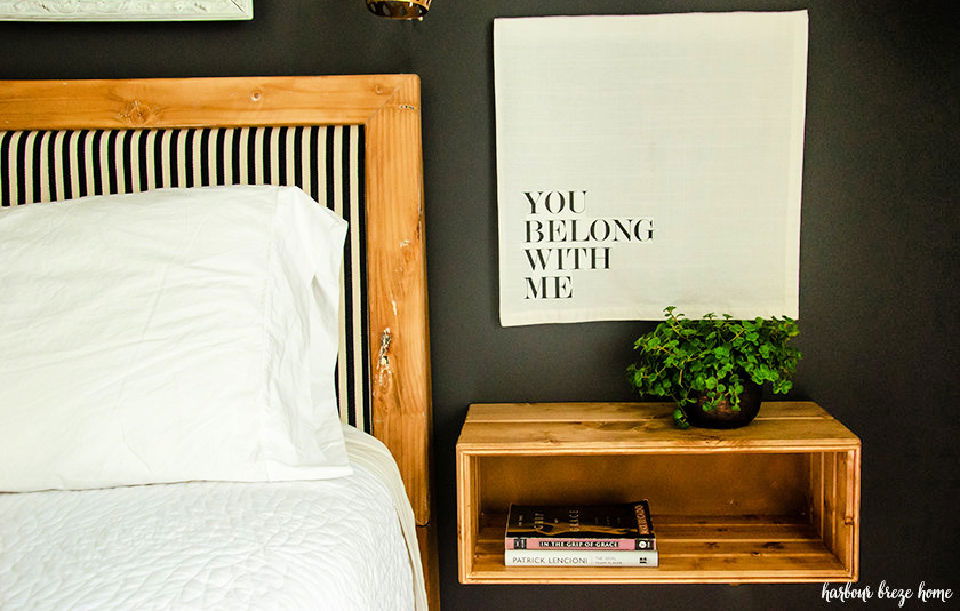 Transform your bedroom into an oasis of style and practicality with these DIY floating bedside tables! This tutorial will show you how to build simple yet chic tables from 1×6-inch tongue and groove pine boards. Utilize the space in your small bedroom efficiently with this affordable project – all you need is wood glue, an mdf board for backing, and some free time. Make sure to get creative while assembling the pieces, as all projects are unique! harbourbreezehome
4. Easy DIY Bedside Wall Shelf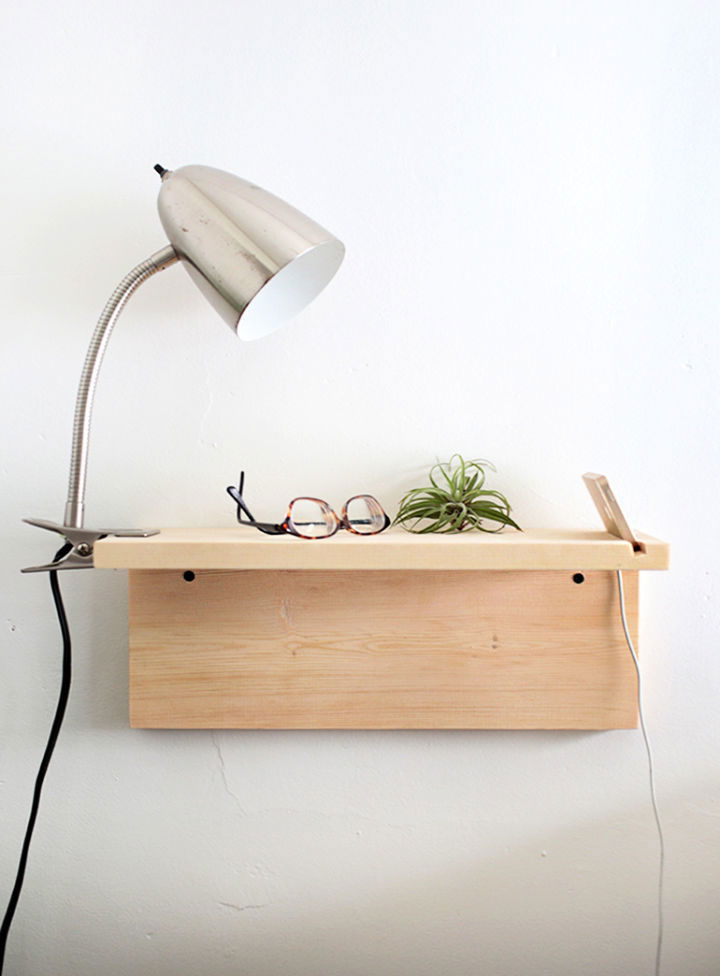 Revolutionize your bedroom with this beautiful DIY floating nightstand! Crafted from pine boards, it's a stylish and functional addition to any space. The design features a phone slot and minimal storage to keep things organized. Easily customize the look of the nightstand by staining or painting the pine for an eye-catching feature in your bedroom decor. All you'll need is 1×8 and 5/4×6 sized pine boards to get started – follow the instructions for construction and create a beautiful piece that will save valuable floor space. themerrythought
5. Hw to Make a Floating Nightstand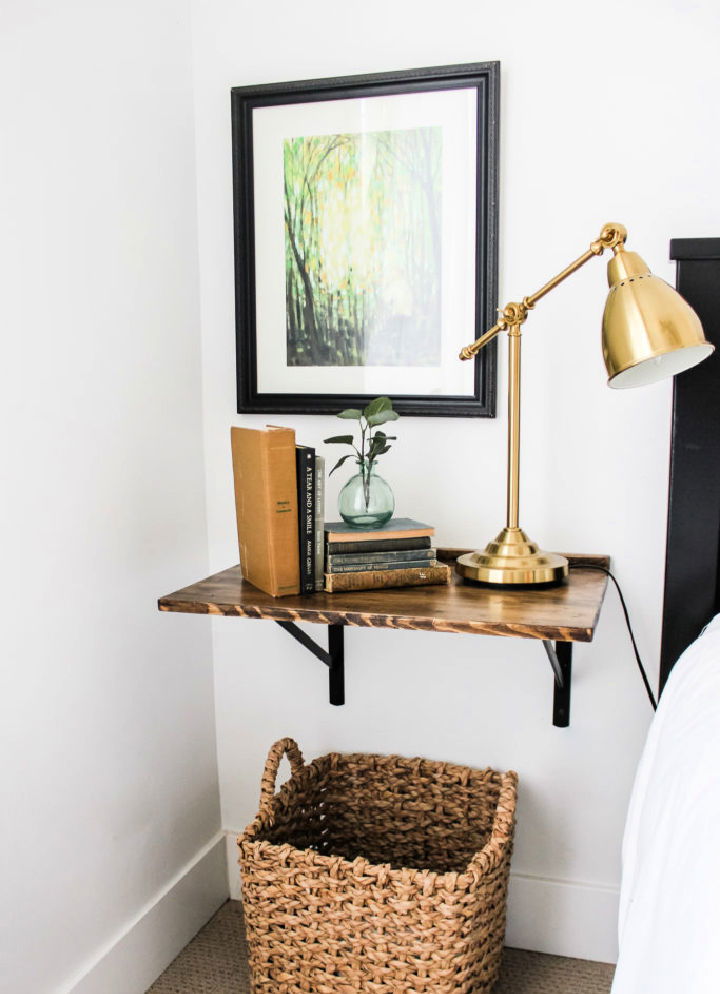 Construct a simple and elegant nightstand with this straightforward DIY tutorial! This industrial farmhouse-inspired project requires basic woodworking knowledge and can be accomplished in less than an hour. Gather a piece of lumber for the top, 1×2 board for the back ledge, and two heavy-duty shelf brackets. Sand down the wood, apply wood conditioner if staining, then finish it with your desired stain, paint, or polyurethane. This nightstand is sure to become one of your favorite DIY projects. simpleediy
6. Simple DIY Floating Nightstand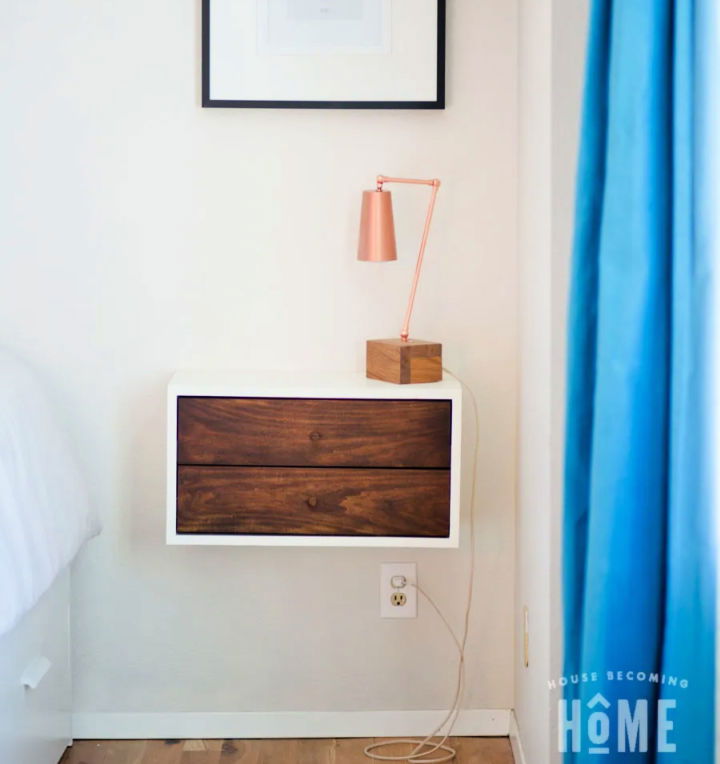 Marvelous and captivating, this DIY project provides an easy-to-follow guide for building a modern floating nightstand. With the right materials – such as 1x12x6ft board, two 1x4x8ft boards, plywood or mdf, and poplar hobby stock – you can create an eye-catching piece of furniture that offers extra storage space.
Moreover, the versatility of this design allows it to be adapted to closet organization systems and bathroom vanities too! Follow the full tutorial on making your own beautiful floating nightstand, plus more woodworking inspiration in this DIY project. housebecominghome
7. Easy DIY Floating Night Stands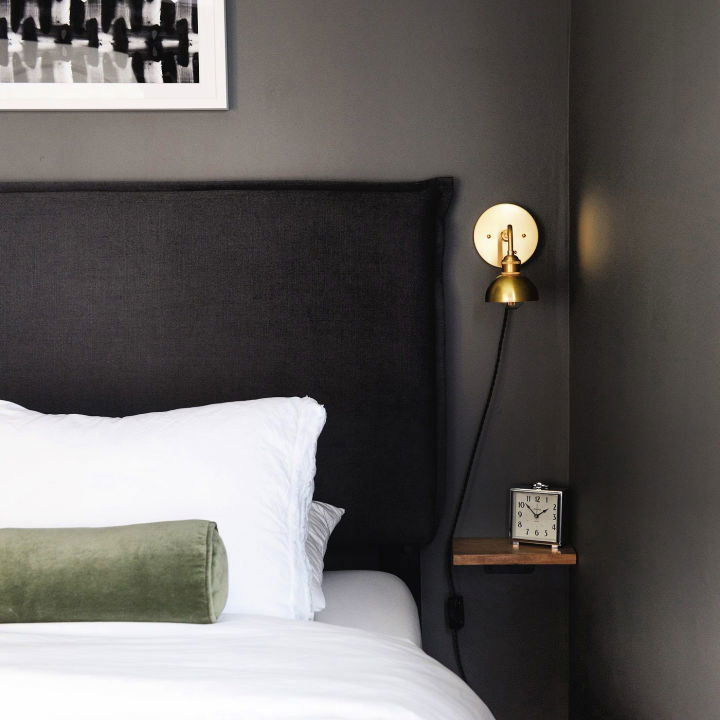 Crafted from select pine and finished with a 4″ corner brace, these floating nightstands are an ingenious way to maximize space in narrow bedrooms. Inspire your décor with this DIY project; all you'll need is flat black spray paint, wood stain (optional), polycrylic, and the 1″ x 6″ board. Follow along with the tutorial – it's easy and rewarding! Make room for essentials next to your bed without sacrificing style. Get creative – craft your own one-of-a-kind simple yet stylish floating nightstands today! yellowbrickhome
8. DIY Wall Mounted Nightstand Under $30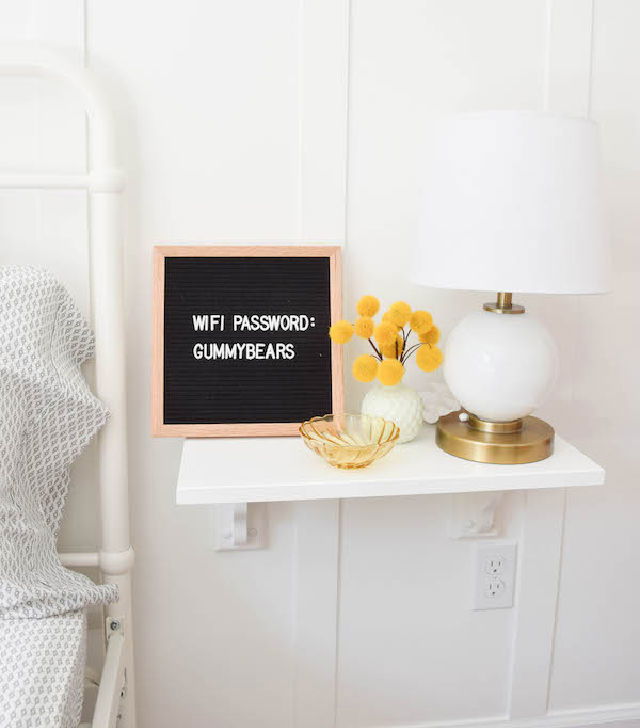 Build a stylish and affordable wall-mounted nightstand with just some materials! This DIY undertaking utilizes detailed corbels from the hardware store and can be completely customized to fit your space. Sand and paint a 20 x 10-inch piece of poplar wood, affix the corbels, and mount the nightstand to the desired height on the wall utilizing drywall anchors.
The completed piece adds an elegant touch to your room, supplements board, and batten details. Have fun customizing the nightstand with ornamental items to upgrade its overall look. Achieve this stylish project affordably–no expensive carpentry tools are needed! rachelschultz
9. Build Floating Nightstands With Wireless Charger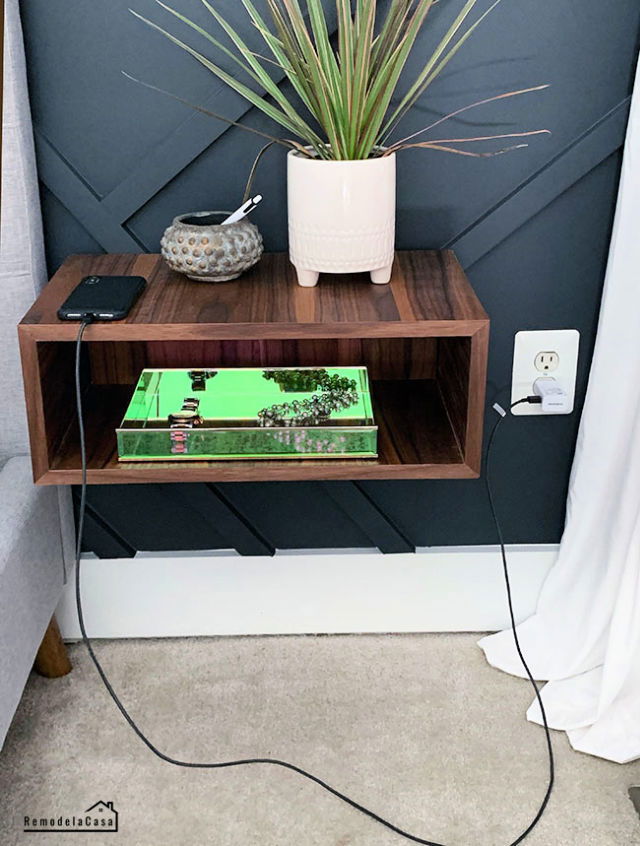 Put together fashionable and utilitarian nightstands with wireless phone chargers using this straightforward DIY project! Gather the necessities, including a sheet of plywood (3/4 in. X 2 ft. X 8 ft.), wood glue, walnut edge banding, tung oil, and a wireless charger. Assemble a box shape utilizing the plywood and secure it with wood glue, afterward, add walnut edge banding for an exquisite look.
Finish the timber with tung oil to obtain an attractive natural finish – then attach the wireless charger onto both nightstands for effortless device charging while you relax at your bedside. Revel in your trendy yet practical modern-day nightstands today! remodelandolacasa
10. How to Build a Floating Nightstand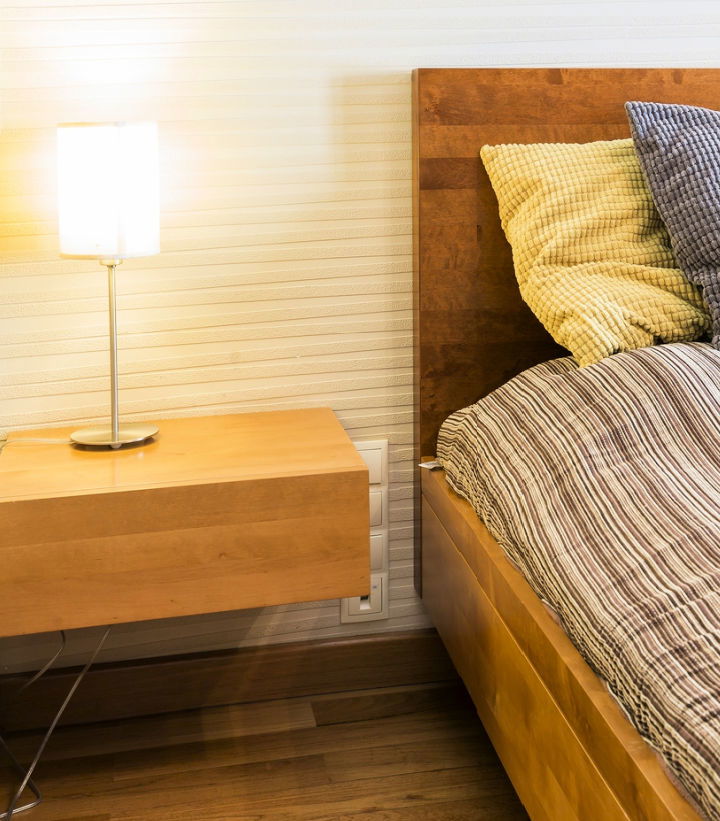 Fabulous DIYers, create your own unique floating nightstand with this easy guide. All you need is wood, l-brackets, wood glue, small finishing nails, and basic tools.
To make a simple shelf-type nightstand from repurposed or lightweight woods cut to 24 inches in length or less and 6 inches deep – then sand and customize the look with paint or stain. Attach l-brackets to the shelf before securing them to the wall using screws and anchors for extra hold.
If you opt for a two-shelf rectangle design, assemble rectangular and square wooden pieces using l-brackets – be sure to attach them securely onto wall studs for added stability. Get creative by adding fun finishes like stains & paints! This fun project lets you enjoy your new custom floating nightstand quickly! housetipster
11. Free Floating Bedside Table Plan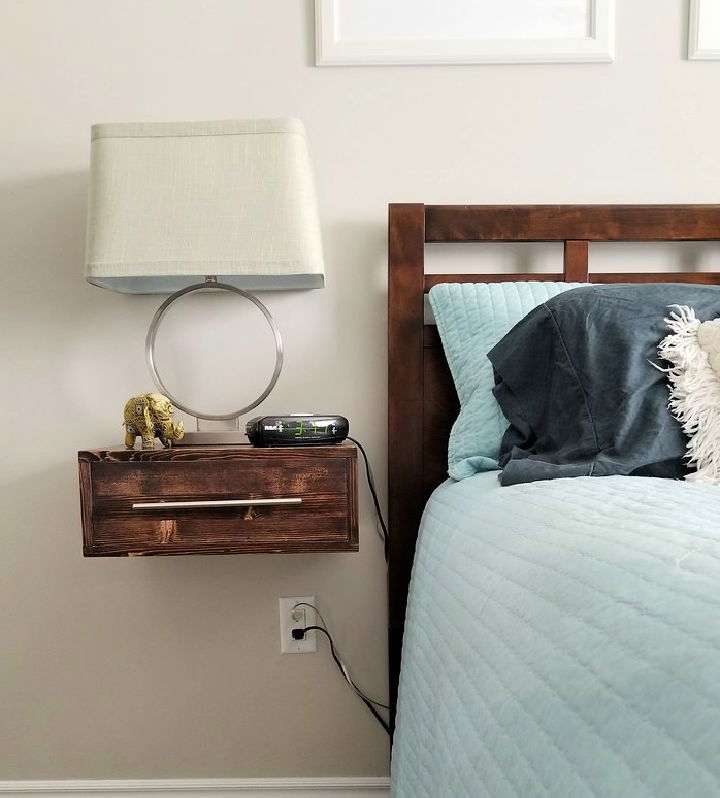 This DIY floating bedside table project creates an elegant and space-saving addition to your bedroom! With pine shelving boards, the frames and drawers measure 18″w x 14″d x 7″h. Secure the sides of the frames using countersunk screws and wooden guides inside for easy drawer movement. Coat the tables with minwax stain in jacobean and red mahogany shades for a stylish finish. Mount them on a 2″x 6″ lumber as a mounting board, then add brushed steel handles for flair. Constructing these floating bedside tables is rewarding; enjoy your new creation that adds more style to your room! turtlesandtails
12. DIY Floating Night Stands With Drawer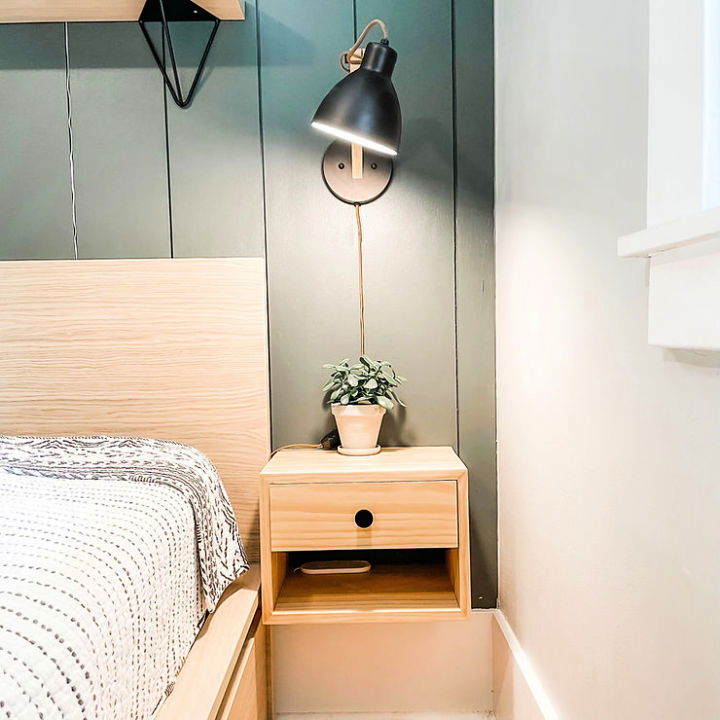 By using this DIY project, get ready to build your own sophisticated and low-cost floating nightstands with drawers. Instead of buying expensive choices, utilize ordinary pine boards that flawlessly match your current furniture. Get the materials you need including (2) 1″x12″x8″ common pine boards, (2) 10″ drawer slide sets, (2) door pulls, water-based polyurethane, wood glue, (8) 3/4″ corner braces, (8) 1/2″ flat corner braces and wood filler to complement the stain. Feel proud of how much money you save while getting a perfect fit for your bedroom. hyggespruce
13. How to Do Floating Night Stands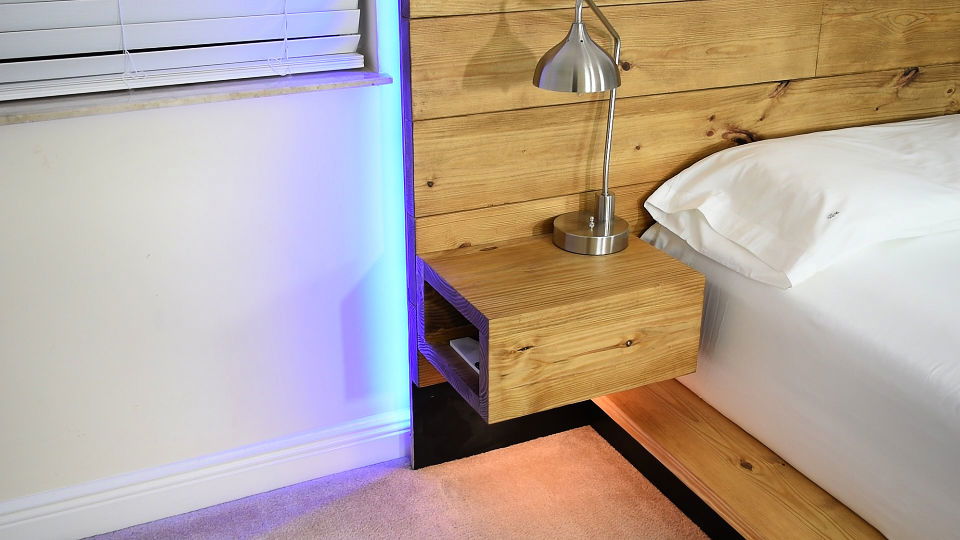 Time to build your own magnificently crafted DIY platform bed with floating nightstands! This project features luxurious led light strips along the headboard, hidden electrical outlets and charging ports, and a sleek modern design. Prepping lumber, constructing the headboard & nightstands, plus fitting in power & electronics are key steps here.
All you need are basic tools like miter saws, clamps & drills, plus materials such as plywood, lumber, screws & dowels for the perfect led lighting addition. Follow detailed instructions to bring this chic yet functional bed into your bedroom – make it yours today! diycreators
14. IKEA Floating Nightstands Hack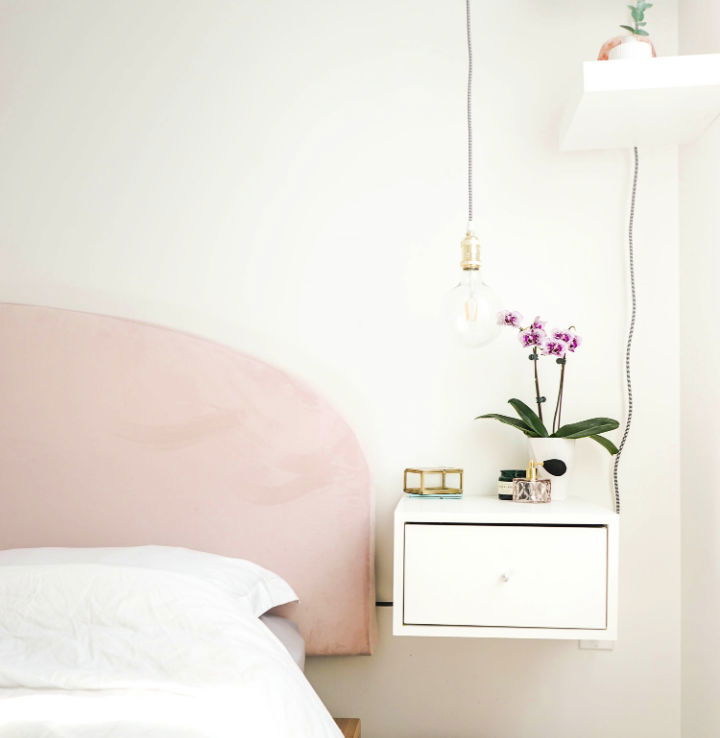 If you're looking for a simple and creative way to upgrade your bedroom, look no further! This easy ikea kallax hack will transform your shelf insert into stylish floating nightstands.
Gather the necessary materials: the kallax insert, laminate shelving (5/8ths of an inch thick, 15 ¾ of an inch wide, 72 inches long), l mounting brackets, furniture braces, heavy-duty screws, and wall plugs. Then follow the instructions to attach the kallax insert to the laminate shelves using the hardware provided and mount them to your walls. In no time, you'll have beautiful new floating nightstands that will surely be a conversation starter among guests! thesorrygirls
15. DIY Small Floating String Nightstand
Great DIY project to craft an exquisite and economically-viable floating table! Gather a wooden cutting board, coated steel wire, ferrules, pincers, a drill, and a hook for the task. If desired, include leather material with adhesive, scissors, brush, and belt punch.
Follow the instructions to cut the wire and drill holes in the cutting board; attach a leather surface (optional) before threading through the holes. Utilize ferrules to fasten the ends of the wire and hang the table from the ceiling hook – voila! Revel in your unique creation of this contemporary & budget-friendly floating table! monsterscircus
16. Cheap DIY Hanging Bedside Table Only $20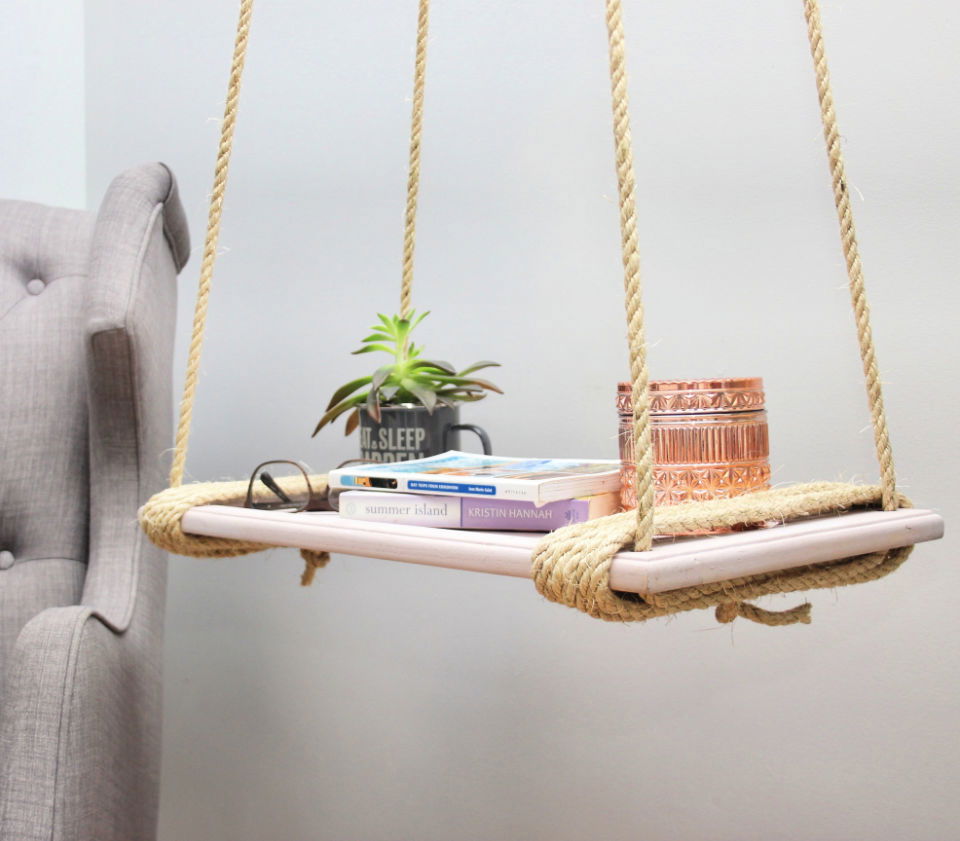 Awesome and affordable, this DIY project is the perfect way to add a stylish bedside table to your room. With only a few supplies such as an old cupboard door, twisted sisal rope, rust-oleum chalked ultra matte paint in blush pink, rust-oleum chalked protective topcoat in matte clear, a ceiling hook, sander, and drill – you can create something special for less than $20! Follow the instructions to paint and seal the cupboard door, then drill holes for the rope before finally hanging it from a ceiling hook. Make unique décor with this hanging bedside table! kariskelton
17. Making Your Own Floating Nightstand Shelf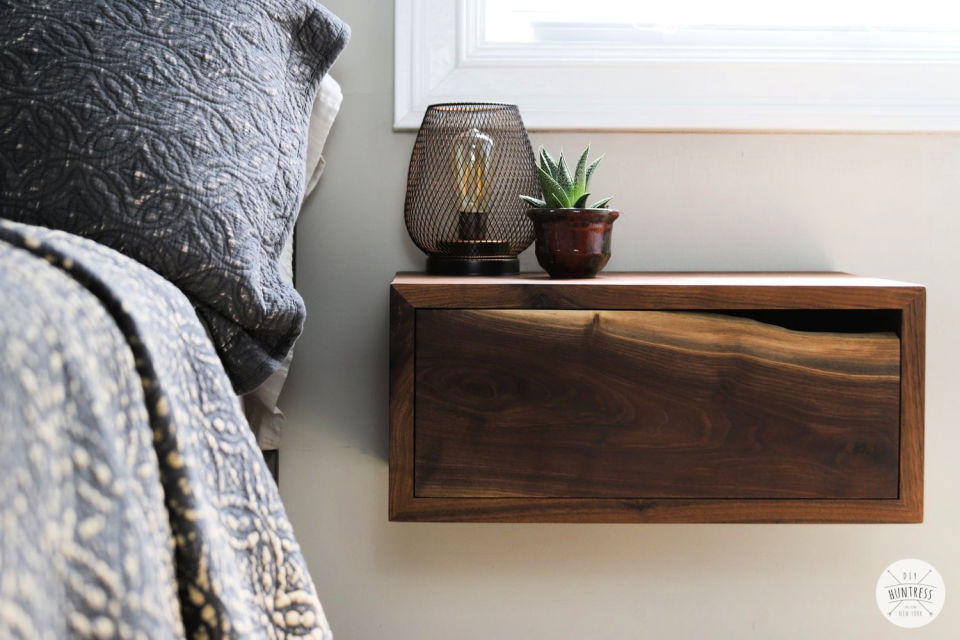 Wonderlusting to add a unique touch to your bedroom? Learn how to build your own floating nightstands with live edge drawers – an exquisite DIY project that requires materials such as live edge slab, walnut board, poplar boards, and more. With measurements provided for the overall dimensions of the top, bottom, sides, and drawer parts – follow the steps outlined in this video tutorial for a satisfying woodworking experience! Get ready to craft an unforgettable addition to your home décor. diyhuntress
18. Rustic DIY Floating Nightstands With Drawers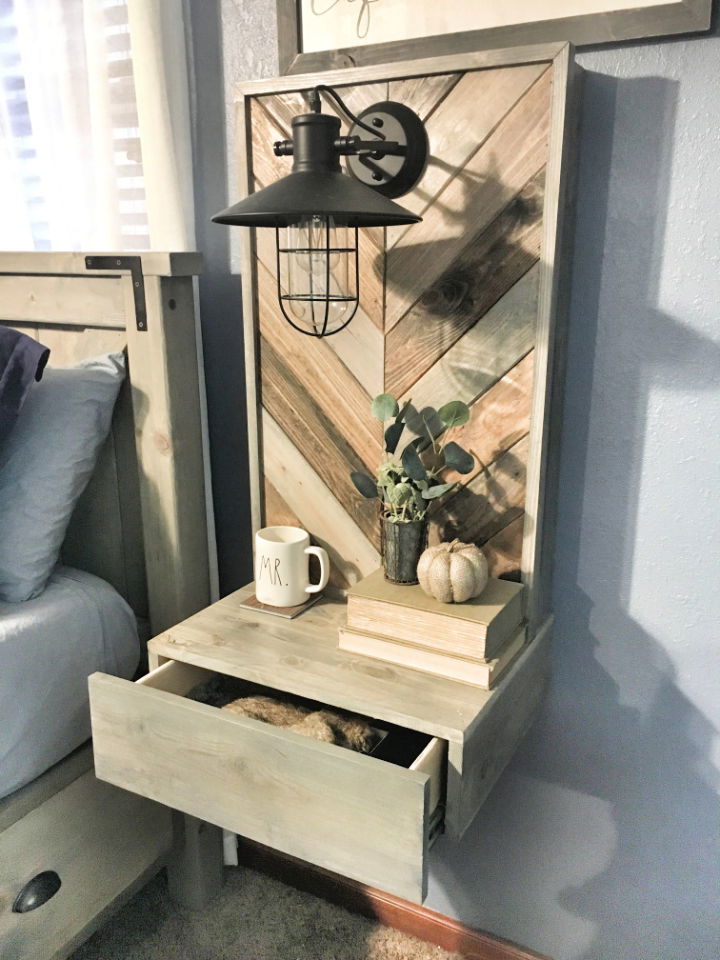 This intermediate-level DIY plan can create amazing and beautiful rustic floating nightstands. Transform any bedroom in one weekend using the provided supplies list, including materials such as 2x4s, plywood sheets, project panels, drawer guides, electrical boxes, and more! With precise measurements for each component and a total cost of $250, you can go right. The project provides design inspiration and pictures of the finished nightstands – an amazing addition to any home! ashleydianndesigns
19. Making a Floating Storage Nightstand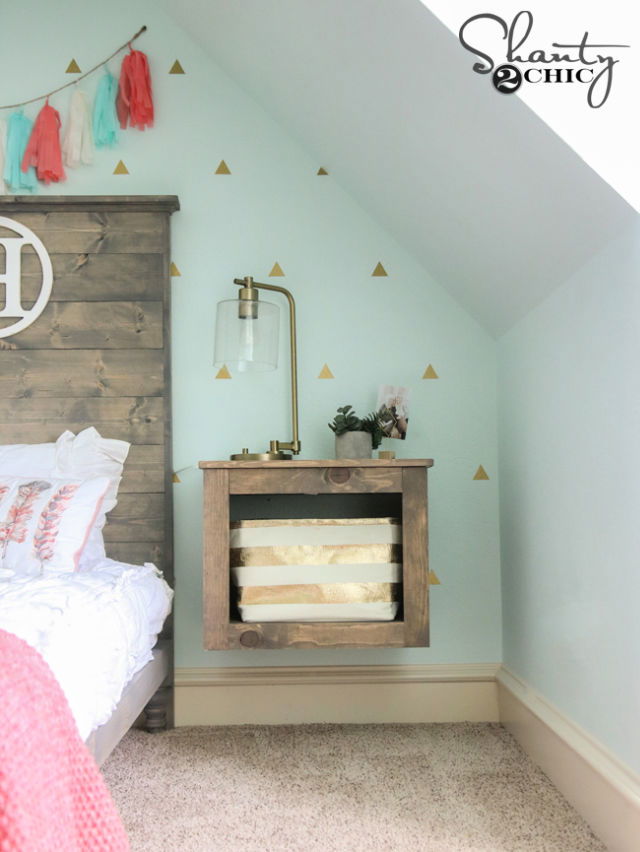 Elevate your bedroom decor with this stylish and functional DIY floating storage nightstand. Follow these easy-to-follow plans to create the perfect nightstand for your storage needs. Constructed using 3/4″ hardwood plywood, pocket hole joinery, 1×4 boards, and wood glue, the durable box offers ample storage space – plus, customize it with baskets for a personalized touch. You'll love how this chic addition brings practicality and style to any room! shanty 2 chic
20. Building a Floating Nightstand From 1x8x8 Board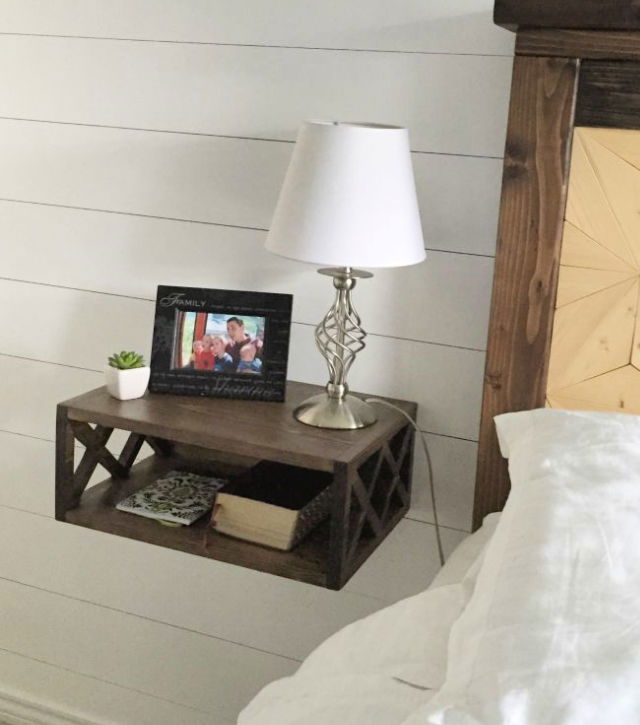 Fantastic! Learn how to craft your DIY floating night stand with a double x pattern using just one simple board. This DIY tutorial presents this project as an ideal way to save floor space and increase storage options in any bedroom. Follow along the step-by-step instructions and detailed pictures provided as you rip the 1×8 board into strips and use pocket hole joinery for an easy build. Ultimately, you'll have a sleek, stylish nightstand that looks amazing. One of the best DIY nightstand projects that everyone can do easily! mylove2create
21. How to Make a Floating Nightstand With a Modern Vibe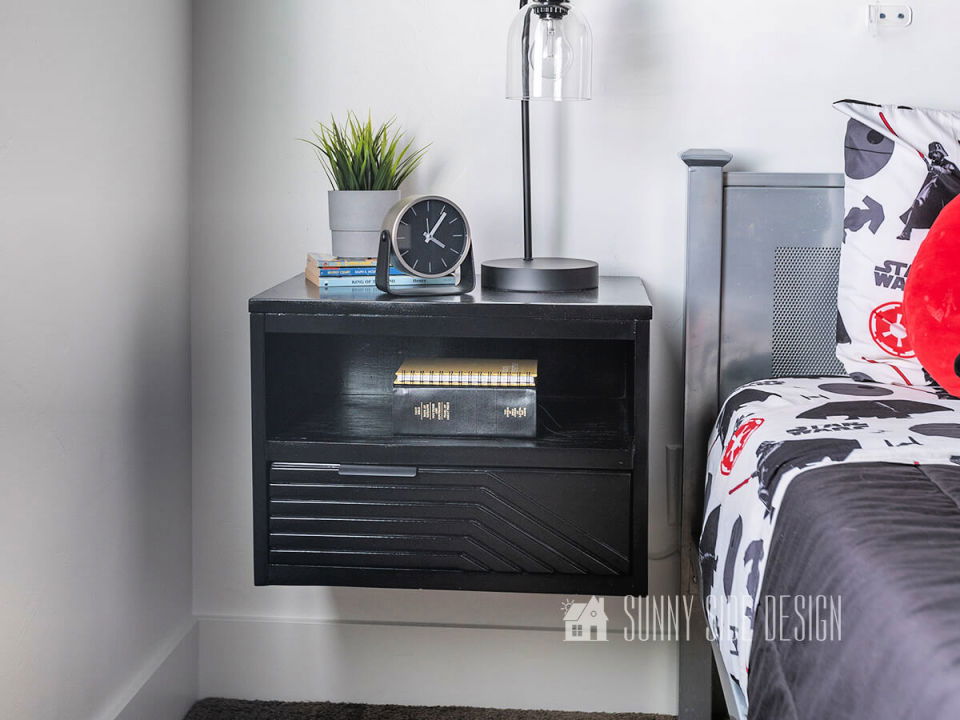 Revitalize your bedroom with this easy DIY project! Transform a traditional nightstand into an ultra-sleek, modern floating nightstand. Remove molding and shorten the nightstand to create an open shelf and easy-access drawer section for under-bed storage. Tools such as table saws, drills, pocket hole jigs, bondo, and more are needed – primer, black spray paint, and modern drawer pull for the perfect finish. Enjoy the transformation of your furniture by following these step-by-step instructions! 2thesunnyside
22. How to Make Your Own Floating Nightstands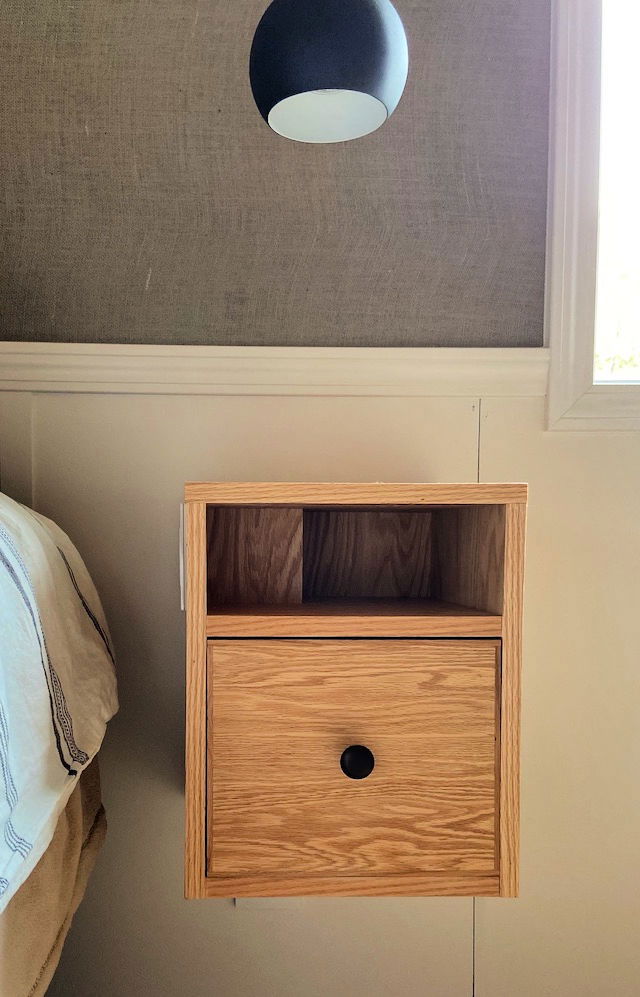 Enhance your bedroom with custom DIY floating nightstands that not only provide convenient storage but also incorporate switch boxes for easy access to your light and fan controls. Using 3/4″ oak veneer plywood, follow the step-by-step process to cut, sand, and assemble the nightstands. Apply teak oil to the inside surfaces before assembly and add edge banding for a polished look.
Once complete, mount the nightstands on the wall using cabinet screws. These stylish and functional nightstands bring a touch of creativity and practicality to your bedroom décor while keeping your switches within arm's reach. Upgrade your sleeping space today! redwoodbluepine
23. Simple Floating Nightstand Building Plans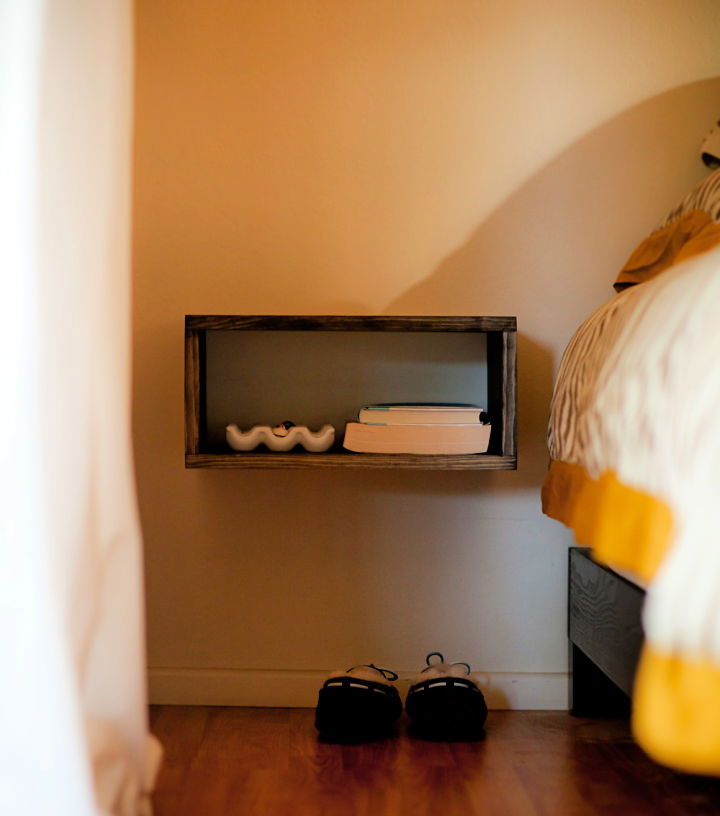 Transform your bedroom with budget-friendly DIY floating nightstands! Tired of pricey furniture options, I took matters into my own hands and crafted two stylish floating nightstands for just $20. With Home Depot as my go-to for supplies, this creative project is perfect for adding a touch of uniqueness to your room. Follow my simple step-by-step guide and create your own nightstand for as little as $10. Get ready to elevate your bedroom decor without breaking the bank! hejdoll
24. Unique DIY Floating Nightstand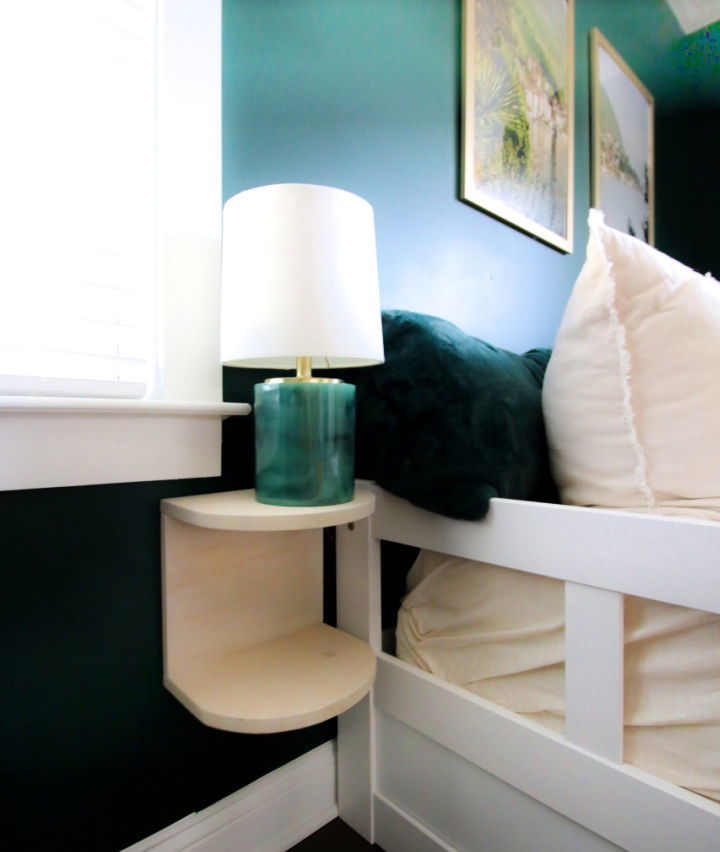 Elevate your bedroom decor with these DIY modern floating nightstands! Designed to maximize space and add a trendy touch, these low-profile bedside tables feature stylish arches and two shelves for your essentials. With just a few supplies like pine boards, wood glue, pocket hole screws, and keyhole hanger brackets, you can easily build these nightstands for around $20.
Follow the step-by-step instructions, including cutting arches, attaching boards, staining, and sealing, to create a sleek and functional floating nightstand. Perfect for small spaces, these modern arched nightstands are a versatile addition to any design scheme. charlestoncrafted
25. DIY Wooden Floating Nightstand Design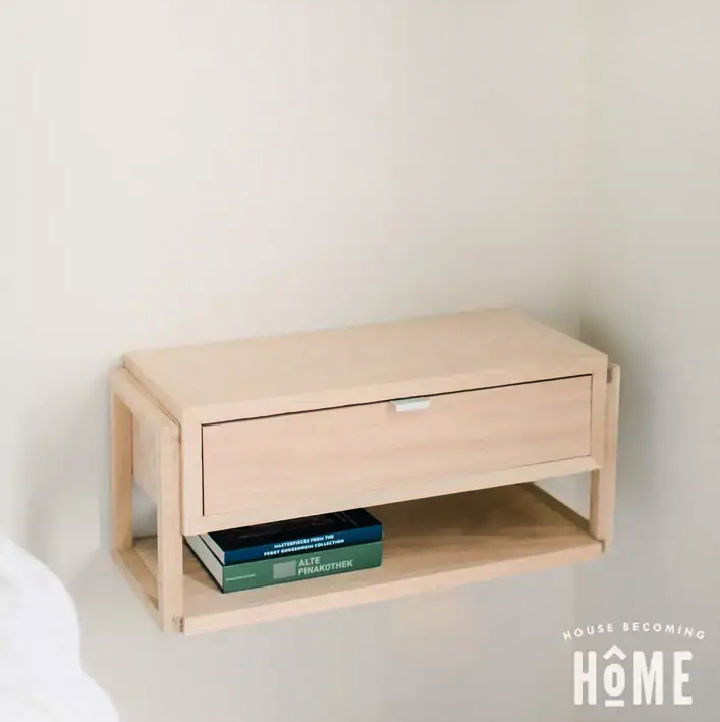 Discover how to build a modern floating nightstand with hidden wireless charging in this step-by-step DIY guide. The nightstand features a sleek design and is secured to the wall with a French cleat, making it perfect for small spaces.
Learn how to cut and join the lumber, create a recess for the wireless charger, fix bevel cuts, build a drawer box, attach drawer slides, and install the drawer face. The tutorial also includes tips for attaching the legs and making a French cleat. With detailed instructions and helpful photos, you can create a stylish and functional floating nightstand for your bedroom. housebecoming
Related DIY Projects
Discover amazing DIY furniture ideas to transform your bedroom with our easy-to-follow guide. Learn how to create extra storage, build a DIY furniture and decorate your way to a dreamy bedroom!
Conclusion: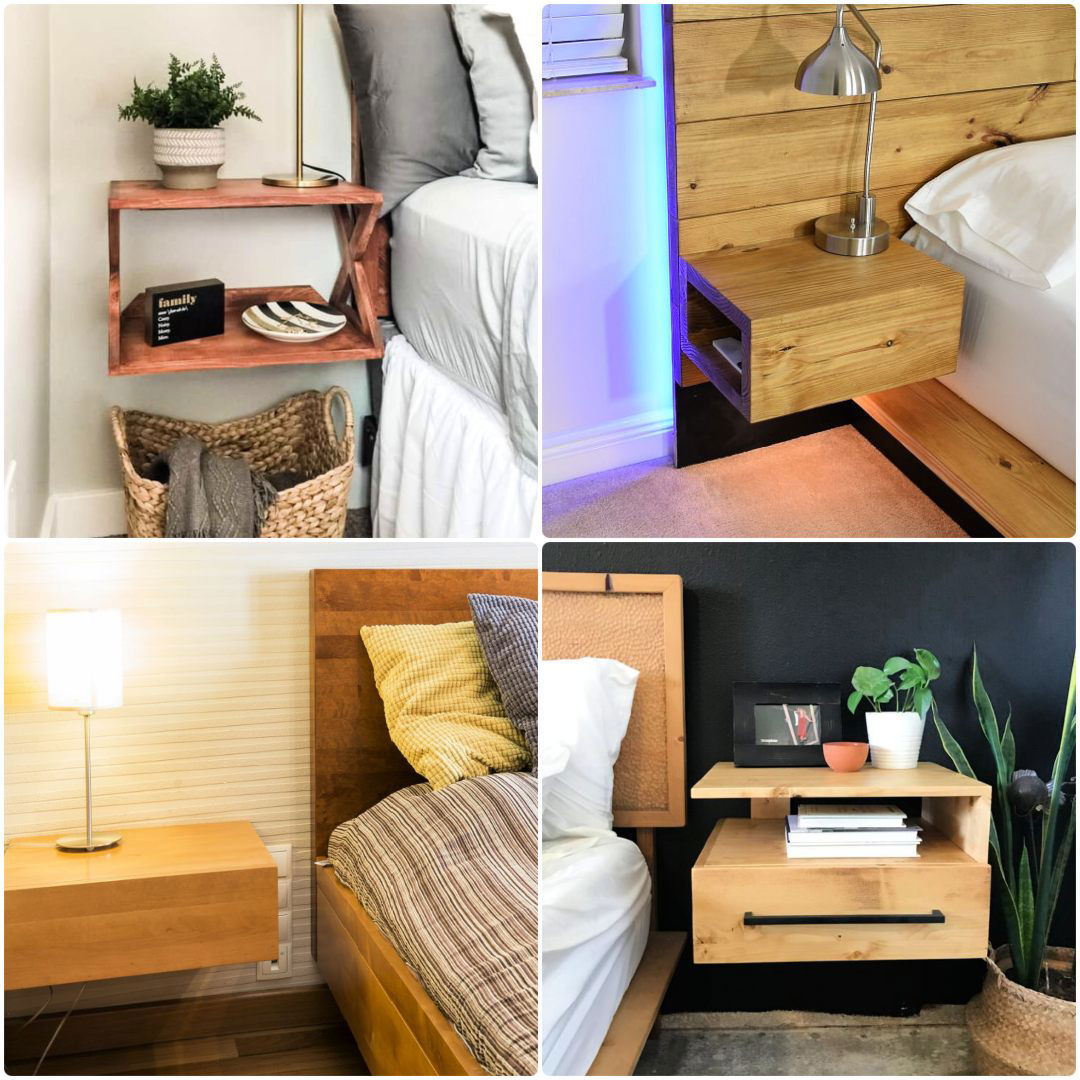 In conclusion, making a floating nightstand can transform your bedroom, providing a practical and stylish solution for organizing your essentials. With 25 DIY options available, including modern designs, rustic themes, and even budget-friendly choices, there's a perfect choice for every taste and skill level. From Ikea hacks to wall-mounted and wireless charging options, you can customize your bedside space with unique floating shelves. So why wait? Start crafting your personalized floating nightstand today!