Are you at the beginning of your crochet journey and looking for crochet doll patterns to get started? Or are you an experienced crocheter looking for some fresh ideas? How to crochet dolls and amigurumi with these 30 free crochet doll patterns for beginners, including step by step instructions PDF guide. These crochet amigurumi doll patterns feature dolls of different shapes and sizes, perfect for any crochet enthusiast. Even better, all crochet dolls featured in this collection are easy enough for beginners so that everyone can join in on the fun.
All these free crochet doll patterns are available as pdf downloads, making them convenient and easy to print. To make things even easier, all instructions come in English. Get inspired by these crochet dolls today, and begin your next crochet adventure now!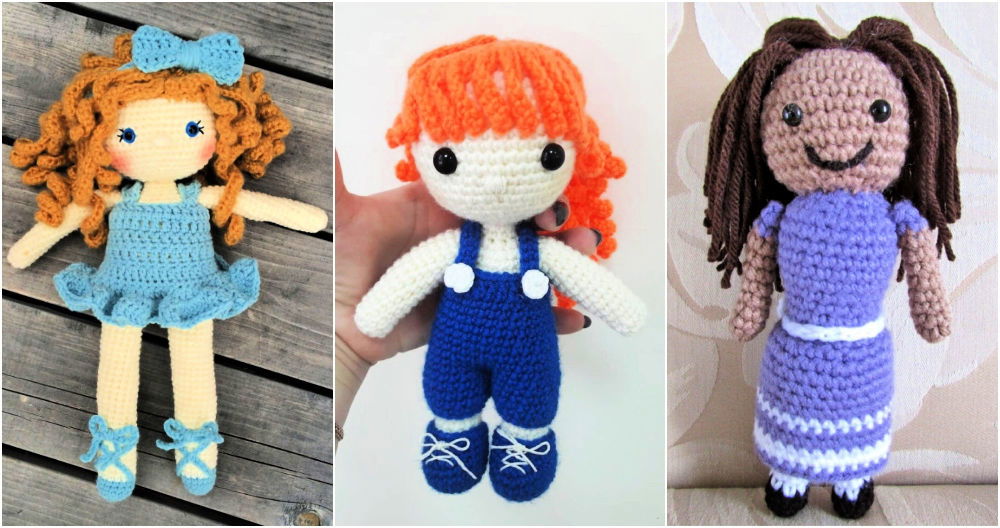 30 Free Crochet Doll Patterns
A bizarre addition to crochet amigurumi patterns, crochet dolls. Create amazing dolls with these free crochet doll patterns that fit every budget and skill level. Crochet dolls have always been a great toy obsession for little girls. Even with the arrival of modern tech toys and gadgets, classic dolls still have a great place in kid's hearts. The perfect yarn buddies will be these yarn dolls, the cute handmade gifts for little girls. They will love to add them to their new dollhouses. Get here the 30 Free Crochet Dolls Patterns, which will help to crochet a doll plushie in every style. Not merely the dolls, these patterns will allow you to crochet dolls in lots of colorful dresses and with lots of hair colors.
The list covers many famous crochet doll patterns inspired by celebrities, Disney queens, and Frozen princesses. Crochet the kids' favorite Myla doll, Rosie Doll and Grace dolls, etc. Crochet, the sailer moon amigurumi, will be the best yarn buddy and huggable yarn toy, and also, crochet primrose dolls will be a cool addition to a dollhouse. Add the shiny black button eyes and use the custom yarn colors for the hairs of choice. Explore the entire list of Free Crochet Doll Patterns to see all the incredible yarn stuffed doll toys.
Is it easy to crochet a doll?
Crocheting a doll can be both easy and challenging depending on the complexity of the pattern. With some basic crocheting skills, creating cute dolls with unique features can be fun and rewarding. Start off with an easy pattern and slowly work your way up to more complicated designs as you gain experience. With some patience, dedication and creativity, crocheting a doll can be an enjoyable activity.
How long does it take to crochet an amigurumi doll?
The amount of time it takes to crochet an amigurumi doll can vary depending on the type, size and complexity of the design. Generally speaking, a simple small-sized doll may take about 4-5 hours to complete, while larger or more complicated designs could take anywhere from 8 to 20 hours or more. Patience and practice are key to getting the best results. With enough practice, you can easily churn out a single amigurumi in just a few hours!
Is amigurumi suitable for beginners?
Yes, amigurumi is a great craft for beginners! It requires basic crochet skills and simple techniques to make cute stuffed animals and other items. With patience and practice, anyone can make beautiful amigurumi in no time at all! Get creative and have fun crafting your very own amigurumi creations!
What is the difference between crochet and amigurumi?
Crochet is a type of needlework that involves the use of a crochet hook to interlock loops of yarn or thread. On the other hand, Amigurumi is the art of crocheting small, stuffed animals and dolls. The process for both techniques is similar in that both require looping and knotting yarn; however, the key difference is that amigurumi requires stuffing the pieces after crocheting them. Amigurumi also often uses a variety of techniques to give the finished pieces a more complex design. Additionally, crochet projects are usually flatter than amigurumis and use fewer stitches.
Overall, both crochet and amigurumi techniques involve the interlocking of yarn or thread, but amigurumi patterns are usually stuffed and may require different stitches to achieve a more intricate design.
What is the easiest amigurumi to make?
One of the easiest amigurumi to make is a basic crochet doll. All you need are some yarn, a crochet hook, and some stuffing material. Start by making a slip knot and then crochet a chain of stitches. Increase or decrease the length to adjust the size of your doll. Add stuffing material to make it more firm before closing off the top. With some practice and patience, you can produce a cute amigurumi doll in no time!
What types of crochet doll patterns are suitable for beginners?
For beginners, simple crochet doll patterns are the best place to start. Patterns with basic shapes such as circles and ovals, or animals like bears, cats and rabbits are all great choices. Look for projects with basic stitches like single crochet, double crochet, half-double crochet and slip stitching. Gaining confidence with these basic techniques will help you advance to more complex crochet doll patterns.
Common Crochet Stitches & Techniques Used in Amigurumi Dolls
Amigurumi dolls are crocheted creations that have become popular in recent years. In order to create these cute little dolls, a variety of crochet stitches and techniques are used. Common stitches and techniques used in amigurumi include single crochet, half double crochet, magic ring techniques, increasing and decreasing, embroidery techniques for facial features and assembling the finished pieces. With these techniques, you can make all kinds of amigurumi dolls that come alive with personality!
Each stitch or technique used in crochet has its own unique look and feel and will give your project a different appearance. When making an amigurumi doll, it's important to use the right stitches and techniques so that the finished project looks like a well-made creation. With some practice, you'll be able to create unique and detailed amigurumi dolls in no time!
You can make all kinds of beautiful crochet amigurumi dolls by combining different crochet stitches and techniques.
1. Single Crochet:
Single crochet is the most basic of all crochet stitches and is perfect for making dolls, amigurumi, or other small items. It creates a tightly-knit fabric when used alone, or can be combined with other stitches to create advanced crocheted patterns. With its versatility and ease of use, single crochet is ideal for crafting beautiful crochet dolls amigurumi!
2. Back Loop Single Crochet:
Back loop single crochet is an essential stitch when crocheting dolls. It creates a defined edge to the project, making it look more finished and professional. The back loop of each stitch is inserted into, creating a raised ridge that can be used for various decorative effects. This technique adds texture and color to crochet doll patterns, making them look even more adorable. Use this crochet stitch to create beautiful details in your doll pattern!
3. Front Loop Single Crochet:
Front Loop Single Crochet (FLSC) is a technique used to create intricate details in crochet dolls and amigurumi patterns. This stitch creates rows of raised stitches that stand out against the background, making it perfect for adding texture and definition to your project. With this technique, you can make unique decorations on your doll or amigurumi, such as eyes, noses, mouths and other facial features. Try it out today to create a one-of-a-kind crochet masterpiece!
4. Single Crochet Increase & Invisible Decrease:
Single crochet increase and invisible decrease are used to shape the dolls and amigurumi toys. Increases make the doll larger by adding a stitch, while decreases make it smaller by removing a stitch. These techniques help create perfectly shaped and proportioned crochet dolls. They are essential for creating beautiful crochet toys!
In addition to shaping the dolls, these techniques can also be used for creating other amigurumi items such as hats and scarves. The invisible decrease is a great way to make pieces look seamless and perfect. You can practice these two techniques to create colorful crochet doll patterns.
5. Magic Loop:
Magic loop is a technique used to create an adjustable round ring of stitches in crochet. It is commonly used for amigurumi dolls, allowing the crocheter to work in the round without having too many stitches on their hook. This method can also be used for any project that requires a round ring, such as hats and blankets. Crocheters just need to have a single crochet hook and yarn to complete the magic loop. With this technique, they can easily create unique and adorable crochet dolls or amigurumi patterns.
6. Chain Stitch (ch):
This stitch creates a foundation in crochet and is used for many patterns, including crochet amigurumi dolls. It involves creating chains of loops on the hook with yarn.
7. Slip Stitch (sl st):
A technique used to join two pieces or close up a project's edge. It is worked by inserting the hook, yarn over, and then pulling the loop through both loops on the hook.
8. Half Double Crochet (hdc):
This technique creates a more open, airy fabric than single crochet but with a denser look than double crochet. It requires wrapping the yarn twice around the hook before inserting into the stitch and pulling it through 3 loops on the hook.
9. Double Crochet (dc):
This stitch creates a taller and open-looking fabric, which is perfect for amigurumi dolls that require longer limbs or bigger details like eyes or nose. It involves wrapping the yarn around the hook twice before inserting into the stitch and pulling it through two loops on the hook.
10. Treble Crochet (tr):
This stitch creates a very tall and open fabric, which is perfect for amigurumi dolls that require long limbs or bigger details like eyes or nose. It involves wrapping the yarn around the hook three times before inserting into the stitch and pulling it through two loops on the hook.
11. Embroidery Techniques:
Crochet dolls and amigurumi patterns provide an opportunity to explore a variety of embroidery techniques. These patterns are great for experimenting with different decorative stitches, from adding color with cross-stitch to embellishing features like eyes, noses, and mouths with French knots. You can make cute and creative crochet dolls with just a few materials and some basic instructions!
Enjoy experimenting with these 11 crochet stitches and techniques to have fun creating your own amigurumi dolls.
1. Free Crochet Myla Doll Pattern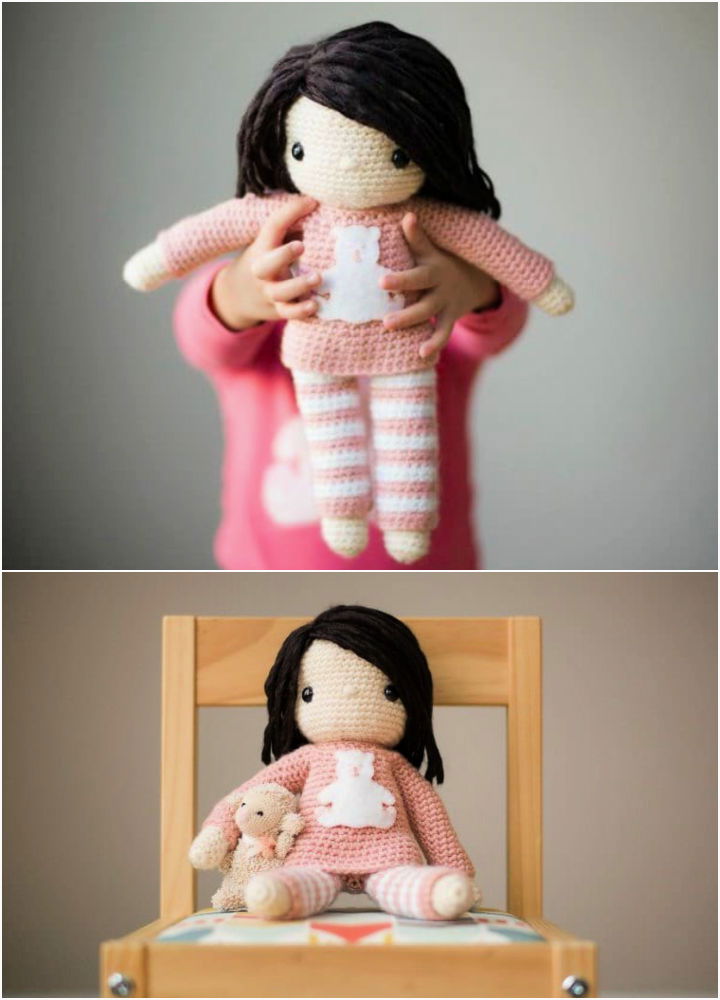 Here is one of the best gifts that you can make your little girls, so do get your hands on this gorgeous and cute crochet Myla doll. The pretty doll in her pajamas and parted hair looks just too adorable, and you can do custom changes in the doll's hair and dress while making one for your little girl. Doll pattern here! allaboutami
2. Baby Doll Amigurumi – Free Crochet Pattern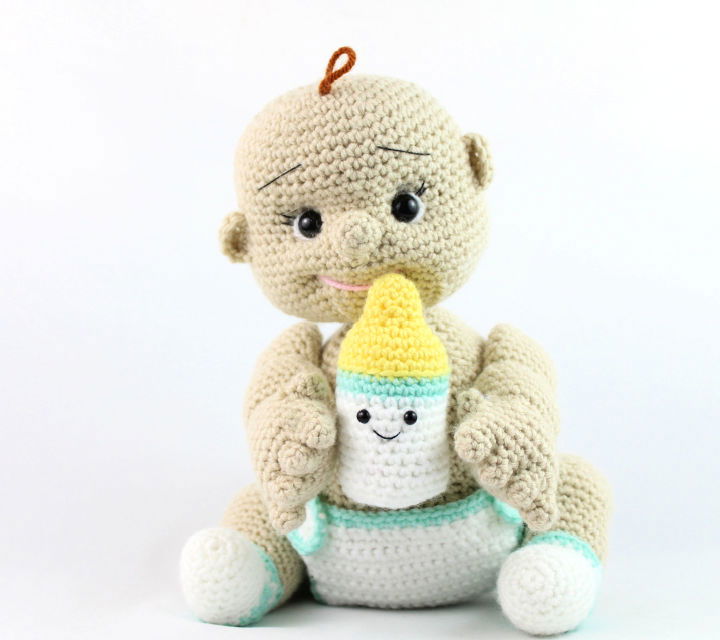 This gorgeous baby doll amigurumi takes us to the worlds of dreams and fantasies, being that cute and adorable. The gorgeous diaper and baby bottle make this doll just heart-meltingly beautiful. Learn the making of this cutest doll here to crochet and gift to the baby girls around. stringyding
3. Free Crochet Doll Pattern – The Friendly Grace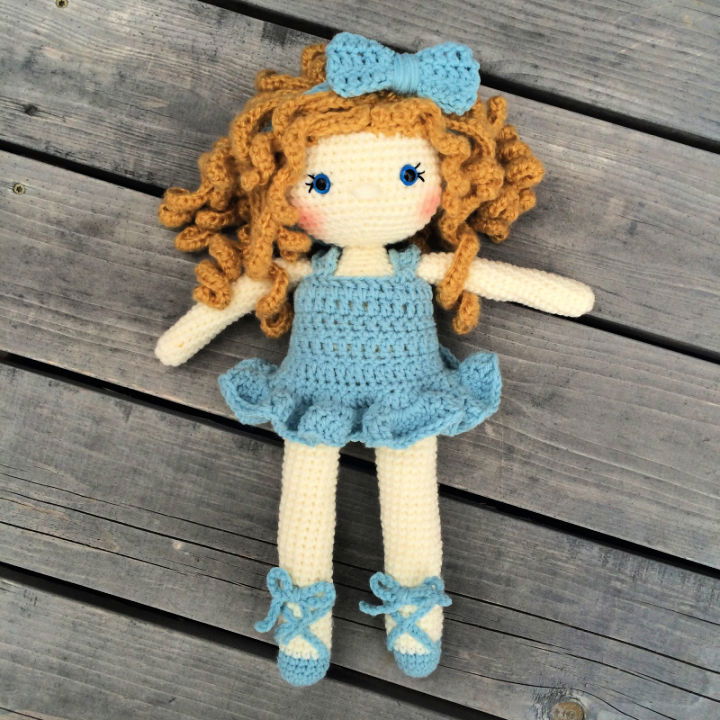 If you have a little to be a ballerina in the house, this gorgeous and cute crochet friendly grace doll is the right thing to gift her on her special day. The base crochet doll has been dressed up beautifully with the curly brown hair with the headband, a pretty dress, and the perfect ballerina shoes. Catch complete crochet details of this lovely doll here! thefriendlyredfox
4. Easy Crochet Doll – Free Pattern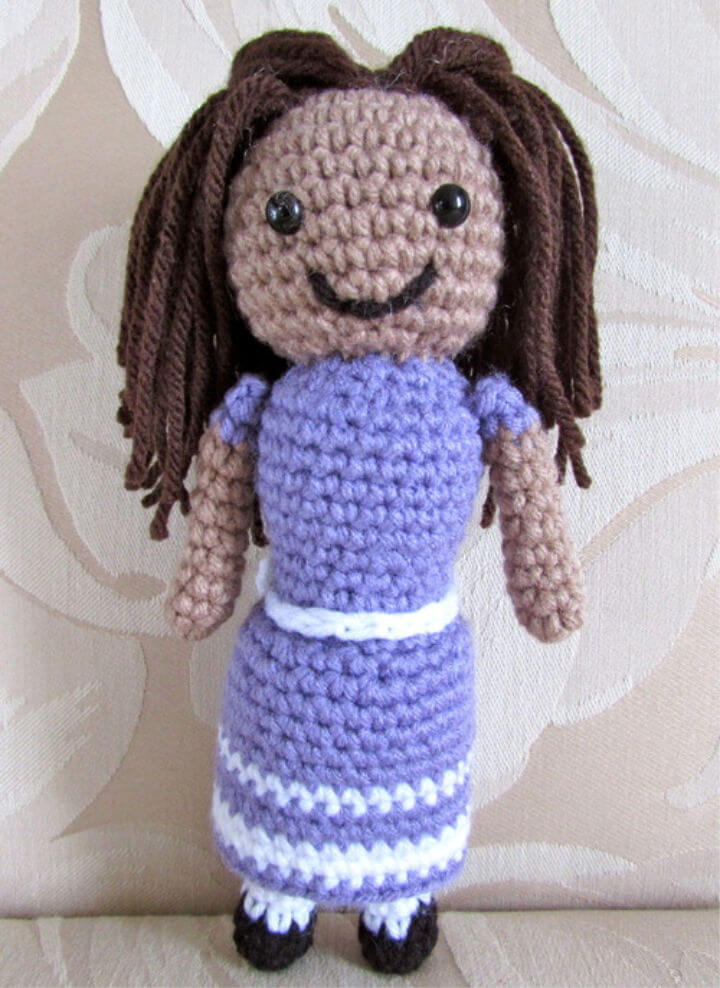 If this is your first time making a crochet doll, you are at the right place as this easy crochet doll pattern is super easy and simple to get your hands on. The doll body base is easy to make and stuff with cotton, but the real beauty of it lies in that lovely dress and the pretty hair locks. Get the free pattern of the complete doll here! stitch em
5. Rosie The Little Crochet Doll – Free Pattern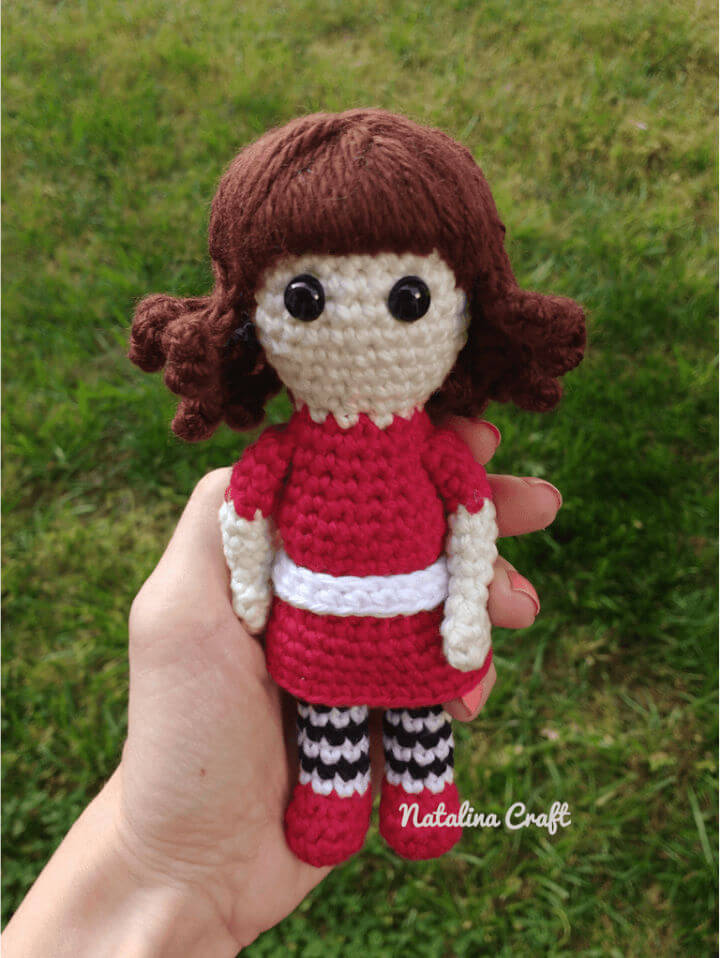 Your little girl can never get tired of having the dolls, so this time, you can gift them the pretty and cute crochet Rosie doll. The innocent-looking doll with cute hair, a lovely dress, and the adorable small size is just the perfect gift for your little princess. Start crocheting it by getting your hands on the free pattern here! natalinacraft
6. Amigurumi Butterfly Dolls – Free Crochet Pattern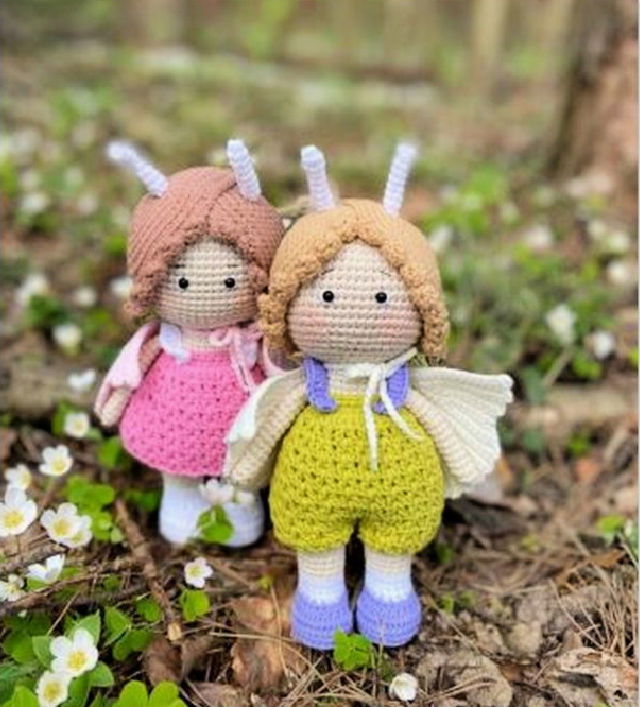 The crochet amigurumi dolls are the perfect toys to crochet for your little girls as they are soft, cute, and totally safe to play with. This amigurumi doll is slightly different as it got butterfly wings at her back and thus looks cuter and prettier. Surprise your girl on her birthday with this butterfly crochet doll, and she would love it. Free pattern here! amigurumipattern
7. How to Crochet Primrose Dolls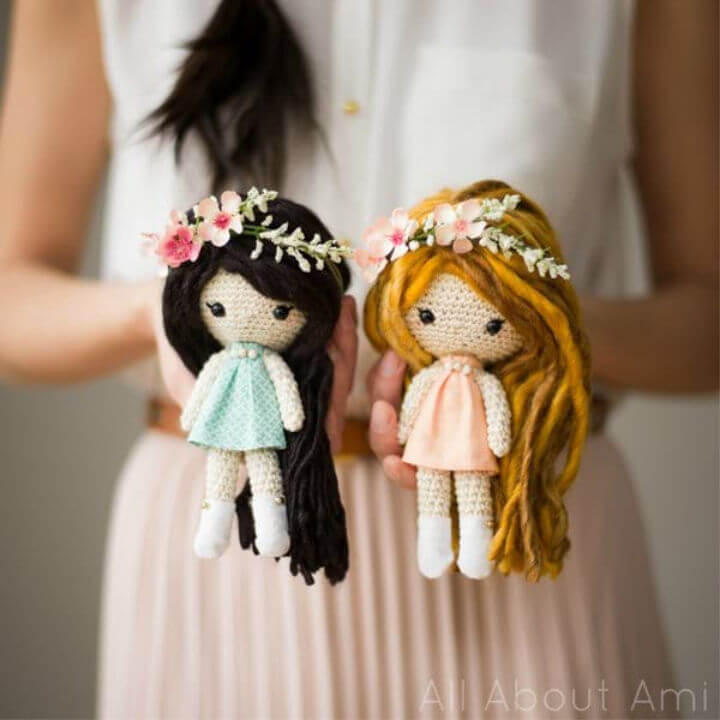 These primrose dolls are the cutest things you would see on the internet today, and surprisingly, they have been made out of scratch. The features that make these dolls an absolute dainty possession are the small eyes with wing liner and lustrous long hair. You have options to customize the hair color, length, and dress. Get the free pattern here! allaboutami
8. Crochet Sailor Moon Amigurumi Doll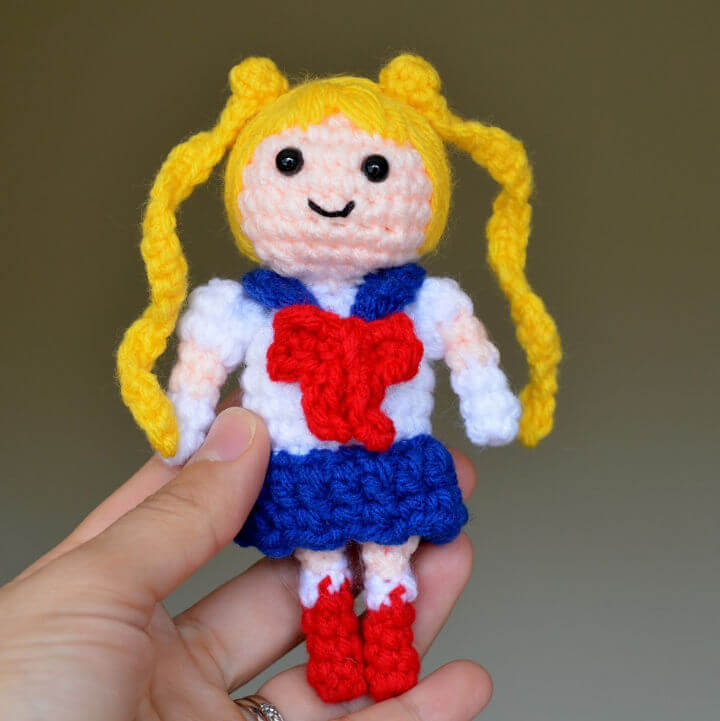 Bring back your childhood memories of the sailor moon series by crocheting this super cute sailor moon amigurumi doll for your little girls. The doll is super cutely tiny with more tiny legs and hands and a wider body. The colorfully custom dress and the yellow hair in ponytails really make the doll look so tempting and cute. Free pattern here! popsdemilk
9. How to Crochet a Reya Doll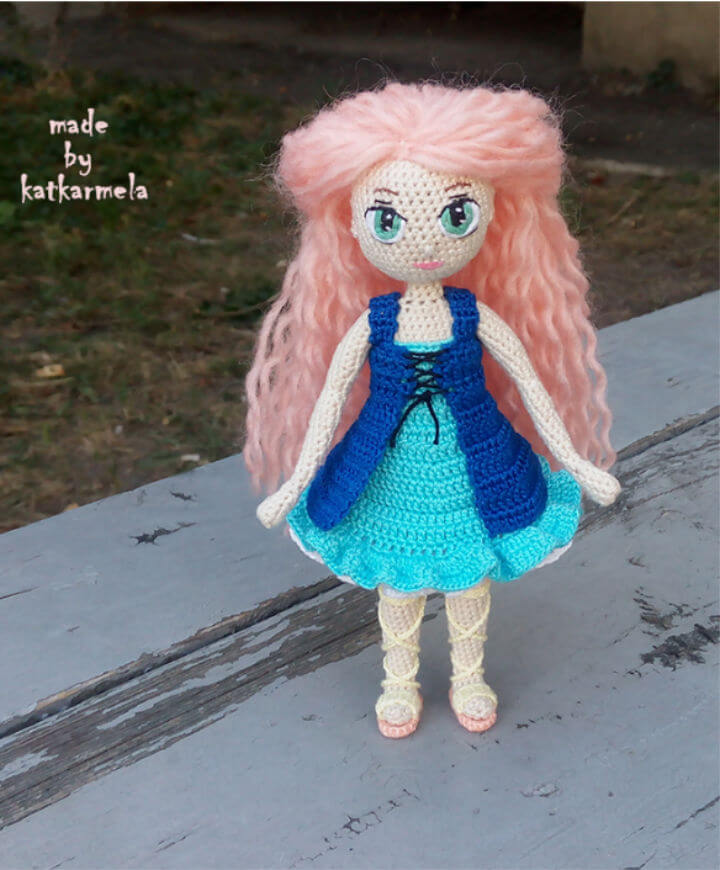 Your little girl's collection of dolls is incomplete without a pretty and cute crochet amigurumi doll. So it's high time to crochet your doll a lovely crochet doll, and here we have a simple, easy and quick crochet doll pattern. Learn the basic pattern here, and you can dress it up per your desires and preferences. katkarmela
10. Free Crochet Autumn Doll Pattern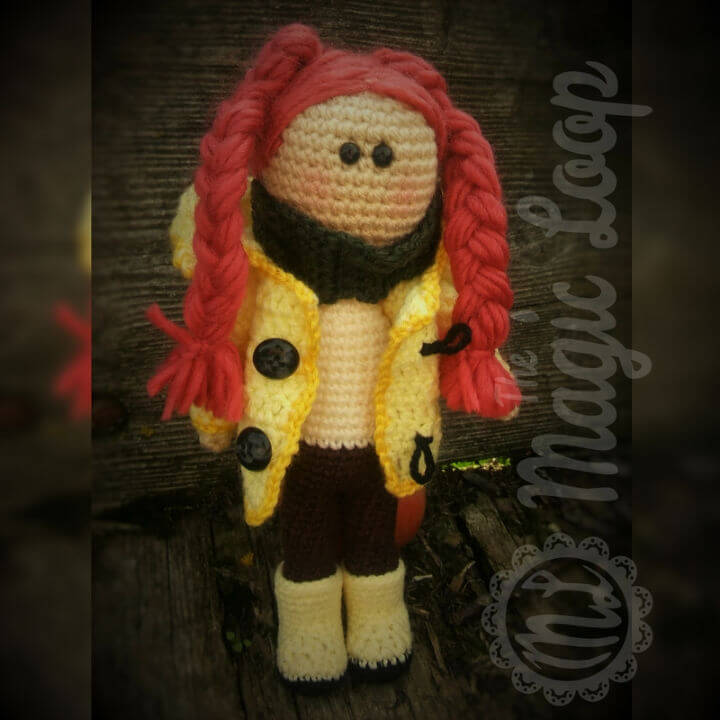 This gorgeous autumn doll is going to win your hearts in just two seconds, and you would want to crochet it badly for your little girls. The gorgeous thick red hair braids, bright yellow raincoat, and boots really make this cute doll super pretty and unique, and your girls are going to love it. Details here! themagicloop
11. Crochet Lulu Doll Amigurumi Pattern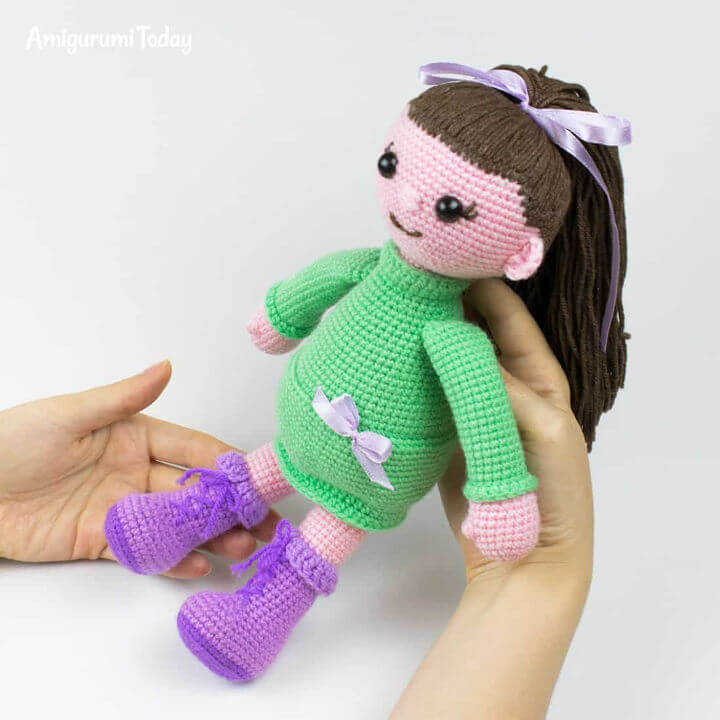 If your little girl is a fashionista, she will surely adore this awesome and modern crochet lulu doll amigurumi. The pretty and chic doll has a lovely dressing sense with that fashionable green dress and the purple boots. The high ponytail adds more beauty to this awesome doll, so hurry and grab the pattern right here! amigurumi
12. Free Crochet Doll Pattern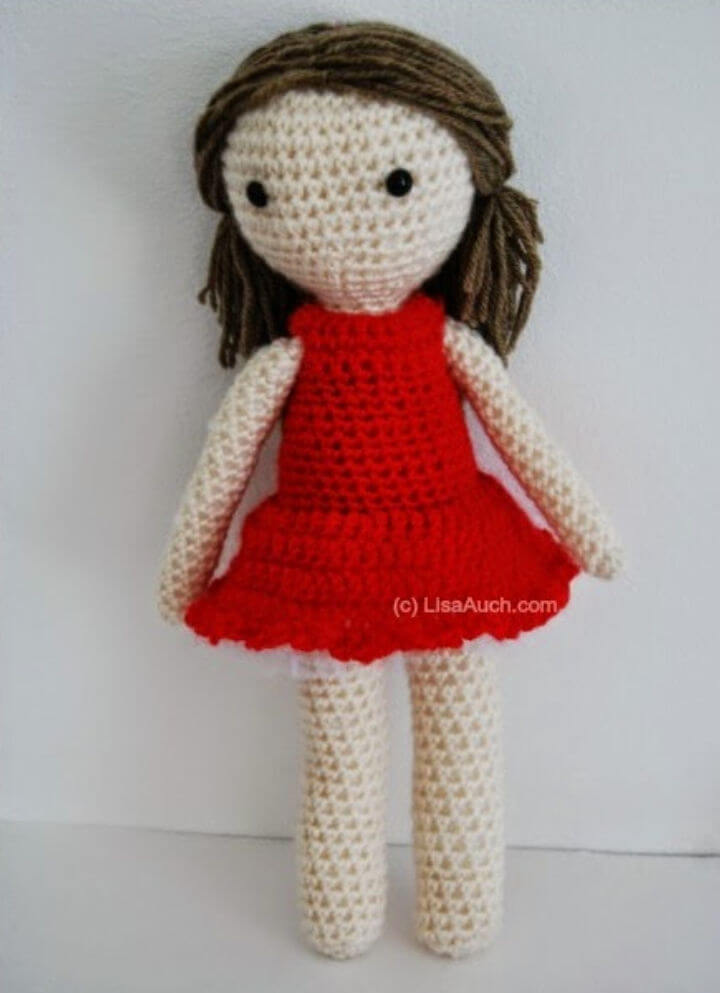 Dolls are not only the toys for the little girls, but their best buddies, so crochet them this utterly cute and innocent-looking doll. The doll is super easy and quick to make with a basic body pattern that gets stuffed and dressed up. This doll would make the best gift for your little girls, nieces, or your friend's baby girl too. Free pattern here! crochet patterns
13. Waldorf Inspired Crochet Baby Doll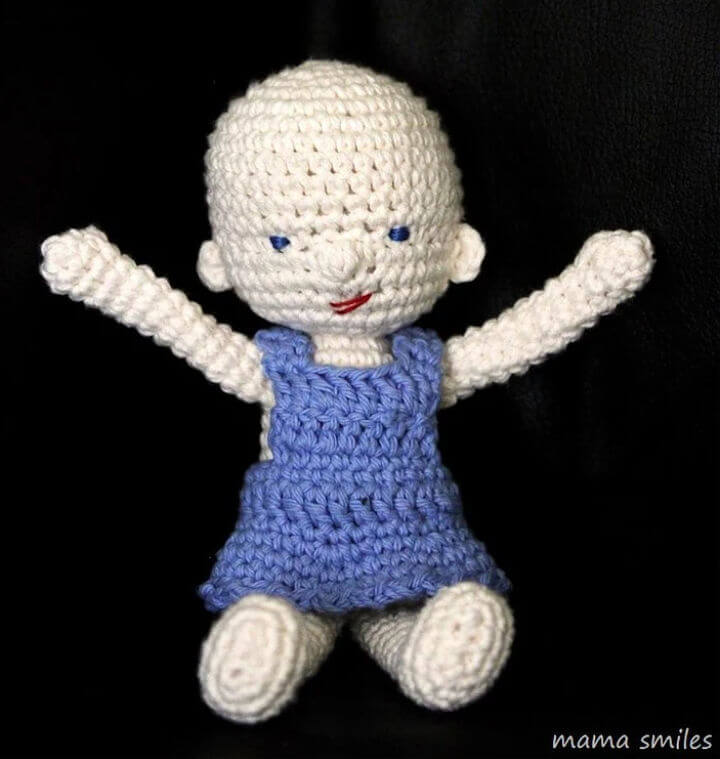 This unique yet cut doll is inspired by the Waldorf education system, where they make dolls from the kids from things like cotton and fabric. The doll is simple to crochet, with the basic body parts being separately crocheted, stuffed, and sewed together. Every inch detail of the pattern here! mamasmiles
14. Free Crochet Molly Doll Pattern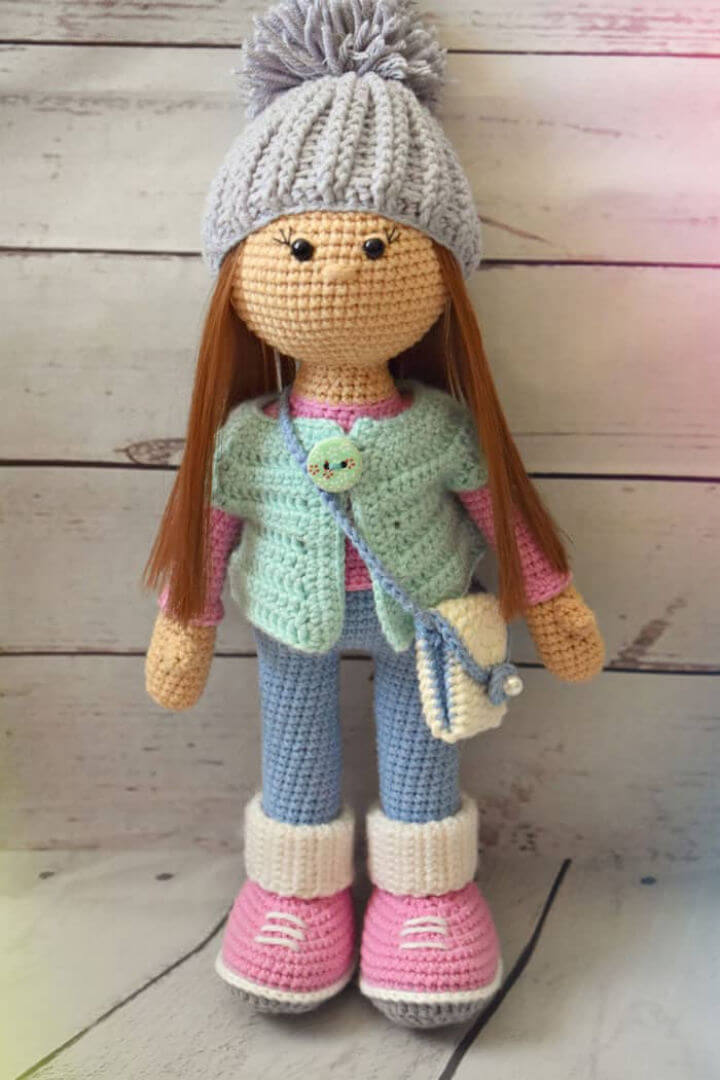 This Molly doll is probably the gorgeous of the amigurumi dolls you have ever seen. It's the super stylish dressing of the doll which makes it look that cute and beautiful. It seems like the doll is winter-ready with that lovely beanie hat, crochet sweater, boots, and the cutest purse hanging across her shoulders. Get the complete details of this adorable doll pattern here! amigurumi
15. Crochet Blue Dress Doll – Free Pattern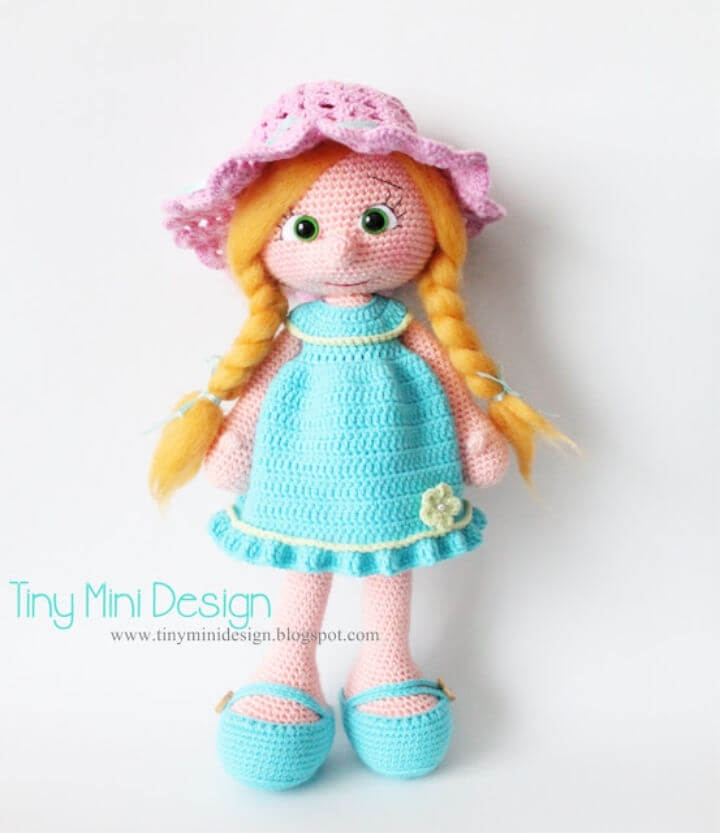 A doll is the right thing that can make your doll so much happy, and fun and here is an utterly cute and adorable blue dress doll that will be the best friend of your little girl once you make it. The blue dress and shoes with gorgeous brown hair and a lovely pink hat would let this doll win the heart of your princess in a second. Free pattern here! tinyminidesign
16. Crochet Waldorf Inspired Baby Doll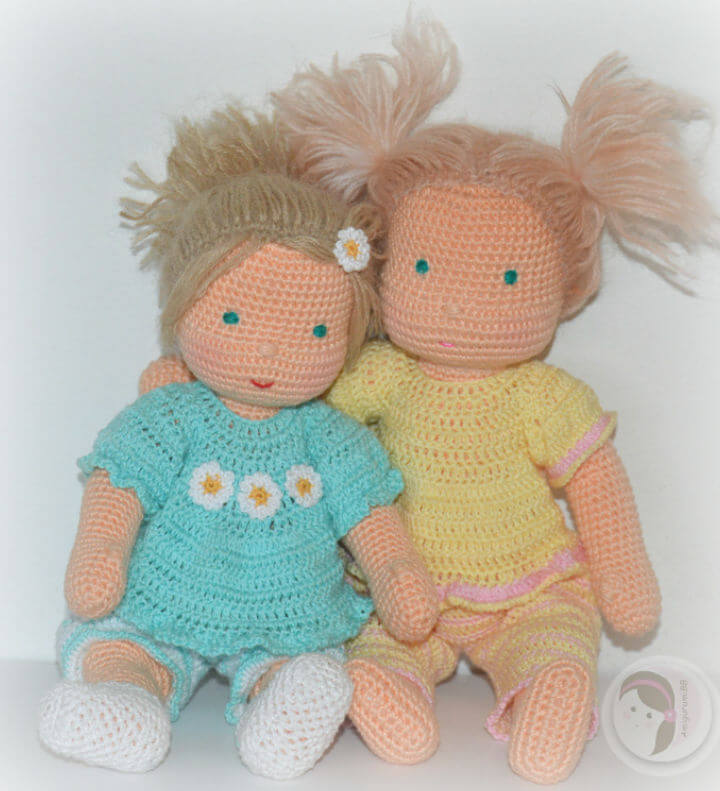 These cute and innocent-looking Waldorf baby dolls are the next things you would love to create with your favorite crochet hooks and yarn. They make the best gift for the little girls in your life, no matter your relation with them. Check out the easy and free pattern here to crochet these and use them as the prettiest gifts. amigurumi
17. Free Crochet Julie Doll Pattern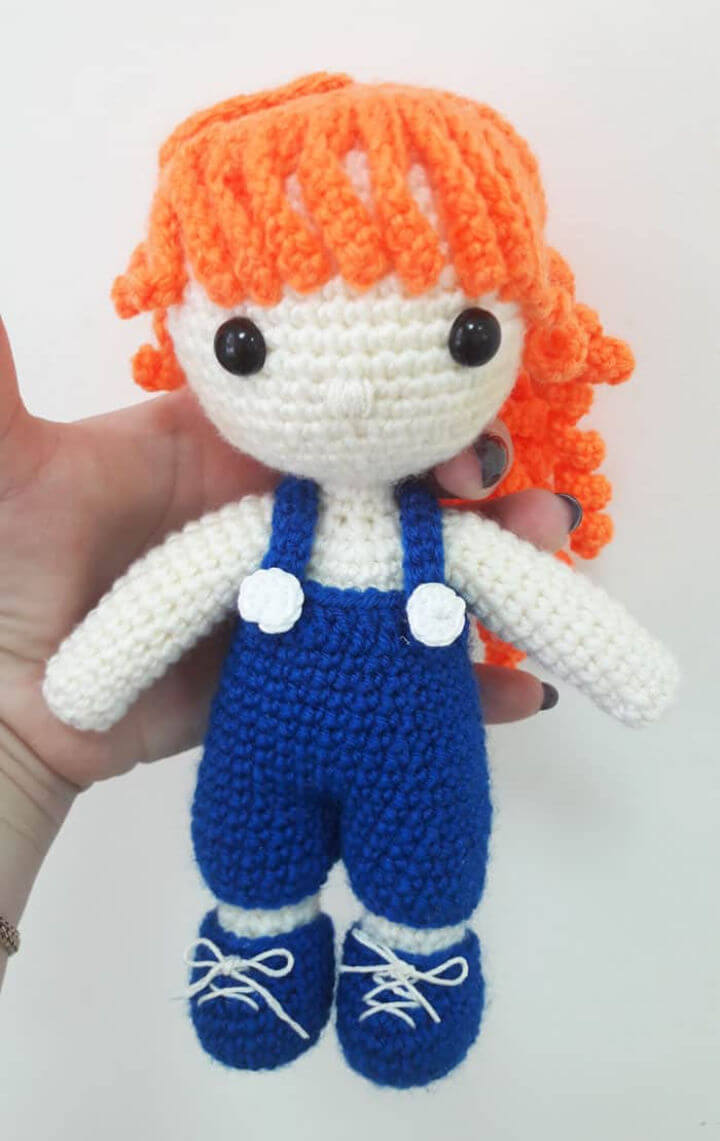 Another cute and adorable crochet Julie doll that is going to melt your heart with her sheer beauty. The small and cute doll has gorgeous red hair, and that safari suit looks so lovely on her. Also, those pretty shoes with white lace really add to the charm of the doll. Free pattern with details here! amigurumi
18. Crochet Mia the Mermaid Doll – Free Pattern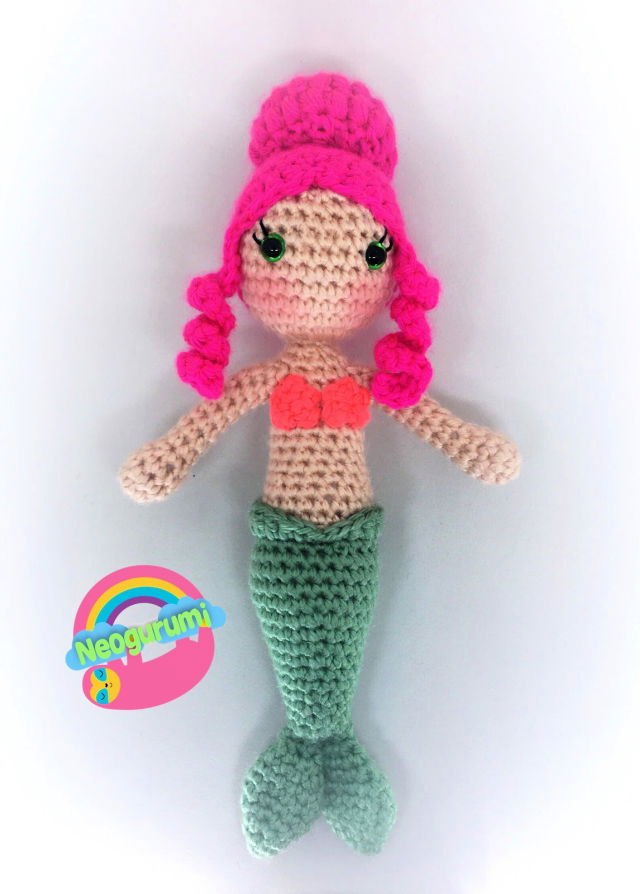 After cute dolls, every little girl's next crazy fantasy is surely a mermaid, and now you can combine both of their fantasies and create this lovely Mia the mermaid doll. The pretty doll face with mermaid body and the dress looks just damn pretty. Grab the easy and free pattern of the doll here! neogurumi
19. Crochet Bella Girl Doll – Free Pattern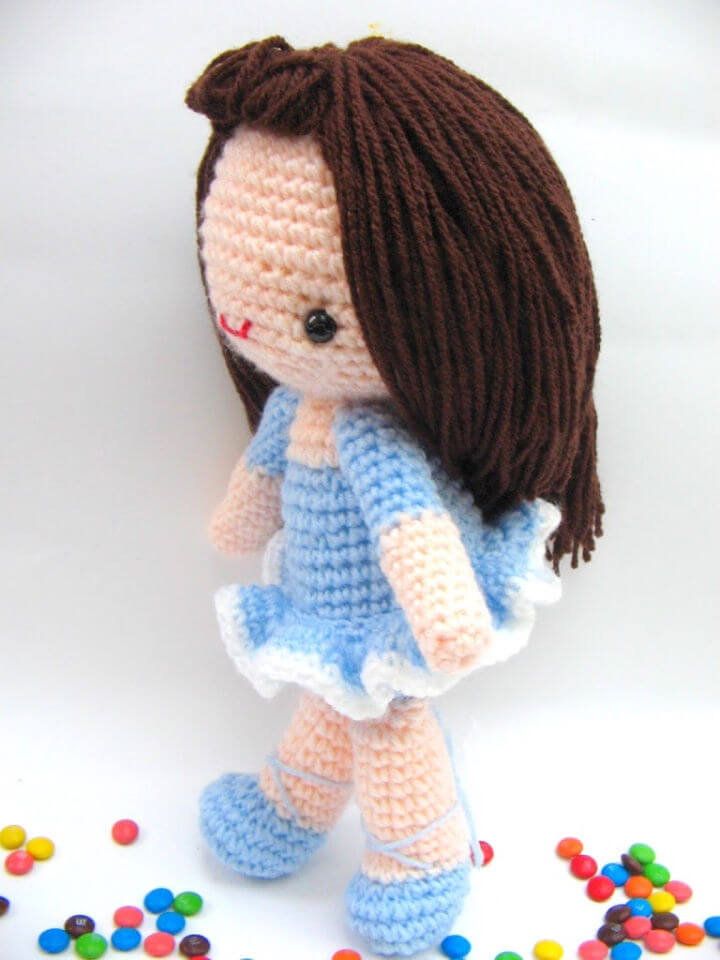 If your little girl's birthday is around the corner and you are thinking of the best gift for her, then have a look at this adorable and beautiful crochet Bella girl doll. The pretty doll with lovely hair, dress, and Bella shoes has turned out to be immensely enchanting. The free pattern is lying here, so catch it! jennyandted
20. Crochet Lalaloopsy Inspired Doll Pattern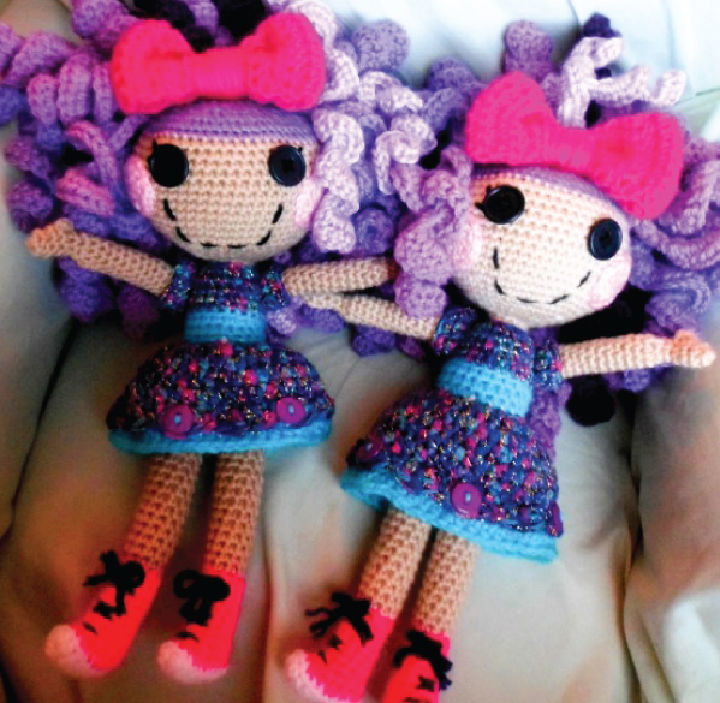 Just like their name, these Lalaloopsy dolls have unique hair, dress, and shoes, which really make them look so damn gorgeous and quirky in the world of crochet amigurumi dolls. The pattern is a little challenging with many yarn hues involved, so do catch the pattern and details of it here to crochet it up! stitch11
21. Free Crochet Sleepy Sarah Doll Pattern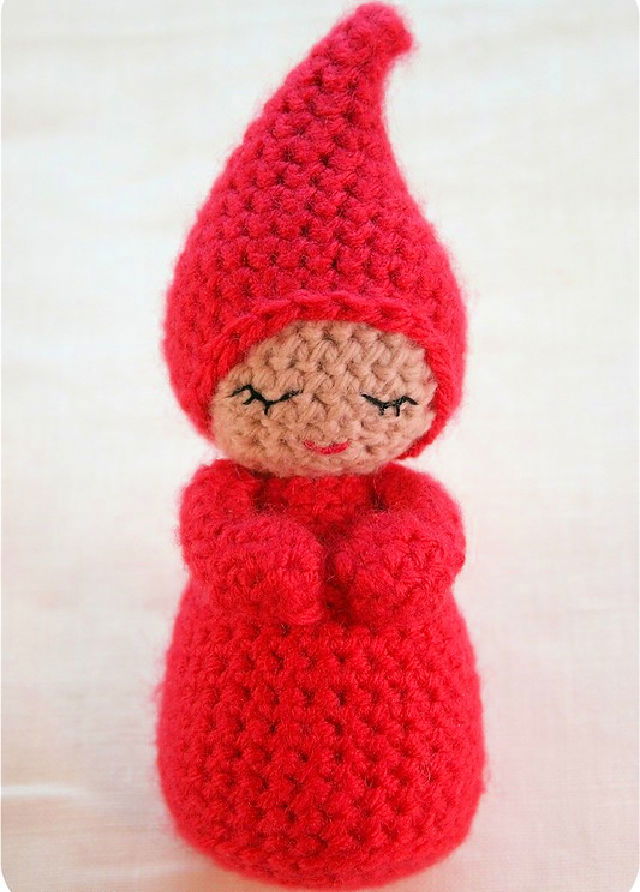 By varying the dolls' features that you are crocheting, you can bring versatility to the dolls you are crocheting. So here is the pretty cute and unique looking sleepy Sarah doll. Unlike the other dolls, this has her eyes closed and seems to be sleeping in calm and peace. It would make a pretty baby room decor too. Pattern here owlishly
22. Crochet Little Lady Doll – Free Pattern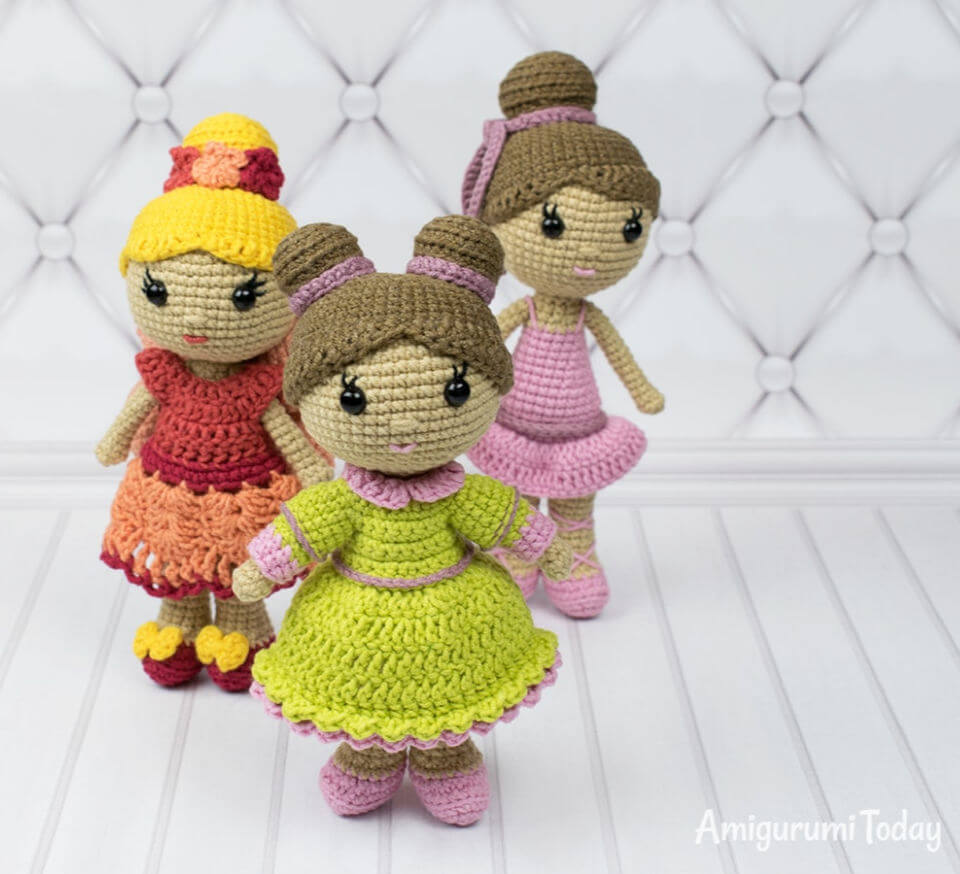 Here is another bunch of the dolls touching the heights of beauty and cuteness with their beautiful avatar. The quirky and colorful crochet dresses with the fashionable and chic hairdos the dolls are looking super cute and fantastic, and you can crochet them at home easily because the free pattern is right here! amigurumi
23. How to Crochet Cupcake Baby Doll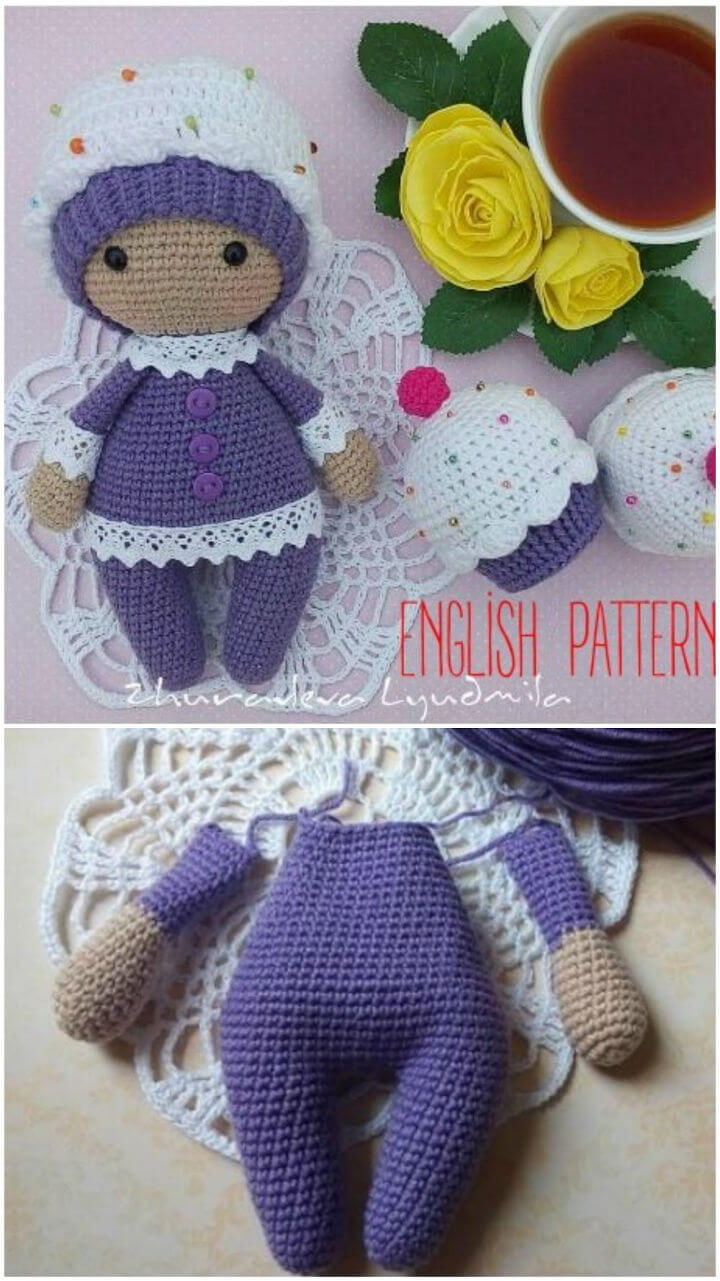 Girls love crochet amigurumi dolls and cupcakes, so now you can combine them and create an ultimate toy delight for your little one. Yes, the lovely crochet doll with an awesome crochet dress and the same colored cupcakes. The girls would have plenty of plays to have with this combination of the doll and cupcakes. Free pattern here! freepattern
24. Gorgeous Crochet Amy the Amigurumi Doll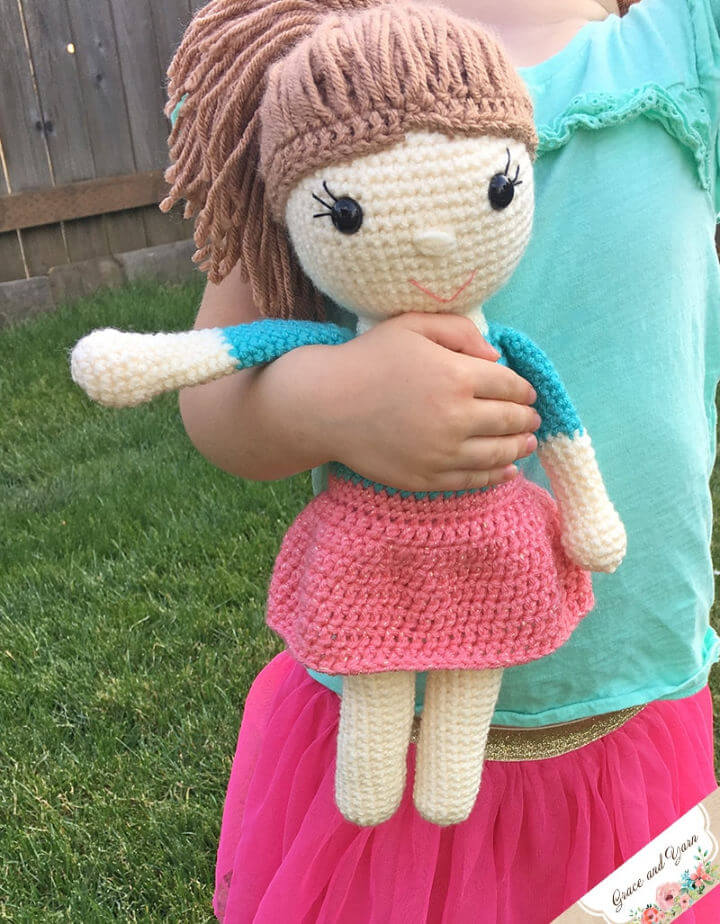 The simpler, the better, and so is the case with this lovely Amy, the amigurumi doll. Yes, in all the doll patterns, the doll is simple and has to be dressed up, but this doll has a colorful chest section and the skirt on the legs, and thus you do not have to crochet a separate dressing for her. The quick and easy pattern here! graceandyarn
25. How to Crochet Gelato Doll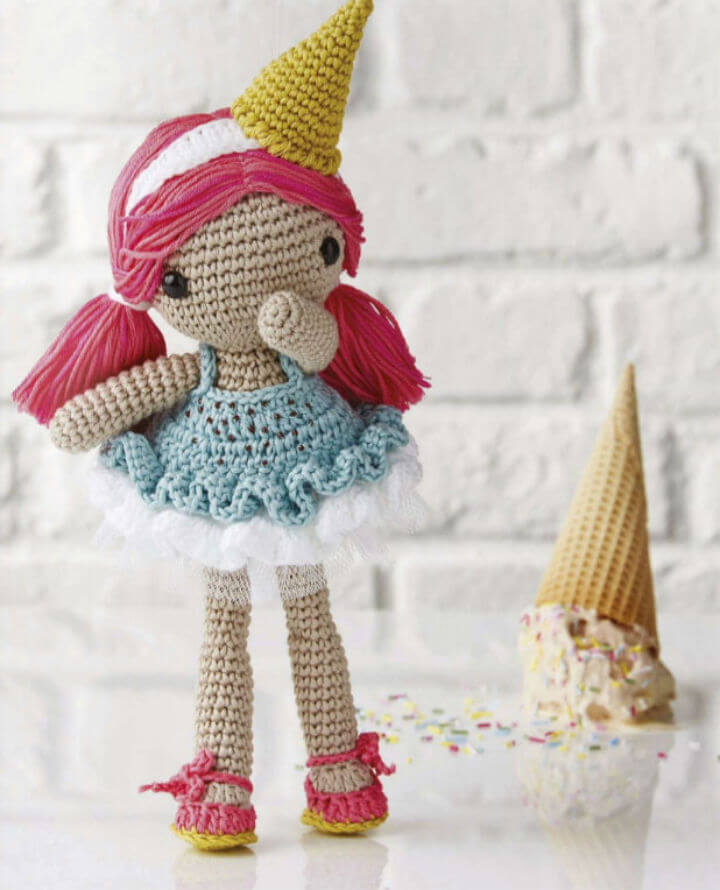 We love gelato, the Italian ice cream, and now you can crochet your girls a doll that is inspired by their favorite and yummy gelato ice cream. The doll has pretty features, including long legs, and for the gelato touch, the cone styled hat has been worn on the lovely hair of the gelato doll. The free and easy pattern here! crochetking
26. Free Crochet Fashionista Farrah Doll Pattern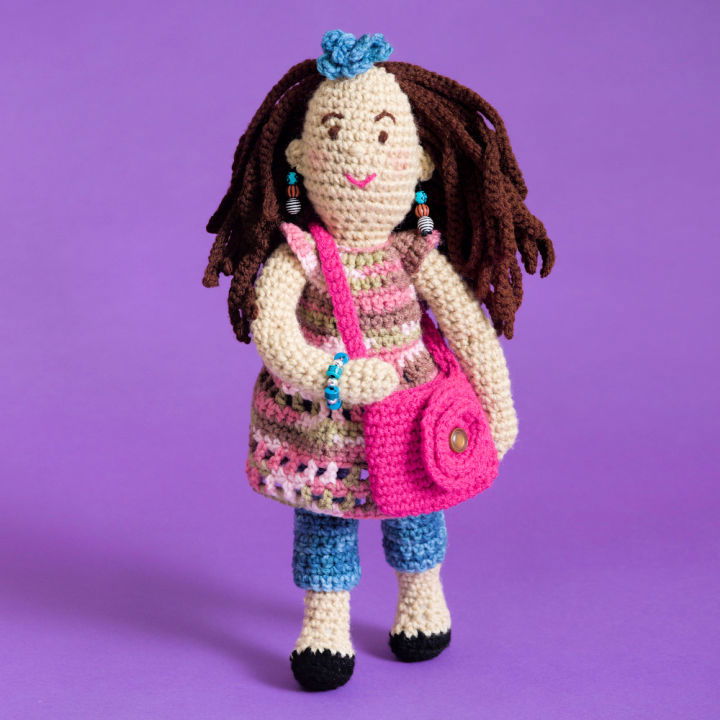 Here is the most fashionable Farrah doll that you can crochet for your little style diva on her birthday. The doll has been dressed up with so many fashion accessories like cute earrings, a lovely bracelet, a flower headband, and the pretty hanging around her shoulders! The free pattern is lying here! yarnspirations
27. Crochet Minnie Mouse Doll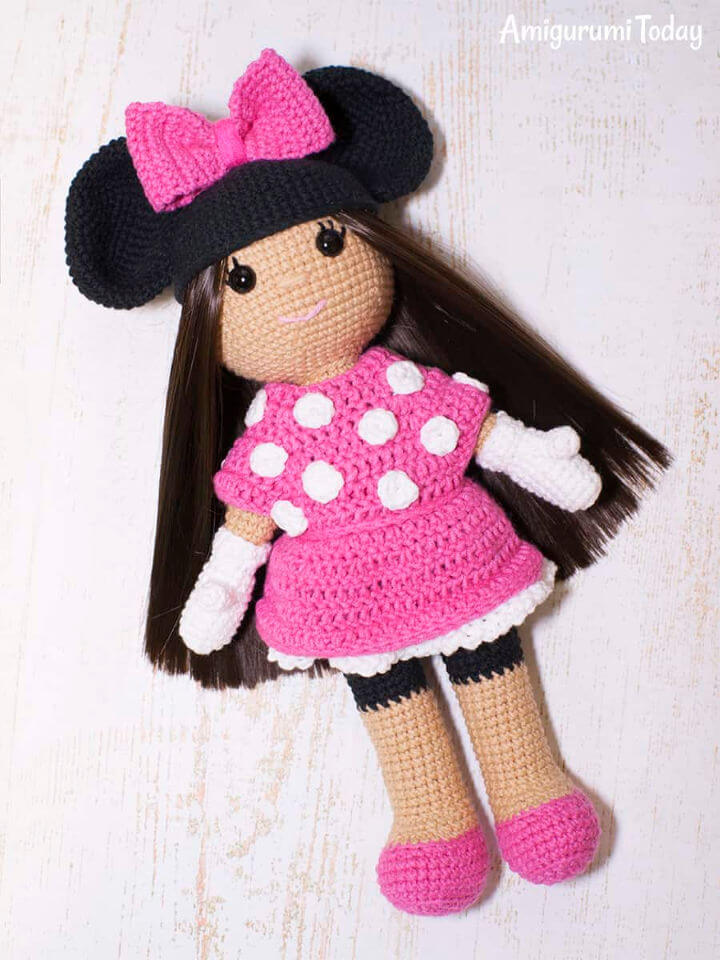 You are going to Disney land, or you have just come back, this pretty crochet mini mouse doll is the best thing that your little girl can have company with. Along with the gorgeous and chic Minnie mouse dress up, the doll has shiny straight and long hair, adding much to her beauty and grace. Free pattern here! amigurumi
28. Back to School Crochet Lily Doll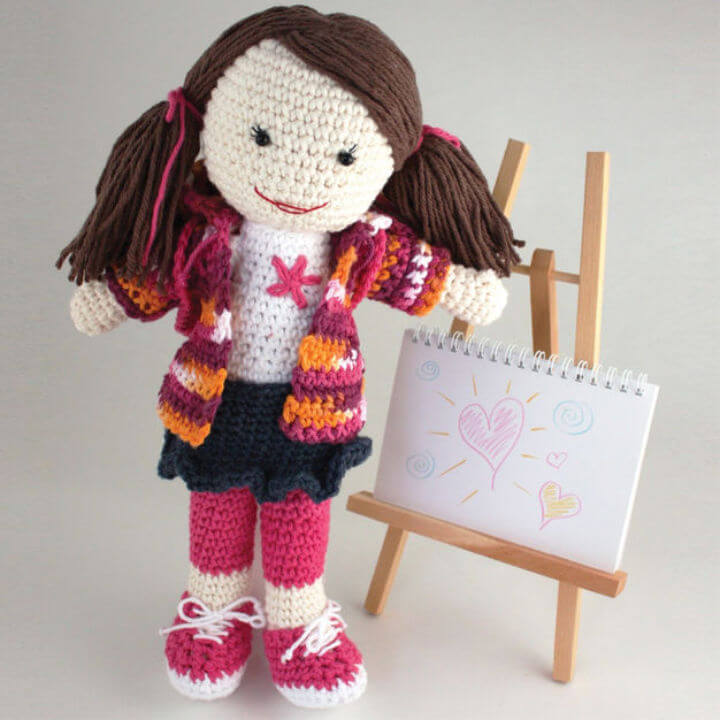 After the summer holidays, when your girl is going back to school, this lovely back to school lily doll is the right thing to wish her best of luck for the school. The doll looks so beautiful with a sweater jacket, skirt, bag, and those cute ponytails. Follow the details of the pattern here! yarnspirations
29. How to Crochet Pernille Doll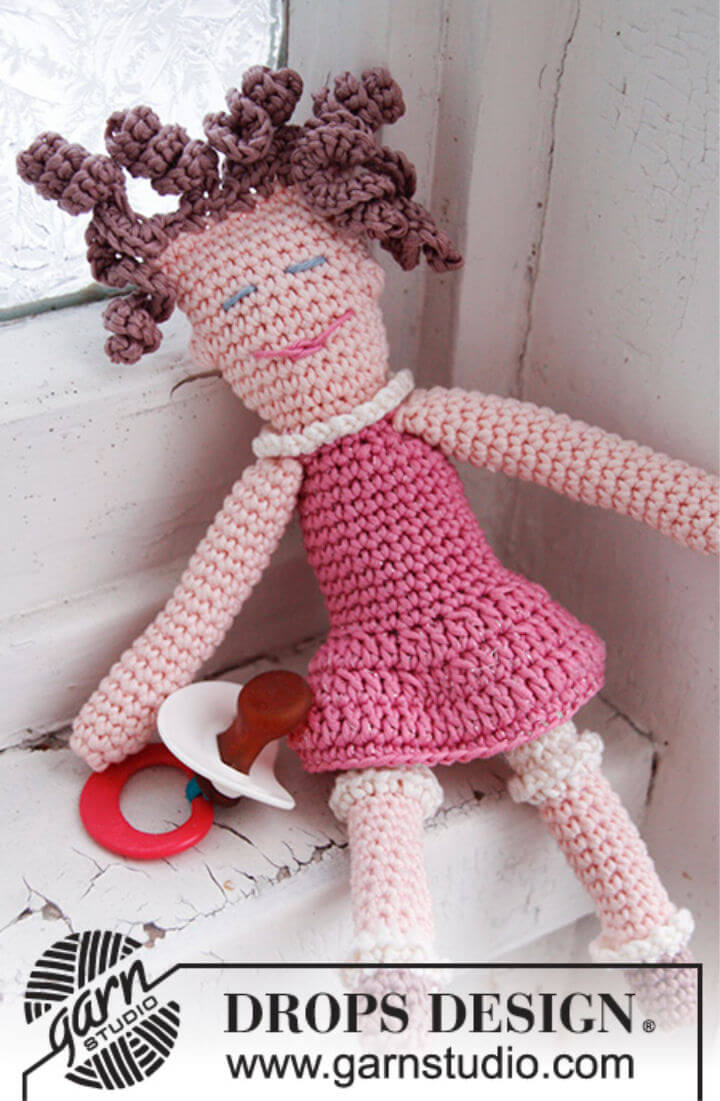 Another unique and fun crochet Pernille doll pattern is here to please your little girls on their special day. The doll is super easy and fun to crochet with the Pernille doll features, which are easy and fun to get hands-on. So grab your crochet hooks and yarn and get your hands on the free pattern here!. garnstudio
30. Crochet Ballerina Doll Amigurumi Pattern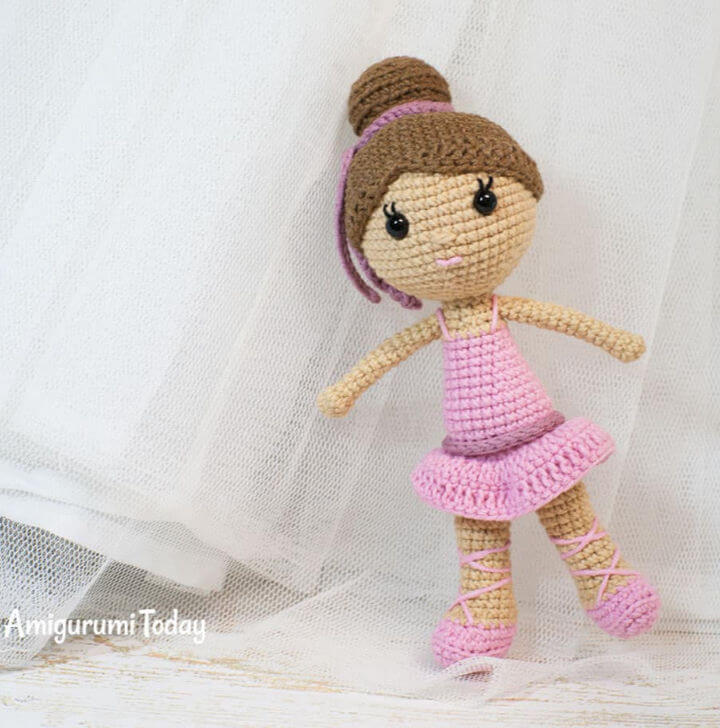 There is a ballerina in every girl's heart, and you can enhance their love more with this crochet ballerina doll. The doll is wearing that pretty ballerina dress with the pretty ballerina shoes and hair tied up with a matching pink hairband and making the doll look just so damn perfect! Free Pattern here! amigurumi
Related DIY Projects and Ideas
Crochet Barbie Clothes: Find free crochet patterns for a variety of Barbie outfits. These patterns are designed to be easy enough for even beginners to create, so everyone can enjoy them.
Doll Sewing Patterns: Save money and have some fun making your own dolls with this list of free sewing patterns. You can make them as a gift for a friend, or even for yourself!
Waldorf Doll Patterns: Learn how to make your own waldorf dolls with these free patterns. These are some of the easiest, yet most fun and creative sewing patterns for beginners to follow.
Rag Doll Sewing Patterns: Find your next favorite pattern with these free rag doll sewing patterns that are easy and quick to make, as well as being enjoyable to make.
Crochet Jellyfish Patterns: Learn to make your very own jellyfish with these free crochet jellyfish patterns. These whimsical sea creatures are perfect for a toy project for kids.
Crochet Amigurumi Patterns: Crochet amigurumi can be made from stuffed animals to small amigurumi animals to figurines. These free crochet amigurumi patterns are for beginners, so if you've never crocheted before, you should have no trouble following the instructions.
Bunny Amigurumi Patterns: If you want to make a cuddly, huggable crochet amigurumi bunny for Halloween or anytime, then this is the post for you! All patterns are free and easy to follow.
Conclusion:
These free crochet doll patterns are great for beginners. They are easy to follow and can be downloaded for free. If you are looking for a fun project to try, these amigurumi doll patterns are perfect. Do you have any favorite crochet doll patterns? Let us know in the comments below!