The ordinary and simple stuff makes the kids bored! The run after the flattering colors and enchanting hues and also seek fun in every item they are wearing or playing with! That's why the market offers a big range of kids stuff from toys to fashion and what special to see in them is that they are always colorful and fun-making! So, if you are also sorting out a perfect fun-making winter gift for your kids then you must try a crochet fox hat, would be the most precious animal inspired winter gift for a fun-loving kid! So if you are willing to take a smart start, then you can check out first this list of 14 free crochet fox hat patterns that would make the most good looking winter head warmers for your kids! You will fall in love with your kids who will act like a fox by wearing these fox hats all day long in chilly days!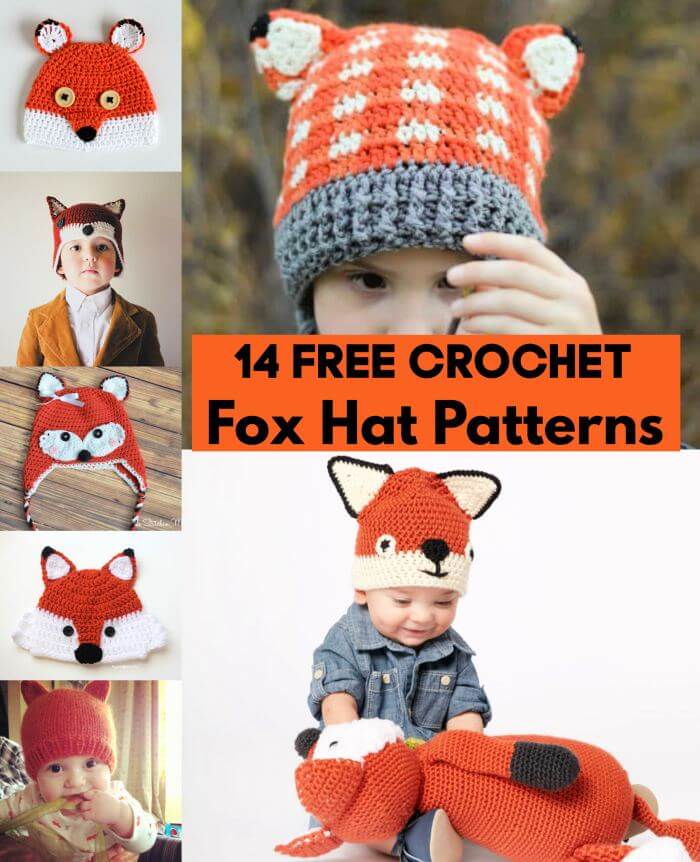 These crochet fox hats are also going to make the best winter gift for a baby shower, baby's birthday or a regular gift to any kid! Time to create the adorable fox avatars of your kids with these yarn fox hats! Moreover, they will also make an excellent gift for a mother-to-be and you can also add them to your baby's current collection of winter hats! Crocheting these animal-inspired fox hats is going to be great fun, and there are patterns available for every skill level, so beginners can also enjoy crocheting the lovely fox hats now!
Free Crochet Patterns:
Give variations to your decided hat pattern by changing the yarn weights from chunky to lightweight!, Next, you can also change the ears, eyes, and nose of your crochet fox hat while intending to personalize it!
Furthermore, you can also go extra smart with your hook and imaginations to create different looks of a fox hat like from a grumpy fox to friendly one, and you can also create the different personalities of the fox in the same manner! Check out some amazing sample given below from an innocent baby fox hat to mature one-eye-closed fox hats! Furthermore, you can also crochet fox hats with brilliant braids that will rock for newborn and six-month babies!
Go with short or large ears in your fox hats and also prefer the yarn eyes or just crochet the buttons for good looking fox eyes! You can also mimic only the fox colors to crochet dashing fox hats with not shape or expression that will rock too! Get inspired by given below samples to get your creativity and hook inspired more! Another excellent and outstanding fox hat sample is the given sly fox hat that would rock for the boy kids!
To get a free pattern for every fox hat given in the list, just visit the respective links that will also provide you the step-by-step instructions and visual tutorial as a big bonus!
Easy Free Crochet Fox Hat Pattern: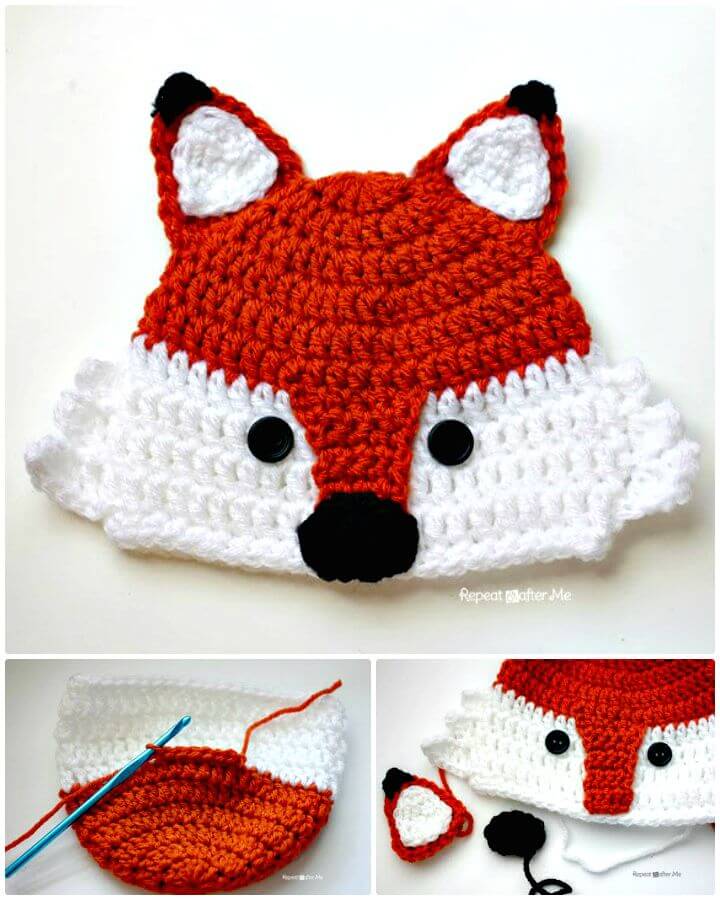 Kids just love to have the fun items inspired from the cartoon or movie characters, so, this time you can thrill up their winter wardrobe with this not so common fox hat in the exciting colors and with the quirky features. They would love wearing it all around the house and for outdoor visits too so grab the custom fox colors to crochet this cute little hat right this weekend repeatcrafterme
How To Free Crochet Fox Hat Pattern: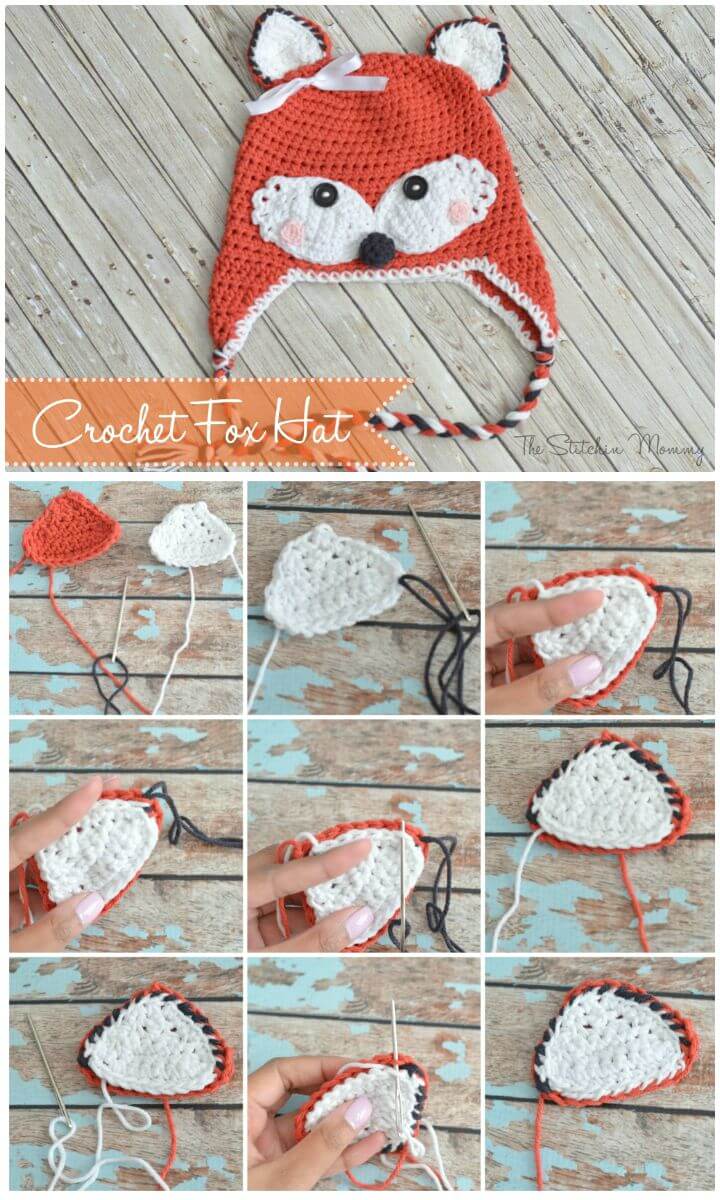 The crochet fox hat is a unisex pattern, and thus you can easily work up one for your girl or boy. But if you are making it for your little girl, you can add some girlish effects and features to the pattern to make it look more girlish and cute, and those are the pretty ribbon bow used as the hair clip and cute blush pink rounds on the cheeks.Here is this link to catch the written details and the pictorial instructions too thestitchinmommy
Easy Free Crochet Caron Fox Hat Pattern: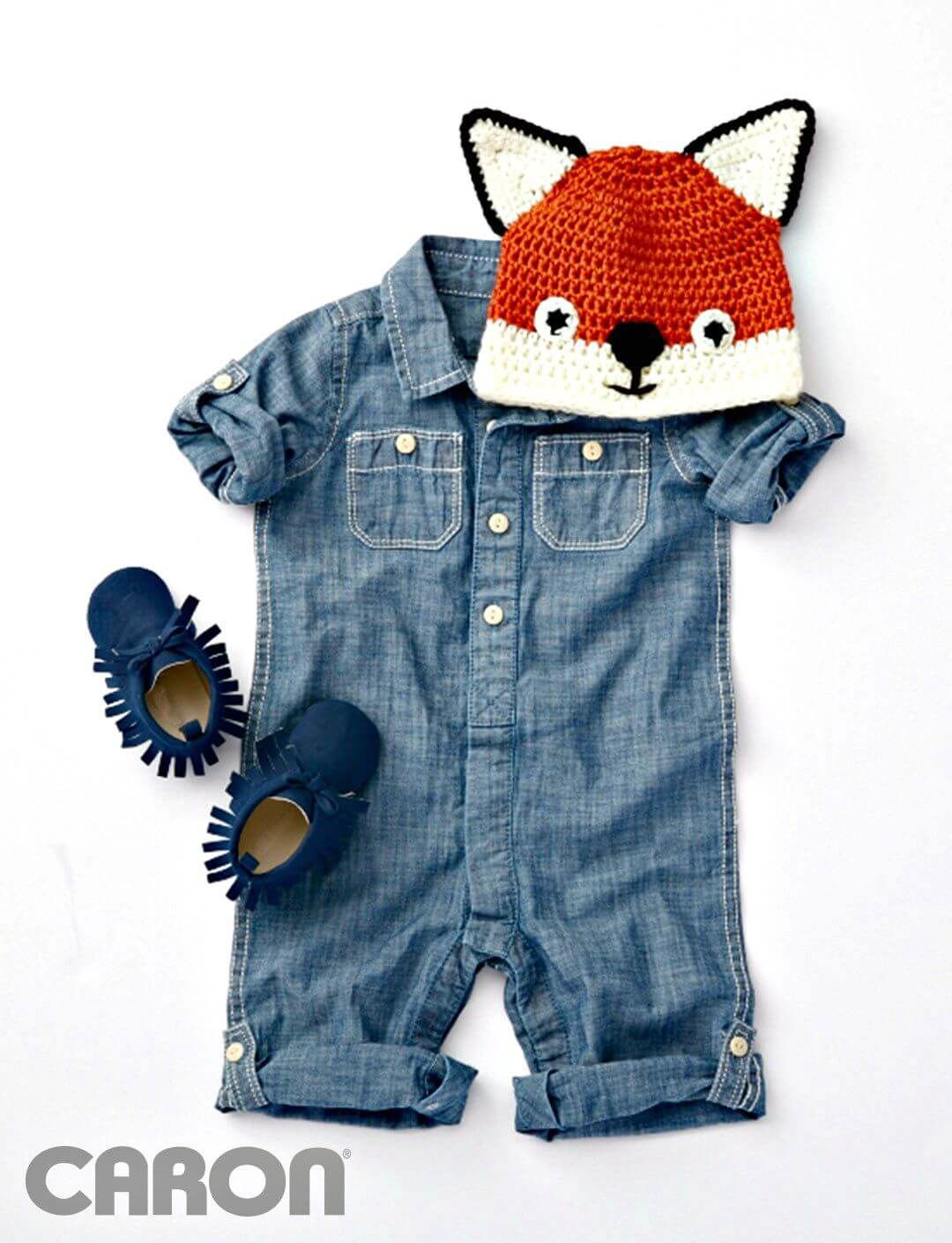 The dress-ups of the kids are always so cute and fun and now you can make them look so much more fun with some pretty animal hats and these fox hats all the rage these days. So here we offer you this amazingly cool and chic kind of caron fox pattern and add a huge funky look to your boy's personality and make him load with more cuteness and beauty.Catch complete details and the free pattern right here yarnspirations
Crochet Baby Hat And Diaper Cover Cute Fox Pattern: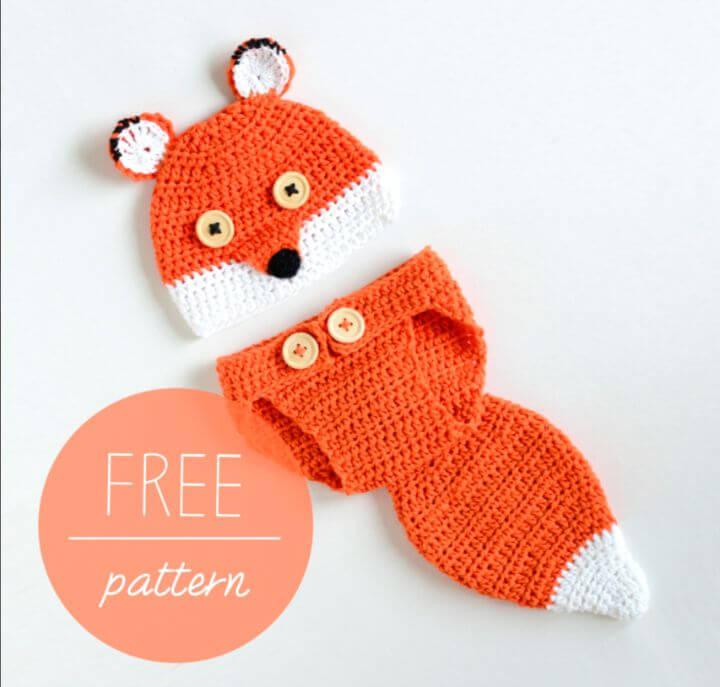 Enough of the bunnies and the fairy looks for your newborn, its time to make them look something more fun and unique this time with some funky kind of dress up and this fox hat and diaper cover. The vibrant hues of the fox in yarn and the cute little details like the sharp face features a cute tail, really add to the charm of this dress up which would a super exciting gift for your new bundle of joys too.So now you know what you can carry along while going to attend a baby shower soon crobypatterns
How To Easy Free Crochet Baby Fox Hat Pattern: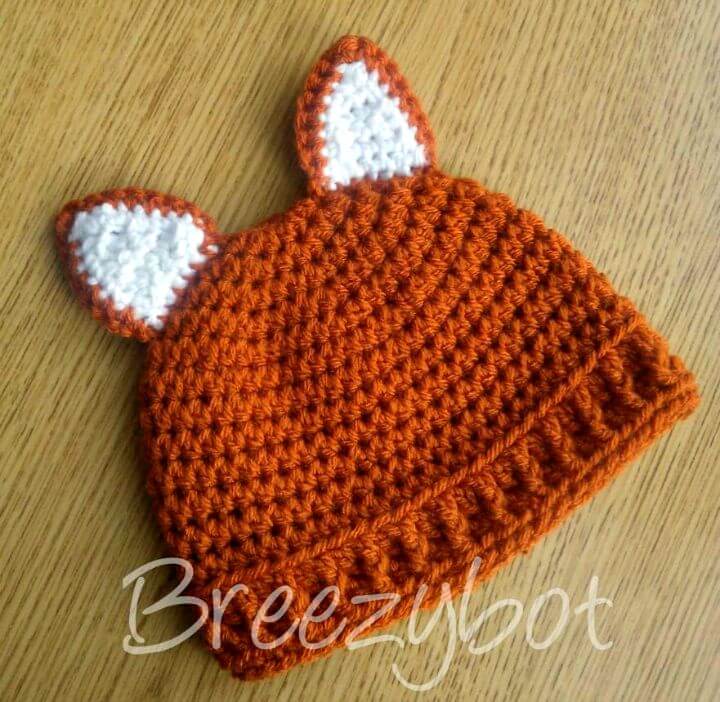 Kids do not like hats as they are a bit tight fit and they take it off soon, but if the hats are their favorite and they like them, they would surely wear them way longer. So, here is this usual and fun looking crochet fox hats with the custom orange fox yarn color and those cute fox ears adding the cool touches to the pattern and making it the new favorite possession for the kids this winters.Here is the link to catch the easy fun details of the pattern blogspot
Easy Free Crochet Sly Fox Hat Pattern: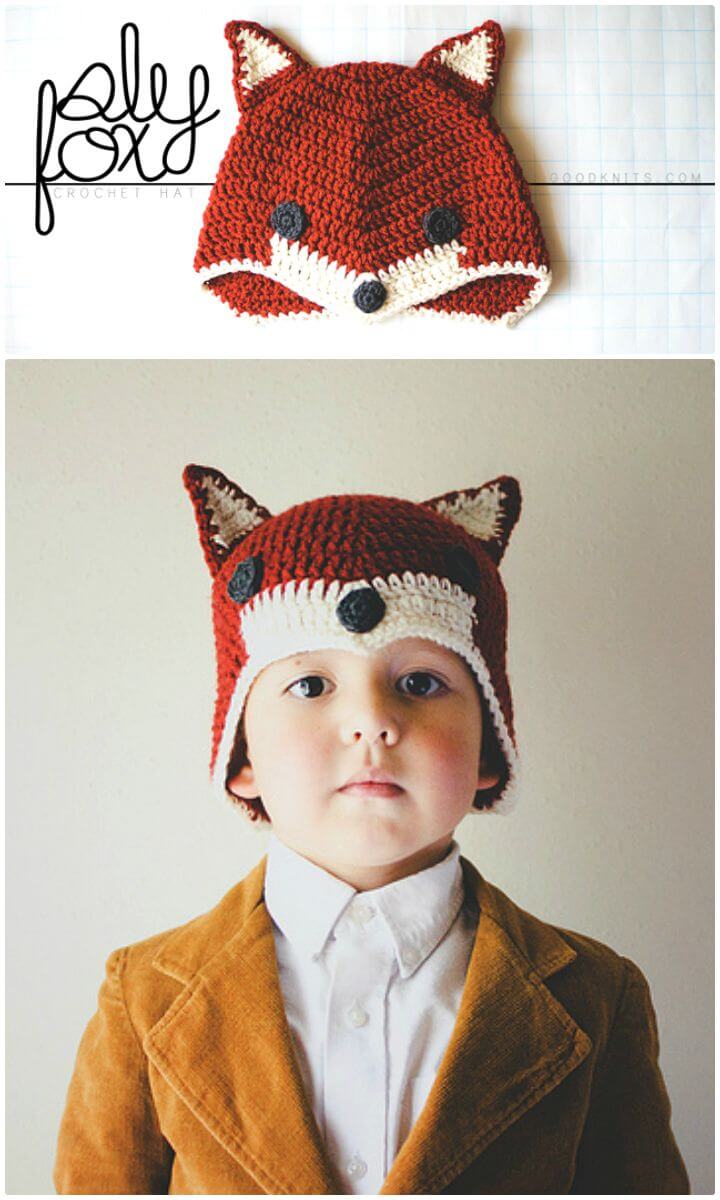 A simple touch of creativity can add oodles of charm and texture to your kids dress up this Halloween, and this sly fox hat would be the perfect idea to do that. Yes, you can grab the custom fox colors in white, black and orange hues to crochet this lovely greedy fox and get your kid not only look funky and cool but also feel utterly cozy and warm with it.You can catch the fully detailed tutorial of the pattern right here goodknits
Easy Simple Free Crochet Fox Hat Pattern: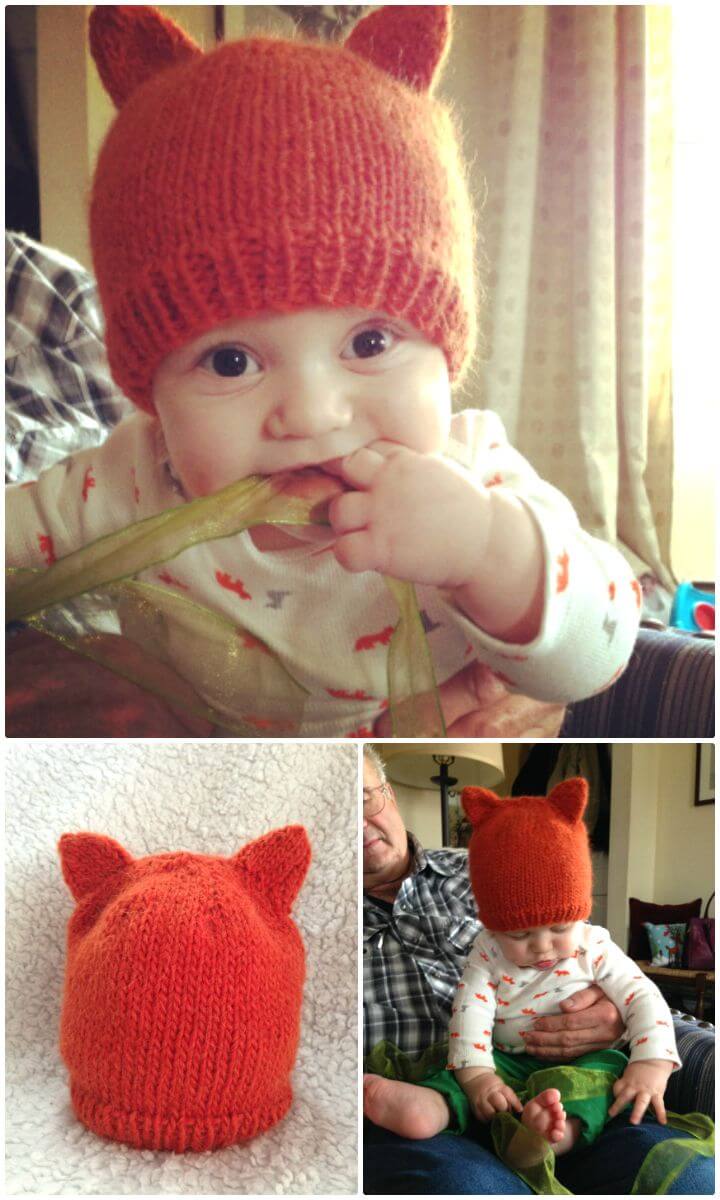 It's no hard to crochet a fox hat for your little ones as you can follow the simple pattern of the old hats to shape up this cute fox hat which only has been provided with the ears to look like a fox hat. So with this simple fox hat, the baby would look extra cute and gorgeous in the daily routine too even if he is not going out and dressing up.Check out the step by step details here alaskaknitnat
Crochet Plaid Fox Hat – Free Pattern:

Here is this lovely fox hat for your little girls and with a cute girly touch making the hat look unique, fun and more pretty than others. You can grab the grey and orange shades to crochet this lovely fox hat with those cute pair of ears and the braids adding oodles of girlish charm to the pattern. You can gift it to any little girl in the family as a perfect fall gift whistleandivy
Free Crochet Child Size Fox Hat Pattern: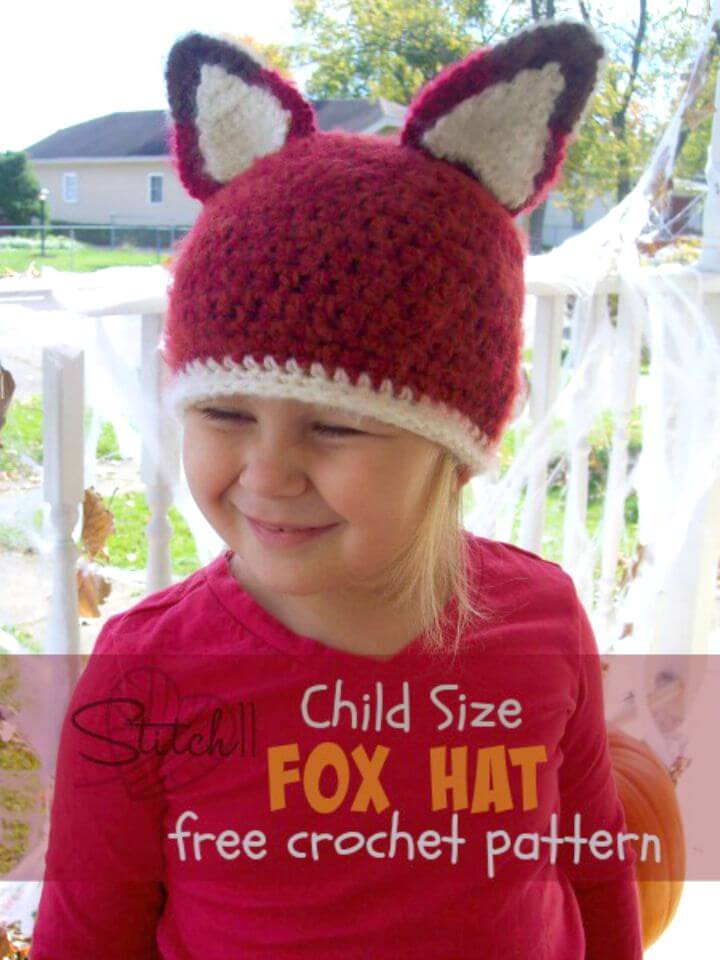 Kids love anything inspired by the animals, so there is something new to try in this zone. So now you can make this lovely and fun fox hat for your girls instead of those kitty and bunny hats, and they would just adore wearing it all around the fall. The combination of the white, red and grey just really turns out to be charming and cute.Details of the pattern and more here stitch11
Cutesy Easy Free Crochet Fox Hat Pattern: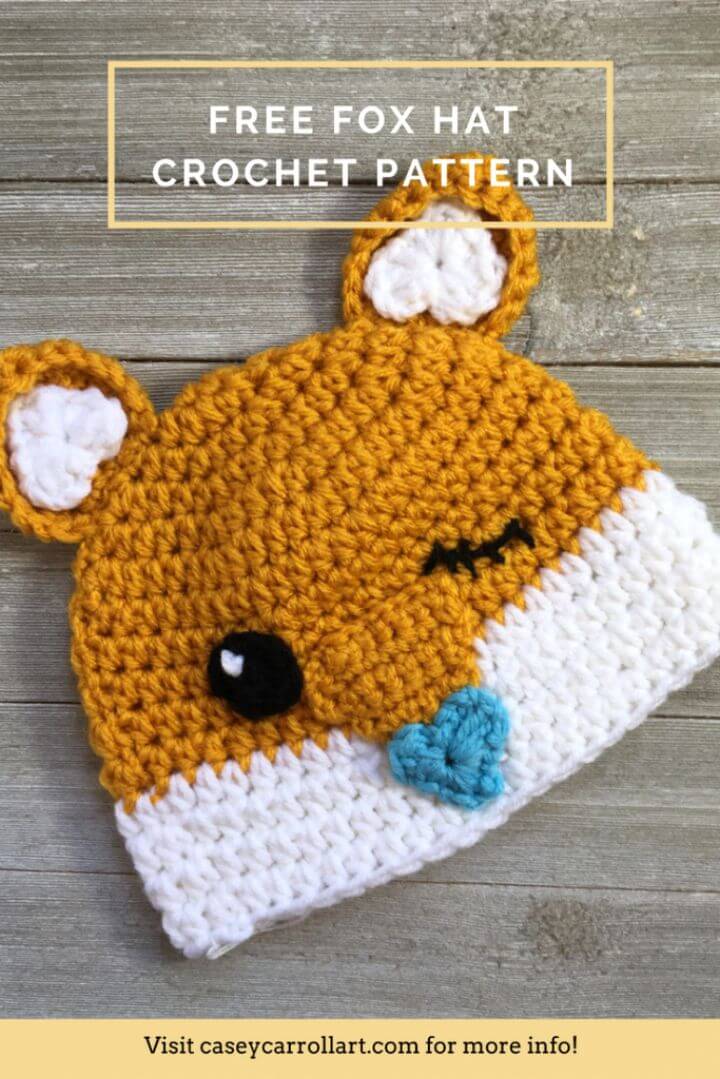 One thing amazing about the fox hats is that they are just fun and apt for all age types and people to look cool in. So here are sharing another funky pattern of the fox hat where the fox is winking at the right eye and look super cute with the blue heart nose on it. So do not wait more grab the yarn and start crocheting this pretty fox hat for anyone in the family cutesy
Free Crochet Friendly Fox Hat Pattern: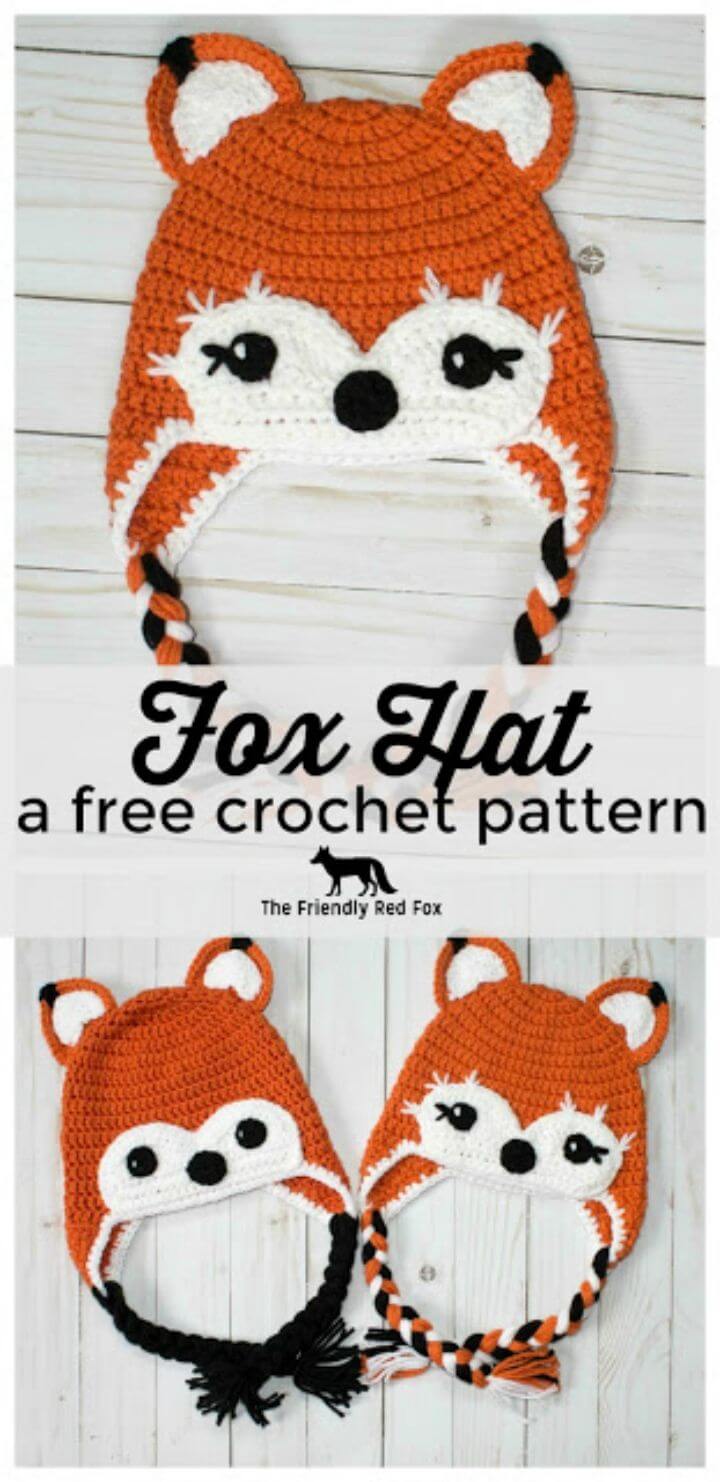 Your heart would surely pound loud while having a look at this cutest ever fox hat as it got every feature to drool over. The pretty and fluffy face, those gorgeous eyes, cute nose, and the lovely contrasting braids are just too adorable to crochet and make your little ones adorn with it for the fall. It would also make a lovely gift idea for any of the little girls around friendly
Preemie Newborn Fox Hat Crochet Pattern: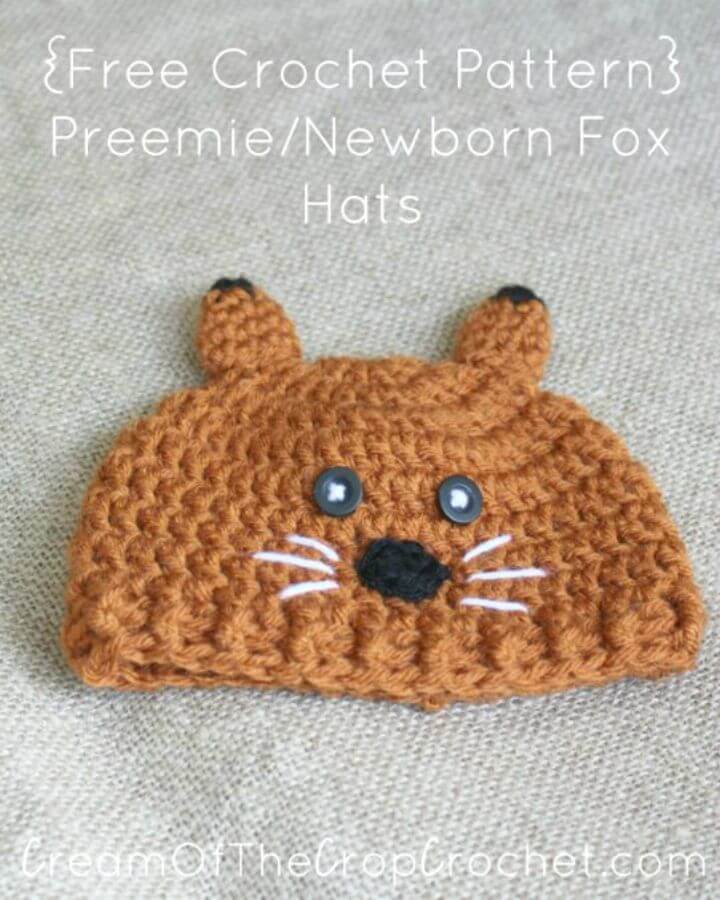 There is nothing a great gift for the new born than a handmade item, and if it is for his protection and utter care, the is just more valuable. So if the new one is coming in fall, then you can crochet this adorable fox hat for him or her and it would be the cutest way to make the baby's head and ears protected from the cold and wind.You can check out the complete tutorial details here newborn
Simple And Easy Free Crochet Fox Hat Pattern: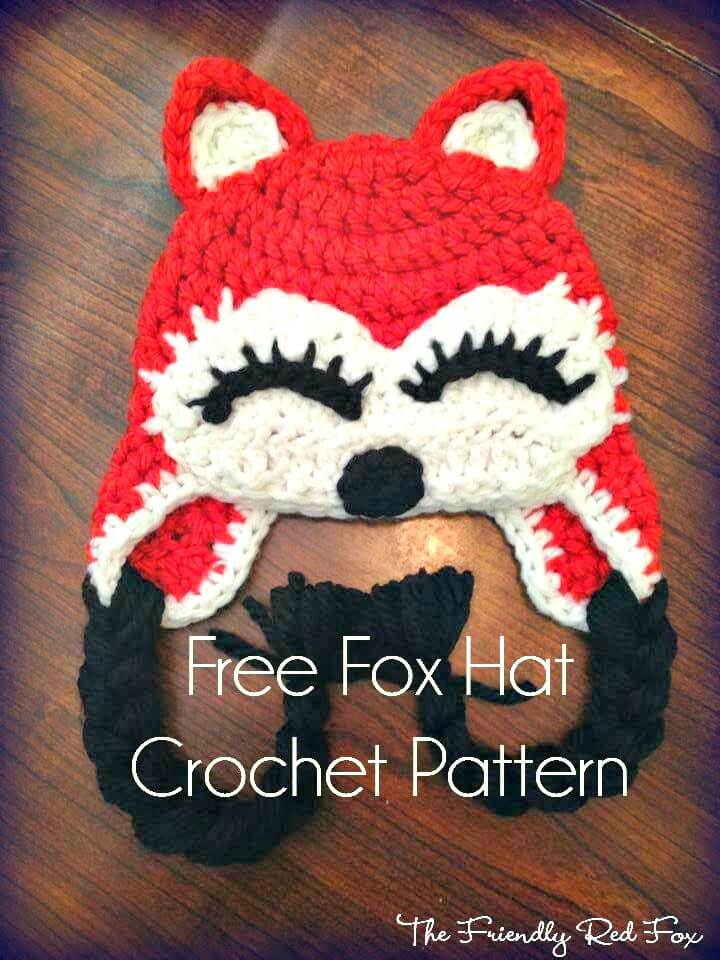 The best way to revive the those childhood memories is to use them in your crafts so if you miss those red fox stories from your childhood you can crochet one in the form of this cute fox red hat for your girls. Those big eyes with the lashes and the braids add a perfect amount of character and charm to the hat. So do make it and let the girls have some fun with the hats this winters thefriendlyredfox
Simple How To Free Crochet Fox Hat Pattern: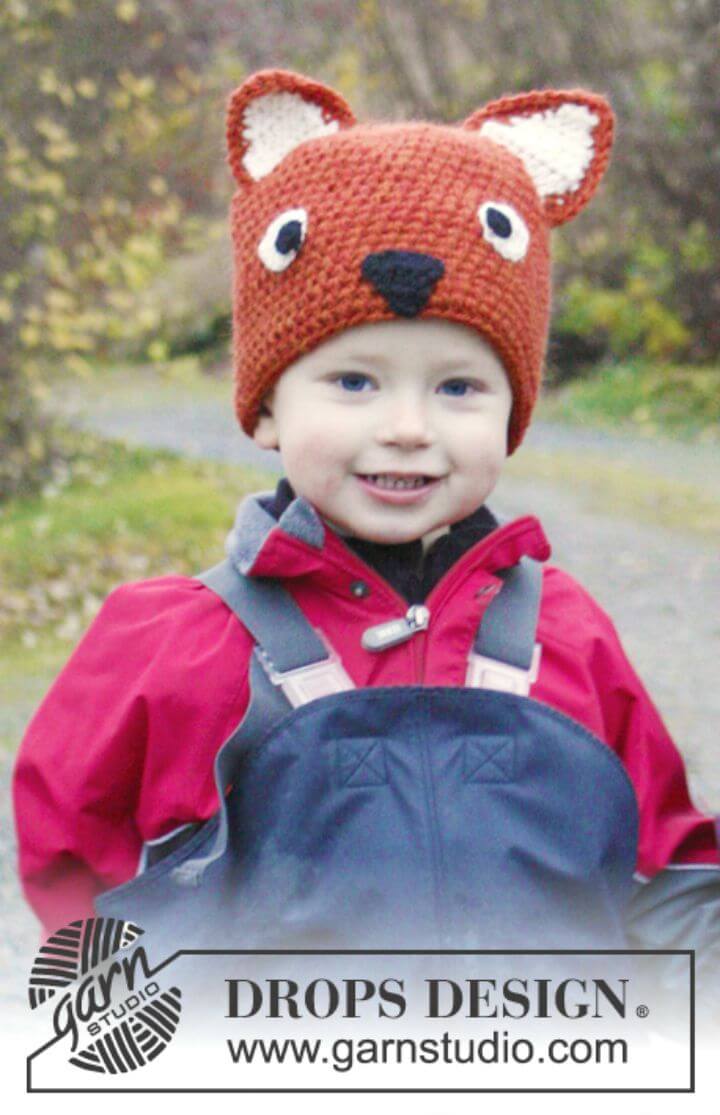 Boys like hats less than the girls but you can make the hats look more interesting and fun to develop their liking for the hats for the winter safety. Here is this lovely fox hat with a pretty face, cute nose, and lovely eyes and those adorable long ears and the boys would just love this hat to the core and would surely love wearing it all time in the cold.Here is the link to grab the details of it garnstudio