Crochet the simple square, round, triangular, or of any shape yarn motifs with sufficient thickness to use as hot pads in your kitchen and on your party tables. Choose the best designs from these 25 Free Crochet Hot Pads Patterns that have only been to impress. They can be on your tea party tables to hold the teapots safely. Next, use them for the secure handling of hot dishes coming from the oven or kitchen stove. The basic purpose of these yarn potholders is to bring colors to a table or in the kitchen and then to keep your fingers safe from burning. Crochet every style of hot pads with these 25 Free Crochet Hot Pad Patterns all will make great inspirations. The crochet pot holders will make a great handmade gift, too, so make them in dozens to pack as a gift.
Along with all season fashion, custom winter accessories, and decorations, now you can crochet outstanding hot pads, will make lovely kitchen decor too.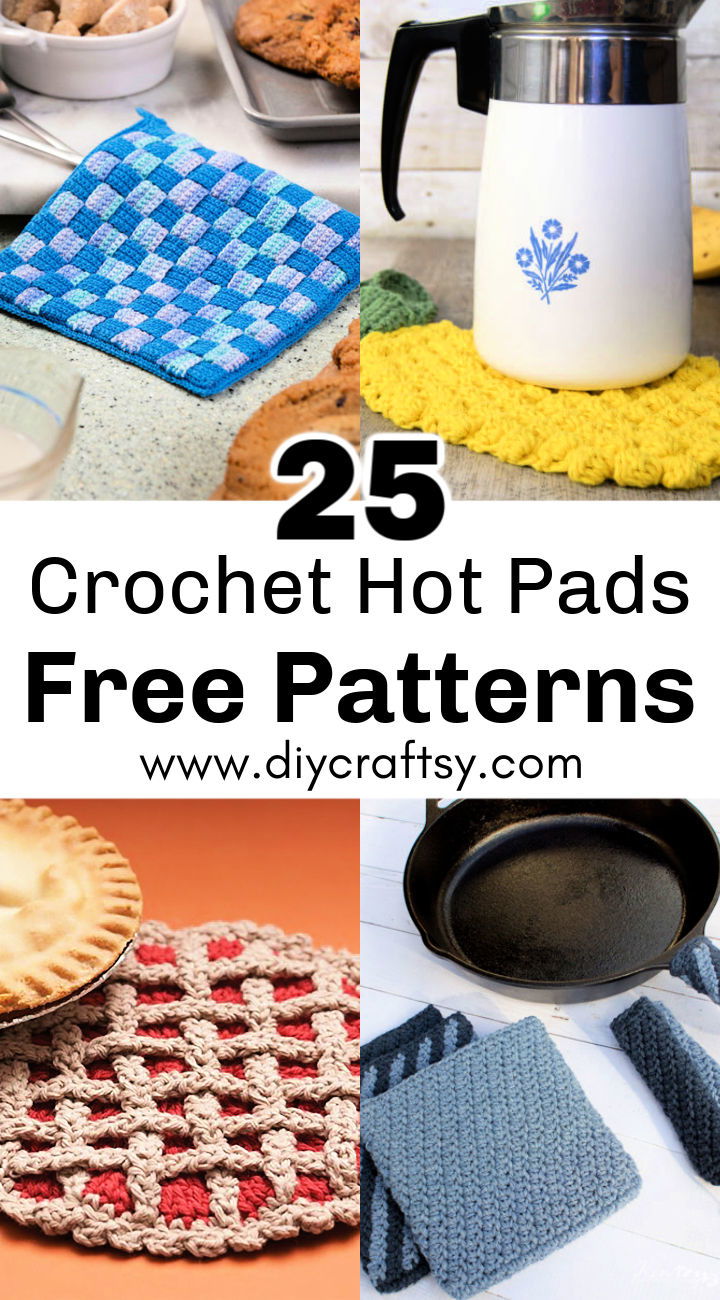 Work in your favorite stitches to get a circle or square made in enough size to hold a hot pot. Make a full set of hot pads with matching coasters to rock your tea parties. The shell, bobble, and picot stitches will be most used stitches for amazing style and design texture variations. In addition, you can crochet a variety of granny square to use as brilliant hot pads in your kitchen. Take a tour of the entire compilation of these free crochet hot pad patterns to see which design inspires you the most.
1. Free Crochet Milk and Cookies Hot Pad Pattern
Crochet the alienate mini squares sing the two colors of yarn for making this hot pad. It will rock for milk and cookies parties. The best soft hotpad to rest up the teapots and other hot utensils. It is the simplest crochet pattern too. You need size 10 classic crochet thread, 1.5mm, and 1.6mm hooks to crochet it! allfreecrochet
2. Crochet Cherry Pie Hot Pad – Free Pattern
When you get master hands in crocheting, then crocheting pattern inspired by different items makes you feel proud. Impress your guests with this cherry pie hot pad, damn easy to crochet. The best hot pad to serve pies will create a distinguished look of your party and breakfast table! Details here yarnspirations
3. Crochet Circular Hot Pad – Free Pattern
Do you love to crochet in rounds? Then crochet these circular hot pads, will impress at a first look. Go with two or more colors for a colorful striped appeal. Grab 30 grams of yarn and work with 3.5mm crochet hook complete the design quickly! crochetncreate
4. How to Crochet Blue Jean Rhapsody Hot Pad
Work with 4mm and 5mm crochet hooks to crochet this very interesting hot pad, grab 2 balls of your favorite yarn, and a yarn needle to crochet this rhapsody hot pad, crochet dozens of them to give as a sweet homemade gift to a new neighbor. Details here kirstenhollo
5. Striped T-Shirt Yarn Hot-pads – Free Crochet Pattern
Cut longer strips of your old t-shirts and make fabric yarn out of them. Use various colors for a striped appeal, add a lovely border and crochet good looking hot pads. 1/9-5.50mm hook size will rock or this t-shirt yarn hot pads! They will impress at a very first look due to enchanting colors! eliseenghstudios
6. Easy Crochet Hot Pad – Free Pattern
Add an element of fun to your cooking by adding this cool hot pad, easy to crochet square pattern. You need 3 oz cotton skein to crochet this hot pad using a G hook size. The pattern will rock for every occasion and will make a cool handmade gift. adventuresofa
7. Crochet Harlequin Stitch Hot Pad – Free Pattern
For a bold design texture, trying out different crochet stitches is a must. You will love to have this crochet harlequin stitch hot pad on your party dining table, which will bring the necessary coziness to your dining table and is quite something easy to crochet. Grab a blue and a white skein of cotton yarn to crochet this hot pad quickly. daisyfarmcrafts
8. Pretty Crochet Pineapple Hot Pad – Free Pattern
Make the hot pads in any shape you are inspired of. Leave a great impression on your guests by adding this crochet pineapple hot pad on the party table. The fruity shape will impress at a first look and will add colors to the table. Grab 120 yds of yellow and 75 yards of green to crochet this hot pad with 5.0mm hook. petalstopicots
9. Simple Crochet Magic Hot Pads – Free Pattern
Make a bunch of these hot pads to give as a housewarming gift to a new homeowner. The best magic hot pads featuring neutral hues will bring coziness to any party table. This hot pad has a square 7 1/2″ inches size, crochet it using the J hook size. Details here themamasgirls
10. Free Crochet Country Hot Pad Pattern
Protect your expensive tables from the hot dishes using these country crochet hot pads, will work up super quickly. It is a big square in the square striped hot pad that can be crocheted in any yarn color combo. The best pattern to try out with your favorite hooks and stitches. Full pattern details here stitching together
11. Crochet Bobble Stitch Hot Pad – Free Pattern
Work in bobble crochet stitch to crochet this very interesting looking hot pad. It will be super soft and fluffy to touch. For fantastic color variations, try out the bobble rows with so many different yarn colors. Crochet ombre balls 3 oz and strips 2 oz using the 4.5mm crochet hook size. christineswilliams
12. How to Crochet Double Thick Single Hot Pad
For double safety, opt for these double-thick single crochet hot pads. Crochet this square using 165 yds of worsted yarn weight and a 4.5mm crochet hook. Colorful diagonal stripes bring a bit more visual attractiveness to the entire design. The design comes with a loop to one corner for easy hanging. instructables
13. Awesome Crochet Winter Opulence Round – Free Pattern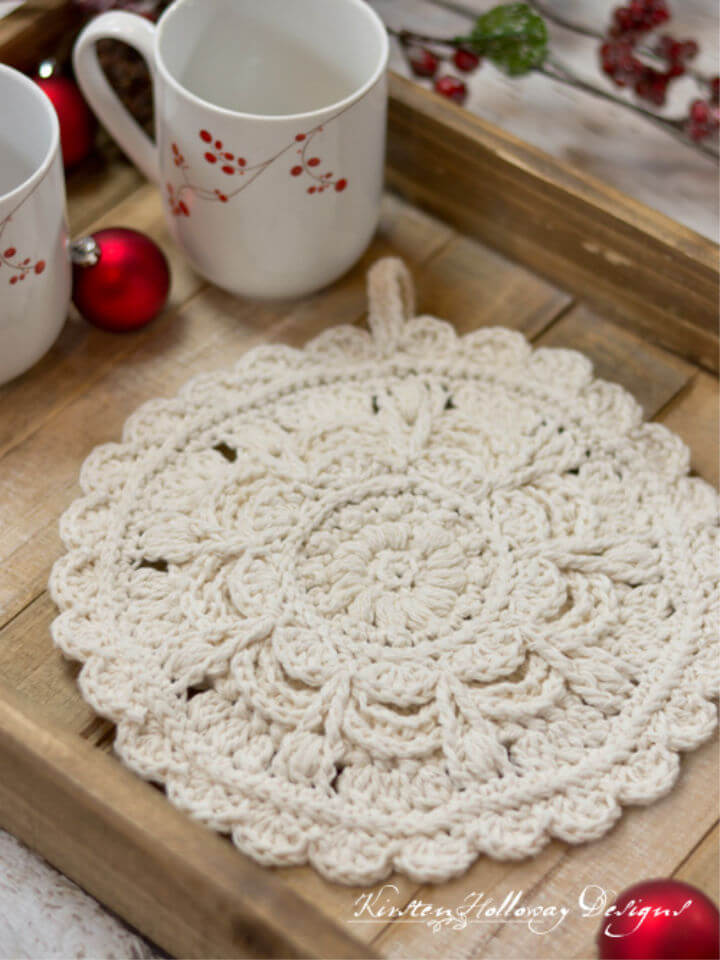 Hot pads can be of different sizes and shapes, choose any design that will rock your party and tea table. Get ready with your intermediate skill level, and 5mm crochet hook to crochet this round doily style crochet hot pad using 100 or 120 cotton yarn yds. The neutral hue of design will rock for fall. kirstenhollo
14. How to Crochet Hot Pad
Celebrate the winter by bringing coziness to your kitchen, will come from this hot crochet pad, something highly impressive to crochet. The designs win the heart with pink ombre appeal, and you need two colors of worsted yarn weight to crochet this hot pad using the crochet I hook. midwestern
15. Crochet Tutti Frutti Hot Pad – Free Pattern
Celebrate the winter or summer season by making hot crochet pads inspired by respective seasonal fruits. You will love to have these tutti frutti hot pads in your kitchen that look near to real fruit slices and are quite easy to crochet. You need felt, crochet 4mm hook, yard, and a darning needle to sew in ends. Details here crafts tutsplus
16. Simple Crochet Gingerbread Man Hot Pads – Free Pattern
The finished size of this crochet gingerbread hot pad is 9 1/2″ x 9 1/2″ and is the best crochet square pattern with a bear motif. You need 100 yds of white, 60 yds of brown, 40 yds of red, and 40 yds of the forest to crochet this gingerbread hot pad. You need 4mm and 3.75mm crochet hook to crochet it. acrochetedsim
17. Free Crochet Potholder Hot Pad Pattern
Grab 70 yds of yarn in pomegranate and swan colors and 4mm crochet hook to crochet this lovely hot pad will work up super quickly. Rock your kitchen with this 8″ x 8″ square, quite something beautiful to look at. Leave a loop on one corner that will help in the easy hanging of this potholder. leeleeknits
18. Extra Thick Hot Pad – Free Crochet Pattern
Using extra-thick hot pads will keep your fingers and hands safe from burning. Use only 2 skeins of cotton yarn to crochet this extra-thick hot pad. 4mm and 5.5mm crochet hooks will rock to crochet these square hot pads like a pro. The hot pads look great with white inside and colorful borders. caabcrochet
19. Easy Crochet Granny Square – Free Pattern
Bring tons of variations in making hot crochet pads using granny squares. There are tones of different types of granny square motifs, each design crocheted in a bigger size, will make a great hot pad. Crochet this given sample will rock for a kitchen and a party table and is easy to hang too. Start the project by crocheting a mini circle. Details here sincerelysara
20. How to Crochet May Flowers Hot Pad
Do you like flowers? Then you will love these hot flower pads too, appearing in extra enchanting colors, will grace up any kitchen or table with flattering yarn colors. You need yarn in various different colors like in white, blue, yellow, red, and blue to crochet this enchanting flower hot pad. How-to guides here redheart
21. Hot Pad – Free Crochet Pattern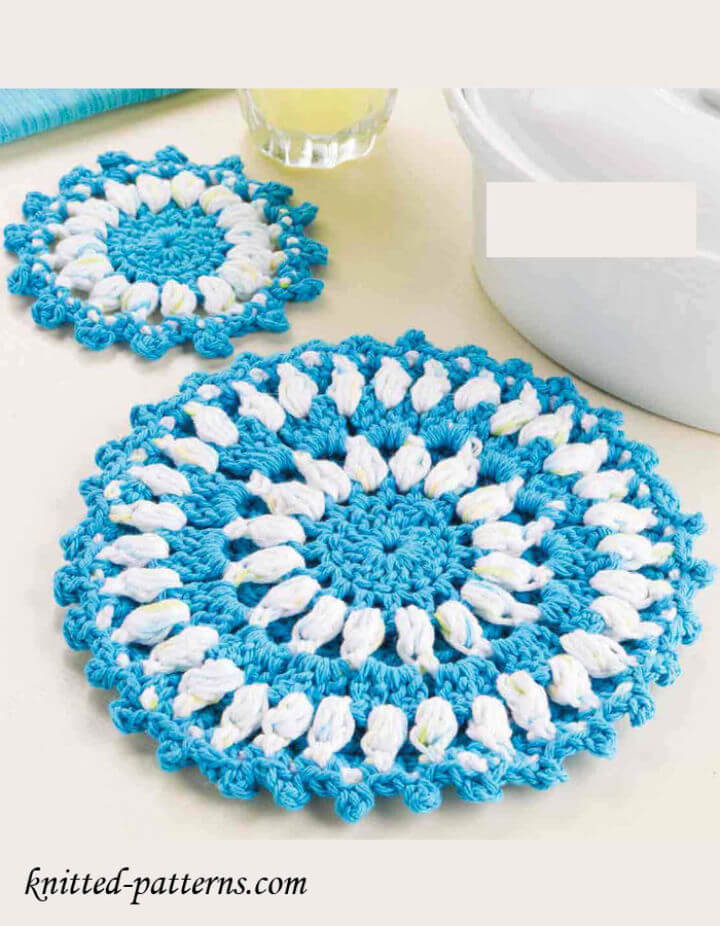 Make this entire set of matching round coasters and hot pads to rock your tea parties. Work with H-hook to crochet these stunning mini and big yarn rounds using white and blue yarn colors. The best tropical pad pattern with balls and cones. You also need a tapestry needle for crocheting accent sides. Work in a picot and bobble stitch to get this hot crochet pad made. knitted patterns
22. How to Crochet Herringbone Hot Pads
Use one skein of each white, teal, and overcast yarn colors to crochet this herringbone hotpad. The H-hook will rock to crochet gorgeous crochet herringbone square. Experiment with the entire design with your favorite yarn colors and gauges. daisyfarmcrafts
23. Free Crochet Hot Pad Pattern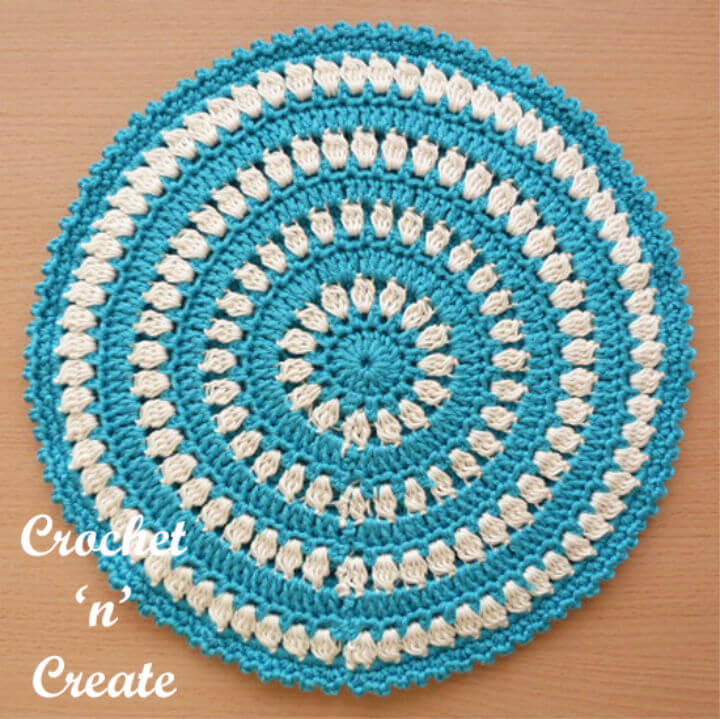 Handle the hot dishes with care using this hot pad, will keep the hands and finger-safe from burning. Use 30 grams of Patons 100% yarn in both white and blue colors and 3.5mm crochet hook size to crochet this circle in circle hot pad. The best crochet tropical pad pattern for all who love to crochet in rounds. crochetncreate
24. Quick Crochet Triangle Hot Pad
Crochet hot pads may be of any shape and size, depending on the needs. Create a bold geometrical decor statement on a party table or in the kitchen using this crochet triangle hot pad. You need 2 ozs of worsted yarn weight, H crochet hook and a tapestry needle to crochet this triangle hot pad. The special stitch will be the shell stitch. qualitycrochet4fun
25. Crochet Double Thick No-burn Hot Pad
Dealing with hot dishes in the kitchen often burns your hands. Keep your hands safe from burning using double thick no-burn hot pads. Use 4 ply cotton yarn in your favorite colors to crochet these no-burn hot pad with double thickness. 1skein will rock for making each 8″ square hot pad. livewellutah
26. Crochet Square Hot Pad Pattern
You will love the white and light brown stripes of this square striped hot pad. Bring tons of focal stimulation to design by adding accent side trim. The design looks graceful in bright yarn hues and will work up super quickly. crochetncreate
More free crochet patterns you may like: