The place that we live in can have a big influence on our everyday mood, although sadly, most of the standard dorm rooms lack personality. So, the students are the ones who need to create a dorm that will inspire them in a variety of ways, whether that be to feel at peace, unwind, or study.
Although, students also don't get a lot of creative control over their college room decor. For some, it can be hard to find cute room decor ideas on a college budget, and others are simply not creative enough. Some students simply don't know what they can do to their dorm to make it feel like home, just like some students have no idea how to write a conclusion paragraph on an essay for their classes. Although there is a user-friendly conclusion generator, an online course, and various online books that help with education. There is also a guide like this one that helps students and gives them dorm decor ideas.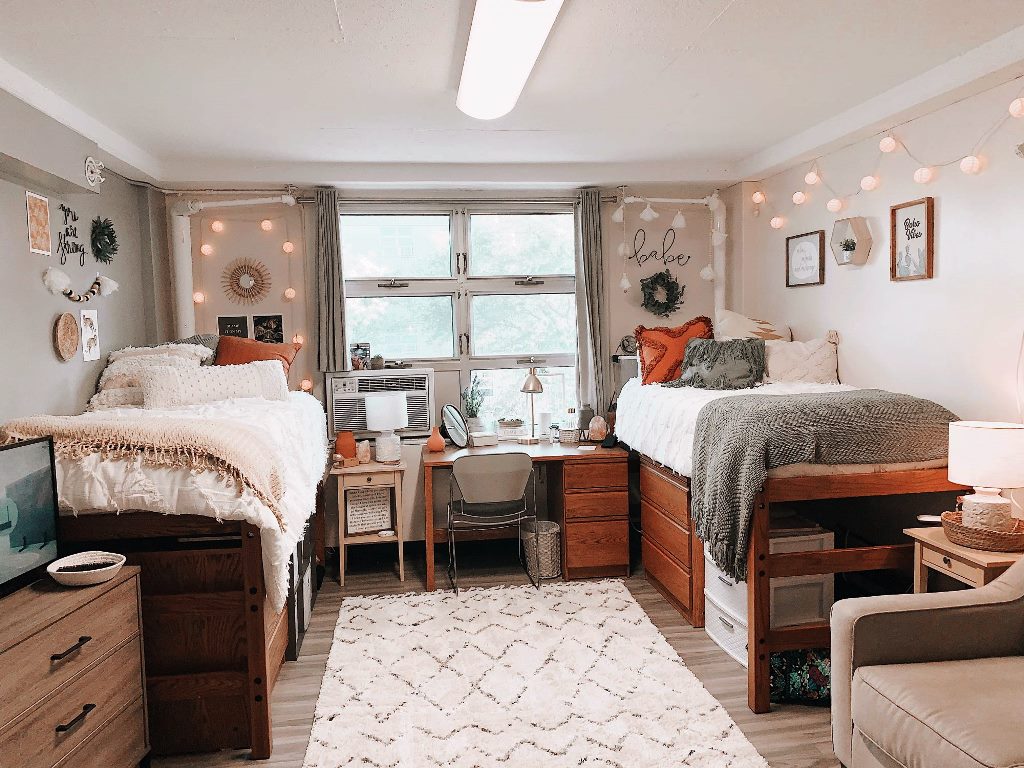 So, the following are some ideas, and yes they are innovative, inspiring, and most importantly, inexpensive because they are DIY projects.
Hang Photos with Thread
If you have a large wall that you want to fill with something, our first idea would be to hang some of your favorite photos with family and friends from home or campus. You can even make it more cohesive by printing all the photos by using the same filter or making them simply black and white.
Greenery on the Wall
House plants have many benefits because of simply being pretty. There is a chance that your dorm won't have much natural lighting, but you can add some life to it by creating a wall pattern of plants. Just make sure that you use plants such as succulents because they don't need that much attention and natural lighting. Although if you are lacking the green thumb entirely, you can also use some fake flowers and even build an indestructible terrarium with different colors.
Create a Stylish Laundry Hamper
It's easy to hide a laundry hamper out of sight when living in a house or apartment, although you need to have your laundry hamper in the open when living in a dorm. So, use that chance to create one that will add to the decor aesthetic. You can create it from a pine round and hardware cloth, you can cover a plastic bag with rope, and even color the rope with your favorite color, or simply hang a colorful and fun large pillowcase on a large embroidery hoop on the wall, and you will have a stylish laundry hamper for yourself.
Change your Lampshades
The chip lampshades often lack personality but making them more fun can actually be a very easy task. You can simply cover the existing lampshade with some new fabric that matches the decor in your dorm. These DIY lampshade ideas come with great potential for customization.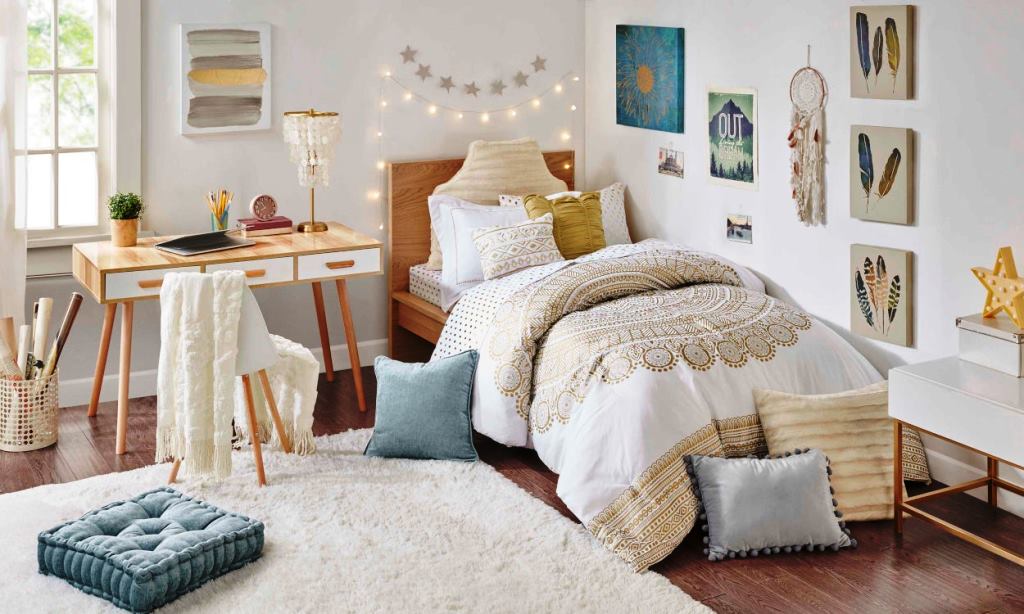 Keep your Place Organized
There are a lot of papers and supplies that you need to keep organized while in university. So instead of putting everything on top of your desk, you can create an organization system using wooden or plastic storage boxes. You can use even the simplest ones with nothing on and decorate them by using some acrylic paint and a painting brush. You can make those boxes look like pieces of decor and color them in one color or even paint them with some fun art.
Memo Board with Garden Mesh
Every student should have a section on the wall specifically for keeping their schoolwork organized. And some nice ideas would be to do that with a memo board that, besides being a storage grid, it will also be a modern art piece. Simply get yourself a piece of garden mesh and hang it on the wall, as easy as that.
Instagram wall feed
If you have a fun Instagram feed, why not showcase it on your empty wall and create amazing college wall decor. You won't need hammers or nails for this project. You will simply need to print the photos, create an even greed on the wall and tape them by using washi tape.
Create a Fun Ceiling Fan
You can find a boring plain ceiling fan in almost every dorm room. But you don't have to live like that until you are living there. You will have an updated and more esthetically pleasing ceiling fan by simply adding a washi tape in one color or one with patterns. Just make sure that you remove the tape when moving out of the space.
Letters from Wire and Flowers
If you have a short quote on your mind that you would like to see on your wall every day, you can spell it out by creating the letters from wire and faux flowers. This type of decor will give a sweet and feminine look to your dorm.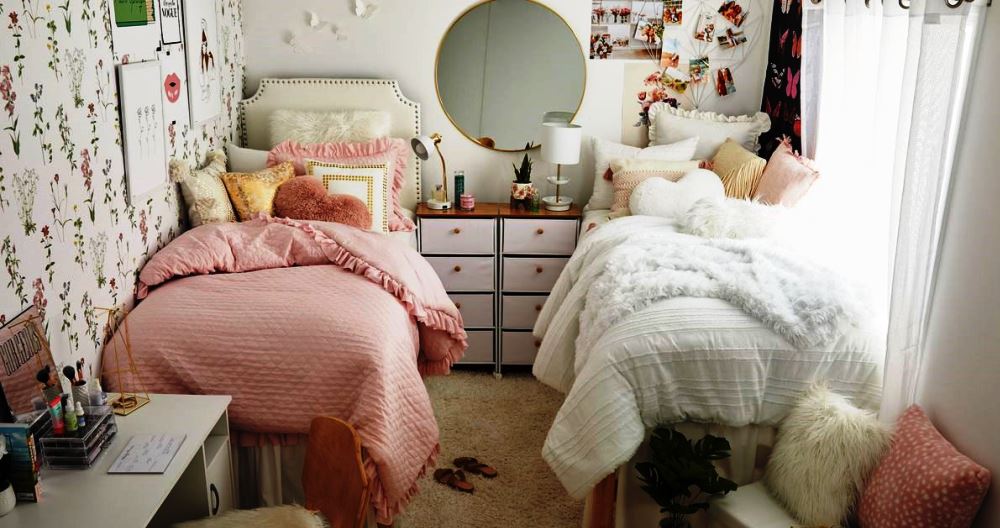 Write Inspirational Messages
Every student needs motivation and inspiration from time to time, and who knows you better than you know yourself. Make sure that you have some kind of inspirational message in your dorm. Besides being a great decoration piece, they will also be a daily reminder to keep going. You can create a felt letter board on the wall or print some writings and put them on your desk in a frame.
From Simple Basket to a Nightstand
For this simple project, you will just need a lightweight wastebasket that won't take up too much space and a piece of plastic or wood that will match the geometrical shape of the basket. Put the piece of your choice on top of the basket, and you have yourself a functional end table. You can even buy paint and color both the basket and the top piece. Either way, it will cost you less than buying a premade nightstand would.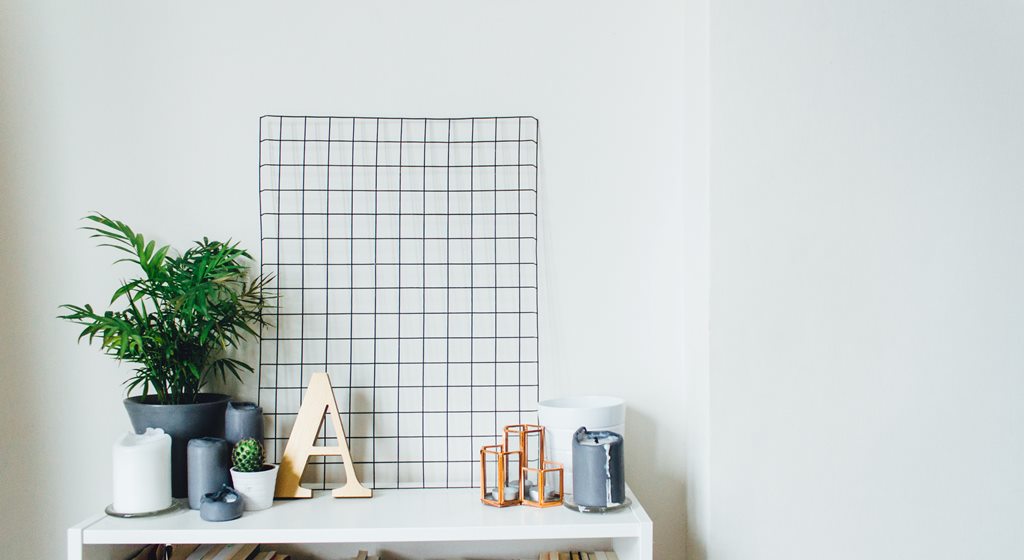 Add Some Floating Shelves
If you are allowed to use nails and screws in your dorm room, then you definitely need to use that chance to add some floating shelves. Having them will make your room cozier, you will have more surfaces for your dorm room decorations, and of course, you will have way more storage space without taking out any space. For this project, you will need to choose a shelving board, get some holders and drill them with some screws.
Conclusion: Even the oldest, smallest, and most dismal dorm rooms should make a student say dorm sweet dorm. So, in order to achieve that in your own dorm, get crafty with the DIY projects mentioned above and add some homey vibes and personality to it. Happy Decorating!