There are so many ways to bring some unique fun to your crochet work and get some interesting and exciting possessions for yourself and the home decor as well. Even by just changing the stitch you are stick to crochet for so long, you can rejoice your love for crocheting. So it's season to get your hands on the simple chain stitches and experiment with the crochet bobble stitch. Yes, the old-fashioned bobble stitch that our grandmothers and Nana's were addicted to, is breathing again and that too in utter style and chic fashion. Working up your hooks with the crochet bobble stitch to crochet any of your favorite stuff be it hats, blankets, scarves, rugs and more and for a comprehensive view you can check out these 30 free crochet bobble stitch patterns that we collected strenuously for you.
The crochet bobble stitch is easy to work up as it involves the combining of four double stitches leaving each double crochet incomplete and get pulled through the last stitch. What makes this bobble stitch so much fun a pattern are the details of the thickness and the poppy texture it gives to your crochet stuff. And the icing on the cake is that you can hook up any of your favorite crochet pattern using this cute crochet bobble stitch and that too for your favorite crochet patterns.
The lovely round bubbles popping out of the excellent colors look so adorable, and every age group can enjoy them in a variety of crochet items be it hats, scarves, blankets, pillows, sweaters and so much more. Just imagine how beautiful and fun it would look to have a crochet bobble stitched pillowcase on your bed, an afghan resting elegantly on your sofa the cutest hat warming up the little skulls of your kids.
The crochet bobble stitch would be so much fun to work up with the hooks when you need to pass some free time productively in the noons of winters while watching TV or just to sit calmly on your favorite chair in the porch and witnessing your kids having fun around. Every crochet bobble stitch pattern here comes with the links to lead you to the details of the patterns so that you can whip them off so nicely and quickly at home by learning the Free Crochet Patterns and stitch work step by step.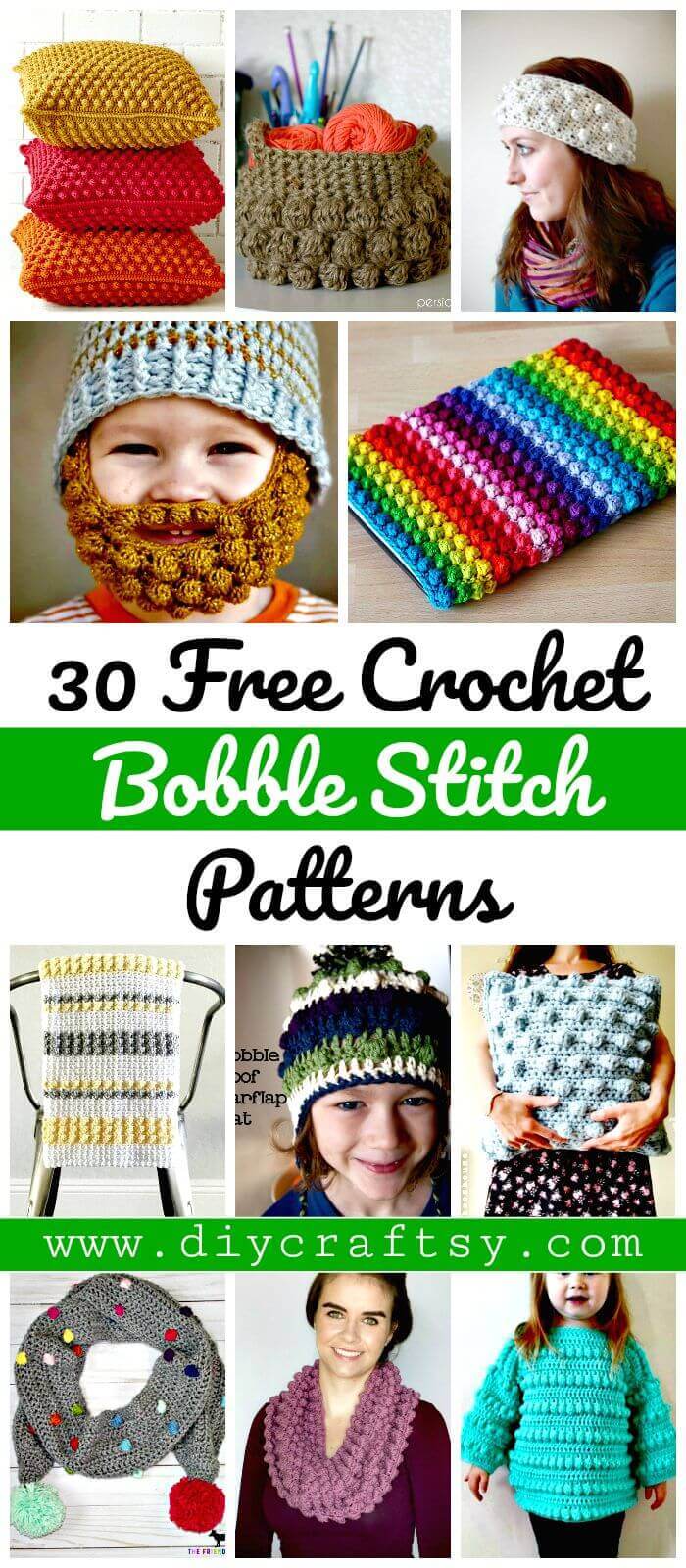 You can customize each pattern and crochet possession of yours with the custom colors and the designs to get some pretty personalized possessions for you and your dear and near ones. Here is this lovely collection waiting for you to visit it and learn your favorite crochet bobble stitch pattern to own it soon.
Free Crochet Patterns & Stitches:
Easy Free Crochet Bobble Stitch Pattern: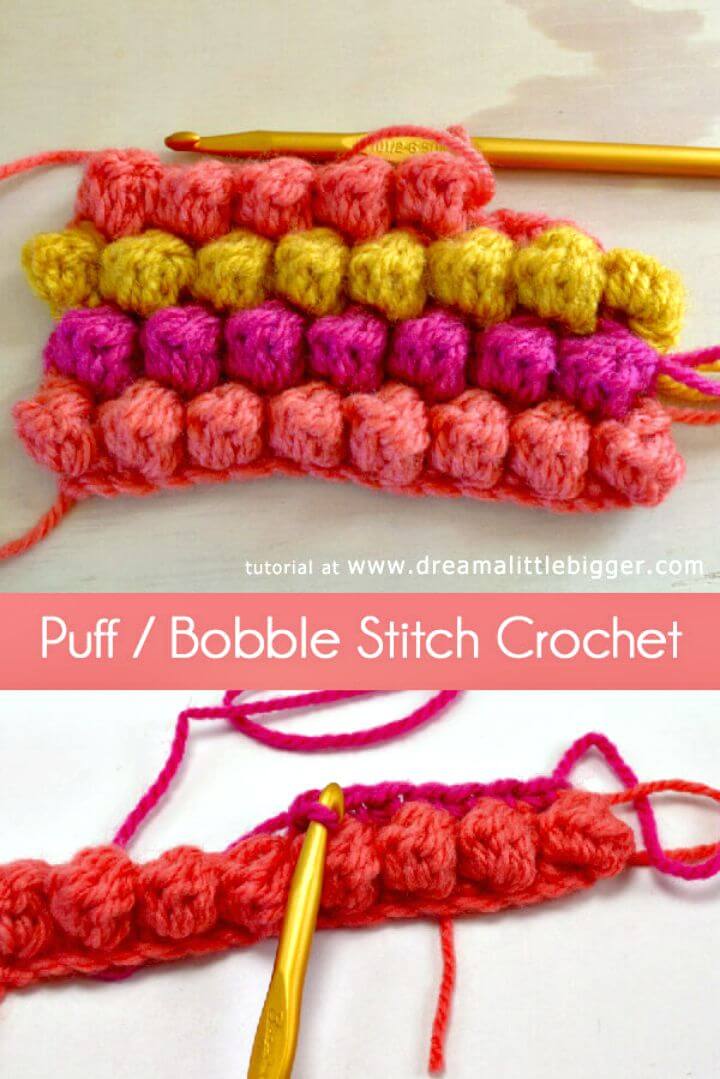 Every crochet stitch helps creating a different design texture, but when getting the small colorful puffs is in demand, the crochet bobble stitch is always preferred as the bouncy design texture is liked by all! So, do you know how to crochet bobble stitch? Are you willing to crochet various pattern based on this special stitch? Then just learn all about how to crochet bobble stitch via free pattern and tutorial given here dreamalittlebigger
How To Free Crochet Bobbly Blanket Pattern: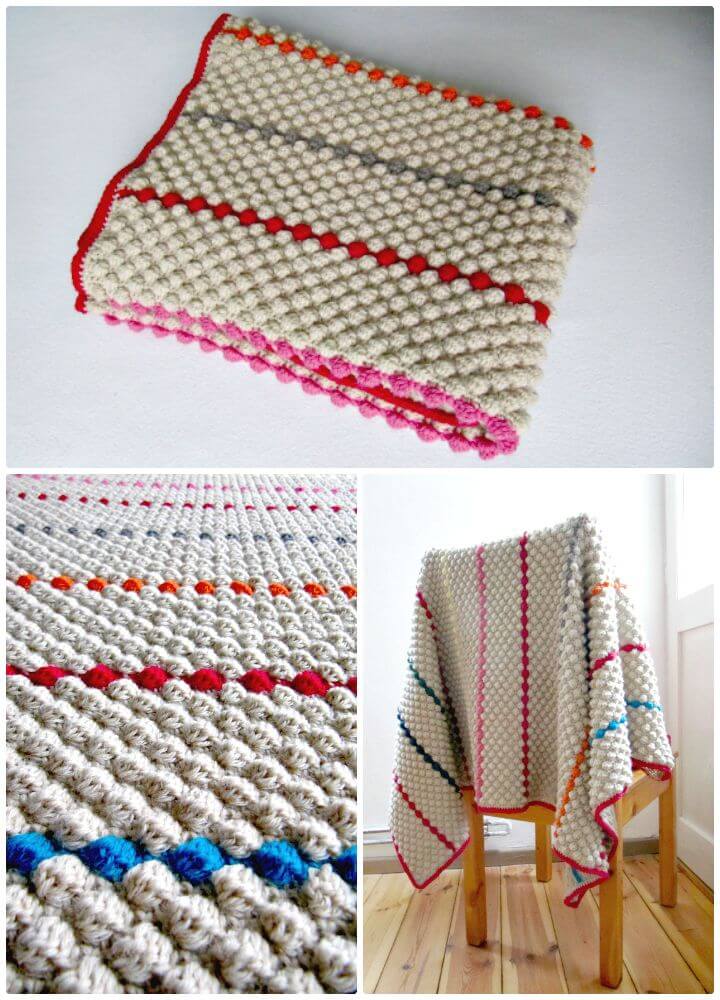 Bobble stitch helping creating the bouncy yarn bubbles that goes eye-catching and especially the kids like them very much! So, if you willing to crochet something fab using the bobble stitch then here is a perfect sample, the crochet bobbly blanket that comes with fetching design texture and is super soft to touch and to wrap your baby in! By simply varying the yarn color you can vary its hue while getting a personal hue is in demands! Free crochet pattern and tutorial guide is here haekelmonster
Free Crochet Bobble Poof Ear-Flap Hat Pattern: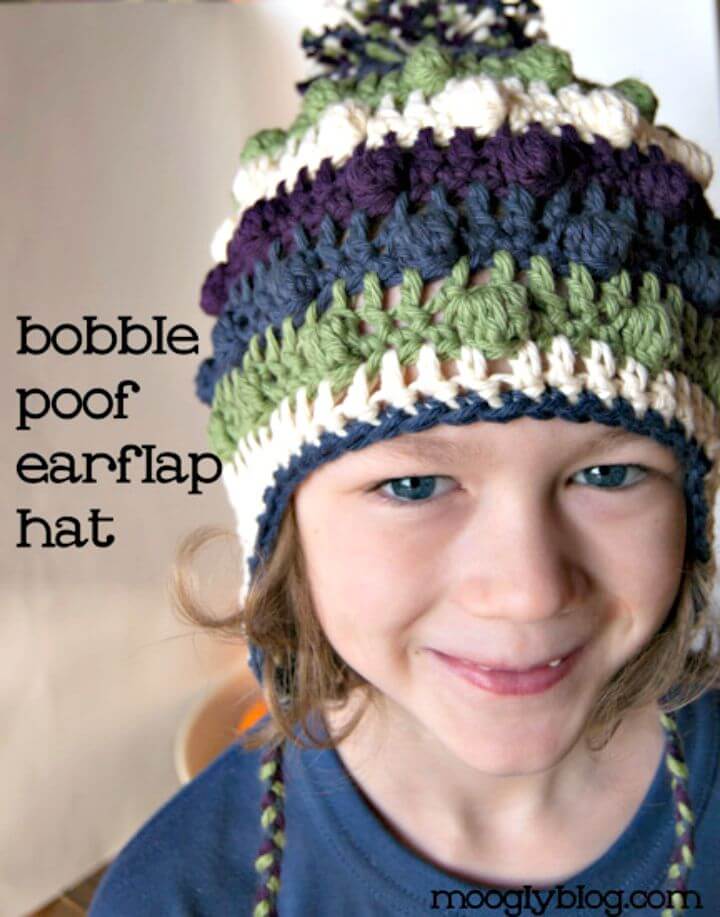 You can do wonders with your crochet hook, a great one is here, this special crochet earflap hat that would make a great and outstanding gift to a kid or to a little girl! This is here another great crochet creation done with the crochet bobble poof stitch and it has been crocheted lacey to rock kids heads in less chilly days! You can tight the crochet stitches to make it a perfect winter headwarmer! Why not give this special crochet hat a try with different yarn colors? Grab the full free guide and tutorial from here mooglyblog
Easy Free Crochet Mulberry Bobble Scarf Pattern: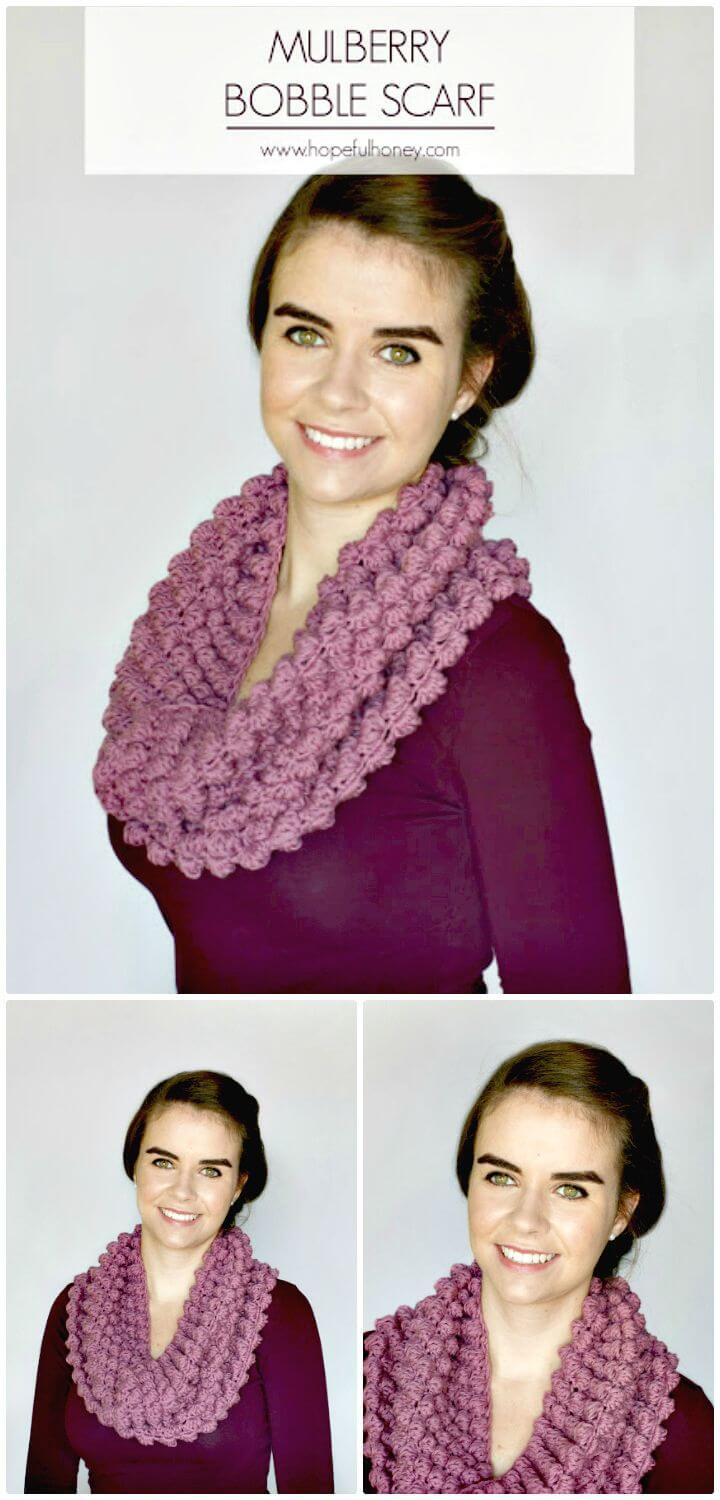 If you are handy at bottle crochet stitch, you can crochet amazing fashion for all seasons! A perfect sample here is this crochet mulberry scarf that comes with bouncy design texture that is only due the special crochet bobble stitch! This scarf is a handsome accessory here that will make an interesting gift to any style conscious girl and will also be a delight to wear around your neck as a neckwarmer! Here this scarf or cowl comes in single yarn color but you can tryout it with any different yarn color by learning the bottle stitch first! Free crochet pattern and tutorial guide is here hopefulhoney
How To Free Crochet Bobble Stitch Infinity Scarf Pattern: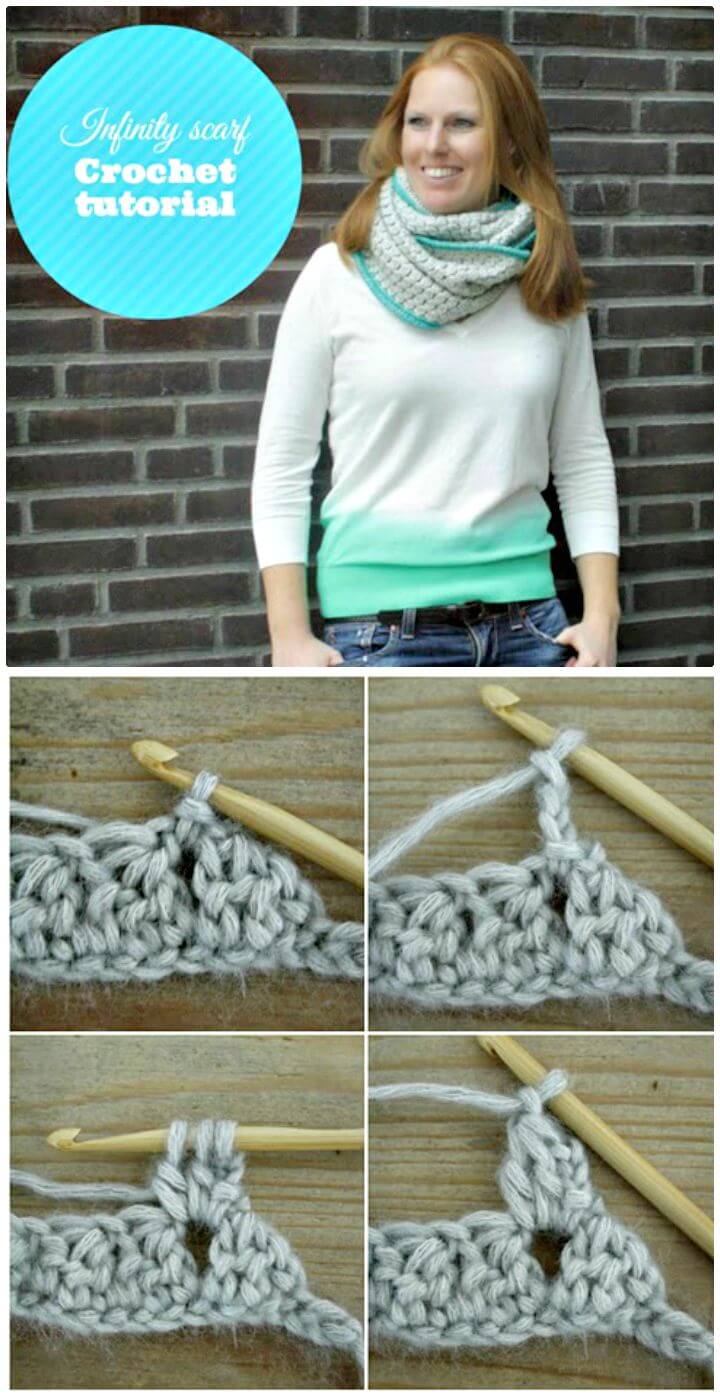 Another outstanding scarf is here done with the bottle stitch, this time this is an infinity crochet scarf that is a wardrobe must-have for any fashion enthusiast, so will also make an epic present for a style loving lady you know and care about! Another fetching crochet scarf done with the crochet bobble stitch! Grab the full free guide and step-by-step instructions from here happyinred
Free Crochet Bobble Stitch Afghan Square Pattern: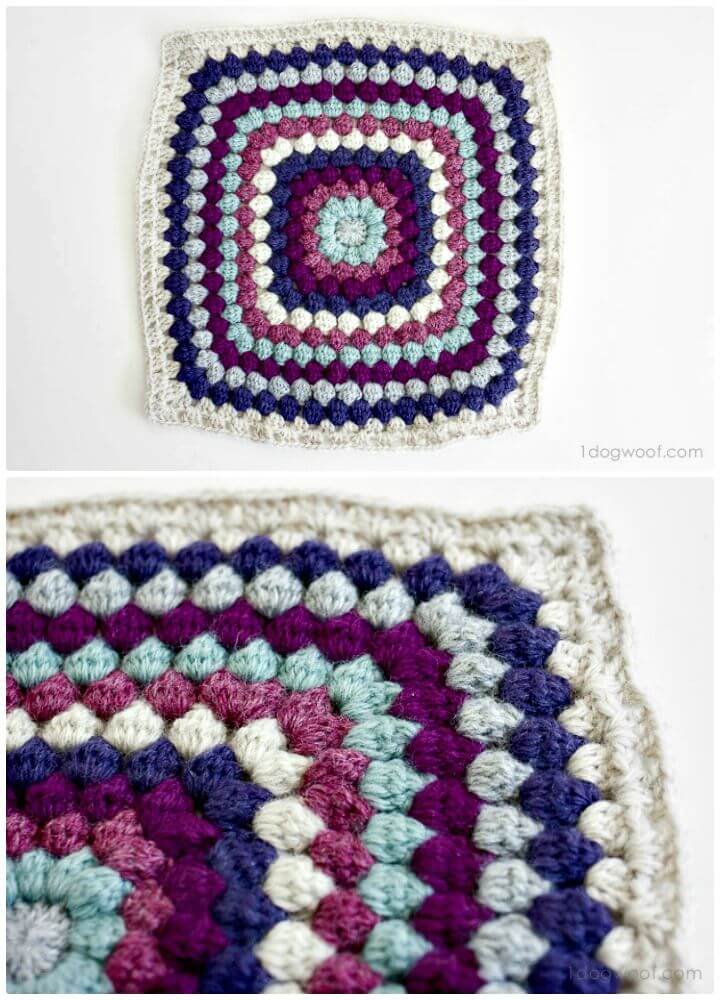 Every onlooker will definitely look at this crochet blanket twice as it comes with lovely puffs that appear as square lines around this very special crochet afghan, another mind-blowing crochet bobble stitch pattern that you will love to duplicate for a baby or for a mother-to-be! Just learn first to crochet the puff stitch like and pro and then tryout this afghan in any of spare time! Free crochet pattern and tutorial guide from here 1dogwoof
Free Crochet Bobble Headband Pattern: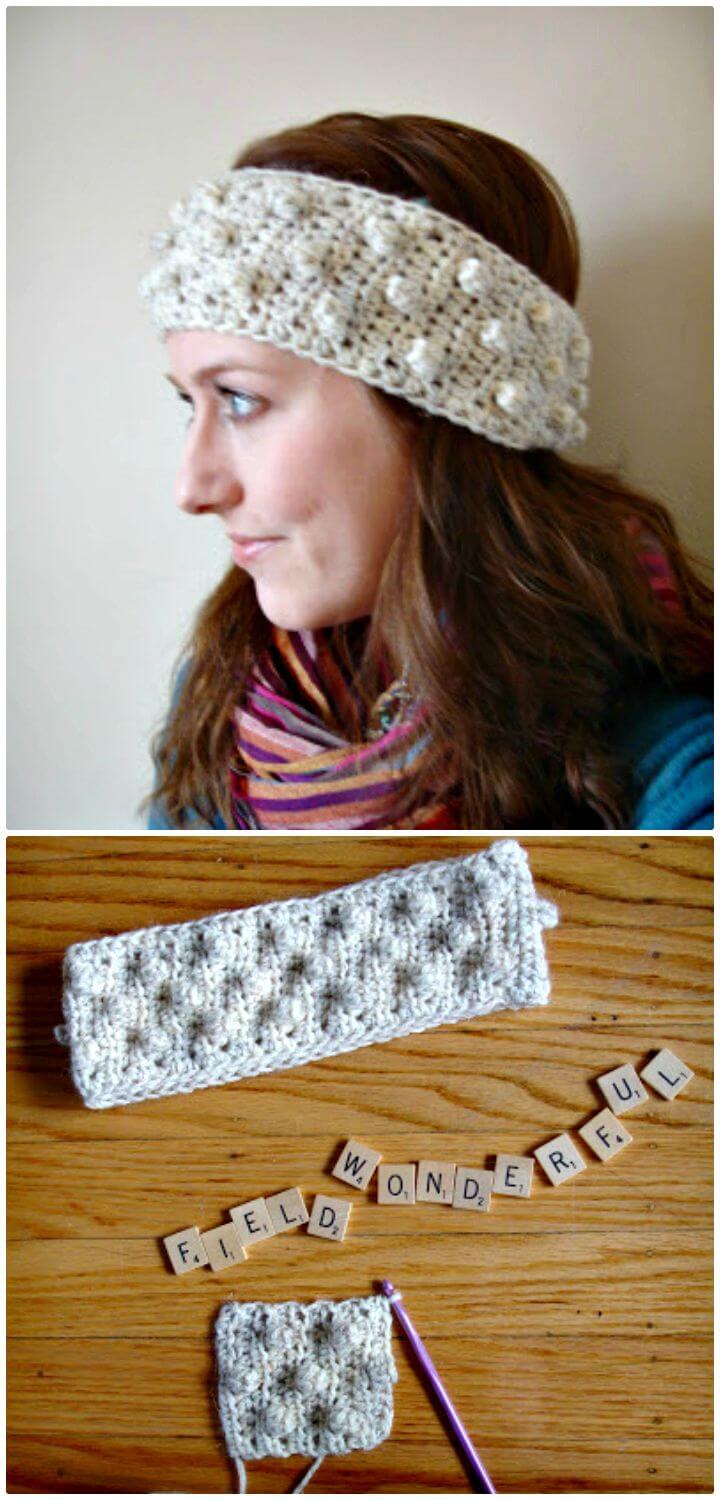 You can really do wonders with your crochet hooks as it can really help you win also a heart of a beloved one! Just take a look at this bobble crochet headband that is a perfect crochet accessory crocheted for winter fashion and will help styling up any fashion loving lady! This is here another outstanding puff stitch creation that you can clone also by getting master hands in crochet bobble stitch! Grab the full free crochet pattern and tutorial guide from here fieldwonderful
Free Crochet Shells & Bobbles Finger Less Gloves Pattern: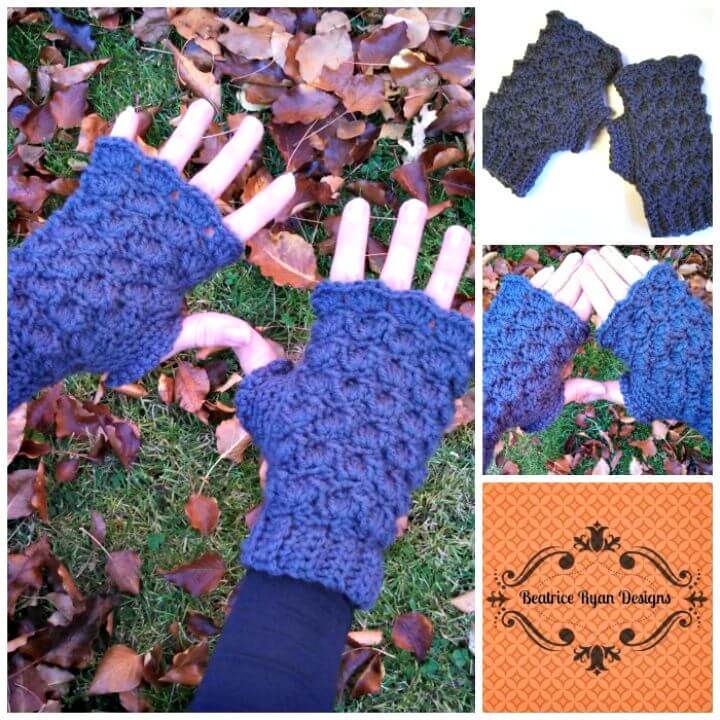 If you are looking forward some best looking winter hand warmers then these fingerless crochet gloves will really rock and will also make a heart-winning gift! You will be amazed to see that these gloves have also been whipped up using 2 popular stitches, the crochet shell and bobble stitch that also creates a stunning design texture that will appreciated by all! One more fetching and adorable crochet creation done with puff stitch, the sheels and bobbles fingerless gloves! Willing to duplicate these gloves? Grab the full free crochet pattern and visual instructions from here beatriceryandesigns
Free Crochet Cables And Bobbles Boot Cuffs Pattern: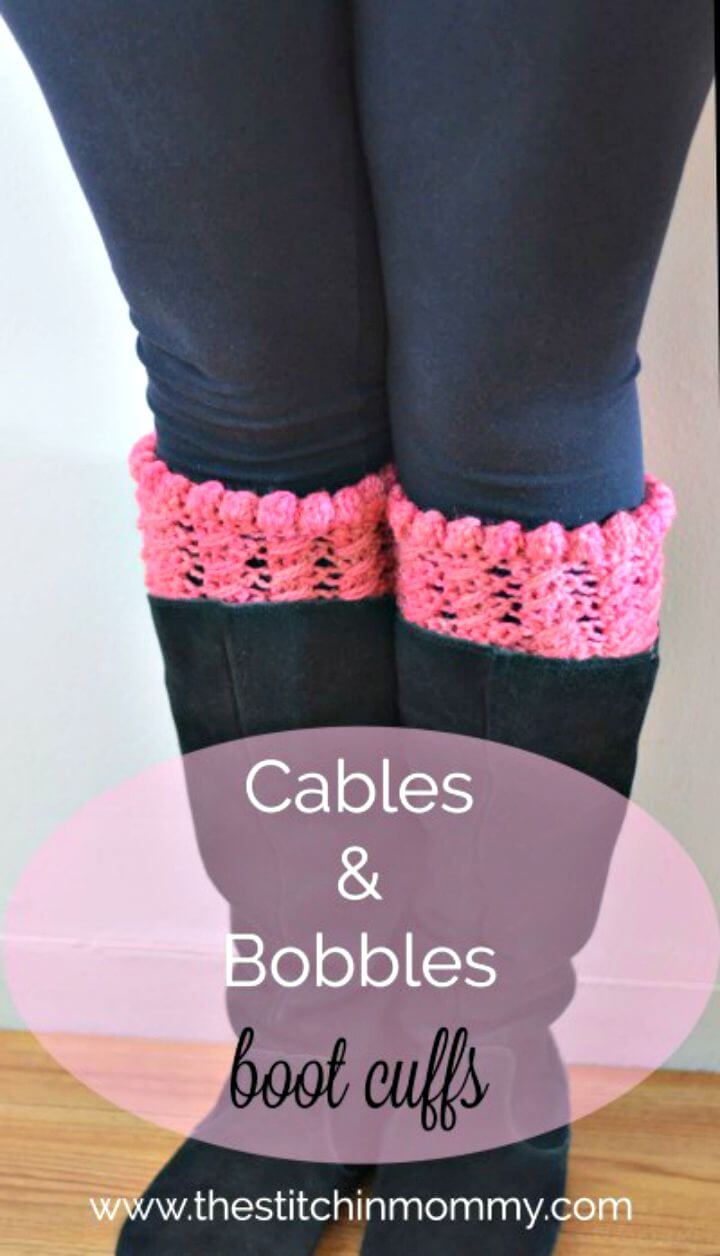 One of the easiest crochet pattern that can help boosting your fashion in chilly days, is the crochet boot cuffs! Crochet also beautiful looking crochet boot cuffs using custom bobble or puff stitch! Get inspired of the given sample cuffs that has been crocheted to amaze and rock your fashion! Here these boot cuffs also comes with a little mix of cable stitch that  help creating a more fetching design texture! Another lovely crochet puff stitch creation and pattern! Duplicate these boot cuffs via free pattern and guide provided here thestitchinmommy
How To Free Crochet Bobble Stitch Pattern: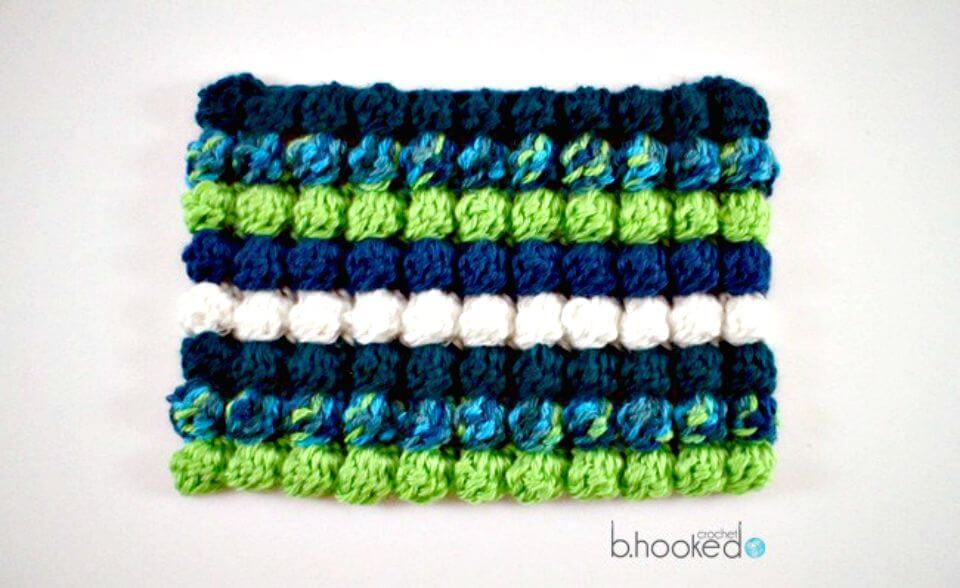 There would be nothing great but to feel super warm and soft in the dead of cold! If you are just on a mission to get necessary amount of warmth from some bouncy yarn puffs then must tryout some bobble stitch crochet  winter warmer! So, just learn to crochet in bobble stitch like a pro before you crochet a puff blanket or afghan or any other pattern! Free bobble stitch guide and pattern here bhookedcrochet
Free Crochet Bobble Alphabet & Numbers Pattern: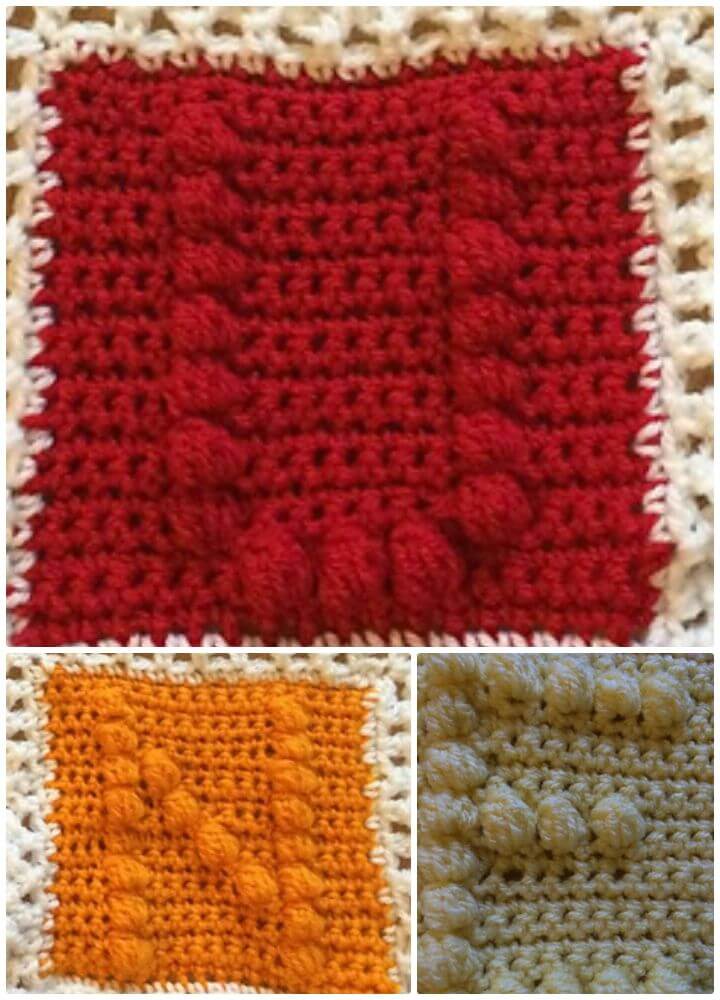 As yarn puffs appear out of the plane and also create a lovely ribbed yarn texture then you can utilize this property of bobble stitch in number of ways! There can be endless possibilities, a mind-blowing one is here, crochet puffs in a decided crochet pattern making custom alphabets and numbers and this will also help in giving a personal statement to your decided crochet pattern! Checkout here some precious crocheted samples that come with bobble alphabets and numbers and are really attention grabbing! Further project details and free crochet pattern here ravelry
Easy How To Free Crochet Bobble Stitch Pattern: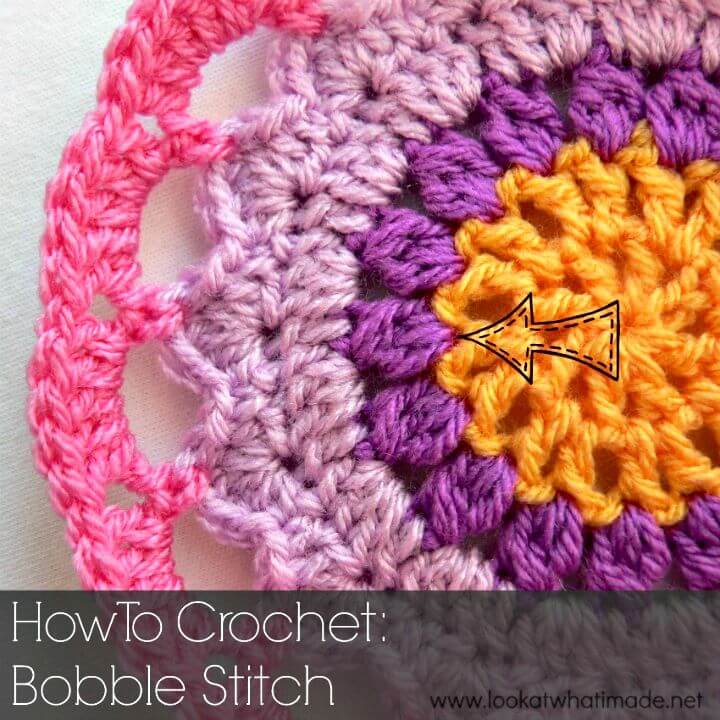 Want to be a crochet bobble stitch expert? This one of the most popular crocheting stitches in terms of creating adorable design textures! Another great reason for so raised popularity of crochet puff stitch is that it comes in various versions creating a unique design pattern everytime! So, are you willing to learn the bobble stitch like a pro? Just checkout here the complete free crochet bobble stitch pattern that also comes with step-by-step visual instructions lookatwhatimade
Free Crochet Bobble Stitch Sheep Square Pattern: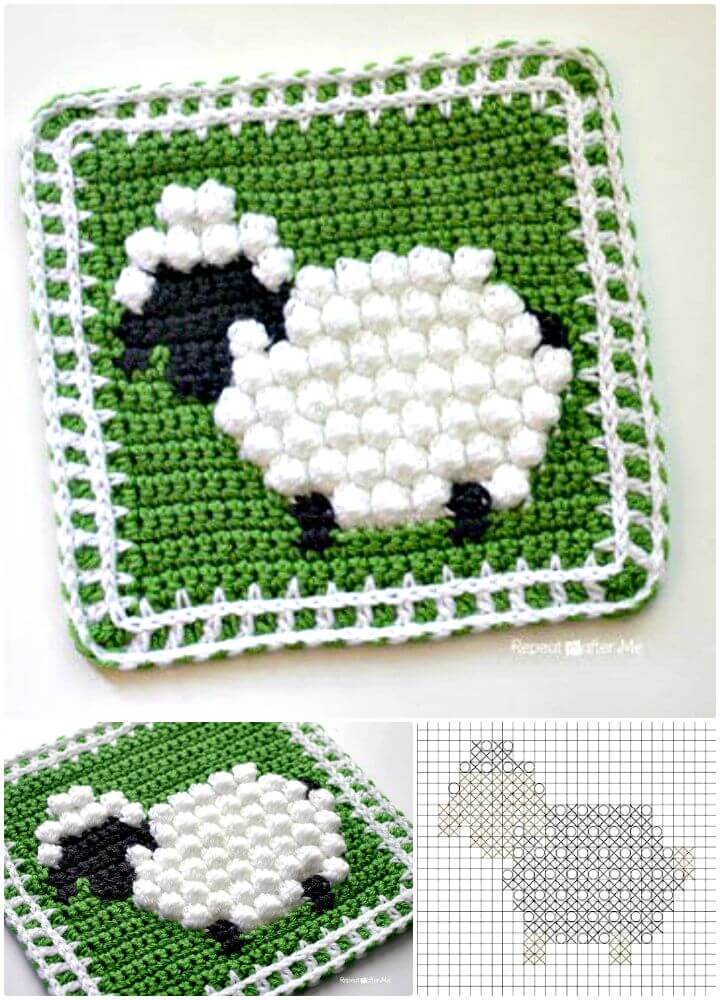 Here is another mind-blowing crochet pattern that is super praise-worthy also! This is here a custom bobble stitch sheep square pattern that would help creating outstanding baby blankets or precious baby winter warmers also! Here the bouncy design texture has been used to create a 3D image in the blanket this also give birth to various other possibilities! Looking forward to clone this handsome crochet pattern? Grab the full free guides and easy crochet pattern from here repeatcrafterme
Free Crochet Confetti Scarf With Bobble Stitch Pattern: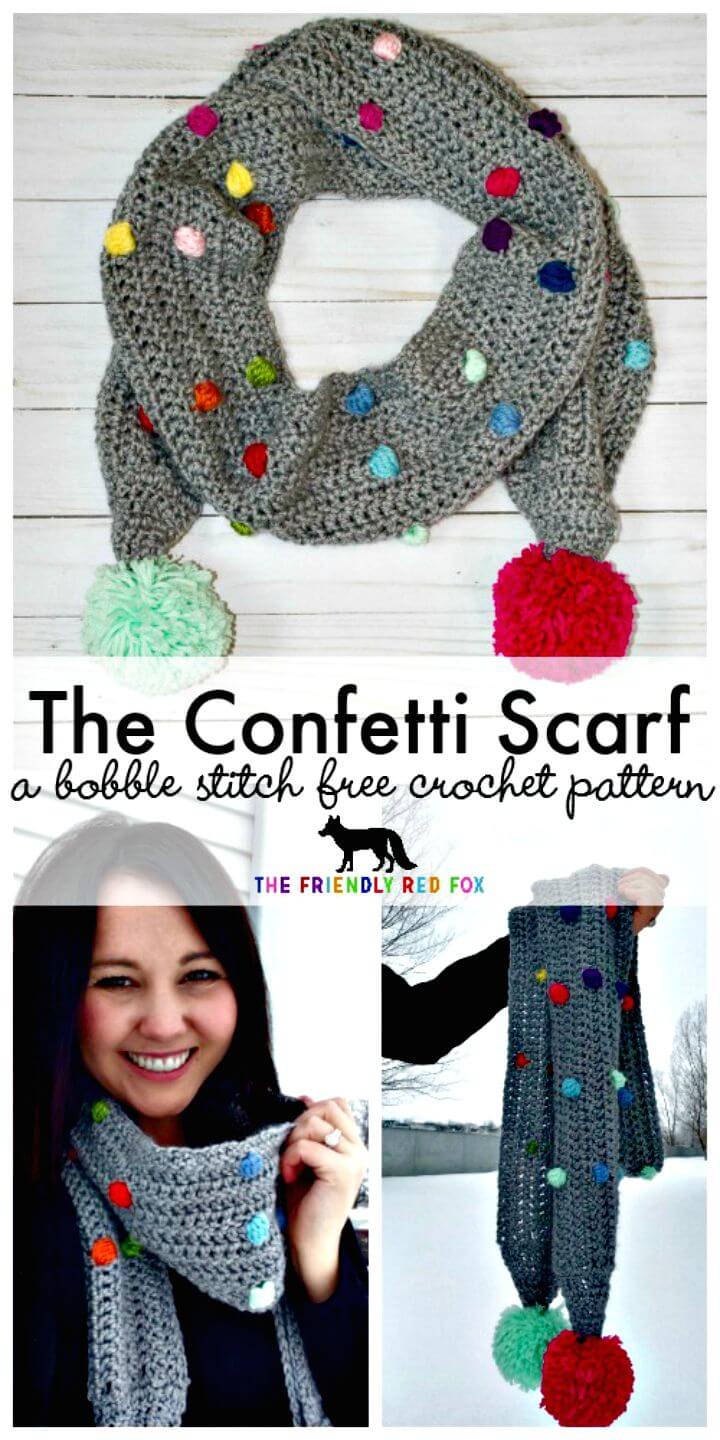 There is no limit for charming crochet pattern that would be based on bobble or puff stitch! Here is a remarkable one, the confetti scarf that has been done with the puff stitch and is really something attention grabbing! All the style enthusiast will love to have this scarf in their winter wardrobes as this would really be accessory to show off with! Willing to duplicate this interesting crochet pattern? Grab the full free crochet pattern and tutorial from here thefriendlyredfox
How To Free Crochet 12 Inch Square Pattern: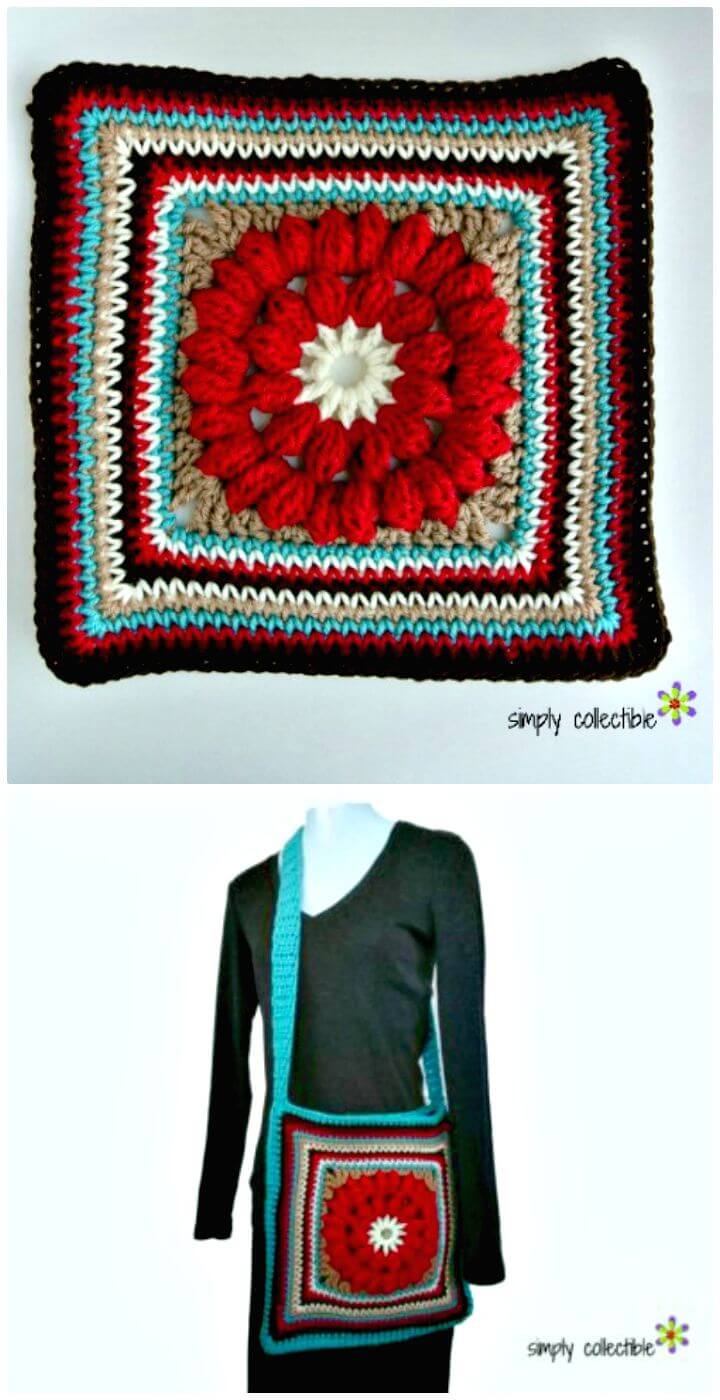 As the crocheted yarn puffs looks like coming out of the plan so they can give amazing 3D width to various crochet pattern you are interested in to crochet! Checkout here a precious sample that is guaranteed to make you fall in love with! This is here a big crocheted square that comes with an accent red flower crocheted in the center using the sweet yarn puffs or bobbles! Finally this precious flower has been enclosed in colorful yarn stripes making an outstanding square! This is also something here that will help you creating adorable blankets, throws and afghans! Further project details and free crochet pattern here simplycollectiblecrochet
Free Crochet Blackberry Salad Striped Baby Bonnet Pattern: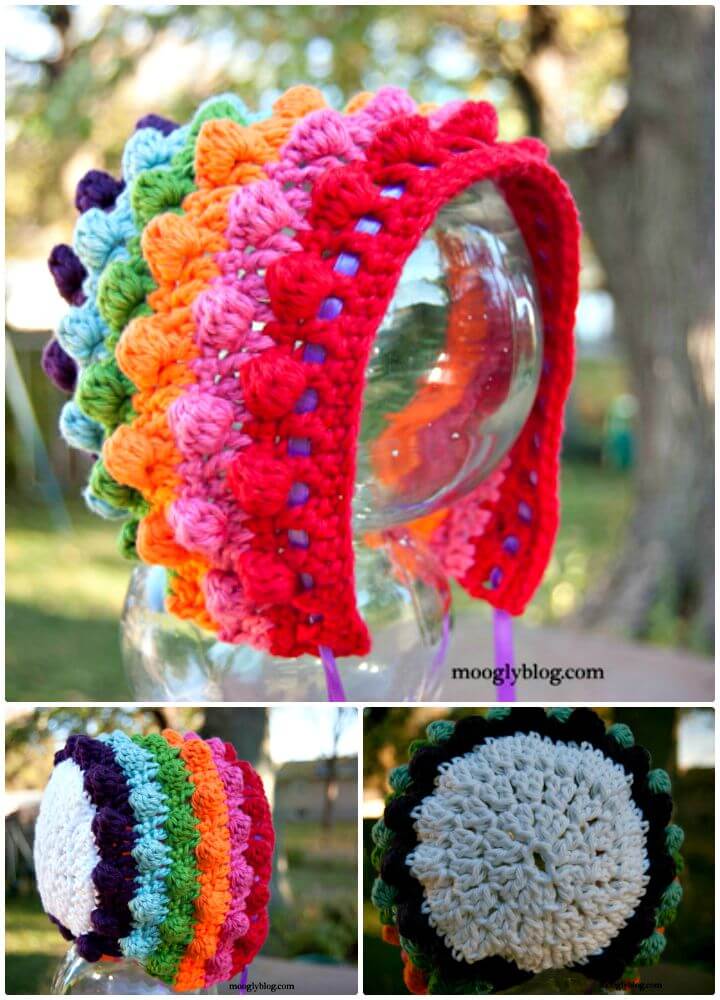 Here is what that you will love to choose as sweet gift for an about-to-be mother and also for a baby shower! This is here the blackberry salad striped baby bonnet that is another fabulous crochet creation done with puff stitch and it comes with precious bobble stripes that make it a center of attention! This is also something outstanding to crochet using bobble stitch! Willing to duplicate this handsome baby bonnet? Grab the free tutorial and easy crochet pattern from here mooglyblog
Cute Free Crochet Ragdoll Using Bobble Stitch Pattern: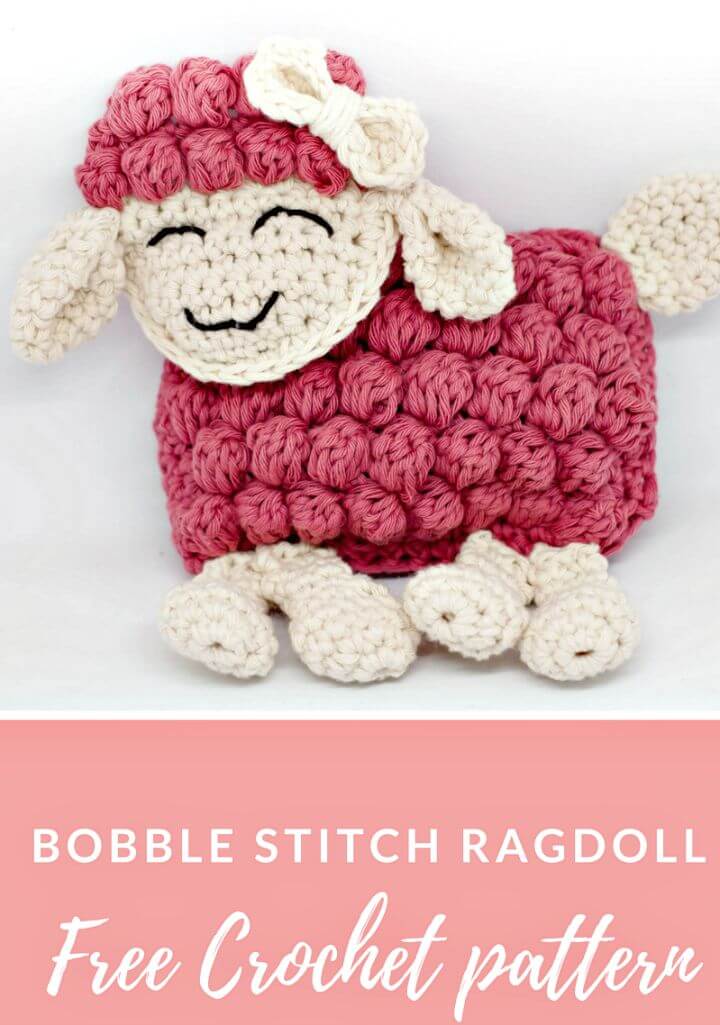 Crochet also sweet toys for the kids by making smart use of crochet bobble or puff stitch! Need some inspirations to do that? Then just peak into design texture of this crocheted ragdoll that looks much like a sweet sheep! This is here a fetching crochet puff stitch creation that every mom will love to own for their babies so they can play with it while being in mood! Want to clone this ragdoll? Grab the full free pattern and tutorial guide from here yarnhild
Free Crochet Rainbow Bobble Tablet Sleeve Pattern: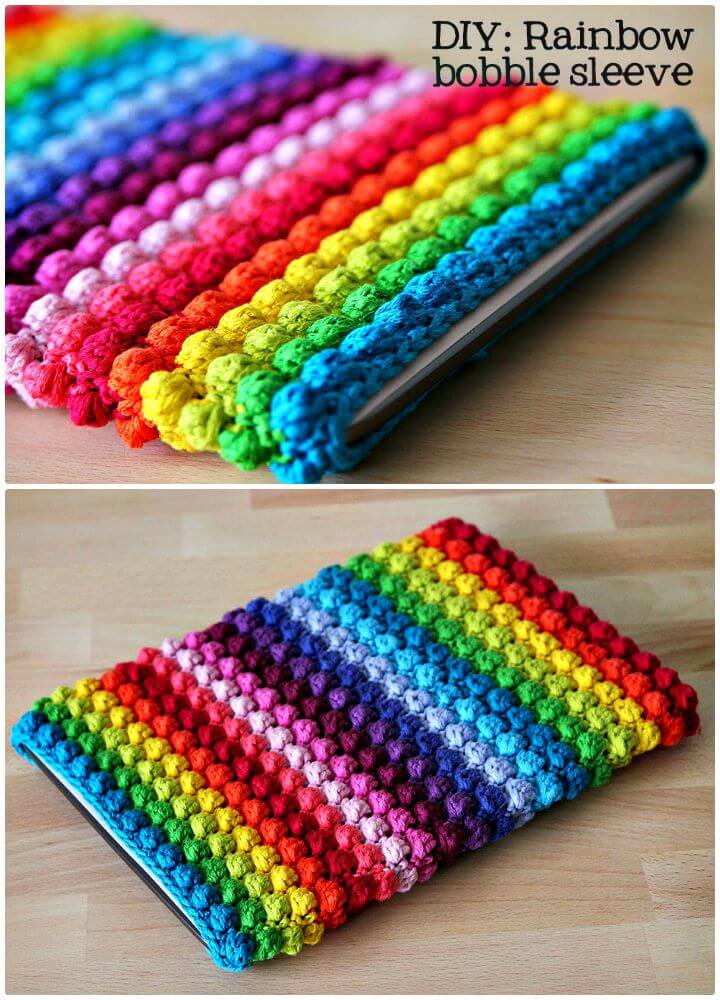 Checkout here what you can do amazing with the crochet bobble stitch! This is here the enchanting crochet rainbow sleeve crocheted for a tablet and is something that will make a pleasing gift too! Here the crocheted bobbles come as colorful stripes that are inspired of rainbow color palette and hence create a fetching design texture and hue of the sleeve! This is here another mind-blowing crochet pattern based on crochet puff stitch! Grab the full free crochet pattern and tutorial guide from here haakmaarraak
Free Crochet Bobble Beard Pattern: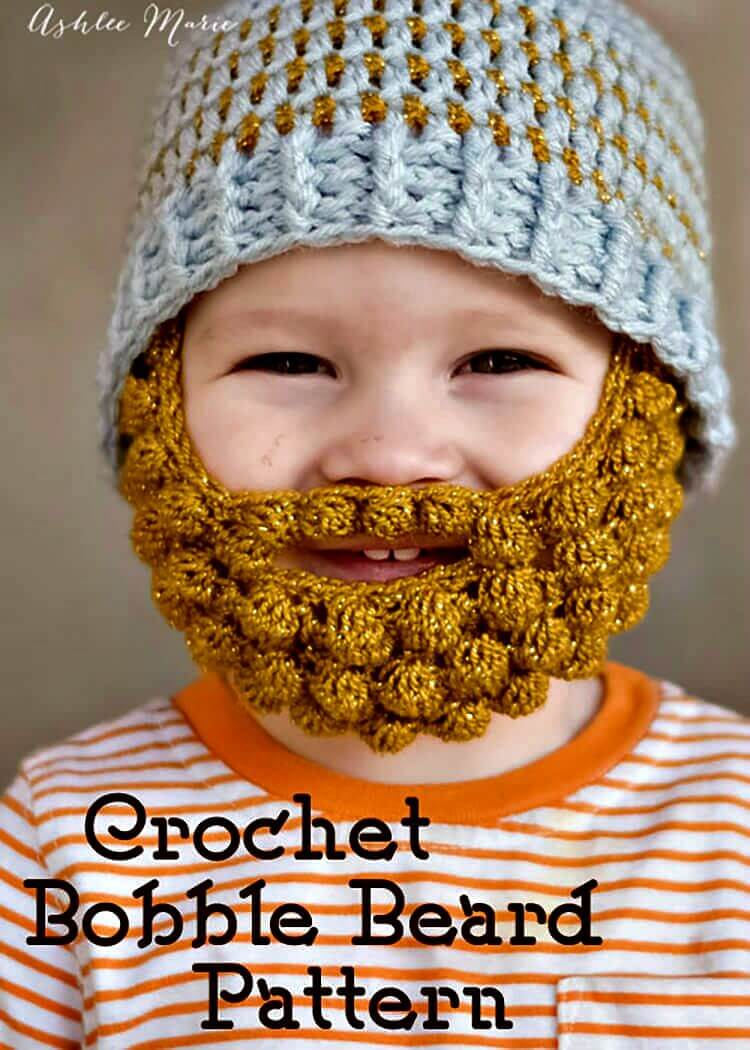 Raise also the fun of your kids by getting a little busy with your crochet hook! This can be done in multiple different ways like by crocheting some baby beard patterns! Take a look at this sample crochet bobble bear pattern that will definitely create a fetching fun look of any fun loving baby in deadly cold weather! This is here another outstanding inspiration for crochet bobble stitch lover! Complete free project details and step-by-step tutorial here ashleemarie
Free Crochet Bobble-licious Pillows Pattern: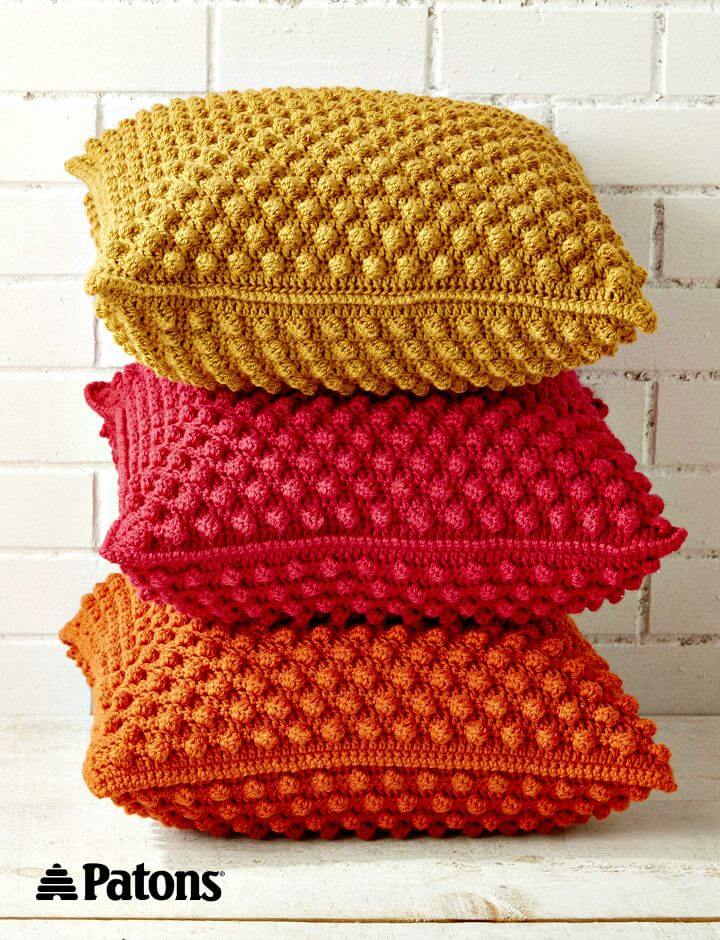 It would be a pleasure to sleep while having some beautiful pillows around! Willing to crochet some adorable pillows that will be super soft to hold in arms and what about if they come with bouncy yarn texture! Check out these sample crochet pillows, the lovely bobble licious pillows, another mind-bowing crochet achievement done with the puff stitch! Willing to duplicate these pillows, will also make thanksgiving gifts! Grab the full free tutorial and instructional guides from here yarnspirations
How To Free Crochet Bobble Heart Potholder Pattern: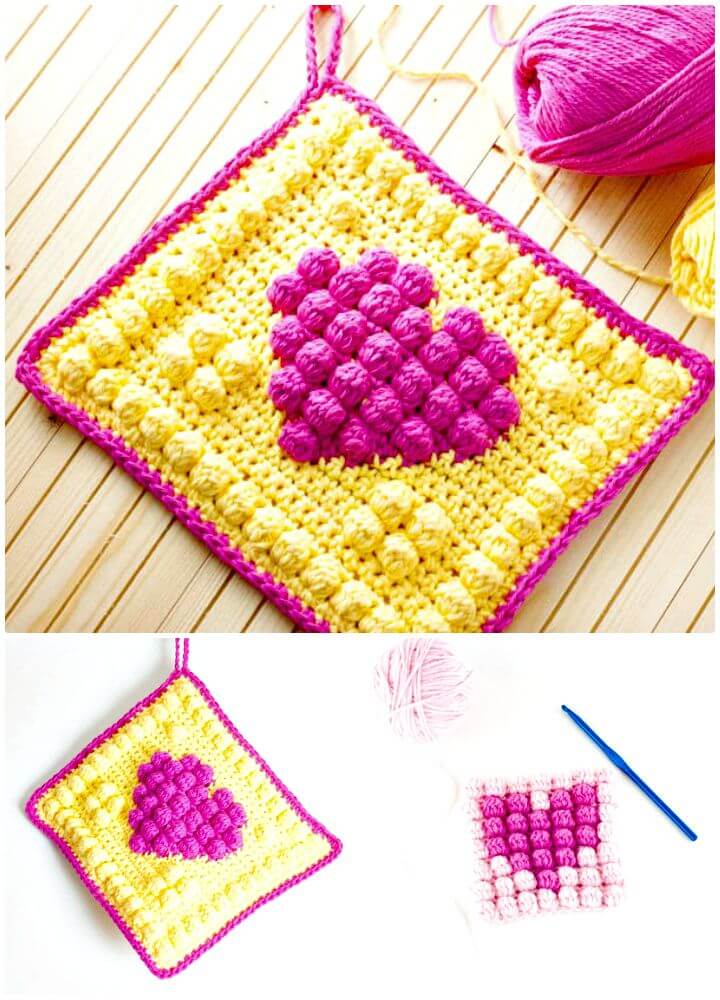 Checkout here the super romantic version of potholder, this one comes with 3D heart motif and is something that will drop your jaws with amazement! Here this super adorable creation has also been done with the crochet bobble stitch and it would also make outstanding housewarming gift! If you are having master hands in puff stitch then crocheting this potholder will just be a piece of cake to crochet! Willing to duplicate it? Grab the full free guide and easy crochet pattern here youshouldcraft
Free Crochet Bobble Baby Blanket Pattern: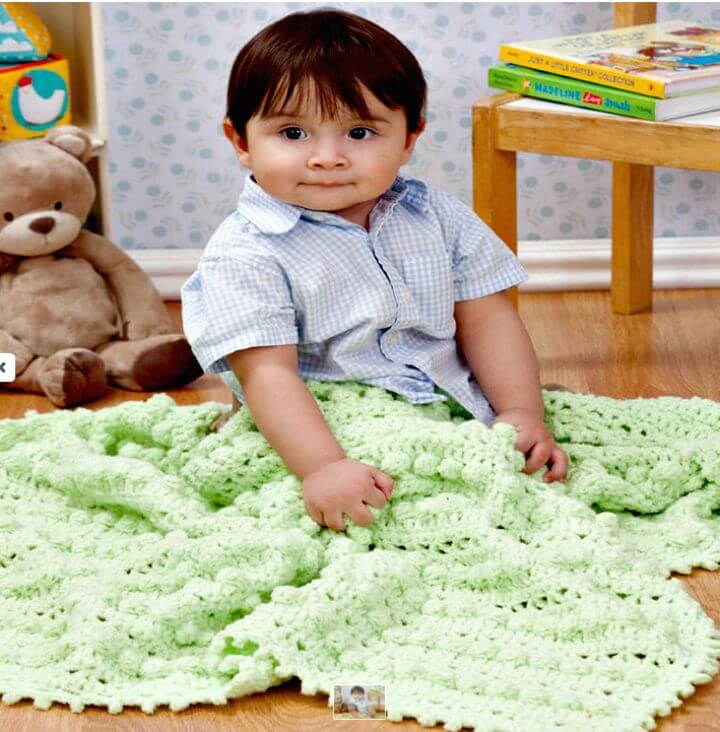 Let your cute little baby play with sweet little yarn puffs, just gift him/her this adorable crochet blanket that comes with a bouncy yarn texture and would make a beautiful lovey for your kids! This blanket is sure to make a gift for an about-to-be-mother and you can also choose it to give on a baby shower! Furthermore it would also be super soft and eye-catching baby winter warmer! Here it comes with the light green yarn appeal but you can try it in any yarn color you like but getting a complete knowledge of puff stitch first is mandatory! Free crochet pattern and instructional guides are here redheart
Free Crochet Gray And Yellow Bobble And Mesh Stitch Blanket Pattern: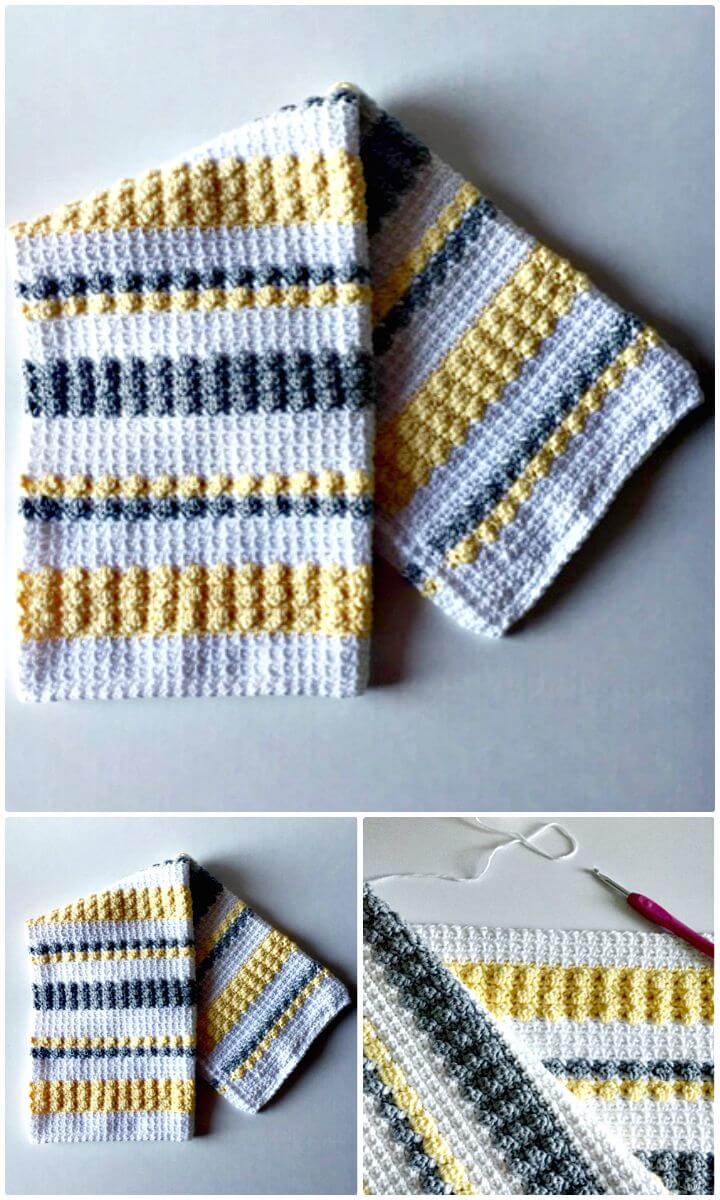 You will love to admire the features of this another handsome crochet blanket that is simply eye-catching due to gray, yellow and black color stripes and is something that will definitely like to clone for a baby! This entire yarn blanket here is a perfect combo of mesh and crochet bobble stitch and further more the design texture that the puffs create is also enticing and super beautiful! In short this blanket is having to hold your attention and to make a perfect winter warmer for a baby! Willing to grab this interesting crochet blanket? Grab the full free guide and crochet pattern from here daisyfarmcrafts
Free Crochet Baby Blanket The Polka Dot Puff Pattern: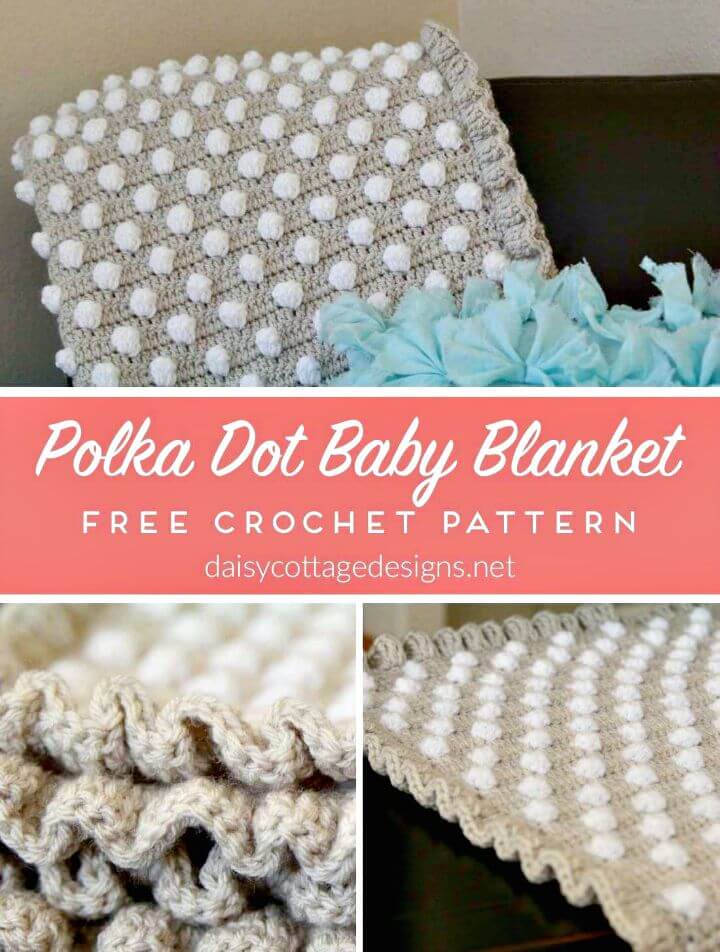 Take a look at the white 3D polka dots that bring interesting visual details to this crochet baby blanket! These are the white yarn puffs that come in form of white polka dots and make cool statement piece of yarn art! This blanket will go super soft around any baby to provide winter protection is also something to give as a gift to earn more love and respect of your beloved ones! Want to duplicate this another handsome creation done with the crochet bobble stitch? Just grab the complete tutorial and step-by-step instructions from here daisycottagedesigns
Free Crochet Patterns:
How To Crochet Jute Bobble Basket – Free Pattern: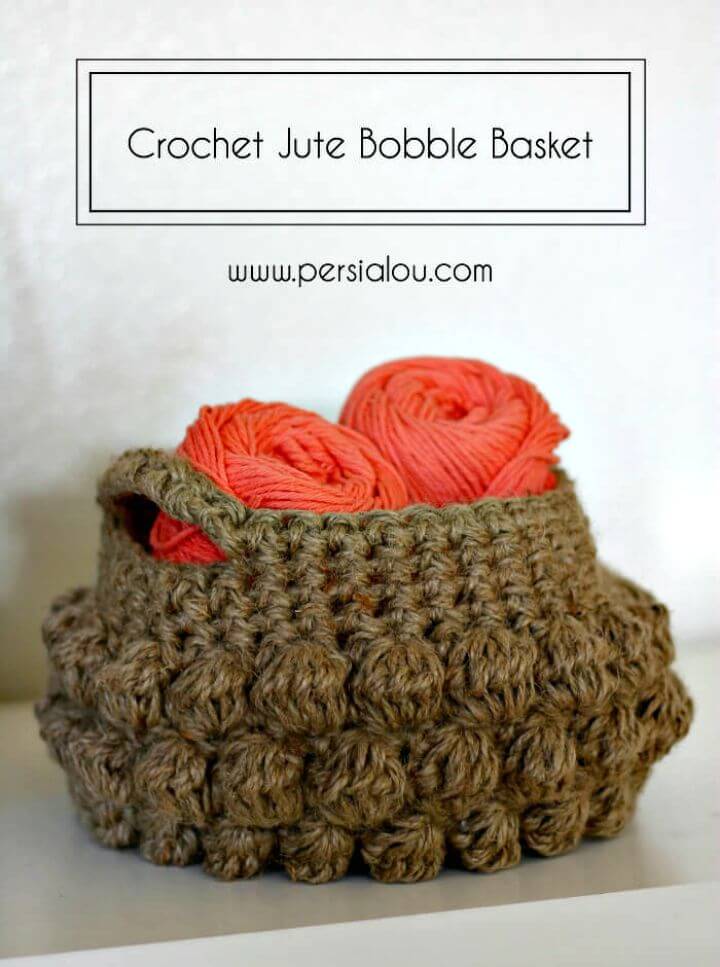 Along with the mind-boggling crochet patterns, you can also crochet handsome accessories with the crochet bobble stitch, a great example here is this crochet jute bobble basket that makes a great organizer for craft room supplies and would also be an eye-catching desk organizer! Here the jute has been crocheted in puff stitch for a handsome edition of basket that also provides handles for easy carriage! Want to duplicate this precious crochet basket? Grab the free guides and easy crochet pattern from here persialou
Free Crochet Bobble Stitch Cushion Pattern: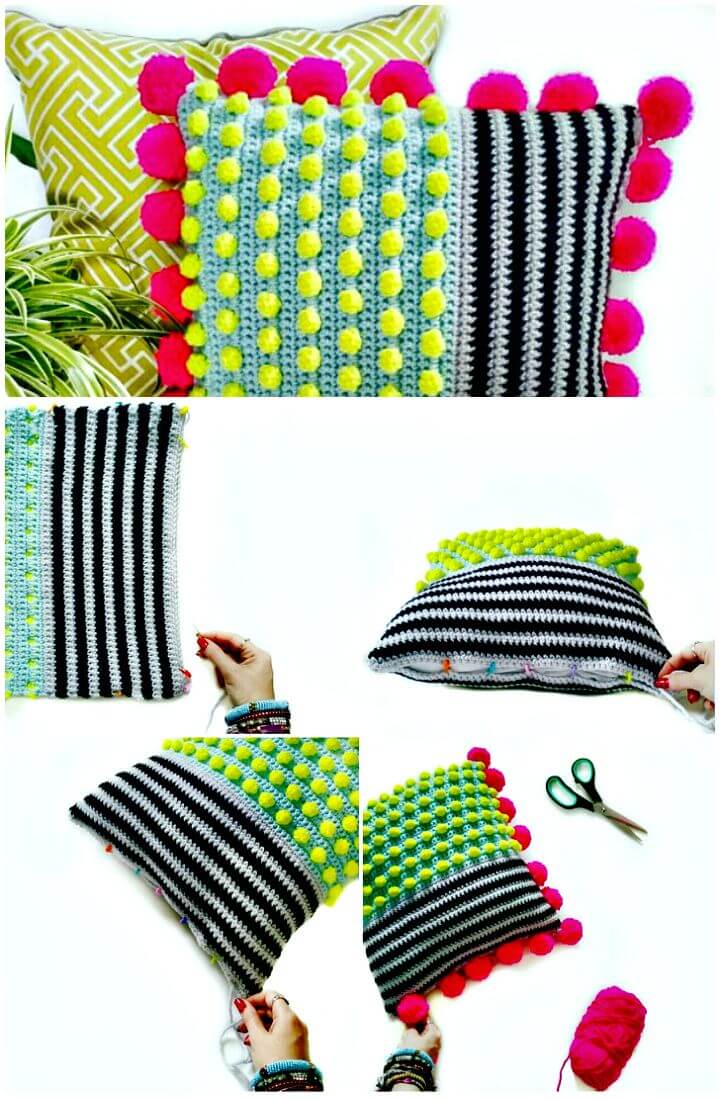 There is just no limit for the visually pleasing and attractive pattern you can crochet with the puff or bobble stitch! Here is another great one, the beautiful cushion that comes with mind-blowing visual details! This exclusive design of crochet cushion comes with brilliant black and white color stripes and also with green bouncy puffs! Final accent trimming has been done with big puffs crocheted in red that double up the cuteness of the cushion! These fabulous crochet cushions will also make outstanding gifts for the puff stitch lovers! Grab the free visual guides and easy crochet pattern from here lovecrochet
How To Free Crochet A Bobble Stitch Pattern: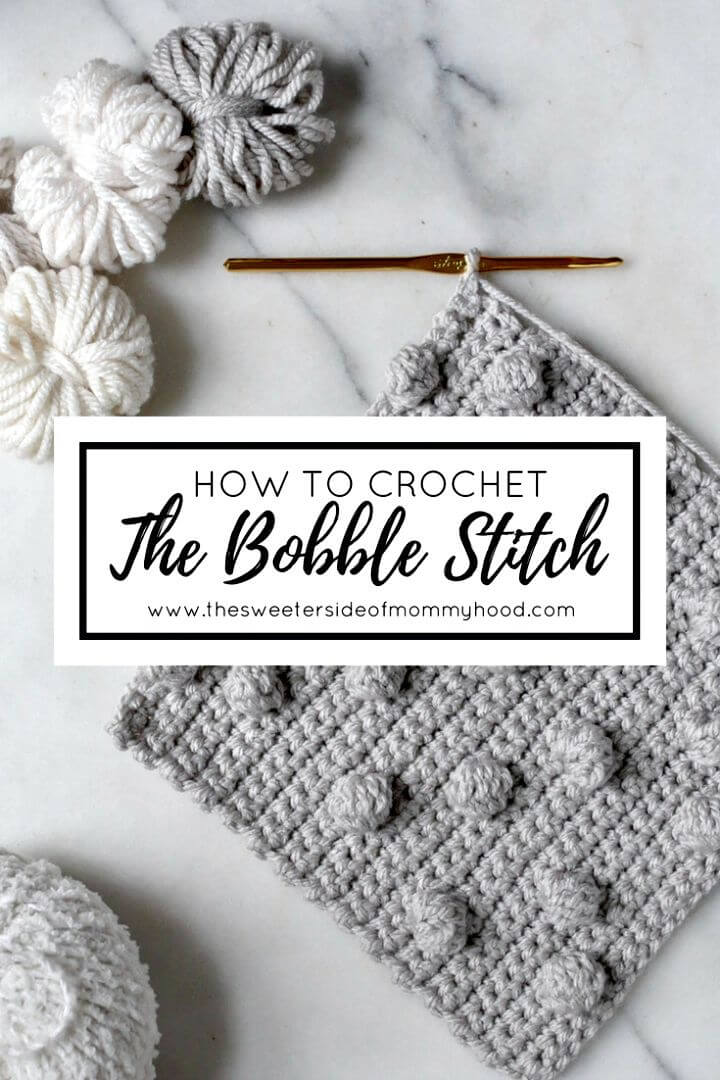 Are you willing to get skilled enough in crocheting bobble stitch? This special stitch help crocheting amazing different kinds of crochet pattern that will come with bouncy puffs representing the puff stitch! So, if you are on purpose to learn crocheting the puffs like a professional, then you are just at the right place! Check out here the simple pattern and tutorial guide given here thesweetersideof
Free Crochet Bobble Kerchief Pattern: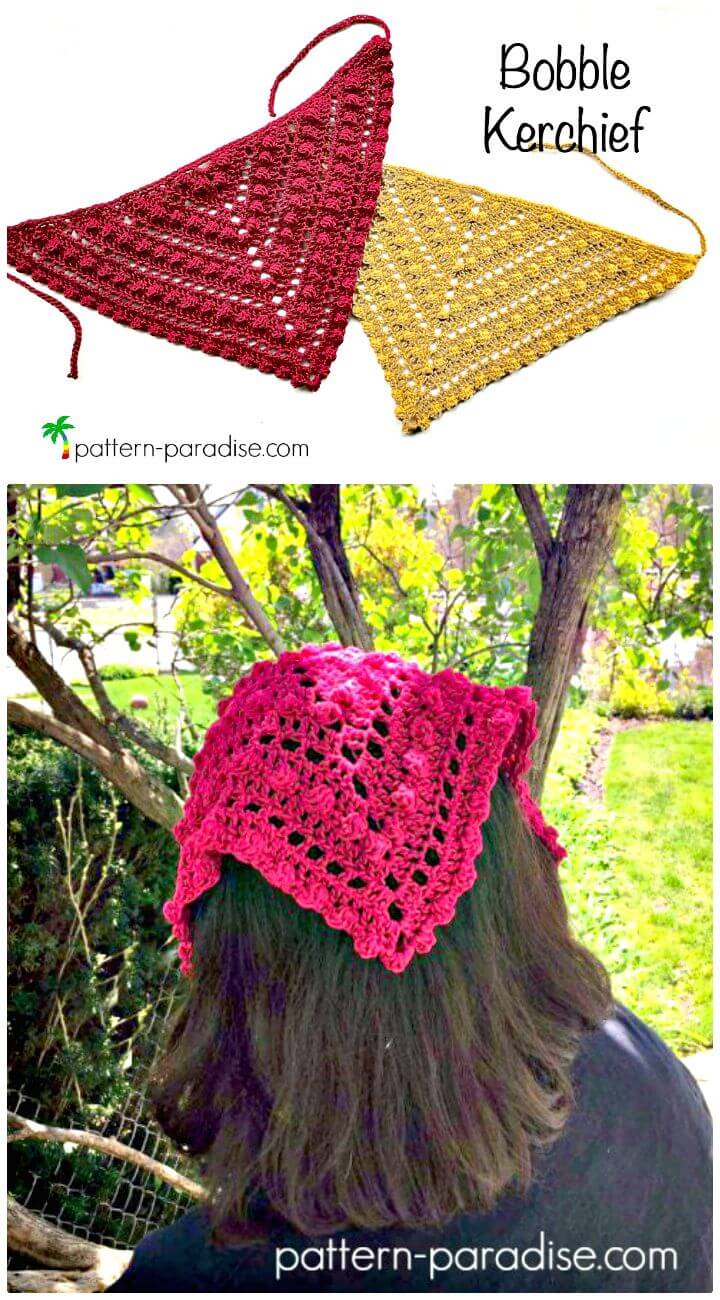 Get creative with your crochet bobble stitch and create amazing items of your interest like this crochet kerchiefs that will go super adorable and soft to any women's head! Perfect yarn head covers that will create a prominent look of you! This is here another beginner-friendly crochet pattern that you can tryout with puff stitch! Willing to clone these bobble kerchiefs to gift someone? Just grab the full free guides and easy crochet pattern from here paradise
Free Crochet With A Bobble Stitch Cushion Pattern: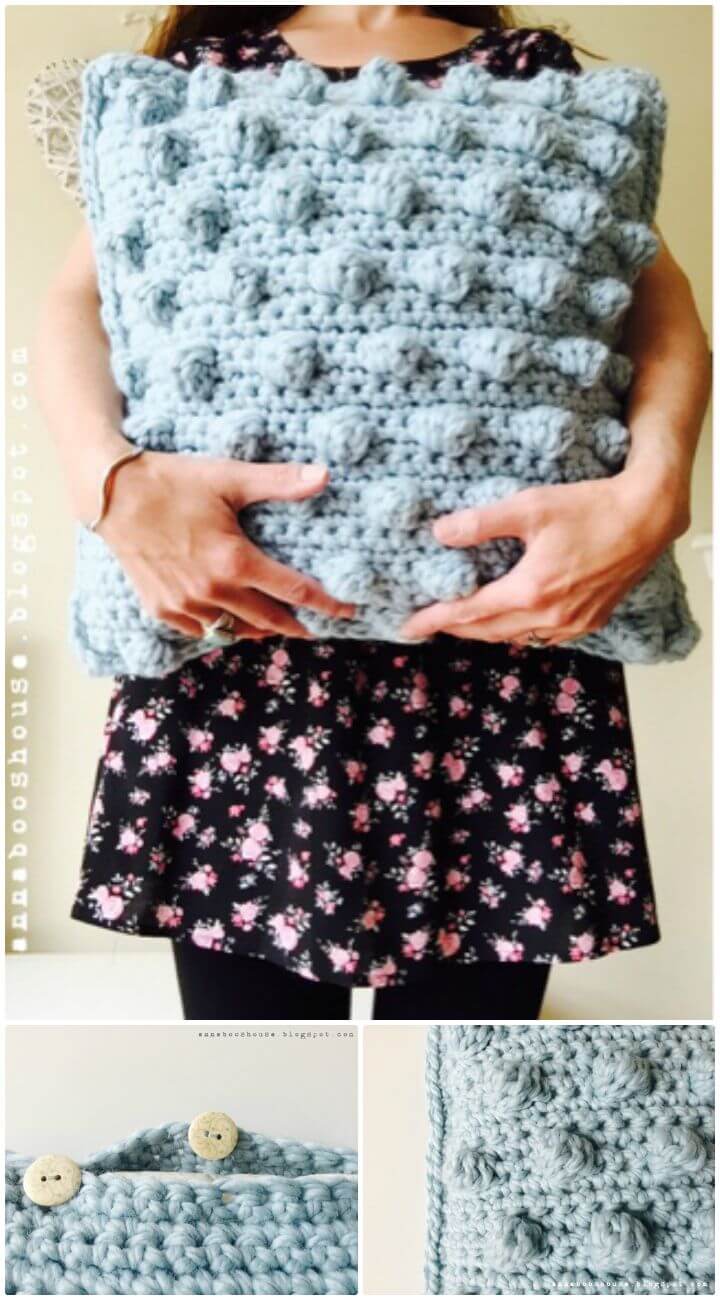 You can really do wonders with bobble stitch in world of crocheting! Checkout here the very rare design of crocheted cushion that comes with yarn blisters or puffs that create an engaging and super charming appeal of the cushion! Moreover, this special cushion with puffs will be super soft to hold in arms and would also make an outstanding gift to bedroom lover! Willing to duplicate this cushion to add to girl's bedroom! Just grab the full free guide and easy crochet pattern from here annabooshouse
Free Crochet Mini Kids Bobble Sweater Pattern: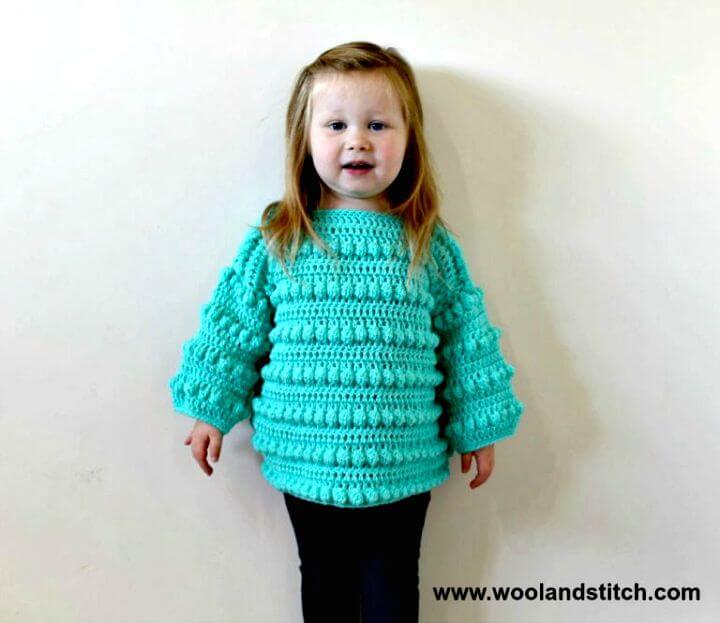 Make your baby girl feel warm with this special bobble sweater and it will also create a super cute personality of her! Here the most eye-catching feature again are the soft crocheted puffs that would be a delight to crochet if you are know how to crochet the bobble stitch! Here this fantastic yarn accessory comes in turquoise yarn color and but you can also add to kids wardrobe by crocheting it with any special yarn color! Grab the full free guide and easy crochet pattern from here woolandstitch
Free Crochet Patterns for Babies:
Easy Free Crochet Bobble Sunflower Pattern: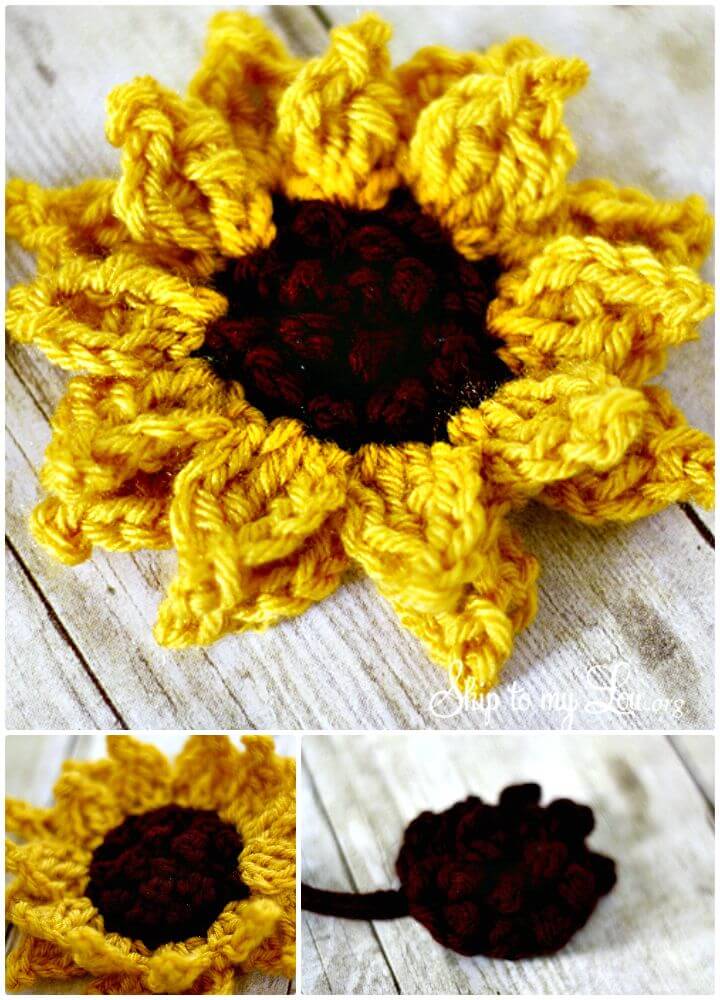 Crochet flowers makes adorable appliqués, embellishments and adornments for various of your crocheted patterns and there are numerous different stitches that help crocheting beautiful yarn flowers! You can also go with the bobble crochet stitch to crochet outstanding flower embellishments and an interesting example here is this crochet sunflower pattern that is handsome and much visually pleasing! Another interesting piece of crochet work done with the puff stitch! Willing to clone this sunflower? Grab the full free guide and easy crochet pattern from here skiptomylou