When your aim is only to please your kids with your crochet hook, then you can merely crochet some Disney inspired crochet pattern that will all go favorite with your kids! All the Disney characters hold dear to kids, especially the Mickey and Mini mouse are having a vast number of fans! So, why not crochet some lovely kids crochet patterns inspired by Disney Mickey mouse just to make your kids feel super excited! Just have a look at these 10 Free Crochet Mickey Mouse Patterns that will hold dear to all fun loving kids and are something precious to gift to your babies!
Crochet the super beautiful Mickey and Mini mouse hats that will make your kids look super cute and adorable even when they are going to their first photo shoot! Furthermore, you can create precious looking crochet Mickey Mouse stuffed toys that will also make an epic present for a baby's birthday or a baby shower! You can also crochet the super cute Mickey Mouse baby sets that will create a whole enticing Mickey mouse avatar of your six months or newly born baby! Check out here two mind-blowing samples that come with a Mickey mouse hat, socks, booties, hand warmers and with a Mickey mouse diaper!
Crochet also the Mickey and Mini mouse hats that may come with eye-catching braids to be tight over the head of your kids or babies! Mickey Mouse is not only the favorite cartoon character of kids, but the also matures like it very much, so some Mickey Mouse amigurumi will also make a great gift for a Mother's Day for a Friendship Day and also for a Valentine's Day! Take a look at some adorable Mickey Mouse stuffed toys showcased below!
There can be several different ways more to incorporate Mickey Mouse into your daily life! One fantastic approach would also be to crochet a Mickey Mouse coffee mug cozy that will also make an excellent gift for a Mickey Mouse fan! Another beautiful Mickey Mouse gift idea would be to crochet the Mickey and Mini mouse Easter baskets, perfect low-cost but great Easter gift idea! Moreover, you can also crochet some Mickey Mouse heart appliqués that can be tagged or pasted on your outfits and clothing just to recall the Mickey and Mini mouse every day!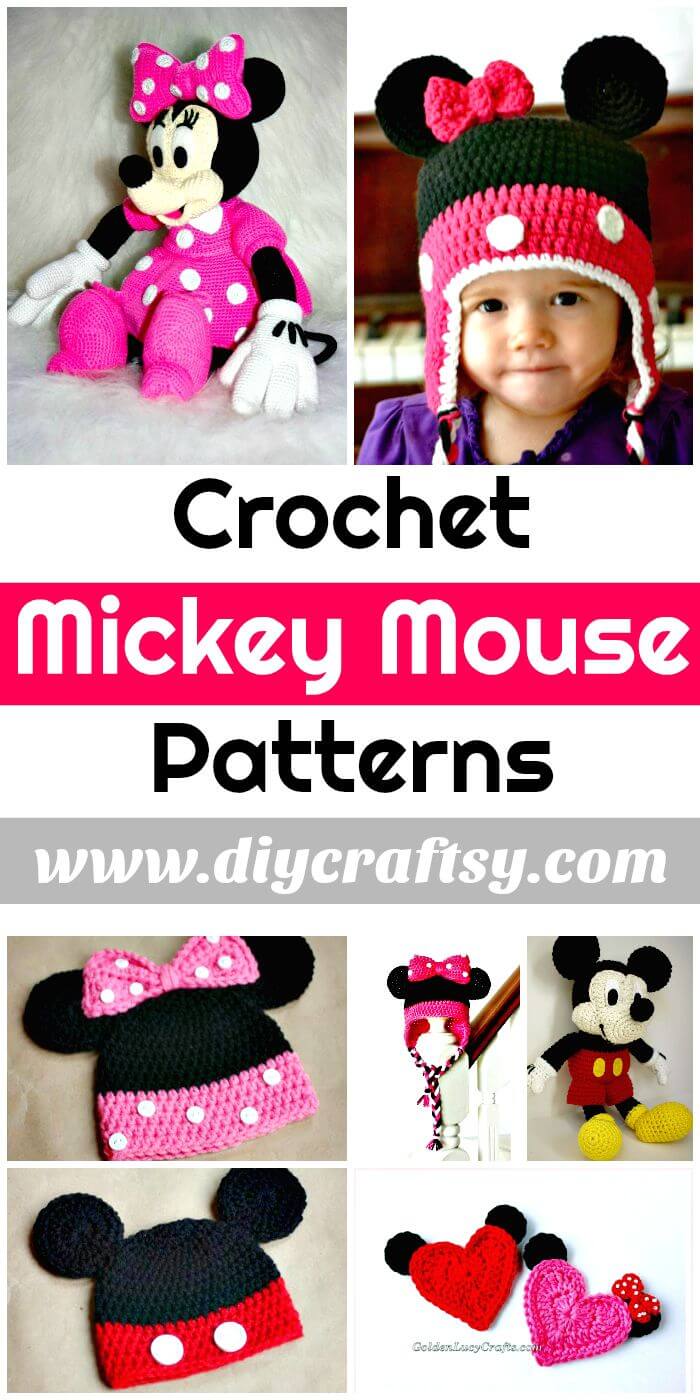 Take a short visit of all these fab Disney Mickey Mouse patterns and just duplicate them to please your kids! Check out also the links pasted just below each showcased idea that will take you to the complete free crochet patterns, comprehensive project guides, and easy free tutorials!
Want more Crochet Amigurumi and Crochet Baby Hat?
Crochet Mickey Mouse Inspired Hat & Diaper Cover Pattern: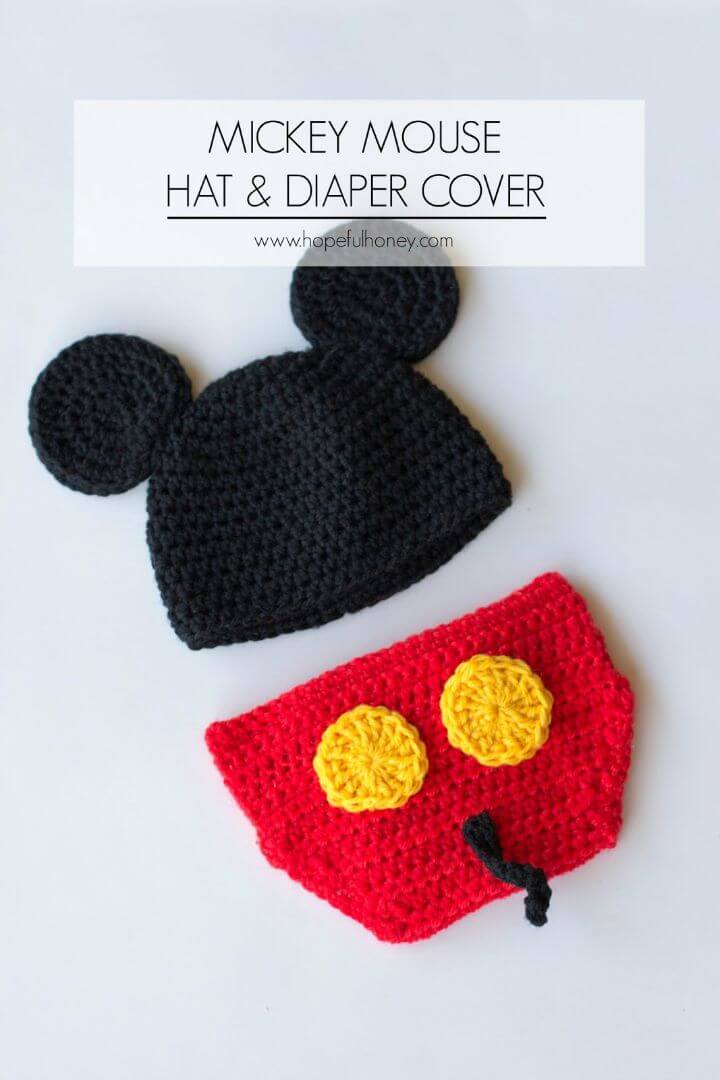 Kids just love the Disney land, and so do we and no doubt Mickey mouse is our one most favorite Disney character, and thus it can be a super cool pattern motivation for your little ones to keep them warm and cozy during winters but in the most adorable and enchanting way. Here are this drool-worthy mickey mouse hat and diaper wrap that you can easily crochet for your little one and load him with cuteness and charm. You would need black, red and yellow colored crochet yarn to be grabbed out of your yarn stash and for the pattern details you can peek into this link hopefulhoney
Crochet Mickey And Minnie Mouse Hat Pattern: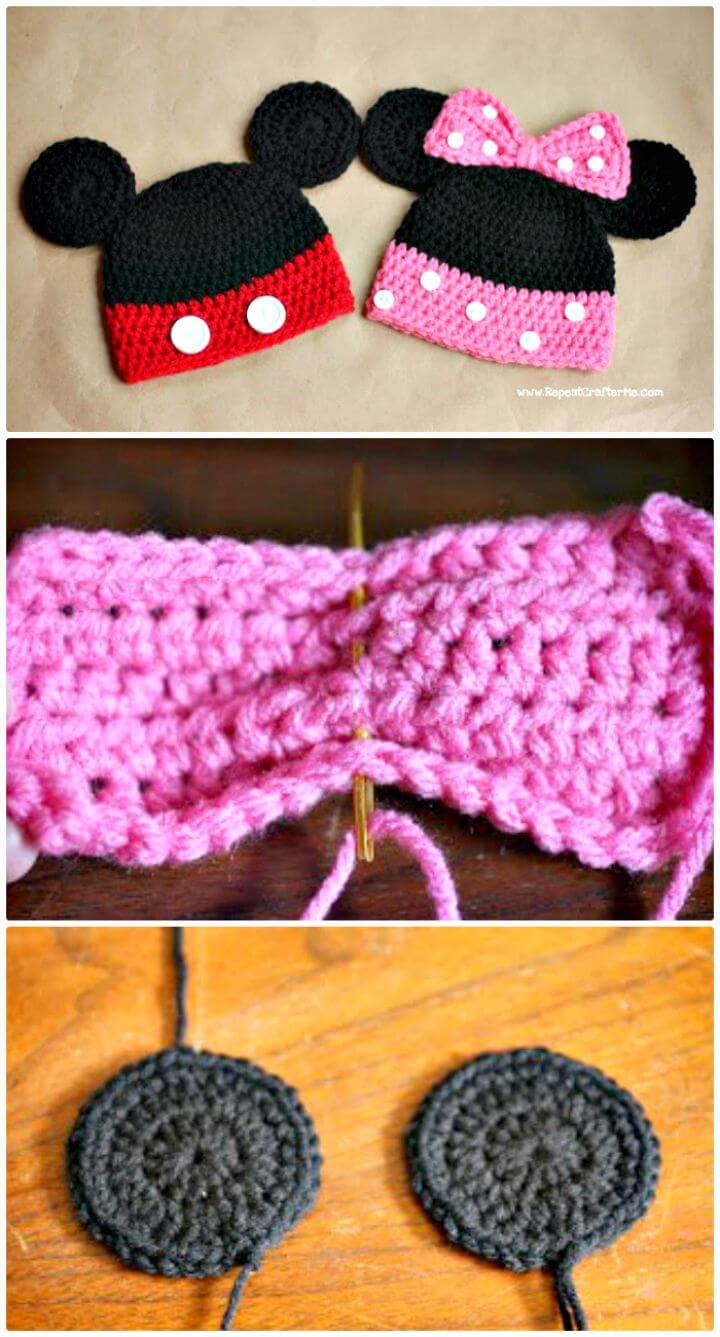 When you are about to crochet for the kids there is just a hell lot of inspiration to get cute patterns and pretty designs and here is a lovely one to strike you right for your baby crochet project. These are the adorable Mickey Mouse hats to keep your boys and girls warm and cozy in the Disney style, and they would love wearing them for some extra time than your expectations. The red one for the Mr. Mickey and the pink one with a head bow would suit a cute little Miss mickey mouse. Here are the easy and fun pattern details repeatcrafterme
Crochet Disney Minnie Mouse Amigurumi Pattern:

Every little girl has a sea of love for the Amigurumi, and they would not mind having their room be filled them. And here is this gorgeous and unique mickey mouse amigurumi that you can crochet and add to their beautiful collection. They would just love playing it and apart from that it would make a charming display in a girl room decor too. It is a kind of advanced crocheting project, but you can learn it all here with the instructions and the pattern details given step by step craftsy
Crochet Mickey Mouse Baby Set Pattern: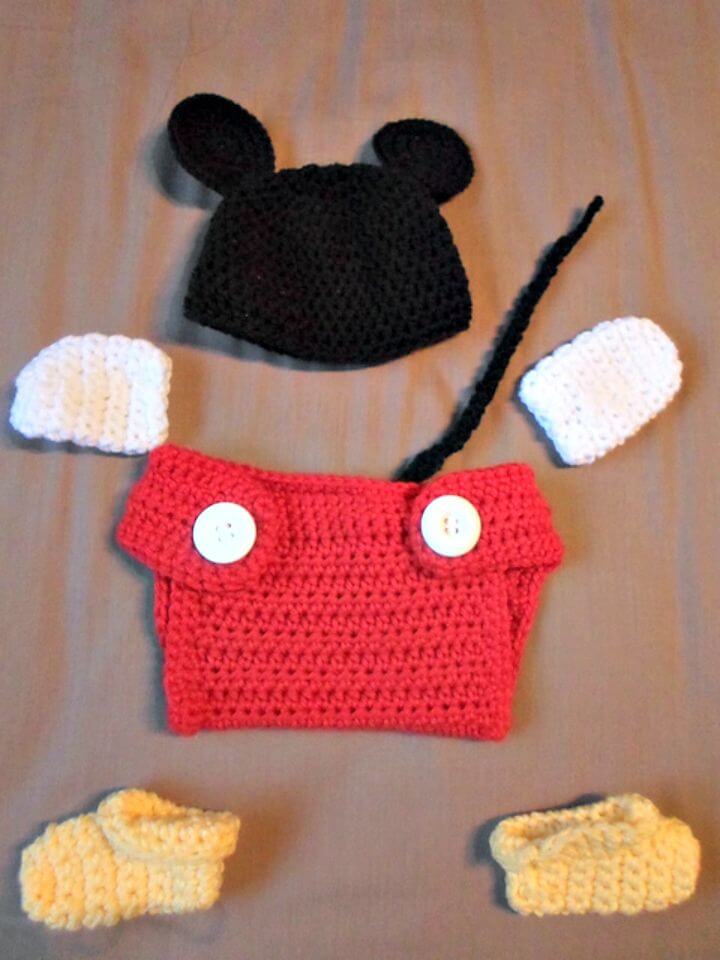 Be it the baby boy or the girl the one outfit they both would rock is the mickey mouse and now you can crochet one yourself. Here is this crochet mickey mouse baby set with that adorable and fun mickey mouse head hat, tailed diaper cover and the cute little crochet shoes. This mickey mouse outfit would not only make your kid look adorable but also keep him warm and cozy from head to toe so do get your hands on this project. Here are the free pattern details and more ravelry
Crochet Minnie Little Mouse Hat, Shoes And Skirt Set Free Pattern:

If your little girl's birthday is coming and you want some fun theme, then Disney world can help you to organize a fun and rocking party for them because there is a lot to choose from like the cute mickey mouse. And to go with the theme, you can dress up your girl like the mini mouse too with this crocheted mickey mouse hat, skirt, and the shoes.Here is the link to grab the free patterns for this mickey mouse baby stuff and the stitch instructions too knottyknotty
Crocheted Mickey Mouse – Pattern Review: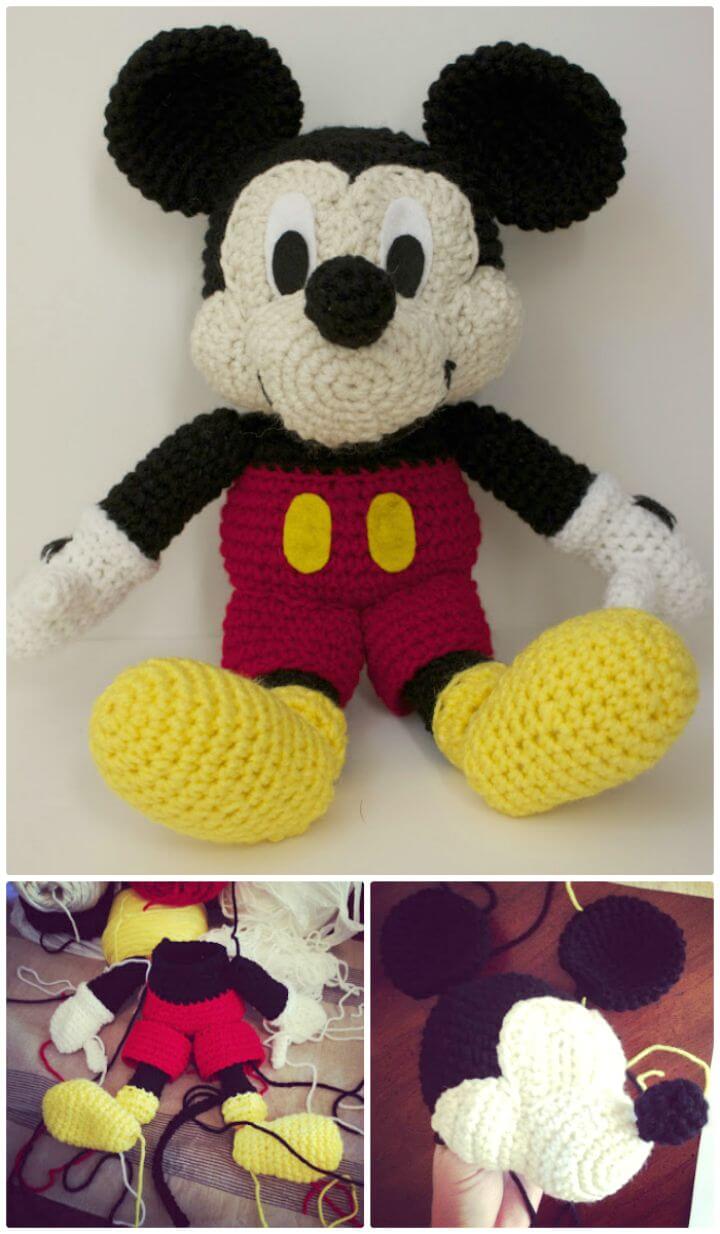 The handmade toys are the safest for the kids to play with and have loads of fun and it would also be satisfactory for you as a mother. So here is this cute and adorable crocheted mickey mouse that you can crochet for your boy or girl and let them have a new toy best friend to spend the most exciting time with. It would also serve them a cozy squishy to hug tight and sleep well at night for being the softest and the warm. Here are the free crochet pattern details of this Disney hero inspiration in the crochet work handmadebymegk
Crochet Mickey Mouse Coffee Cozy – Free Pattern: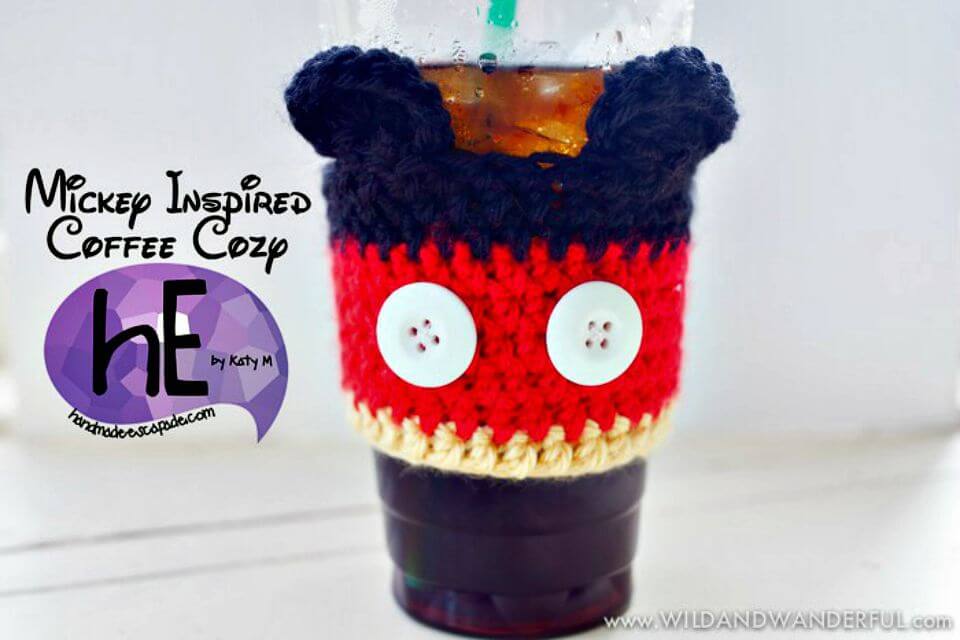 There is always a fun way to add the perfect perk to the regular things of your users so that they look pretty and fun. So the winters are coming, and you would use the coffee mug cozies a lot and here we got this idea of crocheting them in mickey mouse style so that they look super cool and chic warming up your coffee in the morning and evening. The pattern is just super easy to crochet yourself at home and at the least of the time too so do catch all its details here wildandwanderful
Crochet Minnie and Mickey Mouse Easter Baskets Pattern: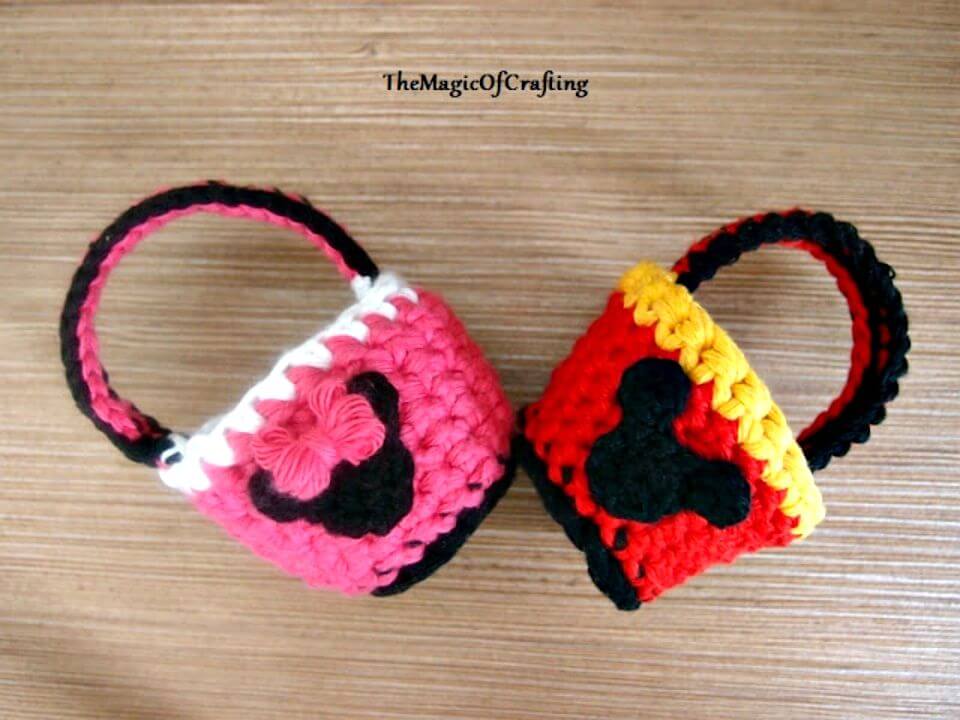 If you are a fan of the mickey mouses, then you should revive your love for Disney back with these cute mini mickey mouse easter baskets for the holiday season. The pop up of the colors and the mini size of the baskets make it look exquisite and captivating and would be loved by all your gift it to especially the kids. So here we have the link where you would not only find the free patterns but the basic instructions about the stitch technique too themagicofcrafting
Crochet Mickey And Minnie Heart Appliques Pattern: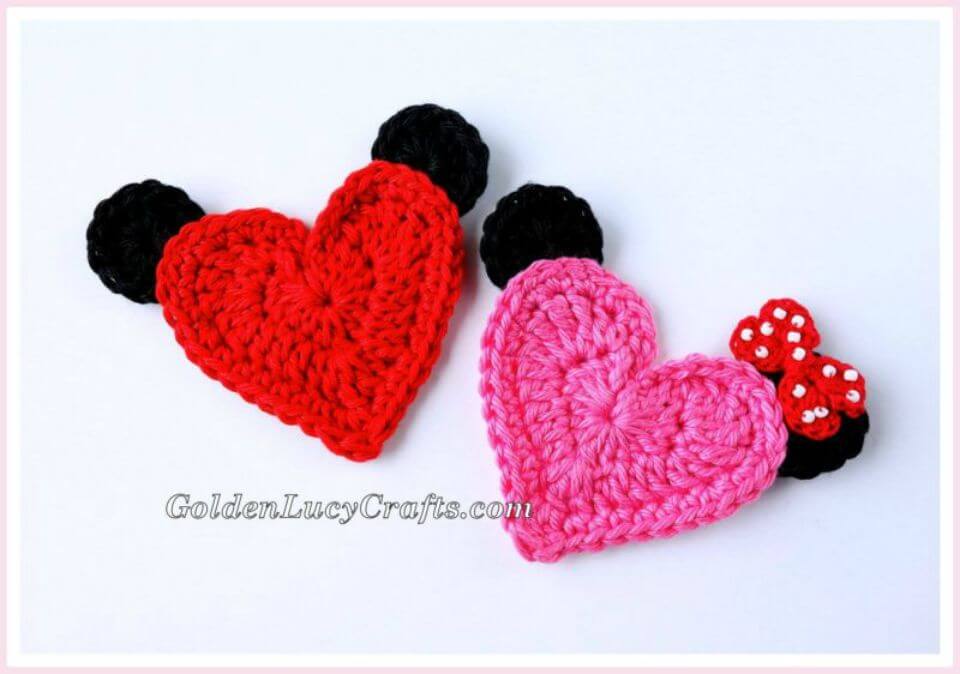 Crocheting is just so much fun and with the wide range of the ideas and projects that you can do with it for your home betterment is making it more favorite of the people around. Here is this pretty idea of creating the mickey mouse inspired hearts and use them for the décor enhancement of your kid's room. The hearts have been crocheted in red with the mickey mouse ears and the bows. Here is the link to grab the free pattern details and instructions to crochet these heart-melting mickey mouse hearts goldenlucycrafts
Crochet Minnie Mouse Inspired Baby Hat Pattern: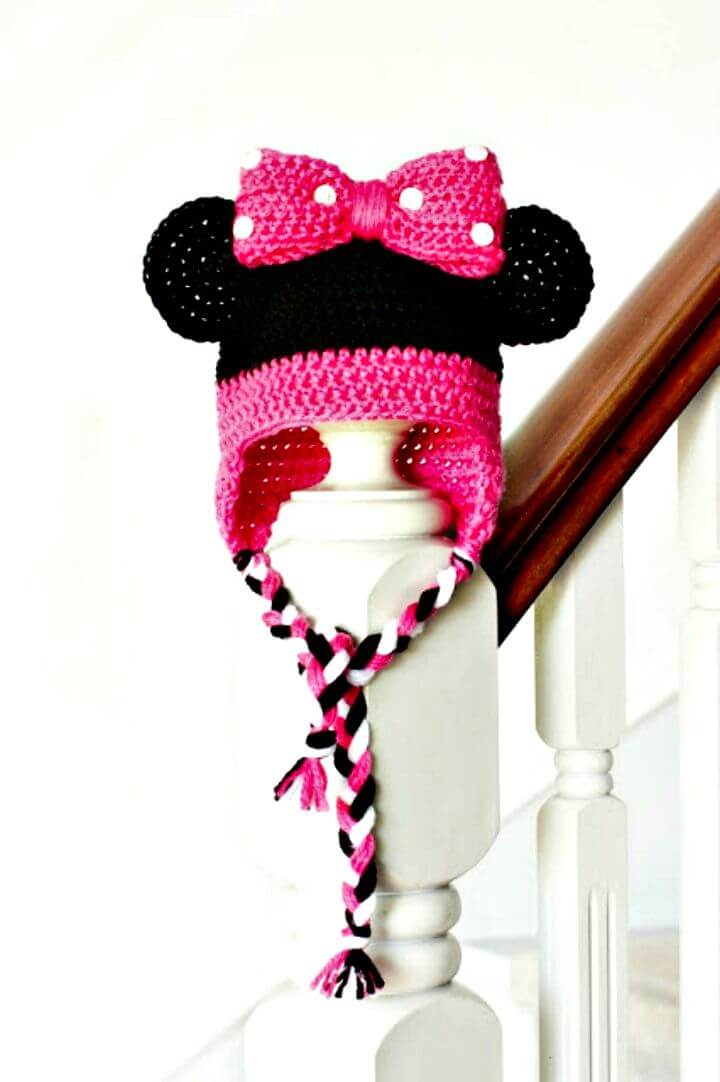 The babies just love hats which are cool, cute and inspired by their favorite cartoon and movie characters. So if you want your little one to get protected from the winter cold this year who is not into the hats much this mickey mouse hat can really make him fall in love with the hats. A creative fun twist added to this hat is the pretty braids to make it look more tempting and fun for your little girl. Here is the complete tutorial of this pretty hat with free pattern and the instructions hopefulhoney