Modern fashion has a great history, and various old fashion styles are still popular around the globe, and the bohemian style and fashion is one of them! While talking about the 60s and 70s fashion trend, the chic boho style comes as prominent, and many modern fashion trends still have bohemian roots! If you are also a big fan of free and flowy fashion statements then following boho fashion would bring great happiness to you! Whether you are going to believe it or not but you can crochet unique bohemian fashion too with your crochet hook! Just to prove it very correct to you, we have brought here these 16 free crochet boho and bohemian patterns that are sure to enchant your eyes along with satisfying your boho fashion taste! So, crochet now the lovely bohemian accessories and clothing with your hook that would be a wardrobe must-have for each fashion enthusiast!
Crochet the urban gypsy boho bag and show off with it as it would simply go eye-catching while being around your shoulder, here the longer flowy yarn lengths are the most dominant feature of this boho bag that looks like a waterfall! Boost your summer fashion with the super breezy birch crochet bohemian vest that is also easy to crochet and would make an epic summer gift to a style loving lady! Crochet outstanding bohemian shawls, blankets, and oasis using the colorful granny squares check out the given bohemian oasis that is an interesting example here and would make a Thanksgiving gift also to a friend!
This just not ends here, crochet also stunning wall art inspired of bohemian fashion, an interesting example here is the very adorable bohemian wall hanging that features a neutral hue, why not experiment it with different yarn colors? Give an instant boost your bohemian fashion by wearing the boho tassel bag around your shoulder that comes with beautiful leather straps also! Double up your style and fashion by crocheting bohemian inspired pullovers that would also work great as winter warmers if crocheted thick and bulky, get inspired of the given sample that is truly mind-blowing and fetching!
Furthermore, crochet also the lovely boho barefoot sandals that would be a delight to wear on feet while going for some beach visits! Crochet stylish and colorful bohemian scarves for yourself and also for beloved family members and they will make interesting DIY gifts too among the friends, just peek into details of given bohemian scarf that features colorful stripes and puffs! Crochet outstanding bohemian shawls for fantastic boho fashion statements!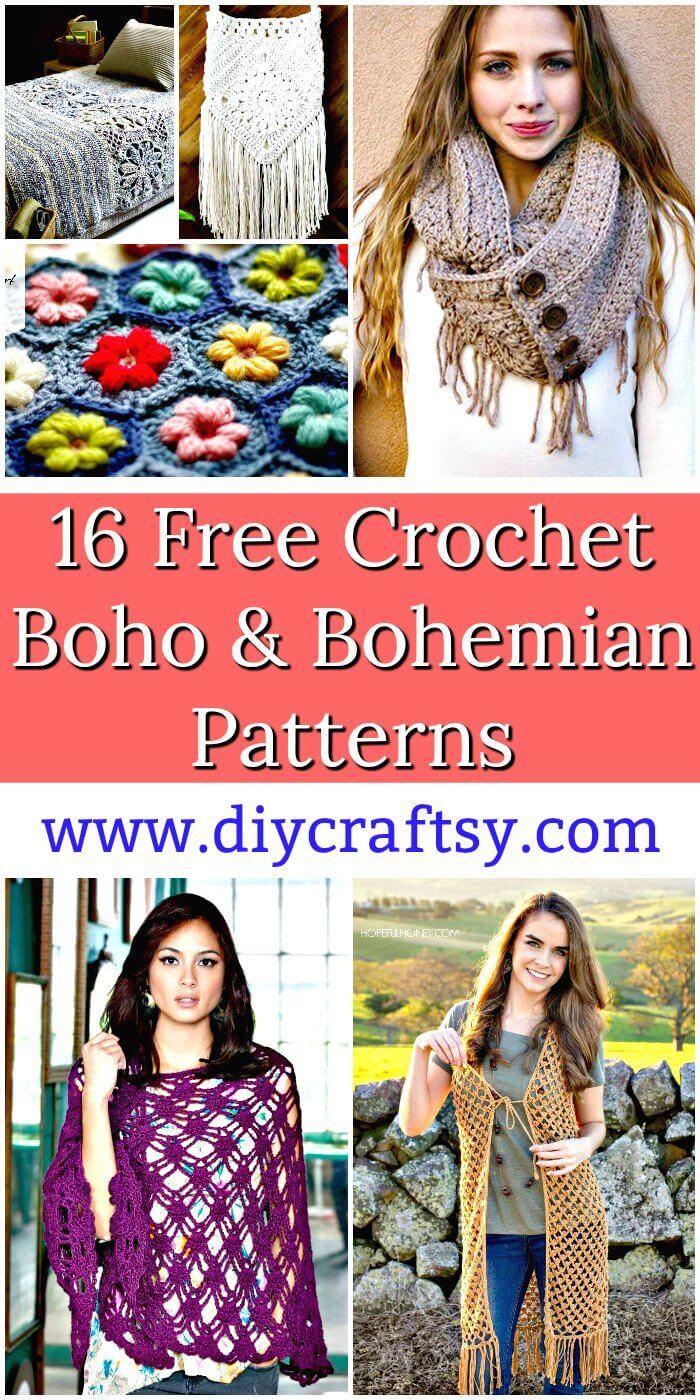 Check out the entire list of these flawless crochet bohemian pattern and choose your favorite projects to duplicate! Don't hesitate to click on the respective source links for complete visual guides, easy tutorials, and free crochet patterns!
More Free Crochet Patterns here:
Easy Free Crochet Urban Gypsy Boho Bag Pattern: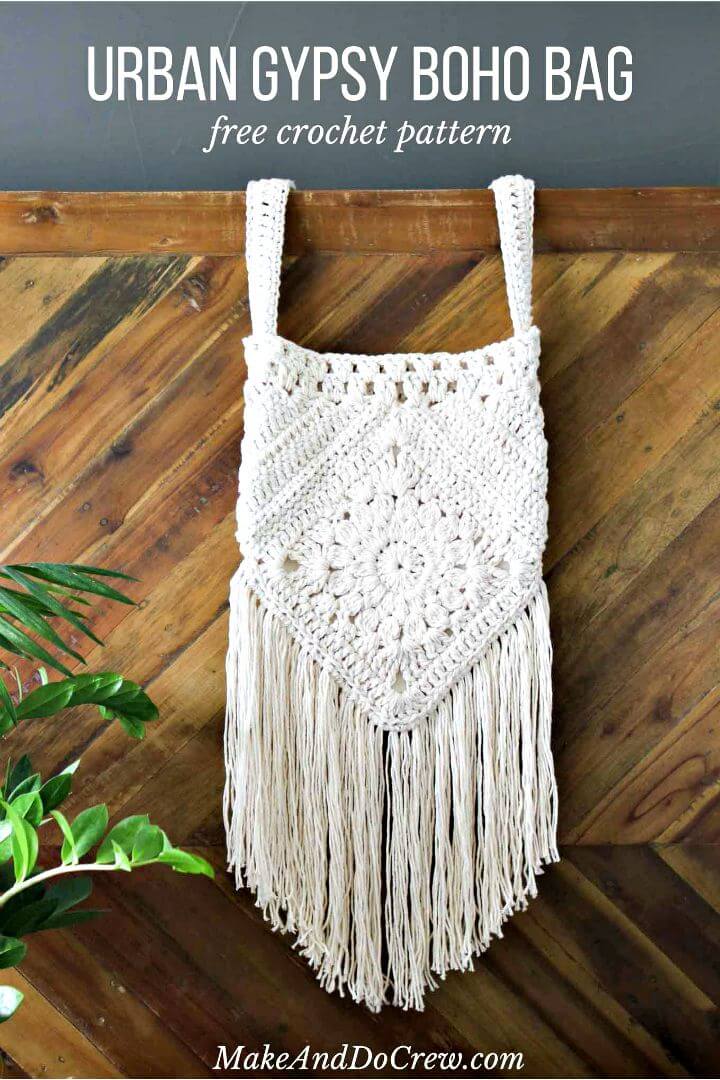 If you are also a boho person and want to look unique and one of a kind then your fashion accessories should really be stand out. So here is this boho bag for the ladies and the girls to add to their personalized style statement. The lovely gypsy bag in white with the fringes just look a stunning piece to be added in your dress up. So what are you waiting for grab your crochet hooks, come along with the free pattern and details here and own it makeanddocrew
How To Free Crochet Whispering Birch Bohemian Vest Pattern: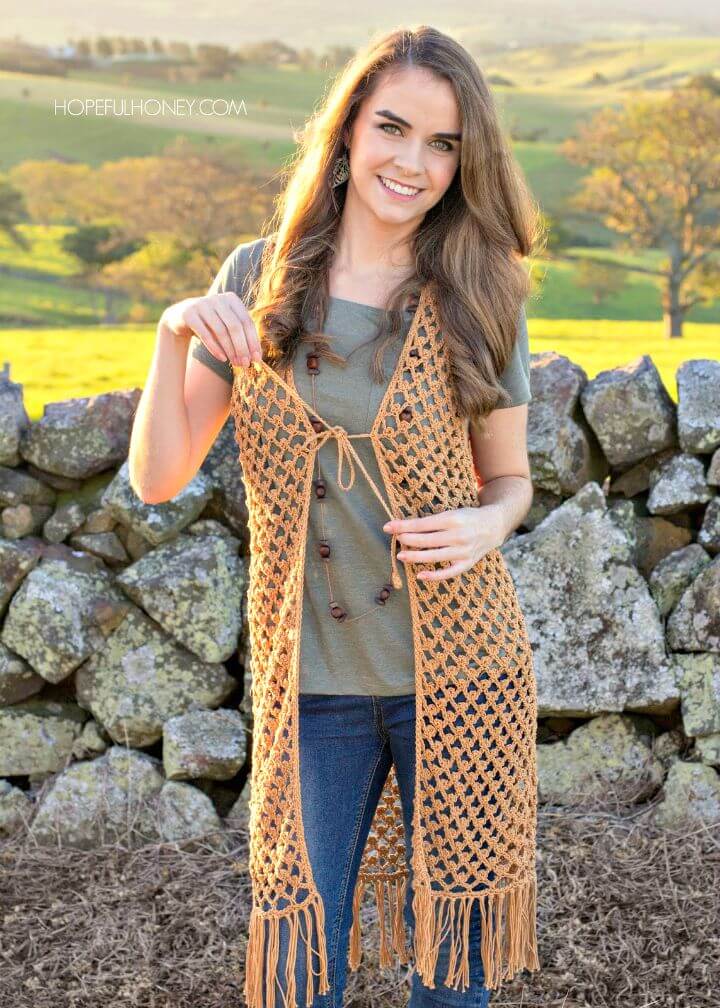 Add the perfect grace and modern touch to your summer fashion with this pretty and funky birch crochet vest to be adopted over your pretty tops and tanks. The lovely trellis design, the long waving  fringes at the base and that perfect knee length makes it a perfect pick for your outdoor summer trips. SO grab the free pattern and details here to get it added in your summer wardrobe hopefulhoney
Easy Free Crochet Bohemian Oasis Pattern: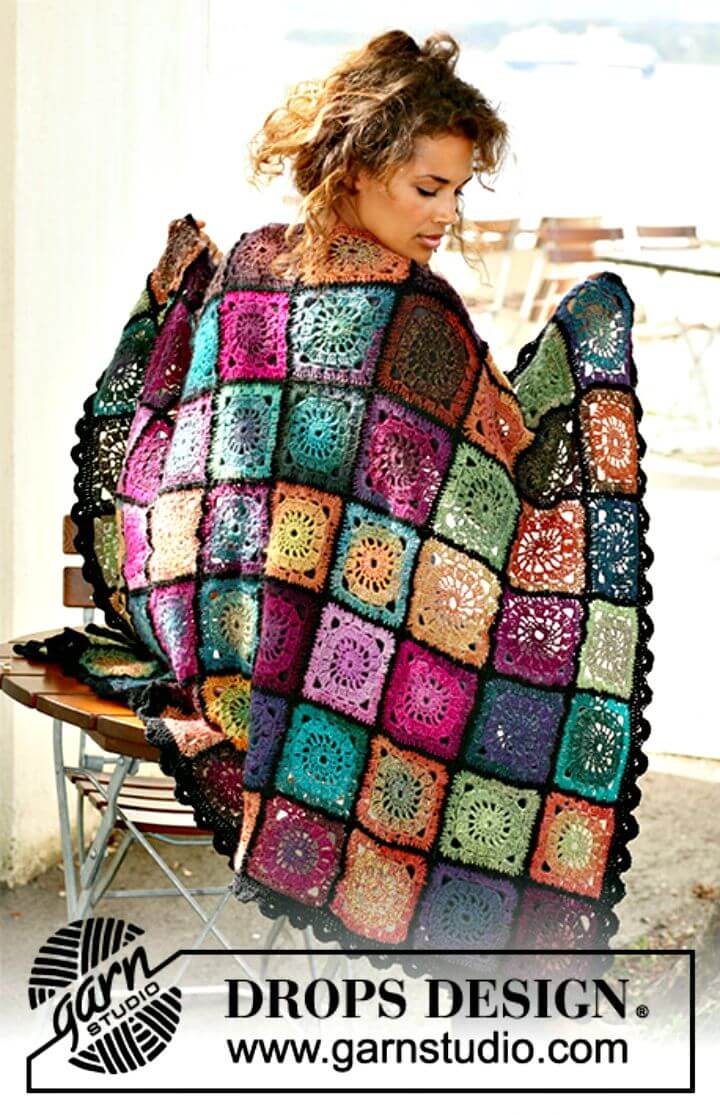 Colors play an important role to let your carry the boho spirit of yours in the summers and here is the oasis of the colors with this pretty wrap up for the cool summer evenings. The colorful squares have been crocheted together to shape up this pretty Afghan to add  oodles of charm to your dress up and personality and look absolutely stunning and fun.Check out the details of the pretty pattern and more here garnstudio
How To Free Crochet Bohemian Wall Hanging Pattern: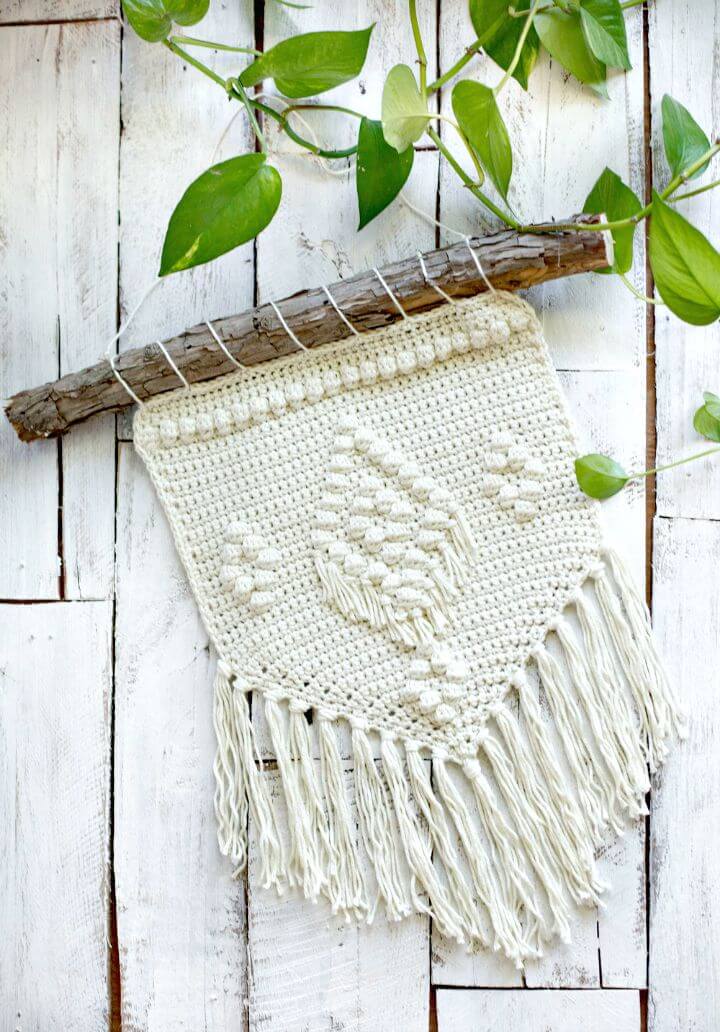 Not only to your pesonal style but to your home decor too, the boho style fits just perfectly make you and your spaces look out standing from the others. So for boho decor possession you can check out this lovely crochet wall hanging with an adorable style and the cute fringes hanging at the end. You can mount it on the walls with the help of a tree branch to make it look more quirky and fun. Check out the details of the pretty decor idea here megmadewithlove
Easy Free Crochet Boho Tassel Bag Pattern: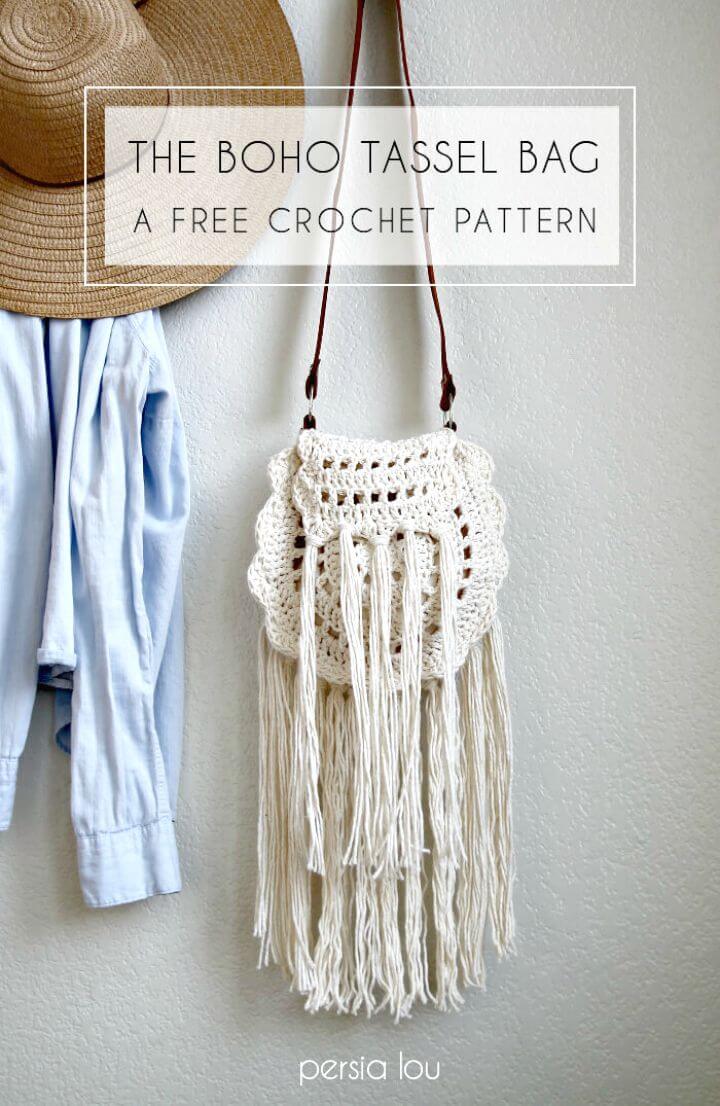 If you are looking for some funky bags to for your daughter who is in college then you would fall in love with this boho styled crochet bag that would be so much easy, fun and cheap to get your crochet hooks on. With the white yarn, the cool design and those funky tassels the bag turns out to be  super style and fun. The leather belt is adding more to the boho factor of the bag so do hack the free pattern of it all here persialou
Easy Free Crochet Bohemian Pullover Pattern: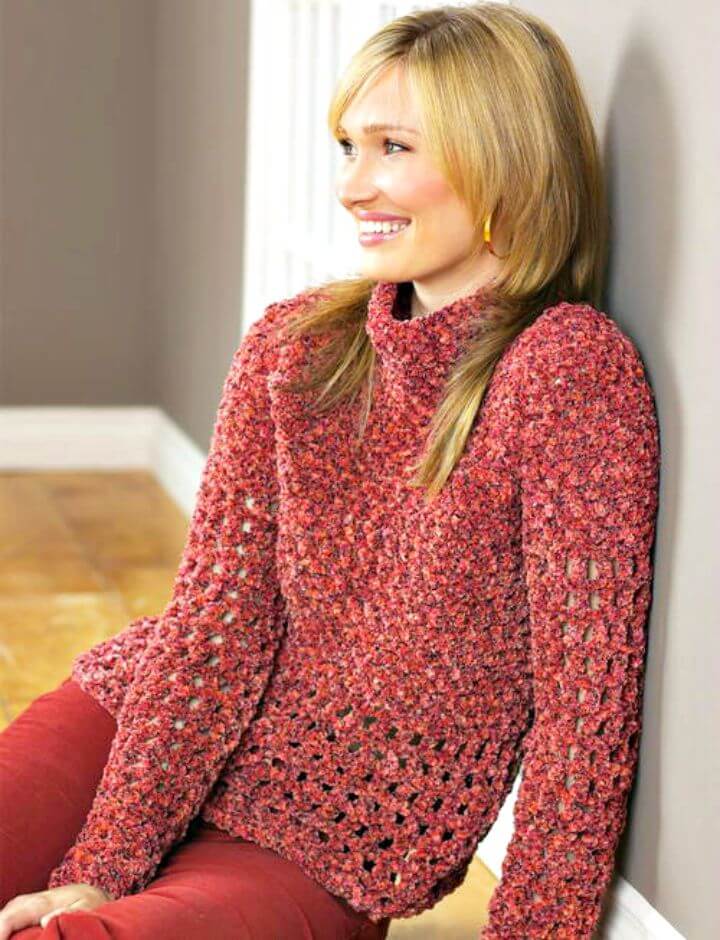 keep up your bohemian style statement high this summer or the spring with this pretty in design and lovely in color crochet pull over to get cozy and warm in style. The gorgeous pullover is really cool with the chunky design on the arms and the base of it. You can hack the free pattern here and create the pullover in any color, style and the shade and also size if you want to use it as a gift. allfreecrochet
Quick and Easy Free Crochet Bohemian Barefoot Sandals Pattern: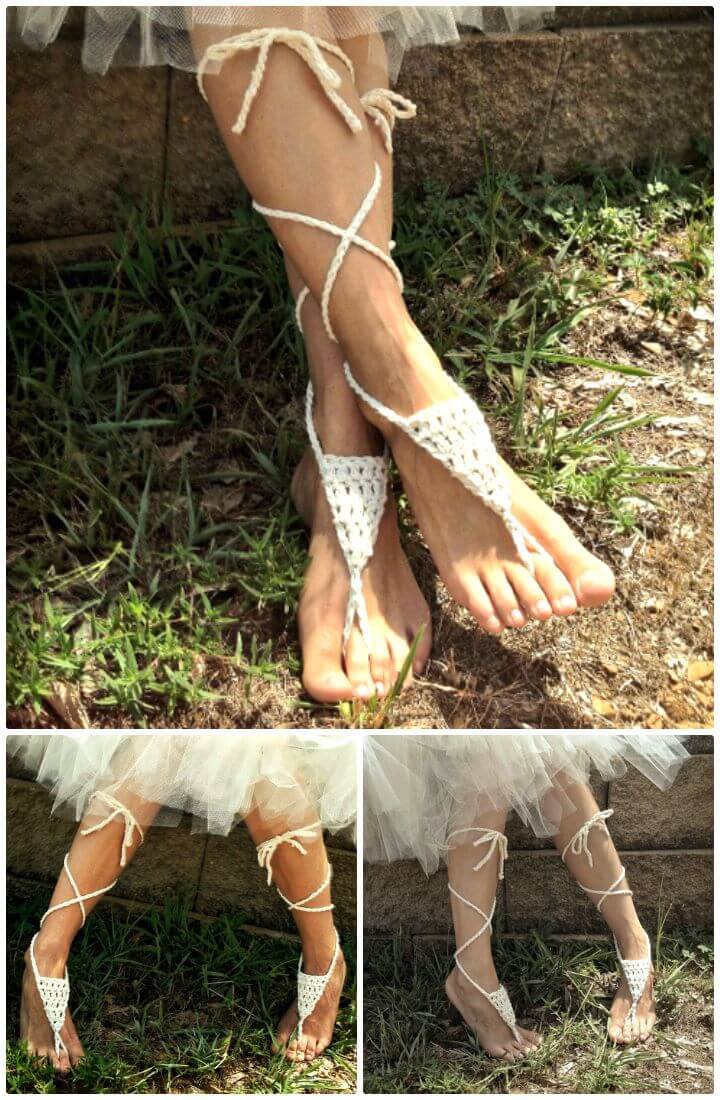 Bring more charm to your reception or wedding day looks with this adorable pair of the boho barefoot sandals and look no less than a princess coming down from the fairyland. The pattern is just too easy, fun and quick to work up with your crochet hooks and some white yarn. You can make it for yourself or for the bride as the most heartwarming gift for her wedding as it would add to her adorable dress up for her special day. Details here expressionfiberarts
Easy Free Crochet Bohemian Scarf Pattern: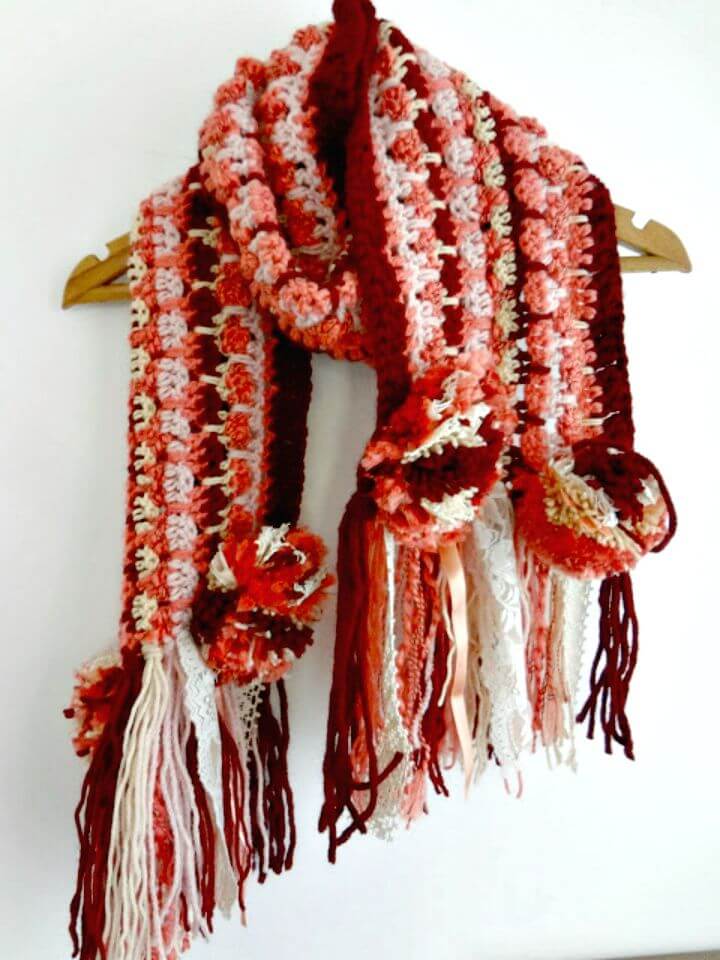 Scarves are the most casual accessories used by the ladies to get styled up in the cold weather but still you can work up some ways to make them look all funky and boho. Here is this perfect example of a boho scarf that you can easily hack at home and make your scarves look so much unique and one of a kind. Just add the fringe of lace or ribbon and the pom poms and the scarves would look all stand out and adorable. Details of this remodeling here scarf
Easy Free Crochet Bohemian Shawl Pattern: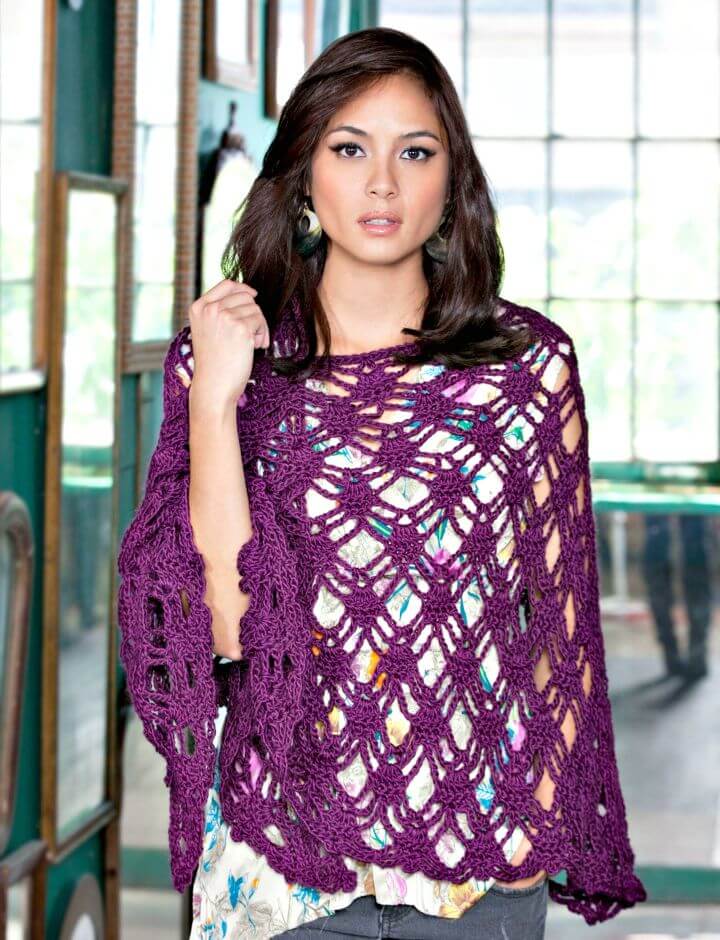 Its hard to stay cozy and warm and stylish when you have to do to a dinner or a party in the cool weather. But there are so many stylish and boho items that can jazz up your formal wear and also making you feel all comfy and hot at the same time and this gorgeous crochet shawl is surely one of them. With its webbed design and the the elegance shade of the yarn this shawl has been so beautifully whipped off. You can hack the free pattern right here on this link along with the details and the instructions shawl
Easy Free Crochet Blues Bohemian Blues Poncho Pattern: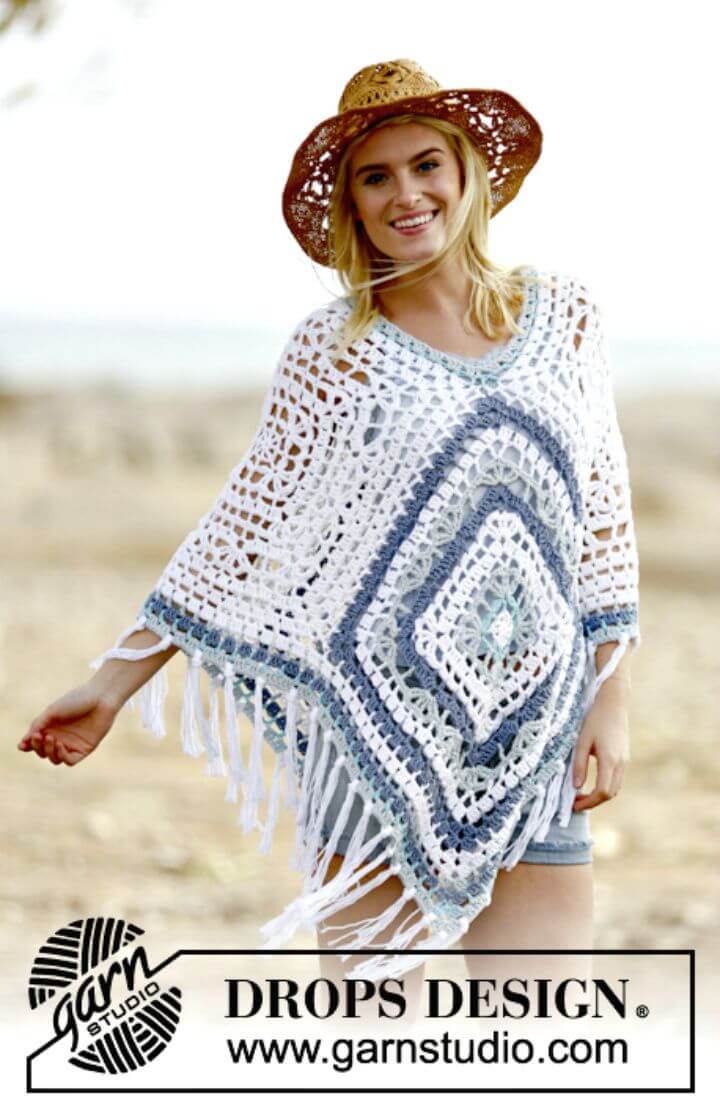 Ponchos are great for the style lovers to look stunning and funky in the cold weathers and here is a boho one to let you bring some dazzling touche in your personality for the summer or the spring look. The pattern is really airy and thus it would all let you enjoy the summer breeze and the spring wind. You can combine any of the hues to crochet this adorable pattern for more custom and personalized results, details of the pattern here pattern
How To Free Crochet Boho Headband Patterns: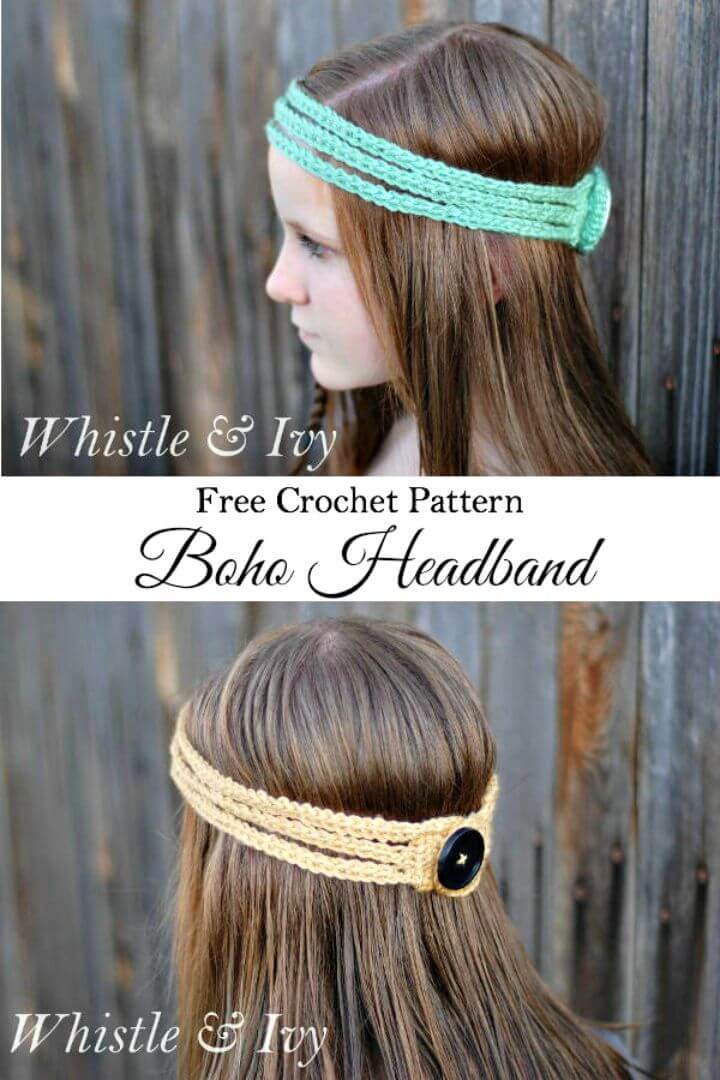 Enough of those traditional and so casual bow headbands for the little girls its time to get them some boho headbands too so that they also enjoy the quirky style and funky fashion looks. SO here is this adorable headband with three crochet strips and the buttoned that goes at the back of the head. You can create these headbands in any of the colors to get them matched with the pretty dresses of your girls. You can check out the pretty easy and fun tutorial here whistleandivy
Easy Free Crochet Rustic Bohemian Fringe Infinity Scarf Pattern: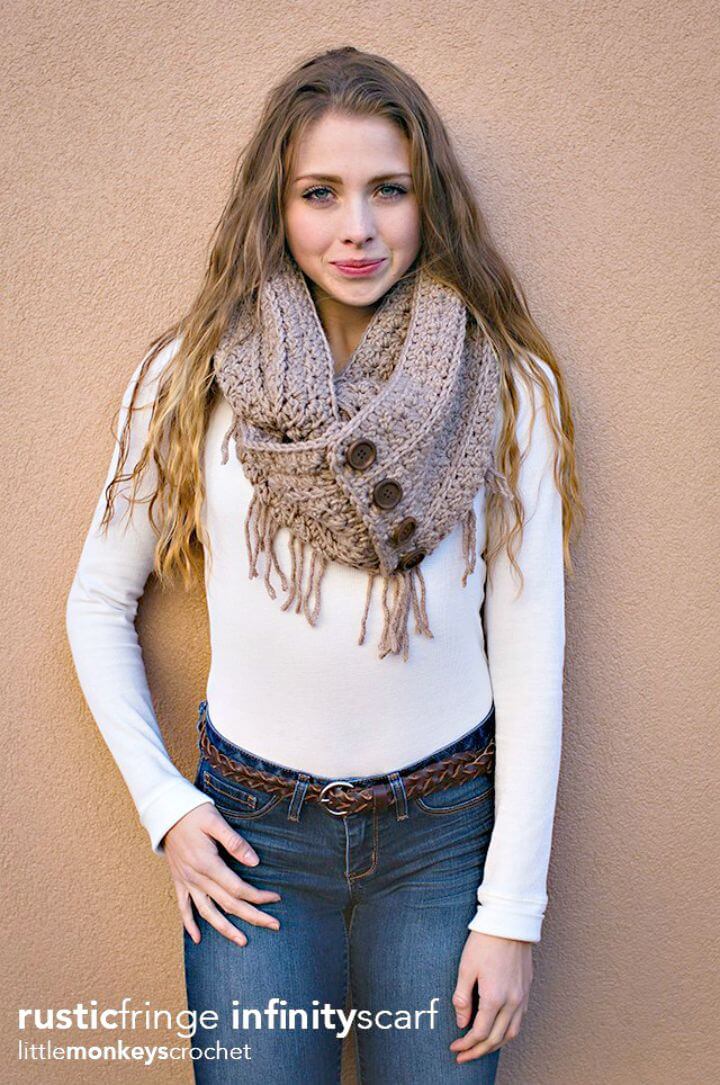 What you look into a scarf while intending to have one? The boho style, lovely texture of the yarn, gorgeous design? here is this rustic bohemian scarf with us that fits brilliantly to all the mentioned merits of the scarf discussed. For the icing on the cake it got buttons and the fringe and can be worn in so many different styles to look boho every time you wear it with a twist. Check out the fun and easy crochet tutorial right here infinity
Easy Free Crochet Daisy Puffagon Pattern: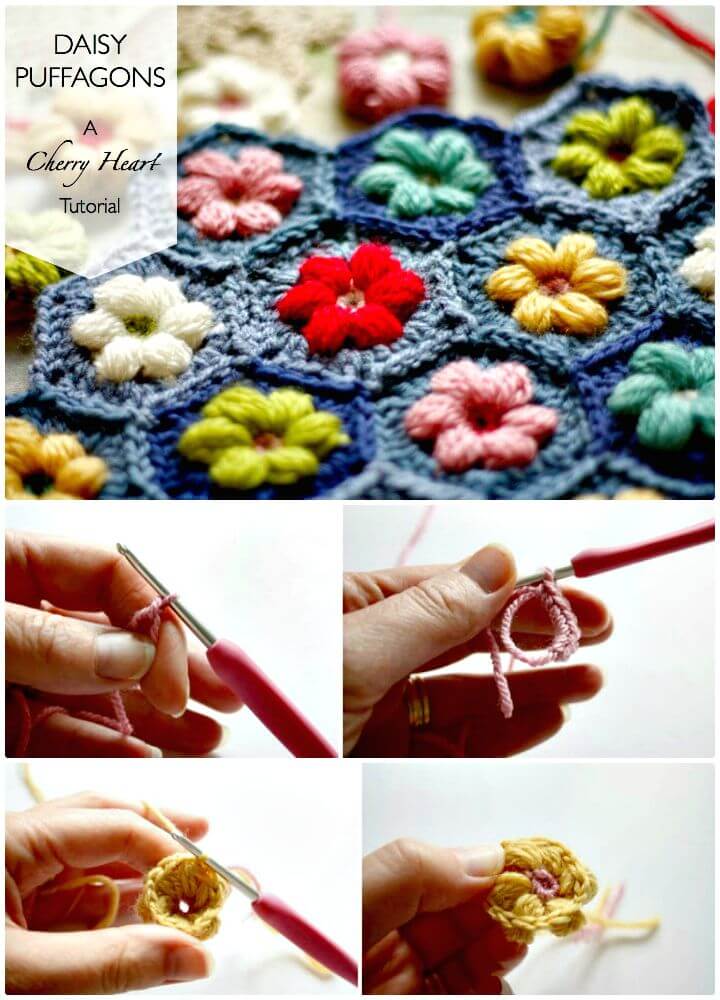 Puffagons are so much fun to crochet and now here is the complete boho pattern of the puffagon to create with the flowers and that too in lots of pretty colors and shades of the yarn and thus enjoy the most awesome results. The base of the puffagon is blue with the pretty and bright flowers adding oodles of charm to the pattern. You can grab the free pattern and the details of it right here on this link cherryheart
How To Free Crochet Boho African Flower Hexagon Pattern: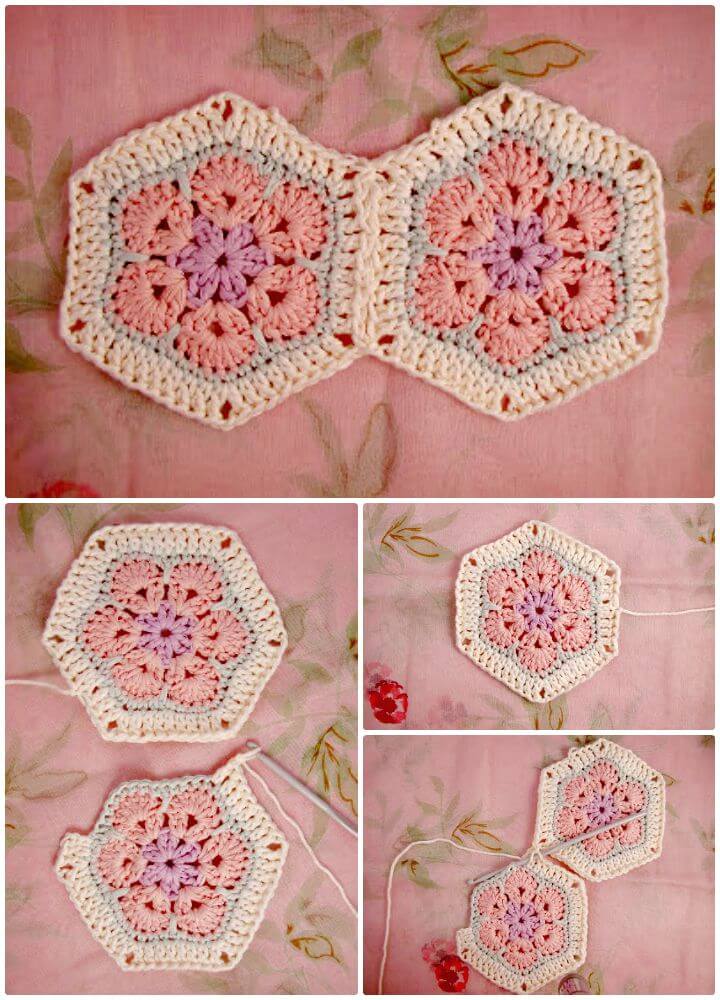 The geometric shapes are always fun to create and bring the perfect fun to your decor or style. SO here is this lovely hexagon pattern with the lovely flowers that you can crochet and add to your walls and thus warm up the decor for the winters and that too in the real boho way. You can also use them as the gorgeous appliques on so many of your other crochet possessions and make them look all spruced up and fun heidibearscreative
Easy Free Crochet Bohemian Magnolia Afghan Pattern: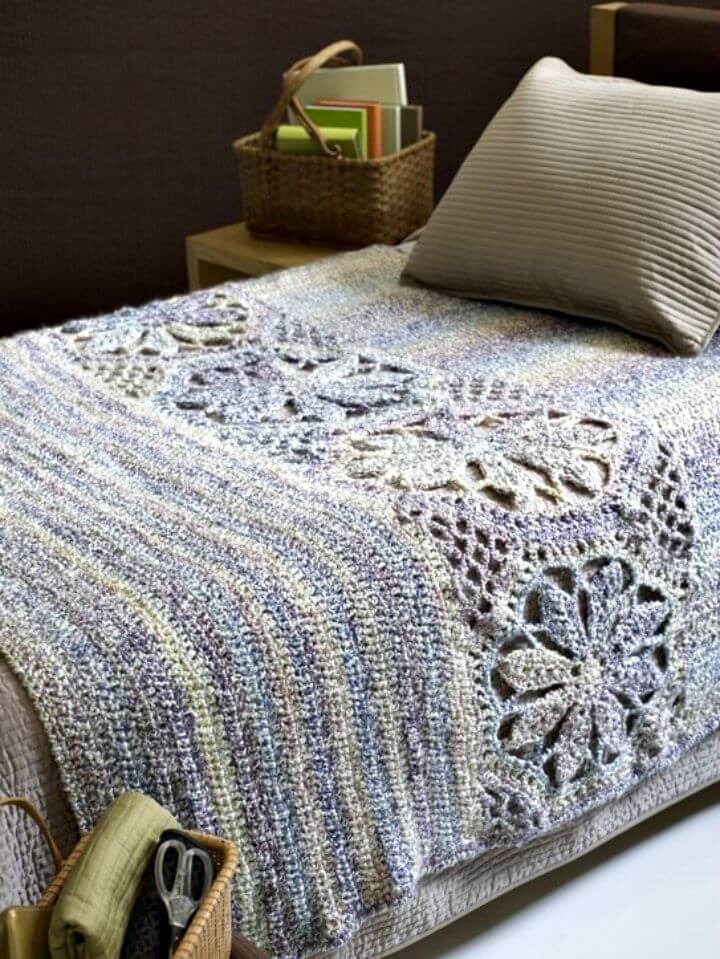 afghans are the best of the blankets to get inside and feel so much comfy and comfortable either its the day or the night and you need to relax. So when you are not relaxing let your afghan speak out loud about your boho style and the boho fashion with this adorable crochet magnolia pattern. The Afghan got so much narrow stitched base and the top with the adorable flowery design int he center and that is the beauty and the style of the cozy afghan. You can check out the easy and quick details of the pattern right here lionbrand
Free Crochet Summer Garden Granny Square Pattern: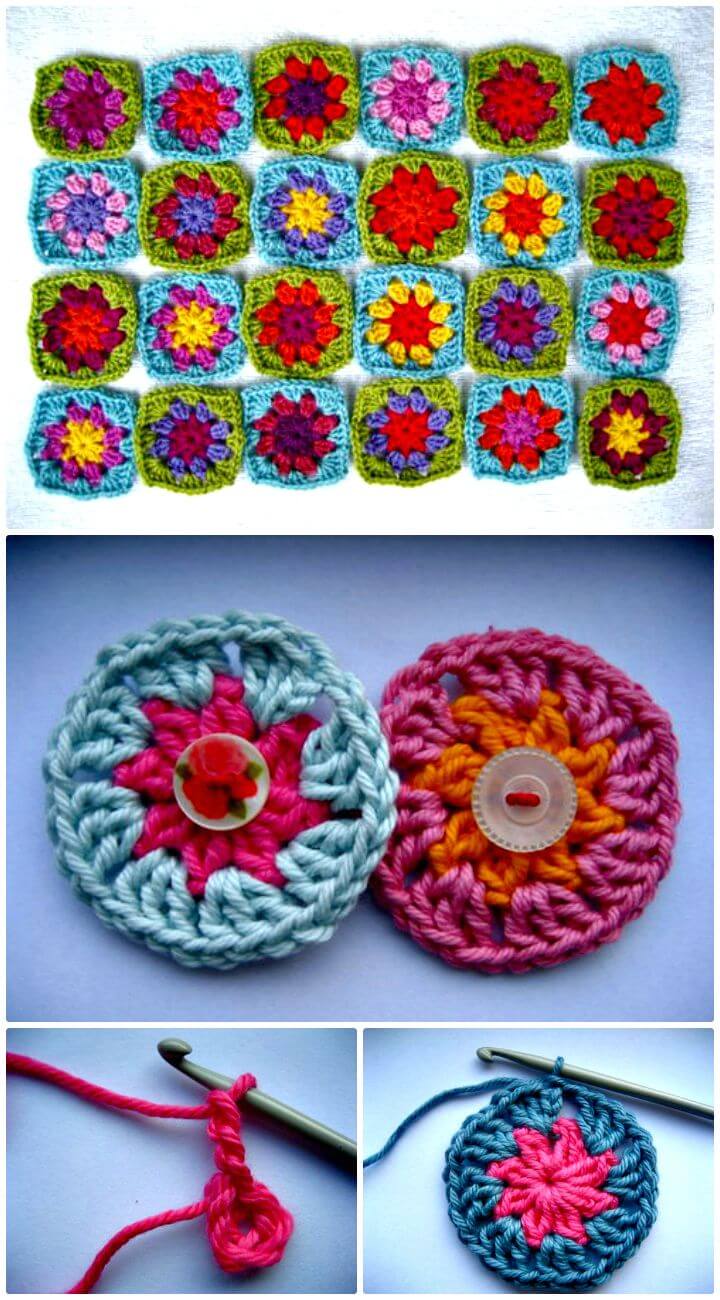 The crochet summer items focus on the flower and the garden themes and here is something so much functional and fun to try your crochet hooks on and add the perfect spring or summer vibes in your decor. This is a pretty and cute looking crochet granny square garden that would add oodles of charm and fun to your decor by getting used in multiple ways and twists. The floral design in the center of the square is too adorable to take your eyes off, and you can hack it all here typepad