Doing some of the decors yourself for your upcoming wedding not only can save money but it can also create bonding moments with your bridesmaids that you'll surely treasure for life.
If you're crafty and you have an interest in DIY crafts, then you already know that DIY-ing decor is a great way to introduce your and your groom's personality, showcase your love, and bring the celebration to a new level of personalization. Here are a few ideas you can explore for your DIY wedding decor.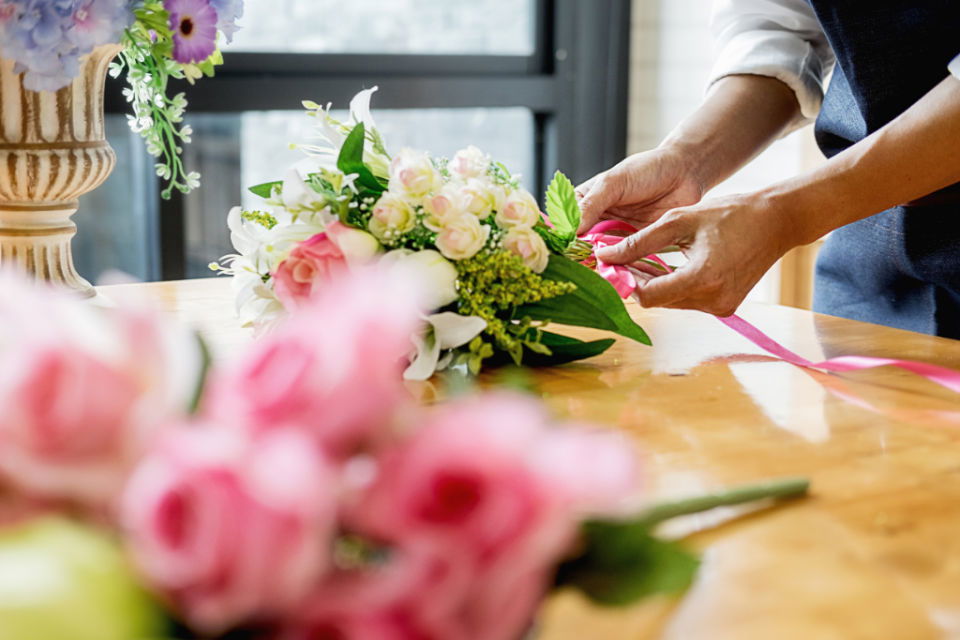 1) Framed Escort Cards
Escort cards are super easy to make even though they can be a little wearisome. To make the task less tedious, instead of printing the names of your guests separately, group the names of your guests according to their tables and simply choose a nice paper to print it on.
Frame the cards in a pretty photo frame and stick the frames on a wall. For the final touch, decorate the wall with fresh flowers, or if you want to save money, create paper flowers to decorate it with.
Alternatively, you can just stand the frames on a table and just decorate the table with flower pots on the sides. Framing the names by groups is still a lot easier for your guests to find their names than for them to go through each name on every single escort card on a table just to find their seats.
2) Table Number in a Pot of Plant
Print the table numbers, glue each number on a barbecue stick (you can make it back-to-back), and then stick it on a pot of flower.
The potted flowers can double as a centerpiece. Ask your florist to do the wedding flower arrangements and just pick a nice flower pot to put them in. If you're feeling creative, buy plastic pots instead of ceramic and transform them beautifully with your theme colors.
If you want to further save money, you can also ask your florist to create arrangements with more greens than flowers. Your florist can help you with whatever vibe you're going for and still stick to your budget.
3) Paper Flowers for Backdrop
Using paper flowers instead of fresh ones is a great way to save on money, but they look great too! Some people opt for paper flowers for backdrop not to save money but simply because they look spectacular on a wall.
DIY wedding decoration ideas like paper flowers are fun to do with a group. You can choose to do it alone, but if you're going to make a wall full of flowers, it will be better to get some help. Take a look at this tutorial for making paper flowers for beginners.
4) Tealights in Mason Jars
There's something about mason jars that make them a favorite item for decors both by DIY enthusiasts and professional wedding decorators. They look great painted, but they also deliver the same effect unpainted.
Add lighting to your decor plans using mason jars. Lighting is an excellent way to instantly create a romantic mood in any place, and what better technique to do it with than by using beautiful mason jars?
Buy white pebbles or stones from a plant shop and fill your mason jars to a quarter. All that's left to do is to put the tealights inside, and voila! You'll have a romantic lighting design you can put on the floor by the walls or the pathways.
5) Hanging Mason Jars Christmas Lights
Another way to use mason jars for lighting design is by hanging them with Christmas lights. Choose Christmas lights with drop strings. Ideally, you'll put the drops inside the mason jars.
Fortify the Christmas lights by stringing the cord with a thin nylon rope. Then create wired handles for the mason jars and loop them through the Christmas lights and the nylon string. Hang your lights on the ceiling for that dramatic effect.
6) Candles in Spray Painted Bottles
Use old wine bottles as candle holders. This is another DIY lighting design you can make that's easy and inexpensive.
All you need are old wine bottles, stick candles that will fit through the opening, and spray paints, and you'll have elegant candles to lit up your venue.
You can put these on tables or use them to decor every nook and cranny of the venue. If this is your first time painting bottles, you'll need this tutorial on painting wine bottles to guide you through the task.
Takeaways
Create your perfect wedding using your own flair for creativity and your personal touch. Nothing beats personal touch for decor and for showcasing your love for each other on your wedding day. Do it alone or do it with your bridesmaids, just remember to have fun and the rest will follow. Good luck!