As all the day in the office, we just wait for the closing time so that we can go back to our home sweet home and get our selves relaxed. And one has to make lots of efforts to turn a house land into a lovely home. First, we look for the best piece of land to build our house on, then we choose the best possible furniture and décor items to bring life and luxury to our home and finally calling it our personal haven. And here we have brought to you some easy plans and ideas involving the pallet projects, focusing on the up gradation of your home in the furniture and décor perspectives so that you enjoy more and more being at home.
There is an unending range of the pallet furniture and décor pieces that you can craft out of the pallets but we have round up the best 30 one you today hinting to juice up the indoor as well outdoor décor. So have a look at these 30 pallet ideas to DIY Furniture for your home, adding something really special to each section of the house like sofas, chairs and swing seats to the gardens, coffee tables, shelves, bar to the gorgeous living and the amazing beds and headboards to dreamy bedroom spaces.
More wow Pallet ideas and diy furniture are right below like a tractor style bunk bed for kids and a playhouse for outdoors, all you have to do is just browse the following collection one by one to go through each one of them in detail.
More Pallet Ideas here:
Aamzing Pallet Bunk Bed for your Kids: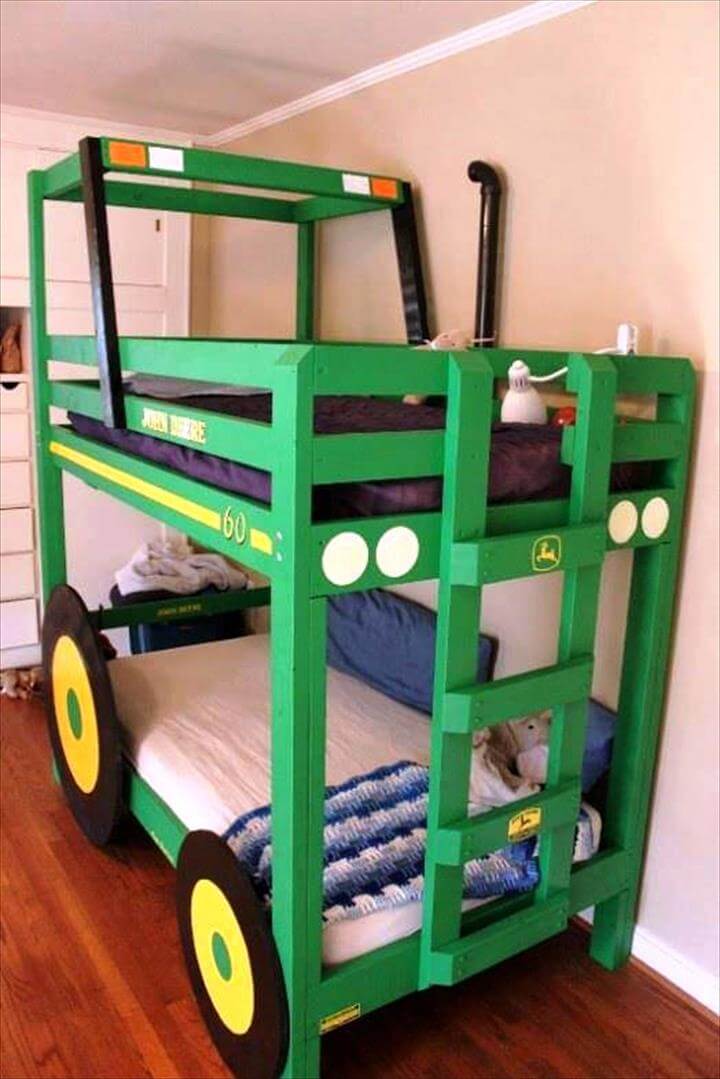 Kids just love to have toy inspired possessions of all kinds and this bunk bed has been build in a tractor shape using the easy and feasible pallet slats being stacked to each other and forming this incredible bed for your kids to drool over.
Pallet Bar Table with Stools: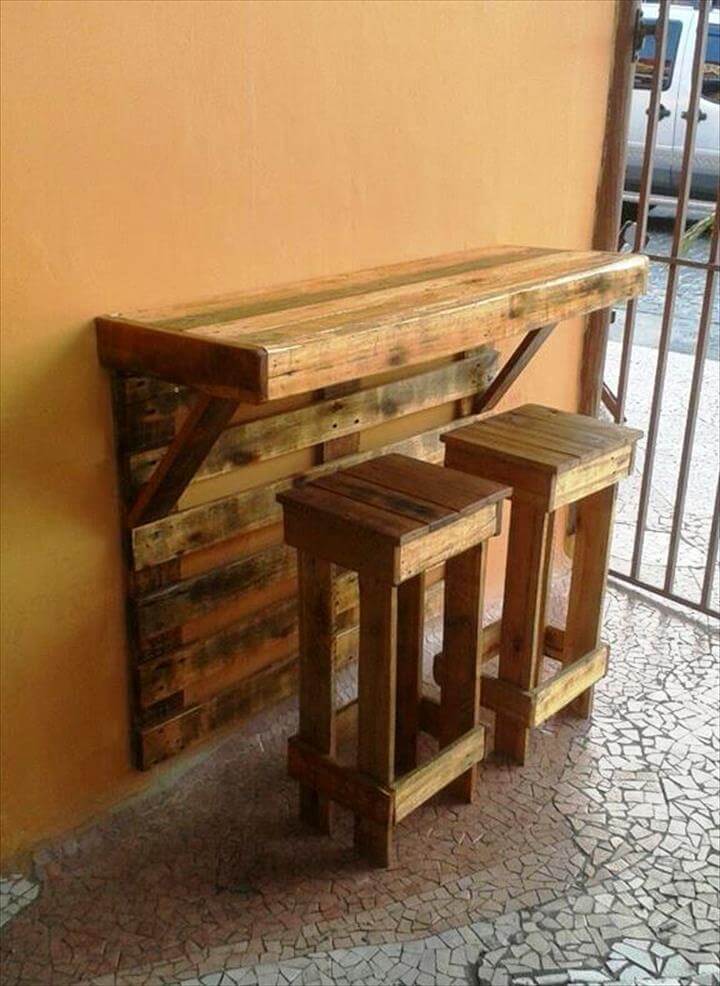 If you are short on spaces and still want a bar then this wall mounted bar with stool from pallets is a great idea to for for and that without putting any burden on your pocket.
Pallet Sectional Sofa: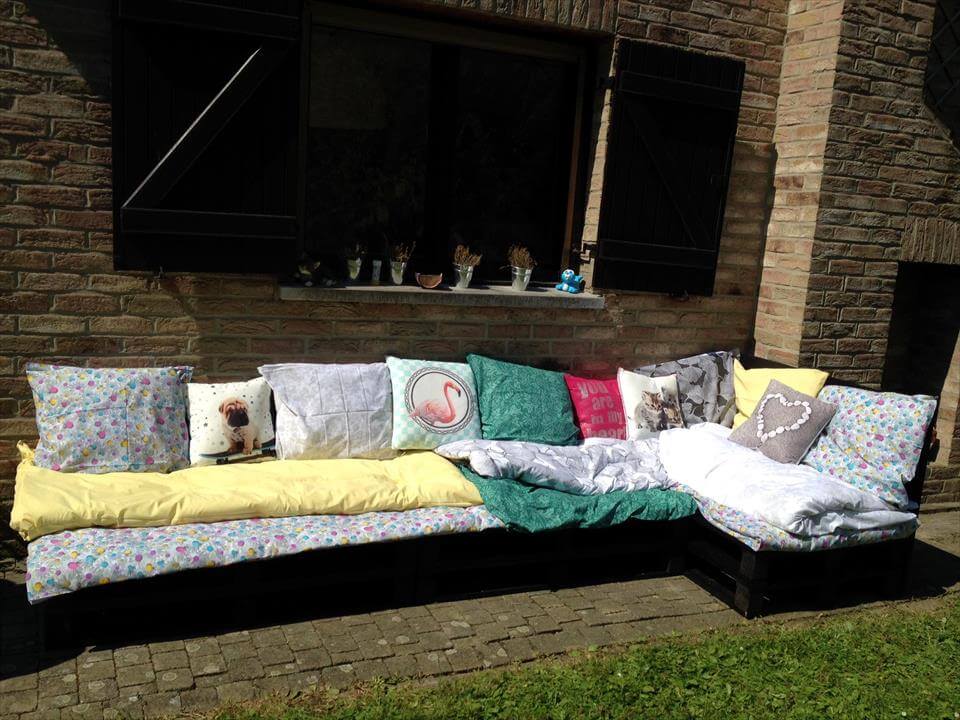 This Large size pallet sofa reveals an L shape having been easily made from the stacking of full pallets in a row with an intense black finish and colorful mattress and cushions adding comfort and style to it.
Pallet TV Stand / Media Table / Entertainment Center: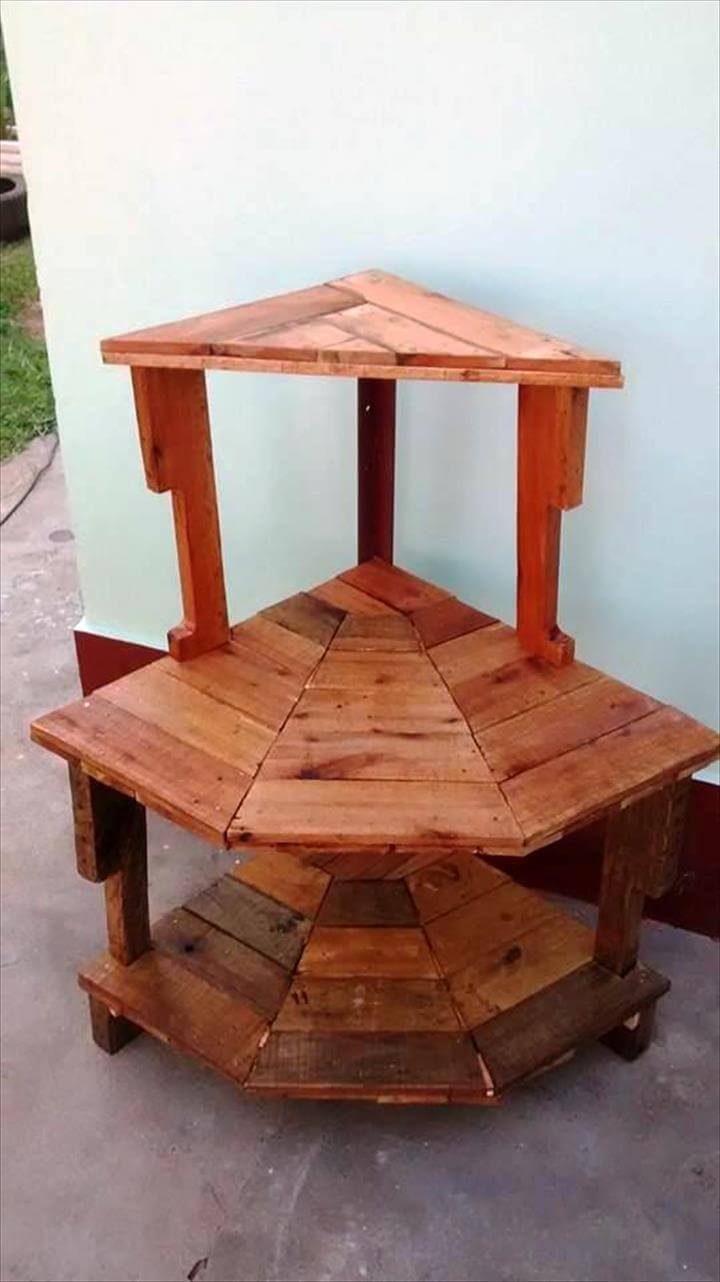 This amazing pallet made display shelf unit is really unique in shape and design having been build out of the small pallet pieces in triangular pizza pieces like shapes in three tiers to hold your knick knack stuff.
Pallet Bed: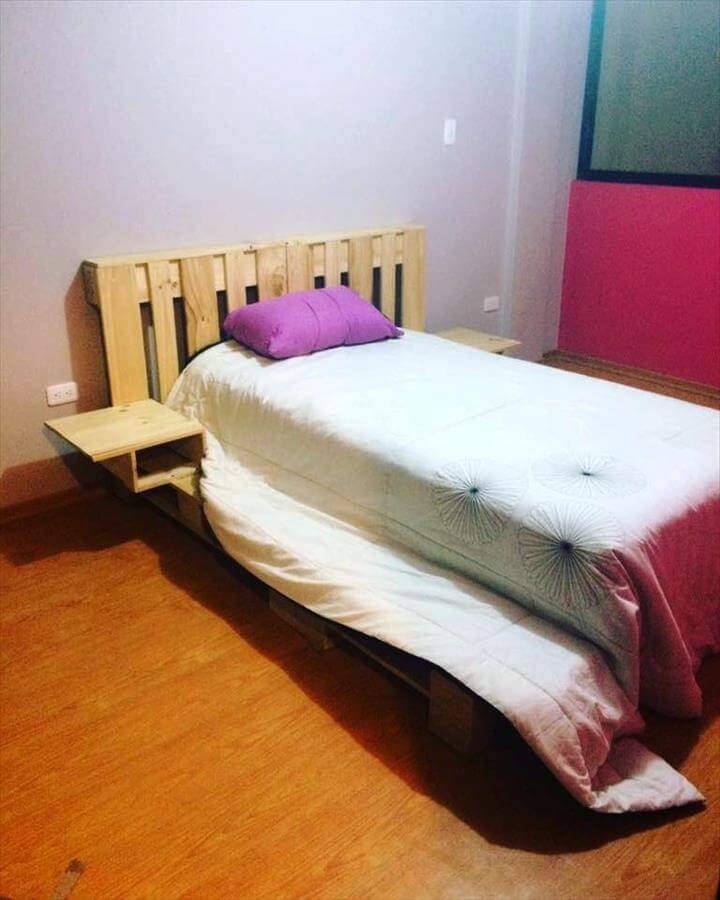 This pallet made bed is not only fully functional for having a headboard and attached side shelves but also looks really stylish and innovative too and have been easily build from the pallets forming the base platform and headboard while the pieces install the side shelves to be used as night stands.
Pallet Chairs for your Outdoor: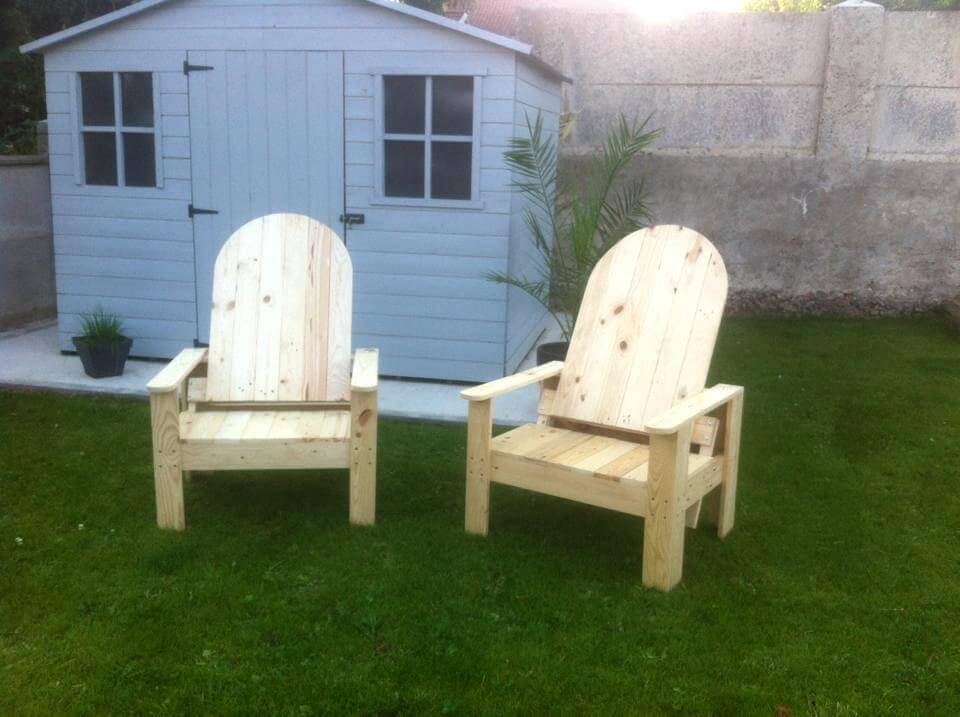 The chairs in the picture are formed from the pallet slats having been tightly packed to each other to form up the seat berth and the round edged back which have been inserted at a tilted angel so that you can comfort your back and spine on it.
Pallet Patio Sofa: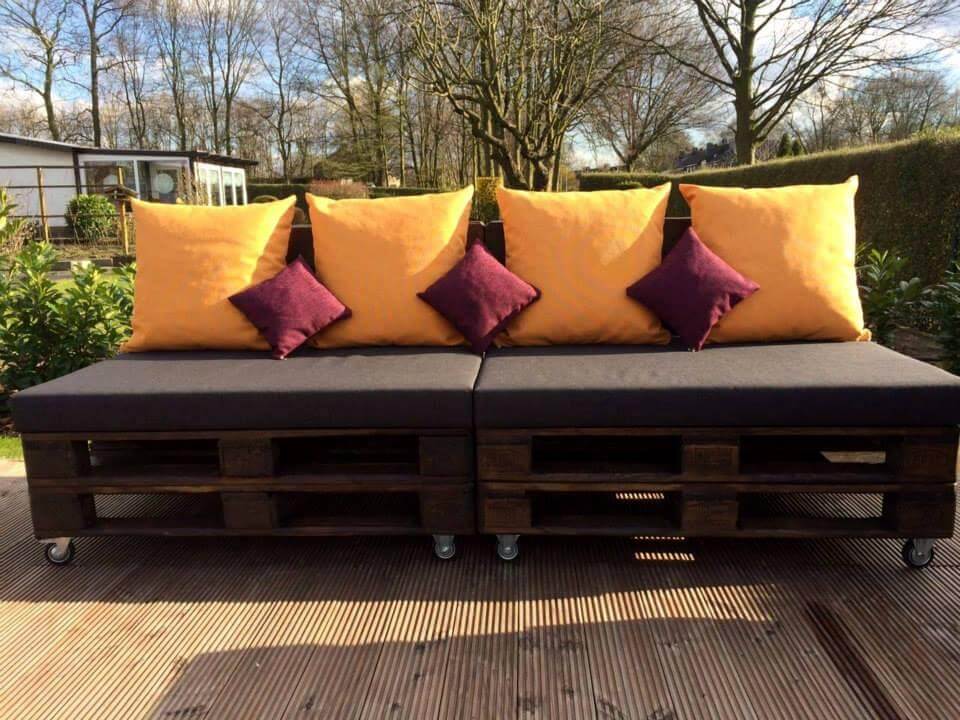 This amazing and elegant styled pallet outdoor sofa is damn easy yo build instantly at home as only the open face pallet skids have been stacked to each other and layered to each other with casters at the ends and gorgeous mattress and cushions on the top.
Pallet Swing: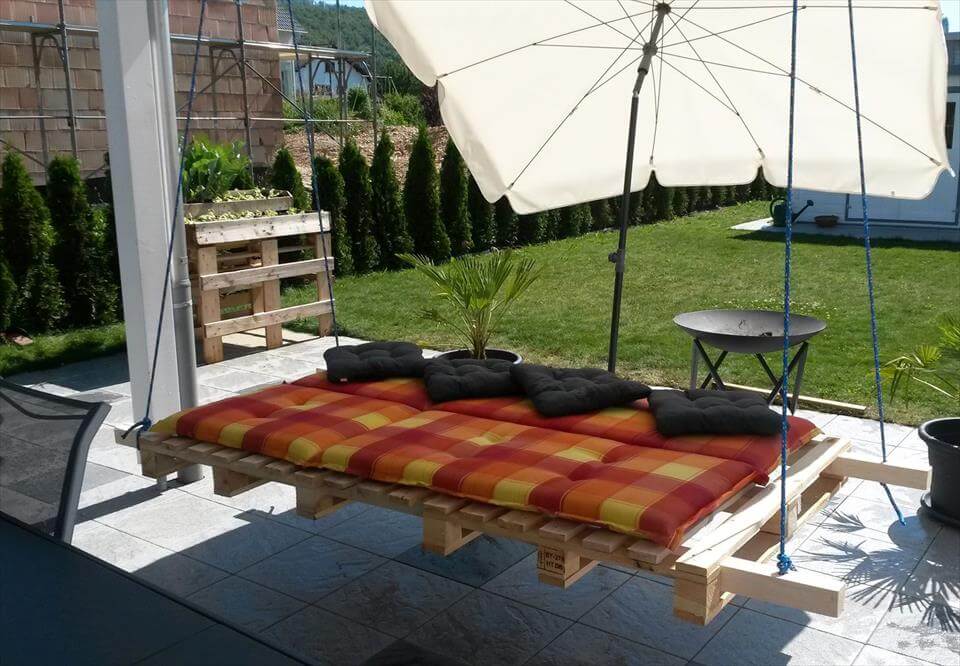 Pallets are really easy to work with and that is why people are fulfilling their every wish out of them just like this fun pallet swing chair made from the pallet slat stacking and supported with cords to let you have a relaxing swing ride in the garden or patio.
Pallet Dog Bowl Stand / Holder or Pallet Dog Feeder: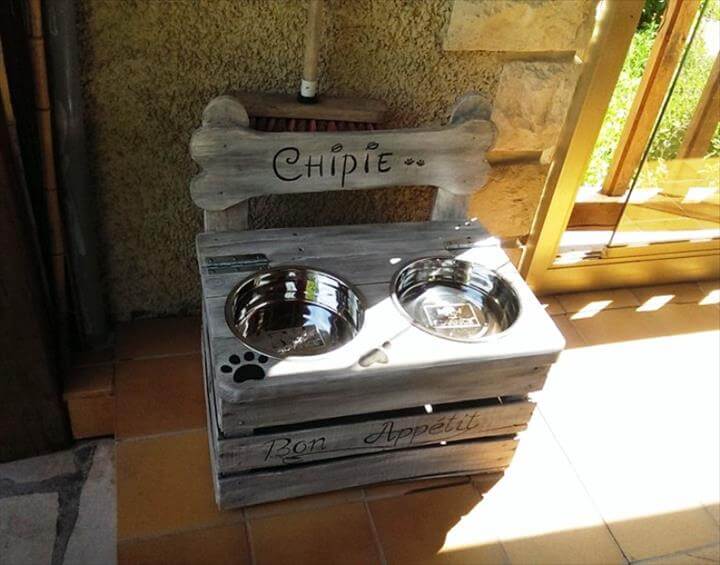 The dog bowl stand are of many shapes but this one is the most gorgeous and stylish one ever created from the pallets using only the small pallet pieces with a height base and bone style name plate added at the back.
Comfortable Pallet Sofa: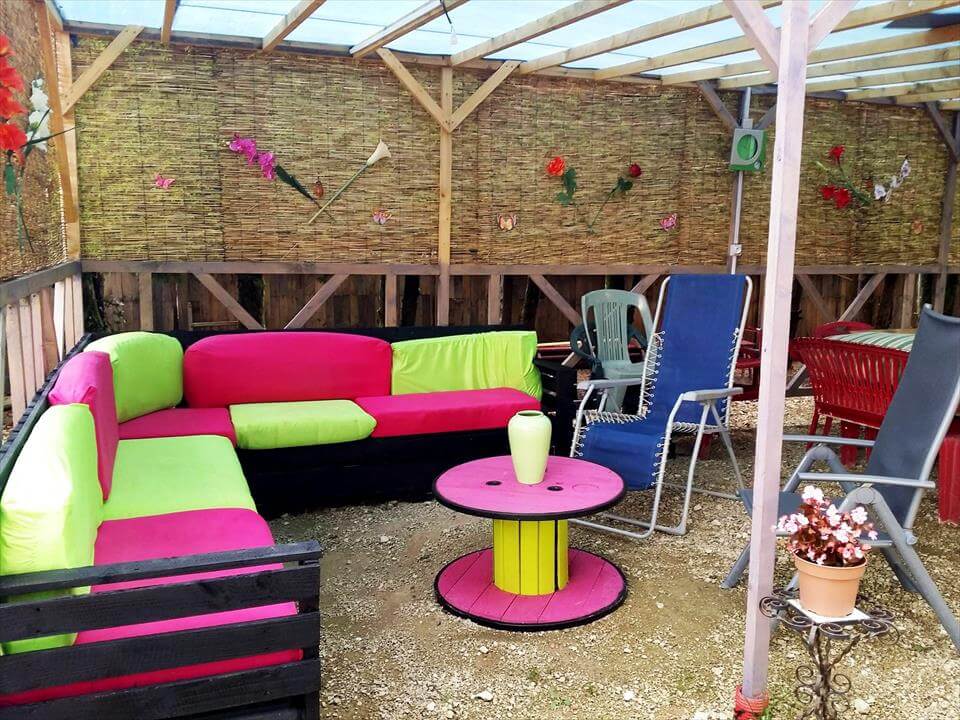 Save a big amount of your hard earned to get wasted on the market bought seating items for the outdoors as you can all build them from the pallets just like this gorgeous and big sectional sofa with a cable spool table painted with bright colors for an instant eye catch.