As all the day in the office, we just wait for the closing time so that we can go back to our home sweet home and get our selves relaxed. And one has to make lots of efforts to turn a house land into a lovely home. First, we look for the best piece of land to build our house on, then we choose the best possible furniture and décor items to bring life and luxury to our home and finally calling it our personal haven. And here we have brought to you some easy plans and ideas involving the pallet projects, focusing on the up gradation of your home in the furniture and décor perspectives so that you enjoy more and more being at home.
There is an unending range of the pallet furniture and décor pieces that you can craft out of the pallets but we have round up the best 30 one you today hinting to juice up the indoor as well outdoor décor. So have a look at these 30 pallet ideas to DIY Furniture for your home, adding something really special to each section of the house like sofas, chairs and swing seats to the gardens, coffee tables, shelves, bar to the gorgeous living and the amazing beds and headboards to dreamy bedroom spaces.
More wow Pallet ideas and diy furniture are right below like a tractor style bunk bed for kids and a playhouse for outdoors, all you have to do is just browse the following collection one by one to go through each one of them in detail.
More Pallet Ideas here:
Aamzing Pallet Bunk Bed for your Kids: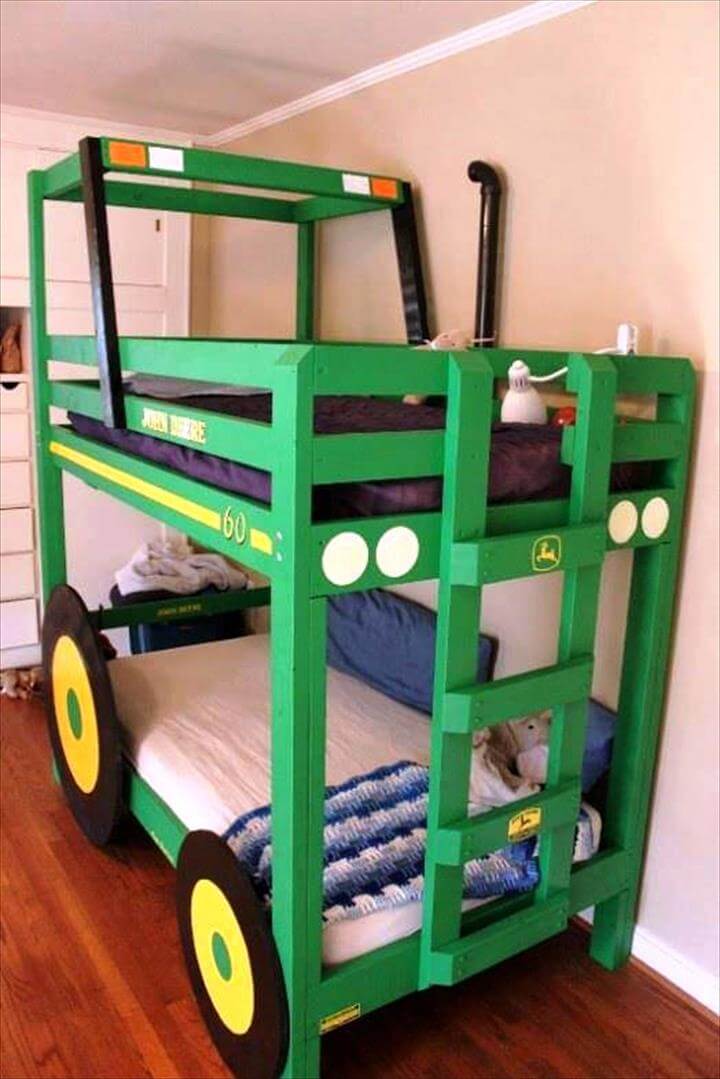 Kids just love to have toy inspired possessions of all kinds and this bunk bed has been build in a tractor shape using the easy and feasible pallet slats being stacked to each other and forming this incredible bed for your kids to drool over.
Pallet Bar Table with Stools: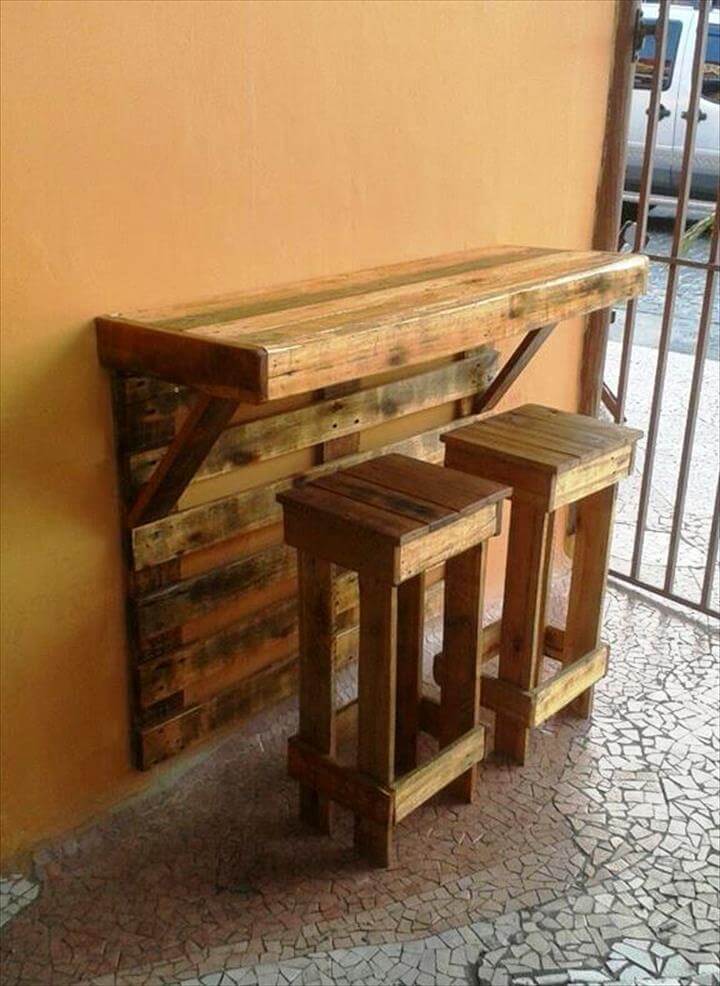 If you are short on spaces and still want a bar then this wall mounted bar with stool from pallets is a great idea to for for and that without putting any burden on your pocket.
Pallet Sectional Sofa: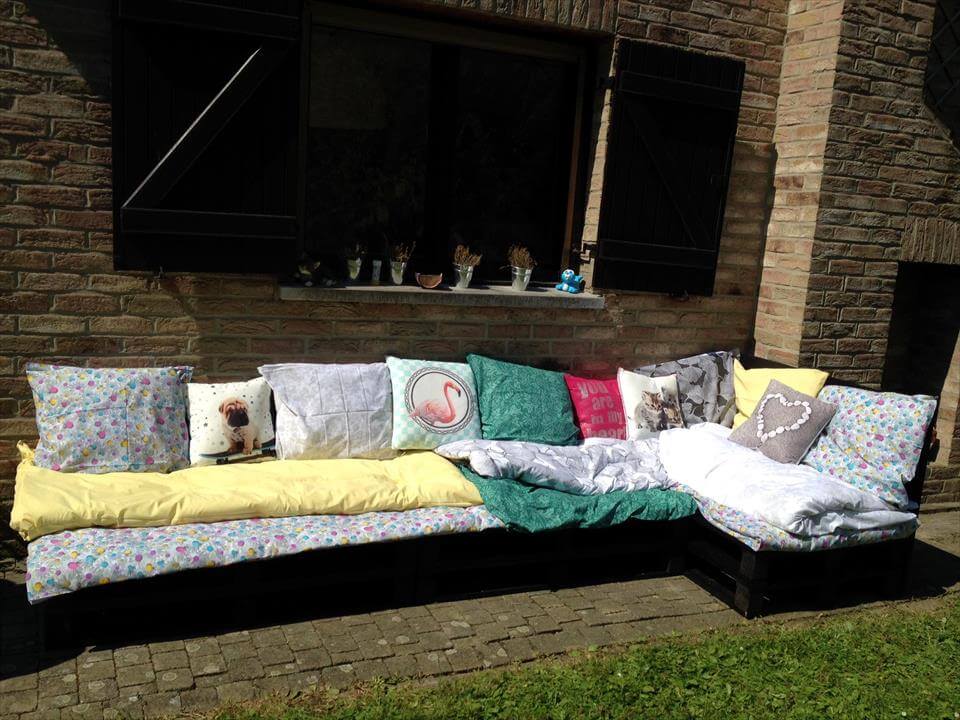 This Large size pallet sofa reveals an L shape having been easily made from the stacking of full pallets in a row with an intense black finish and colorful mattress and cushions adding comfort and style to it.
Pallet TV Stand / Media Table / Entertainment Center: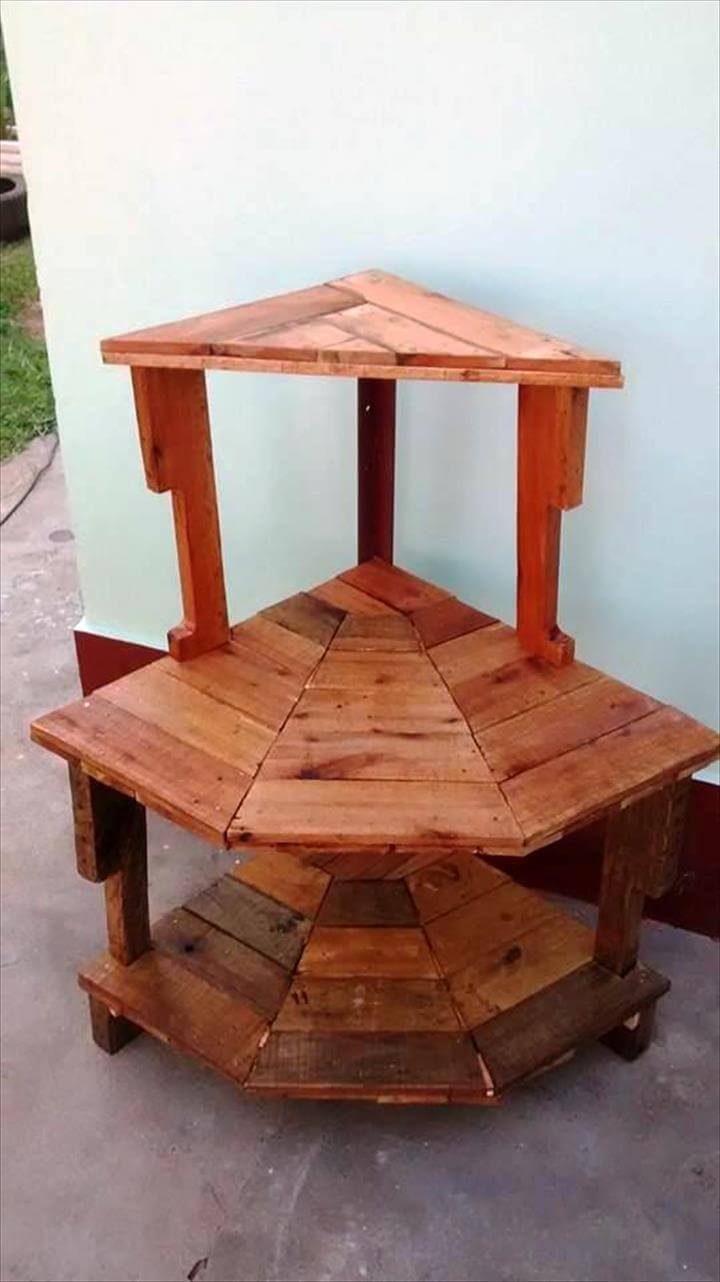 This amazing pallet made display shelf unit is really unique in shape and design having been build out of the small pallet pieces in triangular pizza pieces like shapes in three tiers to hold your knick knack stuff.
Pallet Bed: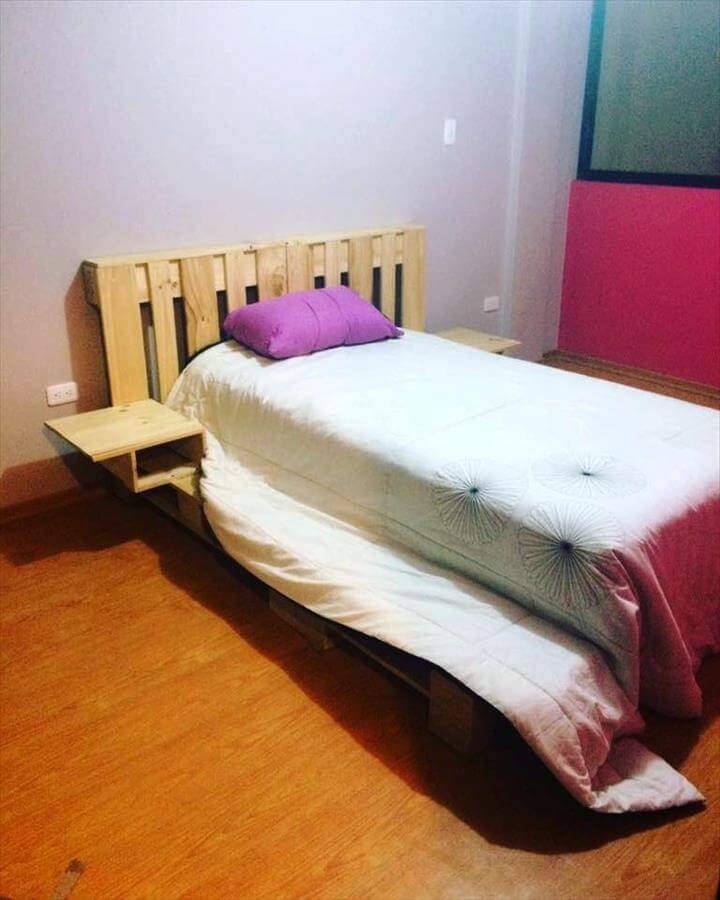 This pallet made bed is not only fully functional for having a headboard and attached side shelves but also looks really stylish and innovative too and have been easily build from the pallets forming the base platform and headboard while the pieces install the side shelves to be used as night stands.
Pallet Chairs for your Outdoor: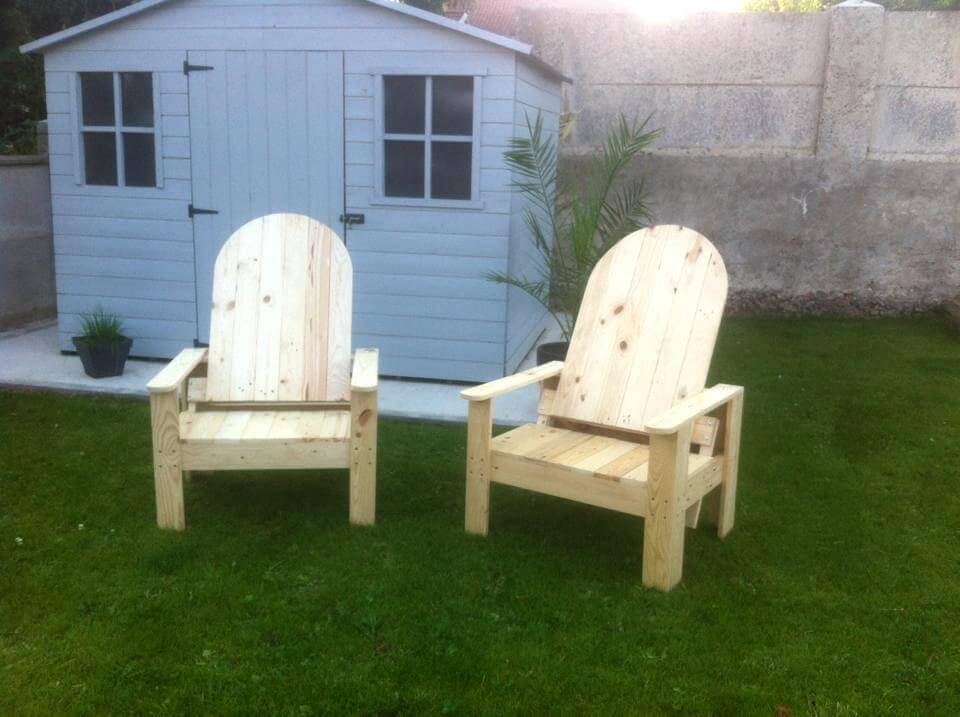 The chairs in the picture are formed from the pallet slats having been tightly packed to each other to form up the seat berth and the round edged back which have been inserted at a tilted angel so that you can comfort your back and spine on it.
Pallet Patio Sofa: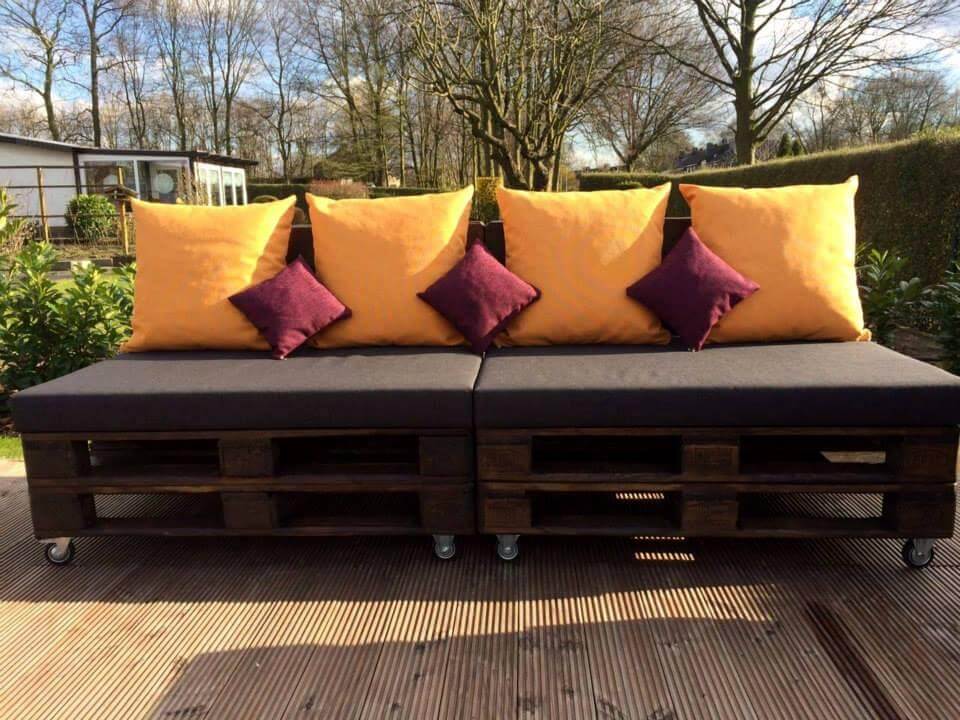 This amazing and elegant styled pallet outdoor sofa is damn easy yo build instantly at home as only the open face pallet skids have been stacked to each other and layered to each other with casters at the ends and gorgeous mattress and cushions on the top.
Pallet Swing: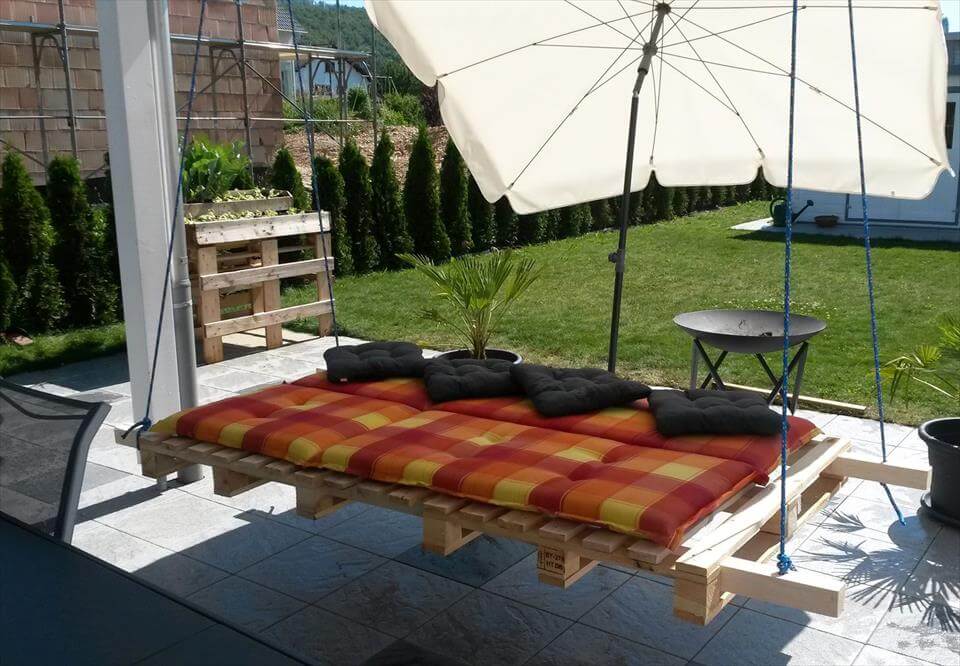 Pallets are really easy to work with and that is why people are fulfilling their every wish out of them just like this fun pallet swing chair made from the pallet slat stacking and supported with cords to let you have a relaxing swing ride in the garden or patio.
Pallet Dog Bowl Stand / Holder or Pallet Dog Feeder: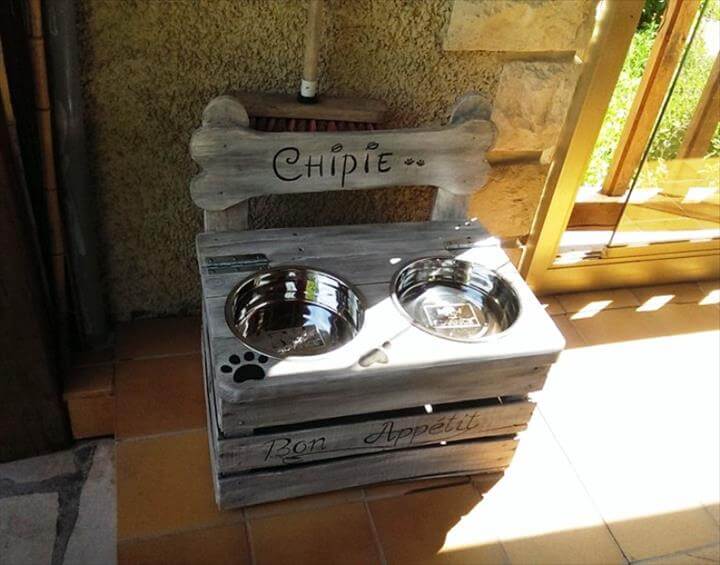 The dog bowl stand are of many shapes but this one is the most gorgeous and stylish one ever created from the pallets using only the small pallet pieces with a height base and bone style name plate added at the back.
Comfortable Pallet Sofa: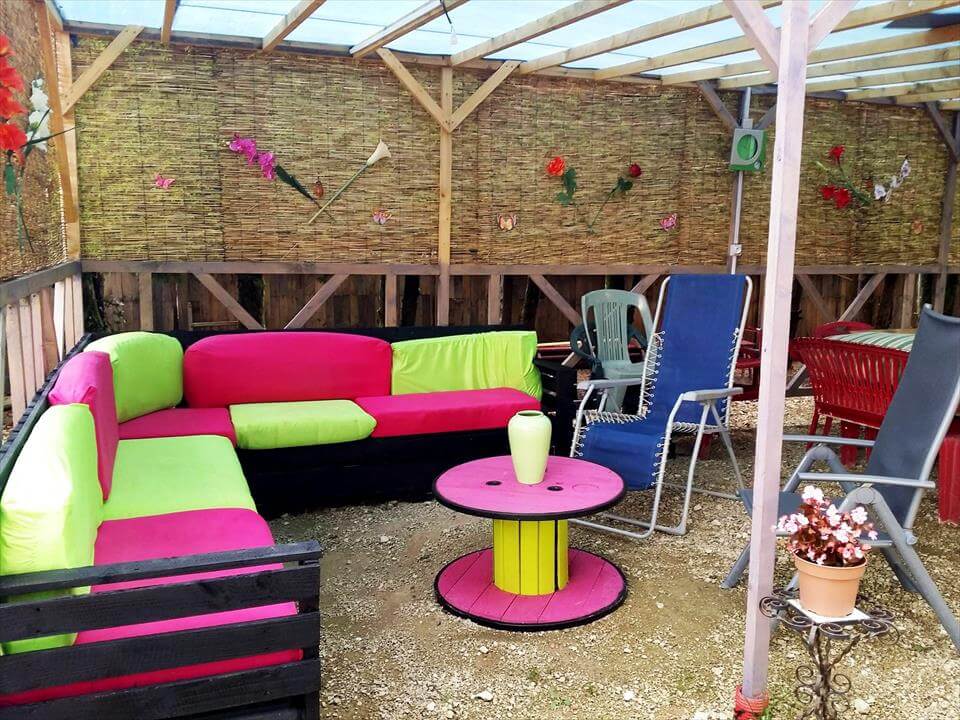 Save a big amount of your hard earned to get wasted on the market bought seating items for the outdoors as you can all build them from the pallets just like this gorgeous and big sectional sofa with a cable spool table painted with bright colors for an instant eye catch.
Pallet Coffee Table on Wheels: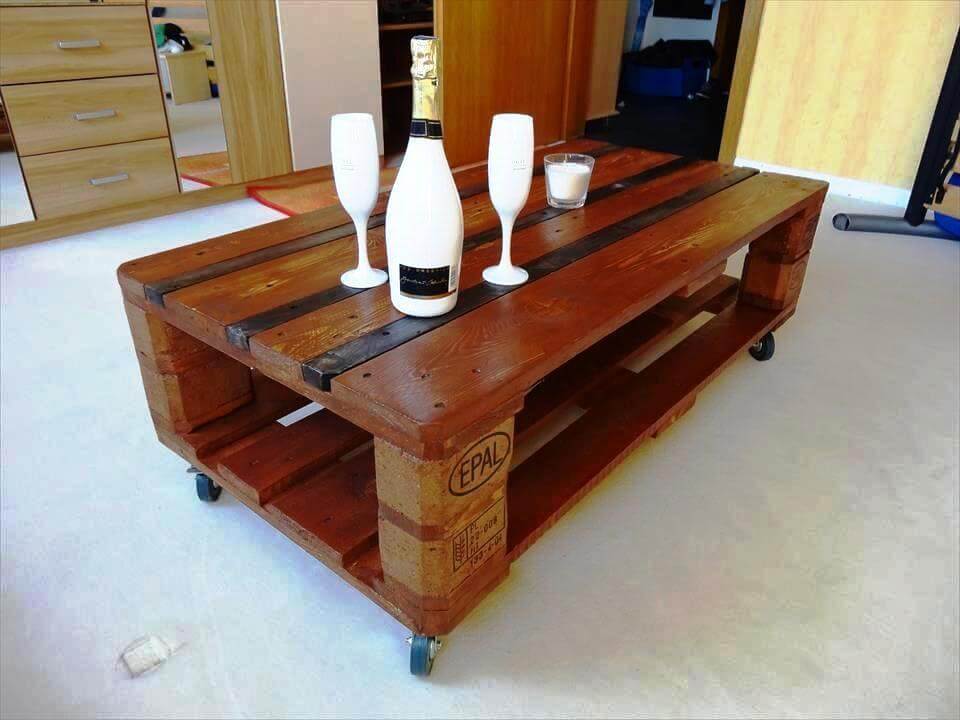 The pallets here offer you to build this gorgeous and elegant coffee table with feasible structure as the slats have been nailed to form the base and top which have been distanced with two pallet blocks so that you can use the middle space for storage.
Pallet Firepit for outdoor: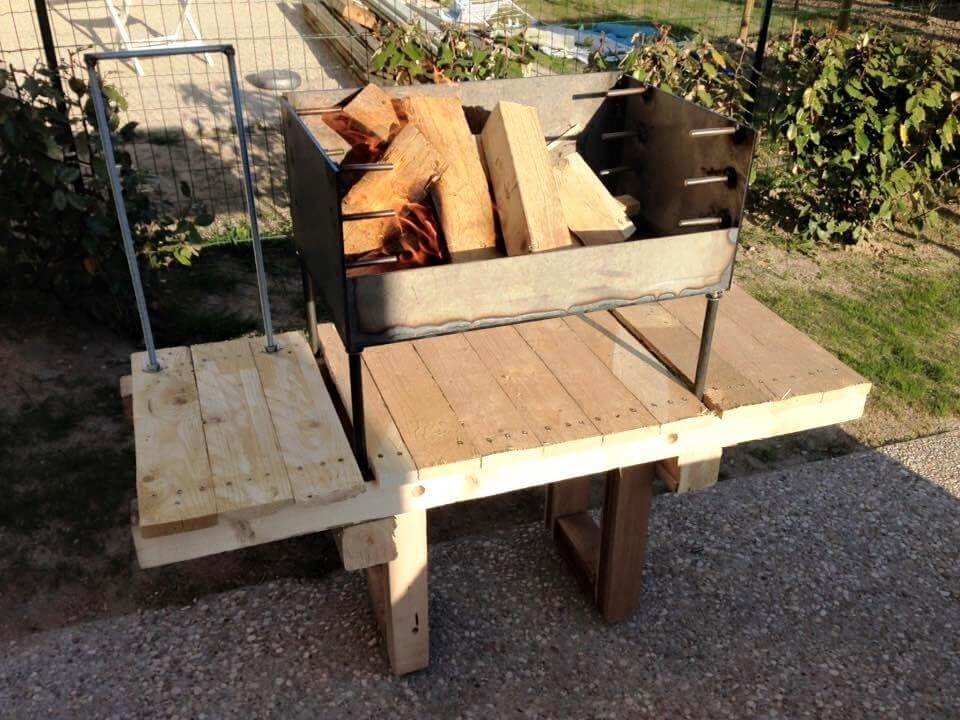 The outdoors are of so much value for the families and friends to spend some quality time enjoying many fun activities like the barbecue parties so build this barbecue table with bracket legs at totally cost free rates to enjoy the winter evenings with a more fun.
Pallet Table and Chair: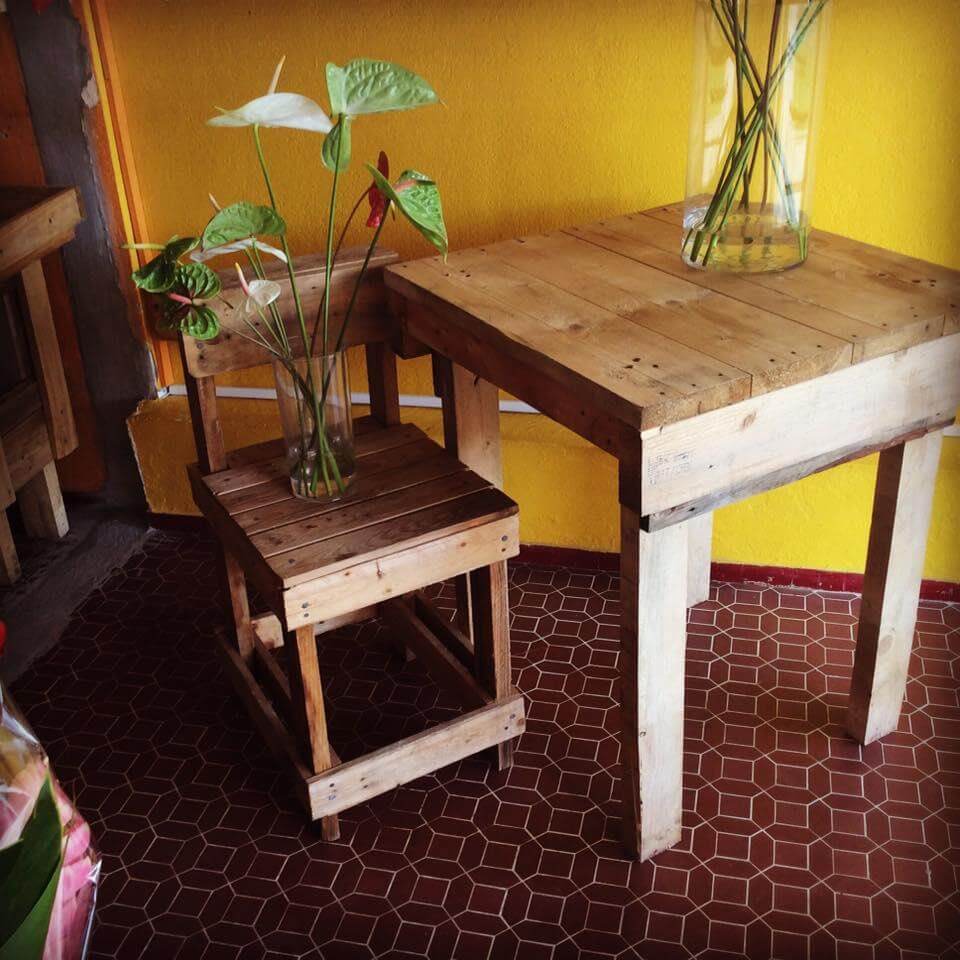 A table and a chair can be of so much functional value in a house to do a lots of tasks on like dining, crafting, reading, writing, drawing etc and this one table and chair duo from pallets has been easily build from the pallet slats to let you enjoy a small working station of your own.
Pallet Coffee Mug Rack: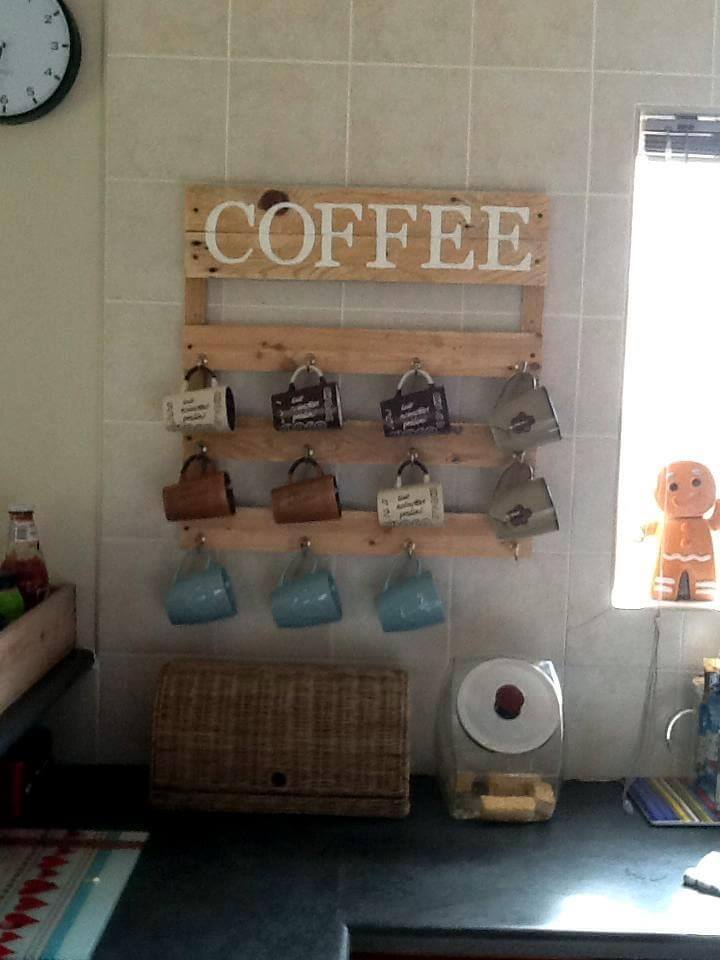 The coffee mugs and cups are best displayed in a kitchen through a coffee mug rack which now you can build from the pallet slats being nailed to each other and inserted with hooks with top stenciled with word COFFEE in white.
Pallet Table: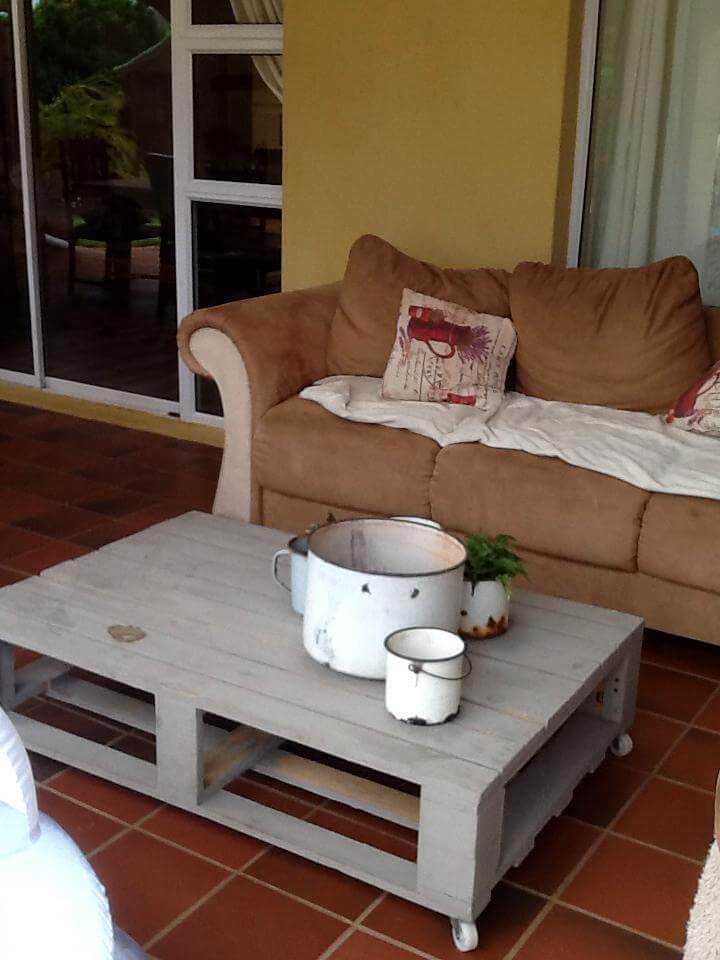 This coffee table pieces is really a stylish and gorgeous one in its design and shape and such tables are to be witnesses in the markets at expensive rates but now you can build one from the pallets using the slats pieces being smartly arranged to each other with wheels for an industrial modern touch.
Pallet Daybed for Balcony: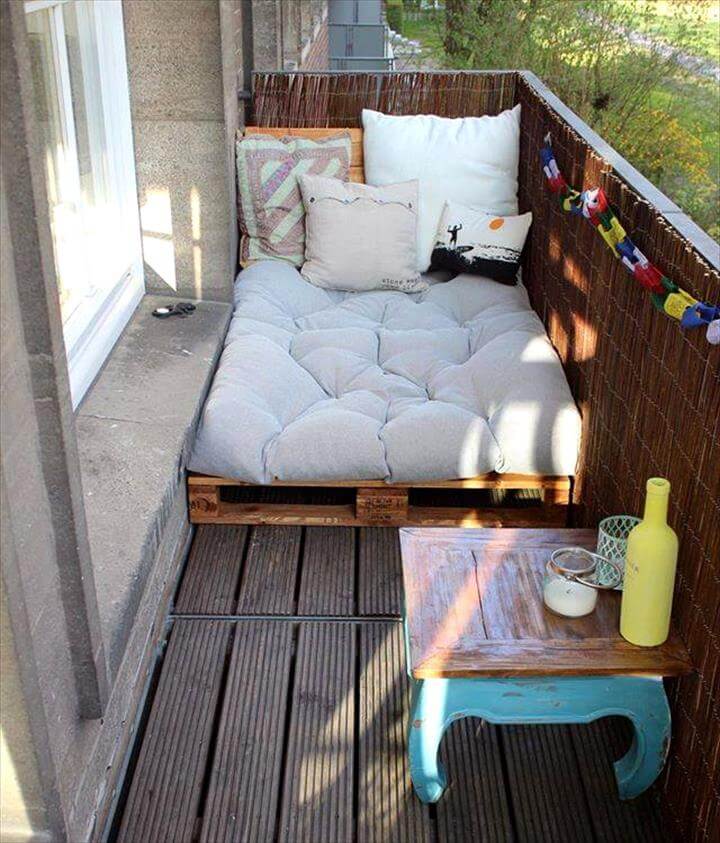 Make your balconies your ultimate relaxing support for the weekend fun for reading, listening music or to just lay down aimlessly with this pallet made day bed cum sofa seat and a vintage styled table to hold your utilities on.
Pallet Sideboard: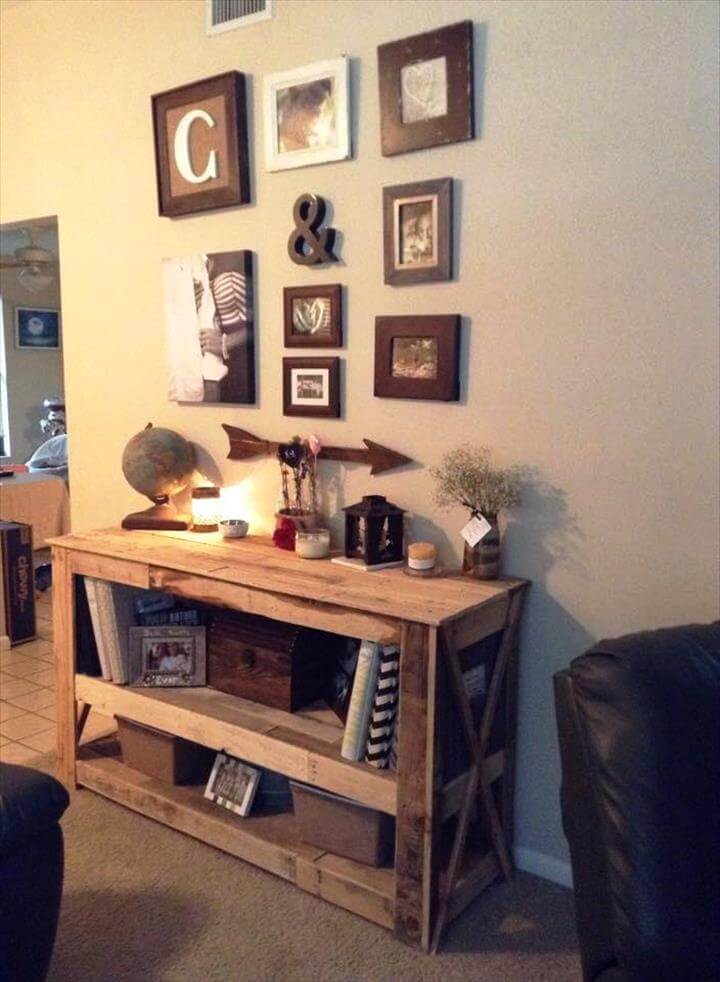 Hall table fill up the blank blank space of the described area very stylishly and practically as the nicely hold a lot of your needy stuff along with the decor items on them like this rustic hall table made from the pallets with a cross design at the sides.
Pallet Jewelry Holder: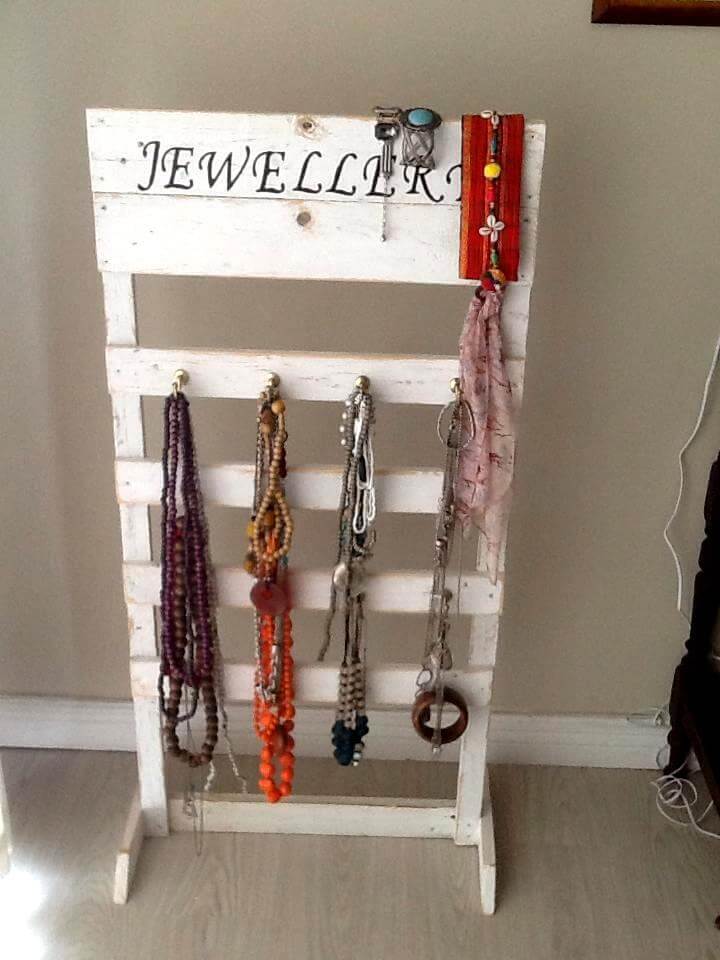 A lot of jewelry pieces in one single box can get stuck to each other so build this amazing and functional jewelry organizer front he pallet pallet slat pieces and some hooks so that you can hold your favorite jewelry pieces without getting them entangled to each other.
Pallet Lounge Chair: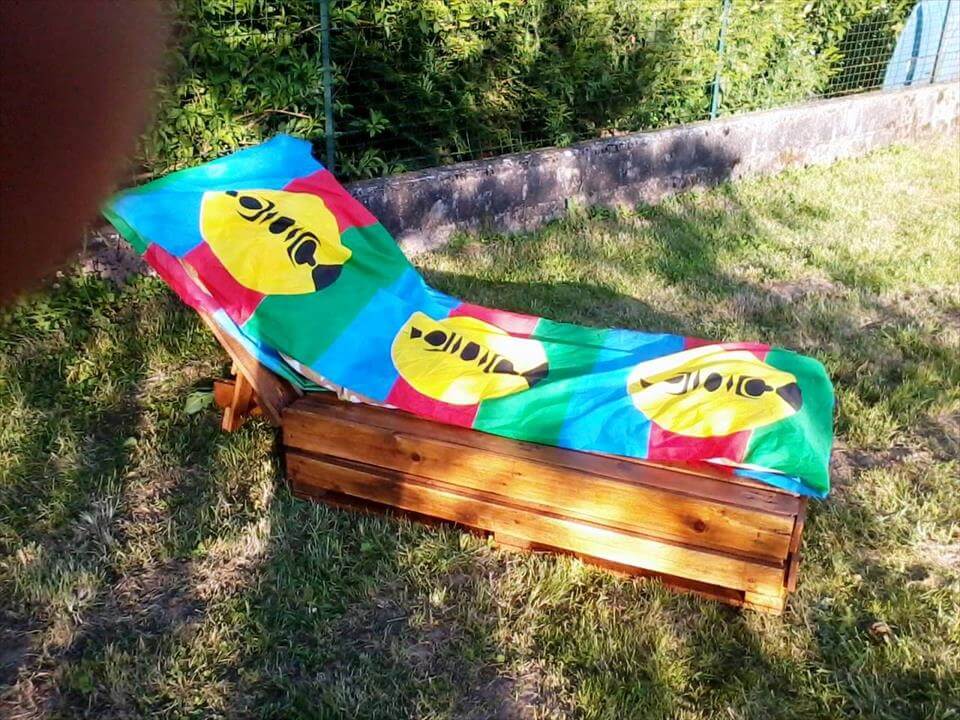 You don't have to spend hundreds of dollars on the beach trips to get your self relaxed with the sun bath on the beach as building a cost free lounger from the pallets you can enjoy same experience in your garden or patio space.
Pallet Fence: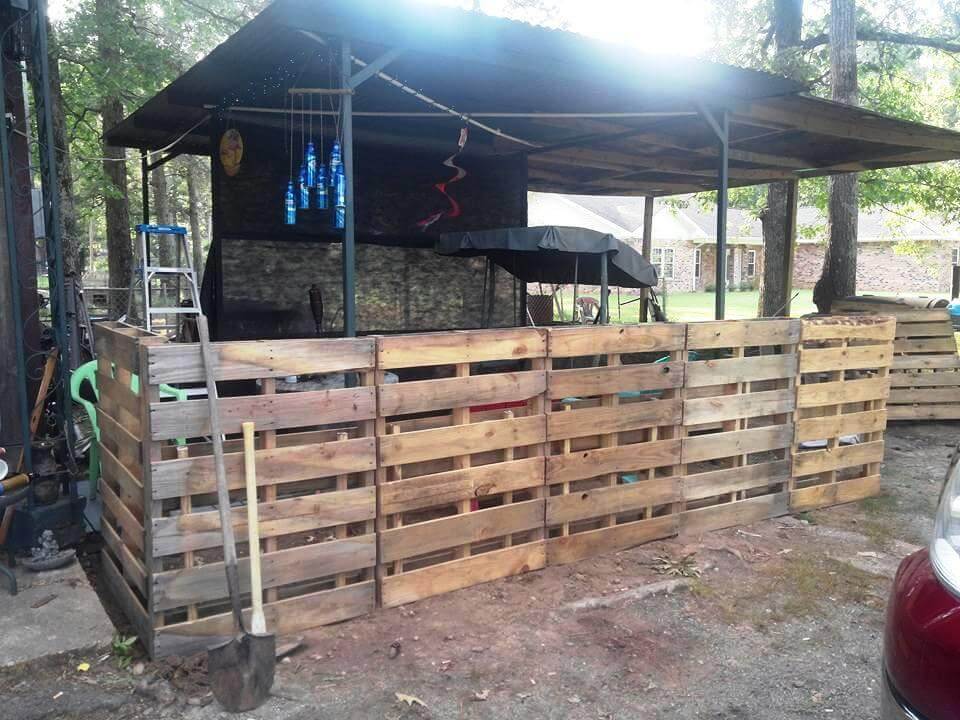 The outdoors of the house serve many functions like junk yard for the old items, horse stables if you have one or a simple tool shop of yours and using the pallets you can separate these places from the other outdoor sections.
Pallet Shed: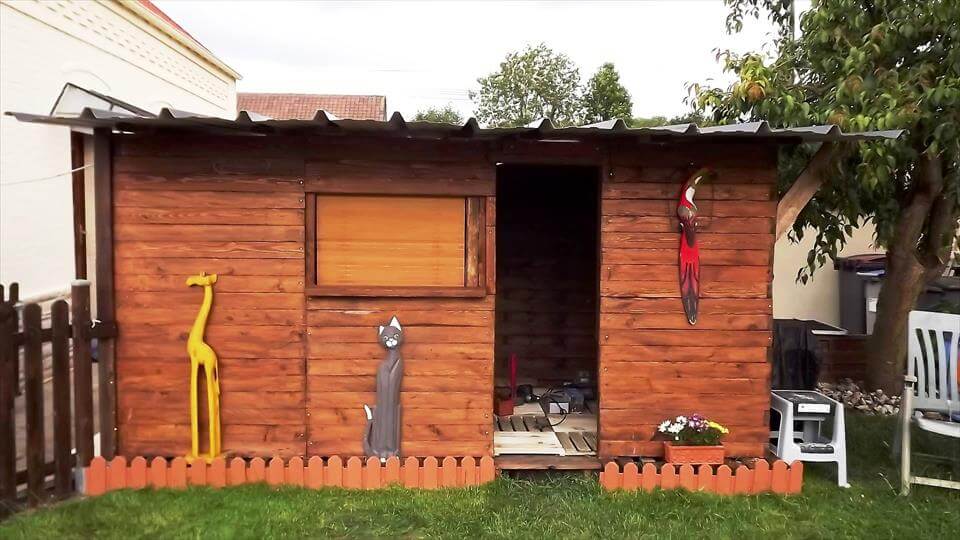 An outhouse is your ultimate destination for lots of your individual tasks and now you can build a gorgeous out house shed of your own like this one using the cost free and easy to handle pallets.
Pallet Single Sofa: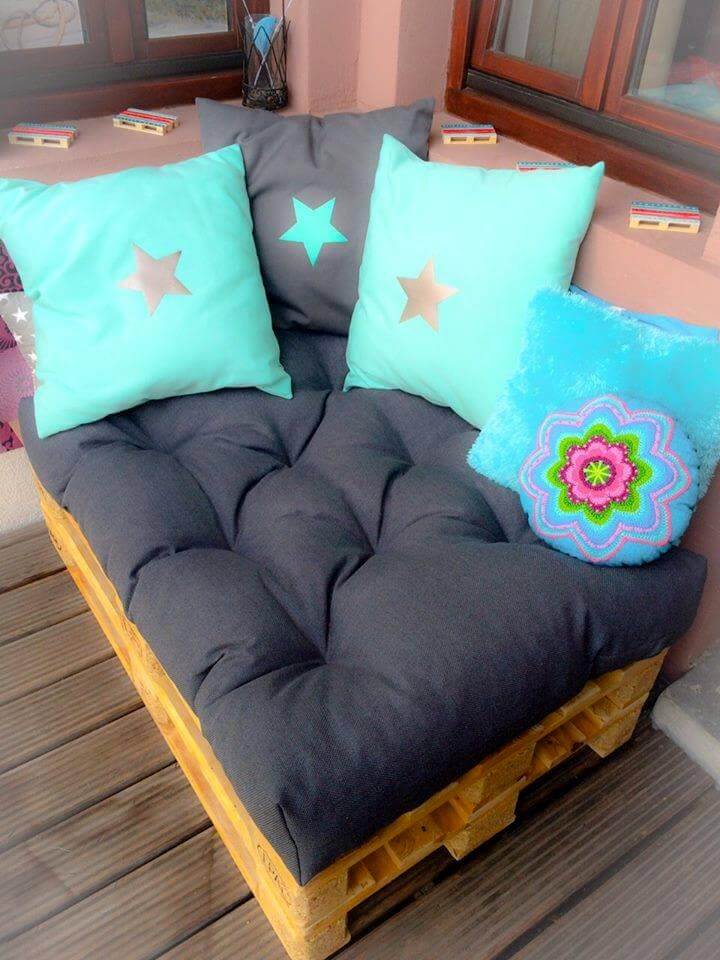 A simple layering of pallet full skids to each other would give rise to this pallet seat without arms and legs so that you can sit and even curl your feet on to enjoy a more comfort sitting position than on a chair or sofa.
Pallet Garden Bench: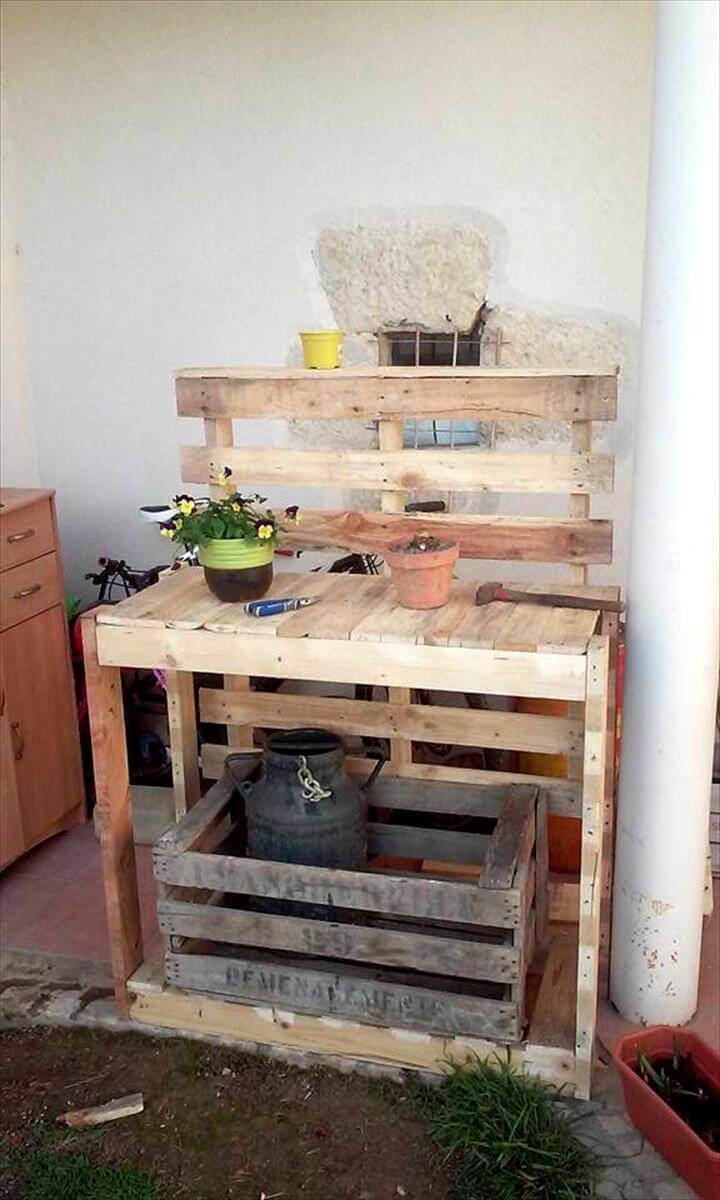 Potting tables are really integral for the garden decor and its functionality as they not only show case our pretty planters and pots but also hold a lot of gardening stuff on them too so grab some pallets and build such one for your garden space.
Pallet Plant Holder with Sitting Seat: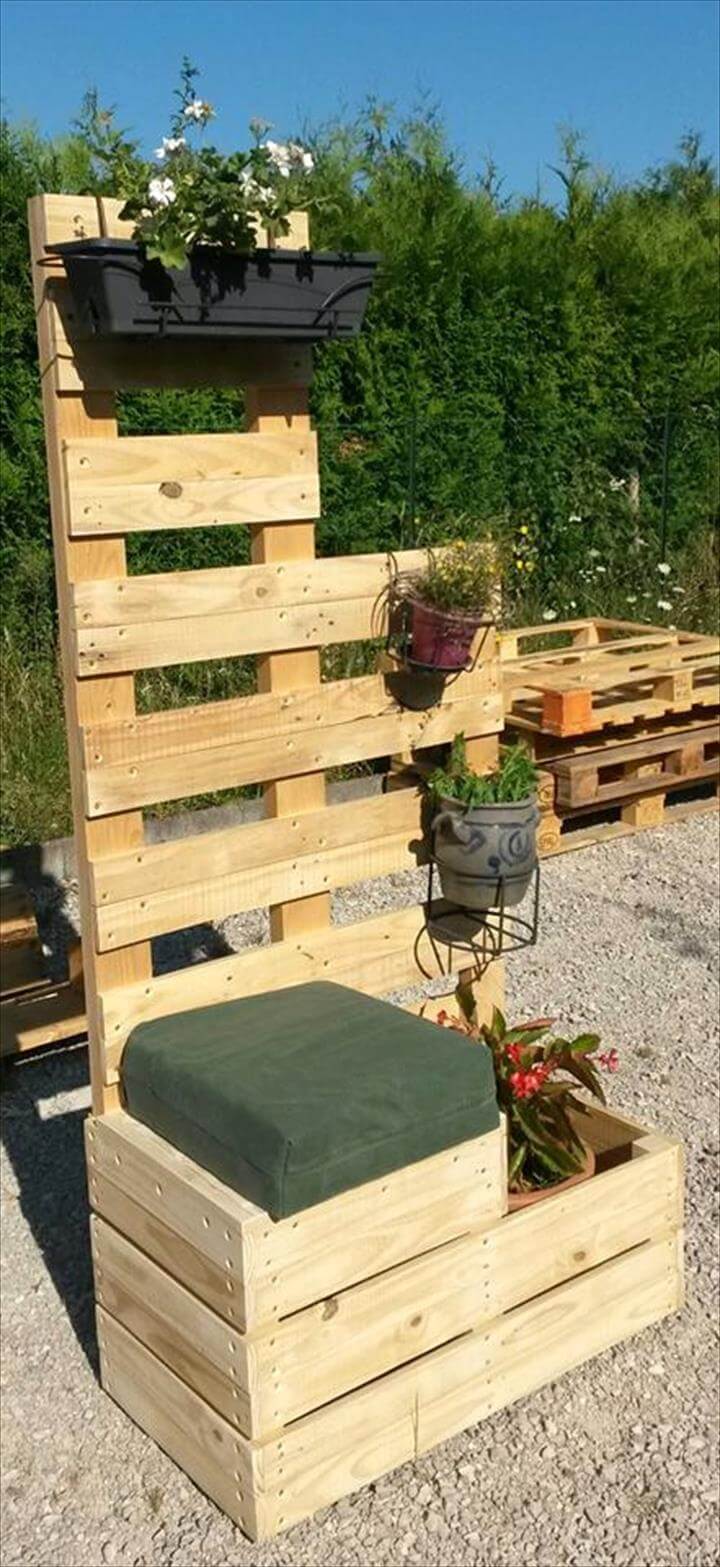 A stool seat with a height have been here treated creatively and allotted with a side holding space for a planter pot and a large back shelf to display some of your small but gorgeous flower pots on so that you enjoy a really fancy kind of seat to sit in the outdoors.
Simple Pallet Daybed: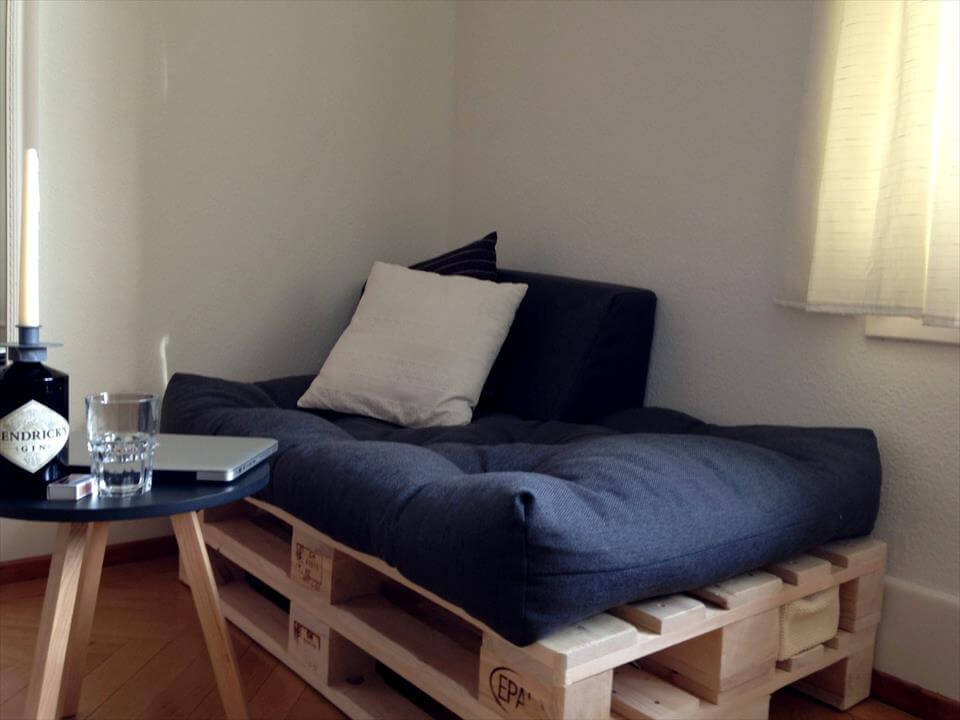 Twice layering of the full pallets to each other have build this gorgeous living room seat which can also be used as a day bed along with a round topped coffee table standing on stylish tripod leggy stand.
Pallet Playhouse for Kids: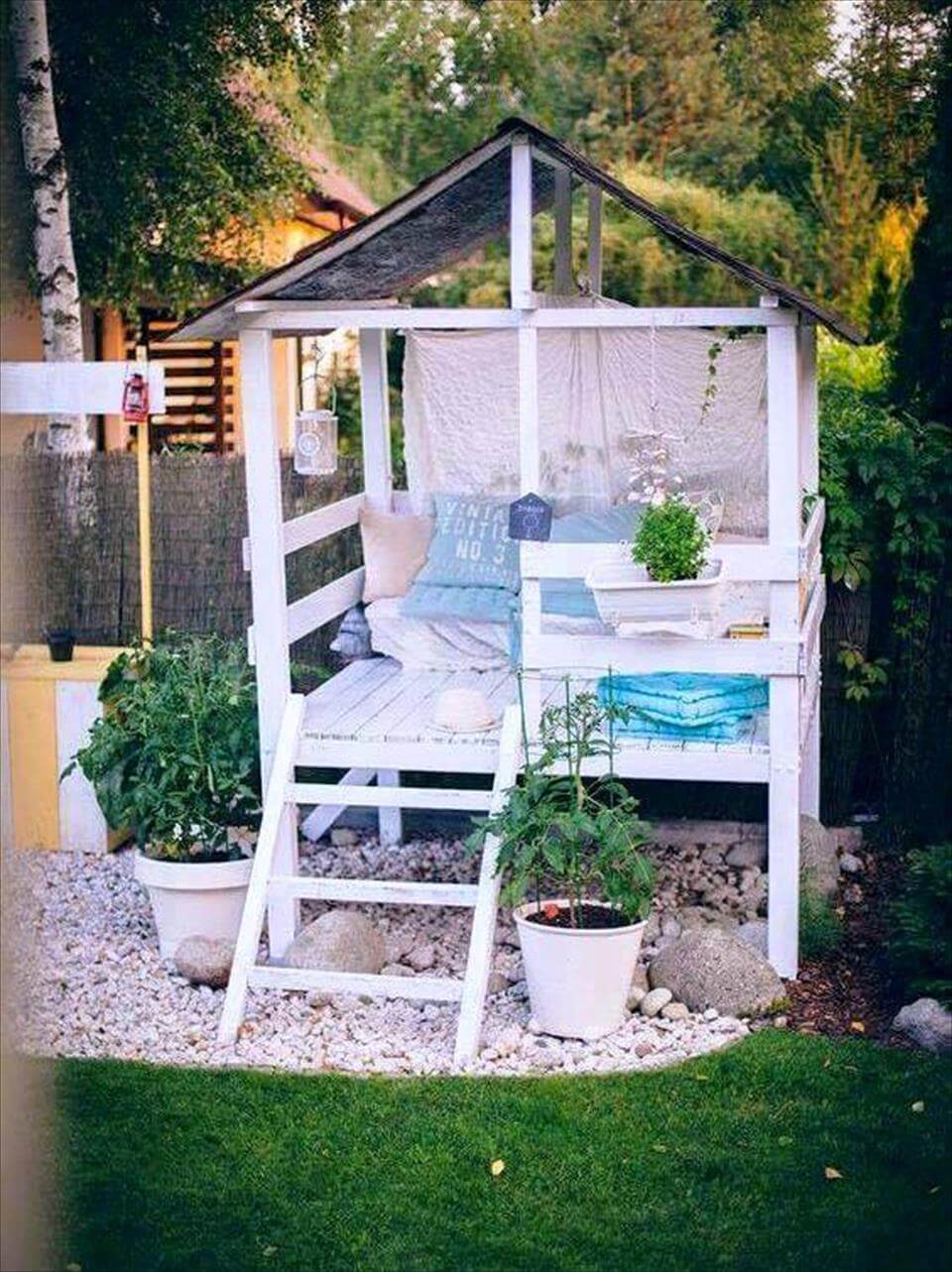 Kids would love to have this cute play house with cushions and to get them shelves relaxed after playing in the outdoors, a ladder and A shape roof has added more a fun style to this kids play station with a dazzling white paint adding icing on the cake.
Pallet Sofa with Storage Space: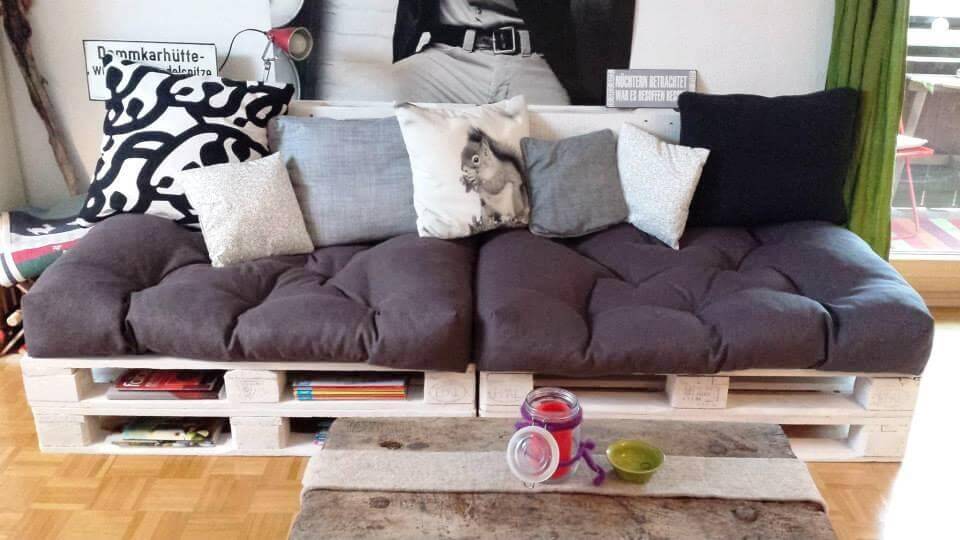 When you use the open face pallet skids or the double face pallet skids in a layering they give rise to some storage pockets to be used as extra storage space like this sofa seat from pallets have space to hide some books and magazines.
Pallet Storage Box or Trash Bin: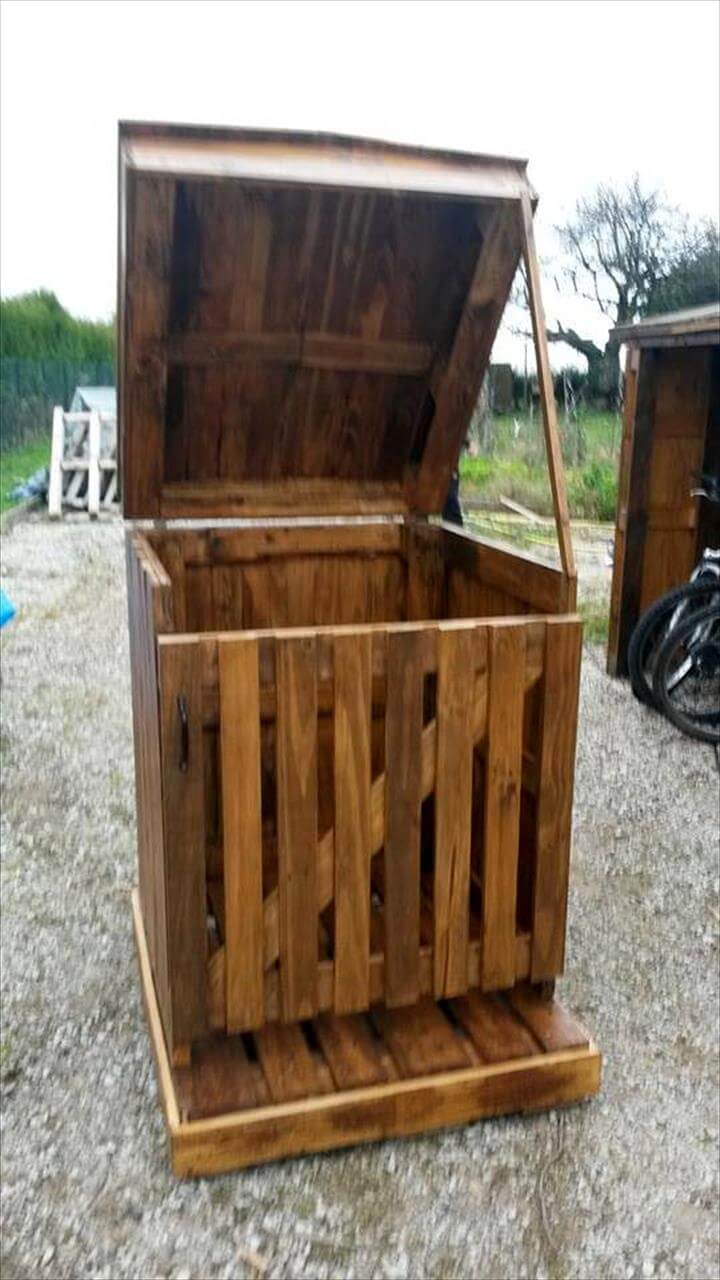 Trash cans are big especially if you have large outdoors or garden producing a big amount of waste and to hide a big trash can use this pallet made trash can holder so that ugly trash can not damage the beauty of your spaces.
Pallet Bed Headboard with Lamps: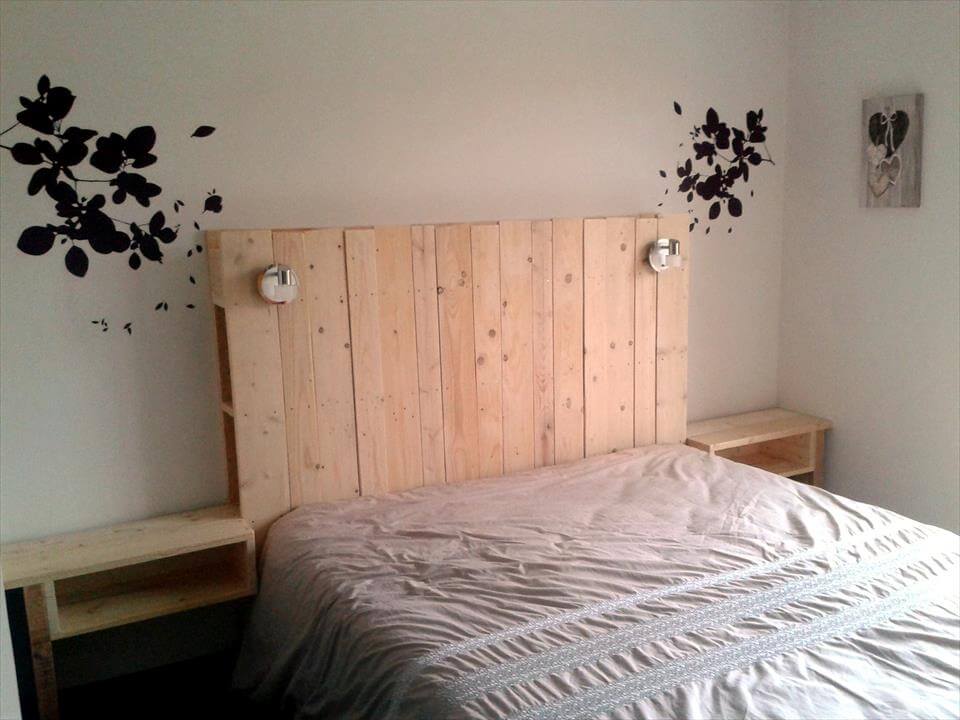 Bringing some pallet cut slats and planks to each other this simply cute pallet headboard has been nicely created and to enhance its functionality it has been inserted with two side lamps so that you have lights for study or to operate the laptops at night.