Free Pallets are available as a never-ending supply of wood, and you only need a few simple tricks and methods to make lovely pallet furniture out of 100% pallets. Check out this big list of pallet furniture ideas to see the popular pallet furniture that is guaranteed to be extra durable and super quick to make! Pallets are the ready-made wooden skids that come in square and rectangular shapes mostly, and hence it becomes much easier to plan them for custom furniture constructions, and this is just one side of the picture, you can also dismantle the pallets to have a pile of longer wooden slats which can also be composed together in several different ways making lovely and adorable items of furniture in just no time!
Build both indoor and outdoor type of pallet furniture with great ease and browse this list of 55 DIY Pallet Furniture Ideas & Projects to see some interesting ready-made samples that will win your heart with their creatively planned and designed structures and will be a great way to live the luxury with pallets!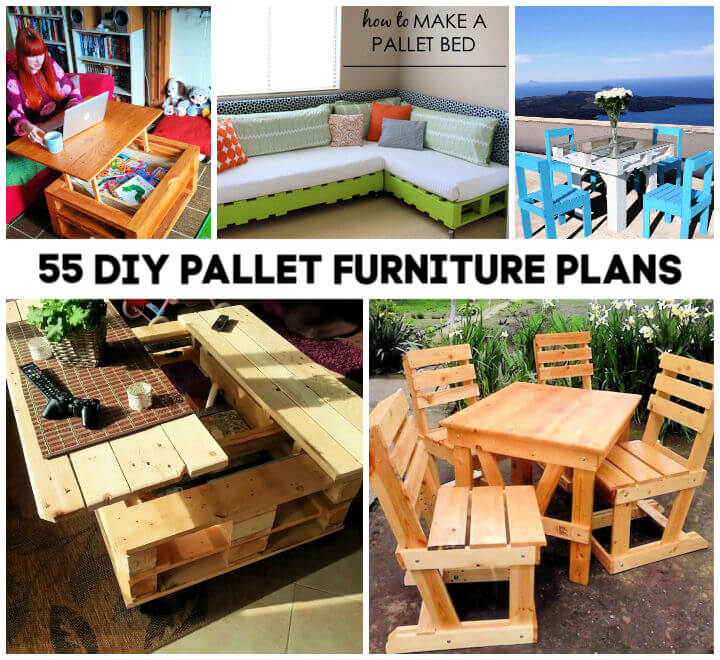 Reuse the pallets and PVC pipe scrap to make gorgeous patio daybeds that will rock for afternoon naps, and also mount the vertical half of the pallets on the bedroom wall with some light installed to inside and gain lovely wall lamps. Add up a painted pallet skid with a well-stained wooden top and gain an instant beautiful console table!
Upcycle leftover pallet slats to make adorable wooden window blinds and also plan the pallets to build an enclosed outdoor seating area that will also provide fantastic sun-protection along with providing comfy sitting space! Build also lovely sitting furniture, coffee tables, and outdoor dining tables out of pallets for free! Browse entire list of these DIY pallet furniture ideas and click on attached reference links to grab full free pallet furniture plans with step-by-step instructions!
How to Build a Pallet Daybed: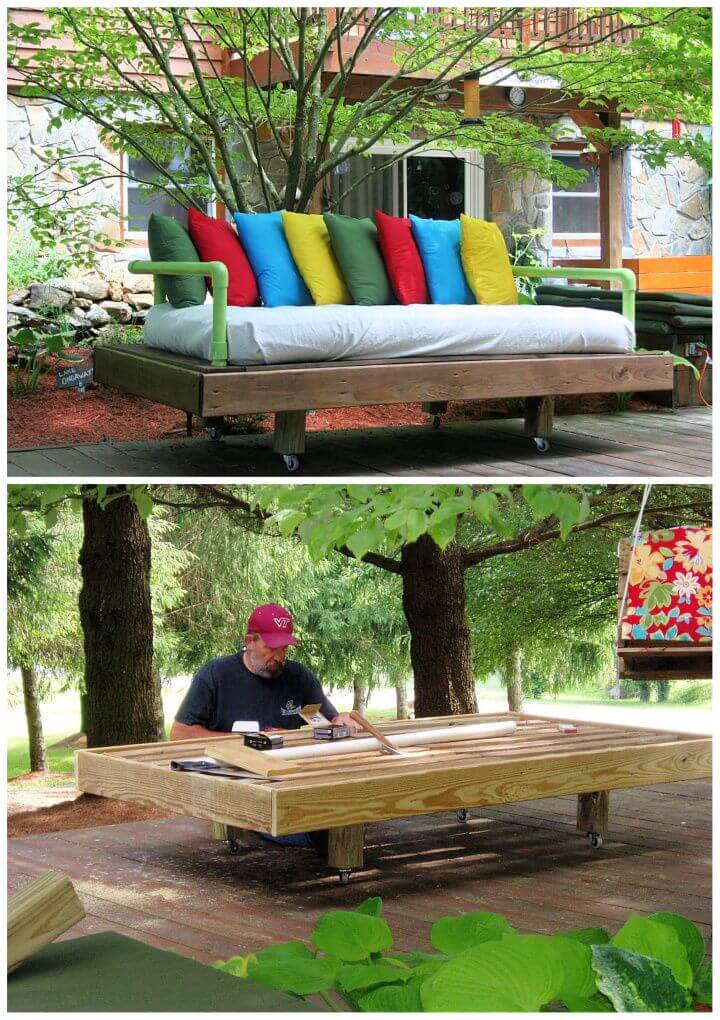 Raise a pallet on short wooden legs ending up with wheels and then finish by installing  PVC pipe armrests or fence that will hold the mattress and cushions in place and gain a lovely pallet daybed for free! ondawaytosome
Simple DIY Wall Pallet Lamp: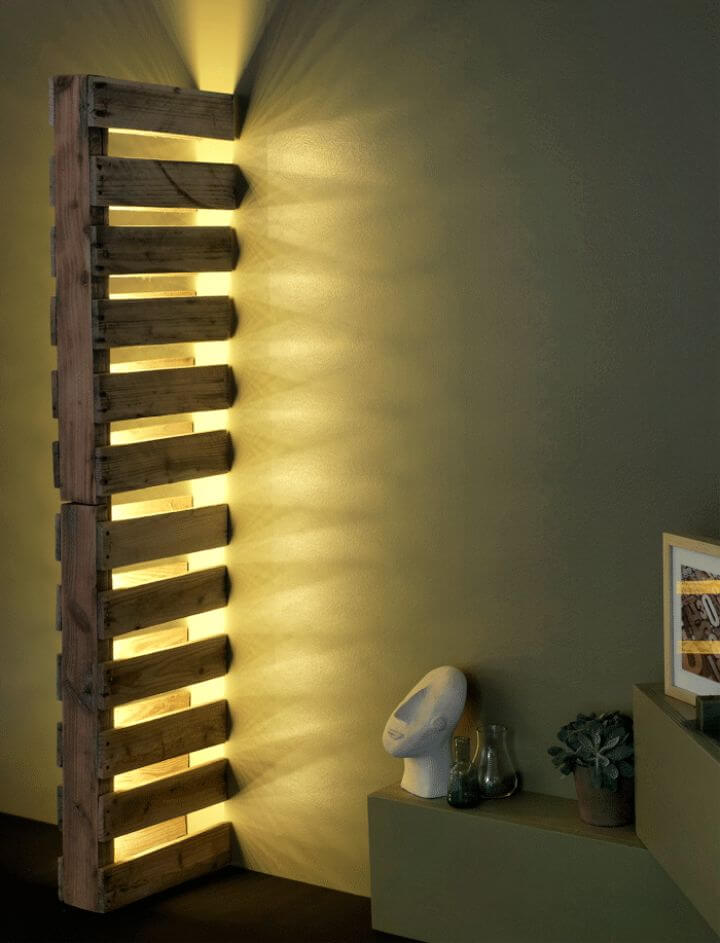 You will love the way it will brighten up the room, a no-cost wood pallet lamp that is super easy to build and will go for an artificial light spread in the room!
Here all you need a vertical half cut the size of the pallet and some lights to make it! youtube
DIY Pallet Console Table: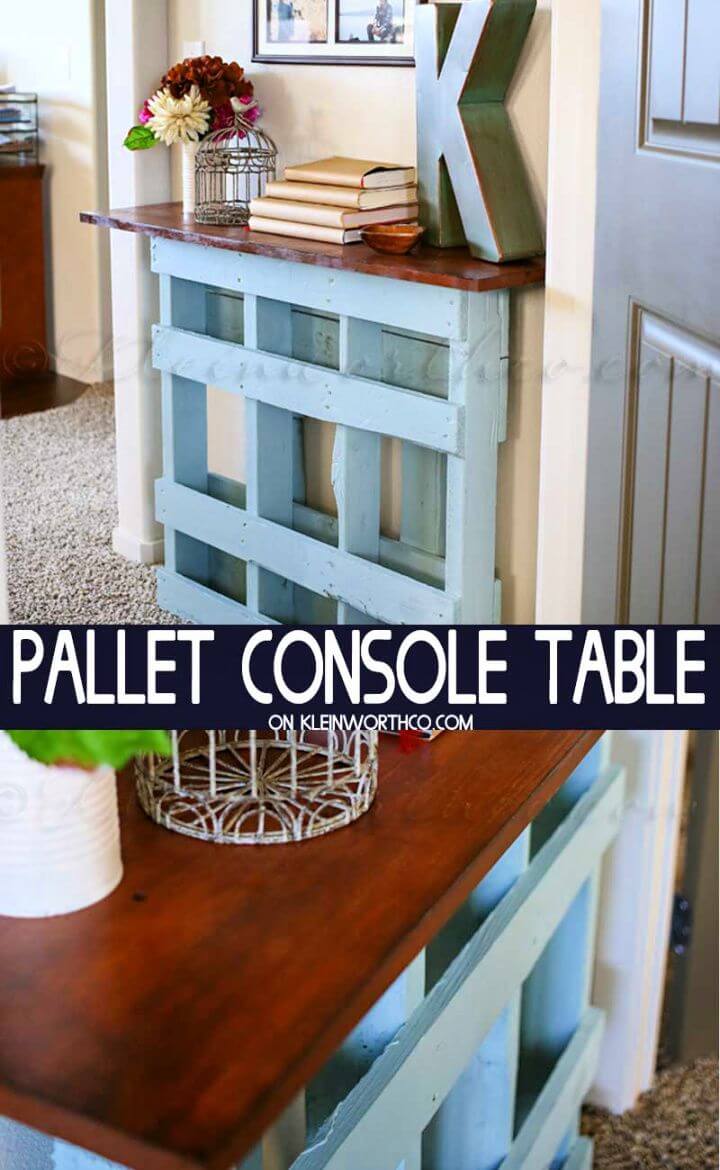 Add up a vertical painted pallet with a wooden top that may also be a reclaimed wooden shelving board, and build a lovely console table or entryway table!
Give the top a subtle glossy finish for a fantastic look and appeal of the pallet console table! kleinworthco
DIY Pallet Wood Vertical Blinds: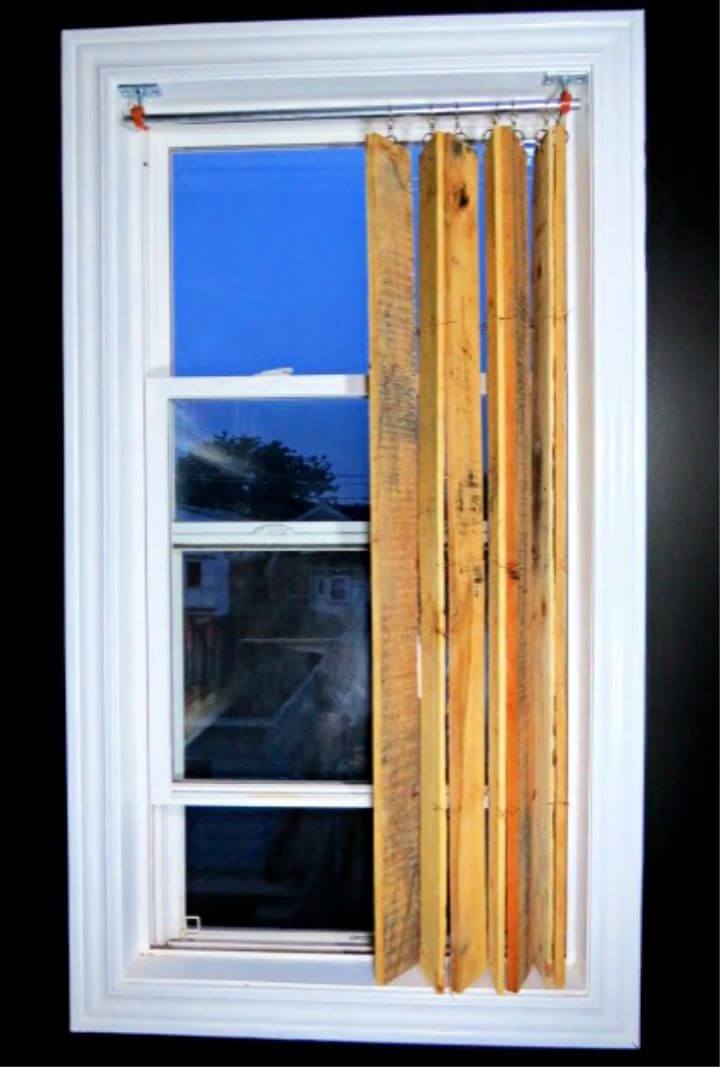 Want to give a room a great touch of wood? Then do it with pallets by building the lovely wooden window blinds, take the equal cut slats of pallets and make use of a curtain rod and curtain rings to install them as vertical blinds as you can see! flippingtheflip
Make Enclosed Seating Area from Pallets: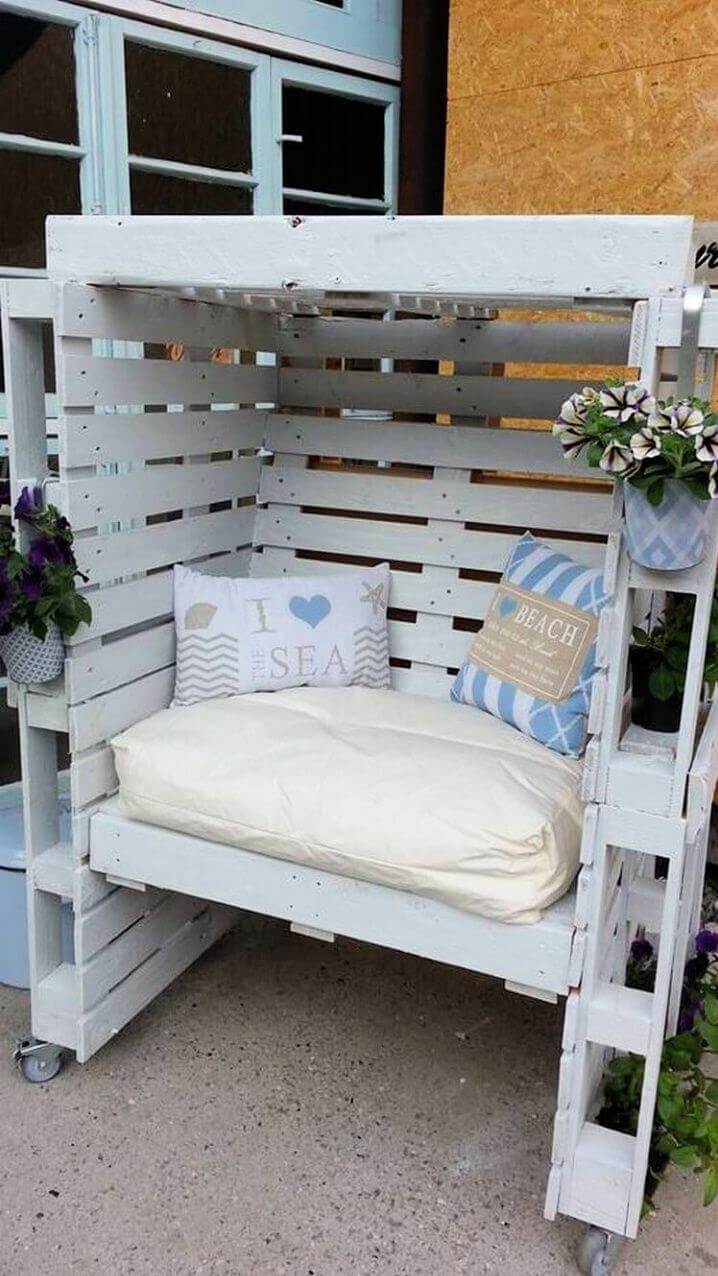 If you are willing to gain a perfect sitting area at outdoor with summer sun protection, then do make this enclosed seating area with pallets that will cost you nothing and is super quick and easy to build also!
Plan the whole pallets to make it and do raise it on wheels for easy dragging and pushing!
DIY Pallet Furniture Set: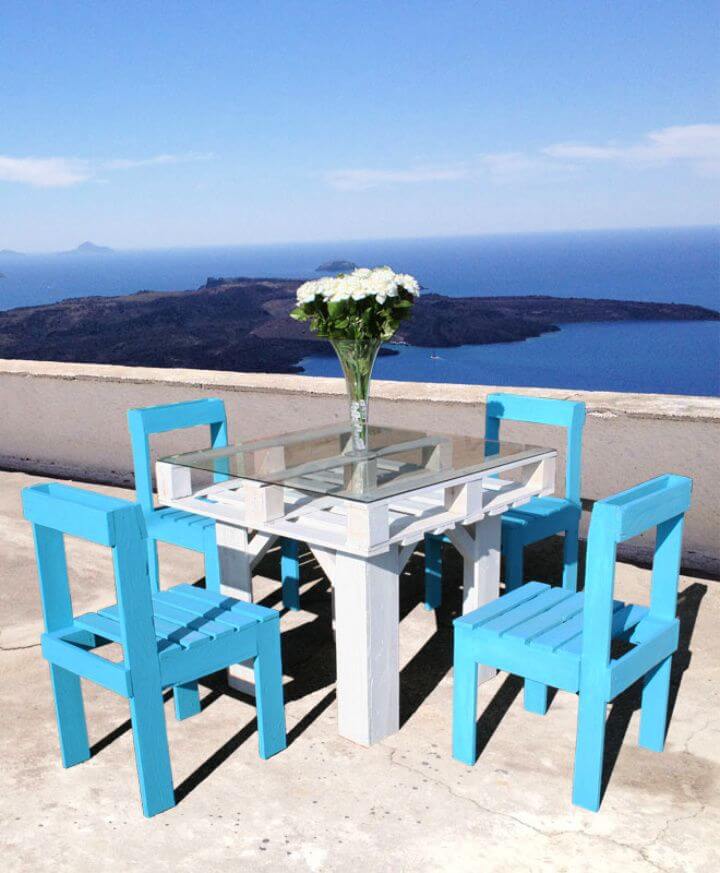 Surprise your kids by building this lovely wooden pallet furniture set that will rock for the snack parties!
Raise a pallet on strong wooden legs to create the central DIY table and then plan the slats to make lovely chairs! bridgman
Turn Pallets into Swing: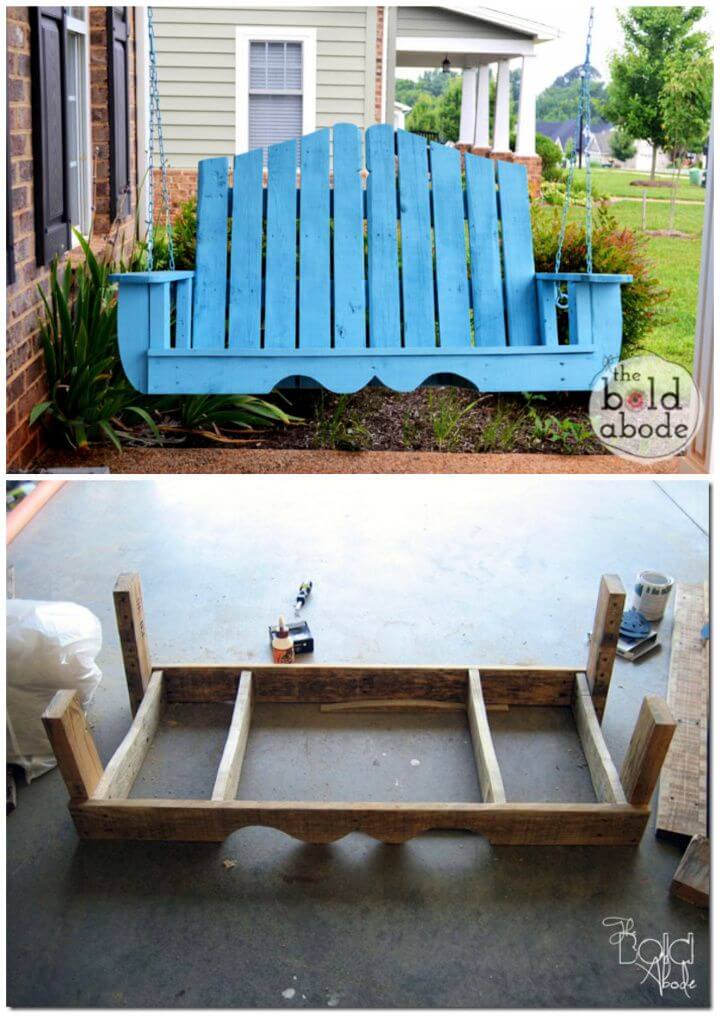 Look at this another unique pallet creation that will create too much fun for you at outdoor!
A hand-built lovely wooden pallet swing that is a pallet-made sofa or bench without legs! theboldabode
Beautiful Pallet Wood Garden Dining Set: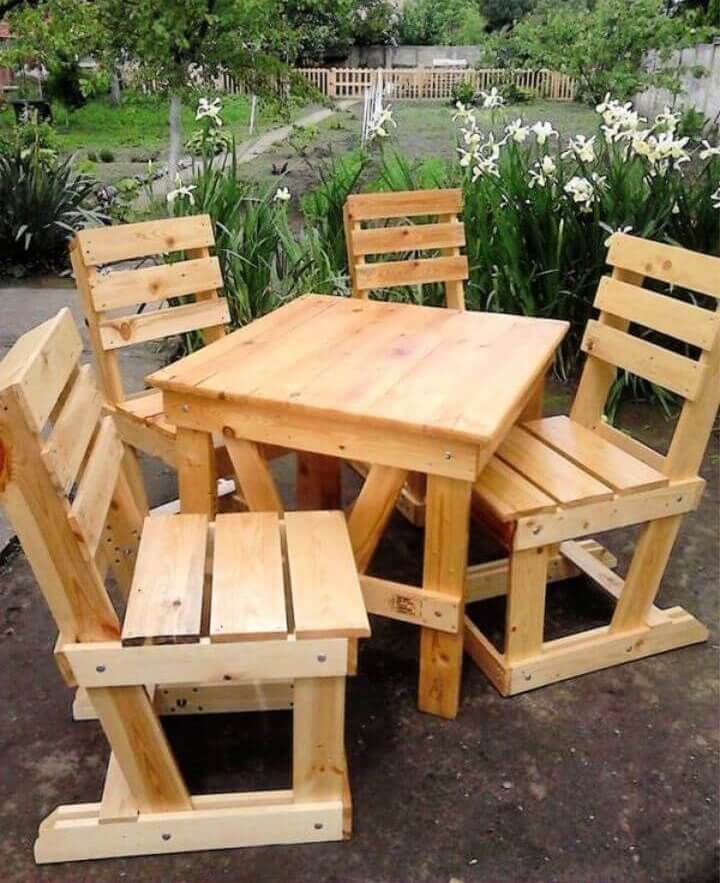 You will love to clone this fantastic wooden dining that is durable and super cost-effective!
It is made of recycled pallets, and it comes with a central square table and four matching chairs that come with different flat bases, You can find this furniture set here on Pallet Ideas.
DIY Pallet Into Bath Shelf: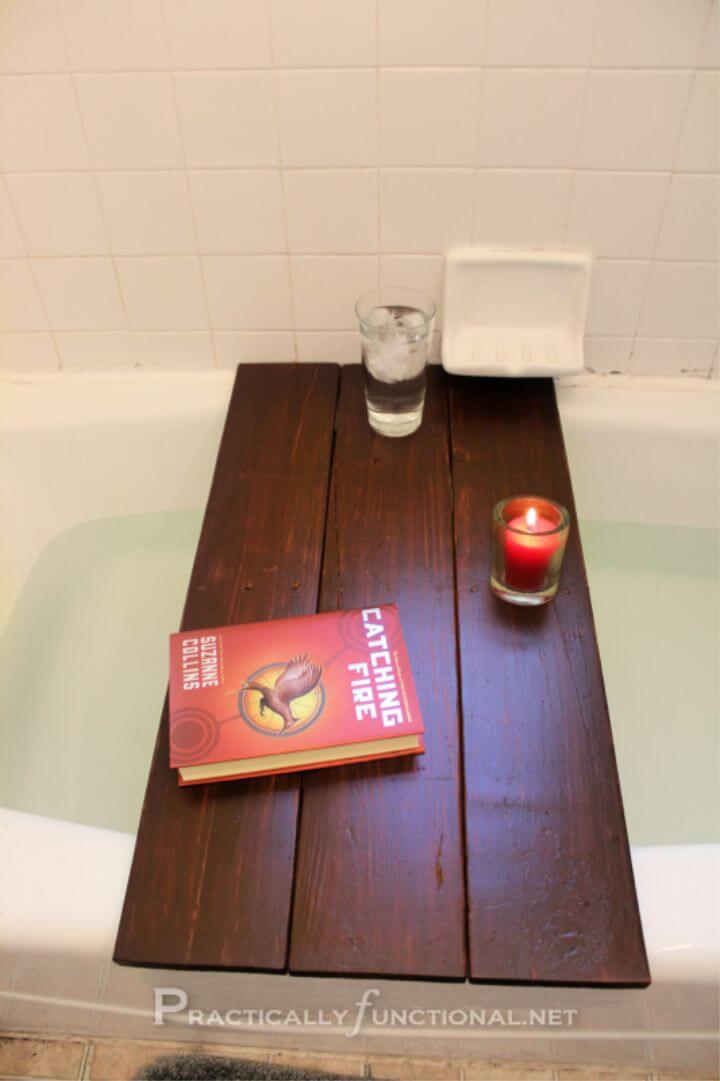 Turn the taking bath into a big fun by making this superb wooden bath shelf with pallets
It will hold your books, candles and other items of this kind and hence would make taking a bath a big fun! practicallyfunctional
Make 30£ Pallet Dining Table: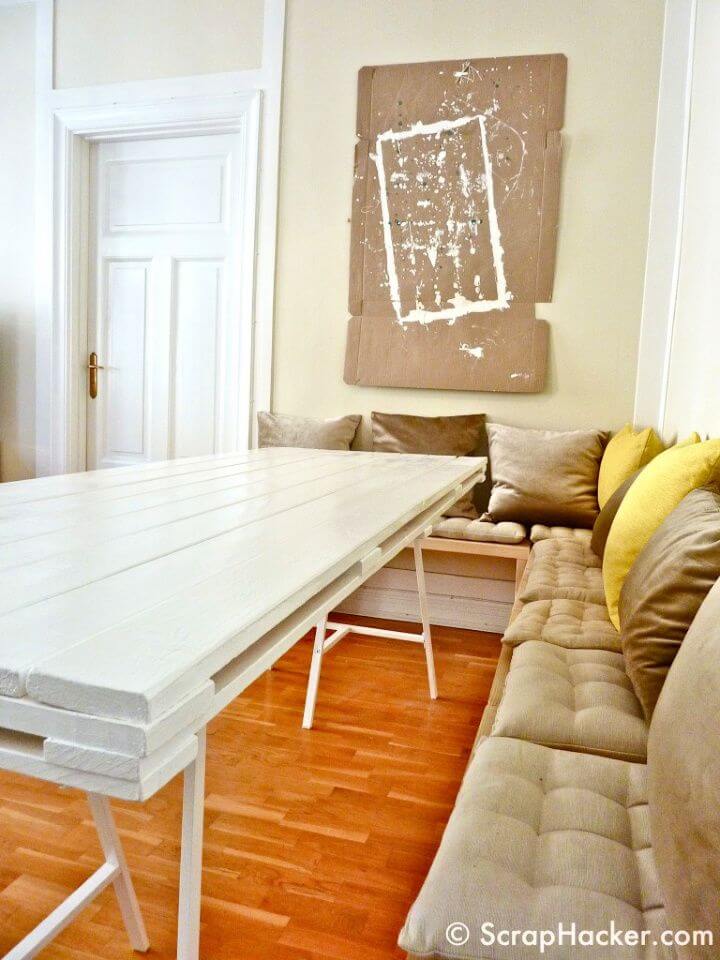 A conference table and perfect occasional dining table to make with pallets! Here only a large skid of pallets has been raised on stylish trestle legs, and this gives a stunning pallet dining table that will also make a great handmade gift! scraphacker
DIY Multi-function Coffee Table With Storage: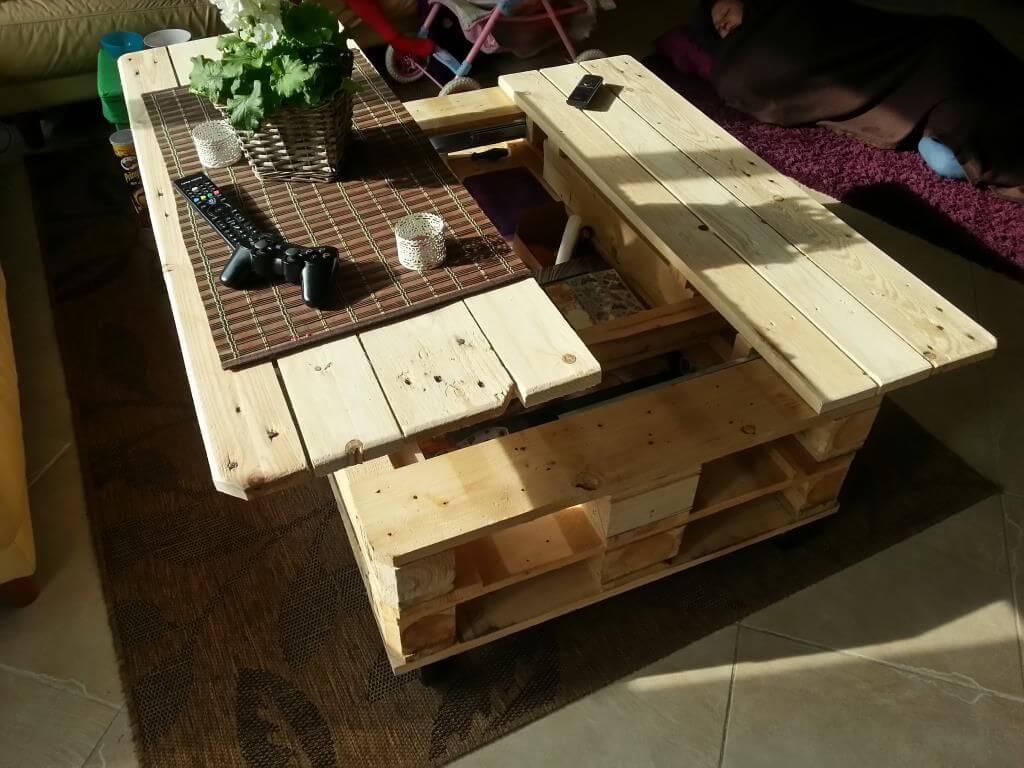 You can simply stack the pallets and build a pallet coffee table, but you can also install custom hardware mechanism like a lift-top one, to make them multi-functional, look at this storage-friendly pallet lift-top table that will also be adjusted to a height for easy lap-top operating! instructables
Make Wooden Pallet Deck with Chairs: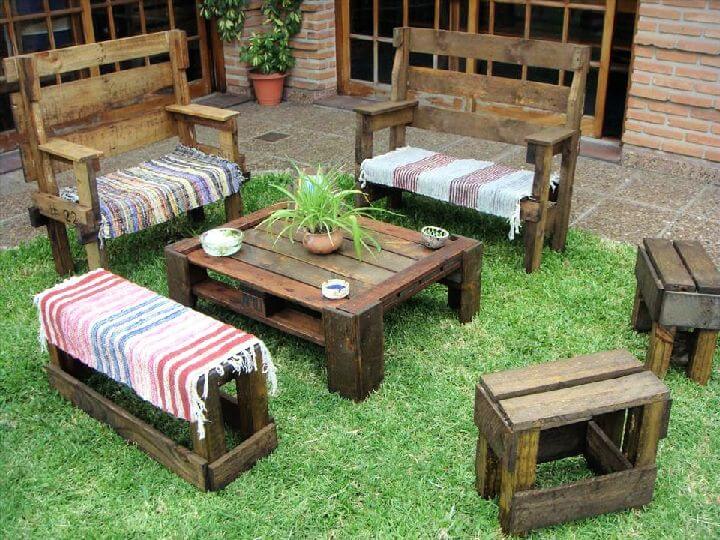 Organize also a deck with pallets and the idea is simple to make the beautiful sitting furniture sets with pallets!
Here lovely wooden chairs, benches and a DIY coffee table have been made out of pallets which have been put together to organize the deck for part time sitting! bristolurnu
DIY Pallet Patio Day Bed: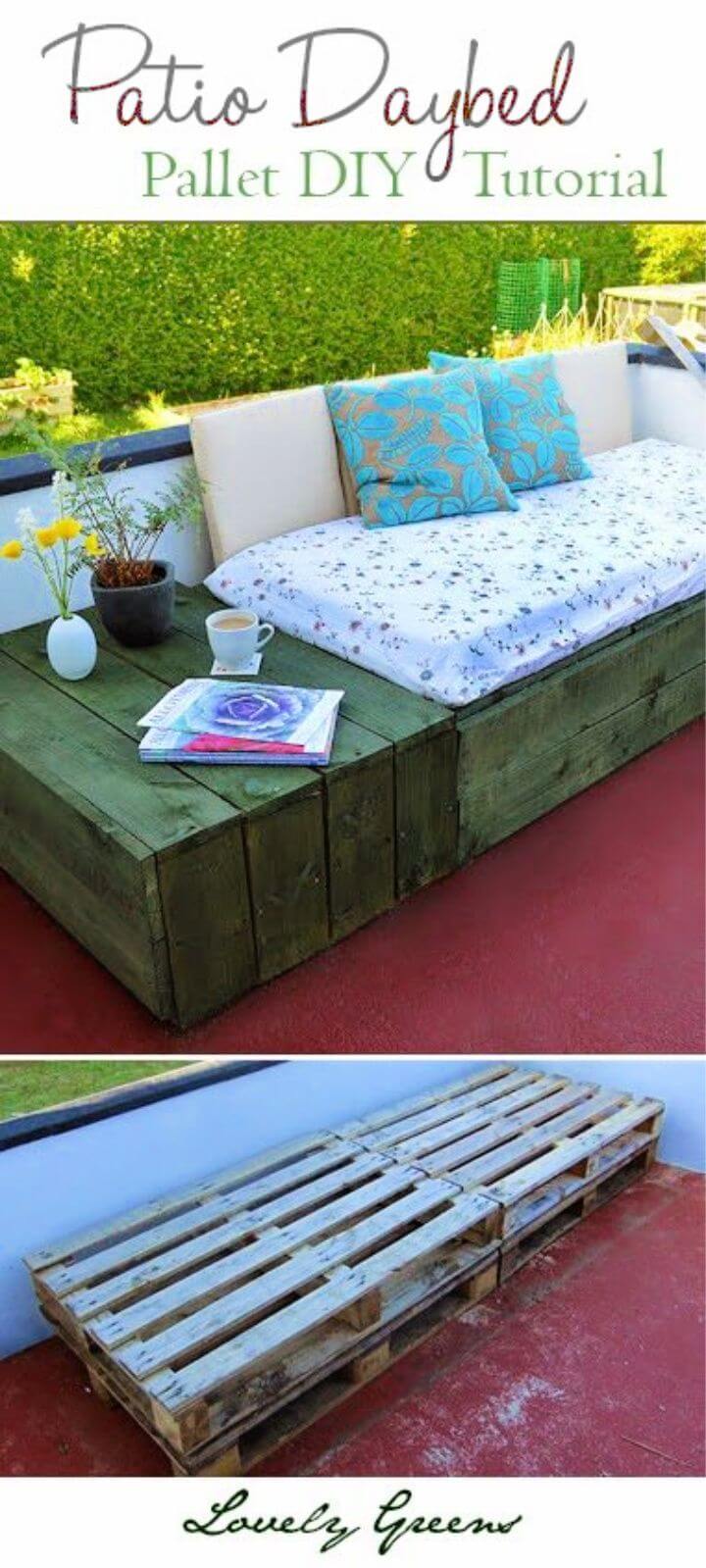 If you love spending time at open outdoor environments, then you will love this adorable pallet wood creation, a lovely wooden pallet patio daybed that is made only by stacking the pallet skids!
It requires no side table and has been cushioned very well! lovelygreens
Build Pallet Furniture – Patio Makeover: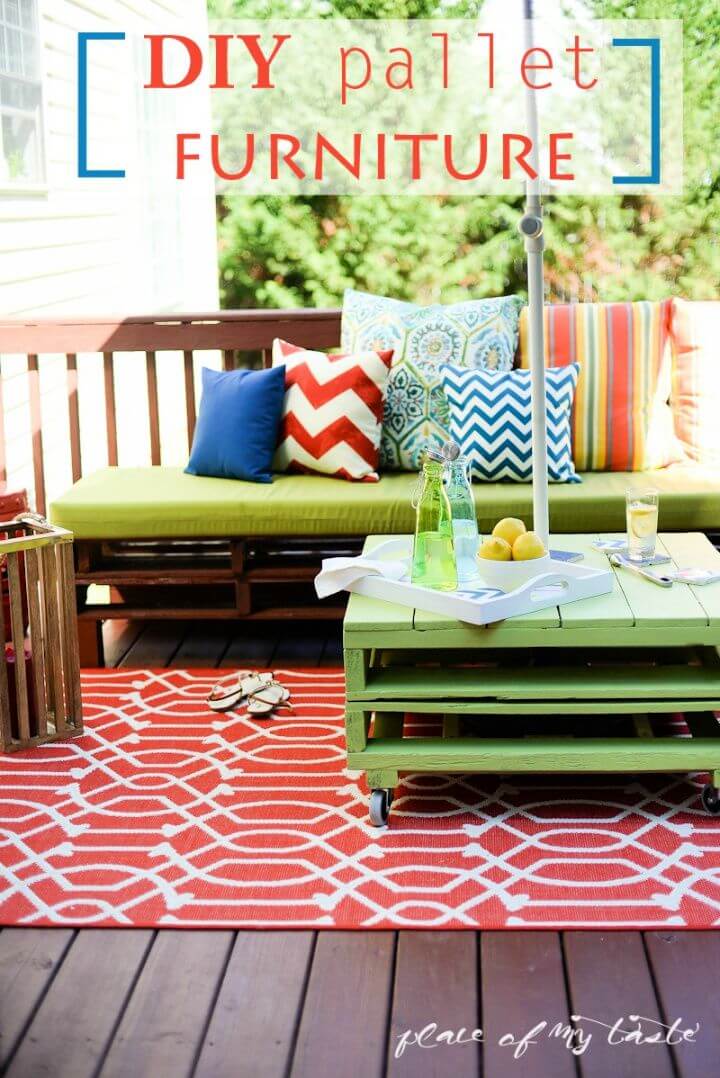 Build all sorts of the indoor and outdoor pallet furniture and look at this patio sitting furniture set, another creative stacking of pallets done to organize the patio for never-ending gossips!
A brilliant mini coffee table has also been made that comes on wheels and also with a parasol! placeofmytaste
How to Build a Wood Deck Cooler: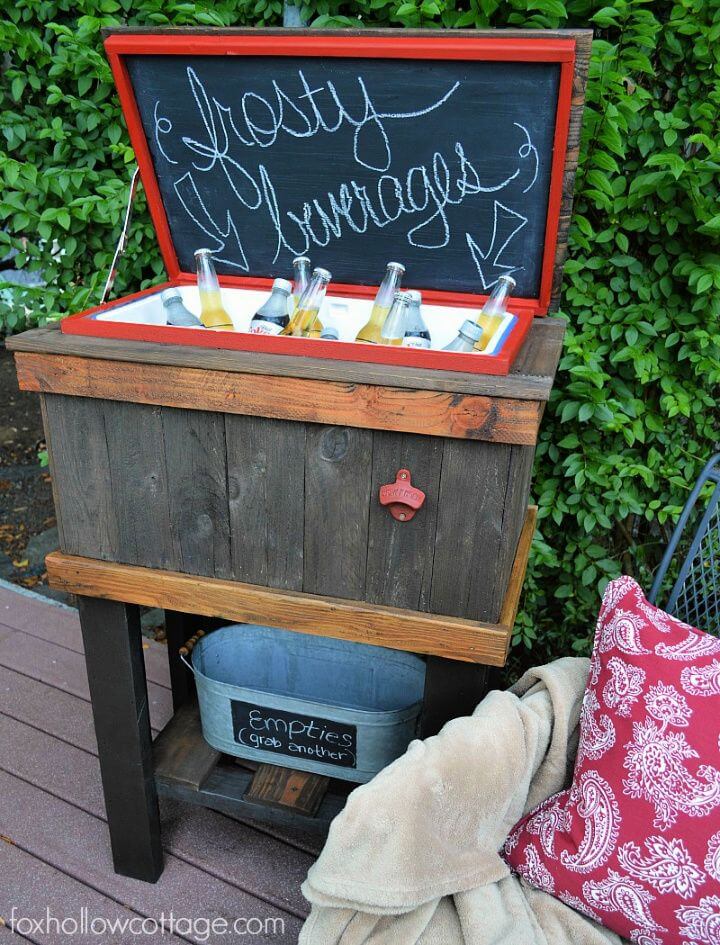 If you love to celebrate by organizing the drink parties at outdoor, then you should make this mini pallet fridge or pallet cooler, a wooden deck cooler that will help keep the drinks cold for all the time the party goes on! foxhollowcottage
DIY Pallet Sofa for Living Room: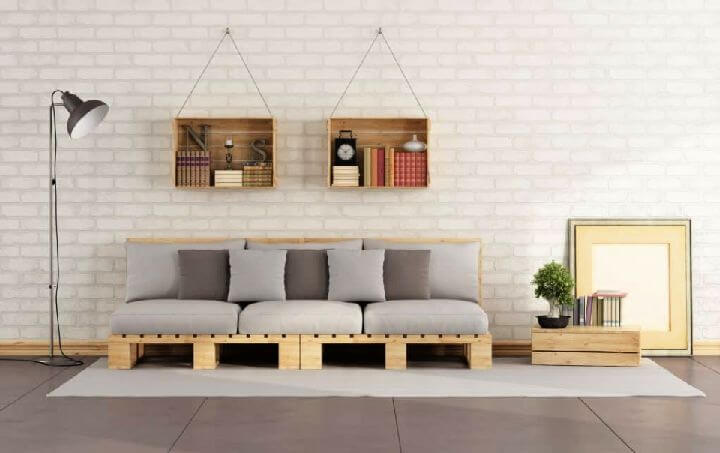 Pallets are not merely good for rustic furniture creations, and you can also build the modern type of furniture with them just like this sterling living room sofa that is by bringing the pallets into an easy L-shape and has been cushioned very well! thekindestway
Inexpensive DIY Broad Pallet Patio Furniture: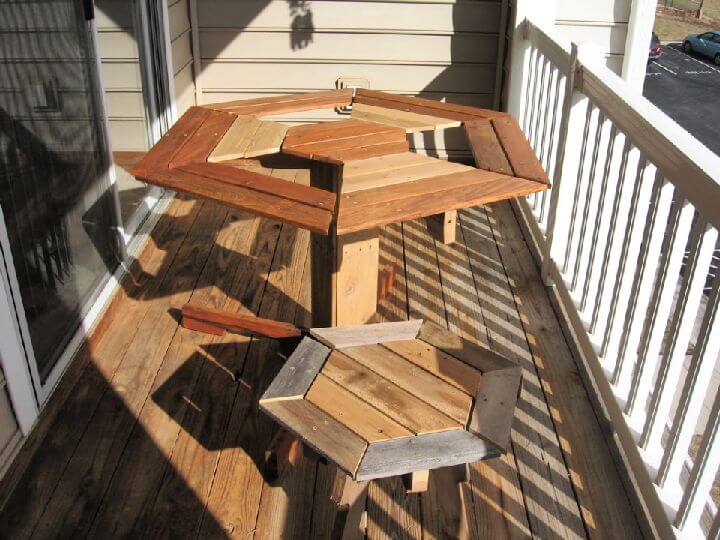 You will fall in love with the brilliant design of this pallet table that comes with perfect hexagonal top and is wholly made of a pallet, and a matching stool has also been made to sit around this table! A super brilliant pallet furniture project! instructables
How to Make Stylish Outdoor Pallet Seating: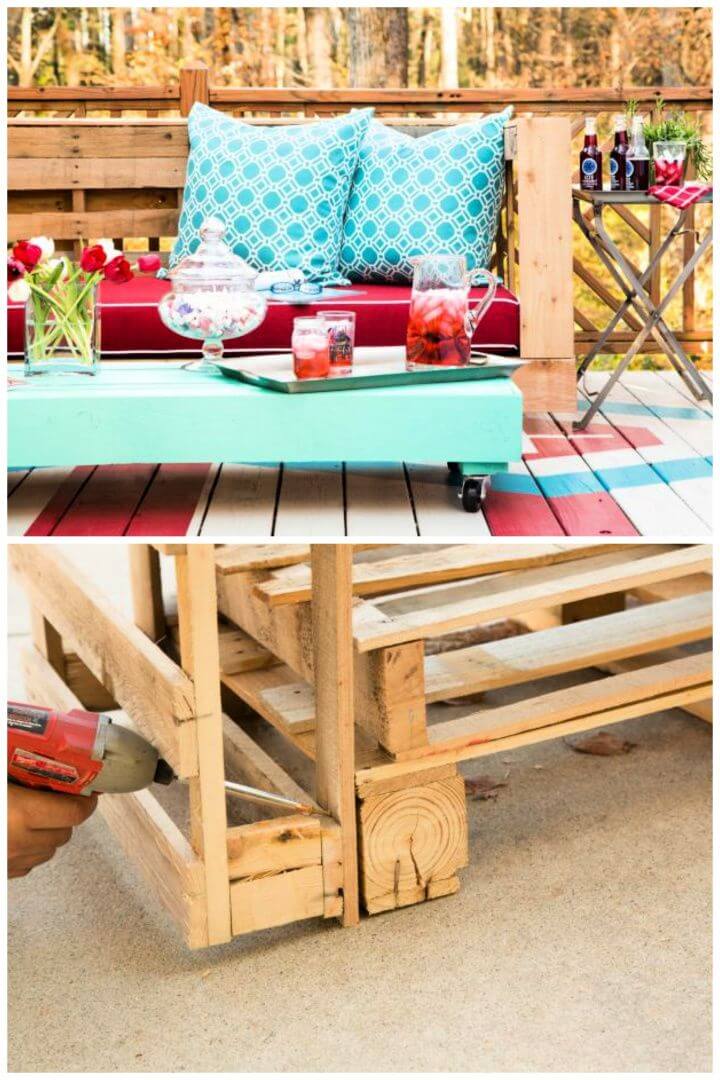 Stack the pallets and then add a few vertically as sides and gain lasting longer wooden sofas which can also be cushioned for a maximized sitting comfort!
Get inspired by this stylish outdoor pallet seating that has a one-pallet rolling coffee table also put in front side! hgtv
DIY Pallet Hanging Chair: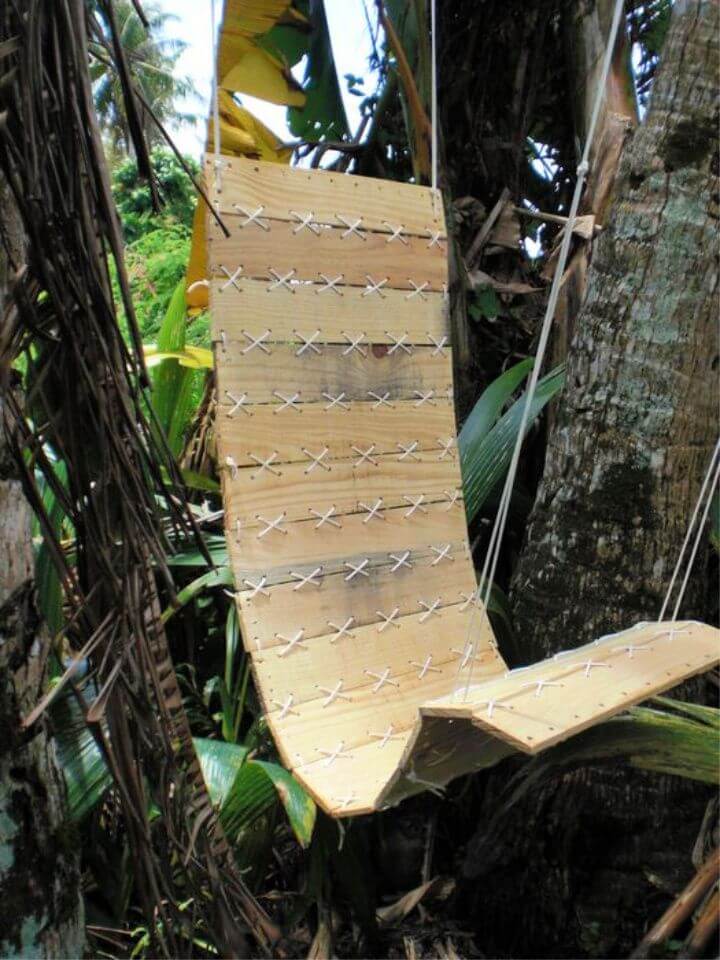 An extraordinary and one-of-a-kind chair to build with pallets and paracord! A beautiful hanging chair that is made with pallet slats having holes in the sides and have been laced together by threading paracord into holes! instructables
DIY Pallet Cabin for Your Cycle: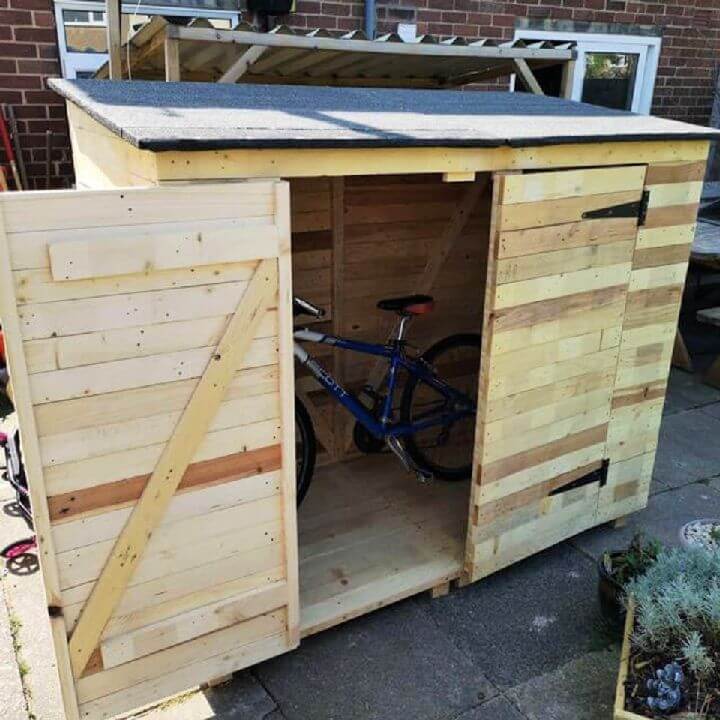 Make also brilliant looking wooden sheds and cabins where you can park your cycles to be safe from the rain and unfriendly harsh weather conditions!
Here a big wooden room has been build with pallets that nicely hold the cycles inside and will also make a lovely pallet playhouse for the kids!
Make a Reading Nook Using Two Wooden Palettes: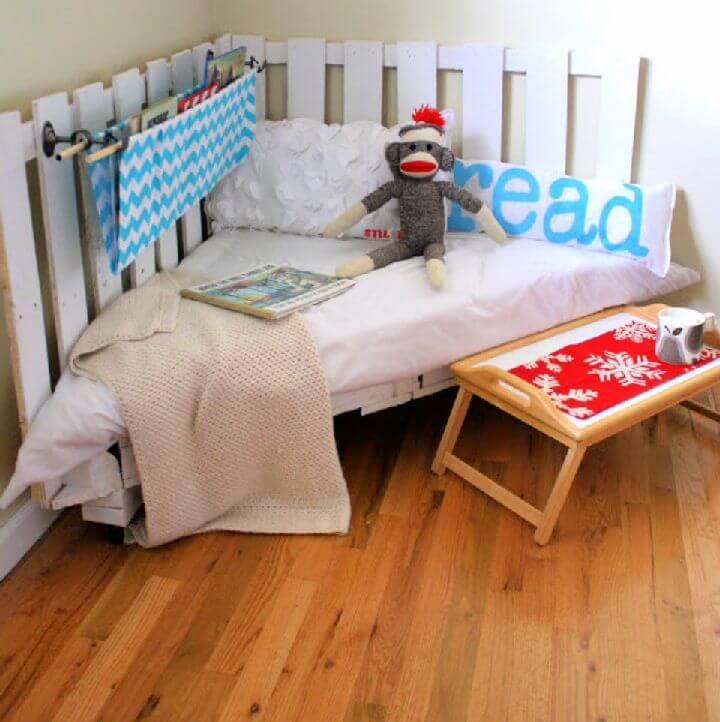 Using your creativity, you can do wonders with pallets and also get crafty only with two pallets and build this perfect triangular reading nook that will fit best to a corner! It has been cushioned by a significant value sitting comfort! kojo-designs
Headboard Out Of Reused Pallet Wood with Led Lights: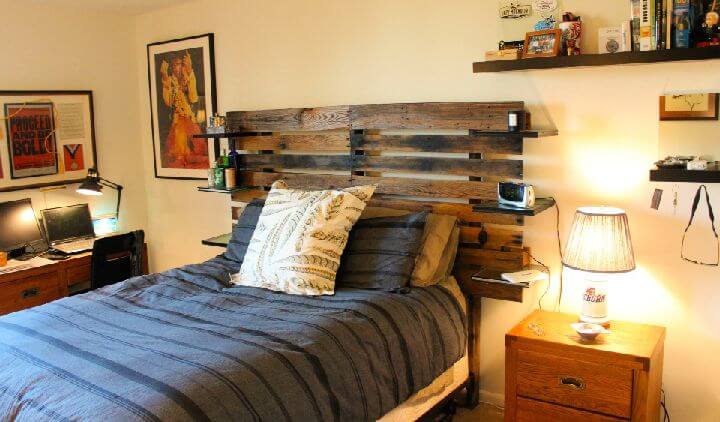 A super beautiful rustic wooden headboard made with pallets and that also comes with lights and outstanding mini shelves to display the wedding gifts and bedroom centerpieces! A remarkable pallet wood creation! imgur
You also like these Pallet Bed Frame.
DIY Pallet Coat Rack: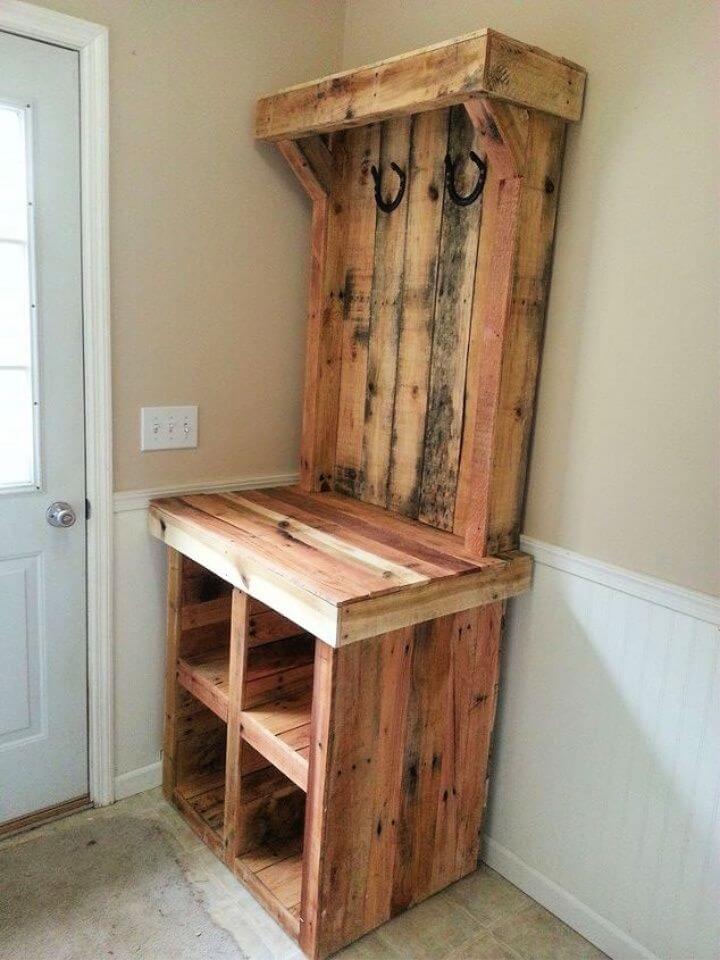 Get also busy with pallets to make stylish and functional storage units, organizers and accessory holders and do build this pallet coat rack or pallet hall tree to organize your entryway items! This pallet-made organizer comes with a bottom shoes rack and with a rustic horseshoe hanging hooks! hometalk
Easy and Simple DIY Pallet Bookshelf: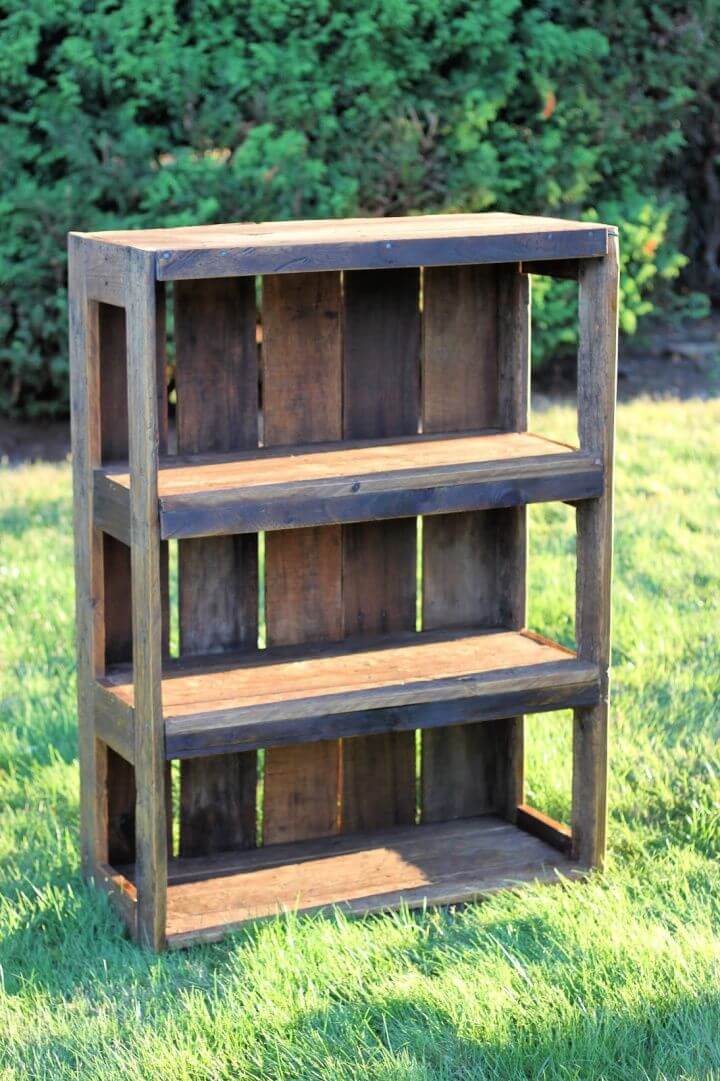 Build also sturdy wooden items of storage furniture out of pallets that will be loved dearly by all the family members! Get busy with dismantled pallets and build this awesome wooden bookshelf, paint it modern if you like! madewithlovetcbf
DIY Painted Pallet Garden Furniture: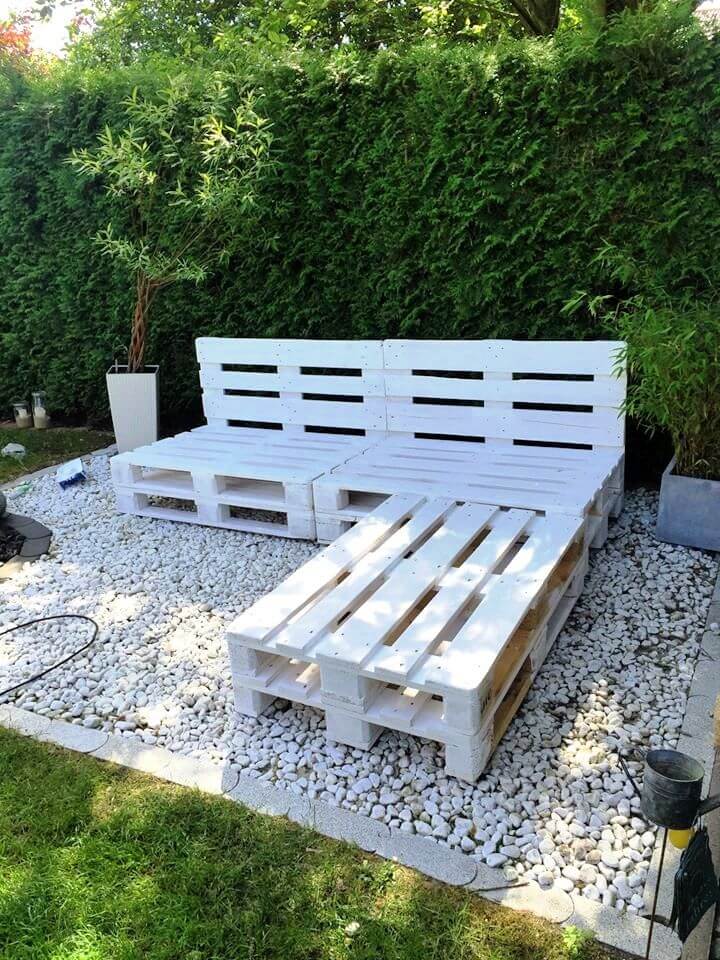 Also stack pallets to make the lovely sitting furniture sets and organize any patio area with this easy to build pallet L-shape sofa that can be cushioned to look modern and it will rock for any deck, patio or porch corner!
Build Table With Old Pallets: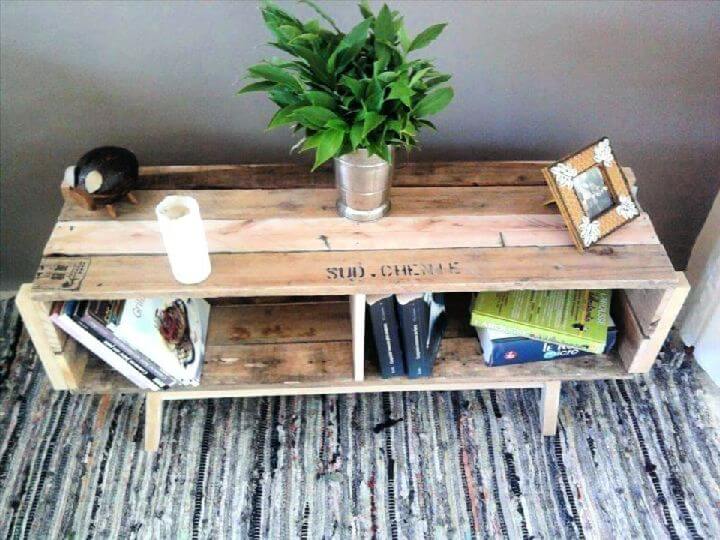 Build also the interesting vintage and mid-century inspired items of furniture with pallets with great ease! Look at the perfect given retro table that will make a lovely TV stand and is super storage-friendly! It comes on angled wooden legs! archiscale
DIY Pallet TV Stand: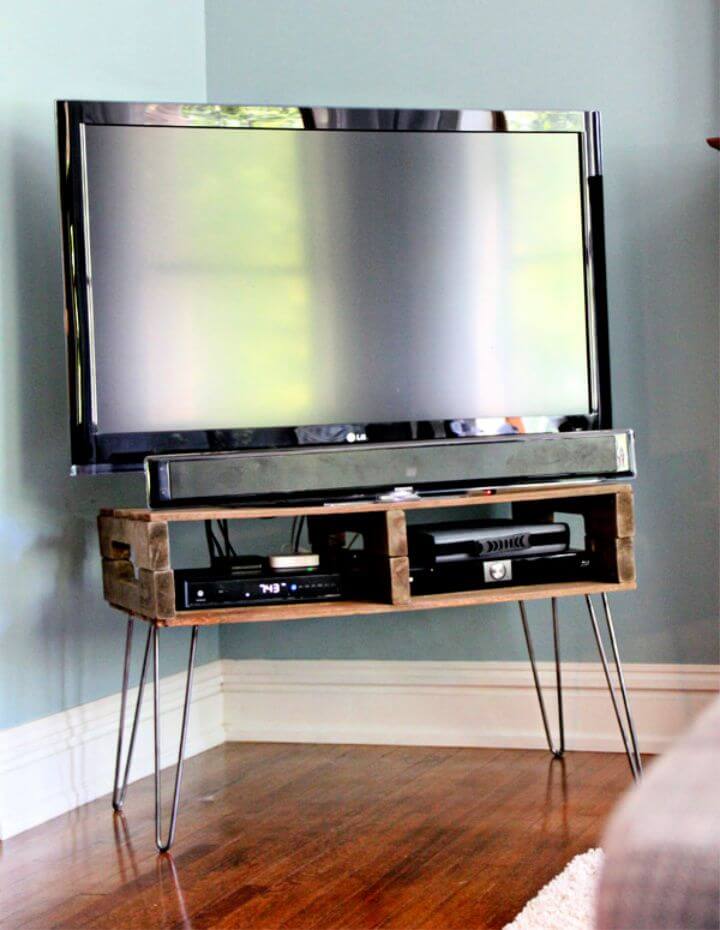 Need a media console or DIY TV stand? Then skip expensive purchases and build your ones at home in perfection and also in a pro style! Finish a single pallet skid with metal hairpin legs and gain a perfect rustic pallet TV stand as you can see! preparingforpeanut
Build a King-Sized Pallet Headboard: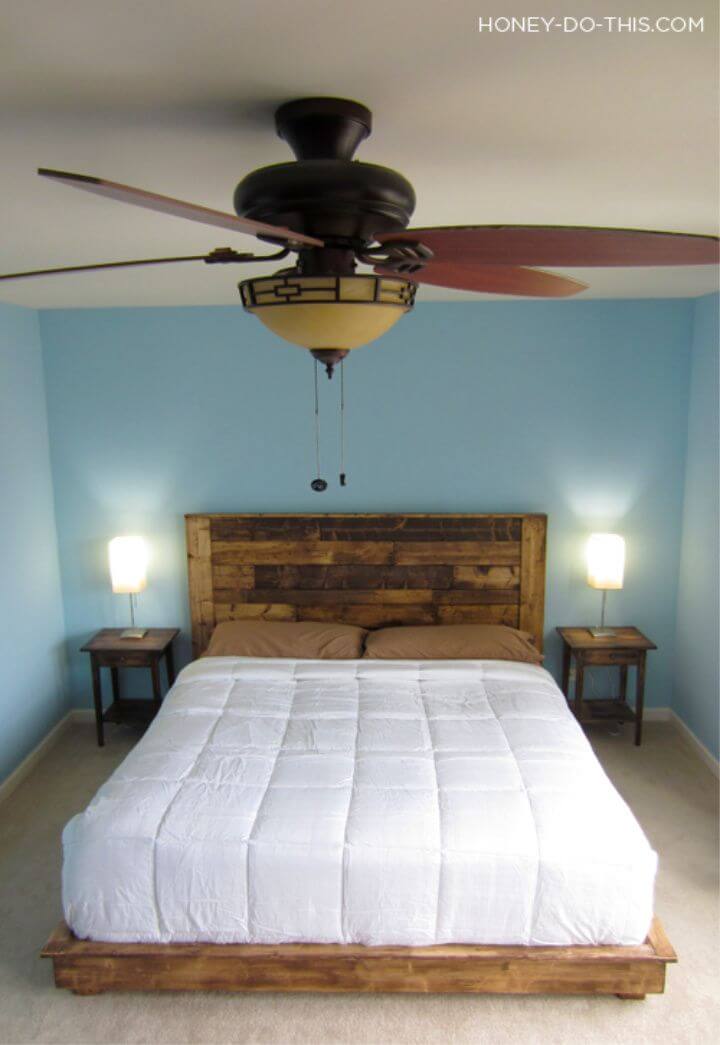 This is something super easy and enchanting to look at and also easy to make, a king-sized pallet headboard that is solid and is made of pallet wood slats having dark and light tones of wood! diywithrick
DIY Pallet Lounge Tree Swing: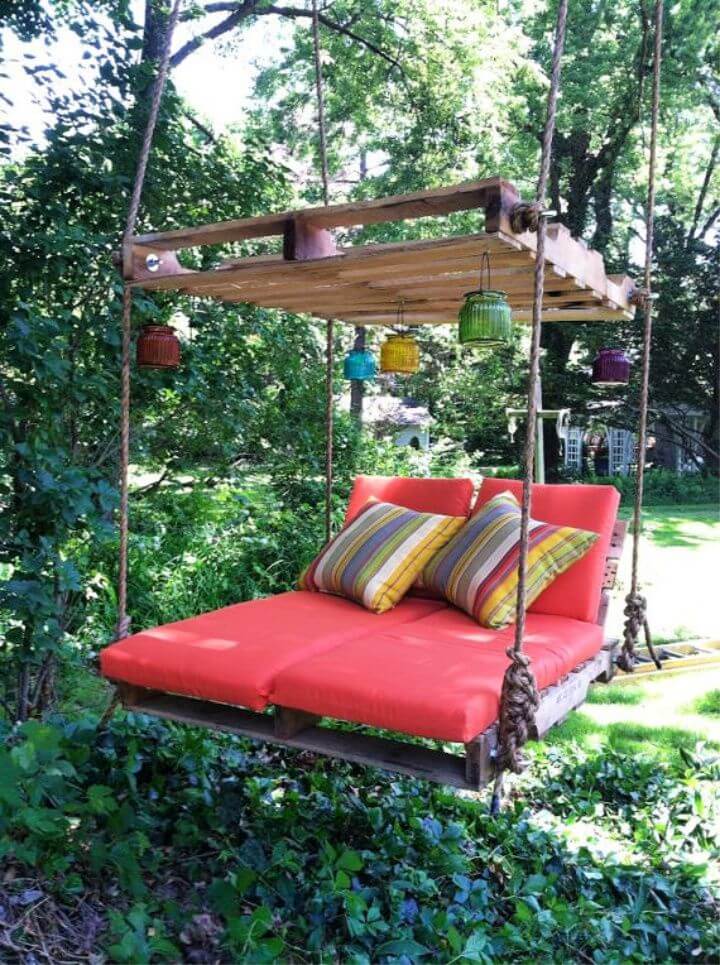 Make your outdoor life easier with pallet by building this gorgeous pallet lounge tree swing that is super quick and easy to make! Here this hanging pallet lounge has been cushioned very well, and it also comes with a pallet roof decorated with colorful glass jar lanterns! imgur
Simple DIY Pallet Seats with Storage: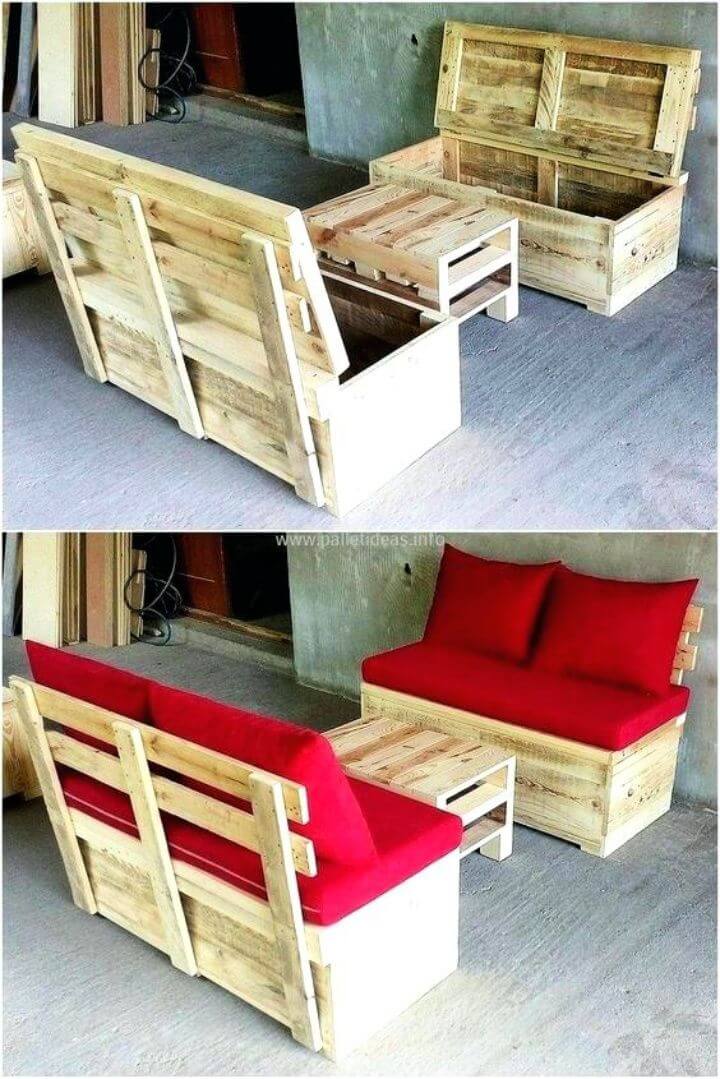 This is something that will be your new crafting obsession, and you will also wish to have in possession! Build the bigger wooden boxes with backrest and cushion them up to gain a lovely storage-friendly seat and organize any outdoor sitting space with them! bilingualchildren
DIY Outdoor Kitchen with Pallets: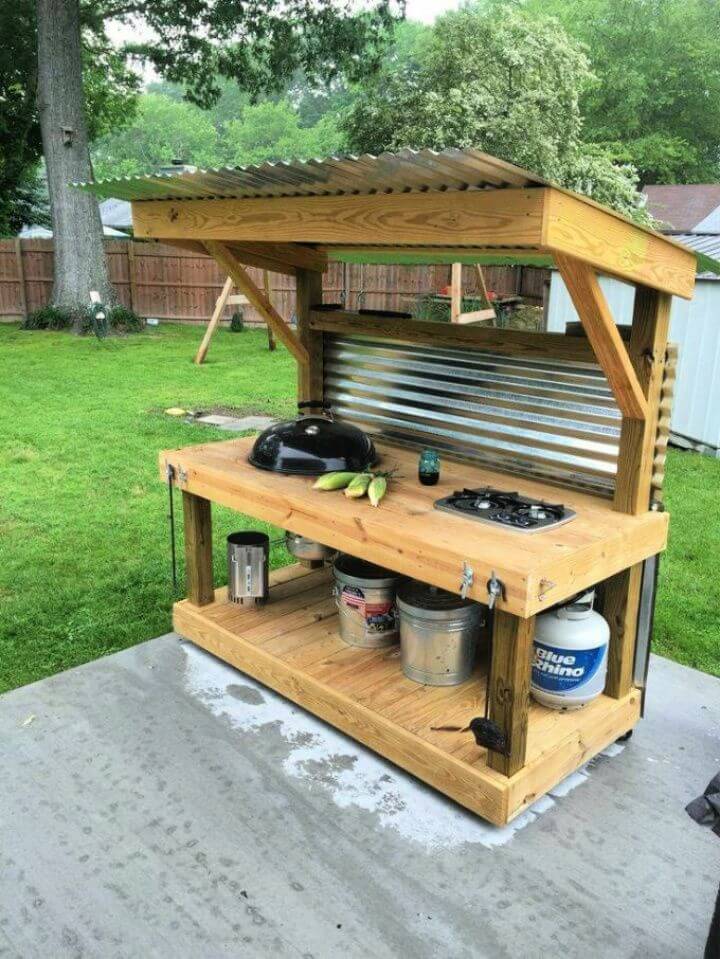 This is something that will make you say a big "wow," a super luxurious and featured model of outdoor kitchen built with pallets that come with bottom storage shelf, built-in stove and also with a metal roof and backing! greaterglorymini
Make Your Own Kid's Pallet Table: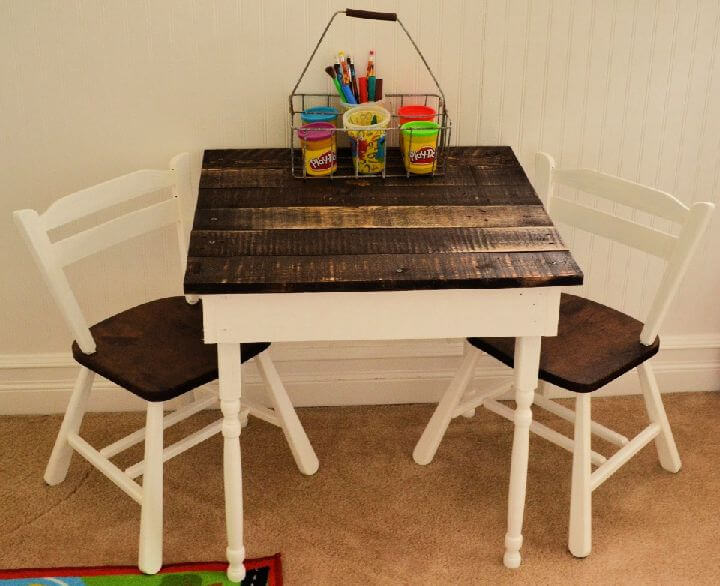 Duplicate this another gorgeous pallet creation, a kids' special wooden table that is wholly made of pallets and will simply cost you nothing it comes with reclaimed wood spindle style legs! It will rock as a study table and snack party table for kids! vintagemellie
How to Build an Outdoor Pallet Sofa: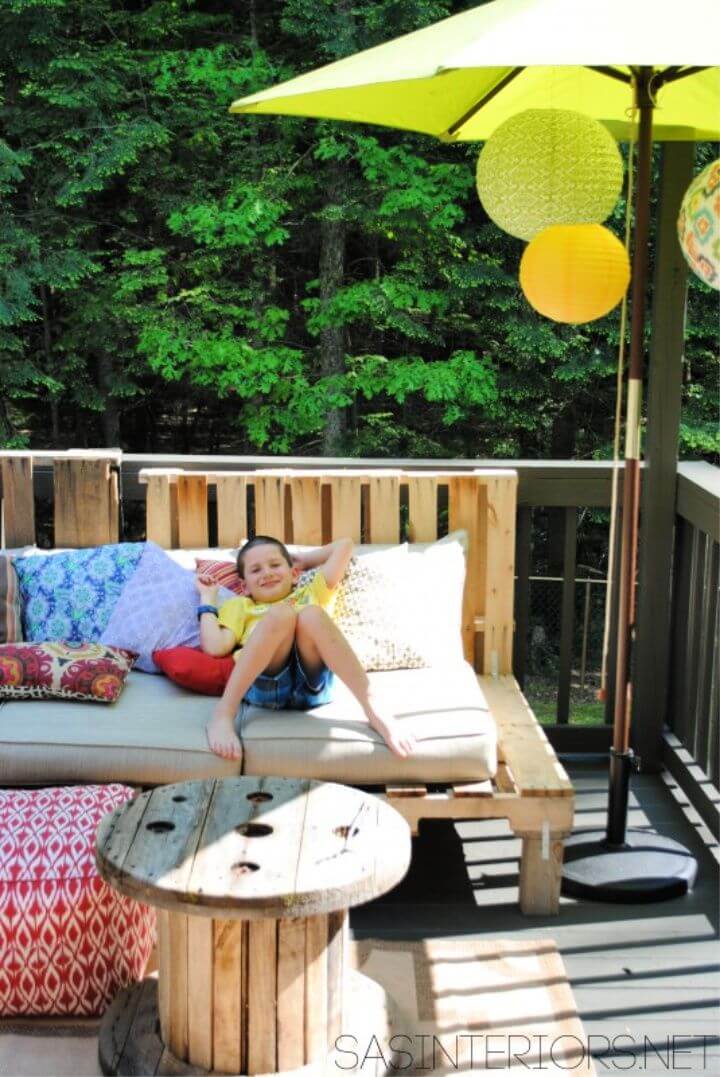 Intending to organize your patio to chill out with friends, they do build this lovely wooden sofa that will rock for a patio, garden or deck area and can be made without any woodworking experience just by stacking the pallets! Don't forget to add a pool table in front! jennaburger
DIY Pallet Table with Hairpin Legs: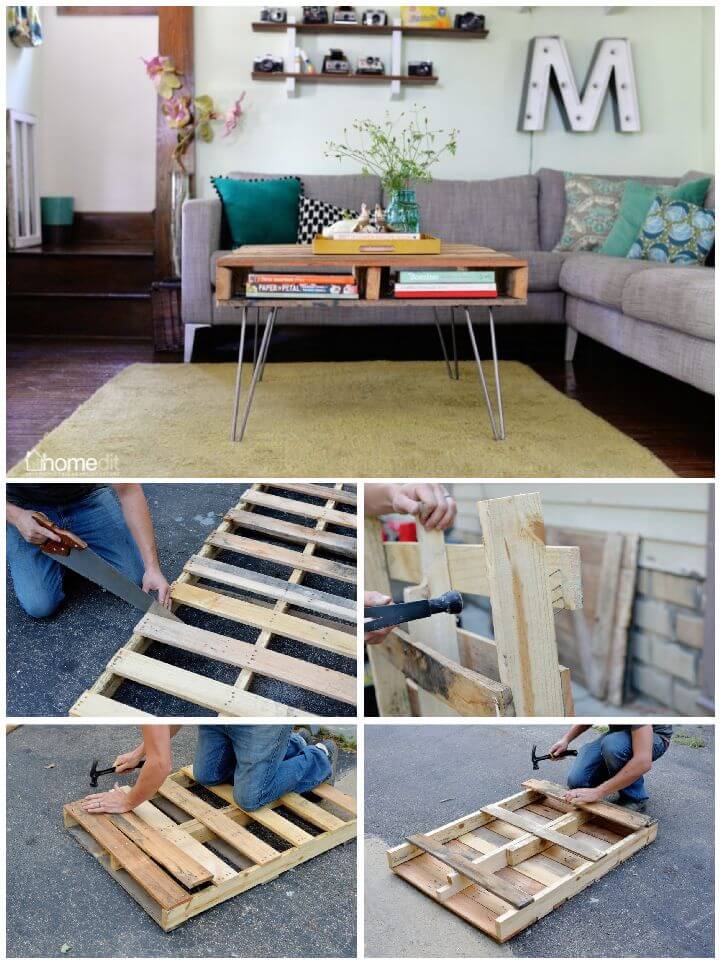 It is a child's play to build a quick, beautiful pallet coffee table with hairpin legs, just finish a single pallet skid with custom metal or wooden legs and gain a beautiful instant table! Look at this industrial-style pallet table that comes with metal hairpin legs! homedit
Turn Pallets into Loft Bed: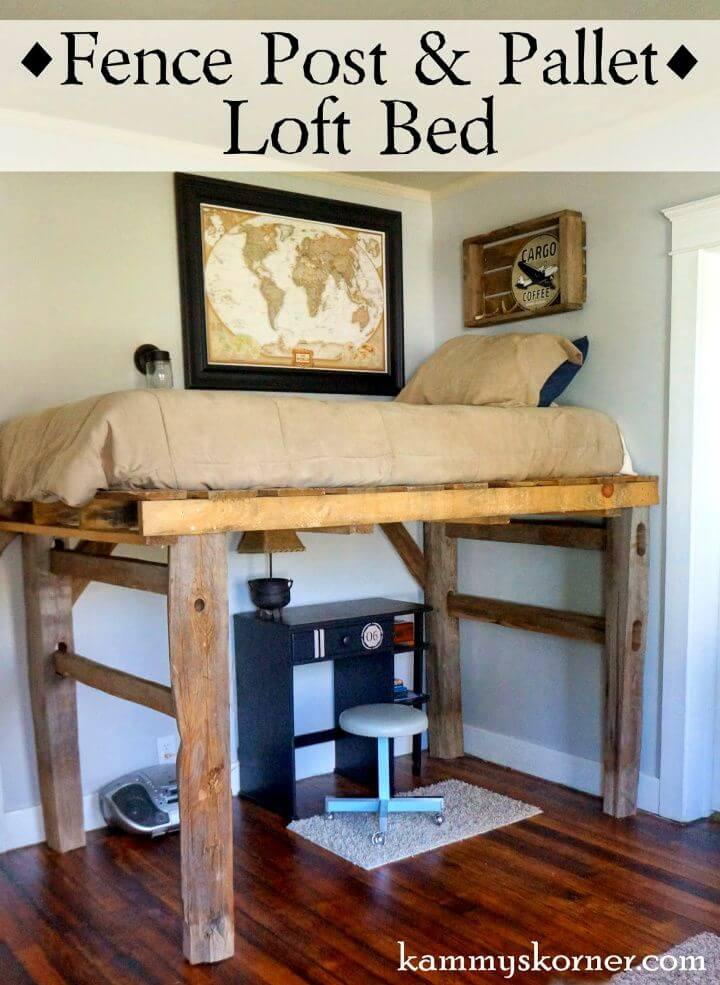 Raise also the pallets higher by installing large, robust big wooden legs or pillars and gain lovely loft beds for the kids' bedrooms! Look at the given pallet bed that is lovely and easy to build and will also be super durable! kammyskorner
DIY Pallet Gardening Table: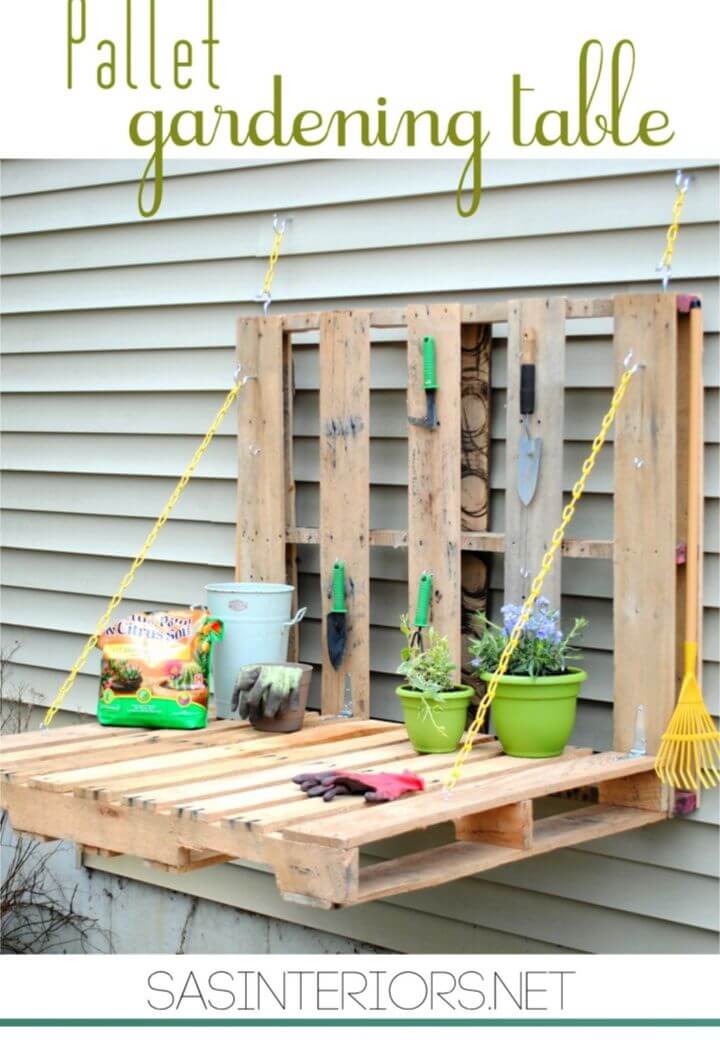 It will all demand you to have two pallets, rope, and some hardware hooks and hanging systems to build a wall mounted folding down the gardening table! Peek into creative details of this given one sample that comes with folding down pallet surface with rope! jennaburger
DIY Wood Pallet Bookshelf: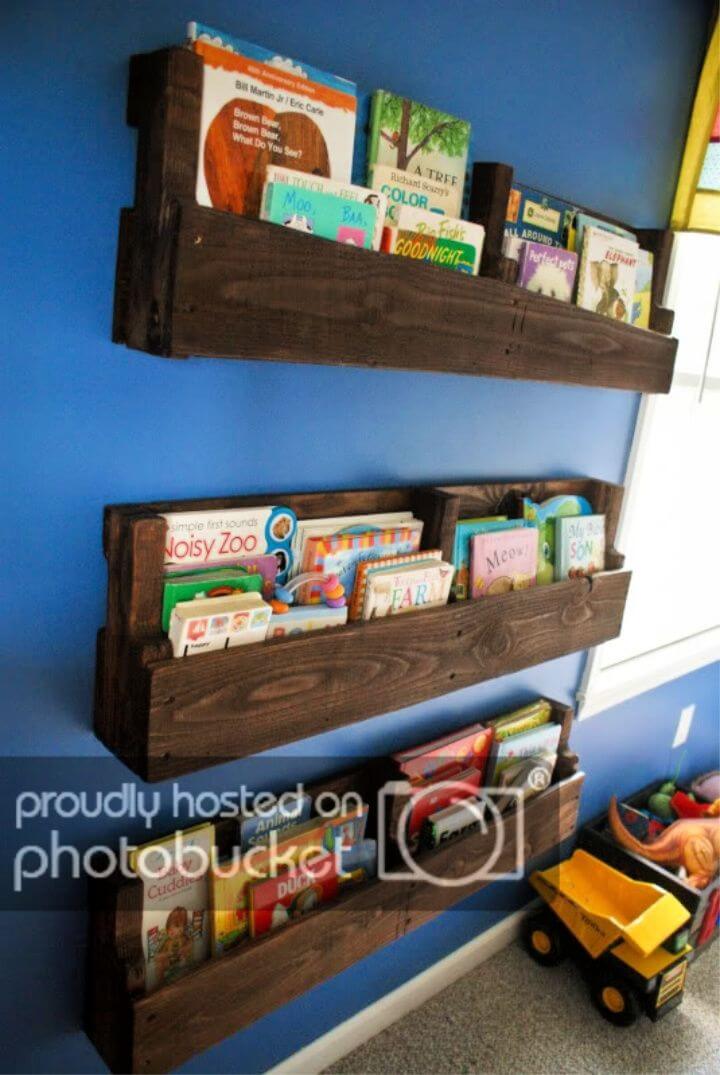 Here is what you can build fantastic using the leftover or remaining pallets, handsome looking wooden wall mounted bookshelves that will also make great nursery shelves in the kids' rooms! meandmadeline
DIY Pallet Wood Outdoor Sofa: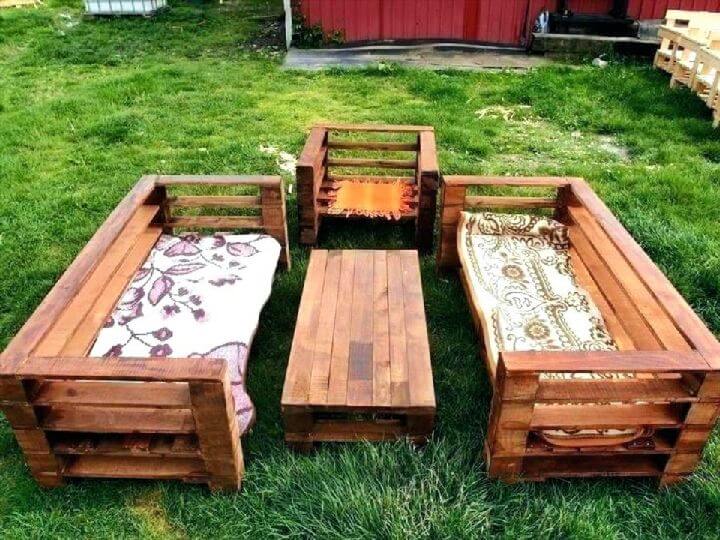 You will love to own this beautiful pallet sofa for outdoor that is incredibly beautiful and is wholly made of pallets! Stack separated pallet chokes and diced sections to build the armrests and backrests of the sofa as you can see! roshak
Build a Pallet Hammock Stand: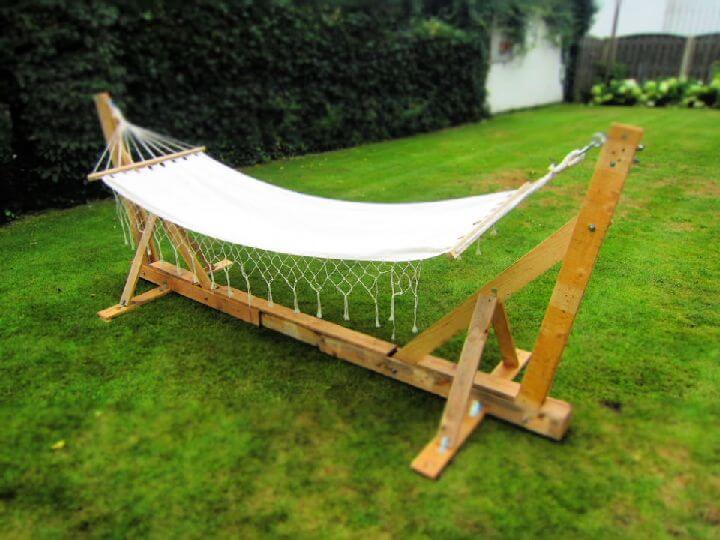 Now you no need to have the bigger trees in your front yard to install a DIY hammock stand, just build a lovely hammock stand with pallets that will allow you to build a self-standing hammock that you can drag to any location! instructables
Budget-friendly DIY Outdoor Pallet Furniture: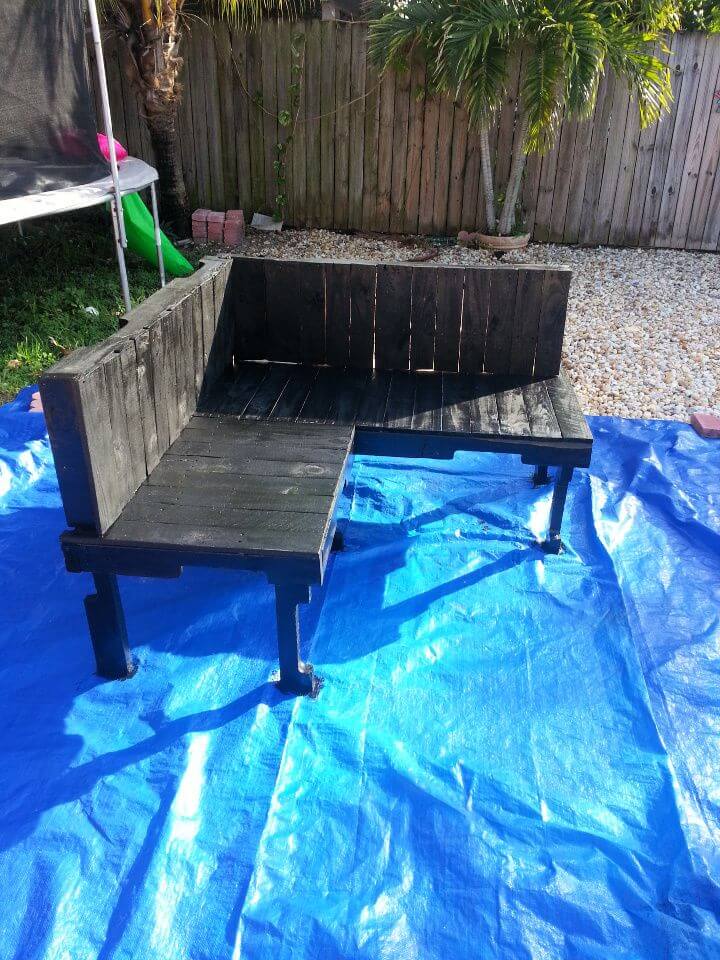 Look at this another phenomenal pallet L-shape sofa that is also purely handmade and is sure to fit best to a patio or deck corner! It is wholly made of pallets and is sure to be loved by all! imgur
Make a Wooden Table with Pallets: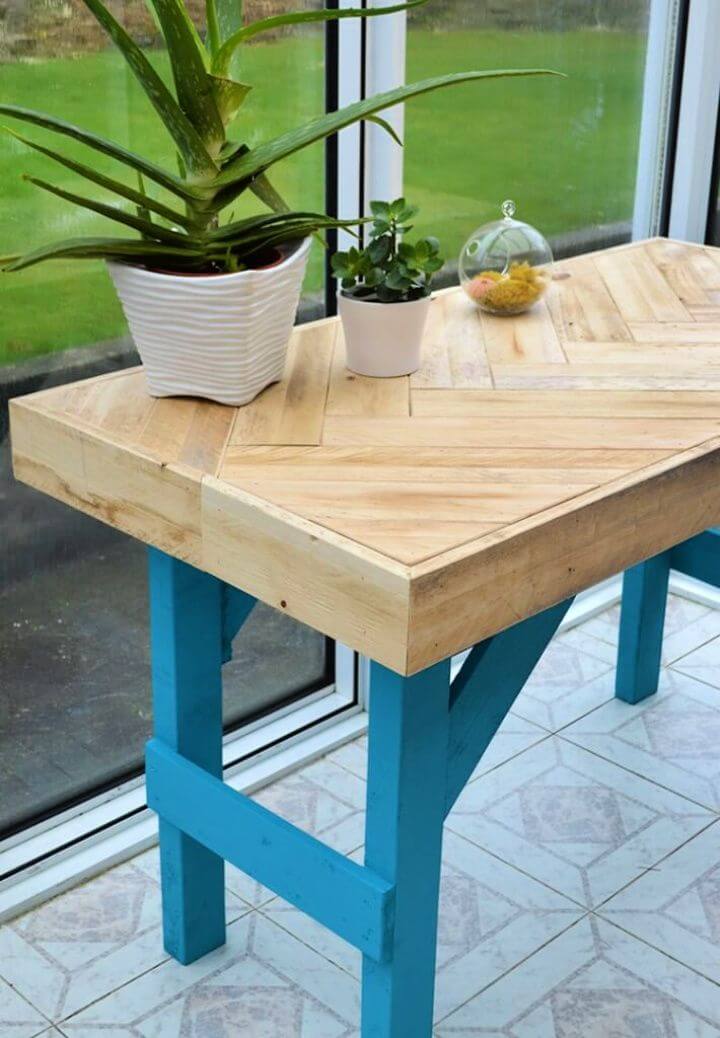 Look at this another fabulous wooden pallet table that comes with chevron top and blue painted base and is entirely made of recycled pallets, again a big thanks to pallets for this adorable furniture creation! lovelygreens
How to Make a Pallet Daybed: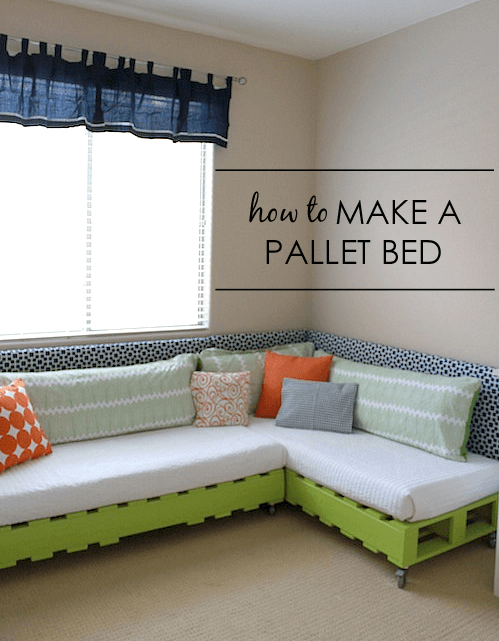 Daybed or corner sofa? It will serve as both in a particular room interior and is super easy and quick to make, just bring the pallets into L-shape and secure in place using hardware! Next, raise them on wheels and finish with a foam mattress! projectnursery
Build a Pallet Headboard: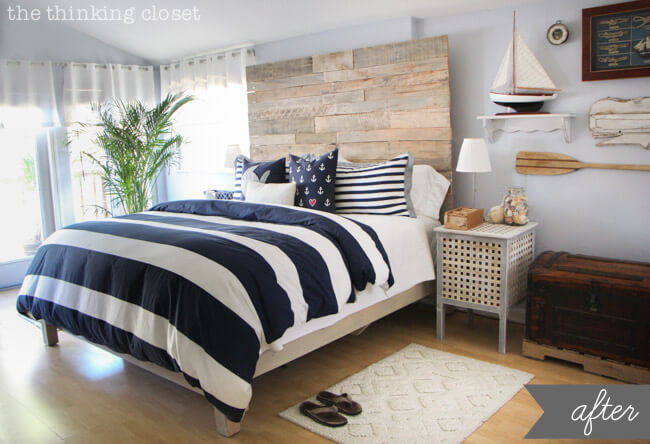 Give also a rustic background to your bed by installing this rustic wooden headboard that is also made of repurposed wooden pallets taken to dismantled form! Put the slats together to make it quickly! thinkingcloset
How to Make a Pallet Desk: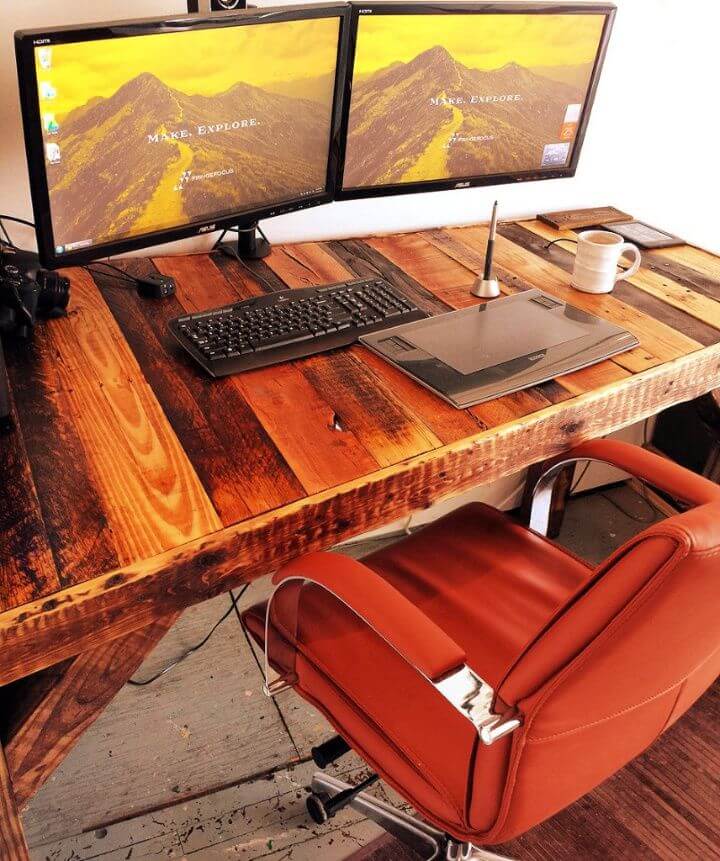 Need also a quick desk for your home office for easy laptop operating and for other read and write purposes, they do make a lovely one instantly with pallets, and it will not take much time! Get inspired by this given lovely model! fringefocus
DIY Huge Cabinet out of Pallets: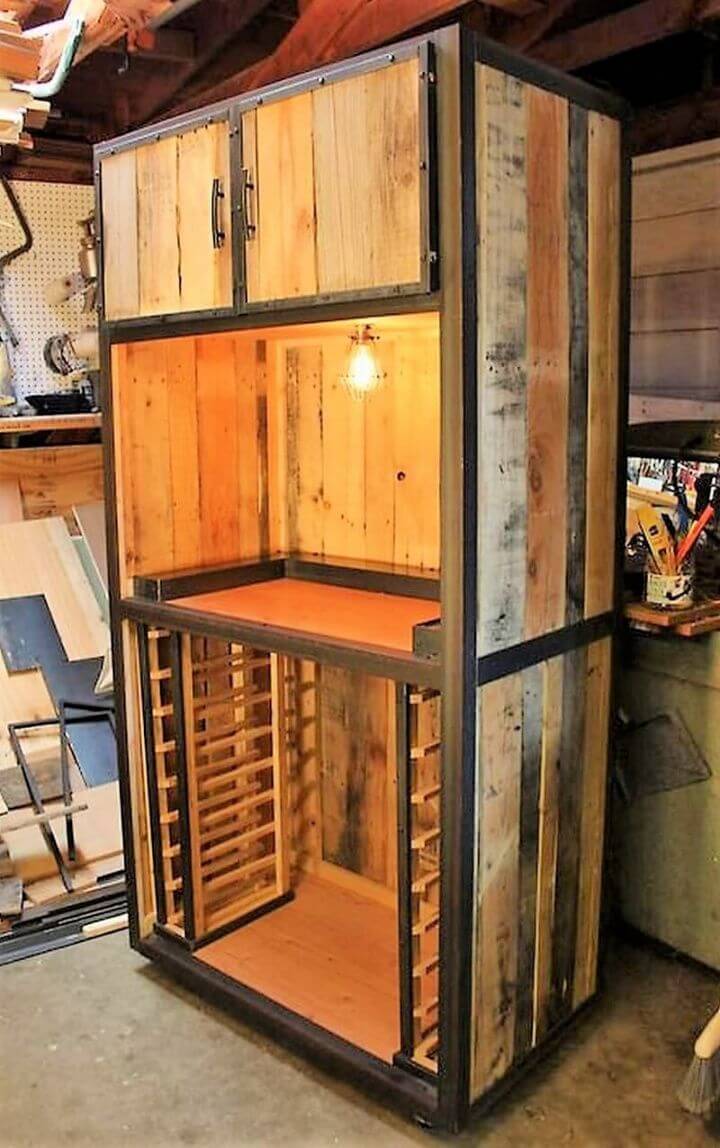 From cupboards to closets to large cabinets, you can build all types of storage furniture too with pallets that will help digest your interior home clutter! Plan the separated pallet slats to build this huge cabinet is sure to live longer! decorfacil
How to Build a Pallet Chair: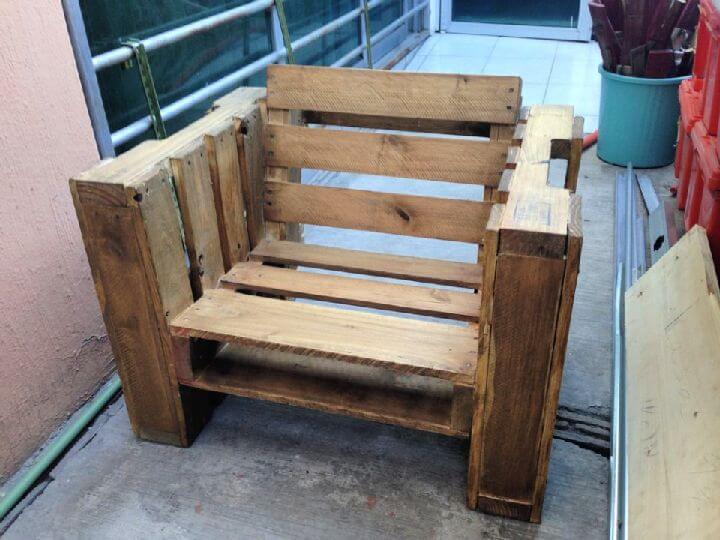 Sit like a boss in this epic wooden pallet chair that is solid and durable and is made of custom cut lengths and sizes of pallets! Take two sizes of pallets into L-shape and then add it up with square pallet pieces as sides! instructables
DIY Pallet Wood Patio Chair: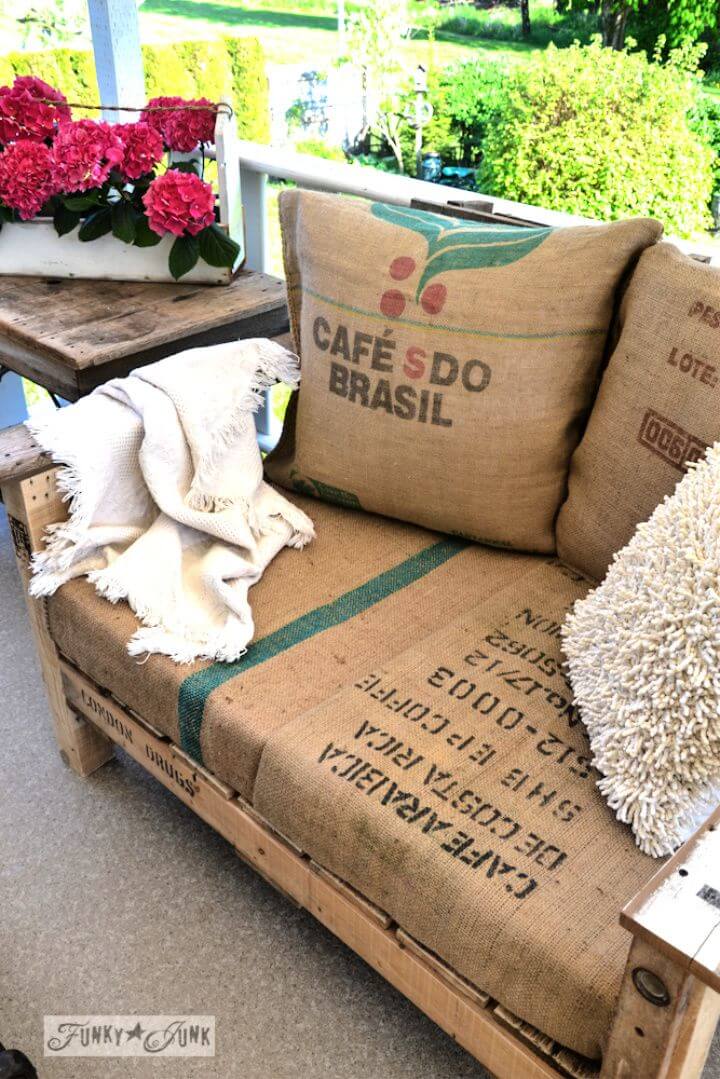 Have a great time at your patio by sitting in this homemade wooden chair; again pallets have been used for this adorable furniture creation! Add up a pallet with bottom legs, and next add the sides and armrests and build a fantastic wooden chair, add burlap cushion for a boosted rustic appeal! funkyjunkinteriors
DIY Outdoor Patio Furniture from Pallets: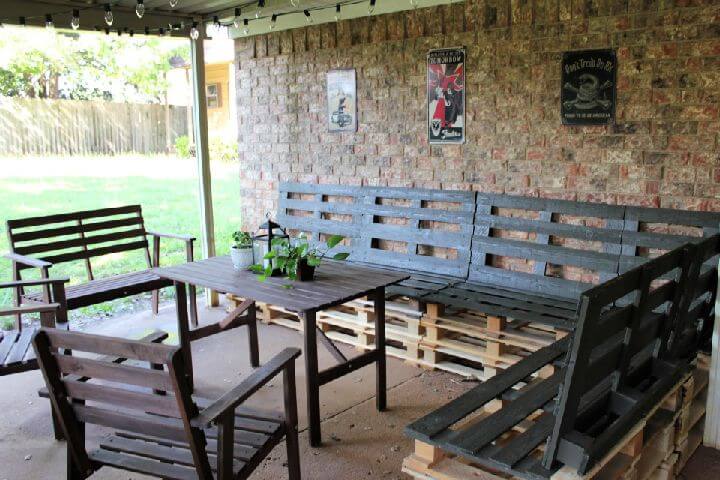 Sorting out perfect solutions to organize your patio? Then you must consider making the adorable pallet patio furniture, will be ready at just a drop of a hat! Stack the stock of pallets to build it, pretty simple and quick patio furniture idea! thesassysparrow
Ottoman from Up-cycled Pallet: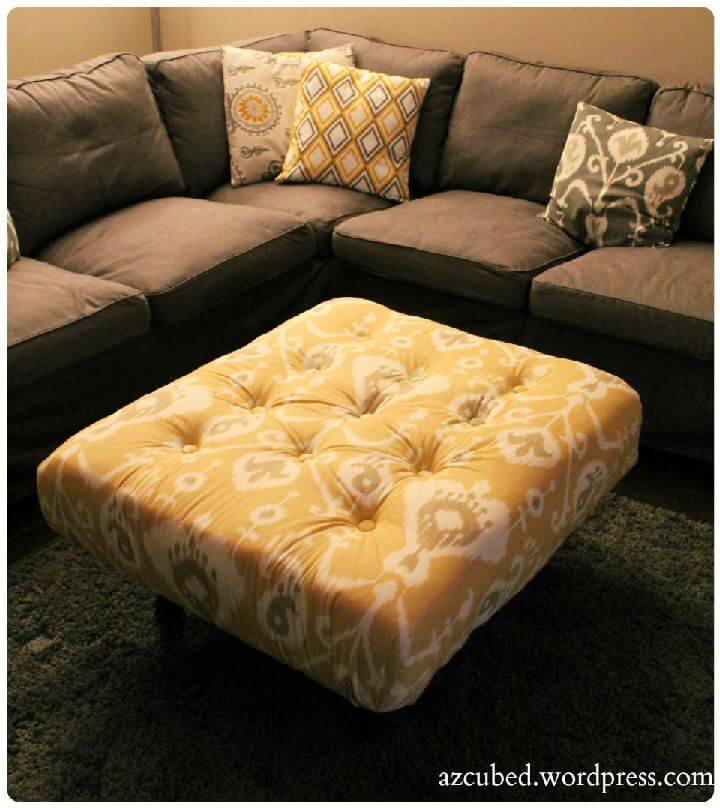 Upholster a mini pallet skid and then finish it with a cool base and build a fantastic ottoman that will also rock as a footrest in your living room!
A lovely furniture project that everyone can do with great ease! domesticsuperhero
Build Your Pallet Bench: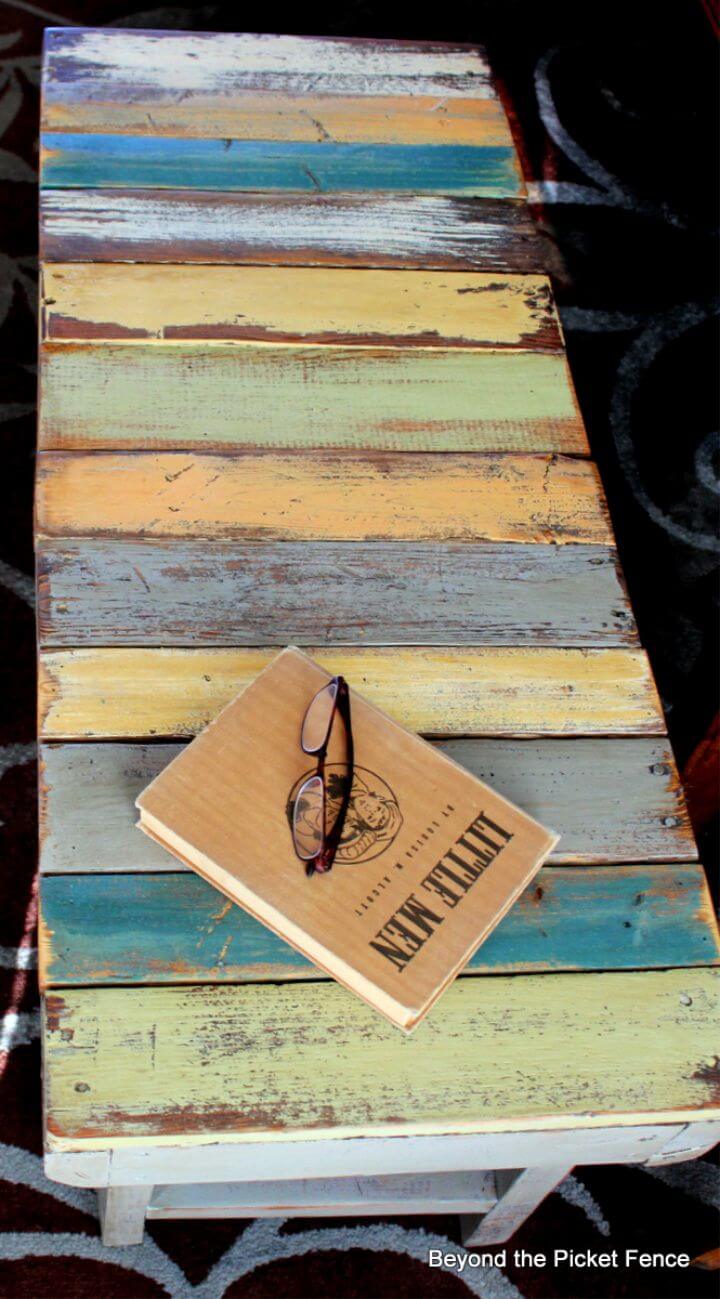 Lacking sitting space in or out of your home then does accomplish your sitting space needs with pallets!
Build lovely chairs, sofas, and benches with them at no-cost, get inspired by this hand-built wooden pallet bench! beyondthepicket
DIY Pallet End Table: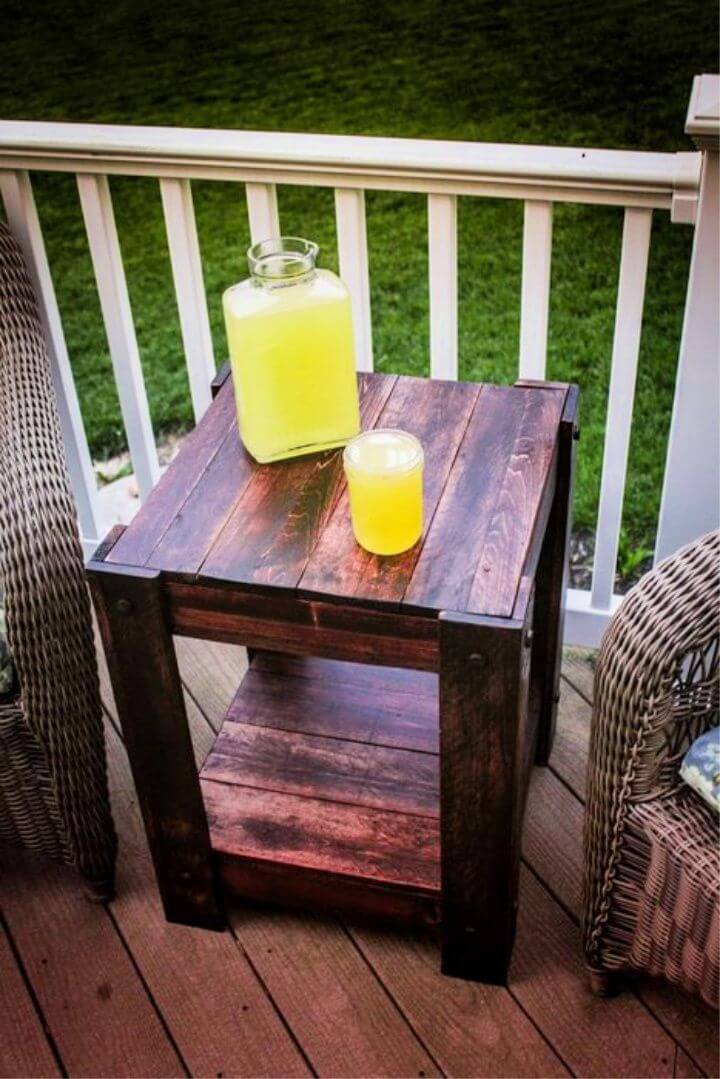 One more epic model of the pallet side table that made only with pallets, this is a side table with a bottom shelf, given a sleek dark wood finish and it will also make a great bedside table if you like to do so!
Here is how to make it instructables
Build Kids Picnic Table from Pallet Wood: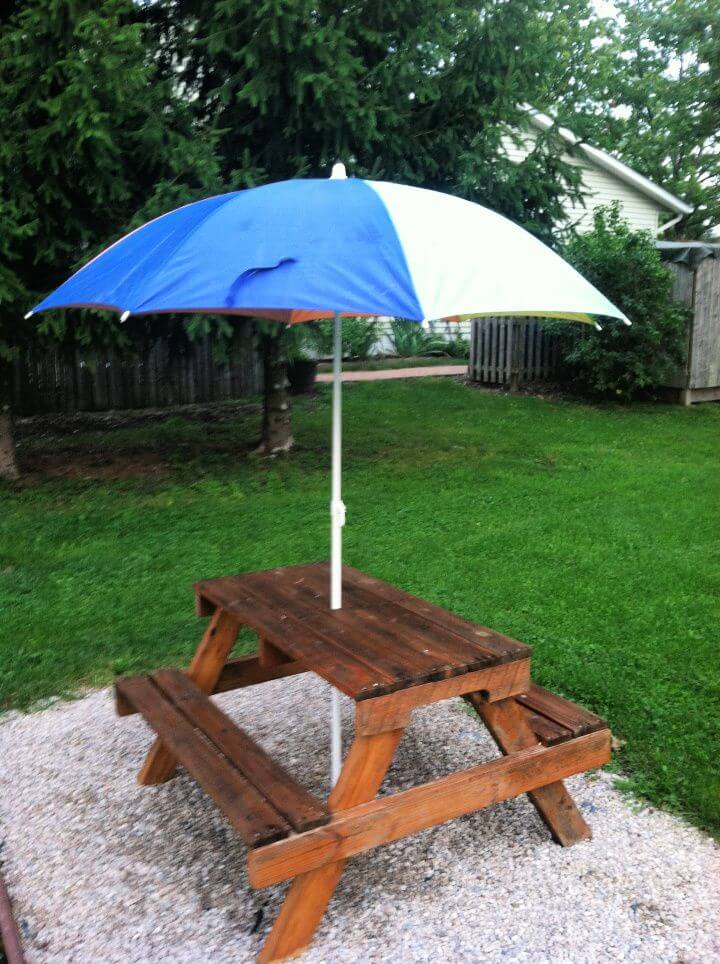 Boost outdoor entertainments of your kids by building this kids' picnic table with pallets!
Along with attached seats, it also comes with a parasol fixed in the center of the top as a great sun-protection! needlesandnails
Awesome DIY Pallet Swing Bed: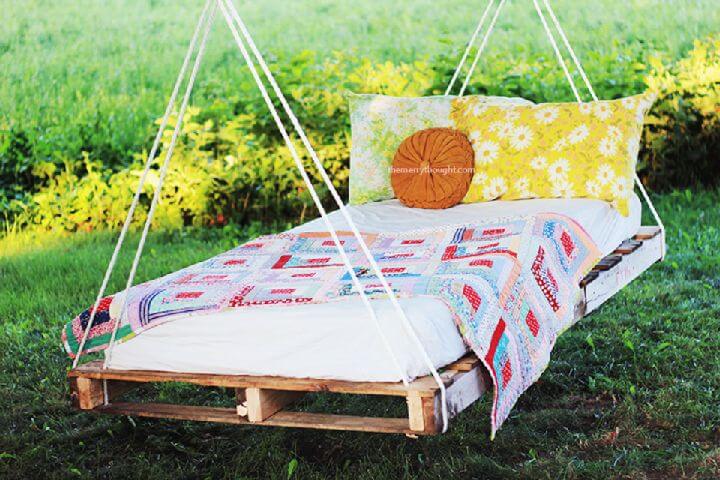 Bring a fantastic and luxurious pallet swing bed at outdoor in three easy steps using a single pallet, rope, and foam mattress!
Bring the pallet skid in the air using the rope and then add it up with foam mattress and enjoy book-reading and napping there! themerrythought
Turn Pallets into Table: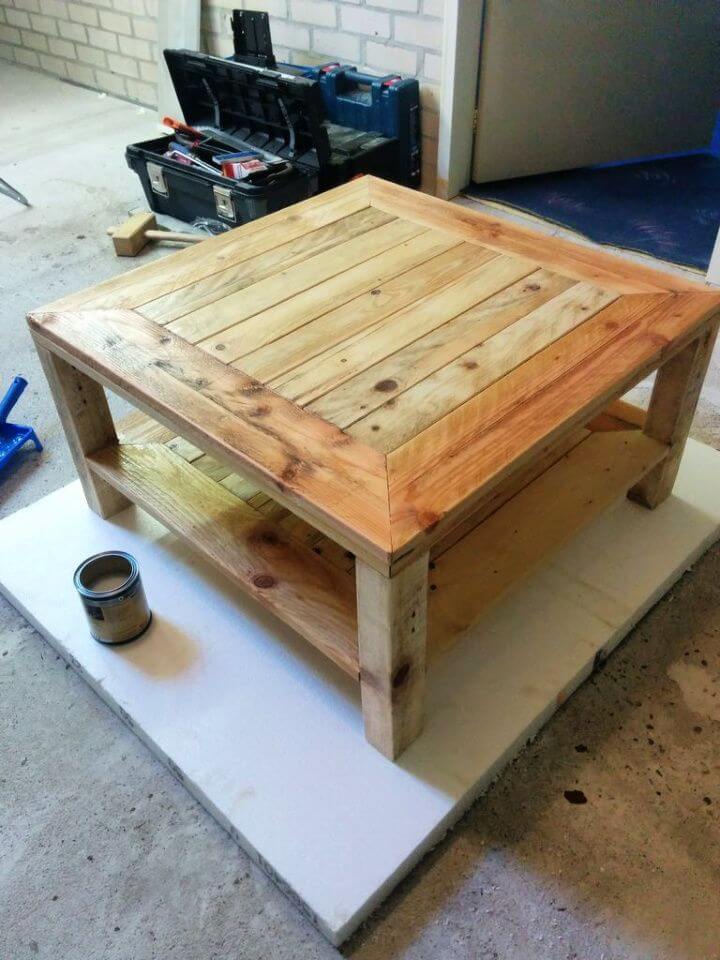 Style up any of your patio sitting area or the living room with this lovely hand-built wooden pallet coffee table that will be a gorgeous centerpiece there and will be super easy and quick to build too!
It also comes with a built-in shelf and hence is super storage-friendly! instructables
You love these  60 Unique Wood Pallet Ideas
Pallet Coffee Table With Lifting Top and Landing Gear: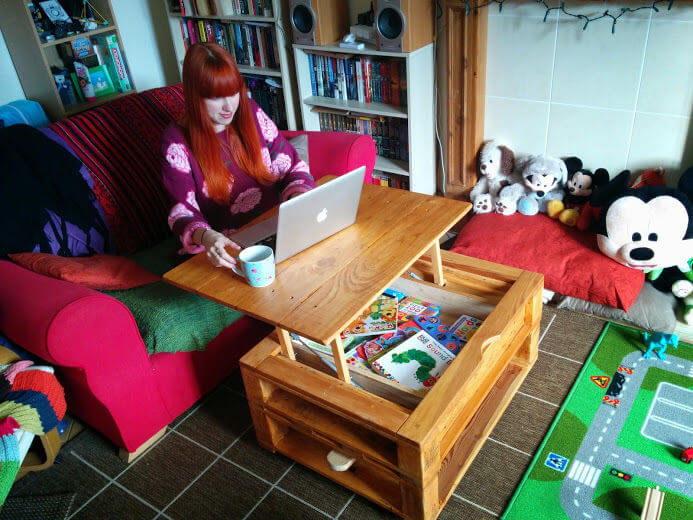 Build also the modern functional pallet furniture just like this lift-top wooden coffee table, a lovely pallet wood creation that has been done by installing the excellent lift-top hardware mechanism!
Tutorial here instructables
Pallet Furniture Ideas You May Like: